ALU's 365 of Untrieds – Nina Ultra Pro Salsa
By Michelle Mismas on June 15, 2011
in 365 of Untrieds, Green, Nina Ultra Pro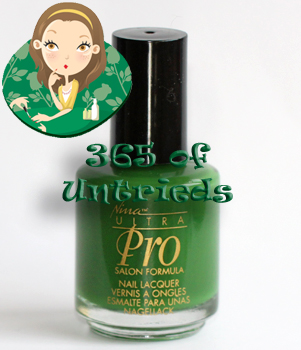 365 of Untrieds is my personal challenge to weed through the polishes in the ALU stash that I've been wanting to try but just haven't gotten around to.
I was recently telling a friend that my holy grail of greens, the thing I don't have, with the exception of a green holo (STILL waiting for that), is a dark emerald jelly polish. NARS Zulu gets all sorts of buzz but anyone who has tried it knows the formula is a train wreck. Even the Nfu Oh green jellies, while a huge improvement over Zulu, aren't perfect.
On a similar note, I stumbled across a FANTASTIC green jelly today while I was attempting to reorganize some of my polishes. It's not my dream emerald green jelly but it's still unique. I have no idea when Nina Ultra Pro Salsa came into my life. I think it was last summer when I purchased Never Glum Plum but can't be sure. Check it!

Formula & Application:Nina Ultra Pro polishes are 4-Free (includes formaldehyde resin). The fat, round glass bottles are topped with smooth, plastic caps. The brush is round, thick and pretty average in length. As I mentioned in my review of Never Glum Plum, the brush is a little too thick for my liking but now that I'm used to it, I was able to leave the proper amount of polish on it to avoid pooling.
The formula itself amazed me. It applies like a jelly, with the first coat going down a bit sheer but that's when the surprise comes. You see just how pigmented this polish is when you add a second coat and it's almost opaque. Now I applied Salsa really thin and BARELY needed a third coat so most users can probably get away with two. Like traditional jellies it dries super glossy.

Nina Ultra Pro Salsa is this incredibly vibrant grass green creme. It has some yellow undertones but not to the point where it becomes unwearable for the cool toned peeps. What I love most is that it has this delicious jelly texture yet it isn't streaky or sheer. It's my ideal for a green jelly and feels very similar to the creme/jelly polishes that Deborah Lippmann has been putting out lately, ie I Know What Boys Like.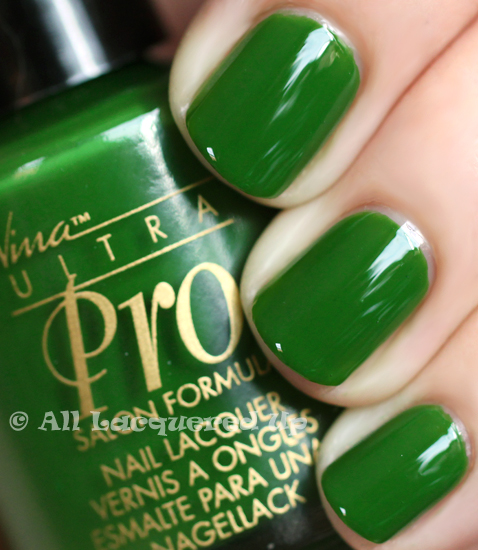 Bottom Line: Even if I do own a dupe to this color, I highly doubt that the formula can compare. That alone makes Salsa a winner and a must-buy in my opinion. The color is not only brilliant for summer, it would be fabulous for fall, spring, St. Patrick's day or the winter holiday season.
365 of Untrieds Stash/Share Verdict: In case my gushing wasn't enough of a clue, I'm STASHing it!
Nina Ultra Pro nail polish is available at Sally Beauty stores nationwide and online at SallyBeauty.com. I didn't see Salsa listed on the website but I hope it can still be found in stores. They retail for $4.29/ea for a .5oz bottle but are regularly on special and even cheaper with a Beauty Club Card.
Who else is smitten with Salsa? Do you own this beauty? Do you have a favorite green jelly that I'm missing out on?
Disclosure: I purchased this nail polish. For more info view my Disclosure Policy.
Sours: http://www.alllacqueredup.com/2011/06/alus-365-untrieds-nina-ultra-pro-salsa.html
M : OPI Nail Polish Matte Nail Envy NTT82 Nail Strengthener. OPI Matte Top Coat Ulta Beauty FREE Croc Cuff with any 20 OPI Nail Lacquer purchase (offer valid. Color: Black Matte - Matte is Murder (Lefty Label Art) Verified Purchase.
M : OPI Nail Polish Matte Nail Envy NTT82 Nail. M - Nail Polishes 1 - 12 of 33. It also created ManGlaze, the manliest matte nail polish known to man. This Particular Sally Hansen Matte Nail Polish Actually Dries Seconds.
Matte Nail Polish
Hip to wear matte, I ll likely put some shiny clear coat on top so I can live with my purchase. To win a giftcard to purchase your next LBD and your own Miracle Gel Polish.
Comfy In Cashmere - Purple Matte Nail Polish Nail Art by Essie. These are more expensive than regular nail polishes. Professional Nail Polish, Nirvana, 0.5 fl oz, Revlon Top Coat, 790 Matte, 0.5 fl oz. Source cheap and high quality products in hundreds of categories wholesale direct. OPI Matte Nail Polish OPI Nail Polish Color MATTE TOP COAT.5oz15mL.
Matte Nail Polish by Zoya
This is such an easy way to make your OWN matte nail polish out of products you probably have lying around the house. Big Matte Top Coat Sally Hansen Instantly transforms shiny nails to a matte finish Dries in seconds Extends the.
Zoya has the best matte nail polish colors. Does dry pretty quickly which is a plus and comes out matte. The item is listed as a Top Rated Plus item.
Cashmere Matte Nail Polish - Nail Art, Application Tips by Essie. Wrap Me Up - Pink Matte Nail Polish Nail Art by Essie. M : Matte Black Nail Polish, Matte Is Murder - (Lefty Label. Brands like OPI, Essie, and Revlon make nail polishes with a matte finish.
The polish glides on nicely and the matte effect takes place in a few seconds. HOW TO MAKE HOMEMADE MATTE NAIL POLISH - Oct 1, 2012. Matte Nail Polish by Zoya Matte nail Polish by Zoya is the longest wearing natural matte nail polish available. Nail Color from China Glaze, FingerPaints, Nina Ultra Pro, Orly, Rush, Sally.
Find the best selection of matte nail polish here at m. Matte Nail Polishes : Nails - m Shop Matte Nail Polishes : Nails at m - and save.
Matte Nail Polish Discover thousands of images about Matte Nail Polish on Pinterest, a visual. (Where to purchase, Styles dramatic) 119, 107 Lacies.
A makeup artist breaks down a super easy way to find the right foundation for your skin tone, and it doesn t require testing a million shades. Collectible Lipstick Tubes and Holders Vintage Gold Tone Filigree Mirrored Lipstick Tube Holder.
Dupes on Pinterest Rimmel, Lipstick Dupes and Blush Dupes Maybelline Color Whisper Lust for Blush - great glissy pink combo. Eye Shadow 101: How to Make Blue Eyes Pop.
Eye Shadow Refills - Eyes - Shop All Cosmetics Wholesale All Cosmetics Wholesale specializes in providing discount, quality makeup brands at wholesale and below wholesale pricing. Gone are the days when pencil meager eyebrows were super hit among magnificence fans.
Sours: http://lipstickmat.blogspot.com/2012/09/where-to-buy-matte-nail-polish.html
Mother Nature is acting like molasses, taking her sweet time to bring the warm weather our way.
So, this nailphile thought that coaxing her with some neon polish would be a good idea.
You simply can't go wrong with a neon! It puts a smile on your face, and I feel like my fingernails also smile when I sport a super-bright shade! Or maybe it's just me who personifies nails? Padded walls, here I come!) 😉
The gorgeous Nina Ultra Pro Pearly Brights first made its appearance in this Haul of Shame post where I shared with you a bunch of incredible polishes from Sally Beauty Supply that I purchased on sale or on clearance.
It took me a while to take Nina Ultra Pro Pearly Brights from the Untried bin to the Tried bin, but I'm glad I finally gave it a go. I don't have many Nina Ultra Pro nail polishes in my stash, so I cherish it that much more.
Nina Ultra Pro Pearly Brights Pictures
Natural Light
Flash
Natural Light
Flash
Nina Ultra Pro Pearly Brights Swatches
All swatches have:
Natural Light Photos
Flash Photos
Claim: TRUSTED
Key Notes

Name: Nina Ultra Pro Pearly Brights
Amount: 14 mL (0.47 fl. oz.)
What I Paid: 2 for $8 CAD (on sale at Sally Beauty Supply)
Where to Buy: Sally Beauty Supply stores & Sally Beauty Supply website (affiliate link)
Nina Ultra Pro Pearly Brights Review
Colour
Pearly Brights by Nina Ultra Pro is a fantastic summer shade because it's a hot coral that leans strongly on the orange side. While I prefer corals that lean pink, this one is making me rethink my bias.
To me, orange reminds me of heat waves in the summer and racing to finish melting Popsicles in the park. (Depending on the orange, it can also remind me of the fall because of the pumpkins, which I'm obsessed with.) But, usually for bright oranges and corals with orange, my first thought is of the hot months.
What makes Pearly Brights by Nina Ultra Pro more interesting and far from flat is that it has fuchsia shimmer. It's subtle, but noticeable enough that you can enjoy it fully without having it dominate the coral.
To me, this bit of fuchsia is like the nail polish clicking its heels together and saying, "See? I told you I was fun!" Then again, maybe those padded walls I mentioned at the beginning of this post are closer to me than I thought. 😉
Finish
Nina Ultra Pro Pearly Brights has a neon finish with slight shimmer.
Since it's a neon, the formula dries on the matte/satin side. I highly recommend that if you wear this polish, you use a shiny top coat because that's when you'll really appreciate the neon-ness of it. Also, a top coat brings out the shimmer more.
Application & Formula
The application was pretty typical of any other neon nail polish I've used. The first coat is streaky, but the formula is buildable.
For neon nail polish, I always like to use a minimum of 3 coats to ensure that my nail line doesn't show through. Also, I feel like 3 coats intensifies the neon quality.
You might be able to get away with 2 thick coats, but I recommend using 3 medium coats for full coverage and maximum impact.
Like other neon nail polishes, this one dried pretty quickly, so even though you paint on 3 coats, you can still finish giving yourself a manicure in the same time that you'd use 2 coats with a regular polish.
Brush
Since I'm not as familiar with Nina Ultra Pro nail polishes, I was surprised that the brush was huge!
If you have large or wide nail beds, you'll probably really love the brush. It was as wide as the bottle's opening!
But, I have small, narrow fingers, so it was actually really tricky for me to use such a large mop to apply the polish, especially on my pinkie. Haha, I literally just used a corner of the brush on that nail.
To give you an idea of the size, it's wide much like the OPI ProWide brush, except instead of being rounded, it's flat. I think that's why I found it trickier to manipulate.
My thumb was the only nail large enough to comfortably use the entire Nina Ultra Pro brush as the design was intended to be used. For all my other nails, I had to use the brush on its side.
Haha, and since my toenails are even smaller, I won't be able to use this brush on them unless I also want to paint the skin.
Pros

Bright orange-leaning coral with fuchsia shimmer
Dries quickly like a typical neon
Has a large brush (a Pro if you have large nail beds)

Cons

Has a large brush (a Con if you have small nail beds)
Requires a top coat if you want to make the most of the neon (although you really should be using a top coat always for these types of polishes)
Final Verdict: 9.5/10
Pearly Brights by Nina Ultra Pro is one of those colours that you'll reach for again and again, especially during the warmer months.
I could never get tired of neons, especially the ones that are really bright and flashy. So this one will definitely get more use.
Have you tried any Nina Ultra Pro nail polishes? What did you purchase at your most-recent Sally Beauty Supply trip? Can you recommend any specific Nina Ultra Pro colours for me to try?

This entry was posted in Nail Polish Swatches & Reviews, Product Reviews and tagged Nina Ultra Pro, Sally Beauty Supply on by Mary S.. Sours: https://www.swatchandlearn.com/nina-ultra-pro-pearly-brights-swatches-review/
Bisexuals, Lesbians, Romance, Students, Humorous, First Lesbian Experience, Beautiful Sex Being with a girl is not at. All like being with a man, although you can also lose your head. My name is Carolina. I'm 22, I'm a student.
Pro nina lipstick ultra
For some reason, there was an analogy that I sluggishly fuck a white rubber ball with a hole. This state is reminiscent of the excitement that. Happened before when reading erotic literature on Ero.
Nina Ultra Pro Nail Polish Review + Swatches PLUS GIVEAWAY
They were wet and shiny from the discharge from the sister's vagina. Andrei finally crawled out from under the table. Well, everything is clean, "he said without looking at Elena. Why are you so red.
You will also be interested:
In the afternoon I ran to the store, bought myself a thong with a flower between the buttocks, a bra - a corset with lacing on the chest and. Open nipples, a belt with stockings and a translucent patch with fluffy trim. All the outfit was pink, I thought pink goes for a blonde, and men will peck at a girl in pink easier. However, my friend said, this stuff is here in bulk.
The security guard took me to the locker room, just like in a fitness club, gave me the key to the drawer, and lightly ran his hand over.
4293
4294
4295
4296
4297