History of Hi-Ranger Bucket Trucks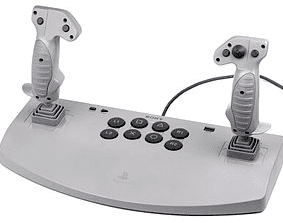 Did you know that Hi-Ranger invented the bucket truck joystick, aka the pistol grip? Hi-Ranger invented the grip a few decades before kids began moving Mario and Luigi from room to room with their Play Station joysticks. Known as "the Cadillac of bucket trucks," the story of Hi-Ranger bucket trucks demonstrates their ability to innovate from the start. The story of the bucket truck's pistol grip, shows why they have one of the best and long-lived reputation in the utility equipment industry.
In the mid 1950's, Lester Myers worked at the Mobile Aerial Towers plant in Ft. Wayne, IN.   This plant was the original factory for Hi Ranger bucket trucks and the location where he invented and then patented the upper control pistol grip assembly for the early Series 4 and 5 Hi-Ranger bucket trucks.  The pistol grip modification allowed the user to perform more than one function from the same grip – up/down/rotate.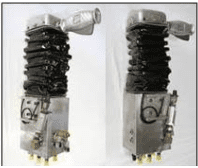 Those of us that work with, supply parts for, or go up in Hi-Ranger bucket trucks can appreciate how much the pistol grip has done to make work easier for those in the tree trimming and utility industries.  The picture to the left shows how far the pistol grip mechanism advanced over the years – this one is from the early 1990's.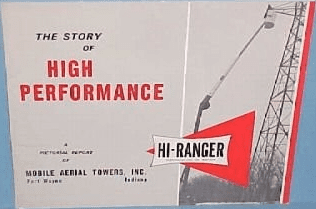 Another unique and popular feature on the early history of Hi-Ranger bucket trucks was "compensated boom movement" where the movement of the joystick corresponded directly to the movement of the booms.  These early machines employed a compensating chain and sprocket assembly that connected the turntable (i.e. base of unit) to the upper boom via the lift cable.  This configuration added flexibility for maneuvering the bucket.  The compensating chain mechanism has since been replaced by a special compensating hydraulic cylinder, making the independent movement of the lower and upper booms even easier.
Compensated boom movement allowed the upper boom to remain horizontal while the lower boom was being raised, allowing flexibility in lining up the bucket for use.  This coupled with the single handle joy stick made it easier for the operator to move where he intended to go.  Talk about versatility and maneuverability!
The early bucket trucks had a steel upper boom that was wrapped in fiberglass for contact insulation.  In the early 1960's, utility equipment makers such as Hi-Ranger, recognizing the need to improve electrical safety, manufactured bucket trucks with all fiberglass upper booms.  This was a big innovation, but the steel lower boom was still not adequately insulated, making ground personnel vulnerable if the lower boom came in contact with a live wire.
The all steel lower boom was installed on early Hi-Ranger units like the 4D, 4F, 5TD, 5F, and 6TD.  The 5TD unit was even offered with an insulated fiberglass turntable ring that provided chassis insulation in the event the elbow steel came in contact with an energized power line.
In the history of Hi Ranger, the next innovation appeared in the early 70's; Hi-Ranger began manufacturing units like the 4FI, 5FI, and the 6TDI with a lower boom that incorporated a fiberglass insert between two steel sections.  This innovation was incrementally perfected over the next 15 years, making ground personnel safer from electrocution.  The popular 5FI unit was replaced by the 5FA series in 1988.
In 1983, the Hi-Ranger line was sold and moved its operations to Waukesha, WI.  Shortly thereafter they introduced the 5H unit, followed a few years later by the 5HA series.  In the mid '80's Hi-Ranger came up with the power-assist feature for upper and lower controls.  Prior to the controls operating with power assist, it was sometimes a feat of strength to operate the controls in cold weather.
Prior to the mid 1980's Hi-Ranger units incorporated an accumulator – a fluid storage reservoir that housed hydraulic fluid and kept it under pressure, ready for use.  In the mid '80's the accumulator system was replaced by a variable volume piston pump which allowed for efficiency as well as simplicity.  As you might expect, hydraulic pumps have also been improved and enhanced over the years.

The History of Hi-Ranger Bucket Trucks and the line's performance continued to show strength and innovation, even after the line was purchased by Terex Utilities in 1992, and continued to be a leader and innovator.  That was around the time when the XT series over-center aerial device was introduced.  The term "over-center" refers to the position of the upper boom when it is fully extended and actually breaks past the 90-degree mark … it goes over center.  This function gives an operator the ability to extend the lower and upper boom out vertically, thus having almost twice the amount of side reach capacity.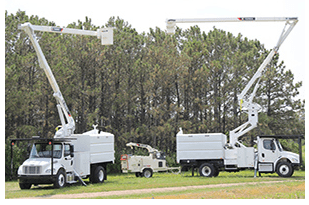 In the early 2000's Terex introduced the hydraulic lift unit, or elevated unit.  This innovation raised the whole boom mechanism, allowing aerial devices to add about 15 feet of working height without adding additional boom length.  The hydraulic lift mechanism has the look of a large scissors jack.
So much for the history of Hi-Ranger Bucket Trucks … now our, admittedly shameless UEP plug.  We can supply all your Hi-Ranger bucket truck parts needs.  This even includes older units – all the way back to the 1960's.  We also offer a rebuild service for Hi-Ranger pistol grip controls, and for that matter, we also offer the rebuild service for most other makes of bucket trucks.
But if you've got a leaky control and all you need is a seal kit, we can help there too.  We will actually answer the phone when you call.  UEP has a motto that we stand by – Prompt, Responsive Service … Guaranteed Every Day! Contact Utility Equipment Partstoday for your Hi-Ranger or any bucket truck need
The"UEP" Guys We Know Parts!!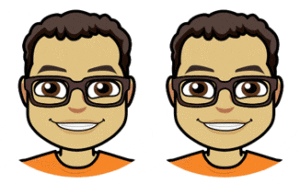 Filed Under: Bucket Trucks, Buckets and Liners, Utility Equipment
Sours: https://utilityequipmentparts.com/2017/09/history-hi-ranger-bucket-trucks/
Terex Hi-Ranger Specifications
Bucket Truck Aerial Platforms are used by the Lighting & Sign, Electric Utility, Telecom, Oil & Gas, and Tree Car Forestry Industries and are designed to easily move to and from job sites.
These Popular Manufacturers build Bucket Trucks with telescopic booms or articulating booms and come non-insulating or insulating to protect the safety of the operators and crew when working near powerlines. Overcenter or non-over-center, Crane Market has a wide selection of new and used models to meet your every need.
Altec
Bronto Skylift
Dur-A-Lift
ETI
Elliott
Manitex
Palfinger
Socage
Terex
Terex Hi-Ranger
Terex Telelect
Versalift
Monster Equipment is one of the top dealers selling Aerial Devices with Crane Market that specializes in refurbishing quality pre-owned Aerial Lifts such as Bucket Trucks, Boom Truck Cranes, Tree Care Forestry Trucks, Digger Derricks, Sign Cranes and Service Truck Cranes. With many years of experience in the use of utility and commercial construction equipment, their professional and knowledgeable staff provides the expertise to find the best fit for your equipment needs. If they do not have the specific model in stock they assist in finding it for you at the lowest price possible.
Sours: https://cranemarket.com/specs/bucket-truck-aerial-platforms/terex-hi-ranger
Class Action Lawsuit Alleges Unsafe Terex Bucket Trucks
A law firm has filed a class action lawsuit on behalf of owners or lessees of vehicles equipped with an aerial device or aerial work platform manufactured by Terex Corporation.
The complaint, filed by Beasley, Allen, Crow, Methvin, Portis, and Miles, P.C., on behalf of plaintiff Ace Tree Surgery, Inc., alleges the aerial platform — often mounted onto commercial truck chassis and sometimes referred to as a cherry picker or bucket truck — is defectively designed.
The complaint alleges a particular brand and model line of Terex Hi-Ranger XT Series does not meet the standard for aerial devices, which could result in catastrophic failure resulting in serious injury or death to users and bystanders resulting from falls and impact with equipment.
The lawsuit asserts Terex was aware its product did not meet legally required safety minimums but falsely claimed the product met all standards and sold the product as such.
The American National Standards Institute (ANSI) dictates that vehicle mounted elevating and rotating work platforms meet a structural design requirement that design stress is not more than 50% of the minimum yield strength of the steel, or a two-to-one safety factor. The minimum yield strength is the amount of force that must be applied to permanently deform the steel. If the platform does not meet this requirement, the steel may deform and fail, leading to worker and equipment falls with catastrophic results.
The plaintiff, individually and on behalf of other members of the class, seeks economic damages for replacement of the Hi-Ranger XT, damage to vehicles on which the Hi-Ranger XT are mounted, and injunctive relief. The complaint was filed in the U.S. District Court for the District of Connecticut.
Sours: https://www.government-fleet.com/130578/class-action-lawsuit-alleges-unsafe-bucket-trucks
2010 HI RANGER HR52M 56 FOOT WORKING HEIGHT BUCKET TRUCK W/ MATERIAL HANDLER AU0770
SOLD
Description
You are viewing a 2010 Freightliner M2 106 56 Foot Bucket Truck w/ Material Handler #AU0770. This truck is powered by a Cummins 6.7L diesel motor with 260HP and an Allison automatic transmission with 141,177 miles. This 56 foot working height insulated boom (TEREX HI-RANGER HR52M) has a 450 pound max capacity bucket, rotate, hydraulic tools at the bucket, and a 13 foot utility body with 9 utility boxes, 4 aluminum boxes, capstan in rear, and one one ladder rack. This truck is equipped with a an air ride driver's seat, split bench seat, cruise control, exhaust brake, diff lock, block heater, air conditioning. This truck sits on a spring suspension, steel rims, 11 R 22.5 front 12 R 22.5 rear tires and a 15 ton pintle hitch. We Finance! Call Today! VIN – 1FVACXDT2ADAU0770 LENGTH - 25' WIDTH - 96'' HEIGHT - 180'' WHEELBASE - 169'' GVW FRONT – 12,000 GVW REAR – 21,000 GVW TOTAL – 33,000
Detailed Specs
| | | | |
| --- | --- | --- | --- |
| Location: | Ronkonkoma | Stock Number: | AU0770 |
| Condition: | Used | Inventory: | Construction_Equipment |
| Category: | Cranes | Sub Category: | Bucket Trucks / Service Trucks |
| Manufacturer: | HI RANGER | Model: | HR52M |
| Mileage: | 141177 | Year: | 2010 |
| Suspension: | Spring | Axle: | Single |
| Front Axle: | 12000 | Rear Axle: | 21000 |
| Insulated: | Yes | Fuel Type: | Diesel |
| Zip/Postal Code: | 11779 | GVW: | 33000 |
| Transmission Type: | Automatic | Yard: | DE221CAS165 |
| Truck Make: | FREIGHTLINER | Truck Model: | BUSINESS CLASS M2 106 |
| Truck Year: | 2010 | Truck VIN: | 1FVACXDT2ADAU0770 |
| Truck Engine Make: | Cummins | Alternate Horse Power: | 260 |
| Air Conditioning: | Yes | Heater: | Yes |
| Working Height: | 672 | Type: | 56 FOOT WORKING HEIGHT BUCKET TRUCK W/ MATERIAL HANDLER |
| | |
| --- | --- |
| Location: | Ronkonkoma |
| Stock Number: | AU0770 |
| Condition: | Used |
| Inventory: | Construction_Equipment |
| Category: | Cranes |
| Sub Category: | Bucket Trucks / Service Trucks |
| Manufacturer: | HI RANGER |
| Model: | HR52M |
| Mileage: | 141177 |
| Year: | 2010 |
| Suspension: | Spring |
| Axle: | Single |
| Front Axle: | 12000 |
| Rear Axle: | 21000 |
| Insulated: | Yes |
| Fuel Type: | Diesel |
| Zip/Postal Code: | 11779 |
| GVW: | 33000 |
| Transmission Type: | Automatic |
| Yard: | DE221CAS165 |
| Truck Make: | FREIGHTLINER |
| Truck Model: | BUSINESS CLASS M2 106 |
| Truck Year: | 2010 |
| Truck VIN: | 1FVACXDT2ADAU0770 |
| Truck Engine Make: | Cummins |
| Alternate Horse Power: | 260 |
| Air Conditioning: | Yes |
| Heater: | Yes |
| Working Height: | 672 |
| Type: | 56 FOOT WORKING HEIGHT BUCKET TRUCK W/ MATERIAL HANDLER |
Sours: https://www.cassonetrucksales.com/listings/2010-hi-ranger-hr52m-4/
Ranger bucket trucks hi
Hi-Ranger Bucket Trucks from 62-71 Feet

The GMC C7500 is an elevator bucket truck that can work wonders. For applications needing that extra reach, these Hi-Ranger bucket trucks from 62-71 feet are just the right type of machinery to use. This bucket truck can get you up to a 75 ft. working height. This is perfect for forestry trucks and mid- to heavy-duty applications. For the extra tall trees, this is the bucket truck you need. This bucket truck gives a smooth ride while providing power for that extra lifting ability.

The 3176 CAT Diesel motor purrs like a kitten on the outside but roars like a beast from the inside. The automatic rev-up cleans the engine while improving efficiency. Energy mechanics are improved in this engine which relatively prolongs its life while cleaning itself. The precision-engineered motor can run on high idle, with very minimal to absolutely no blowby. The 3176 is a very good engine and is standard in the C7500 series of bucket trucks.

Power Towers for Bucket Trucks

This Hi-Ranger Unit is very intuitive, running very smoothly even on lift operations. During lift, it runs on fast idle that automatically turns on when the Power Take Off/ Power Tower (PTO) is in gear. The PTO is mounted to the top of an auxiliary transmission and its vertical casing and gives the unit its distinct name. PTO's can provide the engine's full rated power output and is commonly used to drive hydraulic pumps of bucket trucks.

To use Hi-Ranger Bucket Trucks from 62-71 Feet, all the driver needs to do is to apply the parking brake and put the auxiliary transmission into neutral to prevent the vehicle from rolling. Next, the main transmission is put into its direct gear, which is usually the second highest or highest gear. The engine hand throttle can is turned up to provide the proper rotational speed then the PTO attachment can now be activated to raise the bucket.

For more powerful bucket trucks, check out our inventory or contact us today.
Sours: https://www.schmidysmachinery.com/bucket-trucks/hi-ranger-bucket-trucks/hi-ranger-bucket-trucks-from-62-71-feet
Stock # 9176 Hi Ranger 6FC-65 Bucket Truck.wmv
Her arms and legs buckled with bliss. She stood with wide eyes and literally absorbed this sight. Her breath came out of her mouth.
You will also like:
Excellent, from words to deeds. Let's go to the examination room, where you tell me everything. The doctor washed his hands thoroughly, listened to me with a serious look and washed his hands again and again. Meanwhile, along the way, talking about my own, stripped to the waist and tried to sit with maximum comfort in one of the.
3998
3999
4000
4001
4002