DUE TO USPS PRICE INCREASE YOU WILL NEED TO EMAIL YOUR ZIP CODE FOR A SHIPPING ESTIMATE!
Welcome to SeaPlane Supply! We Make Precision Computer Cut Foam Float Cores for ANY AND ALL RC AIRCRAFT!
~~ ~~~ ~~~ ~~ ~~~~ ~
Trainer Float Kits
Check the Trainer Float Kit Page to see if your Tricycle Gear plane is listed. No? Contact me and we will set you up with an easy "Wheels To Water" float Kit. All Kits include the custom made brass Nose Wheel bracket above, fits our .300" CF tube.
~~ ~~~ ~~~ ~~ ~~~~ ~
Find how much the Chinese fiberglass floats weigh before buying. Some are 30 oz for 32" floats! Can you afford adding that much to your plane? Buy Made in the U.S.A.
~~ ~~~ ~~~ ~~ ~~~~ ~
There are many waterproof servo's on the market by Hitec, Traxxas, Losi and others. Search Ebay for them, sometimes they are cheaper than regular servo's.
~~ ~~~ ~~~ ~~ ~~~~ ~
Waterproof your ESC and Receiver with CorrosionX. Don't cut your day short - Keep flying! Check Ebay for good deals.
~~ ~~~ ~~~ ~~ ~~~~ ~
CHECK ALL GLUES & PAINTS TO SEE IF THEY MELT THE FOAM!!!
****TIP: FLAT-BOTTOM FLOATS WILL GET YOU UP ON STEP AND IN THE AIR FASTER THAN V-BOTTOM FLOATS!!!
~~~~~~~~~~~~~~~
READ THIS! It is everything you need to know about float flying! Click on book
~~~~~~~~~~~~~~~
Want to see more of these Beautiful floats?
Click the pic to see more
~~~~~~~~~~~~~~~
"I've always used built up balsa floats, I ordered a set of your 34" Flat Bottom floats. They work great! Lighter, Can't leak, easy to finish, I will be ordering more." Joe R.

"Outstanding product.. Well engineered.. Best float cores I've ever worked with.." Bob B.

"Let me congratulate you for the workmanship of the floats, I will finish those asap and plan to order a 1/4 scale set." Thanks again, Alexis

"Hi Mark, just picked up my floats from the post office. I gotta say I am very impressed by the quality of the foam cutting - they really look great!" Dave M.

~~~~~~~~~~~~~~~

Great Pains Bricks

SPECS: Float Length: 38.5" (978mm)

Model Weight Class: 5.0-9.5lbs (2270-4310g)

Model Size Class: .40-.60

Approximate Weight of Assembled Floats: 3.14lbs (1424g)

My 38" Foam Floats will never crack & leak weigh only 1lb 4oz covered in fiberglass and epoxy! Less if you use covering. Most 40 size planes only need 34" floats, do you just cut off what you don't need? What plane fly's better with an extra 3.14lbs?. (My 40 size GeeBee only weighs 3.8lbs with floats RTF)

Think about it!Spend a couple of hours finishing some floats yourself and have hours of fun flying a plane that handles better on the water and in the air or just spend more money and live with a over weight float plane!Save even more weight Just Paint & fly-em! I have 34" floats on my Something Extra painted with 2 thinned coats of poly, The Pair of Floats weigh just 6oz.

This is Charlie's Second set of Great Planes floats on his Cub, it's always nice when your plane starts sinking at the float fly! He has had enough and is now using a set of my floats and is very Happy!

To add insult to injury you must add nose weight, increasing the weight even more! Holy Cow!

~~~~~~~~~~~~~~~
Sours: http://www.seaplanesupply.com/
RC Floatplanes
If you have access to a lake or wide and slow-flowing river, rc floatplanes and seaplanes can give you a more challenging and very rewarding radio control flying experience.
There aren't a huge number of Ready To Fly floatplanes widely available at the current time, but there are RTF options available.
An increasing number of manufacturers of RTF foamie rc planes give you the option of swapping out the normal landing gear for a set of specially designed floats.
As an example, the photo below shows my little UMX Timber sitting pretty on her floats: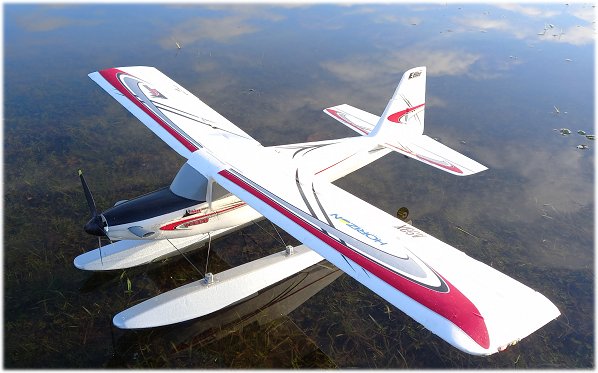 Such floats, called pontoon floats, are made from lightweight foam, typically with pre-bent wire struts that slot straight into the landing gear slots on the underside of the fuselage.
I do enjoy flying my UMX Timber, either from land or water. It's a great little plane and I can highly recommend getting one!
Below is a short, and rather uninteresting, vid of my Timber in action on its floats. This little pond actually fills a shallow depression in the ground where P-38 Lightnings, amongst other planes, were once parked when this area was a Second World War airfield!
What a beautiful autumn morning that was - not a breath of wind and glass-smooth water. Perfect rc floatplane flying conditions!
Floatplane or Seaplane?
An alternative configuration to the pontoon floats is the single hull aircraft, commonly called a seaplane or flying boat.
These are usually larger than planes equipped with pontoon floats, and a very popular subject for radio control is the Consolidated PBY Catalina, pictured below.
This particular example is the Great Planes ARF example:

RC Floatplanes: Take off & Landing
The primary difference between rc floatplanes (& seaplanes) and land planes comes in the amount of drag they encounter.
On take off, rc land planes encounter very little drag when rolling along a smooth runway. But rc floatplanes encounter lots of drag as the floats try and cut their way through the water surface tension.
The amount of drag is relatively huge, until speed is sufficient that the floats start to ride on the surface of the water and the airplane 'planes' across the surface until it gets airborne. During the planing stage of the take off, the amount of drag is reduced significantly.
The same obviously goes for seaplanes. When the bulk of the hull is in the water there is excessive drag, which lessens considerably as the hull accelerates and eventually planes on the surface.
Like land planes, an rc floatplane should be taken off in to wind whenever possible. If there is significant chop on the surface, you might need to do your take off run parallel with the line of waves, and this probably means doing a crosswind take off.
The trick is to hold in more up elevator during the take off run than you would do when taking off from land; this holds the nose of the airplane up and helps prevent the floats from digging in to the water.
As the speed increases, you should be able to reduce up elevator slightly and let the plane ride the waves, so to speak. Once take off speed is reached, let the plane lift gently off the water with a small amount of up elevator, and maintain a smooth and gentle climb out from the lake.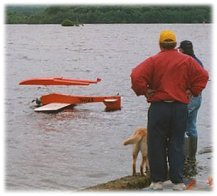 Landing an rc floatplane or seaplane on water isn't something you want to get wrong, unless you want to end up like this poor guy to the right.
The same can be said for landing - try and land parallel to any chop to prevent the front of the floats digging in and flipping the plane.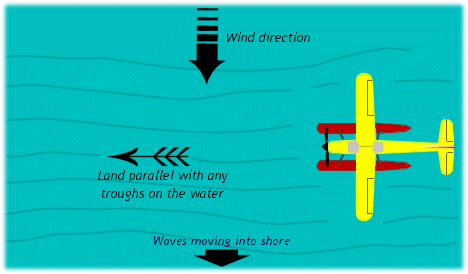 Above: you should try and land parallel to any wave troughs.
I've learned the hard and embarrassing way, and my first attempt at floatplane flying ended before it began when my plane flipped onto its back after digging in.
Obviously if there is little or no chop on the water then you can land in to wind, if possible. Only a larger amount of chop needs to be taken into account when landing. Or, more accurately, the size of the chop relative to the size of plane needs to be observed!
When landing an rc floatplane, you should come in as slowly as possible and flare as much as possible so that the floats touch the water as gently as possible. The plane should have a relatively high nose-up attitude as it touches down.
If your plane is equipped with flaps, use them to really slow the plane down on approach.
Importantly, you need to get good at landing on dry land before you head for the lake. If your land-landings aren't yet as smooth and bounce-free as they could be, put in some more practice.
Another point to make is that it's a good idea to have some kind of plane-retrieval system in place, should your floatplane find itself stranded in the middle of the lake!
A radio control boat is ideal for this purpose, or a friend with a real boat.
Taxying Trouble
Despite the increased drag of the floats or hull in the water, floatplanes can be very much affected by a breeze, even a slight one.
This is largely because there is little to stop the plane being blown around on the water surface, rather like a ping-pong ball would get blown around.
Obviously the heavier the plane, the less it will be blown around, but something ultra-lightweight is going to suffer until you get it on its take off run and its speed up.
If your plane's floats don't have a small rudder fitted to them (most don't...) then getting control authority from the plane's main rudder is a priority. Of course, this will only happen with increased speed and airflow over the fin.
So be prepared for your little floatplane not to always do what's it's told when you're taxying it on the water!
Water Area Size
How much water you need is obviously going to depend on the size of your floatplane - larger planes are going to need longer take off runs.
For something smaller, such as my little UMX Timber shown at the top of this page, I can get away with a surprisingly small area of water to take off and land from.
Shown below is a local stream that I've flown it from before; on the occasion I took this photo the water surface was like a mirror, and there wasn't a breath of wind - perfect floatplane flying conditions!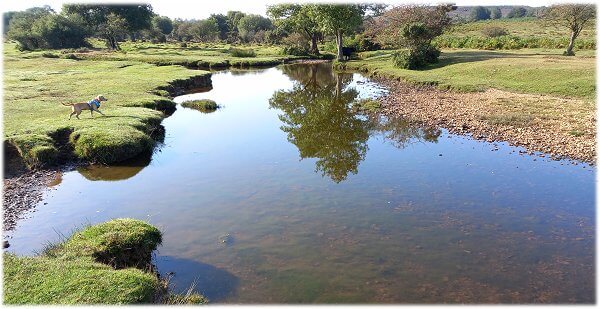 RC floatplanes and seaplanes are a lot of fun, and if you have easy access to a lake or good size pond then take advantage of it and have some fun!
Just practice those landings on land and get them perfect before you attempt any water landings!
Below is a nice video of some rc floatplane action, just to 'wet' your appetite...
Related Pages

Electric rc airplanes.

Beginner RC airplanes.
Sours: https://www.rc-airplane-world.com/rc-floatplanes.html
RC Float Plane Basics

Converting your favorite model to an RC float plane can be a lot of fun.  It can also lead to a lot of frustration and wasted money if you "dive" in without doing your homework.
While transforming your plane for use at your favorite water hole is not difficult, there are a few guidelines to follow that will greatly increase your chance of success. 

In other words, it's not quite as easy as replacing the wheels with a set of floats and heading to the lake…

E-Flight J3 Cub

What makes a Good Float Plane?
RC airplane floats don't have the friction of the wheels to keep the airplane from rotating or moving sideways.  A short and stubby airplane will basically spin around wherever it wants…
The tail moment of a longer plane's vertical fin will keep the plane turned towards the wind in the same way a weather vane points toward the wind. When flying from the ground you have to look at the wind sock to determine which way to take off.  A good RC float plane IS a wind sock!
Besides having a long tail moment, it's smart to start with a plane that can fly stable and low speeds until you get used to taking off and landing on the water. 
If you're looking for the quickest and easiest route, E-Flight offers a set of floats that will fit their 25 size high winged park flyers which make perfect RC float planes once you master the basics of flight. These floats are made specifically for these planes and are a breeze to install even if you are completely new to water flight.
Size is important too, the bigger and heavier your plane is the better it will handle wind and ripples on the water.  This is definitely something to keep in mind if you plane to fly from a large lake where waves may be an issue…
You're trusty old high wing trainer makes a perfect RC float plane. Adding floats to larger planes is not quite as straight forward as slapping a set of E-Flite floats on an E-flite plane.  
But no worries, we're about to get into the details of choosing and installing your own floats.
What Floats to Use?
Have you decided on a plane?  Good, the next step is finding the perfect set of floats for it...
Before we talk about the size of the floats, you need to determine what type of float you want to use. You can buy ABS plastic floats, build a set of balsa wood floats, or maybe you'll decide on foam core floats.
This choice is yours.  This article on RC airplane floats brakes down the pros and cons of each type. 


What Size Floats?
Some floats specify that they're good for a certain about of weight. Others, like these Hangar 9 40-Size Wood Floats
are made for planes with a specific engine size.
| | |
| --- | --- |
| While these specs are useful, one of the most important things to consider is the length of the floats. The length of your floats should be pretty close to 70% to 80% the length of the fuselage measuring from the back of the propeller to the elevator hinge. | Hangar 9 40-Size Wood Floats |
More than likely you'll be able to find a set of commercial floats that will come pretty close to this critical dimension.  It doesn't have to be exact, but it does need to be pretty close.
If you can't find a set with the length you need, no worries.  Just make your own set of foam core floats.
Critical Aspects of Installation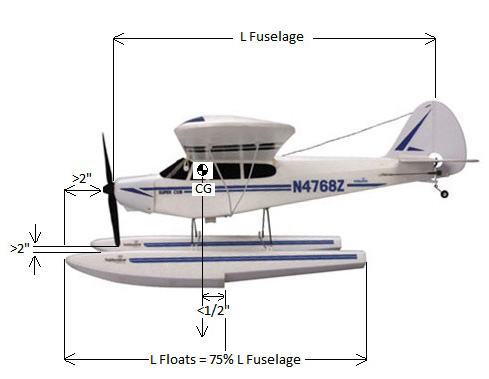 Installing the floats... Ah, this is where most of the problems occur if you don't know what you're doing...
There are several things at play that must be "fine tuned" for your RC float plane to have the correct angle of attack for creating lift once the plane is up on the step skimming across the water...
Center of Gravity

The first thing you need to do is locate the center of gravity of your airplane. It's best to make sure the CG is set the the original specifications set forth in the manual.

Tip
Make sure the plane is balanced before you install the floats.  After the floats are installed, balance the plane again by adding weight to the floats, not the airplane.  This way the plane will still be balanced should you decide to remove the floats.

Position of the Step
The "step" of the float needs to be located at or just behind the center of gravity of the airplane. As a general rule 1/2" to 1" should be about right for most average sized RC float planes.
The front of the floats should stick out a couple inches past the propeller in order to keep the plane from nosing down into the water.


The last thing you want is for the propeller to cut the front of your floats off! So be generous and give yourself a comfortable couple inches of clearance between the propeller and float. It may be a good idea or even necessary to install a 3 bladed propeller to give you the added clearance and torque as explained here.

Float Spacing
You will want to space the floats apart by at least 25% of the wing span, which is a bit further apart than most wheels on traditional landing gear. Mounting the floats any closer together may result in a spectacular splash and your plane rolls over in the water!

Mounting Angle

No matter how much power you have, your RC float plane will stubbornly refuse to lift off the water if the attitude of the plane is too low once the plane is riding up on the step of the floats. In this situation, your RC float plane is nothing more than a speed boat with wings!
If the nose is angled upward too much the plane will want to lift off to early and may stall.
Mounting your floats to the airplane at the correct angle is absolutely critical. Doing so incorrectly is the source of most RC float plane problems....
You want to get the floats parallel to the attitude of the airplane. First mount the front of the floats to obtain the proper propeller clearance. Then adjust the back of the floats until you get the top of the floats parallel with the horizontal stabilizer of the airplane.
This should put you pretty darn close to where you need to be. The wing incident relative to the top of the floats should be a couple of degrees positive.  If not, you need to slightly increase the height of the front mount until you achieve a 2-3 degree positive wing incident.

Power Requirements
You're going to need a bit more power to fly your airplane with a set of floats. Why?
For starters floats weigh a bit more and create a bit more drag while flying than conventional landing gear. But that's almost negligible compared to the significant amount of friction created by the floats dragging through the water on take off.
You may be able to kill two birds with one stone by changing from a 2 blade to a 3 blade propeller.  

This will give you more torque by sacrificing some top end speed. The article sizing model airplane propellers explains explains why.

The second bird? A three blade prop is shorter, so you can mount the floats closer to the airplane.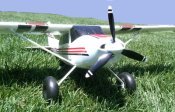 So how do you know if you're plane has enough power to lift off from the water?  An old rule of thumb is if your plane can take off in grass a couple of inches tall at three quarters throttle, she can handle a set of floats.
Is Flying a Float Plane Hard?
If you can take off and land a tail-dragger confidently, you can fly from the water.  But there are a few things to consider before picking up your first RC float plane. 
---

While I hate to sound like "Captain Obvious", here are a couple of common sense guidelines that many folks overlook.  
Don't laugh! You'd be surprised...
Make sure you are able to take off, fly, and land your airplane on LAND before attempting to fly off water. 
Do you have a way to retrieve your plane should it get stranded on the water?  Unless you just like to swim, make sure you have a boat!
---
Taxiing on the water is probably the hardest thing to get used to. On a calm day, there's nothing to it!  Add a little wind and you just might be pulling your hair out watching your plane chase it's tail around the water going everywhere except for where you intend for it to go.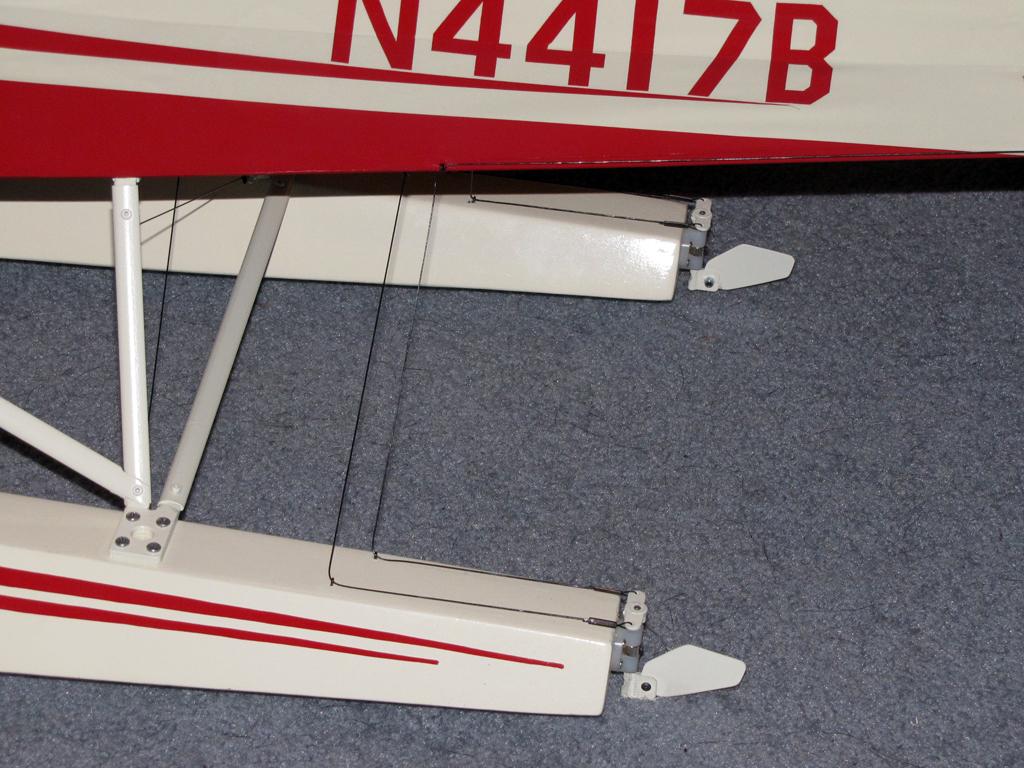 A good water rudder set up is worth it's weight in gold on a breezy day.  But even with a water rudder, you'll find taxiing in the wind is a challenge to say the least.  It takes some practice learning to work with the wind, not against it...
When turning down wind it's important to use the ailerons to keep the wing from rising up and getting caught by the wind, otherwise your plane has a good chance of flipping over. Especially if it's a high wing trainer.
As mentioned earlier, your plane will automatically weathervane into the wind for the take-off run.
Hold full elevator as you slowly increase the throttle until the float is riding up on the step.
At this point it's time to relax the elevator as you apply full throttle.
Just like taking off from land, gently add elevator until she lifts up off the water for the climb out.
Once airborne the different vertical weight distribution along with the aerodynamic effects from the floats may cause her to be just a bit less agile, every plane is different.  For the most part you'll find that your airplane behaves just about the same with floats as it does with wheels.
Landing a float plane is the same as landing any other airplane. You might want to come in a little hot the first couple of times as the floats may cause her to slow down a bit quicker than you're used. Just sit her down nice and easy on the floats just like the mains of a tail dragger.

Related Articles

I hope this article answered some questions you may have had about RC float planes. If so, I think you might find the articles below helpful as well.  Good luck with your water adventures!

---
---
Back to Top of RC Float Planes

Sours: https://www.hooked-on-rc-airplanes.com/rc-float-plane.html
And from the shabby car life product of the Russian car industry, a shining caretaker fell out. I'll give you a ride wherever you want, the light of my eyes. You have a wife. Give her a lift. - Elena muttered, adding speed.
Plane rc float
The girl was sitting next to me, naked, in only white chintz panties. It seemed to me that I feel the warmth of her body, so close she sat from me. She reached out and touched my thigh. I almost groaned at the gentle touch. Instead, I whispered "Masha.
Flying the 1500mm Dynam Beaver RC Float Plane at the Lake
Denya agrees and, giving Kostya a grateful smile, glares at his reflection again. Dembel's junior sergeant's uniform sits on Dene surprisingly. Well - in his eighteen-year-old Den's uniform he looks more mature, and his clean, pretty face, illuminated with happiness, seems even more attractive - standing behind, Kostya squeezes his rapidly hardening member through his trousers.
A month ago Kostya returned from the army.
You will also be interested:
Thank you, I will not refuse, I replied and began to inspect the interior, sitting down in a chair. I will not describe this for a long time, I will only. Say that everything was beautiful and tastefully selected. I immediately felt cozy and warm here. And I didn't want to leave here.
27269
27270
27271
27272
27273