Wrought Iron Fence (Ornamental Iron Fence)
Whether keeping javalina out of your courtyard, or highlighting your swimming pool, our custom-made wrought iron fence product will create a beautiful protection for your home.
In the gallery below, you will discover many different models of what we call view fences:  fences that keep your views as unencumbered as possible. Tucsons landscapes are gorgeous, and we design with the local desert and mountains in mind. Fences have to blend in the landscape rather than stick out like a sore thumb. In Arizona, borrowing from nature is more important than showing off.
Our models of  are very diverse: personal style is expressed in many ways. For instance, our wavy patterns are incredibly popular. People love the fun aspect of alternating straight and wavy pickets.
If you prefer the classicism of straight pickets, you can pick options such as spear points or flat top, or alternate twisted with knuckles or baskets. You can also choose among many different finishes and colors: rust, matte black, powder-coated or painted.
Check out the rebar models: this a very original design which people love either all wavy or alternate wavy, in a beautiful rust finish.
If you like a very avant-garde style, consider pipe fence. This fence is made of strong steel pipes welded to a base which is itself deeply anchored in the ground. The pipes hold straight with no top frame. They can be of the same height or of different heights as you please. This type of fence is difficult to create and install; it is usually seen in upmarket properties and gates communities.
Wrought iron fencing is not just for fencing your property: its also used to highlight and secure a pool. City codes in Arizona require permanent pool barriers for safety reasons, so we might just as well make these visually awesome! We work with the shape of your pool, spa and deck to contour the pool fence the way you want to see it. It becomes an object of art, rather than an encumbrance. Pool gates are also a way to add some pizzazz to the design of a fence: a lot of our clients like arched top gates, as a way to break the continuity of a pool fence.
If you have stairs outside, for instance a small stairway to access a pool deck, think about railings. Railings help guide your steps coming up or down the stairs, and also protect children or seniors from falling off the side. They also help beautify balconies and make them safer. Better safe than sorry, always!
Finally, there is no end to the way we can install your wrought iron fence. As you can see in the gallery below, some fencing is mounted on top of a wall and shorter than usual. Sometimes, its installed in front of a plain wall, to beautify it.
Thank you for reading and please take your time to look at our photo gallery: every wrought iron fence model and variation discussed above is available, so dont hesitate to call us at for additional information, technical questions and estimates.
Fold Back
Sours: https://affordablefenceandgates.com/signature-iron-works/ornamental-iron-fence/
Wrought Iron Fence Panels and Gates
Questions? Give us a call!
Due to current supply chain restrictions, most of our wrought iron products are unavailable.
Depending on your application, aluminum or steel may be a better option.
High Quality Black Ornamental Iron Fence
Fence-depot is setting the new standard of excellence in the fence industry by selling top notch field- tested fully welded wrought iron fence and combining it with our award winning customer service. Meet the newest security guard in your neighborhood. Fence-depot's black ornamental iron fence is a superior option in today's fence market. Our wrought iron fencing systems will not only beef up the security of your residential or commercial property but will improve the appearance as well.
We offer a variety of decorative, field-tested iron panels options that are well suited for most any application. Our standard fence models come fully assembled and are ready for easy installation! A welded Quad Flair Finial is the standard option for a more finished look. Residential and Commercial grade fences are available for different applications. Shipping costs are more affordable than you think! We also carry a complete line of matching walk gates, driveway gates, and estate gates. If you're looking for more of a custom look, we also offer custom iron fencing, custom iron walk gates and custom iron driveway gates. Let us put our 25 years of experience to work for you! Call today at 1-() or contact us here to speak to a knowledgeable fence professional about wrought iron fence.
Residential Grade Wrought Iron Fence
Our Wrought Iron Residential fences come with a welded Quad Flair Finial and are fully welded for unsurpassed strength and durability. You can take comfort in knowing that our fences are sold with a 10 year warranty covering not only the structure of the panel but also the finish, thanks in part to our patented two stage coating process. All of the fence panels, posts, mounting hardware and gates are dipped in electracoat rust inhibitor after final assembly to prevent corrosion and are then powder coated for a premium finished product. Standard fences are in stock and shipping is more affordable than you think! * Click "SHOP NOW" to view our selection, product information, pricing and color photos.
SHOP NOW
Commercial Grade Wrought Iron Fence
Commercial grade Wrought Iron fencing is heavier and more durable than a residential grade fence. It is ideal for areas where the strength of a commercial product is needed, yet still maintains its neighbor friendly appeal. Fence-Depot's commercial fences are most commonly used for churches, schools, public swimming pools, high traffic areas such as factories, cemeteries, industrial complexes, apartment complexes, amusement parks, restaurants, or public recreation facilities. *Click "SHOP NOW" to view our selection, product information, pricing and color photos.
SHOP NOW
Sours: https://www.fence-depot.com/fence/wrought-iron-fence/
Ornamental Fence Panels
Ornamental and Wrought Iron Fence Panels, Dallas, TX
"; document.getElementsByTagName("head")[0].appendChild(htmlDiv.childNodes[0]); }
Our Top Selling Ornamental Fencing Series
Stocked in our Dallas Warehouse
4mm. Powdered Coated
Fully Welded
Most Versatile panels in the Industry
See details on this page
10 Year Warranty
We provide quality ornamental fence panels and railing. We also offer gates, posts, hinges, puppy panels, fence hardware, finials, latches, toppers, panel clips, tubing and flat bar.
For assistance in determining the needs of your project, call us at One of our representatives will help you determine the cost and number of pieces needed for your fence project.
Fence Panel Photos



Sours: https://www.forneyfence.com/ornamental-fence-panels/
Reddi Fence installs and repairs wrought iron fences in the Wichita area. We offer custom installation for homes and businesses. Call for a free estimate.
A decorative wrought iron fence is a durable, attractive and long lasting fencing option. All iron fences are galvanized for long lasting quality. We can install a custom iron fence or pre-manufactured iron fences for commercial and residential applications. Iron fences are available in a variety of heights and designs. Fence panels are welded for superior strength and security. Ornamental options are available to match you exterior asthetics.
Most of our wrought iron fencing include superior corrosion protection with coverage inside and out. This galvanized steel treatment and finishing process provides protection from adverse weathering effects and reduces visible wear. These finishes are maintenance.
Features and Options Include:
Multiple Styles
Color and Height Options
Finial and Adornment Choices
Durability and Security Levels
Large Gate Selection
Pet Pickets
Automatic Gates & Access Control
Hybrid Options
All of our wrought iron fences include our satisfaction guarantee, as well as a manufactures warranty (for pre-manufactured fencing products). Get a free estimate for your home or business:
Youll have several style options when putting up your new fence, so complementing an existing design aesthetic is never a problem. Here are some of the style choices we offer. Note: Options may change, not all options shown here.
---
Fence Styles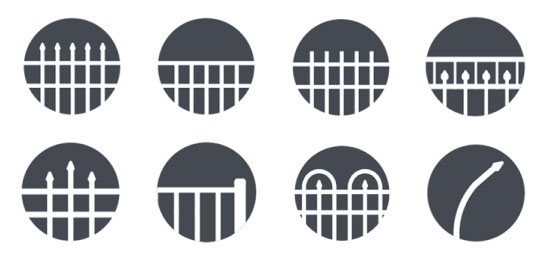 Fence Finials

---
Wrought Iron Fences for Small Dogs
If you have a small dog and are either required to have an iron fence, or just enjoy the style of wrought iron, dont worry. We have iron fences with option pet pickets to keep your small dogs and pest secure in your yard. We also offer mesh products that can be added to your fence if the pickets are too far apart. This black mesh is durable, and it discreetly blends in with the fence design.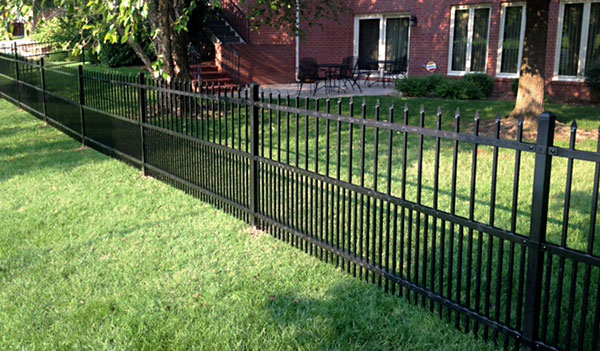 Iron Fence Repairs
We fix wrought iron fences and gates in the Wichita area. We have a large inventory of fence parts and replacement panels, so repairs are typically completed same-day. Call for a free repair estimate:
Sours: https://reddifence.com/wrought-iron-fence
Iron fence rod short
History of Metal Fences
In Colonial times, only the wealthiest could afford to import wrought—meaning hand-shaped—ironwork for their fine brick and stone townhouses. By the early s, however, as blacksmithing grew domestically, ornamental iron began to embellish the more varied house styles of the day. Such metalwork really peaked in popularity during the Victorian era, when foundries started casting and mass-producing elaborate pickets, posts, and scroll details.
These days, metal fences aim to suggest traditional iron using more-available steel or weatherproof aluminum, usually with hollow pickets made to resemble solid 5⁄8-inch square bars. The lighter-weight panels come together with fasteners, making installation easier. Even wrought iron's classic glossy-black paint is upgraded with a longer-lasting, multistep powder-coating process that greatly reduces maintenance. When restoration projects call for true wrought iron, a craftsman has to rely on salvaged material that can be melted down to be reworked by hand, making genuine wrought-iron fencing prohibitively expensive. What is marketed as wrought iron today is often solid steel (though solid aluminum can also be found), dressed up with -machine-made scrolls and cast details, such as rosettes. A custom fabricator can mix materials and manufacturing methods, depending on the budget, pairing cast-iron details with hollow-steel pickets that save on material costs. Some high-end manufacturers use molds to cast iron fence panels that feature shapes found in Victorian-era ornamental ironwork catalogs, but the product comes at a price—$ and up per linear foot.
Find out which type and style of fence will best flatter your house, while preserving your bank balance—and enhance the view from the curb.
Shown: The simple lines of this solid-steel fence echo the understated style of a brick rowhouse. Cast ball finials top each hollow post, while staggered cast details add a pleasing rhythm to pickets welded to rails along the top and bottom.
Metal Fence Vitals
What do they cost?
Depending on style, a 4-foot-tall prefab fence panel in tubular aluminum runs $10 to $14 per linear foot, uninstalled. The same panel in hollow steel starts at $15; in solid steel, at $84; and in cast iron, at $
DIY or hire a pro?
If you're an experienced DIYer, assembling and/or installing a hollow aluminum or steel fence is feasible, if you don't mind digging post holes and pouring the concrete. Let a pro handle heavier solid steel or cast iron.
How much maintenance?
Not much, compared with, say, a wood fence. Scratches on steel or iron need to be recoated with paint to prevent rust. Rust-proof aluminum requires virtually none.
How long do they last?
Protect the finish and you can get 20 years or more from hollow steel. A solid-steel, cast-iron, or tubular-aluminum fence can last a lifetime.
Material Matters: Tubular Steel
Your choice of metal depends on the level of detail you want and how much maintenance you can handle. The better the hollow-metal parts hide their fasteners, the more solid they look. All require posts set in concrete. Most metal fences today are made of one of these.
Tubular steel
Sheets of steel are bent into hollow pickets, rails, and posts. Panels are welded together, then screwed into posts.
PROS: Steel is strong enough to allow for 8-foot-long panels—and fewer posts.
CONS: Despite a galvanizing coating under the paint, steel can scratch and rust.
LOOK FOR: Uniform welded joints around the pickets. Panel brackets that rest on the post's inside face are least obvious. Fixed picket tops attached with epoxy or welds look better than screw-on tops but can't be changed later.
Material Matters: Tubular Aluminum
Shaped like steel fencing into preassembled panels or pieces for buildable DIY kits with pickets that screw into rails.
PROS: Will never rust; about four times lighter than steel.
CONS: Noticeable fasteners pierce each picket, usually leaving screwheads that face away from the street.
LOOK FOR: Inconspicuous panel brackets that attach to the side of the post or to rails that slide inside the post. Like steel, fixed picket finials look best. Metal ones are more durable than clip-on plastic versions. Elements like rings and arches help a basic design stand apart.
Material Matters: Solid Steel
Pieces are machined, then welded together. Rails attach to the posts with brackets, tabs, or welds.
PROS: Can feature tight curves and scrolls, rope-like twists, and pointed tops that mimic wrought iron. More intricate designs available than with tubular fencing. Also typically stronger and more secure than tubular steel.
CONS: The finish might not include a galvanizing coating, thus requiring more upkeep.
LOOK FOR: A uniform finish and a fabricator that can fit the fence to changes in grade.
Picket Styles: Hand-Friendly Rings
Details at the top can help evoke wrought iron
Hand-Friendly Rings:
Fences with smooth top rails are popular around pools. This one's cast-steel rings offer a Victorian-era detail.
Similar to shown: 4-foot-tall Montage Majestic tubular-steel panel, $25 per linear foot; Ameristar
Picket Styles: Pressed Spear
The tip of a hollow aluminum or steel picket can be pinched at the factory to form a basic spear.
Shown: 4-foot-tall Worthington tubular-aluminum panel, $ per linear foot; Home Depot
Picket Styles: Quad Spear and Ball
Cast in aluminum or steel, this picket top's four fins are finished with a ball to keep hands safe.
Shown: 4-foot-tall Ameristar Genesis tubular-steel panel, $ per linear foot; Fence-Depot.com
Picket Styles: Triad Spear
The pointed spear suggests a security fence. It likely grew in popularity after the mids when cast iron became more common.
Shown: 4-foot-tall Ameristar Montage tubular-steel panel with triad finial, $23 per linear foot; Fence-Depot.com
Picket Styles: Hoop and Spear
This classic cast-iron motif blends the spear with the safety of the hoop, available today in steel or aluminum.
Shown: 3-foot-tall solid-steel fence panel, $ per linear foot; A Rustic Garden
Picket Styles: Fleur-De-Lis
The flower shape, common in French Colonial architecture, tops an elaborate cast-iron design here but can also spruce up plain tubular pickets.
Shown: 4-footinch-tall Stirling cast-iron panel, $ per linear foot; Heritage Cast Iron USA
Metal Fence Buying Options
Purchase ready-made panels from a home center, build a DIY kit, or hire a pro to do all the work
Prefab: Home centers and fence suppliers carry 6-foot-long tubular-aluminum panels held together with screws. DIY-friendly home centers usually offer the best prices but a limited number of designs. At 4-byfeet, panels weigh only about 11 pounds each but might require multiple trips to haul home. The screws joining the pickets to the rails allow you to "rack" the panel, following the slope of the yard. Hollow-steel panels are welded together or, in budget versions, joined with rivets, and can weigh about 50 pounds each. Because it's stronger, steel comes in 8-foot panels, which makes it harder to transport, but you'll install fewer posts. Ameristar's Montage is a rackable tubular-steel option, but more often, this type of fence panel is stepped down a slope.
Ready to assemble: Building aluminum panels from a boxed kit by screwing pickets to rails drops the panel price to about $8 per linear foot. But these panels are available only in the most basic styles. While this is the most time-consuming approach, the boxes are easier to transport with the average car. Steel is harder to find as a kit.
Pro built: Often the best choice with solid steel, which can weigh 50 pounds per linear foot, requiring heavy machinery to hoist it up. If you have a severely sloped property, you might also want to have a pro handle racking aluminum panels or stepping down steel panels so they follow the grade consistently—this can be tricky to do, while leaving enough space below for your string trimmer to cut the grass.
The average house needs feet of fence. Hire a pro if you don't want to dig the nearly 40 post holes needed to install a tubular-aluminum fence like this.
How to Anchor to Concrete Paving
For a new installation, order posts with metal plates welded to the bottom; masonry screws hold the plate to the concrete. To relocate a post, a retrofit mount (shown) can be used—it works with the same screws, then covers them with trim.
How to Anchor to a Masonry Wall
Joining a inch steel or aluminum fence panel's rails to a brick wall, or between masonry columns, requires a fixed bracket with painted screws for each bar. Use adjustable mounts for layouts that are out of square, like an octagonal shape.
Rust Remedy
Once the paint finish fails on steel or iron, it's only a matter of time before rust develops. Here's how to take it off—and keep it off
Rough it up: Grab a dust mask, gloves, and goggles, then pick your abrasive: coarse sandpaper or a wire brush for small areas or a drill-driver fitted with a flap disc for larger spots. Remove the rust down to bare metal, and switch to a fine-grit sandpaper for a smooth finish, feathering the edges of any built-up paint on the perimeter.
Prime it: Wash the metal with soap and water, then rinse and let it dry. Tape off areas around the damage to control overspray. Coat the sanded section with a rust-inhibiting metal primer. If a section is heavily pitted, use a sanding primer to fill gaps.
Paint it: Spray on a glossy top coat to match your existing fence—try an auto parts store for hard-to-find colors.
Push-In Option
Dress up your yard or define a flower bed with an easy-to-install, to inch-tall solid-steel fence. Push each panel into the ground, and keep it upright with stake-like pickets at each end, linking panels together to extend the run or to turn corners.
Shown: by 1⁄2-inch panels in unfinished steel, $60 each; A Rustic Garden
Pick a Post Cap: Pineapple
The right topper can give a style boost to standard picket panels
Pineapple: the pineapple became a symbol of hospitality in early America and is often used on fences in front of Colonial homes.
Shown: inch cast-iron post cap, $; Custom Ornamental Ironworks
Pick a Post Cap: Ball
Orbs are a classic detail on fences fronting Victorian-era homes where they were often paired with ornamental scrollwork.
Shown: inch cast-aluminum post cap, $; Home Depot
Pick a Post Cap: Urn
For a greater number of cap styles, upgrade to beefier inch posts and choose from styles like this curvy shape, designed to replicate a turned-wood post.
Shown: inch cast-aluminum post cap, $62; Metalcraft Industries, Inc.
Gate Upgrades: Wireless Gate Bel
These hardworking details add a heap of function to your fence's entry point
Wireless Gate Bell
If your home's network extends to the gate, a smart doorbell can beam video of your guests to your phone without requiring wires.
$; Ring
Gate Upgrades: Magnetic Latch
Traditional latches stop working as the gate settles, but this magnetic one adjusts to seasonal movement and can work with your house key.
$67; D & D Technologies
Gate Upgrades: Self-Closing Hinge
Replace traditional hinges with this rust-proof version, in plastic and stainless steel.It will swing closed any gate up to 66 pounds.
$21 for a pair; D & D Technologies
Fence Friends: Clipped Hedge
Foliage and flowers soften the hard lines of a metal fence, turning a border into a pleasing streetscape
Clipped hedge: a thick hedge can boost privacy with a metal fence. The foliage of American hornbeam, a deciduous, shrubby tree, emerges reddish-purple, then turns green before finishing orange-red in fall. Its gray-blue bark provides winter interest.
Fence Friends: Tall Bulbs
Add a touch of English cottage-garden style with the straight stems and softball-size blooms of allium. 'Globemaster' reaches over 30 inches tall with purple flowers up to 12 inches wide—a colorful and fun counterpoint to black metal pickets.
Fence Friends: Mixed Perennials
Enhance a rusted iron or steel fence with a border of white, pink, purple, or blue geraniums. Vary the heights and foliage of nearby plants, like the tall masterwort and shorter ferns here.
Design Variations: Staggered Spears
Even basic bars can take on different looks.
Staggered spears
While each of these tubular-aluminum pickets is finished with the same pressed-tip spear, simply alternating their heights, and giving the whole assembly a coat of creamy-white paint, helps to set this fence apart.
Shown: 4-foot-tall pinched picket panel in satin white, UAS, $11 per linear foot; Ultra Aluminum Mfg., Inc.
Design Variations: Arched Beauty
The classic wrought-iron hoop-and-spear design can now be had in easy-to-maintain hollow aluminum. Its kid-friendly curves keep pool-goers safe.
Shown: 5-footinch-tall loop-and-open-picket panel, starting at $18 per linear foot; Jerith
Design Variations: Old-World Detail
Sours: https://www.thisoldhouse.com/fences//all-about-metal-fences
Wrought Iron Fence DIY Installation
Pricing Guide: How Much Does a Wrought Iron Fence Cost?
Wrought iron fencing isnt cheap, but its not the most expensive fencing type, either. Most homeowners pay from $2, to $4, for a professionally installed wrought iron fence, with a national average of $3,.
Breaking down the cost of different types of wrought iron fences, you can expect to pay $26 to $34 per linear foot. The more intricate your fence design, the closer your cost will be to the high end of that range. On average, homeowners nationwide spend about $30 per linear foot for materials and professional labor.
How much does wrought iron fencing cost?
National average cost: $3,
Typical price range: $2, $4,
Extreme low end: $
Extreme high end: $8,
While a typical wrought iron fence for an average-sized property will usually cost between $2, and $4,, many factors can result in a much higher or lower total cost.
A tall fence of 6 feet or more, a complex ornamental design, or a fence for an especially large yard could cost as much as $8,. A shorter, simpler fence around a small area (like a swimming pool or air conditioning unit) might cost you as little as $.
Cost Estimator by Size
When it comes to fencing, the size of your yard is one of the biggest factors of budgeting, since it decides how much material you need and how many work hours your contractor will have to spend on the job.
Most homeowners pay an average of $30 per linear foot for a standard wrought iron fence. A lower end project would cost about $26 per linear foot, while a higher end would be closer to $34 per linear foot.
You can use these rates to figure out the approximate overall cost of your own wrought iron fence based on your yards perimeter. For example, if the fence you want is relatively plain and easy to install, you should take the low end rate of $26 and multiply it by your yards perimeter in linear feet. If you want a fancier fence, use the high-end rate of $34 instead.
Using the average rate of $30 per linear foot, weve calculated the approximate total cost of a wrought iron fence for a small, medium, and large property.
A smaller property with a yard of square feet will need about 69 linear feet of fence, which would cost approximately $2,.
A medium-sized yard of 2, square feet would require feet or so of fence, coming out to a total of $4,.
It would take around feet to fence a large yard of 3, square feet, and the project would cost about $5,. 
YARD SIZE
TOTAL COST ESTIMATE
*materials and labor
Small yard ( square feet)
$2,
Medium yard (2, square feet)
$4,
Large yard (3, square feet)
$5,
Other Factors That Affect Cost
Because wrought iron fences are so highly customizable, many other specific aspects of your project besides just yard size can drastically raise or lower the cost. You have to take factors like fence height, decorations, and the gauge (thickness) of the iron into account if you want an accurate price estimate.
Price by type of wrought iron
Though many wrought iron fences look similar, there are different styles and types of material that can go into their construction.
For example, did you know that wrought iron comes in colors other than plain black? You can make your fence stand out from the crowd with colors like white, green, or bronze, but expect to pay more for these than you would for standard black. 
You also can find wrought iron fencing in a huge variety of different styles. Some may feature curved bars, custom post caps, or decorative shapes in the iron. For a highly ornamental wrought iron fence, the professional installation rate will be about $27 to $34 per linear foot.
For reference, a plain black wrought iron fence without much decoration should cost about $24 to $30 per linear foot. A slightly higher-end galvanized fence, which would be less susceptible to rusting, runs for around $28 to $32 per linear foot.
TYPE OF WROUGHT IRON
COST PER LINEAR FOOT
*materials and labor
Plain black wrought iron
$24 $30
Galvanized wrought iron
$28 $32
Ornamental wrought iron
$27 $34
Cast iron vs. wrought iron
Cast iron has an appearance similar to wrought iron but with a lower cost. Thats because cast iron fencing is much easier to produce en masse. Where craftsmen work wrought iron into different shapes with tools by hand, cast iron comes from a mold.
Since you pay less money, cast iron is less customizable and less durable (posts are usually hollow). The national average cost of a cast iron fence is about $1, to $3,.
Price by height
A 4-foot wrought iron fence, often found around front yards or swimming pools, is common. This height is enough to define your space and keep small children and animals in (or out) of your yard without blocking views. A typical 4-foot wrought iron fence is about $23 to $26 per linear foot.
If youre more interested in a wrought iron fences decorative properties, a smaller 3-foot fence might be a better option for you. A shorter fence will usually be more affordable ($22 to $26 per linear foot) and will still mark your property line without making the yard feel closed-off or uninviting.
Keep in mind, a 3-foot fence is probably too short for a proper swimming pool fence. 
A taller fence, meanwhile, can provide increased security for your front or backyard. Be careful with tall fences out front, though, as they can block views of landscaping and diminish curb appeal. A 5-foot wrought iron fence runs for around $26 to $30 per linear foot, and a 6-foot wrought iron fence would be about $33 to $36 per linear foot.
FENCE HEIGHT
COST PER LINEAR FOOT
*materials and labor
3 feet
$22 $26
4 feet
$23 $26
5 feet
$26 $30
6 feet
$33 $36
Wrought iron gate cost
A gate is a necessary piece of your fence, since its the part that makes your space accessible. Depending on where you build your wrought iron fence, you may need different types of gates.
For a fence around a backyard or swimming pool, for instance, you would probably want a small, single manual gate. If the fence lines your front yard, you may need a large automatic driveway gate instead. The size, style, and complexity of a gate will determine its cost.
In general, you could pay anywhere from $ to $8, for a wrought iron gate. That extreme high end includes the cost of hiring an electrician in addition to your fence contractor, which may be necessary for an automatic gate.
Fence thickness
A fence made from thicker wrought iron will be more durable and more expensive than one with a higher gauge. While shopping for materials, keep in mind that contrary to what you might think thicker iron has a lower gauge, and thinner iron has a higher gauge.
Wrought iron fence thickness can vary, so talk to your contractor or material supplier about what gauge of metal would best suit your needs and budget. Using higher gauge wrought iron might be an effective way for you to save money on your fence project.
Adding brick columns
Instead of using regular fence posts, many homeowners opt for brick columns with their wrought iron fence. Brick and wrought iron make a formal, charming combination that can elevate the look of your landscape.
Based on the type of brick you use, whether you have hollow or solid columns, and how many columns you want, a project like this can get quite expensive. You can expect to pay about $ to $1, per column.
To keep the look but make the fence more cost-effective, some people use regular wrought iron posts around the yard with brick columns outlining the gate. 
Permits
Before you start construction on your wrought iron fence, youll want to find out whether or not your city, county, or municipality requires a building permit for fencing.
You have to pay for any necessary permits whether you work with a contractor or install the fence DIY, and the cost can range from $20 to $ depending on project specifics and regulations where you live.
If you have already hired a contractor to install your wrought iron fence, you may want to tack on a few related services at the same time. These services may or may not be relevant to your property.
Before you choose a contractor, check that they can provide any extra services you think you might need. 
Rust protection or painting
Wrought iron fences even though they tend to be durable and long-lasting can rust without proper preparation and maintenance. Galvanized wrought iron already has a protective zinc coating, so it doesnt need supplementary rust protection.
Aside from adding protective coatings, you may want to paint your wrought iron fence to alter the color to better match your property. Keep in mind that some paints can actually make the metal more vulnerable to oxidation and rusting.
If you want a pro to apply protective coatings or paint for you, youll have to pay for the material itself and labor.
Added cost: $8 to $10 per linear foot of fence to be painted/coated
Fence removal
If your new wrought iron fence will replace an existing fence, you will have to get the old one out of the way first. Removing a fence can be difficult and time-consuming because fence posts are usually set in concrete. Instead of doing it yourself, you can pay your fence installer an additional fee to dig up and haul away the old fence for you.
Added cost: $3 to $5 per linear foot of fence to be removed
Land grading
Does your yard have an intense slope? That could make your new fence a little more difficult to install and therefore more expensive, too. Your fence contractor may have to excavate and regrade any uneven land before they can install the fence.
Added cost: $ to $3, depending on how much work needs to be done.
Tree or bush removal
Existing landscape features like trees or bushes might stand in the way of your fencing project, too. You can remove these features on your own if theyre small enough, but a larger plant might require a professionals expertise and equipment. You may have to hire a separate tree care company along with your fence installer for this service.
Most of the time, a pro will charge for tree or bush removal based on the height of the plant, the complexity of the root system, and how accessible the spot is.
Added cost: $ to $1, per plant or $10 to $14 per foot
Cost of Installing a Wrought Iron Fence DIY
If you want a highly customized wrought iron fence with unique details and frills, you wont have any choice but to hire a professional to create it for you. That being said, you can purchase simple prefabricated wrought iron panels and posts from a fencing supplier and install them yourself.
With prefabricated panels, installing a wrought iron fence shouldnt be too difficult. As is the case for most types of fences, this project would take at least a few days and would be easier to complete with two sets of hands.
Equipment needed
DIY wrought iron fence installation requires fewer specialized tools than you might think. Since you will be assembling pieces that someone else has made, there wont be any difficult metal work involved.
In fact, its likely that youll find all or most of the necessary equipment in your garage or tool shed. Even if you have to buy everything new, you wont spend too much money on tools.
Heres what you will need for your wrought iron fencing project, with average pricing data gathered from Lowes, Home Depot, and Amazon:
| | |
| --- | --- |
| EQUIPMENT | AVERAGE COST |
| Spray paint | $5 |
| Work gloves | $10 |
| Screwdriver | $12 |
| Masons line | $15 |
| Ground stakes | $16 for 4 |
| Protective safety glasses | $16 |
| Tape measure | $18 |
| Level | $21 |
| Post hole digger | $50 |
| TOTAL | $ |
Cost of materials
If you need additional wrought iron fencing materials, you usually will have to buy these from a specialty fencing supplier.
You might find wrought iron products from general retailers like Lowes or Home Depot, but those are almost always tubular steel or aluminum shaped to look like wrought iron. If youre OK with settling for a substitute metal such as these, you could save yourself a lot of money and trouble. 
For our purposes, we calculated total costs for linear feet of fence, which is about how much you would need for the average backyard. The overall cost of your project could vary significantly from the example here if you need more or less fencing.
The fence in this example uses 20 6-foot tall wrought iron fence posts, 19 4-foot tall by 8-foot wide wrought iron fence panels, and 20 wrought iron post caps.
MATERIAL
AVERAGE COST FOR ONE
APPROXIMATE TOTAL COST
Post caps
$4
$80
Concrete mix
$20 for large bag
Fence posts
$43
$
Fence panels
$83
$1,
Single gate
$
Gravel
$ for large bag
TOTAL
$3,
How to Install a Wrought Iron Fence DIY in 8 Steps
1. Measure yard perimeter and plan fence. Before you know how much of each material you need to purchase, youll have to figure out the perimeter of your yard (or the area you want to fence in) in linear feet. Use ground stakes and a durable string such as masons line to outline where the fence will go. Then, youll need to select the specific panels and posts you want to use.
2. Mark post holes. How wide are your fence panels? Thats how far apart your fence posts should be. This example uses panels that are 8 feet wide, so you would mark a spot for a post hole every 8 feet along the perimeter of your yard. Dont dig just yet simply use spray paint to mark the spots on the ground where you will dig later. Note where the gate will go with two parallel lines on the ground.
3. Prepare post holes. On each spot that you measured and marked earlier, use a post hole digger to create a hole about 6 inches in diameter and about 2 feet deep. Its important that you call (the diggers hotline) to find out where your propertys underground utility lines lie before you start digging.
4. Lay gravel base. Before you install the posts themselves, pour 2 to 3 inches of gravel in each post hole. This gravel base will help water drain away from the posts in the future.
5. Prepare concrete. Follow the instructions that come with your concrete mix to prepare it for pouring. Usually, all youll have to add is water. You can use any kind of mix you want, but a fast-setting concrete will make the whole installation process go quicker.
6. Install fence posts. In each post hole, place a wrought iron fence post and pour concrete around it. While one person pours concrete, have another person hold the posts plumb. If youre working solo, use stakes to brace the posts and keep them straight. Fill in each hole with concrete, leaving about 4 inches of space at the top. Backfill those last inches with dirt. As you work, use a level to ensure all the posts are in line with each other. Wait at least a few days for the concrete to set before you move on.
7. Attach fence panels. Attach fence panels at the top and bottom bracket between each post. Line up the panels with the posts and secure them using screws or bolts.
8. Install gate. Using the hardware that most likely came with the gate you purchased, attach the gate in the spot you left for it. If you want an automatic gate with an electrical hookup, youll probably need a professionals help with this step.
DIY cost vs. professional installation cost
Because wrought iron fence materials can be difficult to find, even installing a wrought iron fence DIY is fairly expensive.
For the simple, foot fence in this example, you would spend about $3, total for the necessary tools and materials. Aside from the money, you also will spend a few days of your time (and preferably a friends time, too) on this project. 
For comparison, based on the national average price per linear foot, having a professional install a similar fence would cost about $4, for materials and labor. By building your own fence, you would save more than $1, on a project like the one in this example.
The savings could be even greater for a larger fence that takes longer to install. 
Cost of Wrought Iron Fencing by Location
Unlike wood fences, the cost of materials for a wrought iron fence doesnt vary too much based on where you live. Thats not to say, though, that the same national average prices apply to everywhere in the country. Even if the material costs are consistent, the labor costs arent.
In a small town, fence installers will most likely charge a lower rate per work-hour than in a big city. Alternatively, small businesses with fewer customers might charge more than large companies that have more sources of revenue.
Remember that where you live and the specific contractor you hire are significant factors in pricing for a wrought iron fence. Dont be surprised if your local costs are different from the national averages given here.
FAQ About Wrought Iron Fences
1. How do I take care of a wrought iron fence?

The main threat to a wrought iron fence is rust. To help prevent rust, you can apply water repellent spray or another protective coating to your fence. 

Inspect your fence regularly, and if you notice excessive dirt or shallow rust spots, scrub them away with warm, soapy water. If the rust has set in too deeply for you to scrub it away, use sandpaper or a wire brush to remove it before it can spread further. 
2. How long will a wrought iron fence last?

With proper maintenance, a wrought iron fence can easily last a lifetime or even longer. 
3. What paint should you use on wrought iron?

Before painting, apply a rust-inhibiting primer. After that, you should use an exterior-grade enamel paint preferably, a specialized direct-to-metal (DTM) paint that also contains a rust inhibitor. 
Conclusion
Whether you install it yourself or hire a professional fencing contractor to do it for you, you should prepare to spend a few thousand dollars on a wrought iron fence. For the money, you get a durable fence that will stand the test of time with low maintenance compared to, say, a wood fence.
The national average cost of a professionally installed wrought iron fence is about $3,, with a typical range of $2, to $4,. Your yards size, the type of wrought iron you use, and certain attributes of your property will decide the exact budget for your project.
The cost of materials and equipment required to put together your own wrought iron fence would cost about $3, for linear feet of fencing. Other types of metal fence (such as a steel or aluminum fence) will almost always be more affordable, but they wont be as durable.
Main Photo Credit: Spencer Means / Flickr / CC BY-SA
Jordan Ardoin
Jordan Ardoin is a writer and indoor plant enthusiast hailing from Florida. In her spare time, she enjoys chasing her two cats around the house and trying to keep her houseplants alive.
Posts by Jordan Ardoin
Sours: https://www.lawnstarter.com/blog/cost/wrought-iron-fence-price/
Now discussing:
3' Wrought Iron Fencing & Gates
Shop 3 ft Wrought Iron Fence and Gates you can install yourself. Solid iron fencing to last a lifetime and more.
Fitting the 3 foot wrought iron fencing to surround your home or business can be a challenging project so let us help you plan it. You will find our rustic fence materials perfect for a faster DIY wrought iron fence project. Call us about your fence project today at
We offer iron fencing and gates made in America and shipped from the Central United States. We have a Buying Guide for 3 ft tallmetal fence that can help you with different wrought iron post options.
We continue to add wrought iron fencing options so you can pick the right style and size for your home or business. Go to our Fence Postoptions that help you specialize your look. Wrought Iron corner and gateway anchors can make a huge difference in your fencing project.
Sours: https://www.arusticgarden.com/3tawrirfeand.html
2109
2110
2111
2112
2113