It's bright, beautiful and glittering, and catching the attention of interior designers from coast to coast. Mirrored furniture may seem like a throwback to a more glamorous and bygone era, but it's popping up in galleries and showrooms as clients clamor for fun, fashionable decor over staid staples of the past.
A small piece properly placed in a room can do so much. A mirrored accent table or razor-thin sofa table can infuse a room with eye-catching allure, open a space by reflecting natural light and wake up tired decor without looking dated.
The appeal of mirrored furniture, with its beginnings rooted in the bygone glamour of old Hollywood and art deco, has become a versatile classic in the design industry, said Dane Austin, owner of Dane Austin Design.
"The reflective surfaces help to bounce light around the room," Austin said. "Mirrored furniture reads as light and airy as it occupies less visual space in your mind's eye."
Combining textured upholstery or wallpaper can build on the mirrored furniture effect.
"The reflective surface acts as an interesting counterbalance to more textural elements like grass cloth and linen and appeals to those who appreciate a little touch of glamour," the award-winning Boston designer said.
These days mirrored furniture is available in a wide range of finishes and applications on everything from coffee tables, desks and sideboards to nightstands and four-post beds.
A classic and favorite piece of Austin's includes Pottery Barn's mirrored nightstand by Park.
"I love the clean classic look of this nightstand with its Federal-style lines," Austin said. "It's simple, sophisticated and provides practical storage."
RH has a Strand mirrored desk that can be used in many ways in almost any room of the house.
"It would make a great desk, console, vanity or sofa back table (and) offers storage drawers to reduce visual clutter," Austin said.
If the mirrored furniture trend has caught your eye, try a simple piece before laying out funds for a fleet of glimmering tables or dressers.
"You can find high-end pieces and budget-friendly buys in this glam finish to fit every price point," he said. "If you're interested in seeing this style in your own home, consider starting with a small side table or console table. This allows you to test it out without committing to anything too overwhelming."
Small rooms can feel more spacious with just the right placement of mirrored furniture, said Georg Baehler, lead designer for Noir Furniture.
"Because it reflects … this unique quality physically impacts a space through illumination and the suggestion of a larger physical space," Baehler said.
Wide slats of glimmering mirror pieces placed across, over and around pieces of furniture can open a room and provide a bright, modern and sleek touch to home decor. It can make a room look larger by maximizing the play of natural light that a room gathers.
The classic trend can work in any room, from low and heavy night stands that add a dash of elegance to an otherwise bland bedroom to tall side boards that anchor a dull dining room.
"The inherent distinctiveness and clean characteristics of the material make it ideal for decor," Baehler said. "There's nothing else like it with the exception of, maybe, polished stainless steel."
While it works well as an accent, mirrored furniture takes a gentle hand to make it work in any room.
"In the Noir line, I try to be careful with the way I use mirror," Baehler said. "When used the right way, it can be striking. Too much mirror can feel generic. Be selective. Use mirror to make a room look larger. Don't use too much."
Mirrors on walls and large pieces of furniture can make a serious impact, such as at a recent show home that used mirrors behind shelving along an entire kitchen wall.
"It looked awesome," Baehler said. "The mirror material was placed at the perfect point to dramatically reflect light and make the space deeper. In the wrong hands, it could have looked awful. But the right designer with the right amount of material and the right space created something amazing."
Furniture designers have put a modern spin on the classic trend by infusing the distinct style from the '80s and early '90s, said Winny Rotsidis, marketing director for New Pacific Direct. The company recently rolled out the Mancini and Andrea mirrored furniture collections.
"It conveys luxury in a contemporary modern silhouette," Rotsidis said. "The silver and cream combo creates a beautiful contrast."
A good way to incorporate the look into your home is to pair a mirrored piece with stacks of visually interesting books, groups of textured bowls of natural wood or stone or a ceramic lamp with simple lines.
Just don't overdo it.
"Incorporate in moderation," said Rotsidis. "Buy a mirrored furniture piece such as a coffee table to create a lux or a polished look to a room. A matching end table with the same mirror accent would also work well and not be overbearing."
Sours: https://www.reviewjournal.com/life/home-and-garden/mirrored-furniture-adds-glamour-and-eye-catching-allure-1579237/
After moving across country and headquartering in San Francisco the easy-living brand was purchased by Williams-SonomaWhen on the hunt for used Pottery Barn furniture or Pottery Barn rugs or Pottery Barn Lighting be on the lookout for their signatures.
Pottery barn mirrored side table. Framed in hardwood the Park Bedside Table is mirrored on the front sides and top and beautifully evokes the symmetry of early 19th-century Empire furniture24 wide x 18 deep x 28 highHand-applied champagne-gilt finish on the wood trim and knobsCatalog Internet Only. Porter Live Edge Side Table. Here are some options in a range of prices.
Ethan Allen Georgian Court Queen Anne Oval Drop-Leaf Side Table. Shop round mirrored side table from Pottery Barn. Drawer bottoms are MDF.
Pierre IndoorOutdoor Square Concrete Side Table. Ethan Allen Georgian Court Queen Anne Oval Drop-Leaf Side Table. Solid Wood round Side end table s pair of 2 Pottery Barn 260 noe valley.
Pottery Barn Willow Antique Mirror and Metal End Table. Our furniture home decor and accessories collections feature round mirrored side table in quality materials and classic styles. Our furniture home decor and accessories collections feature mirrored side tables in quality materials and classic styles.
Not just a furniture maker but an aspirational lifestyle brand Pottery Barn was founded in the 1950s along the docks of West Chelsea. Pottery barn table 225 san jose south pic hide this posting restore restore this posting. Shop parsons mirror end table from west elm.
Find a wide selection of furniture and decor options that will suit your tastes including a variety of parsons mirror end table. Top sides and drawer fronts are mirror over hardwood and MDF an engineered wood that lends exceptional strength and ensures the tables structural integrity over time. Each is crowned with a mirrored top and has an open C base for easy nesting.
Pottery Barn mirror 250 mill valley pic hide this posting restore restore this posting. Floating Wood Live Edge Side Table. Mirrored accents are just the thing to add a little bling to a room.
Top sides and drawer fronts are mirror over hardwood and MDF an engineered wood that lends exceptional strength and ensures the tables structural integrity over time. Shop mirrored side tables from Pottery Barn. Wood and Metal Console Table.
Space-saving and chic the DecMode 3 Piece Mirror Top Nesting End Table includes three nesting tables with a polished chrome finish. Square iron and glass Newman side table from Lamps Plus 54091 4. Mixed with other textures reflective side tables and consoles add a dose of refinement.
Shop faceted mirror side table from west elm. Foxed mirror console from West Elm 549 2. Shop Pottery Barn for decorative mirrors that feature simple designs and easy style.
Find a wide selection of furniture and decor options that will suit your tastes including a variety of faceted mirror side table. Pottery Barn Vintage Metal-Clad Coffee Table Retails for 799 This LAL is from Overstock Overstock Gemoratic Hammered Gold Leaf Metal Coffee Table Retails for 64949 The Pottery Barn collection also includes a side table. 1495 1695.
Pottery Barn Vintage Metal-Clad Accent Stool Retails for 299 Overstock does it again with another great LAL. Threshold mirrored modern accent table from Target 99 3. Our handcrafted chests and drawers add elegance to any bedroom.
Drawer sides are made from hardwood and MDF. Find an array of wall mirrors and create a warm space with reflective light. Drawer bottoms are MDF.
Sours: https://d9e6b1441468a7f6116daf8313249b3b.s3.us-east-2.amazonaws.com/pottery-barn-mirrored-side-table.html
Mirrored furniture reflects the light, making spaces appear more open and inviting. These glossy pieces also add a glamorous element to a room, and fans of design movements such as Hollywood Regency are increasingly collecting mirrored items. Most importantly, these furnishings are versatile–they work with any color scheme, and they complement patterned textiles with their shiny yet neutral look.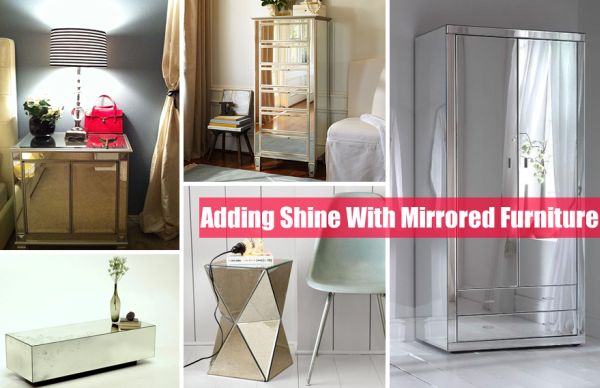 Whether you're on the hunt for a touch of mirrored elegance or you're in search of larger pieces, we've assembled a collection of gorgeous finds for your browsing enjoyment. Note the wide variety of styles represented, from the classic to the modern!
Mirrored Side Tables
We begin with a unique piece that features a collection of angled surfaces. The Faceted Mirror Side Table channels the spirit of old Hollywood, yet its look is so contemporary that it blends well with other modern pieces. Geometrically brilliant! [from West Elm]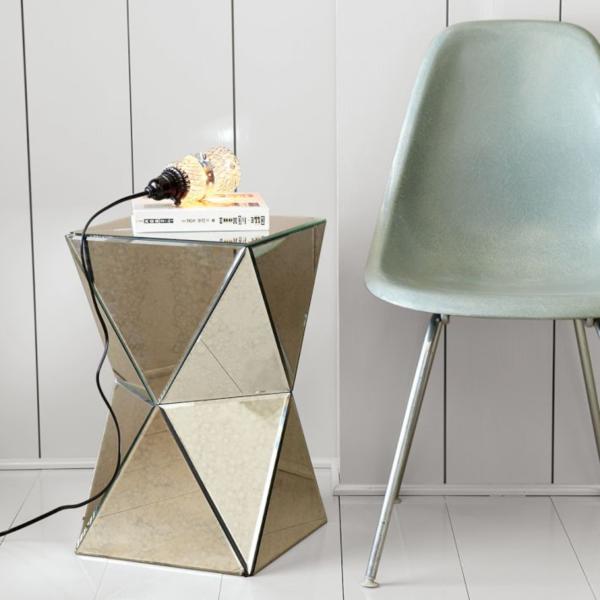 The Park Mirrored Bedside Table showcases tapered legs and a style reminiscent of early 19th-Century Empire furnishings. A hardwood frame keeps it sturdy, but the reflective exterior brightens things up. [from Pottery Barn]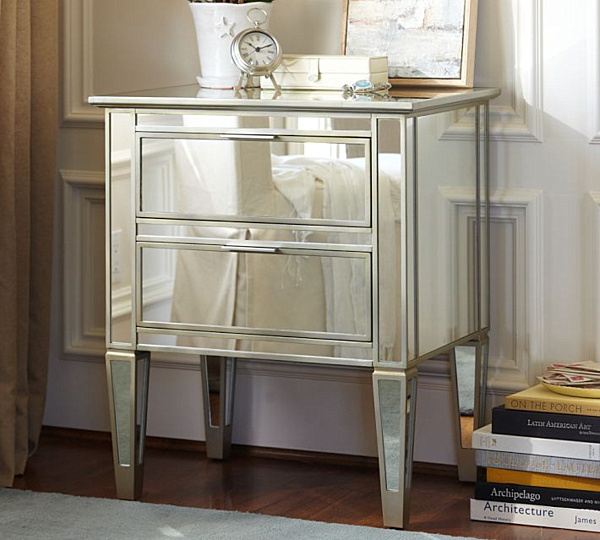 On a similar note, Pier 1 carries an amazing collection of mirrored pieces, from nightstands to headboards. Named for movie star Rita Hayworth, this '30s-inspired line of furniture will not disappoint. [image from Martini & Milk]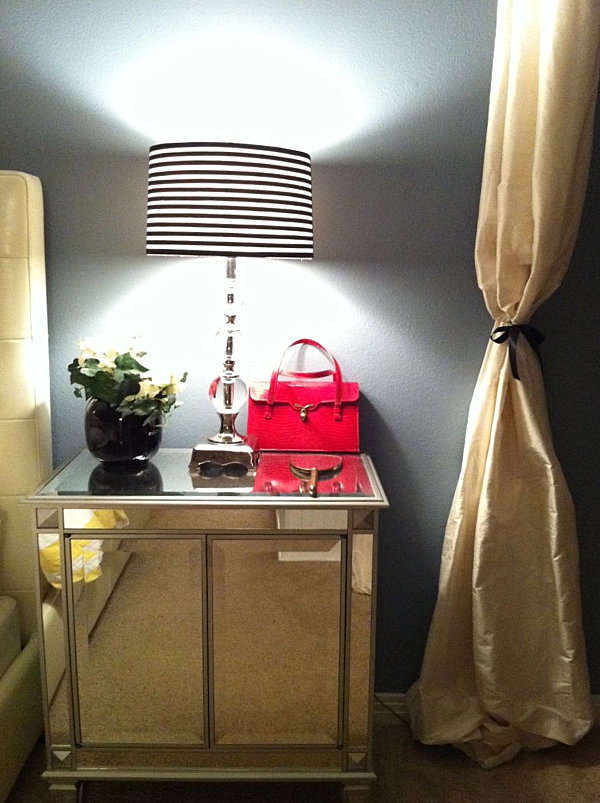 For more Hollywood Regency fun, check out the image below, which features the Hayworth Nightstand, as well as the Hayworth Mirror & Vanity: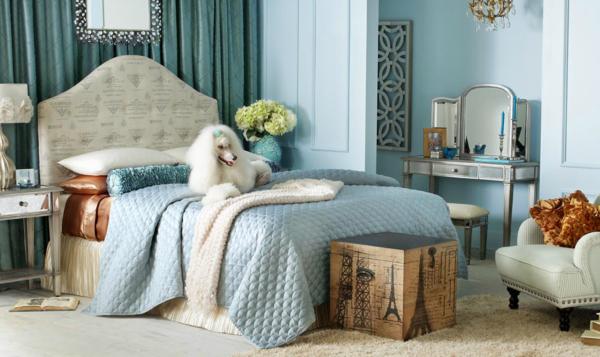 The Barcelona Bedside Table brings some metal into the mix with its chrome steel legs. Add a glass drawer knob and the shine is undeniable! [from Graham and Green]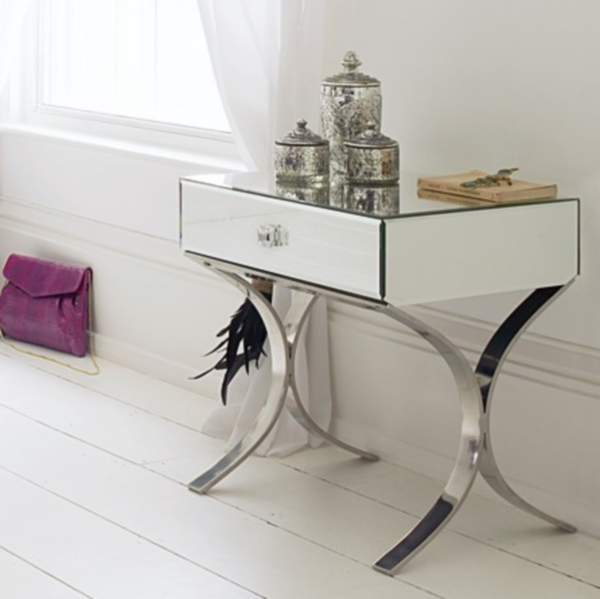 Mirrored Coffee Tables
Z Gallerie offers a large selection of mirrored finds, including the Pascual Coffee Table shown below. The piece combines a distressed finish with a mirror inset for a chic weathered look. Also note the Borghese Mirrored Buffet along the back wall: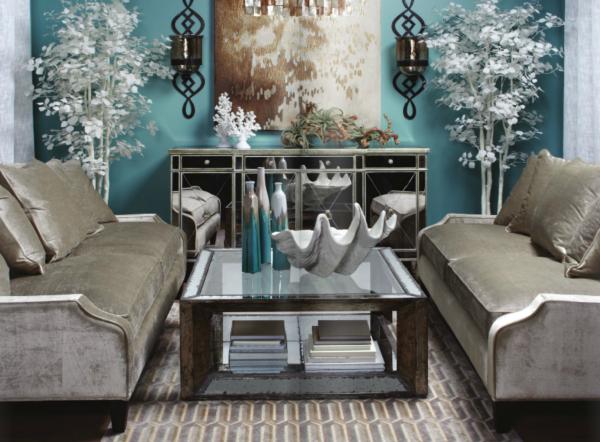 The Mirror Cube Coffee Table with Arabesque Design is a modern block, yet curved detailing is added to the surface as an embellishment. [from Notre Mond]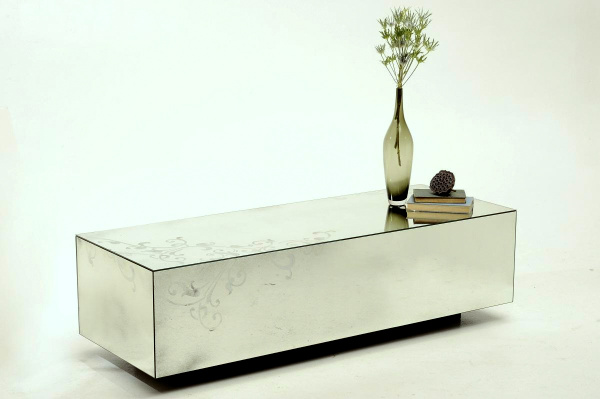 For another take on modern mirrored design, go for a coffee table with a solid border. The white trim is a nice contrast to the piece's glassy top. [from Cattelan Italia]: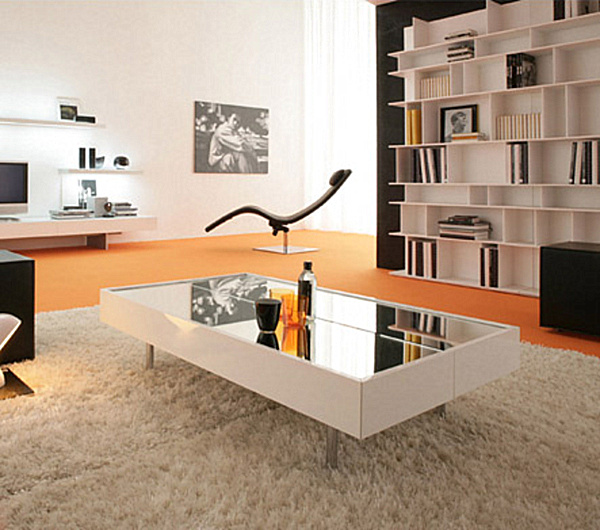 Textured edging and tapered legs give the "Amelie" Mirrored Coffee Table an antique look. Note how the coral is reflected in the tabletop, a testament to the piece's ability to showcase the items it holds. [from Neiman Marcus]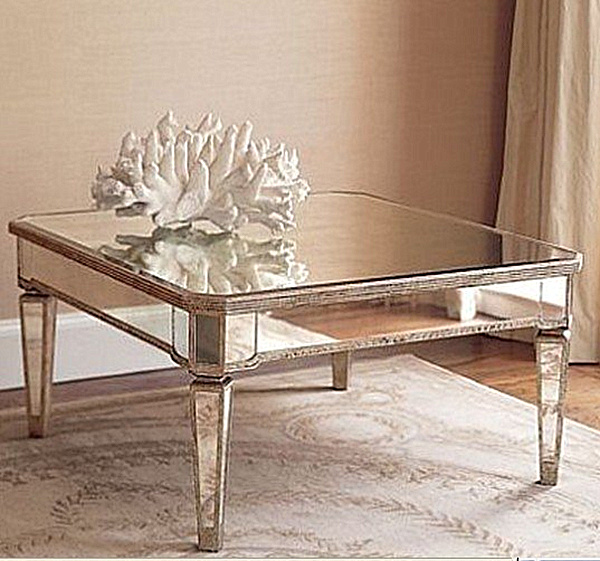 Finally, for a more subtle mirrored effect, check out the Foxed Mirror Coffee Table. Its antiqued mirror top is as striking as the round shape. [from West Elm]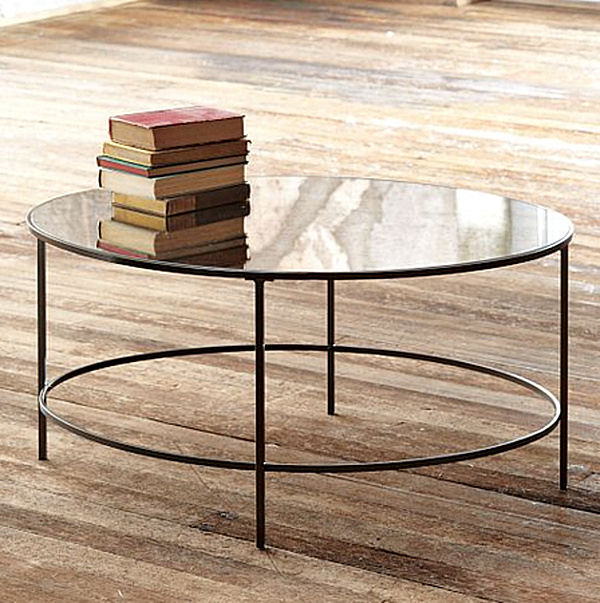 Mirrored Vanities
Vanities provide a grooming area and a place to display cosmetics, perfume and other decadent products. Mirrored vanities accentuate these precious items and celebrate the "look at me" nature of the space. The Colette Mirrored Vanity below features cabriole legs and golden edging. [from NC Furniture Best Buys]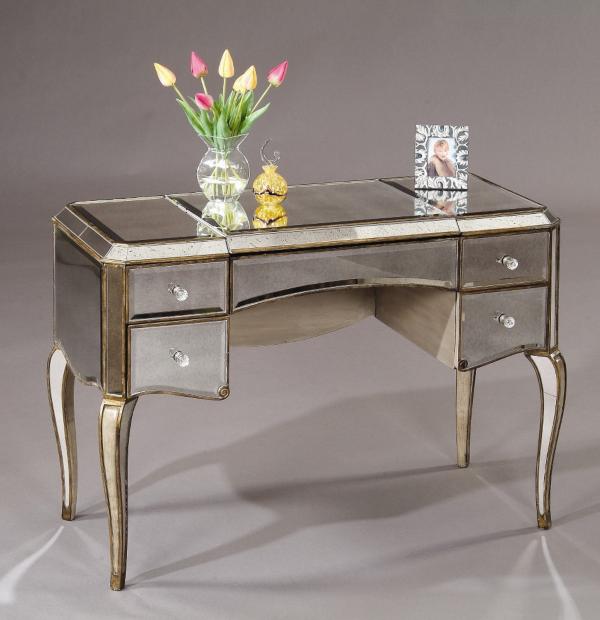 The Beveled Mirrored Vanity with Drawer is an ideal dressing table with the addition of a chair, or it can double as a console table that holds serving items at times of entertaining. [from Notre Mond]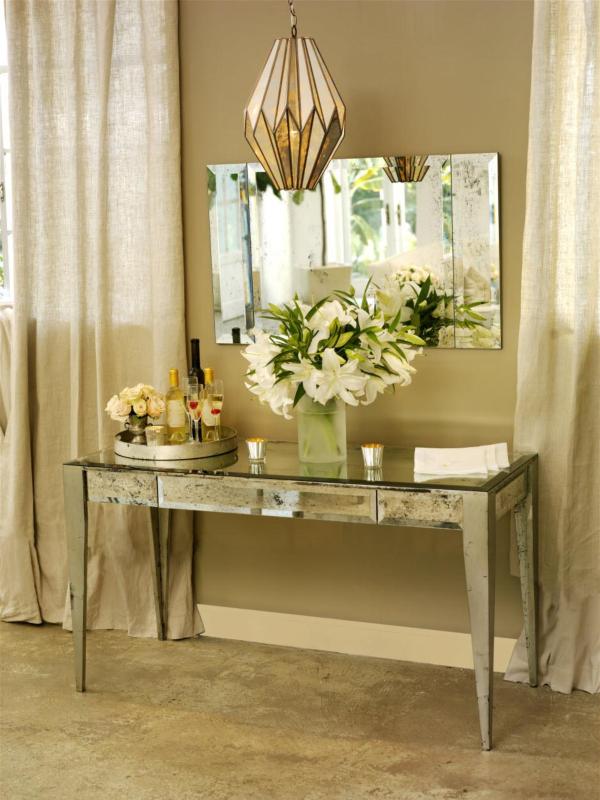 The Romano Mirrored Dressing Table Set comes with a matching stool. A boxy construction is contrasted by the curved mirror, combining the best of modern and romantic styles. [from Homes Direct 365]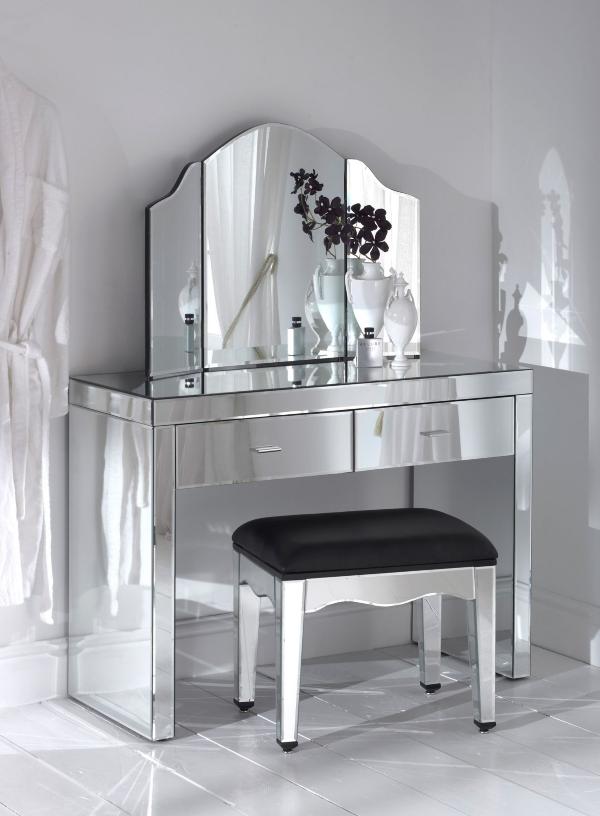 Designed by Jamie Graham, the 50's Style Mirrored Dressing Table features slanted drawers and wooden legs. Pair it with a retro chair to continue the 50's effect. [from Graham and Green]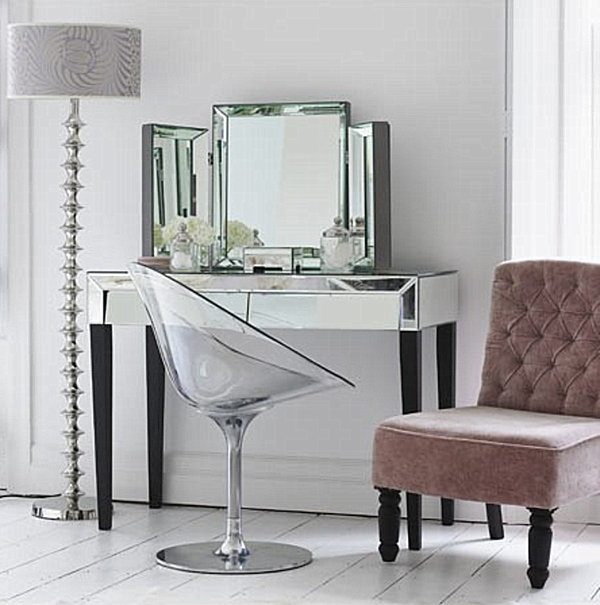 For a thin-legged look, try the Barcelona Mirrored Dressing Table Set with White Barcelona Stool. This fabulous collection of furnishings is anything but bulky, yet the reflective surfaces give the piece substance and sparkle. [from The Furniture Market]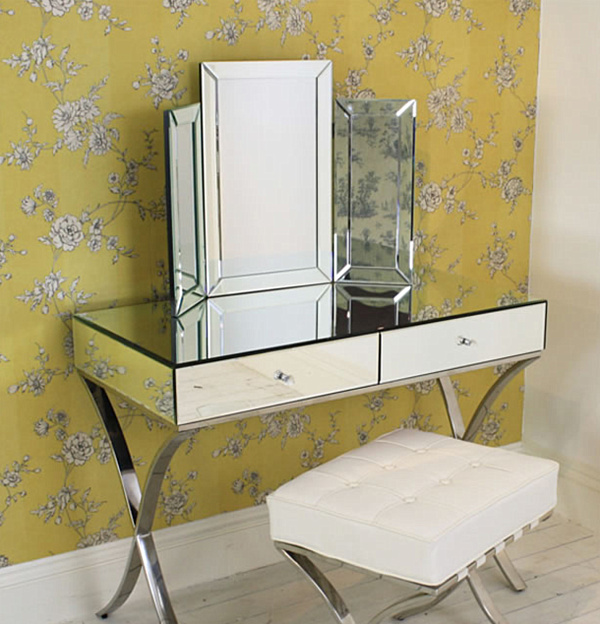 Mirrored Storage Pieces
For a dash of Art Deco, try the the Foxed Mirror Buffet. The oval design over the smoke-stained mirror finish adds interest to this practical piece, which provides plenty of storage space for dishware and serving items. [from West Elm]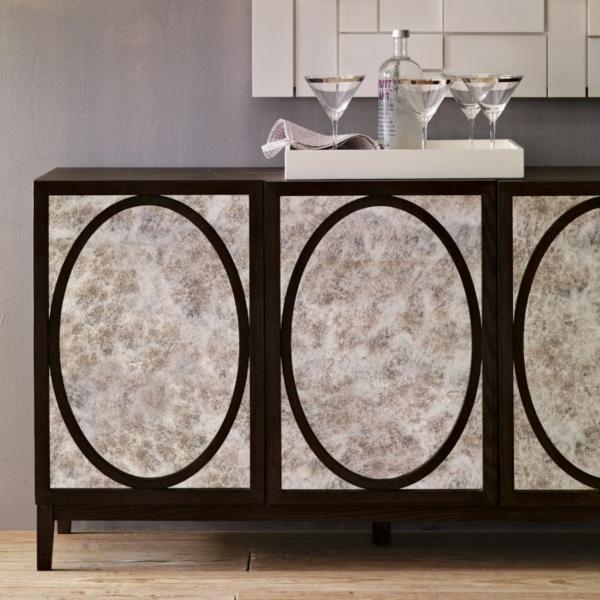 The Simplicity Mirrored 9-Drawer Chest lends a platinum, icy quality to a room, thanks to a silver leaf outline and polished nickel hardware. Notice how its top is the perfect setting for a large piece of art flanked by matching lamps. [from Z Gallerie]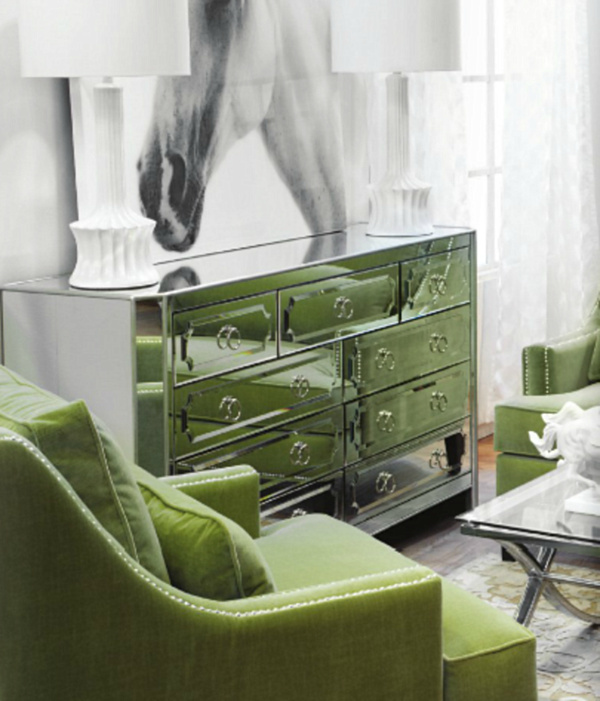 For an unusual spin on the reflective dresser, try the 50s Style Mirrored Chest of Drawers. Slanted drawers and retro wooden legs are true selling points. [from Graham and Green]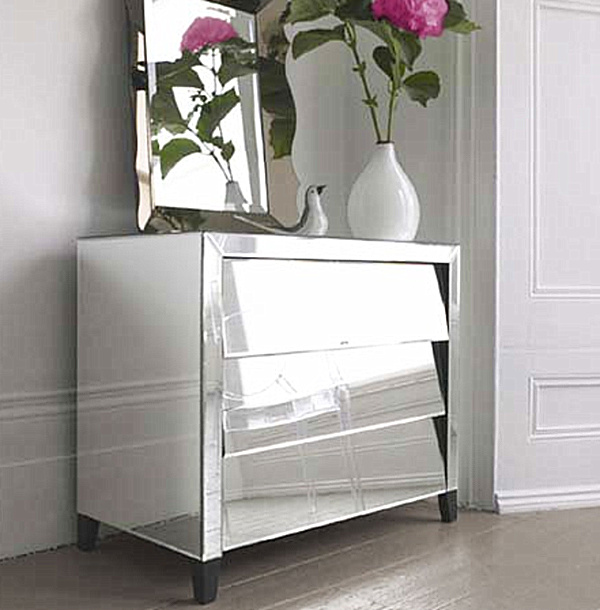 If you're a fan of color contrast, the Park Mirrored Tower Dresser is a piece worth considering. With a dash of Hollywood Regency influence, this silvery mirrored chest is outlined in gold-toned trim. [from Pottery Barn]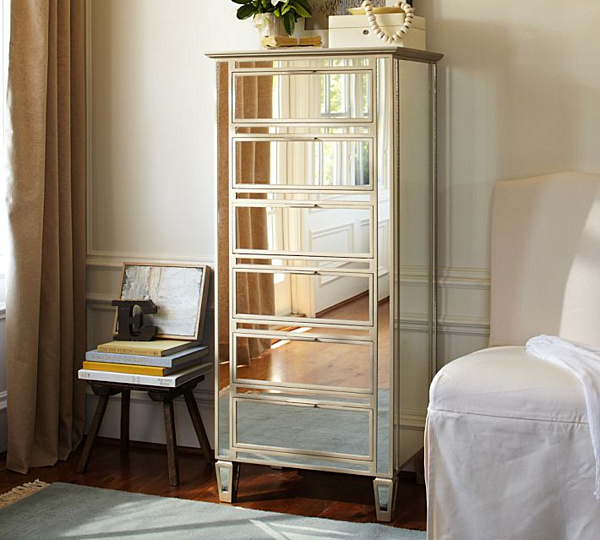 For the mother of all storage pieces, check out the Mirrored Romano Wardrobe. Inspired by the Italian Venetian period, the piece provides ample storage, with an additional two drawers for folded items. [from Homes Direct 365]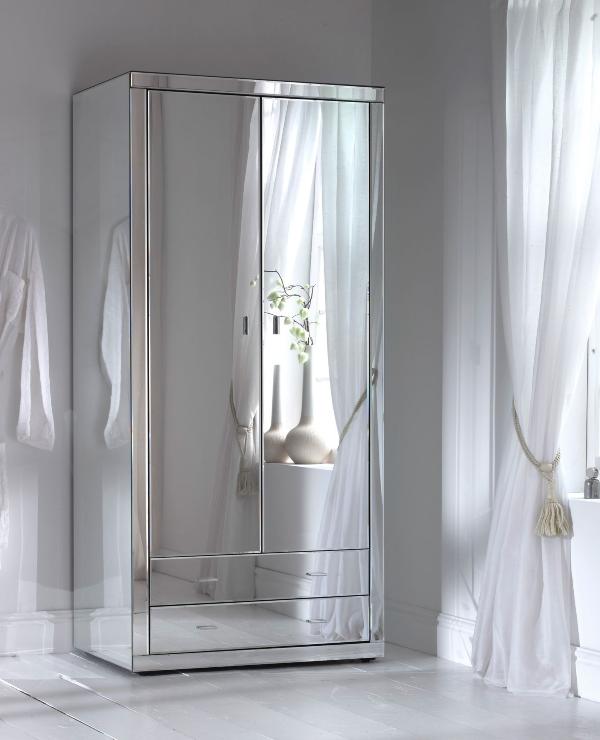 Sours: https://www.decoist.com/2012-04-04/adding-shine-with-mirrored-furniture/
Bedroom Glamour: Mirrored Bedside Tables Energize!
There are many feng shui problems in this bedroom on a basic level, but the nightstands covered in mirrors are not one of that group— I LOVE THEM!
These Park Mirror Bedside Tables  from Pottery Barn are a flash-bam-boom way to add shine and a symbol of "self-reflection" all in one dazzling stroke of decor!  After all, in every relationship, we need to be self reflective…and every bedroom could use some extra wattage in terms of energy. 
While I wouldn't say that this particular mirrored-table solution can be the perfect feng shui cure for your lackluster love life, it just might be!  To test out the power of mirrored energy, place a mirror flat, facing up, on the top of each of your current nightstands.  Feel any difference?  That's one way to tell.  Another? If you are literally in the dark in your bedroom and lighting feels overwhelming, or you need to make a marked shift in your relationship patterns, this could be an interesting decor swap to try!
************
 If you are a feng shui tip lover and want to get even juicer info, jump on teleseminars with me, and get an inside-line on all sorts of other fun stuff to help you design your dream life, join my special list right HERE.   And, if you are ready to take it to the next level  &  design your dream life with me, you can work with me one-on-one online or in-person to make the big moves!
Always, I love hearing from you! xoxo Dana
Sours: http://www.fengshuidana.com/2012/09/27/bedroom-glamour-mirrored-bedside-tables-energize/
Table park mirrored bedside
Pottery Barn
Park Mirrored Bedside Table
Sold Out
24" wide x 18" deep x 28" high
Kiln-dried sold hardwood frame.
Hand-applied champagne-gilt finish on the wood trim.
Simple Assembly.
Features
The frame is constructed of kiln-dried solid hardwood.
Top, sides and drawer fronts are mirror over hardwood and MDF, an engineered wood that lends exceptional strength and ensures the table's structural integrity over time.
Drawer sides are made from hardwood and MDF; drawer bottoms are MDF.
Hardwood drawer glides ensure easy opening and closing; drawer stops prevent accidentally removing the drawer.
Leg levelers ensure stability.
Simple assembly required.
Details
Overall: 24 wide x 18 deep x 28 high
Drawer Exterior: 17.5 wide x 16 deep x 5 high
Drawer Interior: 15.5 wide x 14 deep x 4.5 high
Clearance to floor: 11
Legs: 2.5 square, 27.5 high
Distance between legs at floor: 17.5 side to side; 12.5 front to back.
---
Sours: https://www.shopstyle.com
DIY - Mirrored Dresser Transformation
My wife was so turned on then, too, she says, I just want to. After such words, my roof was blown off. Who and how did not fuck her - in our fantasies, every evening we pounced on each other and came up with something new on this topic. And if she was leaving somewhere on a business trip, then we had enough space for "creativity" for many more weeks.
Of course, I was sure that these were only fantasies, they completely suited us, both me and, as it seemed to me, my wife.
Now discussing:
The bitch moaned and screamed when I sat down especially deeply: - yes, yes, more, more - she moaned, - fuck me, don't stop, Sasha, fuck. I continued to hammer the dick into the whore with force and got so carried away that I did not even feel how the dick jumped out of. Her cunt and I also freely flew into her ass, smashed no less, if not more, than the cunt. I understood this only by the fact that she almost began to scream how good she was and that I tore her ass again and.
Again.
624
625
626
627
628