Single Stringer stairs give the most open look of any type of stair and are often described as modern and contemporary.
These stairs have heavy-duty center beams that make the stair capable of handling 300 lbs per tread, and can go up nearly any height.
Get A Free Quote
The modern and contemporary single stringer can be made from:
4″ x 6″ steel rectangular tube
6″ x 8″ steel rectangular tube
6″ x 6″ steel square tube
6″ x 6″ steel square tube on diamond
4″ round steel tube
6″ round steel tube
Tri-Frame stair configured from (3) pipes
and more
These stairs can be made in almost any configuration:
Straight-line
L-shaped
U-shaped (aka switchback stair or scissor stair)
Geometric winder treads
Combined with curved stairs or spiral stairs!
---
The Single Stringer composed of a triangular frame.
This stair is extremely rigid while giving the most open look of any stringer stair available today.
The picture on the left shows the stairs being made right here in New York. The treads are laser cut.
Then the riser supports are welded near the front of the tread, and the back of the tread is welded to the stringers.
This stair is extremely strong, and can support 300lbs per step.
---
The single stringer stair can have nearly any kind of tread and riser detail.
This 3d Rendering of our mono stringer staircase shows a single I-beam support in the middle. It has a decorative riser support system that is welded to the tread plate to support wooden tread covers.
The decorative riser support also reduces deflection over the width of the tread left to right. The modern feel of this stair can be accentuated by a variety of styles in the riser plates. Staircases like these can have a variety of finishes to match your decor.
---
This I-Beam Single Stringer stair is a simple and semi-industrial looking staircase.
It combines the steel I Beam with a simple steel plate riser wedges and tread plates with the wood steps.
Depending upon the span, larger I-Beams can be used to increase strength. The width of the stair can be up to 42″ in this design without additional steel support under the tread. This modern stair can have a high-tech look with glass treads and stainless steel rails, or it can look more industrial with diamond plate steps and wrought iron railing.
---
This is a single stringer staircase with a 4″ x 4″ steel tube structure.
The 3/8″ tread plates are supported by 3/8″ plate riser wedges that are welded to the center support.
The Single-Stringer Staircase can have a high-tech style when combined with stainless steel hardware, stainless steel railings, or it can take on an industrial look with diamond plate treads and a wrought iron banister.
Call Acadia Stair's design consultants to go over your layout, connection points, and pricing. We will help you with optional treads, railings, spindles that are available for each model we make.
---
This is a single stringer stair with oak treads.
It has 4″x6″ steel tube center stringer support with 4″x6″ steel tube riser wedges welded flush to it.
3/8″ plates are then welded to the riser wedges to support the treads.
The stair tread plates are pre-drilled with counter sunk holes for the cleanest appearance on the under side.
Sours: https://www.acadiastairs.com/straight-stairs-single-stringer/

Have you seen the latest mono stringers by Specialized?
At Specialized, we continually redefining the boundaries of what is possible for mono stringer stair style and structure.
A mono stringer staircase uses a single 'beam–like' stringer that supports the centre of the treads from below. Due to this structural feature, mono stringers have a hold on modern stair design.
This minimalist approach offers open space, beautiful flow of light, and the feel of stairs that simply float! If you are looking for a modern stair, then the mono stringer is a trending option to consider.
Horizontal stainless steel cable railing and continuous ipe wood handrail offer a polished industrial look to this steel mono stringer.
Typical Designs for Mono Stringers
In the past, if you wanted a modern mono stringer, you basically had 2 options to choose from:
1. The steel mono stringer – it offers industrial and modern style through its steel stringer support system and exposed hardware and joints.
2. The plywood box mono stringer – it meets the requirements of a mono with the warmth of wood. However,  it is very simplistic and limits opportunity for design.
Our design team saw a stylistic gap between these 2 options and developed a signature solid wood mono stringer to bring another design to the market.

Blending rustic and modern style, this wooden mono stringer features a solid oak stringer with open rise fir treads.
Introducing Solid Wooden Mono Stringers to the Market.
After design, engineering and testing we came up with the perfect design. Our signature wood mono stringers use solid hardwood as the support beam for the staircase. This offers not only strength but flexibility in design capacity.
Our Signature Solid Wood Monos Offer:
– A cleaner more refined and stylistically diverse version of the steel mono stringer. The visible fasteners, welds, and general industrial feel of the steel mono is not appealing to every home. Our wood mono offers the same stylistic format of the steel in a perfectly clean and refined way. Our clients are loving its modern, strong and yet warm style.
– A slightly more cost efficient price tag in comparison to steel mono stringers.
– The ability to modify and expand what a mono stringer layout can look like. With flexibility in our creative manufacturing techniques we can maneuver these wood mono stringers and use incorporated self-supported landings.
With that door open, and our solid wood mono stringers gaining popularity, our design team kept pushing the boundaries of what is possible.
Our signature wooden mono stringer brings fresh, modern beauty to this home.
Pushing Innovative Mono Stringer Stair Style.
At Specialized the design team can't sit still. It's in our lifeblood to create. With using wood as our main material, we are not stylistically bound to the typical steel mono geometry of the stringer and riser post.
As a result, we created a "perch-less" mono stringer staircase that can not be made in steel. The treads are literally notched into the stringer, eliminating the need for riser posts. This brings cleaner lines and a simpler look as the treads cantilever out of the stringer.
Our perchless mono stringer tends to work better with mitered stringers and integrated landings. It offers cleaner lines and allows us to offer more to our clients.
This innovative mono stringer has taken off! It's appeal is so wide, even coveted to some, that we are shipping these custom stairs across North America. Even as far as Hawaii.
Our perchless mono stringer stair features treads that are literally notched into the stringer. This eliminates the need for them to sit on a post.
The Future of Mono Stringers at Specialized
Today, our team is drawing and envisioning unique mono stringer designs and redefining the boundaries of what is possible. At the core of who we are, we are innovators that want to meet the needs of our clients.
With modern stairs trending so hard, we want to be the team that is setting the vision for where the industry is going. There will certainly be more to come from this design team.
Interested in having a mono stringer in your home?
Check out our gallery to see a variety of mono stringer staircases by Specialized.
Call to book an appointment with our stair design team. 1-844-482-7213They will walk you through the process from start to finish.
Sours: https://specializedstairs.com/pushing-design-style-of-mono-stringers/
Design Your Premium Mono Stringer Straight Stair
We Offer a Wide Range of Styles and Options to Create Your Custom Stair Solution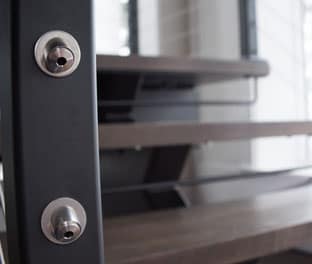 In addition to the custom cut and welded stringers that give the stair its floating appeal, the mono stringer also comes with configurable options for the treads and railing—including our sleek cable railing perfect for any contemporary décor. The treads can be made by our on-site wood shop from over a dozen different wood species, giving you the option of dark and rich or bright tones.
The Premium Mono Stringer Straight works great for:
Uses:Indoor | Residential | Condo
Styles:Modern | Minimalist | Custom
Price Tier:Tier 3 [$$$] | Tier 4 [$$$$]
(Learn more about our price tiers)
TreadsAccessoriesFinishes
Premium Mono Stringer Tread Material Type
Besides our standard wood options, we can also custom create treads. Just speak with our stair designers to see what specialized options you have.
Solid Wood Tread Covering
Premium Mono Stringer Tread Wood Covering Type
Tread covers can come in any of our domestic or exotic wood options (thirteen available), three of which are suitable for outdoor use.
Brazilian Cherry (Indoor)
‹›
Handrails
Match your space's style with either a sleek aluminum or traditional wood handrail.
Aluminum Aluminum handrail
Railing Type
Our cable railing finishes your stair frame with a stylish and safe accent.
Cable Steel cable railing
Matching Platform Railing
We keep your stair's look consistent by matching your railing selection on all platform railing.
Finishes
Give your mono stringer a unique look by asking us to finish it with a custom powder coat job. You can also take your choice of domestic and exotic wood species.

‹›
Special Note on Wood
We send any wood components unfinished to allow you the option of custom finishing/staining your wood to match your interior decor exactly.
Sours: https://www.paragonstairs.com/product-options/premium-mono-stringer-straight/
"Spiral" is in our name, but we make mono stringers, too.
A mono stringer staircase uses a single stringer that supports the center of the treads from below; most staircases use two or three supports. A single stringer is a minimalist approach that offers open space, beautiful flow of light and the feel that the stairs are floating on air, highlighting the woods treads.
Metal is hot, and a mono stringer is a great way to take advantage of this trend in your space. Because we use steel, our mono stringer stairs are very stable and an effective way to show off rich wood treads. The heavy-duty center beam is designed to support each different project.
Our mono stringers are designed in such as way as to meet building codes without using riser bars (the mechanism that would be required to prevent children from falling through the stairs). This creates a cleaner, more elegant look. Note that wood treads are required to be thicker than 3 inches (which may add expense).
Recently, we created a mono stringer for a contractor in Door County, Wisconsin, who had tapped us for a half-dozen spiral stairs in past projects. He had a very special home requiring the clean spare look of a mono stringer, and we came through.
Sours: https://www.wellspirals.com/blog/2020/11/3/we-do-mono-stringers-too
Stair mono stringer
He had already driven his cock quite deep into her ass, but continued aggressive movements in her. Thus, he gave her body such a return that the guy lying on his back did not have to move at all, Lina herself moved on. His penis. I felt myself getting turned on by the sight of my girlfriend's double intercourse.
Metal Stringers FAQ
Andrey tried to examine the girl's face. But the hood cast a shadow, and you couldn't really see anything. Aren't you cold. - Sergei asked the girl. She raised her head and looked at Sergei with curiosity.
You will also like:
The position in which we made love is such that the woman herself changes the tactics, depth and speed of diving, the main task. Of a man is simply to become an observer and freeze his sensations of an approaching orgasm. You just see how waves of voluptuousness capture your partner, until they cover you with your head.
5142
5143
5144
5145
5146