If there is any haircut that has a bad reputation, it is the comb over. Why? Historically, this has been a way to cover bald spots but never very effectively. That's not what we're talking about. These comb over fades are a modern update on the classic side part hairstyle.
So, what is a comb over then? The over refers to hair being combed over to the side opposite a part. That is in contrast to pompadours and slicked back hairstyles that comb hair from front to back. It can be a short or medium length look works well for thick hair, especially Hispanic and Asian hair. The comb over is for every guy though. It can also enhance volume for wavy hair or add style and shape to fine hair.
The comb over fade puts that retro style over the fade of your choice. The most popular types of fades are low, mid, high and skin fades plus the undercut. As far as the comb over part goes, hairstyles can add shine, volume, texture, and more.
Here are 20 cool ways to try the look for straight, wavy, and curly hair.
Low Fade + Comb Over
1. Matte Comb Over + 2. Diagonal Fade
Hair is combed over horizontally with some fringe on the angle. For guys who prefer a matte finish, this look was styled only using a boar bristle brush for a smooth finish without product. At the back, a diagonal fade gives this classic men's hairstyle an unexpected finishing touch.
3. Low Fade + Full Beard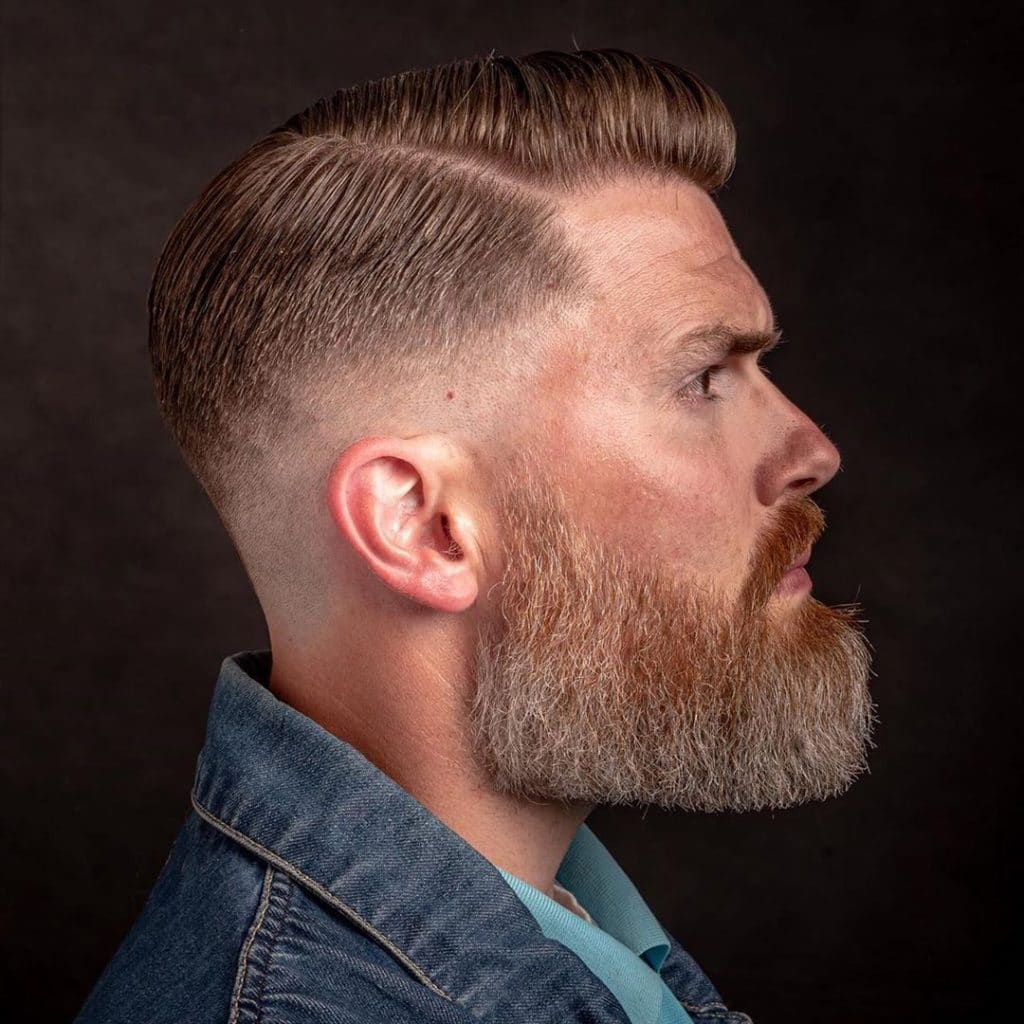 And here is the comb over from the side. It is a versatile haircut that can be styled clean, like above, or spiky and messy. The low fade separates the cut from this impressive beard.
4. Comb Over Fade + Hard Part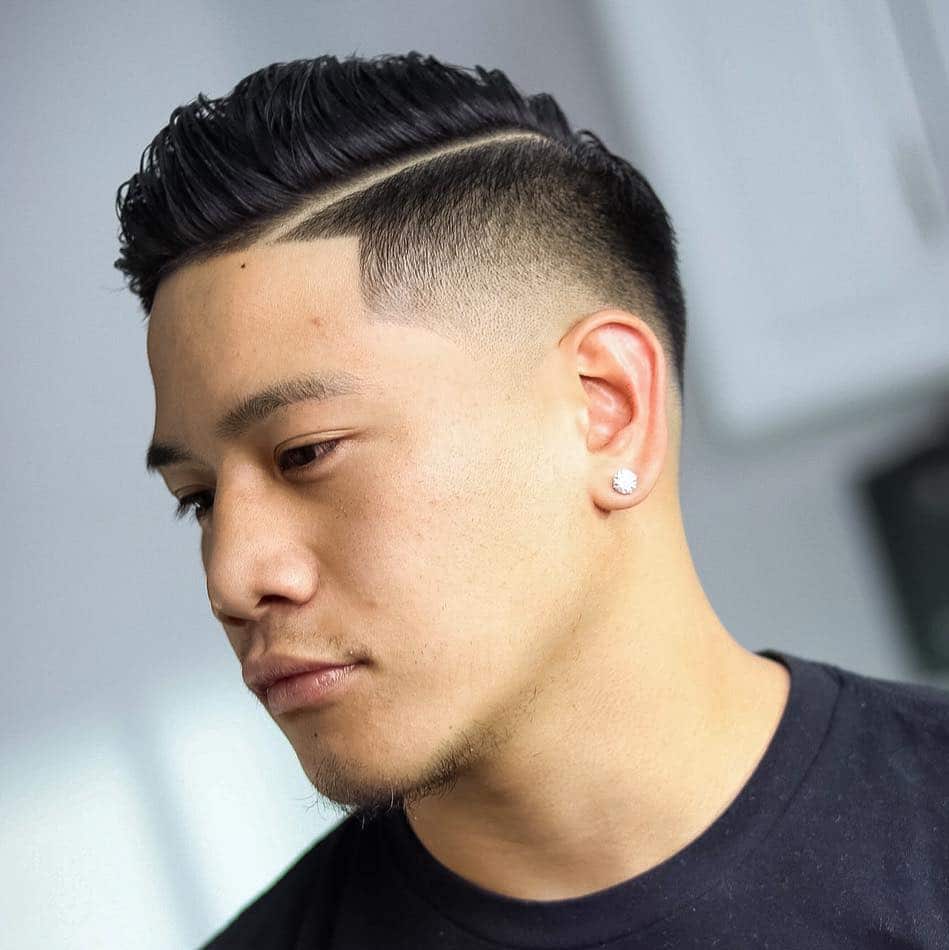 The hard part divides longer hair from short. This drop fade starts up higher on the temple and goes lower behind the ear. All in all the look is crisp, clean, and cool.
5. + 6. Comb Over + Quiff
From the front, a low fade keeps the sides very tight. This fresh look adds a touch of volume and texture.

7. Line Up + Spiky Texture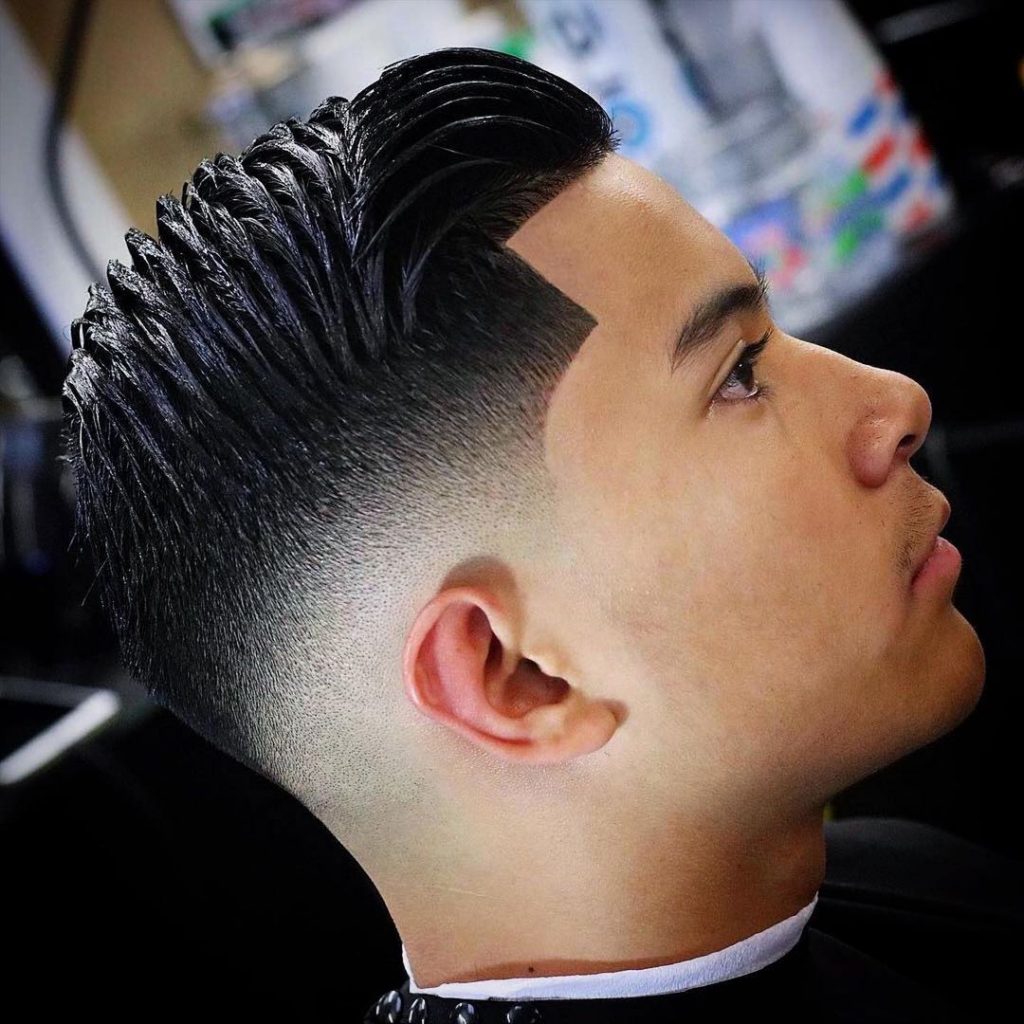 There can be more to the comb over fade than just the comb over and fade. This young man adds coarsely textured styling plus a right-angled line up.
8. Medium-Long Hair + Low Fade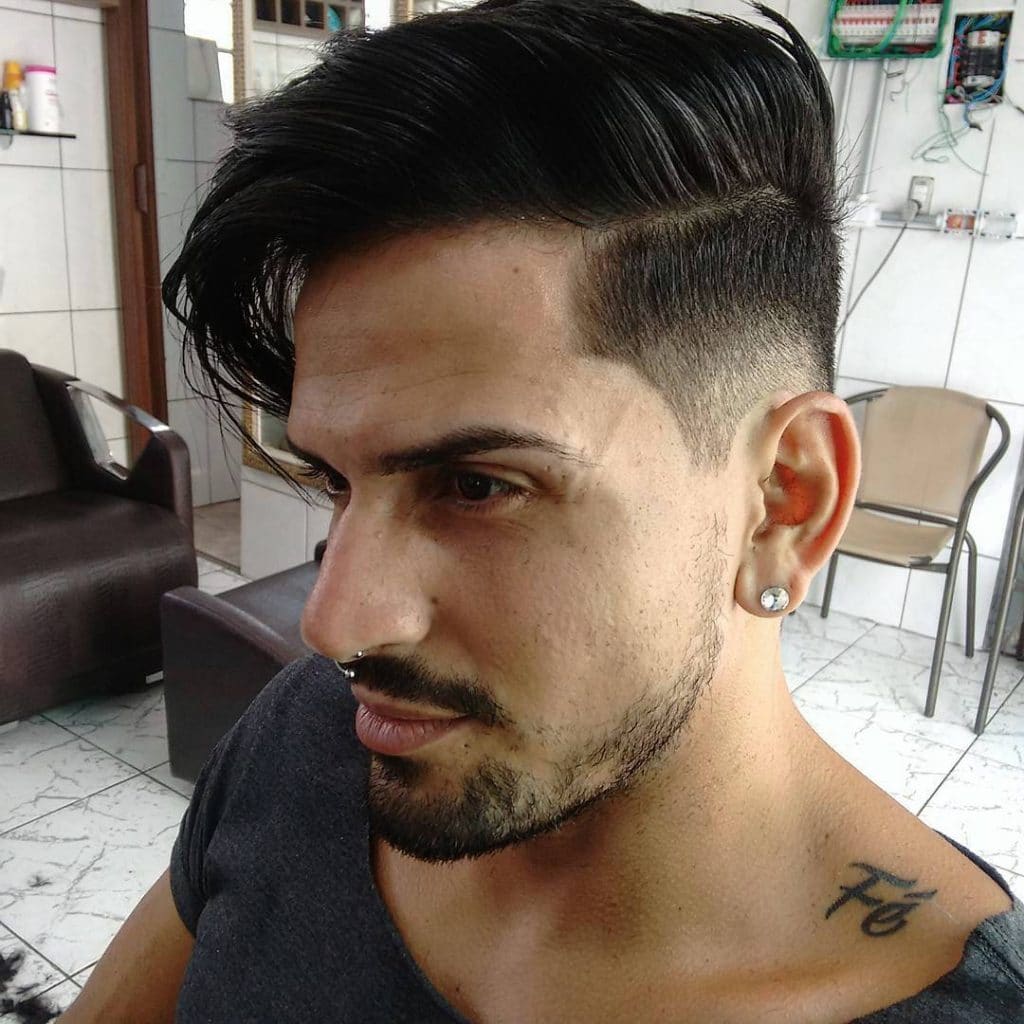 This deep side part looks a lot like some of the undercut styles you'll see later but it's a low fade instead. This medium-long hair can also be slicked back or pulled up into a man bun.
Mid Fade + Comb Over Haircuts
9. Medium Fade + High Volume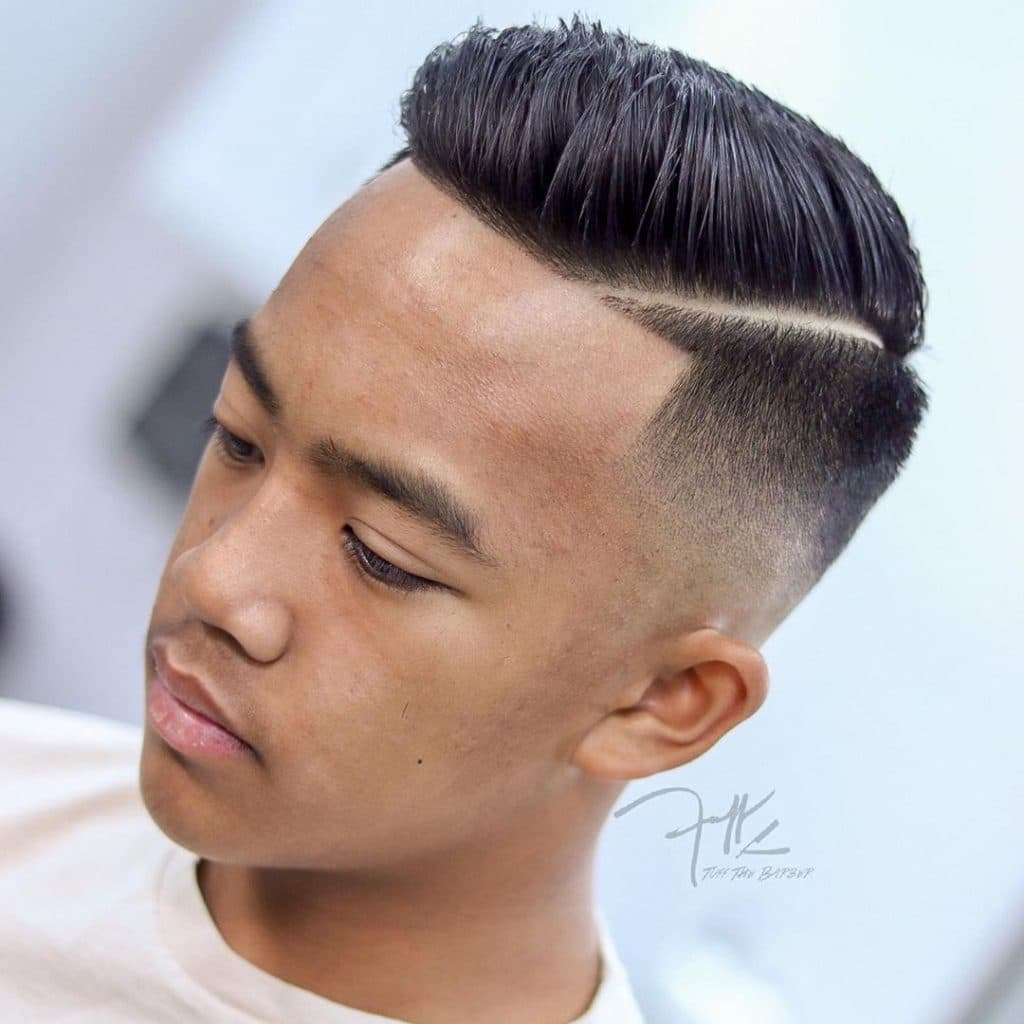 This medium fade starts up high on the temple and drops down around the back. In contrast to the retro flat slicked across style, hair is pulled up and over for added height on top. Try a high hold product for thick hair to get the look.
10. Comb Over + Twisted Quiff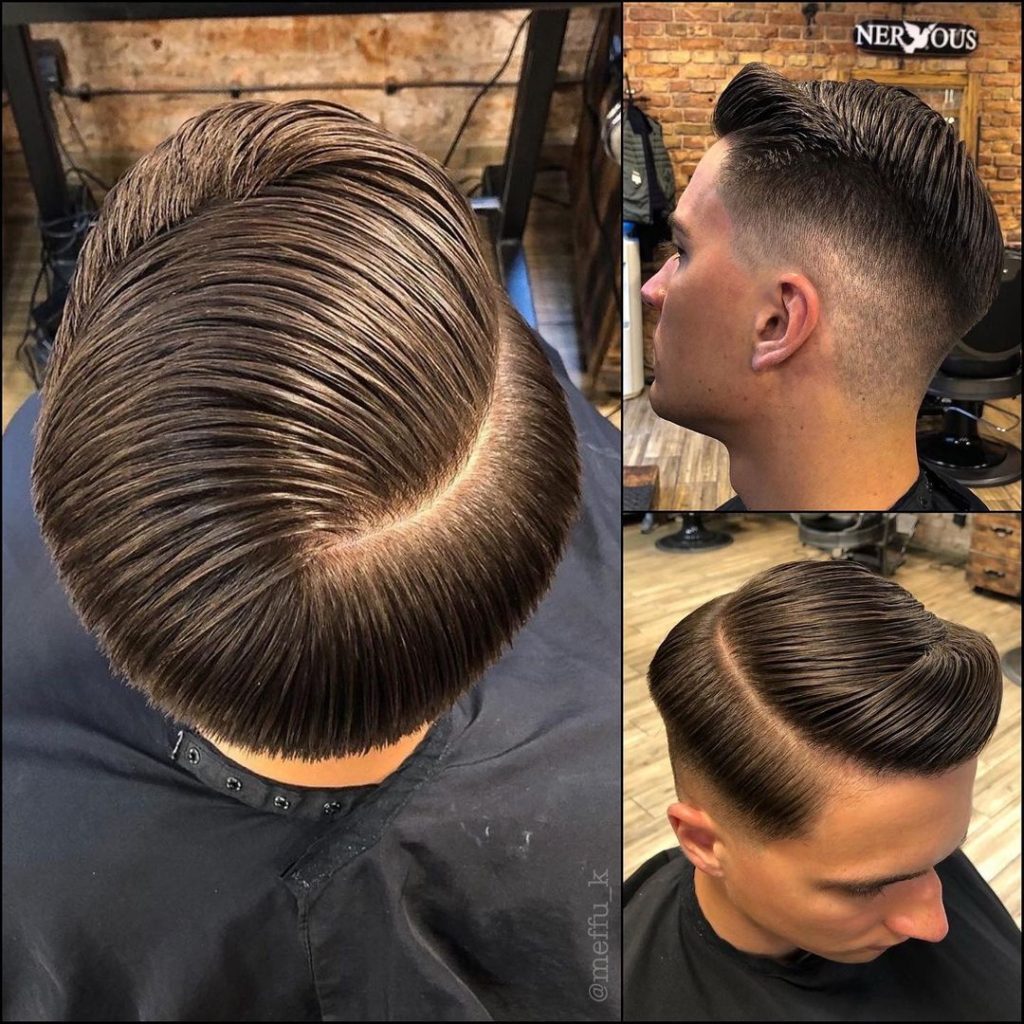 Another fresh take on the comb over, this version keeps the retro shiny pomade and comb lines but adds a of a quiff at the front. The bump of volume combines into the rest of hair in a wave. This is one more way to make the comb over fade your own.
11. Types of Medium Fades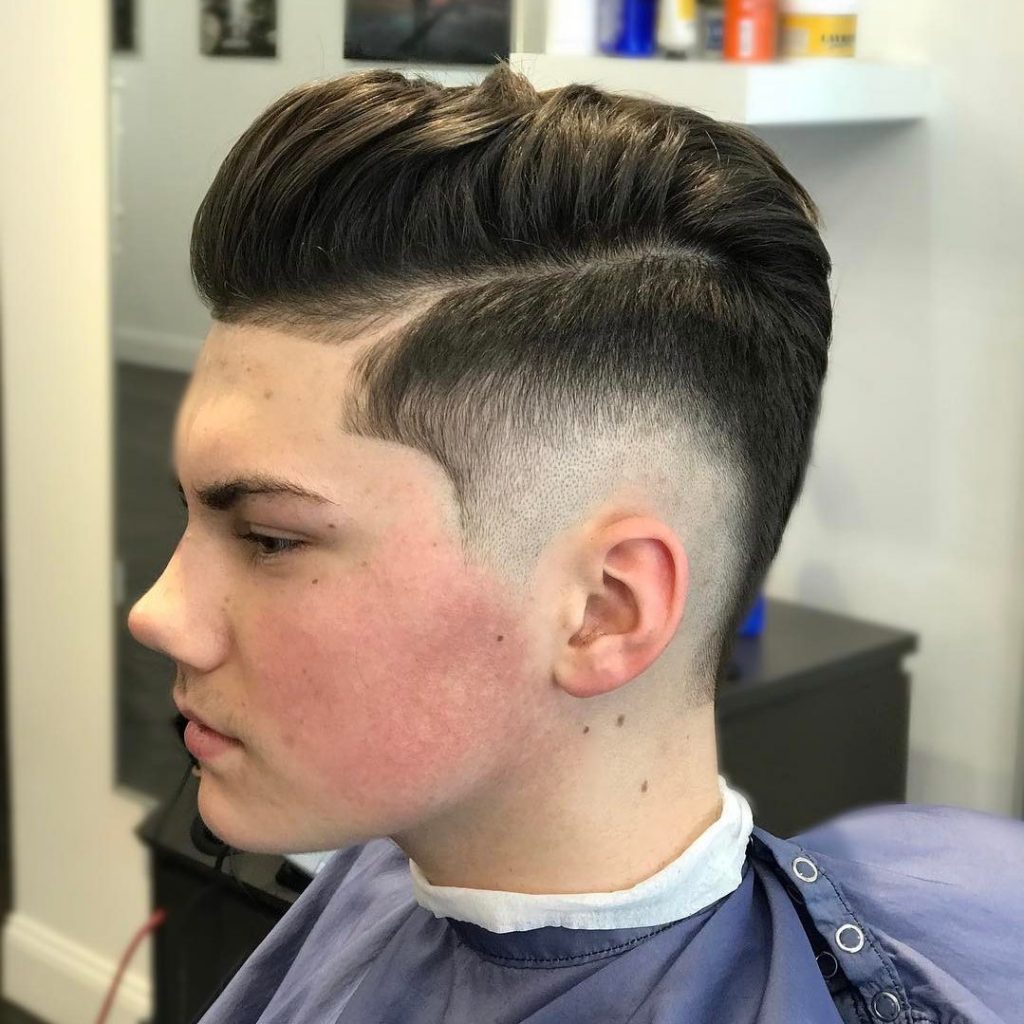 Customize your comb over with different hair lengths and different types of fades. Instead of the more common drop fade or mid fade in a line, this burst fade cuts a circle behind the ear and leaves some neckline at the back. On top, hair is matte with some coarse texture.
12. Short Comb Over Haircut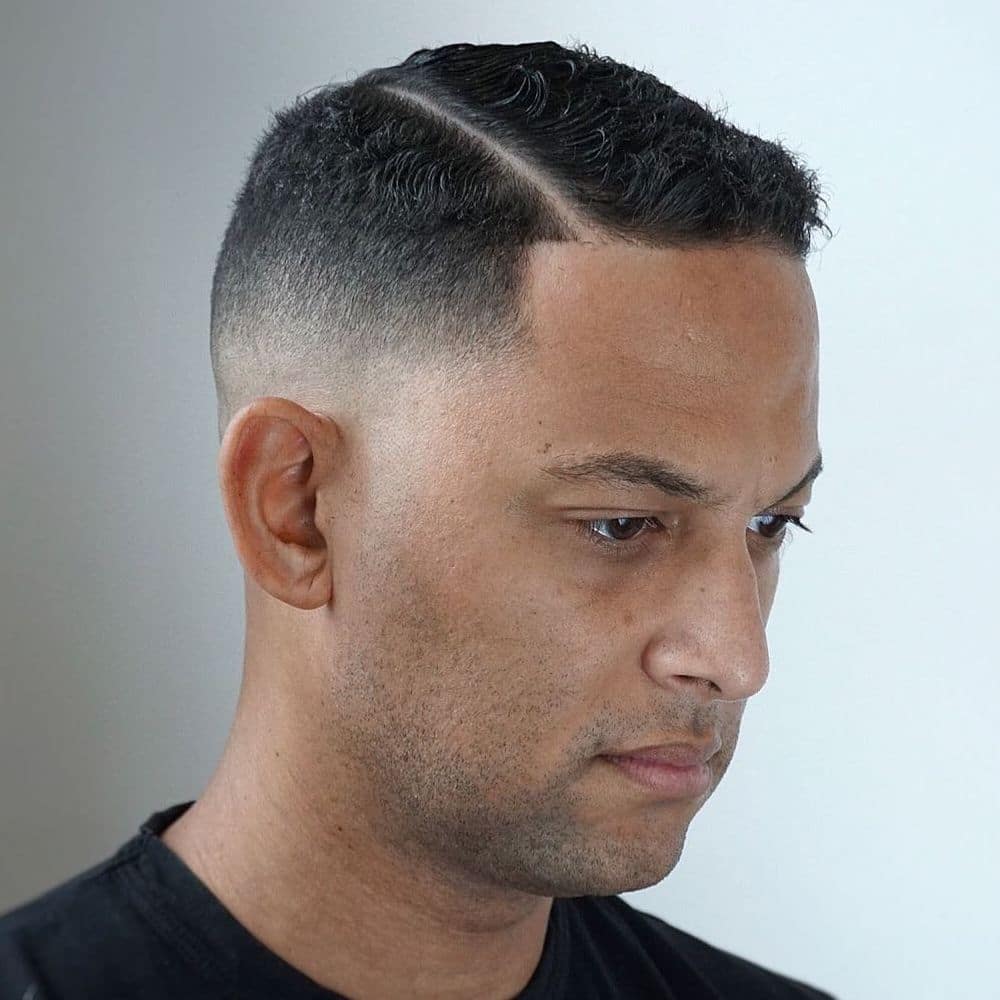 The comb over is versatile and works for many hair types as well as lengths. This cut is very short but tight curls still add some volume. It's a flattering way to manage curls in the hot weather.
13. Messy Texture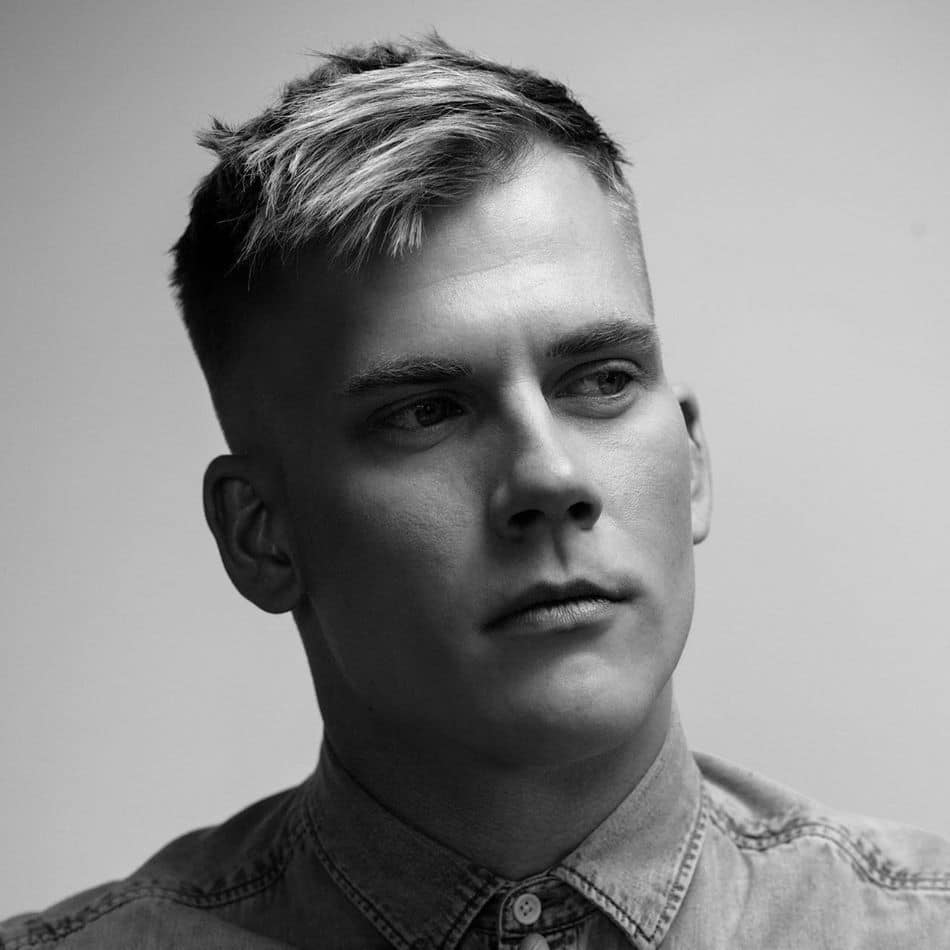 To get this look, style hair with fingers instead of a comb. Try a reworkable product like a hair clay and the style will just get better over the course of the day.
High Fade + Comb Over
14. High Drop Fade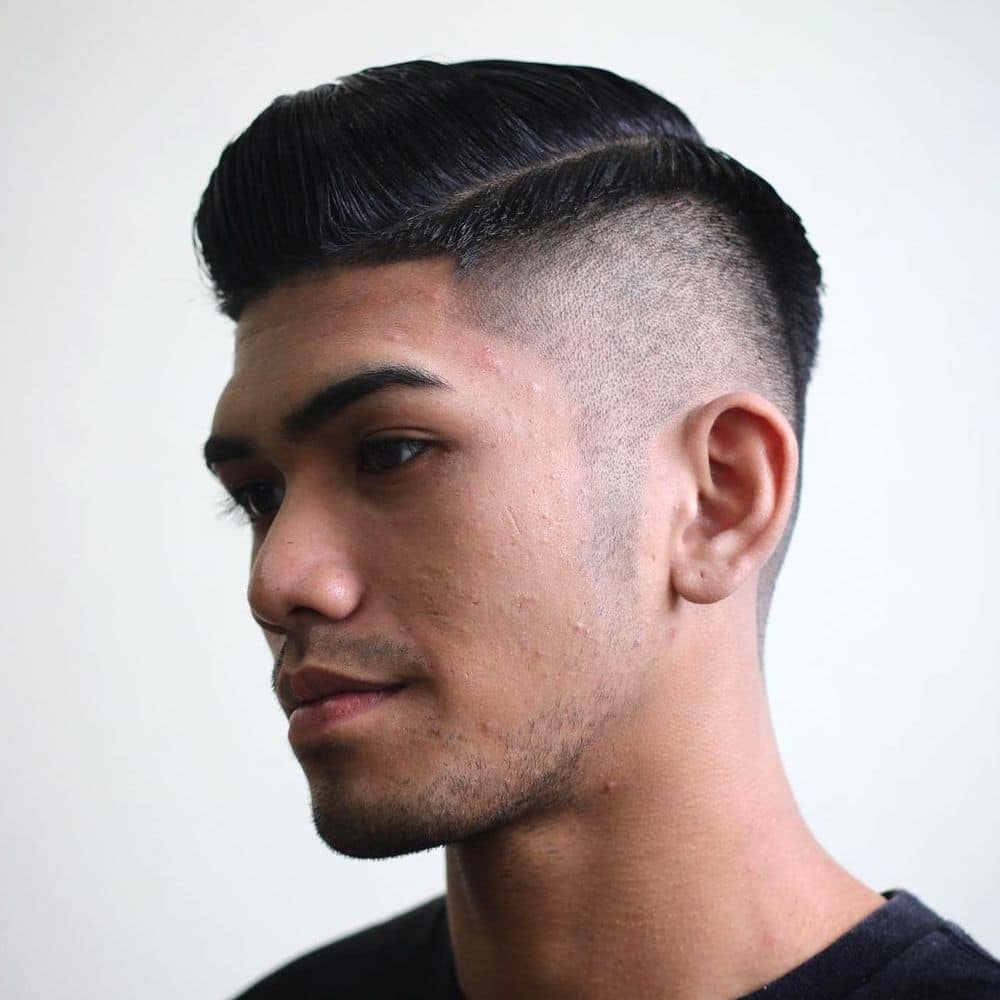 Some volume plus a high drop fade almost makes a wide mohawk shape. Instead, it's a side part with a pompadour that blends into hair combed across. The style can skew clean or cool, depending on the rest of your look.
15. Comb Over For Wavy Hair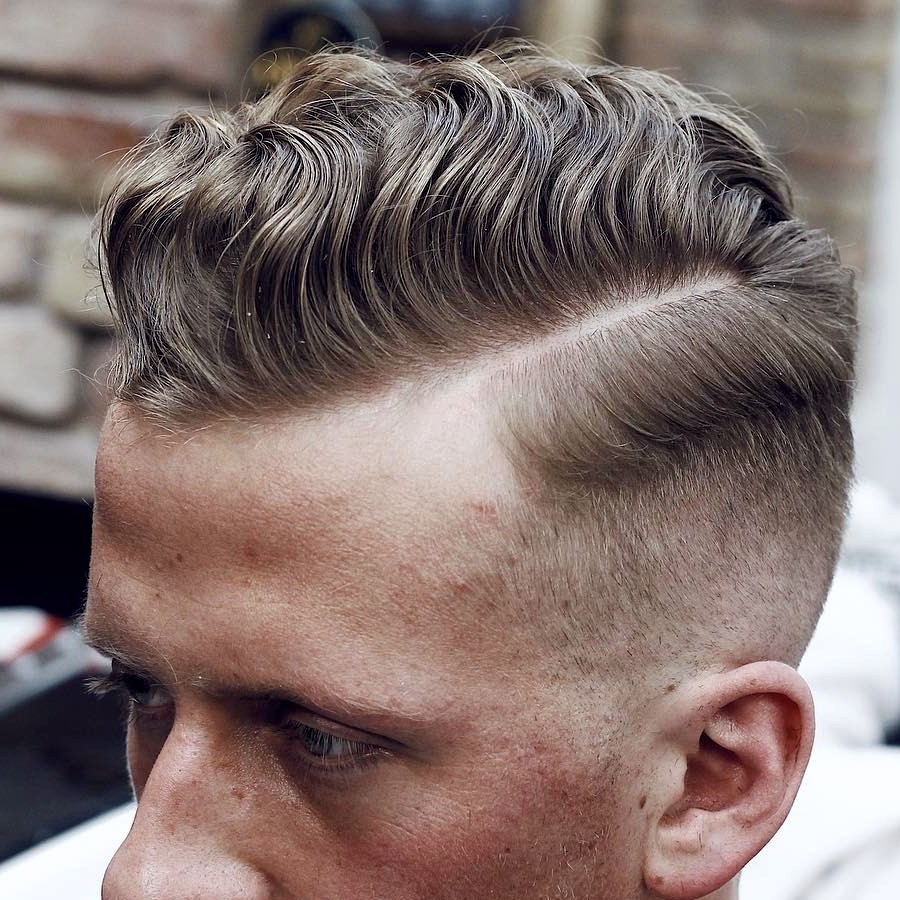 Does a comb over work for wavy or curly hair? Absolutely. This cool look takes those waves up and over for a high volume, high texture look. The high part leaves about an inch of hair on the the short side
16. Textured Hairstyles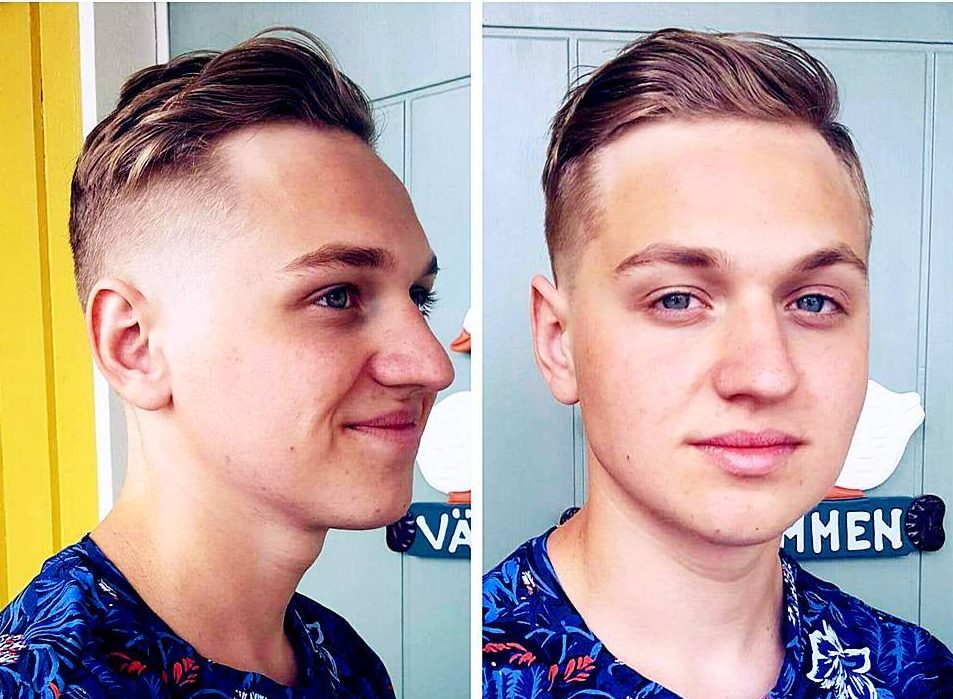 For guys with hair that regular to fine, this longer length with messy texture adds volume and fullness. The comb over is also a popular look for teenage guys because it looks great and is so easy to style.
17. High Fade + Comb Over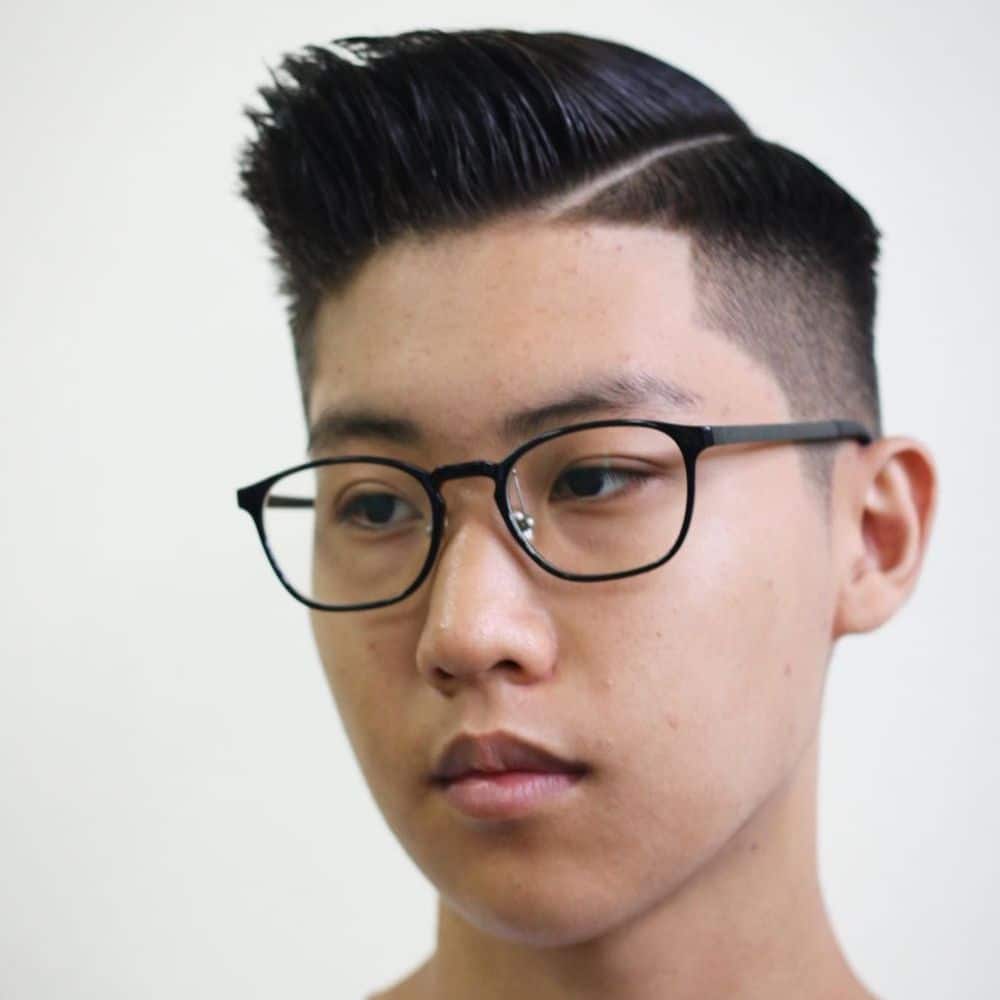 Thick hair that can stand makes it easy to create this high volume comb over. For this high hold, medium shine product check out these pomades. For added height and staying power, blow dry hair while training it into place with fingers or a comb before adding product.
Comb Over + Undercut
18. Undercut Fade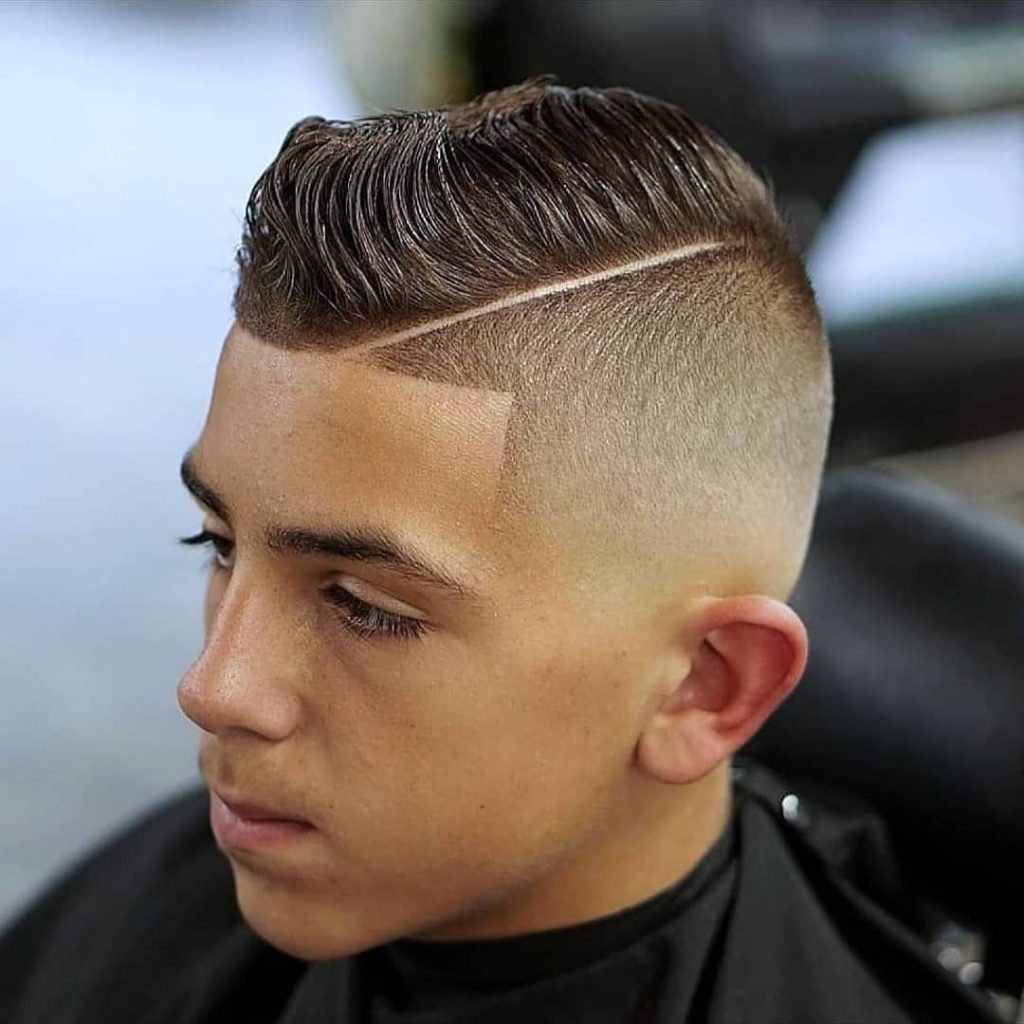 The undercut goes up even higher than a high fade with this one inching up to the top of the head. Hair is shaved all the way up to the hard part for a disconnected style. If it's too extreme for you, move the side part over for a lower undercut.
19. Disconnected Undercut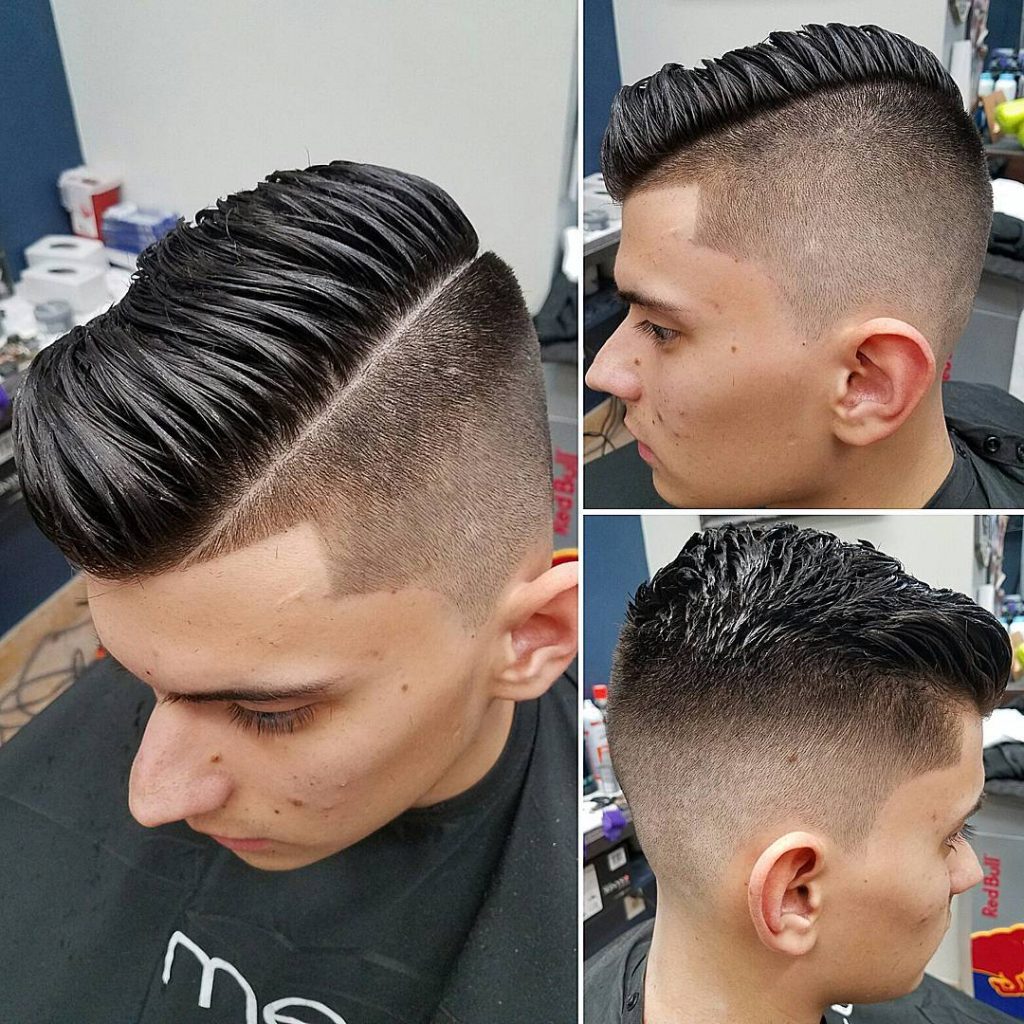 The disconnected style is named or the lack of transition between the undercut and longer hair. Hair can be worn loose or in this comb over to hold it in place. The side opposite the part has a softer edge.
20. Hard Part + Line Up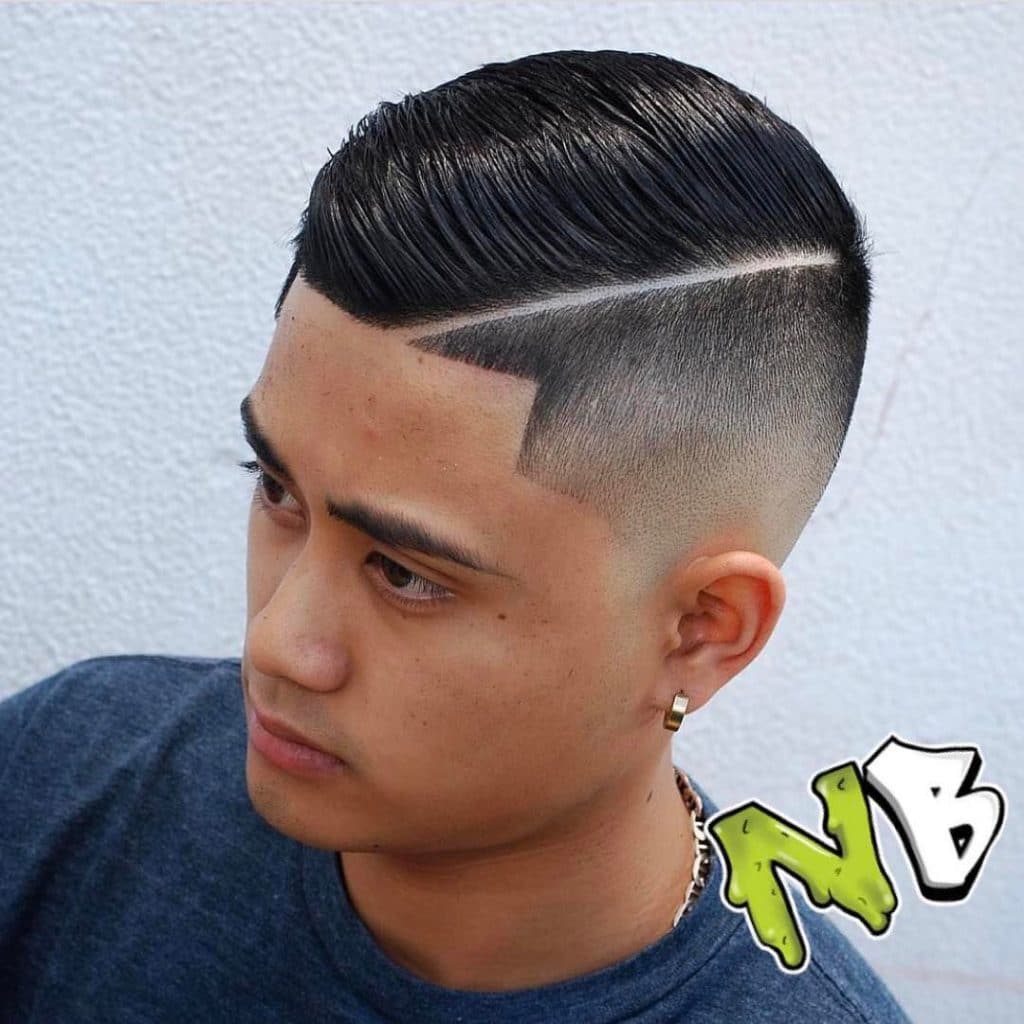 A shaved part on the diagonal and crisp shape up add hard lines to this cool look. With the right product, the comb over can transform wavy or curly hair to straight. This is also a cool way to lock down hair in hot and humid weather.
This post may contain affiliate links. Please read our disclosure for more info.
Sours: https://www.menshairstyletrends.com/comb-over-fade-haircuts/
70 Top-Notch Comb Over Taper Haircuts – The Immortal Trend
The comb over taper is very common, and this is because it gives a man an unmatched elegance and also the freedom to maintain any length of hair that he wishes. This modern haircut also comes in many shapes, and so it will work for any man regardless of his head shape or hair type.
This style has been around for many years, but it evolved from combining various types of haircuts, but it is now a distinct hairstyle that will always create an elegant look.
Look through the gallery below for some ideas on the various combed over taper design that you can try out.
# 1 Stacked Sweep Back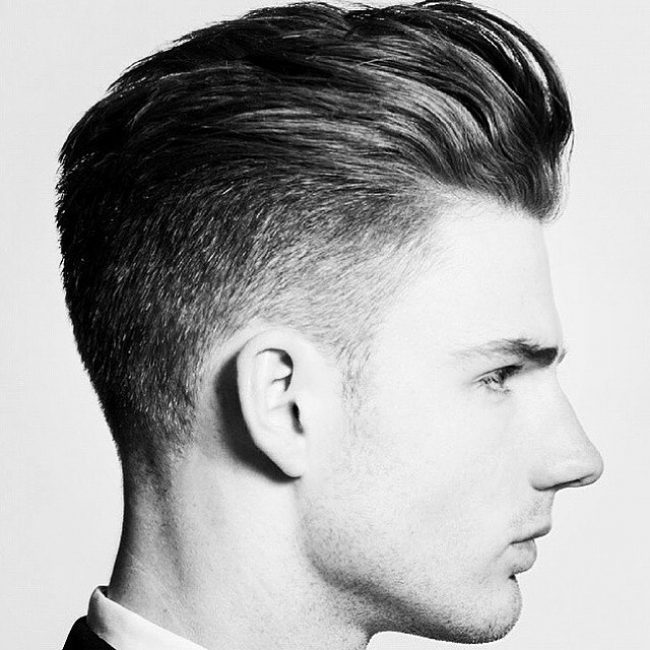 The taper on this haircut is fantastic, and it shows a level of detail that only a skilled and experienced barber can create. The design also has some lovely wavy bangs on the crown that you should style by sweeping back in layers.
# 2 Classic Low Tapers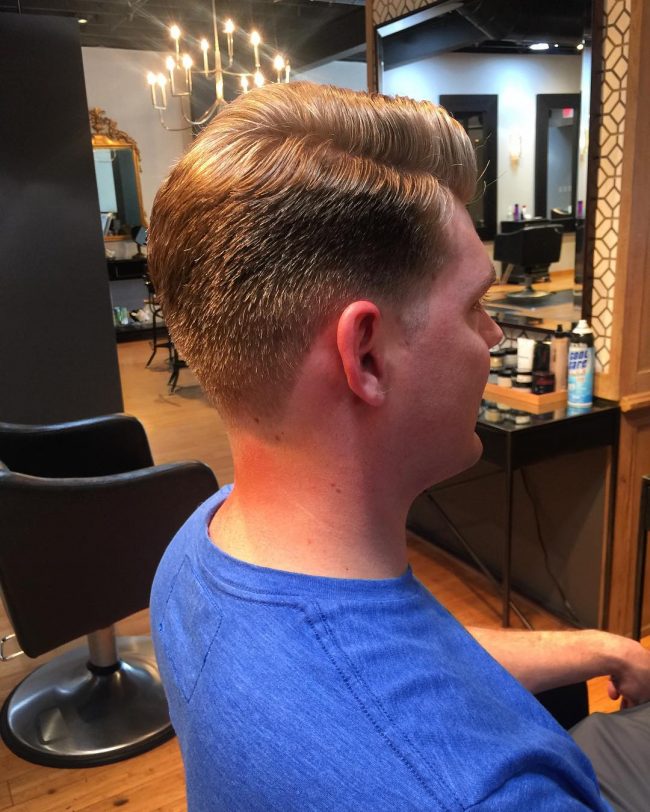 This haircut is as fabulous as it can get and the classic zero taper is one of the things that make it look beautiful. However, it also has a smooth side part and simple comb over design on the top.
# 3 Simple Skin Taper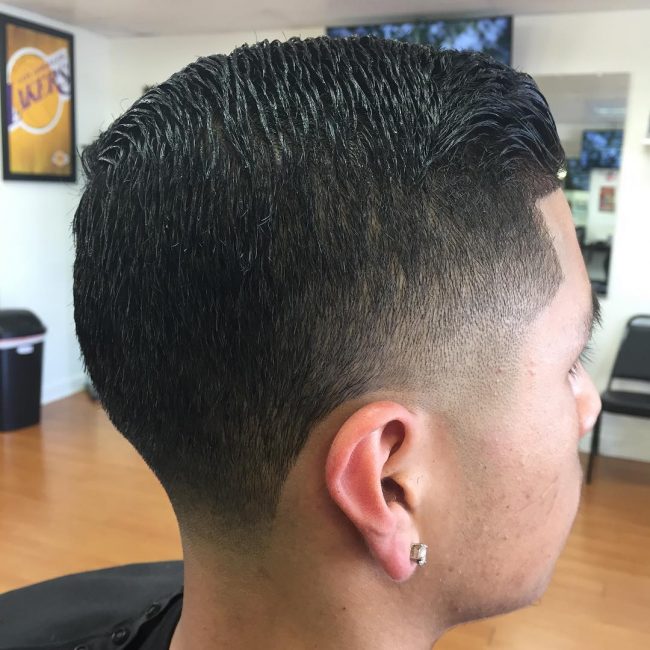 To create this lovely hairdo you have to maintain a few inches of hair on the crown and make the sides short but also give them a smooth razor skin fade to add some elegance to the look.
# 4 Messy V-Back Design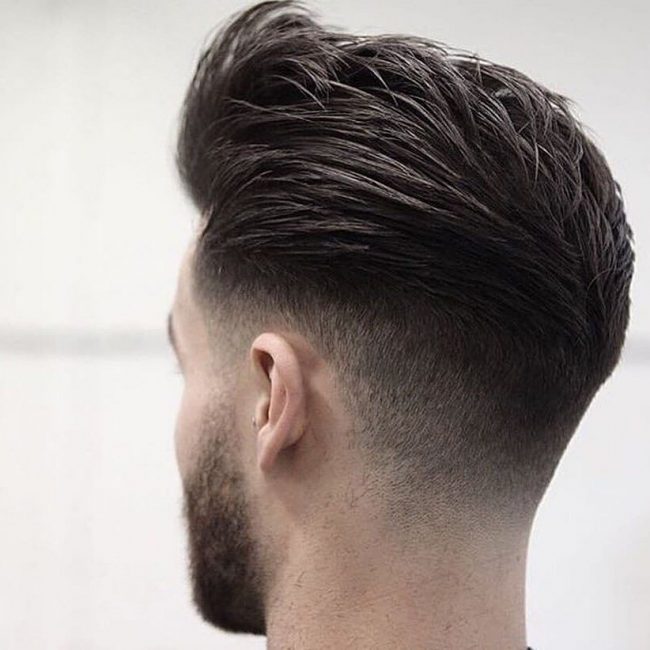 Apart from the neat tapering on the sides and back this design also has a beautiful V-shape at the back that makes it look trendy. The long strands on the crown also have a messy brush back design that also helps to spice up the appearance.
# 5 Big Pomp Up Front with Graduated Back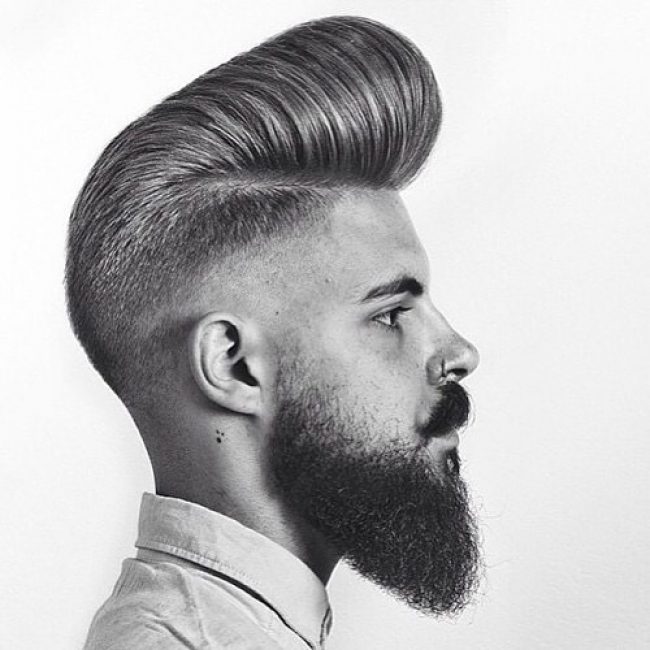 It is hard to imagine that the classic pompadour can look this adorable with a slightly modern touch that entails making the front big and up sweeping it. And to enhance the design further, you should also graduate the strands with a taper towards the back.
# 6 Wavy Taper Fade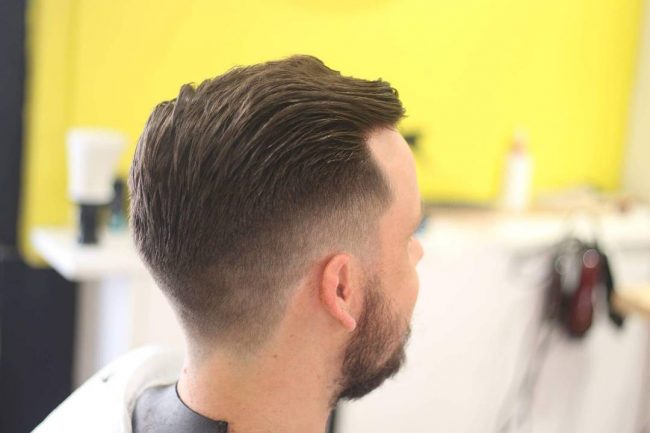 Modern haircuts are not just about leaving some lovely strands on the crown but also making the sides and back trendy with an innovative cut like this taper fade. The strands on top also have some beautiful waves that you can spice up by brushing them back.
# 7 Hard Part and Taper Elegance
A simple hard side part can make a huge different in your haircut, and it is what allows you to comb over the strands to the sides. This haircut also has a lovely tapering on the sides that also adds to the overall elegance.
# 8 Thick and Sexy
Your thick strands will always make things easy for you because they will look good in any cut. The ones on this design have a typical upswept top and tapered sides, but the introduction of the side part makes the look very fashionable.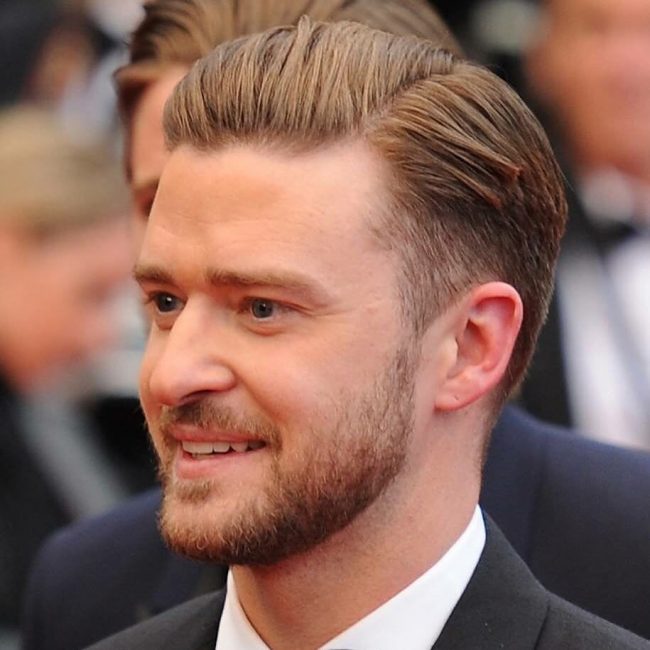 This Justin Timberlake haircut shows how a stylish modern man should look like, and it is also very easy to achieve.
To replicate it you should leave some long strands on the crown and taper the rest of the head. You should then introduce a side part and use it to sweep your strands to the sides.
# 10 Funky Side part and Taper Fade
Here is another take of the taper fade but this one also includes a side part that gives the wavy dark toned strands at the top a nice flow.
# 11 Classic and Clean Brush Back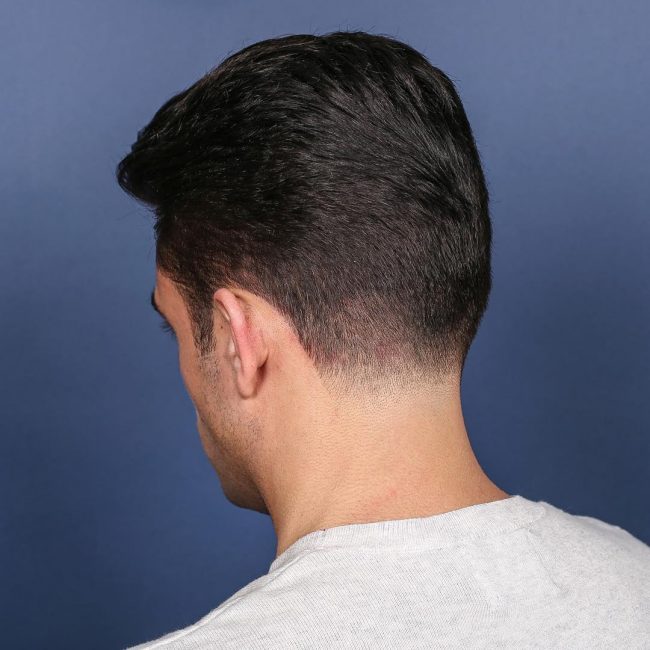 It is almost impossible to notice the taper cut on this hairdo because of the styling. However, it is what makes this style look adorable and to create this look you only need to sweep back your short strands to create the clean look.
# 12 Fantastic Wavy Look
If you do not like the regular short sides and a long top, then you should try this design. It maintains some smooth and wavy locks on the crown and very moderate tapering on the sides. You should then finish the look with a simple brush back.
# 13 The Flawless Flow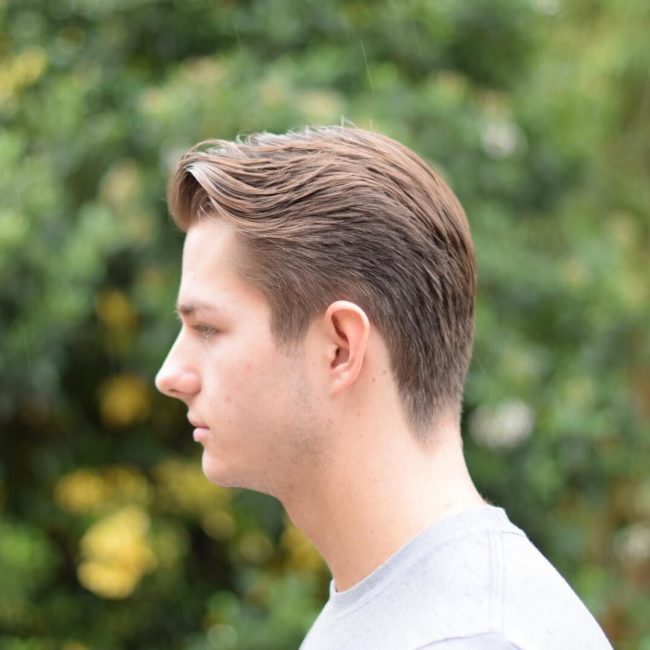 It is impossible to see any flow in this haircut because everything from the nice comb-over at the front that creates a beautiful roll to the smooth flowing strands is perfect.
# 14 Feathered and Tapered
The bangs on this haircut may be very thick, but their comb over style from the side part makes them look and feel very light. This design also has a smooth taper on the sides and back that makes the headdress look magnificent.
# 15 Wavy and Messy Layered Bangs
The bangs on this design may be very short, but the beauty that they create is hard to match. They also have a fantastic fade on the sides and to style then you only need to push them back in layers and make them messy.
# 16 Brushed Back Bangs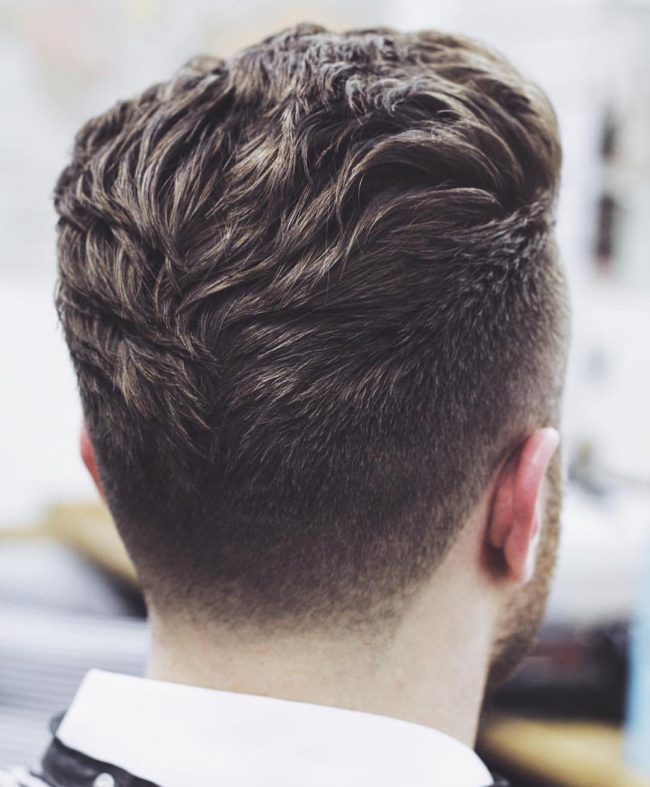 This style is also about leaving some bangs on the crown, but they are longer than what you would expect to see in most styles. They also have a nice fade on then sides, and brush back is enough to make them look refined.
# 17 Chic Comb Over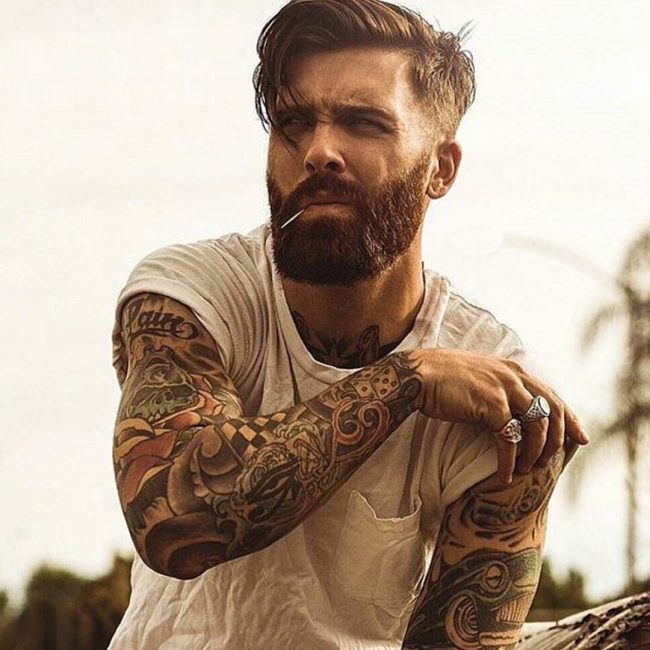 A classic cut like this one is the perfect example of a well-groomed gentleman. It entails leaving some extra-long strands in the crown and then doing some smooth tapering on the sides. And for styling you only need to comb over the long locks over the forehead.
# 18 Excellent Grooming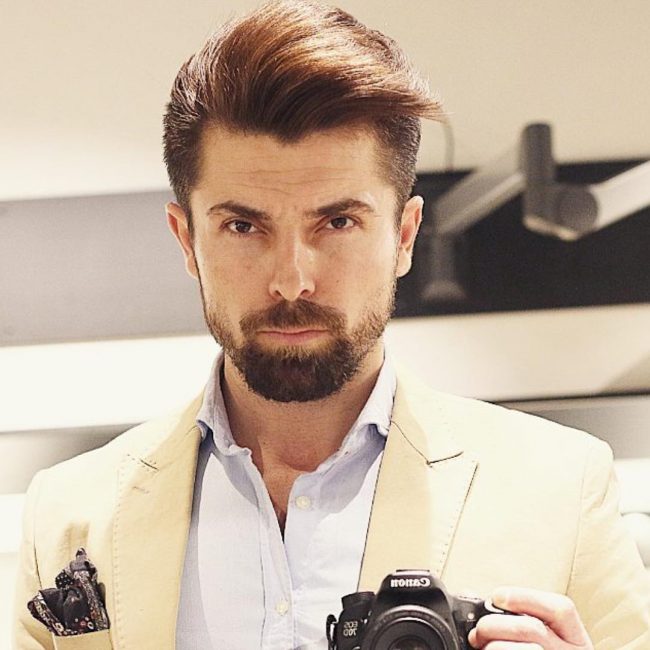 You do not always have to chop your strands very short to create a refined gentleman look. This style proves this because it not only maintains some long side-swept strands on the crown but the sides also have a proper and moderate taper that leaves more than an inch of hair.
# 19 Fresh and Smooth
This haircut is very easy to create, and you will only need to use some gel on your longer strands on the crown before slicking them back. The only other thing that you will need is a smooth taper fade on the sides.
# 20 Sculpted Pompadour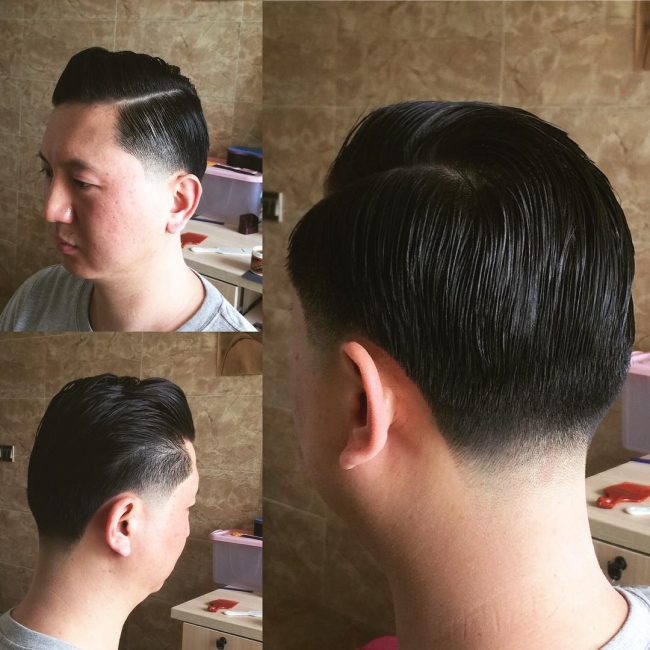 A sleek short pompadour like this will require keen attention when creating, but it is worth all the effort. You also need to use a quality product to give it the smooth comb over and brush back design.
# 21 Fancy Chop and Styling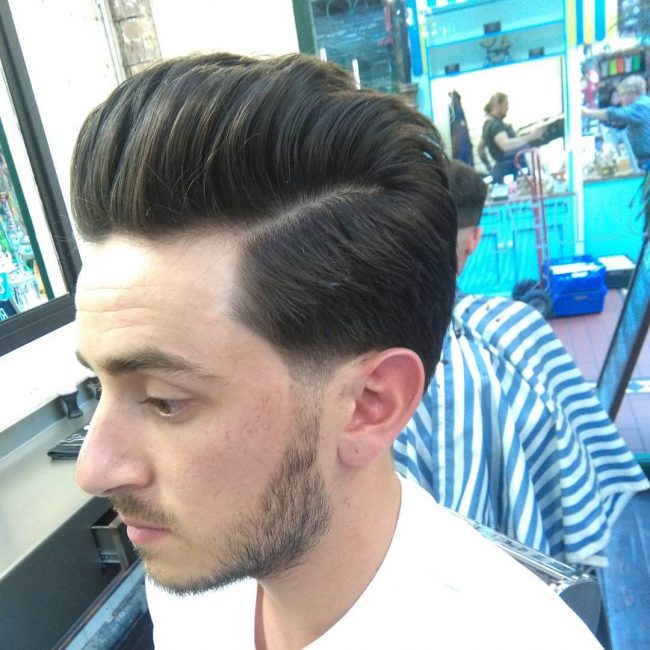 A classic taper on the sides and back and some textured locks on the crown are all that you need to create this sassy hairdo. You also need a side part and an inventive styling that also entails up sweeping the long strands on the crown.
# 22 Vintage Summer Cut
A vintage look like this one will still make you look charming. It is a relaxed cut that you can create with a taper fade on the sides and some smooth brushed back wavy strands on the crown.
A neat hairdo like this is not only attention-grabbing, but it will also set a man apart from the crowd. It has a smooth tapering on the sides, a side-part line and a smooth side sweep of the soft strands on top.
# 24 Combed Over Fine Strands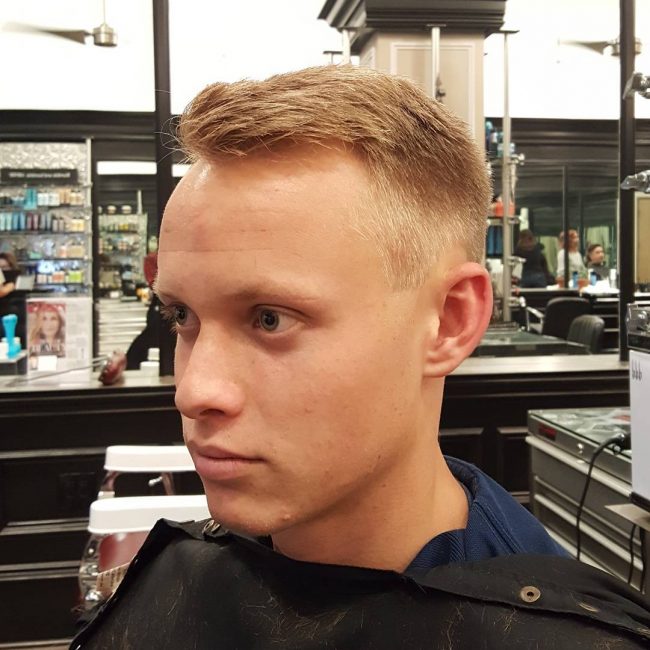 Thin hair is sometimes hard to cut, and style but this simple comb over taper makes things easy for you. All that you need for this style is to reduce the side gradually while leaving some longer fine strands on the crown that you should finish with a side sweep.
# 25 Bold and Impeccable Bangs
This cut is ideal for a conservative man who does not wish to do a lot with his hair but would still love to get a bold and stylish look. It is a very straightforward design that entails leaving a pompadour-like crown and tapering the sides smoothly.
# 26 Pretty Cool Taper Fade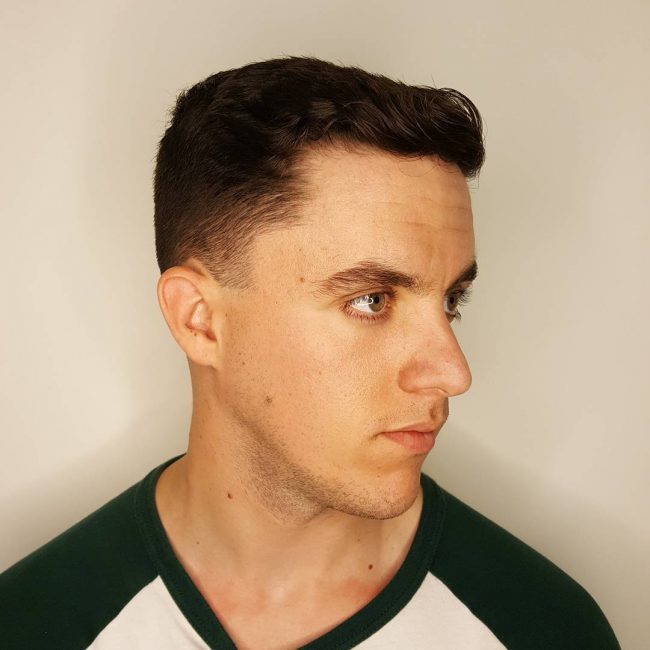 There are limitless ways of creating a comb over taper, and this is one of the easiest ones. To create this look, you only need a taper fade on the sides and some simple bangs on top with a slightly messy side sweep.
# 27 Blended and Slicked Back Razor Cut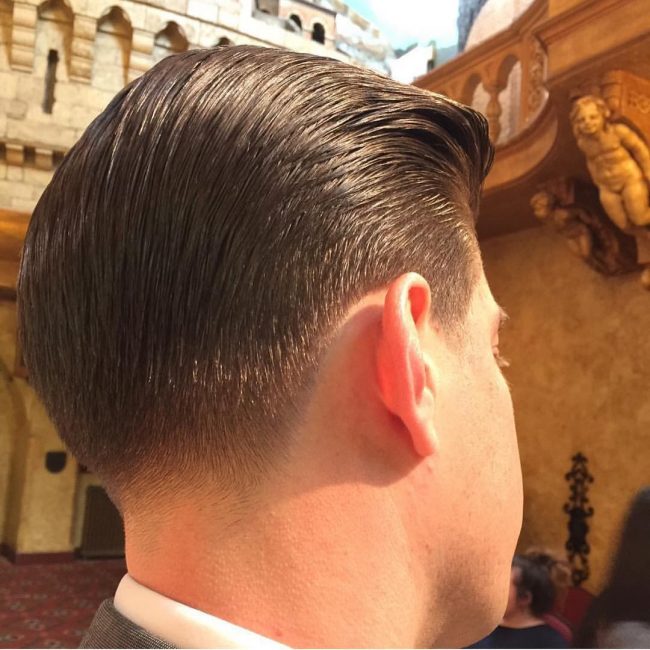 A magical haircut like this can only be possible with a skilled use of a razor. The design entails chopping your strands short to create a blended cut with a skin fade on the sides. And for styling you should gel the strands and brush them back smoothly.
# 28 High and Voluminous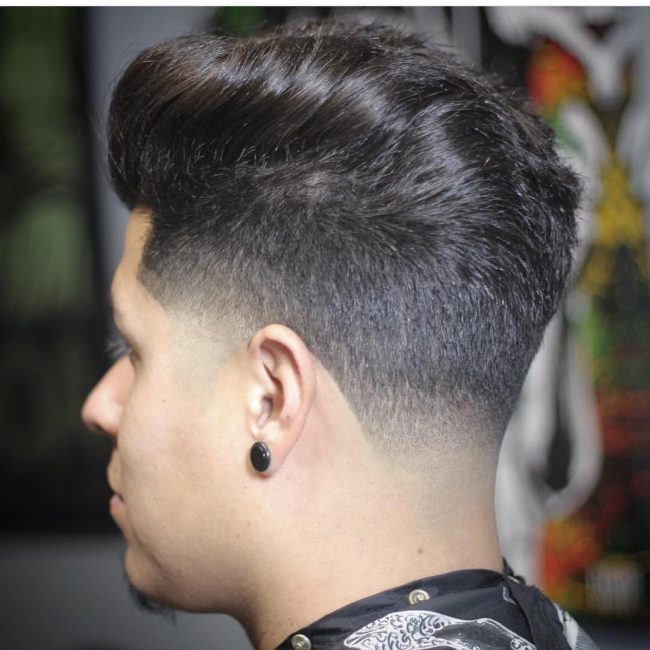 The volume of the strands on the top of this haircut is enough to convince you to try this fabulous headdress. To copy this look, you should have some full strands and leave them long and high on the crown before finishing with a nice fade on the sides.
# 29 Classy Layered Brush Back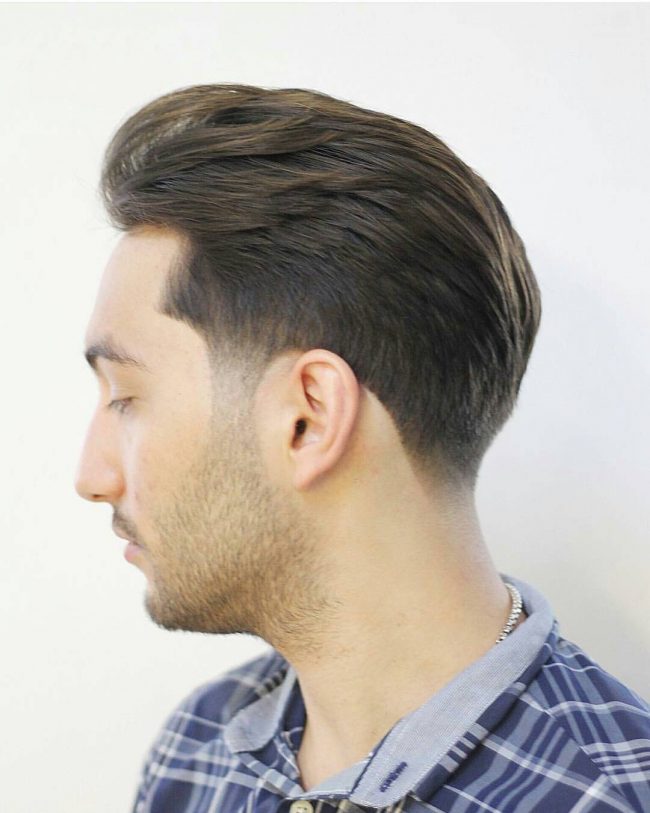 Such elegance can only come from a top notch cut and styling. The good thing about it is that it is not very hard because you only need some textured bangs on the crown and skin taper on the sides and back.
And for styling you should lift the bangs at the front and sweep them back in layers.
# 30 Tousled Slick Back
Smooth and long layered locks like these will give your hair a gentle movement and a refined appearance. The haircut is also very straightforward because it is a typical long top with tapered sides.
Idea # 31
Idea # 32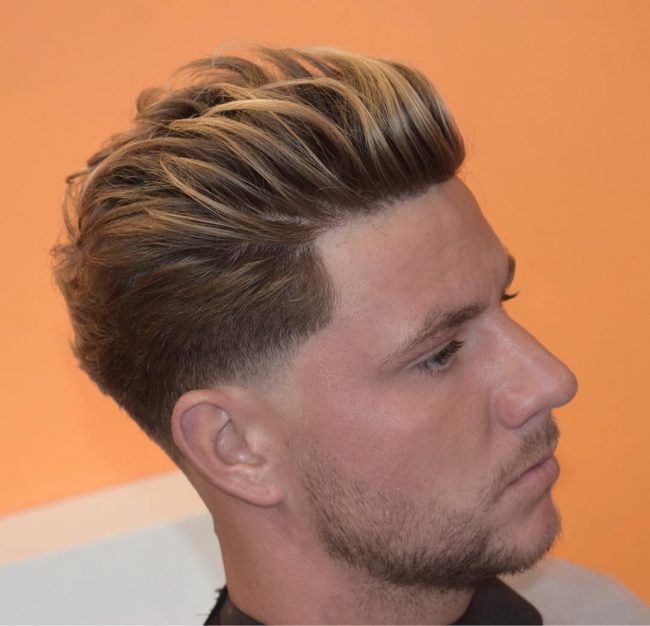 Idea # 33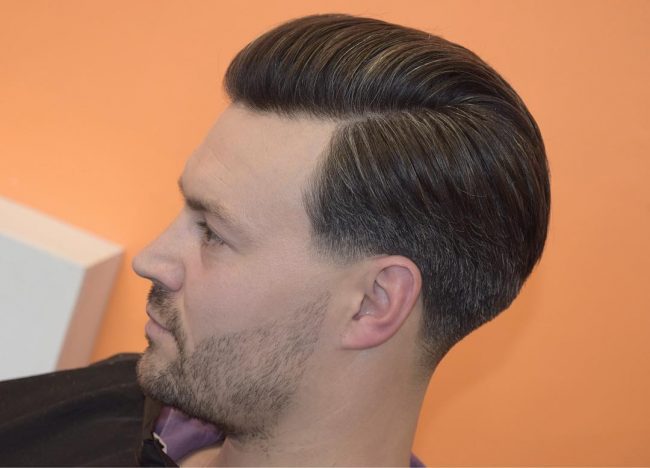 Idea # 34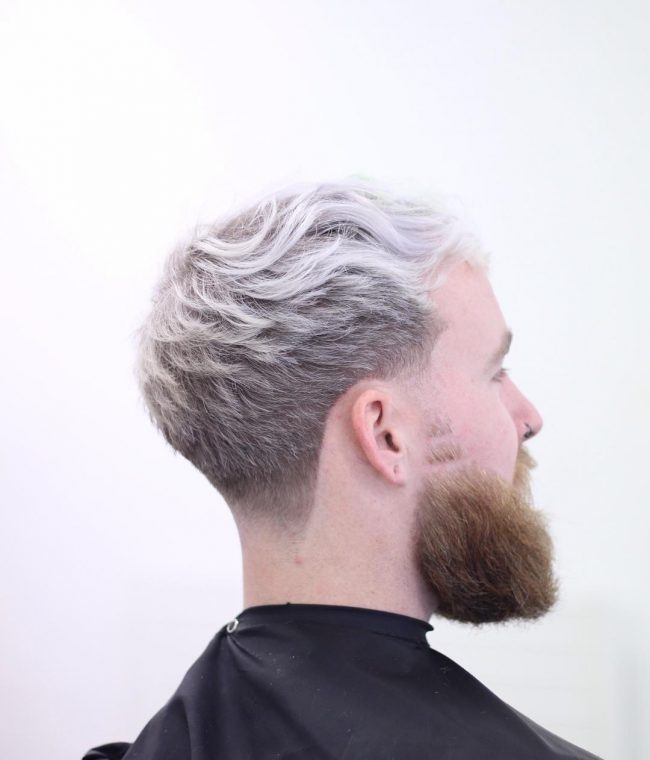 Idea # 35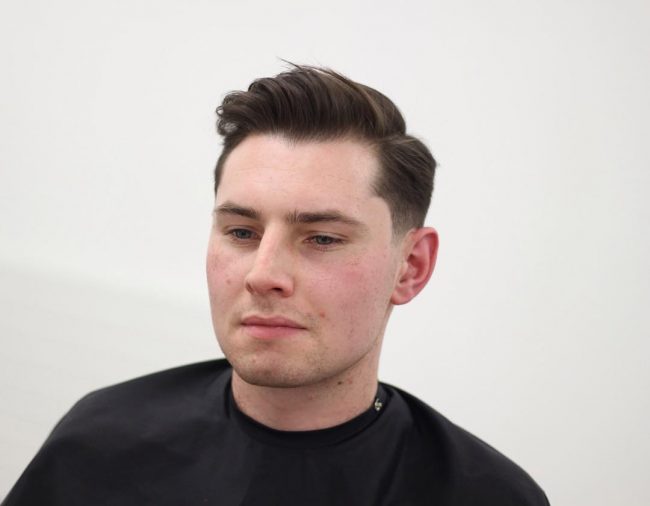 Idea # 36
Idea # 37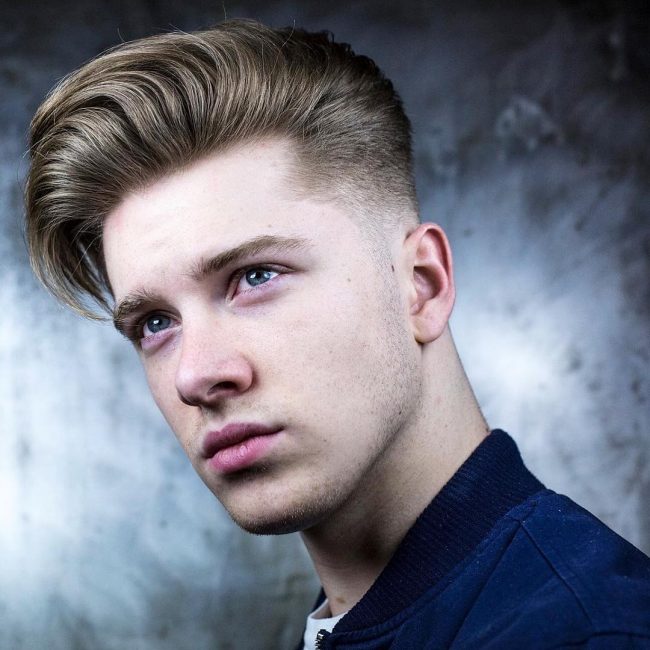 Idea # 38
Idea # 39
Idea # 40
Idea # 41
Idea # 42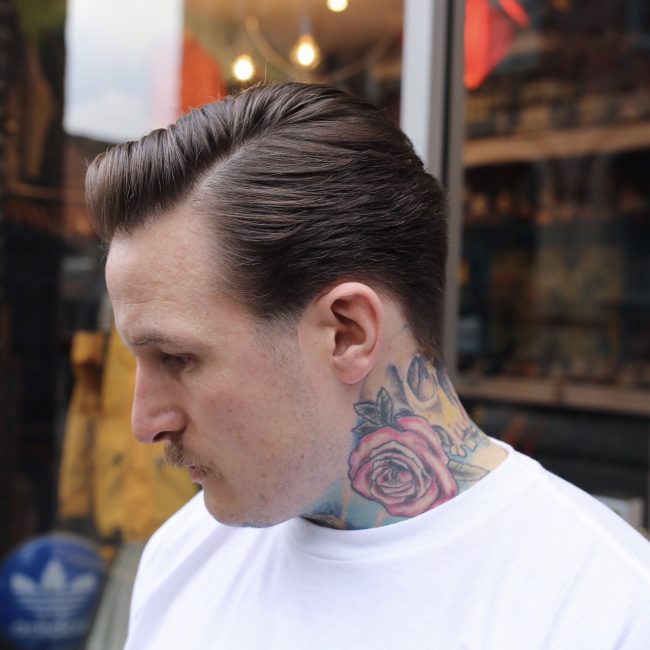 Idea # 43
Idea # 44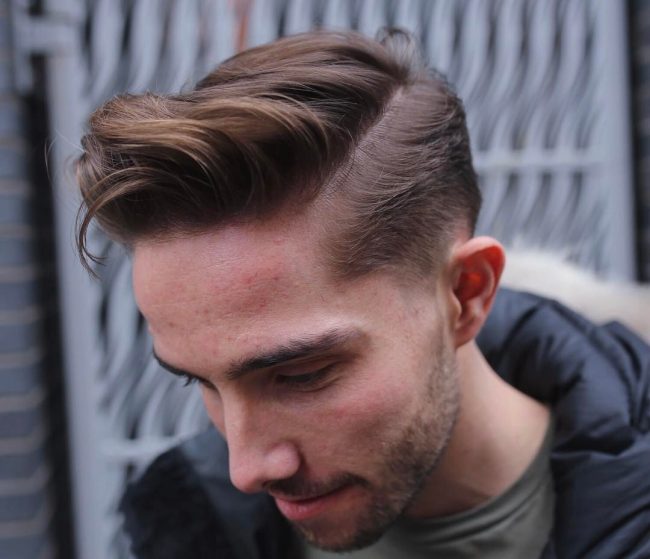 Idea # 45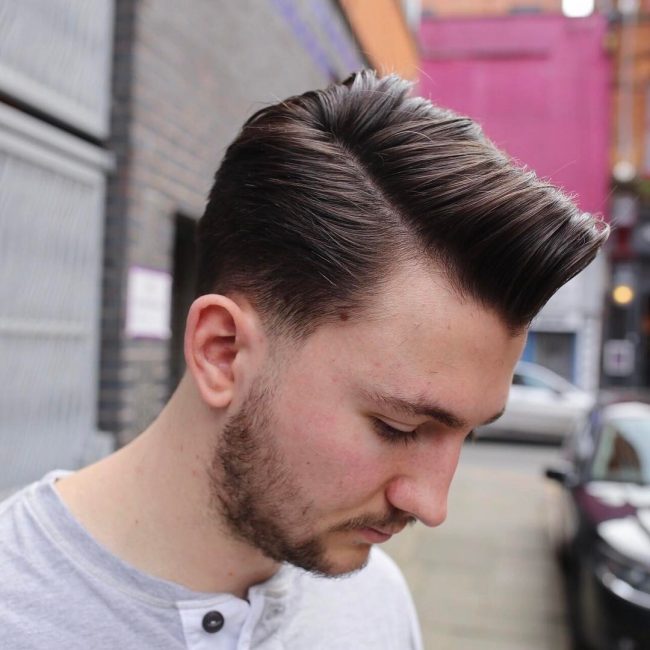 Idea # 46
Idea # 47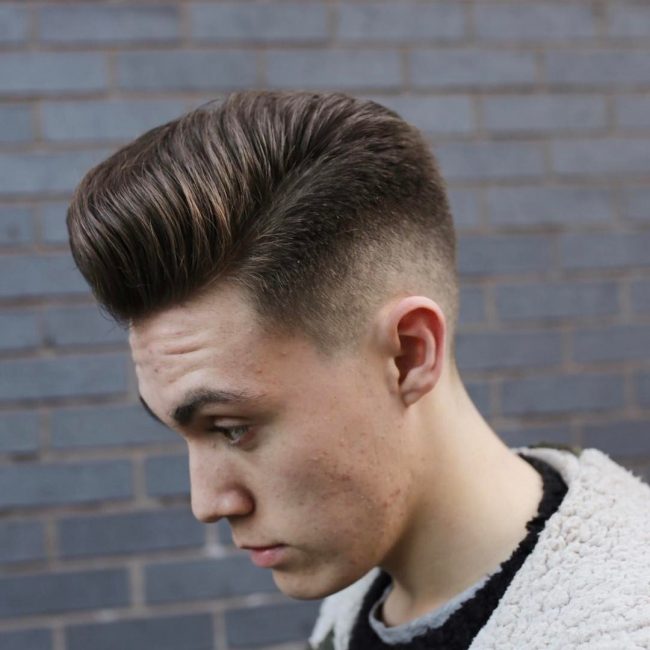 Idea # 48
Idea # 49
Idea # 50
Idea # 51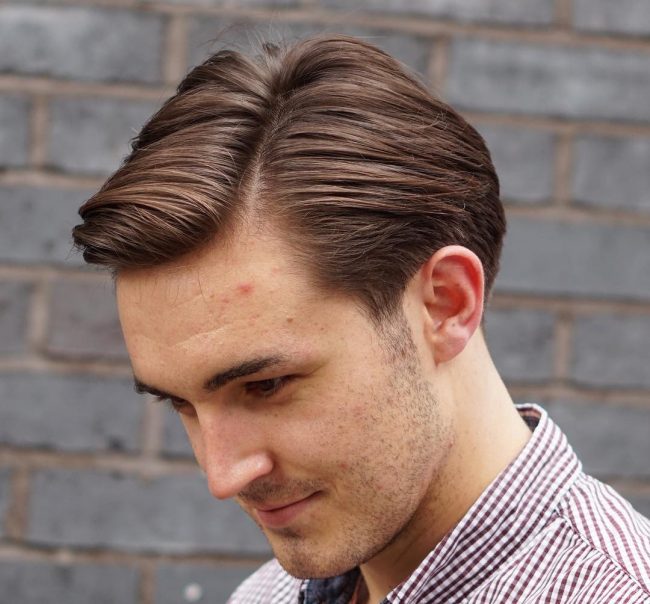 Idea # 52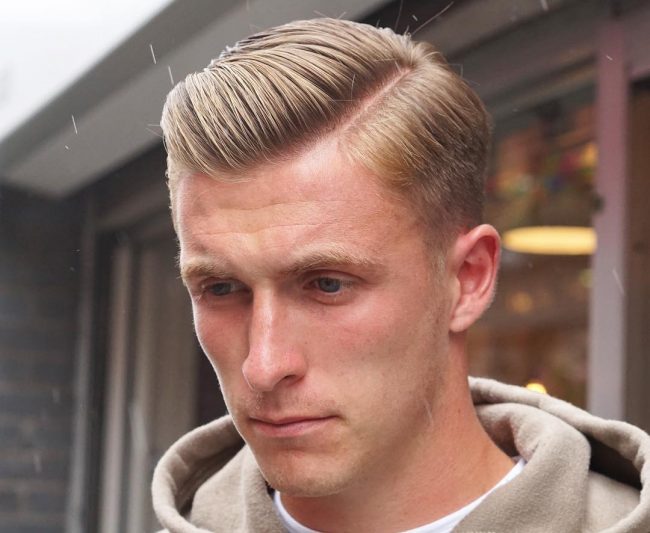 Idea # 53
Idea # 54
Idea # 55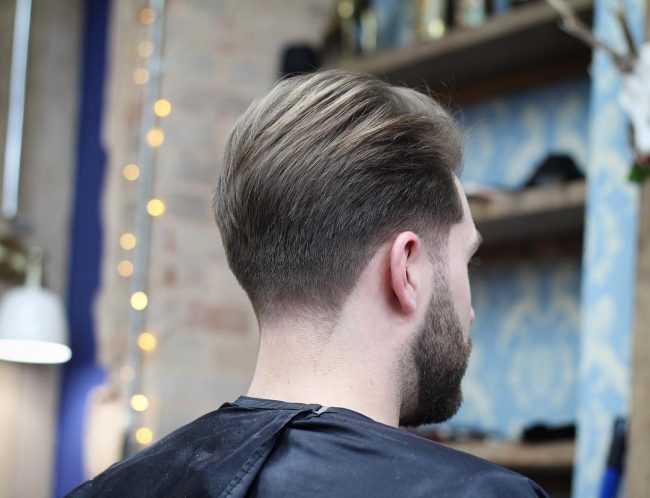 Idea # 56
Idea # 57
Idea # 58
Idea # 59
Idea # 60
Idea # 61
Idea # 62
Idea # 63
Idea # 64
Idea # 65
Idea # 66
Idea # 67
Idea # 68
Idea # 69
Idea # 70
The picture gallery above shows that you can wear a refined comb over headdress with any hair length and type, and so you just need a little creativity in cutting and styling your strands.
And so if you want to upgrade your appearance you should choose and wear one of these stylish hairdos.
[easy-social-share]
Sours: https://machohairstyles.com/best-comb-taper/
60 Stylish Comb Over Fade Haircuts – Modern Men's Choice
There are many fashionable ways to wear a comb over fade haircut. Because a comb over is a versatile, trendy hairstyle, it is perfect for all hair types (straight, wavy, or curly) and many facial contours too. When you choose this hairstyle, you can get a high, low, or mid fade comb over depending on how short you want your sides cut. Then you can play with the hair on top and even add a side part for a more defined look.
More About Comb Over Fade Haircut
Comb overs were originally associated with balding men who wanted to cover up their thinning hair, but today, it has taken on a whole new appearance with a variety of side-swept styles and haircuts for an amazing transformation. Want to try a modern comb over? Let's take a look at your options. Below are some great ways to style a comb over fade haircut.
#1 Comb Over Fade with Line Up
The comb over may be a classic look, but when you add a fade to the haircut, it turns into a very modern style. A comb over fade changes an otherwise conservative hairstyle into an astonishing new look. Starting the lineup at or below the side part displays a subtle transition from part to fade.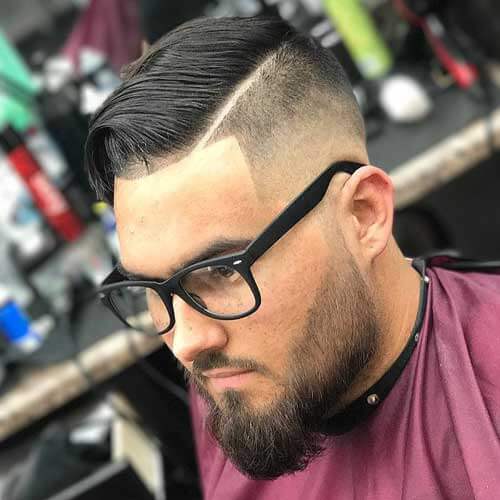 #2 Slicked Over Haircut with Deep Part
A comb over and deep part is a bold way to make a statement. Cut the sides sharply into a very low skin fade which helps you create an impression of a razor cut. You will need some hair product to keep the front hair looking clean and intact.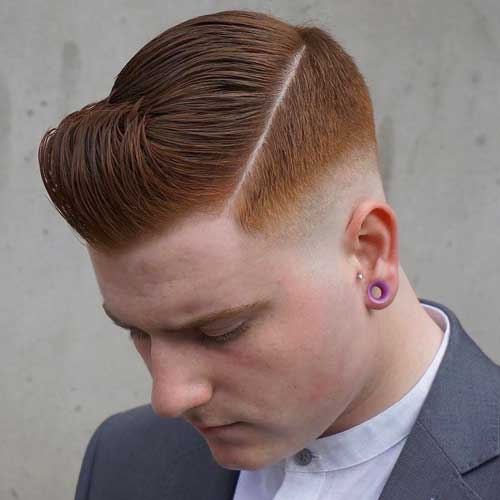 #3 Quiff with Side Part and Edgy Beard
Just like a Bandholdz beard, this razor fade haircut with a beard goes wonderfully with a comb over and will turn a lot of heads. The razor fade starts higher than a more conservative fade haircut and blends well with the beard. If you are not fond of hair products, then this will be a perfect choice for you.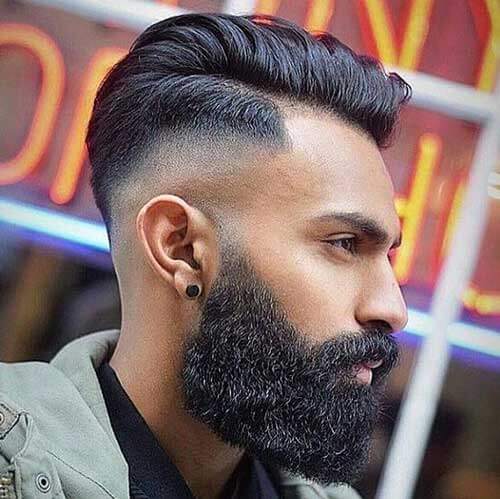 #4 Long On Top Short On Sides Haircut
A short comb over is great for those times when you want to look like a gentleman. You can cut your hair into a sophisticated long on top short on sides that are not longer than an inch. Easy to maintain as all you need is some pomade and a brush.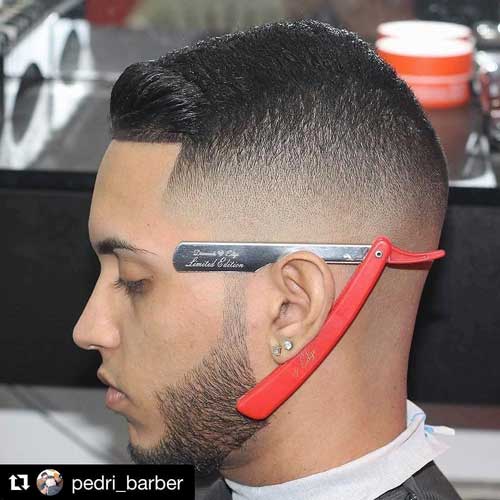 #5 Brushed Up Undercut
A short comb over and a high and tight haircut go so well together. The sides and back are cut short and the short top is textured for a good contrast. You don't need to have thick hair to pull this off—a 1-inch length will do fine. Just use hair gel and air dry for a crisp military look.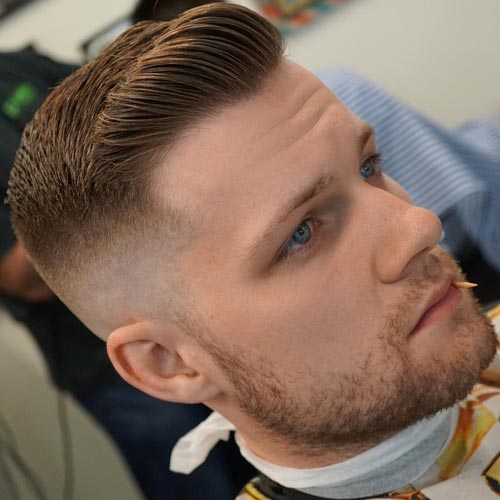 #6 Comb Over Taper Fade
Another take on a comb over hairstyle is to incorporate a coffee and a taper fade that progresses from the nape to the long hair on top. This awesome combination makes for a fresh and unique variation of an otherwise classic hairstyle.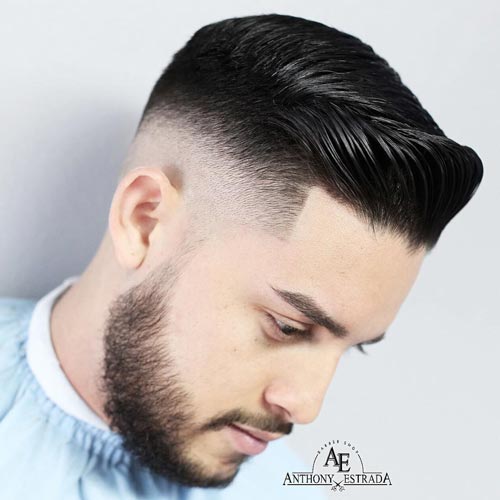 #7 Wavy Mid Fade Comb Over
Don't worry if you have naturally wavy hair, you can still pull off this mid fade comb over haircut; preferably with a great beard too. If you have straight hair, you can also wear this look but will need some hair product to maintain the look. However, with your natural waves, you don't need hair gel to make it look like it does in the picture.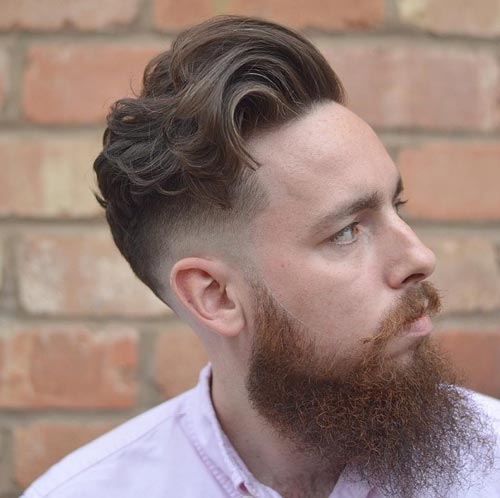 #8 Cropped Comb Over Fade
This haircut looks great on men who have class and style. Whether you have thick or thin hair, you can still achieve this look, just add in some hair gel for a dense hair look. Pomade and hair serums are necessary to make this style even more attractive.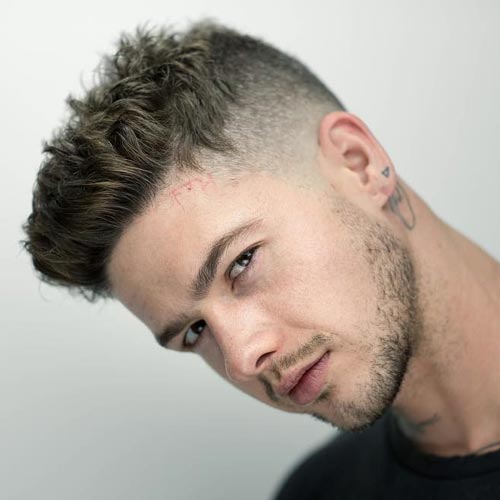 #9 Highlighted Comb Over with Side Part
A comb over low fade haircut is for the free-spirited man. The low fade tapers from the hair on top-down to a bald skin cut just above the ears, and all the way to the back. It's a super sleek and bold style that takes its inspiration from the word 'sophistication'. Include some hair length on the top and keep it tidy for the best results.
#10 Comb Over Drop Fade
Guys with a receding hairline will love the taper fade comb over because it can turn a simple haircut into a true work of art. This classic look is perfect when combined with a drop fade. Maintenance is easy, just add some hair products and blow-dry.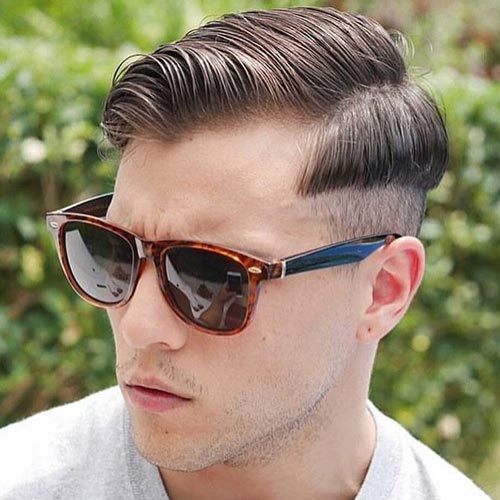 #11 Textured Comb Over with Taper Fade
For men who want to keep a longer length hair on top, a pomp comb over is a good choice. Your main concern with this haircut will be maintaining the top hair and styling it into a loose comb over. You can blow dry for more volume on top, or manage it with a firm hold gel. The long hair on top allows you to be versatile and means that you're not married to a comb over.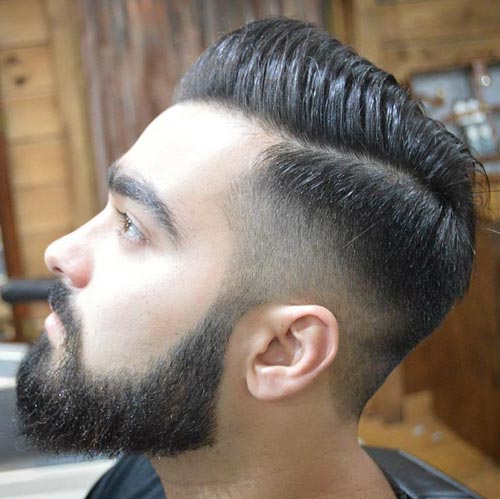 #12 Comb Over Undercut with Fringe
This hairstyle is quite easy to maintain because you don't have to give it too much attention. All you need is a razor cut hair and a taper fade on the side. For men who do not like to use hair products, this style is great because you don't need any hair product to keep it looking perfect.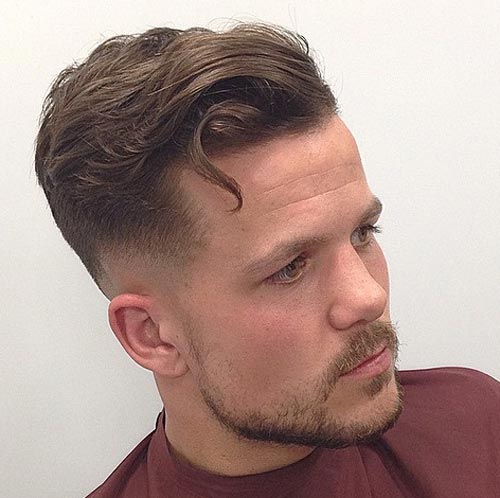 #13 Disconnected Undercut with High Fade
A comb over with a high fade will draw attention to you. With less room for a taper fade, the sharp high fade transition from short sides to the longer top is daring. The disconnected top can be cut with long or short hair, curls and waves can work too.If you don't have time for hair maintenance, but you still want to get a comb over, then this style is best because it requires zero attention.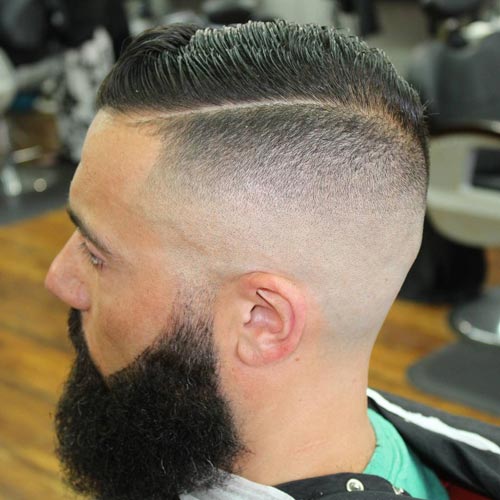 #14 Loose Wavy Comb Over
The model pulls off this comb over fade hairstyle to perfection. Relaxed comb overs are one of the most iconic hairstyles for men, especially with your natural hair. This haircut is suitable for any workplace, casual event or for a rock star look. The laid-back appearance is due to the natural hair, so whether you have curly or wavy hair, this look really rocks.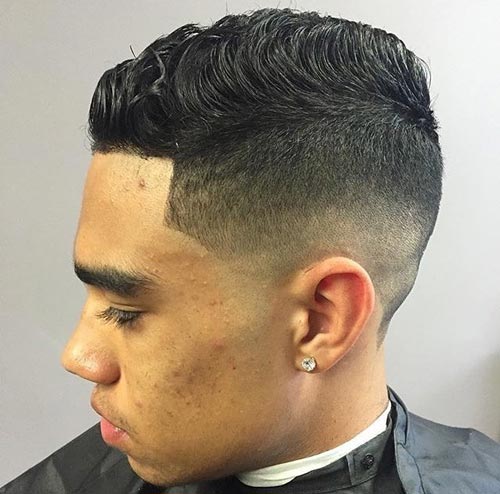 #15 Mid Fade with Quiff
You can have a traditional comb over haircut with a fade that matches your clean shaven beard perfectly. A mid fade comb over says a lot about you and will go well with any hair texture. The hair starts to fade above the ears and stops half way to the side part.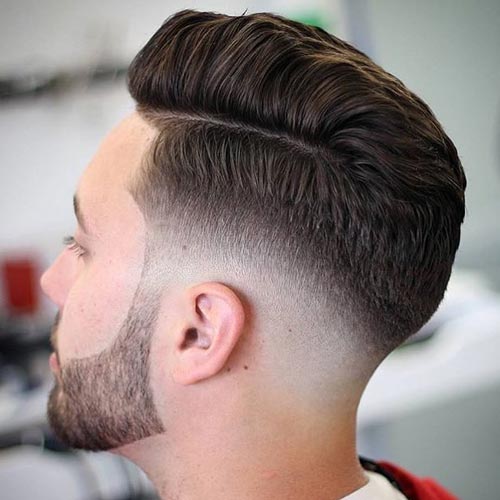 #16 Side Part Pompadour
Pompadour has never gone out of fashion. So cut your comb over fade haircut with a pompadour in front and keep your sides tapered down. For a bolder look, you can blend this with a light beard.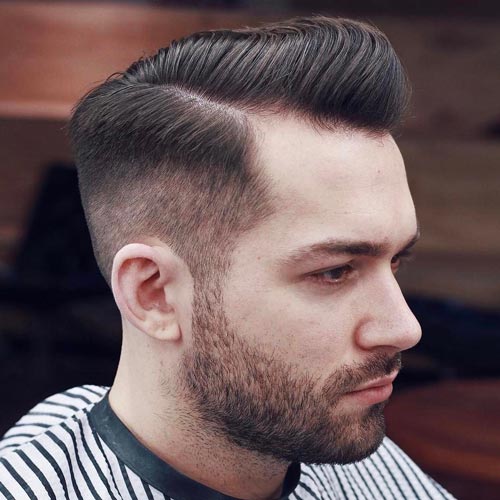 #17 Modern Comb Over
Created to be worn with a suit, this mid-length pompadour is a fantastic version of a comb over. This haircut is suitable for thick, full hair or for gents who want a more polished look. This comb over fade is a safe option for any occasion. Use a strong hold hair gel and a hairbrush to style.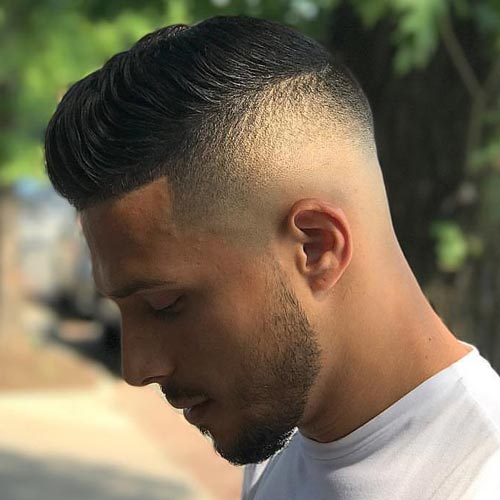 #18 Long Wavy Layers
Do you want a clean looking comb over? Even if you have wavy hair, you can look neat if you comb the hair over nicely. This wavy cut is an ideal choice for men who want a dapper look. Young and old can pull this off, just make sure to keep your hair length a little shorter than the average and add some hair products for hold and shine.
#19 Comb Over with Spikes
If your hair is short and thick, then you can easily go for a comb over with spikes. Your spiky haircut will look great with the help of some hair gel. Ask your hairstylist to leave just enough hair on top to create short bangs and then style them into spikes.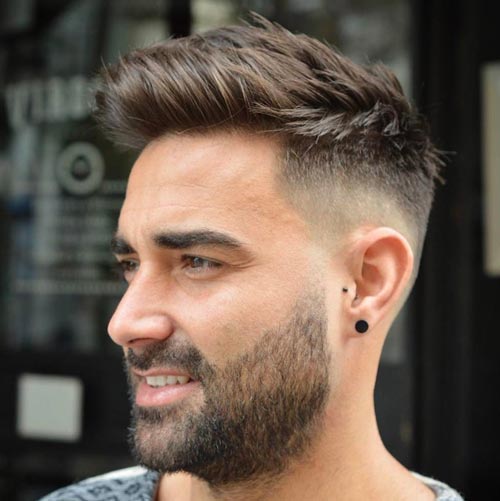 #20 Deep Parted Pompadour with Drop Fade
A lineup and fade go well with a comb over fade. The more time you are ready to dedicate on your hair, the more amazing the end result. This particular haircut requires high maintenance, hair product and loads of sophistication!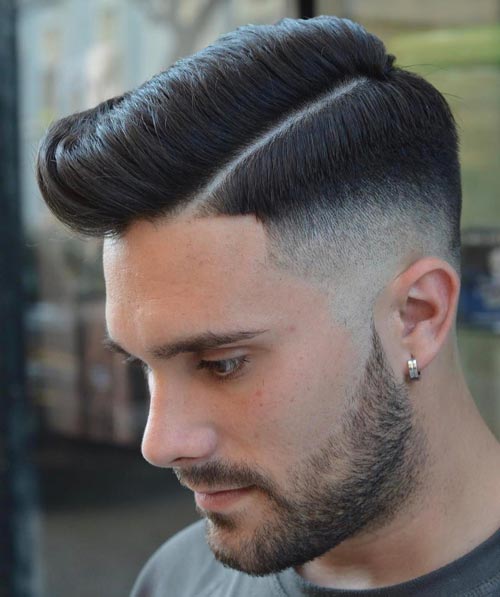 #21 Comb Over with Razor Part
This comb over hairstyle angles downwards to a bald fade just above the ears and cuts a straight line in the front of the hair. A fade can be combined with any comb over hairstyle and is an excellent choice for sophisticated men.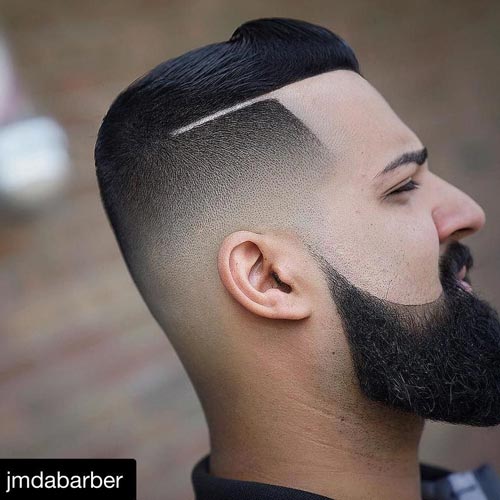 #22 Classic Quiff Haircut
If you want to minimize the time spent on your hair and still wear a stylish look, you need to make friends with the hair gel. This hairstyle is a cross between a quiff haircut and a comb over fade. Brushing the hair into both styles and securing it with some hair products is key to making this style work.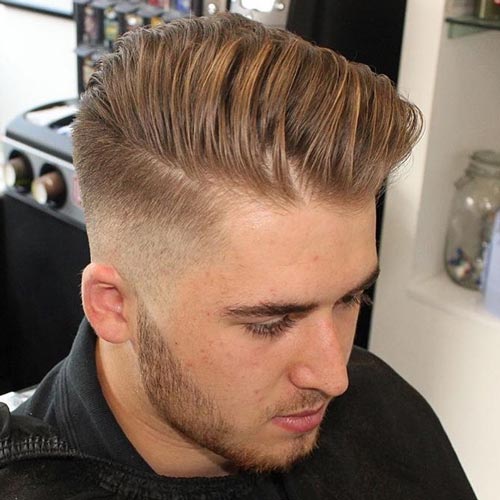 #23 Taper Fade with Deep Part
Sometimes growing out your hair can make styling easier. This haircut features medium length hair that's somewhat longer in front, making it easy to style a comb over without needing a strong hold hair product. To create a nice contrast, the back and sides are cut with into a simple taper fade.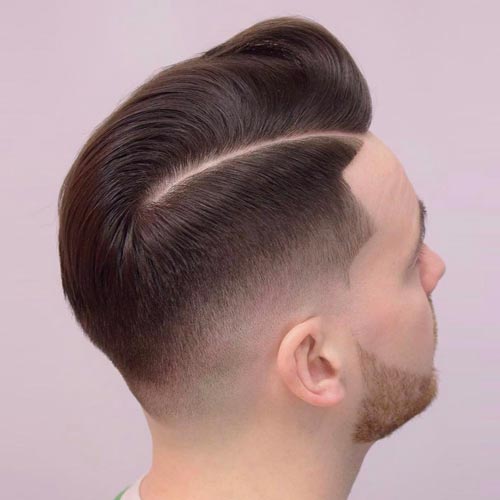 #24 Side Layered Comb Over Fade
A texture is cool, and we all know it! You can get a comb over fade haircut and add some texture to it. A skin fade is created on the sides and back while the hair on top is combed with a wide toothbrush or even your fingers for more texture.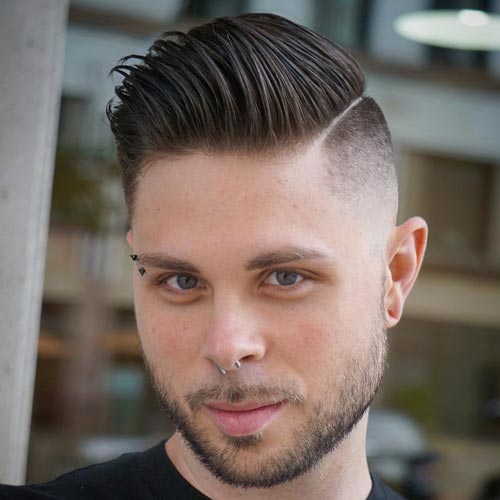 #25 Pompadour with Hard Part
Want to give your hair some volume? This comb over fade is an interesting way to add some weight to an otherwise flat hairstyle. The possibilities are endless and even if your natural hair is thin, you can get this much volume by using some hair products and combing your front hair into a pompadour. Use a mid-hold pomade and blow-dry for a fuller, more sweeping look.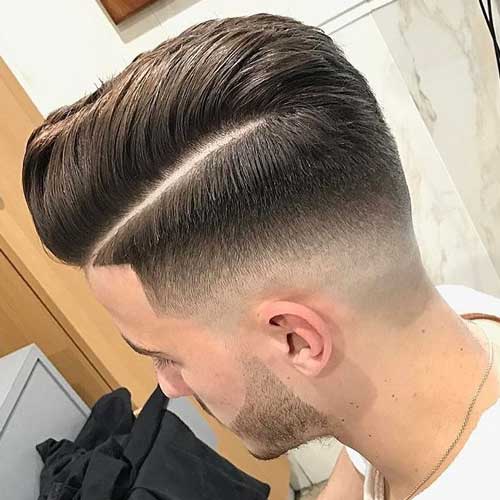 #26 Fade with Double Part
One of the most modern iterations of a comb over is an undercoat that is cut in a traditional style but with a fresher, edgier double part. Unique for its contrasting lengths—from a very voluminous top to shorter sides— and a sharp disconnected side makes, this a perfect combination of a conventional and a contemporary comb over.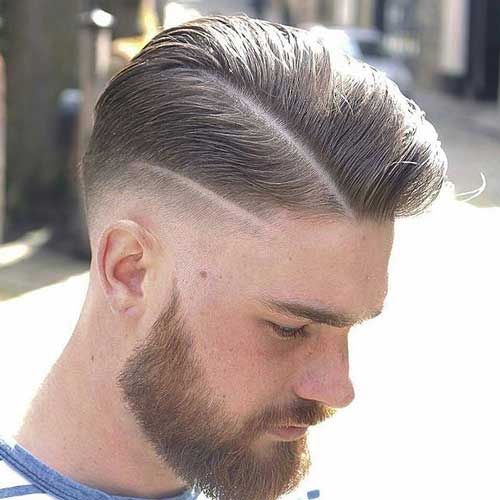 #27 Rugged Styled Style
With a deep part, close cut faded sides, and contrasting beard, this hairstyle will have you looking like a GQ model with no effort. The haircut is best complimented by a suit or other well-tailored clothes. This look is easy to manage and just requires a light hold pomade or mousse.
#28 Faux Hawk Comb Over
A faux hawk looks great if you take care of it regularly. This style will require several trips to the barbers to keep the side designs sharp. Cut the hair on the side from a taper down to a skin fade and comb over the top hair into a fohawk. Keep it all together with a dash of hairspray.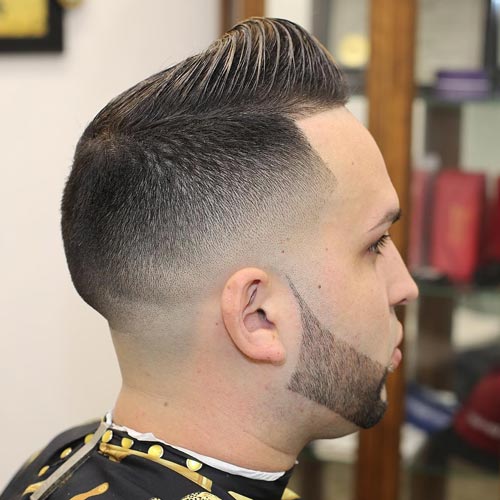 #29 Side Part with Pomp
This simple, classic style is controlled without hair being too firmly slicked into position and features a soft part that's not actually shaved into the hair, meaning you can play with its position. For a more casual look like this, we'd recommend you avoid using heavy products that will lock hair into one position and instead opt for a lighter pomade or styling cream.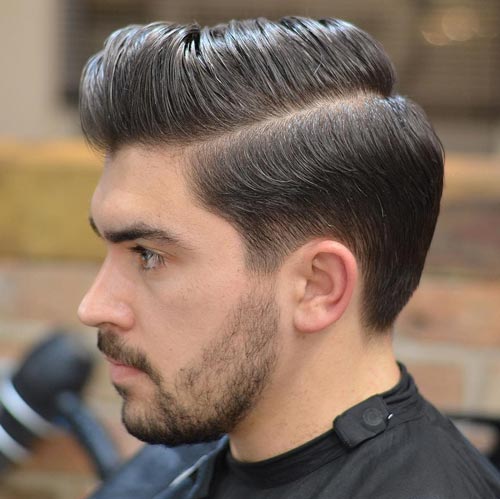 #30 Elegant Preppy Quiff
A comb over and quiff is a good combination and quite easy to manage when it is short. You can choose a high skin fade and leave the top part to about one inch in length. This haircut is versatile and can be styled in different modern day variations. You will need an ample quantity of hair gel to get your quiff looking its best.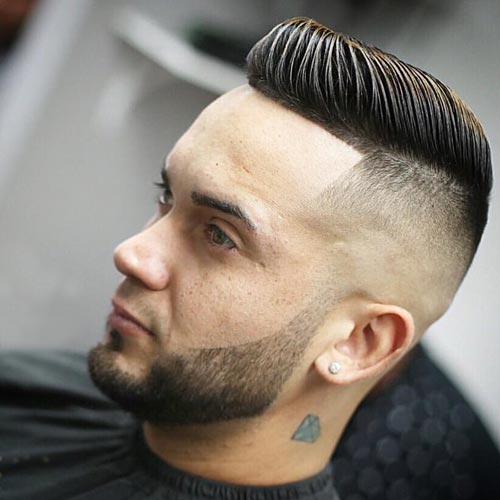 #31 Comb Over with High Bald Fade
This haircut takes a modern approach to the rolled comb over styles made popular by '50s greaser culture. Hair is combed into place in a distinctive shape but isn't as dramatic as its vintage predecessor.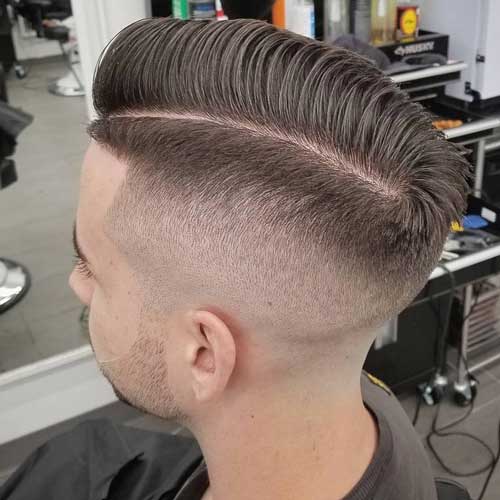 #32 Textured Brushed Up Pompadour
This style is a striking way to make a statement. Cut the back and sides into a low skin fade to help create an impression of a drama. Comb over the top of the hair to create volume; men with thinning hair can also pull off this look. You can use some hair texturizer to get this texture and you'll definitely need some hair gel to maintain this look.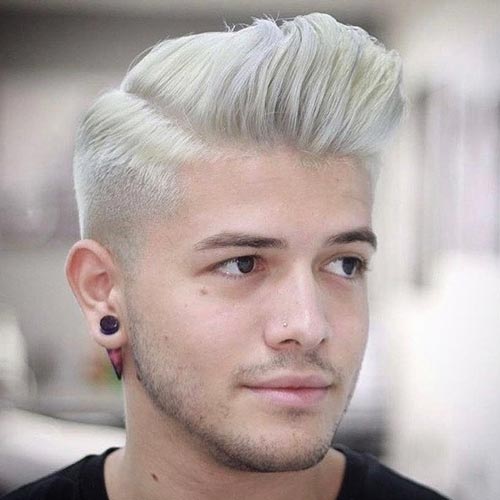 #33 Pompadour with Razor Fade and Part
Not only does this haircut feature a razor fade, but the lineup around the hairline is skillfully sculpted while also fading down to the skin. The pomp on the top is a good example of a classic pompadour that can stand up to any Elvis Presley copycat.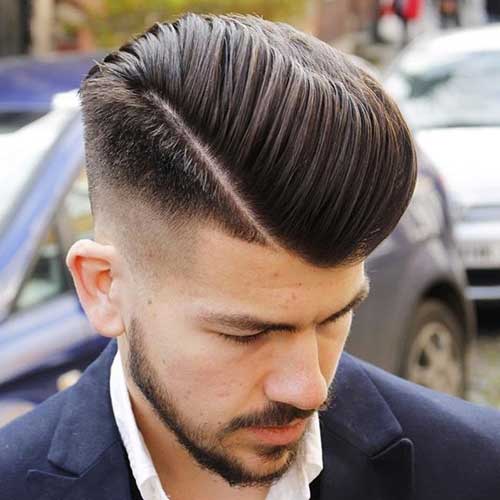 #34 Neat Comb Over with Temple Fade
A lineup is a great way to bring attention to your comb over and adding a temple fade into the mix will help accentuate the length of your haircut. The model is wearing a really cool comb over fade that is suitable for any event. It does need regular maintenance and frequent visits to the barber to keep the lineup looking fresh.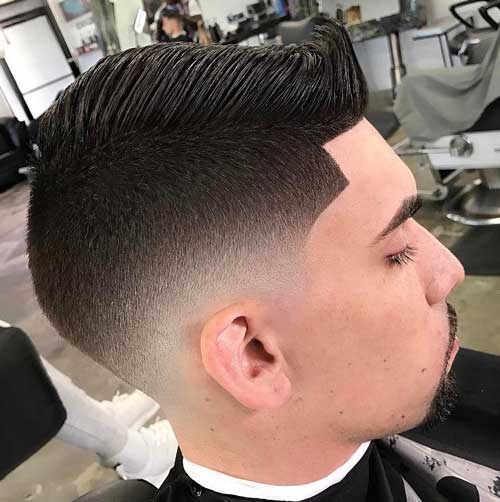 #35 Side Part with Edgy Drop Fade
Pompadour hairstyles feature hair that's precisely brushed in front to achieve pomp, but now, there are many inspiring variations. Adding a fade makes this classic haircut different and helps pull focus to the top. The hair is left long enough to create a natural pompadour, therefore, needing just a little hair product to manage the look.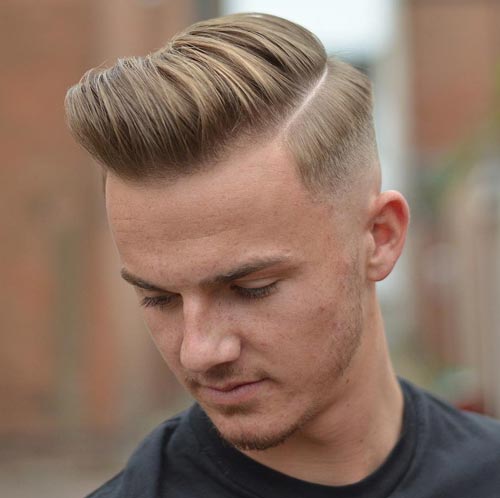 #36 Quiff with Mid Fade
This haircut is incredibly adaptable and you can tailor it to your personality by changing the intensity of the fade or the hair color. A high fade comb over will give off a more daring appearance, whereas a mid fade comb over will give you a tidier look around the neck and ears. Air dry after applying some hair gel to keep it looking natural and intact.
#37 Layered Swept Over
If you've got style, flaunt it! A free fall comb over is the epitome of style and is a great way to wear a comb over fade. If your hair is left too long on top, you will not be able to get this look. In the picture, the model's hair is combed to the side without being distinctly styled into place, showing off the haircut without looking much like a comb over. A light hold hair product will help keep the hair intact, and air drying will finish off this look to perfection.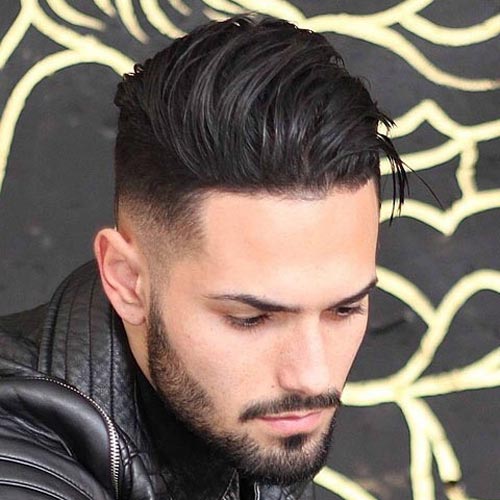 #38 Comb Over Fade with Hard Part
A high top can be cut in different styles, but this one is unique and blends well with a comb over and some texture. The sides are cut down to a skin fade to bring attention to the top of the hair. For some men, this style may be difficult to manage because of the long length on top, so if you are not a fan of spending time in front of the mirror, then choose a shorter variation of this hairstyle.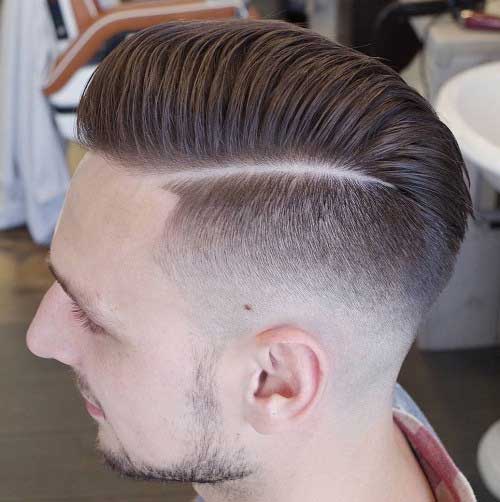 #39 Fohawk with Curve Design
Creative designs can be added to any faded cut, and usually offer a detailed contrast on the reverse side of a comb over fade hairstyle. It might be tempting to try this on your own, but you should get a skilled barber to make sure your design looks slick and not sloppy.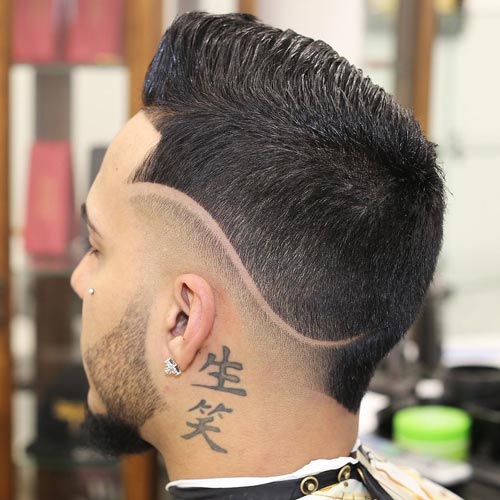 #40 Modern Comb Over Side Part
The hair on top of this comb over low fade is grown out and then combed over with a side part for a slicked-side look. This haircut is usually chosen by men who want a svelte look and have a personal style to pull it off. Pairing a side part with a low skin fade is a modern way of wearing your comb over fade. Easy to manage on a daily basis, but if you want a sleek look, you will need some hair products to get that shine.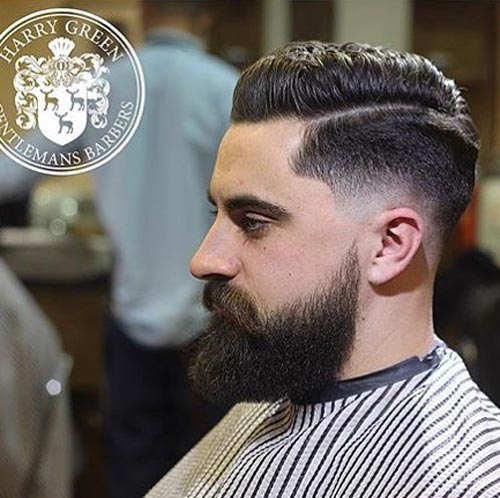 #41 Comb Over with High Skin Fade
This is one of the sharpest looks on this list. A unique comb over with a high fade that has most of the back and sides shaved right down to the scalp—starting sharply after the side part. If you are looking for a trendy style, this haircut is a bold choice that's still appropriate for many formal occasions.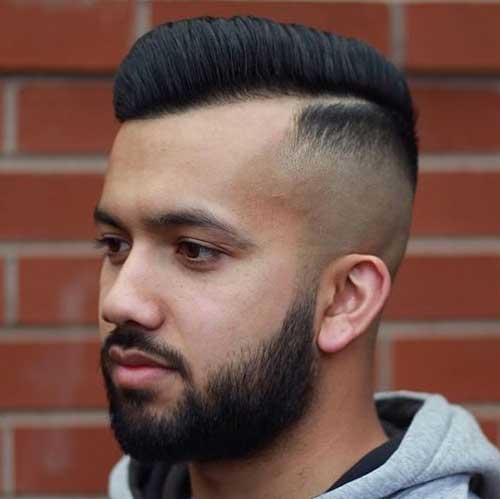 #42 Brushed Up Fade
A forward fade hairstyle is a hair that's cut in a forward-brush pattern from the crown to the front in a taper fade. This is a unique type of comb over and is great for men who want a difference. The hair on top is cut longer and combed over to the side with no part on the side. The hair can be styled with a medium hold hair gel or wax.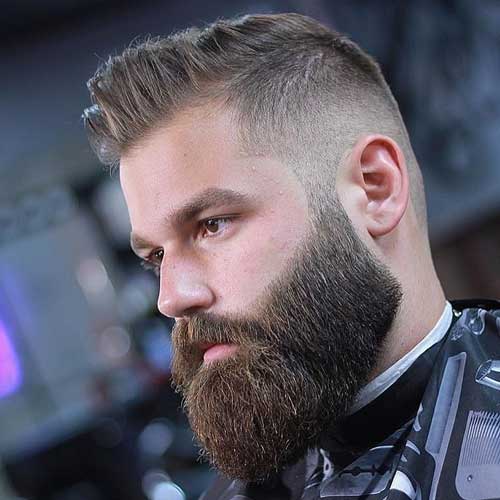 #43 Pompadour with Deep Part and Lineup
A crisp lineup can make any man stand out. With hair softly combed over, and a fade around the sides and back, this hairstyle is for gentlemen who are suave and classy. Using a mid-hold hair gel will keep the top hair looking stiff and neat.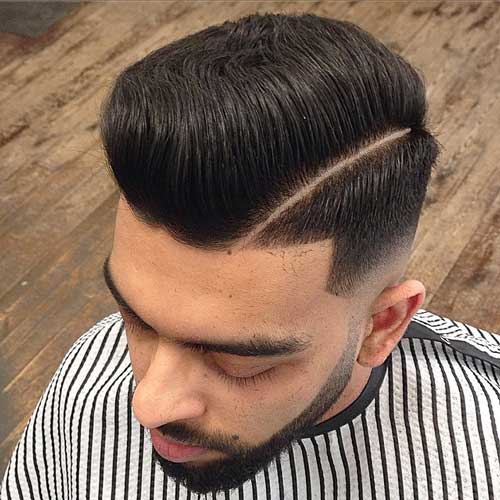 #44 Widow's Peak Haircut
You can flaunt your heavy volume with this mid fade comb over. The top of this hairstyle is long and combed over into a pomp which shows off the volume of the hair while keeping the sides and the back at a mid-fade. The hair on top needs some maintenance, so you must be ready to style and air dry frequently.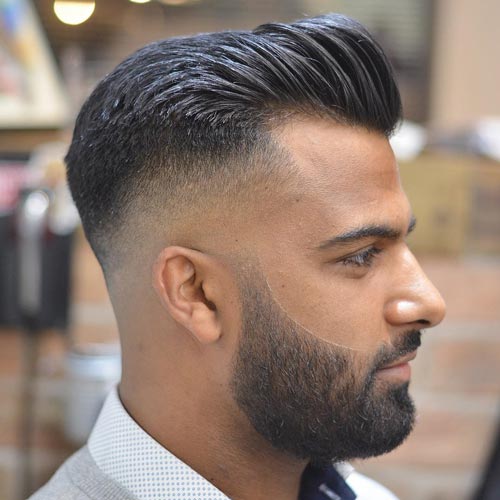 #45 Quiff with Taper Fade
Taper and comb overs equal an exquisite haircut. The hair on top tapers down to a comb over fade hairstyle which is great for highlighting a beard. To get this great taper look, use a soft hold pomade that will allow you keep the hair back in place all day.
#46 Pompadour with Wave Effect
Another awesome comb over hairstyle is a fusion of a classic side-swept hairstyle and a medium skin fade on the sides. You have to keep your hair slightly longer to get this look. Forward brushed hair is a great cover for balding or thinning hair and can also be used to show off your thick hair. No maintenance is required, simply get the right haircut and comb on the go!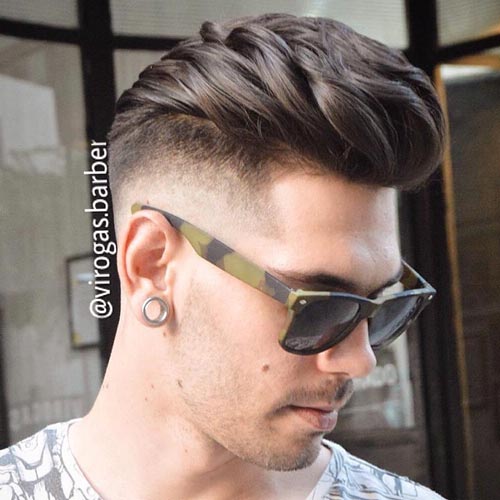 #47 Razor Cut Comb Over Fade
Expertly cut and styled, with no hair out of place. This sleek comb over is the perfect choice for men who want a clean look. On the short side of the hard part, you can see the razor cut that starts about an inch long and fades all the way down to the skin. Easy to maintain, just use some hair product and blow dry.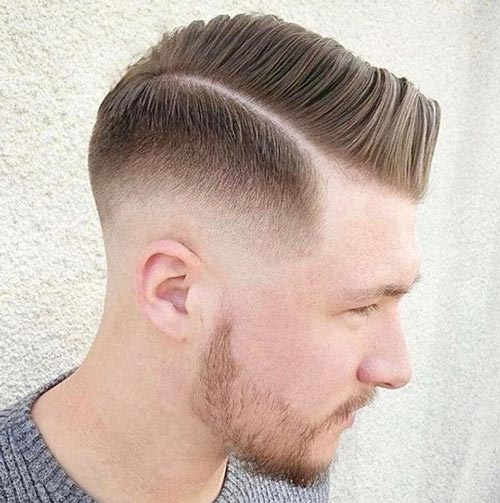 #48 Swept Over Pompadour
The razor cut is popular with men these days and can be added to a comb over for a drastic effect. The front hair in this comb over haircut is brushed into a pompadour and the hair at the sides and back is cut short. The razor cut makes this hairstyle sharp and spiky and tapers down to a low skin fade.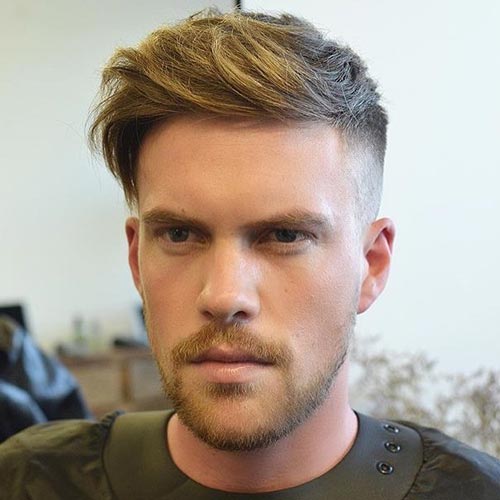 #49 Pompadour Comb Over with Soft Part
Another outstanding take on the comb over fade style, the hair is gently textured and combed over without creating a defined part. Blink and you might miss the soft part. You can also use your natural hair part for this style.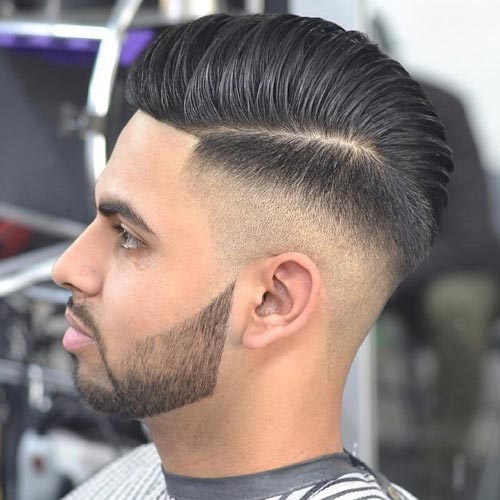 #50 High Comb Over Fade
This fashionable comb over works well with many styles on top, from Euro to modern groovy. It's simply great for men who want to try a variety of styles on their top hair. You can style it into a pomp, a quiff or even slick it back with some gel. The hair on top should be cut to about 4-6 inches long to give you enough length to play with.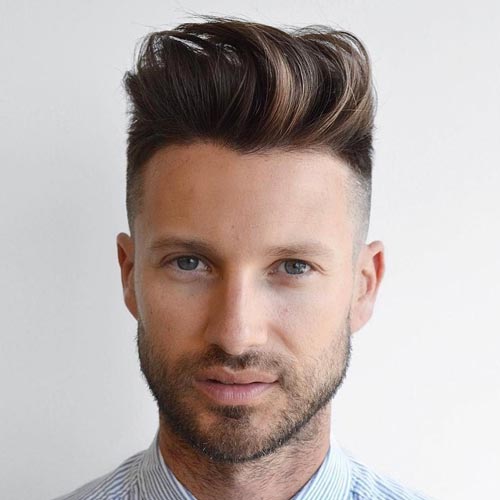 #51 Classic Crown Parted Pompadour
With every hair perfectly in place, this dapper style features a deep, defined side part and is skillfully combed up at the front and over to the side. The hairstyle features a bald fade where the hair disappears perfectly into the skin. Choose this haircut for a suave look that will not require frequent trimming.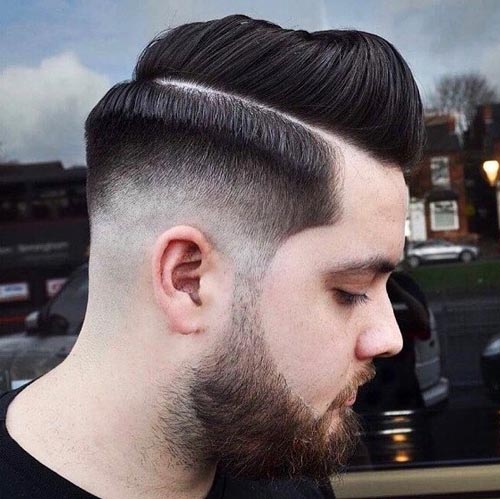 #52 Wavy Brushed Up Comb Over
Normally seen in men of all ages, the short comb over is a classic style with a taper starting at the temple and going all the way to the sides and back. By adjusting the blade length by a few sizes, your barber can modify this cut and produce many different versions of a classic comb over. It is also a low-maintenance haircut and needs only to be cut every few weeks. This is a timeless hairstyle that will look great for any occasion and any man.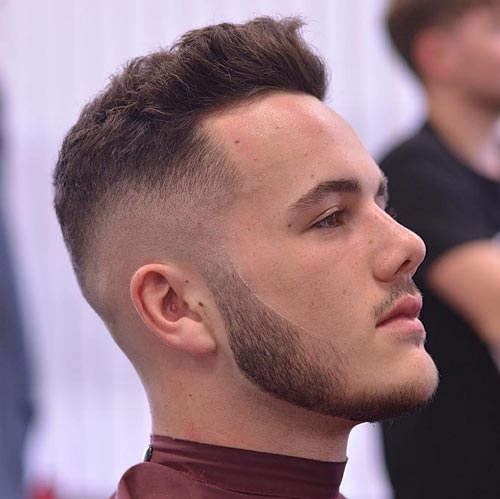 #53 Short Comb Over with Undercut
With a bit more hair than a normal military or crew cut, this is a great way to wear a comb over fade if you are not a very fashionable man. For professional men, this haircut is perfect without the tattoo and will allow you to express your individualism. Because of the length, managing this cut is easy and stress-free.
#54 Sleek Side Part with High Fade
Nicely combed over on the top and razor cut on the sides and back, this style is for the modern man. The haircut will get you a lot of attention just by looking neat and elegant. You can keep it looking great by using some medium hold hair product and hairspray.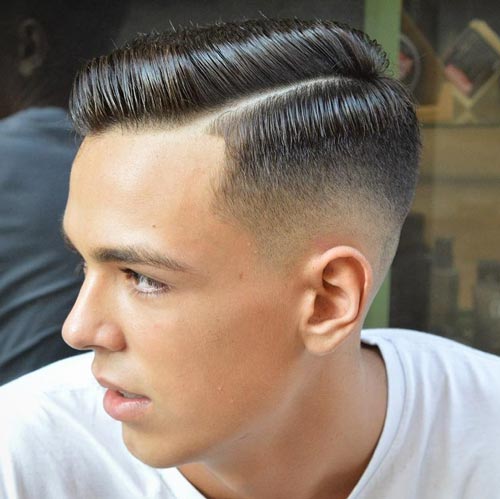 #55 Wavy Sectioned Quiff
Comb over fade hairstyles are great for any hair texture, and wavy hair is not an exception. You can keep the back and sides notably short for a super neat look that blends well with a side part.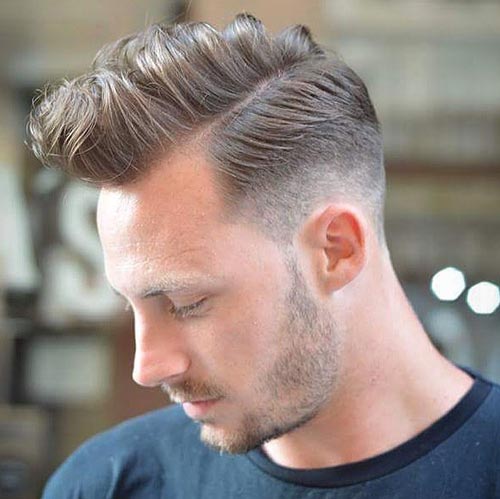 #56 Modern Comb Over Fade
This haircut is an excellent low-maintenance hairstyle that does not require that much styling or upkeep. It is also great for trying out different styles on the top hair. You can comb over, comb backward or even forward, to fit your personal style. As long as you keep the hair and beard nicely trimmed, you'll have a stress free time managing this style.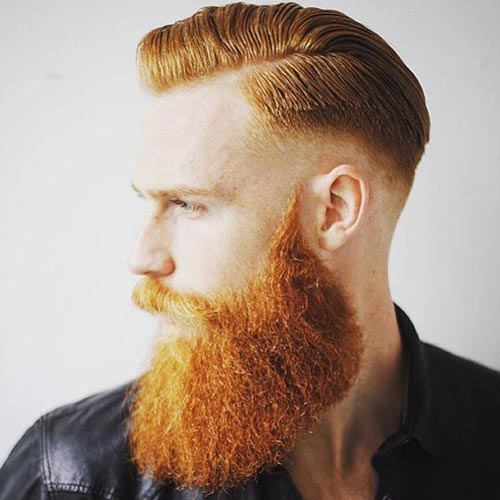 #57 Slicked Back Undercut
An undercut comb over can include a subtle fade with long hair on top. It is a statement style that is easy to manage and style. You can brush the long hair on top any way you choose.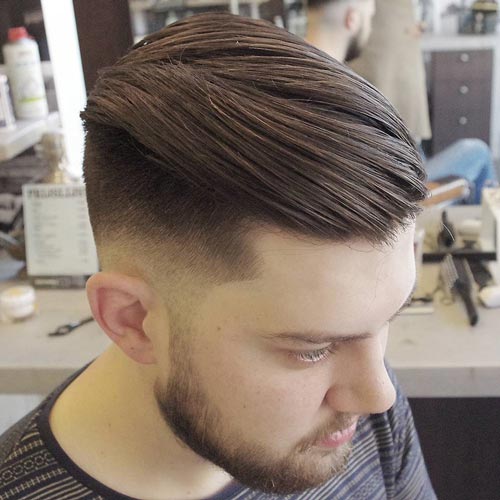 #58 Textured Comb Over with Taper Fade
On the longer end of the spectrum is this textured comb over with a taper fade. The medium length hair is combed over and defines the tapered sides exquisitely. As you can see, the combed hair veers to one side, cascading down the side of the face. It has a relaxed look and is especially classy with the highlights.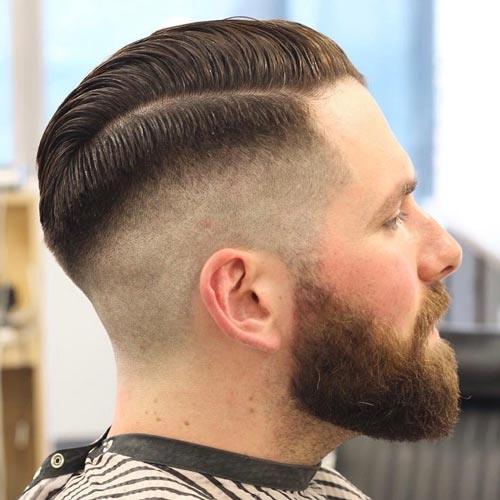 #59 Taper Fade Pompadour with Soft Part
This hairstyle is a nice combination of a pompadour and a comb over fade. The haircut creates that perfect 50s look. With a soft part and longer hair on top, this gently styled comb over is stylish, and timeless. Add some hair products like texturizer or a soft hold pomade to get your hairstyle looking this dapper.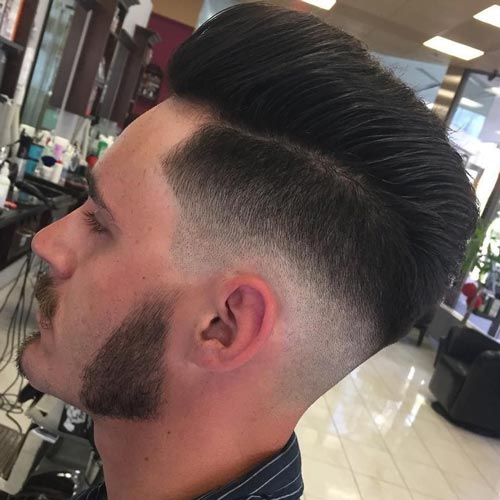 #60 Messy Textured Comb Over Fade
A high fade haircut isn't a very formal look, but with a comb over, you can soften the effect immensely. Keep the hair length between 2 to 3 inches, because styling longer may be a bit tricky. Short hair is always easy to manage and this hair is not an exemption. Just throw on some pomade and air dry for a more natural look.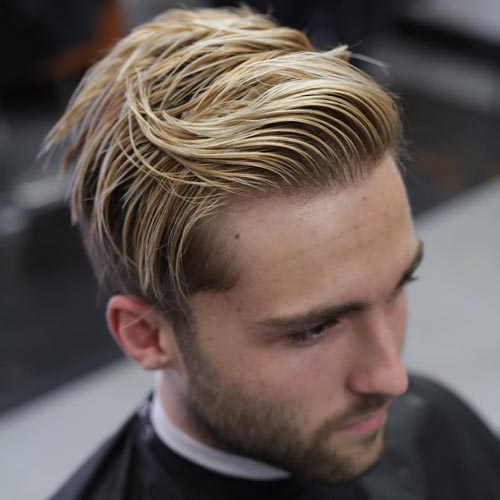 Sours: https://menshairstyletips.com/comb-over-fade-haircut/
22 Best Low Fade Comb Over Haircuts in 2021
Short Comb Over with Skin Fade Military Cut
Instagram @brihanna_jayde
A very strict low fade comb over cut has different contrasted areas that make for a nice upfront look. Add a shaved curved line to this short comb over fade to make it look edgier.
Low Fade Messy Comb Over
Instagram @officialjoeyedge
A low fade messy comb-over is a classic cut that works for most lifestyles, hair types and offers easy upkeep. You can create a low fade by using shears. If you want it closer to the skin, you can also use the clippers. The top can be styled with volume by blowing dry with a brush or can be styled smooth and slick with glossy gel or pomade.
Low Fade Comb Over for Asian Men
Instagram @coup__asuma
A low fade comb over for Asian men creates an alluring touch to the strong hair most Asian men have. The fade is low and faded, leaving a heavy, wedge, weight line. This cut creates enough weight for the hair on top to stay in place. A quick blow-dry will help keep the shape, and a strong pomade will hold it in place all day long.
Slick Comb Over + Low Bald Fade
Instagram @ricanbarber_
A slick comb over + low bald fade is a great way to showcase dark, thick hair. The hair is skinned out around the edges, fading into a low heavyweight line, leaving hair to create the shape. The top is left longer, leaving a good amount of length to get the slick comb-over. A glossy pomade or a good styling paste will finish off the style and keep it all in place.
Low Fade Long Textured Comb Over
Instagram @goodfellasbarbers_ag
A low fade textured comb over is well suited for men with medium hair density. The fade is taken to the skin around the ears, leaving enough length to transition it into a comb-over. More length is left on top to create the volume and texture needed to carry off this style. A volume spray will give you a lift, and a styling powder will create added texture and long hold.
Comb Over Fade with Shaved Line for Long Hair
Instagram @christinaxclips
Going for a low fade with a comb over may seem like a risky thing. So why not go for the other extreme with a comb over fade and long hair swept to the other side?
Low Fade Comb Over With an Undercut
Instagram @stebbicutter
Yes, a low fade comb over with no line does exist! This is a great low and faded undercut comb over style to enlarge your head area. It really gives you a lot of room to work on different stylings, too.
Medium-Length Low Fade and Comb Over Style
Instagram @cjdabarber_
This low fade comb over hairstyle has versatility and easy upkeep that any boy or man can try.
Comb Over Fade with Sharp Side Part
Instagram @king_hollywood_barber
The volume given by this low fade hairstyle is perfectly balanced with a satisfying surgical part. It definitely looks clean and proper, making it suitable for younger or older men!
Ivy League with Low Taper Fade
Instagram @salondejavunj
This taper fade comb over with an ivy league cut proves that an everyday look doesn't sacrifice style. It's casual for work and comfy for play.
Low Shadow Fade
Instagram @marcos_barber27
Try this faded low comb over haircut when you start to grow your hair longer but still want that skin fade magic. Short hair blends impeccably into the full top.
Wavy Comb Over Fade and Hard Part
Instagram @paul_barbercode
A clean surgical line along the side of the head gives the illusion of a fuller, more organized low fade with short wavy comb over haircut. Fresh and casual, this low fade comb over with a hard part would go well with a beard, too.
Low Fade and Comb Over with Beard
Instagram @criminal__barber
Low fade comb over hairstyles like this one puts an ordinary cut to a higher level because of the overall visual appeal of the beard with a low fade.
Low Drop Fade with Line Up
Instagram @elizuniga14
The combination of drop fade and line up is a clean take on the classic low fade cut that flatters most men. This comb over fade with line up will leave everyone swooning over you.
Comb Over with Razor Fade
Instagram @jr_blurrystyles
Sharpened blades will be your friend when you want to try this beaming short comb over with a razor fade. A clean shave that stops mid-sides creates a wonderful contrast of hair fullness.
Zero Fade on Comb Over Crew Cut
Instagram @cutsbyjenniferlynn
Similar to a tapered fade, this low skin fade with a comb over keeps the hair on top separate with a hard part and medium-shaved sides.
Low Bald Fade and Comb Over
Instagram @saynomore_barbers
Don't be afraid of getting this low bald fade comb over. Exposing your scalp every now and then is a fresh and easy way to maintain the hair on top. This low bald taper fade comb over offers a neat chop without sacrificing too much length.
Long Comb Over Bald Fade
This long comb over fade is a side-parted hairstyle with a dipped outline to strengthen the shape. Berlin-based barber David Marchant is the one who created this look for this gent.
"We took the side part pretty tight and square to the head, so the weight sits close to the head using the shape of the guy's head to determine length and size. Leaving the corner square prevents the parting from jumping or sticking out," Marchant explains.
Low Temp Fade
Instagram @jeffthebarber
This low temp fade haircut looks neat and straightforward, yet stylish! It's a popular choice to give men both a smart and mischievous style. The chop does a better job on thick, black hair to show off its fuller edge.
Comb Over Fade Haircut With a Hard Line
Instagram @isacmagno
A comb over fade with hard part or surgical line might be the one that dudes need to step their game up! Simple styles like this fade and comb over could have a new look with a single, clean line.
Low Fade Comb Over for Curly Hair
This haircut is a low fade comb over for curly hair. The best thing about this haircut is definitely the gradient of the fade on the sides and how it complements the man's head shape nicely. Barber Charleen Miguel of Las Vegas mentions that for thick curly hair, this haircut is a great, low-maintenance style that needs trimming every 1-2 weeks.
This comb over with skin fade haircut also includes a hard part where a thin line is cut into the natural parting of the hair giving the part a definite, sharp look. Miguel also warns that this also needs more upkeep since the part does grow out.
Mid-Low Fade and Comb Over Haircut
There are so many types of fades, but the true fade is the graduation of a lower fade paired with a comb over. This is according to stylist Francesco Amoroso, who created this haircut.
When asked for tips, Amoroso states, "Consider the height of the fade. I always recommend a nice shade with graduation that's very clean."
Sours: https://www.latest-hairstyles.com/mens/low-fade-comb-over.html
Over short comb
70 Sexiest Comb Over Haircuts for Men
Today's comb over haircuts isn't the same as they were in the 1980s or 1990s. If you're thinking of that signature middle-aged look that involves plastering a few strands of hair over a thinning patch or a bald spot, you're barking up the wrong tree.
Comb Over Haircuts
The key to choosing a complementary comb over hairstyle is to make sure that it works with the angles of your face and highlights your features. There's nothing to hide behind with a cut like this, plus the look requires styling and upkeep. Bearing that in mind, here are some of the hottest examples of the comb over trend. Which one's going to become your new signature 'do?
1. Tapered and Tidy
Not all comb over haircuts is over-the-top. This style is an excellent example of a neat, tapered comb over. Actually, it's more of a comb up. In styling this cut, you use the same technique that you do for a faux hawk by finger-combing the hair up and slightly forward. Instead of a pompadour in the front, the hair is slightly spiked.
2. Chic and to the Side
This haircut doesn't have quite as much height. It's more of a preppy-inspired 'do, making it an ideal corporate cut. The sides aren't nearly as short. To get that chic final touch, you simply comb your hair with the hint of a part.
3. Subtly Slicked Back
Any man will look as handsome as a Hemsworth with this subtle take on the combed over crop. The different lengths blend together seamlessly. This is a great comb-and-go cut. It requires very little product and maybe a puff of hairspray—that's it.
4. Close Cropped Sides
The men's undercut is one of the sexiest looks a guy can ask for at the moment. It gets women swooning like nothing else. Not only is it one of the most popular comb over haircuts, but it's also one of the most universally flattering. Ask the barber to keep the top long enough. The idea is to wear it just like this, softly brushed back from the face.
5. Shades of American Psycho
Fans of Patrick Bateman already know this combed back aesthetic. Sophisticated preppy meets Wall Street wealth in a sleek, timeless cut that never goes out of style. Avoid the cropped sides with this version. It's all about length.
6. The Vintage Take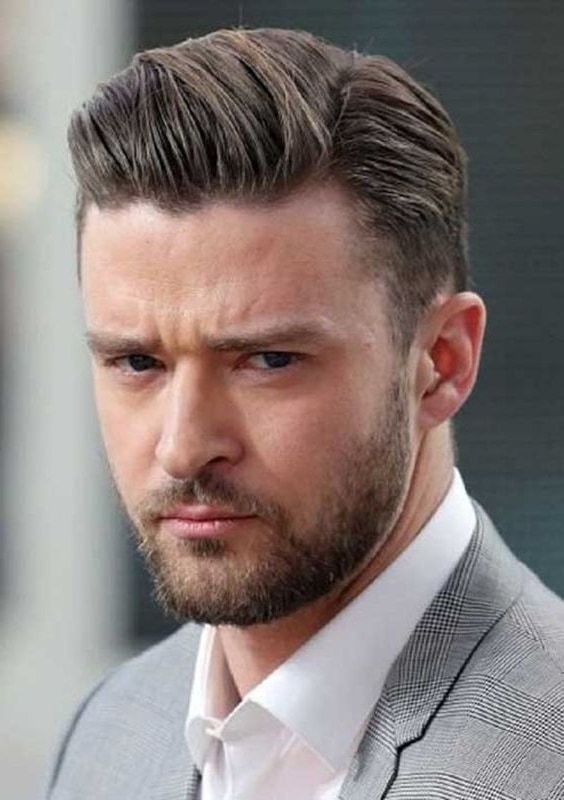 Now that Justin Timberlake no longer has an oodles of noodles 'do, he defines #hairgoals for quite a lot of guys, and rightly so. Learn how to do a comb over with short hair by stealing JT's look. Notice how the sheared sides transition into a longer length closer to the crown. That clean part is an important detail, too.
7. Up and Over
To achieve a comb over like this, you have to focus on volume and height. That high spike requires a product to keep its shape. At the very least, you have to spend some quality time with your blow dryer to perfect this style. Don't worry, though. It's as easy as combing your hair up and to the side.
8. Fade into Curls
There's a lot going on here, but all of it's on-point. Men with naturally curly or wavy hair bring a new dimension to the combed over undercut. Notice how his hair is shortest around the temples and the nape of his neck. The fade is crucial. You also need to ask the barber or stylist to create a clear line of delineation at the part.
9. Combed Over with a Sleek Side Part
Everything about this comb over hairstyle is sleek, polished, and put together. This is a cut that easily carries you from the office to the club, from the classroom to the bar, or from the gym to the movies. It always looks good, it's easy to style, and because it doesn't require much shaving, the upkeep is fairly minimal.
10. Back Combed Undercut
A simple undercut can take you far. There's no fade to deal with here, just a simple shave. Styling is just as effortless—all you have to do is slick back your hair, make sure it stays put, and off you go. Look for flexible hold products, though. You don't want a hairdo that looks like a helmet.
11. The Flawless Fade
You're looking at the perfect fade here. It's more like a work of art than a hairstyle. Notice how blended everything is, including the swoop and shape of the longer hair on top.
12. A Casual Swoop
This classic combed overlook is easy to style and maintain. The sides can be a bit longer with this variation. It helps to create a slightly shaggy aesthetic, which is irresistible, especially when accompanied by that soft side swoop.
13. Softly Spiked
Spikes work well with comb-overs and undercuts, as you can see. You don't have to go crazy. Place a small dollop of gel or styling wax in your palm, rub it into both hands, then comb your fingers through your hair, always directing it upward. Voila! It's that simple.
14. Spiked to the Side
Here's another example of subtle spikes. Actually, with this comb over a haircut, the spiking effect almost creates a pompadour. It's not quite there, but that's what leads this look to its casual, devil-may-care appeal. You can check other spiky hairstyle ideas for men here.
15. Pompadour and Circumstance
Look at the shaping of this combed up pompadour. It's perfect. The key here is to finger-comb your hair from the sides, pushing it toward the middle. If you're careful and patient, you'll end up with the same subtle, swooping pattern seen here.
16. The Comb-Hawk
This haircut takes the classic comb over hairstyle and then goes crazy with it. It's more than a faux hawk but less than a mohawk. It's a punk rock take on the undercut, with just enough tousling to look charming.
17. Sharp Edges
If you want a sharp style, this is your end goal. Not only is the fade flawless, but the etched edges create sharp contrasts that keep people staring at your daring 'do. Those swoopy spikes are a must, as well, but you might want to skip the frosted tips.
Amazing Comb Over Hairstyles with Low Fade
18. Effortlessly Elegant
The next time you need a hairstyle for a formal function, look no further. Everyone loves the guy who looks like he's not even trying to look like a million dollars. Wear your comb over like this, and you'll look red carpet ready even if you're just going to the office Christmas party.
19. Scruffy but Sleek
The easiest way to ask for a comb over haircut is to describe a style like this. There's nothing complicated about it. Styling takes seconds, if that. Best of all, it goes well with a beard. Can't beat that.
20. Platinum Fade
To pull off a bold look, you have to exude confidence—and nothing says confidence like bleaching your hair platinum. Even if you're not ready to go that far, the style itself is on fire—literally, he looks like his hair's going up in white hot flames.
Comb Over Hairstyles for Short Hair
Men have been gifted with a whole lot of variety of hairstyles this year, to begin with. From short combovers to sleek undercuts, it just makes one want to stop and admire the art going on in their hair and how perfectly it suits their face cuts.
21. Slick Back Hipster Look
If you have a neatly-trimmed hairline that gives just the right angles to your face, then you should go for a short slick back comb-over like this one.
22. Tapered Undercut
Undercut hairstyle has been trending for quite some time which is the very reason why it blends in with any kind of hairstyle being demanded. Combining an undercut with a short comb over would make one look classy as ever.
23. Comb Over with Mid Fade
If one has light-weighted hair, then they should opt for this look. The hair is super bouncy which attracts more attention towards them. One should get short layers in their hair with some highlights to make each layer stand out on its own.
24. 3-In-1 Comb Over Hairstyle
This hairstyle is for those men who are a fan of trying something new and adventurous. Carrying 3 hairstyles at once can seem to be a tough job which it actually is, but with practice, everything becomes perfect.
This hard part comb over hairstyle for short hair is high maintenance, so if you're up for giving your hair some extra time and effort, then go for this look.
25. Messy Combed Hair
Not every time does a neat haircut look good and defines the term classy. Sometimes it's just okay to have a "just got out of the bed" look which seems even sexier if one is daring enough to wear it outside the house all day long.
26. Comb Over with Undercut
If you already have tried a short comb over, then you can upgrade your style by dying your top hair into a color tone that you have never had before. One can also opt for just bleached hair, but if you're dying your hair for the first time, then this would be the right thing to do so.
27. Faded Undercut Comb Over
If you're living in a country where it gets super-hot and humid most of the time, then having a faded undercut on comb over would be the right thing. The hair is short, requires lesser products to tame them in place and needs combing over once only.
If you have a beard, then the faded look can continue with your beard which gives a nice symmetrical continuation of the hair onto the face.
28. Short Curly Comb Over
The majority of the men think that if they have curly hair then they have no options to go for when it comes to hairstyling. This is wrong because it's actually a blessing to have curly hair as it's natural and looks super-cute on them. To style curly strands, go for a side-parting for short hair comb over style with a nice faded side undercut.
29. Wavy Comb Over
Just like curly hair, wavy short hair can also be styled in a comb over. In fact, it looks even better if you have natural waves forming, making the hair look like a sea of waves. This look is extremely classy and makes one look like they've stepped out of a magazine cover.
30. Undercut Sidelines Comb Over
The last one on the list is an addition to the short undercut hairstyle. If you're bored of a plain undercut on a comb over for short hair, then add some sidelines to really accentuate the partition of the top and side hair.
Not every man can pull off comb over hairstyles, but many of them can. The cut's a universal pleaser, and because there's such an array of variations, it's not difficult to find a cut that suits you.
Sours: https://hairstylecamp.com/comb-over-haircuts/
Full Length: Zayn Malik CombOver Blow Dry and Style
10 Comb Over Haircuts: (Not What You Think!)
How To Get The Comb Over Haircut
We recommend having 2-4 inches of hair on top for this cut. Depending on how much volume you want, you can go shorter or longer and adjust the volume accordingly.
The sides can be clipped with any setting you like; the #4 to #6 setting range works best. Alternatively, you could ask for an undercut or a fade to make the comb over haircut a high-contrast cut.
You can also ask your barber or stylist to give you what is known as a hard part. This is a line that's cut through the hair with a razor to give a dramatically defined part. With a hard part, you can see the part line separating your hair. A natural part would not be as defined. Of course, this is up to your preferences.
How To Style The Comb Over Haircut
You'll need a high-quality pomade for the comb over haircut. We recommend Suavecito Original Hold and Layrite Original. Apply it to towel-dried, slightly damp hair and work in thoroughly.
Next, comb or brush your hair to one side, away from your part. The pomade will help it stay in place and give it some shine. After you've worked it in, your comb over haircut is finished.
If you'd like, you can comb the top upward and backward to create a small pompadour. The resulting style will be a mixture of a comb over, side part, and pompadour. If you choose to go with this variation, you may find it helpful to blow dry the front of your hair into place.
Sours: https://haircutinspiration.com/comb-over-haircut/
You will also like:
20 Best Comb Over Fade Haircuts
When it comes to the best haircut styles, the comb over fade is considered one of the most stylish and sophisticated men's hairstyles. Originally popularized during the 1920s by royals and celebrities, the style has been brought into the 21st century by pairing it with a taper fade or undercut on the sides and back. Versatile and trendy, the comb over can be styled with short and longer medium length hair on top. To help you find the right look, here are the best comb over fade haircuts for men to get right now!
Comb Over Fade
Low Fade Comb Over
The low fade comb over is a classic haircut that easily transitions from work to nighttime. The fade starts lower on the neck than the mid fade, blending into the hair at the top very gradually. When worn with medium length to longer hair, the look can be styled in countless ways, according to MensHairstylesNow. The slick back, fringe, and faux hawk can add a bit of uniqueness to this timeless cut.
Mid Fade Comb Over
The middle ground between a high and low fade, the mid fade comb over is often compared to a taper. The fade begins in the middle of your neck before fading into the longer hair at the top of the head. The mid fade works well with short and medium hair but can be edgier and careless when pairing it with long hair that has been textured.
High Fade Comb Over
Considered a bolder version of the comb over is the high fade comb over. The fade begins higher up on the head, drawing attention to the long hair on top. Adding to the modern twist is a hard part, which gives the cut a trendy finish. The longer hair can be slicked over or texturized using a pomade. Partnered with a trimmed beard and you'll be the talk of the office.
Skin Fade Comb Over
The comb over with a skin fade twists the classic comb over and is a popular choice in the barbershop. The skin fade is different than a fade or taper fade as the hair cut on the sides and back of the head is cut extremely short to almost stubble length and typically combined with a high fade on top. With the hard part and very short sides, the comb over is the focal point of the overall style.
Taper Fade Comb Over
The taper fade comb over is a more tamed and professional look than other variations. The taper fade is cut longer than a skin fade, but you can still choose between a high, low, and mid taper. When you pair a tapered fade cut with a comb over, you get one of the most versatile and popular short hairstyles for guys, say the experts at MensHairstylesToday. Slick over the long hair using cream or wax to create that business appearance or add some texture for a rougher presence. This comb over allows you to change the style each day.
Undercut Comb Over Fade
The undercut comb over fade easily merges with hair that is long, short, wavy, or straight. The undercut creates a uniform look around the entire head and can be paired with any type of fade. This shorter hair on the sides and back lets the top hair stand out. The cut is low maintenance and can be sophisticated, fun, and sexy at the same time.Bald Fade Comb Over
Bald Fade Comb Over
Similar to the skin fade, the bald fade is when the fade starts at the top of the head and ends into very short hair. The shorter hair on a bald fade is even shorter than a skin fade and makes it appear as the fade is ending into the skin. You can choose between lengths of a bald fade depending on your hairstyle.
Short Hair Comb Over Fade
Keep things trim and tight with a short hair comb over fade. The short comb over is easily styled and low maintenance. The fade blends into longer hair seamlessly and pairing it with a soft part creates a more relaxed appearance. The comb over can be styled using gel or worn naturally to add a little personality.
Long Hair Comb Over Fade
Extremely popular in barbershops is the long hair comb over fade. This style is adaptable to any medium or long hair. You can also pair it with any type of fade, and you may be able to cut it yourself at home by following these directions at Fuzzable. A low fade makes the look a little more casual while a high fade creates a modern version that highlights the long hair comb over.
Burst Fade Comb Over
To make a comb over stand out amongst the rest, try pairing it with a burst fade. Often paired with mohawks, pompadours, and flat tops, the burst fade is created by blending a taper fade that goes around the ear and down the neck. The burst fade is commonly rounded and can be worn with all hair textures. Any man, no matter if they are Black, Asian, White, or Hispanic, the burst fade can work with them.
Hard Part Comb Over
The hard part comb over is seen as one of the trendiest and sexiest comb over fades. This comb over is achieved by combining a high skin fade and hard part line that is shaved into the hair. To create this look you'll need at least 3 inches of hair for the comb over to stand out from the rest of the style. Not limited to men with straight hair, you can use hair products to help create the volume needed.
Temple Fade Comb Over
The temple fade is a type of taper fade that is focused on one specific part of a man's face, his temples. The fade begins around the temples extending to the bottom area of the neck. The best thing about this fade is that its simplicity allows it to be paired with any hairstyle. When combined with a comb over the temple fade creates an effortless look that has just the right amount of professionalism and fun.
High and Tight Comb Over
A high and tight comb over is just as it sounds. A traditional high and tight is shaved down to the skin with a longer top to create a clean look. For a professional version of the cut, pair with a comb over. You need to have enough hair on top to create the comb over and a soft, but defined part. For those unruly hairs, add some hair gel to maintain the comb over.
Comb Over Fade with Beard
Combine your comb over fade with a beard to show your personality. According to Art of Manliness, a beard can add to the overall appearance of the look, whether you have a short, masculine beard or a bushier beard to go with a long comb over. A beard can balance out the face and the volume from the comb over. Nevertheless, you can also go clean-shaven for a fresh look.
Comb Over with Line Up
Sexy and sophisticated are the names for the comb over with a line up. The comb over is commonly worn with a mid fade and sleek combo over but can also be just as easily paired with quiffs and high tops. The line up, or edge up, is straightening the hairline by using clippers to create hard lines and shapes into the sideburns and forehead. The combination with a comb over gives you a sleek and classy aura.
Low Bald Fade Comb Over
Worn either to Wall Street or a construction site, the low bald fade comb over is a clean-cut and low maintenance style. The cut maintains a simple and tidy look while also being stylish. To create the comb over with a low bald fade, comb your hair to one side and use gel to smooth out the hair and hold it in place. The low bald fade blends seamlessly into the timeless comb over.
Textured Comb Over
A textured comb over can make this established look even more daring and bold. The comb over is usually considered a clean and professional haircut. However, adding some texture to the comb over can give the cut a more relaxed and beach vide. A textured comb over can be paired with a fade or longer hair. Style the comb over using clay and running your hands through your hair to give the hair drama.
Curly Hair Comb Over Fade
Not ideal for every hairstyle, the curly hair comb over fade looks to highlight your curls while giving you an exceptional look. A comb over with curly hair paired with a high fade emphasizes the hair even more, which can be helpful for men with thinner curly hair. Style the curly come over with clay or pomade to keep the curls from falling flat.
Wavy Comb Over Fade
Like a curly hair comb over, a wavy comb over fade is meant to emphasize the natural textures of your hair. Wavy hair is versatile and can be paired with many types of fades. Combine it with a burst fade to make the waves stand out or a low drop fade to keep the hair modern and still feature your textured hair. No matter what fade you pair it with, make sure to add some product to the hair to keep the waves under control and alive.
Sours: https://viewthevibe.com/20-best-comb-over-fade-haircuts/
3768
3769
3770
3771
3772