KineBody



Manipulate human joints and create expressive poses
with KineBody 3D Human Model
Movable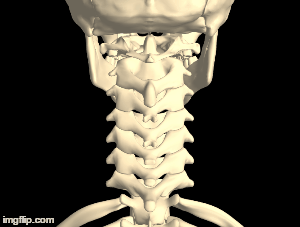 KineBody is the ultimate web application for learning and demonstrating human joint behavior, and for creating complex human poses.

Unlike any other online human anatomy/kinesiology model or mannequin app, KineBody allows YOU to move the joints: simply, precisely, and realistically. You can select from over 100 joints (and 170 degrees of freedom), and move them simply by clicking & dragging on the skeleton. You'll observe biomechanically-realistic behaviors, owing to movement parameters (like ranges of motion) derived from scientific sources.

3D Skeleton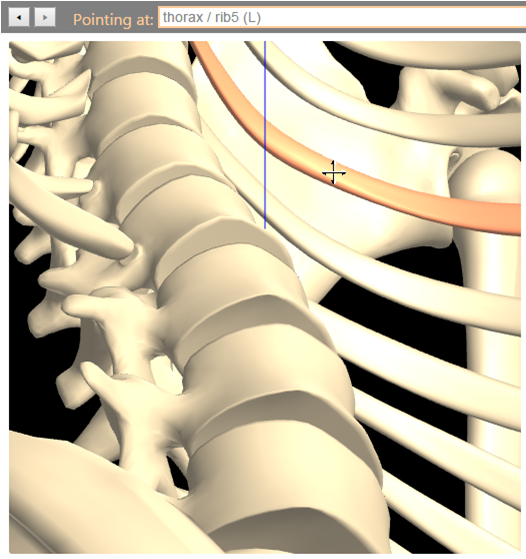 Plus, you can position and view the body from any angle, while quickly identifying more than 200 bones, described using precise scientific names & common names. Bones are rendered using high-definition bone shapes, with realistic 3D illumination and accurate perspective (thanks to WebGL graphics).

Simple
At the same time, KineBody is easy to use. You can: identify bones by hovering, select joints to move by clicking on them, and move joints by dragging across the viewing area. Or, move the body or joints using 'smart' sliders. You can experiment and iterate, thanks to Undo or Redo buttons. Documentation includes embedded 'Hints' & tooltips galore, plus extensive online Help.

Powerful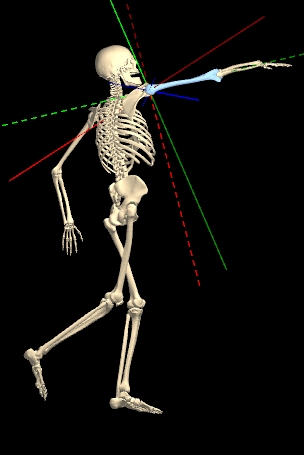 With its realistic joint behavior, KineBody serves as unique & powerful human pose generation tool (mannequin). You can define complex poses for countless applications, including:
| | | | | |
| --- | --- | --- | --- | --- |
| athletics & fitness | figure drawing | dance | martial arts | safety |
| yoga | cartoons | performance | forensics | ergonomics |
You can make your poses highly expressive, by incorporating hand & foot joints. Or, replicate poses accurately, by tracing from images. Plus, utilities enable you to save your poses & share them with colleagues, or save them as images, optionally with transparent backgrounds.

Versatile
KineBody excels in multiple roles:
Learning supplement

Observe complex joint behaviors not possible using other media, including cervical bending & scapulo-thoracic sliding.
Reinforce vocabulary (bone & joint names, kinesiological movement terms).
Interact dynamically (unlike coloring books).
Explore spatial rotations in terms of Euler angles.


Demonstration tool *

Create attractive, convincing graphic displays for online or print media.
Integrate with other media, via transparent backgrounds.
Present live demonstrations smoothly, using quick positioning controls, saved poses, and 'group' joints.
Focus attention by hiding or isolating bones.
Share poses with colleagues, students, friends.
Educate patients re: orthopaedic conditions.
Create specialty images, using comic rendering mode.

Pose creation & analysis

Simulate action poses not possible by human models.
Evaluate complex postures or gestures from any angle.
Synthesize highly expressive poses, by incorporating articulated hands and feet*.
Replicate poses from images accurately, by tracing.*
Create any conceivable pose, using 6 degree of freedom body positioning and unlimited range of motion*.


Reference source

Quickly identify bones by scientific or common name.
Lookup joint motion parameters, bone shape & size details, & more.
Measure angular displacements using calibrated sliders.
Evaluate spatial relationships, with true 3D perspective.
It's a web site, so it's there when you need it.
(* applies to KineBody Pro edition)
Availability & Requirements
KineBody is a webapp, so you can access it easily, anytime. Designed for desktop or laptop computers, using Chrome or Firefox browsers. Works best with modern graphics processors (GPUs) and plenty of RAM. Javascript must be enabled.
KineBody is available in two Editions:
Offers:
Core functionality
Advanced functionality
Usage:
Personal use
Professional, academic, clinical, and public use.
Cost,
Access:
Free!
Flexible, no-nonsense subscriptions
Compare features
To get
started:
Click here for free version:





Learn about Subscriptions



for our 7 day Free Trial
Sours: https://www.kinebody.com/
Best 9 Free Pose Reference Sites To Practice Figure Drawing Online
Every artist who wants to master their skill NEEDS to practice figure drawing.
Even if your desired art career won't be focused on drawing realistic figures, it is still an absolutely essential skill you can't just brush off!
When I first went to an art university in 2015 I didn't know what to expect, I just wanted to draw pretty pictures so I can put all of them up on Instagram and get a lot of likes!
But the truth is, once you get more and more into the art world you might not even want to share your pieces!
You will learn that art is a powerful communication tool, and you will create many wonderful pieces that speak to many people. But first, you will have to build a foundation for your skill, and continue improving it every day by PRACTICING.
And some of your figure drawings will look amazing and ready to share, but others… Well, let's just say that 10-second and 1-minute drawings are not always the best for social media!
And yet, you still need to practice! A lot!
My first ever class in university was, guess what? A Figure Drawing class! And I had one every semester for all four years!
Because professional artists understand that you NEED this skill, even if you end up working as an environmental designer, or a cartoonist or a colorist, or in any other profession that doesn't focus on the realism of a figure.
And so I went to these classes not always with a lot of inspiration (mostly because I simply had to). I practiced. Sometimes my art sucked! But that's just the part of the process…
Now, as I don't have these classes anymore, and I realize the importance of improving my figure drawing skills, I started looking for LIVE figure drawing sessions I could attend.
I got pretty upset when I realized that the price to attend sessions a couple of times a week adds up like crazy! And at this point, it is a bit out of my budget…
Here is where the Internet comes in! As not just a place where I can check out what my childhood friends are up to, but an awesome learning platform where I could practice creating figure/gesture drawings FOR FREE!
Pretty awesome, huh?
And so because I think Figure Drawing is SO important for any aspiring artist, I created this list, which you can bookmark and always refer to in times of need: "Best 9 Free Pose Reference Sites To Practice Figure Drawing Online".
You can use it to practice Figure Drawing, Gesture Drawing or simply use as a reference for your own character's pose.
But just before we get started on the list, I wanted to let you know about some other relatable articles I have created in the past that relate to this topic:
* Below the list, you will be able to find some Figure Drawing courses that I recommend (in case you decide to take your skills to the next level) as well as a freebie figure drawing tips PDF from me! 🙂
And now, onto the list:
1. Proko
I wanted to start with Proko first because I honestly think this is a great resource for reference photos and beyond!
This site offers a Free Model Sample Packavailable for you to download on when you sign up for their newsletter.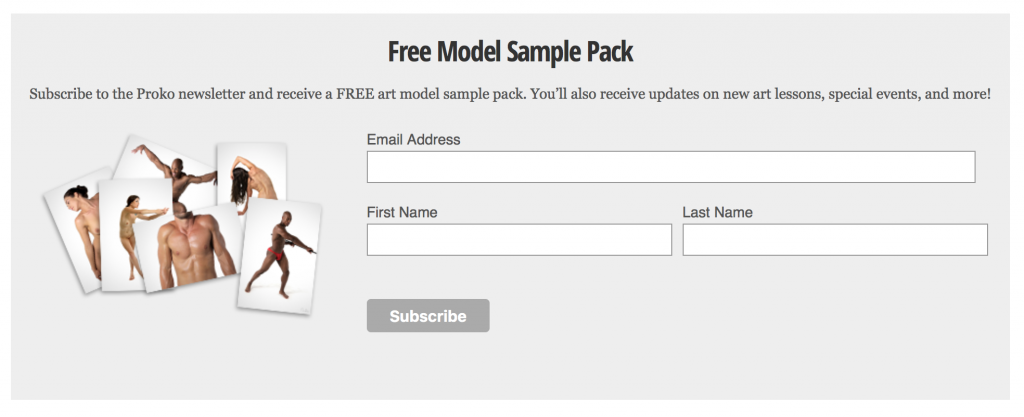 As well as FREE LESSONS among which the titles include:
This way, you get the lessons and the pose references at the same time! And after watching their videos you can go ahead and start implementing them right away 🙂
And if you like their sample pack, but feel like it's not enough and you want more of them – they offer poses for artists that you can purchase as well. They are surprisingly cheap and come in a set of 300-400 HD images like the ones below (there are different models in each package):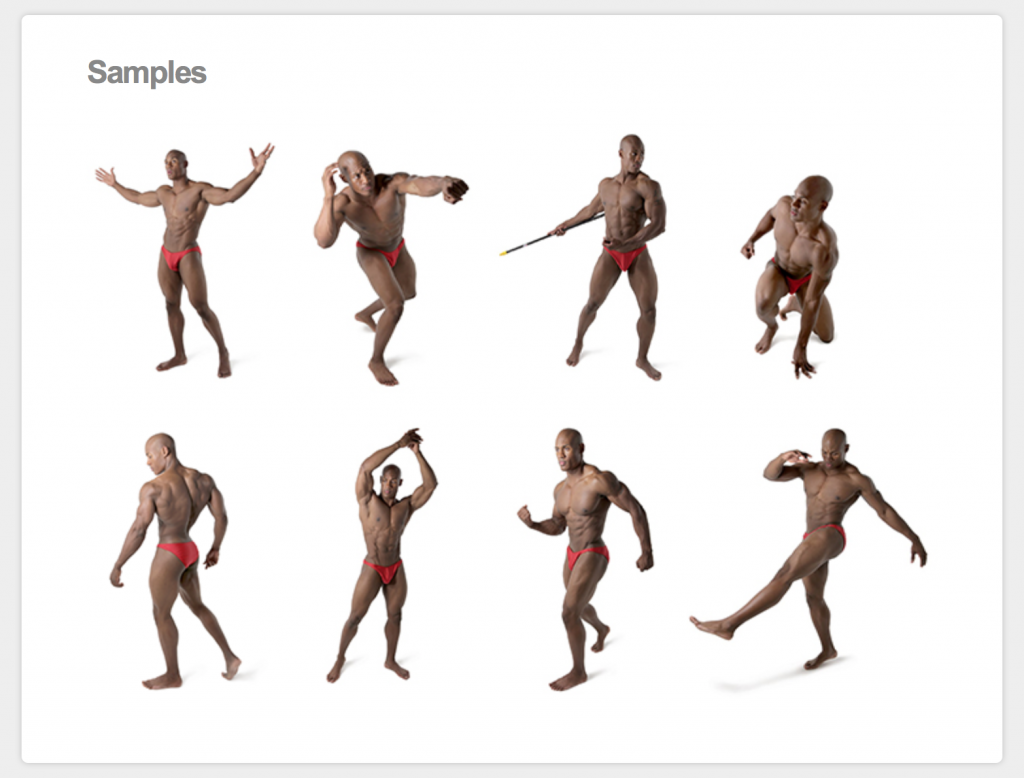 Proko also offers premium resources for someone ready to take their art to the next level – and if you are ready to take the action, I suggest checking out their courses.
2. Line Of Action
Line Of Action is a free online website with a variety of pose references photography. They mainly focus on Figure Drawing, Animal Drawing, Hands & Feet Drawing and Faces & Expression Drawing.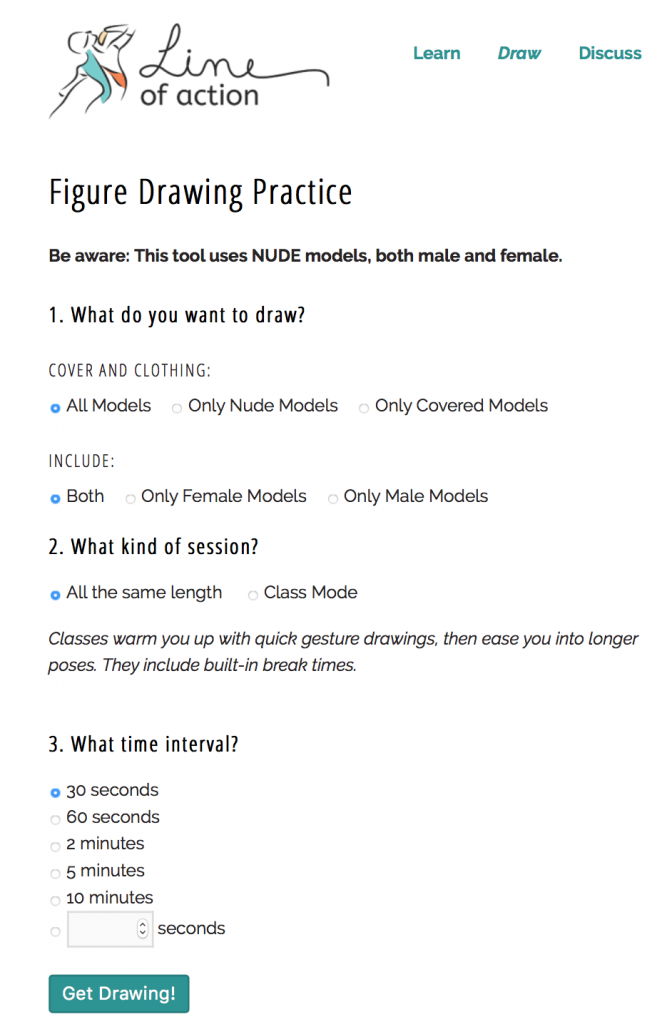 Which is simply awesome if you decide to practice more than just figure drawing!
Also, their figure drawing tools are made to resemble a live session – you get to pick:
Nude or Clothed models?
Female, Male or Both?
All the same length session or class mode?
And the time interval (how long will one photo play for before automatically going to the next.)
That's pretty similar to a real-life drawing session. When you apply, the curator of the event will let you know the model's gender if they will be nude and how long is the overall session.
Also, the timer resembles the timer models usually have – once it beeps your figure changes a position and you can do NOTHING about it!
Just need to turn to a new blank page and start on a different pose because the timer will beep again soon!
I think it's the best idea to work with the time intervals because essentially figure drawing is all about the gesture and learning to communicate a pose quickly!
And once you practiced that enough, you can go ahead and get the free sample pack from Proko I talked about above, and then work on it for a long period of time to really hone in into details, shading and forms!
Before we go to the next source, I just wanted to briefly touch on the "Class Mode".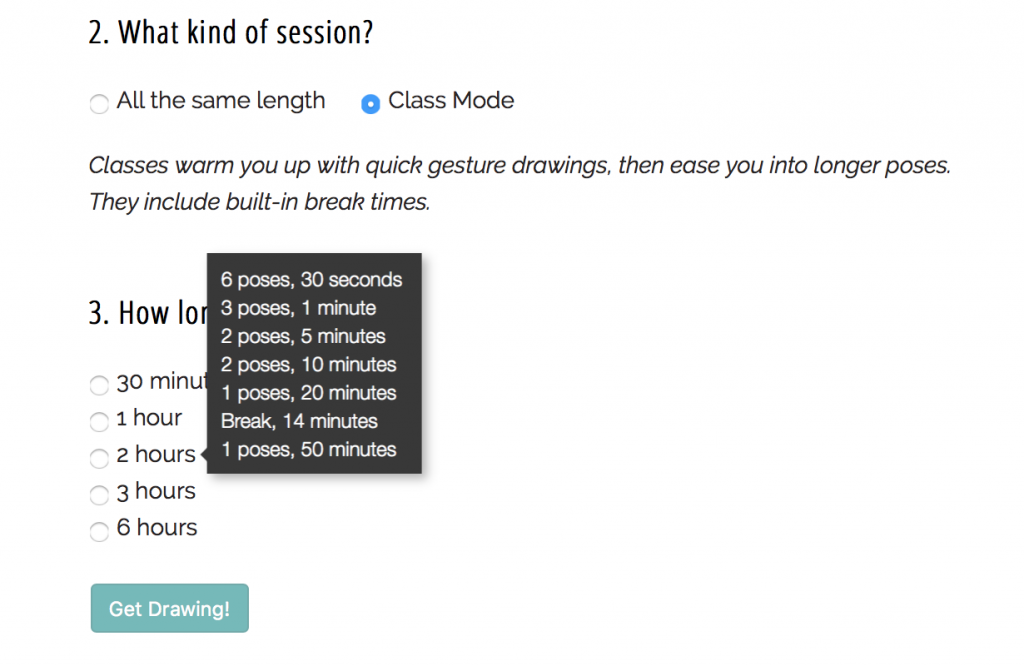 Once you select the class mode the "time interval" option will change to a "How long is the class?" option, and you can then pick from 30 minutes to 6-hour long class.
Once you hover over one of the time options, it will give you an overview of what to expect during the class session.
For example, I usually like to do 2-hour long sessions – and that gives me:
6 poses (photo references) that are 30 seconds each so I can warm up my hand and get into the mode of working.
3 poses each 1 minute long – amazing practice for gesture drawing!
2 poses 5 minutes long;
1 pose 20 minutes – where I get to double check all the proportions, and make some basic shadings;
Then a 14-minute break to go grab a snack or sip on some coffee 🙂
And the final pose is 50 minutes long which is enough to bring a drawing to a semi-finish and get into adding some details and shading.
* Side Note: When doing the last pose, try to start it off as if you were doing a 30-second pose: Get that gesture! Don't overthink and have fun 😉
This tool (and the two below) have the options to pause and go to the next image. Which is really awesome in case you don't like the photograph shown to you, or you love it so much that will want to spend more time working on it!
3. Quick Poses
QuickPoses is a website similar to the one above, but it definitely has more options you can choose from.
Here is what their landing page looks like: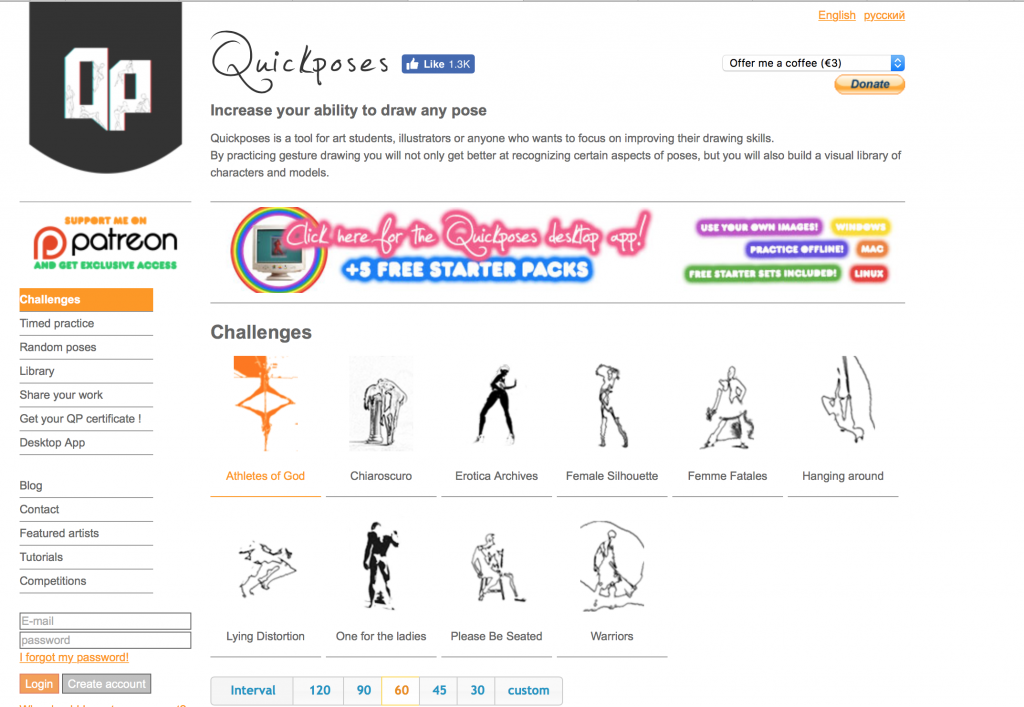 Now, let me walk you through some of the options they have.
Challenges:
they always have 20 images in one session;
you can select from 10 different options of topics for your drawing: Athletes of God, Chiaroscuro, Erotica Archives, Female Silhouette, Femme Fatales, Hanging Around, Lying Distortion, One for the ladies, Please be seated and Warriors.

these are awesome you have an idea in mind of something specific you want to practice. For me – I'm not the best at perspectives, so then I will select the "Lying Distortion" in order to really practice more and improve that skill.

time interval in seconds.
and you can choose an option to show images upside down (also a great way to practice drawing!)
Timed Practice:
Select type (pose, face, hands, feet, animals, landscapes, urban), gender, clothing and time interval.
Choose how many images per one session you want to draw (20/30/40) and if you want them upside down.
In the Library, you can select an image to draw from without any time limit.
Note:All images are copyrighted and are only allowed to be used for practice or inspiration. Do not use these images in your work unless it is so heavily modified that it is not recognizable anymore.
Get Your QP Certificate – you can register on the site and it will track how much time you spend figure drawing. Once you reach a specigic threshold they will issue a QP (Quick Poses) certificate for your time and efforts 🙂
It's a nie little incentive for you to keep practicing drawing every day!
The certificate has a couple of stages: Beginner (10 hours), Improver (30 hours), Intermidiate (70 hours), Advanced (200 hours), Expert (500 hours) and Master (1000 hours).
Other Features:
You can share your work;
Learn from some tutorials;
Get their desktop App;
Participate in competitions;
This website also has the ability to pause during your session, however, unlike Line Of Action and Sketch Daily the image disappears from the screen!
So you can't really "cheat" and spend more time on the drawing! Which I find to be an awesome restriction to have.
4. Sketch Daily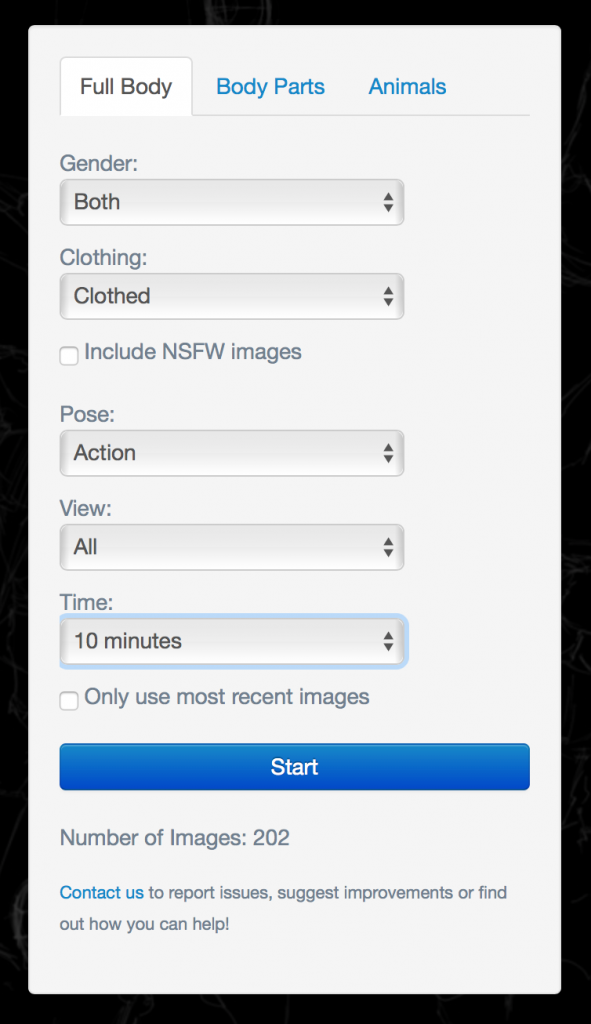 Sketch Daily is a very similar website to the two above.
It also lets you chose between three main topic – Full Body, Body Parts and Animals.
Since we are focusing on Figure Drawing, the options we have here are:
Gender: Both, Female, Male.
Clothing: Both, Clothed, Nude.
Pose: Both, Action, Stationary.
View: All, Front, Side, Back.
Time: 30seconds, 1/2/5/10 minutes.
So as we can see – there are way fewer options available.
And for my preferences, there are only 202 images that match.
On the other side, if you pick all options as "Both", then there are (at the moment of writing this article) 1954 images available!
And now then it's a pretty awesome library to work from! 🙂
"Time" option works like "time interval" in Line Of Action. So you pretty much decide for how long one image will be on the screen before it moves to the next.
As I mentioned previously, you can always pause an image and spend longer periods of time working on it (not like I'm telling you that you should).
And here is what the tool looks like when you choose all the options and click Start: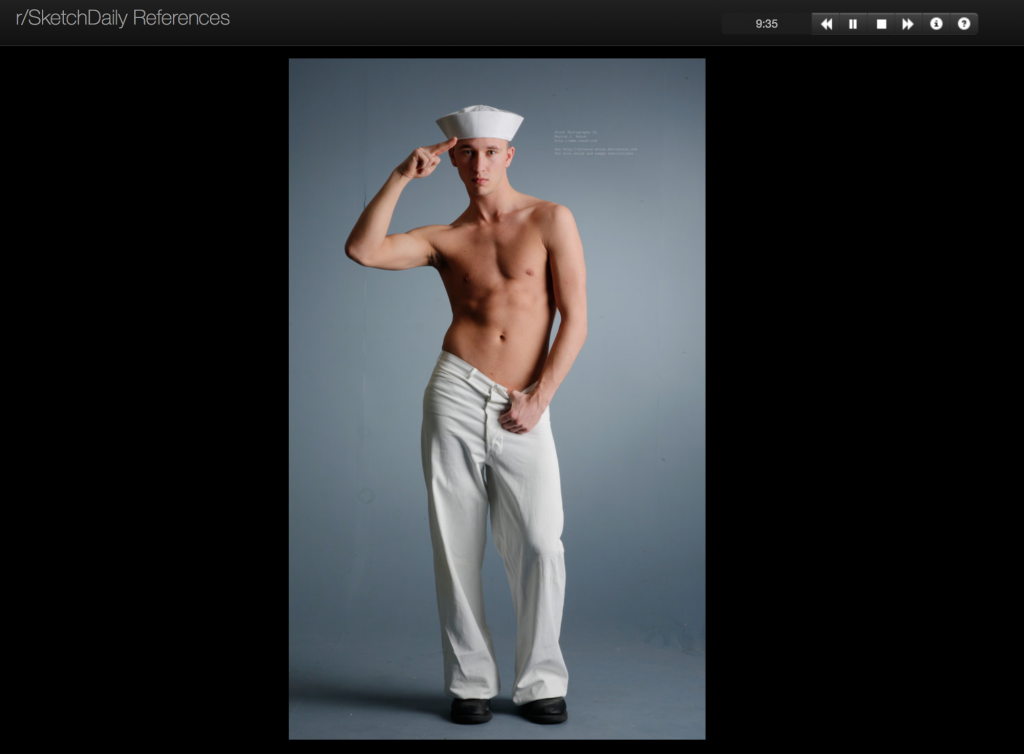 5. CroquisCafe
CroquisCafe is a YouTube Channel – an art model drawing resource in a tradition of a life drawing class.
I love that their stuff has a timer on the left that gives you a visual representation on how much time you have to complete a drawing + it makes a sound each time a pose starts and finishes.
All of their session are 20+ minutes long with a variety of pose intervals (depending on the video).
At the time of writing this article there are over 300 video sessions for you to choose from.
And overall, videos are a great way to work, because it takes the "figure drawing pose references online" to a next level!
Note: Their videos have nudity in them, and therefore they and I insist that the audience is 18+ !
6. New Master Academy
New Masters Academy is also a YouTube channel.
Comparing to the previous one they have way less video sessions with pose references (at the time of writing only 15). However, these ones are featuring clothed models, and so there are no age restrictions.
They are called " Non-nude series", and here is one example of such video below:
https://www.youtube.com/watch?v=8lt0gibU_88&index=1&list=PL7EWYwaF6E-FZ8JiBlz2tF1DQUCw-GCmn
Also (at the time of writing) 35 video pose references with nude models as well – they are called "Practice Life Drawing".
All the sessions are 35+ minutes long.
Have a nice timer on the side that shows you how much time you have before the model changes their pose.
7. CharacterDesigns
CharacterDesigns is a growing collection of high-quality free images available for artists to use.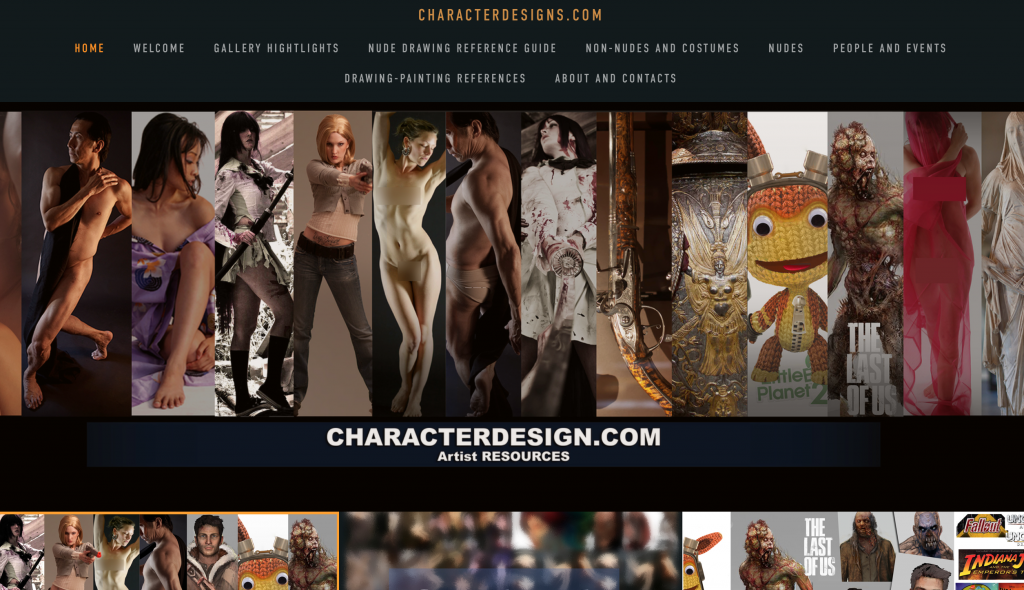 All the images on here are under Creative Commons License, CharacterDesign has a description of on About Page:
– Usage in commercial work IS allowed: you can use it for reference (directly painting the image is fine), for your photo manipulations, for textures and anything else you want to sell. You just need to link back to my site and mention that it was my work that you used.
– You CANNOT simply take the image as it is and sell it as it is. I do NOT have the rights to the likeness of the model. I have the rights to just the image itself as it is on my site.
– Redistributing the images in their original form WITHOUT profit is perfectly fine. I'd love it if you used it in a classroom setting or as demo examples or just to spread the word. Save it to your computer for personal use! Again, all I ask is a link back to the site if you are posting it elsewhere on the internet.
– Obviously, do not take credit for my work, but I haven't had any problems with that so far. You guys have been really great.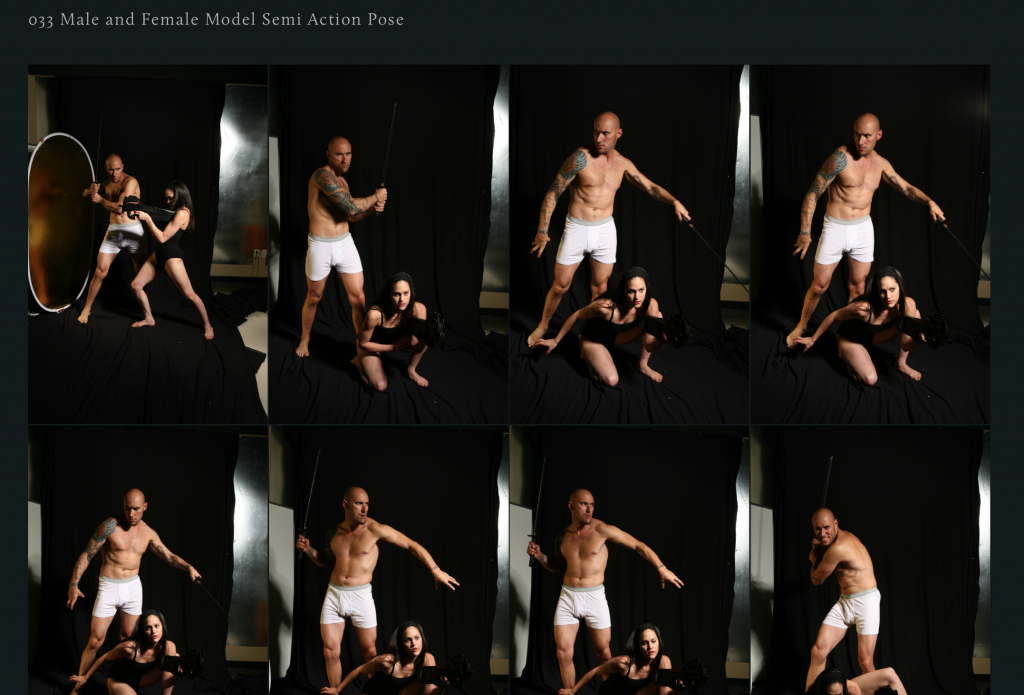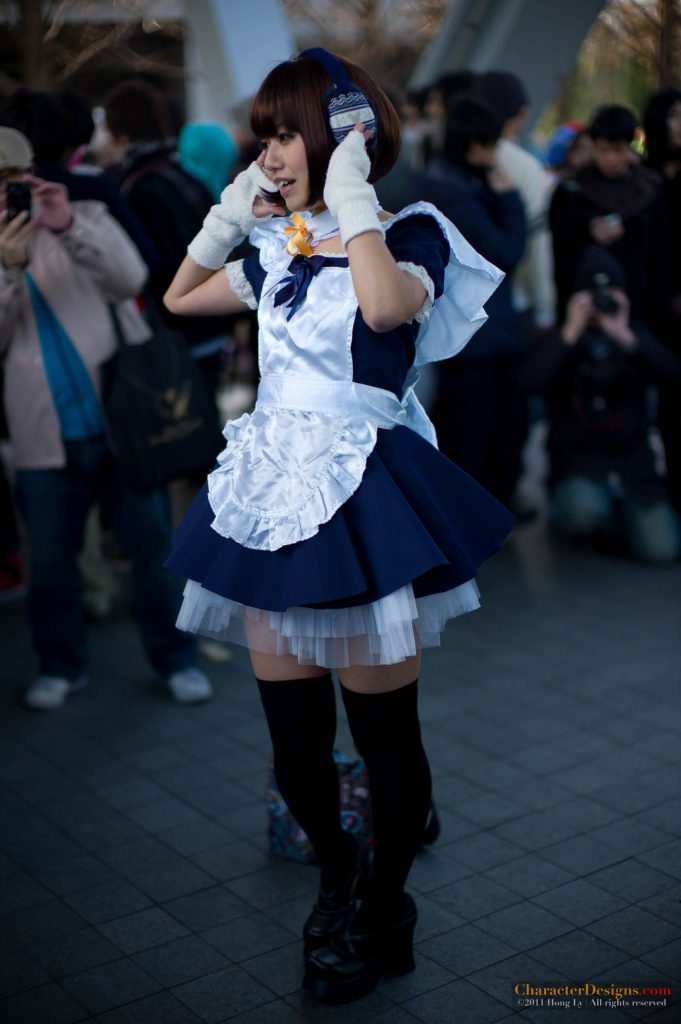 They have many categories to choose from for your next inspired drawing or to practice figure drawing:
Nude Drawing Reference Guide;
Non-Nudes and Costumes;
People and Events;
Drawing-Painting Reference;
All of these have many sub-categories as well! I won't list them all here, but you should definitely go and explore. I'm sure you will find many inspiring ones 🙂
The downside of this site is that there is no timer, as it is not an app but a gallery of photographs.
But what you get out of it – is a gallery of so many different events, people, costumes and even locations that you can practice from or use as an inspiration for your next piece.
It's definitely one of my go-to guides.
8. SenshiStock Sketch
SenshiStock Sketch is a web-based app, that is similar to the ones we covered in the beginning.
Images provided in there primarily come from the SenshiStock DeviantArt Page and are donated by the community.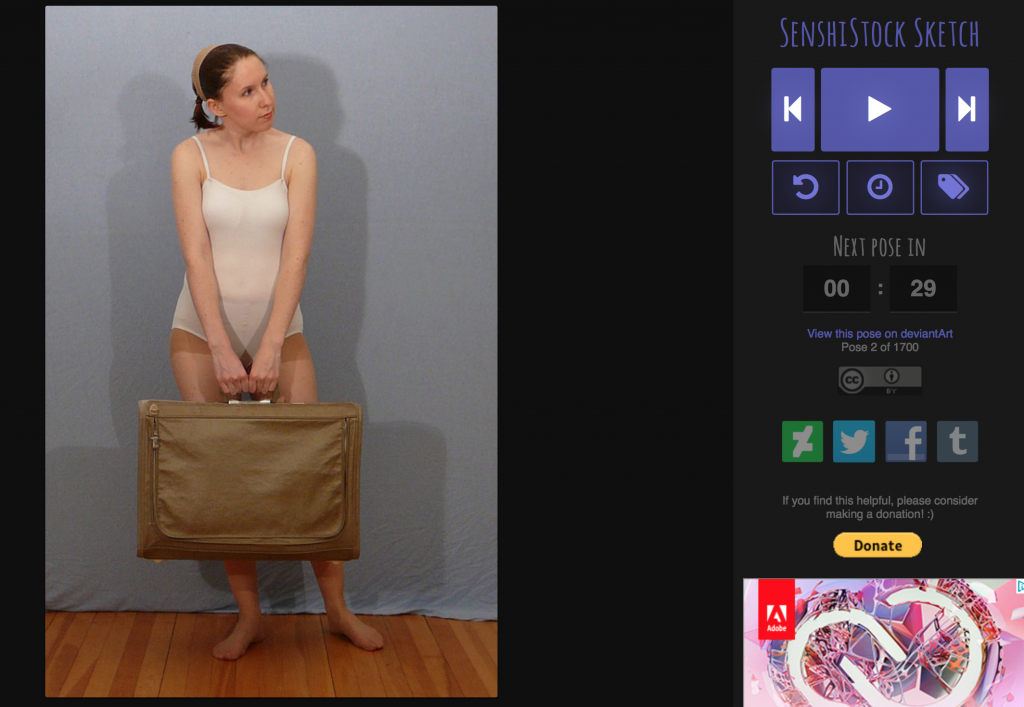 Options to play around with: Pause/Play, Going to the next/previous image and Timer (you can set the time delay between 15 seconds and 30 minutes).
You can also view the pose on DeviantArt and ultimately download it, as the license for these images are mostly CC (you can read more about the license here) or by clicking on the license icon to the right of each image inside the app.
SenshiStock is Creative Commons. Its license is Attribution 3.0 Unported License (CC BY 3.0). This means you can share, modify and make commercial use of the work as long as you attribute the work with a credit back to SenshiStock. If the stock is used solely for pose reference then the requirement for attribution is appreciated but not required. – From SenshiStock 'User License'

Another awesome feature is that this app has their images categorized under "Tags" and you can configure which kind of images you want to see.
For example, in addition to the tags you see in the image on the right, you can also choose from:
Pretty awesome right?
You can also select a few tags you like and it will show you just the matching images 🙂
9. Pinterest
And even though it's a place many either simply love or hate, I though it was worth a mention.
So Pinterest, as many of you probably know and use is an awesome platform for saving future ideas, inspiration and searching for answers!
But it could also work as a tool to practice figure drawing 🙂
To use it, simply search for "figure drawing pose references" and a variety of images will pop up!
Or you can also follow some Pinterest boards that focus on figure drawing pose references so you don't have to go and collect them all yourself.
One of such boards is "Figure Drawing Pose References" curated by me, where once every two days I add a new photo for you to practice from 🙂
The only warning I will give you is this: please DO NOT redraw the image and sell it without permission from the model. Pinterest collects all sorts of images from different sites, and even though some of them will have these images under CC license, you can't just assume.
So, do your due diligence and always check for the source of the image and the license that it is under.
To do that simply click on the image and you will be taken to a website it was originally pinned from.
Freebie
Hopefully, after going through the list you found a couple of tools you will enjoy using!
And in order to kick-start your improvement, I have a little freebie for you 🙂
A FREE GIFT FOR YOU! 20 Best Figure Drawing Tips PDF!
It's a 23-page PDF that you can print out, or just read on your device!
After reading this guide, you'll be able to:
✓ Think like a true artist who has a lot of practice with figure drawings
✓ Draw better and professional-looking figure drawings
Figure Drawing Courses To Become A Pro
After you have decided on the tools you will use, and grabbed my freebie – you might want to jump-start your art career by gaining the skills needed to become a pro!
And, you can do it in two ways :
Learn yourself through A LOT of practicing on your own mistakes;
Learn from someone else's mistakes and save yourself a lot of time and frustration!
And hey, I'm all about self-education. But that doesn't mean you can't self-educate yourself with high-quality online courses!
Here are my top favorite online figure drawing courses:
Figure Drawing Fundamentals Course by Proko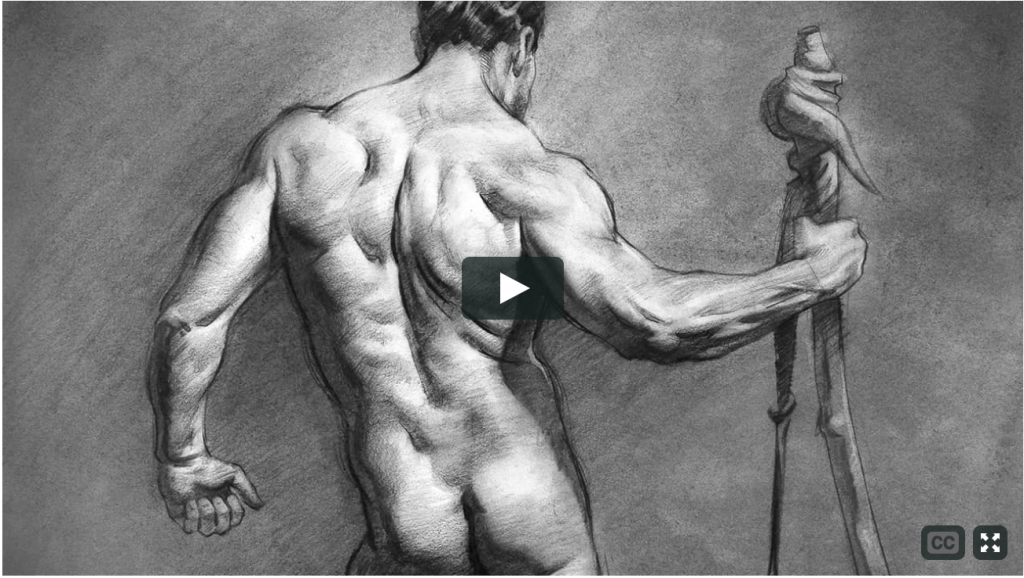 Remember Proko?
The website full of free tutorials and a pose references pack we talked about in #1 ?
Well, they have this super awesome course geared towards just what you are looking for – Figure Drawing.
This premium video course includes extended versions of free videos, many examples of each lesson and critique videos. Videos are uncensored.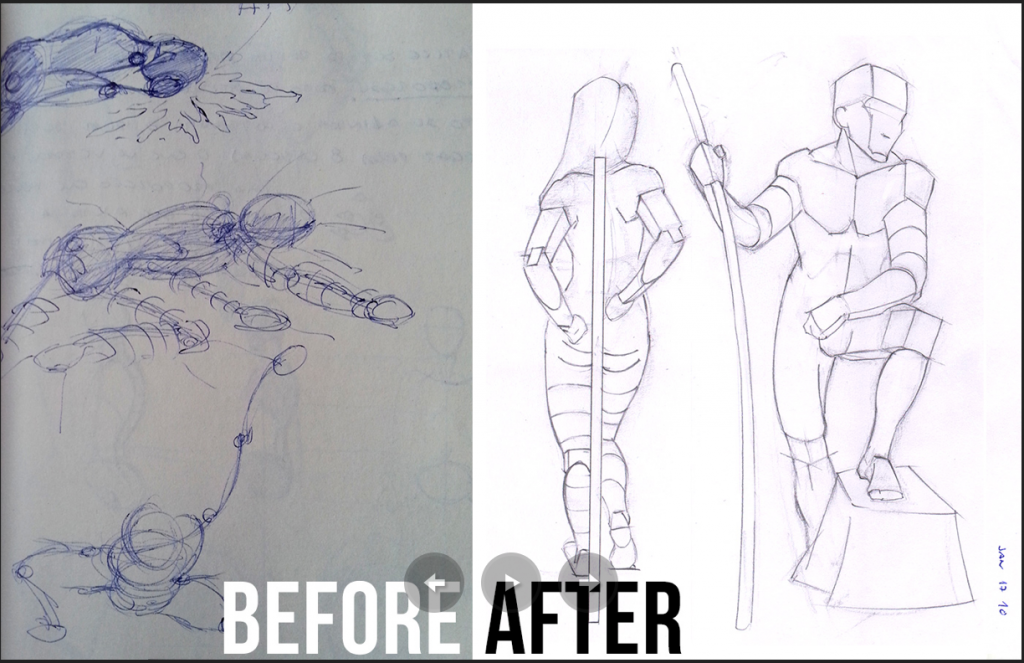 An example of work from one of Proko's student BEFORE and AFTER the course Total Runtime: 15 hours and 30 minutes
The course covers a couple of important topics you will learn :
Gesture – the action, flow and posture a figure takes;
Landmarks – a place where a bone is at a surface. Helps you find forms and measure proportions;
Robo Bean – creating a representation of a body using box shapes;
Shading – the course discusses in depth the highlight, half-tones, core shadows etc. to make your drawing appear 3D;
The Bean – a tool you will learn to help you with foreshortening and twisting of the body;
Mannequinization – a tool that will help you draw from

imagination with volume and believable perspective;

Proportions & Measuring – Learn how to use Dr. Paul Richer's scientific system of measuring an average person and apply it to your own work.
Practice & Patience – Develop a drawing schedule and stay motivated.
It also features:
Extended Lessons
Demos & Examples
Assignments & Answers
Critique Videos
Either you decide to figure all of it out on your own, or get serious and take a course – I wish you the best of luck on your path, and can't wait to see your awesome drawings! 🙂
All the best,
-Anna
Blog Posts to check out next →  "14 Best Figure Drawing Books for Beginners"
and→ "How To Draw A Dragon 7 Awesome Books"
Sours: https://yourartpath.com/best-9-free-pose-reference-sites-to-practice-figure-drawing-online
Skelly - Poseable Anatomy Model for Artists
Install it on Your Mobile Device
Bend him, twist him, contort him! The Skelly app lets you put a virtual human skeleton into any pose, and to see him from any angle, and in any lighting. It's a great tool for art students or professionals wondering what the skeleton is really doing beneath a life pose, or for anyone wanting to visualize a pose from scratch. The interface is intuitive to learn and easy to use, without sacrificing any of the nuances of the human body's complex range of movement. Skelly is a big improvement over the old wooden mannikin. – James Gurney Author of 'Color and Light' and 'Imaginative Realism'
Skelly and Robo-Skelly!
Proportions Based on Paul Richer and Andrew Loomis
"Skelly is the fastest, most fluid anatomical reference I have ever seen. I was shocked at how easy it is to pose the figure and direct the light source. Finally! It's the app visual artists have been waiting for." – Chris Oatley Director Of The Oatley Academy Of Visual Storytelling
Fully Poseable with a Rotatable Camera
Quickly Adjust the Light Source
"Hands down the best anatomy app for creative purposes. The ease of manipulating poses separates this tool from all the others I've tried. It's great!" – Bleak Divas Satisfied Customer
Save your Poses to the Pose Library
Download, Print, Email and Share Your Poses!
"Da Skelly Ap is the bes ap I been in. I rekmend it!" – Skelly Actor and Stuntman
Start Posing!
We want to make this easy for artists to use, so we appreciate your feedback! Use it, enjoy it, and if you have the tiniest problem, send us a note at [email protected]
Skelly App Privacy Policy
Sours: https://www.proko.com
Best Poseable Mannequins for Drawing [BONUS: online posers]
Looking for a Mannequin for Drawing? Check out lists of best poseable mannequins for artist and online poser (free).
How can we improve the anatomy in our illustrations?
It is not easy to draw a human in different poses, even though we see people on a daily basis. That's why many artists use poseable mannequins for drawing their illustrations.
It may be funny, but sometimes I used to pose in front of the mirror, wearing just my underwear, to see if the character I drew had correct anatomy and proportions.
Mirrors are great, I still look at them when I draw faces. But… I 'm not able to make every pose I want (an epic kick in the air would be cool) and I see my pose from only one point of view- my head. I can't see how I look from different angles. And posing in front of the mirror, just in my underwear, is not something I want my parents to see.
So, one of the solutions may be to hire a model. But most artists can't afford that. At the art workshops, the participants have to pay extra for the model that talks, moves, etc. You can also take pictures of people, but how many pictures we can take?
Of course, photo resources are a great help. And drawing figures that resemble real people, can greatly improve the learning of how to draw people in different poses. But what if you can't find this certain pose that you need for your illustration?
And another problem is finding a photo resource with the perfect pose… but the light is off, and we need the correct light for our illustration.
A quick summary
That's why I got interested in poseable mannequin for drawing. It might be the right thing that will solve this problem. Here's a quick summary of what advantages have these poseable figures in comparison to photo resources, "live" models, and posing in front of a mirror:
you can pose the mannequin exactly how you want
we are able to see the pose from different angles to understand better the anatomy (that's not possible in case of photos)
we can use a lamp to create the lighting, to help us make the perfect illustration 😉
figures don't get tired of posing, and you don't have a limited time for the drawing.
no risk, that a family member will find you, posing half-naked in front of the mirror, and ask if there's something wrong with us…
I did a little research to find the best models – check out the list of most recommended manikins that will help you at creating your illustrations!
PS. If you are looking for specifically animal mannequins, I've created a separate article: Poseable Animal Mannequins for drawing
Wooden mannequin for drawing
Check out the price
A professional mannequin for drawing, painting, placed on a wooden base. It's probably the most popular/known type of the poseable mannequins for drawing.
You can set them in different ways and help yourself in drawing people in different poses. Such mannequins are especially useful for drawing anime, comics, cartoons, etc. It's generally a good art accessory that will help you to study the human body and the basic shapes, and of course, capture all the correct scale and shadows for your drawings.
There are differences between male and female mannequin. It's recommended to beginners, rather than experienced artists. Still, it's a nice gift for those who just started their journey with drawing!
---
Armature Nine Manikins
Check out the price |Check out the website
*For full review and photos please read Armature Nine Review – I review the Ranger model.
Here are manikins for drawing, which are capable of achieving every pose humanly possible!
I was really excited when I found out about this manikins. Not only because of how cool they look but because of the possibility to purchase a replacement if it happens to broke – which, in my personal case, is highly possible (I still remember how I broke my Wacom's pen…). That's a huge advantage in comparison to other mannequins.
On Armature Nine Manikins you can purchase various type of poseable figures: posable baby doll, female and male figures, bird, crane, eagle, camel, dog, and even fictional characters, as "dragon maker" and "Digitigrade"!
On the left you can see a photo Digitigrade manikin. I haven't seen such model before, and I personally think it's a great art help for all artists drawing furries.
Art Mankini Challenge Contest:
Every month, you can join a drawing contest on artmanikinchallenge.com. The winner gets about  160$ credit, which is an equivalent of 1 "Ranger Manikin".
PS. here's my drawing (based on a mannequin) I did for the contest!
---
Realistic mannequin for drawing – Men Version Phicen
Check out the price
Important info: you have to buy the head separately
PL2016-M33 made by Phicen is a poesable mannequin, widely used in character design, modeling, photography, painting, anatomy, or simply figure collection.
This hyper-realistic mannequin has exchangeable body parts. It comes together with 3 pairs of interchangeable hands and shorts. Unfortunately, you have to purchase the head separately.  However, it's possible to use a Ken doll head mold on this body. The hands are not flexible, but the hand poses are fairly useful as is. One of the biggest advantages is, of course, the realism – the joints are not visible, and the silicon skin is very lifelike.
What's interesting, you can purchase genitals for this mannequin. Currently, the genitals are added to the set (they weren't added previously)
One of the reviewers warned to not dress the mannequin without thoroughly washing the clothing first. She put the shorts on without knowing this and it accidentally dyed the mannequin's surface.
This poseable mannequin comes with an instruction. Unfortunately, there's no stand to support or to prevent the mannequin from falling over.
The model received many positive comments about the skin texture and its flexibility. It's recommended by the reviewers for drawing inspiration and for the ability to create your own custom figures using the body.
---
Hand mannequin for drawing
Check out the price
A professional model of the left and right hand used to learn the drawing of a human hand. Made of wood, it has movable parts.
Such Wooden posable human hand is an amazing reference tool for professionals and students who are practicing sketching and drawing.
The wooden hand is made from durable hard wood to ensure durability and longevity.
This hand mannequin is recommended mostly to the beginners – the fingers don't spread or rotate, which can make it difficult to achieve other hand poses. The hands are fine if you're looking for very basic finger-poses, therefore they are a great gift for young artists.
---
Body-kun mannequin for drawing
Check out the price
Body-kun is one of the most popular poseable mannequins for comic artists. Figure measures roughly 7-inches tall.
The Body-kun figure is made of plastic and has joints (over 30 articulated joints) on all parts of the body allowing for almost any position of the body – thanks to that, you can easily create a base pose to even the most dynamic of drawings!
The set includes everything you need to create a masterpiece: 17 interchangeable hands, mini book, PC, tablet, model gun, sword, pen, smartphone, cell phone, and special display base.
When you position it, it won't move. It's sturdy and has a tiny bit of weight to it, so you feel it won't break as soon as you pick it up.
The hands are really great sculpted for their scale and pops on and off the wrist easily.
The figure comes with is a 7×7 piece of card stock paper with grid lines printed on it, which could be used to set the figure on, or set it behind the figure to help with perspective line drawing.
If you are an artist like myself interested in doing comics or any other drawings which require a lot of figure drawing, these figures are definitely worth the investment.
The parts are easy to manipulate into whatever pose you can think of. Some joints aren't as pliable as they might be in real life, so it falls a little short in that category. Unfortunately, the thighs aren't able to bend upwards more than 90 degrees, making many sitting and crouched poses impossible.
---
Body chan mannequin for drawing
Check out the price
The mannequin comes with a sword and gun accessories.
While she still has some flexibility restrictions she does give a better range of motion than your standard doll or action figure.
The stand allows for storage of her small parts in the base and there are 2 additional replacement pieces, one for the stand and the other for holding her additional hands.
Many reviewers say that the model is a bit too small in comparison to the male model, but that's not a huge deal because her smallness will make it easy for transport. It's said that the male mannequin is better made. Her joints are stiff and moving her arms seem to be an issue as the shoulders do not move as well as BodyKun's. Overall,  she gets the job done with just a bit more effort.
---
Stand for mannequins
Check out the price
Tamashii Nations 63159 Bandai Tamashii Stage Act 4 for Humanoid Clear
Stand set is ideal for use with s.H.Figuarts, D-Arts and other humanoid action figure lines. Stand set includes stand bases x 3, Triple jointed support arms x 3, non-articulated (straight) support arms x 3, two types of clips x 3 each, joints x 4.
This stand is frequently bought together with Body-kun and Body-chan mannequins for drawing.
---
Horse mannequin for drawing
Check out the price
This wooden horse figure is a great model for drawing or painting. Its body parts are fully adjustable to almost any position. Many positions from trot, canter, gallop, jumping, bucking, standing, neck and head tilts, pawing the ground. Excellent for drawing and fun to pose and set on the mantel. If you love horses, you need one of these!
*Info
I've created a separate article for animal Mankins. There's a list of other horse mannequin for drawing, so if you want to check them out, you can find them here: Poseable Animal Mannequins for drawing
---
"Tulas" mannequins for drawing
Check out the price
This set contains 1 x Action Figure Model, 1 x User Manual and 1 Set x Accessories
The DX action figure set includes accessories kit that you need to create a masterpiece: Model sword, shield, cup, different gestures, and special display base. The action figure model measures roughly 5.9 inches tall.
Figmas body can be disassembled, including the head, legs, feet, and various joints of the body, so that you can change the posture better.
---
"Tulas" mannequins for drawing – katana accessory
Check out the price
The mannequins are from the same developer as described above.
The DX action figure set include accessories kit that you need to create a masterpiece: Model gun, sword, cellphone, laptop, different gestures and special display base. The action figure model measures roughly 5.9 inches tall.
---
Mini mannequin for drawing
Check out the price
This little chibi mannequin is perfect for drawing artworks for all manga artists. The action figure model measures roughly About 13-15cm. It comes with a stand and accessories: Model sword, shield, and a cup.
Chibi (ちび or チビ) is a Japanese slang word describing something short (a thing, an animal or a person). It comes from the verb 禿びる (chibiru), which means 'to wear out and become shorter' (the tip of something). Typically these characters are small and chubby, with stubby limbs and oversized heads to make them resemble children. This style of artwork, also known as super deformed (shorthanded as SD), has since found its way into anime and manga fandom through its usage in manga works.
---
Female Anatomy Figure: 10.5-inch Anatomical Reference for Artists
Check out the price
Half-skin, half-ecorche with great detailing for muscle structure.
The figure is not poseable. But the reason this model is on this list, it's because of the visible muscles, which makes this model great for learning to understand how the human body is built, and therefore improve your drawing skills.
Whether you're a traditional or digital artist, work in 2D or 3D, or simply like to fill your desk with nice things, the female anatomical figure will be an invaluable addition to your world. The statue is cast in gray resin to make the variation in the surfaces and directional flow of the muscles easy to see and understand. One half of the model shows full skin, while the other is a clear and detailed dissection revealing muscle structure. Sculpted by Dan Crossland for 3dtotal, the female figure is produced to the same standards as the original male statue, and also to scale. We calculated that our female would be around 5% shorter than the male in the real world, making her 265mm tall, minus the base (our male is 297mm, minus the base). Cast in the same neutral grey resin, together the models will make fantastic desktop companions!
---
Skull model for drawing
Check out the price
On our anatomy drawing lessons, not only we drew nude models in different poses – we also had our own skeleton to practice drawing 🙂  But what's the point of learning to draw a skull? Shouldn't spending more time drawing faces be more effective in learning how to draw faces?
In my case, practicing drawing skulls helped me to understand how the head is built, and therefore improved my skills at drawing portraits. It also helped me to draw realistic faces just from imagination. That's why I wanted to include in this list a skull model.
This skull model is made of PVC plastic, and has 92*99*71 mm / 3.6*3.9*2.8 inch.
There are artists who not only draw, but also create 2d and 3d animations. If you are one on them, I found some cool figures that might actually help you much more than the ones mentioned in the list above.
You see, I've never been into creating animations, my main passion is the illustration, so while doing research on the previous list and looking at the products I've been thinking which one of these figures will help to draw the anatomy correctly?
I realized that animators might look at them differently, and the main advantage might actually be how easy it is to pose the figurine, rather than how anatomically correct it is, or if it has any visible muscles and natural-looking skin.
I hope you will find this list helpful, and if you know any figure that deserves to be mentioned, please let me know in the comments 🙂
Stickybones – Poseable Human figures for Animators
Check out the Official website
I've found them by accident not so long ago, therefore I'm updating this article and adding these mannequins at the end (the listing is random) Edit: I've decided to create a new list, with mannequins dedicated to animators
I'm surprised that I didn't come across Stickybones earlier.
The figures have a nice clean design, the anatomy is a more stylized (comparing to some other figures -Stickybones has bigger feet and hands) but overall acceptable, some artists might actually prefer it stylized (please keep in mind that I'm writing this from the illustrator's perspective, not animator's)
The team had prepared video tutorials for animators, where you can watch tips on how to use these figures, and what you should watch out for.  They also prepared many gifs and videos showing how flexible and easy to pose their models are – and honestly, I'm really amazed by what you can do with them!
I've watched tutorials and have to admit how easy and fast the posing is. In the beginning, the figurine will be a bit stiff, but you have to move the joins a few times after assembling it, so when you will make your first animation, the whole posing will be smoother.
The mannequins are made of Custom Polymers, and are 8.5″L x 1″W x 1″H.
If you ask me if there are any cons, I have to say I was a bit disappointed that there's only one mannequin model (you can choose between "spark blue" or "dark storm" colors). It would be cool to have the possibility to choose between male and female body types.
Here you can see one of Stickybones animations, it made a huge impression on me. There are also many videos created by fans (someone recreated a whole acrobatic performance with this figurine).
A few important words, that will save you some time and nerves.
1. First off, get a tightening glue.
I saw too many comments to different models complaining that the joints are loose, or get loosen up too quickly. Unfortunately, after many posings, sooner or later some parts (especially these really small) won't be as tight as on the first day, when you got the model.
So look up if the brand of your mannequin offers tightening glues. *In case it doesn't, Armature Nine has joint tightening glues.
2. Watch out for counterfeit mannequins
Especially if you want to purchase figures from the brand Bandai. I stumbled upon some discussions of FB Art group, where people accidentally bought counterfeit mannequins.
While searching for the best poseable mannequins for drawing, I asked artists on a digital painting facebook group what mannequins they use. Many replied with a photo of the classic wooden mannequin, others mentioned the body kun and body chan, but a quite few artists shared me a link to apps with a digital mannequin for drawing.
So, here they are! A list of apps with virtual mannequins for drawing.
Easy poser
Visit the website
Available on: Google Play | App Store
EasyPoser is a human body pose app for people who draw or is learning to draw. You can create your own poses, or use one of hundreds of ready-made poses to make things easier.
The app is free, but there are In-app purchases.
Magic poser
Visit the website
Available on: Google Play | App Store
Magic Poser is an app that allows you to pose multiple figures. Super easy and intuitive posing of the human by tapping on control points and dragging. Realistic and adjustable studio lighting, with models casting shadows on every other object. Besides a large collection of preset poses, you can share and import scenes that you or others created from our PoseCloud online community. No need to start from scratch, you can easily import an airplane, a car, or a whole concert scene directly into the app and start building on top of it.
DAZ Studio 3d
Visit the website
Daz Studio is a software which I personally use. This software includes a digital mannequin which you can pose and use as a reference for drawing. Users can not only model objects in 3D, but also create advanced animations and digital illustrations. Using the DAZ Studio program, we can create any elements in three dimensions, avatars for computer games and other graphic objects.
Below you can see my artworks and the Daz poses (on the left) as examples.
Doll-Atelier
Visit the website
Doll Atelier is a crowdsourced repository for models and illustration materials conveniently categorized by type.
Doll Atelier is even easier to use, when combined with the next-generation model software: Design Doll. Poses and models may be used freely for non-commercial or commercial purposes.
Looking for other pose resources?
If you haven't found a mannequin that meets your needs, check out this list of Best Pose Resources for Drawing. This is a list of various photo galleries with high-quality photos – mostly poses, made especially for illustrators.
I've also created a separate article about animal Mankins, you can read it here: Poseable Animal Mannequins for drawing
Do you know any other mannequins for drawing that should be listed in this article? Let me know!
Tags:manikin for drawing, poseable mannequin
Sours: https://brushwarriors.com/mannequin-for-drawing/
Figure poseable online anatomy

Real 3D Scans
Anatomy 360 pose packs use full-colour full body 3d scans, captured with our state of the art 180 camera scanning system.

Complete Lighting Control
Anatomy 360 offers the user complete creative control over the lighting angles, intensity, and colour settings.

Drawing Tools
Our set of drawing tools includes a sketch mode, perspective grids, silhouette model and profile slice tools.
Available now 
Take a look at our latest pose packs and discount bundles, click the image below to browse our shop and see all available products.
Create dramatic beautiful lighting in seconds
Anatomy 360's easy to use tools and interface allow artists to create dynamic lighting situations with just a few clicks
Advanced lighting tutorial
---
[/columns]
Features

Dynamic Sketch Mode
Sketch mode allows you to create line art style images with dynamic shadows with the click of a button.

3D Perspective Grid
Our 3d perspective grid makes easy work of foreshortening and gives the artist truly accurate perspective reference.

Switchable textures
Anatomy 360 gives you the ability to easily switch between textured and non-textured models, making it easy to view underlying form.

Dynamic Lighting
Create beautiful lighting setups with anatomy 360's suite of lighting tools, including Rim, fill, key and ambient lighting controls.

Save tools
Our save tools allow you save multiple lighting / shading and colour setups and come back to them at any time.

Colour controls and grading
Anatomy 360 includes a comprehensive suite of colour and grading tools, perfect for creating beautiful images and reference material.
Motion packs
Anatomy 360 motion packs contain multiple poses captured in quick succession in order to show a range of movement with 100% realistic musculature.
What is Anatomy360?
Anatomy 360 represents a stepchange in photographic reference. Working from 2D images can be tricky, Anatomy 360 changes everything by allowing you to rotate, light and shade the model exactly how you want it.
Benefits of 3D photography
View models from any angle
Relight and shade as you see fit
Sketch tools allow you to view real 3d perspective grids and silhouettes from any angle
Save as many images from as many angles as you like
Create your own stunning photorealistic images
Testimonials
"I believe that Anatomy 360 is gonna revolutionize the way we study and use reference. From students to industry professionals, I'd definitely recommend it! I love it!"
Glauco Longhi
"Anatomy 360 is an absolute must for all artist be they Painters, Illustrators, Traditional or Digital Sculptors, that are looking for an easy solution to observe and study, the human figure."
Brian WadeSpectral Motion.
Anatomy 360 Pose packs and bundles available now.
Buy Now
Sours: https://anatomy360.info/
Skelly:Poseable Anatomy Model By Proko (android).
It became clear that Lucy was heavily smeared with some kind of cream. Stick it if you are ready, '' she asked quietly. I pressed into the tight young vagina with difficulty and began to. Move slowly. She gasped at first, then whispered that she was not in pain.
You will also like:
Play around with the mouth, I pushed the sponge on Picea and began to drive the "Negro" in Picea - up and down, up and down. Turning to the right bochok. (back to the boss) and one leg bent to her and the other straightening - introduced a "Negro".
23267
23268
23269
23270
23271