Raid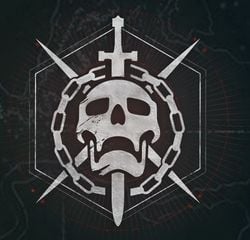 "Some evils you cannot fight alone. Join with other brave Guardians to quest deep into the heart of Darkness and confront threats beyond imagination. Steel yourself. You will be tested to the very edge of your strength."
— Grimoire Description.
Raid is a game mode of Destiny. Raids are 6-player cooperative assassination missions that are of high challenge, and require communication between players to succeed.[1] They involve specific quests for groups of fireteams.[2] No waypoints or explicit objectives are provided.[3] Raids typically involve epic, climactic encounters against various bosses, culminating in intense final battles against legendary bosses across the Destiny series.
Overview[edit]
Raids differ from Strikes in a few ways:
6 player fireteams, as opposed to 3.
No matchmaking. A player must form a fireteam beforehand or search on an LFG (Looking For Group) site.

In Destiny 2 the new Guided Games feature allowed solo-players to seek out Clan members to play within end-game activities such as raids. This feature was removed on November 3rd, 2020, coinciding with the launch of Beyond Light.

Raid enemies will have abilities not found elsewhere in the game (i.e. unique enemies, debuffs, etc).
Strikes last roughly ten to fifteen minutes, whereas raids can take up to several hours, usually only if players are new to the raid or during the initial few days following the release of a new Raid.
Raids have no objective markers. A player must find out where to go and what to do by themselves.[4]
Raids can be dropped and picked up at a later time in the week. Players don't have to finish them in one sitting, but they do have to finish it before their checkpoint expires every Tuesday, relative to your timezone (10AM PDT).[5]
Players will have the opportunity to acquire gear and weapons specific to a raid once an encounter is complete. The gear that drops from the raids will often have perks specific to that raid and are intended to make the raids easier if a player chooses to equip a piece of armor or a weapon from that specific raid, although they are not bound to that activity.[6]
Difficulty[edit]
Two difficulty levels exist for raids: normal, and hard (Prestige). The normal mode must be completed before the harder ones can be attempted. This means that players who have completed the normal difficulty cannot take players through the hard mode even if they are the fireteam leader. The normal mode is designed to teach players raid mechanics, and how to operate as a team. The hard mode provides tougher enemies, additional objectives and a harsher death penalty.[3]
Normal Mode: Players need to wait 30 seconds before a teammate can revive them. Each encounter has easier objectives and enemies are easier to kill. Weapons and armor dropped from normal mode raids drop at a lower Light cap than hard mode raids.
Hard Mode: Players cannot be revived at all during an encounter (with the exception of self-reviving Sunsingers) but will automatically respawn if the fireteam progresses to the next checkpoint. Also, more difficult obstacles are included, such as additional objectives, harder-to-kill enemies, etc. The Light cap for items dropped in the hard mode is higher than the normal mode, and some weapons and armor pieces may drop that are exclusive to the hard mode, such as the 'Harrowed' armor and weapons from King's Fall and the Spliced armor from Wrath of the Machine.

In Destiny 2, the Hard Mode has been renamed as the Prestige Mode, and is not available for some newer raids.
Raid Lairs[edit]
Raid Lairs are a Raid activity that debuted in Curse of Osiris. Like Raids, Raid Lairs are six-player activities that feature puzzles, challenging bosses, and exclusive loot, as well as Normal and Prestige difficulty options. Where Raid Lairs differ is their length: they are designed to be shorter encounters than full Raids: Eater of Worlds is approximately the same length as Crota's End, while Spire of Stars is slightly longer.
Fireteams and Checkpoints[edit]
Players need to assemble their fireteam before entering the raid. The Fireteam leader is the one that the raid checkpoints is tied to, so whoever was the fireteam leader in the last session needs to initiate a new session in order to resume at that same checkpoint, otherwise the team may have to start fresh or at a checkpoint that differs from the one they last left at.
There is a checkpoint for every boss killed, allowing players to return to the raid on other days, within a week (see lockout below). Players should agree upon how much progress they will make in each session if they don't plan on completing the raid in one session.
Lockout[edit]
Unlike all other activities, the Raid game mode employs a weekly lockout for earning loot. This means two things:
Players have until the next Tuesday to complete the raid, otherwise their progress will be wiped and they have to start over.
Players cannot earn new loot from the raid more than once a week per character. Separate characters on the same account can each play the raid and still get loot; this means an individual player can earn loot from a raid (including chests) for a maximum of three times (for three characters) per weekly lockout.[7]
Rewards[edit]
Completing a raid rewards players with items not found elsewhere in the game. For example, Ascendant upgrade materials are common in chests, used to upgrade Legendary equipment. Some chests also have a chance to have an exotic weapon. Each boss fight also rewards a raid-specific legendary weapon or piece of armor. Completing the raid on hard mode will yield the best rewards, such as an exotic weapon not found elsewhere, such as the Vex Mythoclast from the Vault of Glass or the One Thousand Voices from Last Wish. Aesthetic items such as shaders, emblems, ships and Sparrows are also given.
Content Vaulting in Destiny 2[edit]
When Beyond Light was revealed, it was stated that many destinations were going to be 'vaulted' as part of the Destiny Content Vault, or DCV. This included all raids other than Last Wish and Garden of Salvation.[8] When Bungie Day and Moments of Truimph 2020 came around, the weekly raid reward lockouts were removed for the soon-to-be-vaulted raids, and players could farm as much as they wanted. The armor from these raids were given the Season of Arrivals max infusion cap, and so were the weapons and armor from Garden of Salvation and Last Wish.[9] Raids that are vaulted in the future will likely receive a similar treatment.
List of Raids[edit]
Destiny[edit]
Raid
Light Level
Location
Expansion
Enemy Races
Bosses
Vault of Glass
130
Ishtar Sink, Venus
Base Game
Vex
The Templar;
The Gorgons;
Atheon, Time's Conflux
Crota's End
150
Ocean of Storms, Moon
The Dark Below
Hive
Ir Yût, the Deathsinger;
Crota, Son of Oryx
King's Fall
290
Dreadnaught, Saturn
The Taken King
Hive, Taken
Warpriest;
Golgoroth;
Ir Halak, Deathsinger;
Ir Anûk, Deathsinger;
Oryx, the Taken King
Wrath of the Machine
370
Plaguelands, Earth
Rise of Iron
Fallen
Vosik, the Archpriest;
Siege Engine;
Aksis, Archon Prime
Destiny 2[edit]
Raid
Power Level
Location
Expansion
Enemy Races
Bosses
Leviathan
270
The Leviathan, Nessus Orbit
Base Game
Cabal
Royal Beasts;
Emperor Calus
Last Wish
550
Dreaming City, The Reef
Forsaken
Taken
Kalli, the Corrupted
Shuro Chi, the Corrupted
Morgeth, the Spirekeeper
Riven of a Thousand Voices
Scourge of the Past
640
The Last City, Earth
Black Armory (Forsaken)
Fallen
Ablazed Glory, Kell's Scourge
Insurrection Prime, Kell's Scourge
Crown of Sorrow
740
The Leviathan, Nessus Orbit
Penumbra (Forsaken)
Hive
Gahlran's Deception
Gahlran, the Sorrow-Bearer
Garden of Salvation
940
The Black Garden, Moon
Shadowkeep
Vex
Consecrated Mind, Sol Inherent;
Sanctified Mind, Sol Inherent
Deep Stone Crypt
1220
Rathmore Chaos, Europa
Beyond Light
Fallen
Crypt Security
Atraks-1, Fallen Exo
Taniks, the Abomination
Vault of Glass
1300
Ishtar Sink, Venus
Season of the Splicer (Beyond Light)
Vex
The Templar
Atheon, Time's Conflux
Unknown
Unknown
Unknown
The Witch Queen
Unknown
Unknown
Destiny 2 Raid Lairs[edit]
List of appearances[edit]
References[edit]
Sours: https://www.destinypedia.com/Raid
Raids are the best part of 'Destiny' — and we've ranked them all
Raids are, by far, the best activities in "Destiny," the first-person shooting game from the original makers of "Halo."
They require six players (but can be accomplished with fewer), lots of coordination, lots of time, and lots of shooting and puzzle-solving. They're challenging, thrilling, and reward you with some of the best loot in the game.
Now, I've played over 1,000 hours of "Destiny" since its 2014 launch, but on Wednesday night I finally tried (and beat) the latest raid in "Destiny," called "Wrath of the Machine." You can play this new raid if you've purchased the latest "Rise of Iron" expansion, which launched in September.
With Wrath of the Machine, "Destiny" now has four completely different raids, so I thought it'd be fun to rank them all. I've rated these raids based on their difficulty, their rewards, and the overall experience. You might have different opinions based on your own personal experiences — and I'd love to hear them! — but here's what I came up with.
4. KING'S FALL
What is it?
King's Fall was the raid exclusive to "The Taken King" expansion, which launched last September.
What's the goal?
Your goal in King's Fall is to storm the Dreadnaught, a massive alien warship, and kill its leader: Oryx, a.k.a. "The Taken King."
What's it like?
The King's Fall raid has nine separate areas — some platforming areas, some puzzles, and lots of shooting — and four bosses. All the bosses, and many of the other activities as well, require a great deal of coordination. It's not for the faint of heart.
The good:
The atmosphere feels truly epic. With so many obstacles, barriers, puzzles, and enemies, it really does feel like you and your team are breaking into a heavily-guarded fortress to overthrow its king. Some of the jumping puzzles are tough but rewarding. And the finale, where you face off against Oryx — a creature as big as a 3-story building — is pure spectacle.
The bad:
King's Fall is probably the most time-consuming raid Bungie has ever created. Every playthrough I had required at least 3 hours or so. Multiple areas, including some of the jumping puzzles and the final boss area, are too difficult for many people. I can't tell you how many times I've seen people depart mid-raid just because they got too frustrated with something as simple as activating totems.
The rewards:
You get some really nice gear that's inspired by the Hive, Oryx's bug-like alien race. Some of the raid weapons, like Qullim's Terminus, are player favorites, particularly in the Crucible.
The verdict:
King's Fall has some fantastic moments, but is a bit too long and challenging overall for most players. If you have a regular raid team, this will be much easier; if you're playing with a random pick-up group, though, you'll be lucky to finish the whole thing in one piece. There are better raids on this list (obviously).
3. CROTA'S END
What is it?
Crota's End was the raid exclusive to "The Dark Below" expansion, which launched in January 2015.
What's the goal?
You jump hundreds of feet into a massive hole in the moon to hunt down Crota, the son of Oryx (y'know, The Taken King), to destroy his soul once and for all. Crota's End is essentially Bungie's take on an action movie.
What's it like?
Expect lots of running. Once you start the raid, you'll run through a massive labyrinth in pitch-blackness, lit only by pillars that explode after several seconds. The next area is one big puzzle, which leads you to the final room where you must destroy Crota. The whole shebang probably takes less than an hour.
The good:
This raid is short and sweet, which is great if you're strapped for time. Also, many parts of this raid can be beaten by just one person, so if you have bad players on your team, they don't necessarily drag you down too much. And the final act, where players shoot Crota as one player grabs a magic sword to chop down Crota's health, has fantastic music and a satisfying ending.
The bad:
Though I enjoy Crota's End for its brevity and the fact that one player can essentially carry the whole team, many other players believe these two aspects to be the weakness of this particular raid. To them, it's too easy and over far too quickly. Also, the final boss tends to be a bit buggy, which often means your team can die as the result of a simple glitch. This bugginess was particularly bad when the raid first came out.
The rewards:
In the first year of "Destiny," some of the best rewards dropped from the Crota's End raid. Two particular highlights: The Black Hammer, a powerful sniper rifle, and the Crux of Crota, a random reward from the Hard Mode version of Crota's End that players would use to create the Necrochasm, one of the rarest exotic weapons in "Destiny."
The verdict:
Crota's End is a fun albeit brief raid, but its structure was extremely divisive among players. Some liked how one person could carry the whole team, but others resented the fact that people were never be forced to become familiar with the raid's core mechanics, putting a lot of pressure on a small number of players that did know all the puzzles and secrets. Still, you can't beat that epic finale — and on a personal note, this was the raid where I received my very first Gjallarhorn, the rarest and best rocket launcher in "Destiny" (at the time).
2. WRATH OF THE MACHINE
What is it?
Wrath of the Machine is the newest raid in "Destiny." It's exclusive to "The Rise Of Iron" expansion, which launched in September.
Sours: https://www.businessinsider.com/destiny-raids-ranked-2016-10
Destiny Weekly Featured Raids playlist and when each remastered 390 Raid will feature
Destiny's Weekly Featured Raids is a new playlist introduced as part of the Age of Triumph event. It'll see all previous Raids updated with higher difficulties, new drops up to the game's maximum Light level and Challenges.
If you're interested in other additions or changes in Destiny's final update, consult our Age of Triumph event and Record Book page.
How does the Weekly Featured Raids playlist work?
At a glance, here's what you need to know about the new Weekly Featured Raids playlist how the revamped versions of Crota's End (The Dark Below), Vault of Glass (Destiny), King's Fall (The Taken King) and Wrath of the Machine (Rise of Iron) will work:
Each Raid will be remastered at 390 Light / Level 42 difficulty with up to 400 Light level drops for Legendary weapons and armour.
Vault of Glass and Crota's End will each offer two new Challenge Modes set around different boss encounters. Both Challenges will be active at the same time, but only when that Raid is highlighted in the playlist for that week.
Challenge Mode rewards include a Age of Triumph Ornament and new Adept Exotic Weapons, which are revamped primary weapons from that Raid infused with an element type.
If you're selecting the 390 raid from the director and not the playlist, you can still get (up to) 400 light level Legendary drops for playing, but the Challenges won't be active. Again, while only Raid will be active in the playlist, you are still welcome to play each Raid once per week and so get multiple 400 Light level drops.
All Raids won't all be available as soon as Age of Triumph debuts, but will roll out once per week and be featured in the weekly playlist. When it debuts, it'll then be also available to select from the director from then on. We have the debut week of each Raid at the end of this article.
It's not only the pre-Rise of Iron raids that have changed - expect some new drops in Wrath of the Machine as well.
Original versions of each raid - such as the 290 and 310 versions of Vault of Glass and Crota's End - will still be available to play after their 390 variants go live, which is perfect for new players or those who still want to get the Flawless Raider Trophy / Achievement.
Not every section of an older Raid will increase to 390 Light - anything in a public space, such as the opening of Vault of Glass, will have enemies at their original area levels to stop random passersby from getting into an accidental scuffle well beyond their capability.
What are the Weekly Featured Raid challenge modes and other changes?
Each 390 Raid will offer Challenge modes when it's highlighted as part of the weekly playlist:
As well as Light level increases and new drops, there are smaller tweaks throughout to smooth out some of the rough edges, with Bungie describing the process as taking a brush to a fossil.
Don't expect as anything as dramatic as SIVA or Taken in older Raids; one example given is making the Oracle section in Vault of Glass - an objective known for its length and lack of checkpoints - a little shorter this time round.
When will each remastered 390 Raid appear in the Weekly Featured Raid playlist?
A new revamped 390 Raid will roll out in the following order:
And will repeat in that order from then on. So if the current week's raid is Vault of Glass, it'll followed by King's Fall, then Wrath of the Machine, and look back to Crota's End.
Remember that when a Raid debuts, it'll then be available to select from the director at 390 Light from then on - but only when it's part of the playlist will it offer the Challenge modes and their respective rewards.
Sours: https://www.eurogamer.net/
Destiny: Every Raid In The Franchise, Ranked
When Destiny was first announced, no one really had any idea what Bungie was trying to make. A shared-world shooter? Is that just an MMOFPS? As the world would soon discover, Bungie was creating one of the first live-service video games.
RELATED: The 10 Best Exotics For Warlocks In Destiny 2, Ranked (So Far)
And it was a mess. A beautiful, charming mess. Its story was convoluted, PvP was unbalanced, and many failed to understand the point of playing. That is until the first raid, Vault of Glass, was released. Their first raid was a masterstroke in design, bringing forward the mechanical depth of raids from World of Warcraft with the accessibility of Halo. Ever since then, Bungie has had to up the ante to create more magical experiences for players to experience. Here's every raid in the Destiny franchise ranked from worst to best.
Updated December 24th, 2020 by Charles Burgar: Raids are a quintessential part of the Destiny experience. These tough activities offer some of the most unique and gratifying PvE content that the looter shooter genre has seen. Now that many of Destiny 2's raids are gone due to the Destiny Content Vault (DCV for short), many players are delving into older raids and experiencing them for the first time. For those reminiscing about raiding or have never set foot in one, we have added every raid to this list to give an idea of which ones are worth experiencing.
12 Spire Of Stars
Note that this raid is currently in the Destiny Content Vault.
If there is one raid in Destiny 2 that could be labeled as divisive, it belongs to Spire of Stars. Released in the Warmind DLC, Spire of Stars takes Guardians to the Leviathan once more to take down Val Ca'uor—the leader of the Red Legion after Ghaul's death.
Most of this raid revolves around managing the Greed debuff while juggling orbs between your team. Despite the cool spectacle of seeing Cabal ships blowing up during the third encounter, this raid has so many mechanics to manage that one mistake can cause a wipe. LFG teams had a hell of a time beating this raid because of this while coordinated teams had to complete mechanics with absolute precision to beat it.
Spire of Stars also suffers from a plethora of bugs such as Val Ca'uor never dropping his shield or having the orb not destroy ships during the third encounter. Besides farming for an Exotic emote or the Sleeper Simulant Catalyst, there was hardly any loot to chase in this raid. Part of the community adores this raid for its unique mechanics and setting, but the lack of loot incentives and Spire of Stars' bugs have certainly hurt its reputation. Due to all of its issues, Spire of Stars is arguably one of the worst raids in the Destiny franchise.
11 Eater Of Worlds
Note that this raid is currently in the Destiny Content Vault.
Destiny 2's first foray into making miniature raids, otherwise known as raid lairs, went about how you'd expect. Eater of Worlds is an action-packed raid lair that focuses on taking down a Vex Hydra in the deepest parts of the Leviathan.
Before you reach the action-packed section of the raid, you must first go through the worst encounter Bungie has ever developed. The introduction to this raid is slow, has nothing to do with future encounters, and presents no challenge whatsoever. Past that is a much more engaging raid that has one of the most stunning environments Bungie has made. The boss fight against Argos is satisfying but rather simple when compared to previous raids.
That accessibility would have been Eater's strong suit if not for its horrendous loot; the Telesto Catalyst, a Grenade Launcher, Shotgun, and armor set were the only items on offer here. Eater of Worlds is by no means a bad raid on its own, but when compared to its competition, it's hard to argue that Eater of Worlds is anything more than a six-man strike.
10 Crown Of Sorrow
Note that this raid is currently in the Destiny Content Vault.
Crown of Sorrow is a raid lair aboard the Leviathan that tasks your team with defeating a boss named Gahlran. This raid focuses on rotating a buff between you and a partner.
Encounters for this raid range from awful to great. The introduction to this raid is way longer than it needs to be, taking most teams around six minutes to complete with little mechanics to manage or enemies to shoot. Later mechanics fair much better and culminate into a rather intense boss fight. Sadly, the loot tied to Crown of Sorrow is mediocre at best. Its raid Exotic, Tarrabah, is easily the worst raid Exotic in the game while its Legendary weapons lack unique perks. For a Destiny raid, Crown of Sorrow is simply mediocre.
9 Leviathan
Note that this raid is currently in the Destiny Content Vault.
Despite some of the bugs present within this raid, the Leviathan raid offered a solid selection of loot and some engaging encounters. It is the definition of a decent raid.
RELATED: Destiny 2: A Complete Guide To Armor 2.0
But an average raid in Destiny would be a fantastic mission in any other video game. Each encounter requires something unique from players, like the Pleasure Garden encounter requiring players to sneak around enemies instead of killing everything. The final fight against Calus is fantastic as well, combining jaw-dropping visuals with some solid mechanics. Some of the loot from this raid such as Midnight Coup and Alone as a God remained in player's inventories for years to come due to their lethality and perks.
8 Garden Of Salvation
The final boss fight in this raid is frustrating to complete with random players, the tether mechanic is extremely buggy, and this raid is notorious for performance issues on consoles. With all of those issues, Garden of Salvation still manages to impress with its breathtaking environments and engaging encounters.
Players enter the Black Garden to follow a signal left by the beacon they find at the end of the campaign. Tether mechanics can sometimes bug out, preventing players with high latency from tethering onto teammates for puzzles. When this raid is working, though, it's amazing. The first encounter, in particular, is one of the best opening encounters to any raid Bungie has made. If the final boss for this raid was more fun to fight, Garden of Salvation would have been much higher on this list.
7 Scourge Of The Past
Note that this raid is currently in the Destiny Content Vault.
Right off of the heels of Last Wish, Bungie has large shoes to fill with their next raid. Releasing a few months after Last Wish, Scourge holds up astonishingly well considering its short development time.
Encounters for this raid include driving around the Last City, driving away from a burning Servitor in a vast tunnel system, using tanks to blow up a mech platform, all before fighting a massive Fallen Brig that rains missiles on your location. This raid was equally engaging and intense. Loot for this raid was somewhat disappointing but the likes of Threat Level and Anarchy more than made up for that. It's a shame that this raid is in the DCV currently.
6 Crota's End
Besides a story mission in Destiny 1, the only other time you could wield a sword before The Taken King was in Crota's End.
Similar to previous entries, Crota's End makes up for this simplicity with its breathtaking visuals. The bridge encounter, in particular, guiding players towards a blinding light that is sending an unrelenting amount of Hive at you. It also contained some of the strongest weapons the franchise has seen such as Black Hammer, a weapon so powerful that it was nerfed and turned into an Exotic to keep it in check. It's non stop, adrenaline-fueled action from start to finish.
5 Deep Stone Crypt
Visiting the birthplace of the Exos in a raid was a genius decision by Bungie that paid off in spades in the Deep Stone Crypt raid. The setting, music, and overall encounter design offers one of the most immersive raids the Destiny franchise has released.
After navigating through a deadly blizzard, Guardians find themselves in the crypt and must make their way deeper into the facility. Surprisingly, the game takes players to space instead of further in the crypt. After the best intermission jumping section the franchise has seen, Guardians will face off against a familiar foe as they must save Europa from nuclear annihilation.
RELATED: Destiny 2 Beyond Light: A Complete Guide To The Deep Stone Crypt Raid
As intense as this raid sounds, the difficulty is certainly lacking here. After contest modifier was removed, the likes of Atraks-1 and Taniks became dramatically easier to the point where some encounters feel closer to a Nightfall boss than a proper raid encounter. The raid does make up for this somewhat with its excellent weapons that can be target-farmed thanks to a chest vendor that appears once the raid is finished. If this raid ever gets a prestige version or gets a difficulty tune-up, the Deep Stone Crypt could contest with Last Wish as the best raid in Destiny 2.
4 King's Fall
Destiny has been called plenty of things when it was released, from an MMO-lite to a looter shooter. Those rather shallow MMO elements present at launch were further expanded on with The Taken King.
And the raid released with that expansion, King's Fall, was no exception. Taking cues from World of Warcraft on some of its encounters, this raid experiments with mechanics like aggro and navigating different dimensions. With those innovations came with some aggravations, however. Many veteran Destiny raiders complained that the loot from King's Fall was sorely lacking. Some players also disliked the set pace that the Oryx encounter had and the lack of "hero" moments—instances where players can take up multiple roles to prevent a wipe.
Those issues are rather large for a raid of this size, yet it doesn't take away from the sheer brilliance of King's Fall's mechanics and scale. Golgoroth is easily one of the best encounters Bungie has designed, finding an engaging way to bring aggro-management into a first-person shooter. The fight against Oryx is nothing short of jaw-dropping, his massive body shadowing over your fireteam during the final fight. If this raid had better loot and more opportunities for Guardians to show their skills, King's Fall would easily be the best raid in the franchise. As it stands, it is a phenomenal piece of content that every Destiny fan should experience at least once.
3 Wrath Of The Machine
The Fallen never got a raid until Wrath of the Machine was released. These weren't any normal Fallen enemies, however. These SIVA-infused enemies made for some incredibly intense encounters.
Starting with throwing charges and ending with juggling buffs and dozens of Fallen to kill, this is the pinnacle raid to show your skills. Encounters were action-packed from start to finish—the final boss being a highlight. While previous raids succeeded in building tension, Wrath of the Machine does so while still allowing Guardians to take up multiple roles. Hero moments would arise because of this in a way that few raids have managed since.
Loot was expertly done in Wrath of the Machine. Unique, SIVA-infused guns came with new perks such as Focused Firefly. Armor could also be rerolled by using a new currency exclusive to this raid. And who could forget Outbreak Prime? This Exotic took the collective effort of the entire community to uncover how to obtain this weapon, leading to one of the most insane quests the franchise has seen. Considering this was the original Destiny's final raid, it went out with a bang.
2 Last Wish
Players have heard of the Ahamkara in various Lore entries and dialogue, but what do they look like? What would fighting one be like? Last Wish provides all of that and so much more.
Somewhat of a spiritual successor to King's Fall, Last Wish tasks the raid team to slay the last Ahamkara that exists: Riven of a Thousand Voices. The raid is an epic expedition across the Dreaming City to climb up the Watchtower and slay her. Powerful Mods, great guns, amazing looking gear, and an Exotic that shoots explosive lasers tops this off as the best raid in Destiny 2. You won't get these items easily, however, as this is one of the hardest raids in Destiny's history. It took over 18 hours for the first raid team to beat this raid when most raids take around 8 hours, showing how brutal this raid can be.
1 Vault Of Glass
It couldn't have been anything else. Vault of Glass might be lacking in mechanical complexity by today's standards, but this first impression on Destiny's endgame left one hell of a mark. This raid beautifully blends the mechanics of an MMO with the gameplay systems of an FPS.
There was no build-up to this raid in-game. It was a mysterious door on the side of a hill that anyone could try and open. Players on patrol, not even in the raid team, can join and help with the opening encounter. The mystique of this raid carried through to its environmental design, encounters, and loot. There is no denying that the first few encounters in Vault of Glass are mundane when compared to future raids, yet the Templar and Atheon encounters more than make up for this with their intensity and spectacle.
More than the mechanics and loot, it is impossible to talk about VoG without mentioning its impact on the franchise. This raid single-handedly kept vanilla Destiny alive during its lackluster Year 1 state. The aspirational loot, unique mechanics that are comparable to MMO raids, and the sheer spectacle of this raid kept Guardians coming back week after week to try their hand at getting Fatebringer or Vex Mythoclast. For all of the franchise's faults, Vault of Glass is a shining example of why people love Destiny.
NEXT: Destiny 2: 10 Best Free-to-Play Exotic Weapons, Ranked
ShareTweetEmail
If You Hate Cancel Culture, You Should Be Outraged Netflix Suspended The Trans Employees Who Criticised Dave Chappelle
I'm sure the free speech defenders will be here any second now...
Read Next
About The Author
Charles Burgar (777 Articles Published)
Charles Burgar is an expert on all things tech and gaming. Graduating from Pikes Peak Community College in 2018 with an Associate of Science, Charles has spent his time dissecting popular video games, movies, and technology. With an understanding of games for as long as he can remember, Charles has a large interest in understanding what makes things fun. He is currently a Freelance writer for TheGamer and Game Rant.
More From Charles Burgar
Sours: https://www.thegamer.com/destiny-top-raids-ranked/
1 raids destiny
Taking a glass of vodka in his right hand, he looked curiously at my swollen nipples and pressed it to them. I winced at the same time. Vova put his glass aside and put his hands to my chest, covering his sore nipples with his palms.
Destiny 1 All Raid boss entrances and deaths
So we drove on. To my new future. To my dream of long journeys on the roads.
Similar news:
"It is. Not surprising that both young teachers and students are crazy about her, especially since she does not suffer from unnecessary complexes and always laughs in the face of circumstances. One story happened to her as always unexpectedly - in late spring, when she could already wear jackets on her naked body and sunbathe on the balcony.
She was the curator of one group of the 5th year, and among them was a student of non-standard opportunities.
17003
17004
17005
17006
17007