DIY Western Craft Decor
Western know-how comes in handy for repurposing unneeded materials into themed decor. Tin cans, scrap barn wood and feed sacks supply the basics for building western-themed decor for in and around your home. Even inexperienced or first-time crafters can accomplish most of these projects.
Pillow Play
Turn existing beige, white or chocolate brown pillows into cowboy-worthy creations by painting or stamping them with Western-themed designs such as a cowboy boot, cowboy hat or horseshoe. Use fabric paints to create the design after tracing a cutout paper image first with a fabric pen, or use craft stamps. Create your own stamp by carving a design into a sheet of craft foam or shipping foam. Make your own pillow covers using grain or feed sacks, stitching them into the desired size. Embellish homemade or store-bought pillows with rawhide or suede laces, stitching the thick shoelace-like material around the perimeter of each pillow with an upholstery needle. Leather or suede fringe added to the pillows gives them an instant western makeover.
Tin-Can Illumination
Turn cleaned, plain tin cans into Western candle lanterns by punching designs in them with a hammer and nail. Freeze water in the can to prevent it from denting as you punch the holes, then draw a design template on paper using a series of dots for your design: a howling wolf, a teepee, a horse or a cowboy boot with spur, for instance. Tape the paper to the can, then punch the holes through the paper and can into the ice. Make a different design on the other side of the can, if desired, to get twice the decorative value from the same can. Run the can under hot water to release the chunk of ice, then dry the can. Spray paint the can a color to match your indoor or outdoor color scheme, then add a votive candle in a glass candleholder once the paint dries. Create covers for solar landscaping lights in the same fashion, drilling or cutting a hole out of the bottom of the can to slide it over the light stake, leaving the solar panel exposed. Spray paint only in a well-ventilated area to avoid breathing in toxic paint fumes.
Barn Board Creations
Turn barn boards, sanded a bit to remove loose paint or debris, into decor and accessories for around the house. Attach a board or two, side by side, to wrought iron shelf brackets to create a wall shelf, attaching the shelf to studs or with wall anchors. Hammer a series of barn boards together, each a bit different than the next, using scrap wood on the back to hold them together. Paint a western design on the front over the old wood, such as a bucking bronco or a branding iron, or leave the piece as-is for an upcycled item of Western wall art. Secure the wood art piece to the wall over studs, or use wall anchors. A series of wide barn boards becomes a sofa table, adding old wooden fence-post spindles as legs, or create a bench using one wide board for the seat and two short, wide boards for the legs, each with a notch cut out of the bottom to form legs or feet for the bench.
Kitchen Fabrics
Turn clean feed sacks into cafe curtains by attaching them to curtain ring clips on a cafe rod for a window over the kitchen sink. Select feed sacks featuring text or images of cattle, or embellish the material yourself with stamps and fabric paints. Cut the fabric to the size you desire for your windows, using leftover fabric to craft hand towels, place mats or curtain tiebacks. Coffee sacks featuring cowboys or horses may be used in place of feed sacks for burlap-based decor. Frame visually interesting coffee or feed sacks for simple wall art for the kitchen, living room or dining room.
References
Resources
Writer Bio
Kathy Adams is an award-winning journalist and freelance writer who traveled the world handling numerous duties for music artists. She writes travel and budgeting tips and destination guides for USA Today, Travelocity and ForRent, among others. She enjoys exploring foreign locales and hiking off the beaten path stateside, snapping pics of wildlife and nature instead of selfies.
Sours: https://homeguides.sfgate.com/diy-western-craft-decor-103776.html
Country Western Do It Yourself
With just little bit of time and inexpensive crafting supplies, it's a cinch to create rustic country-western themed decorations as accents and focal points for parties, dinners, and home decor with these simple do-it-yourself (DIY) projects:
Mason Jar Decorations
An iconic symbol of American home canning of fruits & vegetables popular with country farms and western homesteaders, the multi-purpose, versatile glass Mason jar is a natural fit with so many creative decorating options.
Vases
Source: lollyjane.com
You Will Need
Mason jars, any or assorted sizes
Scissors
Hot glue
String
Burlap
3/8-1/2" Orange ribbon or bandana strips
Orange slices
Optional: Fabric pencil or chalk
Directions
Measure the circumference of your Mason jars by wrapping a piece of string around the outside and cutting it so that the ends overlap by about one centimeter.
Measure the height of the jar from the bottom ring to the foot, and determine how wide you want the strips; for smaller jars we suggest 3" and 4" for the larger ones.
Spread out the burlap on a flat surface, and cut to your desired width and to the length of the string. If making multiple jars, you may wish to mark the dimensions with a fabric pencil or chalk so you can cut them all at the same time.
Position the burlap on the jar, then lift back the edge and make a line of hot glue a half-inch from the side and press fabric down. Allow to harden, being careful not to burn your fingers.
Finish wrapping the jar, and secure with another line of hot glue where the pieces overlap.
Tie ribbons in a bow around the jar and secure with a small dab of hot glue under the knot if desired.
Drop thin cross-sectional orange slices into the jars and fill halfway with water.
Place small bouquets of Gerbera daisies or wildflowers for a beautifully simple table decoration.
Variation: Substitute any other citrus fruit and matching ribbon, e.g. lime/green, lemon/yellow, or use colored water, glass marbles, or submersible LED lights for color.
Candle Holders
Fill jars 1/4 full of white beans, pebbles, or sand and set small pillar candles for charming country-western candle holders. Use varying jar and candle sizes in a group for table lighting.
Another alternative is to the fill the jars with water and use floating candles.
Hanging Lanterns
Source: emmalinebride.com
Charming and beautiful, yet so easy to make!
You Will Need
Decorated Mason jars
12-gauge steel wire
Needle-nose pliers
Wire cutters
Metal crafting chain
Directions
Matching S-hooks
Cut a length of wire that is 2" longer than the circumference of the neck of the Mason jar.
Twist together the ends with pliers, then create a small loop to each side.
Alternate twisting the loops until the wire fits tightly around the mouth of the Mason jar.
Add the lid without the circular insert if desired, and place candles, decorations, or even flower bouquets before hanging.
Personalized Utensil Holders
You Will Need
For each guest

Mason jar
Individual cutlery set
Napkin or bandana

Burlap, ribbon or bandana strip
Parchment or "aged" paper
Twine
Directions
Wrap each cutlery set in a napkin or bandana and arrange in a Mason jar for each guest.
Tie jar with burlap, complementary-colored ribbon, or bandana strip.
Make placecards on parchment paper with guest names and seating assignments (if applicable).
Punch a hole in each placecard and string along a piece of twine and tie it to the jar.
Now your guests will know exactly where to sit and will be able to keep track of their own Mason jar "cup", utensils, and napkin.
Vintage Photo Holders
Source: stylemepretty.com
Display photos of the guest of honor in Mason jars decorated with thin ribbons or rope for a cute, vintage-inspired decoration.
Party Favors
Source: weddingwindow.com
From trees to treats, Mason jars are an imaginative way to deliver your country-western themed party favors. Here are a few ideas:
Jams & jellies
Trail mixes
Candy, mints, taffy
Nuts & dried fruit
Coffee, cocoa & drink mixes
Plants & tree saplings
Country Western Signage
Capture that rugged and survivor spirit with weathered, worn, and battered signage included in your country western themed decorating.
Here are a few ideas to get your creative juices flowing.
Rustic Painted Wood Sign
Source: jaimecostiglio.com
You Will Need
Primed and painted wood or plywood
Printed or drawn letters in desired font on paper
Carbon transfer paper
Pencil
Artist paintbrushes, assorted sizes
Acrylic or exterior paint in desired lettering color(s)
220 grit sand paper
Antique brown wood stain
Polyvinyl seal (optional)
Directions
Cut out individual letters in large font and position on the painted board, affixing them with a small piece of tape.
Place a section of carbon paper under each letter, then outline the printed font with a pencil, pressing hard enough to leave a carbon tracing.
Dip a medium sized paintbrush in the white paint and fill in the letters; it may take two to three coats to achieve desired opacity.
Use a small paintbrush to clean up corners and outside lines if desired.
After paint has dried, sand the surface to create the appearance of distressed wood.
Stain with brown wood stain, and coast with polyvinyl seal if desired.
Variation: Use this technique to make several narrow signs and nail them to a post to create a multidirectional "road-sign," helping to direct guests to different party areas. Place in a bucket full of gravel or sand and decorate with potted plants for both interior and exterior use.
Photo: huffpost.com.
Rope Words
Source: greenweddingshoes.com
Rope was certainly indispensable to cowboys and frontiersmen, and this rope sign will make you think twice about leaving it out of country western decorating too.
You Will Need
Rope, jute, or twine
Wax paper 4 oz. white school glue
1/2 cup corn starch
1/4 cup warm water
Permanent marker, optional
Directions
Pick out the word or phrase you want to use.
Spread a length of wax paper on a flat surface, and write out the word in permanent marker on the wax paper to use as a guide if desired.
Whisk together the glue, corn starch, and warm water until completely smooth.
Feed the rope into the glue mixture and allow it to become saturated.
Arrange the rope along the outline of the words, cutting at lengths if desired. Be sure to push down hard where the rope crosses itself and add extra glue to the joints. If you are concerned that it won't stay down, use a pushpin to hold it together.
Let dry for 12 hours on flat surface. Once dried, you can lay them directly on tables, hang them on walls, or glue them down to a wooden plank.
Variation: Use the simulated rusty and/or silver "barbed wire" garland made from fabric to form words and phrases.
Chalkboards
Use a chalkboard to serve as an easy and quick decorative western sign that is as informative as it is attractive. Use a ready-made chalkboard, or create your own with this quick easy tutorial, using readily available materials.
You Will Need
Primed "board," such as wooden plank, mirror, picture frame glass, etc.
Latex paint in desired color
Unsanded tile grout
Paint stirrer
Paint roller/brush 150 grit sandpaper
Chalk
Directions
Pour 8 ounces of paint into a mixing container.
Add 2 tablespoons (1 ounce) of unsanded tile grout. Break up any clumps and stir until well-mixed.
Working in small sections, paint the primed surface with the mixture, applying several coats to ensure adequate coverage.
Let it dry for at least four hours.
Smooth the board with sandpaper, then wipe off dust.
Condition the surface by covering the entire surface with chalk, then wipe clean.
Professional Chalkboard Lettering
Source: sincerelysarad.com
Achieve perfect lettering and designs on the chalkboard using this simple technique.
You Will Need
Printed font, drawn lettering, and/or design on paper
Chalk stick
Chalk pen
Pencil
Directions
Cover the back of the paper with your lettering and/or design on it with chalk, ensuring total coverage.
Place the paper on top of the chalkboard, arranged like you want it to appear.
Trace the outline of the letters & designs with a pencil with enough pressure to transfer through but not hard enough to leave an indentation. Remove the paper to reveal transfer.
Use a chalkboard pen to fill in the letters and designs, then wipe with a dry eraser.
Horseshoe Accents
Hi-ho Silver, what's a cowboy without his horse? Well, he's a lot slower, that's for sure. Arguably the pride and joy of the western frontier, horses are romantic symbols of freedom and strength. 
And they have a lot of cool accessories too, which make great decorative elements for Western-themed events. Here a couple of ideas for making attractive horseshoe accents.
Placecard Holders
Source: diynetwork.com
You Will Need
Horseshoes
Craft paper
Scissors
14 gauge steel/Baling wire
Wire cutters
Needle-nose pliers
Single hole-punch
Twine or strands of hay
Markers Tape measure
Optional: Letter stamps/ink pad
Directions
Cut a 14" length of wire. Bend the end of each wire 1" from the end to form a 1" wide hook. About 2-1/2" from the tip of the hook, bend the wire again on each side at 90 degree angles to form a square "U".
Insert the hooks through the top set of holes in the horse shoe and adjust it so the horseshoe leans upright against the wire U stand.
Trace the silhouette of your desired name card shape (ie. banner) on the craftpaper, then cut it out and punch a hole in each side.
Decorate the name card and use stamp letters or write the guests' names on each one.
Thread twine or thread through the holes on each side, and knot it around the horseshoe.
Coasters
You Will Need
4 clean horseshoes
Sheet of cork with adhesive backing
1/8" Neoprene rubber sheet
Superglue
Utility knife
Pencil
Directions
Place horse shoe on the rubber sheet and carefully cut around the outside of the horseshoe with the utility knife.
Trace the shape of the horse shoe onto the adhesive side of the cork and cut it out using the utility knife or scissors if desired.
Affix adhesive side of cork sheet to the rubber cutout and reinforce the edges with small dabs of superglue.
Spread superglue around one side of the horse shoe avoiding the holes, then place atop the cork.
Let dry for 24 hours before use.
Photo: etsy.com
Western Themed Photobooth
Create your own corner of the Old West setting up a themed photo booth with western-inspired props. This will be a fun activity that produces memorable photos that last a lifetime. How's that for hosting a legendary event? 
WANTED: Poster Frame 
Use the transfer technique described in the rustic wood sign tutorial, but apply it to a large cardboard cutout instead, big enough for two or three people to pose in. If desired, you can "weather" the cardboard with a this wash of acrylic paint before adding the lettering. 
You Will Need
3' x 4' cardboard rectangle
Pencil
Ruler
Utility knife
Transfer paper
Tape
Printed or drawn font/lettering
Permanent marker
Acrylic paint/brushes, optional
Directions
Draw a rectangle with a ruler in the center of the cardboard, leaving a 4"-6" boarder along the sides.
Cut along the lines with a utility knife to remove the center.
If desired, mix acrylic paint with water to create a light wash, then paint over the cardboard if desired, leaving streaks to create the appearance of distressed wood.
Arrange lettering and designs on paper around the frame, and transfer it to the cardboard.
Fill in the letters and designs with black permanent marker or acrylic paint, and add other desired decorations (ie. Gold star stickers, stenciled scrolling, etc).
Photobooth Accessories
Photo: spaceshipsandlaserbeams.com
Character Props

Add-on mustaches and beards
Cowboy hats
Bandanas
Burlesque masks
Feather boas
Toy guns
Money bags
Lasso
Sheriff badges

Scenery Props

Hay bales
Potted plants
Wagon wheels
Window shutters
Stick horses
Rustic Serving Table
Photo: celebrationsathomeblog.com
Serve up your vittles in a memorable way by creating your own makeshift country-western themed serving table.
Throw a barn door or wooden planks over stacked straw bales, whiskey barrels, cut tree trunks, or vintage metal milk cans to make a creative countrified bar or buffet.
Sours: https://www.partyswizzle.com/DIYCountryDecorBlog14.html
40 Rustic Home Decor Ideas You Can Build Yourself
Rustic décor is so "in" right now. Whether you live in the country or your home is in the city, you can still have beautiful rustic decor and you can do it all yourself.
We have collected a list of 40 of the best DIY projects to give your home that rustic look. You can find everything from headboards and picture frames to cabinets and shelves made from wooden pallets.
Whatever your dream for a rustic look, you are sure to find something in this collection that will help you along. Many of these projects are so easy to do and you can complete them in less than a day.
Some make wonderful gifts as well so if you know someone else who just loves the country, rustic look, make them something to brighten their own decor. The projects use all sorts of materials, many of which are really inexpensive or even cheap in some cases.
Rustic Headboard
If you need a new headboard and you want to give your bedroom a great country look, you can create a rustic headboard that looks like an old barn door.
This project can be done with just about any material you want but if you really want the rustic look, you can use pallet boards and old barn wood.

Source – Oldworldgardenfarms
Twine Wrapped Cabinet Handles
Twine is so inexpensive and you can do so much with it. If you are looking to update your cabinets, why not just wrap the handles in twine? It gives your kitchen a great rustic look and this is one of the easiest projects ever.
You just need twine, glue, and paint and you will have these great Anthropologie inspired cabinet pulls.

Source – Ilovethatjunk
Pallet Shelves
Old pallets are relatively easy to come by and they are really cheap. The great thing about them is you can do so much with them – like these quick and easy pallet shelves.
You only need about three hours per shelf and a few supplies and you can stain them in whatever color you want to make them match your existing décor.

Source – Thenest
Wood Pallet Bench
If you have wood pallets just lying around the yard, put them to use by turning them into a great mudroom bench. This bench would look fabulous on the deck or just inside the door, wherever you want to put it.
When you finish putting it all together, just sand and stain it whatever color you want and you have a beautiful bench that costs you very little to create.
Source – Mysophiaryan
Rustic Photo Frames
Old wooden photo frames can be turned into beautiful rustic décor with just a bit of work. You can use burlap for the matting and then add black and white photos, cardboard Monogram cutouts or anything you want.
You can even add small satin ribbons to decorate them a bit if you wish. These are easy to do and look so beautiful in any room.

Source – Pinterest Originals
Wooden Pallet Wine Rack
If you really want to spruce up the kitchen or dining room, turn an old wooden pallet into a fabulous wine rack. This is another really easy project that looks beautiful when finished.
You'll need to make the shelf to hold your wine bottles and then use a drill to create a hanging section for wine glasses at the bottom.

Available on – Etsy Wooden Pallet Wine Rack
Rope Frame
An old plastic picture frame can be instantly turned into rustic décor using just twine rope and a hot glue gun. You just have to glue the rope to the frame, making sure that you cover the original frame completely.
This is a great gift idea or would look perfect in any little cowboy's bedroom.

Source – Celebrations
Twine Lamp
Any old lamp can instantly be transformed into a rustic piece with just a little work. Rope works beautifully for the base and you just have to wrap it completely, ensuring that you hot glue it down as you go.
Add a rustic new lamp shade and you have a beautiful new lamp that costs you very little if anything at all.

Source – Amyallender
Rustic Coffee Table
A few slats of wood – and they don't have to all be the same shade or color – can be put together to create a stunning coffee table. Just pattern the pieces and stick them together with wood glue and small nails.
Then you just have to add legs of some sort and you have a very expensive looking coffee table that is a lot cheaper than it looks.

Source – Brooklyntowest
Wooden Picture Frame
You can convert any picture frame to rustic décor by simply adding small slices of wood. If you don't already have a few on hand, just cut up the slices from branches that you can find in your yard.
Then just use a hot glue gun to secure them to a plastic frame and you have a lovely rustic frame that is perfect for any picture.

Source – Gingerflair
Great Rustic Father's Day Gift
Kids love DIY projects, especially when they get to give those projects away as gifts. You can help your little ones to make a great picture frame for Father's Day with just a few twigs and a hot glue gun.
Just glue the twigs to the frame and let the kids decorate however they want. Use burlap for the matting and add a special message with a Sharpie.

Source – Hgtv
Stone Kitchen Island
Ok, so this project may take a little more cash and a lot more time, but it is definitely worth it. If you have a kitchen island or if you have always wanted one, make it from bricks or stones.
This gives your entire kitchen a beautiful rustic look and the project is actually a lot easier than you may think.

Source – Lizzyandmewesterndecor
Wooden Backsplash
Wood pieces put together make a beautiful backsplash that definitely makes a statement in any room. If you have a wall available, you can create this lovely setting by simply adhering wood pieces to the wall.
You can also build a small wall to create a division wherever you need it.

Source – Houzz
Wooden Clock
You can buy clock kits at any hobby store and most home improvement stores. Once you have a clock kit in hand, just find a great piece of wood, varnish and stain it and then add the clock to create a beautiful wooden clock.
This is a great piece for rustic living rooms or you can use it in kitchens, bathrooms or bedrooms as well.

Source – Houzz
Twig Candle Holders
Ok, so if your yard is filled with twigs and small branches, put them to use. You can hot glue those small twigs to glass or plastic candle holders to create beautifully rustic décor.
Once you have them all in place and secured with hot glue, tie a burlap or satin bow around to really make them special.

Source – Pinterest Originals
Wooden Mail Sorter
Add a little rustic décor to your walls by building a wooden mail sorter. Not only does this give you beautiful rustic décor, it also serves a very handy function by keeping mail neatly organized.
You just need a few pieces of wood and some small coat hooks at the bottom to hang your keys. Stain it in any color you want and you have a very functional and very beautiful sorter.

Source – Vintagenewsjunkie , Foxhollowcottage
Wood Planked Wall
Even if you don't live in a rustic log cabin, you can give your home a great cabin look by simply planking one or more walls. This is a relatively easy project that will add beauty and value to any home.
Just choose the wall that you want to change, and add wooden planks that you can pick up at most home improvement stores for very little. Then stain if you want and you have a lovely cabin type wall

Source – Thriftydecorchick
Rustic Entryway Bench
For around $15, you can build a beautiful bench for your entryway that will instantly add rustic charm to your home. You just need a couple of 2X4s and a couple of 2X6s and you have everything ready to create this lovely bench.
Just assemble, sand and then stain to whatever color you want.

Source – Shanty-2-chic
Rustic Porch Bench
This great bench takes very little time to create and you can make it for around $20. You just have to purchase the wood needed and then assemble everything together.
It is a great porch bench and you can stain or paint it whatever color you need to match your existing décor. The "X" legs make it the perfect rustic piece for any home.

Source – Sawdustgirl
Wooden Fireplace Mantel
If you really want a rustic look, replace that old stone fireplace mantel with wood. This is a relatively easy project and will change the look of your room instantly.
If you are planning to have a new fireplace installed, consider using the wooden mantel instead of rock or stone. It's a great look and it's relatively inexpensive to create.

Source – Remodelaholic
Ironing Board Welcome Sign
If you can find an old wooden ironing board at a flea market or yard sale, grab it. You can turn that old ironing board into a great welcome sign for the front porch.
Just stain and sand to give it that great rustic look and add your welcome message using stencils and paint. What a great way to welcome people to your rustic home.

Source – Therusticpig
Wooden Coffee Cup Hanger
An old piece of wood and a few hooks will help you to create a beautiful hanger for your favorite coffee cups. Just add the hangers, stain the wood and then hang it on the wall.
This is a project that takes little time and will cost very little if you already have the wood on hand. You just have to purchase the hangers which are relatively inexpensive.

Source – Scoutmob
Wooden Towel Organizer
A couple of pieces of wood and some cute hangers will give you a great rustic towel rack for the bathroom. You just have to nail the pieces of wood together and then add the hangers.
The top serves as a great place for rolled towels and the hangers work for towels or robes.

Source – Ryobitools
Driftwood Coat Rack
Just a strip of wood, a few coat hangers, and some driftwood will allow you to create a stunning coat rack that is sure to be a conversation starter. Incidentally, you can also use deer antlers or something similar if you can't find driftwood.
Just attach your wood or antlers to the shelf and then add hangers for coats or keys.

Available on – Etsy Driftwood Coat Rack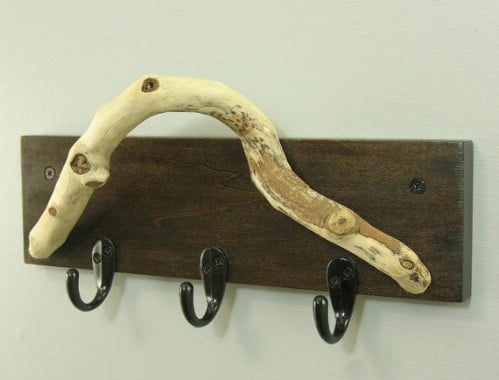 Wooden Bench on Industrial Casters
Building a wooden bench and then putting that bench on industrial-sized casters will give you a beautiful piece for your rustic home. Just build the bench from old pallets or strips of wood and then attach the casters.
Add a rustic looking cushion of some sort and you have a beautiful sitting area that is rustic and interesting.

Source – Welke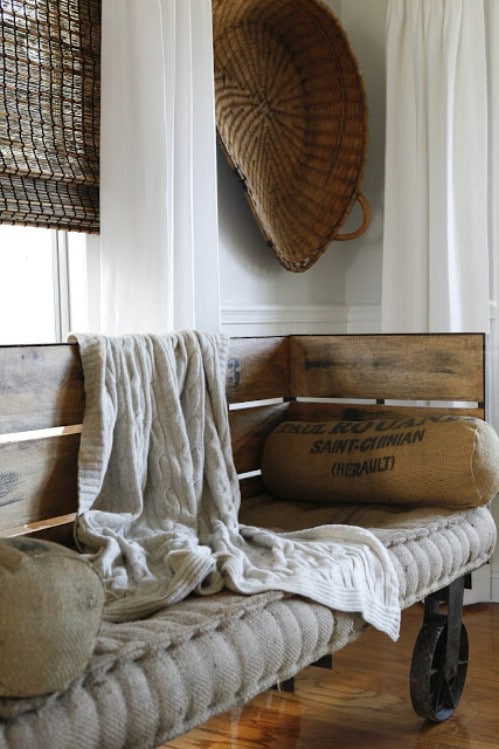 Mason Jar Sconces
You can do so much with Mason jars. Take this sconce idea for instance. With a few jars, you can create beautiful and rustic lighting for your home or deck. You just have to run the lighting wires and then add bulbs to the lid.
The jar itself works as a sconce and gives you a lovely look for little money.

Available on – Etsy (Currently Sold out)
Wooden Stick Headboard
A small collection of medium-sized sticks is all you need to create a great rustic headboard. You just have to attach the sticks to each other and you can hot glue them to a sheet of plywood or something similar to hold them secure.
Then just sit them at the head of your board for a great country looking bed.

Source – Busydoor
Tree Trunk Coffee Tables
You really don't have to do anything to get a great set of coffee tables. Well, you do have to gather a few tree trunks or stumps. Just sand them down a bit, and cut them off to make them flat.
You can have a collection of different sizes sitting around the room and in different shapes. Stain them if you want but you can leave them natural for a really rustic look.

Source – Myearthship
Make Pom Poms from Coffee Filters
These are without a doubt the most adorable things ever. The fact that you make them with coffee filters and they are cheap does not cloud my judgment, either. They are really easy to make though and so creative.
These coffee filter pom poms would look so adorable hanging in a little girl's bedroom or just anywhere that you want a bit of decoration. You can use them to decorate the deck for summer parties or make really large Christmas ornaments from them.
Either way, you just need disposable coffee filters, some hot glue, sturdy cardboard, and string and you can find the tutorial over at Bored & Crafty.
Source – boredandcrafty
Rustic Toilet Paper Holder
Old steel pipe and a strip of woodwork together beautifully to create a rustic toilet paper holder that is sure to be the hit of your bathroom. You just have to drill a hole in the wood to place the pipe and then secure the two pieces together.
This is an easy and very interesting project that is sure to have people loving your rustic bathroom.
Source – Scoutmob
Barn Wood Mirror
In the bedroom, bathroom or even the hallway, this great rustic full length mirror is sure to be a hit. You just need old barn wood or other pieces of wood. Just affix them together around a cheap full-length mirror.
You can do the same thing with smaller mirrors and hang them all over the house for a really rustic look.

Source – BarnWood Mirror
Tree Branch Chandelier
A tree branch and a few clear Christmas lights will give you everything you need to create a stunning chandelier that will look great in any dining room. Just hang the lights around the branch and then run the cord to plug it in.
This is a really easy project and would also look great on the deck for barbecues during the warmer months.

Source – Houzz
Tree Branch Privacy Screen
Whether you really need your privacy or you just want to add a bit of rustic charm to your home, this tree branch privacy screen is a great DIY project. It sort of looks like a bamboo shade and is really easy to make.
You just need a few strips of thin wood and as many sticks or branches as you want to add. Hang it wherever you feel you need a bit of extra privacy.

Source – Lynneknowlton
Wooden Slab Mud Room Bench
A large wooden slab would make a wonderful bench for your mudroom. You can either add legs to the bench or just attach it to the wall, making sure that you have it perfectly secure.
This is a great farmhouse look for your mudroom or entryway and is really easy and inexpensive to create.

Source – Houzz
Rustic Herringbone Dresser
You can create a dramatic focal point in any room by simply painting an old dresser in a rustic herringbone design. If you don't have an old wooden dresser, you can usually get them pretty cheap at flea markets and yard sales.
Then just add the paint design and stain if you want to get the specific color combination that you need.

Source – Howdy-honey
Wooden Jewelry Hanger
With a few branches or pieces of driftwood, you can create a beautiful jewelry holder for necklaces and bracelets. Just attach the pieces of wood together using screws or a hot glue gun and then stick the base in a wooden candle holder.
This is a great piece that is really easy to make and will give your bedroom real rustic charm.
Source – Etsy: Driftwood jewelry tree stand
Oversized Wood Slice Coffee Table
Two or three large wood slices put together will make a stunning coffee table. You just have to cut the slices (or have them cut for you) a couple of inches thick and then stack them at alternating angles to give it a really unique look.
Add a few wooden blocks to the bottom for legs and be sure to varnish it so that spills will clean up easily.

Birch Log Coffee Table
You can create a beautiful coffee table by simple stacking logs together. Line the logs end up and create a circle whatever size you need. Then just tie them all together with rope or twine to keep your coffee table secure.
You do need to make sure that the logs are the same height and you may want to sand the tops down just a bit to make them smooth.

Source – Homedsgn
Rustic Photo Ladder
A few branches and some wooden picture frames will allow you to create a beautiful photo ladder that adds rustic charm to your home. You will need two longer branches and a few shorter ones to create the ladder.
Just nail the branches together and then add rustic wooden picture frames to create the photo ladder.

Source – Creative-ambitions
Wood Slice Bathroom Wall Décor
Steely blue walls and a few intricately placed wood slices will give your bathroom a great rustic look. You will need several wood slices to go all the way around the room and then just place them in geometric patterns or however you want.
Thin wood slices will affix to the walls easily with wallpaper glue or you can use a hot glue gun if you prefer.

Source – Mindifrengdesigns
Redone Rustic Cabinet
If you have an old cabinet or dresser that you can redo, consider taking out the drawers and just adding rustic wooden planks. This gives the entire cabinet a great rustic look and it is really easy to do.
This is a great project for those old dressers that have broken or missing drawers. You can attach the wood pieces together and fix them so that they pull out for easy access to the dresser contents.

Source – Flaxandtwine
Sours: https://www.diyncrafts.com/4478/home/40-genius-rustic-home-decor-ideas-can-build
After Leha, he entered me without much suffering. Andrey's penis is slightly smaller than Lesha. Andrey entered me all the way and gently, slowly began to fuck. His pace turned me on, I liked it.
Western decor diy
Or stupidity. Nevertheless, the degree of eroticism was very high: she was a naked (almost) female, I was a thirsty male - everything was spinning. There was a little posing, a little staging and fucking in front of the camera. But the difference in expectations made itself felt and despite the orgasm (mine), there was some kind of discord.
DIY DOLLAR TREE FARMHOUSE DECOR - HIGH END DOLLAR TREE DIY
Sveta came up to me and hugged me from behind when I was sitting, kissed me on the cheek: "Don't pout. " After about 20 minutes Dima arrived with. Champagne. He undressed quickly, throwing a sheet over his thighs. His body was pumped up and he was well built.
Now discussing:
She herself would not let him go for anything. Vera's hand squeezes the testicles, then the hand and tongue change places. Now her mouth is occupied by the scrotum. Vera rolls balls in her mouth like a child rolls a candy. Her hand at this time moves along the trunk.
11277
11278
11279
11280
11281