2014 NFL salary cap: Where each team stands as free agency looms
The Cowboys and Steelers have work to do to get under the $133M NFL salary cap. Meanwhile, the Raiders, Jets and Browns are swimming in cap room.
By Jason La Canfora
2 min read
More NFL offseason: Mock Drafts | Prospect Rankings | Pro Days | Top free agents
NFL free agency is less than a week away, and the cap is finally set, swelling to $133 million, which is much higher than original projections. With that in mind, here is a look at where each team stands in terms of number of players under contract, how much cap space they entered the week committed to spending in 2014, according to the NFLPA.
So, if you subtract that team's total from $133 million, you get their cap space. The third total in the chart is set out committed cash -- or the amount of actual payroll dollars the team is scheduled to spend as of now. Keep in mind, this does not include money yet to spent on contract extensions that will come later this week, and also does not include money yet to saved from players being released, taking pay cuts, etc.
It's a current snapshot, but keep in mind teams like Pittsburgh can save more than $10 million, easily, by redoing Troy Polamalu's deal and cutting Ike Taylor, and will save another $6M by releasing Levi Brown, which they will do (Pittsburgh comes in about $7M over the cap in this chart).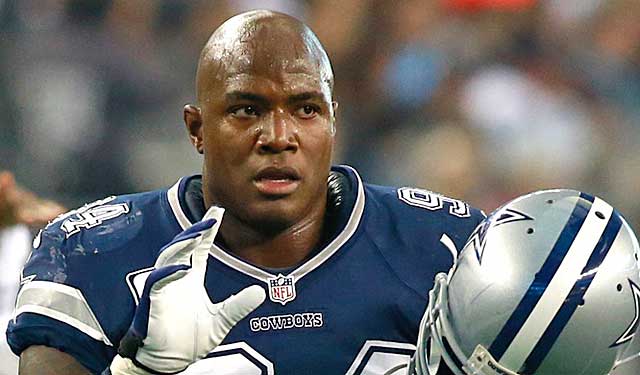 Chicago can save about $15M in cap room by designating Julius Peppers a June 1 cut, and Tennessee can save about $6 million by parting with Chris Johnson and St. Louis can save $9 million by cutting corner Cortland Finnegan. The Seahawks' number does not yet reflect the roughly $11M in savings from their recent release of Sidney Rice and Red Bryant.
Dallas is about $20M over the cap here, but with tough choices coming for Miles Austin and DeMarcus Ware, they can at least get close to cap compliance.
Carolina, on the other hand, will be very close to the cap once the franchise tag they placed on Greg Hardy kicks on (close to $130M from the $117M threshold indicted here). And Washington will be right around $130M once the money for franchising Brian Orakpo kicks in.
Furthermore, Oakland, for instance, doesn't even have $70M in cap space allotted yet, and less than $50M in actual payroll, tens of millions less than anyone else in the NFL. The Jets -- even though I expect them to be primarily bargain shoppers on the open market, will have even more than their current $25M in space after parting with guys like Mark Sanchez and Santonio Holmes.
The Colts and Jags also have well over $30 million in cap space, and the Browns are loaded with room as well.
2014 NFL Team Salary Cap Situations
Contracts
Team Cap
Team Cash
Arizona Cardinals
58
$122,454,920
$98,823,354
Atlanta Falcons
53
$116,431,071
$96,404,156
Baltimore Ravens
44
$106,402,323
$88,114,50
Buffalo Bills
63
$125,092,434
$89,611,536
Carolina Panthers
58
$117,340,304
$79,700,853
Chicago Bears
52
$125,102,001
$107,757,722
Cincinnati Bengals
62
$111,300,523
$91,788,771
Cleveland Browns
66
$101,572,067
$82,915,604
Dallas Cowboys
62
$152,201,383
$106,175,079
Denver Broncos
63
$127,230,112
$107,100,138
Detroit Lions
53
$123,679,422
$72,483,534
Green Bay Packers
60
$109,697,531
$83,552,456
Houston Texans
61
$125,336,520
$100,562,811
Indianapolis Colts
57
$92,593,156
$71,697,115
Jacksonville Jaguars
64
$96,517,190
$77,128,940
Kansas City Chiefs
68
$125,755,074
$100,997,115
Miami Dolphins
49
$111,882,727
$84,374,753
Minnesota Vikings
54
$102,078,828
$80,496,574
New England Patriots
66
$126,515,381
$82,101,117
New Orleans Saints
53
$125,327,008
$82,897,553
New York Giants
52
$117,121,817
$82,596,597
New York Jets
57
$107,728,879
$82,927,975
Oakland Raiders
52
$68,767,080
$48,666,126
Philadelphia Eagles
60
$124,008,964
$118,748,268
Pittsburgh Steelers
63
$140,100,516
$101,422,309
San Diego Chargers
60
$130,579,261
$95,858,904
San Francisco 49ers
64
$120,175,054
$99,477,884
Seattle Seahawks
59
$130,070,446
$111,656,748
St. Louis Rams
56
$126,057,768
$107,330,425
Tampa Bay Buccaneers
60
$120,978,242
$112,375,311
Tennessee Titans
59
$126,946,609
$102,970,396
Washington Redskins
64
$117,309,347
$86,703,274
Sours: https://www.cbssports.com/nfl/news/2014-nfl-salary-cap-where-each-team-stands-as-free-agency-looms/
NFL announces 2014 salary cap
NEW YORK (AP) — The NFL's salary cap for this season has been set at $133 million, the highest amount in league history.
Each team must be compliant with the cap number by March 11, when the league's free agency period begins. The cap amount announced Friday, which applies to active players' salaries, is up from $123 million last season and surpasses the previous high of $127,997,000 in 2009. NFL teams can carry over unused salary cap room from the previous league year, and the NFLPA says in a release Friday that the average carryover for those teams that elected to do so was $6.1 million.
The league's salary cap is calculated by taking a percentage of all projected NFL revenues, subtracting projected benefits for the season, and dividing by 32 teams.
Here are some frequently asked questions about the salary cap, courtesy of NFLPA Communications.
The 2014 Salary Cap is set at $133 million per Club, a $10 million increase over the prior year.
The $133 million is the per Club salary cap. However, each team may, at its own discretion, carry over unused salary cap room from the prior League Year. Most Clubs elected to carry over Salary Cap room from 2013 to 2014. The average carry over for those teams that elected to do so was $6.1 million per Club. Thus, those Clubs have an average of $139.1 million to spend on player salaries in 2014.
The Salary Cap is calculated by taking a percentage of all projected NFL revenues, subtracting projected benefits for the upcoming season, and dividing by 32 teams.
Under the current CBA, Clubs have minimum cash spending requirements. For the years 2013-2016, Clubs are required to spend an average of 89% of the Salary Cap over the four-year period. League-wide, Clubs must spend an average of 95% of the Salary Cap over the four-year period.
This creates a cash-spend floor, forcing historically low-spending Clubs to offer overall competitive compensation for packages.
The $133 million Salary Cap is the cap on active player salaries. In addition, each Club will spend in excess of $33 million in benefits. This includes pension, severance, workers' compensation, insurance premiums, disability benefits, etc.
Sours: https://www.buffalobills.com/news/nfl-announces-2014-salary-cap-12688830
NFL salary cap makes nearly $10M jump to $133 million
Around the League
Published: Feb 28, 2014 at 10:08 AM
That is an increase of nearly $10 million per team over 2013.
The cap is primed to soar even higher in 2015, after money from the league's new television deals enter the equation.
The cap rise is good news for both teams seeking cap maneuverability and players who now begin to taste the fruits tied to the collective bargaining agreement signed in 2011. According to Breer, the structure of the CBA and the timing of the television deals sets the players up well from 2015 to 2020.
That time is almost upon us.
This article has been reproduced in a new format and may be missing content or contain faulty links. Please use the Contact Us link in our site footer to report an issue.
Sours: https://www.nfl.com/news/nfl-salary-cap-makes-nearly-10m-jump-to-133-million-0ap2000000329753
The NFL salary cap could be going up further than originally anticipated. The cap for the 2014-15 season could actually be higher than $132 million, according to Mike Florio of Pro Football Talk. It's surprising, given that the original projection was somewhere in the range of $126 million.
That number was actually noted as being too low back on Feb. 20, when reports suggested that the cap would rise a full 5 percent, making it $130 million. This report is the latest that ups the ante, though they have not suggested what it could eventually top out at.
Florio's source suggests that the cap could be a "few million" higher than $132 million, which could mean a lot of different things depending on what you think "few" means. If this report is accurate, it means the potential for a cap as high as $135 million or even more. As noted in the piece, that's almost a 10 percent increase over last season.
That would be the biggest jump the salary cap has made since the new collective bargaining agreement was signed into place in 2011, following a lengthy lockout and an uncapped year in 2010. It's unclear why this big of a jump would be taking place. Most assumed that the cap would make limited jumps year after year until renewed television contracts took effect.
Of course, this means when we actually make it to said television contracts, the cap could get another boost, provided this report is accurate. We won't know the official cap number until the days leading up to the start of the new league year. It's possible that league owners are borrowing against future caps but again, with the television contracts set to hit the revenue stream in time for the 2015 league year, there's not too much incentive to do so the year before.
Multiple teams that will benefit from more cap space. Well, every team will benefit in some way, but there are those like the Carolina Panthers, who have a handful of key players to extend, and the Dallas Cowboys, who are still over the salary cap, who will benefit even more.
The salary cap increased year over year, save for the 2010 year, which was uncapped, until the 2011 season that saw the cap drop under the new CBA. Below, is a look at the five years before the new collective bargaining agreement and what we've had since then. Please keep in mind that 2014 numbers are based on this report and could look entirely different when the NFL announces the official number:
| | | |
| --- | --- | --- |
| Year | Maximum Team Salary | Increase |
| 2014 | $130+ million? | If $132 million, 7.32 percent |
| 2013 | $123 million | 1.9 percent |
| 2012 | $120.6 million | 0.5 percent |
| 2011 | $120 million | N/A |
| 2010 | Uncapped | N/A |
| 2009 | $123 million | 6.03 percent |
| 2008 | $116 million | 6.42 percent |
| 2007 | $109 million | 6.9 percent |
| 2006 | $102 million | 19.3 percent |
| 2005 | $85.5 million | 6.1 percent |
As you can see, large spikes were not altogether uncommon before the newest collective bargaining agreement, but such a large jump this year does buck the trend that was beginning since said agreement. Given that the original numbers reported a cap of $126 million, we would have been looking at a cap increase of 2.44 percent, much more in line with what we've been seeing of late.
In the years leading up to the new CBA, things began to stabilize with around 6 percent increases. Television contracts became a rock solid source of income, and with the NFL growing every year, it made sense. The outlier was 2006, when we saw a huge 19.3 percent increase. The reason for that increase? New TV contracts, of course.
That's when the newest deals came into play, the same deals which lasted through the new CBA, and the new version of the deals that will increase. One interesting note is that New England Patriots owner Bob Kraft, who had an awful lot to do with constructing the latest CBA, said that we shouldn't expect a sizable increase in 2014.
That statement was made in 2012, according to Mike Rodak of ESPN Boston. Kraft, in response to questions regarding a potential "considerable increase," said "I don't really see that happening. I don't think what happened in 2006 will happen in the future here, because if you understand the labor agreement and the long-term part of this, there will be a smooth growth."
Kraft followed up with a quip: "Anyone who assumes huge jumps, I hope they're in our division."
It's true that teams shouldn't bank on there being a huge increase because those things aren't decided long in advance (as far as we know). But it is worth noting that Kraft can say what he said and still be technically correct. While a cap number of $132 million would be a big increase, it wouldn't be a 19 percent jump, which is considerably more significant.
Sours: https://www.sbnation.com/nfl/2014/2/25/5446844/2014-nfl-salary-cap-132-million-report
Cap 2014 nfl salary
2014 Salary Cap and Free Agency Overview, January 13
[adsenseyu1]
With the season down to the just four teams and most everyone else turning their attention towards the 2014 season I thought it would be  good to look over some of the changes in store for teams next season by looking at their salary cap estimates and potential player turnover. The table at the bottom of the post lists each teams' estimated 2014 salary cap space (note that it does include 2013 carryover but not 2014 escalator estimates), total number of unrestricted free agents, potential starters, and the names of those who got credit as a starter. Some of the starter names may be a bit off as I was basing it on depth charts at the end of the season which can skew the results with so many on IR, but it's a reasonable estimate.
With futures contracts signed most teams are already up to 51 contracts. Only ten teams did not yet have 51 players signed for 2014 and of those ten, five were playing this weekend and normally most futures moves don't occur until after a teams' playoff run has stopped.
The average cap room per team seems to be about $16 million, but that will go likely go down once escalators are accrued and further adjustments made from 2013 before cutting players after the Super Bowl makes it rise again. The most cap room should belong to the Raiders, Jaguars, Browns, Colts, and Dolphins while the least will be the Cowboys, Steelers, Saints, and Lions.
The average number of free agents per team is 14.1.  Six teams have less than 10 free agents. The team with the least is the Browns with 6, followed by the Bills (7), Eagles (8), and Cowboys, Rams, and Jaguars (all with 9).  Of those teams only the Eagles made the playoffs and were above 0.500 so most of these teams will likely be cutting their way through contracts to try to improve in 2014.
On the other end of the spectrum are the Giants and Bears who lead the way with a whopping 23 free agents each. They will be followed by the Panthers and Steelers (both at 21) and the Redskins and Buccaneers (both at 19). Just one team was a playoff team from this group so most should welcome some form of change, though one would guess these teams will focus on bringing some players back to maintain continuity.
The average loss of starters (which includes punter, kicker, and long snapper) is just above 6, so about ¼ of the starting team. The Giants have the largest number with 15 players who were starters this season or were penciled in to be starters before injury. The Giants free agents are older in many cases and will likely not be asked back, but they would need to create cap space to keep all of these players. The Raiders have 10 players, primarily because their roster, like the Giants, was pieced together with a number of one year contracts as they purged the books of a huge number of bad contracts. The most interesting team might be the Dolphins who have 10 starters and this is a group of players that would likely be coveted around the NFL, unlike the other two teams that don't have as many perceived impact free agents. Miami will either be undergoing a pretty big face lift or will see their cap space quickly shrink to maintain the same roster.
The Cowboys and Bengals have just two players to really be concerned about. For the Bengals that is DE Michael Johnson and swing tackle Anthony Collins. With over $20 million in cap space they could franchise one of the two players, though Johnson already played 2013 on the tag making it less likely to use on him. Dallas has OLB Anthony Spencer and DT Jason Hatcher. At $20 million plus over the salary cap the tag should not even be considered for Hatcher. Spencer has been tagged each of the last to seasons making his franchise tag number the same as a QB, so Dallas won't even be tempted to do that this season.
If teams' used all their cap room to simply re-sign their "starting free agents" the average pay is $2.596 million per player with a median of $1.85 million per player. The teams in a bind with the cap but still on the plus side would be the Giants, Cardinals, Chiefs, Bears, Rams, Seahawks, and Chargers. None of the teams could spend more than $1.4 million per starter and from the Bears down it would be less than $1 million. Teams like the Jaguars, Bengals, Browns, and Raiders could keep anyone they want and still have large amounts of money to spend.
You can view all the free agents around the NFL by selecting positions from the top menu or accessing team free agents from their team salary pages. All categories of the table can be sorted by clicking on the heading.
[adsenseyu4]
Team
Contracts (51 only)
Est. Cap
(No esc. Estimates)
Unrestricted Free Agents
Starting Players
Key Names
49ers
51
$8,923,845
10
5
Boldin
Whitner
Brown
Goodwin
Dawson
Bears
46
$6,759,725
23
9
Melton
Tillman
Garza
Anderson
Mannelly
Wright
Ratliff
Wooton
Bowman
Bengals
51
$25,486,456
11
2
Collins
Johnson
Bills
51
$27,459,097
7
5
Byrd
Chandler
Moorman
Leonhard
Carpenter
Broncos
44
$18,725,118
16
7
Decker
Rodgers-Cromartie
Moreno
Woodyard
Beadles
Phillips
Adams
Browns
51
$50,122,350
6
5
Mack
Ward
Cundiff
Lauvao
McGahee
Buccaneers
51
$15,114,903
19
5
Te'o-Nesheim
Watson
Lindell
Underwood
Economos
Cardinals
51
$6,133,586
15
7
Dansby
Mendenhall
Winston
Shaughnessy
Bell
Feely
Zastudil
Chargers
51
$731,088
14
4
Rinehart
Marshall
Butler
English
Chiefs
51
$3,365,628
12
5
Albert
Jackson
Asamoah
Jordan
Gafford
Colts
48
$36,838,605
17
9
Davis
Bethea
McAfee
Vinatieri
D. Brown
Linkenbach
Franklin
Conner
Heyward-Bey
Cowboys
51
($21,572,985)
9
2
Hatcher
Spencer
Dolphins
48
$35,203,228
13
10
Starks
Grimes
Soliai
Incognito
Clabo
Clemons
Keller
McKinnie
Jerry
Carroll
Eagles
51
$21,614,691
8
4
Cooper
Maclin
Allen
Jones
Falcons
51
$9,566,337
10
5
Babineaux
Peters
Jerry
Trueblood
Hawley
Giants
51
$13,963,473
23
15
Nicks
Tuck
Joseph
Beason
T. Thomas
McBride
A. Brown
S. Brown
Patterson
Rivers
Mundy
J. Brown
Boothe
Diehl
Webster
Jaguars
51
$53,023,075
9
4
Jones-Drew
Henne
Meester
Deaderick
Jets
51
$21,657,558
16
6
Howard
Colon
Pace
Reed
Winslow
Folk
Lions
50
($4,912,206)
15
5
Pettigrew
Young
Mathis
Raiola
Akers
Packers
51
$28,158,375
17
6
Raji
Finley
Pickett
Jones
Shields
Dietrich-Smith
Panthers
48
$15,845,772
21
9
Hardy
Gross
Wharton
LaFell
Munnerlyn
Mikell
Mitchell
Cole
Gano
Patriots
51
$6,670,171
10
6
Talib
Spikes
Edelman
Blount
Hoomanawanui
Wendell
Raiders
46
$64,705,390
18
10
Houston
Veldheer
McFadden
Woodson
Walker
Sims
Jenkins
Porter
Pashos
Barnes
Rams
51
$1,509,846
9
3
Saffold
Williams
Dunbar
Ravens
46
$11,858,455
14
7
Oher
Smith
A. Jones
Dickson
J. Jones
Ihedigbo
Monroe
Redskins
51
$28,637,929
19
9
Orakpo
Morgan
Meriweather
Fletcher
Wilson
Barnett
Doughty
Riley
Hall
Saints
45
($9,395,654)
16
5
J. Graham
Strief
Jenkins
De La Puente
Haralson
S. Graham
Seahawks
45
$4,499,926
14
5
Tate
Thurmond
Giacomini
McQuistan
McDaniel
Steelers
51
($11,727,398)
21
6
Worilds
Sanders
Keisel
Clark
Velasco
McBriar
Texans
51
$7,815,650
10
6
A. Smith
W. Smith
Mays
Jones
Graham
Mitchell
Titans
51
$8,119,952
14
4
Verner
Pollard
Turner
Pitoitua
Vikings
51
$24,293,568
15
6
Allen
Williams
Johnson
Simpson
Cook
Mitchell
[adsenseyu2]
[subscribe2]
Jason Fitzgerald
Jason is the founder of OTC and has been studying NFL contracts and the salary cap for over 15 years. Jason has co-authored two books about the NFL, Crunching Numbers and the Drafting Stage, which are widely circulated in the industry and hosts the OTC Podcast. Jason's work has been featured in various publications including the Sporting News, Sports Illustrated, NFL Network and more. OTC is widely considered the leading authority on contract matters in the NFL.
Sours: https://overthecap.com/2014-nfl-free-agency-salary-cap-overview/
How the NFL Salary Cap \u0026 Contracts Work - NFL Explained
I recently put together a rather exhausting spread sheet, that I then posted (Miami Dolphins salary cap 2014), on the Miami Dolphins roster as it sits presently and how each player impacts the Dolphins cap number in 2014 if the players contract is left as it is, the player is traded, the player is cut or if the player is cut/traded after June 1st. As a follow up I thought it would be interesting to take a look at the rest of the NFL's cap situation vs. Miami's. Where does each team sit with cap money entering the off-season and what key free agents does each have that they may look at resigning?
Before I get jumped on for the list from Miami, yes, I know that not all of the offensive line men will be resigned but I could see a couple of them brought back for depth and possibly as starters if the new GM is not able to replace the entire line, sans Pouncey, in one single off-season. After all, despite the large amount of cap space we have, this seems like quite the undertaking. Either way I would expect that the offensive line looks MUCH different from last seasons debacle.
I also have a somewhat strong feeling that Miami will trade or cut Matt Moore and cut Dimitri Patterson, giving them an additional 9.4 million in cap space. I could see Patterson being restructured or resigned but at a much lower cap number then his present number of 5.4 million. Of course this will happen with other teams around the NFL as well because as you can see many are up against the cap and still need money to not only sign enough players along with draft picks to fill the roster out but also to leave some leeway in their cap, giving them the ability to sign players mid season to fill in for injured players.
The projected "average" to sign draft picks for the 2014 draft is 5.4 million dollars. In fact if you take that amount and assume that each team has to be prepared to spend that number going in to the draft that would put 10 teams over the cap including the Patriots and would leave 3 more with hardly any cap space to spend on free agents. This of course means that many teams will be cutting players just to get under the cap further flooding the free agent market. I am too lazy to go back and see how this compares to past years but this seems like a year that will see some real bargains on the FA market which is good news when you are already a top 5 team cap wise with the ability to quickly add even more space.
| | | | | |
| --- | --- | --- | --- | --- |
| Team | Cap Space | 2013 record | 2014 Div. Standing | Number of own FA's |
| Oakland Raiders | $61,725,518.00 | 4-12 | 4th AFC West | 23 |
| Jacksonville Jaguars | $50,183,525.00 | 4-12 | 3rd AFC South | 15 |
| Cleveland Browns | $46,041,554.00 | 4-12 | 4th AFC North | 6 |
| Indianapolis Colts | $34,597,724.00 | 11-5 | 1st AFC South | 23 |
| Miami Dolphins | $33,081,861.00 | 8-8 | 3rd AFC East | 21 |
| Green Bay Packers | $29,181,378.00 | 8-7 & 1 | 1st NFC North | 20 |
| Washington Redskins | $26,866,007.00 | 3-13 | 4th NFC East | 18 |
| Minnesota Vikings | $25,843,286.00 | 5-10 & 1 | 4th NFC North | 18 |
| Cincinnati Bengals | $24,272,331.00 | 11-5 | 1st AFC North | 13 |
| Philadelphia Eagles | $21,214,486.00 | 10-6 | 1st NFC East | 10 |
| New York Jets | $21,011,558.00 | 8-8 | 2nd AFC East | 20 |
| Buffalo Bills | $20,302,215.00 | 6-10 | 4th AFC East | 13 |
| Carolina Panthers | $15,025,991.00 | 12-4 | 1st NFC South | 24 |
| New York Giants | $13,400,286.00 | 7-9 | 3rd NFC East | 29 |
| Atlanta Falcons | $13,397,417.00 | 4-12 | 3rd NFC South | 11 |
| Baltimore Ravens | $12,546,887.00 | 8-8 | 3rd AFC North | 20 |
| Denver Broncos | $12,420,006.00 | 13-3 | 1st AFC West | 22 |
| Arizona Cardinals | $11,404,254.00 | 10-6 | 3rd NFC West | 20 |
| Tampa Bay Buccaneers | $10,867,487.00 | 4-12 | 4th NFC South | 18 |
| Tennessee Titans | $7,194,952.00 | 7-9 | 2nd AFC South | 14 |
| San Francisco 49ers | $7,012,930.00 | 12-4 | 2nd NFC West | 12 |
| Chicago Bears | $6,694,857.00 | 8-8 | 2nd NFC North | 23 |
| New England Patriots | $4,529,129.00 | 12-4 | 1st AFC East | 11 |
| Kansas City Chiefs | $4,274,553.00 | 11-5 | 2nd AFC West | 17 |
| Houston Texans | $3,406,138.00 | 2-14 | 4th AFC South | 16 |
| St Louis Rams | $1,549,395.00 | 7-9 | 4th NFC West | 13 |
| Seattle Seahawks | $1,029,037.00 | 13-3 | 1st NFC West | 20 |
| San Diego Chargers | ($66,501.00) | 9-7 | 3rd AFC West | 16 |
| Detroit Lions | ($4,527,476.00) | 7-9 | 3rd NFC North | 21 |
| Pittsburgh Steelers | ($11,769,379.00) | 8-8 | 2nd AFC North | 21 |
| New Orleans Saints | ($12,505,809.00) | 11-5 | 2nd NFC South | 21 |
| Dallas Cowboys | ($23,757,502.00) | 8-8 | 2nd NFC East | 11 |
AFC East
New Enland Patriots- LeGarrette Blount RB, Julian Edelman WR, Ryan Wendell C, Brandon Spikes ILB, Aqui Talib CB
New York Jets- Willie Colon G, Ed Reed S, Nick Folk K
Miami Dolphins- Tyson Clabo OT, Bryant McKinnie OT, Richie Incognito G, John Jerry G, Paul Soliai DT, Randy Starks DT, Brent Grimes CB, Chris Clemons S
Buffalo Bills- Scott Chandler TE, Jairus Byrd S, Jim Leonhard S, Dan Carpenter K
AFC North
Cincinnati Bengals- Mike Pollak G, Michael Johnson DE, Michael Boley OLB, Chris Crocker S
Pittsburgh Steelers- Emmanuel Sanders WR, Brett Keisel DE, Ziggy Hood DT, Jason Worilds OLB, Ryan Clark S, Mat McBriar P
Baltimore Ravens- Jacoby Jones WR, Dennis Pitta TE, Ed Dickson TE, Michael Oher OT, Arthur Jones DE, Daryl Smith ILB, James Ihedigbo S
Cleveland Browns- Alex Mack C, Billy Cundiff K
AFC South
Indianapolis Colts- Ahmad Bradshaw RB, Darrius Heyward-Bey WR, Mike Johnson G, Mike McGlynn C, Fili Moala DT, Kavell Connner ILB, Vontae Davis CB, Cassius Vaughn CB, Antoine Bethea S, Adam Vinatieri K, Pat McAfee P
Tennessee Titans- Kenny Britt WR, Ropati Pitoitua DT, Alterraun Verner CB, Bernard Pollard S
Jacksonville Jaguars- Chad Henne QB, Maurice Jones-Drew RB, Brad Meester C, Will Blackmon CB
Houston Texans- Ben Tate RB, Donald Brown RB, Garrett Graham TE, Ryan Harris OT, Wade Smith G, Antonio Smith DE
AFC West
Denver Broncos- Knowshon Moreno RB, Eric Decker WR, Zane Beadles G, Dan Koppen C, Robert Ayers DE, Jeremy Mincey DE, Shaun Phillips OLB, Paris Lenon ILB, Wesley Woodyard ILB, Quentin Jammer CB, Dominique Rodgers-Cromartie CB, Mike Adams S, Michael Huff S
Kansas City Chiefs- Branden Albert OT, Geoff Schwartz G, Tyson Jackson DE, Husain Abdullah S, Quintin Demps S, Kendrick Lewis S
San Diego Chargers- Rich Ohrnberger G, Cam Thomas DT, Larry English OLB, Donald Butler ILB, Richard Marshall CB
Oakland Raiders- Darren McFadden RB, Rashard Mendenhall RB, Jared Veldheer OT, Andre Gurode C, Lamarr Houston DE, Jason Hunter DE, Pat Sims DT, Mike Jenkins CB, Tracy Porter CB, Charles Woodson S
NFC East
Philadelphia Eagles- Michale Vick QB, Jeremy Maclin WR, Riley Cooper WR, Corey Graham CB, Nate Allen S, Colt Anderson S, Kurt Coleman S, Donnie Jones P
Dallas Cowboys- Brian Waters G, Anthony Spencer DE, Jason Hatcher DT
New York Giants- Andre Brown RB, Hakeem Nicks WR, Brandon Myers TE, David Diehl OT, Justin Tuck DE, Mike Patterson DT, Shaun Rogers DT, Keith Rivers OLB, Jon Beason ILB, Aaron Ross CB, Terrell Thomas CB, Stevie Brown S, Josh Brown K
Washington Redskins- Brian Orakpo OLB, Nick Barnett ILB, London Fletcher ILB, E.J. Biggers CB, DeAngelo Hall CB, Josh Wilson CB, Reed Doughty S, Brandon Meriweather S
NFC North
Green Bay Packers- Matt Flynn QB, James Starks RB, John Kuhn FB, James Jones WR, Jermichael Finley TE, Evan Dietrich-Smith C, C.J. Wilson DE, Johnny Jolly DT, Ryan Pickett DT, B.J. Raji DT, Sam Shields CB
Chicago Bears- Josh McCown QB, Devin Hester WR, Roberto Garza C, Nate Collins DT, Henry Melton DT, Jay Ratliff DT, James Anderson OLB, D.J. Williams ILB, Kelvin Hayden CB, Charles Tillman CB
Detroit Lions- Brandon Pettigrew TE, Dominic Raiola C, Israel Idonije DE, Willie Young DE, Rocky McIntosh OLB, Rashean Mathis CB, David Akers K
Minnesota Vikings- Josh Freeman QB, Toby Gerhart RB, Jerome Simpson WR, Charlie Johnson G, Everson Griffen DE, Kevin Williams DT, Desmond Bishop ILB, Chris Cook CB
NFC South
Carolina Panthers- Brandon LaFell WR, Ted Ginn WR, Jordan Gross OT, Bruce Campbell G, Geoff Hangartner G, Travelle Wharton G, Greg Hardy DE, Colin Cole DT, Jordan Senn OLB, Drayton Florence CB, Captain Munnerlyn CB, Mike Mitchell S, Graham Gano K
New Orleans Saints- Robert Meachem WR, Jimmy Graham TE, Zach Strief OT, Brian De La Puente C, Johnathan Vilma ILB, Malcolm Jenkins S, Shayne Graham K
Atlanta Falcons- Jonathan Babineaux DT, Corey Peters DT, Stephen Nicholas OLB, Asante Samuel CB
Tampa Bay Buccaneers- Rian Lindell K
NFC West
Seattle Seahawks- Michael Robinson FB, Golden Tate WR, Breno Giacomini OT, Paul McQuistan G, Michael Bennett DE, Tony McDaniel DT, Clinton McDonald DT, O'Brien Schofield OLB, Walter Thurmond CB, Steven Hauschka K
San Francisco 49ers- Anquan Boldin WR, Jonathan Goodwin C, Tarell Brown CB, Eric Wright CB, Donte Whitner S, Phil Dawson K
Arizona Cardinals- Rashard Mendenhall RB, Andre Roberts WR, Frostee Rucker DE, Matt Shaughnessy DE, Karlos Dansby ILB, Yeremiah Bell S, Jay Feely K
St. Louis Rams- Jo-Lonn Dunbar OLB, Will Witherspoon ILB
Sours: https://www.thephinsider.com/2014/2/10/5396156/where-every-nfl-team-stands-cap-wise-at-this-point
You will also be interested:
NFL Sets 2014 Salary Cap at $133 Million; Browns Have $57.45 Million in Cap Space
According to Albert Breer of NFL.com, the salary cap for the 2014 season has officially been set at $133 million:
The NFL has notified clubs that the salary cap for 2014 will be $133 million.

— Albert Breer (@AlbertBreer) February 28, 2014
After the Cleveland Browns released LB D'Qwell Jackson a few days ago, I broke down the amount of cap space the team had. I have now adjusted that post to reflect the new cap, which gives the Browns $57.45 million in cap space.
I also posted an in-depth article earlier today, explaining what the 89% minimum cash spend requirement for NFL teams, including the Browns, really means. That post has also been updated to account for the $133 million salary cap.
Based on the new cap figure, it would cost the Browns $11.654 million to use the franchise tag on C Alex Mack, and $8.433 million to use the franchise tag on SS T.J. Ward.
In This Stream
2014 Cleveland Browns Free Agency
View all 134 stories Sours: https://www.dawgsbynature.com/2014/2/28/5458458/nfl-sets-2014-salary-cap-at-133-million-browns-have-57-45-million-in
10842
10843
10844
10845
10846