Top 50 Radiology and medical imaging startups
Last updated: September 21, 2021
Radiology startups develop new (mostly AI-based) technologies to automate detecting and diagnosing various diseases on medical scans and make it more precious.

1
Viz.ai
Country: USA | Funding: $150M
Viz helps physicians to identify anomalies in brain scans through machine learning.
2
Aidoc
Country: Israel | Funding: $127.5M
AIdoc helps radiologists work through their case load faster, just in time to make a difference. We reworked deep learning algorithms to analyze imaging and clinical data more effectively, and can produce highly accurate scan anomaly detection. We combine the analyzed scans with patient data, streamlining the radiologists' workflow and freeing them to do what they do best.
3
Lunit
Country: South Korea | Funding: $72.5M
Lunit builds data-driven imaging biomarker (DIB) technology for image-based disease screening.
4
Covera Health
Country: USA | Funding: $57M
Covera Health is empowering radiology providers with powerful analytics to better define, measure, and deliver accurate diagnoses—helping to ensure every patient is on the most cost-effective path back to health.
5
Zebra Medical Vision
Country: Israel | Funding: $50M
Zebra is empowering radiologists with its revolutionary AI1 offering which helps health providers manage the ever increasing workload without compromising quality- at a flat, transparent $1 per scan
6
Arterys
Country: USA | Funding: $43.7M
Arterys' mission is to radically transform the world of medical imaging via high performance cloud computation.
7
IMRIS
Country: Canada | Funding: $36.8M
As the intraoperative imaging expert, the solutions from IMRIS, Deerfield Imaging measurably improve patient outcomes through planning, product integration and clinical workflow to give surgeons access to diagnostic quality scans in operating room suites. The IMRIS Surgical Theatre, which uniquely transports MR and CT scanners to the patient using ceiling-mounted rails and incorporate other IMRIS imaging technology, are sold globally to hospitals that deliver clinical services to patients in neurosurgical, spinal, interventional and orthopedic markets.
8
VoxelCloud
Country: China | Funding: $28.5M
VoxelCloud provides automated medical image analysis services and diagnosis assistance based on AI and cloud computing technologies. VoxelCloud develops computer-aided detection systems for detecting and diagnosing various diseases ranging from cardiovascular and lung diseases to eye diseases. Our solutions are based on the state-of-the-art computer vision, deep learning and artificial intelligence technology.
9
Dia Imaging Analysis
Country: Israel | Funding: $26.6M
DiA offers a cognitive image processing technology based on pattern recognition and machine learning algorithms in medical imaging area.
10
RapidAI
Country: USA | Funding: $25M
RapidAI empowers clinicians to make faster, more accurate diagnostic and treatment decisions for stroke and aneurysm patients.
Ad
Advertise your startup
11
Kheiron Medical Technologies
Country: UK | Funding: $22m
Kheiron Medical Technologies aims to help radiologists detect breast cancer earlier by using deep learning
12
Nines
Country: USA | Funding: $16.5M
Nines is a tele-radiology and artificial intelligence startup. On the one hand is a tele-radiology service that's staffed by live specialists. Its other work involves the startup's investigational machine learning platform intended to support imaging data analysis.
13
Qure.ai
Country: India | Funding: $16M
Qure.ai builds deep learning solutions that aid physicians with routine diagnosis and treatment, allowing them to spend more time with patients
14
Enlitic
Country: USA | Funding: $15M
Enlitic applies the state-of-the-art in deep learning technology to medicine. Deep learning is loosely based on how the human brain works and has unleashed colossal capabilities in computer vision, language translation, and speech recognition. Our team of healthcare executives, physicians, and data science experts are adapting deep learning to medicine, with the goal of bringing patients radically improved diagnostic outcomes. We collaborate closely with medical centers to validate our technology and benchmark our performance against publicly available medical data sets.
15
Brainomix
Country: UK | Funding: $14M
Using Artificial Intelligence (AI), deep learning algorithms Brainomix team is bringing complete stroke imaging decision support solution to hospitals worldwide.
16
QUIBIM
Country: Spain | Funding: €12M
QUIBIM is a biotech company dedicated to medical image processing and extraction of imaging biomarkers for the medical imaging workflows.
17
Braid Health
Country: USA | Funding: $12M
Braid Health is an artificial intelligence tele-radiology platform for the medical diagnostics industry.
18
Subtle Medical
Country: USA | Funding: $12.2M
Subtle Medical develops AI empowered medical imaging workflow: faster, safer, and smarter
19
Gleamer
Country: France | Funding: $10.5M
Gleamer develops an AI-powered software to enhance radiologists' productivity.
20
VIDA Diagnostics
Country: USA | Funding: $8.4M
VIDA is a leader in quantitative lung analysis for COPD, emphysema and asthma, establishing objective, reproducible and quantitative
21
Quantib
Country: Netherlands | Funding: €5M
Quantib BV is a medical technology company that develops innovative software in the field of quantitative MRI and CT image analysis.
22
Therapixel
Country: France | Funding: €5.6M
Therapixel is a software company specialized in artificial intelligence for medical image analytics. Therapixel makes touchless image navigation system designed for operating theaters: interventional radiology or surgery.
23
CellmatiQ
Country: Germany
CellmatiQ develops artificial intelligence platform for efficient medical Image diagnostics
24
Nucleai
Country: Israel | Funding: $5M
Nucleai aims to Improve cancer diagnostics making it accurate, effective, accessible and efficient in order to treat patients better by using Machine Learning, Deep Learning, and Machine Vision technology.
25
QMENTA
Country: USA | Funding: $5.1M
QMENTA is on a mission to help make brain diseases a thing of the past by using imaging and AI to their full potential.
26
Radiobotics
Country: Denmark | Funding: $5.2M
Radiobotics are developing stellar machine learning algorithms, supporting doctors in analysing medical images.
27
Synapsica Healthcare
Country: Resources | Funding: $4.2M
Synapsica is a B2B health-tech firm that provides AI-enabled automation of diagnostic radiology workflow and reporting.
28
Dyad Medical
Country: USA | Funding: $3.5M
Dyad Medical develops software that automatically analyzes the content of cardiac and cardiovascular images.
29
DDH
Country: South Korea | Funding: $3M
DDH is a digital health company specializing in medical image analytics. We have created an analytics platform to automate and simplify the imaging pipeline. Various deep learning models have been integrated using a mesh-network architecture to facilitate evaluation of the entire body for structural and functional information. Until Technology Becomes a Miracle, Thinking only about the life and safety of a person, DDH open up a bright future of medical technology.
30
Deep01
Country: China | Funding: $2.7M
Deep01 is a Taiwanese startup that develops software to help doctors interpret CT brain scans more quickly
31
PerSimiO
Country: Israel | Funding: $3m
PerSimiO develops Simfini, a superior CT-based prediction model to simulate the response of human bones to load. Based on intelligent machine learning, finite element analysis and computational biomechanics – with nearly two decades of research and experimentation – our validated technology generates bone quality and strength assessment with unmatched reliability.
32
DeePathology.ai
Country: Israel
DeePathology.ai develops state-of-the-art algorithms to help pathologists perform day-to-day tedious, yet important tasks and bring the power of AI to pathology.
33
Botkin.AI
Country: Russia | Funding: $1,7M
Artificial Intelligence to build and use mathematical patient representation models for diagnostics and desease risk assessment
34
Diagnocat
Country: Russia | Funding: $2M
Diagnocat AI analyzes dental 3D x-rays, recognizes anatomical areas and detects various pathologies of maxillo-facial area.
35
AZmed
Country: France | Funding: €2M
AZmed offers powerful AI-aided diagnosis tool that detects all types of fractures in radiography
36
MARS Bioimaging
Country: New Zealand | Funding: $500K
MARS Bioimaging is a manufacturer of small bore spectral CT scanners for pre-clinical medical research. The MARS small bore scanner enables customers to conduct experiments in a system that is directly translatable to human imaging. MBI works closely with customers to provide a wide range of spectral imaging solutions for applications ranging from cancer detection to development of novel contrast agents.
37
Prognica Labs
Country: UAE | Funding: 1
Prognica is building smart screening solution for early detection of breast cancer using artificial intelligence and machine learning.
38
RT Medical Systems
Country: Brazil | Funding: $500k
RT Medical Systems offers management systems, centralization of information, and verification of radiotherapy treatment.
39
Rology
Country: Africa | Funding: $575K
Rology is an AI-assisted on-demand teleradiology platform solving the problem of radiologists shortage
40
imera.ai
Country: UK | Funding: 200kGBP
We develop innovative AI-based products for healthcare and diagnostic imaging.
41
Dileny Technologies
Country: Africa | Funding: $255K
Dileny Technologies provides intelligent tools for women and health professionals including radiologists and physicians working in breast health and breast cancer.
43
Intixel
Country: Africa | Funding: $235k
Intixel strives to utilize artificial intelligence algorithms to the benefit of the patient by empowering radiologists' diagnosis with an automated second-eye opinion and optimizing their work efficiency.
44
FUSE-AI
Country: Germany
FUSE-AI develops Sherlog, the platform for intelligent medical image analysis
45
Cancer Center
Country: Poland
Cancer Center helps fight various forms of cancers around the world using advanced and innovative software Deep Learning tools for medical imaging.
46
Diagnocat
Country: Russia
Diagnocat AI analyzes dental 3D x-rays, recognizes anatomical areas and detects various pathologies of maxillo-facial area.
47
Care Mentor AI
Country: Russia
Care Mentor AI develops medical neural networks for radiology image analyses.
48
SignalPET
Country: USA
SignalPET develops an advanced technology that utilizes AI and machine learning to assess radiographs in real time for specific test results.
49
Quantivly
Country: USA
Quantivly provides a unified interface to ask questions of MRI operations. It is not about what was scheduled; it is about what really happened on your scanners. It unlocks a new world of data analytics in Radiology.
50
VinBrain
Country: Vietnam
VinBrain is building AI a radiologists' assistant that can facilitate automatic screenings for disease with improved accuracy.
Sours: https://www.medicalstartups.org/top/radiology/
Companies
HQ: Eindhoven, the Netherlands
Founded:2016
Advantis
Advantis Medical Imaging makes advanced medical imaging more accessible, user-friendly and data-driven by merging it with cloud technology. Advantis is certified to ISO 13485, a quality management ...
Read more
HQ: Braga, Portugal
Founded:2019
AI4MedImaging
The fully PACS/VNA integrated AI4CMR solution aims to automate the interpretation of cardiac magnetic resonance imaging (CMR). The AI4CMR cloud software (SaMD) performs a fully automatic cardiac ...
Read more
HQ: Amsterdam, the Netherlands
Founded:2015
Aidence
Aidence rallies top-notch data scientists, medical professionals, and software engineers to bring deep-learning enabled solutions for automated medical image analysis. Our goal: empowering ...
Read more
HQ: Sunnyvale
Founded:2015
AlgoMedica
AlgoMedica is a Sunnyvale, CA- based AI developer of Deep-Learning Image processing machines for CT, MRT and PT. Mission: Improve patient safety by converting noisy CT scans acquired via low or ...
Read more
HQ: Taipei, Taiwan
Founded:2008
AmCad BioMed
AmCad is dedicated to developing innovative Computer-Assisted Detection and Diagnosis (CAD) devices. We're committed to developing unique products that assist medical professionals in making more ...
Read more
HQ: Sydney, Australia
Founded:2019
annalise.ai
annalise.ai is one of the largest radiology AI companies in the world with over 200 team members globally. We focus on the development of comprehensive medical imaging solutions created by ...
Read more
HQ: San Francisco, United States
Founded:2011
Arterys
The Arterys mission is to transform healthcare by reducing subjectivity and variability in clinical diagnosis. Our dream is to bring data-driven medicine to every patient, regardless of where they ...
Read more
HQ: La Ciotat, France
Founded:2018
Avicenna.AI
Avicenna AI is a medical imaging software company providing solutions for emergency radiology. The company uses artificial intelligence and deep learning to optimize all or part of the radiologist's ...
Read more
HQ: Paris, France
Founded:2018
AZmed
The mission of our medical professionals and data scientists is to improve patient outcomes by using data to their maximum potential. Every time a doctor makes a diagnosis, they are solving a complex ...
Read more
HQ: London, United Kingdom
Founded:2015
Behold.ai
Leading the way in AI and radiology. behold.ai is listed in CB Insights as one of the leading start-ups transforming healthcare in AI.
Read more
HQ: London, United Kingdom
Founded:2015
Brainminer
Brainminer will improve the lives of patients worldwide by enabling imaging-based personalised treatment pathways. While our first product analyses MR images to aid the diagnosis of dementia, our ...
Read more
HQ: Oxford, United Kingdom
Founded:2010
Brainomix
Launching as a spin-out from the University of Oxford in 2010, Brainomix has developed award-winning, AI-powered imaging biomarkers and software solutions for clinical and research use, assisting ...
Read more
HQ: Aalborg, Denmark
Founded:2011
Brainreader
Through our work we aim to provide a quantifiable and accurate insight into the brain. By increasing the use of medical image processing software, we are providing healthcare professionals around the ...
Read more
HQ: Gdańsk, Poland
Founded:2017
BrainScan Ltd
BrainScan developed A.I. powered brain scans interpretation solution for digital imaging diagnostics as Computed Tomography to prevent under-reporting problem and prioritizing patients using ...
Read more
HQ: Paris, France
Founded:2018
BrainTale
Braintale provides efficient solutions for diagnosis and prognosis in severe brain injured patients from calibrated and validated neuroimaging markers.
Read more
HQ: Aarhus, Denmark
Founded:2013
Cercare Medical
Cercare Medical is a medical software company founded in 2013 as a spin-out of the Center of Functionally Integrative Neuroscience and MINDlab research centers at Aarhus University, Denmark. Cercare ...
Read more
HQ: Tampere, Finland
Founded:2014
Combinostics
Combinostics provides tools to help radiologists and neurologists diagnose and track progression of disease in the area of dementia, MS and other neurodegenerative diseases. Combinostics' cNeuro® ...
Read more
HQ: Vienna, Austria
Founded:2016
contextflow
contextflow uses deep learning-based technology to analyze medical image data and reports, reducing a radiologist's time to diagnosis, improving reporting quality and increasing confidence. Our core ...
Read more
HQ: Seoul, Korea
Founded:2012
Coreline Soft
Coreline Soft Ltd. was founded in the year 2012 and has its headquarter in Seoul, South Korea. We recently founded Coreline Europe in Frankfurt, Germany in order to support the fast-growing European ...
Read more
HQ: San Diego, United States
Founded:1996
Cortechs.ai
CorTechs Labs was the first company to bring clinical, AI-based, volumetric brain applications to the market. The company develops and markets breakthrough medical device software solutions that ...
Read more
HQ: Taipei, Taiwan
Founded:2016
Deep01 Limited
Deep01 is a Taiwan-based AI software company that located in Taipei. Our focus is developing advanced AI-based SaMD (Software as a Medical Device) for decision support that aims to assist physicians ...
Read more
HQ: Lecco, Italy
Founded:1985
Digitec
Digitec Srl operates in the radiology sector, designing and customising hardware and software systems capable of acquiring, processing and transferring medical images.
Read more
HQ: Gliwice, Poland
Founded:2000
Future Processing
Future Processing Healthcare is an ISO 13485-certified manufacturer of medical software. We specialize in providing precise solutions for the analysis of medical imaging data for customers around the ...
Read more
HQ: Chicago, United States
Founded:1994
GE Healthcare
As a leading global medical technology and digital solutions innovator, GE Healthcare enables clinicians to make faster, more informed decisions through intelligent devices, data analytics, ...
Read more
HQ: Paris, France
Founded:2017
GLEAMER
GLEAMER develops a solution that helps radiologists and emergency physicians in their medical practice. Our solution is based on a artificial intelligence technology capable of detecting and locating ...
Read more
HQ: Singapore, Singapore
Founded:2017
Hanalytics (BioMind)
BioMind® is an award-winning Artificial Intelligence (AI) company providing machine intelligence solutions in medical imaging. As the world's first company to obtain both European CE mark and ...
Read more
HQ: Redwood City, United States
Founded:2007
HeartFlow
HeartFlow, Inc., is a digital health company redefining the way heart disease is diagnosed and treated. Our non-invasive HeartFlow FFRct Analysis leverages deep learning to create a personalized 3D ...
Read more
HQ: Nantes, France
Founded:2017
Hera-MI
Hera-MI is a French company based in Nantes and founded in 2017. Hera-MI is specialized in the conception, development, and commercialization of clinical decision support innovative solutions for ...
Read more
HQ: Brussels, Belgium
Founded:2005
Imagilys
Imagilys brings the most advanced brain imaging techniques from bench to bedside. Our neuroimaging software suite, BrainMagix, helps our customers to improve the diagnosis and optimize the treatment ...
Read more
HQ: London, United Kingdom
Founded:2016
Kheiron Medical Technologies
Our mission is to help breast cancer patients live longer, better lives through earlier detection. We combine new deep learning methods, data science and radiology insights to help doctors find ...
Read more
HQ: Cambridge, United Kingdom
Founded:2019
Lucida Medical
Lucida Medical develops AI systems to assist clinicians to detect and diagnose cancer using MRI. Its technology helps radiologists find cancer more accurately leading to earlier diagnosis and ...
Read more
HQ: Seoul, Korea
Founded:2013
Lunit
Lunit is a medical AI software company devoted to conquering cancer and advancing medical intelligence to the next level. Lunit develops and provides novel AI-powered solutions for cancer diagnostics ...
Read more
HQ: Tel Aviv, Israel
Founded:2013
MaxQ AI, Ltd.
MaxQ is ushering in a new era of ai-augmented healthcare through medical diagnostic solutions that help empower physicians around the world to better prioritize and identify life-threatening ...
Read more
HQ: Berlin, Germany
Founded:2018
mediaire
mediaire was founded in 2018 in Berlin by two MRI experts, Dr. Andreas Lemke and Dr. Jörg Döpfert, to revolutionize the daily life of radiologists through a unique software. mediaire's mission is to ...
Read more
HQ: Geneva, Switzerland
Founded:2006
Medimaps Group
Medimaps Group is a leading global medical imaging software analytics company. Medimaps specialize in commercialization of imaging medical software applications based on patented multi-purpose tissue ...
Read more
HQ: Leiden, The Netherlands
Founded:1989
Medis Medical Imaging
For over 30 years, Medis has been providing high quality quantitative analysis solutions for cardiovascular imaging to the medical community. At Medis, quality is key and is continuous innovation ...
Read more
HQ: Berlin, Germany
Founded:2016
Merantix Healthcare
Our mission is to make affordable diagnostics available all over the world. To accomplish this, we are committed to designing great machine learning-powered workflows that our users love to work ...
Read more
HQ: Bremen, Germany
Founded:2007
MeVis Medical Solutions AG
MeVis provides computer support for image-based medical diagnosis and therapy. More than 140 employees contribute their expertise and experience to transform the continuous development of imaging ...
Read more
HQ: Paris, France
Founded:2018
Milvue
Milvue develops advanced Deep learning solutions in emergency radiography, designed to optimize medical workflow and optimize the medical workflow and patient management. By allowing radiologists to ...
Read more
HQ: London, United Kingdom
Founded:2013
Motilent
Motilent's mission is to change the way we see the gut. We develop new imaging technology that is helping researchers and clinicians understand how the digestive tract works. Our key clinical focus ...
Read more
HQ: Seoul, Korea
Founded:2016
Neurophet
Neurophet is a medical AI company specialized in neurology. We strive to lead the field through diagnosis/prediction/treatment solutions.
Read more
HQ: Amsterdam, the Netherlands
Founded:2015
NICO.LAB
NICO.LAB uses the latest in cutting edge technology to empower physicians under pressure in the acute setting. Connecting artifical with human intelligence and using a data-informed scientific ...
Read more
HQ: La Ciotat , France
Founded:2008
Olea Medical
Olea Medical technologies are intelligent MRI & CT medical imaging software applications developed to provide optimal patient-centric care INNOVATION: We constantly strive to improve our solutions' ...
Read more
HQ: Vilnius, Lithuania
Founded:2017
Oxipit
Oxipit is a computer vision software startup specialized in medical imaging. With a team of award-winning data scientists and medical specialists, the company aims to introduce innovative Artificial ...
Read more
HQ: Oxford, United Kingdom
Founded:2011
Perspectum
We deliver digital technologies that help clinicians to provide better care for patients with liver disease. Our diverse and talented team is united behind our vision to empower patients and ...
Read more
HQ: Rotterdam, the Netherlands
Founded:2012
Quantib
Quantib's AI radiology solutions enable faster and more accurate diagnosis by quickly identifying abnormalities, supporting adequate and timely patient care. Using state-of-the-art artificial ...
Read more
HQ: Mumbai, India
Founded:2016
Qure.ai
Qure.ai was founded in 2016. Our mission is to use artificial intelligence to make healthcare more accessible and affordable. Our core team combines deep learning expertise with clinical, scientific ...
Read more
HQ: Los Altos, United States
Founded:2006
QView Medical
QView Medical, Inc. is a Silicon Valley based private company. The QView team has been the leader in CAD and ABUS development. For over 20 years, members of the team have been involved in obtaining ...
Read more
HQ: Copenhagen, Denmark
Founded:2017
Radiobotics
Radiobotics is developing algorithms for MSK radiology, increasing throughput by automating reporting on routine x-rays, whilst improving diagnostic quality.
Read more
HQ: Burswood, Australia
Founded:1987
Resonance Health
Resonance Health is an Australian healthcare company specialising in the development and delivery of non-invasive medical imaging software and services. Our products are used by clinicians in the ...
Read more
HQ: Seoul, Korea
Founded:1938
Samsung Electronics
Samsung is committed to create a new future for medical professionals and patients with a mission to bring health and well-being to people's lives. Integrating its leading expertise in display, IT, ...
Read more
HQ: Nijmegen, the Netherlands
Founded:2014
ScreenPoint Medical
ScreenPoint develops and markets breast image analysis and cutting edge machine learning applications and services. Our product Transpara aims at improving breast cancer survival rates by detecting ...
Read more
HQ: Shanghai, China
Founded:2014
SenseTime
SenseTime is a leading global company focused on developing responsible AI technologies that advance the world's economies, society and humanity for a better tomorrow. We have made a number of ...
Read more
HQ: Varna, Bulgaria
Founded:2004
Smart Soft Healthcare
SmartSoft is a European company developing software products utilizing Optical Character Recognition, data capture, and image processing. Our strategy is to develop computer AI algorithms and ...
Read more
HQ: Linköping, Sweden
Founded:2007
SyntheticMR
SyntheticMR develops innovative software solutions for Magnetic Resonance Imaging (MRI) that supports shorter exam times and delivers more information to the clinician. SyntheticMR's vision is to ...
Read more
HQ: Nijmegen, the Netherlands
Founded:2014
Thirona
Thirona was founded in 2014 by Eva van Rikxoort and Bram van Ginneken, both scientists at the Radboud University Medical Center in Nijmegen, the Netherlands. Since its establishment in 2014, Thirona ...
Read more
HQ: Oxford, United Kingdom
Founded:2017
Ultromics
Ultromics is a global health technology firm which provides autonomous echocardiography analysis through innovative AI solutions empowering physicians to make fast, accurate decisions when diagnosing ...
Read more
HQ: Coralville, United States
Founded:2004
VIDA
VIDA provides the new standard of pulmonary care by using AI-powered CT imaging software and services to aid the early detection, evaluation, and treatment planning of patients with or at risk of ...
Read more
HQ: Hørsholm, Denmark
Founded:2004
Visiana
Visiana develops and markets software-based medical devices for automated interpretation of images in skeletal radiology. Since 2004, the focus has been on the development of BoneXpert and analysis ...
Read more
HQ: Tel Aviv, Israel
Founded:2016
Viz.ai
We are doctors and engineers using artificial intelligence to synchronize stroke care and improve access to life-saving therapies. Viz.ai was inspired by a patient who underwent a successful brain ...
Read more
HQ: Wellington, New Zealand
Founded:2009
Volpara Health
Volpara Health Technologies (Volpara) is a leading provider of breast imaging analytics and analysis products that improve clinical decision-making and the early detection of breast cancer. Every ...
Read more
Sours: https://grand-challenge.org/aiforradiology/companies/
Artificial intelligence is prevalent today making everything easier and smoother. It has a crucial role to play in the future of healthcare. There is an increasing interest in AI in radiology, promising to optimize radiologists' workflow as a whole. It is also expected that AI will facilitate quantitative radiology and assist in discovering genomic markers while reducing radiologists' costs. Technological advances in medical imaging and big data visualize a bright future for diagnostic imaging that should continue to be led by AI-powered radiologists. IndustryWired has listed the top AI-powered radiology startups to look at in 2021.
Qure.ai
Qure.ai was founded in 2016 with the mission to use artificial intelligence to make healthcare more accessible and affordable. The company builds deep learning solutions that aid physicians with routine diagnosis and treatment, allowing them to spend more time with patients. Qure.ai's core team combines deep learning expertise with clinical, scientific, and regulatory knowledge. Its advisory panel consists of radiologists, other doctors, and public health experts.
Zebra Medical Vision
Zebra Medical Vision is an Israel-based company that provides an All-In-One (AI1) solution – access to all of Zebra-Med's AI solutions, integrated into radiologist workflow at an affordable, fixed annual fee. The company's AI solutions analyze millions of clinical imaging data in real-time, detecting various medical indications, enabling it to be the only AI Medical Imaging company with such a wide range of products.
Aidoc
Aidoc supports and enhances the impact of radiologist diagnostic power through artificial intelligence solutions. The company helps them expedite patient treatment and improve the quality of care. Aidoc's solutions assist radiologists in reducing turnaround time and increasing quality and efficiency by flagging acute anomalies in real-time. Its offering is one of the most comprehensive in the field, enabling diagnostic aid to a broad set of pathologies.
Kheiron Medical Technologies
Kheiron Medical's mission is to help breast cancer patients live longer, better lives through earlier detection. The company combines deep learning methods, data science, and radiology insights to help radiologists detect breast cancer earlier. In 2019, Kheiron Medical Technologies secured US$22 million in a Series A financing round from European VC firm Atomico, with participation from Greycroft, Connect Ventures, Hoxton Ventures, and Exor Seeds.
Nines
Nines is the first-of-its-kind teleradiology practice. The company applies world-class AI and machine learning expertise to the field of medicine. With the support of iconic VCs Accel Partners and 8VC and partnerships with several of the top health systems in the entire US, the company brings the power of modern AI to clinical settings with industry-leading results.
Braid Health
Braid Health is a digital health innovation company that develops an AI-powered diagnostic collaboration platform that improves the speed, quality, and workflow of radiologists and healthcare providers. The company empowers radiologists and healthcare providers to deliver diagnoses for any patient, anywhere.
Covera Health
Covera Health deploys advanced clinical analytics to assist healthcare providers and payers in a shared quest to better define, measure, and deliver the highest standard of care to patients everywhere. The company builds high-quality radiology programs for large employers and payers to ensure the right care for their patients.
Gleamer
Gleamer is a French company that develops AI-powered software to enhance radiologists' productivity. The company is gathering a unique team of AI experts, engineers, medical doctors, and business managers to create the next generation of Medical-grade AI tools. Gleamer's BoneView is a Class IIa medical device whose conformity assessment has been carried out by the notified body KIWA CERMET 0476. It is designed to provide preliminary data for diagnosis on standard radiography.
RT Medical Systems
RT Medical Systems is a Florianópolis, Brazil-based Startup. Its mission is to integrate radiotherapy services by simplifying complex workflows by making technology more accessible to physicians and their patients. Bringing science, technology, clinical intelligence together, the startup is working with doctors and researchers for a future where everyone can benefit from simplified access and sharing of clinical information.
Rology
Rology is an on-demand teleradiology platform solving the problem of radiologists shortage. It delivers cold cases reported in a maximum of 24 hours and emergency cases in a maximum of 90 minutes. It provides reports that are written by highly qualified consultant radiologists. Rology's platform is web-based, so users can log in and go live in a matter of minutes.
Sours: https://industrywired.com/top-10-ai-powered-radiology-startups-to-watch-out-for-in-2021/
Medical imaging AI: the bubble will break in 2-3 years
The buzz around artificial intelligence (AI) in medical imaging has turned into a boom, which is turning into a bubble. When the bubble breaks, start-ups better have a solid sales strategy, according to leading Spanish researcher in quantification.
Deepening gap between funding and profit
Funding in start-ups who develop AI for medical imaging is increasingly moving away from actual value and companies should be ready in terms of self-sustainability and sales for when the tide changes, according to Angel Alberich-Bayarri, scientific-technical director of the Biomedical Imaging Research Group (GIBI230) and CEO of QUIBIM, a spin-off company of La Fe Polytechnics University Hospital in Valencia, Spain.
"The valuation of companies has increased much over their actual profits. Funds and investors that are novel to the radiology business are entering the game. There is a huge gap between how much investment a company receives and the money it actually makes," he said.
A recent report illustrates the magnitude of the speculation around AI in medical imaging. While about 90% of the listed companies registered less than 500K in sales in 2017, many had received over $30m in funding, three over $50m and one over $70m, according to market data provider Signify Research (1). High investment means that there is a risk for the original researchers and founders to lose control and ownership of the company. Companies who did not develop a solid sales strategy or have not been acquired are also at risk when the spell fades out, Alberich-Bayarri warned.
"AI will change how we interact with everything, including radiology. Before the market auto-regulates, there will be a moment when investors understand the real value of a product and investment goes down. That's probably going to happen in the next two to three years. To quote Warren Buffet: Only when the tide goes out, do you discover who's been swimming naked. When that happens, I'd rather have my swimming suit on," Alberich-Bayarri said.
Quantification tools to expedite workflows
To make sure he does, Alberich-Bayarri is developing machine-learning tools for imaging data quantification, to accelerate image reconstruction, segmentation, detection and data mining. "Advances in machine learning that help quantify imaging data can tremendously advance radiology," he said. For image reconstruction, AI could help significantly reduce MRI acquisition times, by using raw data generated by the modality. With algorithms that process data using deep learning for under sampled MRI reconstruction, QUIBIM managed to identify all regions and tissues, and their potential variability.
Integrating all the data to do radiomics, i.e. extract and mine all the available, and even yet unknown, information on shape, texture, volume, diffusion, etc., is crucial to find new biomarkers that can help answer unsolved clinical questions. Segmentation will benefit greatly from AI. "Very soon every processing pipeline of medical imaging will have to implement segmentation, because it will help save large amounts of time," Alberich-Bayarri said.
The U-net convolutional neural network, which was developed at Freiburg University, Germany, has considerably improved the task by drastically reducing the number of images needed for training and yielding more precision. Deep supervision to generate output segmentation masks combining multi-layer and multiresolution information is also helpful to perform segmentation.
Using these techniques, Alberich-Bayarri has managed to segment the liver on MRI, and can notably separate proximal vessels and characterize fat, iron and even search for lesions. His researchers also label images in all planes, as errors may occur when using only one network that has been trained with transversal, sagittal or coronal images. "When we combine all the information and generate a tissue probability map, liver segmentation is almost perfect," he said.
For detection, once the structure and organs are visualized, Alberich-Bayarri recommends using both supervised and non-supervised AI clustering to extract further information from an imaging scan, depending on the application. Non-supervised AI clustering can help extract and mine quantitative information that is not yet visible on imaging.
For doubtful cases, QUIBIM has developed an abnormality indicator that can be included in the radiologists' worklist, to help them prioritise reading tasks. The abnormality score has been trained to give more weight to life-threatening findings, such as mass or big opacities.
(1) : Machine Learning in Medical Imaging –World -2018, Signify Research.
The QUIBIM Precision® image analysis platform for quantitative image analysis and structured reporting capabilities has just received CE Mark certification as class IIa Medical Device for the imaging biomarker analysis algorithms, zero footprint DICOM viewer and platform hosting these components and medical imaging data.
Sours: https://ai.myesr.org/healthcare/medical-imaging-ai-the-bubble-will-break-in-2-3-years/
Companies ai radiology
5 Radiology Artificial Intelligence companies to build and invest in (and none of them interpret medical images)
1. Radiological Ontology Modelling
OK, this one might sound a bit simple and obvious, but it's actually the most crucial of all Radiology AI efforts.
First, I need to explain something about radiology – it's not just the clinical specialism of interpreting medical images, it's a skilled process of converting those expert interpretations into text. Radiologists are essentially acting as Fourier Tranforms – converting digital images to analogue words and sentences written in their own 'radiology' language. As a radiologist, I've learnt to speak 'radiology' – I can say things like 'cluster of biliary hyperechoic calcifications with posterior acoustic shadowing' with a straight face, and any other radiologist will know exactly what I have just described and on what modality. (Translation – I was taking about gallstones as seen on ultrasound).
This language, or ontology, is unique to the field, and is fairly homogenous across international borders too. Every single medical scan should, in best practice, have a report written in this ontological format. That means that there is a fairly standardised radiological description of nearly every medical scan ever taken across the world sitting in databases somewhere. (If that doesn't get data scientists excited, then I don't know what will). We are talking about billions of data points here! Even better – billions of data points in digitised healthcare records!
So, the first Radiology AI company I would build or invest in is one that can apply state-of-the-art Natural Language Processing (NLP) vectorisation and concept modelling to radiological reports. This technology goes beyond simple LSTM concept recognition, Word2vec embeddings and other language conceptualisation models, by adding in Recurrent Neural Nets to build in understanding. Used alongside RadLex (an official radiology 'dictionary') and other medical ontology databases, a company could build a powerful tool to effectively annotate and conceptually model every radiological report they have access too.
Whoever builds this and gets to market first with a plug-and-play API has the potential to be the foundation for most other Radiology AI research, services and other medical imaging AI companies.
2. Radiology to Lay Translation
The main problem with 'radiology' as a language is that not many other people can understand it (including many doctors). Radiologists often put a summary at the end of a report to highlight the main points, however, this summary is a simplification of the body of the report, and often doesn't cover its details and nuances. Meaning can get lost, summaries can be taken as gospel truth, and clinical errors can (and have) happened because of this lack of detail.
Secondly, there has recently been a push towards a more patient-facing, value-driven radiological service, one that allows for direct radiologist-patient interactions to explain imaging findings. Not surprisingly, uptake has been slow, largely due to the fact that radiologists are too overwhelmed to take time away from reading scans.
My second company would solve these two problems, by building on the first piece of ontology work and produce radiological to lay-person translations of reports. The value add is clear – both non-radiological clinicians and patients alike would benefit from a more accessible report, without any loss of quality or change in the radiologist's workflow. In essence it would be a radiological Babelfish – translating seeminglessly between radiologist and non-radiologists.
Improving cross-speciality communication in this manner could reduce requests for second reads and opinions, provide a more robust and thorough understanding of clinical state, as well as provide better insight and assurance to patients.
An added freebie bonus of this technology is the ability to push reports through translation services, instantly globalising reports, and opening up the possibility of UK radiology services outsourcing to foreign teleradiology companies to utilise non-English speaking radiologists.
3. Predictive Semantics
Way back in time, radiologists used to hand-write their own reports in the patient's clinical notes. Then came along the dictaphone and radiology secretary/typist, before the more recent introduction of voice recognition software (which in itself is a form of AI). Progress is progress, after all. My point is that modern radiologists are very used to speaking clearly and understandably into a microphone all day long, and seeing their words appear on screen.
Radiologists also have multiple screens, and many attention-draining activities, from the actual images they are reading, to the PACS system screen, to the report, as well as access to books and website references. It is these references that my third Radiology AI company would focus on.
By building on language modelling and concept modelling, I would aim to design (or invest in) a system that builds in a concept aggregator with inferencing capabilities. Such a system could theoretically predict what the summary findings of a report are going to be, based on what the radiologist is saying. An example could be a radiologist describing a lesion, and the system suggesting a list of possible pathologies of the lesion (e.g Non-ossifying fibroma, aneurysmal bone cyst, fibrous cortical defect; these can all look very similar!). All this could be performed in real-time.
This has two functionalities: 1) providing decision support to radiologists in the form of possible differential pathologies, and 2) speeding up dictation processes by obviating the need to dictate the summary. Both add value by improving workflow and reducing diagnostic errors.
4. Content-Based Image Retrieval
Every hospital has a PACS archive – a huge data store of all the images ever taken in the past 10 years (unbelievably it is common practice for archived images to get deleted due to capacity issues!). This archive is essentially a dark pit, into which billions of valuable clinical data points are thrown, never to be seen again. What a waste!
Currently it is impossible to search a PACS archive for specific clinical content. Yes, you can search for a patient name or ID, or filter by imaging modality and date, but this means you need to have an idea of when/how or on whom the scan was performed on before you search. However, you don't know what pathology is in the scan until you open it. There is no functionality to search by clinical concept, pathology, or even better, by image search itself.
There are many reasons why a hospital would want to search through its imaging archive for specific clinical pathologies: audit, research, error handling, teaching cases, cross-referencing … to name but a few. At present the only way to keep a log of certain types of clinical case (e.g keep a log of all patients with a rare bone tumour) is for the reporting radiologist to manually add a case to a file at the time of reporting. After that, it's lost somewhere in the archive (unless someone remembers the patient's details).
My fourth radiology artificial intelligence company would provide both text-based and image-based search of PACS archives. Text-based search would be a simple case of running our first company's concept modelling API on the entire archive, and connecting the results to a smart search functionality. Instantly clinicians could search for 'teenagers with metastatic osteosarcoma' and have dozens of cases returned for them to view. Honestly, having trawled through millions of archives before during my academic tenure, this simple functionality would have saved months of research time!
I would like to go even further though. By using simple non-interpretive image perception technology such as Manifold Ranking, I would aim to build a system that allows radiologists to search a PACS archive based on image content. (Google already has a similar service that allows you to upload an image and find similar – and this is no different).
Imagine a radiologist looking at a complex renal tumour case with an odd vascular pattern, but they are unsure what it is. Our radiologist could use a tool within the reading PACS software to crop the area, click search, and a few seconds later get dozens of similar studies that have previously been reported. This instant comparison based on content would transform workflow, reduce reliance on external reference sources, be an excellent teaching aid, reduce errors and provide a robust methodology for reviewing clinical decision making processes based on previous cases.
5. Digital Red Dots
Long ago, before radiology was a digital service, radiologists worked with hard copy plain films. These sheets of silica and chemicals were processed in dark rooms, hung up wet to dry, before being carefully placed in brown paper document slips for transport to the reading room. Radiographers (technologists) were in charge of this process (not the radiologist). Over time, as radiographers grew skilled at reading the images, a system developed whereby a the radiographer would place a small circular red sticker in the corner of the film to mark that they thought the image contained pathology that required clinical review. This 'red dot' system worked well, especially under the supervision of experienced radiographers. Red dot films would be placed at the top of the reporting pile, ensuring that urgent clinical findings would be seen first by the duty radiologist, and in turn, the sickest patients would have their images reported to the relevant clinical team in timely fashion.
Unfortunately, once digital PACS was introduced, this simple alerting system disappeared. Yes, radiographers can mark images digitally, but more often than not, the image still appears in its normal place in the reporting queue. The radiologist has no idea which films contain pathology and which don't, prior to actually opening them up in their reading PACS.
My fifth and probably most clinically valuable radiology artificial intelligence company would develop a digital red dot system to bring back early triage. By training Convolutional Neural Networks on imaging data sets annotated simply as 'normal' and 'abnormal' a simple triage system would be built, with high abnormality sensitivity but low pathological specificity. The urgent films would appear at the top of the reading list, above the less important 'normal' studies.
The benefits speak for themselves – scans with emergent findings would be reported and acted upon as a priority over 'normal' studies. Patient safety would drastically be improved overnight. Hospitals with reporting backlogs (i.e every single hospital in the UK) could more effectively and confidently process the important scans first, potentially reducing cancer and other waiting lists by orders of magnitude. The cost savings are potentially immense. The most exciting part is that such a system would lay foundations for developing pathological classifiers, allowing us to finally glimpse the start of an AI that interprets pathology in medical images.
Sours: https://towardsdatascience.com/5-radiology-artificial-intelligence-companies-to-build-and-none-of-them-interpret-medical-images-7a21633f4d6
Artificial Intelligence in Radiology: What you need to know Part 1
Top 16 companies in AI-powered medical imaging
Days of squinting at X-ray results are about to be over. As the New Yorker explains:In some trials, "deep learning" systems have already outperformed human experts.
Medical imaging solutions allow companies to bring accurate and accessible disease screenings to doctors to proactively treat cancer and other diseases at their most manageable stages and improve patient outcomes.
What are AI-powered medical imaging applications? 
Aim of medical imaging is to capture abnormalities using image processing and machine learning techniques. Application areas can be divided into sub-branches such as the diagnosis of various diseases and medical operation planning. The top applications of AI-powered medical imaging are:
Revealing cardiovascular abnormalities
According to anarticle published by Frontiers in Cardiovascular Medicine Journal in 2019, the integration of AI into cardiac imaging will accelerate the process of the image analysis which is a repetitive task that can be automated, therefore healthcare professionals engaged in this work can focus on more important tasks.
Prediction of Alzheimer's disease
The Radiologic Society of Americasuggests that advances in AI can lead to predicting Alzheimer's disease years before it occurs by the identification of metabolic brain changes.
Cancer detection
In early 2020, the Google health team announced that they developed an AI-based imaging system that outperformed medical professionals in detecting breast cancer.
Treatment revaluation
This is mostly used for cancer patients undergoing treatment to check if the treatment is working effectively and diminishing the size of the tumor.
Surgical Planning
Medical imaging also allows for the segmentation of the image related to the surgical area so that the algorithm can do the planning for healthcare professionals automatically. Surgical planning with the help of medical imaging can saves time in surgeries.
How mature are medical imaging applications?
AI medical imaging applications give great results in research projects and pilots like this one for breast cancer or pancreatic cancer. However, its use in the field is not common yet. This is because the FDA approval process can take years and the applications that were previously approved did not provide significant benefits. A computer-aided cancer detection software, approved by the FDA in 1998, was reported to cost more than $ 400M and did not show any significant improvement in a study.
However, future of AI-powered medical imaging is bright and new advancements happen continuously. For instance, in November 2020, the Technical University of Munich has developed a machine learning model for detecting diabetes induced eye diseases as accurately as humans. 
How can AI-powered medical imaging technologies be used during COVID-19 outbreak? 
Medical imaging is one of the AI-powered solutions that is on an uptrend with the COVID-19 pandemic. Due to the rapid increase in the number of patients, the analysis and interpretation of patients' chest scan results became a problem. A Chinese company,Huiying Medical has developed an AI-powered imaging diagnostic solution to detect the virus in the early stage with 96% accuracy.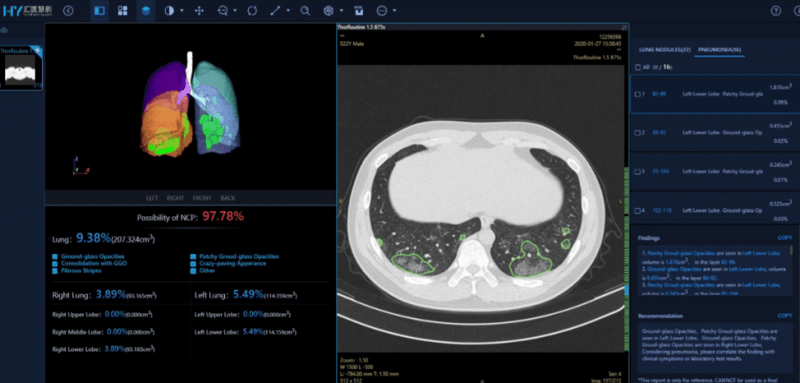 Pneumonia is a serious complication of the COVID-19 and results in patients requiring ventilator support. In collaborativeresearch by the University of California San Diego health department and AWS, a model was built to analyze chest images of patients at risk of pneumonia. The model was trained to identify patients infected with Covid-19 by using AI-powered medical imaging. The algorithm was trained on 22,000 notations by human radiologists. The algorithm performs color-coded maps that indicate the probability of pneumonia.
Leading medical imaging companies
We prepared a sortable list of all AI-powered medical imaging companies and their product with an indication of whether they have a free trial/community edition.
IBM Watson is one of the pioneers in healthcare applications powered by Artificial Intelligence. As a Fortune 100 company, IBM has a significant capability to deliver successful solutions in a number of AI use cases. IBM Watson Health one of the pioneers in healthcare applications powered by Artificial Intelligence. IBM aims fast processing medical images and to interpret the data efficiently with information from various databases.
Butterfly Network: Butterfly aims to bring a different perspective on medical imaging with both hardware and software solutions. Butterfly IQ is a portable mobile device that uses ultrasound-on-chip technology which makes it the world's first handheld entire body ultrasound framework. The device also has the capability of detecting diseases in real-time while scanning. Dr. Jonathan Rothberg, chairman of Butterfly Network, is a recipient of National Medal of Technology and Innovation from the White House.
Arterys built the first tech product to visualize & quantify blood flow in the body using any MRI. Arterys also received the first FDA approval for clinical cloud-based deep learning in healthcare. Furthermore, Arterys, a pioneer in four-dimensional (4D) cloud-based imaging, has been awarded "Best New Radiology Vendor" and "Best New Software" in the 2016 Minnies Awards. Arterys has ranked asone of the World's 50 Most Innovative Companies by FastCompany in 2019. Arterys' Lung-AI platform helps to reduce missed detections by42 to 70%.
Gauss Surgical Inc. received CE (Conformité Européenne) Mark for its Triton System for iPad, the world's first and only mobile platform for real-time monitoring of surgical blood loss.
Zebra Medical Vision was one of Fortune's "50 Companies Leading the AI Revolution" in 2015. Moreover, Zebra Medical Vision was selected as one of "The Most Innovative Companies of 2017" by AI/Machine Learning Sector. In 2019, Receives FDA Approval for the world's first AI chest x-ray triage product.
Sigtuple's innovative solutions aim to solve the problems caused by the chronic shortage of trained medical practitioners in India.
Freenome raised 70.6M within only two years of its launch. Freenome detects cancer by imaging blood cells. The company raised $237.6M by July 2019. 
MIT Technology Review chooses Enlitic one of the 50 Smartest Companies in 2016. Enlitic uses deep learning techniques to analyze the data extracted from radiology images. A study suggests that radiologists can read cases 21% faster with the help of Enlitic. 
Caption Health provides guidance to healthcare professionals and inexperienced people to perform ultrasound examinations accurately and quickly. it also facilitates the work of healthcare professionals by providing automatic quality assessment and smart interpretation.
Behold.ai uses artificial intelligence technologies to help radiologists diagnose radiology scans in a variety of cases. behold.ai reduces the workload of medical professionals by fastening the process of diagnosis. 
Viz.airaised $50 M in late 2019 for detecting early signs of brain stroke. February 2020, vit.ai released a new generation synchronized care platform for those who are in the post-acute care period. The platform sends a notification to healthcare professionals when there is a sign of a serious situation.
DiA Imaging has an AI-powered ultrasound image analysis solution. dia.ai uses machine learning algorithms that automatically detect image borders and identifies the motion in different frames of ultrasound images.
RetinAi's "Discovery Platform"  helps to collect, organize and analyze health data from the eye in order to detect age-related macular degeneration (AMD), diabetic retinopathy (DR), and glaucoma, etc. 
Subtle Medical: Subtle Medicals' software improves the quality of noisy medical images and provides better interpretation. It is especially helpful for patients who have difficulty holding still for long periods of time.
BrainMiner is a UK based company and Brainminers' software DIADEM provides an automated system for analyzing MR brain scans, to help the clinicians with an easily interpreted report. 
Lunit has developed AI solutions for precision diagnostics and therapeutics. The company aims to optimize diagnosis and treatment matches by searching for the right diagnosis at the right cost, and the right treatment for the right patients. Recently, in collaboration with Lunit and GE Healthcare launched an AI-powered chest X-ray analysis package designed to detect and highlight eight common conditions, such as tuberculosis and pneumonia, including those linked to COVID-19, using their algorithms.
If you have a facing unique problem in medical imaging that lacks an out-of-the-box solution and if you have related data, we can help you identify custom AI solution providers:
Identify partners to build custom AI solutions
If you want to learn more about custom AI solutions, feel free to read our whitepaper on the topic:
Download our in-Depth Whitepaper on Custom AI Solutions
If you have questions about AI-powered medical imaging, feel free to ask us: 
Let us find the right vendor for your business
Sours: https://research.aimultiple.com/looking-for-better-medical-imaging-for-early-diagnostic-and-monitoring-contact-the-leading-vendors-here/
Similar news:
5 months 27 days
This cookie is set by Google.
cookielawinfo-checbox-analytics
11 months
This cookie is set by GDPR Cookie Consent plugin. The cookie is used to store the user consent for the cookies in the category "Analytics".
cookielawinfo-checbox-functional
11 months
The cookie is set by GDPR cookie consent to record the user consent for the cookies in the category "Functional".
cookielawinfo-checbox-others
11 months
This cookie is set by GDPR Cookie Consent plugin. The cookie is used to store the user consent for the cookies in the category "Other.
cookielawinfo-checkbox-necessary
11 months
This cookie is set by GDPR Cookie Consent plugin. The cookies is used to store the user consent for the cookies in the category "Necessary".
cookielawinfo-checkbox-performance
11 months
This cookie is set by GDPR Cookie Consent plugin. The cookie is used to store the user consent for the cookies in the category "Performance".
viewed_cookie_policy
11 months
The cookie is set by the GDPR Cookie Consent plugin and is used to store whether or not user has consented to the use of cookies. It does not store any personal data.
Sours: https://behold.ai/
506
507
508
509
510