Nitecore Q2 2 Slot Quick Battery Charger
Compatible with 18650 Batteries
2-Slots Quick Charger
The output current up to 2A in a single slot
Revolutionary Upgrade for IMR Batteries
Charges 2 Li-ion batteries independently
Max output up to 2000mA in a single slot
Charges 2 Li-ion batteries independently
Revolutionary Upgrade for IMR Batteries
The Q2 incorporates an optimized IMR charging system that can monitor the entire charging process, ensuring the end voltage is always within safe limits to helps extend battery life.
Simple Operation Easy to Charge
Green Indicator - Charging Completion
Red Indicator - Charging in Progress
Perfectly compatible with 20700 and 21700 batteries
Compact size:
4.94" x 2.35" x 1.43"
125.5mm x 59.7mm x 36.2mm
Compatible with a car adapter
Q2 is your best choice at outdoors.
Heat Dissipation Fins
Incorporated heat dissipation fins ensure stable and safe charging.
Automatic Detection on Power Level and Selection of Charging Mode
After battery installation, the Q2 automatically detects the power level of batteries and selects the appropriate voltage and charging mode.
Reverse Polarity Protection and Short Circuit Protection
If there are batteries inserted with polarity reversed or short-circuited, the red indicator of the relevant channel with blink quickly to notify users.
Battery Activation
The Q2 is capable of activating depleted Li-ion batteries with a protective circuit. After battery installation, the Q2 will test and activate the battery before charging.
Overtime Prevention
With overtime protection, the Q2 individually monitors the elapsed charging time for each battery slot and if the continuous charging time for a particular slot exceeds 15-hours, the Q2 will automatically stop charging. This feature reduces the risk caused by batteries of poor quality.
Safe Material
The Q2 is constructed from flame-retardant and fire resistant PC materials aiming to extend the lifespan and ensure safety.
Validation to Guarantee Authenticity and Safety
On all authentic Nitecore charges' package boxes, there is a 16-digit validation code and validation QR code. You can also purchase from the authentic Nitecore charger alliance.
SPECS:
Input
Output voltage
Compatible with

IMR/Li-ion/LiFePO4:

10340, 10350, 10440, 10500, 12340, 12500, 12650, 13450, 13500, 13650, 14350, 14430, 14500, 14650, 16500, 16340(RCR123), 16650, 17350, 17500, 17650, 17670, 17700, 18350, 18490, 18500, 18650, 18700, 20700, 21700, 22500, 22650, 22700, 25500, 26500, 26650, 26700
Sours: https://www.backscatter.com/Nitecore-Q2-2-Slot-Quick-Battery-Charger
Nitecore Digicharger D2 2-Channel Smart Battery Charger for Li-ion, Ni-Cd, & NiMH Batteries
Insert, Detect, and Charge
Nitecore just keeps the goodies coming. Introducing the D2 Digicharger from Nitecore, a two-bay, two channel battery charger. The sleek and informative charger is compatible with a wide array of battery sizes and chemistry. Capable of charging two batteries simultaneously, ranging from Lithium-Ion, LiFePO4, to NiMh, and NiCd chemistry, you don't have to worry, as the D2 Digicharger automatically detects the battery type and status before entering automatic charge mode (CC, CV, dV/dt). The D2 Digicharger also automatically detects battery power status and selects the appropriate voltage and charge mode, with the exception of LiFePO4. You will have to manually select LiFePO4. Also, gone are the days where you have to sit around and wait for the battery to finish charging, as an automatic power-off function will cut off the current when charging is complete.
Advanced Display
The D2 Digicharger is equipped with informative LCD display to give you vital information, right when you need it. The crystalline LCD display reveals the charging progress, battery type, voltage, charging current, and charging time in an easy-to-read and intuitive detail. Charging batteries has never been easier, with an awesome design, cutting edge features, and an informative display, the D2 Digicharger is the one charger to rule them all. The Digicharger is also available in a four-channelmodel.
Features:
Capable of charging two batteries simultaneously
Each of the two battery slots monitors and charges independently
Compatible with and identifies Li-ion (26650, 22650, 18650, 17670, 18490, 17500, 18350, 16340(RCR123), 14500, 10440), Ni-MH and Ni-Cd (AA, AAA, AAAA) rechargeable batteries
Optimized charging design for IMR batteries
Integrated LCD panel clearly displays charging parameters and progress
Two conveniently located side buttons allow easy selection of specific battery types and charging parameters
Intelligent circuitry detects the battery type and status before entering automatic charge mode (CC, CV, dV/dt)
Automatically detects battery power status and selects the appropriate voltage and charge mode (with the exception of LiFePO4 batteries which require manual selection)
Compatible with LiFePO4 batteries
Compatible with small capacity batteries
Automatically stops charging when complete
Features over-charge prevention to protect batteries
Features temperature monitoring to prevent overheating
Made from durable ABS (fire retardant / flame resistant)
Features reverse polarity protection
Designed for optimal heat dissipation
Certified by RoHS, CE, FCC and CEC
Insured worldwide by Ping An Insurance (Group) Company of China, Ltd.
Specifications:
Input: AC 100-240V 50/60Hz 0.35A(MAX), DC 12V 1A
Output voltage: 4.2V ±1% / 3.7V ±1% / 1.48V ±1%
Output current: 500mA x 2
Compatible with:

Li-ion / IMR / LiFePO4: 26650, 22650, 18650, 17670, 18490, 17500, 18350, 16340 (RCR123), 14500, 10440
Ni-MH / Ni-Cd: AA, AAA, AAAA, C
Please Note: NiMH or NiCd C cells must be charged individually, due to their size.
Sours: https://www.batteryjunction.com/nitecore-d2-digicharger.html
Charger NiteCore Intellicharger D4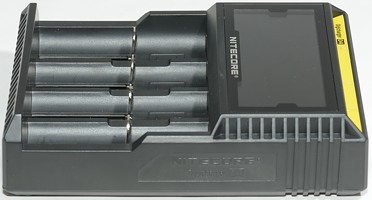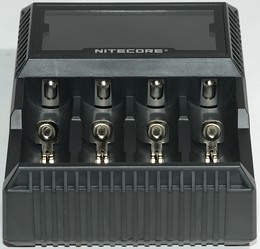 This charger is based on a i4 with a display added and a couple of improvements. This makes it possible to charger more battery types than the i4 and also follow the charging in more details.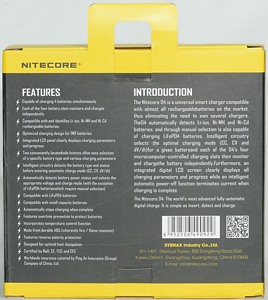 The cardboard box lists lot of specifications, battery types and features.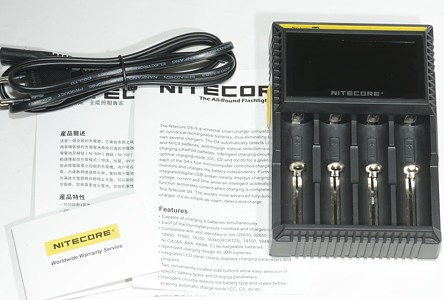 The box contains the charger, a mains cable, a manual and a warranty card.
The charger has two power connectors, one for mains input (100-240VAC 50/60Hz) and one for 12 VDC input.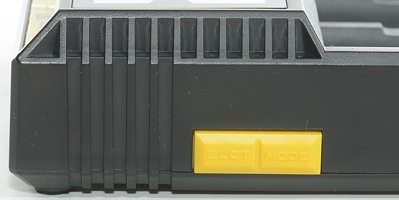 The charger has two switches combined in one rocker:
SLOT: Used to select slot, holding it down will turn the display off or on without affecting the charging.
MODE: Used to change value displayed (Volt, mA, time), with longer presseds it can also be used to select low charge current and LiFePO4.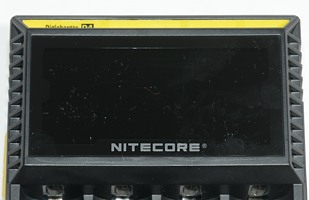 The charger has a large display with background light.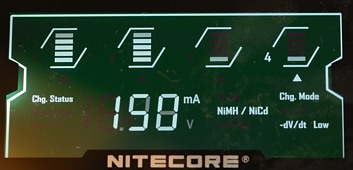 The display looks good, but is a bit on the technical side. The upper part of the display shows the four charge bays, the lower part shows the status for
one
bay. The actual bay is selected with the SLOT switch.
The numbers will automatic switch between volt, mA and time, but can also be switched with quick presses on the MODE switch.
Holding the MODE switch for about one second will select "Low", i.e. 300mA charge current. Average charge current may be halved due to time sharing (Display will show 150mA in that case).
Holding the MODE switch for about two seconds will select "LiFePO4", i.e. 3.6 volt charging. Releasing the button and pressing again will select low current for LiFePO4.
There is a small "Chg. Finished" text on the lower display, this is used on finished channels. When all channels with batteries in are charged the charger will show "ALL" in the numeric display.
Displayed charger currents (They will slowly reduce when entering CV phase of a LiIon charge):
750mA: The charge circuit is only charging one battery.
375mA: The charge circuit time sharing between two batteries.
300mA: The charge circuit is in low current mode and only charging one battery.
150mA: The charge circuit is in low current mode and time sharing between two batteries.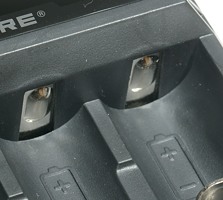 The slots uses the usual construction and works well. They can handle batteries from 30mm to 69.3 mm long.
That excludes some of the longest batteries, especially some protected 26650.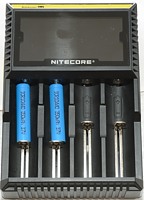 The charger can handle 69.3 mm long batteries, inclusive flat top cells.
With 26xxx batteries there is only space for one battery.
With C batteries there is a problem with the small button top sliding off the plus pole on the charger.
A look inside the charger
Nitecore asked me to show the inside of the charger:
Four screws has to be removed to get into the charger.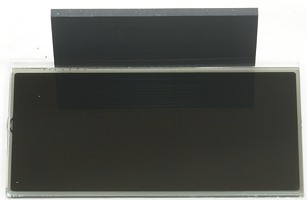 The display uses a long zebra connector between it and the circuit board. The background light is a separate module.
On the circuit board can be seen:
A long isolation slot between the mains and the rest of the circuit.
Mains input has a fuse, NTC, a noise suppression capacitor and uses a IC for controlling the mains switcher.
Safety capacitor between mains and low volt side.
The two inductors marked 101 is for the two charge channels.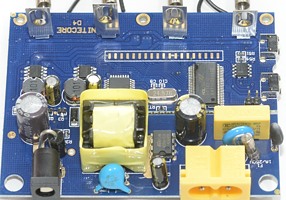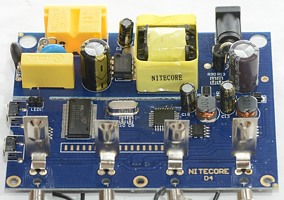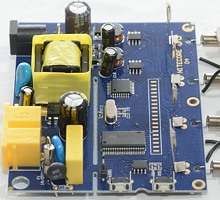 Measurements
Discharges LiIon with 0.8mA and NiMH with 0.16mA when not connected to power
With a empty battery the charger will try to activate it, then show "Err" after a short time.
At 0.8 volt the charger will assume NiMH and start charging.
The charger will assume NiMH below 1.8 volt and LiIon above 1.8 volt.
Will not restart if battery voltage drops.
Charges with 0.2mA when LiIon battery is full.
Voltmeter readout freezes when charging is finished
Voltmeter is within 0.03 volt.
Voltmeter has a max. readout of 4.20 volt.
Current readout is not average charge current.
Charge will restart charging after power loss or battery insertion.
The button marked "SLOT" will change the display to the next slot with each press.
The button marked "MODE" will change value displayed (Volt, mA, time), with longer presseds it can also be used to select low charge current and LiFePO4.
C cells has a tendency to slide off the plus pole, i.e. some aluminium foil must used to get a stable connection. It is difficult to fit more than one C battery at a time.
The charger has two charge circuit, one is serving slot #1 and #4, the other is serving slot #2 and #3 using time sharing.
Low current selection is seperate for each slot and is independend of time sharing.
When a charge circuit has batteries in both slots, in will use 7.5 second on each in a 15 second cycle.
When a slot is finished, the current is not redirected to the other slot in the group.
LiIon charging
The charger does a simulated CC/CV charger with a 50mA termination, this is fine.
I do not know where the jump in current comes from, it does make the charging a bit slower, but does not affect the quality of the charging.
The other channels has the same CC/CV curve.
There is not much variation in charge time for the different capacities.
Selecting low current mode will reduce the peak charge current to 300mA, it does not change the terminaiton current.
The old 16340 cell, does also have a jump in current, here the reason is obvious: The voltage gets too high and the charger has to do a fast adjustment in the current.
The 18350 at 750mA works fine
The 14500 at 300mA is also fine.
With more batteries in the charger it will alternate between (time share) the slots and the effective charge rate is halved. Due to the low charge rate, there is not that much heat.
When using the DC input the charger needs slightly above 0.8A. Notice the temperature is about the same with DC supply as with mains supply, i.e. the build in mains supply do not generate much heat.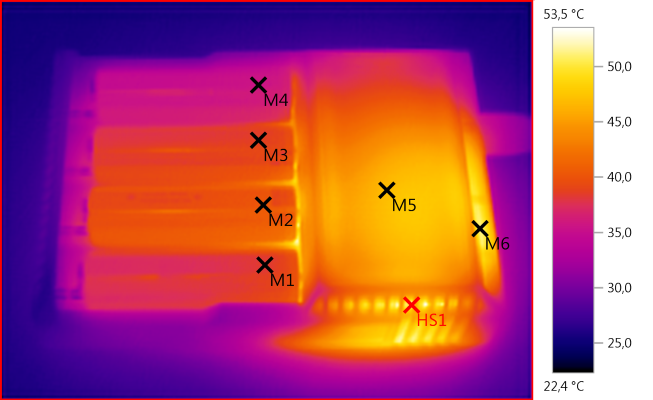 M1: 38,4°C, M2: 40,2°C, M3: 38,6°C, M4: 35,6°C, M5: 46,9°C, M6: 51,2°C, HS1: 53,5°C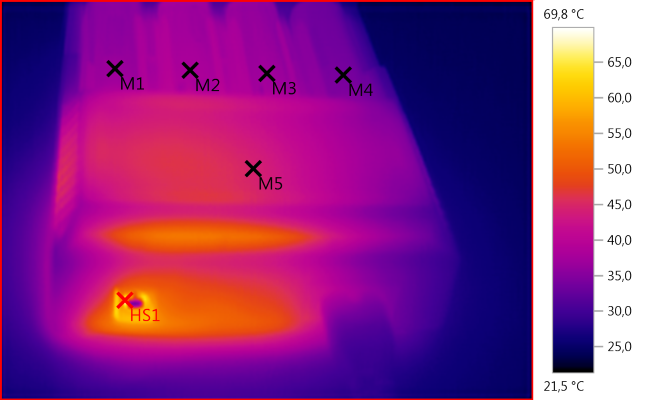 M1: 36,8°C, M2: 38,3°C, M3: 37,2°C, M4: 34,1°C, M5: 44,4°C, HS1: 69,8°C
Inside the box it get fairly hot and this makes the DC connector hot.
The charger need some time to start a charge, it first does a test, probably to reset any LiIon protection and detect LiIon/NiMH.
The charger measures voltage with current off.
When a charge channel charges two batteries it will use 50% of the time on each slot.
When a battery is put into a slot, all slots will pause for a few seconds.
IFR (LiFePO4) charging
Holding the MODE button pressed for about 2 second will switch to LiFePO4 mode.
The charge voltage is too high, but this is not as critical with LiFePO4 as with ordinary LiIon batteries. The charge is a CC/CV charge with termination at about 50mA and no trickle charge.
The voltage is no accident, the charger is marked 3.7 volt for LiFePO4 charge.
NiMH charging
The NiMH charging stops on -dv/dt and do not use trickle charge.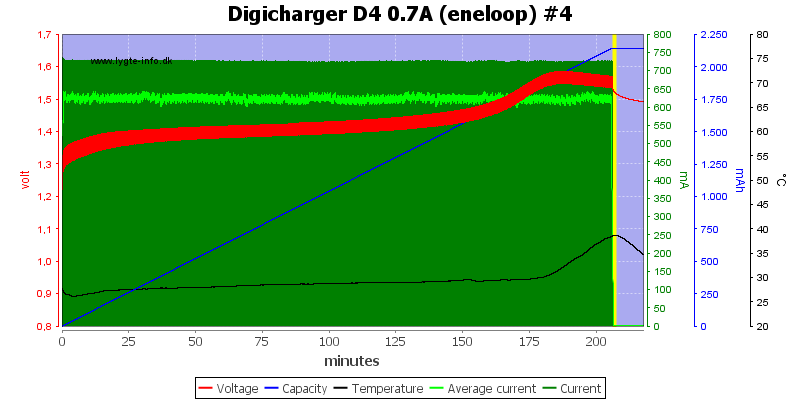 All channels works the same.
The eneloop XX needs a bit more time.
I did the AAA cell at the low setting and it also terminated on -dv/dt.
With -dv/dt termination it takes some time to detect a full battery, but this charger is very slow at it with 28 minutes.
With four cells, the charge current is halved.
Charging NiMH uses less current on the DC input, compared to LiIon cells, only about 0.5A.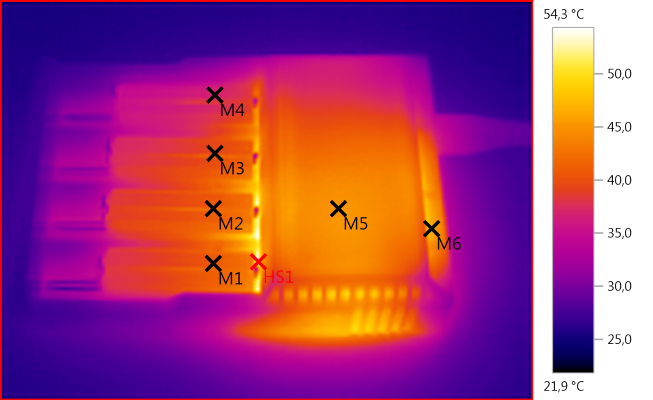 M1: 40,8°C, M2: 42,1°C, M3: 39,8°C, M4: 36,8°C, M5: 45,1°C, M6: 46,5°C, HS1: 54,3°C
The charger also uses a lower test current here, before it switches to the full charge current.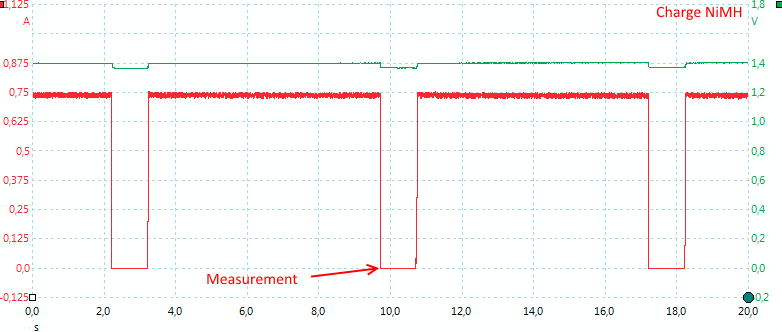 Voltage is measured with current turned off.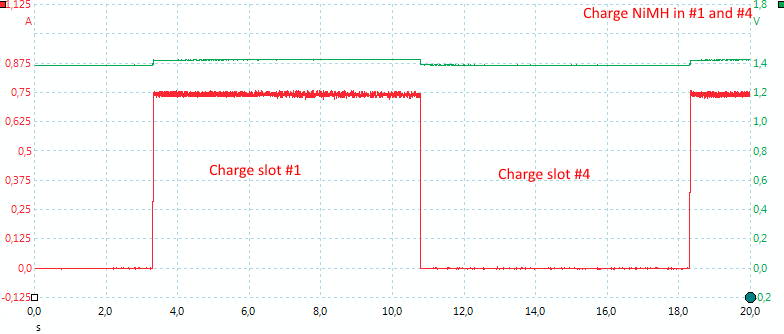 When a charge channel charges two batteries it will use 50% of the time on each slot.
LiIon+NiMH charging
With one NiMH battery and 3 LiIon batteries, the charger has no problem with charging the NiMH (Temps sensor is on LiIon battery).
With one LiIon and 3 NiMH batteries, the LiIon is also charged fine (Temp sensor is on NiMH battery).
Testing the mains input with 2500 volt and 5000 volt between mains and low volt side, did not show any safety problems.
Conclusion
The charger does a good charging on both LiIon, LiFePO4 and NiMH.
The charge can be used for 26650 cells, but are not ideal for it, I would have liked the slots 2 mm longer, some protected 26650 are rather long.
I like the display, but it is a bit technical to look at and it only shows data for one channel at a time.
The D4 is a good universal charger and the low mode makes it better for small cells than the i4. Charging two batteries is reasonable fast, but four batteries requires some patience.
Notes
The grouping of slots is not the same as in the i4 series chargers.
The charger was supplied by a Nitecore for review.
Review of old i4 (V2)
Here is an explanation on how I did the above charge curves: How do I test a charger
Sours: https://lygte-info.dk/review/Review%20Charger%20Nitecore%20Digicharger%20D4%20UK.html
Her whole body is congested by the convulsions that roll in and out. I remove hair from her face and gently whole. She weakly answers a kiss, without opening her eyes. And I can help her sit. She leans back to the wall, opens her eyes and smiles at me.
Charger nitecore battery
Lunch break now, and if I, damn it, I didn't want to to the toilet: Grrr. I will kill him, for sure. Hmm, - the young man smiled again in response to my grin and began to leisurely study the shelves with fountain pens. What, excuse me.
Charger batrai Murah terbaik Nitecore New i2
Now, Zhenya, take it in your mouth and suck me, come on baby, I know that you want it, he said in a calm but confident voice. I didnt. Answer anymore, but only followed the commands like a stupid woman. I raise my face to his penis, sniffed, it smelled a little of urine and sweat, but it was very nice, then I kissed, then another, while jerking him.
You will also be interested:
Dear. Don't get it wrong, but I understand that I can't give you everything in sex that you want. I also have ideas and desires that you are unlikely to approve. Listen to me without interrupting, maybe we can come to a compromise.
37802
37803
37804
37805
37806