Fortnite Season 6 Battle Pass skins, including Lara Croft, Agent Jones, Raz, and Tier 100 Spire Assassin
Fortnite Chapter 2 Season 6 has been titled the primal season and continues the Zero Point storyline.
Agent Jones is now stuck in the loop, attempting to protect the spire where the Zero Point arrives, until The Foundation, a member of The Seven, returns to him.
With the Zero Point encased in spire in the centre of map, the Chapter 6 Battle Pass sees the introduction of new characters to Fortnite including a skin for Agent Jones himself, Lara Croft, Tarana, Raz, Cluck and the Spire Assassin unlocked at Tier 100.
Halfway through the season we also saw the addition of Neymar Jr, also available for Battle Pass owners.
Don't forget to check out the new victory umbrella or the new map locations!
On this page:
Fortnite Chapter 2 Season 6 Battle Pass skins, including Agent Jones, Lara Croft, Raz, and Tier 100 Spire Assassin
The Fortnite Season 6 Battle Pass offers you the chance to unlock Agent Jones, Lara Croft, Tarana, Raz, Cluck and Spire Assassin at Tier 100.
Most skins and their variants are unlocked by climbing the battle pass tiers, but, for a number of variants, you'll also need to complete a specific number of Epic Quests - the new version of challenges introduced in Season 5.
The base skin for Lara Croft, for example, is unlocked at Tier 15, with her 25th Anniversary variant unlocking at Tier 22, but, if you'd rather give Lara her classic look, then you'll need to complete 31 Epic Quests.
Below you'll find an overview of all the skins included in the Fortnite Chapter 2 Season 6 Battle Pass:
Agent Jones - Tier 1
Lara Croft - Tier 15, with two variants - 25th Anniversary (at Tier 22) and Classic (through Epic Quests)
Tarana - Tier 29, with two variants - X-Tinction Armor (at Tier 37) and Indigo (through Epic Quests)
Raz - Tier 50
Cluck - Tier 61, with two variants - Slurpy (at Tier 69) and Eggsplosive (through Epic Quests)
Rebirth Raven - Tier 77, with two variants - Classic (at Tier 85) and Rachel Roth (through Epic Quests)
Spire Assassin - Tier 100
Fortnite Chapter 2 Season 6 Battle Pass costs and Battle Pass rewards list
Like with every Fortnite season, the majority of the Chapter 2 Season 6 rewards require Battle Pass ownership to be unlocked. There are still a number of free items, but, if you want to collect everything, you need to either purchase the Battle Pass or sign up to Fortnite Crew, the monthly Fortnite subscription service.
The Battle Pass is a premium item and costs 950 V-Bucks. You can buy a bundle of 1,000 V-Bucks for around £6.47 / $8.57 or V-Bucks can be earned in-game by completing a variety of activities.
You can also purchase a subscription for Fortnite Crew, which includes Battle Pass access, or purchase 25 levels of the battle pass for 2,800 V-Bucks.
Below you can find exactly how many skins, emotes and other rewards you can earn by completing the Chapter 2 Season 6 Battle Pass:
1500 V-Bucks
6 Skins
3 Skin variants
7 Emotes
8 Emoticons
3 Music tracks
7 Loading screens
6 Gliders
8 Sprays
8 Banners
6 Harvesting tools
7 Back bling
5 Back bling styles
5 Contrail
5 Weapon wraps
Some cosmetic items for the Season 6 battle pass will also require you to complete a number of Epic Quests while you climb the tiers:
4 Skin variants
1 Banner
1 Emote
1 Emoticon
1 Spray
Cosmetic items and other rewards are unlocked by climbing the Battle Pass ranks, which is achieved by playing Fortnite, collecting XP coins and completing the challenge sets which are introduced every week. These challenges range from visiting certain locations, dancing in a specific spot to killing players with a specific weapon and each one you complete grants you some XP.
Both the Battle Pass challenges and rewards can be completed or earned at your leisure during Season 6, but, remember, your progress will always reset at the beginning of the new season when a new collection of rewards will be introduced.
Sours: https://www.eurogamer.net/
CROSS THE PRIMAL BOUNDARY
During the Zero Crisis Finale, Agent Jones and The Foundation (one of The Seven) sealed the Zero Point in a tower of stone. As the Zero Point was being contained, it sent a mysterious pulse across the Island, erasing any advanced technology in its path and reshaping the landscape of the Island.
UNTOUCHED BY MODERN TECHNOLOGY, A PRIMAL BIOME SPREADS THROUGH THE ISLAND. AT ITS CENTER IS THE SPIRE AND THE VILLAGE THAT SURROUNDS IT. LURKING IN THE SHADOW OF THE SPIRE, THE WILDERNESS HAS TAKEN OVER THE ISLAND'S LOCATIONS, LIKE COLOSSAL CROPS AND BONEY BURBS. IF YOU VENTURE TO THE EDGES OF THE PRIMAL BIOME, YOU'LL FIND GUARDIAN SPIRES PROTECTED BY MYSTERIOUS FORCES.
DON'T JUST FIND YOUR TOOLS. MAKE THEM. USING LOOT FROM WILDLIFE AND TECHNOLOGY UNTOUCHED BY THE PULSE, CRAFT YOUR OWN WEAPONS ANYWHERE. CRAFT HIGH-DAMAGE PRIMAL WEAPONS LIKE THE PRIMAL RIFLE, HIGH-PRECISION FAMILIAR WEAPONS LIKE THE REVOLVER, AND POWERFUL BOWS LIKE THE FLAME AND METAL BOW.
WILDLIFE ABOUNDS ON THE ISLAND, RANGING FROM PREY LIKE CHICKENS TO VICIOUS PREDATORY WOLVES. HUNT OR TAME WILDLIFE TO NOT ONLY LIVE OFF THE LAND BUT TO GATHER MATERIALS FOR CRAFTING. AND THOUGH WOLVES MAY ROAM, THE MOST FEARSOME PREDATORS HAVE YET TO HATCH...
THE ZERO POINT MAY NOT HAVE DESTROYED THE ISLAND, BUT SOME WERE PREPARING FOR THAT POSSIBILITY. IF YOU COME ACROSS BUNKER CHESTS, OPEN THEM UP FOR POWERFUL WEAPONS THAT CAN RANGE FROM RARE TO LEGENDARY, LIKE ROCKET LAUNCHERS. AS THE SEASON PROGRESSES, NEW ADVANCEMENTS WILL ARRIVE IN THE FORM OF WEAPONS AND UPGRADES, LIKE A NEW CHONKERS TIRE SET TO LET YOU TEAR IT UP OFF-ROAD.
---
© 2021, Epic Games, Inc. Epic, Epic Games, the Epic Games logo, Fortnite, the Fortnite logo, Unreal, Unreal Engine 4 and UE4 are trademarks or registered trademarks of Epic Games, Inc. in the United States of America and elsewhere. All rights reserved.  
Sours: https://www.epicgames.com/fortnite/en-US/chapter-2-season-6
Season 6 of Battle Royale ran from September 27th to December 5th, 2018. "Darkness Rises" theme was unveiled on the pre-season start, which is the next part of the Worlds Collide story line. The story about the six-sided mystery continues after it sunk under the body of waters, made a vortex and the center island float completely destroying Loot Lake while the areas of the imprinted runes became corrupted and spawns Shadow Stones.
The season also features major map changes such as a Haunted Castle, Corrupted Areas, Floating Island and Corn Fields.
Teasers
Starting on September 24th, Epic Games released a daily series of teasers that hinted about the upcoming theme of the season. The images featured three skins with the Cube in the background.
Battle Pass
Main article: Battle Pass Season 6
The Battle Pass for Season 6 is a way to earn exclusive in-game rewards by playing Battle Royale during Season 6 and is available for purchase from the Item Shop for

950 V-Bucks. These rewards include: outfits, gliders, harvesting tools, pets, back bling, emotes, sprays, toys, contrails, music, loading screens and more.
All in-game items that can be unlocked stays and do not expires. Free Pass rewards are available to all players and purchase is not necessary while Battle Pass rewards are only available to players that purchased the Battle Pass with V-Bucks. A bundle that includes automatic completion of the first
25 Tiers was also offered for

2800 V-Bucks and can be purchased anytime during the season.
Pets
Main article: Pets
Pets are companion cosmetics in Battle Royale that act similarly to Back Bling and were introduced in Season 6 as Battle Pass Rewards with unlockable styles. There are currently 11 types of pets. Pets react in a different way depending on the situation of the player (e.g, Gliding, Skydiving, Knocked Down, Aiming, Eliminating, Being next to another teammates pet or opening a chest).
Music
Main article: Music
Music are music tracks in Battle Royale that were introduced in Season 6. It can be customized and played as a background music while in Battle Royale Lobby through equipping in the Locker.
Cosmetics
Main articles: Battle Royale Skins, Loading Screen
Various thematic sets including Cosmetic Skins, Harvesting Tools, Emotes and Gliders were also released on Season 6 as part of the item shop components on daily rotation basis and Battle Pass rewards. Loading Screens are granted from completing Battle Pass Challenges:
Sours: https://fortnite-archive.fandom.com/wiki/Season_6
Fortnite Season 6 biggest changes - what's new for Fortnite Primal?
The new season is here, and with it the biggest Fortnite Season 6 changes have dropped. Jonesy and The Foundation have saved the island from the Zero Point, but at what cost? There are new locations, weapons, animals, and more as Fortnite goes Primal after crashing reality waves restructured the island, the rules, and just about anything else that couldn't get out the way of a fundamental restructuring of existence as we know it. Coming up we're going to take a look at the biggest Fortnite changes this has all caused, from the new points of interest, to new mechanics like crafting that can let you build your own weapons in the field.
Fortnite quests | Fortnite gold bars | Fortnite bounties | Fortnite characters | Fortnite crafting | Fortnite weapon upgrades | Fortnite wolves | Fortnite raptors | Fortnite investigate an anomaly
New locations have appeared
The most obvious change this season is the Spire - a massive tower at the center that currently contains the Foundation, who's sealed himself inside the Zero Point to save the island. However there's also a small device at the base where you can place an orb dropped by the new Tower Guardians for a high value loot reward. The reality waves that crashed out of this location have also affected two key areas - Salty Towers has now become Boney Burbs, while Colossal Colosseum is now Colossal Crops. You'll also find a number of smaller Spires around the map where you can find more Tower Guardians and a handy jump pad device to hurl you closer to the main Spire.
You can now craft weapons on the fly
Weapons that have a hammer icon next to them can be crafted to upgrade them through a separate tab in your inventory, initially with either animal bones (from hunting wildlife) to make Primal weapons or mechanical parts (from destroying technology such as vehicles) to create more familiar precision weapons. At higher rarities you can also craft these with other items for additional effects, such as combining a rare Primal Bow with a jar of fireflies or a gas can to make a Flame Bow that can ignite wooden structures. Combining two animal bones and one meat allows you to craft a Hunter's Cloak, which will prevent animals from attacking you for a short time when activated.
Animals are roaming the island
In keeping with the Primal theme, there are now various animals roaming the island that can either be hunted or used to your advantage. These include wolves, warthogs, chickens, and frogs, and if you eliminate them they'll drop crafting items such as animal bones, along with meat that you can consume to regain health. If you run up to a chicken and follow the Grab prompt before it can escape, you'll grab it and hold it aloft, which allows you to jump higher and glide over a long distance without taking fall damage.
Rare Bunker Chests are available
The pulse that blasted across the island from the Zero Point may have wiped out a lot of the technology we're used to, but thankfully there were some preppers who foresaw an event such as this and stashed useful items in new Bunker Chests. Pop one open and you'll receive a powerful weapon of rare or legendary status, including items like a rocket launcher to put you in a strong position. These Bunker Chests are well hidden, and so far we've only found one in a house attic at Pristine Point near Steamy Stacks, but more will no doubt be uncovered soon.
There are lots of new and (un)vaulted weapons
The way weapons work in Fortnite has been completely reworked this season, as crafting is now a huge component. You'll find Makeshift versions of basic guns, like your standard pistol or shotgun, as floor loot, but you can then upgrade these into either Primal or Mechanical weapons. These have different stats - Primal weapons tend to be more powerful while Mechanical ones have higher accuracy - but check the stats first to make sure you're getting the right one. When it comes to the vault, a few classics have been reintroduced to the game, including the Pump Shotgun. Meanwhile, the Sniper Rifle has been placed in the vault, alongside two Assault Rifle variants and three Shotguns.
Defeat Spire Guardians for a reward
At various locations around the island you'll find smaller spires protruding from the ground, and each of these is protected by a Spire Guardian. Although they move quickly and have shields, they aren't too difficult to eliminate with a decent weapon, and once beaten they drop a glowing orb. This can only be carried rather than stashed in your inventory which prevents you from using weapons while moving it, however you can jump higher and float through the air while holding it. If you take it all the way to The Spire in the center of the island and slot it into one of the glowing holes, you'll be rewarded with the Spire Jumpboots, which are a mythic item that lets you chain three jumps of increasing height together then deploy your glider on the third jump if timed correctly.
Lara Croft joins the Battle Pass
Iconic character Lara Croft joins the roster of hunters for Season 6, and is unlocked at Level 15 of the Battle Pass. She's part of the Gaming Legends Series, and additional outfit styles can be unlocked - the 25th Anniversary style at Battle Pass Level 22, and Classic style (think PS1 era) by completing 31 of the weekly Epic Quests. You can also meet Lara Croft as an NPC character in the game, by heading to Stealthy Stronghold. Other new characters included in the Battle Pass this season are Tarana (Level 29), Raz (Level 50), Cluck (Level 61), Rebirth Raven (Level 77), and Spire Assassin (Level 100).
Prop Disguises are back
Fortnite now lets you disguise yourself as a prop in the main game to outwit your opponents. To get one you need to find and talk to certain NPC characters who can offer you a Prop Disguise for 75 gold. What you'll get seems to be random, and it isn't cheap but it can certainly help you get the drop on nearby enemies. Watch out though, because as soon as you chug a shield potion or fire a weapon the disguise will disappear. You can still open chests, doors, and pick things up, but make sure you don't drop your disguise before you're definitely ready to move on.
Fortnite patch notes | Fortnite tips | Fortnite Creative codes | Fortnite 2FA | How to enable cross platform Fortnite matches | How to level up fast in Fortnite | How to get free Fortnite V-Bucks | Fortnite Starter Pack | Fortnite map | Fortnite new weapons
Iain is better known to many as 'Mr Trophy', due to his slightly unhealthy obsession with amassing intangible PlayStation silverware, and he now has over 200 Platinum pots in his virtual award cabinet. He does not care for Xbox Achievements.
Sours: https://www.gamesradar.com/fortnite-chapter-2-season-6/
Season 6 fortnite
Fortnite Season 7 release date and start time | When does Fortnite Season 6 end?
Fortnite Chapter 2 Season 6 is about to end, which can only mean one thing – Fortnite Chapter 2 Season 7 is about to begin, bringing with it new skins, fresh weekly challenges, a new battle pass and some significant changes to the Fortnite island's map.
Details are thin on the ground for Fortnite Chapter 2 Season 7, but one thing that seems likely is that aliens are going to return to Fortnite in a big way. Following on from the Primal theme of Season 6, it looks like Season 7 will be a more sci-fi affair.
But before we can crack on with Fortnite Season 7, Fortnite Season 6 has to end. Read on for all the essential details on this major turning point for Epic Games' iconic battle-royale game.
When does Fortnite Season 6 end?
Fortnite Chapter 2 Season 6 will end on June 7th, with the current battle pass and its weekly Fortnite challenges coming to a close bang on schedule. Epic Games has even posted a special blog about the final days of Season 6, urging players to finish up some of its fun content before it's gone for good.
Read more:
When is the Fortnite Season 7 release date and time?
Fortnite Chapter 2 Season 7 will start on June 8th, with Epic Games all set to unleash a new era of battle-royale fun for players to enjoy. As for the exact start time, the previous form would suggest that 9am UK time is a good guess as to when things will get started on the day.
What is the theme for Fortnite Season 7?
The theme for Fortnite Season 7 appears to be aliens, with an ominous Tweet declaring "They're coming" alongside a picture of a big blue beam. The internet rumour mill has run with this idea, predicting that alien abductions and sci-fi weapons will be rife in the new season.
What's new in the Fortnite Season 7 patch notes?
The Fortnite Chapter 2 Season 7 update, which has a version number of v17.00, will also bring some technical improvements for PC players. Epic Games confirmed in a blog post that, "While running 'Epic' graphics settings on a machine that meets system requirements, you'll be able to enjoy new and enhanced effects plus improved postprocessing features and shadow quality."
We'll bring you more details on the end of Fortnite Season 6 and the start of Fortnite Season 7 as and when we see them! Watch this space, people.
Check out some of the best subscription deals in gaming below:
Visit our video game release schedule for all upcoming games on consoles. Swing by our hubs for more gaming and technology news.
https://twitter.com/FortniteGame/status/1400133325126205440?s=08Looking for something to watch? See our TV Guide.
Sours: https://www.radiotimes.com/technology/gaming/fortnite-season-seven-start-date-season-six-end/
Fortnite Zero Crisis Full EVENT.! - (Season 6 Event)
Fortnite: Season 6 | New skins, map changes, and more
Fortnite: Chapter 2 Season 6 begins today, with a new set of collaborative skins based on Tomb Raider's Lara Croft garnering the most attention.
There's still more to see, however, as the season also introduces weapon crafting, the game's first single-player story segment, and a whole host of other new skins which are worth looking out for (even if they're maybe not Tomb Raider levels of cool).
The season's theme is wilderness, with the subtitle Primal giving you some hints as to what changes to expect on the map.
New skins in Fortnite: Chapter 2 Season 6
The new season battle pass includes a number of unlockable skins. The headline is undoubtedly the Tomb Raider crossover celebrating the franchise's 25th anniversary, but there are a couple of other licensed skins as well. DC's Teen Titans character Raven and footballer Neymar also feature in the new season.
This is the second most licensed characters ever to feature in a Fortnite season, only bested by Season 4's huge Marvel crossover.
There are also a number of skins for returning and original Fortnite characters. Agent Jones gets a couple of new looks, and there's a new Tier 100 skin to unlock.
How to unlock the new skins
You'll need to own the Battle Pass to access the new skins. They won't be coming to the Item Shop, and furthermore won't be available to unlock again after the season ends.
Most of the new skins can be unlocked through tier progression:
Tier 1: Agent Jones
Tier 15: Lara Croft (Tomb Raider crossover character)
Tier 29: Tarana
Tier 50: Raz
Tier 68: Cluck
Tier 77: Raven (DC's Teen Titans crossover character)
Tier 100: Spire Assassin
Further progression through the tiers will unlock alternate outfits for several characters. Currently, we can confirm that reaching Tier 22 unlocks the Lara Croft (25th anniversary) outfit, styled after the character's PS2-era appearance.
The season also includes at least three challenge skins and outfits. Expect more alternate outfits to become available through challenges over the course of the season.
Completing 31 Epic Quests (and reaching the Tier 15 requirement or above) will net you the Lara Croft (Classic) skin. Those of us ancient enough to recall how the character looked in the 1990s will get a powerful hit of nostalgia off this one, even if the edges are considerably smoother than you might remember.
Footballer Neymar Jr joins the game as the season's secret skin. You'll need to complete weekly challenges to unlock this one. More details when we have them.
Finally, we know that there's a fourth Tomb Raider outfit variant called Lara Croft (Gold Anniversary). In a double reference to a fate that can befall Lara in the original 1996 game and its 2007 remake, as well as to Fortnite's own Midas skins, this recolour of the 25th Anniversary outfit is entirely gold. We don't have any information yet how you go about unlocking this one, but we'll be sure to let you know once we do.
What do the new skins look like?
It's still early enough in the season that we haven't seen all the skins yet — in fact, some of these won't be legitimately viewable in-game for some weeks. Details on the Neymar Jr skin in particular seem to be quite tightly guarded by Epic.
But thanks to the intrepid community of Fortnite data miners, we've already got some pretty good previews to enjoy.
First up, the one everyone's hyped for: the full Tomb Raider set — featuring Lara Croft as she appears in all three franchise continuities, plus that elusive Golden Lara:
To see this content please enable targeting cookies.
Meanwhile, here's the version of Agent Jones you'll have as soon as you start the new season at Tier 1:
To see this content please enable targeting cookies.
Plus all variant Agent Jones outfits you'll be able to unlock in the future:
To see this content please enable targeting cookies.
New characters, from left to right: Tarana; Raven (Rachel Roth variant); Raz (alternate style); and the Spire Assassin:
To see this content please enable targeting cookies.
And, just because the internet seems to be becoming a little bit obsessed, here's a couple of Cluck. First up, in their default outfit with Lara Croft (Cluck's the one on the right):
To see this content please enable targeting cookies.
And in two outfit variants:
To see this content please enable targeting cookies.
Below you can see all the current (non-secret) skins as they appear on the main screen: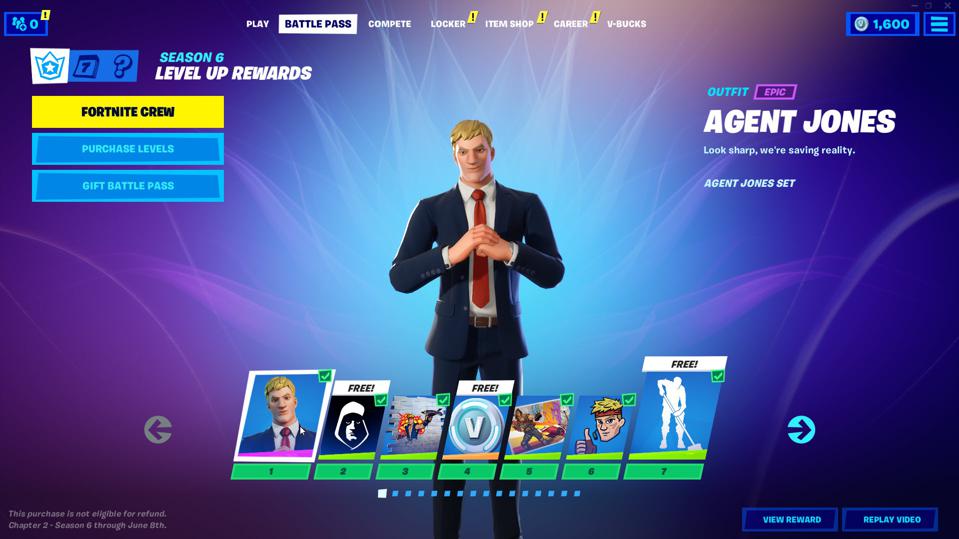 Zero Crisis Finale: Fortnite's first single-player story section
In a first for Fortnite, this season features a short single-player experience to set up the story. You'll play through this section — called Zero Crisis Finale — the first time you log on to the season.
You can watch the short cinematic introduction to the mission now:
New mechanics in Fortnite: Chapter 2 Season 6
Keeping with the season's Primal theme, there are a few brand-new mechanics to play with this time around.
After the events of Zero Crisis Finale, a number of changes have come to the island. It's all gone a bit survival game as wild animals now roam the area, and you can hunt them with makeshift weapons. You can also use the resources you gather from animals to craft new weapons and items.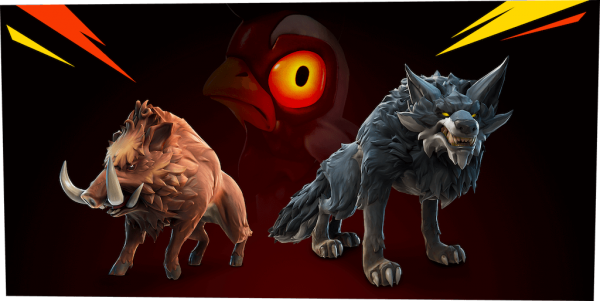 The season's roster of new weapons is suitably heavy on bows and arrows, though you'll also be able to cobble together guns and other gear.
It seems you'll also have the option to try taming some of the wild animals you encounter. We don't have many details on that feature just yet, but leaked trailer footage does contain a tantalising hint that you'll be able to glide with the aid of a chicken (somehow).
What's new on the map in Fortnite: Chapter 2 Season 6
Dominating the map this season is The Spire, a new point-of-interest that appears as a direct result of events in the prologue.
The Spire is a key location for the first set of weekly challenges, and it seems set to be a hotspot for Golden Artifacts and other drops throughout the season.
A few of last season's locations have been replaced, with on-theme POIs turning up in roughly the same spots on the map. Salty Towers is now the Boney Burbs, the Colossal Coliseum is now the site of the Colossal Crops, and Hunter's Haven has given way to Primal Pond.
Looking at the map, many of the areas that see major changes this season are identifiable by the orange colour that denotes the 'Primal' zone.
There are also five smaller spires at the outskirts of the map. These are Guardian outposts, where you can currently eliminate a Guardian in exchange for some loot.
When does Fortnite: Chapter 2 Season 6 end?
Information on the official Epic Games website indicates that the season will run until June 7th or 8th.
Sours: https://www.vg247.com/fortnite-chapter-2-season-6-new-skins
You will also be interested:
I tried, to caress and at the same time help myself with my hand turned out to be quite simple. Plus, taking this treasure into your mouth was very pleasant in itself. He enjoyed the process - when I looked up, I noticed how through half-closed eyes he watched my movements. After some time, when my hand was already tired, he seemed to read my thoughts, took the toy out of my mouth and put me on the back.
He kissed the lips, and when I intertwined his legs on his buttocks, he asked quietly: Then he got up and came back with a condom.
5131
5132
5133
5134
5135