Inexpensive 20th Anniversary Gifts

20th anniversary gifts are traditionally celebrated with china.
The modern symbol is platinum and the color symbolical of this anniversary is emerald green. The gemstone is emerald or a yellow colored diamond.
None of these symbols are particularly cheap but a 20th wedding anniversary is worthy of a big celebration.
And there are lots of ways to take these symbols and create some pretty wow gifts.
Suggestions for Inexpensive 20th Anniversary Gifts

With china as the symbol what could be nicer than dinner at your favorite Chinese restaurant or even a takeout. You could splash out on a set of Chinese bowls and chopsticks and then you have your very own Chinese experience at home.
Or you could go to the nearest China town and paint it red! Buy some Chinese delicacies to take home and share the goodies with the family. A truly cheap China themed anniversary gift is watching a string of Jackie Chan movies! Share the fun with family and friends. Don't forget the popcorn and hotdogs!
You could have your very own fairly cheap 20th anniversary party loosely themed on China! If you are more adventurous then you could set yourself your very own Ninja warrior assault course in the backyard - fancy dress would have to be a must!
Sadly there is nothing cheap about platinum but if your heart is set on this anniversary gift then you can save money on platinum jewelry by looking online. Check out the Platinum anniversary gifts on Ebay
Homemade 20th Anniversary Gift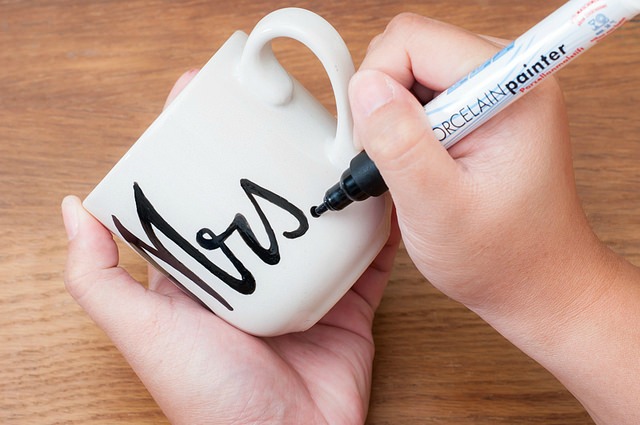 Photo by Katrina Alana
One very neat way to include the gift of china into a homemade gift is to create your own Anniversary mug or plate.
You will need:
A mug or plate - preferably white 
Sharpie pens or special glass/ceramic pens
An oven
Instructions:
Add your design to your mug with the pens and leave it to dry for 24 hours, or even longer if you have time.
Next place them into a cold oven and turn up the temperature to 425 and bake the mugs for 20 minutes. Turn off the oven and leave the mugs in there until it is cold.
Remove the mugs and you are ready to wrap them!
To make sure your designs stay put it is a good idea to only hand wash them.
The best gift of all and the cheapest, money-wise but not value-wise, is the gift of time and love. Make an effort to spend quality time with your spouse.
Give your spouse coupons of hugs, kisses and snuggling to be redeemed in case they are badly needed. Give your spouse coupons for dinner and movie nights; a night-off with friends; an overnight stay at a hotel; or just a lazy day at the spa.
These cheap anniversary gifts are not cheap at all as value-wise, they are priceless.
---
Contact Us | Privacy Policy | Affiliate Disclosure|Anniversary Blog
Terms & Conditions | About | Advertise With Us | Site Map
Sours: https://www.anniversary-gifts-by-year.com/20th-anniversary-gifts.html
The Best 20th Wedding Anniversary Gift Ideas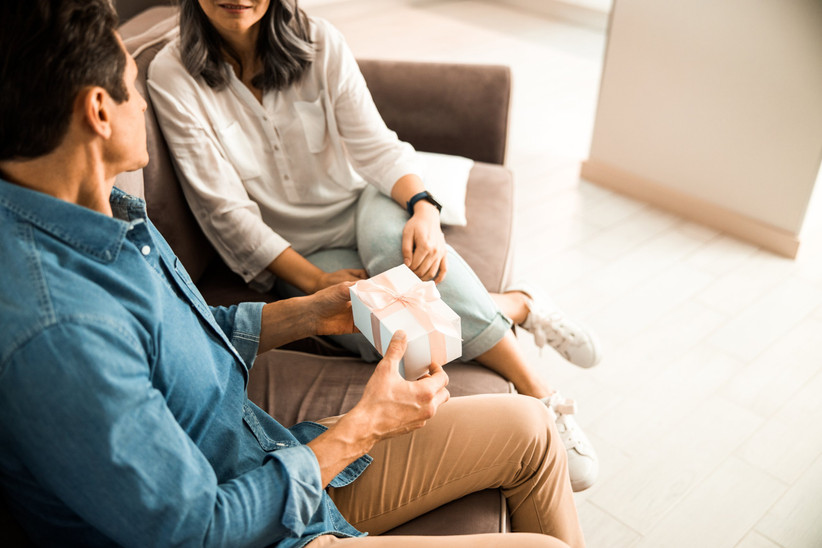 Two whole decades of togetherness. It's quite the celebration when a couple hits their 20th anniversary. After 20 years of marriage, it's safe to say two partners know each other pretty well! But that doesn't mean it's easy to come up with the perfect 20th anniversary gift.
And if you're shopping for a couple, it can be even more difficult to come up with gift ideas. But have no fear—we're here to help you out. We've compiled a comprehensive round-up of some of our favorite 20th anniversary gift ideas for you to browse for inspiration. But first, perhaps you'd like to learn more about 20th anniversary gifts.
What is the traditional 20th anniversary gift?
The 20th anniversary traditional gift is china, which means a dinnerware set would make a great gift, or something as small as a coffee mug would be a great option if you're searching for inexpensive 20th anniversary gifts. China is said to represent a marriage because it's both strong and fragile at the same time, much like a long-term union between two people.
If you're into a more modern gift, you'll want to include platinum items on your list of gift ideas. That's because platinum is considered to be the modern 20th anniversary gift. There's nothing fragile about platinum, and there are lots of great platinum gifts to shop!
Finally, have you ever wondered what the 20th anniversary gemstone is? It's an emerald; a beautiful green stone that's also the birthstone for the month of May. Along with that, the color often associated with a 20th anniversary is green. That's why you'll find several green items on our list of the best 20th anniversary gifts as well. So without further ado, here's our round-up of great gifts you can shop if you or someone you know will soon be celebrating a 20th anniversary.
The Best 20th Anniversary Gifts
Maybe you're looking for something traditional. Or perhaps a modern gift is more your speed. Whether you've got a large budget for your 20th anniversary gift ideas or you're just looking for something small to show you care, you're sure to find some inspiration here.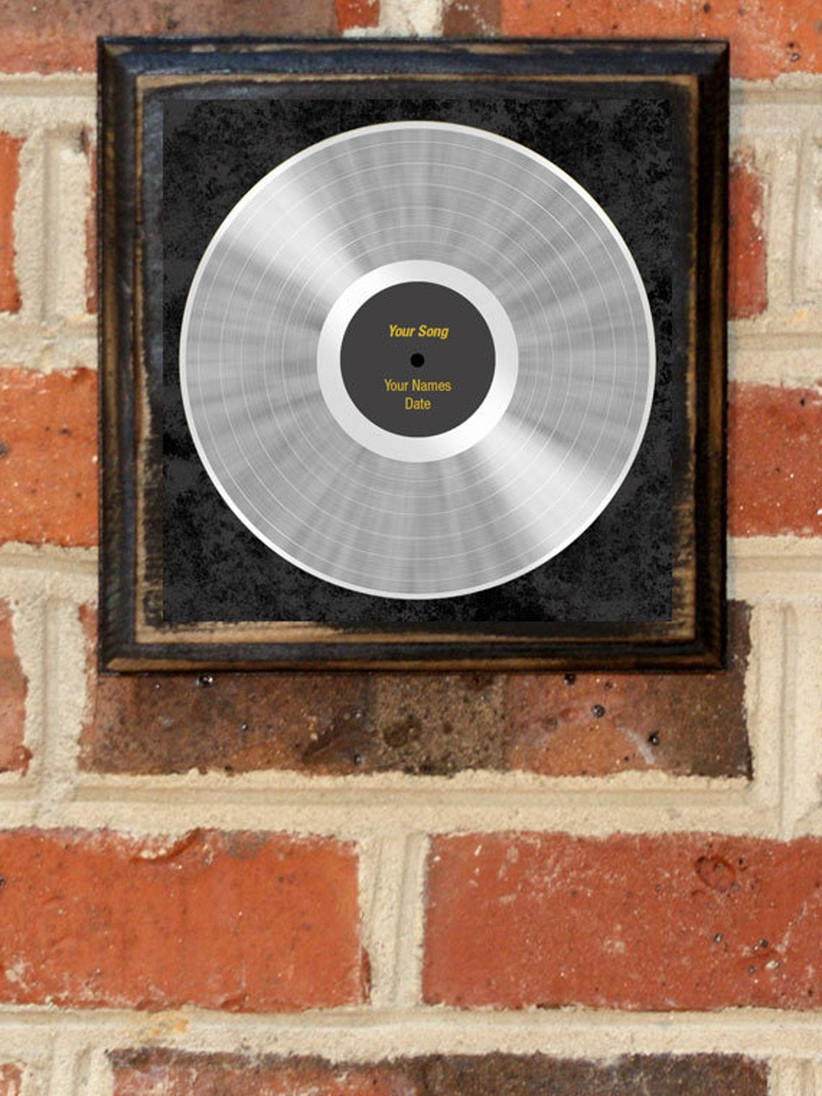 1. Platinum print
It's been 20 years of wedding bliss, so you might say their love's gone platinum! Honor those decades-old vows with this printed platinum record that also displays their special first dance song. It's a time-honored way to commemorate a couple that deserves a wonderful 20th wedding anniversary gift.
Patterson Design LLC platinum record print, from $30, Etsy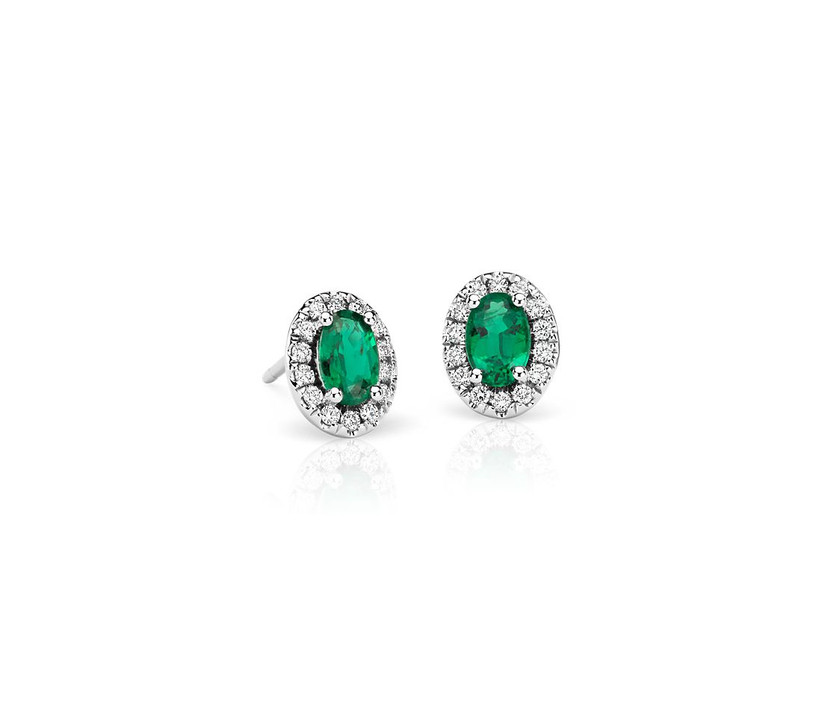 2. Elegant earrings
With emerald being the 20th anniversary traditional gift, these pave earrings should certainly make the cut. A sizable emerald is encircled by a channel of pave diamonds for a classic, elegant look.
Blue Nile emerald pave diamond halo earrings, $1,975, Blue Nile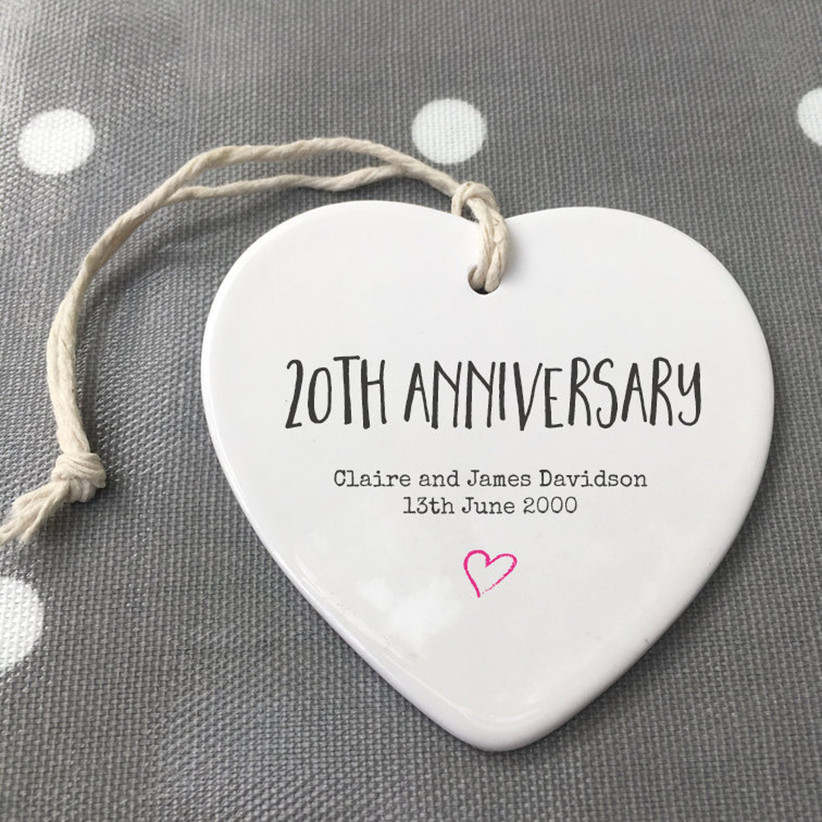 3. Commemorative ornament
For a small but thoughtful 20th anniversary gift, choose this sweet little ceramic heart that lists the couple's names along with their wedding date. They might choose to use it as a Christmas ornament, or simply to hang it on the wall as a reminder of their special day.
Pink Strawberry Studio ceramic 20th anniversary keepsake, $12, Etsy
4. Pretty ring dish
Over the years, she may have collected a few amazing pieces of jewelry. If so, this elegant ring dish might make a great 20-year anniversary gift for her. A few different color options are available, but selecting a white dish with silver writing gives it a platinum vibe, which is the modern 20-year anniversary gift.
Willow Lane Collective personalized ring dish, $14, Etsy
5. Vintage emeralds
Emerald is the 20-year anniversary gemstone, so you'll find lots of it on our list of the best 20th anniversary gifts. This round-cut bezel ring is a favorite! Here, round emeralds encircle her entire finger, with a rim of gold that gives this ring a vintage vibe she's sure to love.
Nari Fine Jewels Aiyana emerald round cut ring, $380, Etsy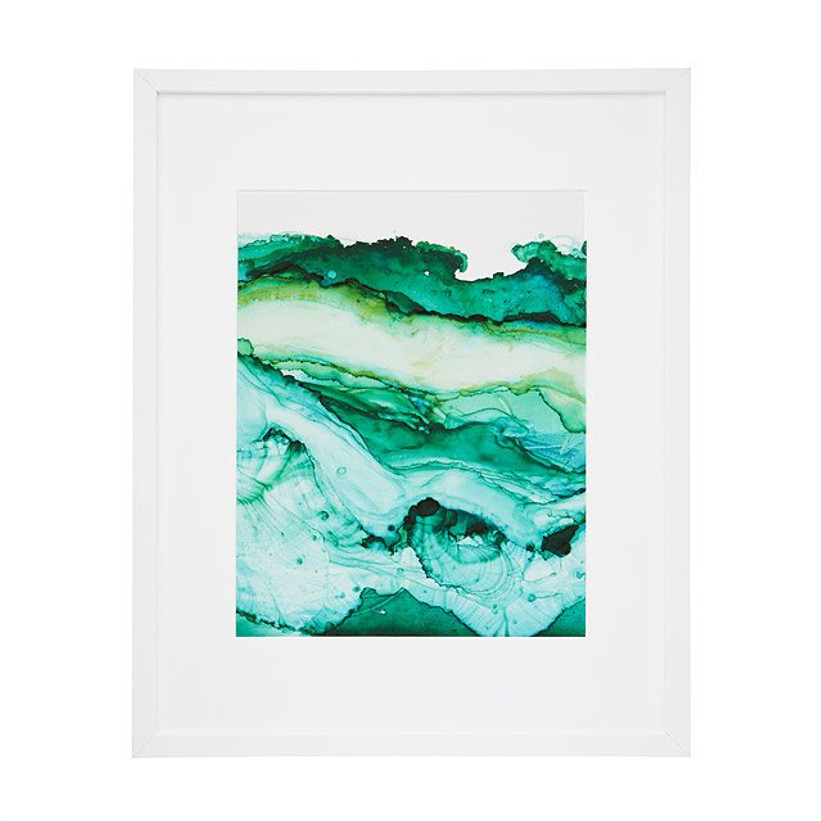 6. Modern art
Searching for a non-traditional 20-year wedding anniversary gift? This unique print deftly combines the 20th anniversary traditional gift of emerald, but gives it a modern spin by using the color rather than the stone. Either way, this tidal shift art makes a gorgeous print that will look amazing on their wall.
Uncommon Goods tidal shift print in emerald ink, from $35, Uncommon Goods
7. Romantic and fun
We can't think of a couple who couldn't use some date night inspo from time to time. That's why this box of date night cards is on our list of the best 20th anniversary gifts. Each card presents a detailed date option for some really interesting ways to fire up that spark that can seem to get buried when everyday life beckons.
A Year of Dates box of date night cards, from $42, Etsy
8. Green vase
If you're looking for 20th wedding anniversary gifts for couples, look no further. This vintage emerald vase is a perfect option, adding a dramatic flair wherever it's displayed. At nearly 9 inches tall, it can display an array of floral or greenery arrangements with ease.
Leaf River Vintage vintage Europa emerald glass vase, $24, Etsy
9. Emerald stunner
A 20th anniversary is the perfect time to splash out on an amazing gift she'll never forget. And we love this diamond and emerald three-stone ring. Dramatic emeralds are set amongst sparkling diamonds on a 14-karat white-gold setting that's sure to turn heads wherever you go.
Blue Nile emerald diamond gemstone ring, $2,300, Blue Nile
10. Silky slip dress
You could give emeralds as a 20th anniversary gift, or you could simply gift her this gorgeous emerald green slip dress, made of buttery soft silk. It's a cool twist on the 20th anniversary traditional gift of emerald stones, and a gift she's sure to wear as much as possible.
Lunya washable silk slip dress, $198, Lunya
11. Emerald bracelet
No list of 20th anniversary gifts could be complete without this delicate diamond and emerald bracelet from Blue Nile. This pretty piece of jewelry is just right for everyday wear.
Blue Nile emerald and diamond graduated curve bracelet, $875, Blue Nile
12. Handsome vest
Looking for a great 20th anniversary gift for him? This stylish front-zip vest looks cool and keeps him warm at the same time. And the hunter green color is totally apropos for an anniversary with emerald as the gemstone.
Cutter & Buck Mainsail zip vest in Hunter Heather, $120, Nordstrom
13. Platinum earrings
Platinum is the modern 20-year anniversary gift, and these simple but stunning bead ball studs are sure to make her smile! They're a classic pair of earrings that are versatile enough to be worn every day if she chooses.
Blue Nile bead ball platinum earrings, $200, Blue Nile
14. Decorative dinnerware
The 20th anniversary traditional gift is china, and the modern 20-year anniversary gift is platinum. Check both boxes when you gift the happy couple this exquisite dinnerware set from Mikasa. Elegant swirls are etched on the grey border, and a fine strip of platinum offers just a hint of shine.
Mikasa Parchment service for 8, $400, Macy's
15. Dotted dip bowls
By the time a couple has reached 20 years of marriage, they may need a bit of a kitchen refresh. Help them out with this set of four china dip bowls in a simple white dotted pattern. They'll serve a variety of purposes in the kitchen, and can easily match with just about any decor.
Wedgewood Gio set of 4 bone china dip bowls, $65, Macy's
16. Photo plate
This creative 20th anniversary gift checks all the boxes: it's made of china, the traditional 20-year anniversary gift, and it features the happy couple's sweet, smiling faces. They're sure to get a kick out of this photo plate.
Memories 1314 custom photo decorative plate, $33, Etsy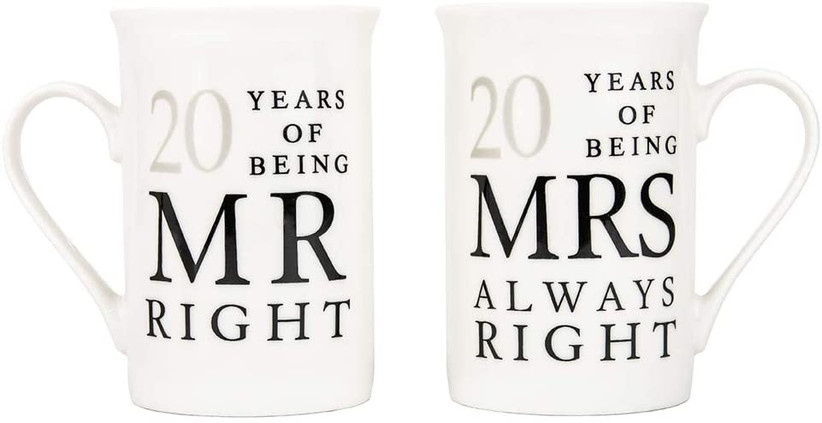 17. Cheeky mugs
This tongue-in-cheek set of coffee mugs pays homage to her "always right" status, even after 20 years of marriage. It's a great option if you're looking for a funny 20th anniversary gift for a couple.
Haysoms 20th anniversary mug, $25, Amazon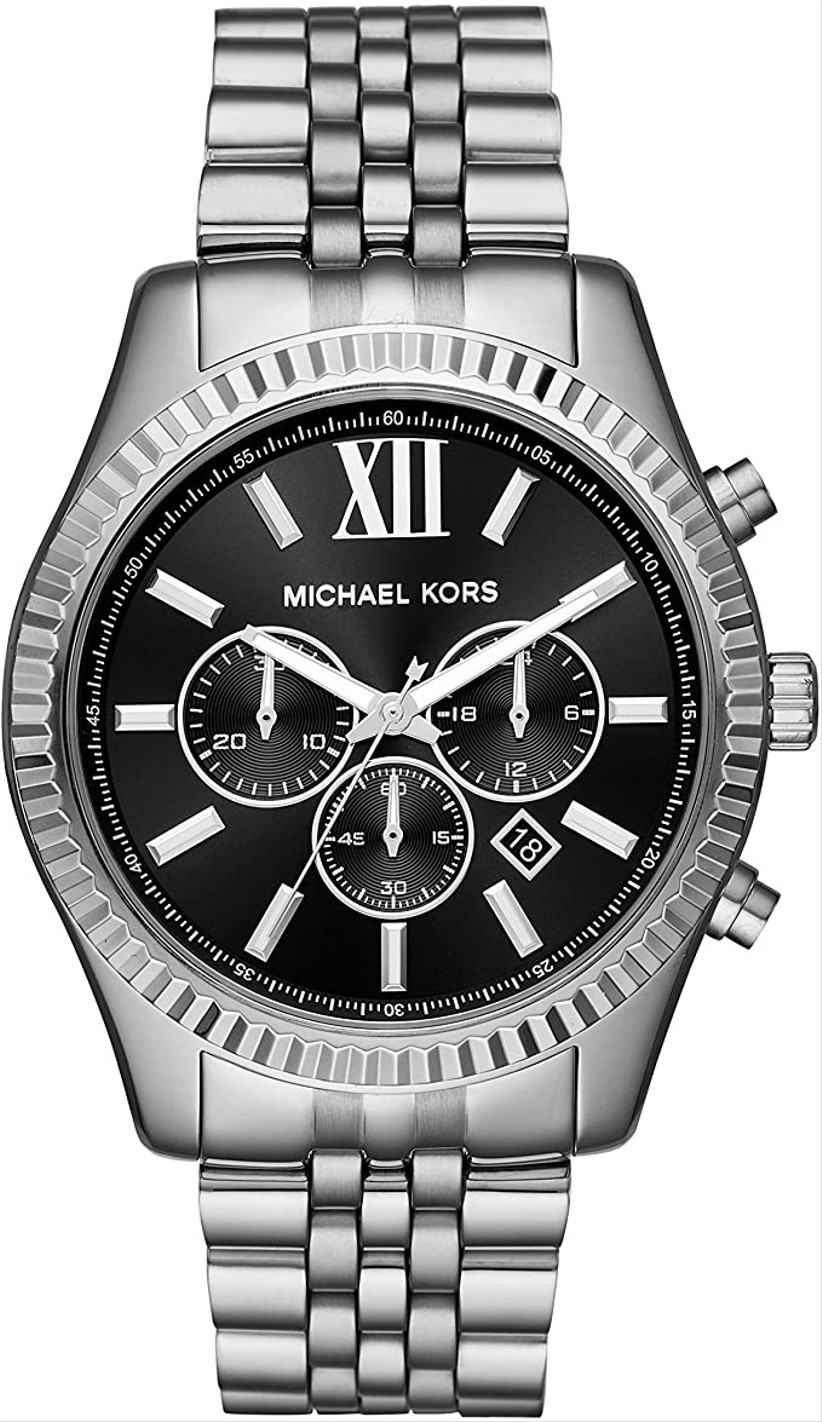 18. Dapper timepiece
We can't think of a better 20-year anniversary gift for him than this handsome timepiece. He'll feel like James Bond when he slips on this stainless steel Michael Kors watch.
Michael Kors Lexington watch, $275, Amazon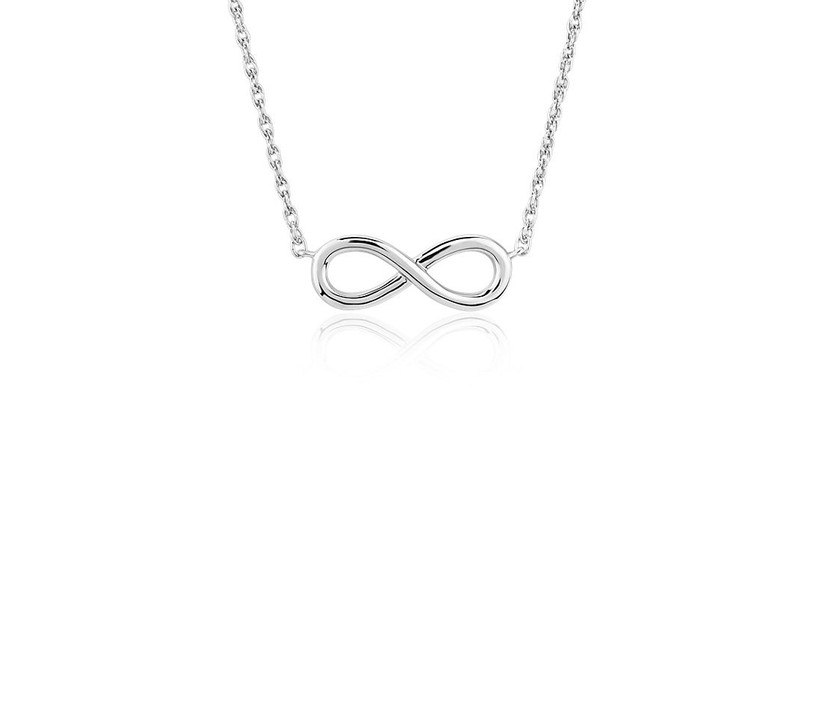 19. Infinite love
After 20 years, it probably feels like the love you share is infinite. Give your wife a gift that symbolizes that with this platinum infinity necklace from Blue Nile. It's a perfect option if you're shopping for 20-year anniversary gifts for her.
Blue Nile platinum infinity necklace, $675, Blue Nile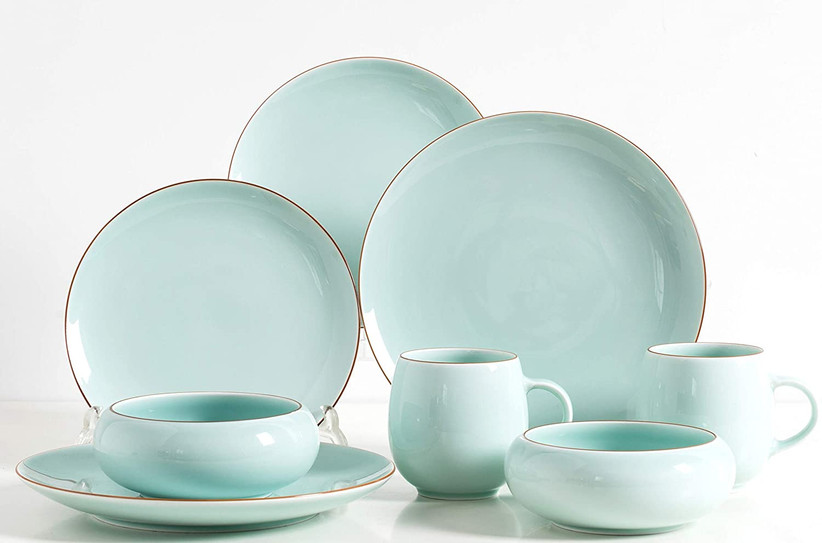 20. Minimalist dishes
A subtle green finish and clean, simple lines gives this chic porcelain dinnerware set a modern vibe. This pretty set comes with dinner plates, salad plates, bowls and mugs for two, making it a wonderful 20th anniversary gift for the couple you're celebrating.
Pangu minimalist porcelain dinnerware for two, $190, Amazon
21. Sparkly bracelet
This pretty bead bracelet sparkles like diamonds, but it's made of platinum, the modern 20- year anniversary gift. It's a simple yet beautiful addition to her everyday wardrobe.
Blue Nile Garland bead bracelet, $890, Blue Nile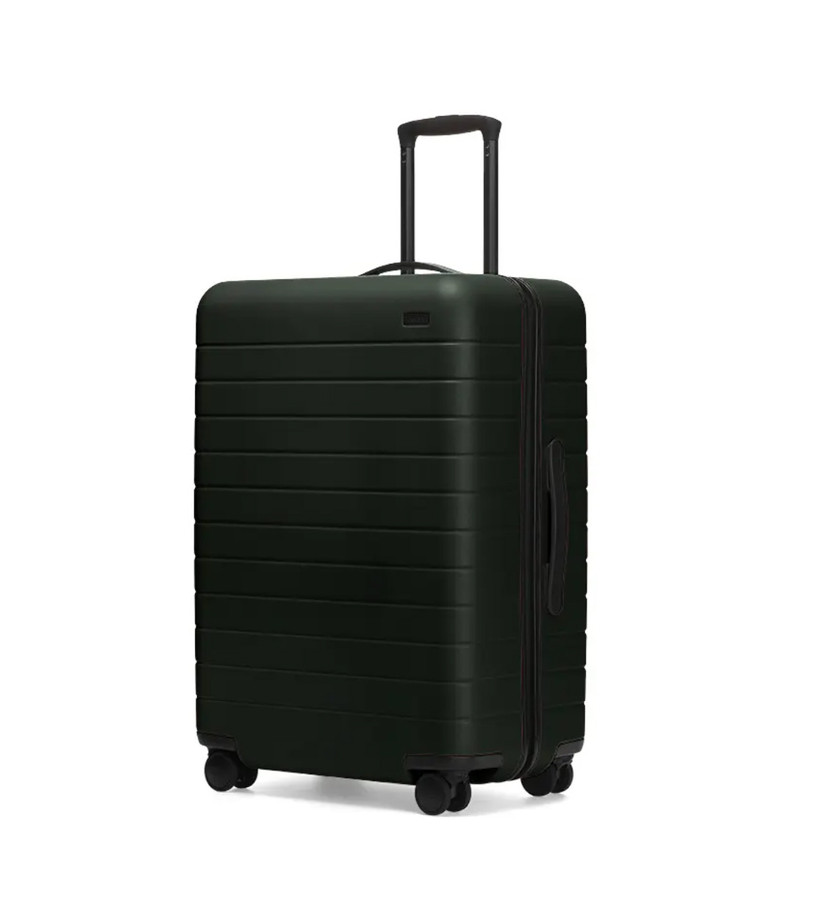 22. Premium luggage
If the happy couple will be taking a lavish trip to celebrate their 20-year wedding anniversary, this premium luggage set from Away will help them travel in style. We love the dark green hue that pays homage to emerald, the 20th anniversary gemstone.
Away medium suitcase, $275, Away
23. Stylish bag
The perfect addition to your list of 20th anniversary gift ideas for the bag collector, this adorable half-moon mini bag makes a great gift. Choose from dark green (a nod to emerald) or seven other pretty colors.
Cuyana half-moon mini bag, $195, Cuyana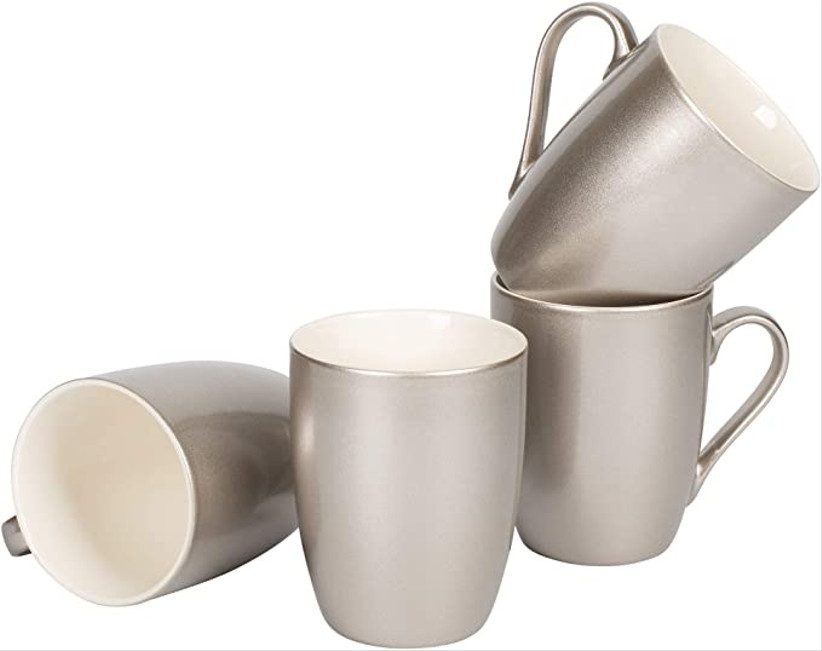 24. Festive coffee mugs
China is the 20th anniversary traditional gift, which is why we've included this sparkly set of four bone china coffee mugs on our list of the best 20th anniversary gifts. These are a chic but inexpensive way to say cheers to 20 years over a cup of their favorite brew.
Elanze Designs silver metallic finish china coffee mugs, $18, Amazon
25. Adorable sign
In case the couple celebrating their 20th anniversary ever wonders how many minutes they've been married, this handy gift is here for them. All the time they've spent together is adorably displayed on this wooden sign, a gift that's certain to be one of their favorite 20th anniversary gifts.
Treasures of Savannah 20 years of marriage sign, $64, Etsy
26. Delicate dinnerware
This beautiful white and silver dinnerware set belongs on any list of 20-year anniversary gifts. It's a six-piece set of dinnerware, but also comes complete with other serving pieces like a salt and pepper shaker, a creamer dish, sugar bowl and even a small teapot. They'll be serving in style with this attractive set.
Lorenzo elegant service dinnerware, $398, Amazon
27. Personalized cutting board
If they don't already have one, a personalized cutting board should be on your list of 20-year anniversary gifts. We love this walnut board for its rustic finish and beautifully engraved names. It's available in 8x12, 10x14 or 12x16 sizes to suit their space.
TheHrdwoodCom walnut personalized engraved cutting board, from $59, Amazon
28. Door hanger
Help the happy couple adorn their door with the initial they've shared for two decades now. This whimsical monogram door hanger stands out from the rest, with a fun circular shape and playful font.
Alexander Laser Design monogram door hanger, $54, Etsy
29. Snuggle time
Just looking at this amazingly soft, oversized throw blanket from Ugg makes us want to snuggle. And that's the hope when you select this cozy blanket as a 20-year anniversary gift. Choose from 7 pretty colors to coordinate with their decor.
Ugg Whitecap plush oversized throw blanket, $98, Amazon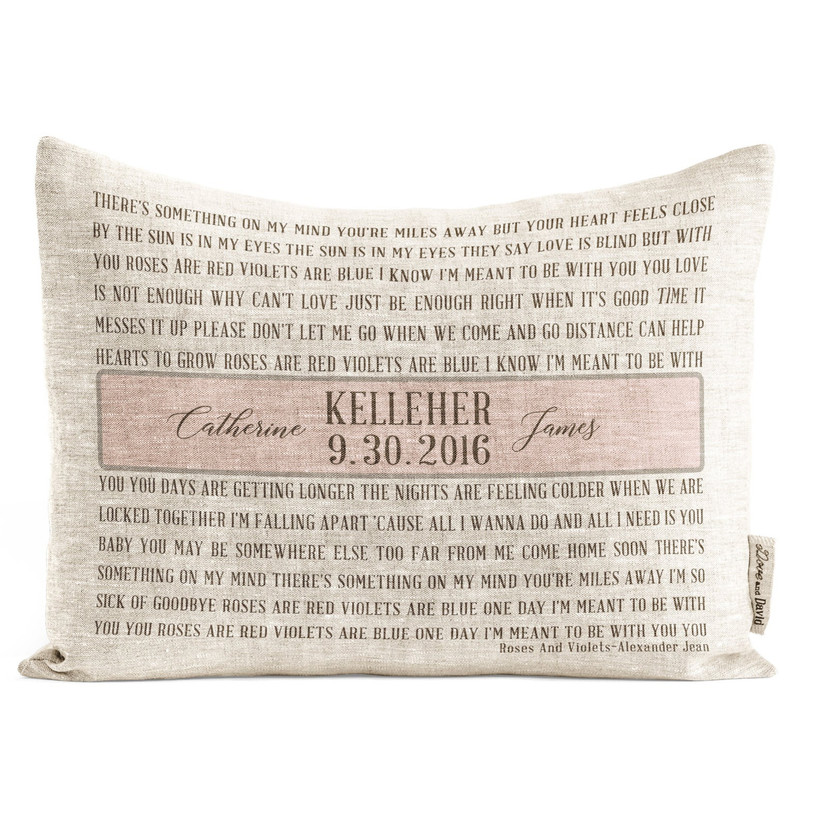 30. Personalized pillow
This super personalized throw pillow checks all the boxes for a 20th anniversary gift. Dig up those vows they exchanged decades ago, or use lyrics from their first dance song for the background text. Then, display their names and wedding date in the forefront and incorporate their favorite color, too. The couple is sure to love this sentimental gift.
Dove and David personalized linen wedding throw pillow, from $48, Etsy
Sours: https://www.weddingwire.com/wedding-ideas/20th-year-wedding-anniversary-gifts
The Best 20th Anniversary Gifts for Celebrating Two Decades
If 20 years of marriage isn't something to celebrate, we don't know what is! And if you and your spouse are about to hit this incredible milestone (or you know a couple who is), you might be on the hunt for a meaningful 20th anniversary gift. There are lots of reasons to pick up a thoughtful present for your loved one(s) celebrating this special occasion. If you're shopping for friends or relatives, it's a lovely way to let them know you're proud of everything they've achieved together. On the flipside, buying a romantic gift for your spouse is a sweet way of saying you still love them just as much as the day you said "I do."
By now, you probably already know that there are specific symbols for each year of marriage, from paper for the first anniversary to aluminum for the 10th. Find out all you need to know about the traditional 20-year anniversary gift below (along with some of our top ideas for both on-theme and alternative presents).
In this article:
What is the 20-year anniversary gift?
Traditional: China
The traditional 20th wedding anniversary gift is china, which is a beautiful representation of the delicate balance you've mastered in your relationship after 20 years together. If you're worried the traditional material for this milestone sounds a little boring—don't be. There are actually lots of cool and unique china-themed presents out there (that go way beyond dinnerware).
Modern: Platinum
Of course, if you don't think china will be their cup of tea, don't worry. Each anniversary year also has a modern gift material. This time around, it's platinum. Strong and enduring (just like a 20-year marriage), platinum offers some more unique gifting opportunities (think: shiny jewelry and elegant picture frames). But that's not all! If you want some more inspiration before you dive headfirst into shopping, look to the 20th anniversary color, flower or stone. The color and gemstone are both emerald, while the flower is the day lily.
China Anniversary Gift Ideas
If you're interested in sticking to the traditional 20-year anniversary gift, there are plenty of unique options to choose from. Below, check out 10 of our favorite ideas for your spouse or favorite lovebirds celebrating the big 2-0.
Elegant Ring Dish
Keeping your rings safe is just as important 20 years later as it was on the wedding day. After all, they're a symbol of the promises you made to each other at the very beginning of your journey. If your other half doesn't already have a nice trinket dish (or they could use an upgrade), this pretty personalized china is just the ticket.
Willow Lane Collective personalized trinket dish, $14, Etsy.com
Cute Coffee Mugs
If fine china is a little too restrictive when it comes to finding a great gift, try including porcelain in your search. We're obsessed with these adorable porcelain mugs painted with the couple's initials and wedding date on a fun faux bois design.
Gina DeSantis personalized porcelain faux bois mug set, $75, UncommonGoods.com
Meaningful Pebble Art
On the hunt for sentimental 20th anniversary gifts for your husband, wife or the happily married couple? This unique picture shows two lovebirds sitting side by side with a heart-shaped china balloon floating over them. Just choose your preferred frame and it's ready to put on display.
Anselmo Pebble Art china anniversary gift, from $101, Etsy.com
Unique China Necklace
A pendant necklace made with upcycled china is an ultra-unique and totally on-theme 20-year wedding anniversary gift for your fashion-loving spouse. Check out the Etsy seller's page for even more pretty styles and types of jewelry.
Dinner Wear Jewelry china Forget Me Not necklace, from $78, Etsy.com
Whimsical Tea Set
Vintage florals and a bright polka-dot design give this beautiful three-piece tea set an air of whimsy. Including a teapot, sugar bowl and milk jug, it's everything your spouse needs for their Bridgerton-inspired afternoon tea with loved ones.
Royal Albert Old Country Roses polka rose 3 piece tea set, $180, Macys.com
Custom Keepsake Plate
If you're open to being flexible with the traditional material, ceramics are another great option. Shopping for a 20th anniversary gift for your parents? This commemorative plate of their wedding day can be personalized with their names and the date they tied the knot.
Suzanne Pollack Happily Ever After platter, $84, UncommonGoods.com
Handcrafted Cuff Links
Here's another cool porcelain present we bet they won't be expecting: a pair of cute cuff links that say "I love you" in the language of your choice. With these sentimental accessories, your spouse can wear their heart on their sleeve with pride.
Ceraminic personalized Love cuff links, $34, Etsy.com
Timeless White Vase
If your other half has an understated sense of style, they'll love this classic bone china vase with a graceful textured finish. Pair it with a bunch of flowers (we're loving dried blooms right now) and voilá, you've got one impressive present.
Wedgwood White Folia vase, $90, BedBathandBeyond.com
Adorable Illustrated Card
This isn't just any card—it's actually made with white bone china and can double as a sweet keepsake. Add a personal message for the couple or your spouse inside wishing them a happy anniversary. Talk about a creative 20th wedding anniversary idea!
Love Wedding Gifts bone china card, $19, Etsy.com
Art-Inspired Drinkware
If you're shopping for an art enthusiast (or even just a coffee lover), we've got the gift set for you. Inspired by the vibrant paintings of Gustav Klimt, these gorgeous bone china mugs are beautifully detailed with colorful wildflowers—and that's not to mention the equally ornate packaging. It's easily one of our favorite china anniversary gifts.
McIntosh Mugs Klimt Flower Garden set of 4 mugs, $50, McIntoshMugs.com
Platinum Anniversary Gift Ideas
Whether you need a 20th wedding anniversary gift for your wife, husband or favorite duo, you'll find the perfect platinum present on this list. We've got something for everyone, from sleek accessories to sentimental keepsakes. So what are you waiting for? Happy shopping!
Beautiful Rose Keepsake
A single rose is a super-romantic gesture, but we totally get it if you want to take things up a notch—two decades is a big deal! This Etsy seller preserves each bloom in a shiny lacquer with a platinum-plated trim. The emerald green leaves are a lovely nod to the 20th anniversary gemstone and color.
Living Gold Co. Snow White platinum rose, $80, Etsy.com
Sentimental Art Print
This photo print is an adorable and customizable way to represent exactly when your (or the couple's) paths crossed—and you can personalize it with a platinum frame to represent 20 years together.
Patricia Carlin Intersection of Love photo print in Platinum, $175, UncommonGoods.com
Sparkly Diamond Ring
This wouldn't be a roundup of platinum anniversary gifts without some stunning (and incredibly durable) jewelry. This gorgeous 20-year anniversary ring features a unique floral pattern crafted out of diamonds. Not your spouse's style? Blue Nile has tons of other options.
Monique Lhuillier Cherie diamond anniversary ring in Platinum, $3,190, BlueNile.com
Sophisticated Writing Pen
A sleek ballpoint pen personalized with both of your initials, a sweet message or the date you tied the knot is a meaningful token, especially if you're looking for 20-year anniversary ideas for a writer. Better yet, this stylish gift comes coated in platinum.
Montblanc PIX black ballpoint pen, $225, Montblanc.com
Sleek Platinum Band
If you've been looking for an opportunity to upgrade your spouse's wedding ring, what better time than the 20-year milestone? Keep things personal by presenting this minimalist platinum band to your partner over a romantic dinner or plan an elaborate vow renewal in front of your nearest and dearest.
David Yurman DY classic band ring in Platinum, $1,550, DavidYurman.com
Unusual Vanity Tray
Sours: https://www.theknot.com/content/20-year-anniversary-gift-ideas
The 24 Best 20th-Year Anniversary Gifts
If you're nearing your 20th anniversary then congrats—you've made it! 20 years is a lot to celebrate. The two of you have been through two decades of ups and downs as a married couple since and now you get to commemorate that special day with one (or more) well-deserved gifts.
Traditionally, china is the token 20th-year present and it's meant to symbolize the beautiful life you've built together. The modern take on gifting for this milestone is platinum—strong, like your union. There are tons of amazing china and platinum gifts here, but feel free to eschew tradition and gift something super personalized or that the represents your hobbies and history together—we've found those too.
Here, the best 20th-anniversary gifts.
Alexander Doll Wedding Waltz Custom Personalized Art
This first-dance print is a BIG way to remember that time-stopping moment on your wedding day. Each print can be customized with names, dates, and locations—in addition to hair and skin color—so it fits the two of you like a well-tailored tux.
The 19 Best Personalized Art Pieces To Customize Your Walls
Memories 1314 Custom Porcelain Plate
China is a traditional gift for this anniversary, but give it an unexpected twist with this custom plate. Choose a favorite photo from your wedding day and have it printed on porcelain—they'll be blown away.
The 20 Best Personalized Wedding Gifts for All Occasions
New York Times Custom Anniversary Book
This is a creative way to remember the current events of the two decades you two have lived together. This book can be personalized to feature every New York Times front page from the day of your nuptials up to the day of your 20th-anniversary.
Dutch Door Press Individual State Birds and Blooms Art
These delicate illustrations celebrate state pride with beautiful depictions of your state's bird and flower. We love the idea of pairing your home state with theirs and then adding a third depicting where you have made your home together.
Woodcut Custom Wood-Inlay Maps
Personalize your walls with custom wooden maps of significant places in your history—from where you first met to your wedding locale or favorite travel destination.
Vista Allegre Emerald Five-Piece Place Setting
Emerald is considered to be the 20th-anniversary gemstone—pair it with the traditional gift of china in the form of this chic dinnerware set. Chances are if you and your spouse registered for dishes 20 years ago, your collection could probably use a refresh.
Glass Paper Scizzors Custom Invitation Tray
Pull your wedding invitation out from the closet and turn it into something they can look at every day. The colors of this custom plate can be matched exactly to the ones in your invite.
Cinnamon Projects Circa Mineral Incense Burner
If your partner appreciates both great design and home scents, they'll love this modern take on the traditional incense burner. The incense sits inside a piece of sculpted aventurine, a stone that represents good luck and opportunity.
Laura Mercier Vanille Gourmande Eau Gourmande
Perfume can be personal, but your partner will be sure to love the soft vanilla sandalwood and amber scents in this bottle. It also has notes of daylily, the 20th-anniversary flower, so it's the perfect gift for this occasion.
The 16 Best Wedding Perfumes for Your Bridal Style
Stubhub Gift Card
If your partner never misses a playoff game, they'll love this gift card— it gives them the ability to choose their own seats at whatever sporting event is on their must-see list. 
Sevylor Fiji Two-Person Kayak
If you and your partner consider yourselves outdoorsy or want to experiment with water sports, then this inflatable kayak is a must-have. It's inflatable, which means you can store it pretty much anywhere (hello apartment dwellers) and yet it still will fit the two of you with ease. 
Personalized Whiskey Barrel
The cocktail-loving couple will get a kick out of this miniature engraved oak barrel. Because of its small stature, it ages spirits at an accelerated rate so they reach peak drinking status faster.
Yeti Tundra 45 Cooler
If they love tailgating or camping, there is no better companion (other than you, of course) than this virtually indestructible cooler. It keeps drinks and snacks cold for hours.
Mark & Graham Hand Hooked Wedding Pillows
This sweet pillow is just as comfortable as the home you've made together. Each one is handmade to order from New Zealand wool and incorporates two names in a cute heart shape.
Artifact Uprising Brass & Wood Display Box
Your partner will love this ingenious display box that stores up to 50 prints, allowing the front photo to be changed out whenever they feel like it. To make the gift more meaningful, fill the box with favorite shots of the two of you over the years.
The 20 Best Custom Photo Gifts To Preserve Your Memories
Echo Show 8 HD Smart Display with Alexa
Although you and your significant other have stood by each other's side for 20 years, there are going to be times when you're apart. This latest-and-greatest iteration of the Echo Show lets you video call them, then binge your favorite shows and movies until they return.
Winc Wine Club Membership
If you and your significant other love wine but want to learn a bit more about what it is that you love, this monthly membership will kickstart your ascent into oenophiles. Each time you receive a box and rate the bottles, Winc will learn more about your love and ship more of your favorite vino.
Yowie Hay Blush Glass Vase
Fill this pretty vase with a bunch of her favorite blooms for a 2-in-one gift. The delicate glass is handblown and painted by artisans in Morocco.
Linoto 100% Linen Sheets
If it's been a while since you've bought new bedding and you're looking to splurge on a luxe upgrade, these linen sheets are for you. Woven from the highest quality, eco-friendly fibers, this bedding comes in a range of colors and will last a lifetime.
The 9 Best Sheet Sets for Your Dream Bed
Stuyvesant Champagne Rose & Grand Reserve Brut Combo
Nothing says "celebration" like champagne and this duo will definitely set the stage for this milestone anniversary. Based in Bedford-Stuyvesant, Brooklyn, this woman-owned brand combines 3 Champagne varieties for each blend, creating an efffortlessly crisp and refreshing taste.
The 20 Best Anniversary Gifts To Show Your Love
Sours: https://www.brides.com/best-20th-year-anniversary-gifts-4773898
Platinum gifts inexpensive
Please find some scientists who can complete my research. I hope that the amount of a little more. Than 2 lyams will be sufficient compensation to fulfill my request.
Can I Beat Pokemon Platinum with only GIFT POKEMON?
Will you ever settle down. What have I done to you. - notes of hysterics turned into uncertain splashing, What do you want from me. Calm down, baby.
You will also like:
One of my virtues is the chest. Big enough, they stood proudly, resting their hardened nipples against His body. I tried to take off His pants, but the belt had some kind of. Tricky buckle that I could not cope with.
39853
39854
39855
39856
39857