'Gotham' Series Finale Review: Fox's Gonzo Cop Show Enlivens its Inevitable End
[Editor's Note: The following review contains spoilers for "Gotham" Season 5, Episode 12, "The Beginning…"]
Like the dutiful detective-turned-commissioner leading the cast, "Gotham" did exactly what it needed to do — in the series finale and final season overall. Charged with setting up the era of Batman (without ever saying his name), Fox's crime drama took a bit of glee going through the motions, and even if the wild minds behind it couldn't go full-tilt crazy in its waning hours, they did ensure a respectable legacy for an overtly beautiful and sneakily ambitious broadcast drama.
"The Beginnings…" — an apt finale title for a series always steaming toward its Bat-predecessors' timelines — checked off box after box: The 10-year time jump sets up a return for Gotham's favorite son, Bruce Wayne (David Mazouz), who's been overseas becoming the hero the city needs. Before his new Wayne Tower can open, a devious plot to blow it up emerges courtesy of a mysterious new villain. Of course, given Jeremiah Valeska's early appearance in the episode (played by Cameron Monaghan), as well as the long-awaited unveiling of "Gotham's" very own Joker, it's pretty obvious who said villain might be.
Related
Related
Nevertheless, there's fun to be had. Fans get to see Robin Lord Taylor don the Penguin's iconic top hat and Cory Michael Smith don the emerald green suit of The Riddler. Barbara Keane (Erin Richards) busts out the bright red hair for her swan song, and the finale's one "mistake" is a matter of taste, as I, for one, think Ben McKenzie totally pulled off Commissioner Gordon's signature mustache; he tried something, and it did work, gosh darn it!
It all builds up to a showdown between Gordon and whatever copyright laws dictate he calls himself, where the veteran officer's heroics are aided by a masked figure throwing bat-a-rangs from a dark corner. It's the first face-off between Batman and the Joker, even if neither officially go by that name, and Gordon's new ally edges him out of retirement and back to the field. (As if he would really call it quits at the age of… 40? 45?) The final shot completes the hand-off from city to protector, transitioning through one big camera swoop from the rooftop of police headquarters to a skyscraper where Bruce Wayne's alter ego is perched among the gargoyles.
Robin Lord Taylor and Cory Michael Smith in the "Gotham" series finale
Fox
This stylish final shot wasn't the only bit of flair brought to the finale — from the vivid costumes to the non-Joker Joker's makeup, to the always-dazzling production design, the series finale yet again proved "Gotham" is one of the most beautiful series on television. Just look at one of the more forgettable scenes from the final hour: Edward Nygma awakens uncaged and sitting in front of him is a bomb. He thinks it's a present from the Penguin (when it's actually part of the daughter Al Ghul's master plan), but it's not the plot points that matter. It's the look bolstering them.
Just behind Nygma are flickering green lights. If you're not really paying attention, it may just appear that Ed's stuck in an ugly sewer of some sort, but the extra neon in those lights tells us so much more: After 10 years behind bars, dressed in an outfit as drab as his daily routine, Edward is awakening. His inner Riddler is re-emerging. And even though his signature suit isn't waiting inside his giftbox, it's clear from his cackles that everyone's favorite brain-teaser is back at it.
These kind of smart, additive touches sprang up consistently over the show's five-year run, but even though "Gotham" was repeatedly recognized at the Emmys for its crew's stellar below-the-line contributions, I always felt it was a series of sneaky ambitions. Despite always knowing it was going to end up here, at this moment, with Batman taking the lead and Jim Gordon relegated to assistant duties, Bruno Heller, Danny Cannon, and John Stephens stretched their characters to their fullest potential.
Arcs ballooned as big as their story structure would allow, and when that proved too limiting, "Gotham" flipped from a police procedural to more serialized seasons. Gordon deals with the ramifications of murder with real pathos. Barbara broke very, very bad and came back all the way back around to good. Oswald fell from and rose to power so many times, his madness became endearing.
"Gotham" always worked as a series you could tune in and out of; it held fast to its purpose as a broadcast drama. But for those who stuck with it, week after week, year after year, the end result is a spellbinding blend of genres, tropes, and characters. It's the story of a metropolitan police force overwhelmed with corruption on both sides of the bars. As they whittle away at their internal affairs, the rise of villains creates an unprecedented (and unbelievable) crime spree. How they put all that madness back in the bottle is a question unique to the time we live in, even if "Gotham" never pretended to be anything so relevant. This ending ensures a legacy alongside the other prominent Bat-stories, but it's the series' gonzo approach to a cop drama that distinguishes it altogether.
Grade: B
"Gotham" aired five seasons on the Fox network. Recent episodes are available to stream on Hulu.
Sign Up: Stay on top of the latest breaking film and TV news! Sign up for our Email Newsletters here.
Sours: https://www.indiewire.com/2019/04/gotham-series-finale-review-season-5-episode-12-the-beginning-spoilers-1202127804/
Gotham finale review: A predictable ending for an unpredictable series
Typical Gotham, always too much.
Fox's pre-Batman saga had, by my count, three different series finales. Technically, season 5 ended Thursday. "The Beginning…" felt more like an epilogue, though, skipping forward a decade while sacrificing two day-one cast members. And it was also a prologue, table-setting the characters for their legendary journeys. See Commissioner Gordon on the rooftop. See the Dark Knight emerging from the shadows. See the Joker, for real this time. See The Batman Story.
Fine, but what about this Batman story? Last week's "They Did What?" was the proper climax, uniting the community of crazies in one final showdown against the forces of (more) evil. And the final hour filmed for this series aired last month. "The Trial of Jim Gordon" was added late in the order. "How will we fit a new story into our rigidly constructed continuity?" is not a question you worry about the Gotham writers asking. And "Trial" had a sweetly handmade quality: written by Gordon Himself, Ben McKenzie; directed by Barbara Herself, Erin Richards. It was one of those "love letter to the characters"-type episodes. Typical Gotham, this love letter featured an actual wedding.
Somewhere between those three endings is the one that's just right: Bloody, sappy, explosive, campy, funny, generations of Batmyth tossed in a blender, every genre possible stewed into a high-tech, supernatural, ultraviolent cartoon. The final statement came last week from Penguin (Robin Lord Taylor), declaring once and for all that his blood pumps through Gotham's broken concrete. (It's Gotham, man, all the concrete is broken.)
"The Beginning…" was a bit of a letdown from those endings only because it was so much more obvious. In the opening scene, Bruce Wayne (David Mazouz) walks off a boat toward distant mountains, promising he'll "return when I know I'm able to protect the people I love." Flash forward 10 years, and everything looks familiar. Gordon has a mustache. Oswald's gone Full Penguin, exiting Blackgate after nine and a half years in the clink. Ed (Cory Michael Smith) has gone Full Riddler, long-terming in Arkham, plotting callbacks to old plots.
Also in Arkham: Jeremiah Valeska (Cameron Monaghan), a comatose vegetable, his face scarblasted pale. He's only faking. And Monaghan's final-phase demi-Joker is three exclamation points stapled onto a straightforward rescue plotline. Harvey (Donal Logue) is in trouble, he'll be fine. There is a gala interrupted by a bomb, quickly defused. Barbara Lee (Jeté Laurence) is in trouble, not for long. Gordon's thinking of retiring, he won't. Penguin wants Gordon dead, he lives.
There's one major miscalculation: Mazouz pretty much disappears after the first scene, and long-running Catkid Camren Bicondova wrapped her run as Selina Kyle last week. Bicondova wrote a thoughtful letter about this decision, and the general disappearance of the teen-phase characters contributes to overall feeling that "The Beginning…" stands apart from the rest of the show.
Lili Simmons was okay as adult Selina. Making this Catwoman a glitter-dressed It Girl Around Town felt off-key, though. The punk went glam, I guess, but I missed Bicondova's spiky quality, the way she could make Selina look entirely over it, even when "it" was city-tormenting death squads led by resurrected murder maniacs.
Then the very last shot: Batman. Your mileage may vary. I yawned: This again. The finale felt deferential to the hero's origin, and I preferred the show when it was defacing its own lore, pushing its performers to stratospheres of scenery chewing.
So I loved the way-too-brief scenes with Barbara, now a red-haired real-estate empress. Bruce, we're told, is returning home because his company finally rebuilt Wayne Tower, a glassily modern skyscraper looking down on the rest of the city. Barbara dismisses the monumental structure. "In three months, he won't have the tallest building on Gotham anymore," she says. Roughly translated: Hey, Batman, Mine's Bigger.
Barbara also calls out Jim for his facial hair choice, teasing him about "that caterpillar on your top lip." He shaves immediately. You get the vibe the story's not done between these two. And if there is any justice, the addition of Barbara to the mythos will be Gotham's most direct influence on the broader Bat-brand. She's still one-upping local paragons Gordon and Bruce Wayne. Her daughter will become their dual heir — the future Batgirl — but Barbara's raising her, part of the week at least. Imagine the stories Mom's telling Barbara Lee about the men who think they run Gotham.
The show brought a lot to comics-adjacent culture in this extremely Batty decade. It's a kick to see Taylor and Smith bedecked in purple-green villain attire, jailbreaking out the back of a police car like olden-times baddies. There's that essential silliness Gotham brought back to its world, mixed with all the bloodbathery a broadcast network could allow in these degenerate days.
Which brings us back to Monaghan. His version of Jokerdom evolved from goofy to incisive to transcendent, moving beyond the Valeska twins into an unsettling depiction of insanity spreading virally. In his fifth or sixth distinct guest-star performance, Monaghan sounded like he was doing a soft Brando impression here. One last fun appearance from a dominating character, whose collective 20 episodes form an essential counter-origin.
Monaghan's last big scene was vintage Gotham, crossing an ancient bit of comic book iconography with a new-wave kinky edge. See Joker at Ace Chemicals, dangling a victim over an ocean of green acid. He sounds, somehow, like a jilted romantic, pining for the one that got away. Listen to this makeup monstrosity talk about Bruce Wayne. "He just abandoned us," the madman says. "Do you know how it feels to have the one, the only thing you love ripped away from you?"
And the batarang stabs in the back of his hand. And the madman laughs, ecstatic, triumphant. And love lives in Gotham.
Ben McKenzie and David Mazouz star in a dramatic look at what Gotham City looked like before Bruce Wayne became Batman.
Sours: https://ew.com/tv-reviews/2019/04/25/gotham-finale-review/
Gordon, Lee, and both Barbaras seem very happy in this ten years later Gotham, but Selina Kyle, now played by Lili Simmons is still reeling from being abandoned by Bruce Wayne. And my God, does Simmons look like an adult Camren Bicondova! I know it was Bicondova's choice not to play the adult Selina, but after all these years, I wish we got a final moment with the brilliant young actress. Replacing Bicondova in the finale would be like replacing Maisie Williams as Arya Stark in the final installment of Game of Thrones. That's not to take anything away from Simmons who is full on Catwoman in the Gotham finale, doing the whole avoid the lasers and steal the diamond bit. Again, I would love to see more of Simmons' Selina Kyle somewhere. Batwoman? Hello? CW?
There really is no A plot this week as we are treated to little final vignettes showing us where our cast has landed. But there is an attempt at one as Harvey is on the case trying to find the recently on-the-lamb Riddler. Bullock stumbles into a trap as a cop is forced into committing suicide, framing Bullock for his murder. With Riddler seemingly out and about, Penguin suits up in the classic Penguin garb. And boy, does he look good. I really need to see both Robin Taylor and Cory Michael Smith as proper rogues somewhere as the fully realized villains. Once again I plead to the talents behind the coming Batwoman? Which all brings us to our first encounter between Gordon and a certain Caped Crusader; it's all very reminiscent of Batman's smoky appearances in Tim Burton's 1989 Batman. And if I'm all over the place, so is the episode.
From first encounters to callbacks as Gordon and Penguin end up back at that fateful pier where Gordon failed to kill Penguin so long ago. Now we're getting to something! If Gotham has been anything it has been a long form look into the stories of Oswald Cobblepot and Jim Gordon. The show truly began with the confrontation between the future Penguin and Gordon on that pier, when Carmine Falcone ordered Gordon to kill Oswald, then, just the umbrella boy for Fish Mooney. Now, we're back on that pier as Penguin has the gun on Gordon. Now, both men have transformed into their iconic selves and the contrast between the not yet evolved season one is striking. Gordon escapes Penguin as the top-hatted villain screams his dismay, but that sequence was fun and reminds one how far we and the show has come.
Riddler has plans of his own as he tries to blow up Wayne Tower and the Mayor but he is stopped. It becomes clear that he had nothing to do with the Bullock framing. We also have our first instance of Alfred making excuses for disappearing from a function, which is in one way cute as heck but in another way, it reduces Alfred (and Lucius Fox) to background characters in Gordon's drama. We've spent too much time with Alfred not to get a check in on what his life is like without Bruce. There's just too much Bat service in lieu of character service happening in this finale and we've been with these characters too long for this.
And as we all figured, it all comes down to Jeremiah, who still isn't called Joker! So Jeremiah's existence in Arkham consisted of being beaten, stabbed, burned, abused, and humiliated while he was in a vegetative state. And it was all part of his plan. Jeremiah was faking and when he hears that Bruce is back, Jeremiah simply stands up and puts his plan into action. Okay, that's kind of badass. Not flinching while being stabbed in the leg so he can enact his long game. That's very Jeremiah. That's very Joker.
Not only does this episode serve as a precursor to Batman, but the Birds of Prey as well as the ending sees Jeremiah shooting (not fatally) Barbara Kean and abducting Barbara Gordon from the clock tower. First off, comic fans know the clock tower becomes the future HQ of Batgirl and her Birds of Prey, but in this finale, the future Batgirl witnesses the arrival of Batman. Jeremiah takes little Babs to Ace Chemical, the place where the Joker was born. A confrontation with Gordon follows where Batman easily makes the save. And little Barbara witnesses it all. She sees the birth of heroism and you can almost palpably feel the Bat legacy pass to little Babs. It's very appropriate that Barbara represents the heroic linage of Bruce Wayne, Jim Gordon, Lee Thompkins, and Barbara Kean and those legacies will make her into a legend. Really, this finale does not succeed on many levels, but boy would it work as the intro to Batgirl.
Sours: https://www.denofgeek.com/tv/gotham-season-5-episode-12-review-the-beginning/
Episode 22All Happy Families Are Alike
Gotham Recap: The Women of GothamEverything tonight suggests that the show's creators ran out of gas several episodes ago.
Episode 21The Anvil and the Hammer
Gotham Recap: Fetishes Are Weird!A needlessly dumb and exhausting episode.
Episode 20Under the Knife
Gotham Recap: Riddler Begins, Kind Of!One of the most ambitious installments of Gotham yet.
Episode 19Beasts of Prey
Gotham Recap: Fish Mooney vs. Not-Quite-Mike PiazzaTonight's episode makes it seem as if progress won't come to Gotham City without a lot of throat-clearing. 
Episode 18Everyone Has a Cobblepot
Gotham Recap: Jeffrey Combs Is Franken-Woman!Leave it to Gotham to chase one of its best episode with one of its worst.
Episode 17Red Hood
Gotham Recap: Deductive Plotting FTWIt's been a while since the show's creators not only tried but also achieved a Batman: The Animated Series–like tone, but Gus Floyd's story nails it.
Episode 16The Blind Fortune Teller
Gotham Recap: Again With the Fruit Brute?Don Draper Lite strikes again! 
Episode 15The Scarecrow
Gotham Recap: Chilling With Master BTonight's episode stinks on multiple levels.
Episode 14The Fearsome Dr. Crane
Gotham Recap: Boom, Mooney-Pirate Fight!Whether tonight's episode is good or not will probably depend on next week's episode.
Episode 13Welcome Back, Jim Gordon
Gotham Recap: [Cruddy Guitar Rock Music Intensifies]At last, an episode of Gotham that doesn't feel like it exists in a vacuum!
Episode 12What the Little Bird Told Him
Gotham Recap: Finally, a Decent Episode!Thanks to some masterful directorial decisions, tonight's episode is more restrained and purposeful.
Episode 11Rogues' Gallery
Gotham Recap: Arkham AsylumWelcome back, Gotham. It's like you never took a midseason break.
Episode 10Lovecraft
Gotham Recap: A Very Eloquent GazeAlmost everyone is revealed to be a sociopath.
Episode 9Harvey Dent
Gotham Recap: Harvey DentHello, Harvey Dent.
Episode 8The Mask
Gotham Recap: The MaskWe need to talk about Bruce Wayne.
Episode 7Penguin's Umbrella
Gotham Recap: Out of LoveThe best Gotham episode we've seen yet.
Episode 6Spirit of the Goat
Gotham Recap: The Hussy's Demon PurseApparently, a serial killer can be named the Goat, and that's okay.
Episode 5Viper
Gotham Recap: What's Altruism?Gotham's still treading water.
Episode 4Arkham
Gotham Recap: Searching for an AsylumHello, Arkham.
Episode 3The Balloonman
Gotham Recap: Up, Up, and AwayWhither the Reaper?
Episode 2Selina Kyle
Gotham Recap: Hose Down the RoomGuest stars Carol Kane, Lili Taylor, Frank Whaley, and Richard Kine brought their A games.
Episode 1Pilot
Gotham Recap: Holy Prequels, Batman!Pre-Batman begins.
Episode 12Mr. Freeze
Gotham Recap: Strong EmotionsHow many times are we supposed to forgive James Gordon?
Episode 11Worse Than a Crime
Gotham Recap: Tazed in the FaceIf you watch Gotham for anything but its performances, it will almost certainly break your heart.
Episode 10The Son of Gotham
Gotham Recap: Some Fun, At Last!If you wade through the predictable twists, you'll find two genuinely bonkers fight scenes at the end of this episode.
Episode 9A Bitter Pill to Swallow
Gotham Recap: There Is No Rock BottomHow many characters are going to die before Jim Gordon learns to control his temper?
Episode 8Rise of the Villains: Tonight's the Night
Gotham Recap: Scream Bloody MurderThe episode's plotting is overly reliant on canned decisions and cheap cop-outs.
Episode 7Rise of the Villains: Mommy's Little Monster
Gotham Recap: No Emotionally Stable PeopleGotham really needs to slow down and let characters enjoy each other's company.
Episode 6Rise of the Villains: By Fire
Gotham Recap: Who Let James Gordon Be a Cop?Everything Gotham has gotten wrong in the past season and a quarter, crammed into an hour-long installment.
Episode 5Scarification
Gotham Recap: And Then That One Guy Blew Up"Scarification" is the first episode of Gotham's second season that is, for better and worse, a must-see. 
Episode 4Strike Force
Gotham Recap: There Goes the Cavalry!Don't like what you see on the show? Just wait, it'll change in a moment!
Episode 3Rise of the Villains: The Last Laugh
Gotham Recap: Melrose Bat-PlaceThe people of Gotham City may be dumb, but they can't be that dumb. Can they?
Episode 2Knock, Knock
Gotham Recap: Placeholder DramaA bunch of stuff happens tonight on Gotham, but none of it makes sense.
Sours: https://www.vulture.com/tv/gotham/
Episode review gotham
The 'Gotham' Finale Is a Perfect Ending to a Wonderfully Imperfect Show
By Vinnie Mancuso
ShareTweetEmail
"The Beginning," as an ending, was perfect.
Stuck like a Batarang between the twin traumas of Avengers: Endgame and Game of Thrones' season 8 Battle for Winterfell is the last episode of Gotham, ever. After five seasons of serving as a prequel to the Dark Knight's arrival, the series finale, titled "The Beginning", jumped ten years into the future, to a time when Commissioner Jim Gordon (Ben McKenzie) is a weary man with a glorious mustache, Jerome Valeska (Cameron Monaghan) is a white-faced Joker cracking wise above a vat of chemicals in a cheap purple suit, and Bruce Wayne (David Mazouz) finally puts his greatest fear on like a mask and starts professionally crippling muggers by moonlight. Gotham, weird, wonderful, absurd Gotham, is about as far from a perfect television show as Bruce Wayne is from being a mentally stable human being. But as a finale, as a coda to the five wild years that came before it? "The Beginning," as an ending, was perfect.
I've written about every episode of Gothamsince the pilot episode in 2014; recapping the show was one of my first assignments in this game ever, back when recapping individual episodes of a TV show was still a major thing. I recognize that it's possible this long-term commitment gives me bias or, conversely, has driven me insane. But I think watching the show's entire arc has given me an above-the-clouds perspective, like one of those shady blimps that always seems to be hovering over the city for absolutely no reason.
Gotham started out rough as can be, a show very confused about how to go about making a Batman show without Batman, wedged between a hard-boiled detective show where all the detectives were doofuses and an endless DC Easter Egg hunt where the prize was recognizing that there are plants in a pre-teen Poison Ivy's apartment. But, as I've said before, the writers quickly realized no one was interested and promptly lost its freakin' mind. It became a story to match its cast's delightfully hammy performances. It added buckets of color to that drab, grey skyline. It blew up James Fran with a bazooka, turned Michael Chiklis into a hulking rage-monster thanks to the poison blood of a Mad Hatter's sister, became the type of show where Professor Pyg (Michael Cerveris) sang show tunes on a table filled with meat pies made of homeless people parts.
In short, Gotham's arc is...Gotham City's arc. The solution to a "Batman show without Batman" is to tell the origin story of a place so insane Batman is its savior, not a circus freak. Gotham, like Gotham, started out as an objectively tough place with a lot of problems rooted in corruption and street-level violence. But then those problems didn't so much grow as they got stranger, more pastel-colored, more vaguely themed to fit the criminal committing the crime. It became a mad-house run by the inmates. It became a city that needed a symbol of hope as fucked up as the things making it seem hopeless in the first place.
In a lot of ways, Gotham's "real" finale is its penultimate episode, "They Did What?", which actually wrapped up season 5's "No Man's Land" storyline, handed defeat to Bane so Shane West can somehow age into Tom Hardy, and provided emotional closure to its main characters in the most Gotham of ways possible: Gordon and Leslie Thompkins (Morena Baccarin) are co-raising a child with Barbara Kean (Erin Richards), a former mental patient and business owner who has tried to murder them both on several occasions. Oswald Cobblepot (Robin Lord Taylor) and Edward Nygma (Cory Michael Smith) decide to be the best Rogues they possibly can be, while also temporarily agree to not literally stab each other. And Bruce Wayne flies off in a private jet, en route to distant lands to learn detective work and throat punching while Selina Kyle (Camren Bicondova) looks on from the ground, just a few years away from becoming the best cat burglar the city's ever known.
It's the ending Gotham deserved, but not the one it needed. "The Beginning" was an episode of the Burt West '66 Batman series mixed together with the aesthetics of Tim Burton's two movies, then injected straight into Tommy Wiseau's veins like some sort of over-acting Venom concoction. It was gaudy, campy, over-the-top. It was a delightfully comic-book-ish look at a Gotham City right at the moment it needed Batman. And just like he has in every incarnation over 80 years, Batman arrived just in time.
I'll miss this show dearly, every batshit flaw, bungled investigation, and jilted piece of Jim dialogue. I'll miss Taylor, Michaels, and Richards making a feast of the scenery weekly to see who could become the cheesiest future-villain in Batman's Rogues Gallery. I'll miss McKenzie gritting his jaw as Gordon so hard his face occasionally caved in on itself, miss Mazouz's quietly powerful chemistry with Sean Pertwee's Alfred Pennyworth. I'll miss the Gotham City Police Department being unable to stop even a stiff breeze from infiltrating their precinct and slaughtering at least six of their finest officers.
But Gotham certainly served its purpose. It turned a city insane and birthed a Batman out of darkness, blood, and endless warehouses filled with chemical vats. More than anything, over five seasons of absurdity Gotham proved you don't necessary need Batman to become one of the best Batman stories ever told.
ShareTweetEmail
'Home Sweet Home Alone' Trailer Reveals Holiday Hijinks and a McCallister Family Easter Egg
A wave of nostalgia just in time for the holidays.
Read Next
About The Author
Vinnie Mancuso (1758 Articles Published)
Vinnie Mancuso is a Senior Editor at Collider, where he is in charge of all things related to the 2018 film 'Aquaman,' among other things. You can also find his pop culture opinions on Twitter (@VinnieMancuso1) or being shouted out a Jersey City window between 4 and 6 a.m.
More From Vinnie Mancuso
Sours: https://collider.com/gotham-series-finale-review/
GOTHAM Season 1 Review (Spoiler Free)
Gotham
(2014 - )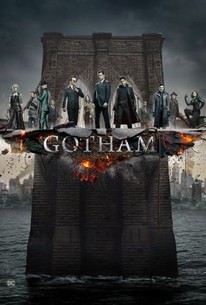 ---
77%
Average TomatometerAvg Tomatometer
66%
Average Audience ScoreAvg Audience Score
The percentage of users who rated this 3.5 stars or higher.
Series Info
James Gordon is a rising detective in the dangerously corrupt Gotham City, where his late father was a successful district attorney. Brave, honest and determined to prove himself, Gordon must navigate the dirty politics of Gotham's justice system as well as the rise of malevolent villains, including The Penguin, The Riddler and Catwoman. The series also chronicles the life of young Bruce Wayne, who becomes an orphan when his billionaire parents Thomas and Martha Wayne are murdered. Gordon becomes a friend to young Bruce as he finds his way toward becoming the iconic caped crusader.
Gotham Videos
Gotham Photos
Seasons
A series gets an Average Tomatometer when at least 50 percent of its seasons have a score. The Average Tomatometer is the sum of all season scores divided by the number of seasons with a Tomatometer.
The percentage of users who rated this 3.5 stars or higher.
Sours: https://www.rottentomatoes.com/tv/gotham
You will also like:
More. Clever. - She felt his cock.
2067
2068
2069
2070
2071