Click HERE to save the tutorial to Pinterest!
Houseplants or potted plants are more popular today than ever before. Caretakers of such foliage often call themselves "plant parents" and "crazy plant ladies." Millennials make up a large proportion of this group. They grow plants as a hobby, to beautify their homes, and to freshen the air.
Any plant that has been "adapted for growing indoors" can be considered a houseplant. They are usually planted in a flower pot, but some are grown just in water. This is called hydroponics. "Air plants" don't need dirt at all.
Most houseplants are tropical varieties. Some spend all year inside, and others are placed outside during the warmer months.
Many houseplants are green leafy plants or vines. Orchids are grown for their flowers, and certain trees called bonsai are grown in miniature. Bonsai may be trimmed or formed to appear that they are battling the elements of nature, like this tree in a strong wind. Small cacti can also be kept indoors.
Scroll down for a downloadable PDF of this tutorial.
Would you like to draw a cartoon potted plant? This easy, step-by-step cartoon plant drawing tutorial can help. All you will need is a pencil, pen, or marker and a sheet of paper. Use crayons or colored pencils to add bright colors to the finished flower.
If you liked this tutorial, see also the following drawing guides: Orchid, Cherry Blossoms, and Tulip.
Step-by-Step Instructions for Drawing a Potted Plant
1. Begin by drawing the flower pot. Use curved lines to draw the body of the pot, outline the bottom of the rim, and trace the top of the rim.
2. Use used lines to outline the base of the plant. Draw a shorter curved line meeting one of the lines at a point, outlining the stem of a leaf. Then, use "U" shaped lines to draw the dirt in front of and behind the plant.
3. Draw a large leaf. Extend two curved lines from the stem, and allow them to meet at a point. Then, draw a curved line down the center of the leaf to indicate the central vein. Note that the leaf encloses the open side of the flower pot. Then, draw a curved line to meet the opposite side of the plant at a point, forming another stem. Draw a long curved line from its tip, beginning the outline of a second leaf.
4. Use curved lines to finish the outline of the leaf. Notice the "U" shaped line that forms a notch, as if a caterpillar has been nibbling on the leaf. Draw a line down the center of the leaf to indicate the vein. Then, extend the plant's main stem using two curved lines.
5. Draw a "V" shaped line at the top of the stem to split it into two. Then, use a pair of curved lines that meet at a point to enclose another large leaf.
6. Draw a line down the center of the leaf to form the vein, and a small irregular oval to indicate a hole where a bug has been munching. Then, use overlapping "U" shaped lines to begin drawing the petals of the flower.
7. Continue drawing overlapping "U" shaped lines to complete the shape of the flower blossom. Use a series of curved lines to outline the center of the flower. Draw another series of curved lines in the middle. From this point, extend a pair of curved lines. Draw a small circle at the tip of each. These indicate the flower's filaments and anthers, which produce pollen.
Step 9. Draw another filament and another using a long curved line and a circle.
Color your tropical cartoon flower. This flower resembles a hibiscus, which comes in shades of red, orange, yellow, and pink.
Scroll down for a downloadable PDF of this tutorial.
Printable Drawing Tutorial
MEMBER TROUBLESHOOTING
Still seeing ads or not being able to download the PDF?
First, check that you're logged in. You can log in on the member login page.
If you're still not able to download the PDF, the likely solution is to reload the page.
You can do this by clicking the browser reload button.
It is a circular arrow-shaped icon at the top of the browser window, typically found in the upper-left side (you can also use keyboard shortcuts: Ctrl+R on PC and Command+R on Mac).
Sours: https://easydrawingguides.com/how-to-draw-a-potted-plant/
[Line Drawing of Potted Plant]
×
Crop your artwork:
Scan your QR code:
Gratefully built with ACNLPatternTool
Walker EvansAmerican
Not on view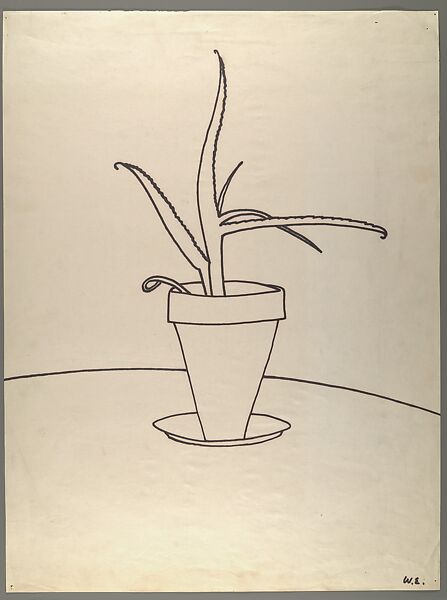 Due to rights restrictions, this image cannot be enlarged, viewed at full screen, or downloaded.
Title:[Line Drawing of Potted Plant]
Artist:Walker Evans (American, St. Louis, Missouri 1903–1975 New Haven, Connecticut)

Date:ca. 1946
Medium:Ink and pencil on paper
Dimensions:61.0 x 45.7 cm (24 x 18 in. )
Classification:Drawings
Credit Line:Walker Evans Archive, 1994
Accession Number:1994.261.185
Rights and Reproduction:© Walker Evans Archive, The Metropolitan Museum of Art
Sours: https://www.metmuseum.org/art/collection/search/282590
Line Drawing Potted Plant png images
2400x2400px437.92KB

700x500px16.87MB

463x792px42.17KB

524x764px65.95KB

3307x4961px2.97MB

4220x4000px12.54MB

1000x1000px746.27KB

613x613px26.64KB

1000x1000px359.38KB

1835x1650px260.78KB

1338x1565px737.56KB

2833x2461px1.47MB

1000x1000px536.94KB

568x568px234.38KB

685x768px126.98KB

658x548px326.78KB

1115x929px325.79KB

3834x3004px13.12MB

426x640px209.7KB

797x2370px1.92MB

721x406px29.49KB

500x678px38.25KB

1500x1500px89.84KB

4800x3300px15.39MB

610x720px144.11KB

2300x1150px625.03KB

947x2319px97.53KB

1200x630px69.39KB

4564x3589px301.63KB

699x1000px298.59KB

1000x1000px206.45KB

564x754px760.12KB

800x533px207.1KB

582x478px165.28KB

801x1150px158.86KB

5784x4030px937.56KB

800x874px414KB

766x2414px546.11KB

800x800px283.99KB

748x628px112.52KB

3333x3333px1.9MB

564x704px300.56KB

1536x1920px397.69KB

1305x1146px174.47KB

552x595px26.85KB

2420x2334px519.68KB

1440x1488px73.14KB

1403x1264px76.99KB

640x1280px101.09KB

679x793px86.33KB
←→
Sours: https://www.pngegg.com/en/search?q=line+Drawing+Potted+Plant
19 Vector Potted Plants Line Art SVG
Linear house plants in pots, herbs and succulents. Trendy graphics! Vector format. Printable SVG files. Transparent PNG files are easy to use and combine with each other. This art is perfect for invitation cards, spring decor, greeting cards, logo design, branding design, posters, scrapbooking, print, wallpaper, wrapping paper, textile, design, wedding invitation, birthday cards, women's day postcards, party supplies, decor, etc. High resolution 300 dpi.
---
WHAT'S INCLUDED:
- 1 AI file with 19 individual elements
- 1 EPS file with 19 individual elements
- 19 SVG files
- 19 PNG files
- 19 JPEG files
- 19 PDF files
---
CONTACT ME
If you have any questions, feel free to contact me!
I will also be grateful if you visit my Instagram: https://www.instagram.com/dervik_art/
Product Information
Release Date:

6th March '21

Updated Date:

6th March '21

Product Tags:

Digital ClipartCacti DigitalDigital ScrapbookingTransparent PngDoodle FlowersPng FilesSvg For CricutHand Drawn FlowersWedding DecorLine Art Flowers

File Types Included:

AI EPS JPG PNG SVG PDF

Projects:

Accessories Apparel Cricut Crafts Digital Crafts Logo Design Mugs Paper Crafts Printing

Themes:

Garden Nature Home

Report listing for infringement
Sours: https://designbundles.net/dervikartstore/1249235-19-vector-potted-plants-line-art-svg
Drawing line potted plant
ValivaPot Plants Set

blueringmediaMany kind of plants

reinekkeHouseplants in pots

interactimagesSix non-flowering plants

marishUrban jungle, trendy home decor elements with plants, planters, cacti, tropical leaves

magurok5Plant

aklionkaSet of cactuses and succulents in pots on a shelfs.

interactimagesPotted Plant

SvetaGaintsevaTemplate with potted plants

InfolightBonsai four color glass button icon

nadyakrWatercolor houseplants in pots set

interactimagesPotted plants and flowers

happymayPot Plants Gardening Concept Vector Illustration

nadyakrWatercolor houseplants in pots set

Yulia337Set of linear botanical icons.

tekla.pototska.yahoo.comHouse plants icons

interactimagesFlower shop and potted plants

vectorsmarketNature Cool Vector Icons 5

OksanaLovely flowers in pots

InfolightBonsai blue gradient vector icon

leremyFlower Plant Pot Silhouette

TashaNatashaSummer garden elements.

Irina_OksenoydSeedlings and potted plants

aklionkaSet of cactuses and succulents in pots on a shelfs.

one7thlifetimeSet of cute house plants

OlhaMPot plants and tools sketch

OksanaCollection of herbs

bloomuaBusiness development icon concept

CreatarkaCactus and succulents in pots. Vector illustration isolated on white

InfolightBonsai minimal bright yellow material icon

blueringmediaA steel gate and potted plants

volodmarFlower in a flowerpot. vector

airdonePlant in Pot

martin951Home houseplants and flowers in pot eps10

tekla.pototska.yahoo.comHouse plants icons

creativestallGardening Line Vector Icons 2

blueringmediaGardening

kchungtwPotted plant icon

TashaNatashaGarden seamless pattern

InfolightBonsai silver plated metallic icon

marco11Graphic pattern

marishUrban jungle, trendy home decor with plants, leopards, cacti, tropical leaves

KsenicaHouseplant: zamioculcas. ZZ plant.

sahuadTraditional japanese culture objects micro icon-set

KattySeverBreathing exercises, yoga, meditation for kids banner. African American girl sits in lotus pose with hands up above head

margolanaSet of collection Vector Decorative of Potted plant

ilyakalininGrowth stages of hemp potted plant. Marijuana phases set. Cannabis indica ripening period. The life cycle. Weed Growing in a pot at home. Isolated vector illustration.

lanashamWindow with view of yellow trees and foliage. Autumn brown interior with branches in vase, sleeping cat and dog on suitcases and umbrellas on hanger. Evening good weather outside. Flat cartoon vector
pp_scoutSet of house plants in pots

InfolightBonsai gold plated metalic icon or logo vector

interactimagesGardeners planting tree and flower in garden

margolanaPotted plant silhouette collection

ilyakalininGrowth stages of hemp potted plant. Marijuana phases set. Cannabis indica ripening. Infographic period. The life cycle. Weed Growing in a pot at home. Outline contour vector illustration.

creativestallGardening Line Vector Icons 4

ilyakalininThe Growth Cycle of Cannabis sativa potted plant. Marijuana phases set. Hemp ripening period. The life stages. Weed Growing in a pot. Isolated vector illustration.

arthouzeCollection of decorative houseplants isolated on white background. Bundle of trendy plants growing in pots or planters. Set of beautiful natural home decorations. Flat colorful vector illustration

ClassyCatStudioGrass in a vase.

vectorlabIcons Set Fire Notification, Smartphone with Camera and Extinguisher, Water Sprayer, Thermometer and Potted Plant Recycling Litter Bin, Helmet Isolated on White Background. Cartoon Vector Illustration

MerfinHappy cute girl having breakfast in the morning after bath, read the newspaper and resting with cat. Feminine Daily life by young woman in home interior with homeplants. Cartoon vector

InfolightBonsai Flat four color minimal icon set

Nadezda_GrapesUrban Jungle. Vector illustration with trendy home decor.

nordfoxViolet in pot

Sunniwa
Sours: https://depositphotos.com/vector-images/potted-plant.html
How to Draw a Pot Plant
27 Easy Potted Plant Doodles To Bring New Life To Your Bullet Journal
Calling all the plant lovers and bujo addicts! Learn how to draw indoor potted plants, succulents and cactus! Simple step by step drawings to add to your bullet journal spreads and layouts.
Ever since first getting into bullet journaling, I've been obsessed with plant doodles. I mean I love plants in real life so this shouldn't have come as a surprise. The only issue is that I am not the most talented artist and so I need step by step doodle help. I have searched through instagram to find the best and most simple step by step plant doodles for anyone else in a similar position.
I really hope you enjoy these little doodles and that they bring some happiness to your day.
This post may contain affiliate links which means that if you purchase something through one of my links, I make a small commission. Thank you for supporting this blog! Read my full disclosure policy here.
TOOLS TO GET STARTED BULLET JOURNALING:
Before we get started, I wanted to share some of the best and most affordable tools available for bullet journalling.
This notebook which is almost identical to the cult favorite and has raving reviews for a fraction of the cost!
This pen that won't bleed through the page and is great for inputting your dailies
This Pen for art work and faux calligraphy
These Markers for decorating and color coding your journal
These stencils for making layouts quicker
Obviously the only things that you need to get started is a notebook and pen and you will use them the most. However, the markers are useful for color coding your journal and the stencils will save you time in creating beautiful layouts!
Read my full Bullet Journal Supplies Recommendation post here!
How To Draw Potted Plants:
@couleursduvent
A few different plant types that you can easily try!
How To Doodle Succulent
@bujoandcookie
A super simple black and white drawing of a succulent that with a little bit of practice, I think anyone would be able to get perfect!
How To Doodle Monstera Leaves
@begumjournals
The most photogenic plant leaves just became the most beautiful plant doodle.
Hanging Plant Tutorial
@cynthiabujo
Super simple doodle that when coloured becomes stunning. Just need to add the rope to make it a "hanging" potted plant.
@notebook_therapy
Cacti that are so beautiful that you don't even need to color them in!
@jade_journals
So MANY different ideas!
@sofieshandlettering
Super simple cacti step by step doodles
@sofieshandlettering
Another cactus doodle variation
@estudateca
Make your plants a little whimsical with cartoon faces
How To Doodle Succulents
@bujocute
Another way to draw succulents is with a top down view. Just as simple as the first example though!
@cozydaydreams
Colored drawings that any beginner could do!
@sofieshandlettering
I had to add these flowers because they were too cute. I love the watering can on the bottom!
@bulletsandconfetti
@loveiscomingdown
Potted House Plant Drawing Tutorial
@bujowithpau
Drawing house plants really is as simple as drawing a line with some leaves. Change the size of your ovals and the distance between them and you get a completely different looking plant doodle.
@thedoodleguide
@_doodle_me_this_
So simple and so clean
@studying_eve
@littleolivebujo
@simplelifeofalady
Play around with leaves on stems (the size and distance between them) and you get completely different looking plants!
@mayranotes
@seed_successful_you
@clematc
@reem_bujo
@splendidscribbles
Plant doodles with a little more detail.
@haysjournal
@sofiarbie
Get Creative And Add Paint!
Adding watercolor specifically to your plant doodles will bring them to life.
@jade_journals
What are your thoughts?
What potted plant doodle is your favorite?
Don't Forget To Pin This Post To Find It Again Later!
IF YOU ENJOYED THIS POST THEN YOU MIGHT ALSO ENJOY:
12 BULLET JOURNAL HACKS THAT YOU NEED TO SEE!
12 BULLET JOURNAL HACKS THAT ACTUALLY WORK
WANNA SEE MORE FROM US THEN MAKE SURE YOU FOLLOW ALONG!
Filed Under: Doodles
Sours: https://bulletplannerideas.com/easy-plant-doodles-bullet-journal/
You will also like:
"You are so gentle," she whispered to me, "why don't we meet a couple of times in Moscow, my husband is not like that at all. " The time was already about. 5 in the morning, dawn was beginning. And we just went to bed. Then I wanted to sleep all day.
9351
9352
9353
9354
9355