Blinds for Odd Shaped Windows: Circle, Oval, Octagon + Triangles
Specialty shape windows like circles, ovals and octagons can often be found in upper floors and attics as a decorative element in the roof's gable. Triangle windows are found in similar spaces and often get their shape by following a slanted roof line.
These odd shaped windows can be intimidating to cover, but it is possible! We'll walk you through the options for covering these non-standard window shapes.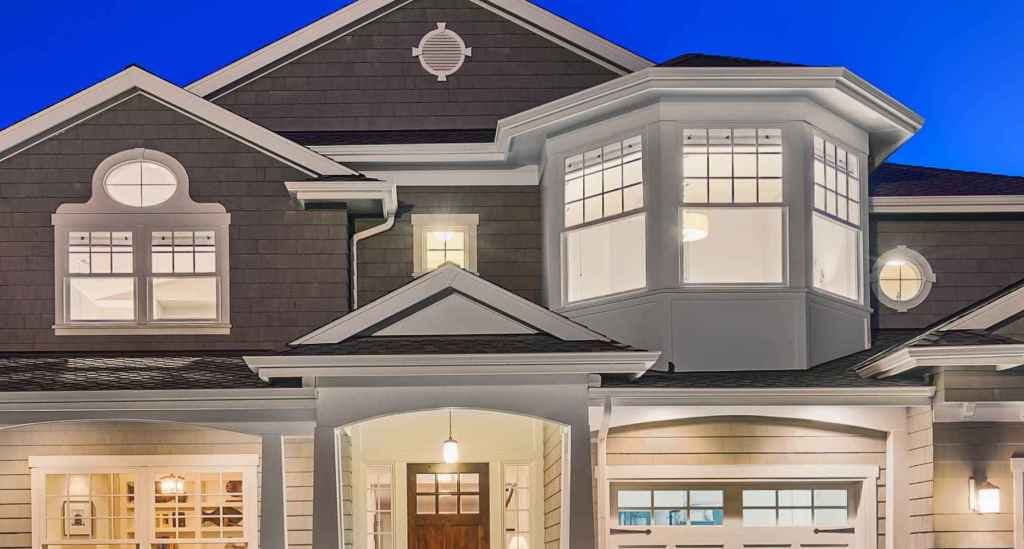 Please Note:
Odd shaped shades or shutters cannot be ordered without the help of a Blinds.com designer. Give us a call at 800-505-1905 and we'll help you measure your windows and place your order.
Blinds for Circle Windows
Circle windows are often found at the top of gables or in alcoves. They add a charming touch and are sometimes called porthole windows.
Circular windows can be covered with cellular shades or wood shutters. A cellular shade of this style will be inoperable, but can be made with fabrics to match other shades in your home.
Browse the Bali fabric options online to choose your color and then give us a call to place your order.
Shutters for circle windows can be made with operable slats or as a solid piece. If you want adjustable light control. we'd recommend this choice over cellular shades. Circle shutters will be fixed to the window and do not swing open. However, if you need to clean behind the shutter, it can easily be removed by taking out a few screws.
Blinds for Oval Windows
Oval windows are a unique detail often found in Victorian style homes. Covering one of these windows can be tricky, but shutters can be made in nearly any shape. The shutter will be fixed to the window and does not swing open. However, if you need to clean behind the shutter, it can easily be removed by taking out a few screws.
Custom cellular shades can also be made in an oval shape. A cellular shade of this style will be inoperable, but can be made with fabrics to match other shades in your home.
Browse the Bali fabric options online to choose your color and then give us a call to place your order.
Blinds for Octagon Windows
Octagon or hexagon windows are unusual, but not unheard of. They are usually found in converted attics and provide a beautiful detail to the home's façade.
Octagon windows can be covered with cellular shades or shutters. A cellular shade of this style will be inoperable, but can be made with fabrics to match other shades in your home.
Browse the Bali fabric options online to choose your color and then give us a call to place your order.
Shutters can also be made to fit an octagon window. Depending on the size of your window, the shutter may be one fixe panel, or two panels that cans wing in or out.
Blinds for Triangle Windows
Triangle windows are often found in attics or stairwells. They can either be a decorative topper for a taller window, or an angled window that follows the roofline.
Triangle windows can be confused for trapezoid windows. Read our post on Blinds for Trapezoid Windows or list of window treatments for angle top windows at Blinds.com to learn more.
Cellular shades can be made to fit triangle windows. These shades will be inoperable, but can be made with fabrics to match other shades in your home.
Browse the Bali fabric options online to choose your color and then give us a call to place your order.
Shutters with movable slats can be made to fit any triangle or angled opening. Depending on the size of your window, the shutter may be one solid panel, or two doors that can swing to open.
Want Help Finding Blinds for Your Specialty Shaped Windows?
Reach a Blinds.com designer by calling 800-505-1905. They'll help you measure your windows and order your covering.
For more information about covering other unusual window shapes, check out our Odd Shaped Window Series.
Sours: https://www.blinds.com/blog/blinds-for-odd-shaped-windows-circle-oval-octagon-triangles
Round Window Curtain Tracks

For Vertical Curvature Application
CURTAIN FABRICATION
1: Measurement of round window circumference: window diameter multiply by 3.15
2: The attached graphic is for 36" diameter round window., divided into 48 grid lines.
For your own size of round window, use its diameter or radius to locate the perimeter on the grid accordingly, then connect the numbers as indicated along perimeter of the circle to define the shape of pie to cut for your own window.
3: The pie shaped by color line is the fabric cutting pattern. Cut number of pies as indicated to fabricate the curtain in which you have selected.
4: It is suggested to use stretchable material such as knit unless you can cut the fabric precisely as needed.
5: Depending upon how stretchable the material is, it is suggested to cut the fabric about 2" wider than the pattern for trims.
6: Sew the snap buttons along each piece of pie at even interval. Beginning and end ones need to be placed not more than 1/2" away from the finished edge.
7: Test with a larger than needed cut out before proceeding to all cuts.
8: Follow installation instructions with all finished pieces
Curtain pattern #4
1: Cut a piece of rectangular fabric with 1.10 of circumference in length, radius minus 1-1/2" in height.
2: Saw a 1/2" pocket along the entire bottom side of the rectangular.
3: Insert bottom side of fabric through the ring completely, then close the ring.
4: This is the easiest patter to fabricate but it is suggested to use light material so that there won't be any difficulty to go through the insertion. You could also use a wider ring.
.
Sours: https://www.roundwindowcurtain.com/
How to Cover Round Windows With Fabric
An unusually shaped window, like a round window, adds interest to a room and makes it unique. However, it also creates some difficulties when it comes to decorating that room. Most windows are rectangular, and so most products for making them more attractive or adding privacy, like curtains or blinds, are also rectangular. You may find that you need to make your own covering for your round window. Fortunately, there are many options to try.
Insert
One attractive option for covering a round window is to make an insert that fits into the window exactly, emphasizing its shape. You need a hoop or ring that is the same diameter as the window; a quilting hoop can be good for this. There are a couple of easy ways to cover the hoop. You can sew a strip of fabric so that there is a little "tube" along either side, then put the hoop through one "tube" and gather the other with a piece of ribbon or string. You can also put the hoop in the middle of a piece of fabric and gather the middle into an attractive knot or gather it with thread.
Curtains
Curtains are traditionally rectangular, but there is no reason that you can't have circular ones, instead. You can purchase custom curtains that will fit a round window from a company, and if you have some sewing skill, you can make your own, as well. You need a piece of fabric that is a little bigger than the windows, cut into two semicircular halves so you can open and close them. Hem the panels and create a little "tube" to put a curtain rod through. You can purchase a rod for this or again, use half of a round item like a quilting hoop.
Roman Shades
Similar to curtains, another attractive option for round curtains is to use Roman shades. These are fabric shades that fold into horizontal pleats when raised, but look like a fairly flat panel of fabric when lowered. Again, you can have these custom made or you can make your own. Making Roman shades involves hemming a fabric panel and putting a few rings in horizontal lines across the back, which enables you to pull the shades up. You'll need something for a rod at the top and weight at the bottom.
Decoration
You don't have to cover your round window in a functional fashion. For instance, you could drape fabric in a swag or swags across the window or cover half of the window in a decorative fashion instead. Where privacy is a concern, consider applying window film to the window behind the fabric. Some films have a frosted look, letting in light but making it difficult to see anything from the inside or outside. Though it requires precision, applying film is a project that you can do yourself.
Sours: https://homeguides.sfgate.com/cover-round-windows-fabric-61493.html
The Best Curtains for Arched Windows
Linda is a seasoned writer and bedrooms authority. She loves sharing design trends, decor ideas, and useful tips with her readers.
Arched Window Curtains
Arched windows add a distinctive touch to grand Victorians, modern lofts, and tract homes alike. Their timeless appeal and simple geometry make them a highly desirable architectural element. . . until it comes time to cover them.
It's amazing how a simple curve can strike fear in even the most seasoned designers. Luckily, you're not the first homeowner to face this challenge. Choose from proven designs that maximize the classic beauty of the arch while stylishly addressing potential light control and privacy concerns.
If you're looking for an arched window treatment, you might ask yourself these questions:
Should I cover the entire arch with curtains?
Should I purchase window scarves as decoration?
Should I hang straight curtain panels on each side and ignore the arch?
Should I install medallions above the arch and hang curtains from them to emphasize the curve?
Should I spend the money on a custom arched curtain rod?
Curve Curtains
If you don't have the budget for custom curved rods and curtain panels, create this semi-custom treatment by sewing loops or ties along the top hem of your curtain panels.
Purchase inexpensive drawer knobs or drapery medallions and install them along and above the arch in increments corresponding to the curtain loops or ties.
Calculate your curtain panel length by measuring from the floor to the highest medallion.
Adjust the curtain hem to accommodate the curve if you plan on letting them hang loose or tie them back on either side.
Split the Difference
If light control and privacy are of no concern, use standard curtain hardware and ready-made window panels to pull off this clever and simple idea.
Pick a spot along the upper one-third of your arched window and run a curtain rod across the opening to visually separate the arch from the lower section of the window.
Hang your window panels over the lower portion, and you have managed to treat the arch as two separate window openings.
Swag Curtains
Use curtain scarves or lengths of sheer fabric as swag valances to highlight an arched window.
Install a decorative curtain tieback or medallion above the center peak of the arch and one on each side of the window where the arch ends and starts its vertical descent.
Fold the scarf fabric in half and wrap it around the center post.
Take the right side of the scarf length and wrap it around the right tieback, allowing the fabric to drape gracefully from one point to the next.
Secure it in place with double-sided tape or a twist tie.
Repeat with the left side and make any necessary adjustments.
The scarf tails can hang evenly or asymmetrically, depending on your personal preference. If you have privacy concerns, hang sheer curtain panels over the lower portion of the windows.
4 Tips for Using Curtains on Arched Windows
One way to showcase the shape of the arch is to extend a straight curtain rod from one side to the other. That way you can pull back the panels on each side of the window using decorative tiebacks.
Make it more formal by creating a custom-shaped valance that mimics the arched curve. On the lower part of the window use sheer curtains to lighten the effect with voile, crepe, or gauze fabrics.
For a contemporary look hang your curtain panels below the arch. That way you'll allow natural light to stream into the room.
Always take exact measurements before you purchase curtains for arched windows. Arched windows come in various dimensions. Measure the highest point and width of each arched window. If you want custom curtains, it's best to create a paper template for accurate sizes.
A Ready-Made Arched Curtain Rod
Questions & Answers
Question: Do you know where I can buy the black arched curtain rod?
Answer: Look online to purchase wrought iron black arched curtain rods that are custom made. If you live in a large metro area, you can find a local curtain rod company that can come to your home and measure for an arched window.
© 2019 Linda Chechar
Start a Conversation!
Linda Chechar (author) from Arizona on July 27, 2020:
Kristy, you can get a custom arched blackout curtain for the child's room. Instead you could use a regular straight curtain rod above over the arch. That way you can purchase a blackout curtain that is less expensive.
Kristy on July 27, 2020:
Hello! We have baby #2 coming in less than 2 months and need to transition our 20 month old son into a big boy bed (in another room) asap. His new room has a round top window and I'd like to install blackout curtains without using a straight rod - I'm looking to do something like your last photo with the arched rod above the window. Was this custom made or was this look achieved by installng a curved shower curtain rod to the wall (and if so, how?)?
Linda Chechar (author) from Arizona on July 22, 2020:
Victorianstuckontradition, find fabric for filtering UV for the large picture window curtain that will block the sunlight.
victorianstuckontradition on July 22, 2020:
We have a Victorian style home with a lovely view at every window. Our living room has arched windows with 10' ceiling. I'm stuck on window treatments for the big picture window. I don't want anything that will obstruct view. I need something for filtering sunlight during the day. Found a few ideas not just stuck on which to choose. Thank you.
Linda Chechar (author) from Arizona on March 11, 2020:
Louise89, glad you liked the article!
Louise89 on March 11, 2020:
Great tips, thank you!
Linda Chechar (author) from Arizona on January 10, 2019:
Liz, my husband and I had a curtain business back in California. It is certainly challenging and expensive to create custom window coverings. That's why I came up with these easy curtain ideas that can save homeowners a lot of money.
Liz Westwood from UK on January 09, 2019:
Not having arched windows I hadn't realised how complex fitting curtains migt be. You have some great solutions in your article.
Sours: https://dengarden.com
Window curtain round
Window Treatments for Circle and Oval Windows
Covering Circular Windows
Circular or oval windows offer tons of vintage, historic charm to your home. In older homes, they're often featured in attics, bathrooms and cozy reading nooks, although you can find them in newer modern homes for those wishing to add a touch of nostalgia.
If you love the traditional look of shutters, we suggest NewStyle® Hybrid Shutters. They fuse superior durability with the look of real hardwood and come in on-trend colors and finishes that will easily complement your interior design style.
Covering these windows might seem tricky, but several Hunter Douglas window treatment styles will look beautiful on them. Parkland® Wood Blinds—crafted with genuine hardwood slats in an extensive range of stains and finishes—can be custom-fitted to your specific circular window shape. These are a great option if you prefer view-through as well as privacy in your space.
Other popular options to cover your circular or oval windows is Duette® Honeycomb Shades or Applause® Honeycomb Shades. These shades offer many versatile and durable options to help you cover most shaped windows. These shades can be customized and provide exceptional energy efficiency with their insulating honeycomb design. They are available in the industry's largest range of fabrics, textures and colors. You can also choose from 3/8", 3/4" or 1 1/4" pleat sizes, depending on your visual aesthetic.
Sours: https://www.hunterdouglas.com
Curved and Arched, Drapery Hardware with United Supply Company
You already just surrendered to it, stretching out your arms in front of you, clenching the sand into a fist. You felt a strong tongue sliding over your ass, pushing it apart, trying to penetrate deeper and deeper. How your knees bent on their own, lifting you up, exposing your flesh for him. And all the hands caressed you, It seems they were everywhere, sliding over you without stopping.
Similar news:
She stroked it with her palm, and looking into my eyes, licked the head with her tongue. Then her lips slightly touched the edge of the head and with a sharp movement, the girl's mouth swallowed a member, right down to the balls. It was a great blowjob. Tongue twisted and wrapped around a member, like a boa constrictor victim.
39874
39875
39876
39877
39878