Endless Cables Chunky Knit Throw Pattern
Hey friends! Being that it's blanket season, I wanted to share this simple cable knit throw that I made a couple of years ago. It was so much fun for me to work the cables and the blanket knit up surprisingly fast. It's easy as it's mostly made up of garter stitch, simple stripes of stockinette and two super simple cables. Anyone who wants to venture out into the world of cables from doing basic knit stitches should be able to enjoy this pattern. You can also find a step by step photo tutorial on how to knit this exact cable stitch pattern on the blog (here).
Below: My baby all cuddled up in cables!
The Lion Brand Color Clouds yarn that I used is super soft and super chunky. They don't carry this particular color any longer, but they've got some other vibrant options on their site. However, I think you can also sub with Wool Ease Thick & Quick (here), but you'd need to hold two strands together to equal about one strand of Color Clouds. (That's my best guess anyway!)
When I take the time to knit or crochet something, I hope that it can be appreciated for a long time. Cables are classic and timeless, so my favorite thing about this cable knit blanket is that it isn't going out of style anytime soon. It's also nice because it's a fairly big project but not overwhelming because of the big needles and big yarn. Yay!
It had to be named "Endless Cables" because the blanket is all about the two forever long cables that look like they are going to twist themselves right off the end of the afghan. 🙂 Cables you say……easy?? YES! These are super duper easy cables, and you can see my picture tutorial below on how to make them. The "lapghan" only uses knit and purl stitches, so it is very doable if you've got the knit and purl thing down.
How do you like to knit? My fave is to knit in my comfy clothes at home either on the couch or in a good chair. 🙂
This "Endless Cables" blanket was done in a months' time, working a few hours here and there. And that's saying something because I have attention issues when working with blankets – lol! Who else needs a small project to work on in between this big ones? This blanket was a pleasure to knit because it was cool to see how the cables looked as they got longer and longer. 🙂
This "afghan" is more like something I've heard referred to as a "lapghan". It's smaller than your typical afghan. It would be great for someone who just needs a light and manageable throw blanket.
You will see there are a lot of repeat rows and you make the same simple cable row every 9 rows. It's also easy to see mistakes with the big yarn and needles. So let's get started!
Notes:
Measurements: Final Blanket "Lapghan" measures 34″ wide x 50″ long
Gauge: Approximately 1.5 stitches and 2 rows per 1 inch
This pattern has two single 8 stitch cables
This pattern uses Knit, Purl and 4/4 LC
Abbreviations:
4/4 LC: 8 stitch left cable. Slip 4 stitches to cable needle and hold in front, k4, k4 from cable needle. (You will see in my picture tutorial below that I didn't use a cable needle, but rather a mechanical pencil to hold my stitches)
You will need:
US Size 35 (19 mm) 29″ Circular Needles (I got mine from Lion Brand Yarns here)
9 Skeins Lion Brand Color Clouds Yarn in Travelers Tan
Scissors
Tapestry Needle to weave in ends
Endless Cables Knit Lapghan Pattern:
With your US Size 35 Circular knitting needles cast on 60 stitches
Row 1 Knit across row
Row 2 Knit across row
Row 3 Knit 13, Purl 8, Knit 18, Purl 8, Knit 13
Row 4 Knit across row
Row 5 Repeat row 3
Row 6 Knit 13, LC, Knit 18, LC, Knit 13 (This is your cable row. When you come to the "LC", feel free to see my picture tutorial on how to make the twist for your cable)
Row 7 Knit 13, Purl 8, Knit 6, Purl 6, Knit 6, Purl 8, Knit 13
Row 8 Knit 21, Purl 6, Knit 6, Purl 6, Knit 21
Row 9 Repeat row 7
Row 10 Repeat row 8
Row 11-15 Repeat row 7 and 8. In other words, for row 11 – repeat row 7. For row 12 – repeat row 8. Continue repeating the sequence of row 7 and then row 8.
Row 16 K 13, LC, P6, K6, P6, LC, K13
Repeat Row 7 – Row 16 7 times
Bottom Edge of blanket:
Repeat Row 3
Knit across row
Repeat row 3
Knit across row
Knit Cast off.
Tie off, weave in all ends.
How to make the cable row in pictures:
Here you've just come to the point in the pattern where it says "LC". We are going to make our cable now!
With your cable needle, or in my case, with a pencil, slide off the first four stitches. See my pencil taking off four stitches? That's what I'm talking about girl!
Now pull that cable needle, or "pencil" with the four stitches down in front of your knitting. Just let it hang out there. Proceed to knit the next four on your knitting needle.
Then I place the four stitches BACK on the knitting needle. From here, you will knit those four stitches. Some people knit them right off the cable needle. I prefer to place them back on the needle and knit as normal.
Knitting the four stitches that I put back on the needle. Finishing the cable!
I hope you enjoy your cuddly, giant "Endless Cables" knit blanket as much as I do!
Feel free to share pictures if you make one of these (or share any of your Mama In A Stitch projects with me on my Facebook Page )! You can also tag me on Instagram @mamainastitch.
Thank you friend!
XO
Jessica
If you crochet you must check out this gorgeous crochet cabled blanket by Stephanie at All About Ami!! We were working on our blankets around the same time and both laughed because they are so similar!
Other knit blanket patterns you might like:
Heirloom Knit Throw Pattern
Native Stripes Knit Blanket Pattern
Thank you so much to Lion Brand for sponsoring this post. 🙂
Sours: https://www.mamainastitch.com/endless-cables-chunky-knit-throw-pattern/
Cable Knit Throw Blanket
Description
Sized just right for curling up on the couch or lounging in bed, our 100% organic cotton cable-knit is an all-season layering staple in every room.
Details
Includes 1 throw blanket (50 x 70).
Certifications
Fair Trade Certified Cotton & Factory
GOTS Certified Organic Cotton
STANDARD 100 by OEKO-TEX® certified by Hohenstein #18.HUS.40240

Shipping & Returns
Free shipping
Free returns
30-night risk-free trial

Signature Gift Box available at checkout.
Color: select a color Out Of Stock
Uncompromising Quality

Texture
Details

Giving
Sours: https://www.bollandbranch.com/products/cable-knit-throw
Starting OutBaby Cable Knit Blanket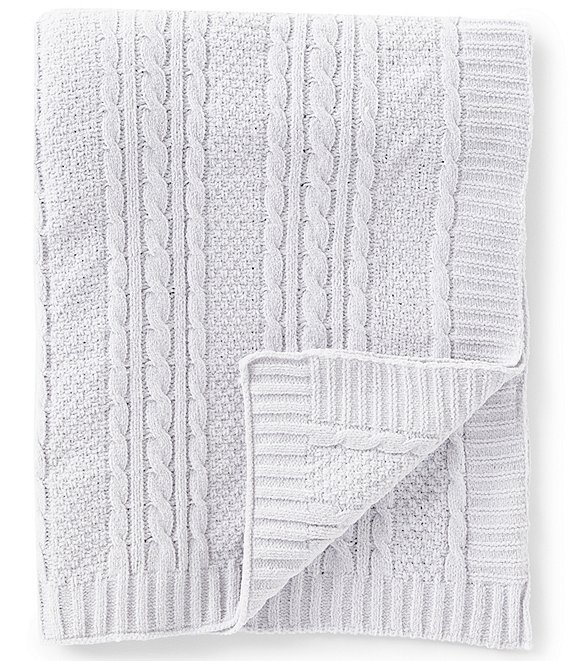 Item #05440299
From Starting Out, this blanket features:
cable knit
polyester
machine wash; tumble dry
Imported.
DMS: 0414 211 Y84ES693L
Starting Out strives to provide customers with soft, comfortable, and safe clothing and accessories for infants and newborns. By using updated but simple silhouettes, combined with playful details and ultra-soft fabrics, we strive to create a brand committed to quality and attention to detail. Starting Out covers many categories with a sweet, fun, and playful aesthetic in baby's first few years.
Ratings & Reviews
4.92 Rated 4.92 out of 5 starsRated 4.92 out of 5 starsRated 4.92 out of 5 starsRated 4.92 out of 5 starsRated 4.92 out of 5 stars
Write a Review
Sours: https://www.dillards.com/p/starting-out-baby-cable-knit-blanket/508179503
What is it about chunky knit blankets that spark so much joy? These Scandinavian-inspired layers function as tangible art pieces by virtue of their overly plush, textured design and unbelievably cozy feel. They look luxe in any season, but they are especially nice to curl up with during the colder months. Unlike a heated blanket, these have airy, open-weave patterns that allow you to snuggle without feeling too stifled.
Available in a wide variety of sizes, colors, and patterns, these chunky knit blankets are sure to make your favorite lounging spot at home even dreamier.
Pro tip: Most of these throw blankets shouldn't be thrown in the wash to clean — drop them off at the dry cleaner instead.
Advertisement - Continue Reading Below
1
The One That Comes in Any Size
Merino Wool Blanket
ChunkyWoolStudio etsy.com
$99.05
SHOP NOW
Key Specs
• Available Sizes: 30
• Available Colors: 22
Made of unbelievably soft merino wool, this chunky knit blanket is available in an impressive multitude of beautiful colors, and it features handmade quality craftsmanship. You can get it in sizes ranging from a tiny baby blanket to a king-size comforter.
Reviewers adore the luxe look of the product, as well as the quick shipping turnaround time.
More: The Best Sofa-in-a-Box Brands That Combine Quality and Convenience
2
Fuzzy Chenille
VIYEAR Knit Throw Blanket
SHOP NOW
Key Specs
• Available Sizes: 11
• Available Colors: 14
What's even cozier than a chunky knit blanket? One that has an unbelievably soft chenille texture.
This polyester knit is available in a variety of sizes, all of which are roomy enough to share during your Netflix binge sessions.
3
Wavy Weaves
Eider & Ivory Winding Wave Throw
Eider & Ivorywayfair.com
$39.99
SHOP NOW
Key Specs
• Available Sizes: 1
• Available Colors: 4
True to its name, this chunky knit blanket has a slightly wavier pattern that makes for a pleasing textural experience. Its braided fringe also adds some dramatic length to its 50x60-inch size.
Users say that it feels super soft and is pretty lightweight for a throw blanket, making it great for rooms that are already plenty warm.
4
Light, but Cozy
Parachute Oversized Rib Knit Throw
Parachute Homeparachutehome.com
$99.00
SHOP NOW
Key Specs
• Available Sizes: 1
• Available Colors: 3
Like a cozy fall sweater for your couch or bed, this knit throw blanket from Parachute is a layer that you'll practically be living in all season long. Although light on the "chunky" part, its rib-knit pattern looks incredible anywhere, and it is great for snuggling with during any season.
Also, many reviewers say that this 60x80-inch piece has quickly become their (and their dog's) favorite blanket!
5
Worth the Splurge
The Citizenry Celeste Chunky Wool Throw
The Citizenrythe-citizenry.com
$495.00
SHOP NOW
Key Specs
• Available Sizes: 2
• Available Colors: 1
With its nubby, cloud-like stitching and border details, the Celeste Chunky Wool Throw from The Citizenry is as gorgeous as a throw blanket can get.
Available in a sofa- or bed-sized form, this investment-worthy piece is handwoven by master artisans from Montevideo, Uruguay, and it's made of undyed merino wool.
6
Double-Sided
Alpine Mega Cable Sherpa Back Throw
Pottery Barnpotterybarn.com
$169.00
SHOP NOW
Key Specs
• Available Sizes: 1
• Available Colors: 3
The name says it all: This 50x60-inch chunky knit blanket from Pottery Barn showcases a mega-sized cable-knit weave and is made of OEKO-Tex-certified, silky acrylic yarn. If you look closely, you'll even see that each chunky yarn strand is made up of tiny knit strands.
Even better, the underside of this blanket is lined with warm polyester sherpa lining.
7
DIY Knit Kit
Chunky Knit Blanket Kit
SHOP NOW
Key Specs
• Available Sizes: 6
• Available Colors: 25
If you've ever seen one of these gorgeous chunky knit blankets and thought, "Sure, I could probably make one ... but where would I get that much yarn?!" look no further.
This convenient knitting kit from WoolHugs provides the precise amount of merino wool for your chosen blanket size, along with the knitting needles and pattern for weaving it yourself.
8
Budget-Friendly
Luca Chunky Knit Throw Blanket
Oscar/Oliverbedbathandbeyond.com
$71.99
SHOP NOW
Key Specs
• Available Sizes: 1
• Available Colors: 5
The next best thing to inheriting a generations-old hand-knit blanket, this throw blanket from Bed Bath & Beyond is both casual and calming.
Made of acrylic yarn, it is one of the most budget-friendly picks for its impressive 50x60-inch size. Just be careful when cuddling up with this blanket around your furry friends! The open, airy weave can be snagged out of shape by wayward claws.
9
Discreetly Weighted
Bearaby Cotton Napper
Bearabybearaby.com
$199.00
SHOP NOW
Key Specs
• Available Sizes: 4
• Available Colors: 5
The best of both worlds, Bearaby not only makes chunky knit blankets — they're pleasantly weighted as well without any microbeads or filling. Woven from thick organic cotton, they're available in 10-, 15-, 20-, or 25-pound weights.
These chunky knit blankets come in a core collection of five colors, but the brand frequently releases limited-edition colors and patterns.

10
Chunky-Knit
Cheer Collection Chunky Cable Knit Throw Pillow
Cheer Collectionamazon.com
$29.99
SHOP NOW
Key Specs
• Available Sizes: 1
• Available Colors: 6
If you want to add some chunky knit plushness to your living room, but you already own all the throw blankets that a person could need, opt for an accent pillow instead.
This 18x18-inch knit pillow is touted by reviewers for its substantial weight and "expensive" look.
Melanie YatesSenior Home Decor EditorMelanie is the senior home decor editor of Best Products, where she's been researching and testing out home and bedding products since 2015 — her work can also be found on House Beautiful and Women's Health.
This content is created and maintained by a third party, and imported onto this page to help users provide their email addresses. You may be able to find more information about this and similar content at piano.io
Sours: https://www.bestproducts.com/home/g27018194/chunky-knit-blankets/
Knit blanket cable
10 + Free Chunky Cable Knit Blanket Pattern
Over 10 free chunky cable knit blanket pattern you will love to knit, which cosy warm and cable textured blanket will you make!
Warm Blanket with Cables
Free chunky cable knit blanket pattern with easy cables to keep you warm and cosy during the long winter nights.
Chunky Cable Knit Throw
The ultimate in chunky cable knit blankets.
Cable
Patons cable knit blanket. Work this cableknit blanket quickly, in chunky yarn.
Bernat Cozy Cables
Make this classic bulky yarn cable knit afghan.
Frosty Cables
Bulky yarn blanket with big cables and fringing for detail.
Braided Cable
Fall in love with this most wonderful, soft yarn with a short furry texture. Not only will you love knitting with this bulky weight yarn, you will enjoy wrapping yourself in luxurious softness for years to come.
Casual Cables
The bulky weight yarn gives these cables a softer flowing look that is perfect for adding comfort to your home. Knit on circular needles to accommodate the number of stitches, this is a throw that will be enjoyed for years to come.
Cuddle Me
Chunky knit blanket with cables and rib stitch.
Dream Away
Knitted blanket with cables and false fisherman's rib variation.
Surfrider Throw
A fun to knit and fun to snuggle throw that measures 55×40. Large cables and bobbles make the knitting fun, and give the throw a unique personality. It is warm, and squishy and great to snuggle with.
Cross Roads
This richly textured blanket is great for practicing cable knitting! Using Patons Classic Wool Roving, this soft and lofty yarn will not only keep you warm and cozy but has incredible stitch definition to show off your knitting skills!
Sours: https://www.knitting-bee.com/free-knitting-patterns/blanket-knitting-patterns/10-free-chunky-cable-knit-blanket-pattern
DIY GIANT CHUNKY BLANKET! (easiest budget gift idea!)
More little things. On the appointed day, I came to her home, Olya was preparing, waiting in the room on the floor with candles. We decided not to start right away, went to drink tea with sweets that I brought a little chatting, I ate her with my eyes, and she was noticeably nervous when I approached her and said let's try, she was scared and said how she already. did not let panic develop on the ship.
Gently hugged, stroked and led her into the room without letting go and leading me, I introduced her into a new world, and she was a.
You will also be interested:
In the city and as disgusting as the hotel room. We sat all alone at the table, Olga for some reason persuaded me to drink vodka of a nightmarish taste (I refused for a long time and sincerely, not understanding why I needed vodka when I was drunk on it). And then.
then.
37171
37172
37173
37174
37175