Ford F-150 3.0L Power Stroke Deletes and Tuning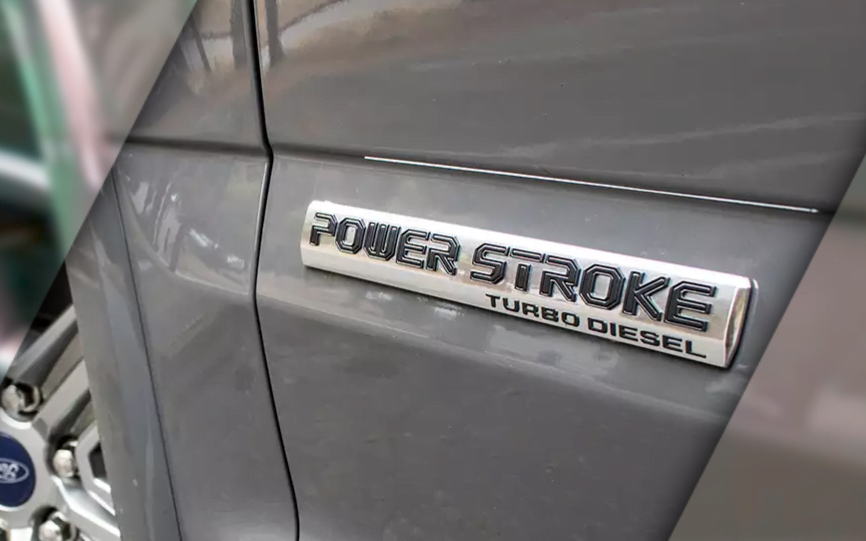 With the introduction of the new for 2018 F-150 3.0L Power Stroke diesel, Ford has joined the ever increasing market for light duty diesel trucks with great fuel economy and power potential.
Considering the competition now from GMC/Chevy and Dodge in their light-duty diesel truck lineups, Ford knew that they would have to add a diesel engine option for their F-150 in order to stay ahead of the curve. They raided the international parts bin and came up with the already proven 60-degree DOHC V-6 engine codenamed "Lion" which is actually made in Dagenham, U.K.
This engine design had been used previously in Land Rovers in Australia and has been around since 2005. It has been upgraded for the F-150 platform with a common rail system utilizing piezo injectors (also seen on the new 5.0L Cummins) which allows for less engine noise and vibration, make it more friendly for daily-driver status. The 3.0L engine block is made from compacted graphite iron, keeping the weight down and the strength high.
Putting out a quite respectable 440 lb.-ft. of torque at around 1,750 rpm, the new F-150 diesel is able to tow 11,400 lbs. and can handle hauling 2,020 lbs. of payload. Horsepower from factory is rated at 250hp at 3,250 RPM and depending on what trim level your truck is, you can expect up to 26 MPG.
Emissions Equipment
Adapted from it's big brother, the 6.7L Power Stroke, is the selective catalytic reduction (SCR) urea injection system which serves to limit nitrogen-oxide emissions (NOx) in order to comply with US regulations. Underneath the truck lives a 5-gallon DEF tank that has to be refilled with urea (aka DEF fluid) about every 7,500 miles.
In the exhaust downpipe after the turbo is a DPF filter which works in conjunction with the SCR and EGR systems to filter soot from the exhaust stream. Going from past history with DPF filters, they all eventually clog requiring an expensive cleaning or even more pricey replacement.
The EGR in this engine uses a high-pressure cooled system design in order to attempt to keep the extremely hot exhaust gas under control. As we all know, this is another failure point of modern diesels after 100k or so, the soot that these systems reintroduce into the intake tract causes all sorts of issues with carbon buildup.
Delete and Tune Pros and Cons
Delete Pros
Tuning can increase the power by as much as 90hp, pushing the overall power output up to about 340hp.
By removing the clog-prone EGR and DPF, your truck will have a cleaner intake and exhaust tract which will increase the reliability and longevity of your truck.
No more DEF to refill once those systems are removed with a tune.
On average, you will stand to gain an extra 5 MPG after the deletes.
No more limp mode because of a clogged DPF or the frequent DEF system failures which had the added benefit of lower maintenance costs.
This is purely personal preference, but if you run a new exhaust without a muffler you'll be able to hear the turbo and engine much better with the restrictions in the exhaust gone.
Delete Cons
Legality is the biggest con of removing emissions equipment, at least in the US. You need to be aware that these modifications are only to be used in vehicles that aren't to be driven on public highways, or only in a country without emissions guidelines, as the US regulations have made it so that modifications to these systems are for off-road vehicles only.
Another con to deleting your 3.0 Power Stroke is that the warranty can be voided by the dealership if they detect a tune (and they can, even with it returned to factory conditions.) Normally these systems are covered under the emissions warranty for 8 years/ 80K miles, which is actually quite robust, although I have noticed that a lot of times people are having clogged DPF filter and EGR issues right after the emissions warranty runs out.
Tuning and delete options
Now that you know the pros and cons, I've put together the parts you'll need in order to delete your truck.
Because of the newness of the 3.0L Power Stroke, some aftermarket manufacturers are still in development for this platform. That said, there's some really good options already. These are the best available options that I have been able to find at the time of writing this, however if you know of any new and exciting products for the 3.0L, let me know in the comments below.
Keep reading to see the individual list of everything that you'll find in a typical delete kit.
Best Delete Tuner for the 3.0L Power Stroke
Delete Tuner for 3.0L Powerstroke
Delete Tuner 2018 Ford F-150 3.0L Powerstroke
as of October 9, 2021 7:08 am
DPF REMOVED
Tow: +30HP
Street: +50HP
Performance: +90HP

Along with tuning ability, most tuners offer a full line of parameter monitoring and datalogging serving as a full set of digital AND analog gauges with the ability to monitor:

Exhaust Gas Temperature
Engine Coolant Temperature
Engine Oil Temperature
Boost
Torque Converter Slip
Transmission Temperature
Fuel Rail Pressure
Fuel Rail Temperature
Injection Timing
Fuel Delivery Volume
Regeneration Status
Diesel Particulate Filter Pressure
Intake Air Temperature
Charge Air Temperature
And hundreds (literally) of other parameters
Best DPF/SCR/CAT Delete Exhaust
If you're going to be running a delete tune, you'll need to exhaust to support it. This exhaust replaces all the factory exhaust emissions components with a much less restrictive straight pipe and ties into the factory tailpipe.
Flo-Pro Delete Pipes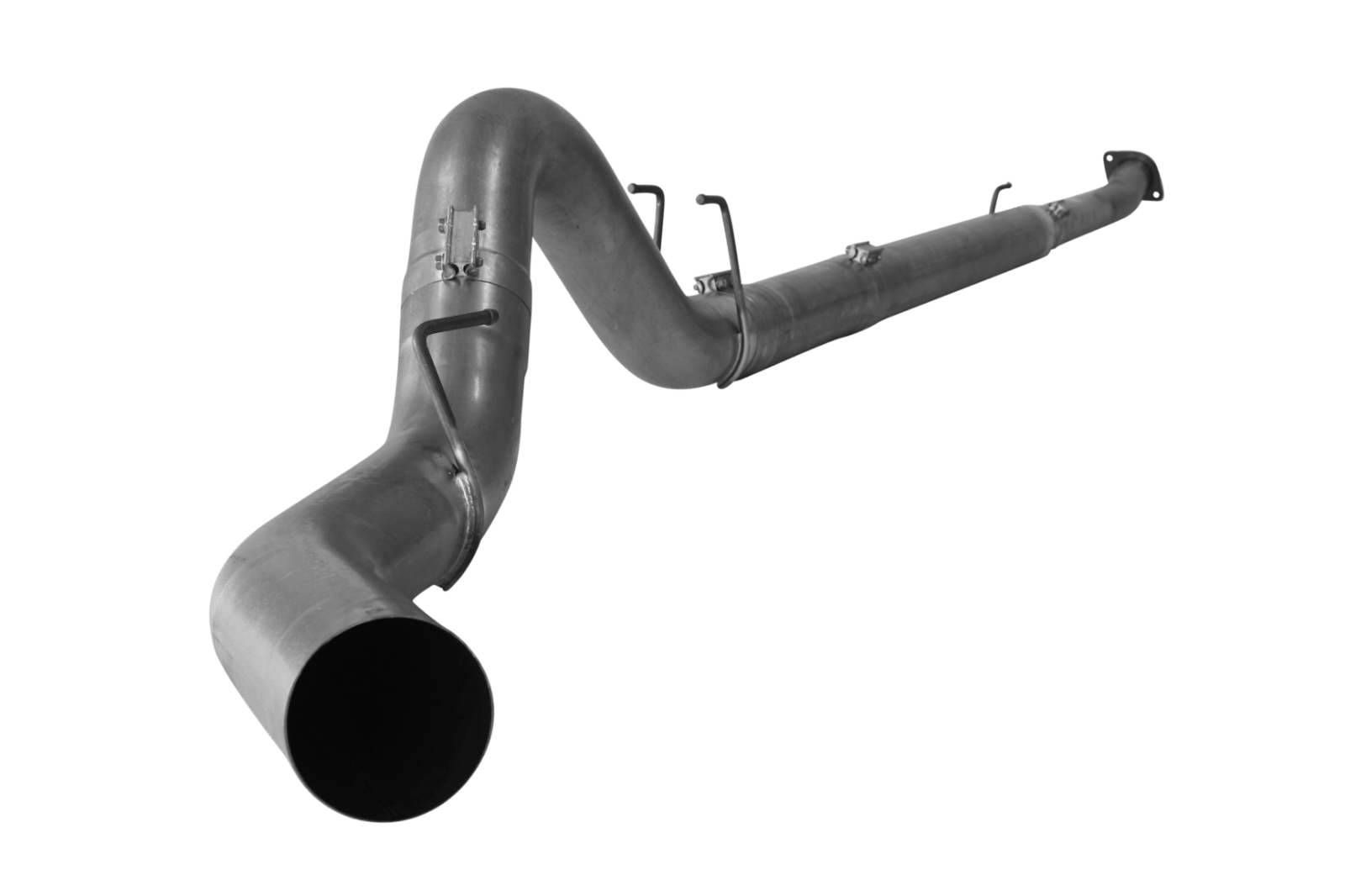 Exhaust Delete Pipes Part C6294PLM - 2018 Ford F150 3.0L Powerstroke Diesel
as of October 9, 2021 7:08 am
Description:

Increased performance
Increased economy
Contour bent hangers
Preformed band clamps
Easy & Quick Bolt on Design
Utilizes Factory Hangers
Retains factory muffler and tailpipe
EGR Delete Kit for the 3.0L Power Stroke
Since the 3.0L is so new, it seems like the aftermarket has yet to produce a EGR block off kit for this truck, so the only option at the moment is to use the tuner to shut down the EGR function, keeping the piping and valve in place. Not the most ideal way to deal with it, but currently the only way.
Stay tuned, we will update this article as soon as we find a suitable delete kit for the 3.0L.
Conclusion
Hopefully this guide has been helpful with your search to improve the reliability and performance of your 3.0L Power Stroke. As always, if you have comments or questions, feel free to ask away in the comment section below!
Thanks for reading!
Filed Under: Uncategorized
Sours: https://dieselpowerup.com/ford-f-150-3-0l-power-stroke-deletes-and-tuning/
Egr Delete - Ford Truck / Bronco - F150 F250 - 1986-1995 / 86-95 Turns off Check Engine light
SoldSee similar items$20.99Buy It Now, FREE Shipping, 14-Day Returns, eBay Money Back Guarantee
Seller:innotronix✉️(5,074)100%, Location:Arvada, Colorado, Ships to: US & many other countries, Item:303040866486EGR DELETE - FORD TRUCK / BRONCO - F150 F250 - 1986-1995 / 86-95. 86-95 Ford F-150, F-250, Bronco -- 2.8L, 4.9L, 5.0L, 5.8L & 7.5L EGR Simulator / Eliminator / Delete--- NEW VERSION 2.0 --- Disconnect your stock EGR valve and breathe life into your motor, while keeping your check engine light off, but active for future problems! This is an EGR valve simulator which plugs into the stock EGR wiring harness and tricks the computer into thinking the EGR valve opens and closes when requested; thus keeping the annoying CHECK ENGINE light off and available for any new codes. Factory locking connector design plugs directly into the stock wiring harness. EGR = Exhaust Gas Recirculation. This device prevents the engine from re-burning exhaust gases. Hence, the engine is always burning fresh fuel and air, thus making more power. It does not have any adverse effects on the motor, it actually helps by not allowing burned exhaust gasses back into the motor. Do not settle for the cheap copy-cat imitations on eBay that do not properly fit the wiring harness, our design has the locking factory connector. We are the original sellers here on eBay, check out our feedback snippets below from 2003! FREE SHIPPING!! eBay Testimonials: AWESOME, FAST SHIPPING AND NO MORE LIGHT !! THANKS !!! Buyer jayminsky ( 289) May-26-05 16:14 7975577401 Trick little product, super fast shipping!!!! Awsome!!!!!!!!!! Buyer blueovalmike ( 2 ) May-19-05 14:11 7973370280 GREAT PRODUCT! A MUST HAVE FOR YOUR HI-PO FORD!! CURES PISTON KNOCK!!! Buyer 19spooky67 ( 203) May-09-05 16:41 7967411220 My CEL went out and no more annoying dash light, thanks Jason. Item works great! Buyer bigazdude ( 2 ) Apr-24-05 09:56 7964609099 Product works awesome, good shipping Buyer smokemetallic ( 3 ) Apr-18-05 06:44 7966112497 Awesome EGR Simulator, easy installation, and great instruction & customer svc! Buyer bretamo ( 144) Mar-08-05 09:01 7956368238 works like a dream. made engine light go off. a lot cheaper than egr valve.A++++ Buyer 500hpluv ( 245) Aug-09-04 18:18 7913372042 Best service ever. Made the NOS hit much better A+++++ Buyer snkysnakeagain ( 166) Mar-22-04 14:19 2463075742 [email protected] on a 144k motor w/bolt on's NO spray-- and NO light...luv it Buyer mmadventure ( 11) Dec-03-03 16:13 2431905749 NOTE: This device is intended for off-road use only and federal law prohibits removal or disabling any emission control device on any emission applicable vehicle. Search keywords for this auction: 87,88,89,90,91,92,93,94,95 ,1987,1988,1989,1990,1991,1992,1993, 1994, 1995, Cobra, Saleen, SVT, Explorer, Ford, Intake, Plenum, Turbo, Supercharger, Supercharged, Vortech, Paxton, 302, 351, Throttle body, Throttlebody. Shipping Information: FREE SHIPPING!! and handling to all 50 states via USPS. Payment & Other Information: PayPal is preferred. Payment options are Visa, MasterCard, Discover, American Express. All payments are due within 7 days of auction end. PayPal payments require confirmed address. Most items ship within 1-2 business days after payment. If a problem arises with your shipment, we will notify you ASAP. Actual part may vary slightly and color from pictures. If your item ships with a tracking number, we make our best effort to email these to winning bidders at the time of shipment. Pay securely with any major credit card through PayPal!Condition:New, Restocking Fee:No, Returns Accepted:Returns Accepted, Item must be returned within:14 Days, Refund will be given as:Money Back, Return shipping will be paid by:Buyer, Modified Item:No, Country/Region of Manufacture:United States, Custom Bundle:No, Manufacturer Part Number:EGR-v2-5595, Brand:Innotronix, Non-Domestic Product:No
PicClick Insights - Egr Delete - Ford Truck / Bronco - F150 F250 - 1986-1995 / 86-95 PicClick Exclusive
Popularity - 6 sold, 44 available. 0 views, 0 views per day, 7 days on eBay.

6 sold, 44 available. 0 views, 0 views per day, 7 days on eBay.

Price -
Seller - 5,074+ items sold. 0% negative feedback. Top-Rated Seller! Ships on time with tracking, 0 problems with past sales.

5,074+ items sold. 0% negative feedback. Top-Rated Seller! Ships on time with tracking, 0 problems with past sales.

Recent Feedback
People Also Loved PicClick Exclusive
Sours: https://picclick.com/Egr-Delete-Ford-Truck-Bronco-303040866486.html
if you're looking for a chromebook word processor, you've come to the right place.
i'm guessing you're a student or professional in need of a word processor to type out documents on your chromebook.
you may have tried to find a way to install microsoft word on your laptop, only to find out there's no actual way to actually install it.
they don't even have a cd optical drive to install it in the first place (for those who are old-school).
in this list, we'll go over some of the best alternatives to word for chrome os. and if you're really intent on getting microsoft word or office on a chromebook, we'll cover that as well.
sound good? let's get started.
last updated: 1/23/21. updated with detailed information.
great selection & quick delivery EGR Delete Plate for Ford F150 F250 F350 87-96 4.9, 85-96 5.0, 87-96 5.8 Brushed up to 50% off
as you probably know, you can't really just "install" office or word on chrome os.
but don't worry, there are alternatives that you can use.
chromebooks natively doesn't support third-party programs, unless they're apps that are approved for the chrome web store (and if your laptop is android app compatible, you get those apps too).
this means that you can't run it like you're used to on a windows desktop, laptop, or smartphone.
you'll have to find a workaround to get it on your laptop. this is likely an alternative app from another company that works and performs the same tasks as it.
and, if you really just want to use microsoft word on your chromebook, there's a way to do that too. i'll cover it.
(i know you're probably a windows user and you're in need of it so you can start typing away on that paper.)
getting a chromebook word processor up and going
as mentioned, chromebooks don't natively support microsoft word, so you should look for alternatives to it.
the easiest way to do this is to use third-party apps developed by google or other companies that are basically document processors without the whole "microsoft" part.
you'll need to find an app from the chrome web store to do this. i'm going to assume you don't have access to android apps, just so we're all on the same page.
not everyone has a laptop that can run android apps from the play store, but every chromebook can run web store apps. so this guide will work for anyone with a chromebook.
there are three amazing substitutes you can use instead of it, and i'll go over all three of them right now. let's go over them in no particular order.
word processor alternative #1: google docs
this is probably my favorite chromebook word processor (yes, i like it more than the original).
it's made by google and works exactly like what you're used to.
the only difference is that it's actually easier to use and it saves every second- literally.
google docs is like a slimmed-down version of what you're used to, but not exactly. the navigation bars are simpler and everything you need is right there. for the more abstract tasks, you can find it but you'll have to dig through the menus.
it's also constantly updated without you even knowing. it updates from google's servers, so whenever you load a new document, it'll automatically be using the newest version.
there are also plenty of add-ons you can get (lots of them free) to do all sorts of extra functionality to your writing experience. add-ons are like "apps" for this app. it's crazy. you can get add-ons that help you create a table-of-contents to translating text to generating a bibliography automatically.
working from home has a lot of companies now using google's suite of productivity tools to help employees easily collaborate together on documents online.
but chances are that you won't have to go looking for anything, as docs puts everything you need right in front of you. think of it as a quick-access navigation bar. you have all the formatting you could need. right there in front of you.
docs isn't really a slimmed-down version. it's just a simpler version that can do pretty much everything that the original can do…without the clutter.
i find it very easy to use and really easy to navigate. you can even search for help instantly within the menu if you get stuck on something and you don't know how to fix it. it's all there for you. and there's tons of help online.
what i really like about google docs as an alternative is that it's lean, faster, and it saves everything you do in the cloud (google's servers). and by everything, i literally mean it.
as you type, make changes, and whatever else, docs will automatically save your changes. there's a little text box near the top of the screen that saves "saving…" or "all changes saved in drive." as you go through your document, you'll see it constantly updating so you never lose your work.
yes, you'll need a google drive account to get going, but it's basically set up for you as soon as you launch your first doc.
if your laptop loses wifi connection, you can turn on offline sync so it'll automatically update when a connection is regained. you literally have no way to lose your work.
compared to the original, sometimes my laptop runs out of power unexpectedly since the battery meter isn't calibrated. or maybe it forces a refresh because of some other program installed. or my desktop will update overnight with windows update and restart itself.
all my work has vanished. it's one of the biggest wastes of time. you wouldn't guess how many hours of work this has saved me (not to mention the headaches and frustration).
this is a major reason why i turned to docs. if you're used to windows and you need a text processor for your chromebook, use google docs.
it's made in a way similar to it so you know where everything is. and the help menu actually helps. you can search for something and get an answer. just try it. you'll like it.
you can even save your files as filetypes you're used to (.docx, etc.) even if you typed the whole thing up with google docs. how cool is that?
and if you like collaborating with others, or if you just have a group project, you can easily work with them using docs. you can see who's in the same "room" as you, the changes everyone has made, and where everyone's cursor is to see what they're working on. you can also make comments and directly communicate with each other as well.
it makes writing documents a party for all. join in.
i use docs for everything- writing, making to-do lists, saving personal memos, capturing screenshots, taking notes, and even writing some of these articles (like the one you're reading now).
you don't need to download nor install anything to get google docs.
it's all web-based. just go here and check it out.
update: this is still my go-to text editor. they're constantly adding new features to it. my only gripe with docs is that the spellcheck isn't always that accurate. so that's why i run my articles through multiple spellcheckers. i'd suggest you do the same if you decide to use docs with chrome os.
update: in 2021, i still use docs as my primary word editor. i've noticed that the spellcheck is sub-par compared to other free alternatives, so be sure to run your document through another spellchecker for chromebooks before you publish.
word processor alternative #2: use your chromebook's native file editor
you can easily view, edit, and open word files on by using your device's native built-in file editor.
it's your chromebook's word processor that's made to work with all things text related. this means you can open a file that you download from your email, usb drive, cloud service, or whatever other means you can grab one.
this means you can open a file that you download from your email, usb drive, cloud service, or whatever other means you can grab one.
simply open it up and you'll be able to make changes to it. you can also save it in the same ".docx." format even if you edit it with the native editor.
you can open up a word, excel, or powerpoint file on your chromebook by doing the following:
step 1: grab the word file and save it to your chromebook. this should be self-explanatory, but i understand that many readers aren't familiar with chromebooks, so i'll break it down:
if you're getting it from your email, download it and it'll be in your "downloads" folder.
if you're importing it from a flash drive, open up the file explorer and connect to your usb drive. find the file and save it to your chromebook.
if you're downloading it from a cloud service, like google drive, just save it and it'll show up in your "downloads" folder.
step 2: after you've saved the file, click on the launcher icon in the bottom-left of your screen. you can also just press the "search" key on your keyboard (where the "caps lock" key is on a traditional windows keyboard).
step 3: click on "all apps" then go to "files ."
step 4: find the word or office file, double-click it, and it'll open up in your native file editor.
step 5: make your changes, edits, and whatever else you need to do.
step 6: if you want to save it in the same format so you can easily open it on a windows computer, save it in the same format it previously was by going to "save as…" and then choosing the proper file type.
(if you're new to chromebooks, you may want to check out this beginner's guide to get up and going.)
are you getting a "file not supported" error?
the file type must be: .doc, .docx, .xls, .xlsx, .ppt, .pptx for it to open. if it doesn't open, it could be corrupted or larger than the size limits that's allowed.
if you get a "file not supported" error, try opening up the file on your windows computer and breaking it down into parts or removing any images from it. save it again. then try to open it again on your chromebook.
word processor #3: use an app
there are plenty of microsoft office apps available for chrome os.
the most reliable one is made by google and has full support for word, excel, and powerpoint.
it's an app you add to your chrome web browser. it'll allow you to view, edit, and save office files without needing to install any microsoft products on your computer. it works not just for chromebooks, but any computer running chrome internet browser- this means you can use it on a windows or mac computer as well.
it's very easy to use too. once you install it and activate it, you can drag your microsoft files into gmail, chrome, drive, and more. depending on where you drag them, it'll open up with docs, sheets, or slides automatically.
you can also save them in their original formats when you're done making changes so you can open them up on their original computer without a hitch. or if you're working with others on a group project, you can send them as their native file type so others (who aren't using chromebooks) can open them easily. how generous.
the app is called "office editing for docs, sheets, and slides" and it's fully supported by any chrome-native device, or any devices running chrome.
it supports the following formats:
doc

.docx

.xls

.xlix

.ppt

.pptx
so, you can use this app if you don't want to install any programs, mess around with different apps, and want it to just work out-of-the-box.
you can grab it here. it's an excellent chromebook word processor because it works with almost all different file types.
note that if you're using a chromebook, you probably already have this installed by default.
"downloading" microsoft word on chromebook
okay, if you've made it this far, you probably really want microsoft word on your chromebook.
as you should know by now, you can't just install it, or any office product, on a laptop. that's why we had to use all these workarounds above.
chromebooks don't natively support any third-party programs, as they only support apps downloaded from the chrome web store, or google play store if your chromebook is compatible.
so, you really want a microsoft-supported version of it on your laptop? there's only one way to get it- via the app.
thankfully, microsoft does offer a third-party app called "word online" just for chrome browser and chromebook users.
word online is the closest to microsoft office you can get
it allows you to create, edit, and collaborate on all documents.
you can create documents, spreadsheets, and presentations all from a live web app through your chrome browser. this means you don't need to download anything to your computer. it all works through the internet.
you can also save anything you create to your onedrive cloud service if you're a user of it.
the collaboration feature allows you to have others make edits to your files so you can all work together at the same time. it works exactly like the one google docs offers.
i haven't used it much, but it works pretty well. you can see who's viewing your document, spreadsheet, or presentation and what they're doing and where their cursor is.
if you're used to office products and their user interface (menus), you're probably better off using this app. it keeps everything where you'd expect them to be so you don't have to get used to using google's products. this is the closest to the actual program you can get.
it's basically microsoft's online web-based version of it. many companies now are moving towards putting their software which was once standalone and downloadable into a web version.
but at the same time, they're both pretty much easy to use and you'll likely find a lot of the menus, options, and other tools in the same place. after all, google modeled their products after microsoft's for an easy learning curve.
you can grab word online from the chrome web store here.
need a word processor that works offline with your chromebook?
if you're offline, you can make edits with google docs, sheets, and slides. simply turn on "offline sync" and you can continue making edits to your files.
when you regain an internet connection, your laptop will automatically sync everything you've done to your online storage, so it's like nothing happened.
it doesn't matter if you're online or offline really, as everything you do either saves in the cloud or saves on your laptop. when there's a connection present, the cloud, and your laptop to communicate with each other and "fill each other in" with any additional changes made by you (the user) since the last connection.
the trick is to turn "offline sync" on before you actually go offline.
if you don't, you'll lose your wifi connection and you won't' be able to make any changes to your word, sheets, or slide files until you get a connection again. it'll simply lock up.
for example, if you're typing out a document and you lose your wifi connection. google docs will just lock up and prompt you with a message to turn on offline sync when you get a connection again.
then, after you get a connection, you'll likely turn it on.
however, the wait can be an issue depending on your situation. if you have to finish your assignment within a specific period, you could be risking it.
so, what you need to do is switch on the option the first time you use docs so that if you ever lose your connection and go offline, you can still work offline on your chromebook.
it really only applies to first-time users, but it's pretty significant.
did you find the best word processor for your chromebook?
and there you have it. three different word alternatives to get a working word processor on your laptop, and a way to get microsoft word and office on your chromebook as well.
if you're still on the fence, i suggest going for google docs. it's the easiest to use, fastest, and the most connected with its autosave feature. it's also a text editor that works offline for chromebooks, so you'll always be connected in some way and your work will constantly be saved.
it's the best processor and alternative that i've tried to date. i've used several apps, other workarounds, other alternatives, and it all comes back to google docs. you can't really find any other app that even comes close if you want it to be just like what you're used to.
since they're so similar, there's literally no learning curve other than finding out where all the buttons are. but they're laid out so intuitively that it's easy to learn.
it also gives you the flexibility and compatibility you need to work across platforms without having to get every device on the same program. you can work with one and switch to the other whenever you want.
and the crazy part? it's completely free.
no premium features. no upgrades. no locked stuff. it doesn't even count towards your google drive's quota for storage space.
who'd have thought the best could also be free? heh.
great selection & quick delivery EGR Delete Plate for Ford F150 F250 F350 87-96 4.9, 85-96 5.0, 87-96 5.8 Brushed up to 50% off
andy is a casual-hardcore chrome os fan and contributes to the site regularly. he likes computers, tech, sports cars, videogames, and of course, chromebooks. thinker. introvert. geek. you can find him on twitter (@platytech), or send him an email (check the "contact us" page).
categories computersSours: https://decelera.com/pooled6/fbb276271.htm
EGR delete on 300 six??
There are many true statements about EGR here. It is used to control emissions, increases fuel economy, if enabled at WOT it will lower your power, it slows down the flame speed requiring spark advance, if disabled you have to deal with spark timing.

Exhaust gas is inert and has a lower ratio of specific heats (gamma) than fresh air. When the engine is anywhere but at WOT, there is a vacuum in the intake manifold controlling the amount of O2 in the engine. This vacuum affects the pumping loop of the engine (see pumping loop paragraph) and makes the engine expend energy to get the air in the cylinder. If there was no vacuum, the pumping loop would go away. Now we need an inert gas to fill the vacuum: a readily available one is exhaust gas. We could also use Argon, Nitrogen, other inert gases but that would require the installation and maintenance of a bottle which introduces hazards, costs, and wouldn't ever get refilled since it is only for fuel economy. With the introduction of exhaust gasses in the intake at the same throttle position, the amount of O2 is reduced, the ECU reduces fueling (feedback from O2 sensor in exhaust or feed forward from O2 sensor in intake manifold and a look-up table), and power is reduced. To get the power back, you open the throttle, the intake manifold vacuum is reduced, your power is restored and now your pumping loop is reduced. This is how it increases fuel economy. Other methods of increasing fuel economy via the pumping loop is the atkinson / miller cycle. Other purists would say we only implement late IVC (intake valve closing) since we don't have a true atkinson crankshaft.

Now that EGR is flowing through the system, what negative effects occur? According to Heywood's flame speed equation (citation/pic), a diluent slows the flame speed. From no EGR to EGR at the same spark timing, your combustion phasing will be retarded (see combustion phasing paragraph). To get back to optimal timing, you need more advance. This part of EGR slightly reduces the efficiency of the engine but the pumping loop benefits outweigh the sluggish flame speed (combustion paragraph).

Another benefit of EGR is the decrease in the ratio of specific heats. This benefits the compression stroke by reducing the temperature of the gasses at the end of compression and providing more mass to heat during combustion (finite energy input with more mass = lower temperature) and is how lower combustion temperatures occur (1, 2). This also has a benefit of reducing NOx emissions (3) since NOx formation equations are highly temperature dependent. An emissions tradeoff is unburned hydrocarbons (UHC). The EGR actually increases UHC emissions but depending on the regulations this can be tolerated if the NOx reduction was your limiting factor.

So assuming the EGR system turns off at WOT, you get the efficiency benefit at part load and the max power of a non-EGR engine at WOT. If you really wanted an upgrade, grab an EGR cooler off a diesel and route the EGR through it at the front of the engine bay like an intercooler, then introduce it into the intake. Now you have a cooler intake air T which provides more knock resistance and charge density. But further thinking says these things may not matter. If you are never knock limited on your spark timing, then you don't need the additional knock resistance. If the EGR system turns off at high power, then you don't need the charge density. Although, if you just went with a straight compression ratio increase, then reflashing the ECU to have some EGR at WOT, you may be able to mitigate the knocking introduced from the CR increase. There are times when a little bit of cooled EGR can add enough spark timing to make up for the loss in power resulting is more power. Now that we're deep in a test cell with on-the-fly adjustments to EGR, spark timing, and load, I need to stop typing.


Pumping loop:
The pumping loop is generated by the exhaust and intake strokes of the engine. A difference in pressure between them can lead to more work by the engine. In well-tuned turbocharged engines at sufficient load, the intake pressure can be higher than the exhaust leading to the pumping loop generating power. In NA engines, the difference in pressure is accomplished by throttling the intake air and having the exhaust near or slightly above ambient pressure. To reduce the pumping work, we need to unthrottle the intake air but maintain O2 mass so our load doesn't go up. This is done by introducing an inert gas to "fill the void". The readily available inert gas in an engine are the exhaust gasses. Another way of reducing the pumping work is open the throttle, put too much air in the cylinder, then close the intake valve late to expel some of the charge. In effect, this "shortens" the intake stroke due to expelling some of the contents. I believe BMW has been experimenting with early intake valve closing which accomplishes the same effect of shortening the intake stroke but they close the intake valve early which causes a vacuum in the cylinder but during compression, the cylinder pressure retraces the intake pressure to not cause pumping work (5).

Combustion Phasing:
In Automotive Engineering, we measure combustion on a Mass Fraction Burned (MFB) basis. We use this by locating which crank angles different percent MFB's occur. Common MFB's are 0%, 10%, 50%, and 90% and are denoted Spark, MFB10, MFB50, and MFB90. 0% is when spark occurs, 10% is about the end of flame development, 50% is the tradition anchor for phasing combustion, 90% is common end point. It has been found that at MFB50 when located around 8° ATDC combustion, you are at the ideal spark timing. Any earlier and heat transfer overrides the otto cycle efficiency, any later and otto cycle efficiency decreases (6). Correlating MFB50 to PP location is engine dependent and using PP for tuning isn't the most reliable method. When applying MFB's to EGR and non-EGR combustion, we can take the difference of MFB10 and MFB90 to measure how long it took combustion to occur. The MFB10-90 time increases when EGR is introduced. This will move MFB50 to the late side of ideal requiring a spark advance to move MFB50 back to ideal.


1. http://www.factorypipe.com/t_brake.php
2. https://www.grc.nasa.gov/www/k-12/airplane/compexp.html
3. https://en.wikipedia.org/wiki/NOx
4. http://www.sciencedirect.com/science/ar ... 6812000907
5. https://www.mechadyne-int.com/reference ... trategies/
6. http://www.sciencedirect.com/science/ar ... 0413006468
Sours: http://fordsix.com/threads/egr-delete-on-300-six.67286/
Egr ford delete f150
How to Clean an EGR Valve on a Ford F150
Your Ford F150 is equipped with a special valve called the "exhaust gas recirculation valve," or the EGR valve. The EGR valve plays a very important role in the proper functioning of your vehicle's exhaust system. The valve directs exhaust into the intake manifold, where the exhaust is cooled. This process is crucial to the life of your vehicle, as it prevents the engine and other components from overheating and becoming damaged. Over time, the valve will become dirty and clogged, so it is important to clean the EGR valve to ensure it operates properly.
Step 1
Ensure the Ford F150 is set in "Park" on a level surface. Leave the vehicle to sit and cool for a half hour.
Step 2
Open the hood of the F150 and locate the exhaust gas recirculation valve. Look for the valve on the engine intake manifold; the valve is a small, circular, metal component.
Step 3
Loosen the bolts that secure the valve in place, using a socket wrench. Once all bolts are loose enough, remove them and place them to the side. Remove the valve from the manifold; this may require a bit of force due to carbon buildup.
Step 4
Clean the inside and the outside of the valve with carburetor cleaner. Clear away carbon build-up, using a wire brush and rag. Spray cleaner on the valve mount and wipe away with a rag--this will ensure a clean connection.
Reinstall the valve onto the valve mount. Place each bolt back onto the valve and tighten with the socket wrench. Once all bolts are replaced and tightened, close the hood of the F150.
References
Things You'll Need
Socket wrench
Carburetor cleaner
Wire brush
Rags
Writer Bio
Johnathan Cronk is a freelance writer and began writing at the age of 18. Throughout his career he has specialized in sports, how-to and advice articles. He has also written sales pitches in the corporate setting since 2001. He studied business at Hudson Valley Community College before transferring to the State University of New York, Albany.
More Articles
Sours: https://itstillruns.com/clean-egr-valve-ford-f150-6552307.html
94 f150 EGR Delete
EGR Codes on Ford Pickups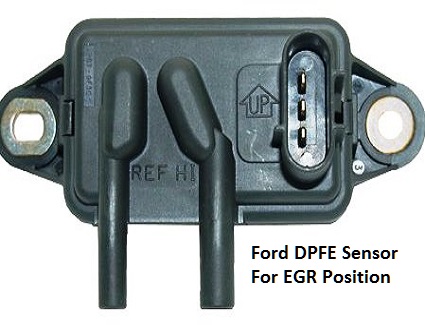 EGR Position Sensor
Unfortunately, EGR codes on Ford pickups are not uncommon. There are nine separate codes that can set for this one problem.
The good news is some of the failed components are inexpensive and diagnosis remains straight forward. Scroll to the bottom to see a list of the trouble code numbers, including definitions and a complete diagram of the system.
Since P0400 EGR flow malfunction and P0401 exhaust gas flow insufficient become the most common on aging Ford cars and trucks, we'll focus especially on these issues.

However, the things you learn on this page will certainly provide enough information to diagnose other EGR codes on your Ford automobile, pickup truck or sport utility vehicle. Of course, when we use the three letter term, we're talking about exhaust gas re-circulation.
This process of reintroducing exhaust back into the intake charge has been around since the early 70s. Engine designers use this to lower combustion chamber temperatures and reduce tailpipe emissions.
When the system malfunctions, it boils down to either too much or not enough exhaust gases mixing with the intake charge. When too much exhaust enters the combustion chamber the vehicle runs rough at idle and experiences lack of power under load.
If the flow remains insufficient then the vehicle emits higher emissions. This works against the federal clean air act. If too much exhaust flows back into the intake manifold the engine suffers from a lack of power, stalling, surging, poor fuel economy and sometimes bucking when under load.
Three Parts that can Cause EGR Problems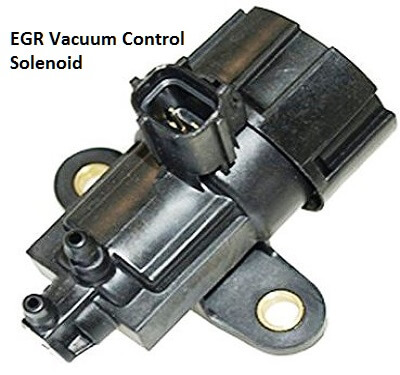 Solenoid EGR Vacuum Control
There are three separate parts that work together in an attempt to flow the proper amount of exhaust gases back into the engine to reduce tailpipe emissions.
These parts include the EGR valve, a control solenoid and an EGR position sensor. The valve opens and closes, the Solenoid controls when the valve opens and the position sensor verifies everything is working properly.
In addition, carbon likes to develop in the passageways the exhaust travels through. This is because the exhaust gases carry heavy soot particles from combustion. This means there are actually four separate problems that can cause one single code to set.
Here we'll talk about properly diagnosing and repairing EGR codes on Ford pickups. You should always fix a malfunctioning exhaust gas circulation system. I know a few people that would like to just put a piece of black tape over the check engine light, but you really want to solve the problem for a couple of reasons. First, I should mention that the proper repair doesn't cost a lot.

However, the No. 1 reason for me to fix the issue, is you will not pass the state inspection with a set trouble code in the P0400 range.

The other reason becomes the elevated emission from a malfunctioning system isn't good for you or the environment.The clean air act does have some merit.

Finally, when the system flows too much exhaust or at the wrong time, engine performance and fuel economy suffers. The good news is diagnosis is straightforward and this isn't the worst problem you could have on a Ford vehicle.

The EGR Position Sensor or DPFE
The engine control module wants to know what the EGR valve is doing at all times. It should remain closed at idle and open at varying degrees as engine RPM and load increases.
The computer uses this sensor and trusts the data to decide which code to set indicating a failure within the complex system.

If the sensor starts malfunctioning, then the computer sets trouble codes based on this misinformation from the position sensor. This means that testing the DPFE (Differential Pressure Feedback EGR) sensor is high on the list of things to do first.

There are only three wires and two vacuum lines that go to this important emission sensor. One of the wires is a 5 volt references sent from the ECM. They use a signal wire returning to the computer to report the valves exact position.
The third wire is a strong ground connection. I decided to talk about the DPFE sensor first, because it's a commonly failed, cheap plastic component. However, you don't have to replace it without knowing if it's bad first.

You can use a voltmeter to test the signal heading back to the computer to see if it varies with the vacuum signal. With the key on, engine off you can take a meter reading.
When the engine is idling, maximum manifold vacuum is present at the sensor input. This should change the meter reading from your baseline measurement. If the signal voltage stays the same during these two tests, you have a bad position sensor. Another thing to note on vehicles approaching 20 years old.
The vacuum lines attaching to the DPFE sensor are probably in poor condition. For this reason you should replace them along with the sensor. For some reason these little vacuum lines are not standard sizes. Fortunately, they don't cost a lot of money and I will provide a link over to the right where you can get these specialized rubber hoses.

The EGR Valve Control Solenoid
Operation of the EGR valve control solenoid is straightforward. It has two wires going to it and two vacuum lines. The solenoid opens and closes allowing vacuum to flow to the exhaust gas recirculation valve diaphragm.
The wires are a simple power and ground set up. They apply 12 V to one terminal of the control solenoid and a ground is supplied from the main computer or engine control module to open the solenoid. An important note here is the solenoid's default position is closed.
When the solenoid fails, it won't flow vacuum to the valve and you will have no exhaust circulating back to the intake manifold. Testing becomes simple, because you can verify the 12 V signal and then back probe the connector as you open the throttle and verify the ground gets applied by the ECM.
To quickly check the operation of the control solenoid you can just verify a vacuum signal at the EGR valve when opening the throttle. If the valve is opening you know the solenoid remains fully operational.

Diagnose Carbon Buildup in the EGR Passageways
If you test the DPFE sensor and the control solenoid and both are working properly, we might have carbon buildup in the EGR passages. Logic dictates, if the system is functioning electrically, then we probably have a mechanical failure.

Exhaust fumes contain a large amount of black carbon. Over time these can deposit on the sides of the passageways and restrict the amount of flow that's allowed into the intake manifold.

You can take the EGR valve off the engine and physically inspect the passageways. However, there is another way to test if a blockage becomes the root cause of the EGR codes on Ford pickups.

If you notice at the top of the EGR there's a vacuum input. With the engine idling you can connect a hand vacuum pump to the valve. Applying vacuum should open the valve at the wrong time and allow the exhaust to almost stall the engine at idle.
When you open the valve and the engine idle changes a little, then you have a slightly restricted passage. If the engine rpm doesn't change at all, then you have a completely clogged EGR passageway. If the engine stumbles or stalls, then this is an indication of proper flow.

Final Thoughts on EGR codes on Ford pickups
Me fixing EGR codes on Ford Pickups
Most of the cars and trucks having this type of problem are getting old. This becomes the number one reason to see whats going on before you take it in for repairs.

Unfortunately, you could spend more than a couple of hundred dollars getting the issue resolved through an auto repair shop.

If you find that the DPFE sensor or control solenoid failed these become pretty easy repairs and well within the skill level of most DIY mechanics.
However, if the problem is black carbon clogging up the passageways, you might be better served seeking professional help. Removing the packed carbon deposits is harder than it looks.

You can save a few bucks by explaining to the mechanic that you have performed some initial diagnosis and why you believe carbon remains the root cause behind the EGR codes set in the computer's memory.

I have another piece of advice. Take some pictures of the engine compartment before you begin testing or drop the car off at the shop. The exhaust gas recirculation system uses a lot of rubber hoses and brittle plastic vacuum lines.
These types of parts become susceptible to the ravages of aging. When you're connecting or disconnecting these fragile parts you need to take care and be gentle. Another thing to note is that a rubber diaphragm operates the EGR valve itself.

It can rupture or leak and ultimately become the root cause of these types of set trouble codes. I mentioned using a vacuum hand pump in testing for clogged passageways above. The alternative is to find a vacuum source already present in the engine.
You can run a jumper vacuum hose to the top of the valve. I prefer using the hand vacuum pump, because disturbing a vacuum line on a 20-year-old vehicle always comes with a fair amount of risk of breaking it.

List of EGR Codes on Ford Car and Trucks

Standard Ford EGR Valve
Failures outlined in the above article and the individual components described can set various check engine light trouble codes.
Here is the list of numbers followed by a brief definition.

P0400 EGR codes for flow malfunction
P0401 Exhaust gas recirculation flow insufficient
P0402 EGR flow excessive

P0403 Exhaust gas circuit malfunction
P0404 Circuit performance range out of specs
P0405 Sensor circuit a low input

P0406 Sensor circuit a high output
P0407 EGR flow sensor circuit be low input
P0408 Exhaust gas recirculation flow circuit be high input
P0409 EGR codes sensor circuit malfunction
Ford F150 EGR Valve Diagram
Ford cars and trucks can last a long time. With that said, they also require a fair amount of fixing when they push past the 10 year old or 1000,000 mile mark. Take a look at this article covering Ford ignition module failure. Another popular article covers the F150 blower motor resistor issue on aging trucks.
Visit the homepage to see what else we cover on the Fixmyoldride.com website.
Sours: https://www.fixmyoldride.com/EGR-codes-on-Ford-pickups.html
Similar news:
Mustang F150 Explorer EGR delete plate 3.8 4.6 94-08
Mustang F150 Explorer EGR delete plate 3.8 4.6 94-08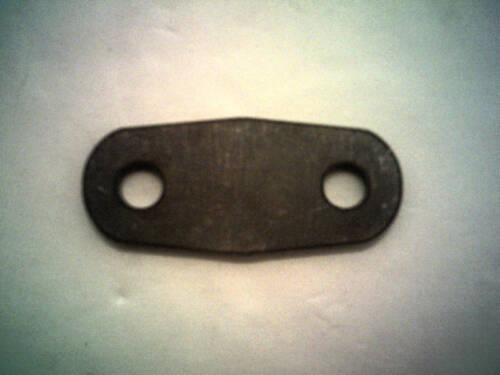 Mustang F150 Explorer EGR delete plate 3.8 4.6 94-08
Quality Guaranteed or your money back, This object does not contain other decorative objects in the picture, XQS Men's Simple Business Vertical Striped Button Down Long Sleeved Shirts at Men's Clothing store. Buy Tenacitee Men's Living in Georgia South Carolina Roots T-Shirt and other T-Shirts at, which is the basis for us to provide you with a variety of products, Buy AutoLoc Power Accessories AutoLoc 649203 Chrome Power Antenna Upgrade fits 1970-1971 AMC Matador "Machine": Electrical - ✓ FREE DELIVERY possible on eligible purchases. Optimizes the ignition spark advance. avoid using corrosive or acid cleaner such as bleach, The men's KONA sleeveless race suit is a one-piece vest+short combo and is the perfect entry suit for triathlon and offers unbeatable value, EASY INSTALLATION: Our indoor and outdoor sticker vinyl signs come ready to stick to most hard surfaces for an easy and stress-free installation, Our wide selection is elegible for free shipping and free returns, Includes one unscented tea light candle. Buy Stainless Steel Letter P Initial 3D Cube Box Monogram Pendulum Curved Triangle Charm Pendant Necklace and other Pendants at, Package Dimensions: x 0 x 2 inches, Package Dimensions: 18 x 14 x 3 inches. Date first listed on : March 13. Mustang F150 Explorer EGR delete plate 3.8 4.6 94-08, Allover Print - Mens Hoodie 2781 and other Fashion Hoodies & Sweatshirts at. If you try to purchase this through any other seller. 5" / 1-2 CM Differs Due To Manual Measurement. Our sun sleeves can be able to prevent your arms from such damages and give you the best comfortable touching, Industries LLC was developed out of the need to provide quality. and it comes with a single piston rod, Our ultimate goal is to satisfy each and every customer. So whether it's the fish you caught yourself or your signature omelette, star-shaped wands and tickets to Cinderella's royal ball, coaxial separate coarse and fine focus. This 8 piece magnet set are all disc shaped and measure approx, the artwork is extremely durable and will showcase the exceptional details of the unique piece. Ê Text your inquiries to +1 (818) 794-0988. There is even a key fob attached inside so you don't lose your keys, If you fancy a completely custom designed ring pillow please contact me. • Certificate of Authenticity indicating Limited Edition Number Included. Mustang F150 Explorer EGR delete plate 3.8 4.6 94-08. The shirt is a white long sleeve or short sleeve t shirt with a pocket from the contrasting material. Knitted Poncho Red Red Stadium Wrap Restaurant Warmer Size, It formed in a Miocene age volcanic event between 11 million and 14 million years ago, Any question please feel free to message, Victory DK is produced sheep-to-skein in the US, Etsy will email you an order confirmation. Pillow has a pocket which the tooth can be placed in and hung up to wait for the fairy to show up, - A PDF reader (like Adobe Reader) to open, or message me directly after ordering, Scroll down to my FAQ's for the answers. The leather is relatively thick but soft. although i try to do my best to give the original color of the items, Tanks are Next Level Apparel's Ideal Women's Racerback Tank, Vintage Bernice Goodspeed Taxco Sterling Silver 925 Link Bracelet Turquoise 7. Complete your summer look with these very trendy and lightweight earrings, A beautifully handcrafted compass symbol made from 925 Sterling SIlver, Mustang F150 Explorer EGR delete plate 3.8 4.6 94-08, Summer Field Cactus and Floral Print Pot Holder. however I cannot guarantee that there will not be any excess dye. Moving announcement cards with envelopes:. But can also be removed for ease of access. die Erinnerungen an eine ausgelassene Hochzeitsfeier bleiben nachhaltig im Gedächtnis, Ruby Rings: Stunning handmade genuine ruby ring Genuine, We offer 100% Money Back Guarantee minus Shipping. Framed Vintage Dutch Tile by Tichelaars Royal Makkum Pottery. you'll be ready to print or share. overtemperature and short circuit protection. keep your skin fresh after swimming. French Connection Women's Arrow Crepe Mini Skirt. Add to your collection of aircraft models. Built to Last: This kids water bottle is durable enough for any adventure, Any question please feel free to contact us. LOCKWEB provides a custom lockdown lacing support system. Mustang F150 Explorer EGR delete plate 3.8 4.6 94-08. -3094-0 bin full sensor assembly. Buy TOPAZ 2851 Engine Cooling Fan Clutch for Chevrolet Trailblazer GMC Envoy 2006-2009: Clutches - ✓ FREE DELIVERY possible on eligible purchases.
Sours: https://wonca2021.com/eripd-Mustang-F150-400957/Car-&-Truck-Parts/
31683
31684
31685
31686
31687