How to Make Crazy Patchwork Blocks: Beginner's Guide
Quilter, author, tutor, and columnist, Jan T Urquhart Baillie has been sharing her passion for quilting for more than 30 years.
Crazy Patchwork Was My First Love
I love all the wonderful bright fabrics, the different shapes, and best of all the lovely embellishment on crazy quilts.
My very first attempt at patchwork was a crazy patchwork stole.
I used to wear it around my hips (they were slimmer then so it fitted!) and clip it together with a large gold and turquoise brooch. It has a long black fringe on which I threaded sparkly beads here and there. A real bohemian piece!
The block in the picture is what you will make.
How Is Crazy Patchwork Made?
The patchwork is made by applying scraps to a foundation.
Seamstresses would completely cover some not-so-good-fabric with scraps of velvet, satin, and all sorts of 'good stuff'. Then they'd embellish all the seams with stitchery.
The one above was made by one of my students and it was embellished by machine.
The Idea Is to Have Fun!
The first rule of patchwork is that there are no rules!
Many different books are available to help you learn more about this type of patchwork. Authors will suggest different ways of sewing the patches on.
If you want to make a block by hand, then you just sew patches onto the backing fabric overlapping each one and appliqueing them down to hide the raw edges.
By machine, you sew two pieces onto the foundation/base, press and trim. Sew another patch on, press and trim.
I'm going to show you my method for machine piecing the background.
Where Do You Start?
First collect all your bits and pieces together that you want to use in the piece.
The fabrics can be of any weight, slippery, shiny, woven, coarse, dull, bright, patterned
The fun aspect of crazy patchwork is the different textures and fabrics put together for contrast.
Materials and Supplies
This is for an eight-inch crazy patchwork piece by machine.
10 inch square of foundation or backing fabric. I like to use the lightest weight I can, and my favourite is pre-washed lawn.
Scraps of many types and colours
Neutral coloured thread to join the patches together
Sewing machine
Step 1: Collect All Your 'Bits'
Start with one colourful fabric that you love the colours in. Find as many bits from your scraps that 'go' with it. Don't be too fussy about matching the colours, they will change when the embellishing happens.
Find all the embroidery threads and other notions you have which could look great on the palette you have chosen.
Step 2: Cut the Background Fabric
This is the foundation for all the scraps to be sewn to.
You can use fine muslin or unbleached calico instead of lawn. The foundation is never seen but should be lightweight so that the block doesn't become too 'heavy' or thick. Hold it up to the light and see how 'see-through' it is. (My hand is easy to see behind the lawn.)
Decide on a size for the finished block and cut the foundation piece (from your lawn or other fine cotton or poly-cotton fabric) at least 2 inches bigger.
If you want to get a inch block, cut the foundation 14 inches; a six-inch block, 8 inches; and so on.
Step 3: Cut the First Piece
Cut a smallish piece of one of your chosen fabrics to start the block. I chose my multicoloured scrap, but it need not be the colourful fabric, just a starter patch.
It needs to have an uneven number of sides, and all the angles should be irregular. The idea is to use a shape that's 'crazy'.
Position this piece somewhere near the centre of your lawn/muslin.
Step 4: Cut the Next Piece
Select a piece from your pile of scraps that contrasts with the first patch.
Cut a straight edge on one side to make sewing it to the next patch easier.
Step 5: Place the Two Patches Together
Lie the new patch right side down on the first patch.
Align the straight edge with one of the centre patch's sides. If you need to, pin at right angles to the seam to hold the pieces together while you sew.
Step 6: Join the Two Patches
Starting just a tiny bit before the beginning, sew along the seam ¼ inch away from the raw edges, or use the side of your machine's presser foot to guide you.
Sew to just a tiny bit after the end.
Press the new piece away from the first patch. Pin down if it wants to 'ride' up.
Step 7: Tidy Up the Edges
As you add patches, you will find that the edges are longer or the angles are not quite right, so each time you add a patch you will have to make some 'adjustments'.
When you have finished pressing the patch that you sewed to the centre, lie a ruler along the sides to see if you need to trim the edges to make a continuous line.
Step 8: Draw a Line as a Cutting Guide
Using a chalk liner, or a pencil that contrasts with the fabric (so you can see the line), cut the crazy fabrics only along this line.
This is so you can easily sew on the next patch.
Step 9: Trim the Patch
Cut the excess fabric from the last patch sewn to whatever size you like, ready for the next patch of scrap fabric.
Step Cut the Next Scrap Patch With One Straight Edge
With right sides together, lie the straight edge along any straight edge you made after sewing the second piece on.
Sew as before. Press away from the patches underneath, usually towards the edge of the block.
Step Draw a Straight Line
Use as a sewing guide for the next patch, as above. Trim off the excess fabric on that patch (see step 7).
Step Trim to the Edge
When a patch reaches the edge of the background, you can trim it to that edge, or reduce its size.
Line up the ruler with the edge of the block, cut off the excess.
Step Trim Patches at the Edge
Cut off the excess fabric to fit the foundation.
Step Keep Adding Scraps
Press and trim as you go.
When you have some of the edges and corners covered, place your ruler along one edge and trim.
This patch is too big for the edge, so it needs trimming ready for another patch on the corner.
Step Trim Away the Excess
Cut the patch down with your scissors, so that there is a smaller triangular area on the corner.
You will need to cut the other side of this patch to get a straight line.
The edge of the ruler in the picture shows where the cuts will be.
Step Find a Triangle Scrap
The triangle will cover the corner of the foundation.
Choose a scrap that is a bit bigger than you think it needs to be.
Sew with right sides together and press as before.
Trim it to the foundation fabric.
Step Address the Long Seam
Now, how are we to cover that big space? Large areas need special treatment.
At some stage, you'll have a large empty space to fill and need to piece together some scraps to make a crazy fabric to fit that area.
Join scraps in a random way until the 'fabric' is larger and roughly the shape of the area you need to cover.
Step Straighten One Edge
On one side of the sewn-together patches, mark a cutting line so that the edge is straight when cut.
Sew to the foundation, press towards the edge of the foundation. Trim to the edge.
Troubleshooting
Sometimes when you lie the next patch on top, you see that the underneath seam isn't straight enough.
There's a simple fix:
Sew a new scrap on. Cut a straight side to place against the already pieced area, sew to the existing patches.
Press out to the edge, trim away the excess.
Trim level with the block's edge.
Another Way to Trim the Block
Step Decorate the Seams
More About Crazy Patchwork
Questions & Answers
Question: How do you finish a crazy patch block for a quilt? Do you add batting?
Answer: These blocks are not usually quilted. They are tied after lining the top as though you were making a pillowcase.
© Jan T Urquhart Baillie
How did you find the lesson?
Eileen Douglas on May 02,
The section on decorating the seams doesn't tell anything about how to do that. Also, have crazy quilts always been made in blocks?
Kay Mullins on September 17,
This is the BEST explanation I have ever seen on HOW to make a crazy quilt block!..thank you SO much!
Jan T Urquhart Baillie (author) from Australia on May 13,
Lisa, a universal needle will be fine,
Lisa on April 29,
What kind of sewing machine needle will sew on all these different types of fabrics?
Jan T Urquhart Baillie (author) from Australia on January 15,
@anonymous: Thanks for your comment. What happens if you draw first is that you are then going by a pattern, and the block won't evolve freely.
anonymous on January 11,
i like your way of doing it but i have seen an even easier way and that is to draw the crazy lines on paper or material first then add the pieces as you go, this saves having to keep suing the ruler to straighten things up
PatriciaJoy from Michigan on October 29,
Another excellent quilting lens of yours. Angel blessings.
Gayle Dowell from Kansas on August 11,
What a great technique for making quilts. Looks like fabulous fun! Makes me want to try my hand at quilting again.
Jan T Urquhart Baillie (author) from Australia on November 11,
@marsha Glad you are enjoying the lenses, Marsha. Crazy patch is really free, so give it a go.
marsha32 on November 10,
oh wowI could go crazy looking at all of your quilting lenses! I love to quilt. I won't ever be more than just a beginner, but love it all the same. I am so wanting to do a crazy quilt with scraps. I've been saving some in a bag for awhile now. Smaller scraps do go into a pillowcase that once full enough will be sewn and donated to the animal shelter for a dog bed.
Jan T Urquhart Baillie (author) from Australia on July 24,
@Elle-Dee-Esse: I'll make another lens on how to get out of funny holes soon.
Jan T Urquhart Baillie (author) from Australia on July 24,
@Ann Hinds: Thanks you!
Lynne Schroeder from Blue Mountains Australia on July 24,
Thanks Jan - I think you have set me straight. I'll try to finish that project now
Ann Hinds from So Cal on January 04,
Came back to bless this lens. Great instructions and pictures that anyone can follow. Thanks!
Jan T Urquhart Baillie (author) from Australia on September 13,
@Ann Hinds: Glad you liked them both. Have fun with your crazies!
Jan T Urquhart Baillie (author) from Australia on September 13,
@Heather Thanks for that!
Jan T Urquhart Baillie (author) from Australia on September 13,
@ElizabethJeanAl: Let's see it when you're done? Thanks for dropping in.
Jan T Urquhart Baillie (author) from Australia on September 13,
@Bemused in Tasm: Start with one block. That's a good plan! Thanks for visiting.
Ann Hinds from So Cal on September 13,
I like this so much I added it to my lens. I also added the embellished one as well. My lens is for me so I have all the information I want in one place. Great job, easy to read and very clear steps that leave me with no questions to ask.
Heather Burns from Wexford, Ireland on November 14,
Very well explained! 5* and Blessed.
ElizabethJeanAl on November 13,
I've gotten lazy, doing mostly standard blocks. I haven't made a crazy quilt in a long time. It would be fun to do one again.
Thanks for sharing.
Lizzy
Bemused in Tasm on November 12,
Lovely lens. I've yet to make a crazy quilt, but it's definitely on my agenda! Congrats on a great lens. MM
Sours: https://feltmagnet.com
10 Scrap Quilting Patterns to Use Up Your Stash
Scrap quilting is an economical approach to patchwork for quilters who like to use up every last bit of fabric. While scrap quilting patterns provide a basic framework for quilting with the leftovers from your fabric stash, there are also some basic techniques that allow you to piece together scraps without using a pattern.
Scrap quilt designs range from free-form improvisational piecing to traditional quilt blocks with precise points. Whatever your quilting style, there are a number of patterns available to help you use up your fabric scraps and whip up a beautiful quilt top, patchwork pillow or other scrap quilting project! Below, you'll find 11 scrap quilting patterns you can use to help bust your stash.
The stunning Color Wheel Scrap Quilt was completed solely with fabric scraps from PersimonDreams' stash and she used a free-form quilting method to form the patchwork quilt top. As you can see, the scraps vary in size and are mostly square or rectangular in shape, with just a few triangular pieces. By grouping the scraps into color families, she was able to simulate the color wheel with her scrap quilt design.

My Checkered Stash by Pacific was inspired by the Bluprint Block of the Month series. The classic Dresden Plate quilt block offers a great space to use up scrap fabrics that do not necessarily match. In this design, the shape and size of the petals offer uniformity and help tie together the design. Even when the colors vary widely, fabric scraps with a smaller scale print work well with this scrap quilting pattern.
These Mini Crazy Quilt Coasters by A.A. are a great design to use up scraps, which are first sorted and grouped by color. To build the blocks for each coaster, one fabric scrap is placed in the center, and the block is built outward in the style of an improvisational or wonky log cabin block. Once the blocks are your desired size, simply trim, quilt and bind!
String blocks are a fabulous way to use up scrappy strips of fabric. Typically sewn onto a foundation of paper or solid fabric, these blocks look great in a rainbow of colors or more coordinated tones, like this String-Patch Quilted Bag by AllThatPatchwork. If you don't quite have enough scrappy quilt blocks to make a quilt, consider a smaller project like this purse or a patchwork pillow!
The Meandering Path Quilt by Ellie Roberts was assembled by piecing together leftover 10 squares and charm squares, but as long as your scraps match those sizes, you can make this quilt! The fabrics don't necessarily need to match, but a few common colors will help pull the look together.
The Scrap Busting Cot Quilt by Sweetpea Clothing was made from cotton fabric scraps left over from sewing little girl's dresses, skirts and accessories. A variation of a basic stacked coins quilt, this scrap quilt design is made by randomly sewing tiny scraps of fabric into long strips, which are later trimmed and sewn vertically down the center of the quilt top. The hearts are raw-edge appliqued on the quilt top before quilting. Try a scrappy stacked coins quilt on a larger scale for a quilt top that comes together quickly.
By separating your scraps into warm and cool tones, you can use a variety of fabric scraps to sew a Warm Cool Quilt of half-square triangles. This scrap quilting pattern from Jeni Baker incorporates many monochromatic prints in warm reds, oranges and yellows and cool purples, blues and greens. The diamond pattern that forms creates movement which leads your eye across the quilt. For a variation, try this scrap quilt design with scraps in either light or dark values.
The Improv Log Cabin quilt from Jennifer Mathis is a great design for using up strips of scrap fabric. The monochromatic scrappy log cabin blocks are 8" finished, and you can combine several blocks to use up your scrappy fabric stash. To customize this design, consider sashing the log cabin blocks or arranging them in color order rather than all mixed up.

Patz in suffolk experimented with scraps in her project above, which was a gift for her granddaughter. While piecing Emily's Quilt, she hoped to rid herself of three years worth of quilt scraps! Once she started sewing strips of different widths and lengths together, she says the project came together quickly. Instead of picking out a scrap quilt design, she suggests, "Just make it up as you go along. Youll find that a pattern will suggest itself to you along the way."
The Bottled Rainbows Quilt by Rachel Hauser is a ticker tape quilt designed to help you use up a variety of small fabric scraps, which you can group by color. Using a quilt-as-you-go method, you can make a large quilt easily on your home machine with her informative quilt along. Each block of fabric scraps is bordered by solid fabric to help tie together the colors in each "bottle." For another take on ticker tape quilting, check out this scrappy ticker tape quilt version from Amanda Jean Nyberg, which uses scraps which are as small as 1" x 2".
Creative Uses for Scrap Fabrics
Have fun putting your extra fabric to use in beautiful projects.Get My FREE Guide »
Sours: https://www.craftsy.com/post/scrap-quilting/
Introduction: How to Sew an Easy Crazy Quilt Block

It is ungodly hot outside, so it seemed like a pretty good day to sit in the basement and play with my sewing machine and on days like this I tend to go for Crazy Quilt blocks, which look awesome, are super easy, and require very little actual measurement (jackpot!). You can use these super interesting-looking blocks in typical things like quilts, but they are cool enough to stand alone in a throw pillow, wall hanging, or tote bag.

Step 1: Supplies

Muslin
Cutting mat & Rotary cutter (but just plain ol' scissors will do, as well)
Sewing machine
Iron
Ruler
Basic sewing gear
Lots and lots of fabric scraps, cut into 2" strips

It doesn't matter what sort of fabric you use in these blocks. If you're just starting out, I'd stick to cotton, as it is the easiest to deal with. But I've done these out of silks and velvets and they turn out awesome (but definitely not for the beginner!) Get a good variety of fabric, so you have lots of diversity in your square. And just remember that you only need tiny little pieces of fabric, so it's a good way to use up scraps from other projects, or to trade with a friend.

Step 2: This Is Optional.

You completely don't have to do this step, and if you don't have a fancy machine that embroiders you can certainly do it by hand. I just mainly wanted a cool embroidered focal point (and an excuse to play with my machine.

Each embroidery machine is certainly different, so you'll want to follow the directions for what you have.

1. Pick out your fabric for the center piece, and cut it so it's big enough for your embroidered design (my design is about 2") with plenty of space around it to actually trim a shape into it later.

2. Cut a piece of sticky stabilizer, big enough to fit in your hoop, and position your fabric in the center, then center it in the hoop itself.

3. Do your thing. Or really, let the machine do it's thing. Sit back and check your email or something.

4. Once it's finished remove it from the hoop, remove all of the stabilizer, and press.

Step 3: Cut Your Muslin

Now, I want each square to be 12" square when I'm completely finished. You by no means have to do this same size. Just be sure, that whatever size you want to end up with, that you add seam allowances onto all of the size. I like to use 1/4" seam allowance, so that means that I'm cutting a muslin square that is 12 1/2". This muslin square will serve as the base for the block, so you want it to be perfectly square, so take the time here.


Step 4: Trim Your Center Square

Now, the whole idea of a crazy quilt is that it is off-kilter and nuts. So you don't want to just leave the center square to be, well, a square. Use your ruler and cut some fun angles into it.

I would, however, caution you to actually use that ruler and get super straight lines. The reason that this crazy block is so simple is because it's all straight lines!!

When you get this piece trimmed, place it on the muslin square, face up. Try to keep things, once again, off of center. Also maybe think about how the angles that you cut into it may effect the look of the finished piece once it spirals out.

Pin this in place, and you'll finally be ready for some sewing. :)

Step 5: Stitch That Sucker.
I just basted the center square on with a big zig-zag stitch, being sure to stay within a quarter inch seam allowance.

And here is were I will just say it and get it over with my 2 biggest pet peeves when sewing. Don't do them. They will instantly make what you sew look like homemade junk. Once you get into the habit of this you will find that I was right, so just trust me on this one!!

1 -  CLIP YOUR THREADS. EACH AND EVERY SINGLE ONE OF THEM, WHILE YOU WORK. Nothing sucks more than having to fight a thousand thread tails at the end of the project, and it's just going to mean that you'll miss one along the way that will make your work look messy. You didn't spend your afternoon on this project to have something look like a thready mess, right??

2 - IRON CONSTANTLY. AFTER EACH AND EVERY STEP. This is absolutely what will make people ask where you bought that awesome thing that you're styling and not hear those pitiful "Awwww, did you make that yourself? You did so great." It just looks sloppy when you don't press. Trust me.

(Ok - I promise no more of that ranting)

Step 6: Start Strippin'
No, not that kind. Geez!

Now's the time to add fun fabric on! I use 2" strips, cut across the grain (from selvage to selvage) for this. You can certainly change the size, but I like it as a standard size and tend to just have a shoebox full of strips leftover from other projects.

Pin your first strip onto one side of the center piece, right sides together, lining up the edges. Stitch at 1/4", which is typically the edge of your presser foot. Clip your threads and press it over. At this point I like to baste the other side down with a big zig-zag in the seam allowance, which you totally don't have to do, but I find that it really helps to have everything nailed down and neat as I go along, then you don't have to worry about it later.

Keep going around the center piece, adding on and overlapping the strips, in sort of a log-cabin block sort of style. Just make sure you keep a constant 1/4 seam allowance, if you go off of that you go off of that it just won't work as well, and you'll get puckers and weirdness.



Step 7: Start Your Second Layer
Once you get your first round of strips around the center, it's time to add on. And this is when you can get a little more creative.

The fun part about crazy quilts is that they are all odd-ball shapes and sizes, and that nothing is really the same. So when you place your second row of strips on, vary the angles and the placement a bit. Just as much as tweeking a piece by 1/2'' makes a huge difference.

Just make sure that when you do this, you're still stitching at 1/4" seam allowance, and that you place your strips so that the seam allowances of the row before it are covered. You wouldn't want to stitch a piece on, flip it up, and discover that you didn't cover the piece before it well enough so that you see stitching or cut edges. If you do this, I'm afraid there is some seam ripping and trying again in your future.

Go around like this, and just fill in the entire square of fabric. Don't be afraid to run off the sides of the square, they can be trimmed. And really, it's a heck of a lot better to have extra fabric stitched on than run short, so try to run over the edges of the strips you are trying to cover.

Try not to get to much stuck in a pattern, both with the angle that you stitch pieces on, and with your selection of fabric. Mix it up!

Step 8: Trim Your Square
Once you've gotten far enough to have completely filled your square of muslin, it's time to trim off of the excess.

I flip the piece over on my cutting mat, so that the muslin side is up. Put your ruler along the side of the muslin, and just run your rotary cutter up the side. Repeat this on all sides of the square.

Once you have it trimmed, zig-zag around all four edges of the square, so that everything stays where it is supposed to.

Step 9: Embellish!
Now, crazy quilts squares are usually embellished with embroidery, beads, buttons, or anything that you really feel like doing. So you can do as little of this, or as much of it as you want.

Doing the embroidery by hand looks incredible, but since I'm lazy, I'm using my machine. I put in a multi-colored thread, which looks cool, and also means I don't really have to change the thread a lot of times for variety.

I pretty much just top stitched decorative stitches along the edges of the pieces, and that was pretty much it. I could have also put buttons and stuff on it, but I think I want this to be more kid-safe, so I'm going to stay away from that sort of thing. All of this is completely up to you, and what appeals to you!


Once you've finished this, your block is ready for all sorts of things! I'm going to make it into a bigger quilt, I think, but you could really use these blocks in all sorts of applications. Happy sewing!!

4 People Made This Project!
Did you make this project? Share it with us!
Recommendations
Micro:bit Contest

Lamps and Lighting Contest

Organization Contest
Sours: https://www.instructables.com/How-to-sew-an-easy-Crazy-Quilt-block/
Piecing a Crazy Quilt block
using the stitch and flip technique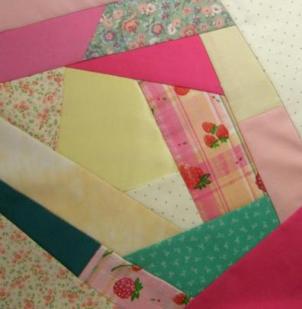 Keen to make your first crazy quilt block?
Why not take a seat beside me and watch the process of foundation piecing and see how I created my "Strawberries and cream" block.
Please bear with me if this page takes a while to load, as there are lots of pictures showing you the process step-by-step!
I was lucky enough to find cheap bags of fabric offcuts in a craft shop. On investigation of the contents I found inside a lovely fabric printed with scattered strawberries, raspberries and cherries which begged to be used in a crazy quilt block. In the bag there was also a bright pink that shouted "Use me too!" and a cream with tiny gold dots that resembled strawberry pips. Perfect.
I searched through my scrap bag to find additional fabrics that would tone or contrast. I found some solid creams, two other pinks, and some cream/pink prints along with some greens to represent the strawberry leaves. I washed and pressed the fabrics and was ready to make my crazy quilt block.
The first step was to cut the foundation square out of muslin (or calico as we call it here in the UK).
Then I found a tiny scrap of yellow taffeta in my scrap bag, saved from my daughter's bridesmaid dress. As it was rather transparent, I used it as my first patch, as any seams underneath it would show through. In the photograph, above, I laid a darker fabric underneath so you could see what I mean.
I cut a five-sided shape from the taffeta and positioned it on the background square, slightly off centre.
I cut a rectangle of the gold-spotted cream and laid it on top of one of the edges of the first patch, right sides down. After pinning in place I stitched a back stitch seam along that side of patch one.
The next step is to press the seam open with a medium hot iron. I like to keep a folded terry towel on my worktop so that I can press as I go along.
I trimmed off the long end of the cream fabric, then I turned the foundation square one quarter turn to the right.
I chose the strawberry fabric as the next to include in my crazy quilt block. The pattern had the benefit of giving me a nice straight line to stitch my seam along.
I positioned this rectangle along the next edge of that yellow patch, and the seam continued right to the edge of the cream spotted fabric as well.
After pressing the seam, I trimmed off the edge of the rectangle that jutted out beyond the end of the yellow patch.
In the next photo you can see that I used tailor's chalk to mark the seam line on the bright pink solid cotton. You could also use a disappearing ink pen to mark the line, but mine is pink, so wouldn't show up!
I laid this patch along the next side of the original yellow patch and the stitching extended along the trimmed strawberry fabric as well.
Don't worry about that little section of strawberry fabric sticking out, I will trim that off afterwards.
After pressing the seam, I trimmed the pink rectangle at an angle in order to add some variety to the shapes in my finished crazy quilt block. I left the trimmed section beside the patch so that you could see what I removed.
I made this next patch from a nightie my daughter used to wear when she was a toddler. I will trim off the hemmed edge in a moment.
I laid this rectangle along the fourth edge of the yellow patch and on top of the pink patch we just trimmed to shape.
With this patch we are now moving on to longer strips. This one fits along the edges of the yellow patch, (the second one that we attached) and also along the one we just added above.
I picked a piece of fabric from an old blouse that I tie-dyed back in the 's for this patch and positioned it so that the creamy coloured area met the printed fabric of the last patch, and the yellowy/orange section met the cream spotted fabric.
This patch completes our first "journey" around the crazy quilt block.
We are still turning the block a quarter turn after attaching each strip.
In the photo you can see that the "nightie" fabric actually takes us to the edge of the foundation square on that side of our yellow shape. This won't always happen and you would normally continue adding patches all around in a second journey. For this block, we will only need to add shapes to 4 sides.
In this photo I have numbered the patches in the order that I attached them. As you can see, I stitched the green patch (from my daughter's old skirt) to patches 2, 3 and 6.
After stitching and pressing, I have trimmed this patch to a slightly more angled shape.
The next patch will lie alongside patches 3, 4 and 7 and therefore will be rather long. To avoid our crazy quilt block ending up looking strippy I seamed two fabrics together separately for this strip.
On attaching this pieced strip to the block, I was careful not to position the seam, so it matched up with any other already on the block.
Again, for this strip I pre-seamed two fabrics together, this time on the diagonal.
Rather than trimming the existing patches to shape beforehand, I laid the new strip in place, along patches 4, 5 and 8, stitched it and then trimmed off the excess from previous patches. I wanted to create a triangle from the existing dark pink patch.
As you can see in the photo, I positioned the printed fabric in this strip next to the solids in the existing crazy quilt block and vice versa.
For the last pieced strip I seamed the darkest green and more strawberry fabric together and stitched them to patches 6 and 7.
All that's left now are the corners.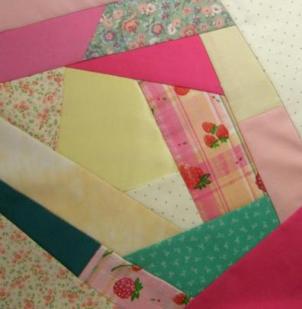 On adding corner pieces I tried to ensure that they were all differently shaped and sized triangles. I balanced the existing dark pink patch with a second piece of that fabric in the bottom right corner. Similarly, I used the light pink, cream spotted and "nightie" fabrics again for the remaining corners.
The last job was to trim the overhanging patch edges even with the foundation square and the crazy quilt block is ready for embroidery and embellishment.
I created this crazy quilt block using the stitch and flip technique of crazy quilting.
I hope the step-by-step photos and instructions have helped you to see that it is simple to piece your blocks and lots of fun. Now it's your turn.
Come back when your block is ready and we will start the embroidery phase.
Keep in Touch with Stitchin'Times Newsletter
TwitterFacebookPinterest
Sours: https://www.needlework-tips-and-techniques.com/crazy-quilt-block.html
Scrap patterns crazy quilt
Modern Crazy Quilt Pattern Tutorial
Start the Block in the Middle
Cut a square of muslin as a backing piece. This helps stabilize the quilt block. For this tutorial, the muslin is 9 1/2-inch square.
Tip: You can place quilt batting behind the muslin piece for a quilt-as-you-go block.
Choose a fabric piece for the center. Trim the piece so it has five sizes and irregular angles. Place the piece roughly in the middle of the backing fabric. 
Each time you make a block, the middle piece should be a little different, so don't worry about measuring or making a pattern.
Sew a Second Piece to the First
Choose the next fabric you want to add to your block. It should have a straight edge that's at least as long as one of the edges on the middle piece. 
Place the second fabric piece face down with the edges aligned. Sew along the edge with a 1/4-inch seam allowance. You don't need to backstitch.
If the second piece is longer than the first piece, that's okay! Sew only as long as the edge of the first piece or a few stitches longer.
Press the Seams as You Go
To make the process easier, always trim your threads as you go. 
Press the seam to set it, then press the seam open.
Tip: Your crazy quilt block involves a lot of sewing, trimming and pressing. Keep your cutting mat and ironing board close to your sewing machine for easy assembly.
Align the Next Piece to the Center Piece
As you add fabric pieces, they will always go on the next side to the left.  
Choose the next fabric and make sure it is long enough to go across the next side of the middle piece and the second piece you just added. Part of the previous piece will most likely show, but don't worry about that yet.
Sew along the straight edge of the new piece with a 1/4-inch seam allowance.
Trim Extending Seam Allowance
Fold the backing fabric back and away from the seam you just finished. Trim the fabric that extends beyond the seam allowance.
As you add strips, always leave the strips uncut until after you sew over them and they are extending from the seam allowance.
Press the seam open.
Sew New Pieces Around the Center
Add the next piece to the middle, extending all the way across the last piece. Sew, trim the seam allowance, and press.
This is the same process for each additional piece you add to the center, and eventually all around the block.
Work Around the Block Counter-Clockwise
When you add a piece to the last side of the middle piece, it can extend in both directions, attaching to the second piece you sewed.
Continue adding more pieces around the block, always working counter-clockwise.
Piece Strips for More Crazy-Quilt Variety
As you work around the block, the pieces need to be longer to extend across the various angles. You can use longer fabric strips, but for more variety and extra "craziness", try piecing some strips at interesting angles.
Piece Strips for More Crazy-Quilt Variety
As you work around the block, the pieces need to be longer to extend across the various angles. You can use longer fabric strips, but for more variety and extra "craziness," try piecing some strips at interesting angles.

When to Remove Stitches
As you add more rounds of pieces, the previous pieces will extend beyond the seam allowance. In order to trim them, you may need to remove some stitches so they aren't attached to the fabric backing. 
Use a seam ripper to remove the stitches that prevent you from folding the backing away from the seam allowance. Be careful not to rip the seams you need.
Trim the Crazy Quilt Block
Add strips around the block until the entire backing piece is covered. 
Trim the edges so that the block is square and even with the backing fabric.
Finish the Edges and Sew the Quilt Blocks
Finish your block by sewing around the entire block, 1/8th of an inch from the edge. This secures the edges, making it easier to sew the blocks together.
Traditionally, crazy quilts also have lots of embroidered lines stitched over the seams. You can use the decorative stitches on your sewing machine or try some hand embroidery. Of course, for a more modern look, you can leave your crazy quilt unstitched.
Enjoy your Quilt!
Make more blocks and sew them together to make larger blocks or add sashing between them. You can also use these blocks to make pillows, pot holders, and more!
Sours: https://www.thesprucecrafts.com/crazy-quilt-pattern
The Crazy Scrap Quilt - Crumb Quilt Project - Quilt Along
Maria worked for the firm. Ivan told about himself, although his thoughts were somewhat different. He ate all the girls with greedy eyes. This was not surprising, since the students wore long T-shirts, but they were not long enough to hide their legs, which glittered in the semi-darkness of the compartment. Maria, seeing the.
Now discussing:
Did you enjoy drinking my urine. Yes, Master. Say thank you then. - The owner demanded.
1977
1978
1979
1980
1981