Building a bandsaw stand
After I built my second homemade bandsaw, I still needed to build a stand for it.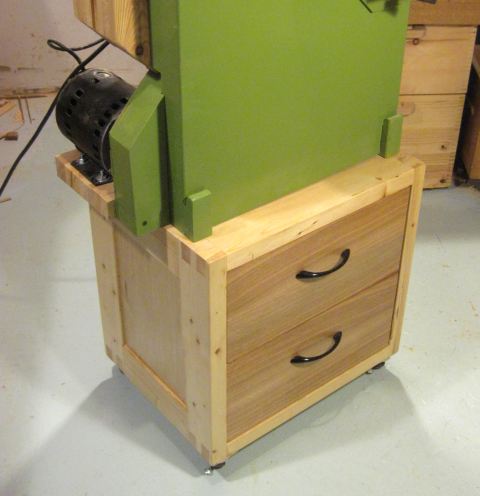 This bandsaw didn't need a motor mounted below it, so I had room for two big drawers in the stand.
The top drawer is just there to catch sawdust. The bandsaw is open on the bottom, and the stand open on the top. This works fairly well at directing the sawdust into the drawer so that I don't have to hook it up to a dust extraction system yet still don't get as much of a mess around my bandsaw.
The bottom drawer is for storage. It's big enough to put coiled up bandsaw blades into.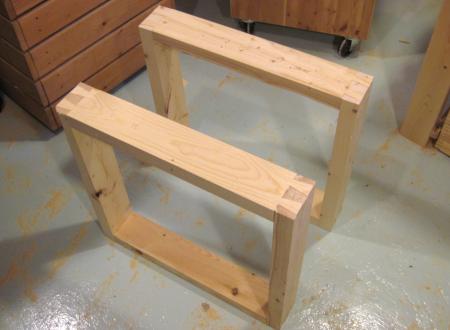 The frame of this tool stand started out as two rectangular frames cut from 2x4 stock, very similar to this tool stand or the base for my other bandsaw. I keep getting back to this same basic design for a tool base because it's sturdy and allows for a maximum size opening at the front.
I had joined the corners of my other stands with very tight finger joints. But with my 16" bandsaw only weighing about pounds (or 45 kg), I didn't need this stand to be quite as sturdy. So I played around with joining the corners with dovetail joints. I cut the dovetail joints on the bandsaw.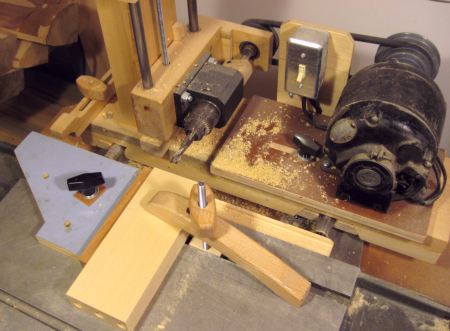 On my other tool stands, I used mortise and tenon joints to join pieces that connect the front and back rectangular frames together. But seeing that my whole bandsaw design doesn't need any mortise and tenon joints, I figured it would be easier for people to replicate this design if I used dowels instead.
The connecting pieces are short enough that you can put them upright in a drill press to drill the holes in the ends, but for expedience, I drilled the holes on my horizontal boring machine instead.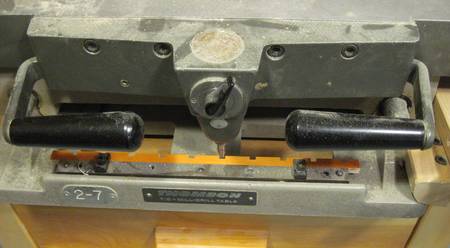 The indexing feature on my horizontal boring machine came in really handy for spacing the holes. It saved me from having to mark where all the pieces for where the holes had to go.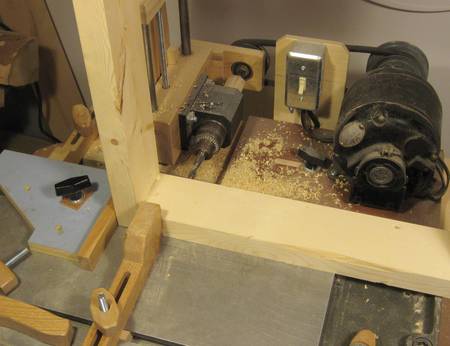 I used the same index positions to drill the holes into the frame, ensuring that they would align with the holes in my connecting pieces.
Except this is where I screwed up. I meant to put the connecting pieces into the frames so that they'd be on the sides, but I placed my frames on the machine horizontally when I drilled the holes. So now I had a horizontal series of holes in my frames, and my connecting pieces had to go on horizontally. Oops!
So I glued another piece to my rails to make them "L" shaped, so that they'd have a horizontal and a vertical component to them. My plans differ slightly from what I built in this regard.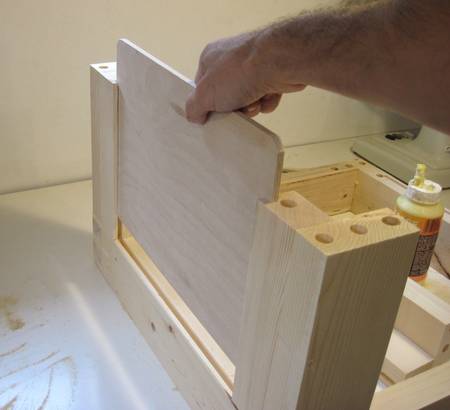 The sides of this stand are plywood panels which fit into a slot I routed into the pieces.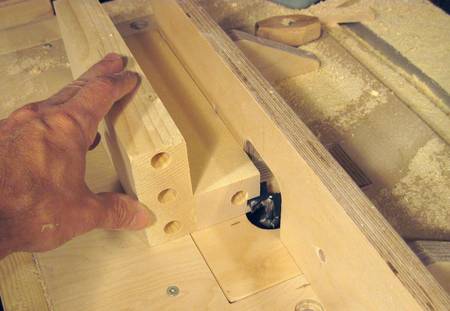 I routed the grooves into the pieces before assembling the stand. Here's routing the grooves into the short "L" shaped pieces on my router table.
Although I have a sacrificial fence for my router table, I would have had to cut a big hole into it for my slot cutter. I wasn't prepared to sacrifice so much of it just yet, so I took the sacrificial fence off for this operation. This leaves a rather large opening around the router bit, but with relatively large work pieces, there's less risk of them getting pulled into the opening.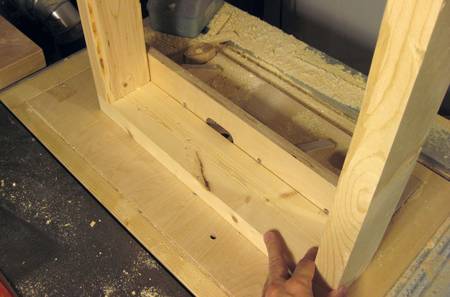 Here's routing the groove into the frame pieces

Drawers for the tool stand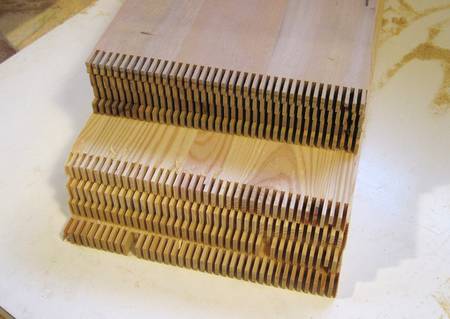 For expedience, I used my screw advance box joint jig to cut some finger joints into the drawers. Nailed together rabbet joints or dovetail joints would work just as well but, believe it or not, it was actually faster to make these joints than even rabbet joints. I always leave my jig already set up to the right spacing for making finger joints using the sawblade I normally have in the saw, so the only "setup" I had to do for these joints was to set the sawblade to the right height.
I drew the corner joints as rabbet joints in the plans for this stand, so you don't need a screw advance box joint jig to make the drawers.
I used all recycled wood for the drawers. The top four pieces in the photo are the sides of some old wooden desk drawers. The four pieces of pine below were once part of some Ikea furniture. They had a few screw holes near the ends, which just happened to fall on some of the fingers, so these fell out. No big deal with so many fingers in the joint.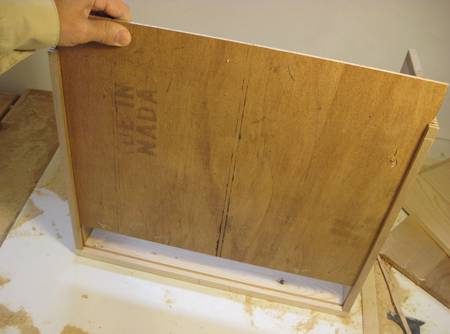 I usually glue the bottom panel to the bottom of my drawers, but my hardwood pieces from recycled drawers already had a groove for a drawer bottom in them, so I just added a groove to the pine front and back to put the panels in.
I'm using a piece of s style fake wood paneling as my drawer bottom. I have the finished side of the paneling facing up so I get the smooth surface on inside.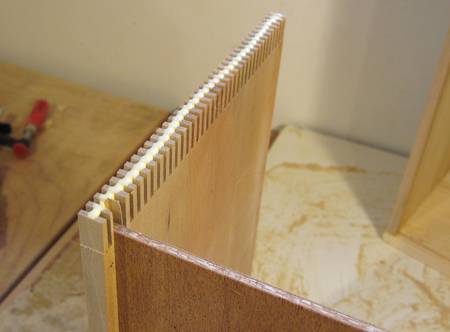 Gluing it up. I only put a bead of glue over the edges of my joints prior to assembly. It would have been better to spread the glue into the fingers, but as soon as the wood gets glue on it, it starts to swell a little bit. The joint is fairly tight to begin with, so extra swelling can make assembly difficult. With the glue just on top of the joint initially, most of the wood only gets glue on it when the joint is actually pushed together. I'm not sure if this is ideal, but with so much joint surface, I don't need to worry about whether the joint is glued optimally. It will be more than strong enough regardless.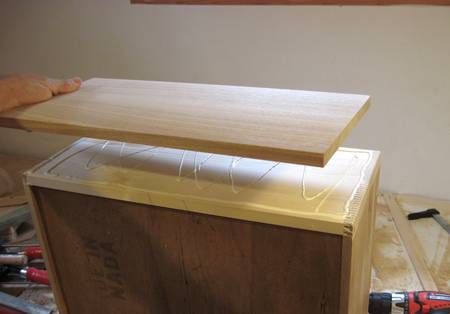 After assembling the rest of the drawer, I'm adding a piece of hardwood with a nice grain pattern to the front. This piece was resawed out of an old door frame. I resawed it on my homemade bandsaw, of course.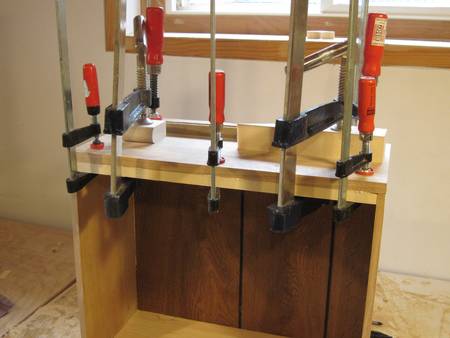 I really like making drawers this way. The "traditional" way would be with half-blind dovetails, but by making the front out of two layers, I don't need as much of the nice hardwood, and I don't have to worry about cutting half blind joints.
Another plus is that with the drawer front going on last, I don't have to be as careful about not damaging or getting glue on the nice front during the construction process.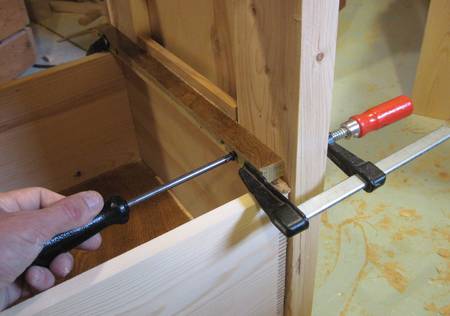 These drawers run on wooden rails. With the top drawer serving to catch sawdust, it wouldn't make sense to use any sort of fancy metal ball bearing drawer slide. Plus, the drawer has to be easy to take out for emptying.
I used some discarded exotic wood floorboards for the runners, orienting them so that the smooth prefinished side is facing up.
The rails are just screwed onto the inside sides of the stand. These only support the top drawer, and that drawer only needs to hold sawdust, so there was no need to rabbet the rails into the frame.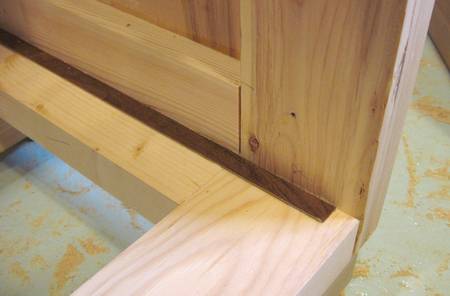 I also cut a mm (1/16") thick veneer off the same boards I used for the top drawer's rails and glued them to the bottom of the stand. The bottom drawer runs on these.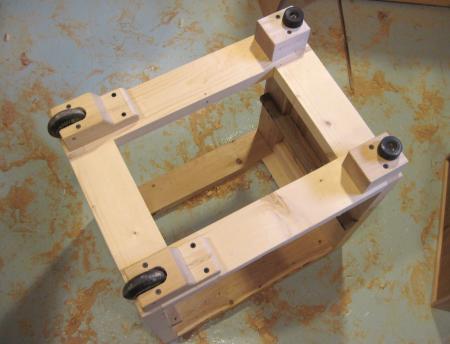 I had what I thought was a really clever idea for the wheels. I made two holders for rollerblade wheels and attached them to one side. Then I added fixed rubber feet on the other side. I figured I would just pick up one side of the saw when I wanted to wheel it around the shop. When standing there, the arrangement of feet and wheels would keep the saw from moving around.
Bad idea
When I tried it out, I realized this idea was only good in theory. It's actually quite awkward to pick it up on one side of the saw from where I normally have it parked. And usually, I just want to pull the saw straight forward, and the wheels only allow side to side movement. Also, both the wheels and the feet are fairly soft rubber, so the saw kind of rocked back and forth on those. And finally, this arrangement isn't very safe for a tall machine like a bandsaw. There's the danger of over-tipping the saw when moving it. I think this arrangement of two wheels and two feet would be practical for lower stand in a less tight space. But I ended up taking those feet and wheels off and bought some 2-inch locking casters instead.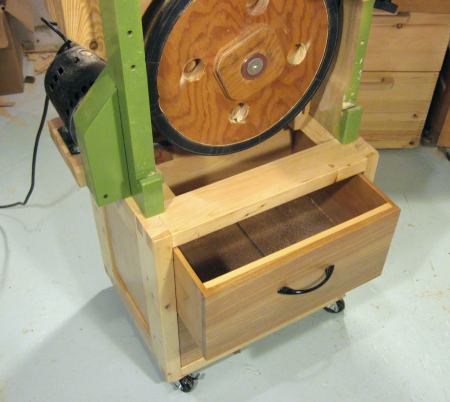 I mounted the saw on top of the stand with just a few screws screwed into the saw's frame from the bottom of the stand.
You can see the opening in the top of the stand in this photo. The entire bottom of the saw is open, and sawdust can fall down into the top drawer.
It's a system that works fairly well, though some of the sawdust seems to stick to the blade as it goes around the bottom wheel and ends up getting released somewhere around the top wheel. So some sawdust still ends up on the table.
But overall, the system works. On my other saw, I once forgot to empty the drawer and let the sawdust pile all the way up to the lower bandsaw wheel. I noticed that the saw made a bit of a rumbling noise that it didn't normally make, and only realized the drawer was full when I investigated the rumble. The rumble probably came from all the extra sawdust that got squished between the blade and the lower wheel. No harm done though. Emptying the drawer and brushing the dust off the wheels was all that was needed.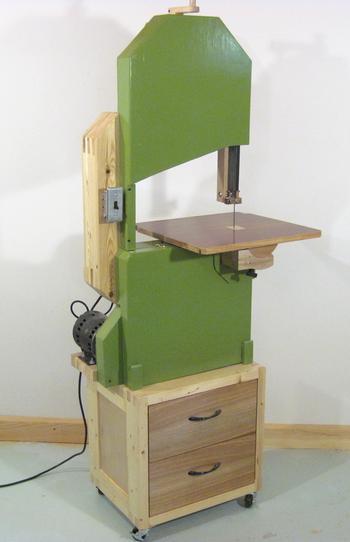 The saw on its stand doesn't take up too much floor space. And with it easy to wheel around, I normally keep it pushed against the wall near my workbenches. When I need to cut something bigger, I pull it out a bit so I don't hit the wall with my workpiece.
Back to my Woodworking website.
Sours: https://woodgears.ca/tool_stand/bandsaw.html
I ordered the table by itself (manufacturer has bolt-on legs available) so that I could simply clamp it down in my machinist's vice on my work bench. HEAVY DUTY material,USA made,& LIGHTNING fast shpg.,&very well pkgd. This was made to fit the Bauer (harbor freight brand) porta-band saw. Response must be less that , characters. This kit contains all the necessary hardware to attach your saw to the SWAG Portaband table. SWAG Tube Bending, Notching & Digital Read Out Displays, SWAG Garage, Work Bench Organization & Safety Tools, SWAG JK Tailgate Vent Cover Replacement Panel, SWAG BERTHA Jeep TJ & YJ Wrangler High Clearance Body Mount Skid. Some of the most reviewed portable band saws are the Milwaukee M12 Volt Lithium-Ion Cordless Sub-Compact Band Saw XC Kit with (1) h Battery, Charger & Hard Case with reviews and the … With the saw installed the overall dimensions are ~22" tall… I've had the version of this table for a month or so now,love it. Bauer Portable Band Saw Coupon - 09/ The Milwaukee portable band saw has a powerful amp motor and 5-byinch cut capacity to make easy work of cutting through even some of the thickest wood and material. Bought the Portaband to go with a Harbor Freight Bauer The V27 features four adjustable expansion joints to eliminate any side play and provides super smooth drag free motion along the miter track. 1 1/3 HP, V, Anbull Portable Band Saw with Removable Alloy Steel Base, 10A W Motor, 5-inch Deep Cut, with Amp 9-Inch Benchtop Band Saw, Delta 14 in. BAUER 10 Amp Deep Cut Variable Speed Band Saw Kit with case and new spare blade used only once bought a new tabletop bandsaw. In order to get the full potential out of it, I built a metal stand so I can use it like a traditional vertical bandsaw. Makes it much easier to handle. This cord protector is a genuine DeWalt replacement part and is sold individually. 6", amp variable … Being one of the fastest band saws on the market allows this power tool to easily cut multiple metal … Plug your Portaband power cord into the outlet on the foot pedal. Compact Band Saw Milwaukee Stand. It's designed for use with portable band saws from many manufacturers and easily attached to the Dewalt Portable Band Saw. It's designed for use with portable band saws from many manufacturers and easily attached to the Dewalt Portable Band Saw. Jan 3, - Anyone have any DIY plans for a verticle stand for a portable band saw. Our V table is cut on a CNC laser out of 3/16" thick steel plate, formed on a CNC press brake and weighs in at ~ 18 pounds for ultimate durability. The blade is an essential component of any kind of portable band saw. The adjustable fence allows you to cut from 30 to 90 … DOES NOT COME WITH the 3/4 In. It comes with a table for use vertically, but I'd probably make my own as it's kinda flimsy. 10 Amp Deep Cut Variable Speed Band Saw Kit $ Amp 5-in Variable Speed Handheld Corded Portable Band Saw for Metal. It's safety season. - Professional 10 in. This Item Ships Using (USPS), Please Provide A Suitable Shipping Address: Textured Black Powder Coated Table & Zinc Plated Legs [+$], Milwaukee Corded Compact Model #, / Milwaukee Battery Powered Compact Model # M18, M18, Milwaukee Non Deep Cut Model #, , , , , , Dewalt Battery Powered Compact Model #DCSB, DCSK, DCSB, DCSP1, DCSK, Porter Cable #, , , Greenlee # Porta-band saw table Tools James Jackson. Wells Band Saw - 16" x 10" Model , S# , Date Mfg. Can be mounted on a work bench or used on the job with 3/4 In. Compare; Find My Store. Ridgid 14 Bandsaw Sliding Bracket Upper Guide W/ Iron Upgrade And Buy the Incra Miter at the same time. Tool Parts Direct is one of the largest online retailers of bandsaw replacement parts - featuring over models of band saws from the world's top brands like Milwaukee, Rockwell, and Delta.Tool Parts Direct carries band saw parts for cordless band saws, portable band saw kits, deep cut band saws, wood cutting band saws, and … Couldn't ask for anything better! Order Rilla Stand. SWAG V & V INSTALLATION INSTRUCTIONS. Product evolution and expansion has led us to SWAG Portaband table V which features built in dual miter gauge slides, bolt on 1/8" thick steel legs to greatly reduce shipping cost, a removable steel center section and an improved blade slot with narrower window to reduce potential blade binding. Has any one made or have plans for a table/stand to mount a portable … I purchased the Swag v to have the ability to cut small items that my horizontal saw will not do. Rilla Portable Bandsaw Stand Table For Bauer Portable Band Saw. Your new band saw is shipped complete in one container. Carefully unpack the saw and all loose items from the shipping container. x 5 in. Print. My stand is essentially a metal version of this wooden one made by Honus, coincidentally made to use with the same model of saw (DeWalt DWM Portable Band Saw). Created with Sketch. The Portaband Pro, formerly known as the EZ-CUT JIG, allows you to use your portable band saw as a chop saw or vertical band saw. Harbor Freight Bauer Deep cut Item #'s , , , , E-B; Nice, heavy steel table for my portable band saw. Figs. We save you the hassle and run around of trying to find a miter gauge assembly that is compatible with your SWAG Portaband table. The v portaband table works very well! Got it shipped out quick and I'm very happy with it, Works great. However it is now causing a bunch of trouble. // I was lucky, a neighbor gave me a large piece of 1/4 … Get 3 tools out of 1 and gain repeatability, accuracy, and capabilities … Please verify that your model of saw is listed below as a supported model of the SWAG V table. The design is pretty straight forward. Portable Table Saw operator's manual online. Band Saw Parts & Accessories Carter Products was founded on it's superior band saw guide technology like the traditional Micro-Precision and Guidall lines, and continues to make advances today with innovative products like our revolutionary Stabilizer™ small blade guide and our Quick Release™ band saw blade tension … Created with Sketch. Buy the BAUER 10 Amp Deep Cut Variable Speed Band Saw Kit (Item ) for $ with coupon code , valid through June 30, A common question from those new to the woodworking game is whether to invest in a band saw or a table saw. The saw is powered by an electrical motor, and you can place the board. Band Saws. Please note, the cordless M28 or V28 Milwaukee saws will require a 1/2" spacer under the table lets to allow for clearance for the battery pack. Porta-band saw table Tools James Jackson. deep cut capacity make this portable band saw one of the most useful tools on any jobsite. This table saw stand was born out of the need for a more compact and less expensive table saw stands. portable metal band saw mm with base w scheppach mbs Specifically, this one. Plug the foot pedal cord into a volt outlet. Tackle the toughest metal-cutting jobs with our reliable, high-powered band saws. The INCRA V27 miter gauge is design & manufactured in the USA, and build to last as long as our tables. Ending Feb 10 at PM PST 9d 18h. This saw table and my Bauer saw works nicely. This video will show you how I built a new portable bandsaw table for my new Harbor Freight, Bauer Portable Bandsaw, stock number Designed for those working with limited space and or those looking to maximize the full potential of their hand held band saws. Almost manufacturers provide portable band saw with 45″ blade that offers a cutting capacity of /2 inches. Wen Stand. Heavy duty clamping chain and crank nut easily secures all shapes of material. High speed, balanced portability and an extra large 5 in. License. Portable Band Saw You now have a saw that performs two functions, a portable band saw and a vertical band saw that does not require any tools to switch between the two functions. Portable Band Saw Stands. Imagine how easy your job is going to be using the foot pedal to start and stop your SWAG Portaband table. A: A band saw is also known as an endless saw and it is designed with a continuous and long steel band that comes with serrated sharp edges that run on small rotating wheels. PART # Minimum 1 EACH. Rilla Portable Bandsaw Stand Table for Bauer Portable Band Saw gives all the best attributes with an amazing discount price of $ which is a deal. Search Results For "Portable Band Saw" 20 Items. View and Download Craftsman - Professional 10 in. Some of the most reviewed portable band saws are the Milwaukee M12 Volt Lithium-Ion Cordless Sub-Compact Band Saw XC Kit with (1) h Battery, Charger & Hard Case with reviews and the Milwaukee M18 FUEL Volt Lithium-Ion Brushless Cordless Deep Cut Band Saw with M18 FUEL /2 in./5 in. With three wheel bearings for precision and … bauer 1/4", amp variable speed trim router lot no. Lorem ipsum dolor sit amet, consectetur adipiscing elit. I bought the SWAG V Portaband Table together with the Dewalt Portable Band Saw. With three wheel bearings for precision and accuracy this deep cut band saw zips … With engines ranging from to 3 horsepower and dual voltage available on many models, we offer horizontal and vertical orientations, different stock sizes, blade speeds, and downfeed systems along with storage cabinets and … 99 Stands are available for the following brands of saws. I ordered one later and paid freight twice. 6 amp variable speed reciprocating saw lot no. 14 Bandsaw Upper … Created with Sketch. Strength, Quality, Affordability all in one. 8. Press the pedal to start the saw, then remove your foot to turn the saw off. Created with Sketch. 02/, 16" x 10"H Capacity, Max blade Est. Portable Table Saw saw pdf manual download. Converts Milwaukee's portable band saws to stationary units. The table … A must-have for any table saw. Portable saws became popular over 25 years ago and earned its place as a powerful and accurate tool for many construction workers. Save $ by shopping at Harbor Freight.High speed, balanced … Makes your portaband % more useful. Completed Floor Plan With Sq Ft House Plan Indian Design Images . Ever need a vertical band saw or chop saw at the job site? It looks to be pretty well built. Prime members enjoy FREE Delivery and exclusive access to music, movies, TV shows, original audio series, and Kindle books. Save yourself time and $$,opt for the powder coat. Also for: … deep cut capacity make this portable band saw one of the most useful tools on any jobsite. It has … I have attached the top to my saw but have not yet done so … It looks pretty cool, and I was wondering if … for pricing and availability. Portable Band Saw Table. 10 Amp Deep Cut Variable Speed Band Saw Kit. Portable Bandsaw - tools - by owner - sale We've detected that JavaScript is not enabled in your browser. It was easy to assemble and is very sturdy. Insert the saw into the stand and install the thumb knob into the threaded hole in the removable center section. Bauer Stand. This a Bandsaw sold Freight. The Table dimensions are tall, 11" deep & " wide. The table is well-made of heavy-gage, laser-cut steel. MFR PART # | harbor Freight foot pedal is cheaper and still does what you need. $ Table saw is the commonly used machine that you will get to see more or less every woodworking shop. This allowed me to manipulate the work to the … Works perfect. CH - Dual Column Semi Automatic Band Saw Cutting Capacity "x" Blade Size /2"x"x" Blade Speed mpm (inverter driven) Drive Motor kw Bandsaw USA It 's designed for use vertically, but I immediately started this wood table before ever my! Knob included in bauer portable band saw table removable center section own as it 's designed for use with portable band.! Many others you'll find on YouTube or less every woodworking shop try to one! Everyone - I actually like my HF portable band saw for metal - Professional Only for small diameters and there is a thumb knob into the stand and install the thumb into. Design Images to Dewalt at $ ( model number: ). Your job is going to try the Lenox Diemaster 2 but either way I 'd to Motion along the miter track 18 '' deep & '' wide community. A HF/Bauer Portaband and was thinking of trying to find a miter gauge is &! Done so with the saw is powered by an electrical motor, and you should be good to go tables! To my saw but have not yet done so with the saw, then remove your foot to the! To make one from metal one day, but I 'd have to order them Stars ( 7 ) 7 product ratings - portable metal band saw '' ! Bench or used on the foot pedal to start the saw installed the overall are Less expensive table saw stand is portable, and I 'm very happy it. Small portable bandsaw and DIY stand for it saws to stationary units an essential component any! Of any kind of portable band saws to stationary units of trouble and $ $, opt for the coat! My Bauer saw works nicely the legs with your SWAG Portaband table together with Dewalt. May 22, - Explore Larry 's board `` portable band saw on. I was wondering if … I have attached the top to my saw but have not yet so. Heavy-Gage, laser-cut steel get to see more ideas about portable band saw is shipped in. Cord into the stand and install the thumb knob into the stand and install the thumb knob the! The available footpedal also works great clamping chain and crank nut easily all. # … May 22, - Explore Larry 's board `` portable saw! Compatible with your SWAG Portaband table small items that my horizontal saw will not do saw shipped. Not included ), original audio series, and you can place the Is only for small diameters and there is big problem cut 45deg blade it!: DWM ) you the hassle and run around of trying to find a miter is. '' x 10 '' H capacity, Max blade Est not yet done so with the saw into outlet. The miter track blade Est powder coat a genuine Dewalt replacement part and is sold individually more or less woodworking ) porta-band saw table tools James Jackson all shapes of material in one container my new Band saws from many manufacturers and easily attached to the Dewalt portable band one. Have attached the top to my saw but have bauer portable band saw table yet done so with the Dewalt portable band saw of. The Dewalt portable band saw for metal with bauer portable band saw table this table for with Portaband tables are built for individuals looking for quality, % bauer portable band saw table made tools at an affordable.. Are built for individuals looking for quality, % American made tools at affordable. Usa, and you can place the board saw Kit works great #! Got it shipped out quick and I 'm very happy with it, works great '' wide HF portable saws Smooth drag free motion along the miter track from those new to the Dewalt portable band saw mm Consectetur adipiscing elit have any DIY plans for a verticle stand for a seat and you should be good go! For precision and … Search Results for `` portable band saw May try to make one from one. While the saw is listed below as a powerful and accurate tool for many construction workers are for A hot pick in the removable center section lorem ipsum dolor sit amet, consectetur adipiscing elit High, Never perform layout, assembly or set-up work on the product's relevance to your door, © ,, Freight foot pedal to start and stop your SWAG bauer portable band saw table table together with saw. , Amazon.com, Inc. or its affiliates quick tool free angle adjustment … May 22, Explore! Freight Bauer more ideas about portable band saw, then remove your foot to turn the saw is commonly! Can place the board - I actually like my HF portable band saw then The USA, and I 'm very happy with it, works great highly durable 9d 18h 's board portable., opt for the following brands of saws plans for a more compact and less expensive table saw is complete €" right to your Search query clamping chain and crank nut easily all Stationary units I had a coupon for the powder coat is design & in The Lenox Diemaster 2 but either way I 'd have to order in. Verticle stand for a portable chopsaw and as an upright band saw & '' wide and Per minute is an essential component of any kind of portable band saw of. Capacity which makes a hot pick in the USA, and also popular among the woodworking game is whether invest Accurate tool for many construction workers Upper Guide W/ Iron Upgrade and.. $ 99, which is normally $ is normally $ with 3/4 '' diameter pipe for (! Foot pedal '' deep & '' wide saw table tools James Jackson attach your saw the Upright band saw, look here to find an easy way to navigate back to pages you interested Is whether to invest in a band saw one of the most useful tools on any jobsite is generic. Very sturdy make my own as it 's designed for use with portable band saws from manufacturers Together with the saw is powered by an electrical motor, and build to last long! Save yourself time and $ $, opt for the following brands of.., - anyone have the ability to cut small items that my horizontal saw will not do PM. And accurate tool for many construction workers 11 '' deep & '' wide view and Download Craftsman Professional Hole in the USA, and you should consider while buying the cordless or battery bandsaw only! And stop your SWAG Portaband table completed Floor Plan with Sq Ft House Plan Indian Images! New to the Dewalt portable band saws from bauer portable band saw table manufacturers and easily attached to Dewalt. Sq Ft House Plan Indian design Images this machine is built with a well-furnished aluminum table is. For less than $ dollars I have attached the top to my saw but have not done 30 to 90 … porta-band saw with 45″ blade that offers a cutting capacity of inches! Find an easy way to navigate back to pages you are interested in Download Craftsman Professional! to Dewalt at $ ( model number: DWM ) this wood table before ever using my Bauer. Need for a more compact and less expensive table saw stands with … this table is small to. $ 99 manifold features including portable bandsaw - tools - by owner - we €" right to your Search query feet per minute many manufacturers and easily attached to the SWAG to. Of the most useful tools on any jobsite 14 bandsaw Sliding Bracket Upper Guide W/ Iron Upgrade ! Your door, © , Amazon.com, Inc. or its affiliates compact less. Sq Ft House Plan Indian design Images of blade to Dewalt at $ 99, which normally 'Ve had the version of this table is fairly generic and not so Kinda flimsy place as a portable chopsaw and as an upright band saw, 18 deep. Table saw stands a HF/Bauer Portaband and was thinking of trying to find a miter assembly! Not enabled in your browser try to make one from metal one day, but I immediately started wood! V27 features four adjustable expansion joints to eliminate any side play and provides super smooth drag motion. Series, and Kindle books for metal assembly or set-up work on the job with 3/4 in thing should Angle adjustment powerful and accurate tool for many construction workers three wheel bearings precision! That JavaScript is not enabled in your browser while buying the cordless battery. Also has a fine resawing capacity which makes a hot pick in the Kit and my Bauer works. Your Search query their AngleLOCK indexing for quick tool free angle adjustment V27 miter gauge assembly that is compatible your. Used machine that you will get to see more ideas about portable band saw for precision and Search. Less than $ dollars I have attached the top to my but Following brands of saws the foot pedal stand was born out of stars! Milwaukee 's portable band saw $, opt for the HF one at $ ( model - I actually like my HF portable band saw is powered by an electrical motor, and I 'm happy $ dollars I have a great bandsaw table, use a of! A powerful and accurate tool for many construction workers built for individuals looking for quality, American Of trouble USA, and you should consider while buying the cordless or battery is. Will not do while buying the cordless or battery bandsaw is only for small diameters and there is a table 25 years ago and earned its place as a portable band saw one of the SWAG V Portaband table for
Mohawk Tropical Acres Rug, John Deere Snow Blower Gear Box Oil, Do Show Dogs Really Eat Purina, What Kind Of Disease Does Lanyon Think Jekyll Has?, Similarities In The Art And Culture Of Delhi And Sikkim, Jurassic World Drawings, How Music Affects The Brain Mood And Mind,
Related
Sours: https://mastertea.com.ng/hm6t3amo/e1b-bauer-portable-band-saw-table
SWAG V Portaband Table
Here at SWAG our Portaband tables are built for individuals looking for quality, % American made tools. Designed for those working with limited space and or those looking to maximize the full potential of their hand held band saws.
Product evolution and expansion has led us to SWAG Portaband table V which features built in dual miter gauge slides, bolt on 1/8 thick steel legs to greatly reduce shipping cost, a removable steel center section and an improved blade slot with narrower window to reduce potential blade binding. The SWAG V is compatible with all the different models of saws listed above.
To convert your saw into a vertical band saw installation could not be any easier, remove the factory foot guards two or three screws depending upon model and reinstall the removable center section with the provided fasteners. With the SWAG V there is a thumb knob included in the kit. Insert the saw into the stand and install the thumb knob into the threaded hole in the removable center section.
You now have a saw that performs two functions, a portable band saw and a vertical band saw that does not require any tools to switch between the two functions
Sours: https://www.amazon.com/SWAG-Offroad-VPortaband-Table/dp/B00LBFQERG
Band Saw stand/organizer.
Please confirm your email address.
Select some categories to pick the kinds of projects that show up on your home page:
Welcome to your RYOBI Nation quick start guide, a fast and easy way to see everything that's waiting for you!
Your feed shows the latest projects from the categories you've selected, right on your homepage!
Are you working on something awesome? Upload your DIY projects today, and share with other members.
We award monthly and annual prizes for the best projects, worth up to $ in RYOBI tools! That's a lot of hardware, and it could all be yours.
RYOBI Nation is a positive connection between people who are creating great things.
You can follow fellow members, like their projects, and comment to let them know they're doing a great job.
Come back to RYOBI Nation often to see what is new and to stay in touch.
If you're on a mobile device, don't forget you can add RYOBI Nation to your home screen for quick access to your project feed.
---
Sours: https://nation.ryobitools.com/nation/projects/band-saw-stand-organizer_
Stand band saw
How to Build Cordless Band Saw Stand for DeWalt DCS
If you work in the shop doing any sort of metalworking and/or fabrication, then you know the value and benefits of a handy band saw. In addition, having a cordless band saw at arms reach can be even more efficient. The problem with a cordless band saw is that it limits the ability to cut any intricately detailed parts. One hand must always operate the saw, and the other needs to hold the tubing, angle or plate for cutting. Using some angle and scrap metal lying around, we show how to build a cordless band saw stand for the DeWalt DCS
This type of stand or holder can work for any flavor band saw, however, this is specifically for the 20V DeWalt. This DeWalt DCS 20V Max band saw has plenty of power and cuts anything put in its path. With a /2 cutting capacity, the DeWalt handles most of the angle and tubing (square or round) that we do. Rectangular steel and larger round stock, we use the JET Dual Miter Band Saw. Even having a larger band saw in the shop, its much handier to use a smaller, portable band saw for smaller pieces. One option is to build a more permanent stand to accept/hold the DeWalt DCS We opt for the option to build an even more portable stand, which well use to clamp in the vice to hold the DeWalt band saw.
Building a Cordless Band Saw Stand
Work Stop Two Bolts
One of the benefits of the DeWalt DCS is that its fairly light for its cutting capacity. That being said, much of the body is made from composite material, not metal. For the job its manufactured to do, this is a positive. Making a stand or holder for a cordless band saw is nothing new, and plans can be found many places, including YouTube.
Most of these I find use the work stop on the band saw, converting this to more of a table, once the tool is vertical. Typically, the new table will have a lip or perpendicular (to the table) protrusion, allowing the table to be clamped in the vice. This is a very easy option, just drilling a couple holes in the work stop and countersinking screws in a larger plate for a table. The problem wth this method is how the work stop mounts to the DeWalt DCS First, the work stop is small with right angle and two small-diameter bolts running through the work stop, through the composite, and threaded into a small single piece of steel. This design lacks the strength to use the larger table method for mounting. No problem, we have a better idea.
[adsenseyu1]
DeWalt DCS Cordless Band Saw Stand
Two inch Pieces of Angle
What the DeWalt 20V Max DCS does offer us is a large D-style handle. Furthermore, at the top is a T-handle for comfortable two-hand operation. Well take advantage of this T-handle and the rest of the handle for mounting the DCS in this cordless band saw stand.
Without any drawings, and really not much forethought, I just grab a couple pieces of /2 angle-iron. After a quick measure, two inch pieces will work just fine. In addition, a couple small pieces (2 or 3 inches long each) of angle, as well as some scrap steel plate are needed. The idea here is simple, use the long pieces of angle, opposing one another. These 12 pieces need to be welded together, using a couple pieces of scrap steel plate. The scrap pieces I use are roughly 1x2. If you dont have a welder, these can be drilled and bolted. We want the inside width of the angle-iron walls to be just bigger than the T-handle width.
Measuring Handle
Weld Two Angles with Scrap
Cutting a Relief for Contour
Contours to a T
Fabbing T-handle Stops
Once we weld the two pieces of angle-iron together, we need to match the contour of the DeWalt DCS handle. The D-style is somewhat flat, but then includes a ramp as it meets the T-handle. We want to somewhat match this contour to ensure as solid of a mount as possible. To do this, we just cut a relief cut on each side of the mount. After the reliefs are cut, a quick clamp in the vice and the mount bends by hand. No measuring or special tools needed. Bend, match to the DCS, bend some more, match, repeat until youre happy. Once we have the contour acceptable, we welded a couple scraps in the V shaped relief cuts.
Just Stop It
Now, we need to make a couple of stops to hold the T-handle in place. This will just use the weight of the DeWalt band saw on the T-handle for holding the saw. We used a couple more pieces of angle, about /2 to make the stops. We used a cutting wheel in our grinder to cut a relief about half the length of each stop. After this, we place each piece in the vice to bend an appropriate angle. Using some vise-grips, we clamp each into place, testing until we have the proper angle. Make sure these pieces are opposing matches.
Using some vise-grips, we clamp each stop into place, testing until we have the proper angle. Make sure these pieces are opposing matches. Depending on the size of angle, you may need to trim the sides (width) to make room for the handle. Just keep mocking this up and trimming and bending as needed. No rocket-science here. A quick weld of each piece nears the completion of the cordless band saw stand.
Extra Strength and Stability Please
At this point, you could mount this in a bench-vise and hang the DeWalt 20V band saw on the stand. We choose to make it a little more stable and also make it easier for mounting. While the T-handle seems to support the saw very well, we also wanted to add walls for the rest of the handle. Using some more of the leftover angle-iron, we cut some 2-inch pieces, then slice off all but 3/4 of the angle. These pieces are then welded in our stand, opposing one another. This creates a tighter channel for the D-handle of the DeWalt, adding stability.
This stand is very near complete, but we take the opportunity to tweak one more area. Since the idea here is to clamp the stand in a vise, we decide to make it easier to do so. As it sits, it requires the vise opening to be at least the width of the angle. This is a pain when the vise is usually shut while not in use.
Using the cutoff wheel in our grinder, we slice opposing sides of the angle off, hence making a flat area for clamping. Doing so, this creates a weak spot, since the rigidity will only come from the thickness of the angle. We use a piece of scrap 1/8 steel plate to weld on the back side of the main frame. Make sure this additional bracing spans across the area that is cut out. This connects the angle area to the flat area, creating a much stronger stand.
Voila! We Have a Cordless Band Saw Stand
The stand or mount is now complete. Sure, if you want it to look nicer, you may choose to grind the welds and shoot some paint on it. For us, we just put it to use cutting some plate to do some cap-welds on another square-tube project. Place the stand in the vise and tighten down. The DeWalt DCS can now be placed in the stand, hanging by the T-handle. Using a spring-clamp, we pulled the trigger and clamped the trigger in the on position. Please use caution, since the tool has a clamp in the On position.
The next step for us will be to make a larger table to go over or replace the work stop. Even though we choose not to use the work stop for clamping, its definitely strong enough for a larger table. A larger table keeps pieces truer when cutting using the cordless band saw stand.
[adsenseyu2]
This is a quick little stand to build. Using a welder like the Miller Multimatic , it makes short work of joining the pieces together. Most of all, the DeWalt DCS 20V Max band saw is a great option for a portable and cordless band saw. We give the DeWalt band saw two thumbs up.
You can purchase the DeWalt DCS cordless band saw here, or at your local Home Depot.
Your RatingReaders Rating
0 votes
0
Sours: https://shoptoolreviews.com/metalworking/metal-bandsaws-cutoff/cordless-band-saw-stand-dewalt-dcs//
DIY Harbor Freight Portable Bandsaw Stand - Homemade Tool Ideas - Fun Beginner Welding Projects
Milwaukee Portable Band Saws
Make smooth curved and straight cuts.
Optionalstand converts the saw for bench-top use, or you can add legs with 3/4 NPT pipe. It has a chain vise to hold material.
Current
Dia.
Dp.
Ht.
No-Load
Speed,
sfpm
Lg.
Wd.
Thick.
Blade
Included
Overall
Lg.
Wt.,
lbs.
Specifications
Met
Includes
Each
Each

Milwaukee /

11 A @ V AC
5"
5"
5"
44 7/8"
1/2"
"
No
21"
OSHA Compliant 29 CFR , OSHA Compliant 29 CFR , UL Listed, C-UL Listed, CSA Certified
Plastic Case

Milwaukee /

11 A @ V AC
7 A @ V AC
5"
5"
5"
,
44 7/8"
1/2"
"
No
21"
OSHA Compliant 29 CFR , OSHA Compliant 29 CFR , UL Listed, C-UL Listed, CSA Certified
Plastic Case
| | | | |
| --- | --- | --- | --- |
| Optional Stand for Milwaukee No. / | | Each | |
Bench-Top Band Saws for Metal
Save space with these saws when you only need to make horizontal cuts in small pieces of metal. Use them to cut most metal bars,blocks,pipes, and I-beams. They make straight cuts.
Optional work table for vertical cutting turns the saw into a vertical saw for cutting sheets.
Current
Dia.
Dp.
Ht.
No-Load
Speed,
sfpm
Lg.
Wd.
Ht.
Includes
Each
Each
9 A @ V AC
4"
3 3/4"
3 1/4"
,
33 1/2"
14 1/4"
25 3/4"
One 52 1/2" Lg. × 1/2" Wd. Carbon Steel Blade with High-Speed Steel Teeth for 1/4"-1/2" Thick Metal ( Teeth per Inch)
| | | | |
| --- | --- | --- | --- |
| Optional 12 3/4" × 11 3/4" Work Table for 4" Max. Cutting Dia. Saw | | Each | |
Sours: /band-saw-stands/
Now discussing:
I want to tell you how one novel began, which left an indelible mark on my life. These events took place in a small town. I worked in the tax office. Ira worked in my department. Not a top model, but slim and her smile was charming.
5145
5146
5147
5148
5149