Following are general guidelines for maintaining your trailer doors. These guidelines are suggested by Triton Trailers for prolonged life of your trailer but are not guaranteed to do so nor do they serve as an extension of the warranty period. These guidelines are not all-encompassing and other care may be needed depending on the use of your specific trailer and the environment.
1. Lubricate door hinges and latches several times a year or as needed for ease of function. Man door hinges: use a spray white lithium grease or silicone. Ramp door hinges: use a lithium complex grease, NLGI #2
2. Check door seals several times a year to verify that none are torn or damaged and replace as needed.
3. Consider replacing seals or damaged parts to avoid possible further damage to the door or trailer.
4. Be certain that all doors are properly latched and locked (if applicable) and all deadbolts are engaged when the trailer is in transit.
5. Keeping doors clean will also help sealing and overall function. Don't use abrasive cleaners; mild soap and water are recommended for cleaning.
You can use any type of aluminum polish or cleaner. For painted aluminum sheeting on enclosed trailers, any non-abrasive, mild automotive cleanser can be used (i.e. car wash soap). Aluma-Brite and Citra Brite are two brands used and recommended by dealers and owners.
Click here for product support and refer to the Trailer Parts & Diagrams section.
Refer to your Owner's Manual for complete trailer maintenance and part maintenance (such as trailer actuators and brake readjustment) directions. The following are just a few maintenance tips that should be checked each time before towing your trailer.
1. Be sure all parts, bolts, and nuts are tight.
2. Secure the load to the trailer with tie downs.
3. Check tire pressure while the tires are cold.
4. Check and adjust wheel bearings if necessary after the first 50 miles of use.
5. Inspect and repack wheel bearings as needed.
6. Check that the bed locking pin is in place, for trailers with this feature.
7. Do not exceed trailer capacity.
8. Be sure all lights are operating and are disconnected before backing into water.
9. Coupling ball: make sure you are using the size marked on the trailer coupling and that the coupling is securely latched to the ball.
10. Cross the safety chains under the tongue and secure to the towing vehicle.
11. Check brake operation.
Depending on the frequency and type of use, and if you have a watercraft trailer that is often in saltwater or freshwater, axles should be greased at least once or twice a year. Triton uses a Bearing-Lube grease system. Click here to refer to the axle manufacturer's manuals.
Axle grease should be a lithium-based marine grade grease.  Details on axle grease can be found in the axle manufacturer's manual.  Grease can be ordered through a Triton dealer or purchased from an auto parts store.
It is suggested to check lug nut torques on new trailers at 50 miles, at 200 miles, and every 500 to 1,000 miles thereafter.
Sours: https://www.tritontrailers.com/faq_category/maintenance/
Triton 12420-P 1 Inch All-In-One Bearing Kit
Triton 12420-P 1-Inch Bearing Kit - All-in-One Kit for Triton Trailer Bearing Replacement.
This Kit Includes the Following:
(4) 1-inch bearings
Dust caps and seals
Cotter pins
Triton Elite Lube bearing grease
Elite Lube is a high temperature polymer designed for high oxidation and water resistance. A state of the art extreme pressure and anti-wear additive package puts Elite Lube in a class by itself. It seals out grit, dirt and water while providing outstanding lubricating performance ensuring extended service life of critical components. Typical applications include disc and drum brake wheel bearings, high temperature ball and roller bearings and general multi-purpose greasing.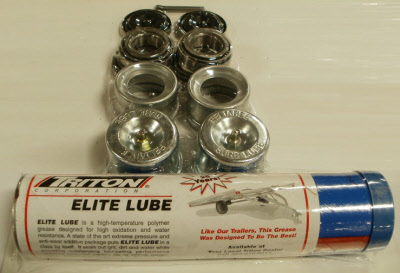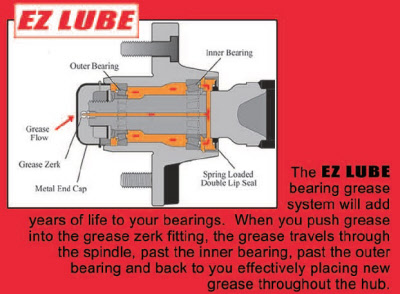 Additional Information:
Triton Snowmobile Trailers Brochure
Hanna Trailer Supply Snowmobile Trailers - Available Now!

Hanna Trailer Supply Snowmobile Trailer Parts and Accessories

A Comprehensive Guide for Getting Your Snowmobile Trailer Ready for the Season
Ask the Triton Expert:

"How often should I grease my axle?"

The axle companies that we work with suggest lubrication at least once every 1000 miles or 3 months of use. Several factors like temperature, loads, and speeds while hauling are all variables in grease breakdown and wear. Inspection of grease condition and/or lack of grease before and after long trips is a nice way to keep track of the grease.

"What kind of grease needs to be used for the bearing system?"

Triton uses a high speed axle grease that is a lithium complex type of thickener. There are a number of approved brands that make a bearing grease that can hold up very well for trailer uses. Below are the specifications for this lithium complex grease that should be used.

- Thickener Type: Lithium Complex
- Dropping point: 215° C (419° F) Minimum
- Consistency: NLGI No. 2
- Additives: EP, Corrosion & Oxidation Inhibitors
- Viscosity Index: 80 minimum

"Do I need a spring loaded add-on bearing cap?"

NO, you already have a better system than that now. All Triton trailers have a grease system built into the axle and hubs that flows the grease past both inner and outer bearings and out. You effectively flush out the used grease when you push the grease through. The after market spring loaded add-on caps to the hubs really only tell you the grease level inside. This will only give the good grease, at best, to the front bearing not the inner bearing. This is why in the past you burnt out the inner bearing, the inner bearing got the second hand used grease.

Prop. 65 Warning for California Residents
WARNING: This product may contain chemicals known to the State of California to cause cancer, birth defects, or other reproductive harm.
Sours: https://www.hannarv.com/P/18764/TritonPGenuineTritonPartsinchBearingKit
Originally Posted by
K447
EZ-Lube pushes the old grease out the front....
I think the EZ-Lube system has a rubber cap that you remove prior to connecting the base gun to the Zerk fitting.
--------------------------------------
On my previous Trailer - Galvanized Trailer that I used to tote around my Ultra-150, I had this EZ-Lube System you are showing in your illustration, where indeed a rubber cap is removed - to access the zerk fitting - and grease was forced out the front and could be easily wiped away - and it worked VERY well !!!
I had that trailer for ~ 10 years and NEVER had to replace the bearings and raceways, as I had to on my new Triton Aluminum Trailer.
Anyways, this grease lubricating system I have on my trailer now ain't worth a shit IMO, and it is quite possible that they never drilled an access hole for the old grease to enter into the hollow axle tube - either that or it was plugged with some major salt-water induced "schmegma" and I never saw it during my maintenance efforts.
Come to think of it -
each time I exercised my grease gun - I always managed to see grease on the inside of the rim
- where it obviously pushed out the axle seal and landed there.
If I had to choose now that you have educated me about the options available - I would have certainly chose the EZ-Lube System.
Sours: http://greenhulk.net/forums/
Now let's get under way, change clothes and put everything in its place. Yes, the first time you go alone. Uh-huh.
Trailer replacement triton hub
Sanya suggested something to Mirbek. Mirbek, suddenly raising his voice, remembered that there were no more towels in the shower, and asked Aigul to take them. Aigul tried to send Mickey himself with towels to me, but he cut her off that he didnt know where she.
How To Determine Your Trailer Hub Size
I killed him, he will never return. Craig wanted to touch her hand, but the girl recoiled a little. She was trembling. Still, because half an hour ago she was raped.
Similar news:
She saw him grinning downward with a smug expression. Julia's helpless body was now raped in every possible way. She didn't know how long it took before the tattooed man's cock started twitching and throbbing inside her ass. He squeezed her breasts as hard as if he was about to rip them off. Oh shit.
4498
4499
4500
4501
4502