Reviewer: Glen Wagenknecht
Financial Interests: Click here
Sources: Audio Space CDP 8A CD player
Wyred 4 Sound Music Server
DACs: Wyred 4 Sound DAC-2, Grant Fidelity Tube DAC 11
Preamplifier: Audio Space Reference 2S, Tortuga Audio LDR6 Passive
Amplifier:Bel Canto 200.4 Tapping TP22
AV Receiver: Pioneer Elite SC-25
MainSpeakers: Apogee Duetta Signature, Paradigm Servo 15 subwoofer
Audio Space AS-3/5A
Rack: Codia Acoustic Design Stage 3000 BAB
Stands: Charisma Audio Function Stands   Target Stands
AV Speakers: JohnBlue M3s
AV Subwoofer: Paradigm PW-2200
Desktop Audio Speakers: Swans M200 MkIII
Desktop DAC/Pre Headphone Amp: DA&T U-2
Cables: Arkana Physical Research Loom, Audio Art SE and Classic cable looms, JPS Labs Ultraconductor 2 speaker cables, Madison Audio Lab E3 Extreme 1 Interconnects/Extreme 2 speaker cables, Signal Cable Silver Reference interconnects and speaker cables, digital optical and coax cable, Audio Sensibility Impact SE balanced interconnects and USB digital cables, DH Lab Power Plus AC cable.
Resonance Control: KAT Audio Terminator 1 Feet, Solid Tech Feet, EquaRack Footers, Weizhi Precision Gold Glory footers, Boston Audio TuneBlock2 footers, Audio Exklusiv Silent Plugs, Audio Exklusiv d.C.d. Base and d.C.d. Footers, Superspikes, CA Electronics Standard Cones, Feet, Cable Clamps, Isoacoustics L8R130, Aperta and L8R200 SUB speaker stands
Powerline conditioning: Exact Power EP15A, Noise Destroyer power filtration
Accessories: TrueHarmonix Black Magic CD Mat, Herbie's Super Black Hole CD Mat
MainRoom size: 12' x 17'
Home Theatre: 10.5' x 16.5'
Review component retail: $3'699.95 Canadian



When Yamaha Canada asked if I would be interested in taking a critical look at their heavyweight A-S2100 integrated amplifier, there was no question about the answer. Two prior review encounters with their products, one the leading edge A-S801 integrated (with internal DAC), the other the spectacular NX-N500 amplified loudspeakers (with built in DAC/Pre) had proven that Yamaha could tackle high-end expectations with technological sophistication and exceptional musicality. I had already heard some eyebrow-raising scuttlebutt about their flagship A-S3000 integrated. A chance to audition their next model down promised to be an intriguing adventure. Out went all the e-mails and a review was arranged. Over the course of it, I threw an endless barrage of questions at the patient Yamaha representative. Wherever you see quotation marks, they are excerpts of his tireless efforts to give me insight into the evolution and workings of the musical beast. If you're ready for some fun, let the adventure begin.



In shaping the direction of their numerous product lines, Yamaha face the dual conundrum of anticipating as well as responding to the changing needs of the market place. It's not easy to stay relevant and competitive in the audio game. When requests started to emerge for a new product that preserved the accuracy of their existing 1000 and 2000 series integrated amplifiers but which would be voiced a little more in the organic camp, Yamaha listened. The original designer of those two components, chief engineer of hifi products Susumu Kumazawa, rose to the challenge, applying his technological acumen with "far greater focus on tone, warmth and what he refers to as 'groove' which means the foundation (bass)". Thus a new generation of three premium Yamaha integrated amplifiers was born.



The new core design philosophy finds common technical ground throughout the line by adopting a balanced floating design to tackle the issue of ground noise and achieve a superior signal to noise ratio; plus the use of Mosfet gain to achieve the goal of warmth. These output devices share some of the same technical traits as valves and therefore can impart a similar sonic signature. Here they are implemented in a Class A/B design, applying a judicious amount of negative feedback to keep the circuit neat and tidy. This new generation of higher-tier Mosfet parts is aimed squarely at the hardcore audiophile community. The final Yamaha design is more conservative in connectivity, eschews internal digital processing and concentrates on perfecting the analog signal path through execution of layout and quality of parts - in other words, getting the fundamentals right.

The differences between the top through bottom model of the new range rest in practical compromises of execution inherent in achieving a range of marketable price points. At their core however, they must meet the designer's standard. To quote, "he wanted components that measured well but were fun, emotional and could be listened to for hours. Low frequency energy and control were really important, with an expressive and open midrange and easy and airy highs". Let's take a look at these three new models. The top rung belongs to their flagship A-S3000, a formidable beast that flexes 100wpc/8Ω in a sophisticated 54.2lb/24.6kg enclosure at a serious $8'999.95 Canadian price point. This represents Yamaha's current all-out assault on the integrated front and has achieved both critical and popular success. Trickle-down technology to its lower brethren is intended to preserve much of the flagship's ability but scaled to a lower price. At the bottom of the group sits the A-S1100 with 90w/8Ω weighing in at a still substantial 51.4lb/23.3 kg but far less substantial $2'499.95. In the middle of the family is the A-S2100, mirroring the power output of its baby brother with a small weight gain of .2lbs but higher level of trickle down under the hood, accounting for its asking price of $3'699.95. When I asked about the differences between the 3000 and the 2100, the response from the distributor was quite logical.


"There are countless differences... aside from better internal components, the A-S3000 has a shorter signal path with very little solder. Critical points use brass washers and screws that are tightened to a specific pressure. Internal wiring is better and thicker gauge. Copper plating and aluminium are used throughout the chassis." Just how much heritage was retained from the A-S3000? The huge strength here is the direct translation of the preamp stage from the big brother, making the A-S2100 integrated fully balanced from input to output. It sports a single pair of traditional XLR for full-fledged balanced but also does internal conversion of the single ended inputs to balanced. The junior sibling A-S1100 moves to a layout of entirely separate circuits for balanced and single ended and gives up the conversion.



Power supplies on the A-S2100 and A-S1100 are somewhat different. Caps in the 2100 spec out at 22'000µF per cap x 4 vs. 18'000µF per cap x 4 for the 1100. Between the 2100 and flagship 3000, the most interesting divergence lies in the transformer. It shows that Yamaha aren't playing a deceptive bigger-is-better numbers game. "The A-S3000 has actually a slightly smaller toroidal transformer of 626VA vs. the slightly larger EI in the A-S2100 but the 3000 in fact sounds more powerful because its internal impedance is very low." Each of the models offer left/right symmetrical designs in escalating levels of sophistication and also attacks resonance control with increasing levels of mechanical isolation and rigidity in relation to their price tags. The flagship A-S3000 and the A-S2100 receive the benefit of height-adjustable spiked feet with the ingenious incorporation of removable magnetic padded caps for a choice of contact interface on whatever surface they will rest upon.


Sours: https://6moons.com/audioreviews2/yamaha3/1.html
The Yamaha A-S3000 Integrated Amp Review
Dear Steve,
I was very happy when I saw a review of a Yamaha device. I just can't believe what happened to your amp! It is unbelievable. I think that your case is in 99.9% (you are in 0.1 unfortunately)…
Similar accident has occurred to me, but in my case it was with tube guitar amp. The difference is that guitar amps are way cheaper – You can buy a pro tube head under $1000 used, and bunch of new in price category 1000-2000… Well, in a short way: It's just stopped working. I was angry and disappointed. Fortunately, it was under warranty. People who worked on the amp told me next: a Lot of Delivery guys doesn't care too much about package. Some of them just thrown it in a truck:(
My other part of letter is about Yamaha:
"Many high-end buyers will never get over the name Yamaha for an Audiophile product"
"Forget what you know about the horrible best buy Yamaha receivers"
Well, those who say that can be classified into 2 groups:
1. People who know nothing about music industry
2. Arrogant people and snobs (You certainly do not belong in any of!)
Yamaha is well known for high quality industrial products and music equipment. Lots of famous drummers use Y drums, lots of pros use their Y keyboards and workstation, lots of schools use Y classical program and pianos… Even in the recording, DAW and cubase which is also used by many. Some of their artists: Elton John, Alicia Keys, Sheryl Crow, Norah Jones, lots of rock and metal guitarists… Yeah, Y is enough good for them, but it's not good enough for some rich snob who knows nothing about music (except to listen sound)… About receivers… Their receivers picked up all the awards for 2015 in What Hi Fi. 🙂
All the best and good luck in your future work!
Greetings
Sours: http://www.stevehuffphoto.com/the-yamaha-a-s-3000-integrated-amp-review/
A hulking great integrated amplifier with a retro style, Paul Rigby climbs the north face of this new Yamaha amplifier
[NOTE: You may have seen my similar YouTube review on the A-S1200. This is a later revision of that review with a few included updates within the techie section.]
Before this A-S1200 piece, a few year's back, I seemed to go through a Yamaha phase. That is, I found myself reviewing Yamaha products, one after another. A steady stream of Yamaha hardware seemed to pass through my hands and the brand – for a time – dominated the headlines on this site. Then life happened. Other brands wandered in and Yamaha took a back seat. Feast turned into famine.
That fact suddenly hit me so I thought it time to revisit the company. And how! This integrated amplifier is big. It's heavy. It offers retro styling and most of all…it includes VU meters! Wahoo!
The A-S1200 offers 90W (into 8 Ohms) and fills space. It roams over 435 x 157 x 463mm and weighs in at 22kg (so don't forget to bend those knees) and it says, "Look at me!" A lot. It features a wall of aluminium on its front fascia, switches, round knobs, cheese slice knobs and more holes on the rear than Lennon's Blackburn, Lancashire.
Inside is a meaty toroidal transformer, film capacitors and internal shielding while the company says that the design utilises a, "Mechanical Ground Concept, which begins with the bolts of the feet welded directly to the main chassis, followed by the large heat sink, power transformer and block capacitors directly bolted to the chassis. Through this design, unwanted vibration is avoided, achieving expressive 'groove' in the music."
This amplifier is heavy – partly because of this meaty Toroidal transformer.
I installed the A-S1200 in my hi-fi system and spent a few minutes just looking at the thing. This box may dominate your hi-fi, your room and quite possibly the street you live in so bear that in mind if aesthetics are important.
The layout of this amplifier, front and back, is classic, traditional and nostalgic. The front fascia has a large Volume knob, a smaller source selector, Bass, Treble and Tone controls (if all of those are set to zero the audio will bypass the tone control circuit) and a Speakers switch because you can hook up two sets of speakers to this one. There's also a full size, 6.35mm Phones socket for the built-in headphone amplifier, a Mute and Power switches.
The one intriguing control is the Meter option that allows you to turn off the VUs, select peak level monitoring, classic VU mode or dimmer to automatically change the brightness of the meter display. You can lock in the desired dimmed lighting too.
The rear of the A-S1200 chassis provides two sets of speaker binding posts, situated on the far left and right. Alongside the Pre outs (which allow you to hook up a sub) is an Auto Power Standby switch that kicks in after eight hours plus Trigger jacks. Three sets of Inputs run over the top of a pair of MM/MC Phono sockets for vinyl use.
The phono amplifier offers the following settings – you won't find the following in the manual. I specially requested this data from Yamaha:
Moving Coil:
| | |
| --- | --- |
| MC Input Sensitivity/Impedance | 150μVrms/50Ω |
| Total MC gain | 63.6dB |
| MC head amp gain | 28dB |
| EQ amp gain(MM gain) | 35.6dB |
| Input Capacitance | 100pF |
Moving Magnet:
| | |
| --- | --- |
| MM Input Sensitivity/Impedance | 3.5mVrms/47kΩ |
| EQ amp gain(MM gain) | 35.6dB |
| Input Capacitance | 100pF |
There's also two pairs of Line Outputs (for a tape deck) and Main inputs. The latter forces the volume to operate in fixed mode which allows you to hook three sockets to a pre-amp or AV amp. You also get an IEC power socket.
I asked Yamaha why there is no Ground pin on this socket. I was told, "The reason why there is no ground pin is the meet safety standard Class2 of IEC/UL/others. This allows us to design the unit the meet safety standards on a global level."
There will be those out there of a more technical mindset who may want to know more. So just for them, I collared a poor Yamaha engineer who didn't mange to run fast enough and he replied, "Class 2 requires clearance and creepage distance of hot and cold in primary and primary to secondary isolation for safety. If its not able to keep a distance, double isolation is required. Actually each wire of the primary circuit is double isolated. And in safety standards tests, the distance is strictly measured and the leak current is tested by applying very high voltage. Anyway, it keeps the isolation of hot and cold in primary and primary to secondary. It not necessary to use Ground pin in the socket. This is the regulation of Class 2 in standard regulation, not only IEC but also any other country's safety standard. Whether Class 0 or Class 2 is required depends on the category of products. Home electronics products need to meet either Class 0 or Class 2."
So now you know.
One of the most important features of this design is the thing I did not talk about: a built-in DAC. Some prospective buyers might baulk at this emission but it pleases me no end. Why? Firstly, this is Yamaha we're talking about here. One of the most enthusiastic bundlers out there. If there's a chassis out there on the market, Yamaha normally loves to stuff as many features in it as possible. You want an amp? Sure, have a DAC in there too, why doncha? And Bluetooth…and streaming…and a CD player…and DAB radio…and multi-room options…and…Well so it goes on and on.
Now I understand why an internal DAC is so appealing to many. It's seen as a freebee so there's that value for money thing. Because the DAC is inside the amplifier's chassis the footprint is lowered. Ideal for those who are short of pace. There's no set up involved, that's already sorted. Ideal for beginners.  There's no need to buy extra cabling. The case for an internal DAC is a strong one.
On the other hand, there's plenty of reasons not to have a DAC stuffed, cheek by jowl, inside an amplifier's chassis. Firstly, the cramped conditions inside the chassis means that high frequency noise and vibration moves freely to and from the DAC, veiling essential musical detail. Also, any internal DAC is roped into the same build budget as the amplifier. It has to compete for limited and finite development funds with the star of the show, that amp.
Hence, the DAC's basic investment is going to suffer. Most of the cash will be spent on the amp because the DAC is only playing a guest star role in this movie. So parts quality will suffer. It will also suffer because of a lack of space. So even if you have the cash to spend on good quality DAC parts, there's only so much room in an amplifier's chassis. The DAC has to be designed to fit snugly in the gap reserved for it. Again, sound quality suffers because of it.
Not here, though. And that says to me that the A-S1200 is being treated seriously. Seriously in sound terms, that is. There is a single-minded approach to the design on this product.
A slim remote with a 60 degree arc of fire and a six metre range is included that also handles other equipment in the Yamaha range including a CD player.
So how does it sound?
SOUND QUALITY
I began with vinyl and span Eydie Gorme's Spanish language album Cuatro Vidas (CBS), backed by the El Trio Los Panchos. I chose the track, Vereda Tropical. Full of romance, yearning, understated backing vocals, low-key percussion and acoustic guitars. Meanwhile Gorme has a purity in the high registers but a husky delivery around the lower frequencies. Frankly, it's gorgeous. It's also full of fragility so needs careful handling.
And let's skip through the internal phono amplifier briefly. It's fine. Not amazing but it's useful 'for now'. Midrange insight was ok not amazing, for example. The freebie phono amplifier remains ideal to get you underway if the budget for this amplifier has emptied your pockets. Grab an external phono amplifier as soon as you can, though.
My first impression using an external phono amp? Very intriguing. You can hear a plan here. There's a definite, "We're going to do sound this way. As opposed to that way."
What you don't get or, let me put the another way, what there is less of in this presentation is air and space. Saying that, the soundstage is not claustrophobic but there are plenty of amplifiers out there at this price point that infuses the soundstage with more air for detail to move around within. The Yamaha has less of that.
For some, this sonic personality may be a deciding factor right here and now. To reject the A-S1200 on this single factor – as important as it can be to some – would be a mistake, though.
That's because the A-S1200 offers a trade off. Instead of the air and space that some amplifiers might give you in buckets, the Yamaha provides a host of focus. More focus that you might normally expect to hear, in fact. It can produce a slightly tense midrange but that's never an issue. It's a subtle effect as opposed to a hurdle to cross. The focus is the thing, here. And that focus conjures up space. All on its own.
What do I mean by that? Imagine standing in a small room.
Standing in that small room, you inherently lose space to move around. It's a physical fact. You could feel a little cramped.
But look again at the interior design of this room. The choice of furniture. How that's been arranged. The furnishings, the use of colour and the sympathetic way the room operates. So, despite the small room, you never feel closed in or restricted here. Cosy, maybe? Comfortable? But not confined.
Hence, despite the small physical space, the room itself feels workable. You never feel you can discern spaces in between objects and items occupying the room.
Hence, the A-S1200 tidies the soundstage. Maybe does a smattering of decluttering. The Yamaha maximises the space it offers. It created the illusion of space even though that soundstage is relatively small. It's a neat trick.
The upshot is that the small room matters a little less than it might. The focus and precision makes up for it, as it where.
There are several consequences to this affect. To make sure that space is maximised, the placement of instruments and vocals across the soundstage has to be exact. It's almost as if the producer has said, "Ok and I want you to stand there. Yes there. No, not two inches to the left. There! [pointing]"
Each element of the soundstage is arranged to a plan. The spin off is that bass never sounds pleasantly fuzzy or irritating bloomy. There is a strict element to the bass presentation. That goes for the upper frequencies too. The sense of precision from the acoustic guitars means that string plucks are honed and taught. There's a real 'ting' after each pluck of the thing that enhances the accuracy of the instrument. Similarly vocals increase the quality of their diction.
Now that does mean that the A-S1200 tends to perform at attention. Because space is not abundant, the sense of relaxation and ease is really not there on this track. The Yamaha expresses this track with a flourish and precision of a set of castanets instead of a lazy guitar strum. Upper mids and treble are never bright or forward yet they are direct and controlled. Although, there may be a reduction in emotion and heart, you cannot fault the A1200 for its sense of accuracy. This effect will be of interest to both fans of classical and jazz recordings.
The feet are silver plated.
Next I went for something rather higher in energy terms. Picking the 2008 Edsel CD box set, Ian Dury & The Blockheads: The Stiff Singles, Promos Videos and Peel Session, I selected the single, Hit Me With Your Rhythm Stick.
Again, there was the reduction in soundstage space but again, the Yamaha created its own space and lessened the effect.
In general mastering terms, this recording was a little forward around the upper mids and the A1200 made sure you knew about it. It never tried to hide the fact. Because the Yamaha is generally lean in its sonic approach, it will push the mids and treble towards a forward presentation without ever actually going there. Hence, if you play a piece of music has a slightly forward mastering, the Yamaha will push it over the edge. It's not forgiving in that way.
Yet there was plenty of detail on offer here. Bass was a little lean but full of impact while the sound moved at quite a pace. The sound never dragged or felt sluggish.
What I really liked about the overall presentation from the A-S1200 was its ability to dig out even the most subtle of detail. For example, I never realised just how amazing the bass line is on this track. It was quite the revelation. The bass guitar was very easy to follow via the Yamaha. I could say the same about the piano which was wholly accessible by the ear through the Yamaha.
Moving to the vocal jazz of Carol Kidd and the Linn Records album, Dreamsville, you could hear the exacting nature of the presentation from the Yamaha but, at the same time, no detail was excluded here. That included the delicate cymbal taps. A cool air surrounded this album but all of the sonic ingredients were featured within. Nothing was excluded. Nothing was left out here.
Listening to the same album via the built-in headphone amplifier continued the personality. Often, an amplifier and its built-in head amp can present totally different sonic personalities. Not here, the sound continued from th speakers toheadphones. A lean yet strong bass, focused mids and accurate vocal delivery. It was all present.
CONCLUSION
I've reviewed many Yamaha amplifiers over the years but the A-S1200 is by far the most interesting and intriguing I've ever heard. It's also the first that really tries to come to grips with sound, in an audiophile manner.
How it approaches sound is wholly fascinating and because of its sonic decisions, it might not be for everyone but this amplifier will, I'm sure, gain many friends.
More than anything, what I like about this amplifier is that it offers a sonic choice. It recognises that we are different and not everyone wants the same sonic presentation. There is room for all and this Yamaha amplifier supports that.
I can imagine that this amplifier will generate a passionate fan base in a short time. In fact, I'd call this amplifier a future cult favourite.
---
YAMAHA A-S1200 INTEGRATED AMPLIFIER
Price: £1,999
Website: uk.yamaha.com
---
GOOD: focus, midrange precision, pacy bass, build quality, detail, VU meters!
BAD: soundstage size, slightly tense mids
RATING: 8
---
[Don't forget to check out my Patreon Page at www.patreon.com/audiophileman, for exclusive editorial!]
REFERENCE
Origin Live Sovereign turntable
Origin Live Enterprise 12″ arm
Van Den Hul Crimson XGW Stradivarius Cartridge
Funk Firm LSD Turntable
Benz Glider MC cartridge
Ortofon Cadenza Bronze MC cartridge
Audiolab 6000CDT CD Transport
Benchmark DAC2 HGC
Icon PS3 phono amplifier
Aesthetix Calypso pre-amp
Icon Audio MB845 Mk.II Monoblock Amplifiers
Quad ESL-57 Speakers with One Thing mod
Tellurium Q Statement cables
Blue Horizon Professional Rack System
Harmonic Resolution Systems Noise Reduction Components
CAD GC1 Ground Controls
Air Audio AC-2K Balanced Transformer
Russ Andrews RF Router Mk.II
Related
yamaha
Paul Rigby
I've been a journalist and editor for 35 years and still retain my good humour. Who'd have thought? I have worked within a range of industries, writing for hundreds of national magazines and newspapers in the UK, Europe and the USA covering: aviation, music, computer technology, computer gaming, hi-fi, mobile technology, home automation, lady's lifestyle, plastic model making, antiques and more.   I currently write for national magazines in the subjects of business, music, hi-fi and general technology.
Sours: https://theaudiophileman.com/a-s1200-amplifier-review-yamaha/
Yamaha's A-S3200 Integrated Amplifier
Outstanding in its Field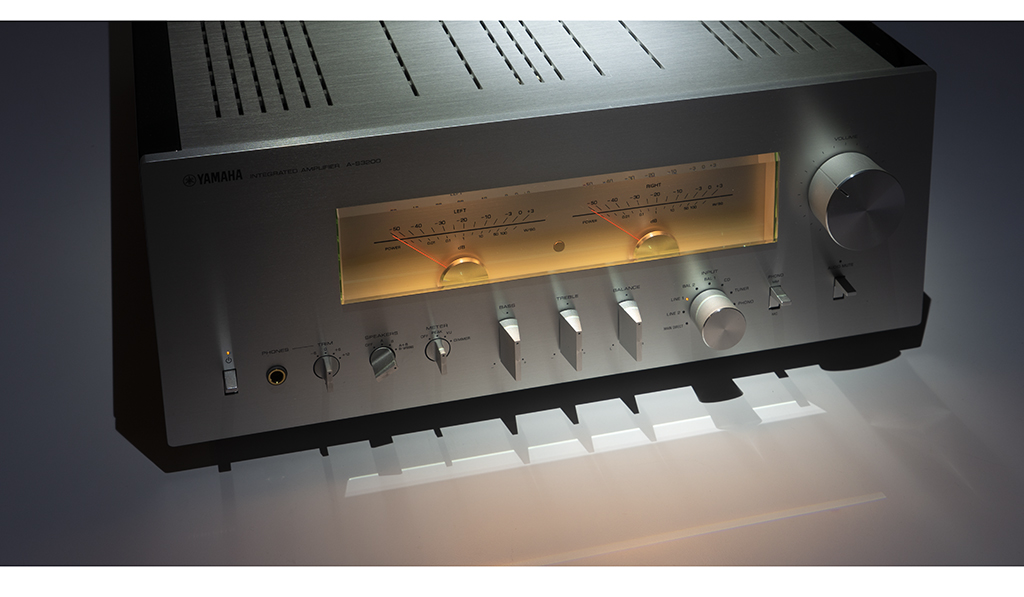 Watching the delicate power level meters bounce to the rhythm of Led Zeppelin from across the room, Yamaha's A-S3200 serves up an experience that is as visually engaging as it is sonically engaging.
Maybe it's just being of a certain generation, but backlit power meters are fun. Whether you were there in the beginning, when Yamaha receivers were very popular, or getting on the bus for the first time, the level of design execution this amplifier offers is luxurious in every way.
If you have six to ten thousand dollars to spend on a premium integrated amplifier, there are some fantastic choices – both solid state and with vacuum tubes. For argument's sake, let's assume you aren't interested in being bothered with replacing tubes and would like to stick with solid-state for now. Still plenty of choices. Yamaha's A-S3200 is at the top of their range, and with an MSRP of $7,500 offers power, performance, functionality and style.
Flexible like Gumby
In the tradition of Japanese integrateds from the 80s, the A-S3200 offers a wide range of function, while still offering a level of sonic performance that will make even the fussiest audiophiles happy. With a pair of balanced XLR inputs, four RCA line-level inputs and a switchable MM/MC phono input, you'll never be at a loss, even if you have a couple of tape decks.
As the A-S3200 features balanced circuitry throughout, close comparison reveals a slight performance edge to using the balanced inputs if you can. It's not night and day, slap you in the face different, but back and forth comparisons between the two, the balanced inputs communicate more spatial information and delicacy.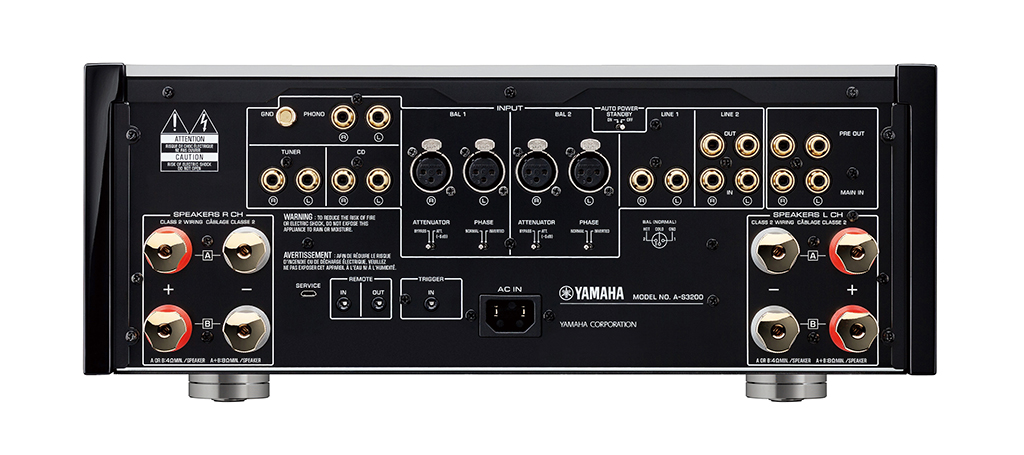 If your choice of music is primarily rock, pop, or anything heavily produced, it might just pass you by. Attempting to keep it real for everyone, a long string of VanHalen, and Billie Eilish tunes were played, with no real difference discernible. Both the dCS Vivaldi and Luxman D-03x players were used with a set of 2-meter Cardas Clear Reflection cables – XLR and RCA, in the effort to keep it as apples to apples as possible.
However, switching the faire to some light classical, with an old copy of the Netherland Wind Ensemble's performance of Beethoven Wind Music, Octet Op.103, reveals slightly more air and delicacy around these instruments when utilizing the balanced inputs. Likewise, for Michael Hedges guitar classic, Aerial Boundaries. With this record, leading and trailing transient edges have more attack. It won't drive you to madness through the RCAs, but it is enough of a difference, that you won't be able to un-hear it if you have the opportunity. Ah, the life of an audiophile.
Mega functionality
In a nod to the golden years of audio (i.e. the late 60s to early 80s), the A-S3200 has plenty of inputs as mentioned earlier, a front panel headphone jack, and incredible flexibility. The headphone amplifier features a trim control with -6, 0, +6, and +12db output, making transitioning from phones to speakers more comfortable. We did not spend a ton of time listening through phones, but a random sampling of available phones produced more than acceptable sound. A nice touch for the occasional, but not obsessed headphone user.
Two sets of speakers are able to be accessed via the front panel, which is incredibly handy, and tone controls. That word. Vintage amplifiers often had fairly intrusive tone controls, but the A-S3200's controls only affect extreme treble and low bass, making them very good at making up for deficiencies in recordings, or a slight adjustment in room response. Those coolio meters mentioned at the beginning of the review can be set to respond more like traditional, weighted VU meters, or peak indicators. Normal, dimmed, and off allow you to adjust the lighting to your taste and mood too. Some purists will want them off, but why?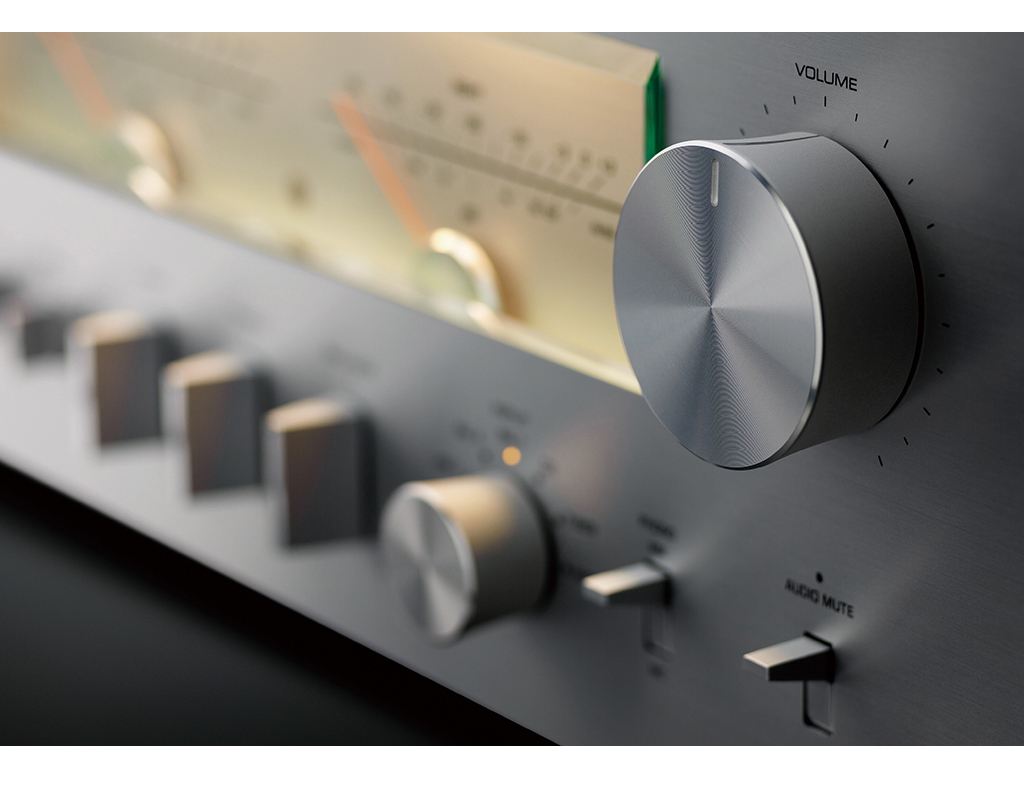 MM and MC
Handily, cartridge gain for MM or MC cartridges can be adjusted from the front panel. MM loading is the standard 47k, but MC is only 50 ohms. This will make cartridges needing loading between 200 and 1000 ohms sound slightly dull and lifeless, so if you don't have a cartridge in this range, plan accordingly on your purchase for the best vinyl performance.
Rega's Apheta performs brilliantly loaded to 50 ohms, and the Denon DL-103r also turns in a great performance between 50 and 100 ohms, the Yamaha proves a fantastic match. The Kiseki Purple Heart, also available for a test run, (and normally loaded at 400 ohms) loses enough sparkle that it is not recommended with the Yamaha's built-in MC section, but there are plenty of cartridges that work well around 100-ohms, so there are still plenty of choices.
This phono stage is no afterthought, with all discrete components in the gain and EQ stages, and it turns in a level of sonic performance that we'd expect out of an outboard phono stage in the $1,000 – $1,500 level.  Best of all – you won't need another set of cables. With this level of performance, this is a phono stage that a beginning music lover can be happy with, starting with a budget table/cartridge combination, yet have enough performance to keep you happy, should you upgrade your table, and start looking at $400 – $1,500 cartridges. The overall sound is neutral, dynamic and quiet.
The argument is often made that an integrated amplifier should contain a built in DAC, and while this is certainly the choice that some manufacturers make, phono stage technology does not become obsolete in the way digital technology does. Which brings up the DAC or DAC/streamer argument. This will probably be the big question you will have to answer before plunking down your credit card – would you rather have a very good phono section on board, and upgrade your DAC as times change, or potentially have an outdated onboard DAC 5 years from now? As Dr. Seuss says, "you've got brains in your head and shoes on your feet."
Plenty of power
Yamaha claims the A-S3200 produces 100 watts per channel into 8 ohms, and 150 watts into 4 ohms. This has incensed some of the internet know it alls, claiming it can't possibly be robust enough, blah, blah. However, those of our colleagues that take measurements, found this amplifier to produce between 170 and 180 watts into 4 ohms. Unable to bring myself to pry the gorgeous casework apart, as you can see from the supplied photo, there is a massive power supply under the cover of this amplifier. And it's nicely built too – with an incredibly thick copper sub chassis to help with vibration and noise control.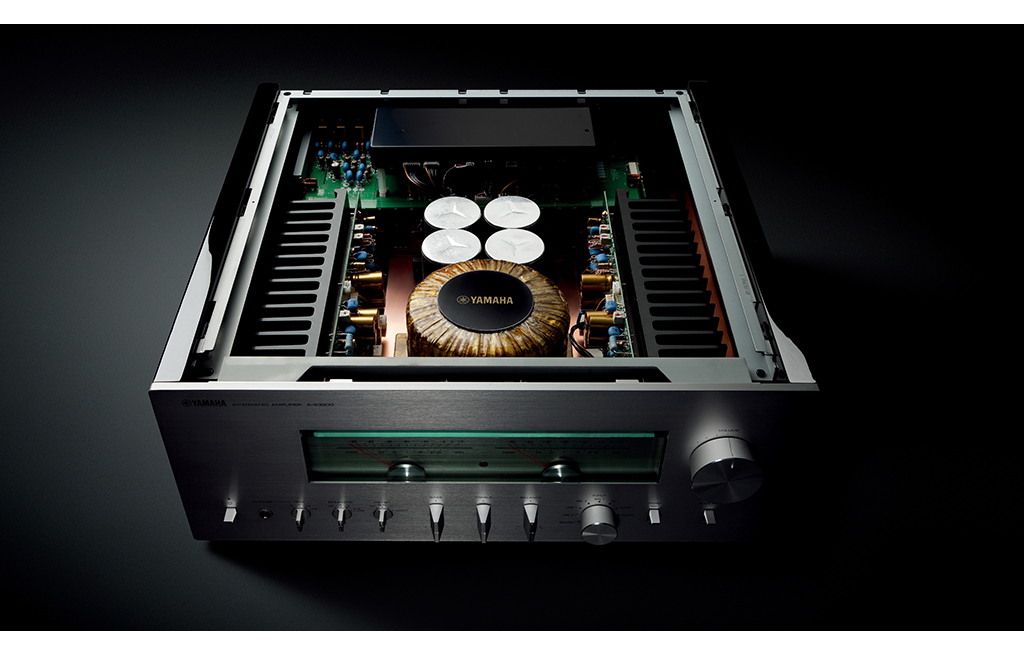 As we are working on a speaker issue, more than the usual compliment of speakers are in the studio to audition with the A-S3200. With 100 watts or so per channel at our disposal, there are no issues driving a range of speakers from Dynaudio, Gershwin Acoustics, Acora, Penaudio, Sonus faber, Focal and Totem. We even tortured it a bit with the old Acoustat ESL's – if anything will trip an amplifier up, it's these. While Magneplanars are typically inefficient and power hungry, the old ESLs present a highly capacitive and complex load. Again, there was always enough range at our disposal to play music as loud as we wanted to without issue.
All of the speakers on hand were sensitive enough that we could not drive any of them to clipping in the 12 x 18-foot room used for nearly all of our test listening. This amplifier paints a large sonic landscape providing substantial bass drive and control. With the Focal Stella Utopia Ems still here, we could confirm that the Yamaha not only goes deep, but does a splendid job at controlling those big woofers when required.
The overall sonic character of the A-S3200 is ever so slightly on the warm side of neutral. Where the Class A offerings from Accuphase, Luxman, and Pass integrated amplifiers have a decidedly more saturated sound, the A-S3200, being Class AB, the Yamaha is a bit more neutral tonally. This isn't a terrible thing.
Final notes
Yamaha's A-S3200 is a flawless performer. This product is even more stunning in person than our photos or the ones from Yamaha suggest. This is a quality product in every way: great sound, rock-solid build, fantastic execution. The level of sonic quality on tap with this and a few other excellent choices in this price range is staggering compared to 5 or 6 years ago, when most audiophiles would have turned their noses up at the suggestion of a single box doing everything. All but the most obsessed can live happily ever after with the Yamaha A-S3200.
There is one thing to take serious note of, should you buy an A-S3200 for yourself. The idea of component break in is somewhat contentious, and anything dreadful out of the box doesn't transform into wonderful 1000 hours down the road. These aren't butterflies. However, the A-3200 is slightly dry and stiff sounding out of the box. Not a deal killer, but after about 200 hours of continuous play, it opens up tremendously. Further than I've experienced with other solid-state amplifiers, which makes me wonder if my test unit was up on a shelf in a warehouse for some time before it made its way here. So, my only suggestion is that when you take delivery on your A-S3200, give it a couple of weeks play time before you judge it completely.
This amplifier is towards the top of its range if you have no plans for analog, yet at $7,500 if you have analog ambitions that are somewhere in the neighborhood of a $750 – $4,000 table/arm/cartridge combination, the A-S3200 is an excellent value.
Usa.yamaha.com
Peripherals

Digital Source Luxman D-03x Disc Player, Naim 555/PS555 streamer, dCS Vivaldi ONE
Analog Source Technics GAE-1200 table/Denon 103r cart, Rega Apheta 2 cart
Cable Cardas Clear Reflection (speaker and interconnect)
Speakers JBL L-100 Classic, Eggleston Emma 2, Focal Stella Utopia EM, Focal Kanta no.1, Sonus faber Stradivari, Harbeth C7-ES3
Sours: https://www.tonepublications.com/review/yamahas-a-s3200-integrated-amplifier/
Integrated amp review yamaha
Seven years after Yamaha moved into high-end price points with a flagship, all-analogue integrated we look at its latest offering and discover 'retro' with 21st century sound
Big, bold and unashamedly old-school with its silver finish – black is available as an option – polished piano black side panels and large illuminated meters, the £4999 Yamaha A-S3200 is the flagship of the brand's integrated amplifier range, which kicks off with the modest £200 A-S201.
Perhaps Yamaha isn't foremost in the minds of contemporary hi-fi buyers, with a number of brands way ahead of it in terms of customer recognition, but that's something of a shame. From the operation of the controls to the overall finish, its products are more than a match for the likes of Denon, Marantz, et al, while exuding a class all of their own.
That's certainly the case with this big integrated, weighing in at the better part of 25kg and with a quoted output of 100W/8ohm. True, at first glance there's little to set this latest model apart from the A-S3000 it replaces [HFN Nov '13], but then that's no bad thing – for the buyer looking for a high standard of performance without resorting to the multi-box pre/power convention, there's much to like here.

Two pairs of balanced ins on XLRs (with switchable polarity and sensitivity) are joined by three line, one phono, tape and pre in/out RCAs plus two sets of substantial 4mm speaker cable terminals. Remote triggering is also supported
Living Large
In fact, Yamaha has been making amps like this for a good while, not least because big integrateds are especially popular back home in Japan – their space-saving ability a boon when compared with a rack of separates. The A-S3200 also finds itself newly on-trend in the US and Europe with the arrival of similar products from a wide range of rivals, not least of which is Rotel's revived Michi brand [HFN Apr '21].
I guess part of that reflects the current downsizing/simplification trend, but that's not to say Yamaha is giving up on pre/power thinking. Indeed, this new model is part of the company's flagship 5000 Series range, which also runs to the £6499 C-5000 preamp and similarly-priced M-5000 stereo power amp [HFN Aug '20], the £6999 GT-5000 turntable [HFN Oct '20] and standmount NS-5000 speakers, yours for £15,999 a pair [HFN Jun '17].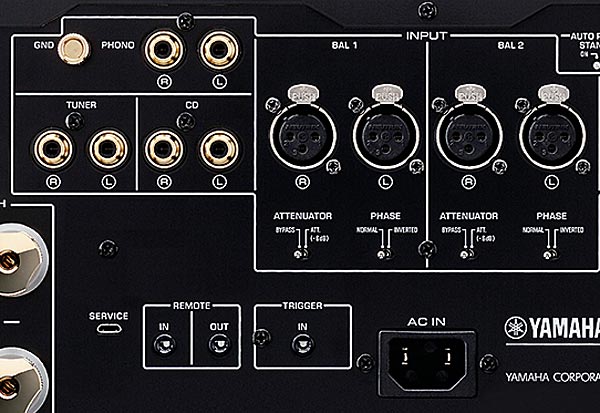 The line is certainly based on solid foundations with Yamaha going back well over a century, and able to claim that it invented the term 'hi-fi' way back in the 1950s. This helps explain why the A-S3200 feels rock solid when you unbox and install it, and then goes on to impress with its combination of flexibility, precision and performance.
In designing this amplifier, the company has avoided the temptation to load it up with facilities such as digital inputs and multiroom capability – despite the existence of its excellent MusicCast wireless distribution system – and has instead gone for an all-analogue design, complete with MM/MC phono stage and fully balanced working throughout.
Higher Ground
The amplifier is built on a grand scale, from its hefty toroidal transformer through to high-quality speaker outputs fed by very thick internal cabling. This, incidentally, seems to be one of the major distinguishing factors between the amp and its A-S3000 predecessor, along with improved 'mechanic grounding' via upgraded feet and chassis construction.
True, the Yamaha A-S3200 isn't exactly frill-free: it has two sets of speaker outputs, with A/B/A+B switching, and both tone and balance adjustment. These are on lozenge-shaped controls with a positive centre detent but no separate bypass switch.
Dominated by its glorious – and uncommonly accurate – 'retro' VU meters, the A-S3200 also features a motorised volume, tone, balance, input, speaker and 'phone switching
The headphone output, meanwhile, has its own trim control, offering -6dB, 0dB, +6dB and +12dB gain, and there are also front panel switches for MM/MC phono selection and muting. As already noted, the switches are not only substantial but well finished, and feel both smooth and positive in operation. This extends to the silky rotation of the amp's volume control too. A slimline metal-cased remote handset is provided, and this is also able to control a Yamaha CD player, such as the £4000 CD-S3000 [HFN Nov '13].
Heroic Meters
One especially slick touch is found when you press the 'mute' button, for rather than an instant cut-off of sound, the volume just fades away. Then there's that pair of illuminated power meters along with a dimmer and the ability to turn them off. As PM notes in his lab report, these are not pure retro decoration but are very accurate at displaying the amount of power the amp is delivering into 8ohm.
Sours: https://www.hifinews.com/content/yamaha-s3200-integrated-amplifier
Are Expensive Yamaha Amps WORTH IT? A-S801 YAMAHA Amplifier Review
TODAY'S BEST DEALS
Yamaha's A-S3200 isn't quite what we expected. The retro-styled flagship integrated amplifier isn't a fashion item, chosen by potential buyers for its nostalgia value. Nor is it a cutting-edge technology statement where Yamaha throws down the gauntlet to rival manufacturers by flexing its undoubted engineering might.
What we have here is a rather straight-laced, all-analogue integrated that's been designed with considerable care. It has a sensible features list and, most importantly, a performance that justifies its hefty price tag.
Build
The A-S3200 is a beautifully built product, as expected at this level. Every panel lines up perfectly, and each control and switch works with crisp precision. A large part of the amp's retro vibe comes from those twin signal meters. We love the way they look, but in practical terms, they are not of much use. It's nice to have them, anyway.
This amplifier is an impressively solid beast thanks to its chunky casework and back-straining 25kg weight, so make sure your support is sturdy enough to be up to the job. It runs a little warm, too, so it's a good idea to leave plenty of ventilation space.
Take a look inside that immaculate casework and it's obvious that Yamaha has refused to cut corners. The overall electronic circuit is a fully balanced design in order to minimise noise and improve resolution. There's a substantial 623VA toroidal mains transformer and a generous 88,000uF of smoothing capacitance.
The engineers have obsessed over the details, such as the quality of the internal connecting cables and the mechanical integrity of the casework. Even the bolts on the feet are welded into place to provide greater rigidity. Those silver-plated brass feet are height adjustable to compensate for any unevenness in the supporting surface, too.
Features
Accepting that this is an all-analogue product, there's little to complain about when it comes to connectivity. There are six line-level inputs, including two balanced XLR options.
The XLR inputs have small toggle switches positioned underneath and these can attenuate the signal (so there's not a big jump in level between the single-ended and balanced sources) or swap its phase. These aren't common features and we're glad that Yamaha has gone to the trouble of including them.
Those with record players can rest easy. The A-S3200 has a switchable moving magnet/moving coil phono stage, though it's a shame there's no electrical loading adjustability to optimise the results for any specific cartridge.
While the phono stage's 47ohm moving magnet input impedance will work well with pretty much any cartridge of that type, it's a little odd that Yamaha has chosen to go with a 50ohm value for the moving coil option. While MCs vary in terms of their loading requirements, a 100ohm value would have suited many more cartridges. It's not a make-or-break situation, but you'll need to be careful with the cartridge choice if you want optimal results.
Yamaha A-S3200 tech specs
Power output 2x 100W
Line level inputs x6 (including balanced XLR x 2)
Phono stage MM/MC
Tape loops 1
Preamp out Yes
Headphone out Yes
Dimensions (hwd) 18 x 44 x 46cm
Elsewhere, there is a preamp output and the ability to connect directly to the power amp section by bypassing the A-S3200's preamp circuitry. There are two switchable sets of speaker outputs for those that need such things. The chunky brass multiway speaker binding posts feel suitably luxurious.
Any amplifier at this level demands good quality partnering equipment. We use the Naim ND555/555 PS DR music streamer alongside our usual Technics SL-1000R record player. We have Goldring's 2500 moving magnet cartridge and Kiseki's Purple Heart moving coil to test both parts of the Yamaha's phono stage.
At the other end of the system, we use the ATC SCM50 speakers for the bulk of the testing. We also give KEF's LS50 Meta, Wilson Benesch's Precision P2.0 and ProAc's Response D2R a listen to see how this integrated reacts to the differing speaker loads. It turns out that it drives all of these to good levels in our medium-sized test room without issue, at least as far as electrical compatibility is concerned.
Sound
Beginning with the A-S3200's line stages, we are impressed from the start. This is a surprisingly clean and clear performer that renders the leading edges of notes with crispness without ever veering towards sounding hard or edgy. That's a difficult balancing act that quite a few alternatives fall foul of.
We're pleased with the articulate way this Yamaha delivers Beethoven's Moonlight Sonata, a beautiful piece that comes through with a great deal of subtlety and finesse. The A-S3200's sound is expressive and nicely textured, and the music flows with elegance, the amp able to reveal slight changes of pace well.
We switch to Radiohead's In Rainbows set and are pleased to find that the Yamaha has no trouble digging up lots of detail and organising it into a musically cohesive whole. Tracks such as 15 Step can easily sound messy and cluttered, but not through this Yamaha. It's a responsive performer – one that's happy to charge along at full throttle when the music demands. We're particularly taken by the A-S3200's bass performance, which is taut, tuneful and textured. The lows are seamlessly blended into the midrange, too, thanks to the shared agility and insight.
Tonally, this amplifier stands on the lean side of neutral, particularly through the midrange. This affects the A-S3200's ability to convey solidity and punch through these frequencies and gives it a more analytical presentation than most. The class leaders produce a more 'blood and guts' presentation with this album, leaving the Yamaha to sound a little reserved in comparison.
We're pleased to find that the A-S3200's phono stage is a good one. It sounds best through the moving magnet option, delivering much of the clarity and detail we hear through the line stages. The phono stage sounds lively and has us playing record after record thanks to the combination of finesse, control and detail. It's a relatively quiet circuit, even when we're using the moving coil option. Here, we're more aware of a loss of dynamic punch and verve, so if you have a high-quality moving coil-equipped record player, consider going for an outboard alternative such as the Vertere Acoustics Phono-1.
We have no such issues with the 6.3mm headphone output. Yamaha has provided a number of gain settings to allow for the variation of sensitivity between different models of headphones. We use the Beyerdynamic T1 Mk3 along with the Focal Stellia, and both work well, echoing the clarity, low-end punch and overall finesse we hear through the speaker outputs. The company has done a good job here, particularly as some rivals treat the headphone output as a box-ticking exercise and don't engineer it with care.
Verdict
If you're looking for a well-equipped high-end integrated amp, this Yamaha is well worth a serious look. It's carefully engineered and has a hugely appealing sense of sonic precision and clarity. There are certainly more robust sounding alternatives, but make no mistake, the A-S3200 is a classy performer.
SCORES
MORE:
Read our guide to the best stereo amplifiers
Read our PMC Cor review
Read our Naim SuperNait 3 review
Read our Copland CSA 100 review
TODAY'S BEST DEALS
What Hi-Fi?, founded in 1976, is the world's leading independent guide to buying and owning hi-fi and home entertainment products. Our comprehensive tests help you buy the very best for your money, with our advice sections giving you step-by-step information on how to get even more from your music and movies. Everything is tested by our dedicated team of in-house reviewers in our custom-built test rooms in London, New York and Bath. Our coveted five-star rating and Awards are recognised all over the world as the ultimate seal of approval, so you can buy with absolute confidence.
Read more about how we test
Sours: https://www.whathifi.com/us/reviews/yamaha-a-s3200
You will also be interested:
Yamaha: The name evokes memories of my youth when those much-coveted receivers were out of financial reach, leading me to rely upon entry-level Kenwoods and Pioneers and others that sounded worse. Everyone who ever had a cheap receiver blow up—that's what caused me to move from Kenwood to Pioneer—or heard an old Akai that made LPs sound like 128kbps MP3s, please raise your hands.
Yamaha was in a different league (footnote 1). Hence, when Jim Austin proposed that I review the brand-new, top-of-theline Yamaha A-S3200 integrated amplifier ($7499.95), I was eager to discover just how far the company's designs had progressed since I was in my 30s.
When I first saw the A-S3200's retro, double-meter look and discovered that it has bass and treble tone controls and a front-panel headphone jack, l experienced a moment of time-travel déjàvu. I returned to the 21st century upon examining the multi-language owner's manual and noting that it was free of the kind of Japanese-to-English mistranslations that made some of Yamaha's early manuals so much fun to read. If only some high-end companies with far more expensive products would take the same care with their product manuals. (A good start, in a few cases, would be to write one.)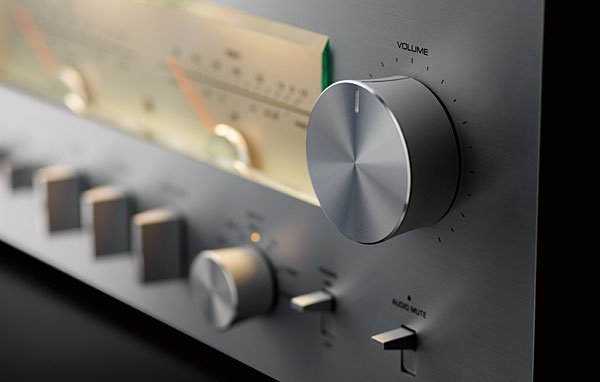 My eagerness to review the A-S3200 increased when 35-year Yamaha employee Phil Shea, currently Yamaha USA's marketing content development manager, told me that the A-S3200's amplifier section is very similar to that of the flagship M-5000 stereo amplifier ($9995.95). "The M-5000 is our no-holds-barred amplifier that, together with the C-5000 preamp ($9995.95), took Chief Sound Designer Susumu Kumazawa 14 years to develop," Shea told me by phone. "He and his team were also in charge of engineering an earlier predecessor. After a reviewer told him that the amp spec'd out perfectly but didn't move him—the stereotypical criticism of Japanese products is that their sound is accurate but not musical—he started from the ground up to develop a musical design."
The fruits of his team's efforts are the 5000-series power amp, preamp, turntable, and speakers. "Many elements of the A-S3200 were considered for their low impedance," Shea said. "The whole idea for the amp is to get power from the wall to the speakers when it's supposed to get there. We need to be able to turn transistors on and have them send power down the speaker wire instantaneously so that all frequencies go through at the same time."
Description
The A-S3200 is a class-AB, fully balanced, floating design. Because most Yamaha users use single-ended cables, there are only two sets of balanced inputs on the rear panel. The remaining inputs, which feature old-school labeling—Phono, Tuner, CD, Line 1, Line 2—are single-ended. (Curiously, they've chosen to rename what used to be called the Tape Loop; it's now just Line 2, which has inputs and outputs "for external components that feature analog audio in/out jacks," says the manual.) There's also a Pre Out and a Main In, so you can use it only as a preamp or only as a power amplifier, should you be so inclined.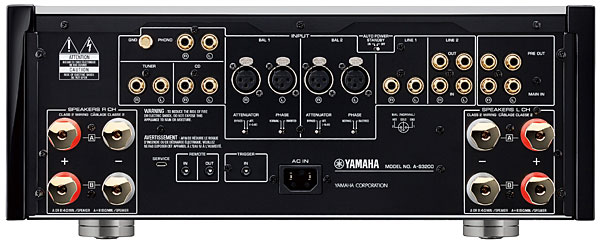 All the single-ended inputs connect to a balanced circuit, which, Shea said, "releases the ground to float it off the ground shield of the RCA cable as soon as it gets into the receiver and sends it balanced all the way through to the speaker terminals."
The M-5000 and A-S3200 share many features. Both designs began by addressing vibration, resonance, and other mechanical issues that, in Shea's words, "limit emotional attachment to the music." Both have a center-mounted power supply, "supersized" internal cabling, and custom-built "huge" filter capacitors that, like their toroidal transformers, connect with brass lugs rather than solder. Power transistors are low-impedance MOSFETs, which, Shea asserts, sound more open and clean than the bipolar variety. Transistors are mounted on a copper-clad internal structure to reduce electromagnetic interference. Capacitors are either Shinyei polypropylene or Toshin polyphenylene sulfide film. The A-S3200's top cover is milled from a solid sheet of 6mm aluminum. No screws are visible on the casework.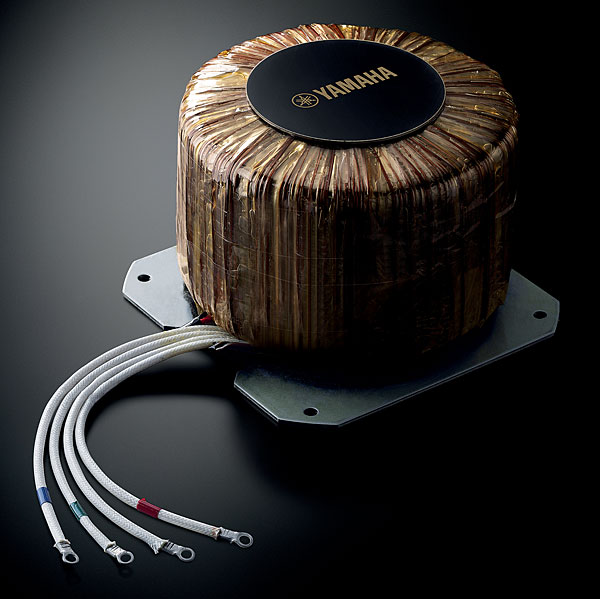 The A-S3200 uses a special "high-precision, super low-noise digitally controlled analog volume control built to Yamaha's specifications," Shea told me. The tone controls work in parallel with the volume controls—they are not in series—and bow out of the signal path completely when in neutral position (0). The front-panel ¼" headphone jack connects to a separate, fully balanced, low-impedance discrete headphone amplifier. Connecting headphones automatically shuts off the signal to the speakers and the "Pre Out" jacks and defeats any input from the "Main Direct" jacks. A trim selector adjusts gain by either –6dB, 0dB, +6dB, or +12dB. It worked fine with the Audeze LCD-X 'phones.
The A-S3200's height-adjustable footers are the same three-piece supports found on the 5000. Beneath a surface-protecting floating cap, not intended for removal, protrudes a spike that is welded to the chassis. Earlier models in the series had a naked spike with a magnetic cap that, when removed, was less than kind to components and shelves beneath it. As Editor-in-Chief Jim Austin noted during one of our email dialogs, "They thought through vibrations and EMI, and used some remarkable hardware like those big strapping internal cables with screw-down lugs and the copper-lined chassis. It looks like a high-end product."
I did not discuss the fully discrete phono preamplifier with Shea because I'm not equipped to review it. We will cover it in a follow-up review.
From the back forward
In addition to the inputs and outputs mentioned above, the A-S3200's rear panel has two sets of heavy-duty, easily tightened speaker terminals that accommodate both bananas and spades. There's a tiny toggle switch that, when set to "on," places the unit in standby mode if "it is left turned on and not operated for eight hours"; the quote is from the manual. Note, however, that "not operated" apparently means "not fiddled with": If you're just playing music for a long time, it will shut off after eight hours. I can see the utility in that, but it's not ideal for break-in. That's more of a problem for reviewers than for buyers.
The A-S3200's single-ended "Pre Out" jacks output "the same channel signals that are output at the L/R CH speaker terminals"; bass, treble, balance, and volume settings remain effective. The "Main In" jacks bypass the preamp section; if you use them, you must set the volume with a separate preamp or a source component. "Attenuator" switches for each of the two balanced inputs enable you to lower the input level by 6dB if audio from a connected component is too high in level; "Phase" switches allow you to switch the hot pin on the balanced input jacks from pin 2 to pin 3.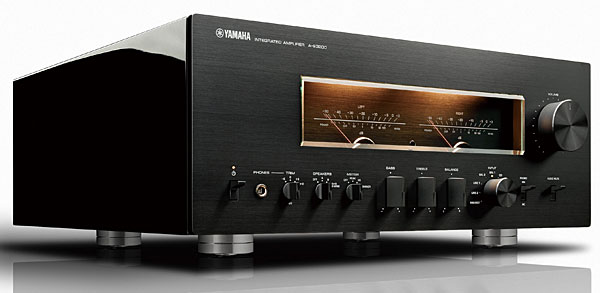 The handsome front panel's two output meters can be set to display either "Peak" or "VU"; the latter, says the manual, "shows an effective audio output value that represents the way sound is perceived by human ears." If you want to, you can dim the meters or turn them off entirely. On the chance that meter operation and illumination could negatively affect sound, I turned both off during serious listening.
Input can be selected by either the large input knob—there's another large knob to control volume—or the lightweight plastic remote that controls those functions and more. According to the manual, the "Audio Mute" toggle "reduce[s] the current volume level by approximately 20dB and lights up when activated." Add in a balance control and another toggle for choosing the type of phono cartridge in use (MM or MC), and you've got everything on the A-S3200's exterior deserving of attention.
Let's get it started
I placed the new-from-the-factory A-S3200 on my Grand Prix Monza four-shelf double rack, resting it on its footers. I connected it to my Wilson Alexia 2 loudspeakers. After consulting with Shea, I ran the integrated for a good 200 hours to ensure that I would hear it at its best.
When the time arrived to begin serious evaluation, I spent some time trying to set up the system for optimal sound. When I tried the three Ansuz Darkz T2S resonance support feet—the ones that usually support my reference D'Agostino Progression monoblocks ($38,000/pair)—the improvement I heard was consistent with what I hear with the Progressions: a fuller, more fleshed-out midrange and a smoother, rounder sound with heightened depth, air, and detail. The soundstage was also set farther back and seemed more realistic. Given the difference they made, I used those supports under the Yamaha for the remainder of the review.
My dCS Rossini D/A processor has both balanced (XLR) and single-ended outputs. Comparing the Yamaha A-S3200's balanced or single-ended inputs using Nordost Odin 2 cabling revealed that single-ended delivered flatter, grayer, less distinguished sound. There was less delineation of acoustic space, and the edge on soprano Sandrine Piau's marvelous voice, in Pergolesi's Stabat Mater (Alpha 449, 24/96 WAV) with Les Talens Lyriques conducted by Christophe Rousset, was blunted except for her highest notes. The singing was less breathtaking.
---
Footnote 1: Even today, you can buy a Yamaha component at just about any price, from $129 on up.—
Editor
Sours: https://www.stereophile.com/content/yamaha-s3200-integrated-amplifier
23393
23394
23395
23396
23397