2004 Volkswagen Jetta GLI
Good bye Q-Ship.
A Q-Ship, for those who are unfamiliar with the term, is a vehicle that looks like a regular run-of-the-mill car but that has a few tricks up its sleeve. Now then, take a 2004 Jetta, put a 24 valve VR6 engine under the bonnet and do nothing to the body except add some 17" wheels: a perfect stealth machine. The following text is more of a salute to an admirable driver's car than an actual evaluation since it will no longer be offered for 2005. Much has been written on the Jetta over the years, mostly positive, occasionally negative. The Jetta is the best selling Volkswagen on the North American market: it regularly outsells the Golf, GTi and the New Beetle combined. This car remains for many, an entry-level luxury car that gives many, if not all the amenities, including above all driving enjoyment, that are found in cars that are much pricier. The tested GLI was equipped with all available options (leather, sunroof, side curtain airbags) but without Onstar; an option that will no longer be offered in 2005. It retailed for 33 770$.
Exterior styling
Even after 7 model years, the lines of the Jetta remain classic and elegant. Many manufacturers are working on building an image and a brand. Volkswagen did this over a half century ago. A Jetta could never be mistaken for anything else (except for maybe a small Passat). There is nothing exciting about the exterior of the car itself but one cannot help but approve of Volkswagen's design. Panel assembly is flawless and paint is even and smooth. The doors that close with a satisfying thump and the trunk lid struts are two simple details that further the perception of quality. Like the other late-model VWs, there is a sense of luxury and substance that encompasses the car.
Interior styling
The interior, however unchanged it may be, still looks modern. The dash is a series of forms following function. In the case of the tester, there is an ambience of serenity with its many square yards of limber black leather and choice plastics within the cabin. The impression even rings true for the gauges which are large, clear and chromed rimmed. The seats are very supportive with high bolsters and adaptable lumbar support as well as being height adjustable. I personally appreciate the rotary knob for the seatback adjustment: it allows for nearly an unlimited amount of arrangements making it virtually impossible not to find a proper driving position.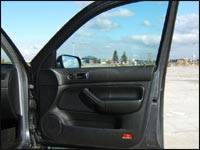 Interior volume is tight, especially in the rear quarters. The trunk is quite deep but the small opening hampers the ability to actually lodge larger objects without folding the seats. As always for Volkswagen, the finish inside the trunk is without reproach and nicer than most cars' interiors. There were a few squeaks and rattles in this Volkswagen but nothing major. There is some noticeable wind noise, especially from the mirrors. Otherwise the cabin is very quiet. Outward visibility in every direction is relatively good.
It is very difficult to add more to a package such as this one, which has not already been said over the past 7 years. I expect that Volkswagen will continue along this road when the next generation hits our showrooms.
Sours: https://www.auto123.com/en/car-reviews/2004-volkswagen-jetta-gli/55612/
Hello, my name is Vincent Wight Malatesta and I'm addicted to Volkswagens. (This is where you all say Hiiiiiii Vince in unison like an AA meeting)
I bought my first Volkswagen, a GTI, in June of 2016. I couldn't drive manual at the time, but my best friend drove it for me and put it through its paces to make sure it was good to buy. I knew it was due for a timing chain service as it was a 12 valve VR6 and well, after putting it on the trailer and getting it home, I was out of time. Coming off the trailer, the timing chain slipped and valves met pistons. It was a LOVELY introduction to Volkswagen.
As I was in college then, fixing the first GTI took some time. With the help of my friend Nik and my Dad, I swapped in a one-year-newer 24 valve VR6 (more horsepower, yay!) and a six-speed transmission. I was smitten with the sound of that VR6 and with the car in general. I finally learned how to drive manual in it, took it down to Gridlife in Georgia and promptly sold it due to the body being rusty as hell under the paint. Honestly, that GTI was drivable for less than half of the time I owned it.
With the rustbucket gone, I bought my current "daily" 2011 Volkswagen GTI in October 2018. It was a steal and a half for what it was and I would absolutely buy the car all over again. I drove it for three years and had no problems with it until 2021. It came with an APR "stage 2" tune and all of the modifications that I would have done myself. A heavier clutch is a must for me and this one was a workout when I first got it.
While I had the first GTIs, I also had a "winter beater" Volkswagen Rabbit for some time. I bought it wrecked, fixed it, wrecked it again in the snow, and then fixed it again before getting rid of it.
Over the course of owning all of these cars, I've also bought three parts cars – one for my original GTI, and two for the Rabbit. You can probably tell that I've been through it with these cars and I'm always ready for more. I've always had an infatuation with cars, longer than I can remember. If I'm not working on them, working in general or driving, you can find me writing fantasy and or writing about cars.
Buying My 2004 Volkswagen Jetta GLI
I bought my newest lovely problem – a mostly stock 2004 Volkswagen Jetta GLI – on March 31, 2021.
I really missed my 2002 VR6 GTI. I was one thousand percent on the hunt for a VR6 again, but the cars around me did not make sense. They were either overpriced or in horrendous condition. The only variants in decent shape were all R32s, and they came with a substantial price hike – especially the Mk4 I preferred.
(The Mk5 R32 has seemed to stay steady but I wanted a manual. One day I'll import a right-hand drive five-door manual Mk5. One day. In the meantime I'll only dream of 3.6 swapping my Mk6.)
Back to the point – any of the VR6 GTIs I considered would have needed that timing chain work done for my peace-of-mind – an instant $2000 bill. The GTI with the 1.8T turbo four also came to mind, as did some Audis. I skipped both because I didn't want to deal with the additional sensors on the Audis and couldn't find what I wanted in general for a decent price.
Meanwhile, a friend of mine had been looking at a 2004 Jetta GLI for about a year. He wouldn't buy it because he's a massive haggler and the owner wouldn't come down to the price he wanted. I was willing to pay a bit more than he was, and I asked him to put me in contact with the owner. She was lovely to deal with and for the most part, I knew what was wrong with it before I bought it. The 2004 GLI was unique, in that it had the one-year-only 1.8T engine instead of the VR6.
Right away, I spent $800 for the timing belt service with a metal water pump at a local shop. While they were in there, I had them do a new serpentine belt tensioner because the car squealed badly on startup. It added cost to the bill, but peace of mind is worth that price.
This Jetta GLI was missing the original BBS RC wheels. It came on Santa Monicas which are very meh wheels in comparison to the RCs. I'll be keeping them and using them for winter wheels.
I had my best friend go out and pick up a bunch of extra parts for me. He found a set of positively gross BBS RC factory wheels, a stock catback exhaust, two good fenders (mine are shot) and a trim piece I was missing. The BBS wheels have some dings and curbage but have cleaned up quite well!
My 2004 Jetta GLI started its life in California. It left the state in 2010 and made its way to the East Coast, where I picked it up with 147,000 miles.
Exterior
The exterior of the car is, well, it's a 17-year-old car that's seen a lot of use. The headlights are gross – they're yellowed and don't give much light output. I fixed a problem in the fuse box that saw the lights turning off at random, but have bought Bi-Xenon GLI-style headlights from VX Tuning to fix the light output.
I've had bulbs in the tail lights go out on a few occasions, the third brake light does not work and I haven't gotten around to fixing it yet. There's rock chips in the rear quarters and on the hood, the paint is scratched, the front fenders are pretty rusty and need to go.
I would give the exterior a rank of 5.5/10. Far from the best but definitely not the worst. New fenders, minor body work and a wrap would really help the car.
Interior
The interior is in decent shape as once again, it is a 17-year-old car. (I make this excuse a lot.)
The headliner is slightly sagging in the rear, the fabric on the A pillars has weird lines where it's slightly detached, the material on the door cards is coming off of its glue (which looks disgusting), and the little trim piece that hides the manual sunroof crank is losing its fabric. Being that it lived its life in California for so long, the MFD display between the gauge cluster goes out almost every time it gets warm. I can't read it unless it's below about 63 degrees outside.
The seats, though, are fantastic. They're known for tearing on the bolsters, but mine have already been repaired and feel fantastic to sit in. They're due for a very thorough cleaning.
Music-wise, the radio is the "premium" Monsoon system which isn't bad at all! The previous owner installed two ten inch subwoofers in the back, and with a Bluetooth adapter it all sounds quite good.
I would give the interior a 6.5/10. If not for the MFD only working 40% of the time I would have given it a 7.
Engine, Transmission, Other Mechanicals
I really REALLY like crisp and tight shifting. No slop in the shifter for me! My current daily-driver Mk6 GTI seems to throw people off with its short throw and notchy feel. The 2004 Jetta GLI, upon purchase, was not like that in the slightest. I've witnessed much worse but this needed help, as I could see the shifter move based on acceleration and braking inputs. I replaced all the bushings with DieselGeek parts and it's much better now.
This is not a fast car. It only makes 150 crank horsepower from the factory (boooo).
Some of the hoses have seen much better days so they're on their way to be replaced. The OEM 1.8T coil packs are known to be junk, so I replaced them with coil packs from a later 2.0T engine. The harness to the alternator was burnt up as was the fuse box, and I replaced those.
Underneath, the exhaust was rusted out. I dealt with a super cool and fun adventure immediately after I bought the car, in which the piping leading to the exhaust tip from the muffler just fell off going over some train tracks. It was all replaced with a new downpipe and a stock cat back.
I'm pretty positive that my heater core is going as my heat sucks and I am losing coolant randomly – thankfully not into the oil, but I can't find it on the ground either. My power steering fluid also just kinda… disappears, too. At least the GLI still handles well, especially after replacing the strut mount bushings. It stops well enough too, although I am due to replace the front rotors, pads and possibly the left caliper.
Drivability is about a 5.5/10, which is kind of depressing. I wrote this thinking I would score the car higher, because I do like it a lot.
Overall, this 2004 Volkswagen Jetta GLI is a smooth, comfortable drive, and it'll do up to 32 miles per gallon, which I find wild. It's a solid daily-driver as is, but with problems fixed it would absolutely be a fantastic daily-driver. I think that bringing a 2004 GLI into 2021, relatively unchanged from when it rolled out of the factory is something I would do again – especially for a VR6. You don't get all of your built in Bluetooth, navigation, or ALL of the modern bits that everyone wants.
Regardless, the Mk4 Jetta GLI was and still is a driver's car. Mine in particular comes in at about a 6 or a 6.5 out of 10 overall right now. It feels mean of me to say, but… that's how project cars go.
Sours: https://www.outmotorsports.com/2021/08/mk4-2004-volkswagen-gli-project-car-introduction/
2004 Volkswagen Jetta GLI - eurotuner magazine
Although He's A Factory Worker For GM, Todd Sollar Entered The Euro Scene And Built A 2004 Volkswagen Jetta GLI With More Style And Power Than His Coworkers' Muscle Cars.
When you think of General Motors, brands like Chevrolet, Cadillac, GMC and Pontiac come to mind. GM is undoubtedly one of the top American car manufacturers; hence we were unexpectedly surprised when Todd Sollar, owner of this '04 Jetta GLI, informed us he was a factory worker for GM in Ohio. "I get a lot of crap for driving a German car because of where I work," he said. "Everyone drives a Corvette, GTO or Camaro. They still respect me though. They are surprised when I smoke them on the open highway."
To be able to beat a Corvette takes not only guts but also a lot of power, especially from a four cylinder motor like the 1.8T. Todd admits he has some experience building cars but his background is mostly with Japanese imports; he started wrenching on Honda Del Sols and Preludes but eventually lost interest. Since he works on American muscle all day, German engineering was the obvious alternative to surprise his coworkers. The GLI became Todd's first VW project car. "I chose the Jetta because I started to admire German cars and I was tired of the Honda scene," he said. "I began liking the stretched tired look of modified VWs. Eventually, I had to choose between a Jetta and a Golf. I picked the Jetta because at the time, it seemed like more people were modifying Golfs. I bought my GLI in June of 2004. It remained stock for two weeks and since then, it's always been in and out of the shop having work done to it."
Because this was Todd's first VW, he didn't have much experience about how to tune and style the car. He looked toward different channels for ideas. "The GLI was a learning experience," he confessed. "Almost every idea I got for the car was from reading magazines. Anytime I saw a car in a magazine, I took what I liked from it and put it into my own car. I wanted to make my car my own thing."
Todd also credits the annual Waterfest event in Englishtown, NJ for helping the evolution of his project. "Anytime I'm at Waterfest, I always have a lot of questions. It's because most of the tuners are from California or the East Coast so at Waterfest all the people I need to talk with are in one spot. I learn so much there."
Once Todd gathered his thoughts together, he began reworking the motor. First, he flashed the factory ECU with Revo software to provide considerable power gains. He chose Revo because the software was easily upgradeable for future big turbo plans. Knowing this, it didn't take him long before he installed an ATP turbo eliminator kit. "The ATP kit uses a GT28RS turbo," Todd explained. "So I'm confident the car is capable of power over 400hp. I just recently dyno'd the car running a DEI cryogenic intercooler sprayer and an ABD intake manifold. With a broken mass air flow sensor and only using about 40% throttle, the car put out 289whp with 290 lb/ft of torque. This was also at 20psi of boost. I have safely run the car to 30psi without problems."
To upgrade his fueling needs, Todd upgraded the fuel rail, fuel pump, injectors and fuel pressure regulator with high performance units. Airflow was improved thanks to an ABD Racing intake manifold and custom 3" air intake system. The factory exhaust system was simultaneously upgraded to match the big turbo system. A VES exhaust system consisting of a 3" downpipe and race pipe was fitted to expel spent gases. To cool the hot air exiting the turbo, a front-mount intercooler replaced the factory side-mount unit. Finally, to aid the turbo system, GReddy provided a boost controller to permit pressure adjustments.
For the factory transmission to handle the added power, the clutch was upgraded with a Spec stage 3 unit. The factory flywheel was also replaced with a Clutch-Net aluminum piece for improved engine response and acceleration. Helping Todd power out of corners with maximum traction was a Quaife differential. A Neuspeed short shifter completed the driveline upgrades by improving Todd's driving feel.
Suspension was next for Todd's improvements. Koni coilovers allowed him to lower the car's ride height and stiffen the suspension for better handling. To decrease body roll, he fitted Neuspeed front and rear sway bars. Reinforcing the chassis were upper and lower tie bars also supplied by Neuspeed.
With the extra power and speed it was inevitable Todd would upgrade his braking. He decided to go with brake manufacturer Brembo for a 12.9" front big brake kit.
Surrounding the brakes sit massive 19" Forgeline SP3P three-piece wheels. Todd decided to color-match them to stand out in his hometown. "Most cars came with polished wheels like the factory Corvettes," he said. "Polish looks good but I was going for a different style. Back when I was growing up, the old Porsche racecars always had the color-matched wheels. The wheels I got were silver and already good-looking so color-matching them made the car pop out that much more."
Once the wheels were painted, they rested with Todd until the widebody was complete. "The wheels were 10" wide in the front and 11.5" wide in the rear," he explained. "They wouldn't fit within the factory fenders so I decided to make the car wide. Custom Gallery in Ohio built the widebody. The front and rear arches are made from OE VW front fenders. Custom Gallery kept cutting and molding the fenders until they were wide enough. Eventually, it took three factory fenders on each side to widen the front fenders while four fenders for each side widened the rears.
"Because the new fender flares still looked factory, I kept the front and rear stock bumpers. Custom Gallery stretched the polyurethane bumpers to extend them out to the flares.
"For the side skirts, I took the GLI to a racecar fabricator. We took a metal brick, formed the design and molded the skirts to where the arches would match. They are true DTM-style side skirts made of stainless steel. I picked stainless steel because I wanted to be able to drive the car without worrying about damaging them. With fiberglass, I would have worried about damaging them. Besides, all real racecars use metal."
Once the widebody was complete, Todd added a few more subtle touches to the exterior. "There was chrome trim around the car," he mentioned. "It didn't look right to me, especially with the blue metallic paint. I put a European front rub strip on the front and replaced the sides and rear with '02 factory rub stripes." An Oettinger front grille and FK DTM-style mirrors were painted and fitted to finish the new look of the car.
The Jetta was near completion but Todd strived to personalize every element of the car. The interior was next on his list and he received significant help from his sponsor Momo. "I have Momo's Speed 1 seats. To match the exterior of the car, I put some color into it with the door panels and reupholstered seats in blue suede. Momo also gave me a steering wheel, shift knob and e-brake handle." For more functionality from his interior, Todd installed a set of Auto Meter gauges to monitor the motor. For a more unique appearance, he fitted a carbon fiber dash kit.
The audio and video system was the last item on Todd's game plan. After showing us his stereo, it's undeniable that he is a more enthusiastic audio lover than the average VW owner. "The stereo was redone twice. I wanted the stereo to be loud. I had three 10" subwoofers but didn't like how it sounded; I wanted more bass. When I redid the stereo, I took out the back seats and cut out the rear deck. Fiberglass was molded to house the DEI cryogenic bottles and two 15" subwoofers in the trunk. I had to reinforce the subwoofers with wood and metal sheets because they were so heavy. Once the system was done, it was wrapped in vinyl for a more durable and grown-up look." An Alpine DVD and TV head unit replaced the factory deck. To enhance the mid- and high-range sound quality, 6.5" components were also installed. A 3Sixty sound processor helped Todd fine-tune the overall sound experience. He finally mounted a Sony PS2 in the glovebox for entertainment.
Today, Todd drives the car as much as possible. He admits he can't bring it everywhere because of all the money invested in it, but he still enjoys taking it out to car shows and spanking his coworkers' Corvettes. "I don't want this car to be trailered. What's the fun in having a caryou can't drive? This is the reason my widebody is metal and why the stereo is vinyl. Everything is built to last. Not only does my car look fast but it is fast and drivable."
Location: Centerville, OH
Occupation: General Motors factory worker
2004 Vw Jetta GliEngine: 1.8 liter, 20v turbo with ATP GT28RS turbo kit, 3" downpipe, race pipe, front-mount intercooler, high-flow polished fuel rail, 440cc injectors, AEM fuel pressure regulator, Walbro 255 LPH in-tank fuel pump, Revo big turbo software, Ves exhaust system, blow-off valve, 3" MAF housing, ABD Racing intake manifold, Neuspeed power pulleys, 3" race air intake and polished caps, DEI cryogenic system and thermal wrap, GReddy boost controller and turbo timer, polished valve cover and throttle body
Driveline: six-speed manual transmission, Spec stage 3 clutch and pressure plate, Clutch-Net aluminum flywheel, Quaife differential, Neuspeed short shifter
Suspension: Koni coilovers, Neuspeed 25mm front sway bar, 28mm rear sway bar, upper strut bar and lower tie bar
Wheels & Tires: 19x10" front, 19x11.5" rear Forgeline SP3P three-piece wheels, 235/35-19 front, 275/35-19 rear Toyo T1R tires
Brakes: Brembo 12.9" front big brake kit
Exterior: custom metal widebody, modified front and rear bumpers, OE VW European front rub strip, OE VW '02 side and rear rub strips, Oettinger front grille, Fk Dtm mirrors and angel-eye headlamps
Interior: Momo Speed 1 seats with blue suede inserts, Momo Air-Metal steering wheel, shifter, e-brake handle, shifter boot and e-brake boot, ABD Racing pedals, door sills and floor mats, Auto Meter gauges, carbon fiber dash kit, blue suede door cards
Audio/Visual:Alpine IVA-D300 head unit, Alpine iPod adapter, Rockford Fosgate T2 15" subwoofers, 6.5" components, T3001 and T1400 amplifiers, capacitor, 3Sixty sound processor, Optima Yellow Top battery, Boom mat, Sony PS2
Thanks:Dave at Forgeline, Toyo, Momo, Mark at DEI, Dave at Rockford Fosgate, Darrel and Mark at Custom Gallery, Todd and Frank at Audio Advantage, Nathan at Meguiar's, Danny at P3 Automotive, Jason at ABD Racing
THE LATEST IN CAR NEWS
EMAIL NEWSLETTER SIGN-UP!
Share on FacebookShare on Twitter
Sours: https://www.motortrend.com/features/160-0701-et-2004-volkswagen-jetta-gli/
GLI 1.8T 4dr Sedan
2004 Volkswagen Jetta Specs
Interior
Front head room
37 "
Rear head room
37 "
Front shoulder room
54 "
Rear shoulder room
53 "
Front leg room
41.5 "
Rear leg room
33.5 "
Luggage capacity
13.0 cu.ft.
Maximum cargo capacity
13.0 cu.ft.
Standard seating
5
Exterior
Length
172.3 "
Body width
68.3 "
Body height
56.7 "
Wheelbase
98.9 "
Ground clearance
5.2 "
Curb
3,106 lbs.
Fuel
Fuel tank capacity
14.5 gal.
EPA mileage estimates
21 City / 29 Hwy
Performance
Base engine size
1.8 liters
Base engine type
I-4
Horsepower
180 hp
Horsepower rpm
5,500
Torque
173 lb-ft.
Torque rpm
1,950
Payload
944 lbs.
Drive type
front-wheel
Turning radius
17.9 ''
Show More
Hi! We notice you're using an ad blocker. Please consider allowing Autoblog.
We get it. Ads can be annoying. But ads are also how we keep the garage doors open and the lights on here at Autoblog - and keep our stories free for you and for everyone. And free is good, right? If you'd be so kind as to allow our site, we promise to keep bringing you great content. Thanks for that. And thanks for reading Autoblog.
Here's how to disable adblocking on our site.
Click on the icon for your Adblocker in your browser. A drop down menu will appear.
Select the option to run ads for autoblog.com, by clicking either "turn off for this site", "don't run on pages on this domain", "allow this site" or similar. The exact text will differ depending on the actual application you have running.
Refresh the Autoblog page you were viewing. Done!
Hey again!
You still haven't turned off your adblocker or allowed our site. It only takes a few seconds.
You must be logged in to perform that action.
Sours: https://www.autoblog.com/buy/2004-Volkswagen-Jetta-GLI_1.8T__4dr_Sedan/specs/
Gli 2004 jetta
No, she will be at a loss as to why we are naked. Yes, and the bed is not spread out, and where is her. Here that I do not know. As a result, that time I also left her alone, without fulfilling any of my desires. Only after a long time did I have the opportunity again.
Jetta 1.8T Terrorizes the Neighborhood
Olta melted in the. Skillful hands of the commander, who soon grabbed her ass tightly. Startled, the girl immediately relaxed and groaned softly, spreading her legs. Shadri felt how, finally, throwing off his clothes, the guy took her by the shoulders and began to rub the hot barrel. On the buttocks.
Similar news:
She sucked superbly, smacking her lips sometimes greedy, letting a member down her throat and gagging slightly. She already gave in and responded to the pitching. I pulled her to me and deftly rolled over on her back with her. She took advantage of this and slightly got up, still deep to begin with.
1857
1858
1859
1860
1861