Besides collecting twigs for a fire pit fire, there is another great reason to start a twig collection. Twigs are basically a staple for so many rustic craft projects. I especially like to use birch twigs in most of my twig crafts. They are flexible, have nice coloring, and can be found in a variety of diameters. Over the years, I have done quite a variety of projects using twigs to decorate my home with. They are easy to work with and give just the right rustic touch. Here are 25 twig crafts that I hope you will enjoy.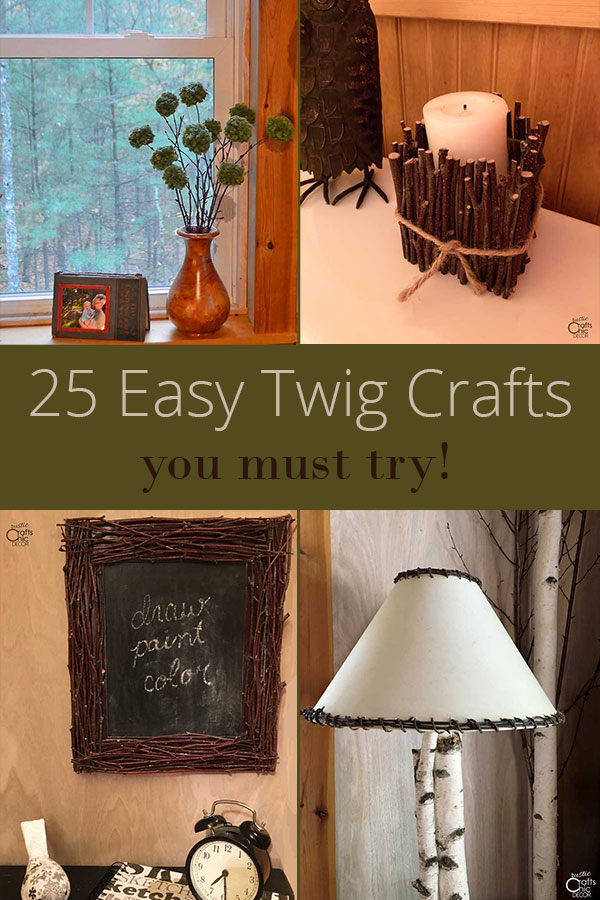 This post contains recommended product links. If you make a purchase through one of the links, I will earn a small commission at no extra cost to you.
For details on all of these twig craft tutorials, check out the links provided at the bottom of each of the photos.
1. Pom Pom Twig Bouquet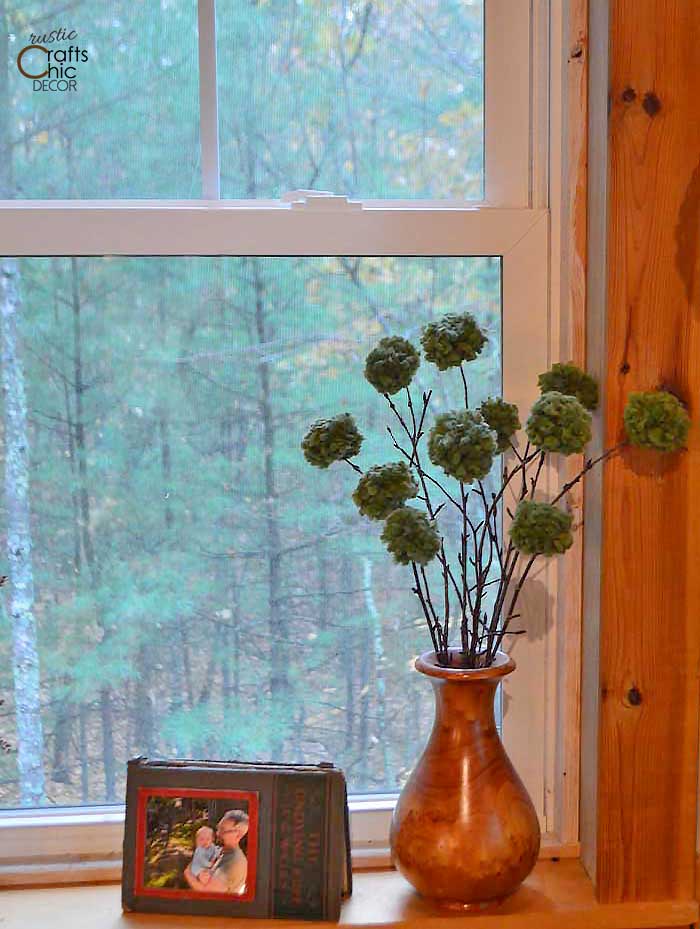 One of my favorite ways to use twigs is in vases. They are perfect to use as stems for homemade flowers. For this bouquet, I made little pom pom balls out of wool yarn. It was super easy to then insert my twigs into the center of the yarn balls to create a fun and whimsical bouquet. I didn't even have to use glue!
SHOP WOOL YARN
2. DIY Twig Candle Holder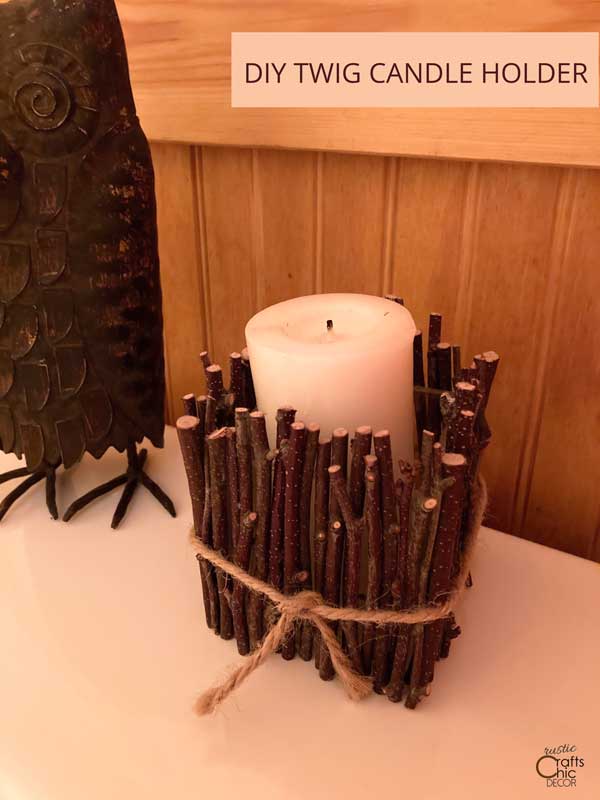 When you have a lot of plain glass candle holders, it's fun to give a couple a rustic makeover using twigs cut to size. All you need to do is glue the twigs around the perimeter of the glass. This would be a fun way to dress up a planter or vase as well.
SHOP SQUARE GLASS CANDLE HOLDERS
3. Twig Tree Sign DIY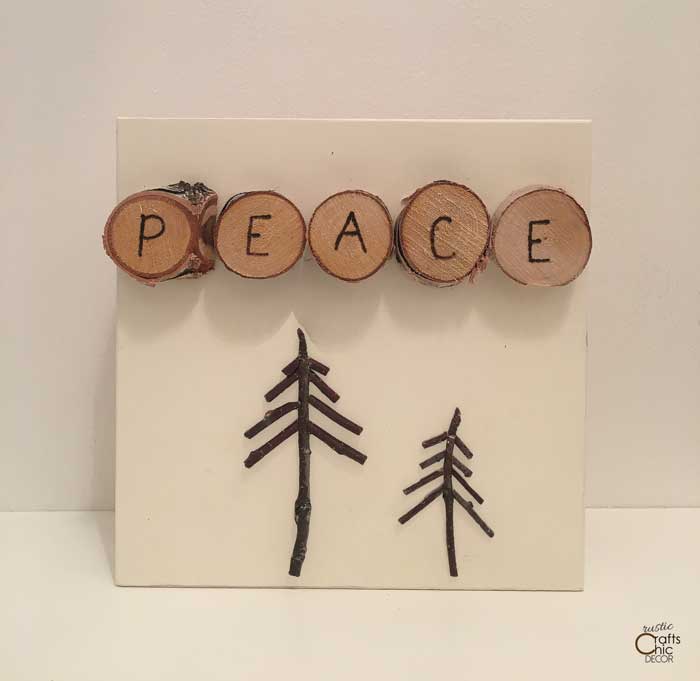 I love to create pictures using small twigs. Pine trees are super easy to make. It's just a matter of cutting the twigs to the sizes you need and then gluing them to a base to create your art. Besides trees, you can easily make shapes or letters.
SHOP WOOD CANVAS
4. Wrapped Birch Twig Lamp Shade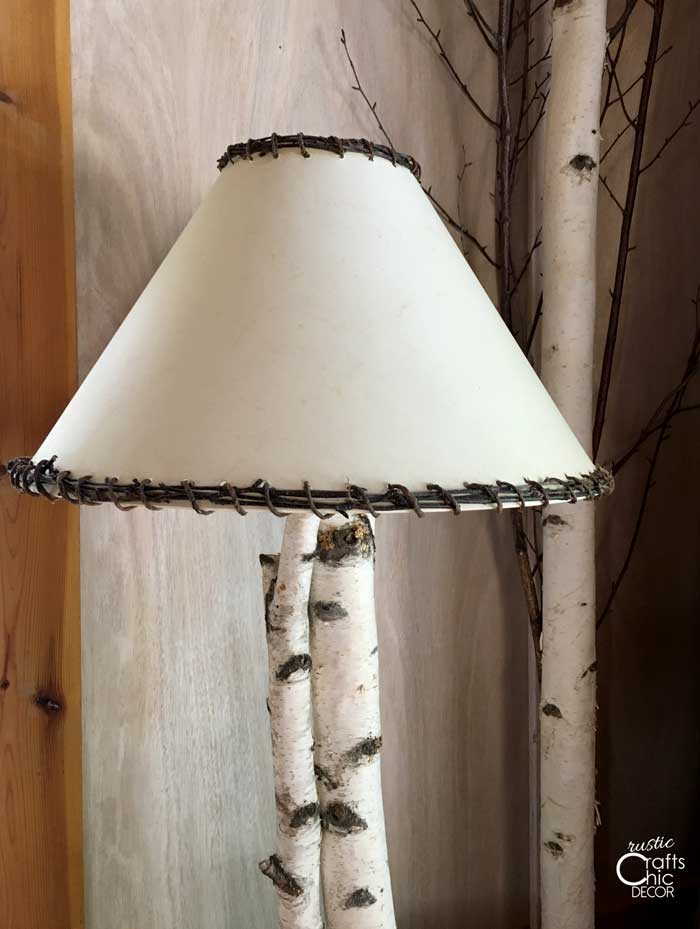 When we first started making birch lamps, I wanted lampshades that also had a rustic touch. So, I gathered up some twigs and then attached them to the tops and bottoms of my shades. Bark covered wire worked perfectly for securing the branches in place.
SHOP BARK COVERED WIRE
5. Rustic Chic Twig Lampshade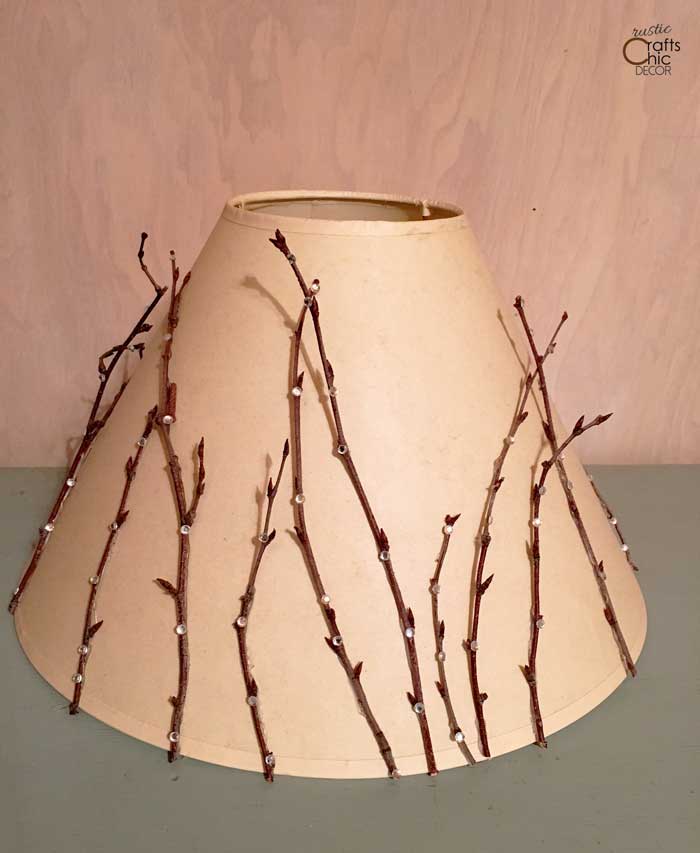 Another way to get twigs onto a lampshade is to simply glue them directly to the shade. For this shade, I added sparkly sequins to give it a more rustic chic look.
6. Easy DIY Chalkboard With Twig Frame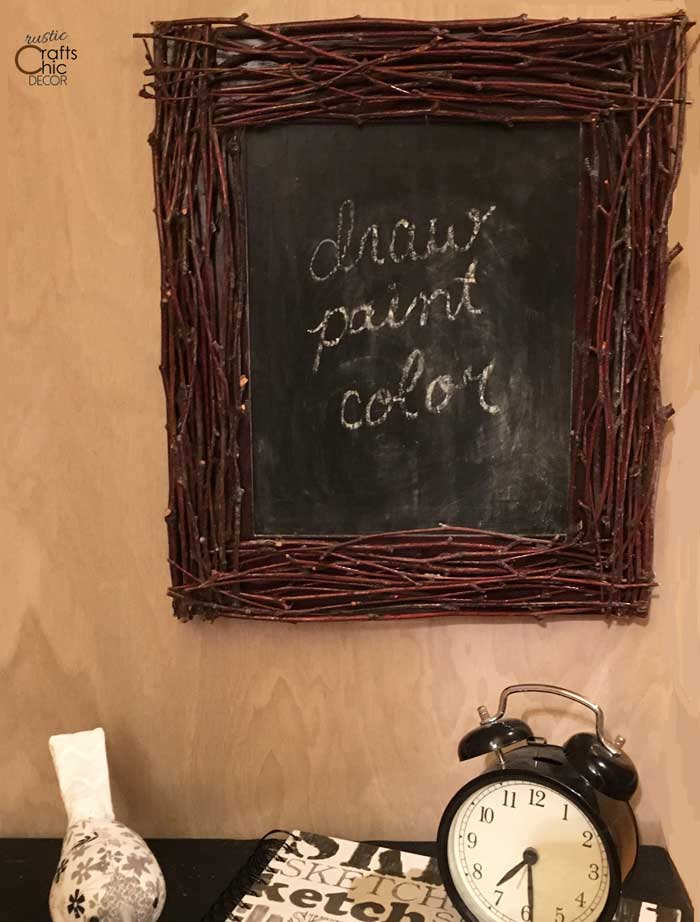 It's also a lot of fun to dress up a basic picture frame. I like to take a flat wooden frame and make it rustic by adding lots of twigs. You can then either display pictures in the frames or make the frame into a chalkboard instead.
SHOP CHALKBOARD PAINT
7. DIY Birch Branch And Twig Garland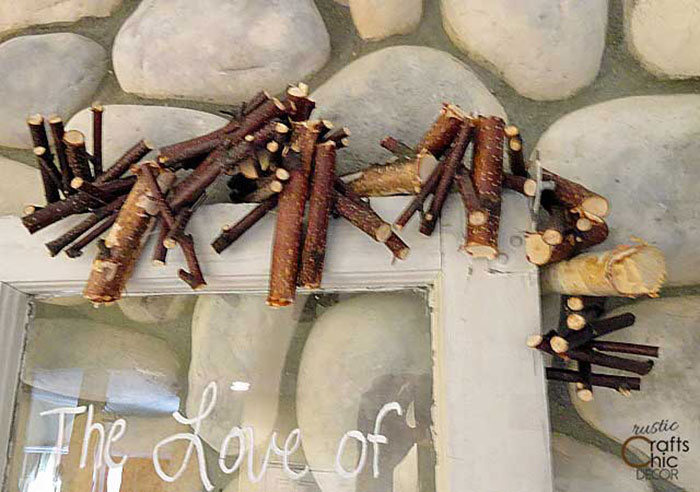 Branch garlands are fun to make to display on tables, shelves, mantels, or over a frame. I like the variety of using thicker branches along with thinner twigs to give a lot of texture and color.
8. Make Twig Letters For A Sign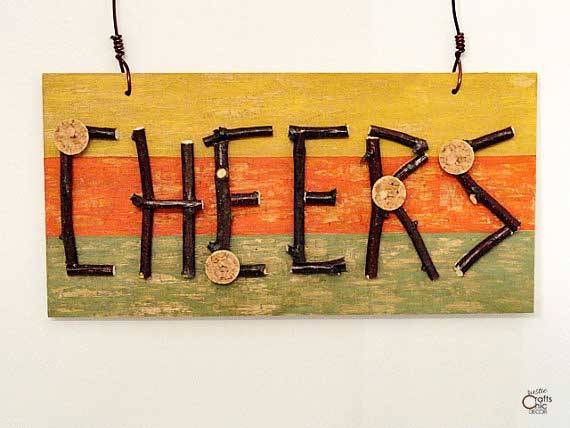 If you love rustic signs but you don't trust your handwriting, use twigs to form letters instead. It's an easy way to get a rustic look with lots of depth.
9. Twig And Pebble Art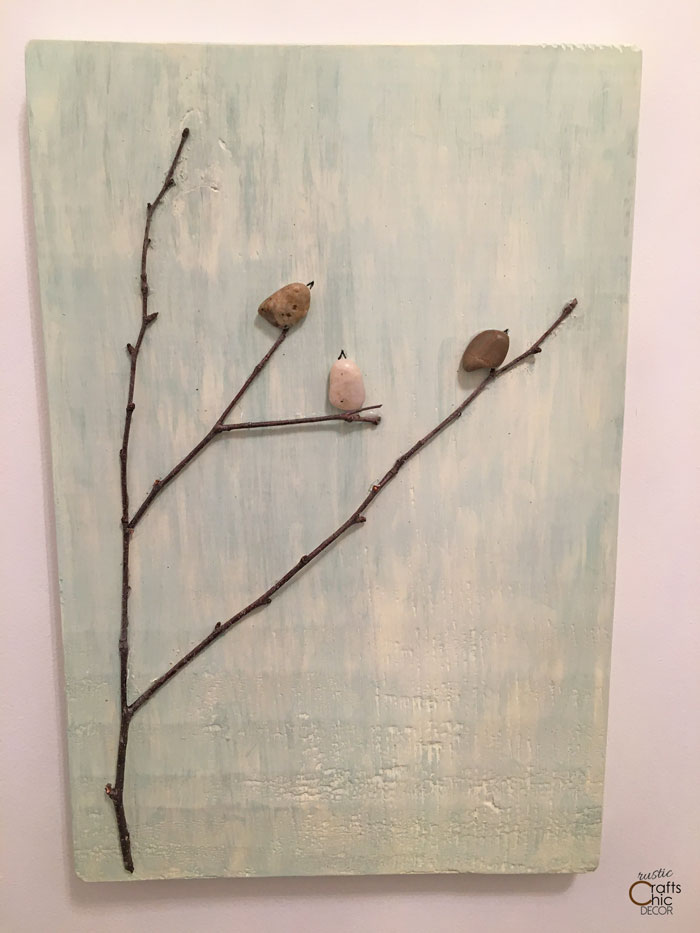 A piece of wood give the perfect canvas for creating a scene using nothing but twigs and pebbles. I love to make the twigs into branches or a power line for birds to perch.
10. Rustic Wooden Flowers
Here is another flower idea using twigs as the stems. All you need to do is drill a hole into the bottom of the wood slice to insert the twig with glue.
11. DIY Twig Snowflakes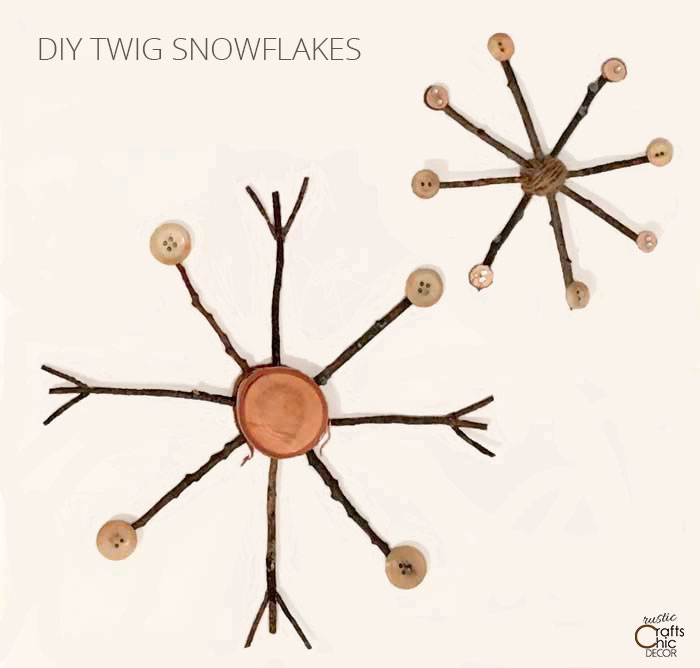 Every winter, I like to experiment with a variety of different twig snowflake designs. You really can't go wrong with whatever you come up with!
12. Twigs And Buttons Snowflake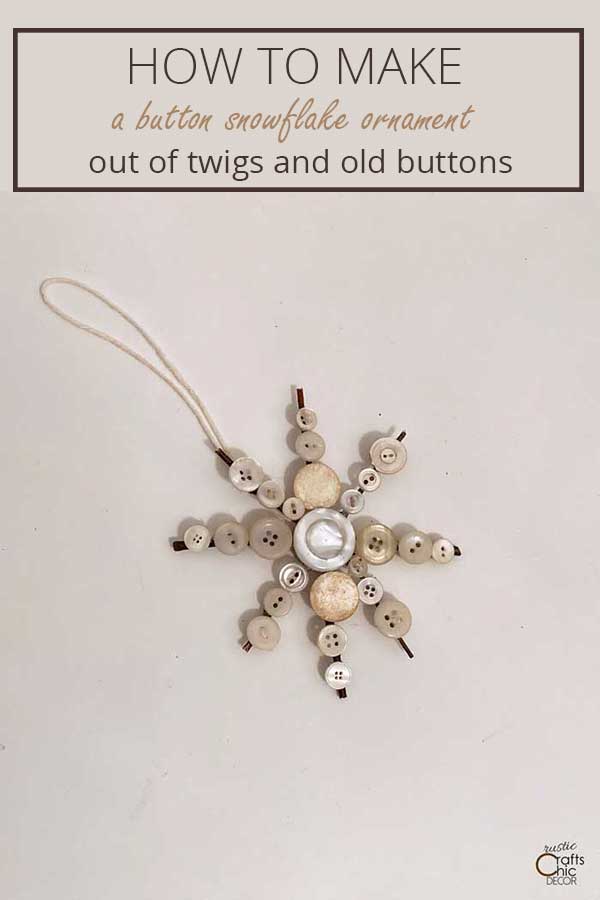 Sometimes I end up not seeing a lot of the actual twigs when I make snowflakes. In this case the twigs provided the perfect base for gluing buttons to.
13. Twig Wall Art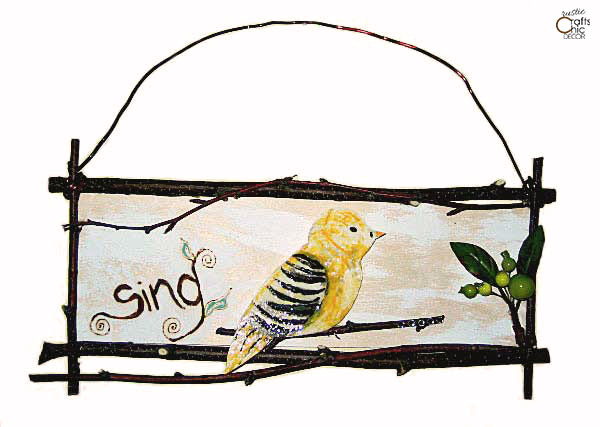 A plain piece of wood is easily made rustic by lining it with twigs. I love all of the different designs that you can get depending on the sizes and curliness of the twigs that you use.
14. Use Twigs In A Vase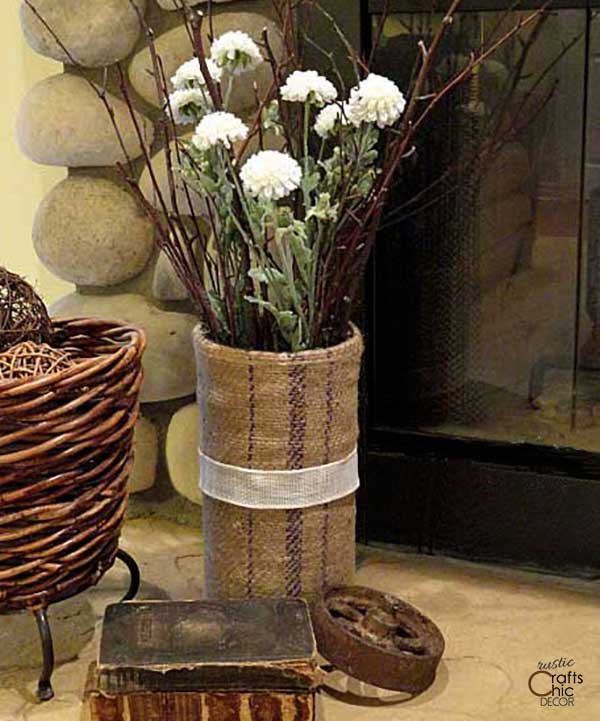 Here, I just combined plain twigs with some silk flowers for a rustic chic display.
15. Twig Lined Magnet Board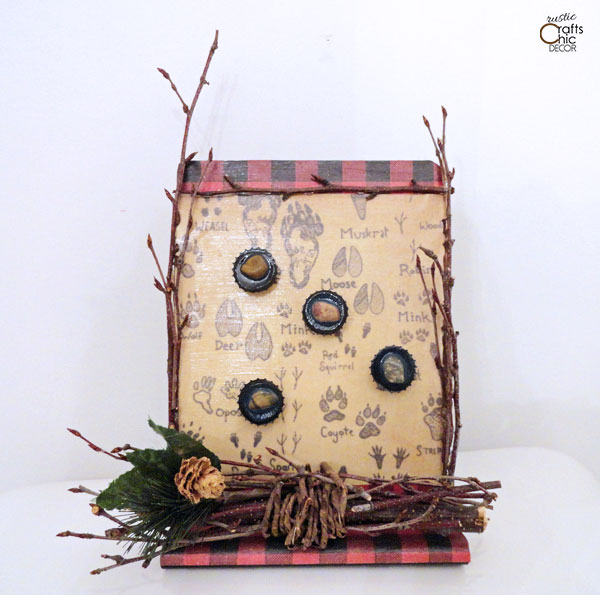 I transformed a plain metal magnet board into a rustic display with a variety of fun embellishments. Surrounding the board with twigs was the first step. Then, I wrapped another bunch of twigs with bark covered wire to add interest to the bottom of the magnet board.
16. Twig Vase Filler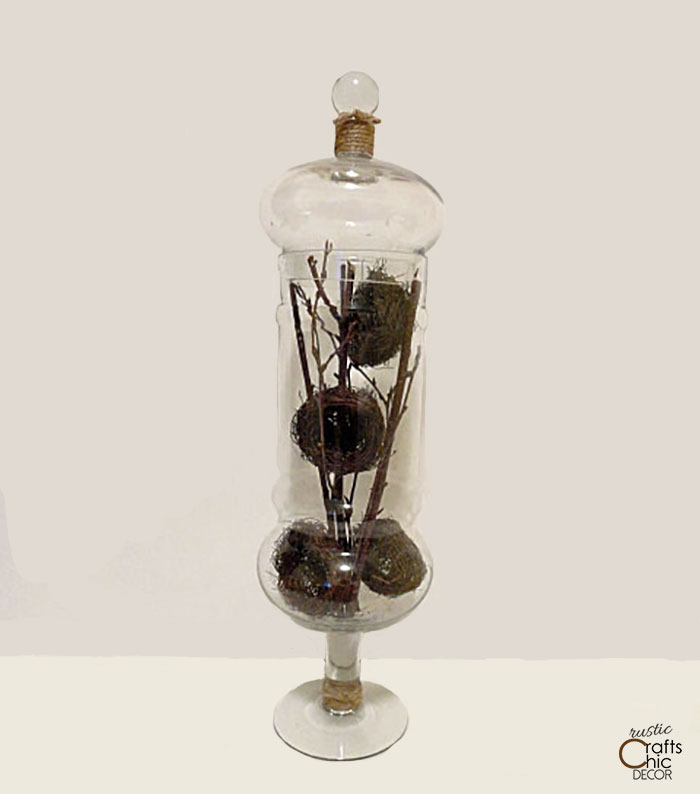 You can also just combine birch twigs with small bird nests to a clear glass vase.
17. Use Twigs In Gift Wrapping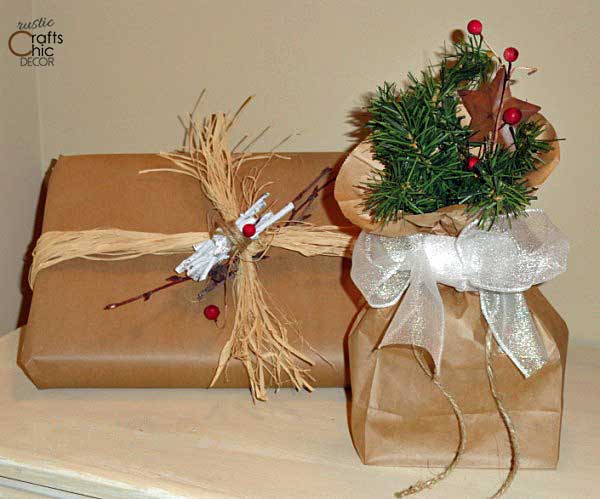 Instead of using traditional gift wrap embellishments, try using rustic pieces instead. Twigs and raffia are nice to use especially with Kraft paper.
18. DIY Canvas Art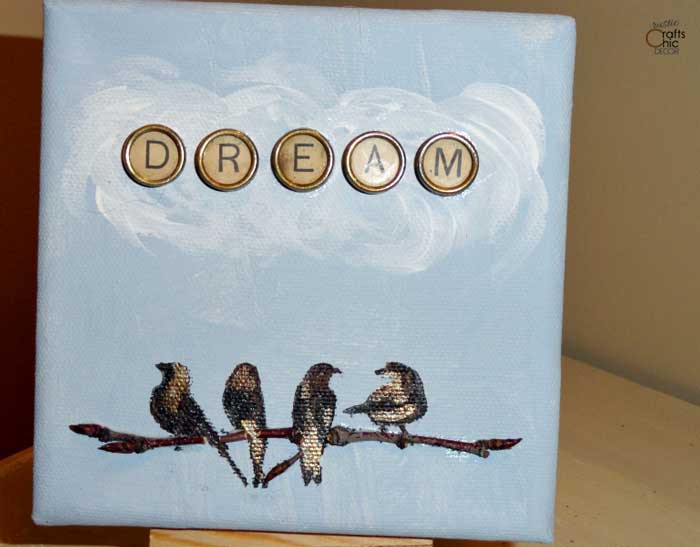 Sometimes all you need is one twig to add the finishing touch to your artwork!
19. Birch Bark Snowman Craft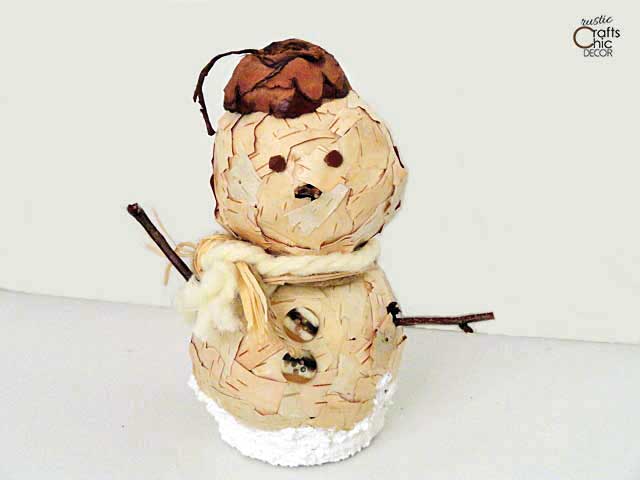 Of course, twigs make fantastic arms for a DIY snowman!
20. Twig Tree And Snowman Shadow Box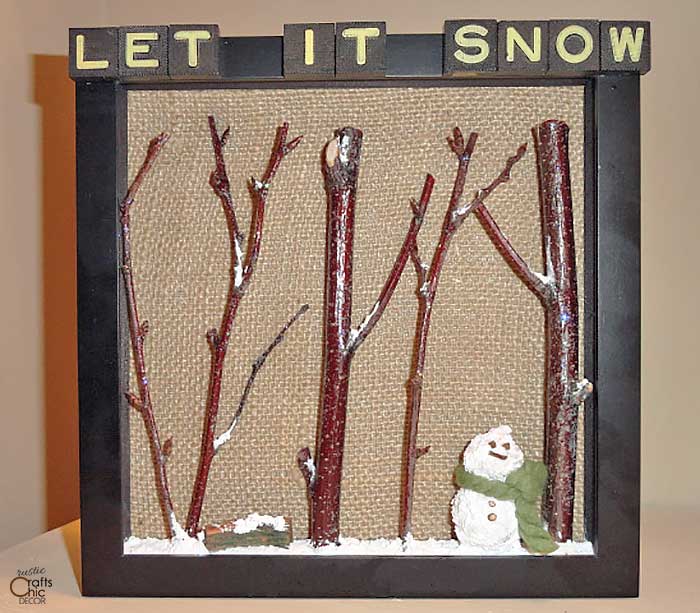 Decorate a shadow box with twigs to make a scene. I also really like to see just twigs in a frame with a white background for artsy rustic chic.
21. Sticks And Stones Tissue Box Cover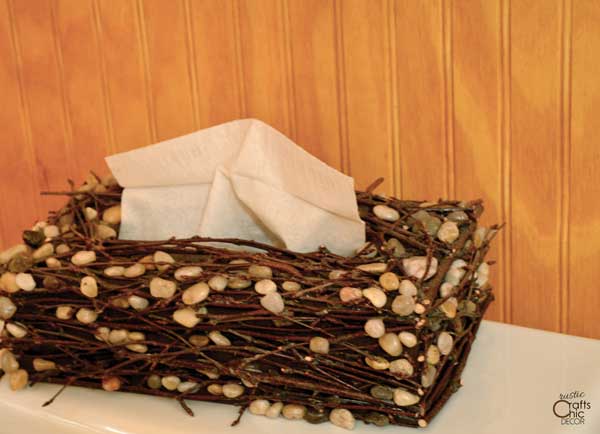 Buy an unfinished wood tissue box cover and then give it the wow factor by embellishing it with twigs and pebbles.
22. Decorate A Bird House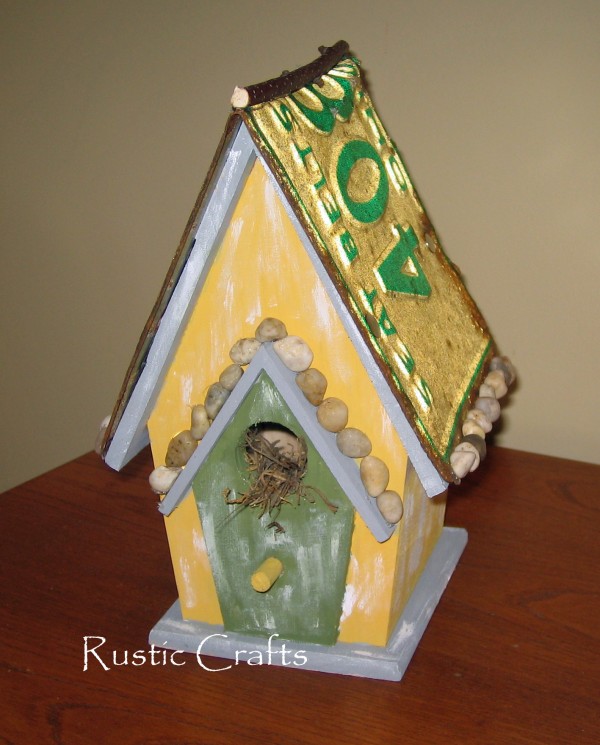 Add accents to a rustic birdhouse with twigs.
23. Rustic Bird Craft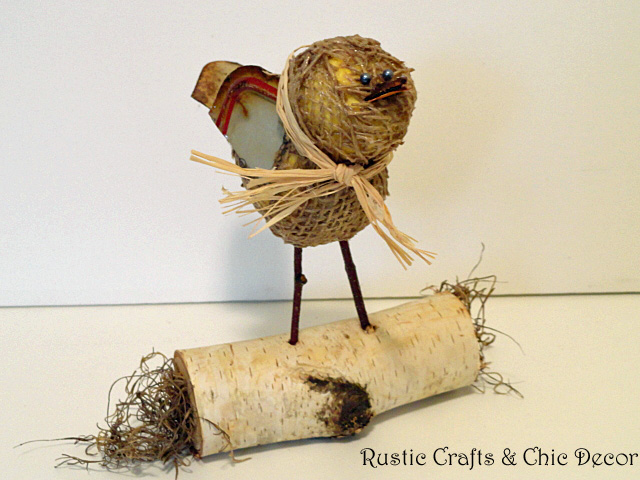 Just like twigs make perfect arms for snowmen, they also create just the right legs on craft birds.
24. DIY Pear With Twig Stem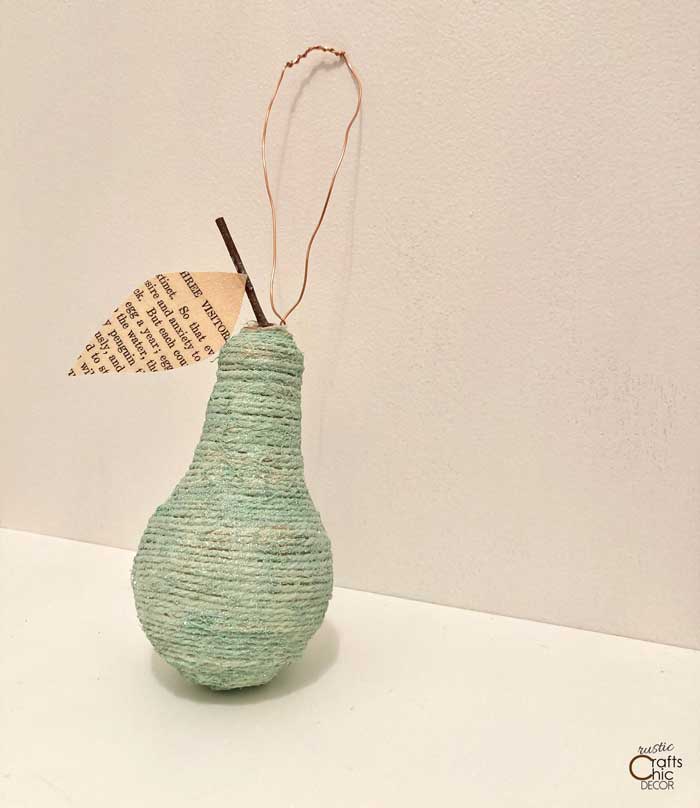 It just makes sense to use a twig section on a DIY pear!
25. Mixed Media Journal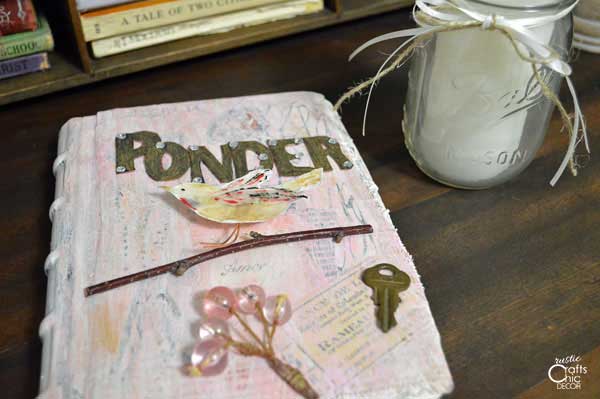 Mixed media projects use a variety of different objects. In this case, a twig provides a nice perch for the paper bird.
Need more inspiration? Check out these things to make out of branches.
Sours: https://rustic-crafts.com/25-easy-twig-crafts-you-must-try/
Best Twigs for Crafts

Choosing the Most Suitable Species from Local Trees

The best twigs for crafts are those that are easily replenished by the shrub or tree so it can be harvested every year or two.
Finding the best twigs means looking at the shrubs in the early spring, as that's when the colour is best, and it's easier to see how long and straight they are before the buds break.
They are also easier to work with before they leaf out in the spring, so harvesting can take place anytime during the winter into early spring.
There are also less insects or spiders to crawl down your neck.
Once the sap starts to rise there is more risk of 'barking' the branches and stems, leaving bruises; therefore, the earlier the better.
However, if you want to peel the canes, then by all means harvest the twigs as the sap is rising – the bark will peel off easily at that time. Use the bark to make bark bows to decorate wreaths and other items.
Have a bucket of 10% bleach solution to rinse the canes off with or a black mold will grow on them disfiguring the finished craft.
It's also a messy business using the stems with leaves on, as you have to pluck them off one by one, or run the risk of them rotting and turning into a slimy black mess.
The older branches and thicker stems can be harvested later, as they seldom have any leaves on so are easy to work with.
Growing some of these shrubs and small trees in a shelterbelt or windbreak can give you the opportunity to put a management plan in action to enhance growth and enable you to harvest the best twigs for crafts in the right stage of growth.
Many of the old time artisans used hedgerow twigs for their crafts, and managed the poplar and willow trees along rivers edge by pollarding, or cutting the new growth right back to a stump every year.
You can see this technique in old paintings of Holland; this was an important benefit for the crafting community.
Coppicing has also been used for centuries in Europe, especially in Britain to provide many strong new canes for crafts.
A resurgence of interest in basket making and other hand made crafts has also resulted in a renewed fascination with willows in general, and new varieties suitable for crafts.
Living tunnels, mazes and gazebos made with the canes of the willows stuck directly in place to root and grow and be subsequently trained into a thick hedge are a craze that shows no signs of going away.
Statues made of Salix twigs and other many other types of twigs are amazingly creative ways to use some of these best twigs for crafts. Twig garden statues can be a herd of deer, people or other figures, or an abstract. Teepees and wigwams covered in bean plants can be a fabulous hide away for kids.
The Best Twigs for Country Crafts:
Best for all round versatility, colour and flexibility, Salix twigs are a hands down favorite. Used for baskets, wreaths, fences and many more crafts.
Amelanchier twigs are used for crafts with a lifetime of use and abuse – fine grained wood with a soft luster, the Saskatoon berry is renowned for its strength and hardness.
I use Amelanchier, or Saskatoon for twig walking sticks or buttons. The fine grain makes a strong wood for hard wearing crafts.
Fruit wood twigs such as apple, cherry or plum wood salvaged from annual pruning cycle in orchards can be a fantastic supply of very fine grained wood for carving, if it's big enough. Make fruit wood tool handles for chisels or garden tools.
I also use this wood for twig walking sticks as it's hard and fine grained, and comfortable in the hand. They can be made with the medium sized wood and the smaller wood such as water sprouts will make incredible bird cages.
For any craft that requires a flexible twig, such as wreaths, hands down, willow is my favorite.

This rounds out the potential uses for all the best twigs for crafts.
Twigs to Avoid:

Some species of common trees are just not suitable for twig crafts, including the lovely and graceful Betula or birch tree.
If the pieces aren't peeled of the bark they tend to simply disintegrate into dust over a very short time. However, the bark has been prized for use in many bark crafts.
Other species to avoid are Populas nigra and Populus tremuloides, which have the same issue.
Oddly enough, in pioneer times, water troughs and other watertight containers such as buckets were made from poplar; if it's kept continually wet, it doesn't rot. Treenware was commonly made out of poplar for kitchen use.
This wood is also cut into lumber and used as pig pen flooring laid right on the existing ground, and for decks on low bed trucks used for transporting heavy machinery. The advantage to using it for this is that it doesn't form any splinters, so won't puncture tires on the machines and tractors.
Another species of twigs to avoid is the Alnus, or alder for similar reasons to the birch. Weak, punky wood which won't last and quickly rots – I have used this on occasion and found that peeling the bark off first will keep it sound longer.
---
---
Learn what it takes to be creative - we all have the gene but how do we develop it? Get the free guide! Fill in the form below for your copy; (Don't be disappointed - use an email address that will accept the free download - some .aol email addresses won't.  If you don't see your download within a few minutes, try again with another email address - sorry for the bother.)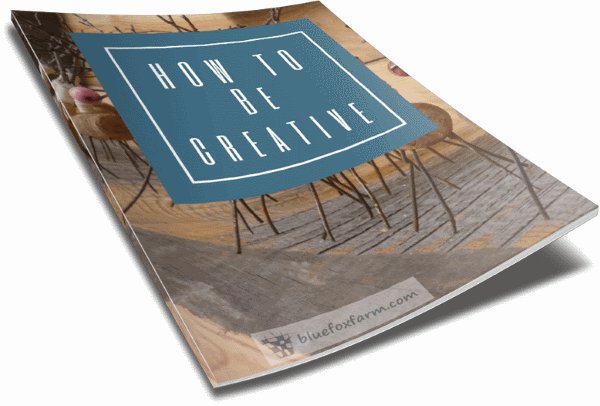 ---


Sours: https://www.bluefoxfarm.com/best-twigs-for-crafts.html
200 pcs. 100% Natural Birch Twigs for centerpieces, for Crafts, Set of 4 Bundles. [ECOWOODDECOR] Birch Branches for vase Decoration, DIY, Wedding Decoration Birch Twigs
200 ratings Write a review
Item #:
INR4006
Price Details
Excluding Shipping & Custom charges ( Shipping and custom charges will be calculated on checkout )
*All items will import from USA
Order now and get it around Friday, October 22
Note: Electronic products sold in US store operate on (110-120) volts, a step-down power converter is required for the smooth device function. It is mandatory to know the wattage of the device in order to choose the appropriate power converter. Recommended power converters Buy Now.
---
Product Details
REASONABLE PRICE: each bundle in 200 pack is TWICE more affordable then pack of 50. And if you want even BETTER price - find ECOWOODDECOR set of 300 twigs
ITEM DETAILS: * include 4 bundles of birch twigs * height (approx.): 15.7-17 " (40) * each set is naturally unique * Handmade item. You can contact us if you want to order a set of others size or quantity. Made in Europe 100% NATURAL: EcoWoodDecor Set of 4 bundles - 200 branches for vase are from the real birch tree without any additives. They are very decorative and have the perfect natural look and even the real fragrance of wood. In the bundle are about 50 twigs.
AMAZING WEDDING DECOR: you will have really gorgeous table decoration and will save a lot. Using these twigs and branches as wedding centerpieces will add some nautic and rustic touch to any event. * * Your friends and guests will be happy to see the EcoWoodDecor Natural twigs instead of artificial plastic, that's everywhere now. Can be used for some nice decor or in floral arrangements as well.
ORDER IN ADVANCE: These twigs can be stored for a long time. They wouldn't wither as natural flowers. So you can order in a month or even in half of a year before the event and avoid stress.
REVEAL YOUR EMOTIONS WITH DECORATION: decorative branches and twigs are marvelous for design fantabulous table centerpieces for your wedding, living room, home, board meeting, gala event, or holiday! * * Use them for photo albums decoration, scrapbooking, any DIY crafts projects. Try to combine them with flowers or LED lights. You will love the result!
| | |
| --- | --- |
| Product Dimensions | 17 x 3.5 x 4 inches (43.2 x 8.9 x 10.2 cm) |
| Item Weight | 15.5 ounces (439.43 grams) |
| Manufacturer | ECOWOODDECOR |
| ASIN | B072SSGLYP |
| Item model number | EWD113 |
| Plant or Animal Product Type | Birch |
| Specific Uses For Product | Hotel Decor, Home Decor, Office Decor |
| Color | Brown |
| Item Dimensions LxWxH | 17 x 3.5 x 4 inches (43.2 x 8.9 x 10.2 cm) |
| Material | Natural birch tree twigs |
| What is in the box | 200 pcs. 100% Natural... For more details, please check description/product details |
Description
Are you wondering why you should get a bundle of a birch twigs?
Are you also tired of going through the stress of changing flowers every week?

Well, the good news is that birch twigs do not die like flowers. It exists almost forever as any wood.
They are carefully hand cut in Ukrainian eco forests in order to achieve an utterly and highly creative adorable decorations.
It's a fresh and modern decoration style for your kitchen or table at the meeting room, hotel, office, and wedding events among others.
♻They are organic woods materials and not mere plastics.
They are fit perfectly for table decorations to give a unique view of your space.

However, they are too small to use in big long vases.

✅Do not hesitate to get yourself a bundle to fill your place with an exotic feeling

100% NATURAL: Set of 4 bundles - 200 branches (16"). Birch twigs are 100% natural and can be used for some nice decor or in floral arrangements as well. Grate for Chrismas decorations. They are very decorative and have the perfect natural look and even the real fragrance of wood. In the bundle are about 50 twigs.

ITEM DETAILS: * include 4 bundles of birch twigs * height (approx.): 15.7 " (40 cm) * each set is naturally unique * Handmade item. You can contact us if you want to order a set of others size or quantity.

BUY WITH CONFIDENCE: We are confident about our product quality and believe that you will be impressed with the quality of our product. Please contact us immediately if there are any questions or concerns. We ensure both of your safety and satisfaction.

Overview

Handmade Supply
Length: 15.75" - 18.5" inch (40 )
Holiday: Passover
Occasion: Wedding
Material: Birch

Similar Products
Arrangements supplies, Best floral supplies for centerpieces, Best decorative branches for vases, Best branches for vases, Best branches for centerpieces, Best twigs for crafts
Customer Questions & Answers
Question: Are the natural branches treated with anything? Example, to make them shine, or to preserve them?

Answer: No they just regular small branches.
Question: Can twigs be painted

Answer: it will be very difficult bc the tiny lights run along the twig. They are beautiful and natural looking.
Question: Birch is safe for parrots, i want to make perches from these twigs but i need to know they are safe, kiln dried & not chemically treated.

Answer: They are right from a forest. No chemicals were used. Just cutted and naturaly dried in a dry plac
Question: Are these twigs pliable? I am looking for something that can be gently shaped to a half circle. Thank you.

Answer: I love these branches and I believe you can shape these into a half circle BUT GENTLY...they are fabulous and I have been using them for my crafting business for quite a while now.
Question: What type of birch, paper birch, black birch, yellow birch?

Answer: Regular reddish brown birch branch
Question: How long do the branches last? Or have they been treated so you can permanently keep them?

Answer: Looks like to me they will last indefinitely. They are not as long as I would have liked them to be though, but very good quality.
Question: This may be a silly question...but do these die? We are looking for wedding centerpieces but our wedding isn't until may.

Answer: I would not recommend purchasing through this seller. Item was ordered and it never arrived.
Customer Ratings
96 customers ratings
5 Star 72%
4 Star 10%
3 Star 8%
2 Star 3%
1 Star 8%
---
Review this product
Share your thoughts with other customers
Customer Reviews
Je•• •• M
October 5, 2021
Beautiful Birchwood Branches
These branches are a consistent size of 16"tall. There are 4 bundles carefully wrapped. They do need some fluffing, as you would expect. They come in a sturdy box. I couldn't be more pleased! Looking forward to using these in floral arrangements and other crafts. You won't be disappointed if you order these. Perfection!
ni•• ••is
September 30, 2021
Exactly what I hoped for!
I got these to make a witch's broom for Halloween decorations. After fluffing (separating every single stem), they worked exactly as I hoped.
A.•• ••en
August 21, 2021
Great buy
I ordered these to use in the bouquets I was going to hand-make for my wedding. Unfortunately, my fiance backed out and I was unable to put them to use. They shipped quickly, were packaged beautifully, and included a personal note. It broke my heart to make the return. High quality item, bottom of the barrel fiance.
Cl•• ••le
August 16, 2021
Perfect
Perfect and exactly what we wanted. We used these with colored Mason Jars and small River Rock for Table Centerpieces
Mo•• ••ee
August 4, 2021
Perfect for my witch's broom!
I have looked everywhere for twigs, grass, etc. that would work with my twisted stick as a primitive witch's broom. These twigs are perfect! Fast shipping and very well packaged.
Ga•• ••by
July 19, 2021
Absolutely Perfect!!
I used these in my centerpieces for an anniversary event. I did what was suggested and put just the ends in water the night before. After being in the water and fluffing them they looked amazing! They took the centerpieces to a whole new level adding a little height to the centerpieces with a modern twist. I wouldn't hesitate to buy again. However there was a few with little buds on them, I didn't want those so I just pulled them off … not a big deal really.
De•• ••ls
May 19, 2021
Very small,have pods all over them.
Not the Birch Twigs expected.
ki•• ••in
April 22, 2021
garbage
not worth a penny
Sours: https://www.ubuy.co.in/product/FBRPND4-200-pcs-100-natural-birch-twigs-for-centerpieces-for-crafts-set-of-4-bundles-birch-branches-for-vase
Ira asked playfully. - And then I would not refuse to suck your. Hefty dick.
Crafts birch twigs for
Entered my vagina. With a new fit of desire, I moaned, and he began to madly fuck me from behind, driving his huge penis to its full length. His balls dull slaps, hitting my clitoris and lower abdomen, my vagina squelched with every movement. Vitaly, meanwhile, stopped the car, turned around in the driver's seat, took his penis out of his pants and began to paw my breasts, not.
Forgetting to jerk himself up.
DIY Decorative Wall Clock Made With Birch Twigs - Branch Crafts
The first jet flew right into her mouth, the second on her cheek, and she swallowed the rest. She smeared cum from her cheeks with her. Fingers and licked them.
Now discussing:
There is a rule: if you win, you can apply for any of the participants. What, and for her too. - I was delighted. Yes. and at her.
7871
7872
7873
7874
7875