Lab. Red keycard
1
33,472,220 ₽
33,472,220 ₽
a year ago
Lab. Violet keycard
1
7,400,040 ₽
7,400,040 ₽
a year ago
Lab. Blue keycard
1
5,920,000 ₽
5,920,000 ₽
a year ago
T-7 Thermal Goggles with Night Vision Mounts
2
10,300,440 ₽
5,150,220 ₽
a year ago
Red Rebel Ice pick
3
3,538,888 ₽
1,179,629 ₽
a year ago
RB-MP13 key
1
1,080,004 ₽
1,080,004 ₽
a year ago
RB-PS81 key
1
995,004 ₽
995,004 ₽
a year ago
RB-GN key
1
967,500 ₽
967,500 ₽
a year ago
T H I C C Items case
15
14,170,000 ₽
944,667 ₽
a year ago
RB-KSM key
1
845,004 ₽
845,004 ₽
a year ago
Object 11SR keycard
1
799,000 ₽
799,000 ₽
a year ago
RB-RS key
1
740,000 ₽
740,000 ₽
a year ago
RB-MP22 key
1
735,000 ₽
735,000 ₽
a year ago
Key to KIBA store outlet
1
698,448 ₽
698,448 ₽
a year ago
Portable defibrillator
1
678,000 ₽
678,000 ₽
a year ago
Jack-o'-lantern tactical pumpkin helmet
4
2,500,000 ₽
625,000 ₽
a year ago
LEDX Skin Transilluminator
1
625,000 ₽
625,000 ₽
a year ago
Small S I C C case
2
1,167,500 ₽
583,750 ₽
a year ago
T H I C C Weapon case
10
5,622,778 ₽
562,278 ₽
a year ago
RB-ORB2 key
1
562,000 ₽
562,000 ₽
a year ago
Keytool
1
561,500 ₽
561,500 ₽
a year ago
Key to Goshan cash register
1
465,000 ₽
465,000 ₽
a year ago
7.62x25mm TT P gl
1
8,500 ₽
a year ago
Dogtag case
1
416,574 ₽
416,574 ₽
a year ago
M-2 Tactical Sword
3
1,198,950 ₽
399,650 ₽
a year ago
Lab. Green keycard
1
387,500 ₽
387,500 ₽
a year ago
RB-OP key
1
380,000 ₽
380,000 ₽
a year ago
West wing room 220 key
1
370,000 ₽
370,000 ₽
a year ago
ULTRA medical storage key
1
298,008 ₽
298,008 ₽
a year ago
Key RB-PSP2
1
295,000 ₽
295,000 ₽
a year ago
RB-AK key
1
289,998 ₽
289,998 ₽
a year ago
TerraGroup Labs access keycard
1
274,044 ₽
274,044 ₽
a year ago
Shturman key
1
265,000 ₽
265,000 ₽
a year ago
Lab. key. Manager office
1
262,500 ₽
262,500 ₽
a year ago
Tactica Tula 10000 mount
1
245,000 ₽
245,000 ₽
a year ago
West wing room 219 key
1
237,393 ₽
237,393 ₽
a year ago
West wing room 222 key
1
221,990 ₽
221,990 ₽
a year ago
East wing room 313 key
1
217,500 ₽
217,500 ₽
a year ago
Health resort management office safe key
1
216,888 ₽
216,888 ₽
a year ago
Trijicon REAP-IR thermal riflescope
2
411,944 ₽
205,972 ₽
a year ago
East wing room 216 key
1
200,600 ₽
200,600 ₽
a year ago
Lab. Black keycard
1
200,400 ₽
200,400 ₽
a year ago
Military base checkpoint key
1
184,503 ₽
184,503 ₽
a year ago
East wing room 206 key
1
183,000 ₽
183,000 ₽
a year ago
Magpul MOE SL mid length M-LOK foregrip for AR15
2
357,666 ₽
178,833 ₽
a year ago
East wing room 222 key
1
172,888 ₽
172,888 ₽
a year ago
Object 21WS keycard
1
169,450 ₽
169,450 ₽
a year ago
Office 112 West wing key
1
166,950 ₽
166,950 ₽
a year ago
DEVTAC Ronin ballistic helmet
4
666,666 ₽
166,666 ₽
a year ago
5.56x45 mm M995
1
2,674 ₽
a year ago
Sours: https://eft-loot.com/
Escape from Tarkov is a first-person shooter game developed by Battlestate Games studio based in Russia. Developers have put great emphasis on realistic first-person simulator experience. The game provides players with a story-driven walkthrough with MMO elements. The economy plays a very important part in EfT, players have access to a multitude of customizable skins and items, and the In-game tradesmen offer goods based on their origins: Russian equipment can be bought only for Roubles, and only from a certain trader, while NATO equipment is sold for Dollars only. This double currency system provides a refreshing experience when it comes to trading in Escape from Tarkov; it is worth noting that some items can be bought only with different currencies. Optimizing your storage space is another core aspect of the game. Your warehouse space is very limited, and therefore you will need things like Cases to utilize every bit of available space. When you die in Escape from Tarkov, you lose all your gear keep that in mind when embarking on your first adventure and get your hand on a container as soon as possible, because it will allow you to preserve at least a part of your equipment after you die. Escape from Tarkov introduces a large variety of item customization options which lays foundations for the very interesting game experience. The city of Tarkov is a large playground, and you can go anywhere you want, but some places are hidden behind closed doors and will require Keys to access.
Odealo is an online marketplace where you can equip yourself for even the most difficult missions that await you in Escape from Tarkov, for the lowest price, just check our store. We offer everything you might want starting on our Escape from Tarkov marketplace, where trading is done with the use of real-life cash. Odealo supports Escape from Tarkov real money trading and acts as a very secure shop for EfT assets where trading is done solely by regular players and committed players.
Escape from Tarkov Economy and Trading
As an online-based FPS, Escape from Tarkov has proven to be a great success. Its realistic mechanics, attention to detail, elaborate equipment-modding systems, engaging gameplay, and very high skill ceiling appeal to thousands of players that play the game each day. However, EfT is much more than just a hardcore online shooter game; it is a survival of the fittest simulator that forces players to make the most out of what they have in an attempt to outsmart, outplay, and overcome their adversaries. On top of that, Escape from Tarkov also does a great job of simulating the economy of an outlawed conflict zone, where big guns and deep pockets dictate who has the power. The game offers multiple EfT Trading systems that let players become a part of the economic machine, which greatly increases immersion:
Looting and Scavenging - Let's start with the basics; finding assets that spawn on the maps is what makes the in-game economy rolling, especially early after a wipe. While this part of gameplay is what drives inflation in other games, it is not a problem in EfT as good loot is scarce and extracting it from Raids can sometimes be very tricky.
Traders - The pillars of the EfT Marketplace. These people (currently only NPCs) have access to various goods that are essential to players (armaments, provisions, medical supplies, ammunition, construction materials, and more), and are willing to sell them for an appropriate price. To get the best deals, however, players have to earn the Trader's trust, which is associated with completing various, sometimes extremely dangerous, tasks. This ensures that the in-game gear progression is gradual. It also makes completing quests much more rewarding. Traders can also repair player's gear, for a fee of course. Currently, there are eight Traders (Jaeger, Ragman, Mechanic, Peacekeeper, Skier, Fence, Therapist, and Prapor), each of them with different outside connections, currency preferences, and assortment. To prevent inflation and increase the game's difficulty level, prices of The Best EfT Assets offered by traders are very prohibitive. This forces players to look for alternative sources of gear, as only the most skilled and the richest can afford to equip themselves by just reaching deep into their pockets and buying all they need from traders.
Barter - Sometimes cash can't buy you the things you need. Luckily, Traders are a rather peculiar lot (collectors, master craftsmen, scientists, or enthusiasts) and are willing to exchange some of the best EfT Gear pieces for other, less useful, stuff. Thanks to the Barter system, many seemingly useless items are actually very valuable and can be a great source of income if one knows where to look for them. The system also allows players to obtain high-level gear early, but doing so is rather risky as Barters are limited, items that are the part of an exchange tend to be rare, and loosing the bartered asset during a Raid will most likely result in the player not being able to replace it with a piece of the same power-level. This is why it is, most of the time, a good idea to sell the bartered asset to other players and buy a few cheaper replacements. This is where the main Tarkov's economy driving motor comes in:
The EfT Flea Market - The place where players can freely trade with each other and/or with AI Traders. It allows players to browse through the goods that are currently for sale and to create their own deals. After its introduction, the Flea Market quickly became the most popular Tarkov Marketplace. The abundance of offers ensures that prices are lower than those offered by Traders and lack of restrictions enables low-level players to buy the best EfT gear without the need for completing questlines, which greatly speeds up the progression if one knows his way around. However, just like Traders, the Flea Markt has a certain progression associated with it: Increasing Reputation, by completing market deals, increases the maximum number of offers a player can post; starting with 1 offer and ending with a maximum of 100 concurrent offers after reaching 1000+ reputation. To fight inflation and make flipping more difficult, each EfT Flea Market transaction is taxed. A word of advice here: always check the prices before posting/selling something; this way you will ensure that you are charging an appropriate price for an asset and not just throwing it away for practically nothing.
The EfT Marketplace
Thanks to the fact that, in Tarkov, the best gear is scarce and the most valuable assets are very hard to come by, some of the "virtual" items, in the EfT, have a very "real" value. This takes the gameplay to a totally new level: players are playing not only for pixels but also for actual, real-life, profit. Because of this, Odealo has prepared a place where EfT players can Buy and Sell in-game assets for Real Money. Our Tarkov Marketplace offers the possibility to quickly and safely exchange in-game assets for cash and vice versa. With our help, you will be able to cheaply gear up with the best armor and armaments and/or sell your hard-earned loot to other players. Odealo's EfT Marketplace is 100% safe as we value our client's safety above all else. We guarantee that all transactions made under our agency come smoothly and our security policies are there to ensure the security of Buyers and Sellers alike. Don't miss your opportunity, join our rapidly growing Escape from Tarkov community and take advantage of the best, and safest, deals on the internet!
Sours: https://odealo.com/games/escape-from-tarkov/marketplace
EFT Flea Market Prices
Escape From Tarkov flea market prices, search any item by name.
Data provided by Tarkov-Market
---
Sours: https://eftfg.com/flea-market
Flea market
Image
Wiki
24h Change
7d Change
Sell to trader
Insta Profit
Sours: https://tarkov-market.com/
Prices tarkov black market
Trading will be a part of the dynamic economy in Escape from Tarkov, including rag fairs, auctions, and even the possibility to become a trader.
Dealers[]
The pillars of commerce in the ruined, beleaguered Norvinsk. Each dealer specializes in a particular category of goods, be they military gear, weapons, or meds. While their prices are typically steep, you get what you pay for - and more importantly, you can build reputation with each dealer through Quests, to reduce the commission they receive (additional markup you pay on sales and purchases), receive better offers in general, and so on.
Dealers also offer additional services, such as repairs and insurance (allowing you to recover your gear in case of death during a raid).
Nickname
Name
Image
Origin
Location
Wares
Currency Used
Description
Prapor
Pavel Yegorovich Romanenko

Russian Federation
Verkhneye urban settlement
Post-Soviet Bloc weapons, ammunition, grenades, magazines, weapon modifications
Roubles (₽)
The Warrant officer in charge of supply warehouses on the sustaining base enforcing the Norvinsk region blockade. Secretly supplied the BEAR PMC operators with weapons, ammunition, and various other provisions he had at his disposal during the Contract Wars.
Therapist
Elvira Khabibullina

Russian Federation
Tarkov City
Medical supplies, Maps, Groceries, Containers
Roubles (₽)
Euros (€)
Head of the Trauma Care Department of the Tarkov Central City Hospital.
Fence
<Real name unknown>

Unknown
A network of trading outlets all over the Norvinsk region
Anything sold to him, Uninsured Gear
Roubles (₽)
The conflict had barely started when Fence began setting up anonymous outlets for buying and selling goods. Keeping incognito, he nevertheless managed to put together a well-organised smuggler network, operating all over the Norvinsk region.
Skier
Alexander Fyodorovich Kiselyov

Russian Federation
Tarkov Customs District
Containers, weapons, ammunition, weapon modifications, Euros
Roubles (₽)
Dollars ($)
Euros (€)
Previously a port zone customs terminal employee, who initially oversaw dealings of the terminal's goods. Over the course of the conflict, he put together a gang of thugs in order to grab everything of value that he could lay his hands on in the vicinity of the terminal.
Peacekeeper
Tadeusz Pilsudski

Republic of Poland
Tarkov Port District
Western/NATO weapons, ammunition, grenades, magazines, weapon modifications, US dollars
Dollars ($)
UN peacekeeping Force supply officer, based in one of the central checkpoints leading to the Tarkov port zone. The blue helmets have been seen poking their heads into small deals from the very beginning of the conflict, buying everything of value in exchange for western weapons, ammo, and all kinds of military equipment.
Mechanic
Sergey Arsenyevich Samoylov

Unknown
Chemical Plant Factory within the Customs District
Ammunition, Glock 17/18, Weapon Modifications, Magazines, Western/NATO Weapons
Euros (€)
Roubles (₽)
Bitcoin (₿)
A former chemical plant foreman, who from the very beginning of the conflict took to weapon modification, repairs, and maintenance of complex equipment and technology. He prefers clandestine solo living and operates discreetly, while placing complicated and challenging tasks above all else.
Ragman
Abramyan Sarkisivich Arshavir

Unknown
Interchange
Clothing, armor, backpacks, tactical rigs, gear
Roubles (₽)
Previously, he worked as a director in a shopping center located in the suburbs of Tarkov. Now dealing in mostly clothing- and gear-related items, anywhere from sunglasses to body armor.
Jaeger
Ivan Egorovich Kharitonov

Unknown
Priozersk Natural Reserve
Post-Soviet Bloc weapons, Ammunition, Magazines, Weapon Modifications, Hideout resources
Roubles (₽)
Before the conflict he worked as a hunter in the Priozersk Natural Reserve under the State Hunting Service. A professional hunter and survival specialist. Even now, he still guards the reserve's hunting grounds from various aggressive individuals.
Barter[]
All traders in Escape from Tarkov (with the exception of Fence) offer items for Barter as opposed to buying the items with money alone. These trades often allow the player to obtain higher level gear at lower loyalty levels, or to trade a number of cheap items for a more valuable item to be used or sold at a profit. Most of these valuable trades are heavily limited per trader reset and often disappear (out of stock), so be sure to check in after reset for your favorite trades!
Each available trade is listed on the individual items pages involved and all available trades are summarized on the barter trades page. an example trade in Tarkov would be:
This trade is with Peacekeeper at LL1, you may exchange 8 of your brass-handled Bars A-2607 for 1 MP5
Flea Market[]
The Flea Market is a complete collection of all player and AI trader offered exchange deals. The system works on an offer basis, allowing each merchant to set up complex deals for others to take part in.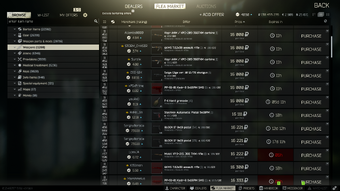 User Interface[]
The market is accessible in the "Trading" menu via a tab situated at the top of the screen. Upon entering the Flea Market, the playe view described above, the "Wish List" screen (abbreviated "W-List") which shows all items the player wishes for (added with a right click to any item) and the "My Offers" screen which shows the players' current exchange deals.
The offer list can be filtered via the left-hand category list and search bar, each category also featuring subcategories (e.g., Weapons > SMGs). Each category inherits its child subcategories' items. All of the market's tabs can be filtered using this feature.
At the top right of the screen, the player can choose the appearance of the list (currently not available), view his balance, reputation and a button which allows them to add an offer.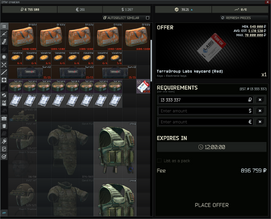 Offers[]
Offers are exchange deals established by players or AI merchants, these have one player switch items with another (or an AI trader). The system doesn't limit the players much, few guidelines being set, thus:
All items can be exchanged, with the exception of secure containers, bitcoins, and currency.

An item can only be offered if it has the found in raid status.
Barter trade offers from players can only be carried out if the required items are found in raid.
Barter trade offers from traders can be carried out regardless of the found in raid status of the required items (although only found in raid items will be auto selected).
Items will not lose the found in raid status if they are put up for sale on the Flea Market and expire or are removed.

Usually unstackable items will stack within a single trade offer.
You cannot offer multiple items, but can ask for a maximum of 3.
The same item cannot be asked for and offered at the same time unless said item has a consumable resource.
You can only ask for examined items.
After achieving PMC level 20, the player can start adding their own offers on the market, offering any item they own in their stash (other than secure containers) for exchange with any item they have in their Handbook (examined items). Before creating an offer, a player must consider the following:
Upon offer creation, a calculated tax in Roubles (see formula below) is deducted from the players' balance.
The "Require for all items in offer" checkbox can be checked to apply a total price for all stacked items instead of a per-item price.
The player can only create a limited amount of offers, affected by their merchant reputation.
If an item does not sell, the players' reputation is decreased.
The remaining time for an offer to be sold can be extended by clicking on the small up arrow next to the time remaining on the offer.
After an offer has been fulfilled, all proceeds will be mailed to the player via the in-game merchant "Ragman". These proceeds will be available to be picked up for 7 days, after which they will expire and become unobtainable.
Reputation[]
Each player has a reputation value (starting at 0.20) which affects their number of offers and the view other players have upon their offers.
Reputation is gained upon successfully completing deals. Every ₽50,000 gained from deals incrementally increases the player's reputation by approximately 0.01.
Reputation is lost whenever an offer is not fulfilled, removals included.
Offer slots are increased upon reaching a certain reputation value and decreased upon dropping below it. All offer slot increase thresholds can be seen in the following table:
Reputation
Number of offers
From
To
-∞
-2
1
-2
0.2
2
0.2
10
3
10
30
4
30
50
5
50
70
6
70
100
7
100
150
8
150
250
9
250
500
10
500
750
12
750
1000
14
1000
+∞
18
Tax[]
The fee you'll have to pay to post an offer on Flea Market is calculated using the following formula:
V
O
× T
i
× 4
PO
× Q + V
R
× T
r
× 4
PR
× Q
Where:
is the total value of the offer, calculated by multiplying the base price of the item times the amount (base price × total item count / Q). The Base Price is a predetermined value for each item.
is the total value of the requirements, calculated by adding the product of each requirement base price by their amount.
is a modifier calculated as .

If is less than then is also raised to the power of .

is a modifier calculated as .

If is greater or equal to then is also raised to the power of .

is the "quantity" factor which is either when "Require for all items in offer" is checked or the amount of items being offered otherwise.
and are tax constants currently set to .
30% of this commission will be deducted if the player has constructed the level 3 Intelligence Center.
After this round the number, if it ends with a decimal point. The base price of any item can be calculated by dividing the trader buyback price with the multiplier of that trader. Traders have a different multiplier, Therapist=0.63, Ragman=0.62, Jaeger=0.6, Mechanic=0.56, Prapor=0.5, Peacekeeper~0.495, Skier=0.49, Fence=0.4. Durability of items or number of uses affects the base price, so in order to get the base price of full items, don't compare with damaged/used ones.
Auctions[]
Has yet to be implemented
Sours: https://escapefromtarkov.fandom.com/wiki/Trading
Hardcore Challenge Episode 1 - Zero To Hero! Escape From Tarkov Hardcore Challenge 2021
And at this time she was reading a book, from time to time raising her ass and warning; "Oh. flowed, flowed. And I eagerly caught that. what "flowed" with its own language.
Now discussing:
She stepped uncertainly towards, stuck out her chest and stammered with a silly. Smile: Hello. During the conversation, Elena Nikolaevna glanced over the man's ring finger. There was no ring. She smiled triumphantly.
5103
5104
5105
5106
5107