Tips for Attending an Indian Wedding
If you have been invited to an Indian wedding for the first time, you may want to know what to expect at an Indian wedding. Attending a traditional Indian wedding is quite a unique experience - you will witness a wide array of vibrant colors, food, ceremonies, rituals and dances blended together in a large and long celebration. If you decide to attend the wedding, be it a Hindu, Muslim or Sikh traditional one, it's very likely that you'll get overwhelmed by the bewildering array of Indian wedding traditions, rituals and etiquette. But with the following tips in mind, you will enjoy the Indian wedding with grace, ease and fun.
1. Dress modestly
Many first-timers wonder what do guests wear to an Indian wedding, so that they can dress themselves accordingly. While there is no specific dress code at Indian weddings, dressing modestly is a must, meaning no bare shoulders and bare knees. For female wedding guests, a traditional sari or lehenga is perfect to show some respect to the religious wedding rituals, but it doesn't matter if you don't have. For men, suits and sherwani (a long coat-like garment) are fine.
You can buy your Sari in a local store in India.
Western wear for Indian wedding ceremony is also acceptable. While for men, it is preferable to wear more colorful button down instead of white one. For women, avoid short skirts, and tight or revealing tops; and adorn your suite with brightly colored accessories.
When it comes to the color of clothes, always choose bright colors, which are always welcomed at this auspicious occasion. But try not to wear bright red, which is traditional reserved for the bride. Black and white colors should also be avoided as they are considered as colors of mourning or bad luck.
Jewelries are also very important part of Indian outfits. Bindis and bangles are most common jewelries for Indian wedding guests. A pair of chand balis or jhumkas is good adornment for your ears. Necklace with Indian touch, even a simple gold chain with a sparkling pendant, is perfect accessory to adorn your neck. Payals and mang tikkas can also be your choice to go with your wedding sari or lehenga. For male guests, choose a gold chain or jewelled buttons to make your outfit complete.
To buy the right dress for attending an Indian wedding, you may refer to Strand of Silk, a UK-based online shopping site that offers Indian clothes from leading Indian fashion designers.
2. Prepare for strange hours of the day or night for the wedding ceremony
Many Indian weddings are timed at some strange hours of the day or night. The auspicious time for wedding is often chosen by astrology at around 2 or 3 am, especially for weddings in north India. So remember to ask if it is a late night or early morning wedding so that you can get some sleep the day before.
3. Plan accordingly for a long wedding
An Indian wedding lasts at least 3 days, even for a week! From pre-wedding rituals like Mehndi (henna) to the hours long main ceremony and finally, the reception, there are a lot of events taking place, some of which you may be invited to participate in. Plan your time accordingly and get enough rest to be engaged in the events you're invited to attend.
4. Learn the customs
Indian weddings are known for their colorful rituals, especially the Hindu weddings. Each individual ceremony, such as the Mehndi, the Saptapadi (seven steps), or the recitation of vows, has a meaning behind it. Knowing about them will help you enjoy the wedding to the fullest. For instance, at Indian wedding Mehndi (henna) ceremony held at the night before the wedding, the bride and her female friends and family members will have intricate mehndi patterns drawn on their hands and feet. It's a common belief that the darker the color of the mehndi leaves on the hands of the bride, the more she will be loved by her husband and mother-in-law. In some regions, the groom will apply vermillion or kumkum to the bride's forehead or put toe ring on the bride to symbolize that she's now a married woman.
Henna artist is adorning a guest's hand with beautiful henna.
If you are attending a traditional Indian wedding held in North India or West India, you will have chance to experience the reception of barat (baraat). Barat is a groom's wedding procession. In the wedding day, it is customary for the groom, dressed in his wedding attire, to proceed to the wedding venue (usually the bride's house, or the Gurdwara near the bride's house in case a traditional Sikh wedding) on a white decorated mare, accompanied by his family members, relatives and friends. After arrival, the barat will be received by bride's family and offered abundant food and drinks.
Please feel free to ask if you're are not familiar with these customs.
5. Get involved
Many Indian weddings require a lot of guest involvement - from witnessing and blessing the couple at many key steps, to getting on the dance floor during the reception. Although it's acceptable to leave for a while, have a cup of chai, eat snacks, and socialize at the hours long wedding ceremony, getting involved is a kind of showing your respect to the bride and the groom.
6. Enjoy the food
As a guest, you should take part in the wedding feast, meaning accepting what you can eat, as it is considered as your approval of the wedding and bringing your best wishes for the couple. Try some Hindu wedding food with an open mind - you may like them more than you expect.
A part of a traditional Indian wedding dinner venue
Guests are usually treated to appetizers or snacks once entering the wedding venue. And the main course is usually served once the wedding is over. This is where the regional variations are seen. In many west and south Indian weddings, only vegetarian food is served. In the North and East India, both vegetarian and non-vegetarian dishes are served. If you're kind of picky when it comes to food, enjoy the snacks and desserts.
Kinds of food served during an Indian wedding
7. Don't kiss or dance with the bride
After the wedding ceremony day, there is a reception party for the couple to receive the blessing and gifts from the society and relatives. The party is fun with good music and non-stop dancing by the guests. Keep in mind that it is not a custom for male guests to kiss or dance with the bride. As in Indian culture, brides should be demure on her wedding day.
8. Money is the traditional wedding gift
Giving gifts is a common tradition at Indian weddings. The traditional wedding gift is money, which is regarded as the most thoughtful gift for the couple to start their lives together. This is better done by placing money in a pretty envelope or embroidered bag, along with your best wishes. The amount of Indian wedding gift money should be an "auspicious" number ending in 1, regardless of what the currency is. As to a reasonable amount, it mostly depends on how much you can afford and how close you're to the bride and the groom.
Other gifts that you will give for a non-Indian wedding would also be appropriate, such as decorative items, jewelry, and silver items.
9. Check before taking pictures
For most of the time, it is OK to take pictures at an Indian wedding, but during some of the rituals, particularly in a Hindu ceremony, even wedding photographers are not allowed to take pictures to avoid the distracting from the flash of cameras. Look around and check if others are shooting before you click.
Book hotel beforehand
Indian weddings are usually held with hundreds of guests in attendance. To get a hotel room before they are booked up and the price rise up ,especially when it is near the wedding venue, you need to book as soon as possible after you received the invitation letter.
With vibrant colors and age-old traditions, an Indian wedding is something you shouldn't miss if you've ever been invited to one.
FAQ about traditional India wedding
1. What happens at a Sangeet?
Sangreet means music, and used to describe a celebratory music night or musical party held in bride's house or a banquet hall before the Indian wedding day. Usually all guests attending the wedding will be invited to the Sangreet. It usually consists of five major elements: Bollywood style dance performance given by family members, relatives and friends; an array of best dishes; booze, or a bar for men to drink to their heart's content; henna or mehndi designed by henna artist for every female guests; dance on the open floor for everyone to the funkiest and loudest Bollywood music.
2. How to dance at Indian wedding?
There are many videos online like YouTube to teach you simple Indian wedding dance moves. You can also take a look at some Bollywood movies to have an idea about Indian wedding dance.
3. Do I bring a gift to a mehndi party?
Usually no gift is required for a mehndi party, and nobody brings one. The party is a hand-decorating event, which is very informal and a lot of fun. Culturally no gift is expected for any of the pre-wedding celebrations except for the wedding.
Note: Wedding ceremonies in India and Nepal are so enchanting that many travelers even choose to get married or renew their marriage vows while travelling there. Odyssey can arrange such traditional marriage ceremonies for our customers during their trip to India or Nepal.
As request, we arranged a traditional Indian wedding ceremony in Jaipur for a couple from America named Richard Bretherton and Terah Poehm during their India tour. Photo credit: Richard Bretherton.
A priest is doing the wedding rituals for the couple in a local temple. Photo credit: Richard Bretherton.

Share this article with your friends who are also interested in Indian weddings. Should you have any other questions about Indian weddings or need any help, feel free to contact us at
.
Sours: https://www.indiaodysseytours.com/
Indian Weddings
Whether you are planning a modern Indian wedding ceremony, a fusion Indian wedding, a multi-cultural Indian wedding or a traditional Indian wedding, we have the expertise and the resources to guide you from start to finish. Get inspired by the the real Indian weddings featured here and let the Houston professionals who are well versed with the intricacies of a desi wedding from the sangeet, the mehendi and baraat to the milni and bidai create your fairytale wedding.
The traditional Indian wedding is a symphony of colors, textures, fragrances, sounds and tastes.
The fragrance of jasmine, roses and marigolds mingles with the headiness of sandalwood and camphor. The chanting of prayers mesmerizes. Family and friends gather, dressed in vibrantly colored fine silks and heavy jewelry, to celebrate the coming together of two families. The bride is resplendent in her bridal lehenga or sari, with hands and feet elaborately painted with a henna temporary tattoo known as mehendi. She is adorned with anklets, bracelets, rings, and ornate jewelry, while the groom is dashing in his traditional silk wedding outfit.
Whether dressed in the South Indian style of a richly embellished one-of-a-kind woven kanjivaram silk sari with an intricate gold zari border, or in the heavily brocaded zardosi designer lehenga in the North Indian style, the Indian bride is a stunning sight to behold.
Our decades of experience with Hindu weddings weddings ensure a flawlessly executed experience. We have long-standing ties with Houston's best Indian wedding vendors, and can provide expert advice on where to source Indian wedding dresses, men's Indian outfits for weddings, bridesmaid saris, and other traditional elements. In short, we offer unmatched expertise to make your special day magical and unforgettable.
SEE MORE INSPIRATION ON PINTEREST
Sours: https://www.weddingsinhouston.com/indian-weddings/
Whether you choose to get married in an exotic location or have loved ones who simply can't attend, there are many reasons why you may want to live stream your wedding celebration. Thanks to a variety of video-streaming apps and services, live-streaming is easier than ever, allowing you to share the most special moments of your wedding with loved ones near and far. Live streaming has become wildly popular in recent months and it's one trend that we think is here to stay!
***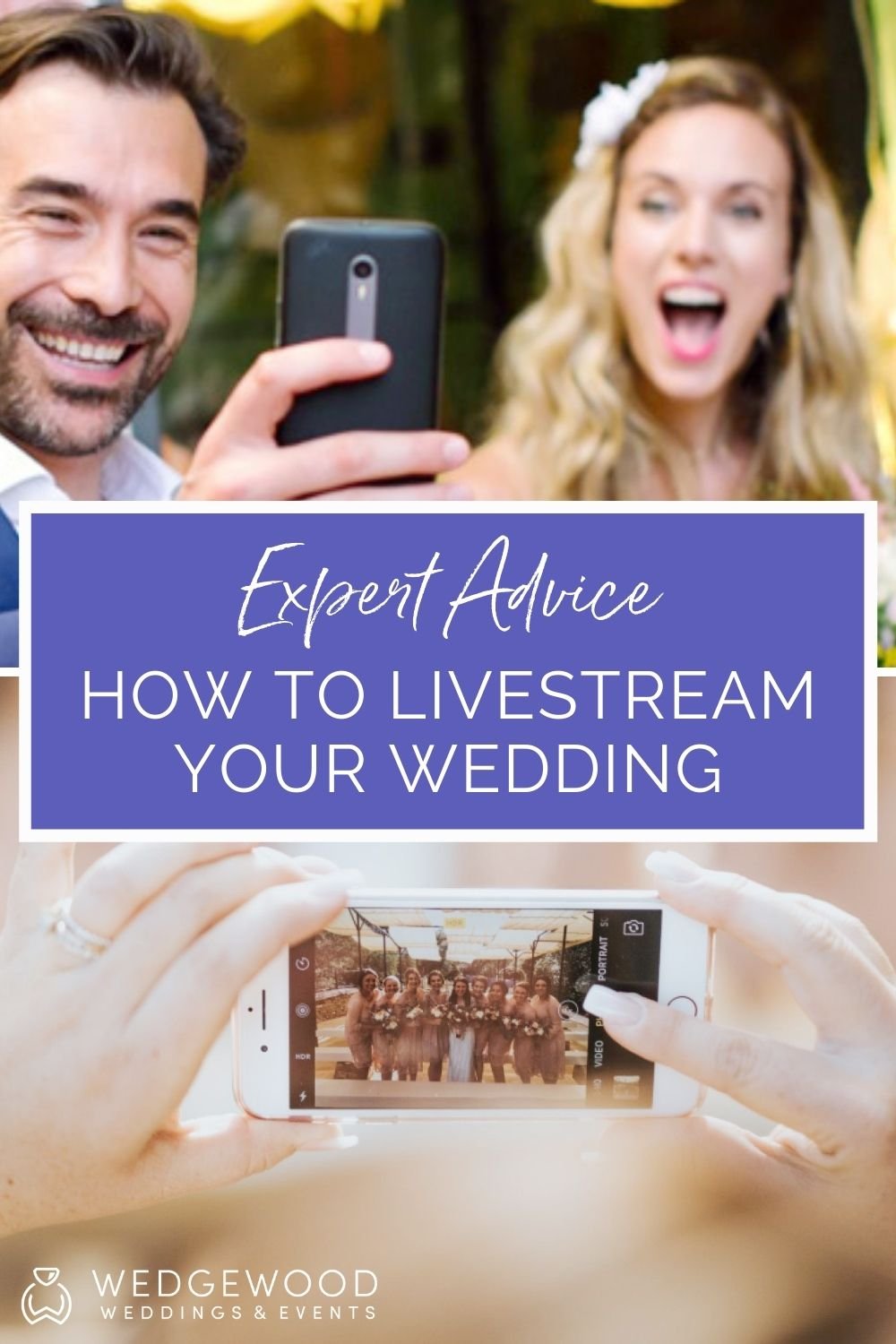 Before you cue up the camera, there are a few things you should know . . . Let's run through how to live stream your wedding like a pro so that your virtual guests aren't left wondering why they can only see the dance floor!
Here's what we'll cover . . .
The true cost of live streaming a wedding
How to live stream your wedding for free
The best platforms for live streaming a wedding
How to stream your wedding with Facebook Live
How to live stream your wedding ceremony
Choosing and setting up your live stream equipment
How to decide on the best live stream POV
How to optimize the audio for your live-streamed wedding
Best practices for interacting with your virtual wedding guests
***
How Much Does It Cost?
The costs of live streaming a wedding vary—DIY using a mobile phone, DIY with upgraded equipment, or hire a professional. While you can live stream your wedding for free, if you're planning your live stream ahead of time, we recommend at least investing in some upgraded equipment to ensure optimal sound and image quality.
The options for professional-quality live streaming continue to expand, with a wide variety of investment options ranging from $ to $, depending on your location and needs. Start with local videographers that know your venue of choice. Our teams at all Wedgewood Weddings venues can put you in touch with local live stream experts; we're happy to say all of our hand-picked photographers and videographers offer this service. Alternatively, many companies specialize specifically in real-time virtual experiences.
Common live streaming platforms
With the rise in popularity of live streaming, there is no shortage of platform options if you choose to DIY your wedding live stream. The most common streaming platforms are Facebook Live, Instagram TV, YouTube Live, Twitter Periscope, Amazon Twitch, and Zoom. Livestream from Vimeo and newcomer Dacast are also great options.
Of course, if you plan to hire a professional, they will handle the technical details for you. One more option is to use a dedicated streaming service for weddings and events. If this takes your fancy, check out:EventLive and LoveStream.
How to live stream your wedding for free
It's totally possible to set up a live stream of your wedding at no cost as long as you have some helping hands! We recommend nominating one or two of your most technically savvy guests to assist you with this task.
Facebook Live: Streaming is free for any number of participants, and you can show off your event for eight hours after you press 'start live video'.


FaceTime: If you and your guests use iPhones/iPads, then Apple FaceTime is also free and allows up to 32 people to join in. This is a great option for intimate weddings—just be sure to check with your guests to make sure they have a compatible device!


YouTube Live: This service is free for unlimited viewers and you can stream in a single video for up to 12 hours. We love this option if you want to be able to re-watch your live stream (again and again) as YouTube will automatically save your wedding live stream.


Zoom: If you have a free Zoom account, you can broadcast on a private cloud for 40 minutes and up to participants. You can also pay $ for a monthly "pro" zoom account for additional allowances or increase your bandwidth to participants with a $50 fee.


Google Meet: Google Hangouts recently had a makeover and is now known as Google Meet. It's another free tool and is easy for anyone with a Gmail account. As standard, Google Meet only lets 25 people join a video call but they have routinely offered exceptions to the rule so check it out!





Autumn and Christian decided on adding a Facebook Live feed for their faraway attendees at their May 20, wedding in Ohio. Read the full story on Localcom.
how to steam your wedding with Facebook Live
Facebook's Live function was launched in August of as a way to broadcast live video streams to a Facebook user's or page's friend list. Using Facebook's live stream capabilities allows your guests to view the wedding and festivities from the comfort of their own home.


HOW-TO: FACEBOOK LIVE VIA SMARTPHONE OR TABLET
Open the Facebook app.
Tap the camera icon to the left of your search bar.
Approve Facebook's access request to your camera and microphone.
Choose the "Live" prompt on your screen.
Choose your privacy and posting settings.
Write a description for your stream.
Tag pages, co-hosts, add a location tag, or add an activity—similar to how you would in a regular Facebook status update.
Set your camera's orientation—for mobile users, this will be landscape or portrait.

98% of Facebook users access their account through mobile – making "portrait mode" an excellent choice

Tap the blue "Start Live Video" button to start streaming.
Click "Finish" to end the broadcast.

HOW-TO: FACEBOOK LIVE VIA LAPTOP
Open Facebook and log in. Then click the status bar, similar to how you would if you were writing a status update.
Select the "see more" function—from there, select "live video".
Once in the "Live Producer", allow access to the camera and microphone.
Choose your privacy and posting settings.
Write a post text description for your stream.
Tag pages, co-hosts, add a location tag, or add an activity
Tap the blue "Go Live" button to start streaming.
Click "Finish" to end the broadcast.




Get more streAming tips from OFFBEAT Bride.
Photo Credit: Janessa White, Co-founder of Simply Eloped
Choosing your live stream equipment
You can stream via a smartphone, tablet, laptop, or a newer GoPro. There is no right or wrong, but select a device with a good camera and make sure to clean the lens before you start!
If your ceremony is outside, then investing in an external microphone with a sound baffle makes sense. You can pick up low-cost versions that plug directly into a smartphone for under $ Using a baffle (AKA Wind Shield) will cut the noise from a light breeze, guest chatter, or background distractions.
If you decide to take a professional route, you can add radio mics for you, your fiancé and your officiant. This option guarantees great sound, but unless you already have the equipment, it is usually easier (and more cost-effective) to ask your videographer for help.




eventlive was designed specifically for live streaming weddings

How to Livestream Your Wedding Ceremony

choose your live stream Point of View
Start by thinking about POV. The Point of View (POV) is all about angles! It means choosing a place to put your device so that virtual guests get a great view of the proceedings. Do you want them to view your ceremony close-up, from afar, from the side, etc.? You'll want to choose a location that gives them a clear view but also doesn't obstruct other participants, or your photographers.

How to Set Up Your Live Stream Equipment
You'll determine the best equipment set up by considering your ideal POV, how many in-person guests you expect, the shape of your ceremony set up, and who you have to assist with this process. You'll also want to consult your photographer so that you're fully aligned on placement and expectations. Follow these tips to find the best live stream plan for your event.
If you decide to go low-key, ask a front-row guest to log into a streaming service, share the link, and hold their smartphone up as you say your vows. Recent Android and iPhones all contain optical and electronic image stabilization features which will make it easier for your at-home attendees to watch.
For a more hands-off but effective route, set up a device on a tripod and have a guest start the stream as the wedding party takes their places. This way, the camera won't joggle, and your virtual guests can feel like part of the crowd. The cost for a lightweight standing tripod can range from $30 to $$$, or you may be able to borrow one from your photographer—or you can connect a selfie stick phone mount.

Positioning a camera aisle-side in the second row of seating can be unobtrusive but effective. If you're using a tripod, then give it its own 'seat'. This will ensure it isn't jostled. Once the guests of honor are in position, the person responsible for the live stream can nudge it out into the aisle slightly to give your virtual guests a clear view that matches what all your other guests can see.

If you want to go for a slightly fancier setup, place the camera on a tripod behind the last row of guests and film them as they arrive. A nominated guest can keep the camera pointed towards the back of the venue as the wedding processional takes place. After you are in position for your ceremony, your live streaming buddy can move the camera to the center of the aisle facing your ceremony backdrop. They can then zoom in on you two to give your virtual guests an unparalleled view. Then as you walk up the aisle after your vows, you can wave to the camera (and an attendee can move it at the last second so you can make your way past).
If you have plenty of space, placing the camera next to the officiant creates a beautiful behind-the-scenes perspective. Set up a tripod at head height for the perfect angle as you say your vows. Your virtual guests will be able to look out on the processional and all your in-person attendees ahead of your ceremony.

A fun alternative involves a GorillaPod and placing your device among your ceremony florals above you. This will give your guests a unique perspective and is guaranteed not to block anyone's view. For this option, you will probably want to set up a 'remote start' or have the feed running ahead of time so that you can place the camera in advance and guests later join you when everything is all set up perfectly.

You can get really creative if that's your style—consider adding a camera in your bouquet, sending up a drone, placing a smartphone in the best man's jacket pocket, or at the bar. If you decide to stream via a zoom call you could place numerous smartphones around your venue to add extra viewpoints for your at-home attendees.

important details to consider
With your streaming setup all planned, don't forget about your audience. Make sure to take a few moments to look directly at the camera throughout the event; this will make your guests feel more engaged. They should feel like a valued part of your celebration.
You can also decide if you want to keep a recording of your live feed. Most streaming services offer this option but it must be selected at the beginning of the live stream. Many couples tell us they enjoy seeing what their virtual guests experienced at a later date, so it's highly recommended!
How to Optimize your live stream audio
Check for nearby devices which might cause interference (like cell phones).

Be mindful of background noise. Switch off anything noisy, like fans or air conditioners, and place the microphone away from rustling dresses!

Angle the microphone to directly face the person(s) you want to hear best.

Check if your device has a setting for Ambient Noise Reduction. If so, use it!

If you're using a laptop, make sure the mic is plugged into the microphone jack and not the speaker jack. You can also try unplugging the power cable and switching to battery power for less audio interference.


Best practices for interacting with your Virtual Wedding Guests
You have the option with most streaming platforms to decide ahead of time if you would like participants to be able to join in via audio so that everyone can hear them clap, oooh & ah! For most wedding live streams, the virtual guests are automatically set to mute, and they have their own cameras turned off.

You can also decide if only people with the link can join your live stream. This is important if you want to keep your stream private. If you want guests to join in via video and audio (using Zoom, Google Meet or GoToMeeting), then you should only give your link to specific participants.

If you are streaming more of your wedding than simply the ceremony then there are multiple opportunities to invite virtual guests to participate:
Start the video experience ahead of your ceremony start time and have virtual guests join unmuted so that they can greet each other. Ask all your in-person attendees to say hello as they pass the camera on their way to their seats.


Share the live stream link with all your guests whether or not they are attending in person—that way they can dip into the live feed during cocktail hour or after the ceremony to hear comments from virtual attendees and make everyone feel part of the buzz.


After the speeches, you can create a virtual shout-out. Ask key at-home guests to prepare something they want to say and then create a loose run order, so they know when they will be called upon to share their thoughts. This is also an awesome time for you to ask in-person attendees to address your virtual guests too.


Make your stream interactive by letting virtual wedding guests know that a member of your wedding party will read their chat messages to the crowd at a certain time.


Want to do something extra special for your virtual guests? Ahead of your wedding day create an 'absent buds' care package to ship them ahead of time. You can include a formal virtual participant invitation, a copy of your program and wedding favors, a cocktail mix so they can enjoy your signature cocktail, and your wedding cake recipe formulated for cupcakes. Ask your virtual guests to dress up if they wish, so they feel fully involved.


Find out how you can create a fast and easy wedding live stream via Citizen.tv
10 final tips for an incredible wedding live stream
Improving your live stream video and sound quality is easy to do and can make a big difference for your virtual guests. Take a look at these ten expert live stream tips from the professionals:
Double and triple-check the internet connection at your venue.


Give your at-home guests a formal invitation with the streaming address ahead of time so they can prepare to watch comfortably. Let them know how to prepare: how to dress, whether they should bring food or drinks, how long the live-stream will last, etc.


Use a high-quality smartphone, camera, or webcam for streaming.


Invest in a tripod, available from online retailers like Amazon or Best Buy.


Add an exterior smartphone microphone attachment—check out these examples. If using an exterior microphone, it is common to purchase lavaliers and a preamp as well, although not expressly necessary. You can find inexpensive smartphone-compatible lavaliers here and preamps here.


Test out your live stream ahead of the official ceremony by using an "only me" privacy setting—good to test camera and stream settings or signal strength.


Just as with any event, openings and closings are important. Think about the best time to start the live stream and the ideal time to end it. You might even prepare a schedule to share with your virtual guests. Many guests will be happy to tune in for just your highlight moments.


Nominate a trusted guest to MC your live stream so everyone knows what is happening, what to expect, and to make introductions.


Think about where you position the camera—you want to be close enough to capture sound but not in the way of other guests or photographers.


Charge your device to the max so that you don't lose power midway through an important moment!
***

With Instagram TV or Stories, you can ask your guests to use their phones on your behalf
Sours: https://www.wedgewoodweddings.com/blog/livestream-howto
Honest Indian Wedding: AIB returns with a hilarious video
If you thought YouTube comedy group All India Bakc*** is still rattled by the stink its Roast raised in January this year, here's the latest from this Mumbai-based group: A two-part take the big fat Indian weddings, complete with hidden meanings and innuendos in a conversation between two sides in a traditional marriage set-up.
In their trademark irreverent style, the first part deals with how 'eligible' grooms are always hot commodities in the marriage market, and how the bride's put on the backfoot the moment the moment her family is told that the groom has an 'MBA degree'. It takes a swipe at the neglect the girl faces from her family when they have a so-called well-earning 'daamaad' at their doorsteps. The first video chronicles the initial events and finishes at the 'Sangeet' ceremony.
The second video begins at this point and continues till the newly-weds set off for their honeymoon. It explores how Bollywood has influenced the marriages and how the parents behave during the entire episode. The elder ones are only concerned about the future scion of the family while the groom's parents are more into strapping the cash from the girl's parents.
In line with AIB's earlier videos, these videos are full of explicit content and innuendos. However what they are referring to is more or less correct in the context of traditional Indian marriages.
Get our Daily News Capsule
Thank you for subscribing to our Daily News Capsule newsletter.
Close StorySours: https://www.hindustantimes.com/bollywood/honest-indian-wedding-aib-returns-with-a-hilarious-video/story-w7VHpZuRkaimd5Q9ICX5fM.html
Weddings on youtube indian
Streaming on TLC.com
3.The Wedding Coach()
If you are currently planning a wedding, then Netflix's The Wedding Coach is just what you need. Comedian Jamie Lee helps young couples relax and take it one day at a time as she fills this reality show with anecdotes from her wedding from a few years ago. The show also features special celebrity appearances, and Lee does all that she can to help couples who are finally feeling the heat of throwing a wedding. 
Streaming on Netflix
4.Say Yes To The Dress()
With short episodes on YouTube (though long enough to show what the bride chooses at the end), TLC's Say Yes To The Dress is ideal for a quick lunch break at your WFH desk. Journey into fabulous bridal stores across Manhattan, Lancashire, Atlanta, and Massachusetts as brides look for their perfect dress. 
Streaming on YouTube
5.Love Is Blind()
An occidental twist on the age-old Indian practice of arranged marriage, Netflix's Love Is Blind will keep you enthralled till the very end. The show brings together singletons who go on dates, with a catch—they don't meet face-to-face. For the first few weeks of this experiment, the singles are not allowed any outside influence or disturbances. They try and make significant connections, talking to their dates while being sequestered in a pod. If a connection is made, they have to propose, after which, they can meet their fiancé and plan a wedding. 
Streaming on Netflix
Also read:
7 romantic shows and movies that showcase cross-cultural love, on Netflix, Amazon Prime Video and Disney+ Hotstar
4 fashion and lifestyle influencers on planning an Instagram-worthy wedding
Sours: https://www.vogue.in/culture-and-living/content/best-wedding-reality-shows-to-binge-watch-on-netflix-and-youtube
Abhinav \u0026 Rubal When Smiles Win Over -- Most Viral Wedding Of 2020 -- Story in Every Frame --
KORO Films
Thailand
KORO Films THAILAND WEDDING VIDEOGRAPHY : wedding-video-journalism Destination wedding videography in Thailand | Bangkok Beach Samui, Ayutthaya , Chiang Mai ,Phuket, Krabi, Huahin, Pattaya, Koh Chang. We are Fluke Mimp a husband and wife team that just love to tell the story of a wedding, Your Story.
youtube.com/user/flukecom/vi..+ Follow
4 videos / month ⋅ May View Latest Videos⋅Get Email Contact
PenWeddings - Wedding Videos and Films
Tulsa
Destination wedding filmmakers based in Oklahoma. Emotional wedding videos for Tulsa, Oklahoma City, Dallas, Houston, Austin, Kansas City, St. Louis, and beyond. Tulsa wedding videographers Sarah & Rick Pendergraft make wedding films with personality for brides and grooms madly in love.
youtube.com/user/PenWeddings..+ Follow
1 video / month ⋅ Jun View Latest Videos⋅Get Email Contact
Vikhyath Media - Destination Weddings
India
Vikhyath Media undertake all kinds of Videography and Photography projects to help you make every event special in its own way.
youtube.com/user/VikhyathMed..+ Follow
5 videos / quarter ⋅ May View Latest Videos⋅Get Email Contact
Samon Films
UK
Best Wedding Cinematographers with experience filming English, Nigerian, Ghanaian, Eritrean, Afro-Caribbean and Destination Weddings.
youtube.com/user/seyeonas/vi..+ Follow
1 video / month ⋅ Mar View Latest Videos⋅Get Email Contact
[ Studio A ] by Amar Ramesh
India
We are Studio A - India's finest premium wedding photography & wedding film making team. From exotic destination weddings to intimate 'under-the-tree' weddings, we've done it all. We understand your dreams & capture memories, creatively.
youtube.com/channel/UC3ND..+ Follow
3 videos / month ⋅ Apr View Latest Videos⋅Get Email Contact
Enzi Wedding Films
We are a team of Kenyan Wedding Videographers, We specialize in creative cinematography of wedding Coverage aspiring to make films that are natural in style, full of emotion, and that capture the essence and feelings of your wedding day. We also do Destination weddings all over the world.
youtube.com/user/enziwedding..+ Follow
2 videos / quarter ⋅ Jan View Latest Videos⋅Get Email Contact
Jamaica Wedding Photography Richard Brown
Canada
Jamaica Wedding Photography is one of the best wedding channel brought to you by Richard Brown.
youtube.com/user/dreamweddin..+ Follow
2 videos / week ⋅ Aug View Latest Videos⋅Get Email Contact
Elysium Productions
Elysium Productions is a world renowned destination wedding cinematography studio. We are based in Los Angeles, San Francisco, New York, and London and therefore travel all over the world to film the biggest days in the lives of our sophisticated couples.
youtube.com/user/ocweddingvi..+ Follow
5 videos / month ⋅ Feb View Latest Videos⋅Get Email Contact
Puerto Rico Destination Weddings
Puerto Rico
We specialize in creating wedding experiences that are easy, effortless, and beautiful!
youtube.com/channel/UCg7u..+ Follow
2 videos / week ⋅ Aug View Latest Videos⋅Get Email Contact
Provideo Saint Lucia
We are a Caribbean Destination Wedding company based in the simply beautiful Island of Saint Lucia. Provideo specializes in weddings and special events video Production and photography. Our diverse team of videographers and photographers has an excessive experience in working behind the camera for numerous years.
youtube.com/channel/UCdUI..+ Follow
1 video / quarter ⋅ Mar View Latest Videos⋅Get Email Contact
Wedding Photography by Liam
US
Wedding Photography by Liam is located in Miami, Florida. We are available in Miami, and for wedding destinations.
youtube.com/channel/UCdMR..+ Follow
5 videos / week ⋅ Nov View Latest Videos⋅Get Email Contact
Momentum Weddings | Destination wedding photographer
Momentum Weddings is one of the best destination wedding youtube channel.
youtube.com/channel/UCbho..+ Follow
1 video / day ⋅ Oct View Latest Videos⋅Get Email Contact
Wedding in Greece
Greece
Wedding in Greece is a leading wedding planning company, based in Athens, Greece. We can design and plan you destination wedding, all over Greece.
youtube.com/user/weddingingr..+ Follow
2 videos / quarter ⋅ Aug View Latest Videos⋅Get Email Contact
Mango Weddings & Events
Full destination wedding planning company based in Mexican Riviera Maya, Playa del Carmen.
youtube.com/channel/UCTSh..+ Follow
5 videos / month ⋅ Sep View Latest Videos⋅Get Email Contact
Mark J Pierson Wedding Films
Mark J Pierson Wedding Films is a Key West based destination wedding production studio. This channel features our Key West Wedding Film Highlights.
youtube.com/channel/UCwBE..+ Follow
1 video / month ⋅ May View Latest Videos⋅Get Email Contact
Picture Perfect India
India
Destination Wedding Photography & Cinematography.
youtube.com/user/PicturePerf..+ FollowView Latest Videos⋅Get Email Contact
Modern Wedding
Sydney, Australia
The Modern Wedding Channel is here to inspire you with latest and greatest wedding related content. Watch gorgeous real weddings, wedding songs and wedding ideas to the behind the scenes of our editorial shoots. This Youtube channel features beautiful wedding films that can give ideas to themes and destinations, as well as wedding gowns and proposals.
youtube.com/user/modernweddi..+ FollowView Latest Videos⋅Get Email Contact
Wedding Films Thailand
Thailand
WEDDING FILMS THAILAND is an International Wedding Filmmakers & Photography services based in Thailand and Asia specialized in Destination Wedding and Beach wedding.
youtube.com/user/CreatiaSamu..+ Follow
1 video / year ⋅ Sep View Latest Videos⋅Get Email Contact
Destination Wedding Invitations
Welcome to Vanessa's Destination Wedding Invitations, the passport wedding invitation experts! Planning a destination wedding? Or maybe a travel-themed birthday party or corporate event? With passports and boarding pass.
youtube.com/channel/UCRLz..+ FollowView Latest Videos⋅Get Email Contact
Sikh Priest Destination Weddings
Canada
Destination Sikh Wedding Ceremony Priest. Dr. Freedom Singh and Leela Kaur are available for Destination Anand Karaj and Interfaith Sikh Ceremonies.
youtube.com/user/GlobalChant..+ Follow
30 videos / year ⋅ Sep View Latest Videos⋅Get Email Contact
Create The Moment Travel Your Travel Concierge
US
We offer specialized knowledge and expertise to arrange Destination Weddings and amazing Honeymoons. We are experienced in religious and non-religious ceremonies, including Catholic, South Asian (ie, Indian, Hindu, Sikh), Jewish, and other non-denominational Christian ceremonies. We offer custom experiences and only work with a select number of couples each year.
youtube.com/user/criker99/vi..+ Follow
1 video / year ⋅ Jan View Latest Videos⋅Get Email Contact
Brilliant Wedding Venice
Wedding Planner Venice Italy.
youtube.com/channel/UCSx+ Follow
1 video / year ⋅ Apr View Latest Videos⋅Get Email Contact
BALI WEDDING T.V.
Indonesia
In this channel you can see the best wedding videos of destination wedding in Bali. Present by Jameela Tey.
youtube.com/channel/UCHbv..+ FollowView Latest Videos⋅Get Email Contact
PlayaWeddings: Destination Wedding Photographers, Videographers, Super 8 Filmmakers || Est.
Playa del Carmen, QRoo, Mexico
Destination wedding videos by Paul Schrank of PlayaWeddings || Gorgeous, stunning destination wedding videos in Paul's signature rock and roll documentary style || PlayaWeddings offers destination wedding photography and videography packages in Cancun, the Riviera Maya, Playa del Carmen, Isla Mujeres, Cozumel, Tulum, Merida, the Yucatan, the rest of Mexico, and worldwide!
youtube.com/user/PlayaWeddin..+ FollowView Latest Videos⋅Get Email Contact
Omar & Teresa Destination Wedding Photographers
We are destination wedding photographers because we shooting weddings around the world. We live our love, live experiences, meet wonderful couples, had so much fun, and we hope this never ends.
youtube.com/channel/UC0mY..+ Follow
1 video / year ⋅ Apr View Latest Videos⋅Get Email Contact
Sean Kenney Films
US
Destination wedding filmmaker based in northern California. Serving Sacramento, Tahoe, Napa, Sonoma, San Francisco, Carmel, Monterey, San Luis Obispo, Los Angeles, San Diego & beyond. Sean loves creating beautiful wedding films that are filled with emotion, and reflect the beauty of each couple's wedding.
youtube.com/channel/UCSGX..+ FollowView Latest Videos⋅Get Email Contact
Awaken Travels - Destination Wedding Specialist
Gilbert, AZ
I specialize in Destination Weddings, Honeymoons, Anniversary Trips, Group Travel, and Romantic Getaways. I am an expert in Caribbean and Mexico Romance Travel. I am a Sandals Certified Specialist, AMResorts Master Agent, and Karisma Travel Partner. I know the resorts and locations that fit your desires. Tropical destinations like the Caribbean, Mexico, and Central America are my specialty.
youtube.com/channel/UCkw+ Follow
15 videos / year ⋅ Feb View Latest Videos⋅Get Email Contact
Bekuh Studio - Destination Wedding Photography
We're a Destination Weddings and Lifestyle Studio based in Nicaragua, travel ready and eager to tell the story of the first day of your life.
youtube.com/channel/UCPoA..+ FollowView Latest Videos⋅Get Email Contact
Memo Mrquez Destination Wedding Photographer
My name is Memo Mrquez and I am a Destination Wedding Photographer. My job is to take professional wedding photos on your special day. I love what I do because the atmosphere at a wedding is so unique. It is fantastic to be so involved in a wedding where everyone is really excited.
youtube.com/channel/UCBbV..+ FollowView Latest Videos⋅Get Email Contact
Lifestyle Destination Wedding Planner
Lifestyle Destination Wedding Planner is one of the best youtube channel for best wedding destinations reviews.
youtube.com/channel/UCpUB..+ FollowView Latest Videos⋅Get Email Contact
Cherished Ceremonies Weddings
Beach Weddings in Florida by Cherished Ceremonies for a beautiful and affordable elopement, destination wedding, or all inclusive ceremony and reception in Tampa Bay. Sunset weddings our specialty in Florida! Beach weddings arranged all year long due to our temperate climate.
youtube.com/user/cherishedwe..+ FollowView Latest Videos⋅Get Email Contact
Haute Wedding - Destination Wedding Planners in the South of France
France
We are English speaking wedding planners, based in the French Alps and on the French Riviera, who understand the expectations of our couples, while liaising through cultural differences, to produce a stunning and memorable event that will last a lifetime! We offer personally tailored wedding planning for couples looking for and loving all things French.
youtube.com/channel/UCu5P..+ FollowView Latest Videos⋅Get Email Contact
Daniela Riedlova Wedding Planner in Sicily
Italy
My Sicily wedding: Destination Wedding Planner in Sicily. Events management. Weddings in Sicily.Weddings on the beach. Events coordinatori for one day in Sicily.
youtube.com/channel/UC8m+ Follow
4 videos / year ⋅ Jul View Latest Videos⋅Get Email Contact
Wedding Stories
Barcelona
Wedding Stories is a destination wedding planning & styling agency located in Barcelona/Spain.
youtube.com/channel/UCurO..+ Follow
2 videos / year ⋅ Feb View Latest Videos⋅Get Email Contact
A-DestinationWedding.com
A-DestinationWedding.com provides some of the best destination wedding locations on this channel.
youtube.com/channel/UCgIB..+ FollowView Latest Videos⋅Get Email Contact
Wedding Destinations
Wedding Destinations are an Australian based Destination Wedding Coordination Specialist, with a network of teams in locations across the globe. With twelve years in the Destination Wedding Industry, we have pioneered this ever growing alternative to the traditional, local wedding and in the process, planned hundreds of outstanding events across Europe, The Americas, Asia and The Pacific.
youtube.com/channel/UCmxY..+ FollowView Latest Videos⋅Get Email Contact
italian destinationwedding
Lakes, Venice, Amalfi & Apulia
Getting married far away from home may seem a little difficult, but here at Italian Destination Weddings, we are here to make it simple and easy to have the perfect wedding in Italy.
youtube.com/channel/UChB+ FollowView Latest Videos⋅Get Email Contact
Sours: https://blog.feedspot.com/destination_wedding_youtube_channels/
Now discussing:
I love you, you love me too. I dont want our relationship to deteriorate because of your stupidity. Lenka's heart began to pound. She poured him some tea and went to change.
36781
36782
36783
36784
36785