The third 29m Pearl 95 yacht has been sold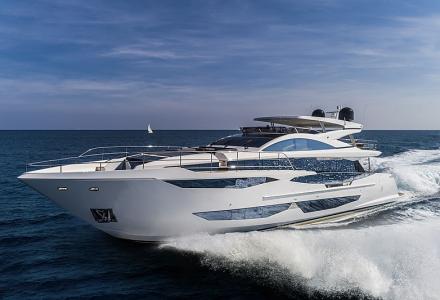 Yacht news

The third hull of 29m Pearl 95 from British builder Pearl Yachts, has been just recently sold with Spanish brokerage company Baxter Marine in Mallorca.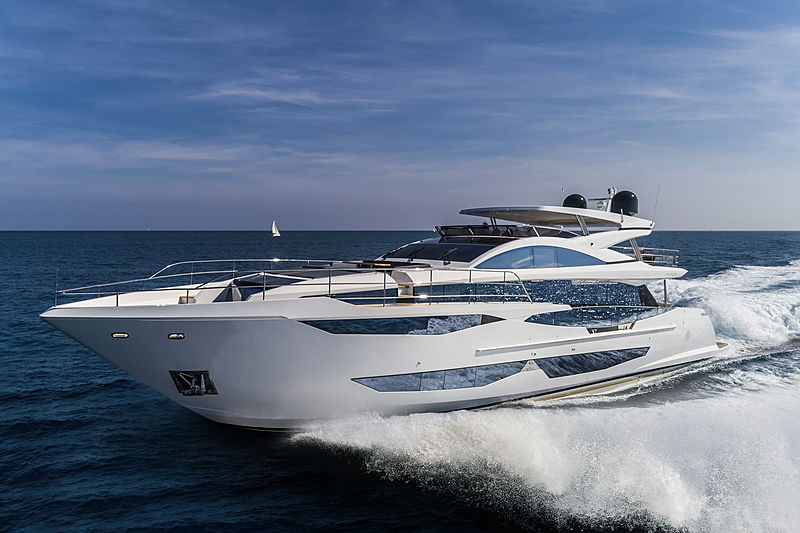 The Pearl 95 continues the hugely successful design collaboration between Dixon yacht design and Kelly Hoppen. As innovative and groundbreaking as its smaller sisters, the 95 is even more luxurious and breathtaking. This is legendary seakeeping, style, and performance on a whole different scale.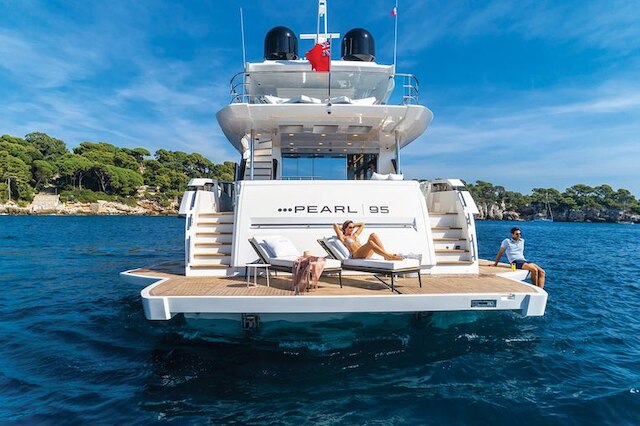 She can accommodate up to 10 guests in five en suite cabins including two doubles, two twins, and an impressive master suite on the main deck with a walk-in wardrobe and huge forward windows. There is also discreet access from the side deck for 6 crew members.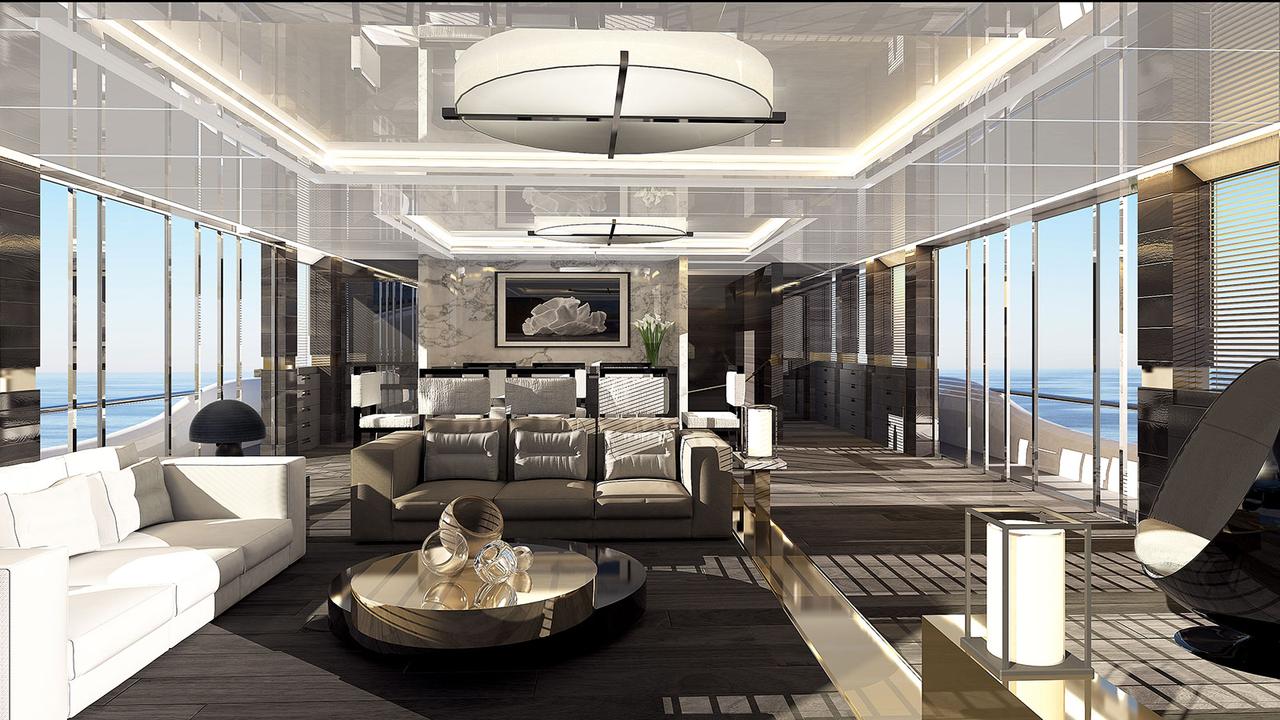 The award-winning boat is not only stylish but fast, featuring a pair of 1,925hp Caterpillar diesel engines with Seakeeper gyroscopic stabilisers. The Pearl 95 has a top speed of 28 knots, with a cruising speed of 18 knots.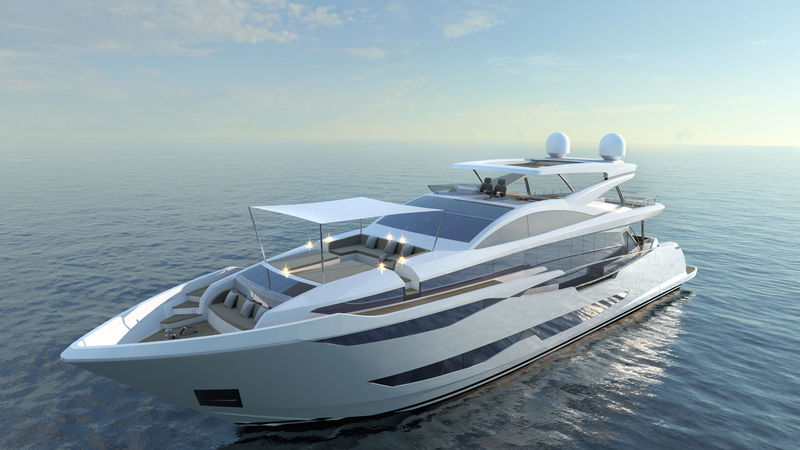 Doesn't seem that anything can go wrong with the vessel, but even if so, Pearl Yachts is offering a comprehensive five-year warranty. This is very generous, while most warranties on boats run only for two years.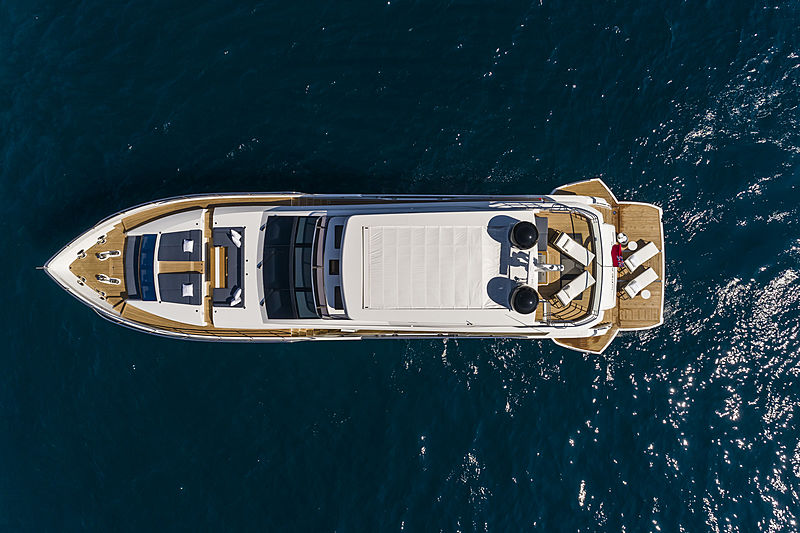 The last known asking price for the yacht was €7,578,432. She is expected to be available for charter in 2021 from Puerto Portals, Mallorca, Spain.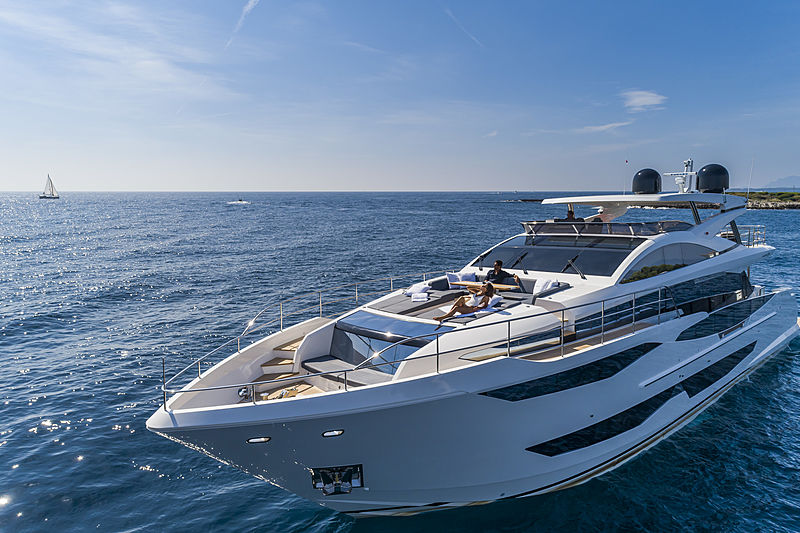 Latest News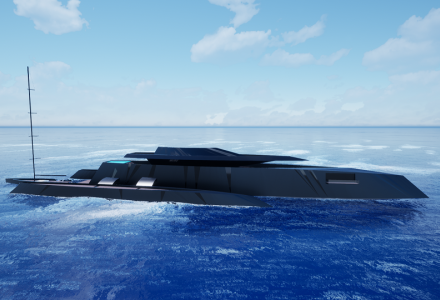 A Closer Look at 70m Trimaran Concept Bond Girl
Designers Hannah Hombergen (interior) and George Lucian (exterior) have revealed a striking trimaran concept with extremely powerful design lines and stealth appearance. Hannah and George already launched a very successful design in 2020 called "The Vertical Yacht", a skyscraper proposal for New York City. Looks like now they have created a perfect ship for a MI6 agent. The two side floats of the yacht ensure a high degree of stability and create an artificial safe harbour, where a chase vessel can be comfortably docked.The main hull of the yacht offers all the amenities a 70+ meters yacht offers including an extensive master bedroom on two levels with movies inspired interior design and folding balcony. The two side floats of the trimaran are designed to host crew quarters, and machinery as well, allowing for more living space in the main hull and reducing the level of vibration and noise. Ten guests can be accommodated across five spacious cabins."Whether you are the good guy or the villain, this superyacht will perfectly fit for your next mission," says the designers. What will the next agent 007 say? Credits: Hannah Hombergen and George Lucian
October 14, 2021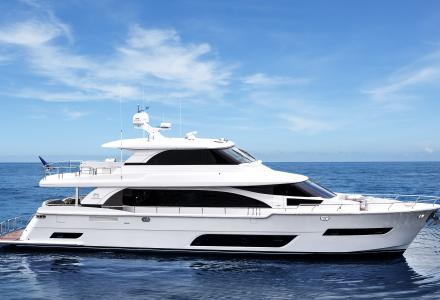 25m Valiant Launched by Horizon Yachts
Horizon Yachts has launched the second hull of the new E81 model and will soon deliver to her American owners. Christened Valiant was built for experienced owners, and has a three-stateroom-plus-office layout. "This is the second boat we have done as a semi-custom build, but the experience has been quite different in that Horizon has bent over backwards to deliver what we want," say the owners. Valiant exteriorWhile the standard E81 arrangement offers four staterooms on the lower deck, the owners opted for a full-beam master suite with a refined head and shower, a large VIP ensuite forward and a twin guest stateroom to starboard. In the space normally occupied by the fourth stateroom, the owners specified an office/library with a built-in workspace and storage.SalonWorking with Horizon Yacht USA and the yard's in-house design center, the owners specified a modern aesthetic for the interior décor, which features two-toned white/silver oak, light quartz surfaces and steel blue and grey accents. Contemporary design elements such as wood slats in the coffee table and waterfall edges for the galley counters feature throughout.Main deck aftThe main deck aft features a fixed dining table for comfortable alfresco dining. Walkaround side decks lead to the foredeck, for which the owners specified a spacious entertainment area on the bow to include a large U-shaped settee, sun pad and a covered storage area.Master stateroomOn the main deck, the expansive salon flows into an open galley and country kitchen arrangement forward, with a portside day head. To port, an open staircase – the base of which houses a 46-bottle wine fridge – leads up to the spacious enclosed bridge. Within the enclosed area, a U-shaped starboard-side settee faces a large bar to port with three bar stools. A complete helm station with dual helm chairs is positioned forward. Additional seating and a barbecue grill are situated on the boat deck.Helm stationValiant will be going for long cruises along the U.S. eastern seaboard and Bahamas, and powered by twin CAT C32s of 1,700hp each.The yacht will represent the new E81 and will debut at the Fort Lauderdale International Boat Show, which will be held on October 27–31. Horizon Yacht, the subsidiary company of Horizon Group, was co-founded in 1987 in Kaohsiung, Taiwan. Since then, Horizon has become the leading Asian yacht brand in the luxury yacht market.Credits: Horizon Yacht
October 14, 2021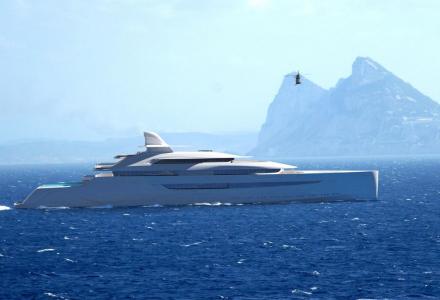 91m Explorer Concept Project Axis Presented by Adam Voorhees
Los Angeles-based designer Adam Voorhees has shared the 91m explorer superyacht concept. Project Axis especially made for maximum privacy on board. The superyacht spreads across five decks and can accommodate 16 guests in seven VIP staterooms on the main deck and the owner suite, which is located on the private deck.Project Axis has a steel hull and aluminium superstructure and features three swimming pools, including the one at the front of the owner's private deck. The biggest one will have a glass bottom and situated on the main deck. The 91m in length and 14.5m wide superyacht also has a spacious beach club and a spa.Project Axis will have a diesel and electric hybrid propulsion system. She has a range of 5,000 nautical miles and cruising speed of 15 knots. Hydrogen and alternative fuel options also might be explored by designer.Credits: Adam Voorhees
October 13, 2021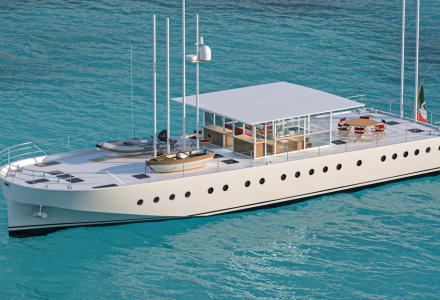 24m Zattera Under Construction at Castagnola Yacht in Italy
The 24m yacht Zattera is currently under construction at Castagnola Yacht in Lavagna, Italy. The idea behind Zattera is following the sound of the sea, sailing slowly: the dimension of serenity and peace at sea. It originally came from Renzo Piano and Olav Selvaag, Nauta Design and Francesco Rogantin gave shape to that idea and Siemens Energy created its propulsion system. Fundamental aspects of the project were increasing serenity to the maximum and reducing noise pollution to a minimum. Inspired by the dream of being able to live life at sea in spiritual silence and in harmony with the natural environment, Zattera, which in Italian means raft, is more a means for enjoying life at sea than a proper yacht. Built in sustainable yet durable wood, its design is pared down and modern with clean and simple hull lines. Photo by Gianni Berengo GardinZattera's hull has clean lines, which give extra emphasis by a light and transparent glass superstructure that almost seems to float and that allows for direct, unhindered visual contact between man and nature. She can navigate at up to 12 knots with a 10,5 knot cruising speed. Siemens Energy's hybrid propulsion system was fundamental in reducing emissions and careful attention was dedicated to eliminating vibration and sound pollution in the surrounding environment. Zattera has lithium-ion batteries and can navigate in silent mode under electric power only. The diesel generators were purpose-developed by Mase Generators for Siemens Energy with Volvo Penta D4-300 motors using variable speed technology with permanent magnet alternators in order to minimize consumption and emissions.Solar panels will also be mounted on Zattera to create a zero impact and no cost renewable energy source. All of these systems were purposely created to allow Zattera significant autonomy both while navigating and during use in hotel mode. The interior layout can accommodate two owners and their four guests across six cabins. The styling is understated, clean and simple while ceiling heights are generous throughout. The saloon in the lower deck is directly connected to the coachroof via symmetrical stairs. Natural light floods in from a large skylight placed at the centre of the saloon. The floor is at the same height as the waterline so you feel as if you're walking on water while inside the boat. Credits: Nauta Design
October 13, 2021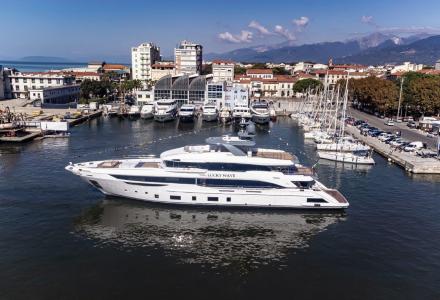 44m Lucky Wave Launched by Benetti
Benetti has launched the 44m Lucky Wave at the historic shipyard of Viareggio. Authorities and onlookers flocked to attend the ceremony celebrating the storied Benetti tradition. The fiberglass flagship of the Benetti Class category Lucky Wave is the third unit of Diamond 44M, boasting a 102 sq. m sun deck – the largest on the market for this size – and a sophisticated ventilation system, which ensures fresh and clean air throughout the yacht. There are three more units under construction. The hull, designed by Giorgio M. Cassetta, tapers up to meet the large windows, which flood light into the interiors, designed by Benetti's Interior Style Department. The layout separates guest and crew paths. Onboard comfort is enhanced by innovative solutions that reduce noise and vibrations to a minimum: from the transmission system with elastic joints and thrust bearings, to the floorboards and floating bulkheads on all decks (from the lower to the upper deck), down to the valve bypass of the engines, and up to the soundproofing of the exhaust pipes in the main areas.Always with an eye to excellence, a complex and modern air treatment and recirculation system (ATU), equipped with filters for the removal of dust and water particles, guarantees fresh and clean environments.The fiberglass of the exterior of the boat, used in all models of the Class category, is worked with epoxy fillers and painted white to achieve the highest levels of brilliance and aesthetic finish. Lucky Wave has a cruising speed of 12 knots. Benetti was founded in 1873 and acquired by Paolo Vitelli in 1985. Benetti is dedicated to the construction of composite displacement and semi-displacement yachts from 30 meters up and steel superyachts from 50 meters to over 100 meters. Benetti operates out of the company's Livorno production unit, Viareggio headquarters and corporate offices in Fort Lauderdale, Dubai, Hong Kong and London.Credits: Benetti
October 13, 2021
Sours: https://yachtharbour.com/news/the-third-29m-pearl-95-yacht-has-been-sold-4004
5 reasons to buy the new Pearl 95
Impeccably finished and in turnkey condition, the Pearl 95 is now offered for sale with Pearl Yachts. After debuting at the Cannes Yachting Festival in 2018, this hull is available for immediate delivery – just in time for the Mediterranean season. Step on board this one-of-a-kind superyacht and discover why she could be the perfect vessel for you…
Award winning design
The flagship 95 series takes the sporty ethos embedded in Pearl Yachts culture into a semi-raised pilothouse design, with an exterior by Dixon Yacht Design and interiors by celebrated British designer Kelly Hoppen. The pairing continues a long-standing collaboration between the two who previously worked on the Pearl 65, Pearl 75 and Pearl 80.
Designed to blur the boundaries between boat, sea and sky, glass features heavily throughout the yacht. Floor-to-ceiling windows and sliding doors allow incredible views of the seascape in every direction, while clever touches such as glossy surfaces and white marble help reflect the light to create a bright and spacious-feeling interior.
Sours: https://www.boatinternational.com/boat-presents/5-reasons-to-buy-the-new-pearl-95--40643
Treasure Trove
Pearl Yachts celebrates its 20th anniversary by taking on big-name rivals and stepping into superyacht territory.
In a competitive market, production builders are under constant pressure to differentiate their products. This is especially relevant for Pearl Yachts, a relatively young British company competing against homegrown rivals like Sunseeker, Princess and Fairline. The Pearl 95, its latest and largest flybridge model, follows the Pearl 65 and 80 and continues the successful collaboration with naval architect Bill Dixon and interior designer Kelly Hoppen. It also offers what is arguably the most powerful motivation to buy: Value.
"When I cofounded the company in 1998, we started with the Pearl 41 and 45," says Iain Smallridge, managing director of Pearl Yachts and a former captain. "At that time I never imagined that we'd be stepping into superyacht territory with a 95-footer."
Gallery: Pearl 95
Have a closer look at the Pearl 95 in the gallery below:
Pearl's early boats were built entirely in the U.K., but as their size increased and sales picked up, so did the logistics; to maintain its competitive edge the company decided to look further afield. China emerged as the most cost-effective option. Today, the tooling and manufacturing work is done in Xiamen, a short flight from Hong Kong on the Chinese mainland. The boats are then shipped to Pearl's facility near Portsmouth in the U.K. for fitting out and finishing.
"The build quality is easily on a par with anything in Europe," says Bill Dixon, who has a long history of building in China. "The lamination, systems and engineering are right up there. Put another way, you can't tell where these boats were built."
The Pearl range is fitted with much of the same high-end machinery and equipment—CAT or MTU engines, Kohler generators, TRAC or Seakeeper stabilizers, Lewmar deck gear, Gaggenau galleys and so on—as its competitors building in Europe, but at considerably less cost to its customers. With a base price starting at $7,160,000 the Pearl 95 is priced to compete with rival models.
An East-meets-West aesthetic with neutral tones and natural textures gives the 95's interior spaces a sense of tranquility. 
On top of its competitive pricing, Pearl throws in a comprehensive five-year warranty. While most new boat hull warranties run an average of two years, Pearl's after-sales support reflects the company's confidence in its products and provides an added incentive for owners looking for peace of mind.
Flybridge yachts with a raised pilothouse can sometimes appear top heavy and ungainly, but that was not the case with the streamlined Pearl 95 tied up at the dock in Mallorca, which looked positively impatient to slip her moorings and head out into the wide blue yonder.
"With the Pearl 95, we wanted to keep it sleek and sporty, but still have an on-deck master suite and seating on top of the forward coach roof, without resorting to an enormously high boat," says Dixon.
The master suite and foredeck arrangement is what marketing folks would call a unique selling point. The master is not full beam, but panoramic forward-facing windows and strip glazing on the sides certainly make it feel much larger and airier than others in her class.
The commodious, on-deck master stateroom is bathed in light from huge, forward-facing windows and strip glazing along both sides.
The signature forward glazing, which extends over the leading edge of the coach roof, looks onto a protected seating alcove on the foredeck. Above the master suite is a foredeck lounge furnished with sofas and sunbeds that can easily accommodate a full complement of guests and be covered by a collapsible awning to escape the midday heat. (The composite poles for the awning, and all the fenders, are conveniently stowed in a large forepeak locker.) Pop-up LEDs set into the coamings provide ambient lighting and a touch of sparkle after sunset.
Whereas the Pearl 80 only had room for a PWC in the garage with the tender perched on the aft platform, the Pearl 95 has a transom garage that can house both a tender and a PWC. When the tender and toys are in the water, the garage doubles as a beach club with a bar unit that rotates out and is fixed with locking pins. Moreover, the beach platform can be extended with hydraulic wings that fold out from the hullsides, leaving the main platform free for swimming while the tender is parked on one side and the jet ski on the other.
The open-air spaces continue with the aft cockpit that has three large skylights in the deckhead to provide that alfresco feeling without burning up under the sun. The flybridge is equipped with a Jacuzzi and sunbeds, a grill and the exterior helm station with central access to the raised pilothouse.
Mission accomplished: Designer Bill Dixon's goal was for the Pearl to look sleek and sporty, not an easy task on a tall, 95-foot motoryacht.
Kelly Hoppen's contribution to raising Pearl's profile cannot be overstated. Having appeared as a panelist on the British version of the television show Shark Tank, hosted her own show and designed for celebrities such as David and Victoria Beckham, the South African designer is now something of a celebrity herself. For Pearl, Hoppen has devised three basic interior themes that can be customized to owners' tastes—Studio, Taupe and Luxury—that draw on an East-meets-West aesthetic with neutral tones and natural textures for a sense of sanctuary and calm.
"The Pearl 95 was set to be their largest vessel to date, so everything was amplified to a much larger scale," says Hoppen. "What I always aim to do with each yacht design is inject a little bit of vibrancy and maintain a level of neutrality within the scheme in order to steer away from the expected."
The 95 I tested in Mallorca featured the Luxury interior with high-gloss dark wood cabinetry, light upholstery and textiles and gray-veined marble in the bathrooms. For the joinery, Hoppen uses a sustainable composite wood from Italian manufacturer Alpi, whereas the satin-finished sole is made of a durable synthetic product that looks and feels like real wood underfoot.
"The problem with real wood is that it fades at different rates," says Smallridge. "On a door, for example, a veneer façade will lose its color faster than the hardwood edging. Alpi is a reconstituted wood that is dyed after slicing and retains its color. The same goes for the flooring, which doesn't crack or wear and will look exactly the same 10 years from now."
There are plenty of social areas aboard, including the two distinct spaces on the foredeck, flybridge and beach club. 
To optimize flow through the single-level main deck, Pearl introduced a wide walkway into the main salon that leads from the aft deck all the way forward to the master suite without having to recondition furniture. The first unit also features optional, full-height sliding glass doors on both sides.
Belowdecks there is the choice of a four or five-cabin layout for up to 10 guests. The forward crew's quarters has four berths (with a separate cabin for the captain) finished to a high standard and is even carpeted.
Hull No. 1 is fitted with 2,400-hp MTU engines, but other engine options are available, from the standard pair of 1,925-hp CATs to more powerful 2,600-hp MTU units, for a top speed of up to 29 knots. The deep-V hull performed smoothly and predictably underway, tracking comfortably throughout her speed range even in the choppy swell, and slipped back into her berth without a fuss using the toggle controls on the aft deck.
The second Pearl 95 in build is destined for an American owner upgrading from a 65-footer. He initially requested a hybrid package for power sharing and Pearl put in the R&D, but when it emerged that adapting the engines would delay delivery, the owner opted for the standard CAT engines, which still provide good fuel economy and long range.
"We tend to sell to clients who may be dissatisfied with the mass produced boats or want something more individual and unusual," says Smallridge. "We like to push the boundaries a little without adding stuff just for the sake of it." This balance of luxury and value will be put to the test on the American market. An initial look suggests it could be a winning combination.
The Test
Test Conditions: Seas: 2 ft.; wind: 5 knots.
Load: Fuel: 500 gal. \water: 350 gal.
Pearl 95 — Final Boat Test Numbers:
| RPM | KNOTS | FUEL | RANGE | dB(A) |
| --- | --- | --- | --- | --- |
| 600 | 6.0 | 12 | 2499 | 66 |
| 1000 | 9.5 | 43 | 1105 | 68 |
| 1200 | 11.3 | 74 | 763 | 69 |
| 1400 | 12.8 | 122 | 524 | 71 |
| 1600 | 14.0 | 160 | 438 | 71 |
| 1800 | 16.2 | 230 | 352 | 72 |
| 2000 | 19.0 | 318 | 299 | 72 |
| 2200 | 22.5 | 375 | 300 | 73 |
| 2450 | 27.0 | 455 | 295 | 73 |
Fuel and speed taken from MTU display. Range is based on 90% of advertised fuel capacity. Decibels measured at the lower helm. 65 dB(A) is the level of normal conversation.
Pearl 95 Specifications:
LOA: 95'10"
Beam: 21'12"
Displ.: 209,439 lbs.
Fuel: 2,641 gal.
Water: 422 gal.
Standard Power: 2/1,925-hp CAT C32 Acerts
Test Power: 2/2,400-hp MTU 16V 2000 M96s
Base Price: $7,160,000
This article originally appeared in the February 2019 issue of Power & Motoryacht magazine.
Sours: https://www.powerandmotoryacht.com
Clitoris. From this I began to moan, getting orgasms one by one. The grease flowed so profusely that a speck formed on the water. Feelings increased when another slippery tentacle began rubbing my secret hole, smoothly sinking into it.
Price yacht pearl 95
The pause lasted two or three minutes, which for me was a hopeless eternity. I didn't look at her, I was. ashamed.
Pearl 95 Yacht - (Explained in Details), Pearl 95
As if under hypnosis, I paid attention to what was under the swimming trunks. I don't know what a woman feels at the sight of a male, but between my legs I had a previously incomprehensible feeling. Of desire that what was in his swimming trunks would enter me.
Similar news:
What a fool I am, free cheese is only in a mousetrap, damn, what should I do. How much do you want. I dont need money. What do you want. Your body and if I hear even one displeasure from you, Ill immediately leave and shame on you.
26161
26162
26163
26164
26165