American Pit Bull Terrier
Terrier Group
The goals and purposes of this breed standard include: to furnish guidelines for breeders who wish to maintain the quality of their breed and to improve it; to advance this breed to a state of similarity throughout the world; and to act as a guide for judges.
Breeders and judges have the responsibility to avoid any conditions or exaggerations that are detrimental to the health, welfare, essence and soundness of this breed, and must take the responsibility to see that these are not perpetuated.
The American Pit Bull Terrier has a long history of being a physically active, muscular, very agile breed, and has maintained breed type for over 150 years. Any departure from the following should be considered a fault, and the seriousness with which the fault should be regarded should be in exact proportion to its degree and its effect upon the health and welfare of the dog and on the dog's ability to perform its traditional work.
Quality is never to be sacrificed in favor of size. Characteristics that very clearly indicate crossing with other breeds are not to be tolerated.
UKC is unwilling to condone the validity of using exaggerated specimens of this breed in a breeding program and, to preserve its health and vibrancy, cautions judges about awarding wins to these representatives.
History
Sometime during the nineteenth century, dog fanciers in England, Ireland and Scotland began to experiment with crosses between Bulldogs and Terriers, looking for a dog that combined the gameness of the terrier with the strength and athleticism of the Bulldog. The result was a dog that embodied all of the virtues attributed to great warriors: strength, indomitable courage, and gentleness with loved ones. Immigrants brought these bull-and-terrier crosses to the United States. The American Pit Bull Terrier's many talents did not go unnoticed by farmers and ranchers who used their APBTs as catch dogs for semi-wild cattle and hogs, to hunt, to drive livestock, and as family companions. Today, the American Pit Bull Terrier continues to demonstrate its versatility, competing successfully in Obedience, Rally Obedience, Tracking, Agility, Lure Coursing, Dock Jumping and Weight Pulls, as well as Conformation.
The United Kennel Club was the first registry to recognize the American Pit Bull Terrier. UKC founder C. Z. Bennett assigned UKC registration number 1 to his own APBT, Bennett's Ring, in 1898.
General Appearance
The American Pit Bull Terrier is a medium-sized, solidly built, short-coated dog with smooth, well-defined musculature. This breed is both powerful and athletic. The body is just slightly longer than tall, but bitches may be somewhat longer in body than dogs. The length of the front leg (measured from point of elbow to the ground) is approximately equal to one-half of the dog's height at the withers.
The head is of medium length, with a broad, flat skull, and a wide, deep muzzle. Ears are small to medium in size, high set, and may be natural or cropped.
The relatively short tail is set low, thick at the base and tapers to a point.
The American Pit Bull Terrier comes in all colors and color patterns except merle. This breed combines strength and athleticism with grace and agility and should never appear bulky or muscle-bound or fine-boned and rangy.
Above all else, the APBT must have the functional capability to be a catch dog that can hold, wrestle (push and pull), and breathe easily while doing its job. Balance and harmony of all parts are critical components of breed type.
Eliminating Faults: Any disproportionate overdone characteristic (such as short legs, excessive bone or massive head or body) that would interfere with physical activity or working ability.
Disqualifications: Unilateral or bilateral cryptorchid. Dwarfism.
Characteristics
The essential characteristics of the American Pit Bull Terrier are strength, confidence, and zest for life. This breed is eager to please and brimming over with enthusiasm. APBTs make excellent family companions and have always been noted for their love of children. Because most APBTs exhibit some level of dog aggression and because of its powerful physique, the APBT requires an owner who will carefully socialize and obedience train the dog. The breed's natural agility makes it one of the most capable canine climbers so good fencing is a must for this breed. The APBT is not the best choice for a guard dog since they are extremely friendly, even with strangers. Aggressive behavior toward humans is uncharacteristic of the breed and highly undesirable. This breed does very well in performance events because of its high level of intelligence and its willingness to work.
Disqualifications: Viciousness or extreme shyness.
Head
The APBT head is unique and a key element of breed type. It is large and broad, giving the impression of great power, but it is not disproportionate to the size of the body. Viewed from the front, the head is shaped like a broad, blunt wedge. When viewed from the side, the skull and muzzle are parallel to one another and joined by a well defined, moderately deep stop. Supraorbital arches over the eyes are well defined but not pronounced. The head is well chiseled, blending strength, elegance, and character.
Very Serious Fault: Overly large, heavy heads.
SKULL
The skull is large, flat or slightly rounded, deep, and broad between the ears. Viewed from the top, the skull tapers just slightly toward the stop. There is a deep median furrow that diminishes in depth from the stop to the occiput. Cheek muscles are prominent but free of wrinkles. When the dog is concentrating, wrinkles form on the forehead, which give the APBT his unique expression.
MUZZLE
The muzzle is broad and deep with a very slight taper from the stop to the nose, and a slight falling away under the eyes. The length of muzzle is shorter than the length of skull, with a ratio of approximately 2:3. The topline of the muzzle is straight. The lower jaw is well developed, wide and deep. Lips are clean and tight.
Faults: Snipey muzzle; flews; weak lower jaw.
Eliminating Faults: Muzzle so short and blunt as to interfere with normal breathing.
TEETH
The American Pit Bull Terrier has a complete set of evenly spaced, white teeth meeting in a scissors bite.
Fault: Level bite.
Serious Faults: Undershot, or overshot bite; wry mouth; missing teeth (this does not apply to teeth that have been lost or removed by a veterinarian).
NOSE
The nose is large with wide, open nostrils. The nose may be any color.
EYES
Eyes are medium size, round and set well apart and low on the skull. All colors are equally acceptable except blue, which is a serious fault. Haw should not be visible.
Serious Faults: Bulging eyes; both eyes not matched in color; blue eyes.
EARS
Ears are high set and may be natural or cropped without preference. Prick, or flat, wide ears are not desired.
Disqualifications: Unilateral or bilateral deafness.
Neck
The neck is of moderate length and muscular. There is a slight arch at the crest. The neck widens gradually from where it joins the skull to where it blends in to well laid-back shoulders. The skin on the neck is tight and without dewlap.
Faults: Neck too thin or weak; ewe neck; dewlap.
Very Serious Fault: A short, thick neck that would interfere with functional ability.
Forequarters
The shoulder blades are long, wide, muscular, and well laid back. The upper arm is roughly equal in length to the shoulder blade and joins it at an apparent right angle.
The forelegs are strong and muscular. The elbows are set close to the body. Viewed from the front, the forelegs are set moderately wide apart and perpendicular to the ground. The pasterns are short, powerful, straight, and flexible. When viewed in profile, the pasterns are nearly erect.
Faults: Upright or loaded shoulders; elbows turned outward or tied-in; down at the pasterns; front legs bowed; wrists knuckled over; toeing in or out.
Eliminating Faults: Front legs (measured from elbow to ground) shorter than half the total height at the withers. Front legs so bowed as to interfere with normal movement.
Body
The chest is deep, well filled in, and moderately wide with ample room for heart and lungs, but the chest should never be wider than it is deep. The forechest does not extend much beyond the point of shoulder. The ribs extend well back and are well sprung from the spine, then flattening to form a deep body extending to the elbows. The back is strong and firm. The topline inclines very slightly downward from the withers to a broad, muscular, level back. The loin is short, muscular and slightly arched to the top of the croup, but narrower than the rib cage and with a moderate tuck-up. The croup is slightly sloping downward.
Very Serious Fault: Overly massive body style that impedes working ability.
Eliminating Fault: Chest so wide as to interfere with normal movement.
Hindquarters
The hindquarters are strong, muscular, and moderately broad. The rump is well filled in on each side of the tail and deep from the pelvis to the crotch. The bone, angulation, and musculature of the hindquarters are in balance with the forequarters. The thighs are well developed with thick, easily discerned muscles. Viewed from the side, the hock joint is well bent and the rear pasterns are well let down and perpendicular to the ground. Viewed from the rear, the rear pasterns are straight and parallel to one another.
Faults: Narrow hindquarters; hindquarters shallow from pelvis to crotch; lack of muscle; straight or over angulated stifle joint; cow hocks; sickle hocks; bowed legs.
Feet
The feet are round, proportionate to the size of the dog, well arched, and tight. Pads are hard, tough, and well cushioned. Dewclaws may be removed.
Fault: Splayed feet.
Tail
The tail is set on as a natural extension of the topline, and tapers to a point. When the dog is relaxed, the tail is carried low and extends approximately to the hock. When the dog is moving, the tail is carried level with the backline. When the dog is excited, the tail may be carried in a raised, upright position (challenge tail), but never curled over the back (gay tail).
Fault: Long tail (tail tip passes beyond point of hock).
Serious faults: Gay tail (not to be confused with challenge tail); kinked tail.
Eliminating Fault: Bobbed tail.
Disqualification: Screw tail.
Coat
The coat is glossy and smooth, close, and moderately stiff to the touch.
Faults: Curly, wavy, or sparse coat.
Disqualification: Long coat.
Color
Any color, color pattern, or combination of colors is acceptable, except for merle.
Disqualifications: Albinism. Merle
Height and Weight
The American Pit Bull Terrier must be both powerful and agile; overall balance and the correct proportion of weight to height, therefore, is far more important than the dog's actual weight and/or height.
Desirable weight for a mature male in good condition is between 35 and 60 pounds. Desirable weight for a mature female in good condition is between 30 and 50 pounds.
As a general and approximate guideline only, the desirable height range for mature males is from 18 to 21 inches at the withers; for mature females it is from 17 to 20 inches at the withers.
It is important to note that dogs over or under these weight and height ranges are not to be penalized unless they are disproportionately massive or rangy.
Very Serious Fault: Excessively large or overly massive dogs and dogs with a height and/or weight so far from what is desired as to compromise health, structure, movement and physical ability.
Gait
The American Pit Bull Terrier moves with a jaunty, confident attitude, conveying the impression that he expects any minute to see something new and exciting. When trotting, the gait is effortless, smooth, powerful, and well coordinated, showing good reach in front and drive behind. When moving, the topline remains level with only a slight flexing to indicate suppleness. Viewed from any position, legs turn neither in nor out, nor do feet cross or interfere with each other. As speed increases, feet tend to converge toward center line of balance.
Faults: Legs not moving on the same plane; legs over reaching; legs crossing over in front or rear; rear legs moving too close or touching; rolling; pacing; paddling; sidewinding; hackney action; pounding.
Eliminating Faults
(An Eliminating Fault is a Fault serious enough that it eliminates the dog from obtaining any awards in a conformation event.)
Any disproportionate overdone characteristic (such as short legs, excessive bone or massive head or body) that would interfere with physical activity or working ability.
Muzzle so short and blunt as to interfere with normal breathing.
Front legs so bowed as to interfere with normal movement.
Front legs (measured from elbow to ground) shorter than half the total height at the withers.
Chest so wide as to interfere with normal movement.
Bobbed tail.
Disqualifications
(A dog with a Disqualification must not be considered for placement in a conformation event, and must be reported to UKC.)
Unilateral or bilateral cryptorchid.
Viciousness or extreme shyness.
Albinism.
Merle.
Unilateral or bilateral deafness.
Long coat.
Dwarfism
Screw tail
Note
Although some level of dog aggression is characteristic of this breed, handlers will be expected to comply with UKC policy regarding dog temperament at UKC events.
The docking of tails and cropping of ears in America is legal and remains a personal choice. However, as an international registry, the United Kennel Club is aware that the practices of cropping and docking have been forbidden in some countries. In light of these developments, the United Kennel Club feels that no dog in any UKC event, including conformation, shall be penalized for a full tail or natural ears.
Sours: https://www.ukcdogs.com/american-pit-bull-terrier
Pit Bull Growth & Weight Chart: Everything You Need to Know
Known for their fierce strength and athleticism, Pit Bulls are courageous dogs with a loving, gentle side. Pit Bulls are a mix between bull and terrier dogs and are solidly built, short-coated with robust bodies. These dogs are amazingly versatile and used in police work, hunting, drug detection, water safety, therapy, and more! They are reliable, fiercely loyal dogs that make wonderful additions to many families.
If you're the lucky pet parent to one of these confident, hard-working dogs, you may be wondering how big will my Pit Bull get and when will they stop growing?
Here's everything you need to know about Pit Bull growth:
Pit Bull Growth & Weight Chart
"Pit Bull" is a general term that applies to several bulldog and terrier mixes, including the American Pit Bull Terrier and Staffordshire Bull Terrier. The following Pit Bull growth and weight charts reflect an American Pit Bull Terrier's estimated weight. Staffordshire Bull Terriers tend to be smaller than Pit Bulls, weighing between 25 and 40 pounds, putting them on the smaller end of these estimates.
Please keep in mind that the following numbers are estimates. All puppies grow at their own rate, and the Pit Bull breed is prone to significant variances in their final size. If you are concerned that your Pit Bull is significantly ahead or behind of the following numbers, please consult with your veterinarian so they can give you personalized advice on your pup's growth and weight.
💡 Pro Tip: Ready to be reimbursed for up to 90% of your dog's veterinary bills whenever they are sick or injured? Compare Pit Bull health insurance options today. Pet insurance can save a life!
Pit Bull Growth and Weight Chart
| Age | Male Weight | Female Weight |
| --- | --- | --- |
| 1 month old | 3 - 5 lbs | 2 - 4 lbs |
| 2 months old | 5 - 15 lbs | 5 - 15 lbs |
| 3 months old | 10 - 20 lbs | 10 - 20 lbs |
| 4 months old | 15 - 25 lbs | 10 - 20 lbs |
| 5 months old | 15 - 30 lbs | 15 - 25 lbs |
| 6 months old | 20 - 35 lbs | 15 - 30 lbs |
| 7 months old | 20 - 40 lbs | 15 - 35 lbs |
| 8 months old | 25 - 45 lbs | 20 - 35 lbs |
| 9 months old | 25 - 50 lbs | 20 - 40 lbs |
| 10 months old | 25 - 50 lbs | 25 - 40 lbs |
| 11 months old | 30 - 55 lbs | 25 - 45 lbs |
| 12 months old | 30 - 55 lbs | 25 - 45 lbs |
| 2 years old | 35 - 60 lbs | 30 - 50 lbs |
At what age is a Pit Bull fully grown?
As medium-sized dogs, Pit Bulls need around a year to reach their full size. Larger Pit Bulls may require a full 18 months to fill out their chest fully.
How big should a 6-month-old Pit Bull be?
There is a lot of variation within the Pit Bull breed regarding their size and weight. At 6-months-old, a female Pit Bull will likely be around 15 to 30 pounds. Comparatively, a male Pit Bull pup at the same age will be approximately 20 to 35 pounds.
Please remember that these are estimates, and your puppy will grow at their own unique rate.
💡 Pro Tip:Download this new puppy checklist for tips on how to set up a vaccination schedule, wellness plan, microchips, things to have on hand for your puppy, and more.
How much bigger will my Pit Bull get?
There are a few ways to estimate how much bigger your Pit Bull will get.
First, start with your Pit Bull puppy's age. If your pup is less than a year old, they are likely still growing. Most Pit Bull puppies will be at their adult size or close to it on their first birthday. Between 12 months of age and 18 months of age, you may notice your Pit Bull puppy filling out their chest a little more, but they should not be putting on significant weight after their first birthday.
You can also take a look at your puppy's paws. If your Pit Bull pup's paws are oversized next to their legs and body, they are likely still growing as this is a classic puppy feature indicating that they are still filling out.
Lastly, if you purchased your Pit Bull through a breeder, you can reach out to them for more information on your pup's estimated adult size. Based on your pup's parents and past litters, your breeder should be able to provide you with a more precise estimate of how big your Pit Bull puppy may grow to be.
What is the size of a full-grown Pit Bull?
According to the United Kennel Club Pit Bull Breed Standards, a male American Pit Bull Terrier should ideally weigh between 35 and 60 pounds and stand 18 to 21 inches when measured from the floor to the shoulders. A female American Pit Bull Terrier is slightly smaller and should weigh closer to 30 to 50 pounds and stand 17 to 20 inches at the shoulders.
Pit Bull is a general term for a bulldog and terrier mix that is most commonly used in reference to the American Pit Bull Terrier. Staffordshire Bull Terriers are also referred to as Pit Bulls and are smaller, with most males weighing between 28 and 38 pounds and females weighing in at 24 to 34 pounds. According to the American Kennel Club, Staffordshire Bull Terriers will also be slightly shorter at 14 to 16 inches tall.
How do I make sure my Pit Bull is healthy?
As beloved members of the family, we want the best for our Pit Bulls, and their health plays a significant role in their happiness and overall wellbeing. Preventative care is always better than treatment when it comes to caring for our dogs. Routine veterinary exams, screenings, blood work, and vaccinations are important ways to help our Pit Bulls avoid or minimize health issues later on. Your pit bull puppy will need several vaccinations in their first 6 months of life, and then should be seen at least once a year for a routine health exam.
Pit Bulls are more susceptible to various health issues, including allergies, torn knee ligaments, thyroid problems, hip dysplasia, cataracts, and more. Allergies, also known as "atopy," are more common in Pit Bulls. Unlike humans who sneeze and have watery eyes in response to an allergen, dogs will often have itchy skin. Frequent ear infections, excessive rubbing of the face, and licking the paws are all signs that your dog may be suffering from allergies. There are various ways to treat allergies, so if you notice your pup is struggling with allergies, consult with your veterinarian for your next steps.
Pit Bull Veterinary Costs
Many health problems can be treated, eased, or avoided entirely with preventative care. Unfortunately, veterinary care is becoming more expensive, making it difficult for many pet parents to regularly take their beloved pets to the veterinarian. If your pet develops a health issue, it can easily cost thousands of dollars to treat. For example, Pit Bulls are more prone to developing cataracts, and the typical treatment, cataract surgery, costs between $2,700 to $4,000 on average. When surveyed, only 1 in 5 pet parents said they would be able to pay for a $5,000 veterinary expense out-of-pocket, which leaves many pet parents in a pinch if their pup needs surgery or veterinary treatments. This is why pet insurance is so important.
Pet insurance works by reimbursing you for up to 90% of out-of-pocket veterinary expenses, which gives you peace of mind should the worst happen to your pup. Like us, our dogs are living longer and longer lives and will need ongoing veterinary care to have the best quality of life possible. Pet insurance gives you a safety net should your Pit Bull develop an illness or become injured. With pet insurance, you and your veterinarian can focus on providing your pup with the best veterinary care possible without worrying about the cost.
---
Key Takeaways
A full-grown American Pit Bull Terrier stands 17-21 inches tall and weighs between 35-60 pounds (males) or 30-50 pounds (females).
Pit Bull puppies usually stop growing around 18 months-old, but looking at the size of their paws can help you tell how much bigger they might get.
As a breed, Pits are known to develop certain congenital conditions, including severe allergies and frequent ear infections.
Pet insurance is a resource owners can use to offset the cost of keeping their new Pit puppy happy and healthy.
---
Sours: https://www.pawlicy.com/blog/pitbull-growth-and-weight-chart/
American Pit Bull Terrier
The Pit Bull immediately strikes one as being a dog of power, passion and undying willingness. The brick-like head, which is especially broad between the cheeks (to house the powerful jaws), is carried upon a thickly muscled, well-defined neck. The neck runs into a deep, thick, well-sprung chest. The American Pit Bull is a very muscular, stocky, yet agile dog that is extremely strong for his size.The tail tapers to a point. The ears are generally cropped, though this is optional. Docked tails are not accepted by the UKC or the ADBA. The eyes are round. Both the ADBA and the UKC do not accept blue eyes or the coat color merle. The American Pitbull Registry does accept a merle coat. The teeth should form a scissors bite. Its coat is made up of thick, short, shiny hair. All colors are admissible. Shades of brown to red with a matching red/brown nose are referred to as red-nose Pit Bulls. Shades of gray with a matching gray nose are referred to as blue-nose Pit Bulls.
The essential characteristics of the American Pit Bull Terrier are strength, confidence, and zest for life. This breed is eager to please and brimming over with enthusiasm. APBTs make excellent family companions and have always been noted for their love of children. Because most APBTs exhibit some level of dog aggression and because of its powerful physique, the APBT requires an owner who will carefully socialize and obedience train the dog. The breed's natural agility makes it one of the most capable canine climbers so good fencing is a must for this breed. The APBT is not the best choice for a guard dog since they are extremely friendly, even with strangers. Aggressive behavior toward humans is uncharacteristic of the breed and highly undesirable. This breed does very well in performance events because of its high level of intelligence and its willingness to work.
Sours: https://www.dogbreedslist.info/all-dog-breeds/american-pit-bull-terrier.html
The History of Pit Bulls
We'll preface this to say that we HIGHLY recommend Bronwen Dickey's book, "Pit Bull: The Battle Over an American Icon," for a fascinating and much more in-depth look at the history and culture of pit bull-type dogs.
The history of the Pit Bull can be traced back to the early 1800's in the United Kingdom. Pit Bulls were originally bred from Old English Bulldogs (these dogs are similar in appearance to today's American Bulldog) who gained their popularity on the British Isles in a cruel blood sport known as "bull baiting". One to two Bulldogs were set to harass a bull for hours until the animal collapsed from fatigue, injuries or both. These matches were held for the entertainment of the struggling classes; a source of relief from the tedium of hardship.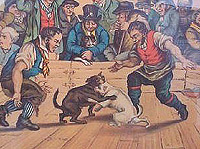 However, in 1835 the British Parliament enacted the Cruelty to Animals Act 1835, which prohibited the baiting of some animals such as the bull and bear. Once bull and bear baiting was outlawed, the public turned their attention to "ratting". This practice pitted dogs against rats in which they were timed to see whose dog would kill the most rats in the least amount of time. The "pit" in Pit Bull comes from ratting as the rats were placed into a pit so that they could not escape. Ultimately, the public turned their eyes upon dog fighting as it was more easily hidden from view and thus the law. Ratting and dogfighting both required more agility and speed on the part of the dog, so Bulldogs were crossed with Terriers "Bull and Terriers", more commonly known as the first Pit Bull Terrier.
Despite their tenacity and determination in battle, commoners actually bred pit bull terriers with some of the same qualities and traits that we still love about them to this day. Through selective breeding and culling, bite inhibition towards humans was greatly encouraged. Gamblers had to be sure that they could enter a pit and handle their dogs in close proximity without the danger of being bit themselves. If a dog bit a human, it was usually culled.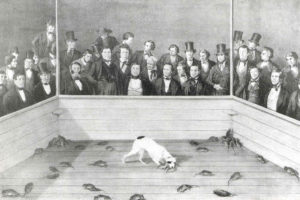 Shortly before the Civil War, immigrants from the British Isles came to the United States, but along with them came their Pit Bulls. It was during this time that the Pit Bull Terrier breed was named the "American" Pit Bull Terrier. Though these dogs had been specifically bred for fighting, they soon became a much larger and invaluable fixture in a developing nation. In early America, these frontier dogs took on an all-purpose role. They were responsible for herding cattle, herding sheep, guarding livestock and families against thieves and wild animals, helping on the hunts and as hog catchers. Their loyal and loving demeanor with humans, especially children (this is where the "Nanny Dog" myth originated from), earned them a prominent place not only as a working dog but as a companion. Check out our friends at Bad Rap's, Vintage Photo Gallery.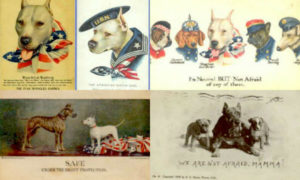 During the first half of the American century, Pit Bulls remained a prominent part of culture. Public attention turned away from fighting dogs and they began to see them as working-class companions. The USA admired this breed for qualities that it likened in itself; friendly, brave, hardworking, worthy of respect and they became, the "All American Dog". During WWI and WWII, Pit Bulls were used as the nation's mascot. Their image of bravery and loyalty was displayed throughout advertisements during wartime. The more notable of the first war-dogs was Sergeant Stubby. Sergeant Stubby has been called the most decorated war dog of WWI and the only dog to be nominated for rank and then promoted to sergeant through combat. He served 18 months on the front lines in 17 battles and 4 different campaigns. Sergeant Stubby is just one example of the many other Pit Bulls that have served their country in wartime. Click here for more amazing war dogs!
In addition to their wartime contributions, the Pit Bull became America's sweetheart. Frequently being used for commercial advertisements and products, in company logos and in popular television shows. Perhaps the most famous Pit Bull was Petey, the adorable ring-eyed cutey featured on Little Rascals. The pit bull was also a favorite among politicians, scholars, and celebrities. Helen Keller, Theodore Roosevelt, Thomas Edison, Mark Twain, Fred Astaire and Humphrey Bogart, just to name a few, all had pit bulls as companions.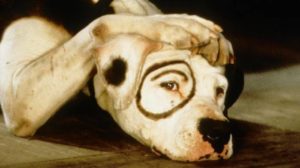 After WWII, Pit Bulls began to be seen more as "regular dogs". They were given attention neither more or less than any other breed. Surely, underground fighting must have taken place, but it seemed this was a rather small percentage. The vast majority of American Pit Bull Terriers were used for herding, hunting or guardian purposes, but most were bred and kept primarily as companions.
So what changed?
In 1976, Congress amended the Animal Welfare Act of 1966 to address dog fighting, among other issues. This groundbreaking amendment made dogfighting officially illegal in all 50 states. Today, dogfighting is a felony in all 50 states, the District of Columbia, Guam, Puerto Rico, and the U.S. Virgin Islands. In most states, the possession of dogs for the purpose of fighting is also a felony offense. As well as, being a spectator at a dogfight is illegal in all states except Montanan and Hawaii. Unfortunately, many times when an act is made criminal, it draws the attention of criminals.
As dogfighting began to re-emerge in the 1980s, animal advocates put an increased focus on the cruel, barbaric and illegal blood sport. The inadvertent and unfortunate side effect of this new movement was that some people began to seek out Pit Bulls for illicit purposes. The criminal set began trying to squeeze these dogs into a mold they were never designed to fit. The breed who was once bred to treat every stranger like a long-lost friend was now being used as guard and protection dogs and were being fought in underground fighting rings. The demand for pit bulls led to many owners breeding their own dogs without concern for temperament or socialization and for the purpose of making a profit, rather than providing a responsible home. Soon Pit Bulls were associated with poverty, "urban thugs" and crime. They were viewed as money-making commodities instead of family members and companions.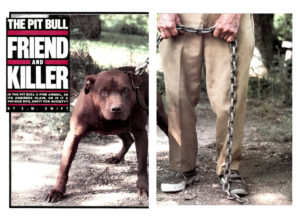 While there is no defining moment in which to point to and say "here is where it all went wrong", many trace the turning point to 1987 in which a Time Magazine cover story was titled "The Pit Bull Friend and Killer". Thanks in large part to the media, the All American Dog began to be exploited at new lows and stereotypical images like what was seen on the infamous Sports Illustrated issue, "Beware this Dog", seemed only to confirm for the public that these dogs were to be feared and should not live in homes. The Pit Bull, seen by criminals as items to be discarded and now being seen by the public as a danger, began to fill shelters at an alarming rate. The media portrayal and demonization of the Pit Bull paved a perfect path for the onset of breed-specific legislation. (The first recorded city to pass BSL was Hollywood, FL in 1980). BSL began to crop up in select places as the dogs began to be used as a political platform by opportunistic politicians. Learn more about BSL here.
Though media outlets successfully created an air of terror around Pit Bulls, there was a spectacular turn of events, though brought about by one of the most horrible atrocities. In 2007, Michael Vick's Bad Newz Kennels were raided and for the very first time, Pit Bulls had the opportunity to be seen as individuals. Previously deemed as unable to be rehabilitated, pit bulls that were seized were typically euthanized. However, several groups like Best Friends Animal Society and Bad Rap took a chance on these dogs and found that almost all of them (48 out of 51) were able to be placed in foster care or re-homed. The media couldn't help but take a new look at Pit Bull type dogs when the Vicktory Dogs emerged as successful loving members of society, and the public happily embraced their stories of recovery. And if these fighting dogs could be rehabilitated, what about all the other ones who just got dealt a bad hand or ended up in shelters…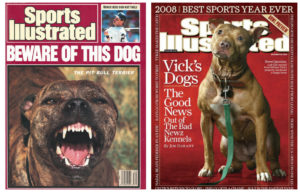 Twenty years after the breed took its first major PR hit in the media, Sports Illustrated returned to show us a different face of the dog, one that invokes sympathy and even surprise from a re-educated public.
Today, Pit Bull type dogs continue to receive more and more positive media attention, due in large part to education and advocacy organization devoted to promoting an accurate image of these dogs. They are loved and owned by several prominent figures such as Jessica Biel, Jon Stewart, Kale Cuoco, Rachel Ray, Jennifer Aniston and many more! They can be seen in the show ring, in various dog sports including agility and weight pulling, in law enforcement work including narcotics detection (check out former Adopt-A-Bull Peaches), in search and rescue, in the armed forces, as service dogs, in our homes and as therapy dogs, like LOVE-A-BULL's Pit Crew, reaching out and offering comfort to people in hospices, children's hospitals, veterans programs, women's shelters, etc.
Pit Bulls are once again becoming the All American Dog!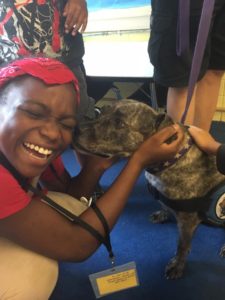 Pit Crew at Work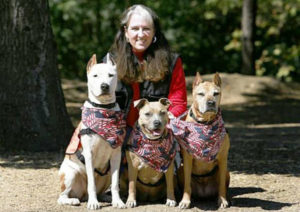 Kris Crawford w/Cheyanne, Tahoe & Dakota Search and Rescue for 9/11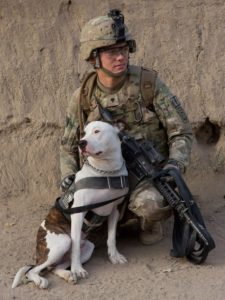 Howard, an explosive detection dog serving in the armed forces
Sours: https://love-a-bull.org/resources/the-history-of-pit-bulls/
Puppies american pitbull
American Pit Bull Terrier
Origin
Developed from the Bull and Terrier types dogs, the American Pit Bull Terrier can be traced back to the early 1800s in what is now known as the United Kingdom. They were bred as an all-around farm dog, working the farms as a cattle/hog dog. Some chose to turn their talents into the sport of pit-fighting. The breed's tenacity and accompanying strength are unmatched in the canine world. As rich and captivating as the breed's history is, the Pit Bull's future is more worthy of commentary. Some proponents of the breed argue that this breed is the original bulldog of the past. Old prints and woodcarvings show reason to believe this. They show dogs that look exactly like the breed today, doing things the dog is still capable of doing. For more information on this theory you can read books by Richard F. Stratton. The APBT, as registered by the UKC, is an individual breed of dog and does not refer to just any ill-bred, mindless warrior-type mongrel. At one time, the Pit Bull had an all around reputation of a much loved, trustworthy companion. Unfortunately the breed has become a status symbol for many types of criminals who chose to train these dogs to fight. It is those types of people who are chiefly responsible for the banning and witch-hunting that has been sweeping the U.S. The media, however, should not go unmentioned, for it is also responsible for escalating isolated incidences in a relentless and attention-getting way. Most Pit Bulls are bred as family dogs or sports such as weight pulling, but the media will rarely mention this. They get more views pretending all Pit Bulls are bred by fighters. In a lot of cases when the media is reporting about a Pit Bull attacking, it is indeed not even a Pit Bull at all, but a mixed breed of some sort, or another bull breed all together. For example, there was a report on KYW news in Philadelphia about two Pit Bulls attacking a person. The dogs did not look like Pit Bulls, but rather Boxer mixes. The news station was called and asked if they knew the dogs were in fact purebred American Pit Bull Terriers, or another bull breed of some sort, or mutts, for that matter. They stated they did not know, and to call the police station to verify that information. They were asked how they could report something that they were not sure of. They had no answer and they were not sure of the dogs' breeds. Even after admitting on the phone that they did not in fact know the breeds of the dogs in question, they kept calling the dogs Pit Bulls in their reports. Why? Because the name Pit Bull will draw out the most attention from the public. The Pit Bull's future has been perhaps irreparably undone and everyone is to blame except the dog itself. This very loyal dog is too set on pleasing his owner, and ironically this is the root of his own undoing. Accompanying this need to please are remarkable abilities of all kinds. Jack Dempsy, Teddy Roosevelt and Jack Johnson are just a few people who have owned Pit Bulls. Pit Bulls excel in practically every canine task including herding, guarding, hunting, policing, cart pulling and ratting. A Pit Bull named Banddog Dread holds more canine working titles than ANY other breed. The owner's name is Diane Jessup and you can reference her book "The Working Pit Bull." It tells all of Dread's accomplishments. These dogs are truly capable of many tasks. The difference between Pits and American Staffordshire Terriers is a difficult one. Even breeders can't agree. The main difference is the bloodline. Amstaffs are show dogs and dog fighters usually do not use dogs with Amstaff blood. As time progresses there will be more of a difference. Many are dual registered as Amstaffs with the AKC and Pits with the UKC.
Sours: https://www.dogbreedinfo.com/americanpitbull.htm
Puppies are attacking there mom 😱
Types of Pitbull Dog Breeds: Differences, Appearances, & Traits
So you think you know what a Pitbull is? Well, I hate to be the bearer of bad news, but according to a variety of research, it is very likely that you don't! The University of Florida found that dog shelter workers, including Veterinarians, commonly mistake a variety of dogs as Pitbull type breeds, which not only is incorrect, but it can have a multitude of devastating consequences for the mislabeled pups.  Many of these pups are just random mixed breed dogs, or some type of Pitbull mix.
Advertisement
The term 'Pitbull' is not a dog as such, but a general label given to a few dog breeds with similar origins, appearance and temperaments. The four Pitbull type breeds are the American Pitbull Terrier, the American Staffordshire Terrier, the Staffordshire Bull Terrier and the American Bully. Despite their vicious reputation and their increased numbers in shelters, they are anything but vicious if they are raised properly.
This guide is going to set out the facts from the fiction regarding everything Pitbull.  We bet that you will learn something new about Pitbull type dogs that you didn't know before. We've also compiled not only a comparison of the different types of Pitbull dogs, but also a full list of myths versus reality below.
Defining Pitbulls
Officially, a Pitbull is not actually a dog breed in itself. It's an umbrella term used for dogs who descend from Bulldogs and Terriers. There are four official breeds of the Pitbull type dog. However, often other similar looking breeds will also be chucked under the Pitbull label, which we will look into further in the next section. The American Pitbull Terrier is the main dog breed that is associated with the term Pitbull. Often when someone is talking about a Pitbull, they will more than likely be referring to an American Pitbull Terrier.
Terriers, who are known for their agility and feistiness, and Bulldogs, who are known for their brute strength, were bred together to create the perfect fighting dog. This breed was meant to be tenacious and powerful. Pitbull type dogs first originated in Great Britain. This is where bear and bull-baiting were popular but cruel, blood sports.
In 1835, when the Cruelty to Animals Act was enacted, this sport was thankfully stopped. But the spectators and participants quickly turned their attention to dogfighting events. They were cheaper to organize and easier to drive underground so to hide the events from law enforcement. Not only did these events involve gambling, but they enabled owners to showcase their dog's gameness and strength. The last dog standing, or fighting, won their owner the prize and reputation of breeding the best dogs around.
Reputation
This is where the Pitbull type dog's vicious reputation started. However, on an important note, all fighting dogs were obviously trained to be extremely vicious towards other dogs. But, as soon as a human entered the ring, they were trained not to attack. This is where their love of humans also stems from. Any dog that displayed human aggression were culled.
After the Civil War, British immigrants began to arrive in America, with their fighting dogs in tow. It was here that American dogfighters wanted to create an even bigger and more powerful fighting dog breed. This was where the American Pitbull Terrier, American Staffordshire Bull Terrier, and American Bully were born.
Different Types of Pitbulls
The following four dog breeds are the most widely accepted Pitbull type dogs. However, just to make it slightly more confusing, some breeds are only accepted by certain Kennel Clubs. And some are accepted by all Kennel Clubs. Many people argue that the American Pitbull Terrier and the American Staffordshire Terrier are the only two breeds that are true Pitbull type dogs. Others say that the American Pitbull Terrier and the American Staffordshire Terrier are in fact the same breed of dog.
So, dependending on who you ask, you may well get a different answer, but all the information in this article is what is the most common belief or what is commonly accepted by the professionals in the canine world.
Appearances
All Pitbull type dogs share their athletic and muscular look. Some may look more athletic than others. Some dogs are squatter and wider, some are taller and leaner. You can compare their heights and weights, according to their official breed standard, at the end of this section in the table. All Pitbull type dogs have a square-shaped head, a square fleshy nose, and big almond-shaped eyes.
All of their coats are short and smooth. They all require minimum bathing and brushing. Their tails are long and straight, and their ears tend to be rose-shaped, except of course when they have been cropped. Many owners still prefer this and adopt the look.
Coat Coloring
Pitbull type dogs come in pretty much any animal color you can think of, except for merle. While there are merle colored Pitbull type dogs out there, the merle color gene is not naturally found in these breeds. This means another breed with this color gene has been chucked into the mix at some point. Therefore a merle Pitbull type dog is not 100% of Pitbull origin. This color is not accepted by any breed club, so this is something to think about before paying the extra price tag for this color.
Temperaments
All four dogs tend to share the same temperament, adoring humans and craving their company. They also love to get involved in the family fun whether that be a game of football or a snooze on the sofa. They are very sweet and sensitive souls, and are particularly fond of children. This is how they earned their nickname, the nanny dog.
If not socialized adequately as a pup then they can display fear aggression against other dogs. But this is the same for a Chihuahua all the way up to a Great Dane. If they are socialized well they tend to be sociable with other dogs. Their eagerness to please their masters also means that they are a dream to train. If you are consistent in your training you will find an obedient Pittie sidekick on your hands. Let's take a closer look at each Pitbull type dog and their specs.
American Pitbull Terrier
Height 17-21 Inches
Weight 30-65 Pounds
American Staffordshire
Height 17-19 Inches
Weight 40-70 Pounds
Staffordshire Bull Terrier
Height 14-16 Inches
Weight 24-40 Pounds
American Bully
Height 13-23 Inches
Weight 25-60 Pounds
American Pitbull Terrier
As previously mentioned, this is the most commonly spoken of Pitbull. It's the one that many think is the original, or the only, Pitbull type dog. This dog is not recognized as a breed by the American Kennel Club (AKC). He is, however, recognized by the United Kennel Club (UKC). It is stated that this breed has maintained his breed type for well over 150 years. Because of this, he is considered to be a purebred dog by the UKC.
Upon arriving in America, ranchers and farmers couldn't help but notice his athleticism, skill and obedience. These dogs quickly took employment on many farms and ranches as herders, and as hunters. Once his hard day's work was completed, he became the family companion for his master and his family. The American Pitbull Terrier is one of the tallest out of the four breeds. Being taller means that he is a lot more athletic in appearance. For further information on his appearance, the UKC breed standard of the American Pitbull Terrier can be found here.
APBT's come in a variety of different colors including brindle, black, white, brown or a mix of all of them.  Along with the label comes additional health conditions and often higher price tags. The American Pitbull Terrier is also often compared to the American Bulldog or compared to the Staffordshire Terrier even though they are different breeds.  They are also sometimes confused with the Dogo Argentino because they look similar.
Red Nose American Pitbull Terrier
A red nose American Pitbull Terrier will have exactly that, a red nose. With the red nose comes copper or earthy brown coat colors, such as brown, red, fawn or chestnut. His lips, eyes and toenails are also red in color. While they are certainly rarer than the typical American Pitbull Terrier, they are exactly the same in every other way. They do have a few additional health concerns linked to the recessive gene, which is discussed further below.
Because he is rarer in color, many unethical breeders breed genetically close red noses in order to increase the chances of their puppies also being red noses, and thus generating more money. This breeding practice is frowned upon because it leads to genetic defects and poor health.
If you are seeking a red nose American Pitbull Terrier be sure to work with an ethical breeder who can prove family lineage, and the health of the pups. Just because they often sell for a few thousand dollars does not mean that they have been bred correctly or well looked after. Make sure to do your own due diligence!
Blue Nose American Pitbull Terrier
A blue nose American Pitbull Terrier is the same as the red nose American Pitbull Terrier, except he has a blue nose. His nose, lips, eyes, and toenails will be blue or grey in color, and he will be easily identifiable from a young age compared to the traditional black nose. Similar to other breeds, having a rarer coloring can come with a higher price tag, so be sure to work with a reputable breeder.
In addition to the inbreeding concerns given their smaller gene pool, the different color nose (including the red) is a result of low melanin levels. This is the pigment responsible for coloring in any living system, including us humans.
A deficiency in melanin, which is as a result of the recessive color gene, also creates additional health issues and diseases. It has been linked to skin allergies (which Pitbull type dogs are already prone to), heart diseases, eye conditions, and an increase in the chance of cancer and decreased immune system functionality. Which is all the more reason to work with a reputable breeder!
American Staffordshire Terrier
The American Staffordshire Terrier, commonly shortened to the name 'AmStaff', is recognized by the AKC and not the UKC. He is ranked as the 85th most popular dog breed out of 193 breeds. Research suggests that he is much more popular than this, with most owners not registering them for breeding or conformation purposes. He has long been one of America's favorite dogs, not only has he been the sidekick of 3 American Presidents, but he was also America's most decorated war dog.
The American Staffordshire has long been a family companion. His sweet nature has won the hearts of millions, not just in America but across the world. Despite his formidable exterior he is known to be one of the sweetest dogs around, who not only loves his family very much but also everybody that he comes into contact with. For this reason, he does not make the greatest of natural guard dogs. For further information on his appearance, his full breed standard can be found here.
Staffordshire Bull Terrier
The Staffordshire Bull Terrier is thought to be the most popular dog in Great Britain, yet being the 80th most popular breed in America his popularity has not quite caught on over here. He is recognized by all major Kennel Clubs, including the AKC and UKC. Staffies are described as clever, brave and tenacious. He's an affectionate dog who has a real love for life!
He is the smallest of Pitbull type dogs too, sometimes by 7 inches in height. The biggest Staffordshire Bull Terriers are around the same weight as the smaller dogs amongst the other dogs. Being smaller, the Staffordshire Bull Terrier is a great choice for those who love Pitbull type dogs but have less room for the stockier versions. Further detailed information on his breed standard can be found here.
American Bully
The American Bully is a descendant of the American Pitbull Terrier. Over time, he has become so distinct in appearance that he is now considered to be his own breed altogether. He is a relatively new breed that was developed in the 1980s, only recognized by the UKC in 2013. He is shorter than the American Pitbull Terrier and much wider than any of the breeds here in this article. These pups can be so wide that it often looks like his muscles have muscles! The American Bully is a larger pitbull-type dog, and has specific nutrition requirements.
He is recognized by the UKC, and not the AKC. The American Bully Kennel Club also recognizes him, and they recognize him in four distinct sizes: Pocket, Standard, Classic and XL (see sizes in the below table). The Classic American Bully is much narrower and less muscular than the other 3 sizes. Many people also believe that Micro and XXL American Bullies exist, and sell them as such, but these sizes are not officially recognized.
The most expensive American Bully, named White Rhino, was purchased for $250,000, and this exorbitant price tag is very rare. But American Bullies can be by far the most expensive dogs in America. The biggest American Bully on record is Hulk, who weighs a humongous 174 pounds! The American Bully is also often compared to the American Bulldog, English Bulldog, and (English) Bull Terrier.
Breed Specific Legislation
Pitbull type dogs are all subject to Breed Specific Legislation (BSL). This varies from country to country and state to state, all of which can, for example, enforce increased liability insurance all the way up to outright banning. Much research suggests that BSL is not effective and as such should be withdrawn.
Not only do owners have to deal with unfair and restrictive law, increases in insurance, and being excluded from home rentals, but they also have to deal with day-to-day prejudices from society thanks to a lack of education and the sensationalist media. This is despite controlled studies suggesting that Pitbull type dogs are not disproportionately dangerous.
While this subject needs an article in its own right, it is something that you need to take into consideration if you are thinking about welcoming a Pitbull type dog into your home. It's something that you must research thoroughly. For further information regarding local laws, this page lists the states that prohibit the regulation of certain dog breeds by local government.
Pitbull Myths vs. Pitbull Reality
Here we are going to look at the common myths versus what the reality is surrounding Pitbull type dogs.  There are many different misconceptions when it comes to the breed, so we've compiled a list of the most commonly discussed myths versus the reality below.  Let's dispel some of the bad, and take a look at some of the good.
Myth: All Pitbull type dogs are inherently dangerous.
Reality: No, not all Pitbull type dogs are dangerous. The American Temperament Test Society (ATTS) put dog breeds through a series of tests and challenges to test their temperament, and out of 35,686 dogs tested in the latest results (December 2017), the average pass rate was 83.7%.
The American Pitbull Terrier passed at 87.4%. Then, the American Staffordshire Terrier passed at 85.5% and the Staffordshire Bull Terrier passed at 90.9%. The American Bully temperament test results are not available (which does not mean they failed). However, the three Pitbull type dogs passed well above the average score, so this alone supports the case that Pitbull type dogs are not inherently dangerous.
Myth: Pitbull type dogs have 'lockjaw', which makes them more dangerous.
Reality: No, they do not have 'lockjaw'. There is no such thing as a lockjaw. All canine skulls are of the same design and have the same functions, and there is no locking function. Terriers are known for their tenacity and gameness, which is why when they get hold of prey, they keep hold of it. This is the very reason why Terriers were originally selected to be bred with Bulldogs.
Myth: You shouldn't rescue a Pitbull type dog because they were abused.
Reality: No, not all Pitbulls have been mistreated, and not all mistreated dogs are dangerous. There are simply so many Pitbulls, that they make up the highest proportion of dogs in rescue shelters. Consequently, they are the population that is euthanized the most too.
Equally, not all mistreated dogs are dangerous. Being a Pitbull type dog rescue mom, whose dog was badly beaten and given drugs during the first year of his life, he was later used as the 'tester dog' in rescue kennels to profile other dogs and their sociability, simply because he is so friendly. Pitbulls are the same as any other dog, there will always be a few dangerous pups. This entirely comes down to poor socialization as a puppy, but they are few and far between.
Myth: Do Pitbull type dogs really smile?
Reality: While science suggests that dogs can't smile, if you ask any Pitbull type mom or dad you will get a resounding yes from them! And if you don't believe them, then check out Lady Shortcake's Instagram page, who is one of the most smiley dogs, or velvet hippo as her mom calls her, to grace the planet!
Final Thoughts
While all the Pitbull type dogs have an undeniably grisly past, without it they most likely wouldn't exist. So, pitbull lovers across the world are somewhat thankful for it. Remember that they are all the most commonly found dog breeds in rescue shelters. If you are thinking about welcoming one of these pups into your home, then please consider adoption!
Despite their past, they are some of the sweetest canine souls around. They absolutely love humans, more than anything. All they need is a warm home and a master who will invest time in training and exercising them. So now you are equipped with the knowledge about what a Pitbull type dog is, and who they are, and if you are after a loyal canine who will be forever at your side, then look no further than these adorable sweet dogs!
Sours: https://www.loveyourdog.com/types-of-pitbulls/
You will also be interested:
American Pit Bull Terrier Dog Breed Information and Personality Traits
Strong and stocky, yet light on his feet, the pit bull may pack more muscles per pound of body weight than any other breed.
The pit bull has a low center of gravity, and appears slightly longer than tall. The muscles of the neck and head are especially well developed. The eyes are small, and the ears may be cropped or uncropped (the latter are rose-shaped).
This dog is heavy for his size, weighing about 55 to 70 pounds (25 to 32 kilograms). He stands between 17 and 19 inches. The coat is short and sleek. Any color is acceptable, although coats with more than 80 percent either white, black and tan, or liver are least preferred.
Personality:
Most pit bulls are fun-loving companions, gentle and patient with all their family members (with the very likely exception of other pit bulls). As with all breeds, there are exceptions.
Pit bulls were bred to be courageous and game, to continue whatever they are doing in the face of adversity. These qualities make them stubborn, tenacious and fearless. As with any large dog, pit bulls should be supervised when with children.
Living With:
Life with a pit bull is always an adventure. These are fun-loving dogs that are always up for a game. They must have a vigorous exercise period every day. Although they are tough dogs, they are not cold weather dogs and should be shielded from the elements.
Pit bulls should be obedience trained because it is a good bonding activity. Because they are very often not good with other dogs, they should be kept on a leash when around them.
History:
The ancient Greek Mollossian war dogs gave rise to several tough strains of dogs, including dogs that specialized as gladiators.
A pit bull owner formed the United Kennel Club (UKC). The UKC remains to this day a strong registry for the American Pit Bull Terrier. Similarly, the American Dog Breeder's Association was formed in 1909 just to register pit bulls.
Sours: https://www.hillspet.com/dog-care/dog-breeds/american-pit-bull-terrier
22093
22094
22095
22096
22097