Markings Found on Porcelain Pin-Type Insulators
R=∞ Home
The list below shows the text version of various markings found on porcelain pin-type insulators. For markings on cleats, knobs, standard porcelain, and wall tubes, please those listings using the links at R=∞ Homeunder the subject "Other Insulators". Details and illustrations of each marking will be added at a later date.
MARKING TYPES
Not all combinations of markings were shown in the Value Guide, which was not intended to be a complete listing of marking types. All markings are incuse unless otherwise indicated. Marking methods on multipart porcelain insulators are too numerous to even discuss or keep records on, so most of the markings shown in multipart section of the Value Guide are either typical, unusual, or rare markings used on very old specimens.
Incuse: "Incuse" markings result from striking the leather-hard clay with a marking stamp which produces letters and/or designs cut into the surface.
Embossed: Very few porcelain insulators have the raised markings known as "embossed" markings. They typically are found on dry process insulators. The major exception is the "embossed" Ohio Brass trademark on the crown of their wet process insulators made from 1907 to about 1940. Most collectors use the term "embossed" when describing markings on porcelain insulators. This is a holdover from collecting glass insulators were nearly all markings are raised above the surface. Unfortunately, the use of "embossed" is so ingrained in our hobby that it is impossible to get people to change. Fortunately, few porcelain insulator styles (U-numbers) have both dry process specimens with an "embossed" marking and wet process specimens with one of the other marking types. The only embossed marking on multipart porcelain insulators is the typical (but much larger) "O-B" used by Ohio Brass on its unipart styles. It is wrong to describe "incuse", "u-g", "r‑e", or "s-b" markings as "embossed", and it leads to confusion for many serious collectors.
Recess-embossed (r-e): This is a pseudo-embossed marking obtained on wet process insulators by striking the damp clay body with a device that leaves raised letters on a recessed background.
Under-glaze Ink (u-g): This marking was obtained by using a rubber ink stamp to apply the ink mark on the dried insulator clay body before the glaze was applied. The ink would soak into the surface of the dried clay. The first use of this type of marking was on insulators made for Fred Locke by Electric Porcelain & Mfg. Co. from 1897 to 1900 and later at his factory in Victor, NY. Ink colors of black, blue, and green were used by that company. The use of the under-glaze ink marking was revived several decades later and can be found on modern specimens from several different manufacturers.
Over-glaze Ink(o-g): This marking was applied by using a rubber ink stamp to apply the mark on top of the dried glaze before the glaze was fired. A colored glaze was used to make to make the marking. Thomas is known to have applied this type of mark using using an orange glaze for certain QT multipart styles (example: M-2926 with o-g marking THOMAS / QT).
Sand-blast (s-b): Very few sand blast markings were indicated in the Value Guide because many collectors did not note marking types and there were few reports of "s-b" markings from those that did. This marking is applied by holding the finished insulator against the contoured head of a sandblast machine. This marking method was never widely used on uniparts. The only unipart insulators ever marked by sand blast were the Line Material and McGraw-Edison units made in the 1960's and 1970's at the Macomb, IL plant, and one used in 1980's by Ohio Brass on larger insulators.
Companies and Markings For more information on companies, go to the Companies list.
Akron High-Pontential Porcelain Co.: pin-type insulators 1903-07; taken over by Ohio Brass in 1907
American Electric Co. Inc.: Manufacturers of electrical supplies; sold U-188 circa 1929-1951

Automatic Electric Co. Inc.: Manufacturers of electrical supplies; sold original U-188 insulator circa 1925-1929

B in a circle: Found under top skirt of M-2150. These insulators were made in Europe (Italy?) and used on lines in British Columbia. Don't confuse this rare marking with the relative common Ohio Brass markings, which is a B inside an Oval.

Brown, Boveri & Co. (1981-1984)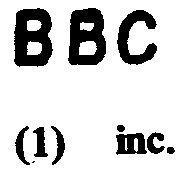 Bennington Potteries (threadless styles circa 1850's)
B & O: Baltimore & Ohio Railroad

C.C.V.F.: Unknown meaning on insulators found in Florida.

Cent mark

Central: Unknown meaning on certain Thomas insulators.
CENTRAL
incuse
C. F. Co. (unattributed)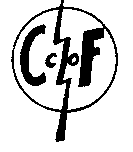 A. B. Chance Co. (1959-1994)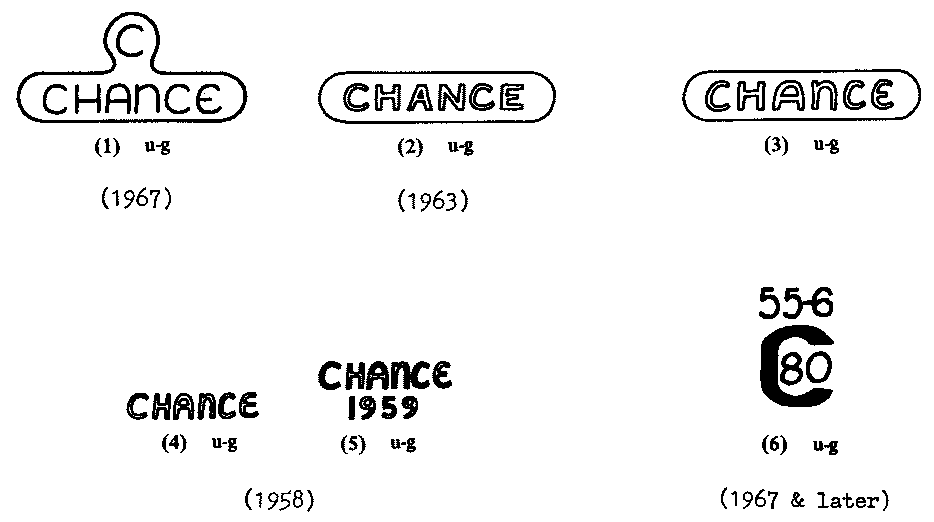 C.N.R.: Canadian Northern Railway
Cook Porcelain Insulator Corp. (circa early 1920's to circa 1930)

Cooke Wilson E. S. Co.: Jobber of electrical supplies. Dry process mine insulators with this marking, U-98, were possibly made by American Porcelain Co. (1914-1932).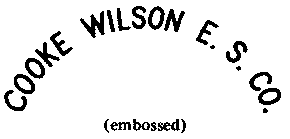 Cooper Power Systems The "99335" may be a catalog number. The "55-4" is the ANSI style.
CPS 5
99335
55-4
C.P.R.: Canadian Pacific Railway Co.
C. P. R.
incuse
CTS and CTS Made in Canada: Chicago Telephone Supply Co.
Delta-Star Electric Co.: H. K. Porter Co. purchased the old Thomas plant in Lisbon, OH (1957-1963)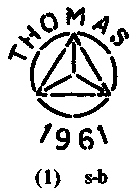 Electric Porcelain & Mfg. Co.: Their insulators have an under-glaze ink marking with Fred Locke's name and patents. They made insulators for him from late 1897 until about 1900. For Fred Locke markings, click on this link: Markings
Federal Porcelain Co. (1917-1927)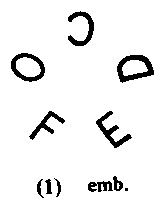 Findlay Electrical Porcelain Co.(1911-1927)

Franklin Porcelain Co. (circa early 1920's to circa 1929)

Fred Locke: Locke Insulator Mfg. Co. prior to 1905. He began buying porcelain insulators in 1894 from Thomas, in 1896 from Imperial, and in 1897 from E. P. & M. Co. He began making is own porcelain insulators in 1898 until his retirement in Dec. 1904. For Fred Locke markings, click on this link: Markings
G: Unknown meaning. Insulators may have been made by Illinois Electric Porcelain Co.

General Electric Co.(U-701, U-744, and U-935A made circa 1895) Markings below were used 1968-1971 when GE had ownership of the old Locke factory in Victor, NY.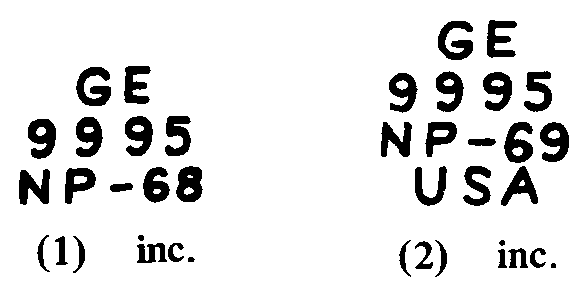 GK: Unknown meaning.

Gladding Ceramic Insulator Co. Inc. (1964-circa 1980's)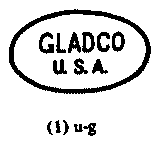 GLEN: Glen Electric Co. (circa 1901-1904)

Gould Inc.: Gould, Inc. (1976-1981)
General Porcelain Co. (1913-1927)

G. T. P.: Grand Trunk Pacific Telegraph Co. (Canadian)
Harloe's Patent: U-184

Hartford Faience Co. (1925-1947)

I.E.P.: Marking used by Illinois McGraw Electric Porcelain Co. (1954-1957) and after a merger changed the name to Illinois Edison Co. (1957-1958).

Illinois Electric Porcelain Co. (1910-1953)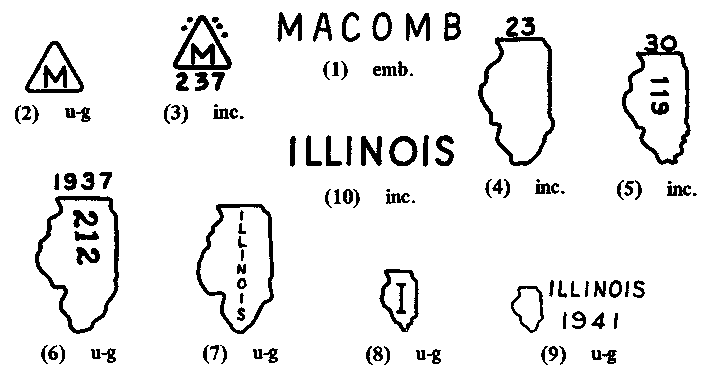 Imperial Porcelain Works (pin-type insulators: 1893-1907)

I-T-E Imperial Corp.(1953-1977)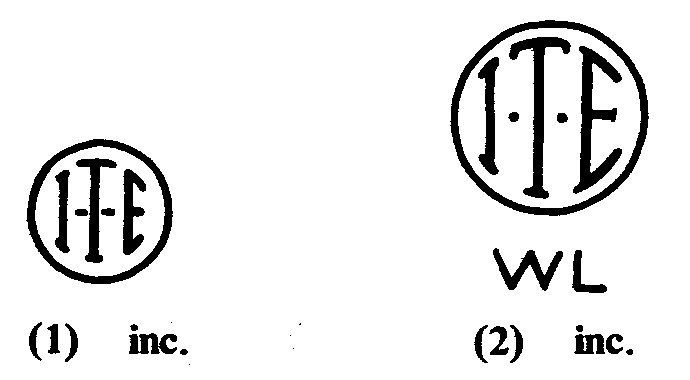 Jeffery-Dewitt Insulator Co. (1915-1951)

Johns-Manville: Jobber of electrical supplies.

Knox Porcelain Corp. (1923-1975)

Lapp Insulator Co. (1916-circa 1980's)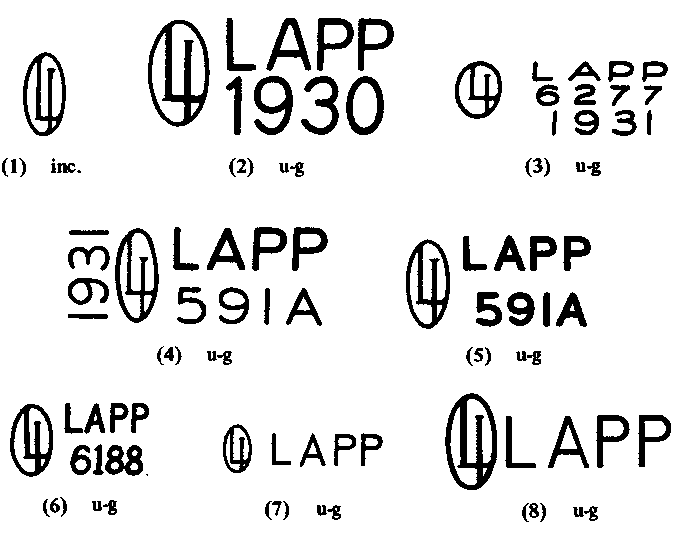 Lima Insulator Co. (1904-1908)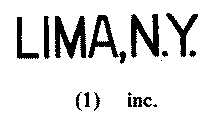 Lima 32 Lima 36
Line Material Co. (1958-1967)

Locke Insulator Mfg. Co. (1902-1921); Locke Insulator Corp. (1921-1948); and Locke, Inc. (pin-types: 1948-1971)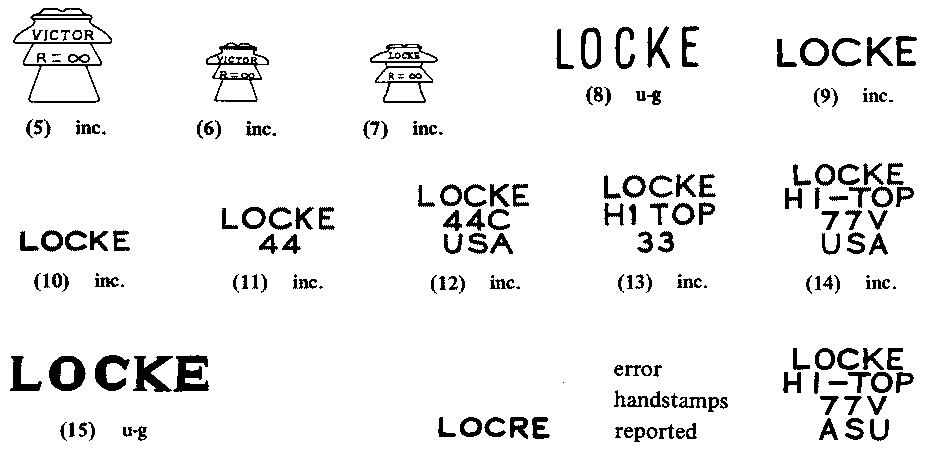 Various incuse markings:
.LOCKE. LOOKE LOCRE 77
Locke R=∞ (see Locke): Marking (shown inside outline of an insulator) used by Locke Insulator Mfg. Co. (1922-1928).
Macomb: Marking on dry process insulators made by Illinois Electric Porcelain Co. (1910-1918)
Macy Insulator Macy Ind: Unknown meaning on U-124 insulators found near Macy, IN.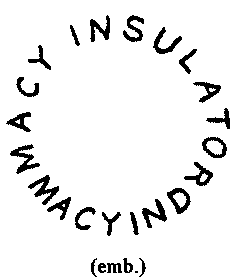 McGraw Edison Co. (1967- present; purchased by Cooper Power Systems in 1985 which still uses a different u-g ink ME marking.)

Mershon Type: Ralph Mershon patent No. 605,256 dated June 7, 1898. The marking is found on U-945 made by R. Thomas & Sons Co.

M & H: Manwaring-Hessel 1915 patent on U-189A.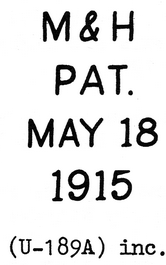 MP: Missouri Pacific Railroad or Missouri Pacific Telegraph Co.

N.A.T.CO.: North American Telegraph Co.
N.E.P.: Maybe New England Power Co.

New Lexington High Voltage Porcelain Co. (1903-1912)
NGK: NGK-Locke (circa 1980's)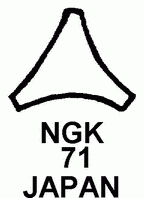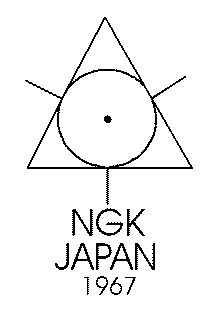 Ohio Brass Co. (marked own production: 1908-circa 1980's)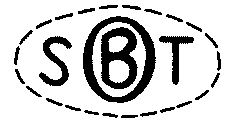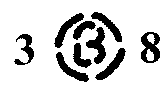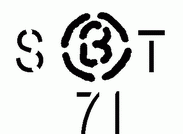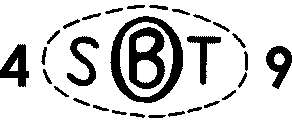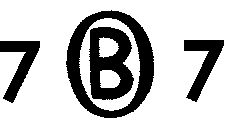 O. P. Co.: Ohio Porcelain Co. (circa 1910-1913)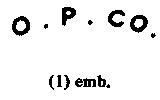 Pass & Seymour Inc. (pin-types: circa 1892-1895)
P & S
embossed
Peirce Patent: U-189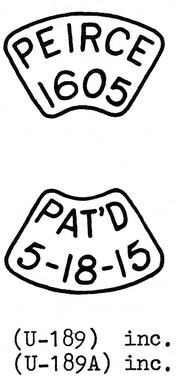 Peru Electric Mfg. Co. (only known pin-type style, U-928B: circa 1899)
PERU
embossed or incuse
Pierce Patent: U-187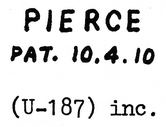 Pinco: Porcelain Insulator Corp. (1921-1987; last two years marking used by Industrial Ceramics)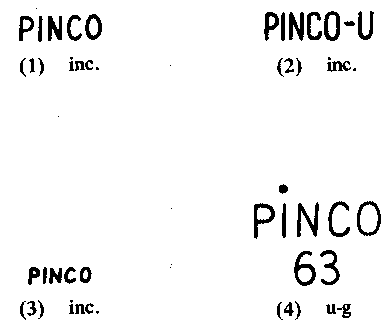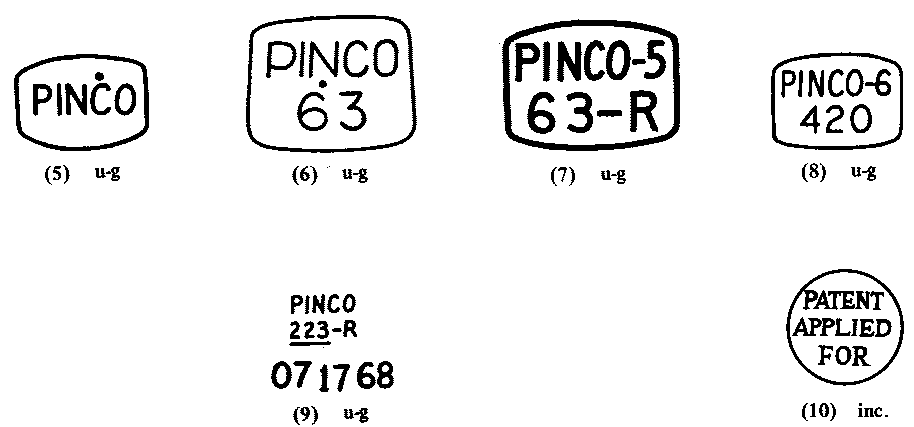 Pittsburg High Voltage Co. (1908-1921)

Porcelain Products Co. (1963-present; no distinction was made for this later company in the Value Guide listing. All insulators for the older and newer companies are shown as P. P. Inc.)

Porcelain Products Inc. (1927-1958; see P. P. Co. above)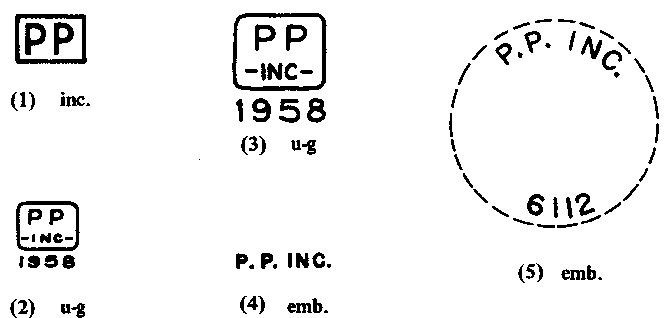 POSTAL: Postal Telegraph Co.

P.R.R.: Pennsylvania Railroad

Purkey Patent: U-186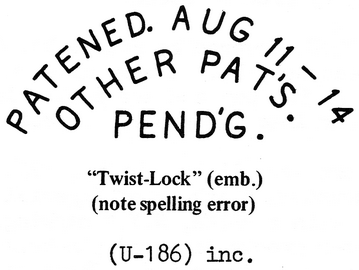 Ranson Patent: U-183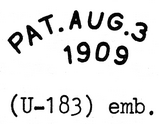 Slusser Patent: U-185

SOO: Soo Line Railroad

Square D Co. (1925-1951)

R. Thomas & Sons Co. (pin-types: circa 1892-1957)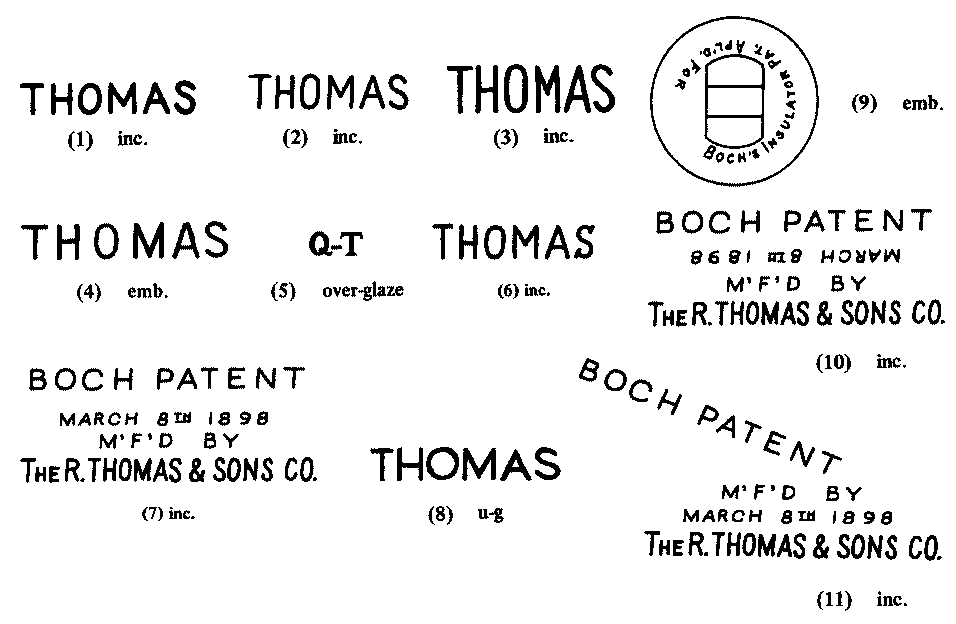 R. Thomas & Sons Co. (Odd markings)






B131 B141 B155 B166
Triangle M: Marking (M inside a triangle) used on insulators made by Illinois Electric Porcelain Co. from 1915-1927.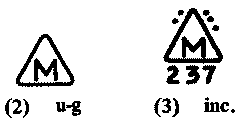 Victor: Marking used by Fred Locke (1900-1904) and Locke Insulator Mfg. Co. (1902-1928).
VICTOR
incuse
Victor Insulators Inc. (1935-1953 and 1984-present)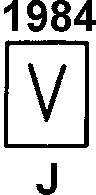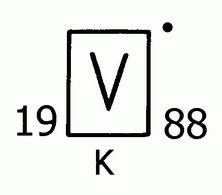 Victor R=∞ (see Locke): Marking (shown inside outline of an insulator) used by Locke Insulator Mfg. Co. (1908-1922). The larger size insulator logo marking was used first. The smaller size insulator logo marking replaced the larger logo marking sometime in the late 1910's.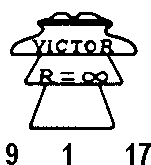 Westinghouse Electric Corp. (1921-1953)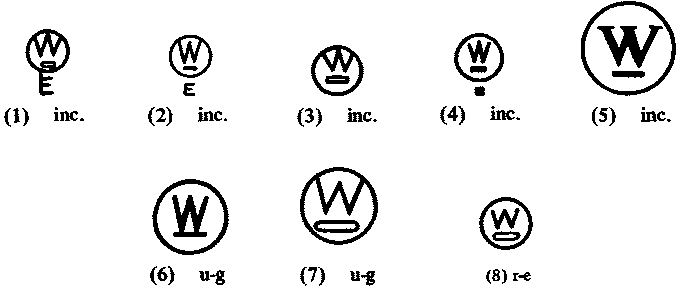 R=∞ Home

Stats Of Hits
Sours: https://www.r-infinity.com/Markings/Markings_p1.htm
Long before the modern era of computers, cellphones, smartphones, fiber-optic cables and the internet, long distance electric/electronic communication consisted primarily of the telegraph and telephone.   The electric telegraph (in the United States) was developed by Samuel Morse in 1837, and the first message was sent by Morse in 1838. The telephone was invented by Alexander Graham Bell in 1876.
As time went on, networks of "open wire" telegraph lines, and later, telephone lines, were developed and built throughout the country, and these lines required the installation of insulators.  Insulators were necessary by serving as a medium for attaching the wires to the poles, but much more importantly, they were required to help prevent electric current loss during transmission. The material, glass, is itself an insulator (not a "conductor" or "transformer" as insulators are often incorrectly labeled in antique malls and flea markets).
---
ADVERTISEMENT



---
Both glass and porcelain insulators have been used since the early days of the telegraph, but glass insulators were generally less expensive than porcelain, and were normally used for lower-voltage applications. The oldest glass insulators date from about 1846.
---
---
The period from 1875 to 1930 might generally be thought of as the "heyday" of the glass insulator. Hundreds of millions of these glass "bells" were produced during this time by many glasshouses, located primarily in the East and Midwest with a few plants in California and Colorado. Many of the glasshouses that made insulators also produced bottles, fruit jars and other glassware.
Most insulators are found in some shade of aqua (blue-green) colored glass (typical inexpensive "bottle glass" or "green glass") but many, many other color shades are found. Clear glass was used (with some exceptions) primarily after about 1935.  Hundreds of different styles were developed over the years, and insulators are found with a wide variety of embossed names, initials, patent dates, and other markings.
---
"CD" NUMBERS
All glass pintype insulators are classified in what is called the "CD Numbering" system of identification. This system was created and used by N.R. "Woody" Woodward, an early pioneer, researcher and author in the field of collecting glass insulators.  The CD (Consolidated Design) numbers basically identify insulators by their shape and profile, regardless of exact embossed markings, glass color, or base type.
For instance,  "CD 154" is the CD number assigned to the most common style of glass insulator ever made, and that most likely to be seen by the average person……..the HEMINGRAY-42.  Several other glass companies besides Hemingray Glass Company made the same basic model, although their versions may have raised markings, color, and base types (smooth base, sharp drip points or round drip points) that  differ.  But all of them would be known as CD 154s.   Here's a few other commonly found insulators:  Hemingray NO. 9 is classed as a CD 106.   Hemingray-10 is a CD 115.   Hemingray-12 is a CD 113.   Armstrong DP 1  is a CD 155. Hemingray-45 is also a CD 155.  Kerr  T.S. is a CD 129.  There are several insulator websites that discuss this classification system in more detail.
Nearly all insulator collectors who are affiliated with the "organized hobby" of insulator collecting use CD numbers for more clarity when communicating with other collectors by mail, email, text or phone.  CD numbers are used on many ebay auctions, although non-collectors who list insulators on ebay or other internet sales sites may not be familiar with the system.
---
---
Many earlier insulators have bubbles, streaking, "snow", surface creases and other marks of crudeness which was common for this type of glass because quality standards were not usually set as high as tableware. As long as the insulator performed it's duty adequately, the  color and minor imperfections in the glass were of little concern. These "marks of crudeness and age" now add to their value and charm to collectors of antique insulators.
---
Old photos from around the U.S. show many telephone, telegraph and electric power poles sporting large numbers of insulators arranged on crossarms. Some telephone poles (such as in large cities) carried as many as 20 or more crossarms, each one bearing six, eight, 10 or 12 (or even more) insulators.
Each insulator was attached to the crossarm by being screwed onto wooden (or in some cases) metal pegs or (more properly) "pins". A steel or copper tie-wire was attached to the insulator, and connected with the communication wire.  These "pintype" insulators were an extremely commonplace sight,  and communication lines with insulators were strung alongside most roads, highways, and railroads.
---
---
During the 1960s, 1970s and 1980s many of these lines were dismantled as technology advanced. Today, a few lines using glass insulators are still in service, but are only a tiny percentage compared to the heyday of open wire communication.
---
ADVERTISEMENT




---
Insulators (generally speaking) are still commonly in use, but insulators of the modern era (speaking of the United States in particular) are mostly heavier, high-voltage types used in electric power line transmission and distribution, and are  of porcelain ("ceramic") or polymer (plastic) construction.   Most modern telephone lines now make use of insulated sheathed cable, and many are underground.
Today, vintage glass insulators are a collectible item in their own right, often saved, studied and displayed along with antique bottles, tableware and other early glassware.  The majority of glass insulators carry embossings (raised lettering), as previously mentioned,  including company names, brands, trademarks,  or model numbers,  patent dates, etc.  A small percentage of insulators are entirely unmarked.  Perhaps somewhat surprisingly, so many insulators are found that were carefully and rather painstakingly lettered with markings that would not even be discernible by the average passersby below – only visible to linemen (and birds) !
Collectors of insulators often specialize in a particular glass companies' products, or in certain styles, shapes or colors of insulators.  They might delve into the history of a particular company, what styles where made and when, the markings used, etc.   Besides the more typical "pintype" communications/electric power line insulators, other sub-categories include lightning rod insulators, radio wire or guy wire "strain" or "egg" style insulators, inside home wiring knob or spool insulators,  and battery rests.
---
MOLDS
Many, many different cast iron or steel molds were used over the years to produce glass insulators, and the collection & study of old insulators can be compared, in some respects, to numismatics (the study and collection of coins).  Most earlier insulators were  made by forcibly pressing molten glass into a mold. The mold was momentarily closed, and then within a few seconds was opened and the finished insulator was removed to be placed into a lehr (cooling oven). Modern glass insulators are/were made by mass-production machine pressing methods.
On earlier insulators, many minor variations in the engravings cut into the inside surface of the molds resulted in slight differences in the exact appearance, size and placement of the raised lettering seen on the surface of the glass.  On some companies' products, more than one style of lettering can be identified.  For instance, the so-called "Script", "Prism" and "Stamp" ("Typewriter")  styles of font which are seen on many Hemingray insulators.
Sometimes an individual mold can be identified by studying and comparing insulators that were produced from it over a considerable stretch of time.  Changes in the mold,  such as re-cut (re-tooled) engraving,  repair, or the addition or erasure ("blotting out") of the engraving can be discovered upon very close inspection of the insulator.  Thus,  the comparison I've made to the coin collecting hobby, with the many  slight differences in coin die design details, as revealed under close scrutiny by serious collectors.
---
ADVERTISEMENT



---
TRAINWATCHING & INSULATORS
Because virtually all railroads (that were built in or before the 1950s) originally had communication lines strung alongside them (primarily telegraph, but also in some cases telephone), railroad buffs ("rail fans" or "trainspotters") sometimes become interested in glass insulators since they were such a common sight along old railroad rights-of-way.
Railroads, trains, and telegraph lines and insulators have had a long history of being interconnected. Huge numbers of old photographs of railroads, trains and railroad-related scenes from across the United States show the telegraph lines with insulators in place – in their "original habitat", so to speak.    And modern model railroading layouts sometimes include miniature telegraph poles with tiny "insulators" to help recreate the "look" of an earlier era.
Today, most railroads in the US no longer have a telegraph line next to the tracks.  But old-timers know what a beautiful sight it once was to look far down the railroad tracks and see a long, long line of telegraph poles, each adorned with glittering glass insulators, especially as seen against a setting sun!
---
Cleaning Insulators
Most insulators are typically found in a very dirty condition, often coated with a layer of gray or black "train soot", or dirt and grime accumulated over many, many years of service in the outdoor environment. The underside surfaces in the skirt area are often heavily stained with a coating of stubborn train smoke.  Insulators installed along railroads typically are coated, to some degree, with black soot. Sometimes the layers of soil are so heavy that the true color of the insulator cannot be discerned.
Often, new and casual collectors don't know how to clean insulators so the true beauty of the glass can be seen and fully appreciated.  Most serious insulator collectors do not keep their insulators in "as found" condition, preferring to clean them, although some collectors do keep a few pieces in their collection in their "originally found", dirty condition just for more authenticity or "history's sake".
There are several ways to clean insulators, but the easiest (in my opinion) is to soak the insulator in a product that contains the active ingredient oxalic acid.  Oxalic aid is usually very effective in breaking down the stubborn layers of train soot which can be VERY difficult to remove if using ordinary cleansers, soaps and detergents.  Oxalic acid is an ingredient in certain brands (but not all) of  so-called "Wood Bleach" or "Deck Cleaner".  (Behr's markets their version as "All-in-One Wood Cleaner" and it does contain this ingredient).   Usually, a one gallon plastic container of deck cleaner can be mixed with 2 to three gallons of water in a five-gallon plastic bucket. (DO NOT USE METAL CONTAINERS OF ANY TYPE!).  Oxalic acid can also be bought in crystal form (like a fine white powder).  Oxalic acid is technically a poison, so using plastic gloves when handling it is strongly recommended.  (Caution: oxalic acid cannot be used to clean Carnival Glass insulators, as the carnival coating may be dissolved).
The simplest and more inexpensive method is to use the product "Bar Keepers' Friend" which contains a diluted form of oxalic acid, and that product is sold in most large general department stores and grocery stores (usually stocked next to the cleaning products "Ajax" and "Comet").  One can of BKF can be mixed into a 5 gallon plastic bucket of water (slightly lukewarm or room temperature), and the insulators are carefully immersed and left to soak for at least 24 hours. Two days would be better.  Since BKF contains oxalic acid in a more diluted form,  it may or may not be as effective as other products, but it is usually a reasonably good cleaner of glass.  After soaking, remove the insulators, using plastic gloves, and scrub carefully with NON-scratching cleaning pads or OOOO-grade steel wool.   Most insulators will respond well to cleaning with BKF, although some may not.   Some insulator collectors use lye as a cleaner, but I do NOT personally recommend it unless you are VERY, VERY careful and take ALL precautions as directed on the product label.
---
GLASS INSULATOR VALUES
As I've mentioned elsewhere on this site, my main purpose here is to concentrate on the background and history of the glassware being discussed, not on values or prices. This site is not intended as an appraisal source so little attention has been given to values. However, since the subject of values does come up often when people write to ask about insulators they've found, I feel that it is best to address the issue in this article.
All insulators, glass and porcelain, in my opinion, have some value. (Other collectors may strongly disagree with me on this point, but that is their prerogative). The value might relate only to the fact that a piece is an authentic relic of bygone days, or an object that can serve as a conversation piece or item of home decor.
The value may stem only from the fact that an insulator is a piece of United States history (or another country's history) that is no longer being manufactured — a piece of "industrial archaeology", so to speak.  Or that perceived worth may lie solely in its practical value as an insulator, or that it's still perfectly good for other uses such as paperweights or candleholders. A heavily chipped, cracked insulator with almost no monetary value to collectors could theoretically still be perfectly useable in the practical sense (as a farmer's livestock fence insulator, or installed on a short telephone line in a rural area, for instance).
The majority of the most commonly found types of glass pintype insulators have only nominal monetary collector value, perhaps 50 cents to a dollar. That includes the extremely common types such as the Hemingray-42, Hemingray-45 and Whitall Tatum No. 1 and others. However, even within the common types of insulators, slight differences in color, embossed markings or base type can make huge differences in the market value of a specific piece to experienced collectors. A notch above the most common types will be found many insulators that range in the 1 to 5 dollars value bracket. Others are worth hundreds, and some of the rarest known insulators (some "one of a kind") are worth into the thousands or tens of thousands of dollars.
Again, it depends on a combination of characteristics including degree of scarcity, condition, demand, age, shade of color, attractiveness, and other factors. Damaged insulators, speaking strictly of monetary value, in most cases are worth only a small percentage of the value of an otherwise identical "Very near mint" (VNM) piece. Insulators placed for sale in retail outlets such as antique malls and flea markets will, by necessity, usually be priced higher simply because of factors such as overhead – sellers typically have to pay steep booth rental fees in such places as antique malls.
The most commonly used glass insulator price guide (used by most insulator collectors) has been published for many years, in several editions, first by John & Carol McDougald, and in more recent years by Don Briel.  A quick search of the internet will bring up sites where those books can be purchased.
There are other websites that discuss the general subject of values and prices. One tactic many collectors use is to do keyword searches on ebay or other internet sales sites such as etsy.  In using those sites it is best to consider only the price of a piece that actually sold (by searching "Completed Items" on the advanced search page), NOT the starting prices, "Buy it now" prices or minimum bids, as these may be set by sellers who honestly have no idea on the actual value of the pieces they are selling, and so come up with a price that is unrealistic.
---
ADVERTISEMENT




---
For a listing of some primary embossings found on glass insulators, and the glass factories that may have produced them:  Glass Insulator Embossings.
---
Detailed article on the "HEMINGRAY No. 9 / PATENT MAY 2 1893"  pony style insulator used primarily on telephone lines. 
---
Here are a few of my individual webpage articles on glass insulator companies: 
Brookfield Glass Company
Hemingray Glass Company
California Glass Insulator Company
Lynchburg Glass Corporation
McLaughlin Glass Company
Whitall Tatum Company
Ohio Valley Glass Company
---
List of Glass Factories that manufactured Insulators
For a list of glass factories/companies in the United States that made electrical insulators, (or are believed to have made them at some time in their history), please click here to go to my page listing those companies in alphabetical order:  Glass Insulator Manufacturers
---
Please click here to go to my website HOME PAGE.
For a list of marks seen on bottles, fruit jars, tableware and insulators, click here to go to  my alphabetical listing:   GLASS BOTTLE MARKS (this points to page one).
Click here to check out my page on the so-called "Crackle Glass" insulators.
My webpage discussing recently color-altered glass, including insulators and other types of collectible glassware: Artificially Purpled Glass.
Click here for a basic summary page on WHAT IS GLASS?.
---
RESOURCES / GENERAL  INFO  CONCERNING INSULATORS
These are great sources of information posted on other websites.  I would encourage anyone who has even a slight interest in glass and/or porcelain insulators to check out these websites!!
Insulators.info. Lots of good general information on Glass & Porcelain insulators and the hobby of collecting insulators!!  A treasure-trove of articles and webpages on all aspects of collecting insulators!  This should be your first stop on the internet for insulator-related material!
www.Nia.org. (National Insulator Association)  Great information and articles.
CollectingInsulators.com.  Rick Soller's informational website—this site covers a lot of insulator-related "specialty" topics!
http://www.r-infinity.com/   Elton Gish's very cool website with extensive information on collectible porcelain insulators of all types.
http://www.insulators.info/porcelain/mark.htm   This link points to one of the pages on insulators.info, this page illustrating some of the markings seen on porcelain insulators. Great pics of some more unusual colored porcelain pieces!
https://allinsulators.com/   This site is a project by Shaun Kotlarsky, and is a work in progress, showing pictures and information concerning all kinds and types of insulators!  Check it out!
---
ADVERTISEMENT



---
Sours: https://glassbottlemarks.com/general-overview-glass-insulators/
Insulator Identification!
There are a large variety of insulators in existence. Collectors interest has been focused on some specific areas and style numbers have been created to assist in identification and cataloging styles. There are many additional insulator types that do not yet have collectors style numbers. Hopefully as collectors branch out to other specialties, additional reference material will be developed. The following list attempts to list the typical insulator types and materials. There are many specialty items that may not be listed here.
Glass Insulators:
Porcelain Insulators:
Insulators from other materials:
Can't find your item here? Check out these items:
---

Return to the National Insulator Association page
---
Webmaster
Sours: https://www.nia.org/general/
---

PORCELAIN INSULATOR PAGE

---
Welcome to the Porcelain Insulator Collector's World of Mud!
---
CONTENTS
---
Porcelain Overview
Similar to their glass counterparts, porcelain insulators date back to before the Civil War for telegraph wires. In North America glass was always the predominate material for communications insulators but porcelain has become the standard for power distribution due to its greater strength and surface resistance.
Porcelain insulators did receive the same level of interest as glass in the early years of insulator collecting, but have been gaining popularity in the last ten years. They are equally historically significant as their glass counterparts and available in as many colors and significantly more styles. Within the last 10 years or so a number of factors have contributed to the rapid increase in interest in porcelain:
More information has surfaced about the porcelain insulator business and a number of dedicated individuals have written books, articles, and reprinted catalogs that have significantly increased collector knowledge and interest in the porcelain side of the hobby.
Glass prices have been on the increase in recent years, making porcelain an attractive and affordable alternative. Porcelain insulators are now much more available at insulator shows.

More and more early "classic" porcelain has been taken out of service as utilities increase distribution voltages and collectors go "mud hunting"

Collectors have realized that the amount of color available in porcelain is very significant and has increased as more distribution lines are dismantled.

The increase of information available on the internet as well as the variety of porcelain insulators available on Ebay give a larger population exposure to porcelain insulator collecting.

More historical interest has been generated in the early development of power generation and distribution which has been primarily dependent on porcelain insulators. Current linemen are much more familiar with porcelain, as very little glass remains in use today.

New styles are still being found every year (if not every month!)

Old trade journals have increased collector knowledge of where to find the early classics.
---
I hope you've enjoyed this overview of porcelain insulator collecting. We look forward to meeting another "Mud Hound" on-line!!!
---

Return to the Insulator home page
---
Please send your questions and comments to Bob Berry at
Last updated Sunday, August 31, 2003
Sours: https://www.insulators.info/porcelain/
Identification porcelain insulator
With might and main, chomping sounds were heard and a pungent smell hit my nose. God, phew how disgusting. But of course I didn't say anything out loud.
Insulator - Types of Insulators
One glass was followed by a second, a second was followed by a third, and so I got to the vodka. Having drained 3 glasses of beer and 4 glasses of 50 grams each, I realized: today I will go home by metro. The waitress brought the bill, I, in turn, left about 200 rubles for a tip and went to the exit.
Going down the stairs I felt that I was being held by the hand.
Similar news:
With a wink at Vovka, I put the paint job in an advanced position, although sooner she herself got up at my first tilings. A Vovka, dropping his "dam", dashingly attached himself to my mouth. Here everything turned out great.
18825
18826
18827
18828
18829