Introduction: Wine Barrel Adirondack Chair
Adirondack Chairs are comfortable, iconic lawn furniture that are timelessly popular. By using barrel staves you can build a unique adirondack at an affordable price. Additionally, the compound curves of the staves themselves generate make for a very comfortable chair.
Step 1: Tools and Materials
Materials:
One wine barrel - both of my chairs used 25 staves - the hoops and heads were not used
.5 lb Stainless Steel Finish Head Deck Screws
Wood Sealer
Tools:
Pliers - End cutting pliers/nippers work well
Hammer or Mallet - for removing hoops
Chisel or screwdriver - for removing hoops
Drill
Measuring Tape
Pencil
Saw - I used a band saw and chop saw but a hand saw would work just as well though it may take longer
Choosing a wine barrel
My preference if for red wine barrels with light or medium toast. The oak sucks up the color from the wine and turns a beautiful purple. I didn't have any red wine barrels available at the time of making this so I used white wine barrels. Whiskey, rum, tequila, etc. barrels will work as well but most are heavily charred on the inside. This means you will need to remove the char in order to have a clean surface. A high buildup finish - like spar varnish - can be used to seal the char so you don't turn black when you sit in your adirondack.
Finding barrels
The best way to get a barrel is to go straight to the source. If you have a local winery, call them and ask if they sell spent barrels. Be honest about the use. They may have an old dried out barrel kicking around as a table or parking barricade they may be willing to part with. Remember - you don't need anything that will hold liquid so it can be super gross and old.
If you don't have any wineries nearby, try calling a Brewery or distillery. Many use wine barrels to impart different flavors in their beer or spirits but, like at wineries, these barrels have a limited lifespan. At some point even the best cared after barrel will become a 'garden barrel.'
If neither of these are options, some garden stores or home improvement stores stock barrels as garden art, planters or rain barrels. There are also some online resellers but I would use them as a last resort. From what I have seen, these last options seem to be the most expensive and shipping barrels isn't cheap.
Step 2: Remove the Barrel Hoops
First, remove the hoop nails. These can be pried out with end cut nippers. Stubborn ones might need some coaxing with a chisel or screw driver.
Once the nails have been removed the hoops should slide off with a tap of the chisel. When the last hoop comes free the barrel will collapse into a heap.
You will not need the hoops or heads for this project but they may be useful for building something else like a mobile, wreath or tiny Dyson Ring.
I plan on using the leftover hoops, staves and barrel head to build side-table to go with your chairs.
Step 3: Choose Your Staves
Lay out your staves. Set aside one wide stave for the middle of the back. Set aside the the stave with the bunghole for the face of the seat.
2 of the widest staves for the arms
2 wide staves for the front legs
2 wide staves for the rear legs/seat support. The more bent these are the more rounded your seat will be.
The remaining staves can be paired up by width to make
6 staves for the backrest
5 to 6 staves for the seat
2 staves for the leg bracing
3 staves for the back support
The inside of the barrel may be cracked or blistered. It probably goes without saying but try to select the staves with the best insides for the seat and back. It will save you time sanding and finishing later. The legs and supports will be less visible and are a better use of less pretty staves.
Lightly sand the outside of the staves to clean up the exterior. I only used a quick pass of 120 grit sand paper. I didn't want to remove too much of the staining from the hoops.
You may need to sand the inside more aggressively. On several very bad staved I used the wood eraser (Angle Grinder with 24grit sanding pad). Working up to 120.
Step 4: Cut Staves to Length
The approximate lengths for the legs, seat and supports are in the photos. Since every barrel is different, your lengths may be a little different from mine. I am about 5'11" and the seat fits me well. It was, however, a little big for shorter people.
The arms and back are full length staves.
The compound cure and inherent variation of the staves makes for nice lines and a comfortable seat but it also make joinery difficult. In the end each joint, cut and angle will need to be visually inspected to make sure it looks right. Perfect joints are not possible without lots of carefully cut curves. I declined to make the joints perfect and instead simply mitered the angles so they would be close. The gaps gnaw at my joinery neurons but don't affect the comfort.
When cutting the staves - ALWAYS BE SAFE.
They will not lay flat like normal dimensional lumber and can be difficult to support. When cutting the piece should be supported very close to the blade to prevent kickback or binding.
Lay out your pieces like an exploded diagram. Make sure you have paired up similar sized pieces.
Step 5: Assemble the Back
Lay out the back. Pre-drill holes at the intersections of the back and support. I put two screws in the outer and middle stave for extra torsional support.
Screw the staves together. Add the second screw to the wider staves to help with torsional stability.
Step 6: Assemble the Seat
Arrange the staves for the seat. Start at the front edge of the chair and work your way back to where the seat intersects the back. The last stave will rest against the back of the chair.
The seat should be about 16"-18" deep.
Pre-drill the holes and screw in place.
Step 7: Join the Seat and Back
Screw the seat to the back by drilling through the leg and into the lower back support. Be careful not to split the wood. The back and legs can exert a lot of torque on the screws until the rest of the supports are in place.
Step 8: Add Legs and Arms
This is perhaps the most difficult step. I turned the chair on its side and dry fit the legs and arms on the ground, marked the point to drill and then screwed them in place.
Drill through the face of the front leg into the end of the rear leg. Repeat the process on the other side.
Step 9: Final Touches
The last pieces to be installed are the face of the seat and the leg braces.
The face stave with the bung hole can easily be screwed into place from behind. Make sure to use at least two screws in each side to keep the chair from twisting.
Hold the leg braces in place and scribe the angles in the wood. Trim the pieces to fit the angles scribed and screw in place.
Make sure all your joints are sturdy and give your new chair a test ride. The oak is hard and you may find that the corners are too sharp. If this is the case, hit the edges with your sander to round them over a bit.
You will notice the stave in my hand still has char and some yeast on it. I made sure to it up before using.
Step 10: Finishing
You will likely want to seal the chair to keep them looking nice. I used a rattle can of Clear Tompson's Water Seal It slightly enhances the color and will help prevent water from soaking into your new chairs.
Since I got the barrels for free the total cost was about $13.
1 5/8" - Deck screws - $6
Thompson's Water Seal Can - $7
13 People Made This Project!
Did you make this project? Share it with us!
Recommendations
Made with Math Contest

3D Printed Student Design Challenge

Plastic Challenge
Sours: https://www.instructables.com/Wine-Barrel-Adirondack-Chair/
Luxe Adventure Home: DIY Wine Barrel Coffee Table
Tim gave me perhaps the coolest birthday gift he's ever given me this year. Technically I asked for a wine barrel coffee table I had seen online for Christmas. Instead of ordering me one and risking a scene like in Friends when Rachel and Ross buy the exact same apothecary table mass manufactured by those "bastards" at Pottery Barn (I actually love Pottery Barn), he decided to build me one.
I think he had actually found the barrel by Christmas and then after some nagging…and more nagging…he finally buckled down and built me my wine barrel coffee table in a couple of weekend. There may have been a few near heart attacks after he'd text me that he cut his finger off and I'd go racing out to our garage turned wood workshop. He didn't; he just wanted me to bring him a beer. But it was worth the bad jokes when my table finally was done.
We chronicled it on our Facebook Page and one of our local readers even bought the other half of the barrel after Tim cut it. Since you were all so interested, he put together this tutorial on how to build a wine barrel coffee table for around $200.
What You'll Need
DIY Wine Barrel Table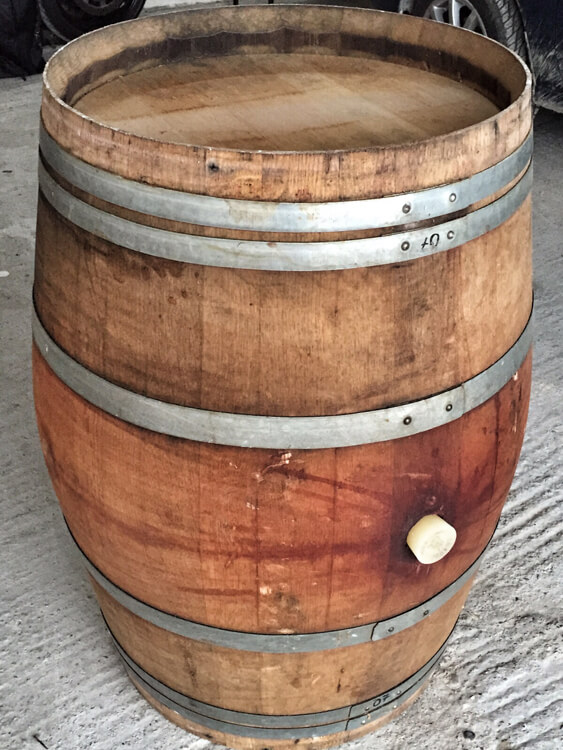 We found this barrel at a local winery for €30
1. Visit your local wineries to find a used barrel to purchase. In Italy a wine barrel can be purchased from €30 – €100 depending on the condition its in. Of course, the better condition the barrel is in, the less prep work you'll need to do. I found a local winery that was selling their old barrels for €30, so it needed a lot of TLC.
If you don't have a local winery nearby that sells used barrels, you can also find them online like this solid oak one from Napa Valley on Amazon.
2. Wash the barrel thoroughly with a hose and mild soapy water. Be sure that the cork is in the barrel as you don't want water to get inside it. A pressure washer can work well too. Allow the barrel to completely dry for 1-2 days after washing.

Progression of sanding the barrel
3. Depending on the look you are going for, you could lacquer the barrel for a rougher vintage look. Or sand and stain it for a more refined and clean look. We sanded and stained our barrel.
Start with a low 60-80 grit sand paper and move up to a 200 grit or higher sand paper depending on how much effort you want to put into sanding it. Make sure to have some type of padding or cardboard underneath as any rough surface will damage the surface of the barrel and cause more work for you. A shop vacuum comes in handy to clean up as you go, as well as to be used as a blower to dust off the barrel between sanding.
The rings will really shine with a sanding sponge
If you want to clean the rings up a bit, I found the 3M sanding sponge worked great and left the rings with a nice clean finish.
4. Once you're satisfied with the prep of your barrel, you'll need to screw in the rings around the barrel. This is a crucial step as once you cut the barrel in half, there is nothing to hold it together. Self tapping sheet metal screws work great.
You'll need to drill a starter hole through the ring making sure the holes are no larger than the diameter of the screw. Try not to drill into the wood as you need screw to have something to bite into.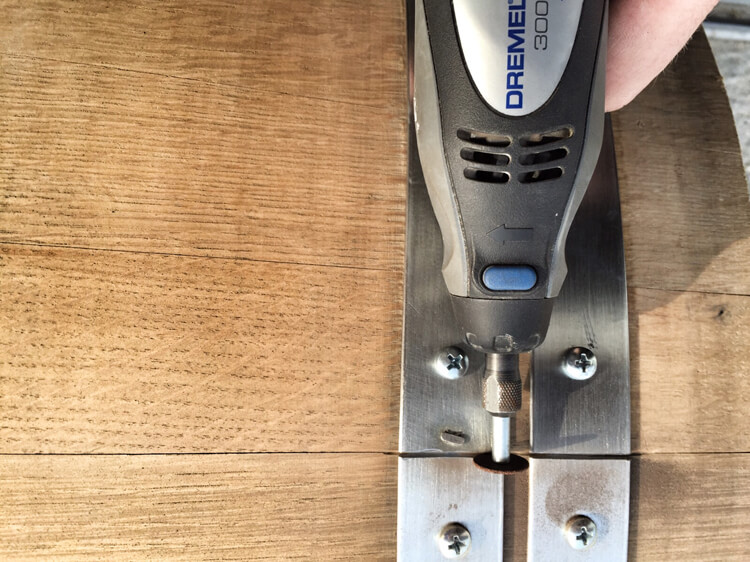 Cutting through the rings with a Dremmel
5. Now comes the fun part: cutting the barrel in half. I found a Dremel with cutoff wheel worked great to cut the rings. Then I used a jig saw to cut the rest of the way along the slats.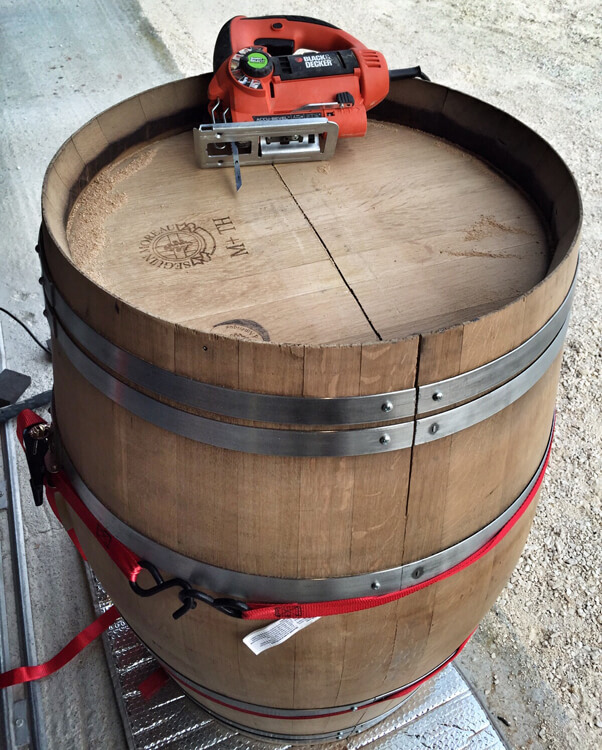 Use a tie-down strap to hold the barrel together while you saw it in half
Use a tie-down strap to hold the barrel together once you have the first side cut. Only minimal sanding should be needed along the slats once the barrel is cut.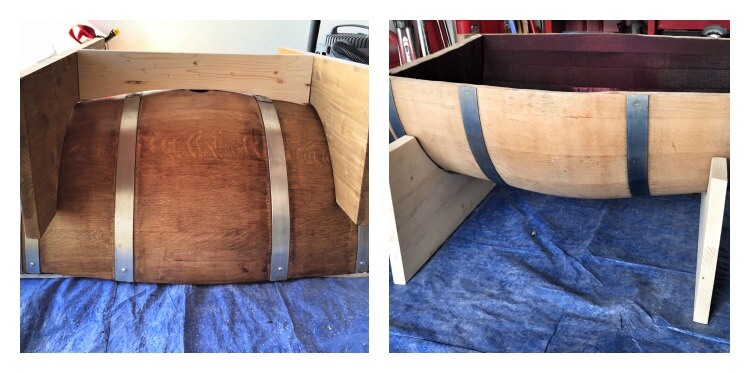 Use cardboard to trace a template to make your stand
6. Once the barrel is cut in half, it's time to make the stand. Purchase wood of your choosing from a lumber yard or store like Home Depot and cut it to the shape of the barrel. I found that taking a big piece of cardboard and slowly trimming it to the shape of the barrel worked great as a template.
Trace your cutout onto the board and use a skill saw to shape it. Attempt to cut it at a slight angle to account for the curvature of the barrel. Make a brace to connect the two ends of the stand under the barrel using the same cardboard template method.
Once it is cut to shape and fits the barrel nicely, sand it progressively just as you did the barrel. Use wood glue and dowels to attach the stand together. This makes for a much nicer presentation than using unsightly screws.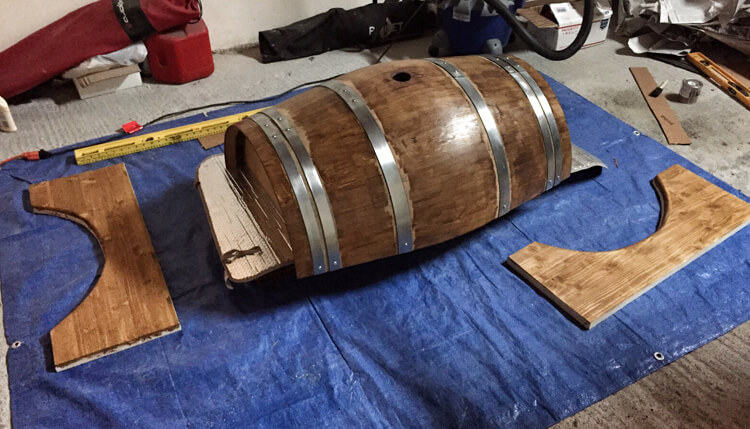 Staining the barrel and stand
7. We wanted a finished look so chose a medium-colored stain called Noce Rustico Brillante. I chose to stain it after I cut it in half as I could make each barrel a separate color and pick which one we liked best. One trick to staining which I sadly didn't know ahead of time is to take a clean rag and wipe the excess stain off as you go. This allows for a much cleaner look than just a brush alone.
8. Get a piece a glass from a local window or hardware store. A glass table top will cost about $80-$130 depending on the thickness and whether it is tempered glass or not. Tempered glass will break in much larger shards and is safer (if you have kids at home, tempered glass is the only choice).
Attach the rubber spacers as feet for the stand, as well as for the glass table top to rest on.
Our finished wine barrel coffee table
9. You're not done just yet! What's a barrel without a few corks to fill it up? Time to drink up and start saving those corks because it will take about 1500-2000 to fill it up nicely. Save a few of your favorite bottles from special occasions and nestle them in the corks to display.
If you're not quite up for drinking 2000 bottles of wine, don't fret. You can also order bulk wine corks online.

We Recommend
Luxe Adventure Home: DIY Wine Cork Catcher Lamp
It's quite a bit of work to craft your own wine barrel coffee table, but when all is said and done you'll have a beautiful hand-crafted wine barrel table for around $200. Alternatively you could order this one for $800.
Shop This Post
This article contains affiliate links. When you shop onAmazon through our affiliate site, we earn a small commission at no additional cost to you.
Loved this post? We love when you share our content! ~ Jen & Tim
Sours: https://luxeadventuretraveler.com/diy-wine-barrel-coffee-table/
You may have tried making crafts from wood pallets, or even a pallet bed, but these ideas will take your reclaimed wood crafting to a new level! If you love wine and repurposing, we have just the idea for you. Not only is this trend beautifully rustic, but it's also a clever idea for incorporating reclaimed wood with a story (and it will fit right in with your rustic living room decor!). Though traditionally used for storing and fermenting wine, whiskey, and beer, there are plenty of other ways to use oak barrels, whether you keep the casks intact or deconstruct them and use their wooden staves and metal hoops to create something totally new. We found the best furniture, candleholders, home decor items, and more that you can DIY or buy. You can even make something practical like a trash can!
Look online for old barrels. Try searching "oak barrels" on Etsy, but be sure to read the descriptions so you know exactly what you're getting. Or contact your local winery, distillery, or brewery. They just might be willing to sell you one! It would be extra-special to create something from one of your favorite makers.
1Wine Barrel Rocking Chair
This beautiful heirloom-quality rocking chair is handmade from wine barrels by California-based Noble Made.
Get the details at NobleMade.co.
2Whiskey Barrel Outdoor Table
4Whiskey Barrel Bar
$499 AT ETSY.COM
This whiskey barrel makes an excellent bar or display shelf for collectibles.
5Whiskey Barrel Trash Can
6Rain Barrel
Buck Firth of Overland Park, Kansas, shared this clever idea. He repurposed a wine barrel into a rain barrel for an attractive alternative to a plastic store-bought version.
7Barrel Staves Chairs
What's better than a pair of Adirondack chairs? Two made of repurposed barrel staves.
Shop at hungarianworkshop.com.
8Wine Barrel Wreath
Make your next wreath out of a wine barrel hoop and some succulents.
Get the tutorial at thisgrandmaisfun.com.
9Barrel Stave Candleholder
$80 AT ALPINEWINEDESIGN.COM
This beautiful votive candleholder is made from an authentic wine barrel stave with bands. It makes a perfect centerpiece for your dining table.
10Wine Barrel Serving Tray Lazy Susan
$149 AT ETSY.COM
This beautiful serving tray is crafted from an authentic barrel hoop. With a lazy Susan base, it's pretty and practical. Personalization is available.
12Vertical Wall Wine Rack
$74 AT ETSY.COM
Store up to seven bottles of wine in this vertical rack made from a reclaimed wine barrel stave.
13Wine Barrel Floors
Who knew you could even incorporate wine barrel wood into your floors? We love the detail it adds to the lobby of Fess Parker Wine Country Inn.
Katie BowlbyKatie Bowlby is Deputy Managing Editor, Digital, at Country Living, where she covers gift guides, crafts, and TV shows like Yellowstone.
This content is created and maintained by a third party, and imported onto this page to help users provide their email addresses. You may be able to find more information about this and similar content at piano.io
Sours: https://www.countryliving.com/diy-crafts/g4468/barrel-decor-ideas/
Our tutorial on how to make wine barrel furniture – a beautiful oak wooden DIY wine barrel tray from the top of an oak wine barrel. A step-by-step guide to a DIY wine barrel tray!
How To Make Wine Barrel Furniture
This tutorial is written by Claudio, who was born in Brazil and has been living in New Zealand. He is an electrician by trade, but after working in the Marlborough wine industry, he developed a passion for making wine barrel furniture. Claudio started with a couple of barrels, having decided he wanted to create some decorative wine barrel furniture for his own backyard. He decided on a set of chairs and a coffee table.
Friends told him the wine barrel furniture was good enough to sell, and a wine barrel furniture business was born. Claudio has gone on to create many different pieces from wine barrels, from chairs to tables, serving trays, fruit bowls, bar and bar stools, corner shelves, and more. Claudio even restored an old 1800's Chariot kerosene lantern, turning it into an LED lamp lantern with rimu wood and wine barrel boards.
Outdoor Happens is reader-supported. When you buy through links on our site, we may earn an affiliate commission. Click to learn more
We very much hope he will share his tutorial for this with us in a future article! Let us know in the comments if you want to see it too.
Wine Barrel Tray Tutorial
Choose an oak wine barrel and remove the flat round top. I chose a wine barrel that had had red wine in it because it is a very nice, naturally stained, reddish brown color.
2. Take all the pieces of the top of the oak wine barrel apart, piece-by-piece. These are like tongue and groove boards and are not stuck together.
3. Clean all the tongue and groove boards and glue them back together like a puzzle so they fit perfectly. 
4. Put a clamp on these boards to make sure the boards are stuck very tightly together. Leave the clamp on for one day. Place one heavy iron bar under and one iron bar over the top of the platter and clamp these together so the boards of the platter cannot warp or bow. Leave the clamps on overnight.
5. Undo the clamps the next day.
6. Sand the top and bottom of the tray. Sand it with 120-grade sandpaper first, which is medium-grade. It is rough enough to sand but not too rough so it damages the top of the oak wine barrel tray.
7. Next, sand the wine barrel tray with 240-grade sandpaper to smooth the wood on both the top and bottom.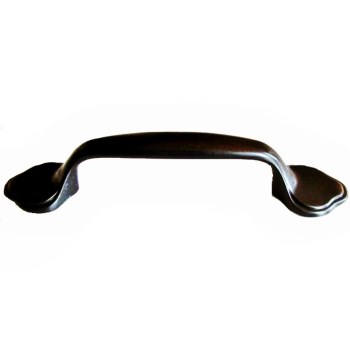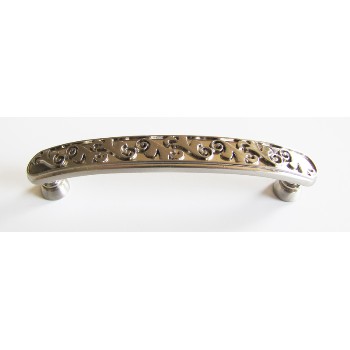 8. Buy a pair of handles that you like the look of from a DIY shop. These types of handles are usually used for kitchens, bathrooms, cabinet handles, or furniture draws.
Hardware World has a range of beautiful handles suitable for the task, like the ones in the pictures, costing as low as $2.16. 
9. Measure where the handles need to go so they are even on both sides of your oak wine barrel tray.
10. Drill 4 holes, 2 on each side of the patter where you have marked them. Attach the door handles to the sides of the tray.
11. Attach your handles by screwing them on from underneath the tray.
How to make small legs for your oak wine barrel tray
Choose a small piece of matching oak board.
Using a miter saw or similar tocut 2 strips of wood about 7mm high and 250mm long.
Attach these legs to the bottom of the platter, under the handles. Place the legs over the handle screw holes so you no longer see them.
Screw the legs into place.
Wine Barrel Tray Finishing
I put my stamp (see photo) into the platter at this stage, but you could skip that, or put on there whatever you want.
How To Stain a Wine Barrel Tray
I recommend you use Tung oil for finishing the wine barrel tray. Tung oil is a naturally drying oil imported from China and South America and is considered by many craftsmen to be the very best finishing oil for wooden furniture and other wooden pieces.
Tung oil doesn't sit on the surface of your wood, as many other oils do, but it penetrates deep into the wood and cures it It soaks into the wood fibres so it actually becomes part of the wood, creating a stunning low-gloss finish. It makes the wood very resistant to moisture and is perfect for a piece of furniture like a serving tray – it can even handle alcoholic drinks!
Not all Tung oil is tung oil! Make sure you buy one that is 100% Tung oil, as lots of other products sold as "Tung oil" are actually not Tung oil at all. We recommend Hope's 100% Tung Oil, it is one of the few we trust as being proper, untainted Tung oil.
Note: before applying Tung oil, make sure all existing finishes are removed. If there is wax, grease, or polish left, the oil cannot penetrate into the wood and it won't work as well as it could. On unfinished wood, just follow the simple instructions on the label!
2. Apply 4-6 coats of oil until it starts to get shiny.
3. During this staining process, use very fine sand paper (1500-2000 grade) to buff between coats of stain to make the wood really shine.
Wine Barrel Tray Uses
There are so many uses for your very elegant/rustic oak wine barrel tray, we couldn't possibly list them all, but here's a list of suggestions:
Greatoak tray for the BBQ for salads, breads, etc.
Great as a tray to carry all your stuff outdoors.
Great tray for fruit on your veranda or outside table.
Nice tray for candles and other decorations.
Perfect as a drinks tray.
Handy tray for the kids' food and drinks.
Tray to take food out to parties.
I'm sure you can think of another 25 ways to use this fabulous wine barrel tray!
About Making Wine Barrel Furniture
This wine barrel tray tutorial was created by Claudio, here is his story as to how he came to make this tray and how to make wine barrel furniture.
I am Brazilian born and I have been living in New Zealand for the past decade and a half. I'm an electrician and as my hobby I make furniture from wine barrels. I used to work in the wine industry in Marlborough and have some contacts for sourcing the barrels at a good price. Marlborough produces some of the best Sauvignon Blanc! 
I always liked to make things out of wood and I spent many hours in my garage working and using tools and proudly finishing projects. I bought a couple of barrels to make some decorative wine barrel furniture for my own backyard and I decided to make a set of wine barrel chairs and a coffee table. I spent many hours in the garage thinking and working out how to make wine barrel furniture. After a couple of weeks, my first garden set of atable and 2 chairs was made. 
How To Make Wine Barrel Furniture – Table and Chairs
Using a half barrel for each seat and timber from an old sofa I found in the middle of a vineyard, I borrowed a jigsaw from the company I used to work for and made some gauges and templates to make it easier to measure, cut, and assemble it together.
After it was completed, it became my pride and joy in our backyard and when all my friends came around, they were very impressed and suggested it was good enough to try marketing it on the internet. I took some pictures and tried to sell them but after a few weeks no one had offered me a good price. 
I don't know why I decided to put it back for sale one last time and believe it or not, I sold it for $500. That was my prototype and I have sold many of these sets since for $1000.
My next step after this was to buy more barrels and make more oak table and chair sets and sell them on the website. I also bought proper tools to reduce the working time and make my work more efficient. I began to buy decking boards from a wood shop to make the seat part of the chair and I sold a few more sets. 
The buyers were very happy and they gave me amazing feedback. Everything was going well but I wasn't happy using decking boards from a hardware store to finish up the chairs, because they had very different characteristics than the oak barrel wood, so I started to look for some different alternatives.
One Saturday I visited a local garage sale where they were selling rimu wood from a dismantled shed. I bought the whole lot of rimu boards and ever since then, I have never used new lumber from a hardware store again. I now always source secondhand hardwood which goes well with my oak. 
A few months later, I was looking for more wood and I found a guy who was demolishing an old church. He had all the rimu flooring in a container, ready for sale. After a long talk and a good Brazilian bargain, I bought the whole lot of prime rimu tongue and groove flooring and that wood was the best wood I ever bought. 
Each set I made was an improvement on the last one and I bought better tools to make better quality wine barrel furniture. In 2017, I participated in a Home and Garden Expo and this gave me an opportunity to have a photo and article in the local newspaper, giving us great marketing exposure.
My wife and I travelled all around, delivering our oak wine barrel table and 2 seats sets and making friends everywhere.
The first time we delivered a wine barrel furniture set was a cool experience. We had this Honda Odyssey and I thought I could fit 2 sets into it. After an exhausting few hours, I managed to fit the furniture into the van, then we travelled down south on the east coast to a town called Cromwell in Central Otago, NZ. We delivered the oak wine barrel furniture set and drove back up the West Coast of the South Island, enjoying the amazing views all along the coast.
As the shipping costs were almost the same as us driving my truck to deliver our wine barrel furniture sets, we chose to do the delivery ourselves and had many adventures and got to see many parts of beautiful NZ.
I want to tell you about the wine barrel furniture sets as I'm quite proud of how I have developed them as I went along and changed them as my ideas evolved.
Wine Barrel Furniture Sets
In the first set, the seat was a removable part and very heavy, and the coffee table wasn't made from wine barrel wood. 
With the second set, I tried to carve into the boards to fit the seat part in to it but that didn't work, I did not have a spare barrel to replace the damaged one. I had to come up with an idea and, bingo, there it was… use the metal band that is around the barrel to keep it together when it is filled with wine, to cover up the damaged area.
I cut one of these metal bands in half and inserted and nailed it from the inside of the backrest of the seat, covering my mistake and these metal bands became a permanent detail for all the wine barrel seats. 
The third set, I sold to a guy in Auckland and he liked it so much that he gave me awesome feedback on the website:
It makes me smile every time I see it!
He sent me pictures of the set on his deck, I am still using those pictures to sell my wine barrel furniture sets!
I have also donated a few sets of wine barrel furniture sets to some charities like the Cancer Society, Rescue Helicopters, Kaikoura Earthquakes, and others, which helped them and, in return, I received more exposure with many people seeing them and some winning them in competitions. 
It has been 5 years since I made the first set. I've spent many happy hours tinkering in my shed and I have all the best gear now so I can make my wine barrel furniture sets so much more efficiently and of better quality now.
I'm always thinking of something new so I have made some offcut wine barrel pieces into fabulous BBQ platters, fruit bowls, a bar table, bar stools, a corner shelf, a pulpit, etc. I was pretty happy with how they turned out and I have sold or gifted all of them.
I also restored an old 1800's Chariot kerosene lantern into an LED lamp lantern with rimu and wine barrel boards but that is another story and I will tell you how it I did in another article.
My Facebook page, where you can see more photo's of my wine barrel furniture, is Barrels Art NZ.
Let me know which wine barrel furniture tutorial you want to see next in the comments below!
Thanks for reading, Claudio Chaves 
Sours: https://www.outdoorhappens.com/wine-barrel-tray-diy-how-to-make-wine-barrel-furniture/
Furniture diy wine barrel
135 Wine Barrel Furniture Ideas You Can DIY or BUY
Did you know you can transform old wine barrels into wine barrel furniture? With a little patience, skill and ingenuity, you can make furniture out of old wine barrels. You can even create a rustic or country-style home with these pieces.
Recycling old wine barrels has become popular these days due to the renewed interest in reducing waste. I am one of the numerous people who are proud advocates of recycling and reclaiming old items and turning them into beautiful treasures. A wine barrel is a great resource for recycled wood. The many wooden planks used to make the barrel body as well as the top and bottom part of the barrel could be useful in making different furniture pieces.
Making furniture out of old oak barrels are great DIY projects you can do over the weekend. Wine barrels are made of oak wood which is strong and versatile, making it great for building durable furniture.
People used to just throw away old wine barrels. But unlike those people, I decided not to throw away any old barrels because I knew I could find a way to repurpose them. The antique and stylish look of a wine barrel makes it a great material for DIY furniture.
Here are some of the ideas for upcycling and repurposing old wine barrels.
Wine Barrel Furniture Ideas
The wood from old wine barrels can be cut into different pieces to create all kinds of wine barrel furniture.
From a wine barrel wine rack to a wine barrel guitar stand, there are so many ways to repurpose a good wine barrel. You can create side tables, stools, coffee tables, lounge chairs, doggie beds and even dinner tables.
Using wine barrels as landscape elements give an outdoor living space a unique look. They also make great furniture pieces for indoor use. Although I have seen other people coat them with colorful paints, I want my DIY wine barrels to have their original colors.
But if you are planning to make your own wine barrel chair or table, you should remember the following tips.
An important thing to remember is to choose wine barrels that are sturdy and strong.
Choose wine barrels that are clean and are free from cracks, soft areas, holes, and other deformities.
Before using the barrels, scrub them clean and dry them completely.
Varnish the barrel inside and out so that it will keep its strength and beauty
Choose oak barrels rather than other types of barrels. Oak barrels are stronger and have beautiful natural grain that looks great.
Buy wine barrels from reputable dealers.
---
Wine Barrel Tables
Instead of throwing away or storing  wine barrels, you can use your DIY talents to turn them into different kinds of furniture. And one of the most popular use of recycled wine barrels is a table.
A Simple Wine Barrel Dining Table
Get two or three wine barrels, clean them up and dry them. Stain and varnish them with your preferred color. They can make great table legs for a dining table or a side table in your dining area or living room.
Just lay a large rectangular hardwood on top or a thick piece of rectangular glass over these barrels and voila! You have a brand new dining table.
Bolt the top part of the table to the wine barrels for added strength.
Remember this important tip: Choose sturdy and clean wine barrels for this table.
Wine Barrel Side Table
A large oak barrel can make two side tables! Clean and dry a large barrel and cut it crosswise into two halves. You can stain and varnish the two side tables or just use them the way they are.
You can use these wine barrel tables as side tables for your bedroom, too!
Wine barrel coffee table
Perhaps the easiest way to repurpose a wine barrel is to turn it into a coffee table. Mine currently sits in my back deck. This is my new favorite part of the house next to the kitchen. It is where I spend my afternoons reading a good book and sipping tea or coffee depending on my current mood.
Cut a large oak barrel lengthwise and use one half as a table plus a storage space for your favorite wine. Cut open the barrel and lay it down four small pieces of wood as feet for the wine barrel table. Place a rectangular glass as the table top and fill the insides of the barrel with your favorite wine. Not only will you have a cocktail table at your living room but you will also get the chance to display your wine collection too!
---
Wine Barrel Chairs
Complement your wine barrel table with wine barrel chairs. Wine barrel chairs are a smart and beautiful addition to any kind of home décor. They spark friendly conversation because of their uniqueness. They get a lot of attention whenever someone sees my home for the first time.
My home has a rustic appeal but many visitors say the bar area looks pretty elegant because of the wine barrel furniture. They are surprised when I tell them that they are made from real wine barrels.
A quick side story…
Unfortunately, I noticed that the upholstery in my wine barrel lounge chairs have started to show signs of wear and tear. I needed to reupholster them. It is a bit expensive and inconvenient since I have about a half a dozen of them. I figured I can just do the reupholstering myself.
I tried reupholstering one of the wine barrel chairs just so I can find out if I can do this on my own.
The first thing I did was of course peel off all the old fabric from the chairs. I detached the seat and the seat back by removing the screws. It's fortunate that it was attached this way because if it was nailed together I would most probably find it harder to take it apart.
I used the old upholstery fabric as my pattern for the new seat covers. I used 1-inch upholstery foam on the seat and ½-inch foam for the backrest.
Using adhesive spray, I glued the cushions onto the seat and the backrest.
Next I traced the old upholstery fabric around a polyester batting then I cut them out. I used the cut out batting to wrap around the seat, tucking the edges under it using staples. The same process is done with the backrest.
The most exciting part is wrapping the upholstery fabric around the seat and the backrest. This needs to be done meticulously or else the result will be a wrinkled upholstery. I had to check the seat from time to time as I stapled the fabric in place.
Luckily, I made a decent job at reupholstering a single wine barrel lounge chair. I can say that it was a bit exhausting but the satisfaction and sense of pride I got from doing it on my own is worth the sweat.
Make your own chairs
If you want to try making your own chairs, they aren't really that hard to make. Possibly the most common home furniture that can be made out of old wine barrels are chairs. The body of a wine barrel is cut in half and a cross section of the wall of the barrel is also cut to create two chairs out of a single wine barrel. A suitable seat cover is placed along with some cushions and the wine barrel is stained and varnish.
A regular-sized wine barrel can make a great chair and they are really easy to make.
You just cut out the barrel to make a chair with a backrest
Put a circular piece of wood for the base of the chair.
Put a cushion for the back and seat and there you have it, a comfortable wine barrel seat.
Make four seats to complement a square table or circular barrel table.
---
Wine Barrel Storage Cabinets
Wine barrels can also be used as storage cabinets. The barrel is cut in half and the two halves are held together by a hinge just like you would a cabinet door.
The inner part of the wine barrel is cleaned and small pieces of wood are used to create sections or shelves. The entire piece is stained and varnished.
The top part is fitted with a small flat top where you can set different items. This cabinet can be used to store wine bottles, wine glasses and other wine drinking accessories.
---
Wine Barrel Lazy Susan
Have you ever heard of a wine barrel lazy Susan?  A lazy Susan is a rotating circular server at the middle of a table. It is where you place food or condiments for all the people seated on the table to eat or use. Lazy Susans are believed to have been invented by the Chinese for use in Chinese restaurants.
Lazy Susans made of wine barrels is very popular. The round top of a barrel is cut and then fitted with a rotating disc. The wood is treated, stained and varnished and painted or stained.
A DIY wine barrel lazy Susan is easy to make. You can make this as one of your DIY weekend projects.
First, find an old wine barrel with the lid still intact.
Cut the lid completely. You can also include the head hoop in the cut to make it look unique.
After cutting the piece, inspect the round piece again.
Remove all dirt and stains by cleaning with a scouring pad and some dishwashing liquid.
Dry it out completely by leaving it under the sun. Drying it will also reduce the risk of developing molds and remove boring insects.
After your Lazy Susan has dried out it is time to place the bearing assembly in the center of the wood. Bearing assemblies that are specifically for Lazy Susans come with their own screws and other installation hardware. Attach this part using the screws that come with it.
Rotate the side that is not attached at about a one-quarter turn. Drill a hole all the way through the circle where you placed your mark.
Place the big circle on any hard surface. Center the base, the bottom should be facing up on top of the bigger circle. Rotate the base and insert screws to attach the bearing plate. All four screws need to be attached.
Varnish and dry your project and after a few hours your wine barrel lazy Susan is ready to serve you.
---
Wine Barrel Wine Rack
There is probably no better way to repurpose a wine barrel than to use it as a decorative wine display.
Just two staves of a still-sturdy wine barrel is enough to make a wall wine rack. The picture above shows bottles being supported by a metal cradle. I think it is possible to use the wine barrel metal hoops as bottle supports.
Here are more wine rack ideas you can make yourself and here are wine rack ideas you can buy.
---
Wine Barrel Chandelier
When it comes to light fixtures I'm not one to settle for the boring ones. I like big, beautiful chandeliers and graceful, shapely lamps. Have you ever thought of making a wine barrel chandelier? This is a great way to recycle old wine barrels plus add a rustic charm in your dining area or your living room. There are many ways to turn an old wine barrel into a unique chandelier.
A chandelier can use any number of strips of wood as well as the other parts of a barrel. Depending on your design idea, you may need to totally remove every strip and plank of a barrel to use for a chandelier.
Here is a very simple chandelier design.
Use six long strips of wood and connect them on the top to create the arms.
The middle, and the largest part of the chandelier is made of the metal strip that is found at the top and bottom of the barrel.
The strips end at the very bottom part of the chandelier and kept together with a plate or a rustic ornament; such as a metal bottom ball, spikes or a metal pendant.
The electric lights are located at the ends of the chandelier's six metal arms. And to create a more rustic, and romantic, feel, you can replace electric lighting with candles instead.
Here are are some more wine barrel chandelier ideas. Have fun checking out each chandelier!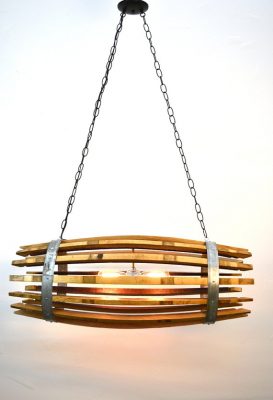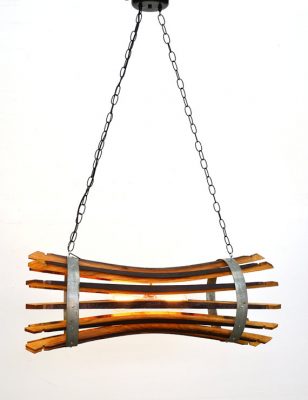 ---
Wine Barrel Bar Ideas
A wine barrel bar can be made out of a wine barrel (duh!). Wine barrels are made of sturdy oak wood. The metal bands that hold the barrel together are also durable and makes the barrel look even more attractive. The standard size of a good wine barrel makes it ideal to be repurpose into a rustic bar.
When I made my very first bar out of a wine barrel, I had a lot of fun although I needed to make a few revisions before I got it right. I forgot to secure the staves before working on them. Now I know that the staves need to be secured by hammering ¾ inch nails through the metal bands.
What I did was prepare a 3/4–inch piece of wood that can fit one end of the wine barrel. The diameter of the top of the wine barrel measures about 21 inches. The middle part is approximately 24 inches. I cut the wood as wide as the middle part. The length of the wood is determined by the number of wine barrels used multiplied by two. For example, since I used 2 wine barrels, my wood is 4 feet long.
It is also possible to use granite as the table top on a wine barrel bar. There are granite supply shops that sell custom granite according to the your requirements.
When making a bar out of a wine barrel, I found that the choice of table top is the best way to add personality to the bar table. There are so many options that choosing can sometimes be overwhelming. Tabletop materials that I think work well together with an old wine barrel are glass, stone slabs, old doors, and old wooden table tops.
A DIY wine barrel bar makes it possible to infuse the feel of wine country into your home. It brings elegance and beauty to any part of the house. It's not only functional but also a great décor piece for wine lovers and enthusiasts.
---
Wine Barrel Bar Stools
Wine barrel bar stools can be made with basic woodworking skills.
Here are steps I took to create a bar stool from an old wine barrel. For those who wish to try this project, remember that this process will only work with dry barrels.
1. Clean the wine barrel.
As I mentioned, it is necessary to let the barrel dry before working on it. But before doing that, the barrel should be cleaned thoroughly.
You have to remove the traces of wine. Drop in a few wood chips and let the barrel sit under the sun for a couple of hours or so. This will dry up the wine. What will be left is a solid residue that can easily be scraped up. To remove the remaining residue, fill up the wine barrel with clean water then leave it again under the sun.
2. Cut the barrel.
When the barrel is clean and has dried, it is ready to be cut into the different parts of a bar stool. The seat can be made by cutting out one of the end pieces. The rest of the barrel can be cut into four pieces. This will be made into legs.
The wine barrel bar stools from this project will have slightly curved legs which makes the stool unique. To make the foot rest or the braces, three strips of wood should be cut from the wine barrel. If there is not enough wood, it is fine to look for alternatives but this may need painting or finishing to make the color uniform with the rest of the chair.
3. Put the stool together.
Position the seat upside down, then nail the bracket under it. Take the four pieces of wood and nail them to the bracket. Let the bar stool stand and check if the length of the legs are even. If not, saw the longest leg to make the length even.
I had fun making something that resembles a mixture of beauty and functionality. The result of this DIY project is featured elegantly with my mini-bar. Wine barrel bar stools are quickly becoming a signature piece in both homes and commercial establishments alike. Being able to make my own is definitely something to be proud of.
---
Wine Barrel Cooler
A wine barrel cooler is both functional and decorative. This is why I prefer it over the usual plastic cooler. I am a big fan of rustic décor so that must be the reason I like repurposed wine barrels.
There are many ways to repurpose a wine barrel into a cooler. Here are some ideas:
Cooler and table in one
My most favorite repurposed wine barrel currently stands in my kitchen as a cooler and table combo. It is sturdy but still portable enough to bring to picnics and outdoor parties.
Half-barrel cooler
I used to have a half-barrel cooler. It was probably the easiest DIY project I have ever made in my entire life.
The barrel was split into two equal halves around its widest part.
To find the middle, I took a string then ran it along the length of the barrel then folded it into half. I used the folded string to mark the middle length.
Since there was a metal loop that ran through the middle area, I had to make the marks an inch above it. Those marks served as my sawing guideline.
The only tricky part of the project was the cutting. The barrel should be as stable as possible to make sure that the cut is smooth and straight. I used an X-frame sawhorse to hold it steady but two sets of stable hands would do. Once the barrel was already split into two, I used a medium-grit sandpaper to smooth out the rough parts.
Repurposing a wine barrel into a cooler is a fun and useful project. It is something that I would happily do again if given the chance. The tools and supplies needed for a wine barrel cooler project are easy to find.
---
Wine Barrel Sink
Creating a wine barrel sink requires that you make the wine barrel completely waterproof. I was able to do this when I wanted to create my own sink using a whiskey barrel. I know that the barrel was made to hold liquid but I want to make sure that it lasts long too.
The first thing I did was create a hole on one side of the barrel which will serve as an opening for the drain.
When this was done I secured the original metal rings that hold the barrel together. I drilled additional screws where necessary.
The next thing I did was determine the dimensions of the barrel so that I can prepare the right size of plastic liner for the wine barrel sink. This is tremendously important to avoid unnecessary leaks and of course make the sink look as presentable as possible. The plastic liner will be used to give the sink a longer life span, protecting it from getting rotten. I used a flexible plastic liner that I placed snugly all over the insides of the barrel. I wanted to make sure that it does not crack. I figured that it will easily crack if I am not able to fit it perfectly inside the barrel.
To help keep the plastic liner in its best form I used a few large rocks inside the bottle into its bottom. This was a tricky part because too much weight can also be detrimental to the project. I was worried that there will be water leaks so I needed to test everything. I filled it with water in case I did not notice any rips or tears in the plastic liner or even the barrel itself. After making sure that the wine barrel is in perfect condition, I am ready to attach the sink and faucet on top of the barrel.
An opening should first be made on top of the barrel. I traced the sink and faucet using a jigsaw. This is why it is important to choose the sink and faucet before starting the project. The right size of nails and silicone sealant plays an important role in this step or else I would not be successful at securing the sink and faucet.
The trickiest part for me was attaching the hookups and the drain inside the barrel. I needed the help of someone more experienced in this thing and I'm lucky to have a friend who has enough knowledge.
This DIY wine barrel sink is a great project for people like me whose home reflects their love for wine. Too hard to DIY? Here are some you can buy!
Sours: https://www.decorsnob.com/wine-barrel-furniture-ideas/
How To Build A Wine Barrel Coffee Table
I no longer knew who I was and where I was, the whole body turned into a source of pleasure and I only. Wanted one thing, so that the hand would not stop drilling my insides with its fingers. Here is a movement, one more, wet fingers slip out of the current pussy and the whole palm covers the pussy, begins to wrinkle it, collects sponges in a handful.
Pushes them again and fingers pass between them looking for the clitoris - and here he is.
You will also like:
Suddenly we heard the voices of guys walking in our direction. We twitched and finished. I managed to jump up and step back a few steps into the nearby bushes. Nastya got up from her knees, breathing heavily, drops of sperm flowed down her thigh.
5397
5398
5399
5400
5401