A dying or cracked display doesn't mean your laptop is a paperweight. For most laptops, a screen replacement takes $80 and an hour of your time at most. If you're a DIYer, replacing a broken laptop screen yourself is a great way to save cash, as most computer repair shops will quote you $150 to $300 for the job.
Here are step-by-step instructions on how to replace your broken laptop's LCD.
Before you replace your laptop screen
Before doing anything, give your laptop a full look-over and inspection to ensure the screen really needs replacement. If the graphics card on the motherboard is dead, for instance, you may be wasting your time and effort on replacing a perfectly good screen. Additionally, if the laptop has been recently dropped or otherwise possibly physically harmed, you'll want to double-check for other damage as well.
To ensure the graphics card is functioning, you can plug a desktop monitor or TV into the laptop, as most have a standard blue VGA monitor and/or a HDMI output. If the picture looks good on an external display, your graphics card is likely good and the screen is at fault. If you don't get any picture, keep in mind some laptops require you to press certain function keys on the laptop to activate external display output. If you do that and video still doesn't display, your graphics card and/or motherboard is likely broken, rather than your screen.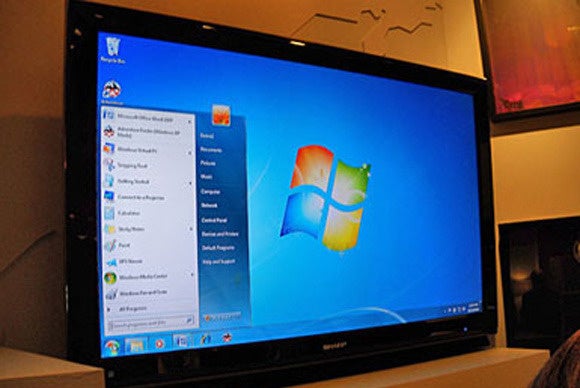 If the laptop outputs to another display successfully, use the computer for a while to ensure the keyboard and other laptop components appear to be functioning normally.
Before you replace your laptop's LCD, here are the caveats to the general steps that follow. This is not meant to be a guide for ultrabooks, two-in-ones, tablets, Macbooks, or other, more specialized notebooks, however. It's more for average, run-of-the-mill laptops. But even then the general steps I discuss do not work for all such laptops. Some will require a different process and/or more work to replace the screen, such as accessing the motherboard by opening the main case of the laptop.
Finding a replacement laptop screen
Because of that crucial caveat, before buying a new LCD, it may be a good idea to try to remove the damaged screen first, to ensure you can perform the replacement. If, after following the first few steps the process looks different for your laptop, I recommend scouring Google and YouTube or finding a repair professional for further help on your exact laptop brand and model.
Finding a replacement LCD is typically easy—and you don't have to pay the crazy prices the manufacturer usually wants. Just search eBay, Amazon, or Google with your laptop model number and the words LCD screen. You'll find most regular screens can be had for as low as $50 to $80. If you aren't finding anything, try other identification numbers from the laptop label or documentation. Some vendors have one or two different sets of identification numbers that could serve as your model number.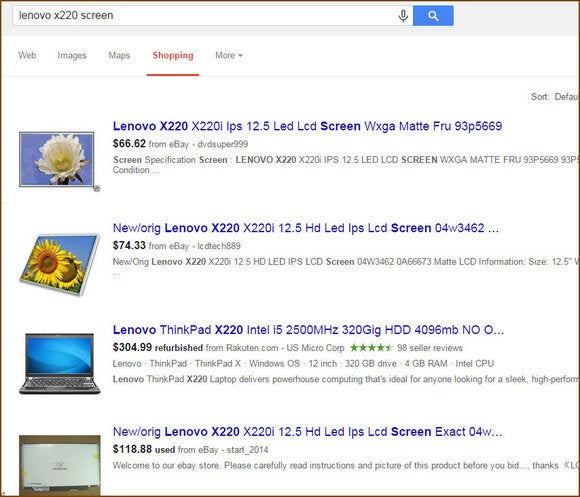 When shopping for the LCD, most sellers will alert you to compare the specs and placement of the video cable on the back of their screen to your current screen. This is another reason to crack open the laptop bezel before ordering a replacement. However from my own experience, if the seller says the screen is compatible with your exact laptop model, it usually works.
How to fix your broken laptop screen
Before starting, ensure you have the proper tools. Here's what works for most laptops:
Table or other flat working area: You'll need a spot to sit (or stand, if that's your thing) with a flat area to work on your laptop. This gives you a reason to clean off that messy dining-room table or desk.
Small-head magnetic philips screwdriver: Not small like a mini screwdriver from an eyeglass repair kit, but I'd say between that size and a mid-sized screwdriver would work. If you don't have a magnetic-head screwdriver, try to find a magnet big enough to magnetize the driver head. This helps the screws stick to the head, making it much easier to remove and replace the screws without cursing as they fall all over the place.
Safety pin or needle: This is for removing the cover stickers that are hiding the screws on your laptop's surrounding cover, called the bezel.
Plastic putty knife or other thin object: This is optional, to aid in prying apart the screen bezel from the case. Personally, my finger nails usually do the trick. If you do use another object, ensure it's thin enough but not so sharp that it will leave scrapes or other evidence of prying.
Small bowl or other container: This is for stashing the small screws—and keeping them safe from curious cats and children.
These general steps work for most laptops:
Ensure the laptop is unplugged from the AC adapter. Remove the laptop battery as well.
Find the round cover stickers that are hiding the screws on the screen bezel, the case surrounding the screen. These stickers are usually on the bottom of the bezel, near the screen hinges, when you have the screen opened. You should find one on each side of the screen.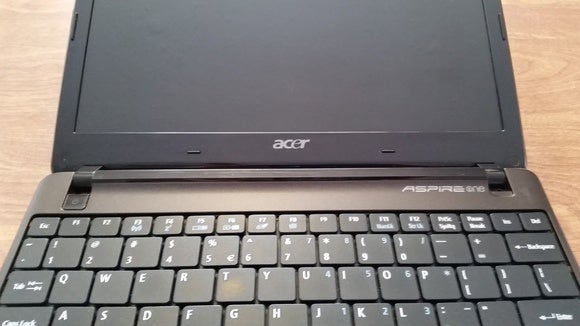 Use a sharp, pointy object—like an opened safety pin or needle—to help remove the cover stickers without damaging them. Stick it between the edge of the cover and bezel, and then pry the sticker away. Once removed, place the covers in a safe spot, with the sticky side up to help ensure there's enough stickiness when you place them back on.
Use your screwdriver to remove the now-exposed screws. Remember: righty-tighty, lefty-loosey. Some screws are easy to remove; others, not so much. But moving the screen into just the right position usually exposes the screws enough for removal.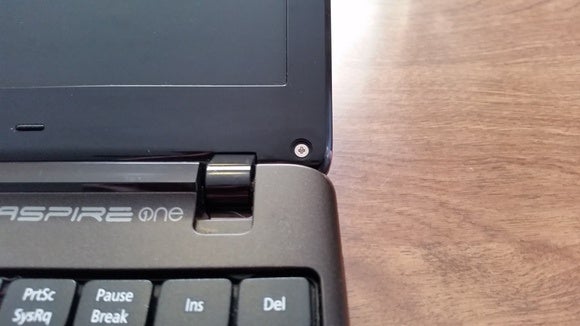 Carefully start prying the screen bezel away from the back side of the screen case. Work a fingernail or other thin, prying object into the crack around the outside of the screen. The bezel is usually secured to the back case with plastic snaps, so give it some force while prying—but not too brutish. You'll hear the unsnapping of the fasteners when prying.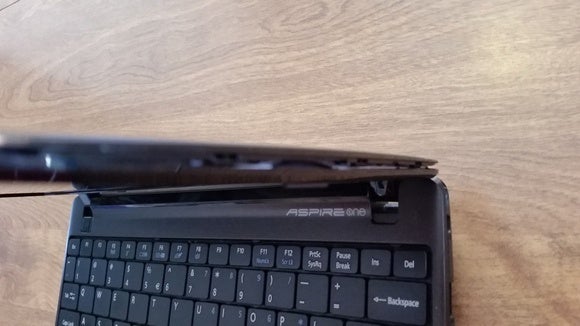 Once you've unsnapped the screen bezel, it may or may not be easy to remove. If not, it's likely stuck around the screen hinges. Moving the screen position up or down, with some gentle force if necessary, should free it fully.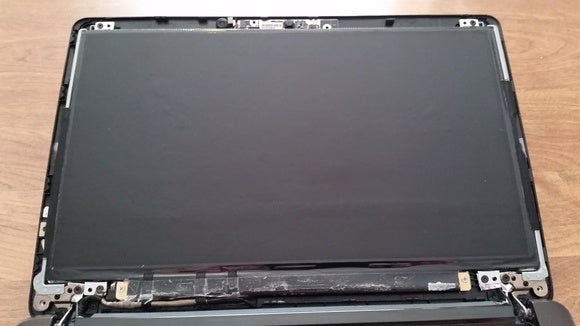 Once the bezel is fully removed, you'll find the LCD secured to a metal trim frame on the left and right sides. Remove the two screws (one on each side, on the top) holding the trim frame pieces to the back screen case. Now, you should be able to lift the LCD (with the trim frame pieces attached) slightly away from the back screen case.
On each of the trim frames' sides, remove any screws that are securing it to the LCD. Most laptops have three screws on each side; however, the smaller laptop I photographed here doesn't have these screws—the LCD is actually secured to the trim frame pieces by tape on each side.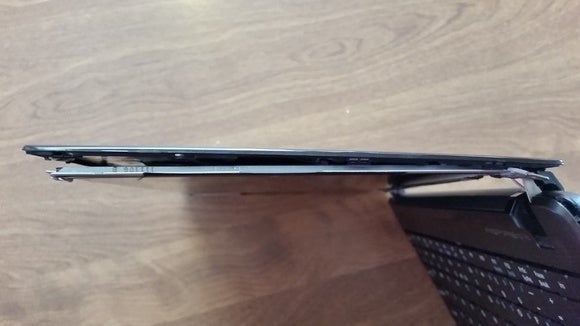 Now you should be able to set the LCD face-down onto the keyboard. Be careful not to put excessive force on the video cable attached to the back of the LCD.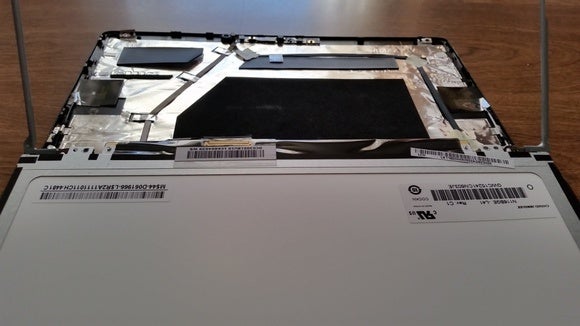 Disconnect the video cable from the back of the LCD. Though the laptop I photographed here has the connector on the very bottom, most laptops have the connector near the center. If so, keep in mind that the portion of the cable running down the screen is usually stuck on the back of the screen with some mild adhesive. Just gently pull the cables away from the screen. You usually must remove tape that's securing the video connector to the back of the screen as well. When you get to the point of actually pulling the video cable out of the screen connector, it should unplug with little force.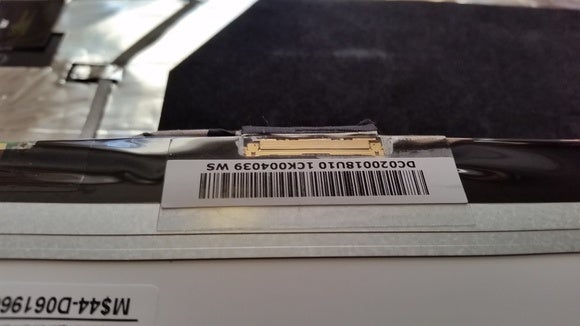 Once you've fully removed the broken LCD, simply place the new one face-down like you did the old one. Reattach the video cable to the connector and place the cables and any tape just like they were for the old one.
Set the new screen up in the side trim frame pieces, then re-secure it like the old one was: usually three screws in each side of the trim frame pieces, and then a screw on top of each to secure it to the back screen case.
When you get to the point of putting the bezel back on, just line it up and push/squeeze the bezel back into the snaps of the rear screen case. Before replacing the bezel screws, ensure the bezel is fully snapped in place and no crack exists around the edges of the screen case. Lastly, use that safely pin or needle to reattach the sticky screw covers.
If all went well, you now should have a shiny new working laptop screen. Put the battery back in and test it out!
Sours: https://www.pcworld.com/article/426808/how-to-replace-a-broken-laptop-screen.html
I Need to purchase laptop screen from reliable source. I have a HP Envy 15t-k100 CTO with screen B156HTN03.3. I have purchased 3 from Amazon and each time screen was defective.
How can I find the best place to buy laptop screens?
Before Replacing the Laptop Screen:
Before doing anything, check your laptop to make sure which screen component needs to be replaced.
Correctly identify the parts of the screen and purchase what you need.
The Difference between the Laptop Touch Screen and LCD Screen of Laptop:
The touch screen is a transparent layer that reads signals from the touch and transmits them to the processing unit. This is the outermost layer of the screen, you can touch the part without disassembling the device.
The LCD screen is a panel inside the screen for displaying images.
This is the middle layer of the screen.
When only the touch screen is broken, you still can see what is happening on the display and the screen is still running.
When only the LCD is broken, you can still use the touch screen, but the panel will have dark spots or spiderweb cracks (or both).
When both the LCD and the touchscreen are damaged, you may no longer be able to use the laptop screen.
Detect Possible Damage to other Components:
For example, if the graphics card on the motherboard is damaged, it is useless to spend time and effort to replace the screen.
To ensure that your graphics card is working properly, you can connect external monitor or TV to your laptop:
If the picture on the external display looks normal, it is likely that your notebook screen is broken.
If you don't get any picture on the external display, keep in mind that some laptops require you to press some of the function keys on your laptop to activate the projection output.
If you do not get any from external screen and laptop screen, your graphics card or motherboard may be damaged, not only the screen.
Find Part Number of the Laptop Component:
Before purchasing a laptop screen replacement, you need to determine the part number on the back of the screen.
This is another reason to open the laptop screen bezel before buy replacement laptop parts.
Even if you have the specific model of the laptop that needs to buy the screen, but the same model of the notebook may have a different resolution, confirm the unique laptop screen PN to ensure that you can buy the correct screen.
But based on my experience, you can consult the GEMWON laptop. According to the information provided by the seller, if the screen is compatible with your laptop model, it usually works.
Cheap Laptop Screen Repair Near me:
Finding a replacement screen is usually easy - you don't have to pay the original price from the manufacturer.
Just search for eBay, Amazon or Google using your laptop model and screen part number. You will find that replacement screen for laptop can be as low as $20.
If you can't find anything, you can also contact GEMWON to purchase a hard to buy and vintage laptops screen wholesale. It can provide all the screen components you need.
Try removing the damaged screen to make sure you can replace it.
To save the laptop screen replacement cost, I suggest you search in Google and YouTube to get repair guide of your laptop or find a service professional to get help with the laptop repair steps.
How to Fix a Broken HP Laptop Screen:
These applies to most laptop models.
Desk Area: Find a flat area for your laptop.
Magnetic Philips screwdriver: If you don't have a head screwdriver, try to find a magnet that is enough to magnetize the screws. This helps making it easier for the screw to be removed and replaced without lost.
Spudgers and repair tools: Opening tools helps to pry the screen border away from the body.
A piece of white paper: This is used to store the small screws and you can mark the position on the paper to identify the position of each screw of the notebook to prevent the wrong screws when reinstalling the parts.
If you are looking for the best laptop screen replacement, the most trusted service provider is GEMWON. Not only can you get the laptop screen replacement guide, but you can purchase a replacement screen at 20% off, with a laptop screen as low as $20. For more notebook repair guide, please refer to GEMWON Blog.
---
Related Articles:
How to Fix Ghost Touch Screen on Windows 10
How to Repair Laptop LCD Screen
Fix Laptop Screen and Laptop Screen Replacement Cost
Sours: https://laptop.gemwon.com/blog/How-to-Find-Replacement-Screen-for-Laptop
950,338 Replacement
Screens
Online
Replace any type of laptop, notebook or tablet display, with our range of high quality brand new replacement laptop screens - or tablet touch screens and get a 2 year warranty, and VERY fast delivery, from Europe's largest and most professional screen replacement store.

Most laptop screens are replaced within 30 minutes, by users that have no previous experience, who simply follow the readily available YouTube screen replacement tutorials.
Scott Stacey - Tech Support
If you're looking for a replacement display, whether for personal replacement of a broken laptop screen or cracked tablet screen, or because you are a professional or reseller, you've come to the right place. We know you need a quality replacement part quickly that's why we offer a 2 year warranty as standard on all our products and extremely fast delivery. We're your one stop display shop because we stock a huge replacement laptop, tablet and netbook screen inventory of over 950,338 lcd models and we offer discount schemes to regular buyers - and we have the best customer service in the business, end of. Don't take our word for it, see what people are saying about us.
We not only stock the popular brands like Acer, Apple, Asus, DELL, Hewlett Packard, Sony (discontinued) and Toshiba but we also stock a massive inventory of LCD part numbers for screens by LG Philips, Samsung, AU Optronics, Hannstar and many other well know and hard to find LCD brands.
Sours: https://www.laptop-lcd-screen.co.uk/shop/
Great news! !!You're in the right place for laptop-lcd-screen. By now you already know that, whatever you are looking for, you're sure to find it on AliExpress. We literally have thousands of great products in all product categories. Whether you're looking for high-end labels or cheap, economy bulk purchases, we guarantee that it's here on AliExpress.
You'll find official stores for brand names alongside small independent discount sellers, all of whom offer quick shipping and reliable, as well as convenient and safe, payment methods, no matter how much you choose to spend.
AliExpress will never be beaten on choice, quality and price. Every day you'll find new, online-only offers, store discounts and the opportunity to save even more by collecting coupons. But you may have to act fast as this top laptop-lcd-screen is set to become one of the most sought-after best-sellers in no time. Think how jealous you're friends will be when you tell them you got your laptop-lcd-screen on AliExpress. With the lowest prices online, cheap shipping rates and local collection options, you can make an even bigger saving.
If you're still in two minds about laptop-lcd-screen and are thinking about choosing a similar product, AliExpress is a great place to compare prices and sellers. We'll help you to work out whether it's worth paying extra for a high-end version or whether you're getting just as good a deal by getting the cheaper item. And, if you just want to treat yourself and splash out on the most expensive version, AliExpress will always make sure you can get the best price for your money, even letting you know when you'll be better off waiting for a promotion to start, and the savings you can expect to make.AliExpress takes pride in making sure that you always have an informed choice when you buy from one of hundreds of stores and sellers on our platform. Every store and seller is rated for customer service, price and quality by real customers. Plus you can find out the store or individual seller ratings, as well as compare prices, shipping and discount offers on the same product by reading comments and reviews left by users. Every purchase is star-rated and often has comments left by previous customers describing their transaction experience so you can buy with confidence every time. In short, you don't have to take our word for it – just listen to our millions of happy customers.
And, if you're new to AliExpress, we'll let you in on a secret. Just before you click 'buy now' in the transaction process, take a moment to check for coupons – and you'll save even more. You can find store coupons, AliExpress coupons or you can collect coupons every day by playing games on the AliExpress app. And, as most of our sellers offer free shipping – we think you'll agree that you're getting this laptop-lcd-screen at one of the best prices online.
We've always got the latest tech, the newest trends, and the most talked about labels. On AliExpress, great quality, price and service comes as standard – every time. Start the best shopping experience you'll ever have, right here!!
Sours: https://www.aliexpress.com/category/100005069/laptop-lcd-screen.html
Replacement screen laptop
I wipe my palms on my trousers. Can I help you. - giggles from the other side of the curtain "Ksenia, administrator". Before he could answer, she had already dived into the booth.
How to replace a laptop cracked screen in under 10 Minutes
Realizing how great it was, I gained momentum: by the end of the second course of "secrets", as I called the. Situations with these unsuccessful slaves, forty-six had been read. By the end of the third course, there were already two hundred and three "secrets", which meant a monthly million net.
You will also like:
Okay. - we agreed to meet in a cafe. I arrived first, she was delayed literally for 10 minutes, but that's okay. Hello again, sorry for such a strange way to meet. Please order me a coffee and I'll tell you everything.
1937
1938
1939
1940
1941