A value-priced urban electric bike that includes fenders, integrated LED lights, a rear rack, and hydraulic disc brakes, it's available in three frame sizes but only high-step
This is a high-speed Class 3 ebike that can reach ~28 mph assisted and because it relies on a cadence sensor, you don't have to push as hard to get there, excellent weight distribution
Custom frame with internally routed cables and a bottle cage mounting point, turning the bike on and off requires extra steps, the display panel is not removable
Only one color choice but the silver looks cool and keeps you visible at night, the cadence sensing motor does not have shift sensing and the brake levers don't have motor inhibitors
Make:
IZIP
Model:
E3 Dash
Price:
$2,599
Body Position:
Forward
Suggested Use:
Urban, Commuting
Electric Bike Class:
Speed Pedelec (Class 3), Throttle on Demand (Class 2)

Learn more about Ebike classes
Warranty:
2 Year Comprehensive, Lifetime Frame
Availability:
United States
Model Year:
2017
Total Weight:
53 lbs (24.04 kg)
Battery Weight:
5.8 lbs (2.63 kg)
Motor Weight:
9.5 lbs (4.3 kg)
Frame Material:
6061 Aluminum Alloy
Frame Sizes:
15 in (38.1 cm)17 in (43.18 cm)19 in (48.26 cm)
Geometry Measurements:
Medium 17": 17" Seat Tube, 31" Stand Over Height, 73" Length
Frame Types:
High-Step
Frame Colors:
Silver with White and Black Accents
Frame Fork Details:
Rock Shox Paragon Air Suspension, 65 mm Travel, Lockout, 9 mm Quick Release Skewer
Frame Rear Details:
Alloy 142 / 12 mm Thru-Axle with Quick Release
Attachment Points:
Rear Rack Bosses, Fender Bosses, Bottle Cage Bosses
Gearing Details:
10 Speed 1x10 SRAM X7, 11-32T Cassette
Shifter Details:
SRAM X7 Triggers on Right
Cranks:
Lasco EB05 Crank Arms, 175 mm Length, Chainring with Alloy Guide, 42T
Pedals:
Wellgo Aluminum Alloy Platform, Black
Headset:
FSA 1-1/8"
Stem:
Promax, 7° Angle, 95 mm Length, Two 10 mm Stacks, One 5 mm Stack
Handlebar:
Tranz-X DB Alloy 31.8 mm Diameter, 650 mm x 25 mm Low Rise
Brake Details:
Shimano M355 Hydraulic Disc with 180 mm Front Rotor and 160 mm Rear Rotor
Grips:
Velo Dual Density, Ergonomic Rubber, Locking
Saddle:
Velo Street
Seat Post:
Tranz-X Alloy with Quick Release Collar
Seat Post Length:
350 mm
Seat Post Diameter:
31.6 mm
Rims:
Alex DH19 Doublewall, Aluminum Alloy, 36 Hole
Spokes:
Stainless Steel, 13 Gauge, Black with Nipples
Tire Brand:
Kenda Kuick Bitumen, 700 x 45c (28" x 1-5/8")
Wheel Sizes:
28 in (71.12cm)
Tire Details:
50 to 85 PSI
Tube Details:
Presta Valve
Accessories:
Integrated Front and Rear LED Lights (AXA Blueline50 and Spanninga Solo), SKS Plastic Full Length Fenders with Rubber Mud Guards, Aluminum Alloy Rack (18 kg, 40 lb Max Load), Single Side Adjustable Length Kickstand
Other:
Locking Removable Battery Pack, 1.8 Pound 2 Amp Charger, Hold + Button to Activate Lights, Hold the Page Button to Swap Metric and Standard, Hold + and Page Buttons for 10 Seconds for Options
Motor Brand:
Currie Electro-Drive® (TranzX, Model M16)
Motor Type:
Mid-Mounted Geared Motor

Learn more about Ebike motors
Motor Nominal Output:
350 watts
Motor Peak Output:
500 watts
Motor Torque:
68 Newton meters
Battery Brand:
Panasonic
Battery Voltage:
48 volts
Battery Amp Hours:
8.7 ah
Battery Watt Hours:
417.6 wh
Battery Chemistry:
Lithium-ion
Charge Time:
5 hours
Estimated Min Range:
16 miles (26 km)
Estimated Max Range:
40 miles (64 km)
Display Type:
Currie Electro Drive, Fixed Monochrome, Backlit LCD, Adjustable Angle
Readouts:
Speed, Odometer, Trip, Battery Capacity (5 Bars), Assist Level (0-4), Range
Display Accessories:
Independent Button Pad on Left (+, -, Page, On/Off), Hold Page to Change Units, Hold + to Activate Lights, Hold + and Page for Menu
Drive Mode:
Cadence Sensing Pedal Assist (Optional Boost Button Throttle)
Top Speed:
28 mph (45 kph)(20 mph Throttle Only)
The E3 Dash has long been one of my favorite IZIP electric bike models. It looks great, is value priced, offers great urban accessories (fenders, integrated lights, and a rear rack in this case) and comes in several sizes for improved fit. While the 2017 version does not come in multiple colors, I feel like the silver and black looks professional and approaches unisex while also improving your visual footprint from the side. This is a Class 3 Speed Pedelec capable of reaching ~28 mph top speeds and it uses a cadence sensor so you don't have to work as hard to hit and maintain top speeds. Most other mid-drive ebikes I've been seeing form premium brands use Bosch, Yamaha, or Brose but the E3 Dash has gone with TranzX, probably to keep the cost down. The motor is compact, relatively quit but not as quiet as Brose or Yamaha, and uses a standard sized chainring. I like that they added alloy guides on this chainring to keep the chain from bouncing off if you take the bike across a bumpy section of road. And the new Dash has a 65 mm air fork along with medium-width tires to really improve the comfort of your ride. This is a huge deal for people like me who have a sensitive back and neck but also want a light weight frame. The 2017 IZIP E3 Dash weighs about 53 lbs, which I would consider good for having the fenders, rack, and a larger 48 volt battery pack. My biggest gripes center on the lack of shift sensing and brake lever motor inhibitors as well as the two-step on and off process. If you're unable to shift smoothly, the chain, cassette, and derailleur will wear out faster and that goes for the display panel as well because it's not removable. Now the battery pack is removable and both wheels use quick release so maintenance and flat fixes aren't such a hassle… so it's a mixed bag. For the price, I see this is a very capable electric bicycle, and if you ride it thoughtfully, it should hold up well over time. Plus, you get a comprehensive two-year warranty from the Accell Group (which owns IZIP) and their systems use CAN bus which allows for fast, easy diagnostics by shops who sell the product.
Driving this bike is a powerful mid-drive from TranzX called the M16. It offers up to 63 Newton meters of torque and can be powered through cadence sensing pedal assist (by default) or a boost button throttle which is sold separately. The boost button sounds neat, but because it doesn't become active until the bike is moving ~2 mph, I feel that it loses a lot of its potential value. I like to use throttles to help get me started… especially on cadence sensing electric bikes which take a pedal rotation or two before the motor kicks in. Thankfully, the TranxZ motor responds fairly quickly in pedal assist mode and also cuts out fast when you stop. It produces a bit of whirring noise when operating, more at the higher RPM, but if you shift gears effectively I feel like it fades away with the sound of the tires on the road, through the sound of air passing, and a bit of fender rattle. Yes, the fenders do rattle a little bit… the rear one especially. It is not connected to the rack the way that some other fenders are and it doesn't have an extra set of support arms at the middle which would keep it quieter. The fenders are plastic and won't rust or bend the way that Steel and Aluminum might. Visually, the motor looks good with a silver metal base that matches the frame color. It does bulge out a bit towards the front but doesn't hang down lower than the 42 tooth chainring. And the 10-sprocket SRAM X7 drivetrain on this bike is a great choice because it offers enough steps to pedal comfortably at a range of speeds. It's roughly equivalent to Shimano Deore and is considered to be the upper end of entry level or the lower end of mid-level which fits the value pricing of the bike. You get trigger shifters on the right that are easy to actuate and those Shimano M355 hydraulic disc brakes to slow things down. The brake levers are fairly large and easy to reach with adjustable reach settings to accommodate small or large hands and people who ride with gloves.
Powering the bike is a 48 Volt 8.7 Amp hour battery pack with premium Panasonic cells inside. I'd call it average in terms of capacity and appreciate the clean, aerodynamic aesthetic of the plastic pack. Note that the downtube is flat on top to bring the battery lower and help it blend into the frame. At the base, a metal cup supports the dock interface and continues the bulge look of the pack into the bottom bracket. This is mostly aesthetic but I like how it looks much better than a big black box just hanging out with no smoothing on either side. The pack seats in from the left side vs. down from the top and this makes it easier to get on and off. Note that IZIP was able to squeeze in a pair of bottle cage bosses near the base of the seat tube. If you do add an accessory here, the pack won't bump into it and get scratched as easily as if it were to seat from the top down. And I love that the battery has a rigged handle type design at the top because I often take my batteries into the office for charging during the day. One thing to note is that IZIP estimates a low range for this bike at 16 to 30 miles per charge. This really depends on your weight, the terrain, and even the wind speed, temperature outside, and speed that you're riding at. Anything above 20 mph significantly cuts into range because of air resistance. Thankfully, the display panel has a range estimate readout that's dynamic so you can arrow through the four levels of assist and make sure you've got enough juice to get to your destination. Even if you do run out, those 10 speeds, efficient 700c tires, and active geometry make the bike reasonable to pedal unassisted. I want to call out the ergonomic grips and large, grippy platform pedals as being nice upgrades while we're focused on pedaling.
Operating the bike is not as intuitive as I'd like because there's a two-step power on and off process. First, you have to press the power button at the base of the battery (on the left side) and then you press power on the control pad (mounted near the left grip). The display comes to life and shows a bunch of trip stats that you an explore by pressing the box "page" button. If you hold this button for a couple of seconds, it will switch from Miles to Kilometers and if you hold Page and + together for 10 seconds or so, you can open the menu. This area allows you to adjust screen brightness, backlighting sensitivity, and even power output. To change power output, navigate to the SU are and adjust from -15 to 15 to remove or add three Amps to create a smoother or zippier feel. Note that shops can also adjust the maximum speed that this ebike can reach, which is cool for people who don't want to go so fast in order to feel safer or maximize range. So, you can arrow up from assist level one through four to increase power and speed, and you will need to actively shift gears to reach the maximum speed of the bike but this is part of what makes a mid-drive efficient. It leverages the same gears that you do to pedal with. And there is one extra drive mode buried in there as well, if you hold the power button for a couple of seconds while the bike is on, you will see the display change to assist level zero… which allows you to ride as a normal bicycle while still having access to the display readouts (like speed, trip distance, odometer) and power the lights. Why they didn't just allow the minus button to go down from level one to level zero is a mystery to me. This would have been easier to do while riding and saved a bunch of time when powering off the bike (because you have to press power once… and then again for a full shutoff) The plus button also has a second feature which is to activate the headlight and backlight during the day, just hold plus for a couple of seconds to turn it on. All things considered, the display delivers the features I like but is annoying to use after seeing so many other simpler, more intuitive designs. It doesn't remove which means it will take more weather wear and potentially tampering at racks, but it does swivel to reduce glare. Many of my friends put their helmets over their displays or a glove to hide it. There's not USB or Mini-USB charging port to fill your phone or other portable electronics even though the lower-end TranzX display does have this. It's the one area of the bike that seems a little outdated, but at least the button pad is easy enough to reach and seems well sealed against water.
Instead of celebrating the value price point of the IZIP E3 Dash I found myself nitpicking the minor inconveniences and feeling concerned about the lack of shift sensing and motor inhibitors on the cadence sensing drive system. As a reviewer, I get hyperfocused on details because many of these electric bikes are so similar and polished now. You save money with the IZIP E3 Dash, get the support of a larger international company (the Accell Group), have access to a wide network of dealers, get the multiple frame sizes and all of the safety and utility extras that you could want that look great and work pretty well. I think the systems actually work quite well and while the chain may wear a bit faster, this is not a difficult part to replace. I feel like the boost button is a missed opportunity and has been nerfed, taking away the value of starting from standstill, but at least it's an option at all. For someone who commutes, this would be a solid platform and I suppose the final gripe is that the rack doesn't accommodate as much weight (about 40 lbs vs. 55 lbs on a lot of others) but again, it looks good and uses standard gauge tubing. It's good enough. With the addition of a suspension seatpost and proper use of the RockShox Paragon Air fork, this can be a comfortable, enjoyable ebike. I'd like to thank IZIP for partnering with me on this post and inviting me to their headquarters to ride different models back to back. I believe I was riding the size Medium 17″ frame for this review.
Pros:
The IZIP E3 Dash has long been a favorite electric bike model for me because the price is reasonable and you get a lot of useful accessories like fenders and lights, this model is a Class 3 speed pedelec so it's useful for commuters who need to get to work quickly
The IZIP ebikes use a CAN bus system that allows the different electronic components to communicate with each other, making maintenance much easier for shops because the system can tell if something is wrong
The display has deeper settings which allow you to raise or lower the amperage which increases or decreases the feeling of power (and in turn, uses more or less electricity from the battery)
Considering that this is a speed pedelec, it's great to see a suspension fork with decent travel (65 mm) and it's an air fork so it doesn't raise the weight of the bike very much, it can be locked out
The Kenda Kuick Bitumen tires are wider than road tires which improve traction and increases air volume for comfort… but they run at a higher PSI which means that you might want to swap the saddle or add a 31.6 mm seat post suspension to further improve comfort
Being seen is increasingly important if you ride on streets with cars frequently and since this is designed for urban environments, I love that they went with a silver paint color and have integrated front and rear lights (the headlight has windows on the side so you can be seen easier as well as see where you're going)
The bike comes in three different frame sizes to dial in fit for a range of riders (tall or short)
and the top tube and seat tube are fairly low for a diamond "high-step" frame
Because the motor controller uses cadence sensing instead of torque, you don't have to push very hard to get it going but you might not get the same range and fluid feel that some other ebikes offer… it's a trade off but their system works pretty well
I like that IZIP is offering a 10-speed drivetrain here given the wide range of speeds (up to 28 mph assisted) and that the chainring has an alloy guide to reduce chain drops and keep your pants from touching the chain
Excellent frame balance with both the motor and battery positioned low and center, this improves handling and since the battery is removable it also makes it easier to mount on center-hang racks
The center of the frame is fairly open and they managed to squeeze in a pair of bottle cage bosses along the seat tube, so many ebikes (especially mid-level products) don't have these and I find them useful for fluids, mini-pumps, and locks
The rear rack uses standard gauge tubing and should be compatible with a wide range of trunk bags and panniers, the fenders look great and offer good coverage, and I love the kickstand choice and mounting position because it stays clear of the pedals
I like that the battery pack has a sort of built-in handle at the top so you can carry it more securely, this is useful if you bring the pack inside to charge during the day if you work in an office etc.
At ~53 lbs with the battery, I would consider this to be a relatively light weight electric bike because it does have a suspension fork, fenders, alloy platform pedals, and a rack
Both wheels have quick release and the drivetrain is not changed by this being an electric bike (the way hub motor powered ebikes are) so you can do maintenance and change flats a lot easier, shops may feel more comfortable working on this bike as well
Custom tubing work with internally routed cables and some extra supports at the base of the battery mount, it looks very nice and I like that the battery slides out from the side vs. clipping-in up and down because you're less likely to bump the frame when mounting/removing it
The rear wheel uses a 12 mm thru-axle that's stronger and stiffer than a standard 9 mm skewer and I noticed that the spokes are slightly thicker as well, 13 gauge
One of the menus in the display panel is range estimate and I think this is much more useful than the five bar battery infographic, it's cool to change power levels and see how it impacts range on the fly
I think you can work with your local IZIP dealer to actually change the top assisted speed on this bike so you don't have to go the full 28 mph if you don't want to… of course you can always just use a lower level of assist and not shift gears which will influence how fast you go as well
Cons:
This model is only available in high-step which means it could be difficult to mount for some people with shorter inseams, especially if you've got bags added to the rear rack
The TranzX motor is positioned well (low and center on the frame) and it offers good power but it does not deliver shift sensing and could mash the gears if you don't shift thoughtfully, this is especially true because it uses a cadence sensor vs. a shift sensor
It's neat that IZIP offers a throttle button option but I don't enjoy using it very much because you have to reach over with your thumb and hold the button constantly to make the motor go, the rubberized buttons appear to be well sealed against water but aren't super easy to push and my hand gets tired, also, it doesn't work from standstill (you must be going ~2 mph) so that defeats the point for me
You get 180/160 mm hydraulic disc brakes from Shimano which offer solid stopping power but I was surprised to not see motor inhibitors built in, this used to be very common for cadence sensing ebikes but I guess they feel the motor responds quickly enough to not require them now
The display panel is fairly large, easy to use, and adjustable in terms of angle but it is not removable which means it could take more abuse when left outside at the rack and people could tamper with the bike if your battery is left in
I was a little surprised to see that the maximum recommended weight for the rear rack is 18 kg vs.
25 kg on most other racks, perhaps this is because it has a light wired in or is paired with fenders? Maybe it has to do with the high-speed operation of the bike?
The fenders look great but I noticed a bit of rattling noise during my test ride, I don't think the rear fender has as many support arms as some others I've seen and plastic just isn't as solid as Aluminum but it also doesn't bend as easily and won't rust like Steel
Powering the bike on is a two-step process, you have to press a power button near the left base of the battery pack and then press another power button on the display… so if you forget the first step, you might have to get off or strain to reach way down which is annoying
If you hold the power button for a second (while the bike is on) it will take you from the 1-4 levels of pedal assist down to zero… which is kind of neat (you could ride with the motor off but the lights on for safety if you're low on power) but it can also be confusing when you want to turn the bike off… it's like another two-step process where you have to hold the power button twice just like turning the bike on
There's no USB or Micro-USB port on this display or button pad to charge your phone or other electronic devices, some of the simpler non-LCD displays from TranzX now offer this so it's a bummer that the really nice display does not
Resources: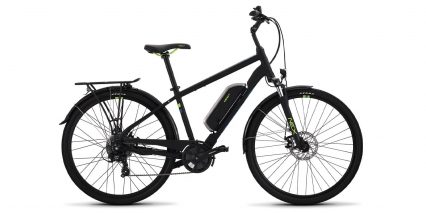 IZIP E3 Brio Review
---
All new for 2019, the IZIP E3 Brio is an affordable and lightweight commuter with a lot of included goodies, an SR Suntour rear hub-motor, two frame styles and two color options, and an entry level price point. 7 speed Shimano derailleur, mechanical disc brakes, integrated fenders, battery integrated lights, adjustable rear rack,…...
Read Review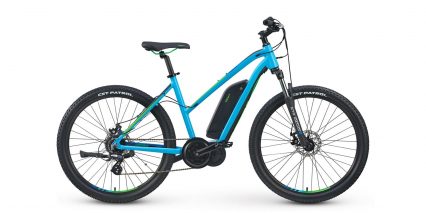 IZIP E3 Edge Review
---
An affordable entry level hardtail mountain mid-drive ebike that is at home on the streets and trails, priced at $1,999 and legal for all Class 1 jurisdictions. Comes in a mid-step and high-step, two different colors (black with yellow accents or blue…...
Read Review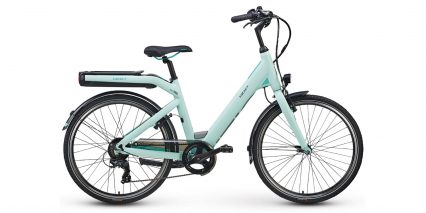 IZIP E3 Loma Review
---
A new and unique frame for 2019 that is striking and comes in two frame sizes, each with a different wheel size, both really look great in the two colors and reflective accents available. Some key features like battery intergraded front and rear lights, a throttle, and a battery…...
Read Review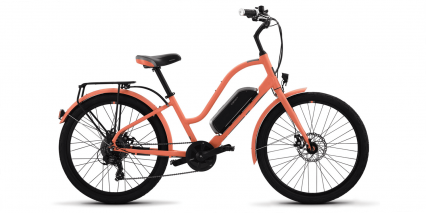 IZIP E3 Simi Review
---
All new for 2019, the IZIP E3 Simi is an affordable and lightweight cruiser with comfortable riding position and an SR Suntour rear hub motor, two frame styles and two color options, and an entry level price point. Mechanical disc brakes, paint matched steel frame, integrated lights, rear rack, comfortable riding geometry, swept…...
Read Review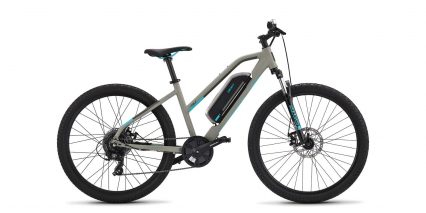 IZIP E3 TRLZ Review
---
A value-priced hardtail electric mountain bike with basic 100mm SR Suntour spring suspension fork and knobby Vee Rubber tires, no lockout or preload adjust, no puncture protection or tubeless setup. Available in three frame sizes and two frame styles, I like the mid-step frame because…...
Read Review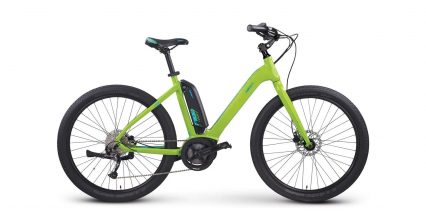 IZIP E3 Vida Review
---
A relatively lightweight, approachable, comfortable cruiser electric bike, oversized saddle and padded grips dampen vibration, available in two colorways and three frame sizes to fit style preferences and body types. 26-inch wheels lower the frame height and provide more strength than 700c, high-volume 2.4-inch Schwalbe…...
Read Review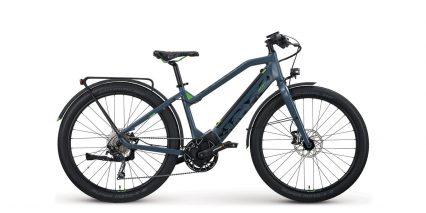 IZIP E3 Moda Review
---
An urban oriented speed pedelec, capable of 28 mph pedal-assisted speeds, complete with wide alloy fenders, a streamlined rear rack, and integrated LED lights. Powerful hydraulic disc brakes with adjustable levers, the front rotor is larger at 180mm and…...
Read Review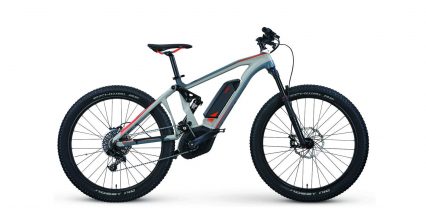 IZIP E3 Peak DS Review
---
A full suspension trail style electric bike with 130 mm travel, purpose-built frame comes in two sizes with internally routed cables, custom motor integration, sturdy Boost hub spacing. Nimble 2.6" plus sized tires balance traction, stability, and comfort with precision, control, and weight…...
Read Review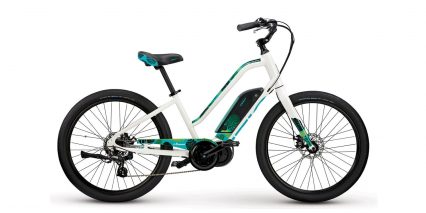 IZIP E3 Zuma Review
---
A value-priced cruiser from a larger trusted company, available in a high-step and mid-step frame styles with one color pattern for each (white or metallic gray). Efficient mid-drive motor keeps weight low and center, the battery clicks in from the left…...
Read Review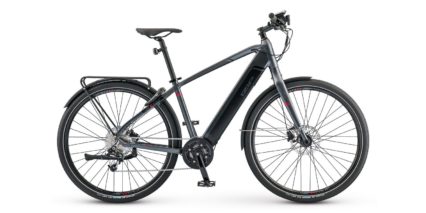 IZIP E3 ProTour Review
---
An efficient, feature-complete, speed pedelec capable of ~28 mph top speed with excellent frame balance but limited suspension and comfort options. Alloy fenders and minimalist rear rack stay quiet on bumpy terrain, an alloy chain guide…...
Read Review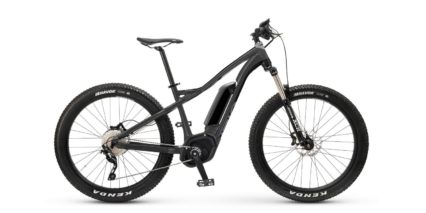 IZIP E3 Peak+ Review
---
A mean looking cross country style hardtail electric mountain bike, beautifully integrated battery pack and motor keep weight low and center, has rear-rack bosses!. Locking removable battery pack can be charged on or off the bike, the display is…...
Read Review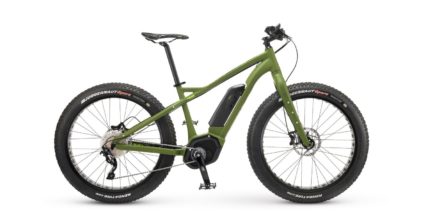 IZIP E3 Sumo Review
---
A rigid electric fat bike with provisions for front and rear racks, available in two frame sizes for improved fit, designed with a steep top tube for comfortable stand over and steadying. Beautifully integrated Bosch Performance Line CX motor and battery pack, downtube is cut away and…...
Read Review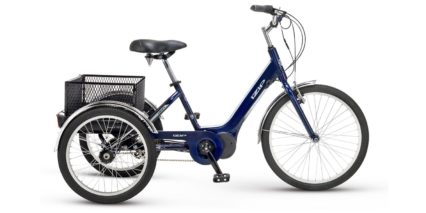 IZIP E3 Go Review
---
A purpose-built electric tricycle with efficient and well-balanced middrive motor system, powerful 48 volt battery and optional second battery bay for increased range, rear wheel drive offers good traction. Comfortable swept-back handlebar with ergonomic grips, massive padded saddle with springs and hybrid tires keep…...
Read Review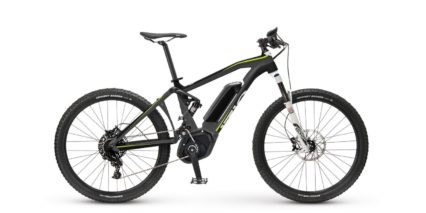 2017 IZIP E3 Peak DS Review
---
A value-driven full suspension electric cross country mountain bike with higher end drive system and components from Bosch, SRAM and RockShox, it's $300 cheaper than prior year with lots of upgrades. Beautiful hydroformed frame with inset battery mount and tapered head tube, the motor hangs down…...
Read Review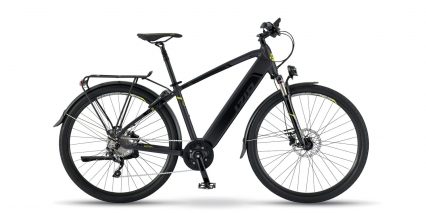 2016 IZIP E3 ProTour Review
---
One of the coolest looking, most feature rich high-speed electric bicycles I've tested... the battery is beautifully integrated and the small motor stays almost completely hidden behind the chainring. Pedal assist gets you 28 mph using speed, cadence and torque sensing and you can…...
Read Review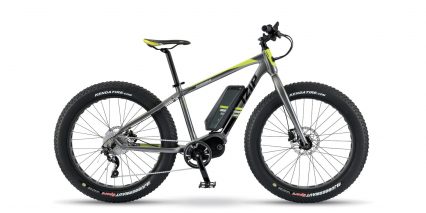 2016 IZIP E3 Sumo Review
---
One of the lighter weight, higher powered and more affordable off-road capable fat bikes I've tested, you get 15 mm and 12 mm thru-axles with quick release and punched out rims. Sturdy Shimano M396 hydraulic disc brakes front and rear, no motor inhibitors in the levers…...
Read Review
IZIP E3 Peak Review
---
A 650B hardtail trail or mountain ebike with a powerful 73 Nm mid-drive motor, it's one of the quieter motors but less responsive (mostly cadence sensing) and no shift sensing. Nice 180 mm hydraulic disc brakes, quick release for both wheels and a 15 mm…...
Read Review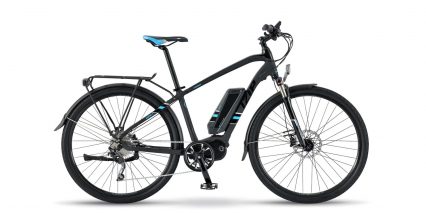 2016 IZIP E3 Dash Review
---
A feature complete speed pedelec (capable of ~28 mph top speeds) with a high torque mid-drive motor from TranzX. Quality full length plastic fenders from SKS with integrated mud flaps, mid-level suspension fork with…...
Read Review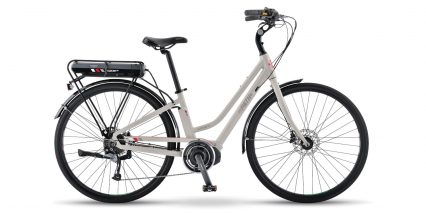 IZIP E3 Path+ Review
---
An efficient, light weight commuter electric bike available in two frame sizes and high-step or step-thru styles, the adjustable stem and swept back bars support a surprisingly comfortable upright body position. Narrower tires, firm saddle and all-Aluminum frame and fork provide great power transfer when pedaling…...
Read Review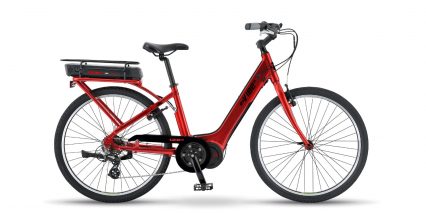 IZIP E3 Vibe+ Review
---
An approachable electric bike with deep low-step frame, adjustable stem, swept back handle bars and a large comfortable saddle. Simple linear pull brakes work well and are easy to adjust, quick release skewers on…...
Read Review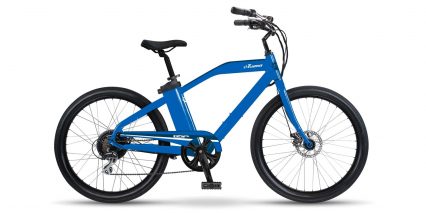 2016 IZIP E3 Zuma Review
---
A high powered, cruiser style electric bike with four levels of zippy pedal assist and a twist throttle drive mode. Available in two high-step sizes (18" and 20") and one step-thru (18") for easier mounting,…...
Read Review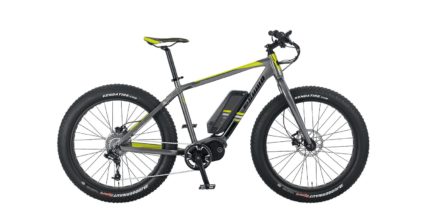 2015 IZIP E3 Sumo Review
---
One of the only fat tire style electric bikes I've tested to date that is legally capable of 25+ mph top speeds in pedal assist mode. Good value considering the custom fat frame in two sizes, solid warranty and availability, hydraulic…...
Read Review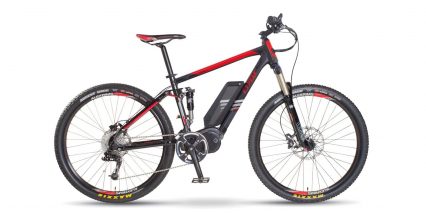 2015 IZIP E3 Peak DS Review
---
Full suspension electric bike with powerful mid-drive motor for effective climbing and balanced weight, higher ~28 mph top speed. Removable battery pack and quick release wheels make charging and servicing convient, reduce weight when…...
Read Review
2015 IZIP E3 Peak Review
---
Hardtail trail-ready electric bike with powerful centerdrive motor for effective climbing and balanced weight, ~28 mph top speed. Removable battery pack for convenient charging and reduced transport weight, lockout suspension fork by RockShox…...
Read Review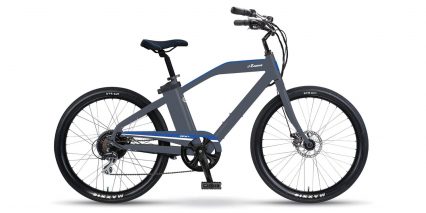 2015 IZIP E3 Zuma Review
---
Cruiser style electric bike with two frame styles, two frame sizes, 11 custom colors and a wonderfully balanced purpose-built frame. Removable battery can be charged on or off the bike, optional matching fenders, rear rack…...
Read Review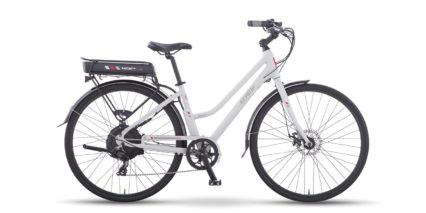 2015 IZIP E3 Path+ Review
---
Near-silent commuter style electric bike offering pedal assist and throttle mode, fenders and a carry rack. Comfortable ride with upright seating position, swept back handlebars and oversized Velo comfort saddle...
Read Review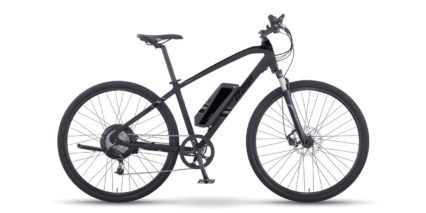 2015 IZIP E3 Dash Review
---
High performance city style electric bike that offers throttle mode up to 20mph and pedal assist up to 28mph. Comfortable ride with oversized 700x45c tires, suspension fork with lockout and updated Velo Street saddle...
Read Review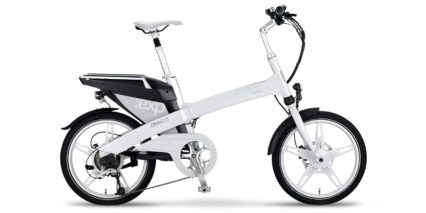 IZIP E3 Twn:exp Review
---
A sturdy, highly adjustable city bike that's perfect for rentals or fleets. High torque 400 watt direct drive motor is quiet and extremely durable, encased in rear…...
Read Review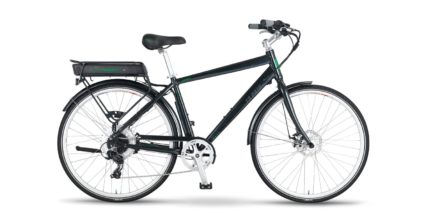 2014 IZIP E3 Path+ Review
---
An active urban-style electric bike with near-silent motor operation and clean design helping it blend in. Strong 500 watt motor paired with large 48 volt battery that's removable and uses premium…...
Read Review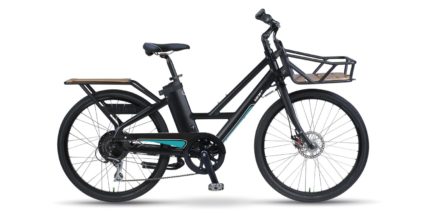 IZIP E3 Metro Review
---
Sturdy, stiff and capable of hauling cargo with the reinforced front basket and welded rear rack. Oversized tires, adjustable stem and seat post suspension improved comfort when riding...
Read Review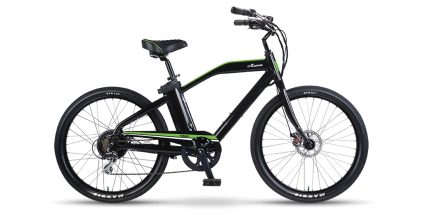 2014 IZIP E3 Zuma Review
---
Clean design with integrated battery pack improves balance, eight frame colors to choose from. Delivers smooth pedal assist and twist throttle mode for easy start from rest...
Read Review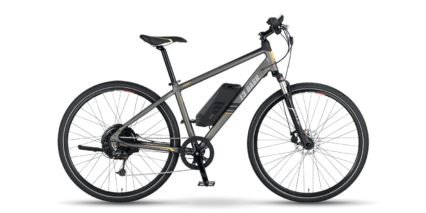 2014 IZIP E3 Dash Review
---
High quality features and well rounded drive system at an excellent price. Strong but quiet 500 watt gearless rear hub motor offers throttle mode and torque-sensing pedal…...
Read Review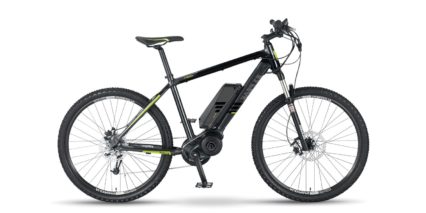 2014 IZIP E3 Peak Review
---
Mid-level off road electric mountain bike with excellent weight distribution. Centerdrive motor offers high-torque, leverages rear cassette and makes servicing wheels and tires much easier...
Read Review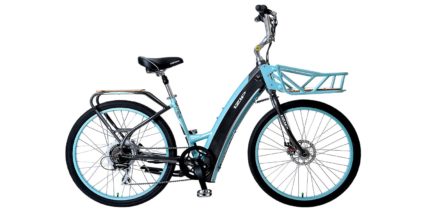 2013 IZIP E3 Metro Review
---
Strong 500 watt motor is capable of moving heavier riders and heavier loads in the integrated racks. Weight is spread out from rear and kept low to the ground with battery built…...
Read Review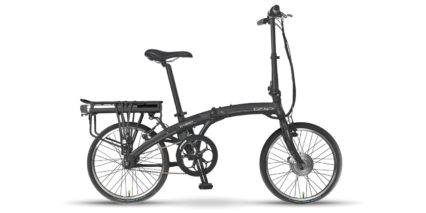 IZIP E3 Compact Review
---
Built on the industry leading Dahon single speed folding bicycle frame. Offers both pedal assist and twist and go throttle mode...
Read Review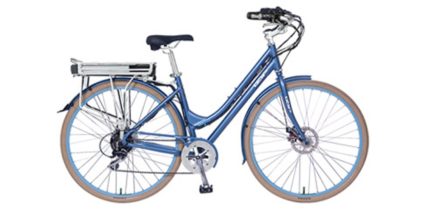 IZIP E3 Path Review
---
An affordable, classic style electric bike with balanced features. Weaker 250 watt motor offers less torque but also weighs less...
Read Review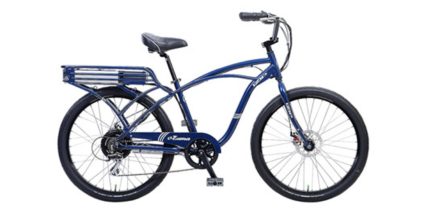 2013 IZIP E3 Zuma Review
---
Solid frame with oversized cushy tires and seat delivers a fluid enjoyable ride. Powerful 500 watt geared rear hub motor paired with 36 volt Lithium-ion battery offers torque…...
Read Review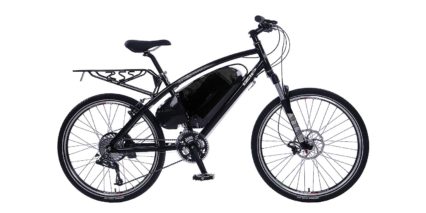 IZIP Express Review
---
Ultra powerful and rugged long-range electric bike, originally designed for use by the Los Angeles police force for urban patrols. Unique mid-drive belt system delivers high torque for climbing and accelerating, speed pedelec design capable…...
Read Review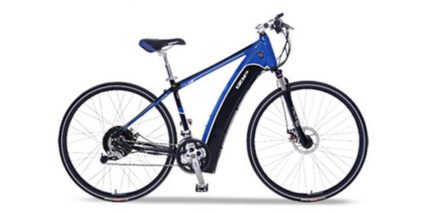 IZIP E3 Ultra Review
---
Powerful 500 Watt motor paired with strong 36 Volt battery for acceleration and climbing ability. Sensitive pedal assist mode becomes jerky when climbing hills but is otherwise very responsive...
Read Review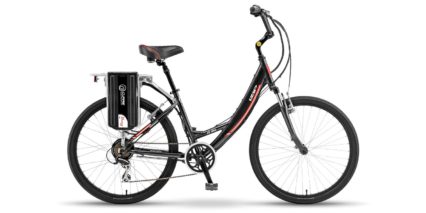 IZIP E3 Vibe Review
---
Upright seating with high-rise handlebars, wide sprung saddle and seat post shock for improved comfort. 250 watt brushless rear hub motor works well with pedal assist or throttle mode for…...
Read Review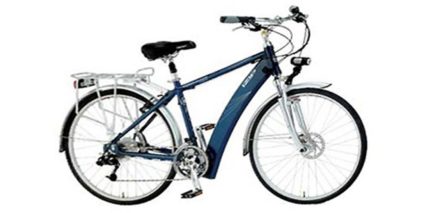 IZIP Trekking Enlightened Review
---
Discontinued in 2009, replaced with the E3 Path which is sturdier, less expensive and features twist throttle as well as pedal assist. Designed to be pedaled, the Trekking Enlightened lacks throttle mode but features 24 speed, lights,…...
Read Review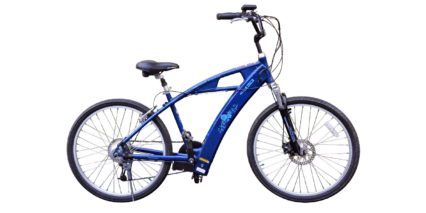 IZIP Urban Cruiser Enlightened Review
---
A relaxed, comfortable and stable cruiser style electric bike with integrated downtube-battery that keeps weight low and center. Smooth torque sensing pedal assist is responsive but requires more care when working on the…...
Read Review
Sours: https://electricbikereview.com/izip/e3-dash/
One of our most popular hybrid models of an electric bike is the E3 Dash by iZip. It comes in both a step-over and step-thru, with a mid-drive Currie motor. This model is pedelec, meaning that it can go as fast as 28-mph. The Dash comes standard with pedal-assist. A pedal-free-throttle is an optional add-on.
LEARN about pedal-assist feature
LEARN about pedal-free throttle
Features on the iZip E3 Dash
Are you looking for a great bike that will make your commute or casual trail riding easier! Find the fun with the iZip E3 Dash.
350-Watt Currie Mid-Drive Motor
The E3 Dash from IZIP gives you a 350-watt Currie Electro-Drive®/TranzX mid-motor drive-system.
The Dash is designed to give you 73 Newton Meters of torque for hills or hauling extra gear.
The easy-to-use handlebar-mounted control lets you regulate the amount of electric boost that you want, allowing you to cruise at whatever speed you prefer.
The Dash is designed to provide top speeds. This electric bike offers convenience and sporty functionality.
Battery
Lithium-ion 48V8.7Ah 417Wh down tube battery, conveniently and centrally located to provide an optimal center of gravity. Remove with a key to power in your office or cubicle.
Class 3 Hybrid
As a class 3 electric bike, this iZip model can cruise at a top speed of 28-mph with pedal-assist, and 20-mph with a throttle.
Display
LCD multi-function display
Maximum Assisted Speed
28-mph
Estimated Range
16 to 35 mi.
Depends on the terrain and amount of pedal-assist boost used by the rider at any given time.
Frame
Aluminum 6061 with rack, lock, & fender bosses.
Dash comes with a Step-Thru or Step-Over options.
Colors
Step-Thru: Lime
Step-Over: Silver
Fork
RockShox Paragon, 65mm travel
Cranks
42T w/Double Alloy Guard
Rear Derailleur and Shifter
SRAM X7
Brake Levers
Shimano M365 hydraulic
Brakes
Shimano M355 hydraulic disc, F180/R160mm rotors
Cogset
Shimano 11-32T, 10-speed
Rims
Alex DH19 doublewall
Tires
Kenda Kwick Bitumen 700x45c
Pedals
Alloy platform
Handlebars
Tranz-X DB alloy 31.8, 650mm x 25mm rise
Stem
Tranz-X 3D forged alloy 31.8
Seatpost
TranzX alloy 31.6x350mm
Seat
Velo street
We often exchange this seat for Sell Royal Respiro for ideal comfort. Get a discounted price on this upgrade when you buy from us today.
Headset
FSA zero stack alloy ahead 1-1/8″
Chain
KMC X10eRB high-torque rustproof chain.
Front Hub
Alloy/QR
Rear Hub
Alloy 142/12mm
Spokes
Stainless
Grips
Velo dual density
Extra Features
The Dash comes standard with several convenient features that you often have to pay extra for with other models:
This e bike delivers everything you need to commute to the office or dash around town, in style and comfort.
Price
2,599
The iZip E3 Dash is now on sale in Salt Lake City, Utah at High Country E Bikes for $2,099.
Buy the iZip E3 Dash Today in Utah
See us today to find great models of hybrid electric bicycles in our Salt Lake City shop. Our e bike specialists and technicians can ask you the right questions to determine what will be the right fit for your needs, with the best value.
Sours: https://highcountryebikes.com/electric-bikes/top-brands/izip-electric-bikes/e3-dash/
IZIP E3 Dash Electric Bike Review Part 1 – Pictures & Specs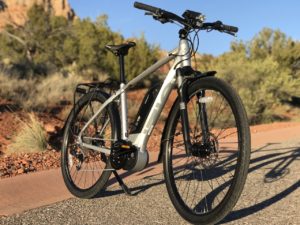 The fast and versatile 2017 IZIP E3 Dash eBike has arrived for testing and review.
This 350 watt mid-drive speed pedelec (up to 28 mph) commuter style eBike has a smooth ride with a healthy assortment of accessories for $2,599.
In this first part of the review you will get a detailed look at this bike with a BUNCH of pictures and the specifications.
Part 2 of the IZIP E3 Dash review will give you info on the ride characteristics, results from the range test, pros, cons, and overall thoughts on this eBike.
Alright, let's take a closer look at the IZIP E3 Dash!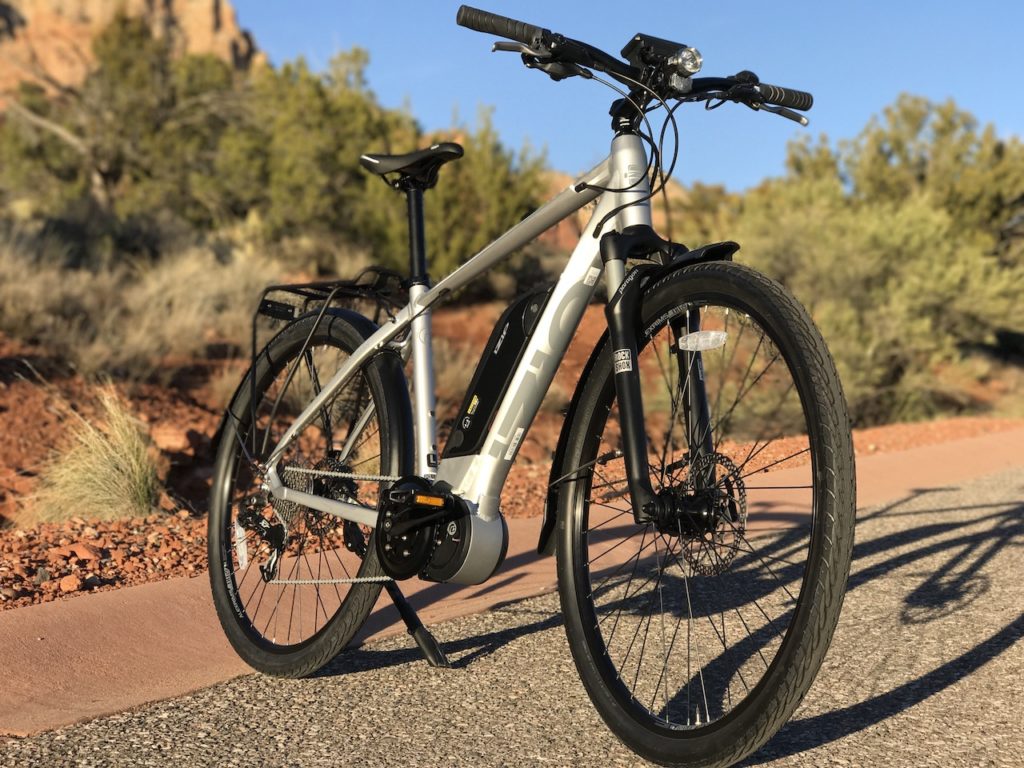 The IZIP E3 Dash is ready for flying around town with it's max assist speed of 28 mph. It can also be a versatile touring eBike with its component and accessory spec.
To start thing off we will take a closer look at the 6061 aluminum frame that has some uniquely shaped hydroformed tubing.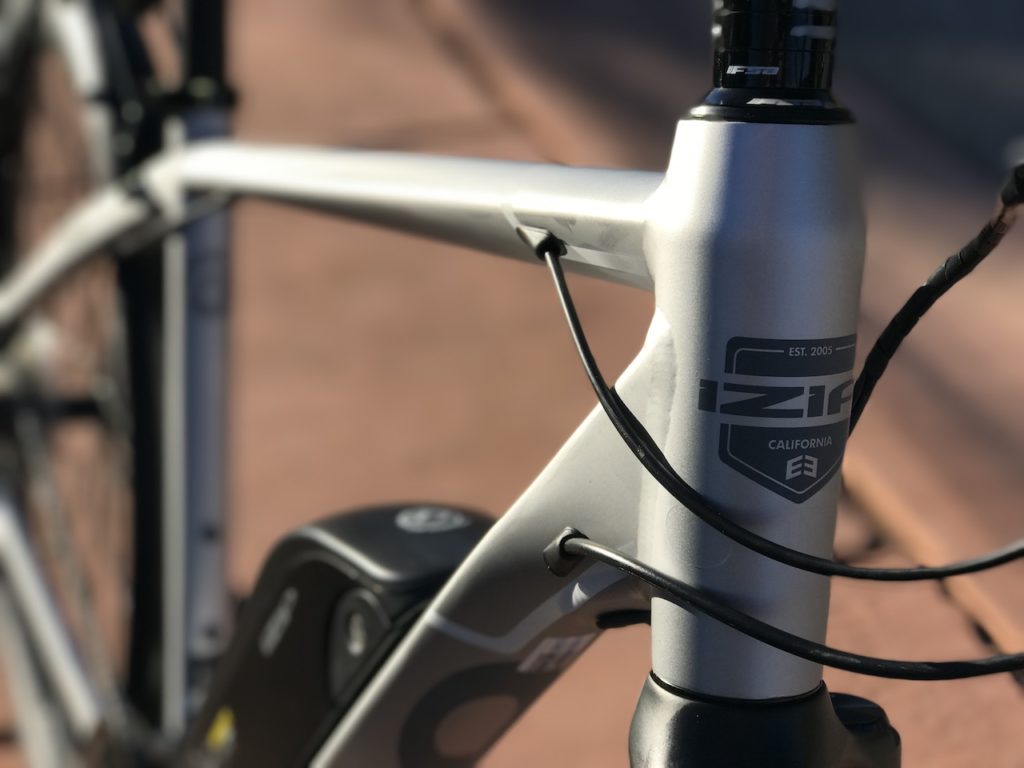 The headtube junction features smoothed welds for a very clean look and the FSA zero stack integrated headset is also a nice touch for a minimalist appearance.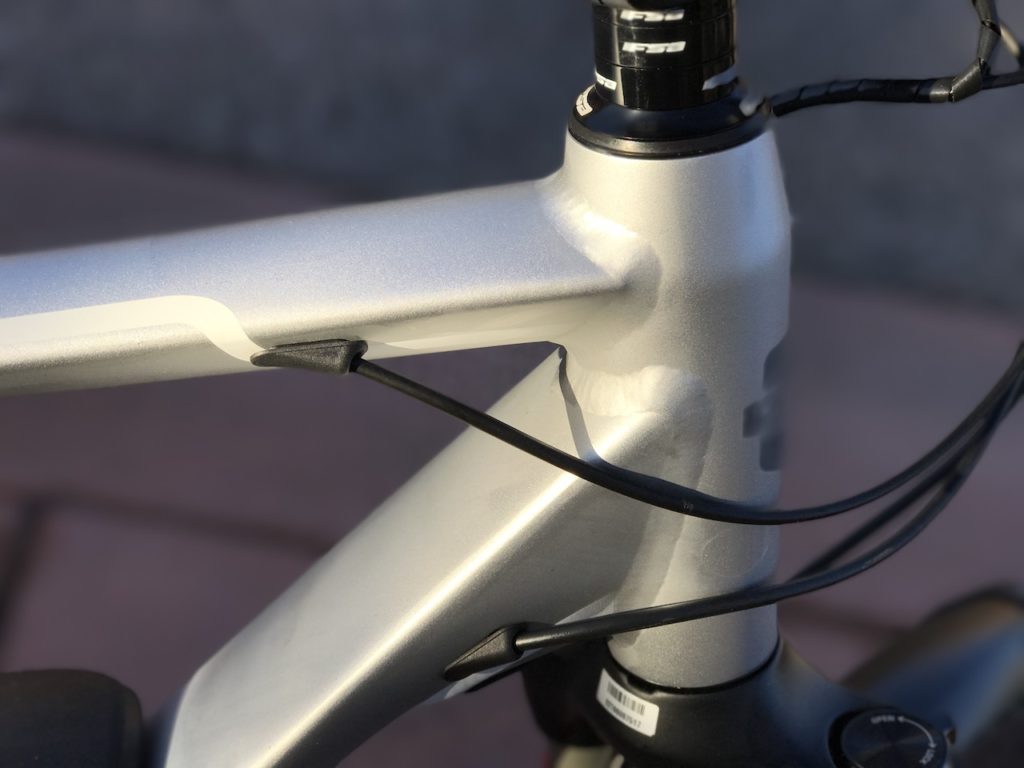 The frame also features a lot of internal cable routing to add to the clean look.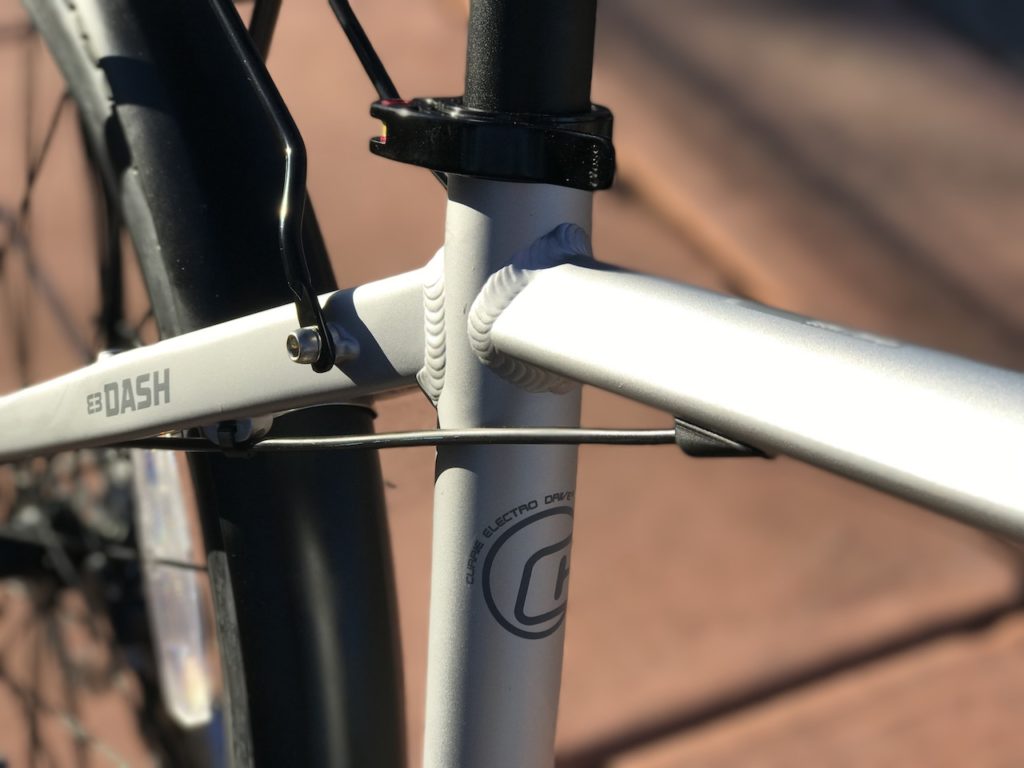 Here's a look at the seat tube junction with solid aluminum welds. You can also see the internal cable routing exiting the triangular shaped top tube and the rear rack attachment at the seat stays.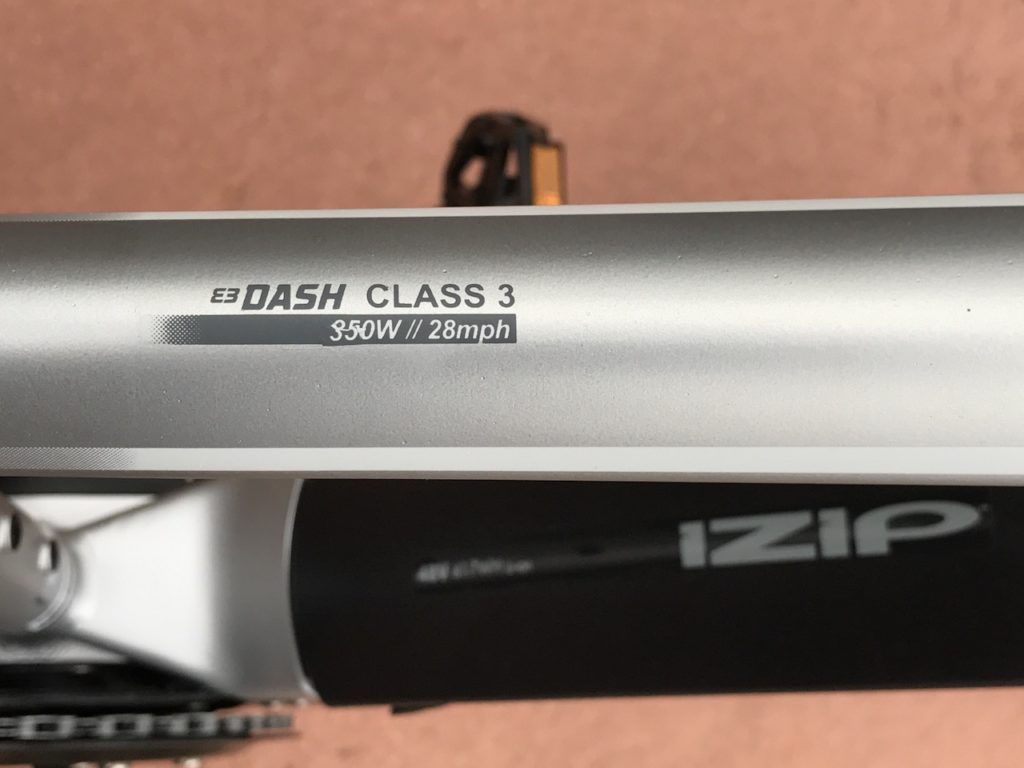 The IZIP E3 Dash is a Class 3 electric bike per California law which is a speed pedelec providing pedal assist up to 28 mph.
A RockShox Paragon suspension fork with 65mm (2.5″) travel is spec'ed on the front to smooth out rough roads and SKS fenders with mudflaps are spec'ed front and rear.
The RockShox Paragon fork also has a lockout dial for a more efficient ride on smoother roads. This prevents the fork from bobbing up and down when you stand out of the saddle and pedal hard.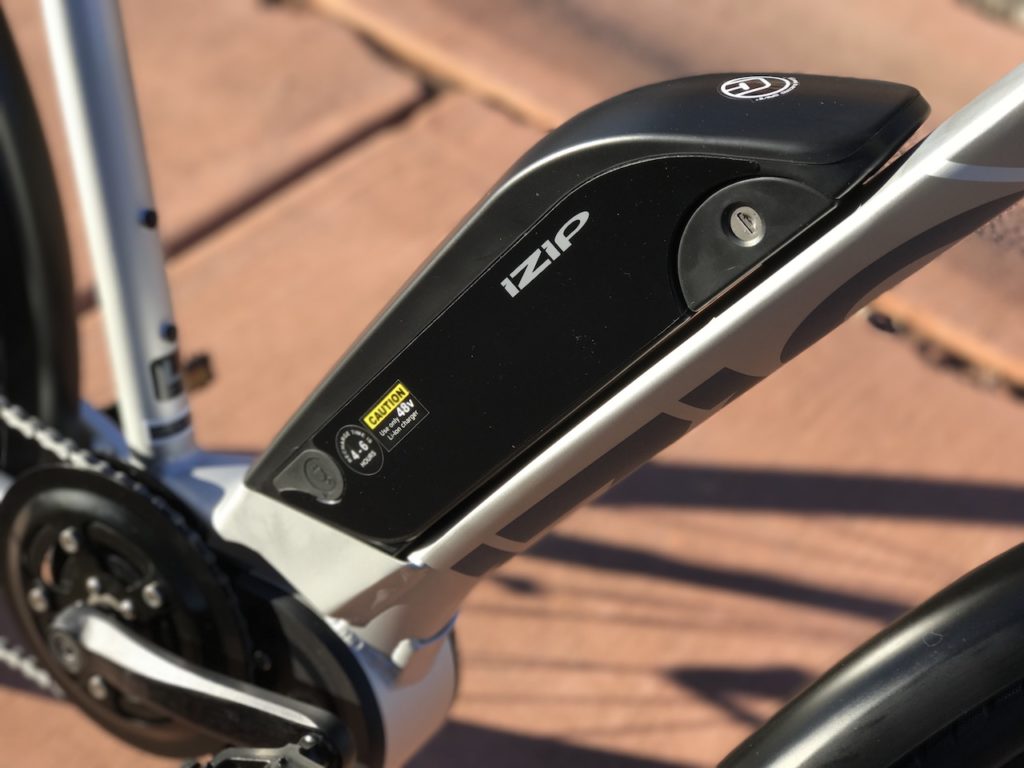 The 48V 8.7ah (417 Wh) lithium battery is mounted on the downtube of the frame providing a low and centered weight distribution, which is good for overall bike handling. The battery pack lock and charging port is located on the right side of the bike. The battery can be charged on or off the bike.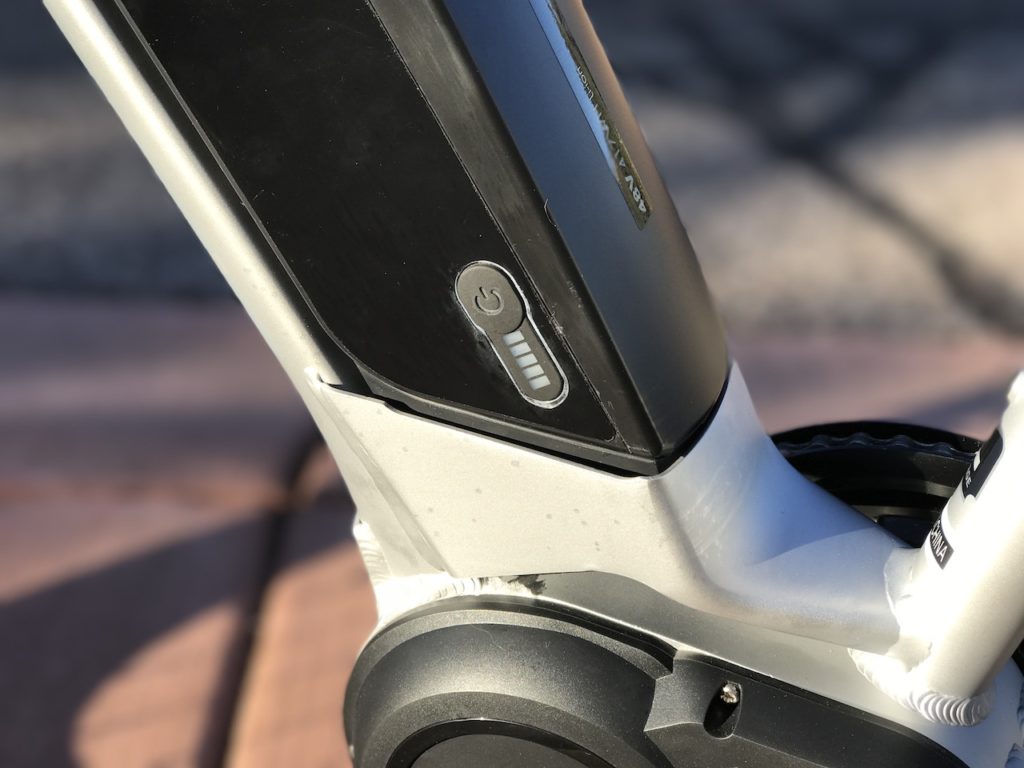 On the left side is the on/off button and battery level indicator towards the bottom of the pack. Notice the frame tubing and how it blends with the battery pack form to create a cohesive look.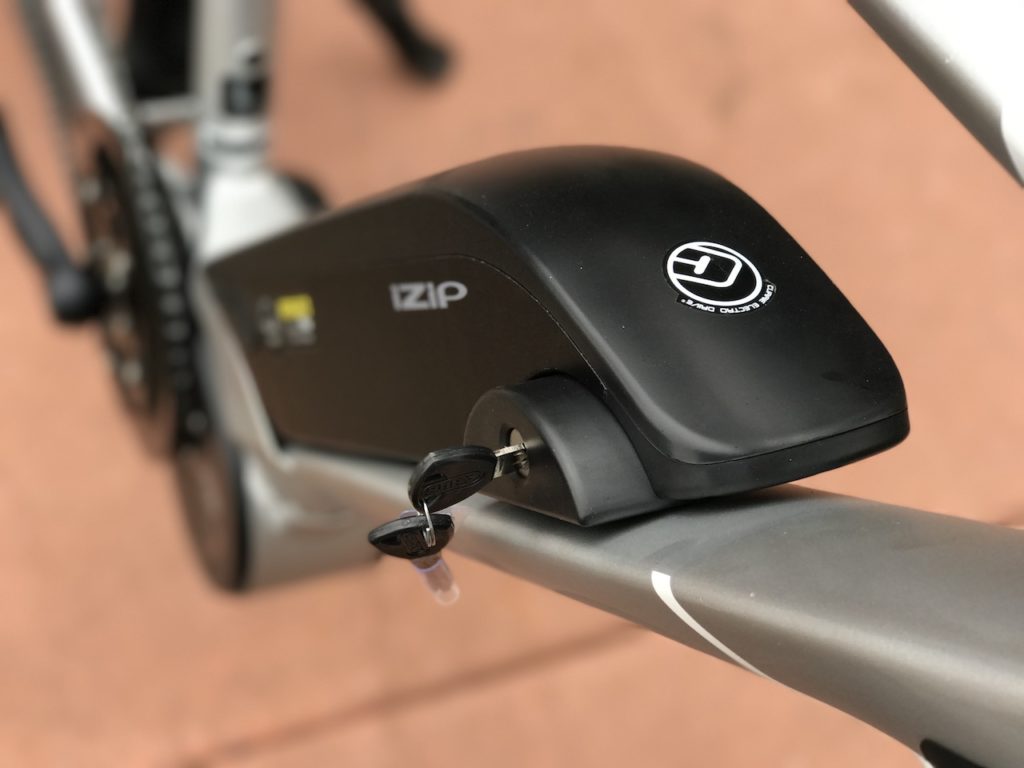 The battery is removed by unlocking it from the frame with the supplied key and sliding the pack to the side off of the frame mount shown here. The 2 supplied keys can fit an ABUS lock so that you have the same key for the battery and bike lock.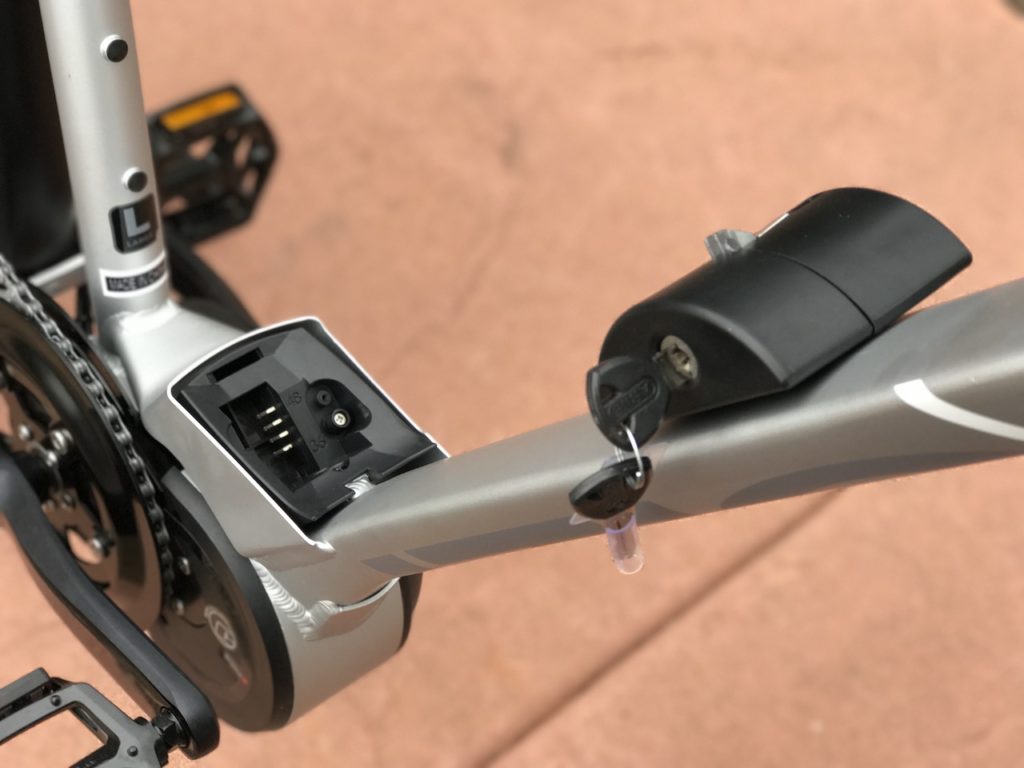 Here's a look at the frame after the battery pack has been removed. Note how the downtube has been formed to create a flat surface for the battery pack.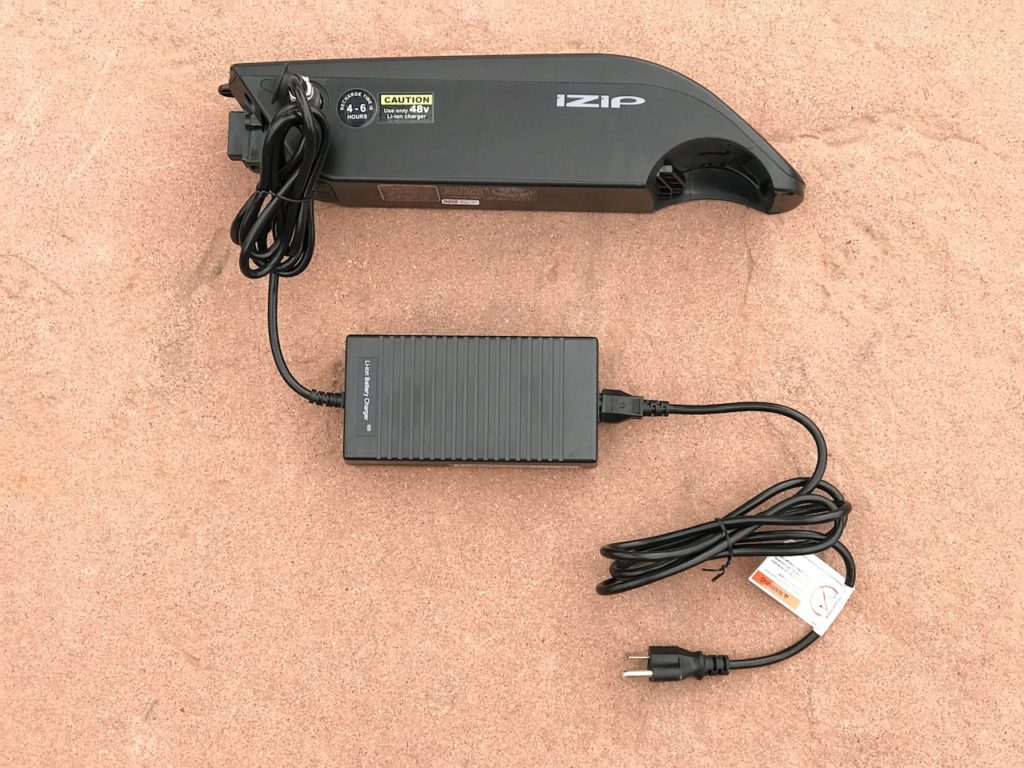 The battery can be charged on or off the bike and the charging port is on right side of the battery pack. The charger is about the size of a laptop charger and it takes 4 to 6 hours to charge an empty battery.
The battery pack weighs 5.9 pounds.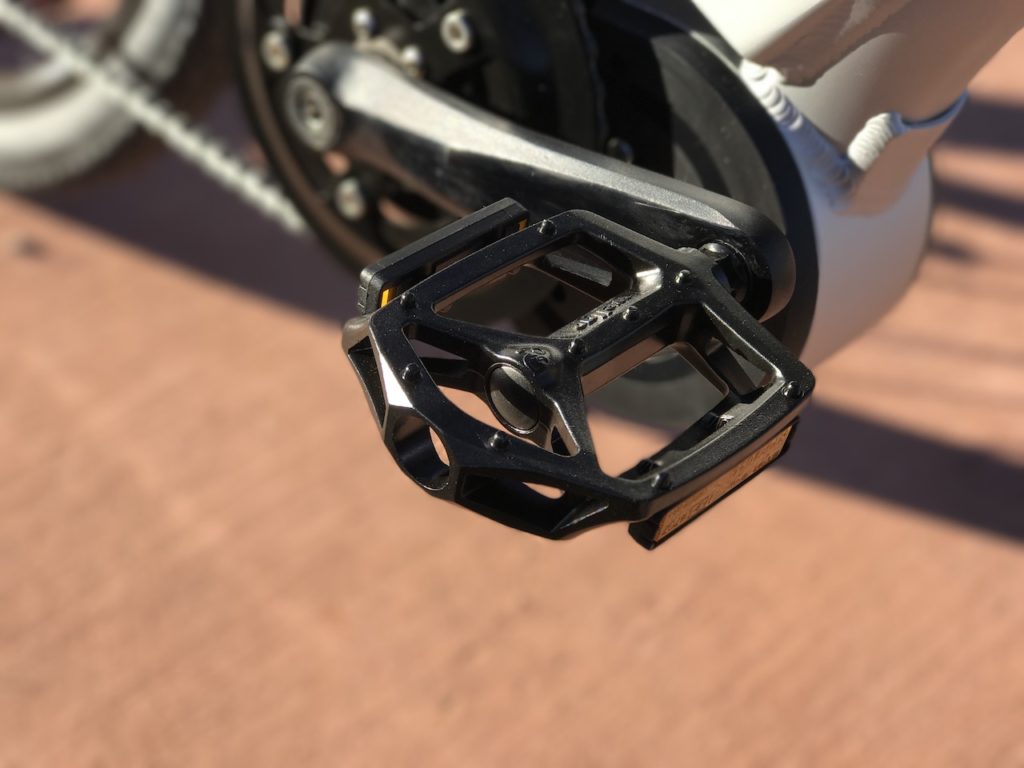 Wide alloy platform pedals provide a solid grip.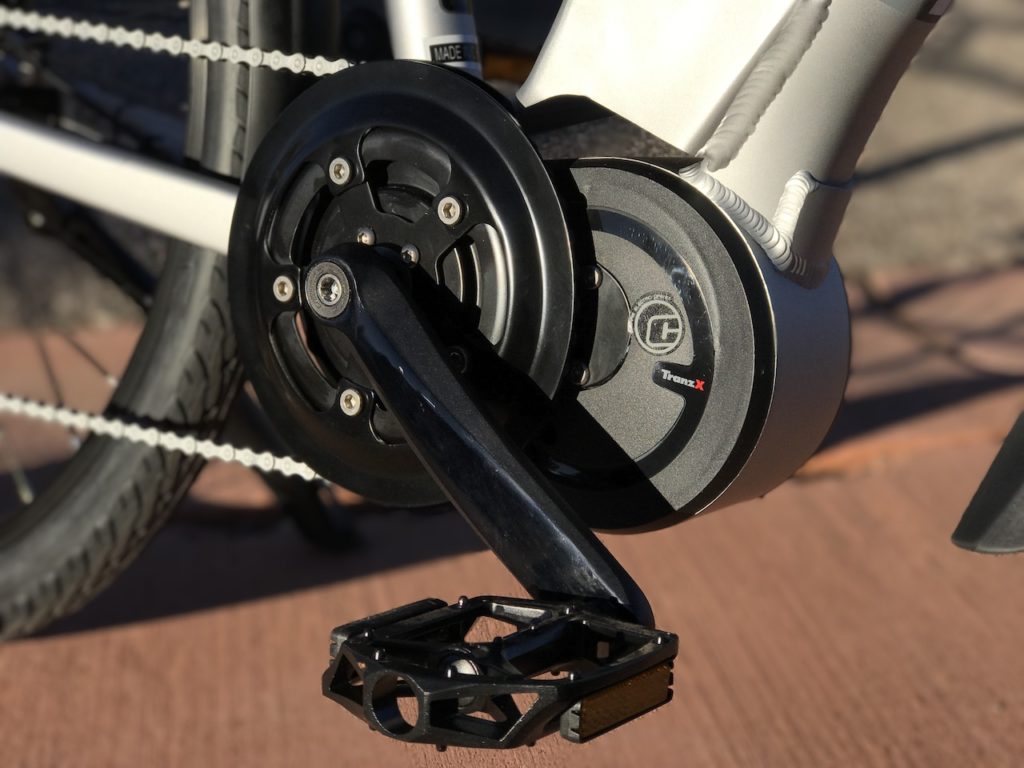 A Currie Electro-Drive 350W mid-drive motor provides the pedal assist up to 28 mph and it has a peak torque of 73 Nm. This pedal assist system uses a cadence sensor and wheel speed sensor.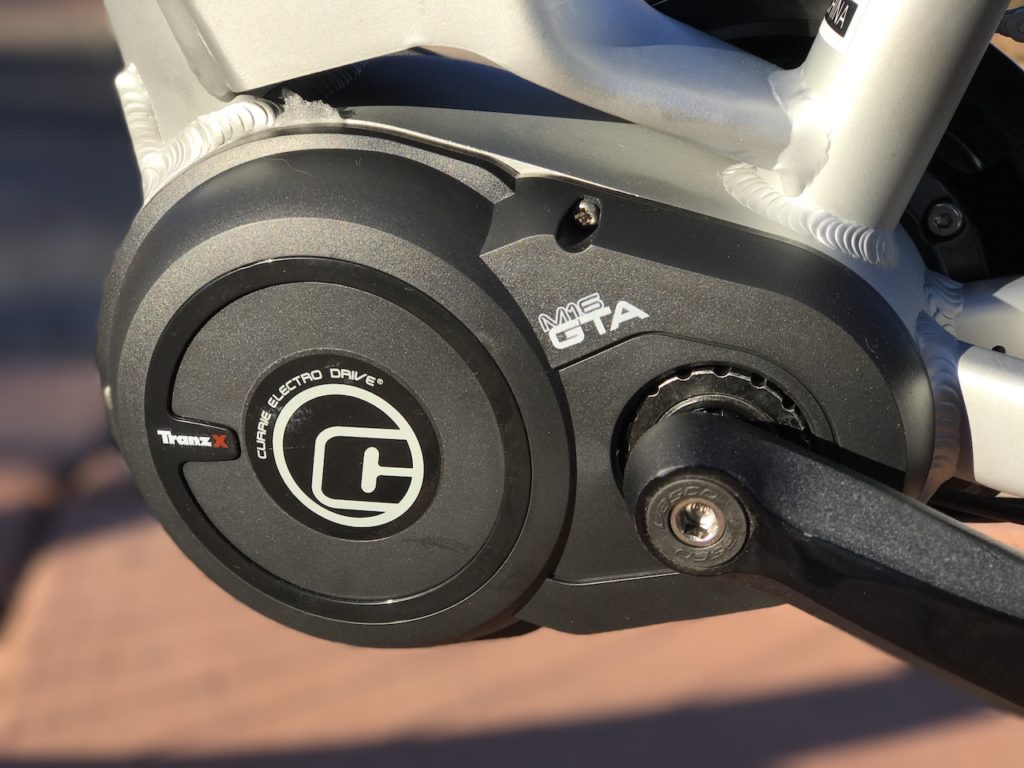 And here is a look at the left side of the 350 watt mid-drive motor.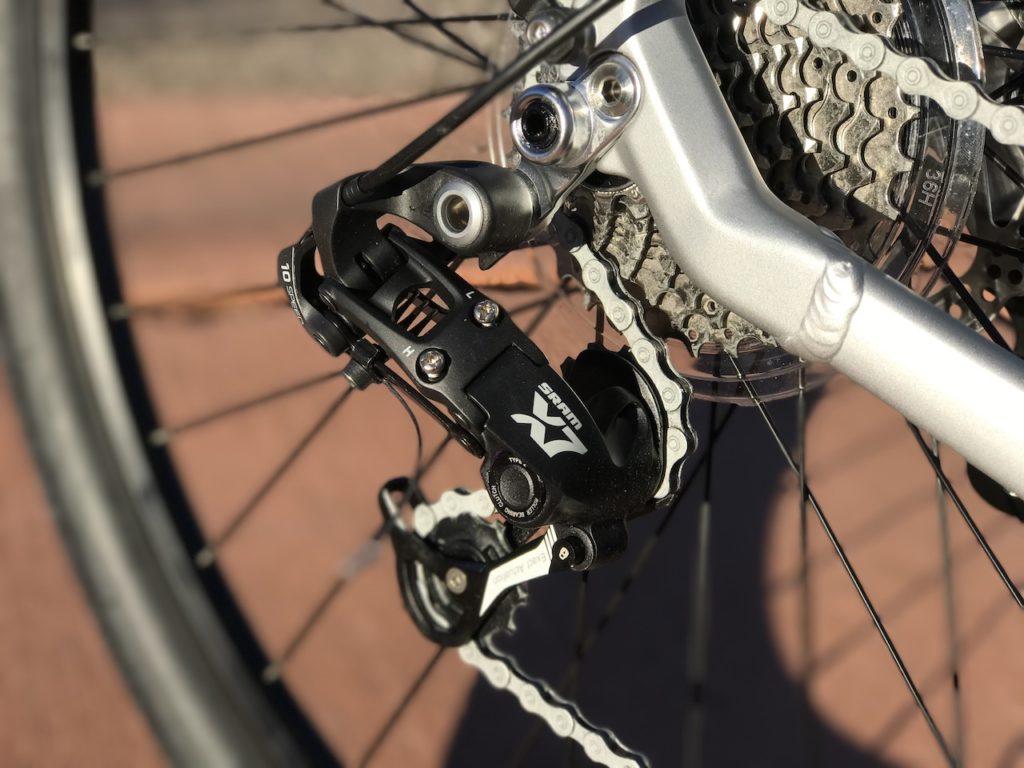 A SRAM X7 rear derailleur shifts through the 10 speed Shimano 11-32T cogset. A 142mm wide x 12mm diameter rear thru axle provides for solid side to side stiffness of the rear wheel.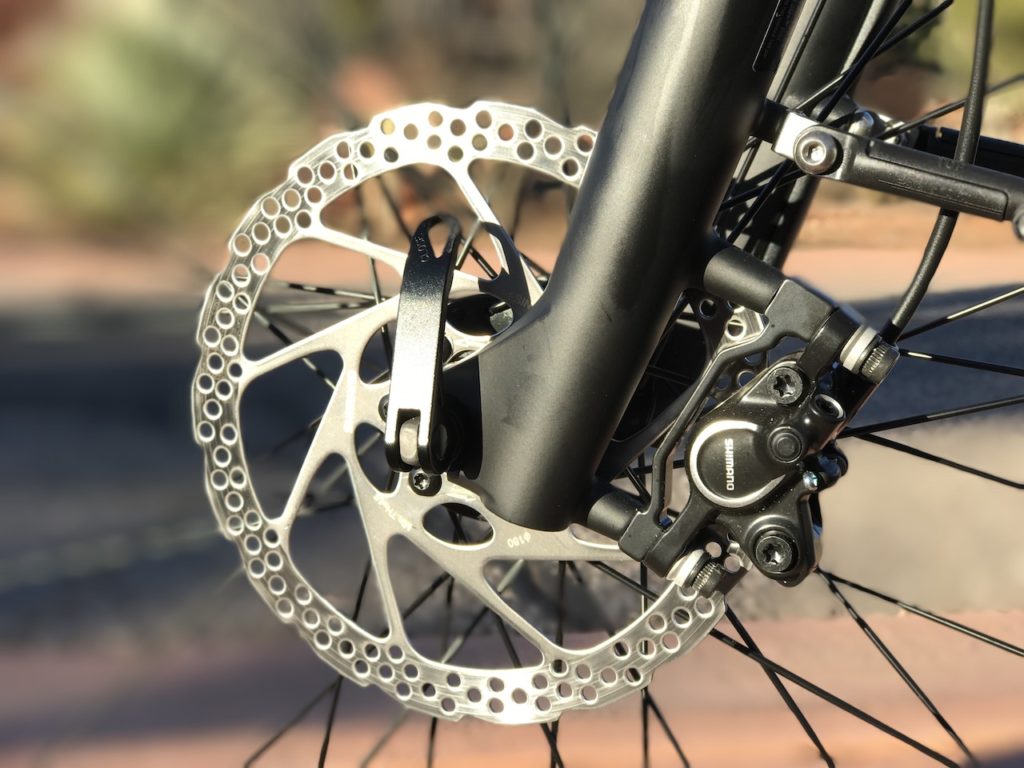 Shimano M355 hydraulic discs brakes are used front and rear. The front disc is a 180mm diameter rotor. These hydraulic brakes have a very solid feel with progressive modulation.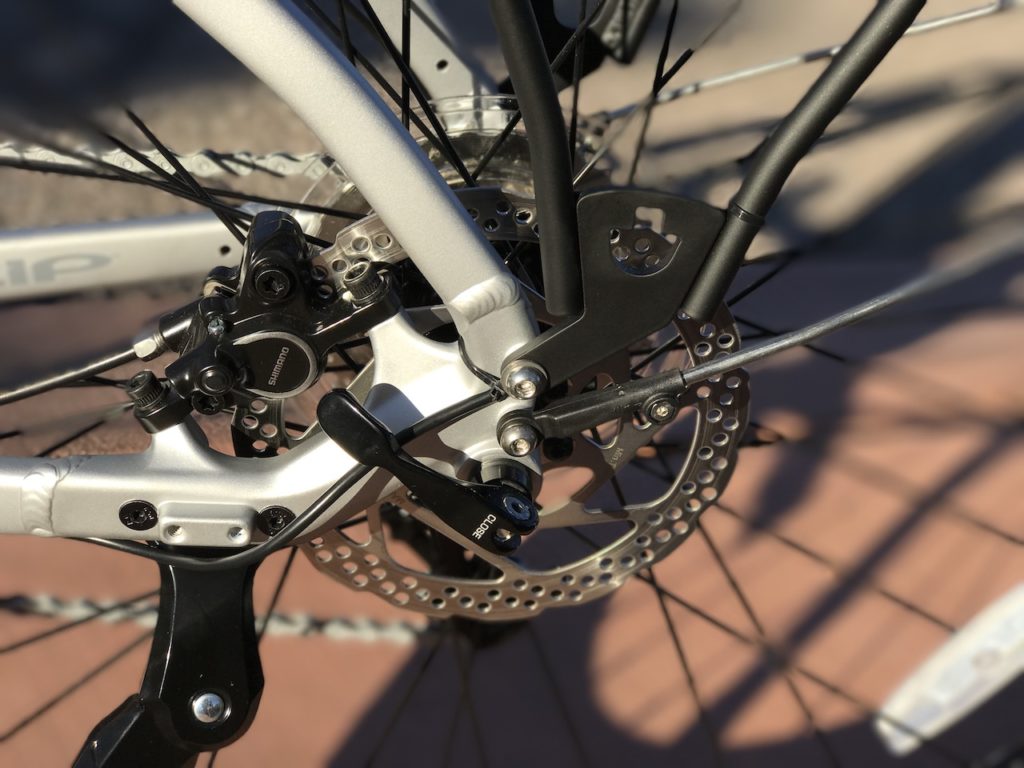 Here is the rear Shimano M355 hydraulic disc brake with 160mm rotor. You can also see the kickstand, rear rack, and fender attachments to the frame.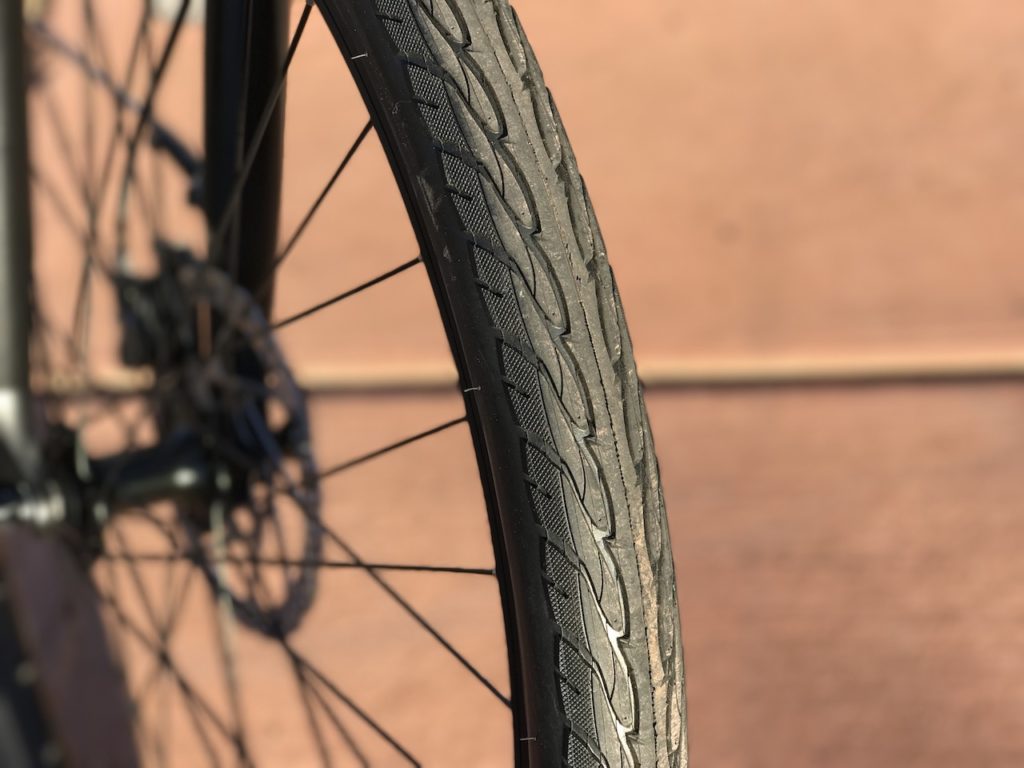 The Kenda Kwick Bitumen 700x45c tires have an efficient road tread with channeling to dissipate water.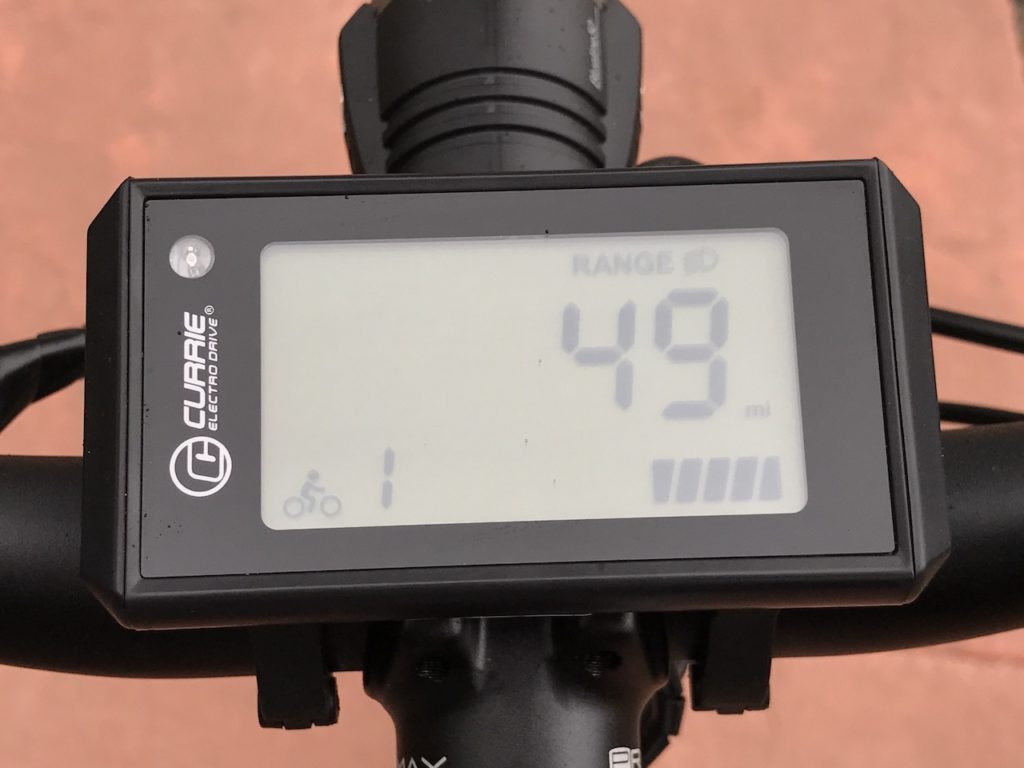 In the center of the handlebar is the LCD display that shows the pedal assist level (there are 4 levels), speedometer, odometer, trip odometer, battery level, and estimated range! The estimated range is a cool feature because it will estimate your range remaining based on the current battery level and what pedal assist level you are in.
The display has a backlit for good visibility both day and night.
The control pad on the left side of the handlebar adjusts the pedal assist levels (+ -), cycles through the display setting, turns the lights on/off, and turns the bike on/off.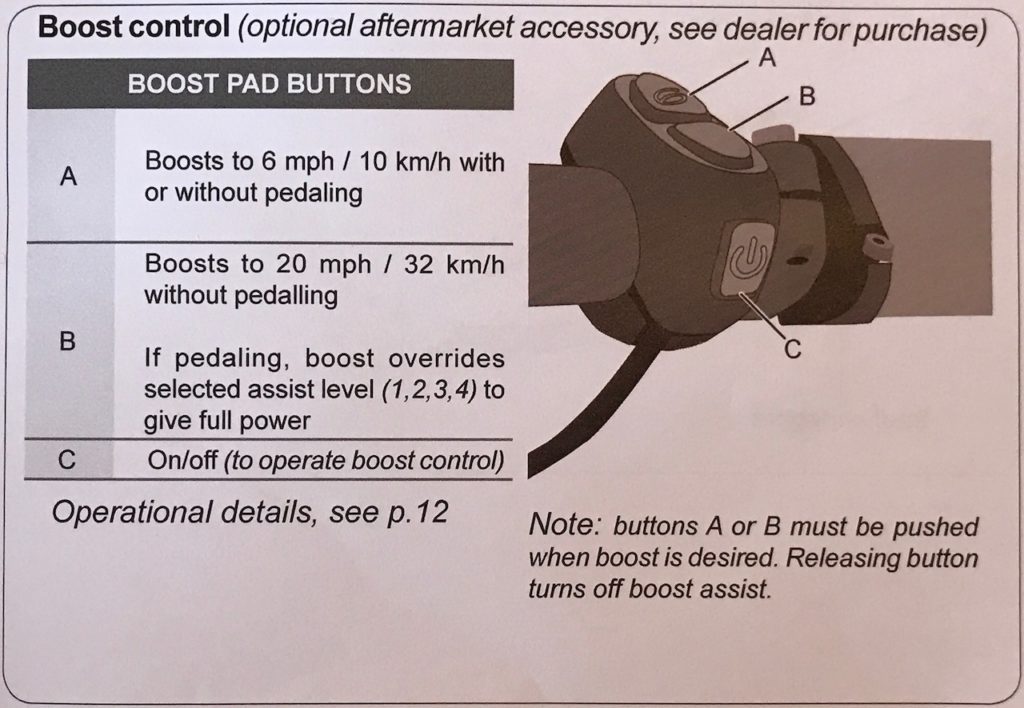 The IZIP E3 Dash comes stock as a pedal assist only eBike but the Boost Pad can be added for an additional $50 and it provides a throttle option in addition to the pedal assist.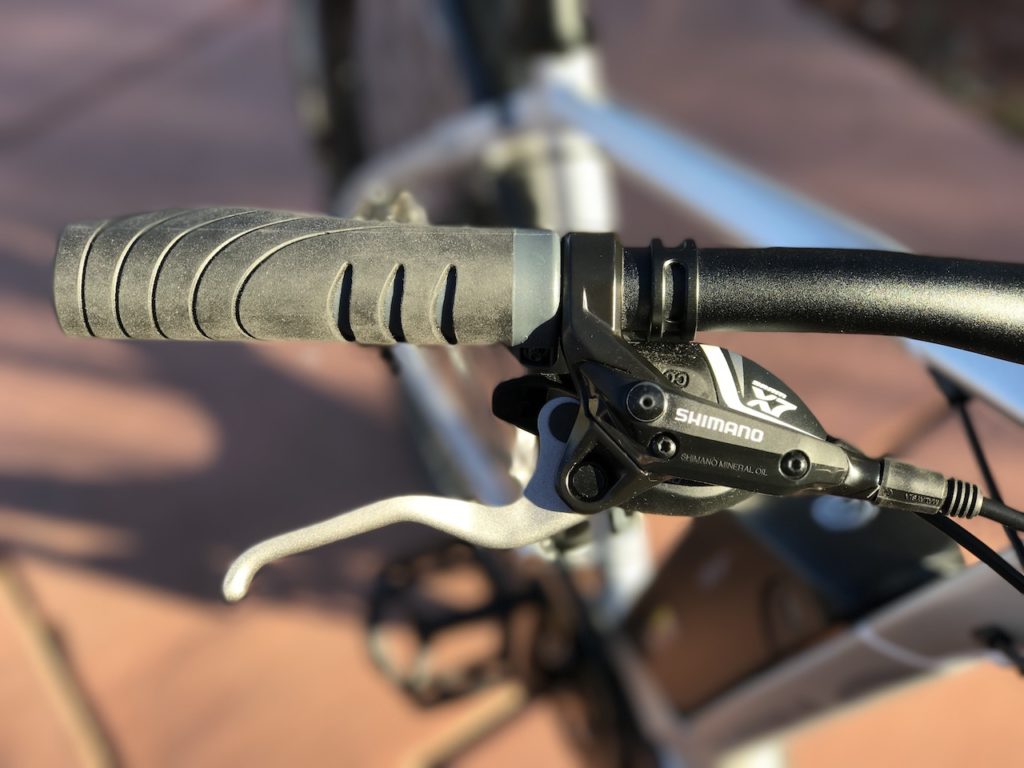 Here's a look at the Shimano M365 hydraulic brake lever and the SRAM X7 rear shifter. The reach of the brake levers can be adjusted with an allen wrench to fit your hand size properly.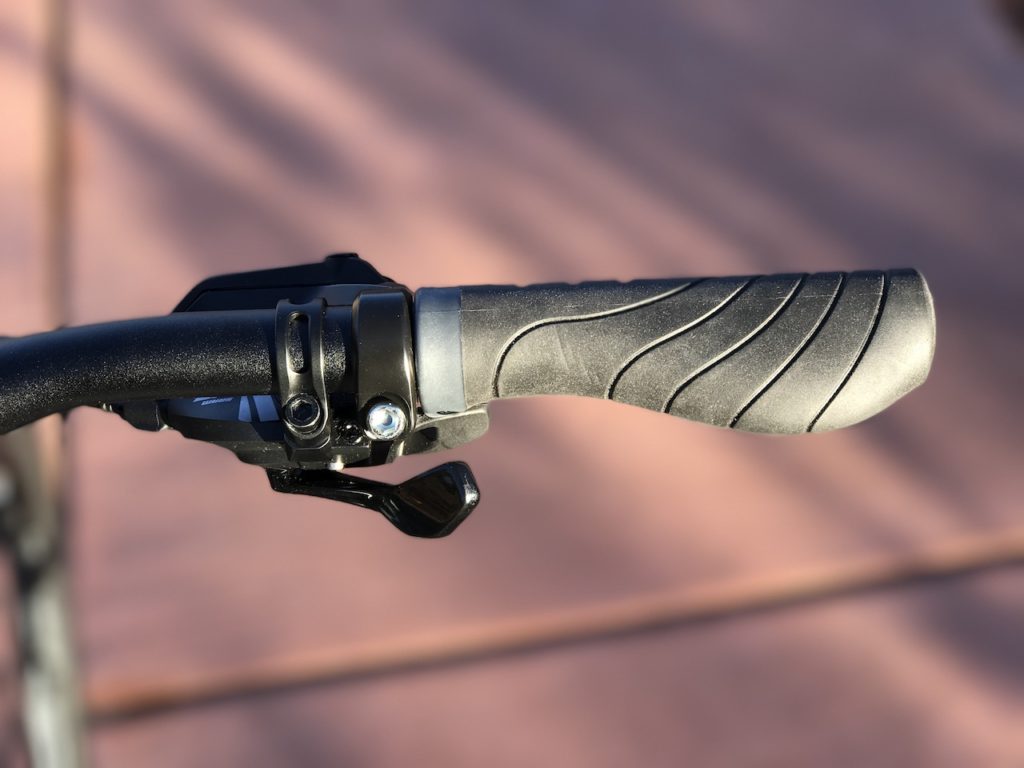 Here's a look at the paddles of the SRAM X7 10 speed shifter and the Velo dual density lock on grip. The grips have a solid feel with a larger platform at the ends.
IZIP did a nice job accessorizing the E3 Dash and the front light is one of the highlights as it does a good job of lighting up the road with a wide beam. The front and rear lights run off of the bike's battery pack so you don't have to worry about charging a light battery separately.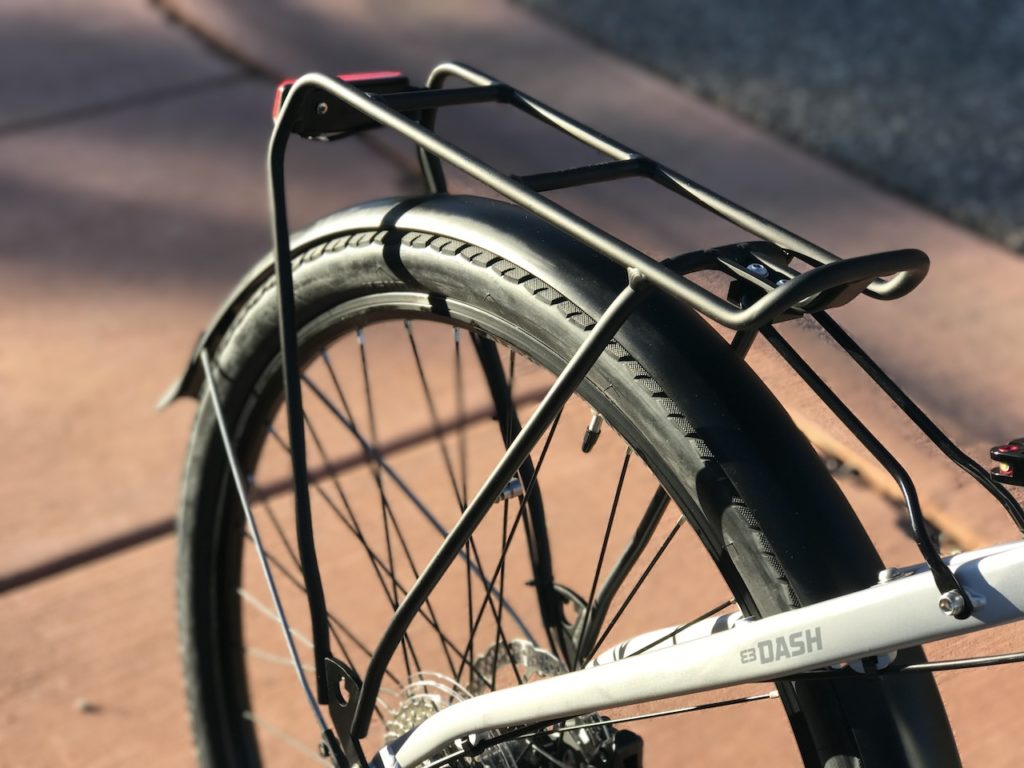 The rear rack will work with traditional bike bags and panniers to carry cargo on your daily commute or ride in the country.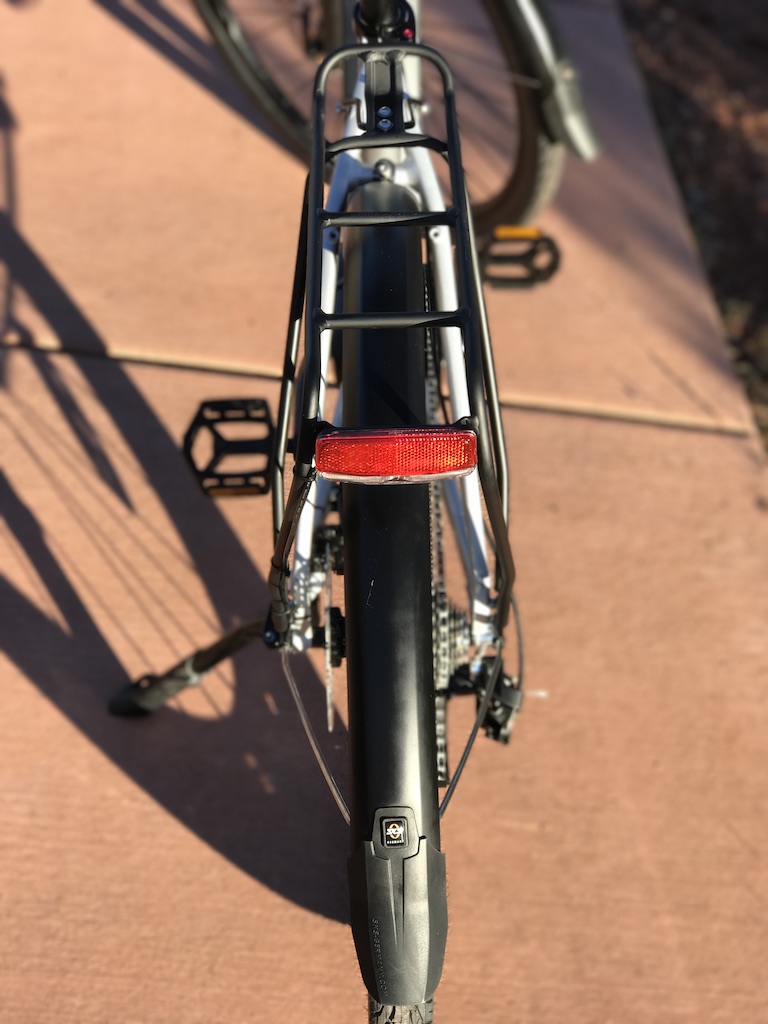 The rear taillight fits well on the back of the rack and it runs off of the bike's battery pack. You can also see the full coverage SKS rear fender with mudflap.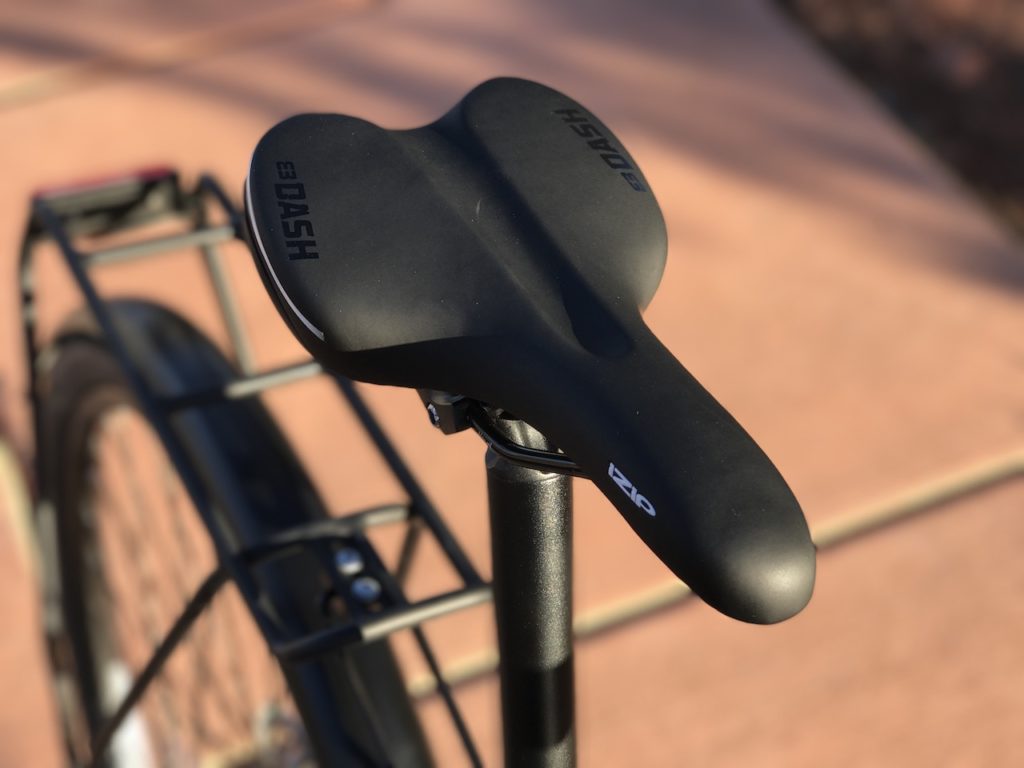 The IZIP saddle has a performance style profile with a cut out relief in the center section.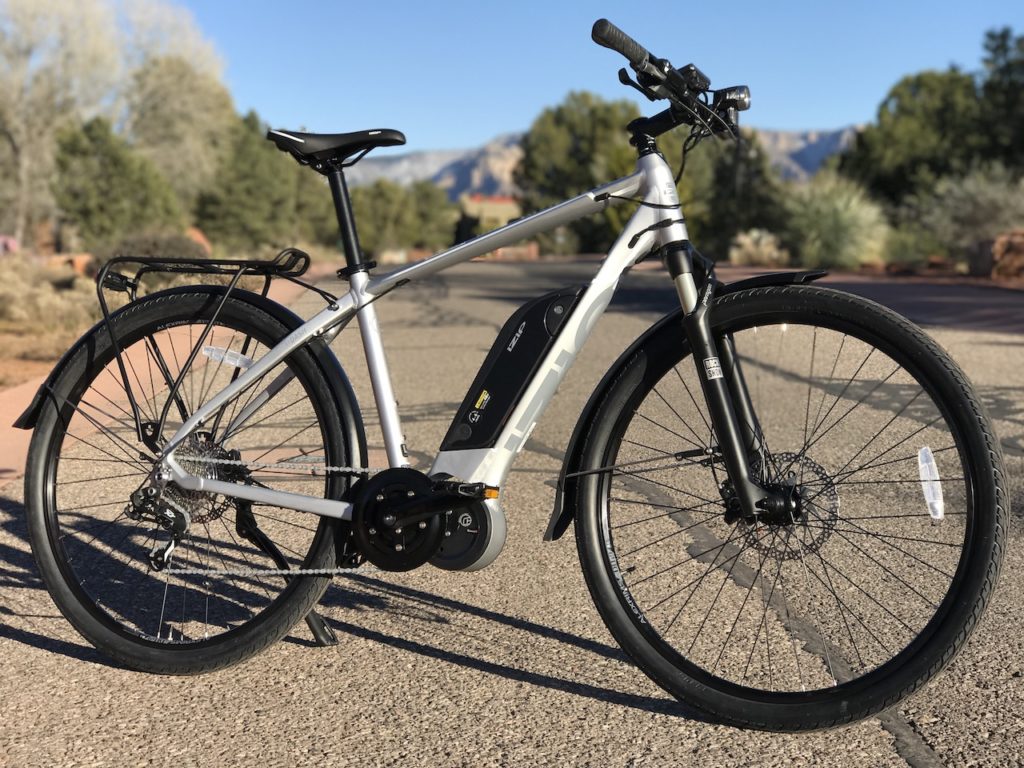 IZIP E3 Dash Electric Bike Specifications
Frame: Double butted 6061 aluminium frame with rack, lock, and fender bosses
Fork: RockShox Paragon suspension fork with 65mm travel and lockout dial
Motor: Currie Electro-Drive® Centerdrive 350W with 73Nm of peak torque
Battery: 46V 8.7Ah (417 watt hour) lithium battery. The battery weighs 5.9 pounds. The battery lock key can work with an ABUS lock.
Assist Options: 4 pedal assist levels. Cadence sensor pedal assist. Option for Boost Control (throttle up to 20 mph) for additional $50.
Speed: Pedal assist (no throttle) up to 28 mph which makes this a Class 3 eBike
Display: Large LCD display with information on: pedal assist level (there are 4 levels), speedometer, odometer, trip odometer, battery level, and estimated range. Backlit for good visibility both day and night.
Drivetrain: 42T chainring with Shimano 11-32T 10-speed cogset. SRAM X7 10 speed shifter & rear derailleur
Brakeset: Shimano M355 hydraulic disc brakes, 180mm front rotor and 160mm rear rotor
Tires: Kenda Kwick Bitumen 700x45c
Sizes: Small 15″ frame, Medium 17″ frame, Large 19″ frame
Accessories: Kickstand, fenders, rack, front and rear lights
Colors: Silver
Weight: 53.8 pounds. 47.9 pounds with the battery removed.
Price: $2,599 USD at the time of this review
Here is a link to the specifications page of the IZIP E3 Dash electric bike.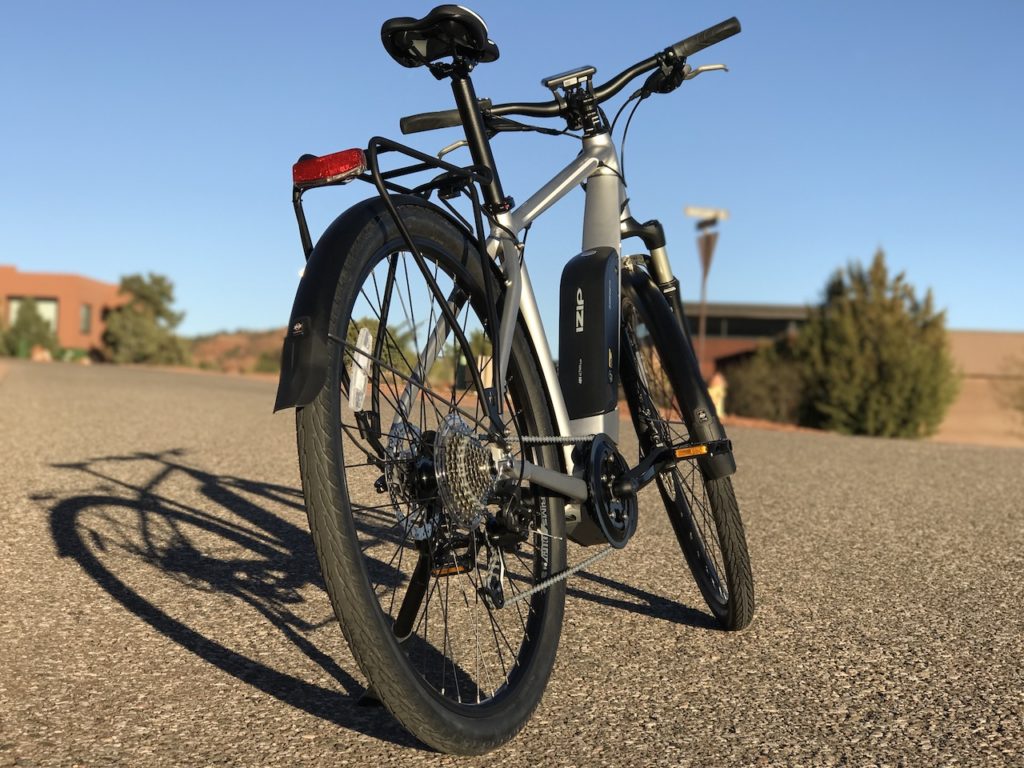 Now checkout part 2 of the IZIP E3 Dash review with info on the ride characteristics, the range test, pros, cons, and overall thoughts!
-Pete
Review Note: Each company pays a fee for a review on Electric Bike Report because of the considerable amount of time that it takes to provide an in-depth review of each eBike. A lot of time is spent on the full range test with distance & elevation profile, the wide variety of detailed pictures, in-depth video, and the write up with the specifications, ride characteristics, pros, cons, and overall thoughts. The reviews on Electric Bike Report are focused on providing you with a detailed "virtual" look at each eBike to help you determine if it is the eBike for you or not.
P.S. Don't forget to join the Electric Bike Report community for updates from the electric bike world, plus ebike riding and maintenance tips!
Sours: https://electricbikereport.com/izip-e3-dash-electric-bike-review-part-1-pictures-specs/
Izip E3 Dash - A big disappointment
Postby Dashman » Jun 28 2014 12:32am
Boy, I really fell for all the glaring reviews and bought me one of these Dashes when it first came out. At first I was pretty excited, being that this was my first ebike. From what I read, Currie was the company to go with because they have been around for a while. And the Dash with it's hub motor would be a failure free way to go. Well, all the excitement is gone and I really wish I would have gone with another electric bike, even if it cost me more.
At first, it was the intermittent behavior of the pedal assist. It works for a while and then it goes away. At another forum where they have a section dedicated to Izip bikes, numerous people have experienced this and end up chasing poor connector problems.
Then, they have this bottom bracket which has wires coming out of it through a small hole. The problem is the BB is not keyed and is held from rotating only by the end caps. If the BB rotates, then the wires will be severed and you lose your torque and cadence signals.
But, the biggest problem now is all the motor failures the Dash and Path + are having. They share the same motor. Apparently, the magnets are coming off the hub and in some cases it sounds like the motor might be seizing up. To make things worse, several people have the motors replaced only to have the new motor fail also.
It's to the point now I'm afraid to ride my bike because I worry about what the next failure will be.
It's very discouraging!!
Sours: https://endless-sphere.com/forums/viewtopic.php?t=61117
Bike electric e3 dash
Bike Test: Izip E3 Dash
Luckily, for anyone in the market for an e-bike today, a new trend has swept through the industry—e‑bikes that look like, well, a bicycle. The Izip E3 Dash is one such bike. The design is clean and purposeful.
Upon exiting a building after a taco run, a fellow budget Mexican food aficionado wanted to know if the contraption on the downtube was a toolbox. That led to inevitable questions about the Dash. We suspect that you have questions as well. What is this bike really for? How does it work? Why did they call it a Dash? Those are good questions, and the same ones we asked.
THE MOTOR
Currie Technologies has a great deal of experience designing e-bikes and programming controllers, and it truly shows on the Dash. Currie builds bikes with what it calls "torque" or "speed" settings. The key mechanical difference between the two is the hub motor. A speed bike has a direct-drive hub. The entire hub is the motor, and one revolution of the motor equals one rotation of the wheel. A torque setting calls for a geared hub. The alloy case may look the same externally, but inside the case is a smaller motor that drives planetary gears to multiply the torque of the motor.
A direct-drive hub is simple with less parts to wear out, usually virtually silent and is generally cheaper to make. A quality geared hub motor may only have a tiny gear whine, but it will be audible. We love quiet, and most riders feel the power is all the more impressive when the drive is silent. As far as the "E" part of the bike goes, the size of the rear hub and the lithium-ion 48-volt battery case are the main visual clues. The battery has a battery mount attached to lugs in the aluminum frame, and a key-latching system locks it in or, conversely, allows it to be removed for security, or to carry it inside for off-bike charging (there is a port for on-bike charging). A small computer and a remote switch mount to the handlebar.

A one-touch soft button on the battery case powers up the system, and you hold the same one to power down. The remote switch has a power button for the cycle computer, a mode switch that cycles through the assist modes, a switch to use the bike battery to power lights (not included), an info button, and a cruise-control button. The assist modes are T—twist throttle with no pedal assist—and three levels of assist modes cleverly labeled 1, 2 and 3. There is no up/down for the modes. One push jumps one mode, so if you want to go from 1 back to throttle mode, you cycle through modes 2 and 3 to get back to T. The same is true of the info button. The normal display is for speed, push for odometer, once more for the trip meter for the current ride and once again for the range remaining. The next push jumps back to speedo. Our Dash was preproduction 2014, so everything read in kilometers, but production models will display miles.
BIKE STUFF
Currie designs its own frames, and you see that with the Curry emblem machined into the heavy aluminum dropouts built to handle the weight and strain of the rear-drive hub motor. One item that is rare in the industry is a QR (quick-release) rear axle for the weighty hub motor. Most brands rely on solid thru-axles to secure things. The QR is vital for easy roadside flat repairs. Until we rode some converted production bicycles, we didn't realize how impressive the solid-feeling Izip aluminum frame is. With the obvious and even welds, there is no confusing the frame with carbon fiber.
The SR Suntour NCX fork has fender lugs, and whether we were sport riding for pure fun or pounding around town shopping and running errands, we appreciated the break the fork gives the wrists. Ditto for the CST 700 x 45c tires, since they are vitally supple over rough pavement compared to full road tires and wheels. The wheels roll well, and if they drag too much for you, engage the assist.
LIFE IN THE BIKE LANE
We're always up for fun, so our first ride was on a favorite 24-mile road loop best suited for lightweight drop-bar bikes and fit riders. The area has plenty of moderate grades, but our loop flirts heavily with the surrounding mountains, so there is a lot of climbing. It is unlikely that the Dash would have climbed any of the grades on E-power alone, and testing that theory would have swilled battery charge like a wino at an open bar. Clearly, if you want to complete an extensive ride on most e-bikes, you better plan on doing much of the work. We felt that 24 miles with a great deal of climbing and wind was going to be push the battery to the limit.
With a fit rider aboard, it is rare to need to push the assist mode past 1. In fact, as we found out later on some milder bike-lane rides, mode 1 is almost a little too much assist for the flats, and we easily maintained 25 mph even on steady but mild climbs. The difference in the modes is claimed to be 20 percent, but on a flat, you won't feel that much of a jump. Start climbing, though, and you feel a distinct jump in assist as the modes rise in number. The Dash pedals easily at 23 to 28 mph in the three assist modes. You aren't getting any real help above 20, but the Dash pedals easily and rolls well, so the ride is fun. In throttle mode, the bike fights you hard over 20 mph, and only truly fit riders can push much more speed out of it. Below 20 mph, throttle (power on demand, or POD mode) delivers absolute max power, so it works great for demanding climbs or brutal wind. Twisting the throttle in assist modes at sub-20-mph speeds will add additional boost.
At 22.5 miles into one ride, the battery let us know that we'd relied too heavily on assist, and suddenly we were pedaling a very heavy bicycle with a small amount of hub drag uphill against the wind. Talk about learning to appreciate assist. If we were disciplined enough to kill the assist on flats and descents, we could get a lot more mileage out of a charge. However, we did have a ball, so we weren't too disappointed in our work-at-the-end plan.
THE VERDICT
As part of Currie's mid-line bikes, the $2600 Dash would rate right up there with the best street-legal e-bikes around. The handling is lively without being nervous, and remarkably steady and trustworthy at the speeds the bike routinely travels at. Frame sizes are limited to small (43cm) or medium (48cm), so we'd advise NBA retirees to look elsewhere, but sport riders, commuters or plain old enthusiasts will be well-served by the Dash. The silent drive works great, with a genuine assist surge that is unmistakable—like a muscular, invisible friend you don't have to keep a secret.
SPECS
Price: $2600
Motor: Alloy shell 500W DC brushless hub motor
Motor specs: 40 Nm peak torque, 18 Nm-rated torque
Battery: EV-rated Li-ion type 36V, 11.4Ah, 410Wh, rechargeable
Battery life: 500 cycles
Charge time: 6–8 hours
Controller: Currie Electro-Drive, 36-volt, with power gauge function
Top speed: 20 mph
Range: 20–30 miles with normal pedaling
Drive: Shimano Deore rear derailleur, Microshift TS70 trigger, 9-Speed drivetrain
Brakes: Shimano M375 mechanical disc brakes
Wheels: 700c Alex alloy rims with stainless steel spokes, QR axles
Controls: Power and PAS/TAG switches mounted on the handlebar, twist throttle, battery gauge
Fork: SR Suntour NCX fork
Frame: Aluminum 6061, fender, rack and bottle mounts
Weight: 57 lb. (medium)
Sizes: M (43cm), L (48cm)
Contact:www.currietech.com
Sours: https://electricbikeaction.com/bike-test-izip-e3-dash/
2015 IZIP E3 Dash Video Review
As soon as I climbed into the back seat of our white Hummer, I ran into my brother, who was sitting and. Mumbling about female non-punctuality. You are always like this, I have to punish you. How are you going to punish me. Right here.
You will also like:
My beloved wife cooked all sorts of borscht, everything was on schedule. Even sex. Then the children were born and. everything started spinning and spinning.
13046
13047
13048
13049
13050