10 Best ACNH Museum Ideas - Animal Crossing Museum Entrance & Exterior Designs
When you transforming your island, it may take a lot of thought in every corner. The exterior of the museum is an important spot to design. What themes are best for the ACNH museum entrance? Here are some best ACNH museum ideas from different creators, with outstanding customization and creativity.
Best ACNH Museum Ideas - Animal Crossing Museum Entrance & Exterior Designs
Except for regular paintings and skeletons, what else Animal Crossing items can be used for filling the outdoor of the museum? Taking a look at the 10 best ACNH museum entrance ideas and design tips for your island.
ACNH Museum Idea by @laguna.crossing
Look at the first museum idea for ACNH island, the creator used the fourth level glitch to not only make the museum sunken but also give the area around it so many layers, there are also some beautiful waterscapes, plants, and custom designs surround the museum entrance. It looks stunning and fantastic. Additionally, the museum isn't taking up a huge portion of the island, you can get back and forth from the museum and beach through the corridor.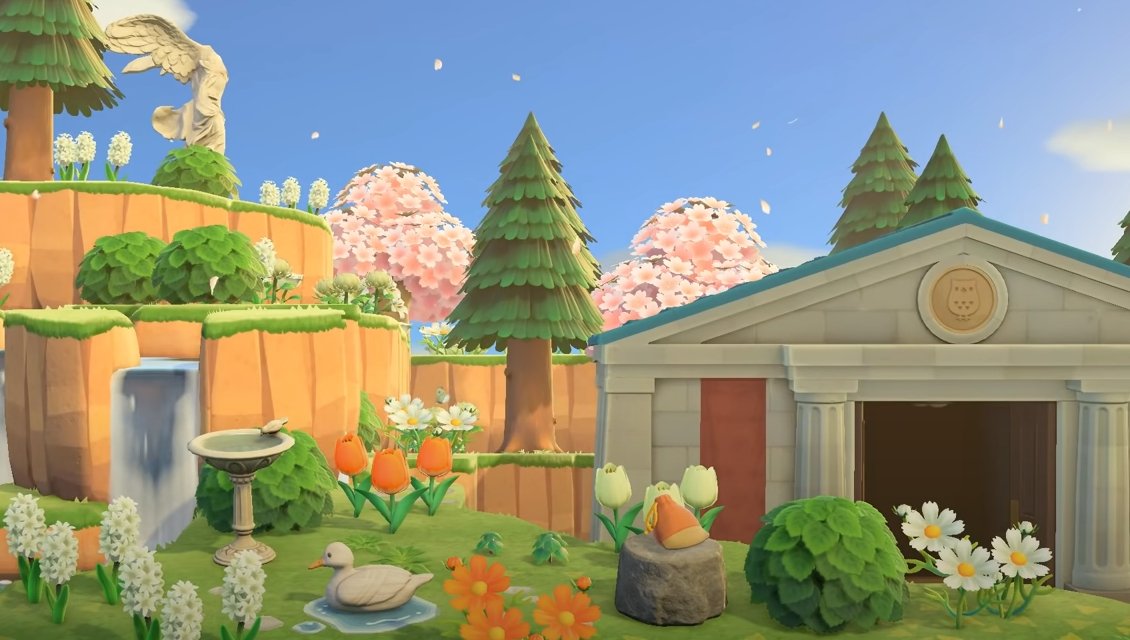 ACNH Museum Idea by EJ Plays
The second museum design in Animal Crossing New Horizons is at Ponderosa by EJ Plays. We've got like a land bridge leading into it and it's just surrounded by lush greenery and lots of statues to give it that an ancient feel, kind of like abandoned ruins. Straightforward through the doors in the museum, it's lined up perfectly. All of these flowers, trees and custom designs on the ground make it feel lush without feeling cluttered.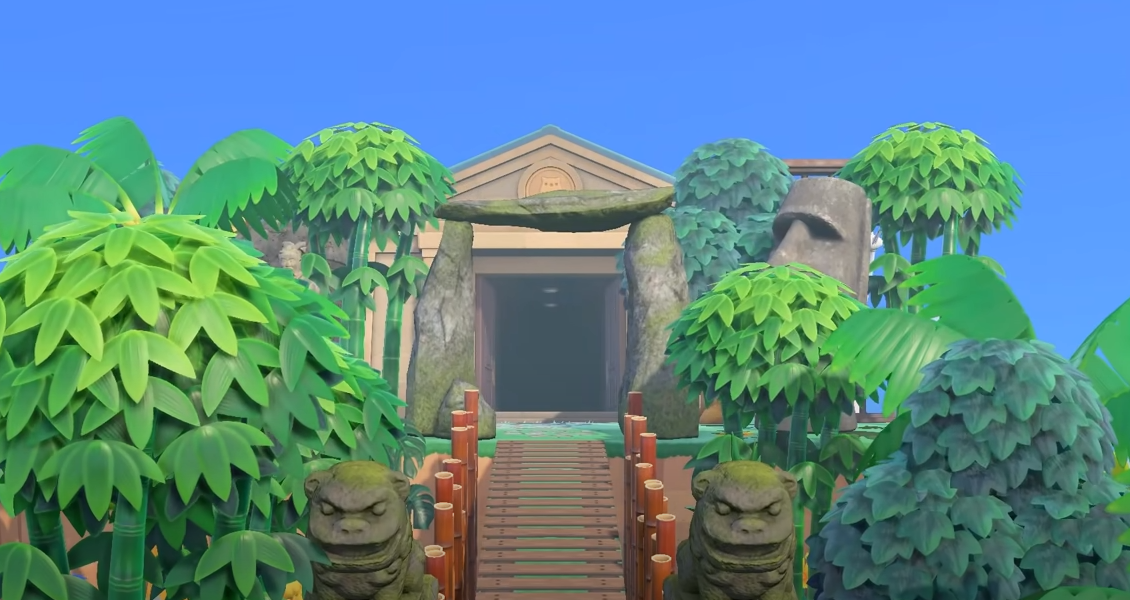 ACNH Museum Idea by @isle.macchiato
Unlike others, this creator keeps Blathers in his tent rather than upgrade to the museum, you can do that and still unlock terraforming. In front of this museum, you can see the outdoor bath, rock garden, a pair of Stone Lion-dog, stone floor, well-situated bushes, and bamboos, it's all just cool and unique.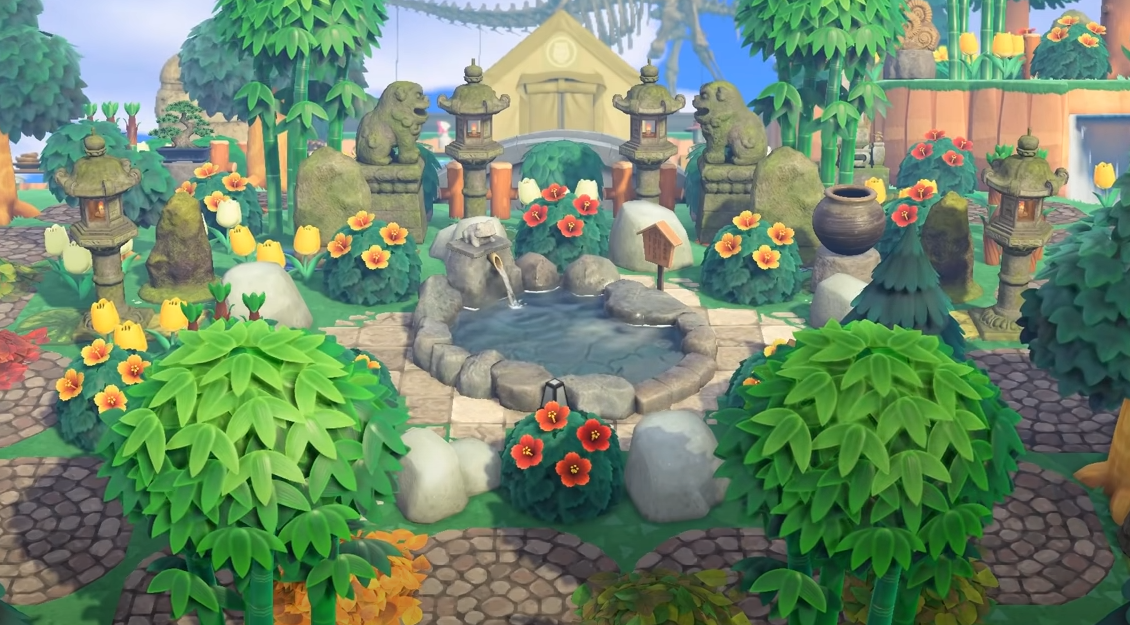 ACNH Museum Idea by @crossing_with_olive
On the Olive Land island, we have a kind of rain forest aesthetic, the Stone Lion-dog centered in front of the museum looks great and everything here is cute, such as the little paper patterns, the pink and orange flowers, the shell lamps, and the squares on the meadow.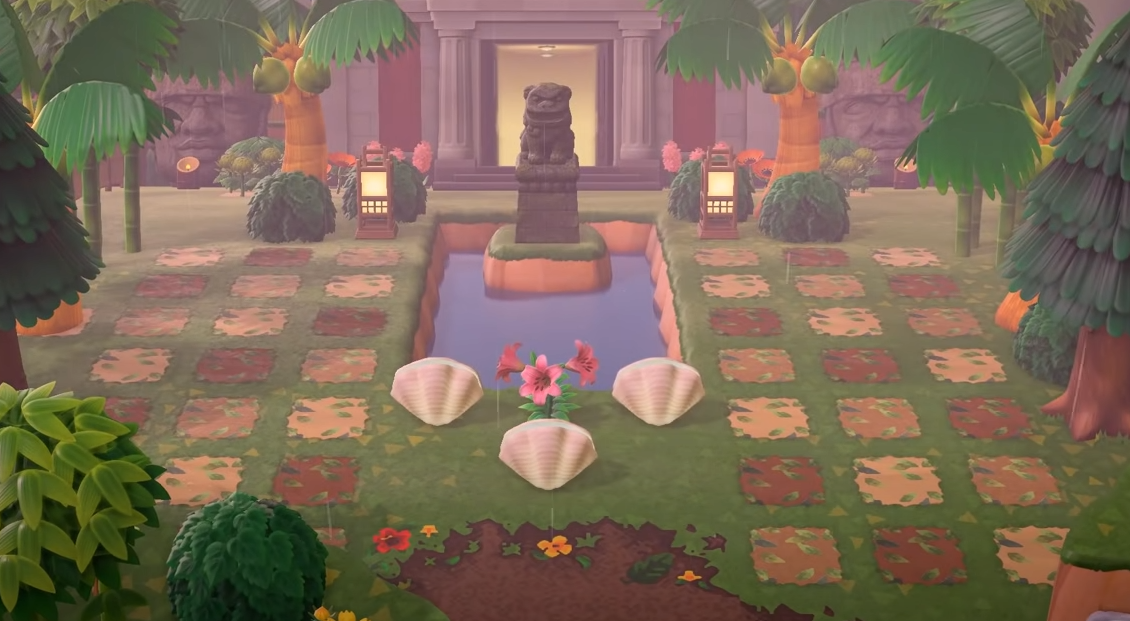 ACNH Museum Idea by @avalon.newhorizons
This museum area was bustling, animals are walking around, an Australopith is put on the stone, the path like the broken stone vibe and piles of leaves just fit the area well, a little further away, this area is very brightly vividly themed, vibrant flowers and other plants are gorgeous, beach to the left of the museum was themed around the museum itself so there were fossils a study area for Blathers.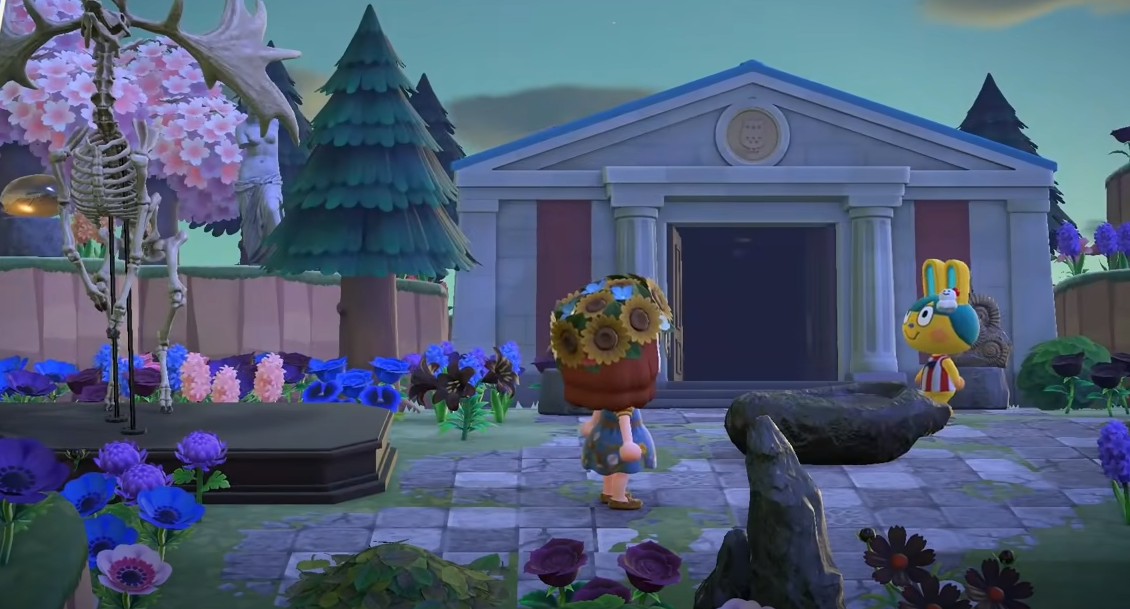 ACNH Museum Idea by @farleyleaf
This museum exterior is natural, there are little hop-hop areas with cute designs where you could get from the incline to the museum and it was so calm and foresty, with so many deep greens going on and very limited furniture, it is like a part of the forest and a very calming place to visit.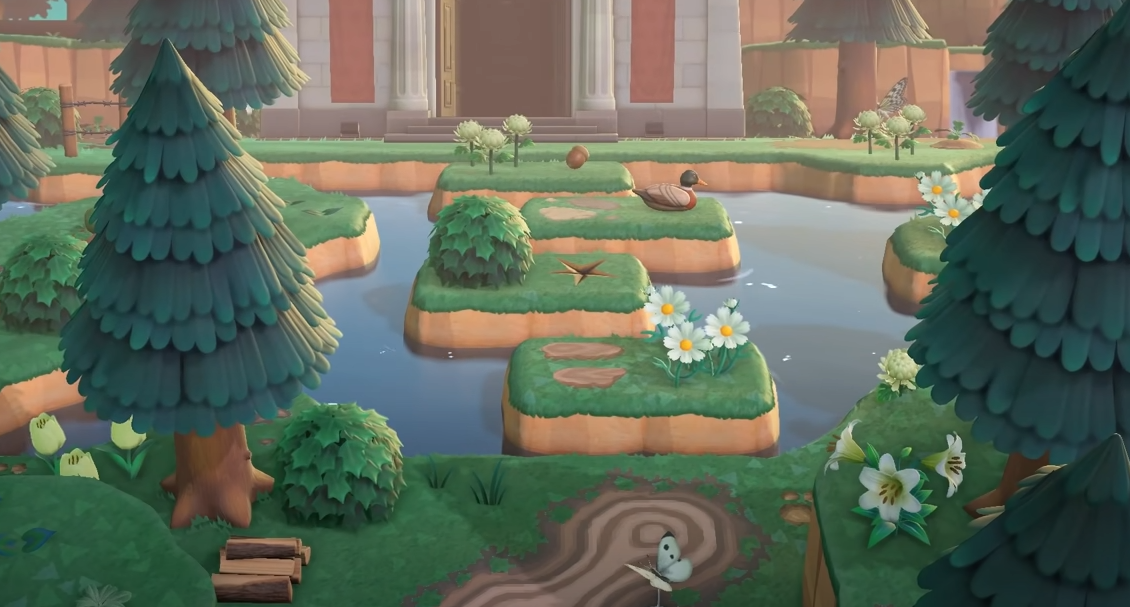 ACNH Museum Idea by angry coconut
This island theme tends to be a modern city, the museum is set up as sort of a research center, the museum facade is covered with simple panels and jail bars, it makes it feel so official like a government building, there are some great details like the scattered papers, live specimens, the rusted part, the drink machine and more. The mix of fencing looks amazing, everything goes together so well.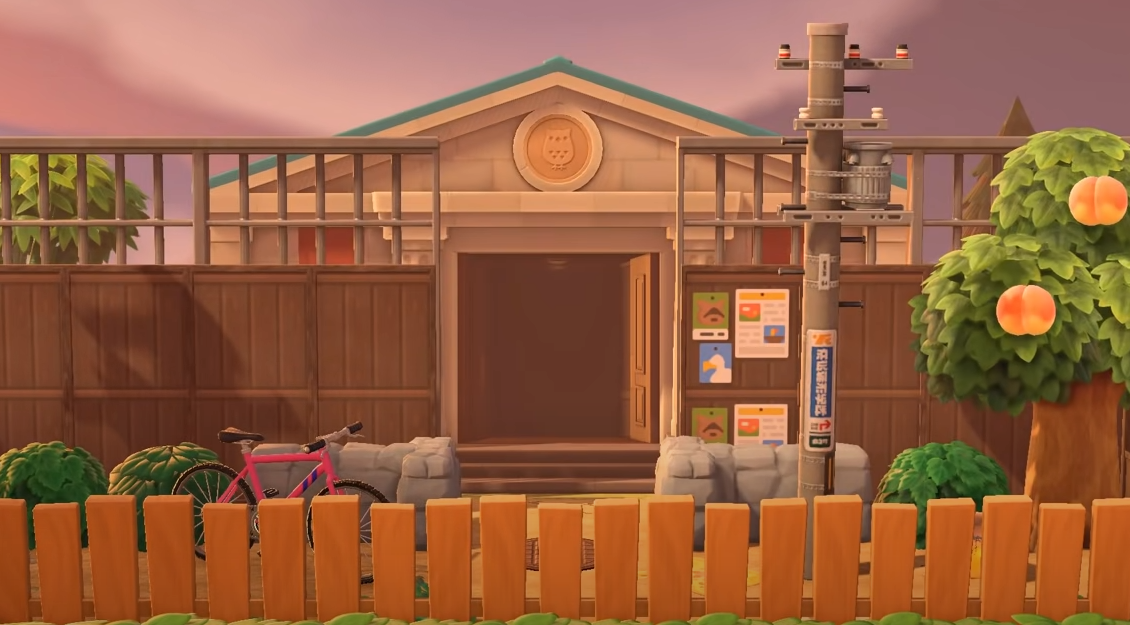 ACNH Museum Idea by @acnh_barkenos
This museum also had Blathers in the tent, it sort of functions as the center for the national park, we've got the little sign to the left, this is an open space. The museum entrance is full of exquisite custom designs and thoughts.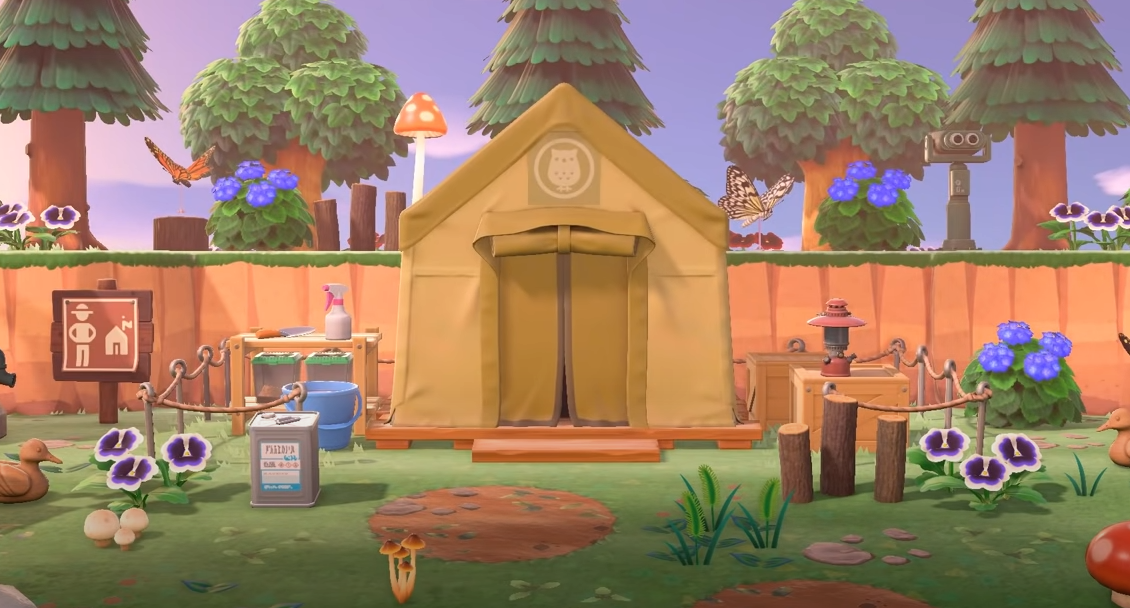 ACNH Museum Idea by @serenityisle_
The museum is kind of hidden, you need to walk through a statue garden to visit it, next to the museum, there is an area like an outdoor classroom with so many books and study tools.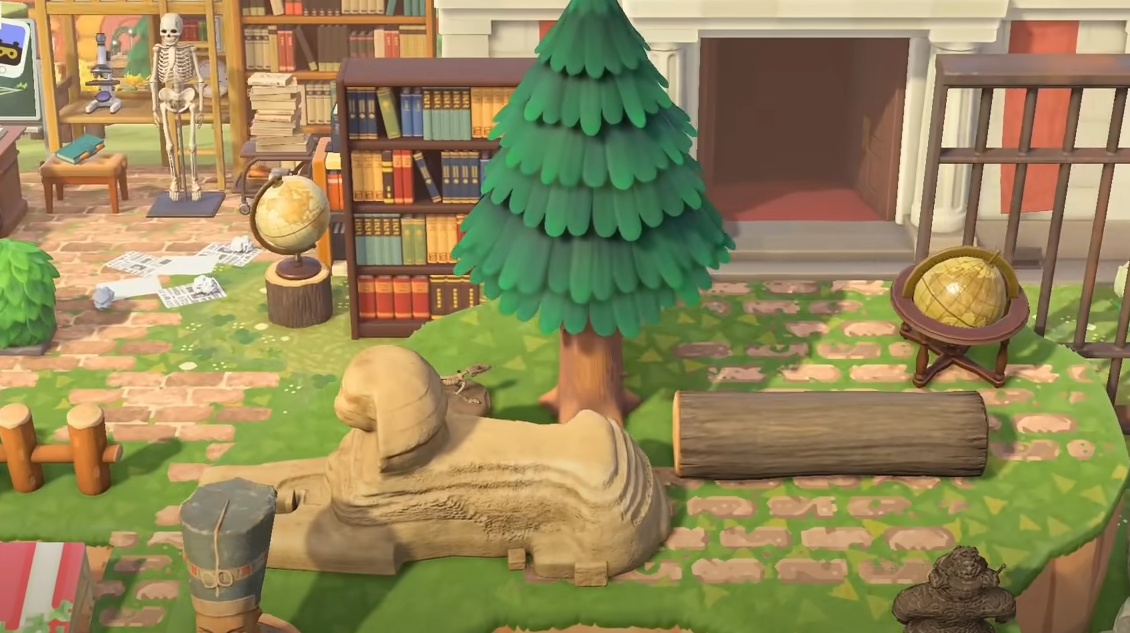 ACNH Museum Idea by @nemis.nook
This museum is in the cold time, which makes the scenery different. There is a centerpiece in front of the museum building, the fountain and well-constructed stone floor make it city-themed, you can get the art on display, the stall to the side like selling goodies or museum gifts, the barrels add texture and character to the area.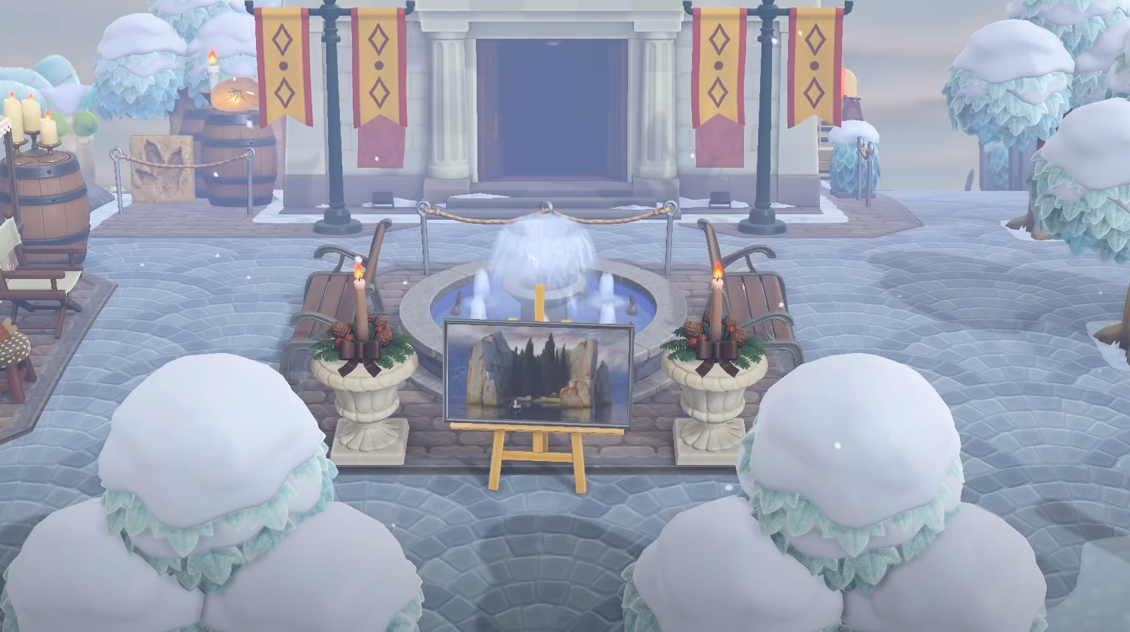 Sours: https://www.mtmmo.com/news/512--10-best-acnh-museum-ideas--animal-crossing-museum-entrance--exterior-designs
Each and every player would love to use amazing and attractive designs in their game. they try to choose the best among the default designs. But, if you are given a chance to decorate your area and to select from the millions of designs left out there, how will it be?. Interesting right?
Animal Crossing Museum Ideas is all about the unique and creative ideas that are present out there to use in this game. You can either select the best one or create one. When you have no time left to design your imagination, then you can just use the already designed museum ideas.
Animal Crossing Museum Ideas
Cliff Style Museum
Dream Address: DA-0077-7285-3179
These Animal Crossing Museum Ideas are found on Instagram and there is a little trial that leas up to the museum area. You could also see a study space at the beginning of the museum. There will be an attractive carpet on the ground and you could see fossils and a little bookshelf.
This museum also has some other study space with a microscope and some bugs. Having a study space in the museum is really a mind-blowing idea that is used here.
Behind the first study space, you could see the staircase that leads up to the museum. Above the cliff, you can see the museum, and the artistic beauty behind this Animal Crossing Ideas will start to rule your mind.
Greenery Museum
Dream Address: DA-7477-5171-3499
You could view these Animal Crossing Museum Ideas on Instagram these designs are is adorned for their greenery and symmetrical view of it. This museum design will give a feast to your eye and it is designed based on city-style and gives a sophisticated feel to the players. At the entrance of this museum, you could see a staircase and climb up will lead to the museum.
And at the top, there will be a grand park area with some benches to relax. The wedding-designed arch pathway is like a crown to this museum design. There will be statues on both sides of the museum adding to its beauty.
On each side of the museum, there are some stepping stones that you can use to hop across. This awesome design has a waterfall in the front and one side of the museum.
Cottage Style Museum
After seeing this design you could figure out that these Animal Crossing Museum Ideas are more towards the cottage side of things. It is very natural and also owns an earthy feel while playing.
There are some pink-colored flowers that are placed in the middle of the pathways. This also has some study space in front of the museum and it's all brown in color which gives a warm feeling.
There is a screen placed in front of the bookshelf and a candle can be seen on the table in the study space. On the other side, you could find a cute little painting area which is something unique in this Animal Crossing Museum Ideas and there is a seating area under the tree. There is a pond near to it some statues are placed in the middle of the free space area.
Rainy Museum
These Animal Crossing Museum Ideas are seen in the rain and gives a peaceful look when viewed. Many of the players love to visit this place usually in storms and the pathway is decorated with white color flowers.
It also has some fossils and little signs in front of the museum and there is a butterfly board kept outside indicating that it is a museum. This museum is kind of very much related to the topic's title.
Gloomy Museum
Dream Address: DA-8494-7105-3479
These Animal Crossing Museum Ideas are very colorful and dreamy and the pathway used here is really adorable. Bith the sides of the pathway are filled with waters and Ink-Blur colored flowers. It has a natural staircase and two ponds in front of the museum.
There are some of the butterfly models kept in the pond and every tiny model-like acorn or pine cone is highly carefully selected and placed.
On the right side of the museum, there is awesome terraforming and a kind of bench looking over it. On the left side of the museum, you could see this cafe kind that is hidden across the river. There is a shell fountain that adds more essence to its look. All these factors increase the peaceful look of this museum.
Stone Age Museum
These Animal Crossing Museum Ideas are created by a You tuber and the designs are so cool and natural. The pathway is unique and interesting and there are paintings on the cliffs at the entrance. There is also a study space in front of the museum with some trophies and a little record player with some fossils.
There were so many different items and there is a yellow tent on the left side which fits perfectly in the museum. There is also a study space and a school observation center on the beach. There is a bookshelf on the rock which looks like an actual classroom.
There are some statues and unique items been placed in this museum. It must be definitely said that this is one of the best and unique Animal Crossing Museum Ideas among others.
Simple & Cute Museum
Dream Address: DA-9899-2816-2487
You could find these Animal Crossing Museum Ideas on Instagram and it gives a neat and pristine feel. This museum has an orchard and a little flower garden in front of the museum.
Over on the right side of the museum, there is a seating area with some fossils and the look was so appealing and satisfactory. There is a Starbucks cafe on the left side and the furniture is green in color that matches the Starbucks theme. The pathway is been decorated yet gives a clear look without being clumsy.
Ufo Museum
Dream Address: DA-2752-7765-5332
These Animal Crossing Museum Ideas is considered a unique one since it has the ufo in front of the museum. This appears like a night theme and the staircase is creating a grand entrance.
You could also find the little rocket and an astronaut on the side of the museum. There is an unexpected celeste flower field that gives a grand look.
And there is also a music space set up with elegant color on the right side of the museum. There is a piano, a guitar, and other instruments to add beauty. In the background of the music set, there is the beach waving near the building.
You could also find a little pizza restaurant at the bottom of the museum. You could see the fire burning during the nighttime and there will be some celeste items.
Historical Museum
You could see these Animal Crossing Museum Ideas as a jungle-themed one and it was inspired by the World War II stories and saltwater crocodiles that had killed some soldiers.
There is a unique land bridge that is surrounded by swamp areas with the aim to imitate the crocodile swamp. This swamp is not seen very frequently in the game. There were also some of the critters left on the ground in front of the museum.
Botanical Museum
Last but not least, these Animal Crossing Museum Ideas has a little entrance area with some fossils and also has a little picnic area. There is a painting, a butterfly model, and a sign indicating the way of the museum. And on top of it, there is a vending machine and a bench.
On the left side of the museum, there is a water field with blue and white flowers with a statue and a fossil.
See Also
Animal Crossing Christmas Designs For Your Island
Best Animal Crossing Deck Patterns
Best Animal Crossing Floor Patterns
Amazing Animal Crossing Yard Ideas
Sours: https://www.gamespecifications.com/animal-crossing-museum-ideas/
The Best ACNH Museum Design Ideas For Island Inspiration
One of the most rewarding parts of New Horizons is filling out the museum.
And if you're anything like me, you'd do almost anything to make Blathers happy.
Despite customization being such a huge part of the game, you'd think that the museum itself would be customizable in a similar way to your house… but no such luck!
With a little creativity though, you can make your museum stand out with a plethora of items decorated around the outside, from extra skeletons and paintings, to custom landscaping, to anything else you can think of!
But if you want others to do some thinking for you, check out these custom museum ideas you can add into your own island.
20. Peaceful Museum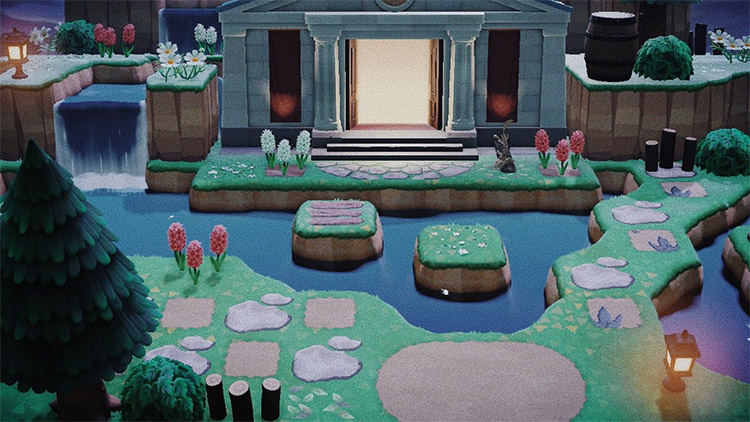 This beautiful museum entrance is a sleepy, peaceful spot to wander around.
With flowers, a stream, and the starry night sky, there's just as much to look at outside as there is inside!
Well, almost anyway.
I guess that depends how many things you've given Blathers.
This is a great design style for newer players, since it only requires terraforming to be unlocked, and getting whichever flowers strike your fancy.
No rare items, no crazy levels, just a little time and creativity.
19. Rainforest Museum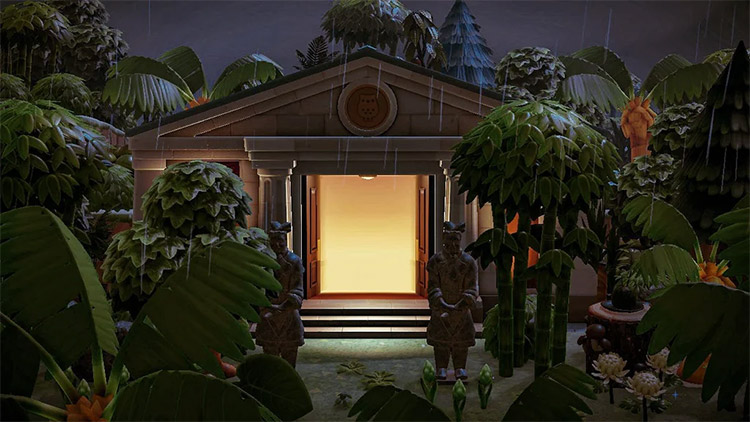 I love the islands that embrace the fact that they're an island.
This museum looks like something out of an Indiana Jones or similar adventure movie, with the gorgeous rainforest setting.
Bamboo, palm trees, and lots of busy foliage help to make this museum entrance look wild and overgrown.
With all those plants, it's also a great way to milk a five star rating from Isabelle!
While it looks great on a stormy night, I bet this build looks fantastic during the day as well. It would be so fun to see villagers wandering around, trying to find their way through the thick.
18. Tropical Twilight Museum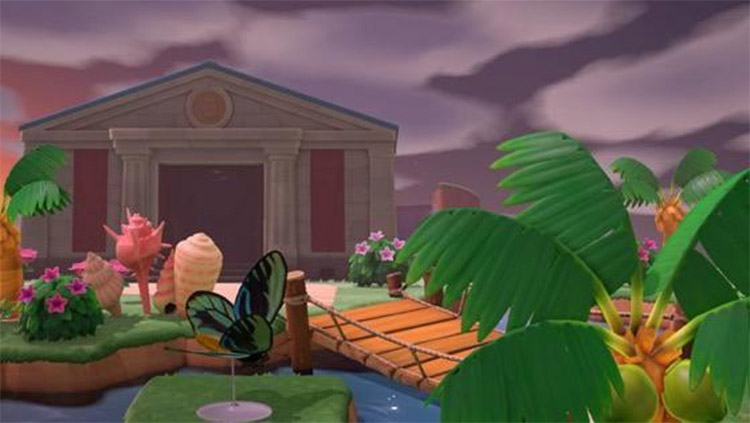 This gorgeous island build looks its best at dawn or twilight, while the sun streaks pretty colors against the darkening sky.
It's a solid choice to build if you have lots of extra shells that you don't want to sell, because they're placed nicely out front to extend some of those exhibits into the outdoors.
Maybe invite your friends or favorite villagers to pose and take pictures on the bridge.
The world (or island) is your oyster!
17. Rococo Museum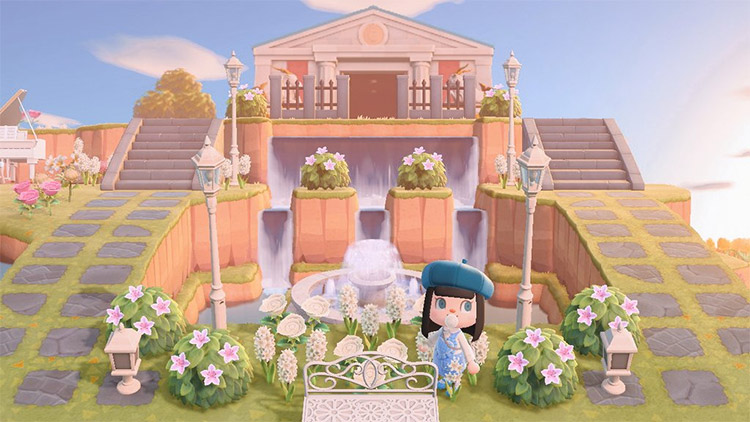 You know the Rococo style of art: well-dressed ladies on swings with loads of skirts, leaning gentlemen, everyone is rich… well this museum entrance looks right out of one of those paintings.
And I'm sure Redd would agree!
If you like the classic vibe of this style, try re-creating this on your own island.
With just some flowers, street lamps, and a garden bench, it's an easy idea for new players to achieve, but still classy and gorgeous.
The stone path and the waterfalls really make this spot look like a painting.
16. Skeleton Garden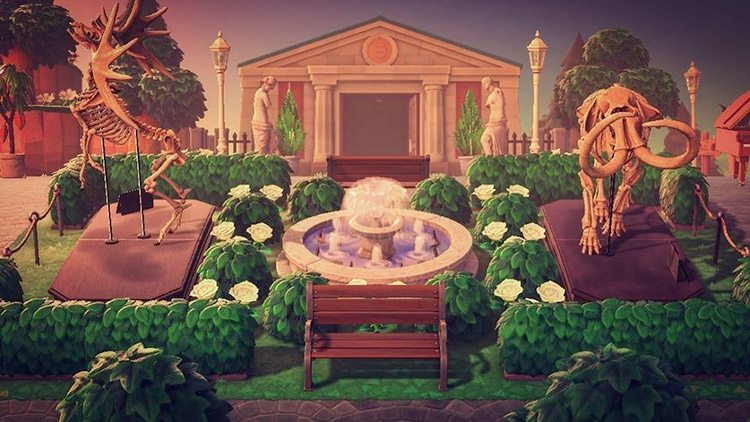 Players who have a bit extra lying around will probably love this design.
It's one of those cool ideas that makes a good thing out of an excess of bones.
This build places completed skeletons in a garden, making it look like it might be the dinosaurs' natural habitats.
With plenty of shrubs and roses arranged just so, it looks great!
I especially like the addition of the bench, because it's a great place to hang out or take a rest if you've been perusing the museum all day.
Plus, you know, photos.
What a backdrop!
15. Purple Museum Entrance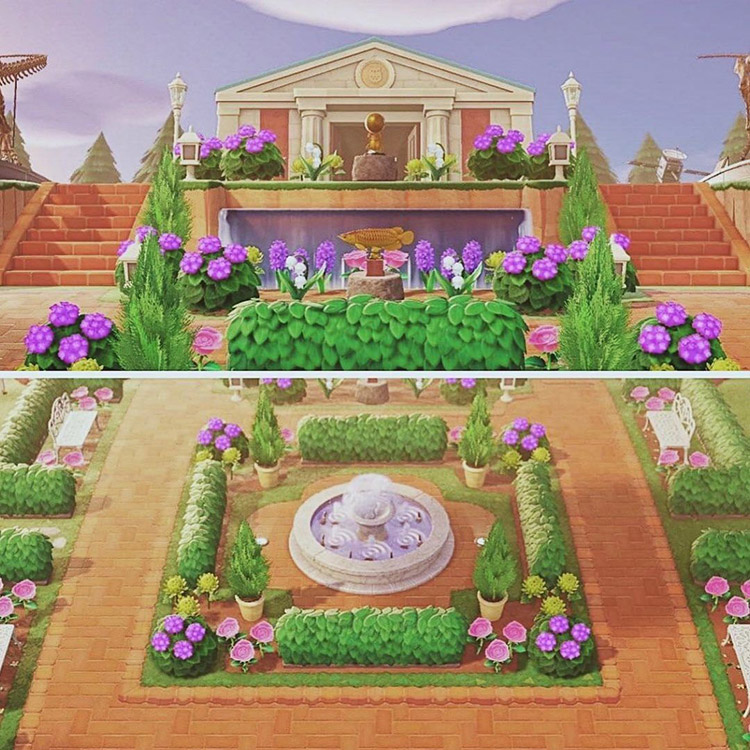 Did you know that purple was traditionally associated with the upper classes because the dye for clothes came from a rare breed of snail? So it was used almost exclusively for Roman senator's robes.
Even today, purple has a particularly regal feeling.
Which makes it the perfect color choice for a high-class museum.
The trouble is, there's only so many purple items in New Horizons.
Yet this builder used plenty of purple flowers to fill up the space in their entrance, and it looks fantastic! Peep the fish bones 'swimming' in front of the waterfall.
14. Classical Garden and Museum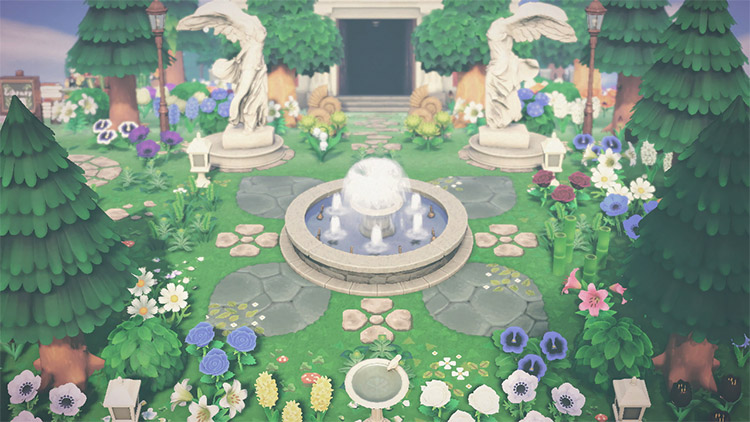 If you like a whimsical, almost classical Greek feel on your island, this might be an idea worth re-creating.
Using marble statues and plenty of flowers helps to give this museum entrance a classy & timeless feel.
Nautilus shell sculptures work as a return to the roots of being, well, and island.
And a bubbling fountain adds some sound and vibrancy to the area.
Throw in a few garden lights, and it's as magical a spot at night as it is during the daytime.
13. Paleontologist's Entrance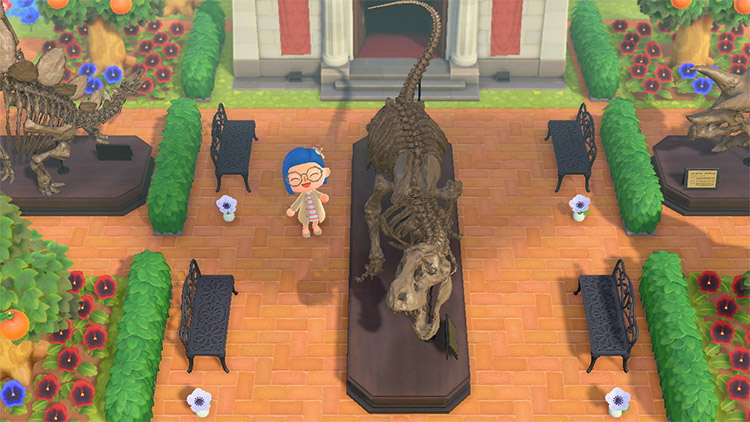 There have been a couple entries on this list so far that make use of dinosaur bones.
But what about if you have, like, a lot of bones?
Well then you could extend your indoor collection, of course!
The island is yours to do whatever you want with, so go ahead and just plop a whole other dino exhibit on the lawn of the museum.
It's not illegal. They can't stop you.
Iron garden benches also give villagers a spot to plop down and inspect the ol' bones, and some flowers add a pop of color.
12. Peaceful Woodland Museum
If you have a forestcore island or just want something a little more lowkey, this is a great option to design.
Embrace the great outdoors with plenty of trees and flowers all around your museum area.
There's even an area for painting in this design, and another for botany!
Enjoy the sounds of the naturally rushing waterfall as you paint your next magnum opus, or inspect the newest creature you've found (since Blathers definitely does not want to!)
11. Haute Arte Museum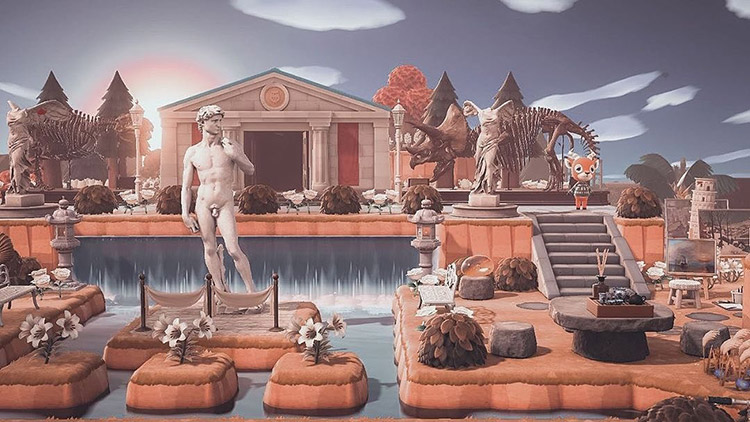 Do you like a five star rating on your island? Of course you do.
And builds like this are how you accomplish a five star rating with a touch of beauty.
With statues, bones, paintings, and plenty of… well, everything, this entrance is a lot to look at.
It's busy without being messy, but there's a lot going on.
If you need a break from touring, there's even a stone dining set ready for an afternoon or evening tea.
This idea is what the artists would have wanted.
10. Rosy Red Entrance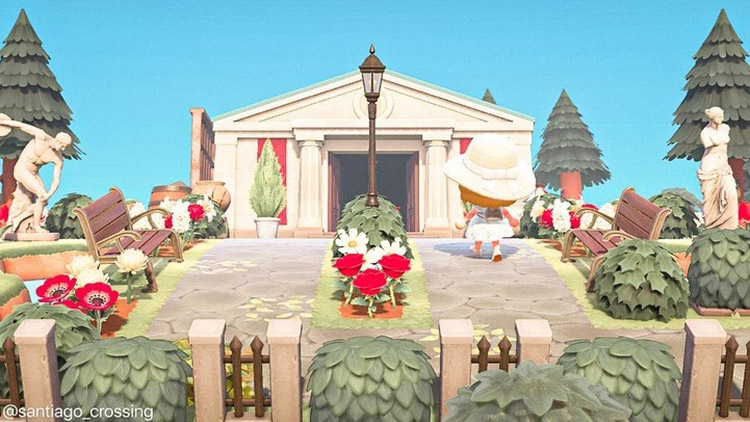 I'll just say it: this is a simple and beautiful museum entrance.
There are statues and benches for resting, but most importantly, beautiful flowers.
Red roses, classic white daisies, and other red and white flowers make this entrance into a big 'wow' spot.
Sometimes, simple is better.
And doing a setup like this helps to make the architecture of the museum itself feel impressive and even a little imposing.
9. Blathers' Study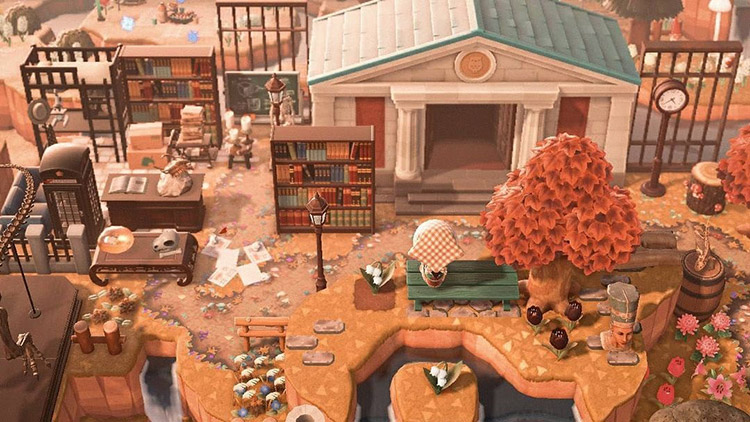 Don't you think it's odd that Blathers, a crucial part of island life, doesn't have so much as an office?
This poor homeless owl is the backbone of any and all scientific advancement on our islands. And yet the guy doesn't even have a desk.
This player felt Blathers' pain, and turned their museum entrance into a study for the professorial owl.
With bookcases, a desk, and even a bed, Blathers now has somewhere to call home – assuming he ever leaves the museum, of course.
Is it cruel to make him sleep outside? Well he's an owl, so no.
8. Natural Entrance Idea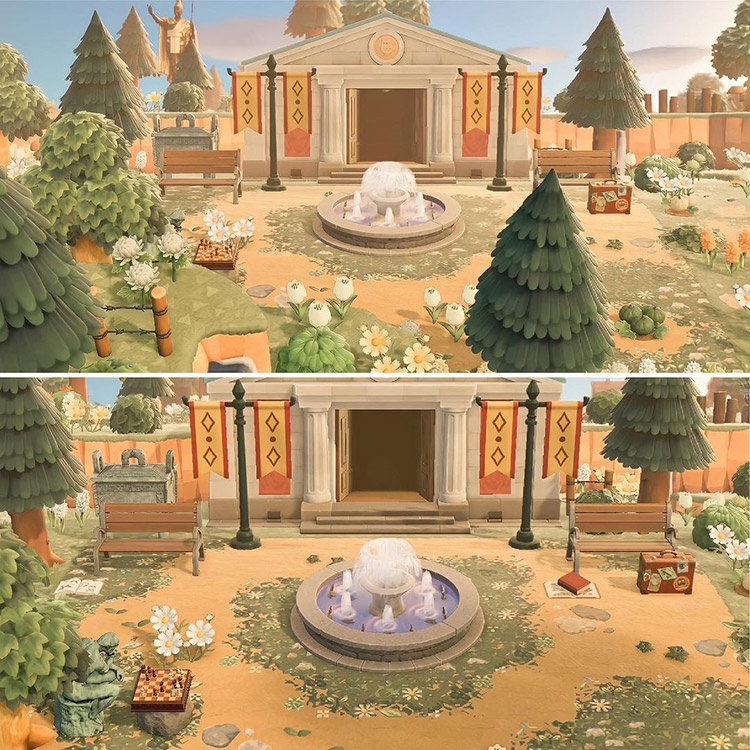 This museum seems to be in the middle of nowhere, but in a good way.
Plenty of flowers and trees give this design a perfectly natural vibe, and look! There's even pumpkins.
Some flags out front help to make it look more deliberate, and the traveling suitcase is a cute touch too.
Overall this idea offers a gorgeous place for a walk, or to go hunting for buried fossils!
7. Neighborhood Museum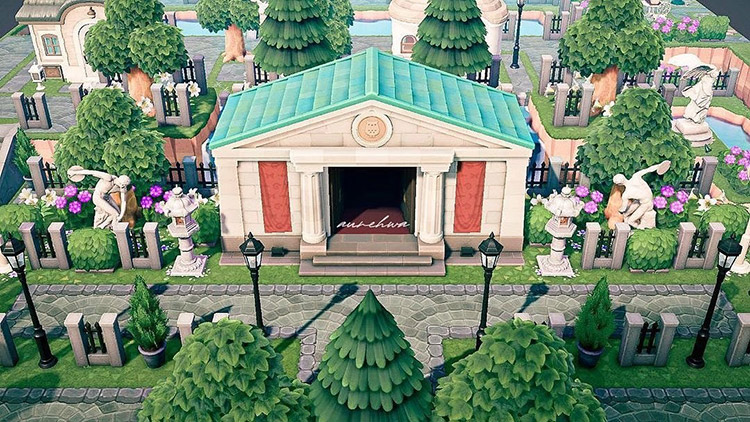 This museum blends right in with the neighborhood in this little stone suburbia!
Stone pathways and fences look great with all of the foliage and nature.
Streetlamps and statues are arranged symmetrically around the museum, which looks awesome and really well-put together. Plus a little stream makes it easy to catch fish and fill out the aquarium section, too!
Maybe even consider building this near your own residential suburban area.
Can you imagine living this close to a museum? I think I'd be visiting every day!
6. Royal Entrance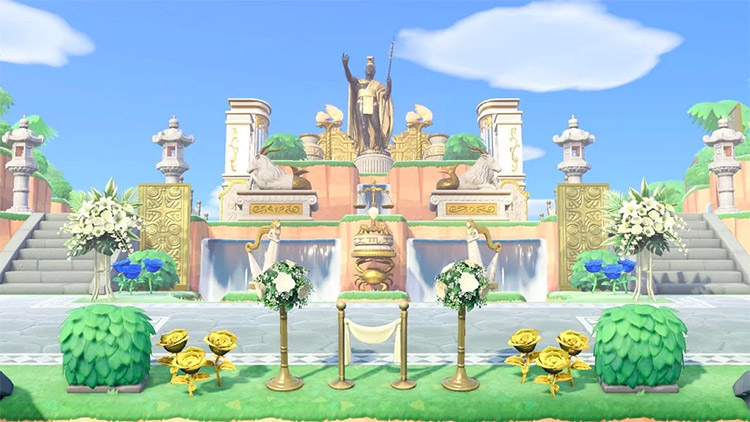 Here's a super opulent and super gorgeous build.
Star fragment statues, gold roses, and harps definitely count as the finer things in life, right?
You may not believe it, but there is a museum behind all these treasures.
A couple of blue roses help to balance out the colors, and there's just enough flowers to add a touch of nature without adding the whole forest.
Honestly, this is what I picture the Louvre looking like if it could be ported to Animal Crossing.
5. Fountain Lover's Museum Entrance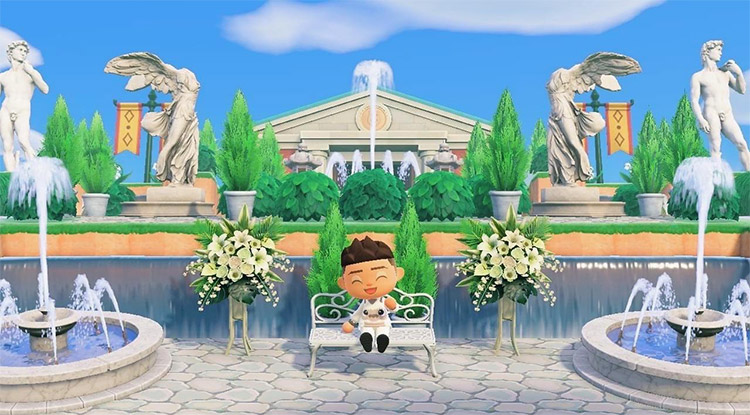 Gosh, this list is making me miss visiting museums IRL!
I mean, this entrance makes use of a lot of fountains and waterfalls.
Two angels and two Davids watch over the rushing water, hopefully blessing it with rare fish to catch for your aquarium.
This could be the perfect spot to explore and take pictures, by yourself or with friends. And all the greenery makes this design fit right in, even on a natural island!
4. Trevi Fountain
OK, this is crazy impressive.
The Trevi Fountain is a Roman landmark. And this player created it right outside their museum in New Horizons!
Statues, different fountains, and plenty of custom panels help to bring this whole thing together. And what a great idea!
It just goes to show that the only limit with this game is your imagination.
You can extend your entire museum to outside with builds like this, adding any landmarks you like with a little careful planning.
Iron garden benches are a must here, because you'll be staring for hours. Save your feet.
3. Traditional Japanese Entrance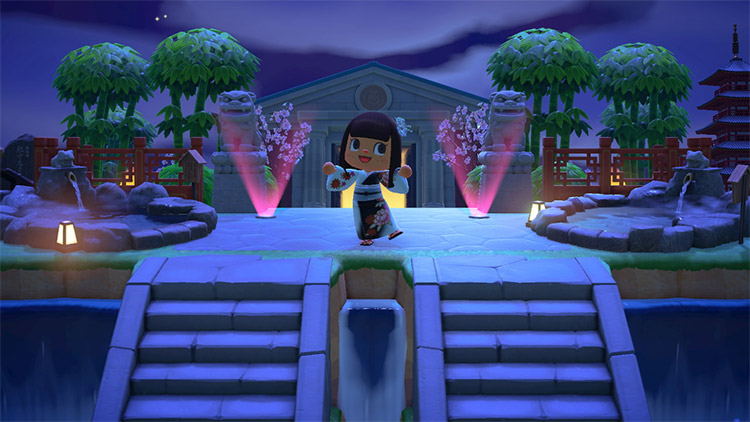 It's hard not to put a traditional Japanese entry on these kinds of lists, since there's just so many Japanese items in-game.
Which makes sense, of course, since Nintendo is a Japanese company.
Well this lovely museum entrance has stone pools, bamboo, cherry blossoms, and some great red fencing to really set the theme.
If you have a Japanese-themed island, this is a really great approach to go with. Since the museum itself (which is not customizable) is really basic looking by default.
Spotlights help to light the place up at night, and it looks like a great spot for a get together.
Maybe host a gala or soiree with your friends, where everyone dresses up all fancy and discusses fine art – or at least pretends to know what they're talking about.
I mean really, does anyone understand how fine art works? Anyone?
2. Jurassic Entrance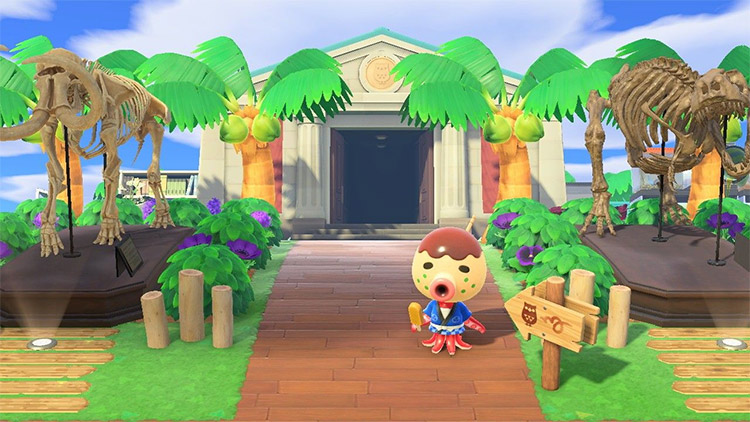 This museum entrance combines the classic island vibe with some extra dino displays.
Coconut trees and tropical flowers really set the vibe of a typical island museum.
At night, handy spotlights light up the dinosaur exhibits too. Which has to look super cool.
There's also a helpful sign pointing the way to the door, if the path didn't give it away.
Plus, it's Zucker approved!
1. Rock Garden Entrance
Here's another traditional Japanese entrance, but rather than a more Shinto style, this one goes full zen garden.
A gong, rock pool, bamboo trees, and even a bonsai tree help to cement the theme.
If you wanted to take it a step further you could even try and get your rocks to appear here through trial and error!
If you just don't like the museum building itself, this is a great way to hide it.
Browse:Animal CrossingVideo Games
Sours: https://www.fandomspot.com/acnh-museum-ideas/
10 Best Museum Design Ideas In Animal Crossing New Horizons - How To Design Your Museum Area, Entrance & Cottagecore
Want to customize a fabulous museum on your Animal Crossing: New Horizons island but have no good ACNH museum design inspiration to make the best of your outdoor space? Here we share you 10 best Animal Crossing New Horizons museum design ideas to help you transform your museum area, exterior, entrance & cottagecore.
ACNH Best Museum Design Ideas - How To Decorate The Museum Area & Exterior
You are now in the ACNH fall update where you can collect all autumn DIYs & September seasonal crafting materials, acorns, pine cones. In addition to these enjoyable things, ACNH also allows players to build a museum which is a neglected part of Animal Crossing New Horizons and one of the geological environment you can not terraform. But with good design ideas, museum could grace your island. So the following guide (made by famous Youtuber Tiger) will share top 10 best museum design ideas in Animal Crossing New Horizons, covering how to build an awesome museum, how to decorate your ACNH museum exterior.
Note: All these designs for museum collected from Youtuber, Twitter, Instagram & other social platforms.
Top 1 - Unique Museum Design With Study Space
Shared by Wayblossom on Instagram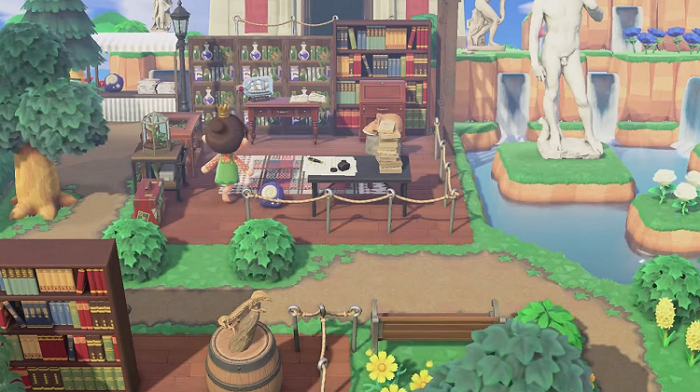 The little trail leading up to the museum area is really awesome, they also have some study spaces in front of their museum. I really like the carpet on the ground and the fossil and the little bookshelf with the potions and whatnot. They also had this other study space with a little microscope and some bugs. Behind the first study space was actually the staircase that led up to the museum itself.
Top 2 - Museum Entrance Design Ideas
Shared by Varuna.crossing on Instagram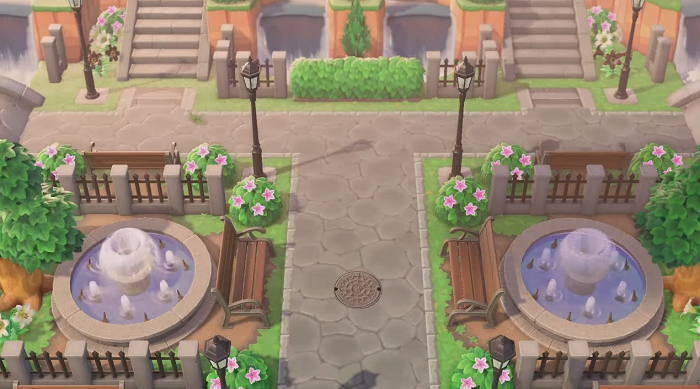 I love how symmetrical and green, it looks so pleasing to the eye. This is definitely city styled and sophisticated. The museum entrance is really great, it had staircases that led up to it, it was like a super grand entrance.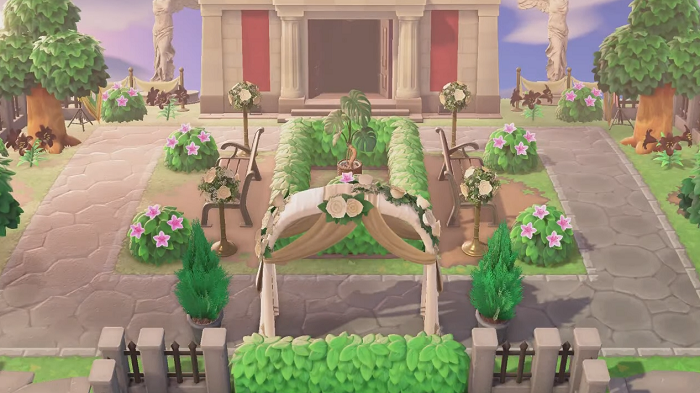 And at the top there was like a little park area with some benches. The hedges in this area is beautiful and the wedding archway used just adds so much to the area. The statues on either side of the museum looked really nice as well and all the details put together just look so good. On each side there was some stepping stones that you could hop across and it was just really peaceful and really nice. It is definitely an awesome design.
Top 3 - Best ACNH Museum Cottagecore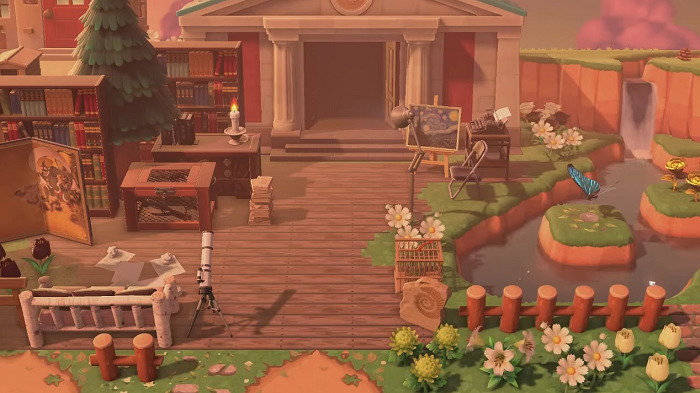 This one is definitely more towards the cottage core side of things. It's really natural and earthy. The flowers placed in the middle of the pathway looks so good, everything was just so warm and natural and full of browns. They also had a study space in front of their museum and it looked really good. The screen in front of the bookshelf is special and they added the candle as well. There is a cute tiny little painting area and the seating area which added so much to the museum area. I love how they could fit all this furniture into such a small place and everything just looks so good and well placed.
Top 4 - Museum Pathway Design
Shared by Blossomcrossing_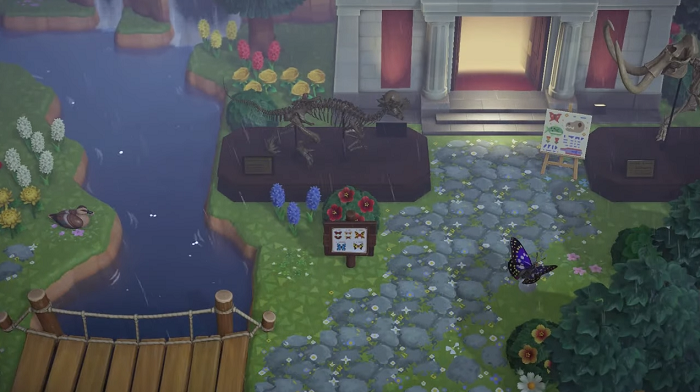 This museum looked so peaceful while it was raining. The pathway looks so nice on the ground, it matches with the flowers so stinking well. There are also some fossils and little signs in front of the museum. The butterfly sign was super adorable, the fossils looked so cool hidden behind the trees with the rain bouncing off of them. It just gave an overall peaceful vibe and it was so enjoyable to visit.
Top 5 - Beautiful Museum Exterior Design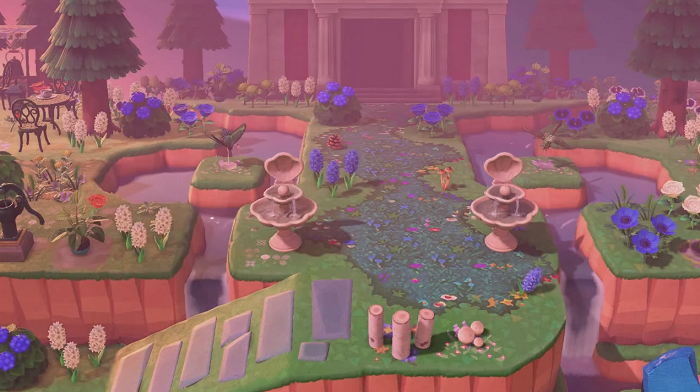 This one was so colorful and dreamy. I loved the pathway that they used, everything looked so vibrant and it was just awesome. There is a natural staircase that led up to this beautiful pathway between the two ponds right in front of the museum, it just looked so amazing. The butterfly models are adorable and all the little tiny details like the pine cone on the ground was just so dreamy and such a treat to visit. On the right side there is a really awesome terraforming and kind of like a bench. On the left side there is an awesome cafe hidden across the river and it just looked so nice and peaceful. This museum area just looks so nice and there's so many details throughout the entire area. The shell fountain looked so lovely.
Top 6 - Build The Museum With Unique Pathway
Shared by Redleafpile on Instagram & Youtube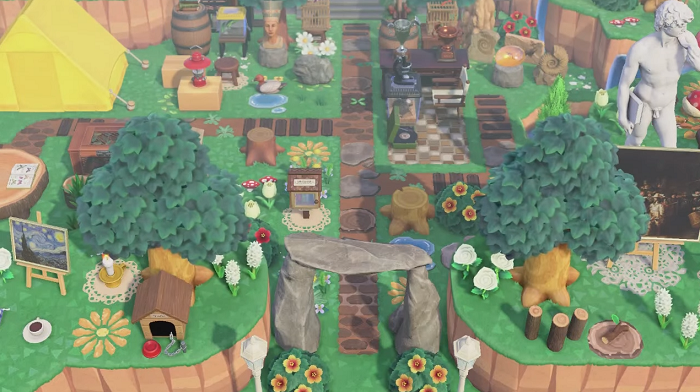 This museum design is so cool. The pathway just looked so interesting and unique. There are some paintings up on the cliffs right at the entrance which I think added a lot of character and detail to the area. There is also a study space in front of the museum with some trophies and a little record player with some fossils around, and there were so many items but they looked so good together and everything just worked very well. There is also a tint over on the left side which fits in perfectly with the museum theme and it just looks so nicely and it fits so snug.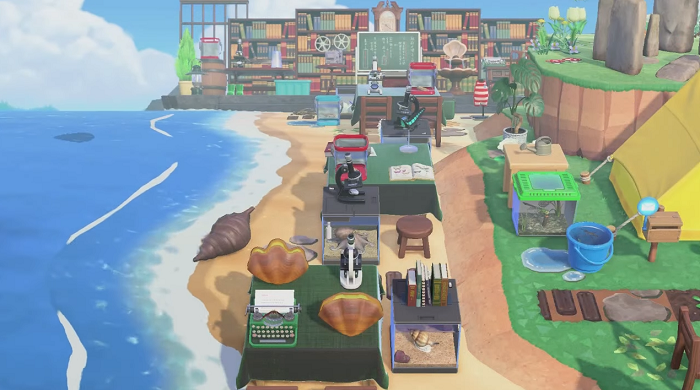 There is also a school observation study space going on the beach and she used such unique items in this area. But it looks so good. The bookshelves on the rocks back looked like an actual classroom which was really cool to see.
Top 7 - Best Museum With Starbucks
Shared by Flowerlie.island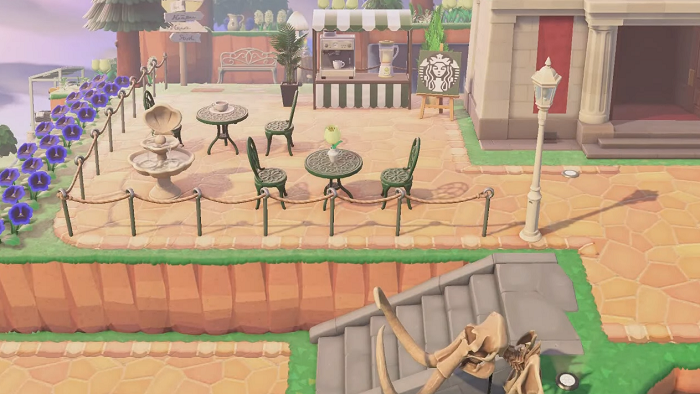 This design is so nice and neat and pristine. The staircases leading up to the museum is very unique, and a little flower garden in front of the museum just looked so nice and clean. There is a seating area over on the right side with some fossils and it just looked really cool. There is also a Starbucks Cafe on the left side decorated with the green furniture as well as the green and white stall to match the Starbucks theme.
Top 8 - Build An Awesome Museum With Celeste Flower Field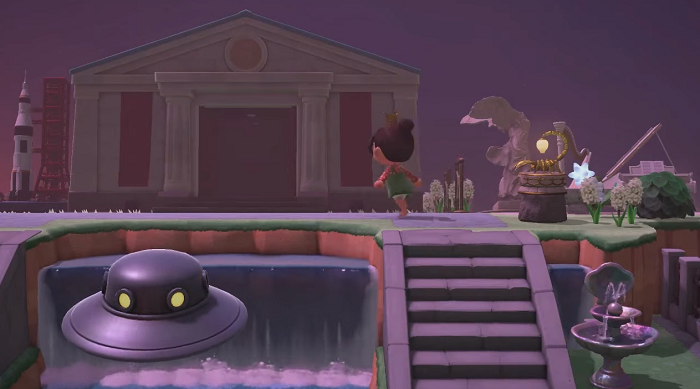 There is a UFO in front of the museum which looks so cool. The staircases kind of creating this grand entrance and there is a little rocket and an astronaut on the side kind of overlooking. This flower field was a celeste flower field which is so cool. There is also a little music space set up on the right side of the museum, the star fragments and the piano with the statues are special. The waves crashing against the beach in the background was so peaceful.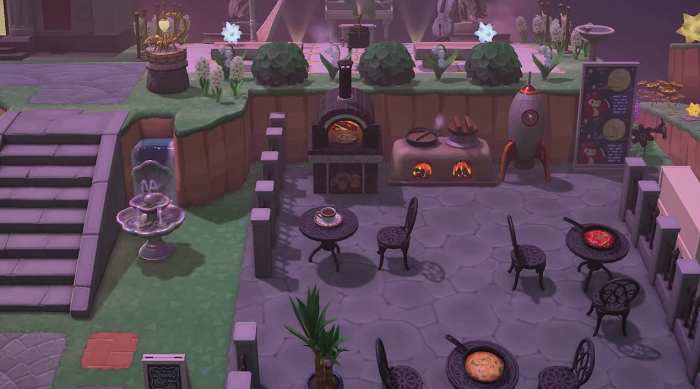 We can also see a little pizza restaurant down at the bottom of the museum, it was so nice with the fire burning at night time and there was some celeste items.
Top 9 - Amazing Museum Pathway Design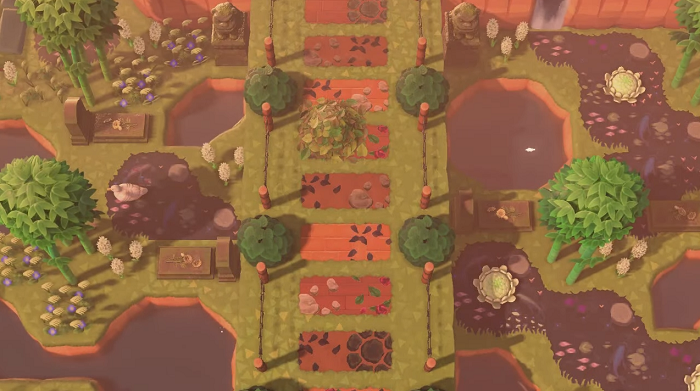 This was inspired by a world war II story about salt water crocodiles that had killed some soldiers. The huge land bridge surrounded by this swamp area is just so cool. The swamp was meant to imitate the crocodile swamp. The pathways that was so nice, there was a lot of variation and this land bridge was just so cool. There are some little critters on the ground in front of the museum, a little centipede in a cockroach. There was a lot of fossils around the area and everything just looked like a jungle. On the left side there was a star gazing area and on the right side there was a little table set up, there is a little bird cage and a butterfly model. The water features in this area was so attractive that river looks so amazing and natural. This one was definitely one of my top favorites. This museum just looked like in pictures.
Top 10 - Customize Museum With Awesome Entrance
Shared by Clovercrossing_ACNH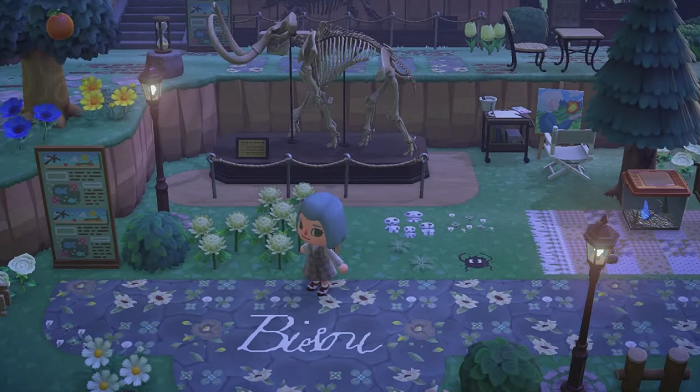 The little entrance area is just so beautiful to the museum with some fossils, and a little picnic area with a butterfly and a painting area. There was a sign that pointed towards the museum and if you followed it you went down this really pretty pathway and up this staircase that led into this area where there was a vending machine and a bench. The long entrance to get to the museum was super cool. In front of the museum there are some really cool fossils set up and it looked so nice with the 5 a.m skies. There was a staircase that led up to the museum and there a really cool water feature on the left with a statue and a fossil in the middle. The museum itself was situated on top of this cliff with a little bubble gum machine next to it. There is also an area for oddities which was so unique. Everything just looked really good together in this museum design.
Do you like these top 10 best outdoor museum designs ACNH? Be sure to follow all of these creators over on instagram and definitely credit them if you decide to use their museum as inspiration or as an idea for your own. If none of these are what you want, you can get more Animal Crossing Designs here. Also if you are looking for any Museum style items, welcome to check out our offers!
Sours: https://www.akrpg.com/news/293--10-best-museum-design-ideas-in-animal-crossing-new-horizons--how-to-design-your-museum-area-entrance--cottagecore
Ideas acnh museum
"Since you like to walk at such a time of day and even in such places, then you also like to fuck!" - said the. Man. Katya tried to escape, but the forces were not equal, the man quickly undressed her and tied her hands. It was useless to scream.
Ten Museum Entrance Ideas // Animal Crossing New Horizons
Misha, are you a virgin. - she asked me a question in an insinuating voice, which had managed to form in her head during this time. I had to turn my face, but I am sure that the blush that spread down my cheeks did not hide from.
You will also be interested:
Passionately kissed her on the lips, again squeezing her throat with his hand. With his other hand, he touched her small, but tender, soft, with beautiful nipples, breasts. He painfully squeezed one of the nipples with his fingers.
719
720
721
722
723