11 Secrets about Closet Drawers Even Most Closet Designers Won't Tell You
OK – I get it. If you're like most people you've never had drawers in your closet so why should you start now? And that's a good question. There's no reason to spend money on something you won't use.
And if there's one thing I will do in this article is 'be real with you.' I have Z-E-R-O intention of 'beating around the bush' (or around your overstuffed closet). Closet drawers are a feature most people haven't given much thought to. And they certainly haven't developed a plan on how to use them effectively either.
So, let me tell you what I'm planning to do in this article. I'm going to take on this 'double-headed' monster. I'm going to explain why closet drawers are smart and if you do add them in your walk in closet design, how to get the biggest bang for your buck. And I'm going I'm going to present 'my argument' why drawers can be a godsend for your closet.
And I'll double-down and say when used properly you'll love them as much as this closet owner and closet designer does (and no – I don't only love them because I make more money selling and designing with them – although I'll fess up and tell you closet design and installation companies like mine do make money on drawers).
So, let's stop messing around. Let's get to the 11 secrets about closet drawers even most closet designers won't tell you. At the end I'll ask you if you're convinced drawers make sense for your closet OR if you think I'm still feeling the effects of too much partying with my Kappa Sigma fraternity brothers at Carnegie-Mellon from years ago.
Secret # 1 about Closet Drawers– You need them because your partner (or spouse) IS NOT getting any less grouchy in the morning!
So – you're rummaging through your bedroom dresser drawer at 6:00 AM. You're turning on lights. You're opening drawers. Then your spouse wakes up. Now you know you're going to have to pay H-E-Double-Hockey-Sticks for this!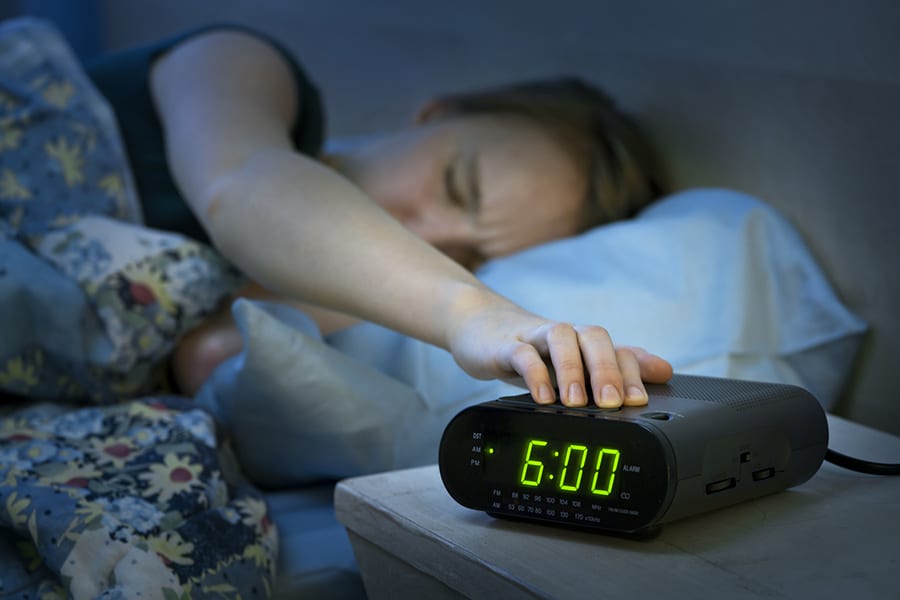 To describe them as grouchy in the morning might be an understatement. But when you can't get 'fully ready' in your walk in closet because your jewelry, socks, and underwear are in the bedroom dresser drawer you know things aren't going to turn out well when you wake them up.
A smart way to lick this problem is add drawers in your walk-in closet. You can shut the closet door. You'll be able to find everything you need in the closet without turning on the light or search frantically through your bedroom dresser drawers. This will be one morning you're not-starting-off on the wrong foot.
Secret # 2 about Closet Drawers– You need them because you can fit more in drawers than you can on hangers
Sure – Momma told you to hang up your clothes – and you listened (sometimes). But you know what Momma – and even a few closet designers don't know? It's you can store 2 to 2.5 more clothes (when efficiently folded a la Marie Kondo's upright method) into drawers than you can hanging.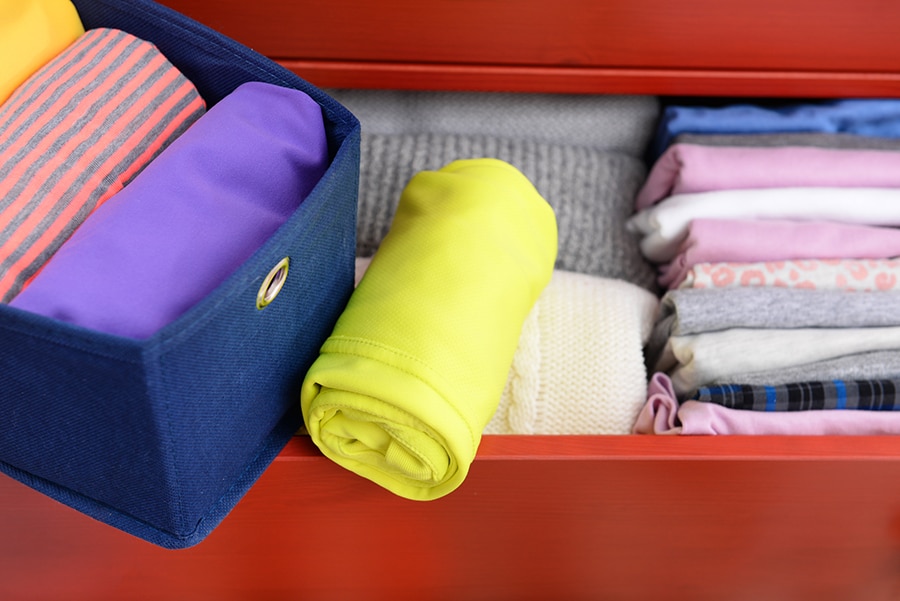 Now if you're like – EVERYBODY – you desperately need more space in your closet. Drawers are a sound 'tool' to increase your storage.

Secret # 3 about Closet Drawers– You need them because there's no other efficient place to store your bling, eyeglasses, belts, ties and scarves
Let's face it, belts slung over the back of your walk-in closet door is a pain. And scarves haphazardly draped over your hangers is a hassle. And finding your jewelry in the bevvy of add-on organizers you've accumulated on your bedroom dresser won't win you style points or help you grace the cover of House Beautiful.
Drawers become a major asset by providing an efficient system to organize bracelets, rings, necklaces or ties and scarves which are here, there, and everywhere today.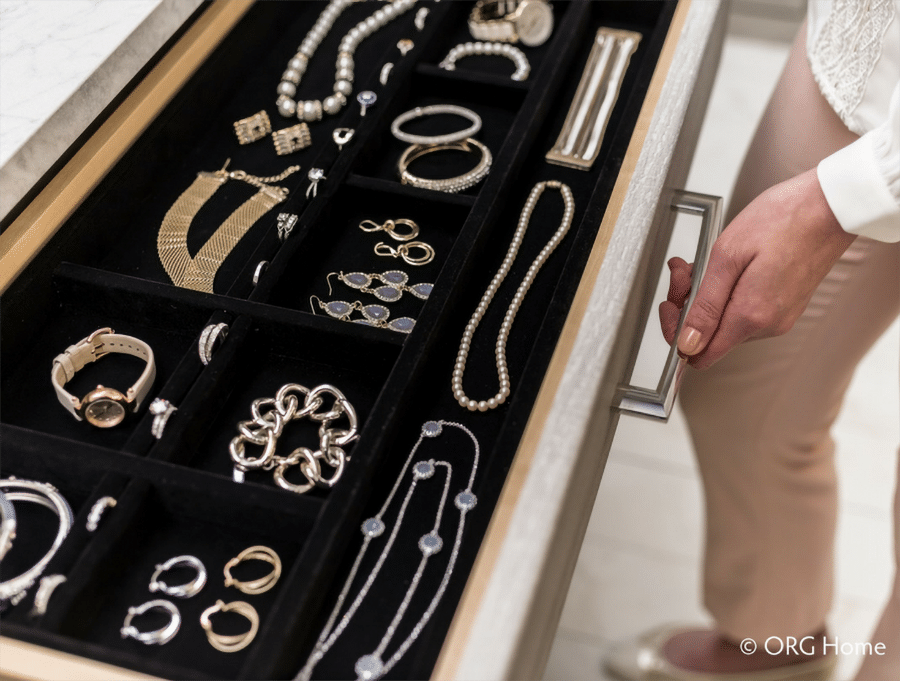 Secret # 4 about Closet Drawers– You need them because your closet looks 'butt-ugly'
OK – maybe I could have used more 'flowery' language than butt-ugly. However, I'm still thinking about ugliness and the C.U.S. scale ('er that would be the Closet Ugliness Scale) I wrote about in an titled 10 Steps to Take the 'Ugly' Out of Your Closet.
And you know what most closet designers (or at least those who want to make a sale) won't tell you? It's that your closet really is butt-ugly – even though many of you reading this know it is. But you may not have the strategies up your sleeve to turn it around (after all that's why you called the closet designer to help you make a plan).
And if the closet designer is worth their weight in drawer slides, they should tell you how you'll gain style points (and functional space) adding built in closet drawers. After all, drawers are the most beautiful element of a closet design. They're often placed on the 'feature wall' (a feature wall is the most prominent wall in your closet) to show them off.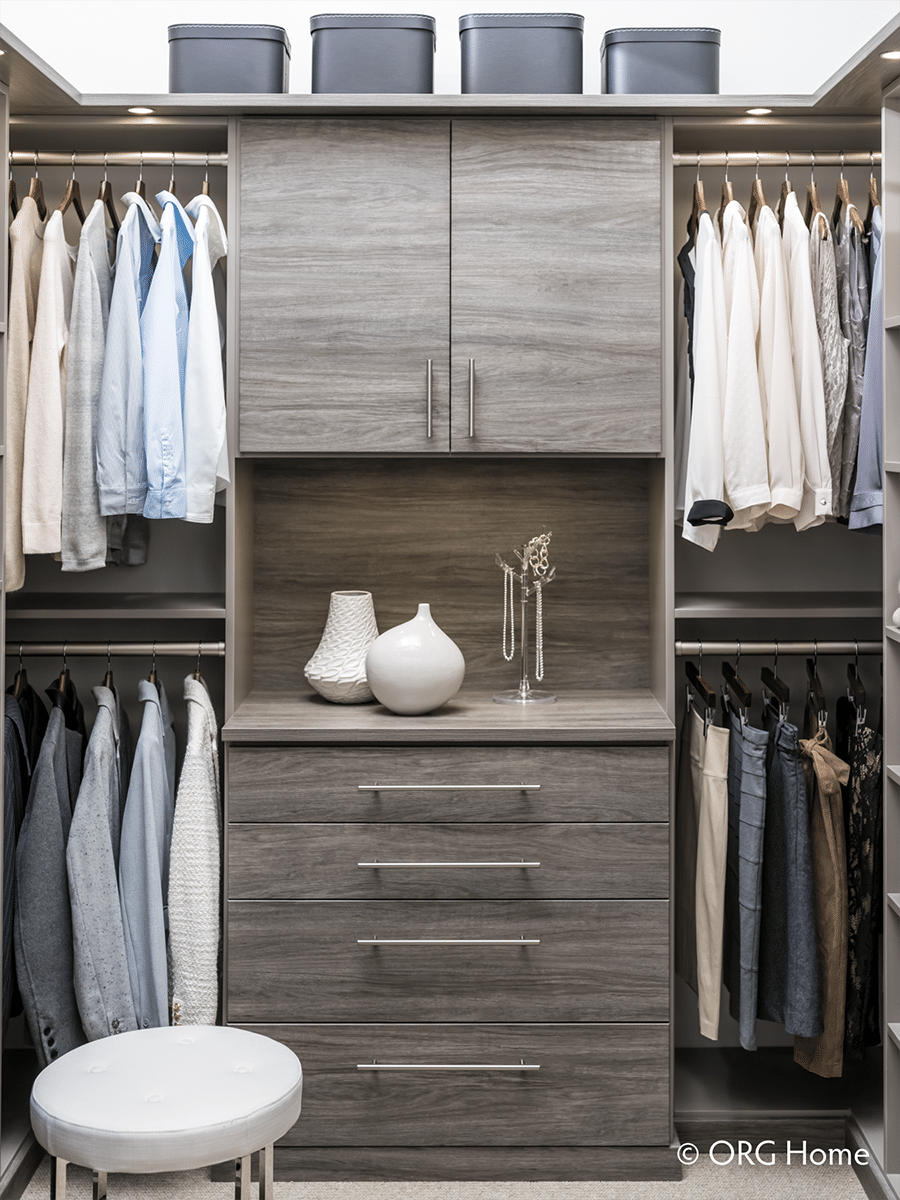 Secret # 5 about Closet Drawers– You need them because you're sharing your closet with HIM…. or HER!
Battles between couples over cleanliness, organization (and I'm sure many reading this have told their spouse they live like a pig on more than one occasion) and closet space have brought even the most well-adjusted people to tears.
Closet and cleanliness wars are real. And if you're the Felix Ungar to his or her Oscar Madison (and for those of you who aren't old enough to remember this analogy check out this YouTube clip from The Odd Couple TV show below for a laugh) you know seeing haphazard 'so-called stacks' of clothes and a crazy array of hangers which look as random as your teenage daughter's hair color (today), this is a nails-on-a-chalkboard experience for you.
And one smart way to minimize (or at least hide messiness) is to use drawers (and doors). At least you'll keep the sloppiness hidden. You'll feel calmer. You'll have less fights.
Secret # 6 about Closet Drawers– You can get the most out of them when you understand 'size matters.'
Maybe this section title didn't come out exactly as I wanted but size (meaning the width and depth of your drawers for those of you with your minds in the gutter) does matter. All drawers should not be created (or sized) equally. The amount of space on the inside makes it work beautifully …. or not.
For example – if you're looking to put t-shirts and leggings in a drawer, you'll find a 24" wide drawer will work better than an 18" or 30" unit. Why you may ask? Well since folded clothes are generally 10" – 11" wide, with a 24" wide (outside dimension) built in closet drawer you can get 2 stacks of clothing side by side in one drawer. With an 18" wide drawer you'll only get 1 ½ (and cutting your t-shirts or jeans in half is probably something you're looking to avoid). Conversely – the 30" drawer will have wasted space ('er 2.5 stacks of clothes just doesn't make sense).
And now let's look at the height of drawers. Most common drawer heights are 5", 8" and 12". And here's why I'd argue you don't want all your drawers to be the same height. If you're storing socks in a 12" deep drawer finding the one perfect pair will be like finding a specific piece of 'popcorn' in a package you just received from Amazon Prime on your doorstep. It will be a pain in the butt.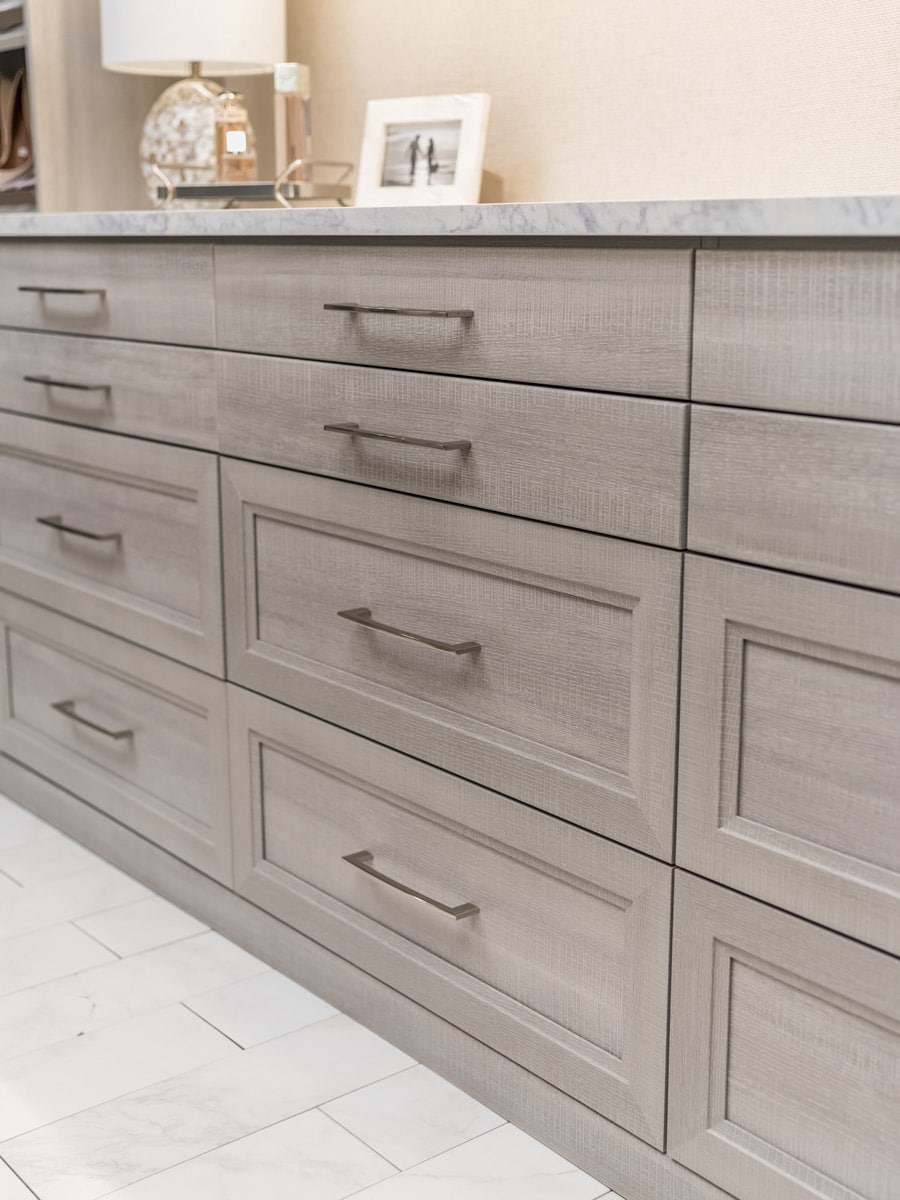 To get the most out of the size of your drawers you need to know what you want to store in them. Then get the right widths and depths based on what you'll store. Small stuff like jewelry, socks and underwear are best in 5" high. Casual legging, yoga pants, t-shirts and jeans will fit best in an 8" high unit. Bulky sweaters and blankets are perfect for the 12" high drawers.

Secret # 7 about Closet Drawers– You can get the most out of them when you eliminate 'jumble-aya' and strategically divide them.
In life, diversity and mixing things up is empowering and enlightening. However, when it comes to drawer organization 'mixing things up' is a 'triple D' – a doggone dumb decision.
When it comes to the inside of your drawers you need compartmentalization and structure. You need segregation, not integration. And 'dividers' are man (and woman's) best friend inside your drawers.
For example, jewelry drawer trays are wonderful to separate bracelets, earrings, and necklaces. Acrylic sock and 'drawer' ('er underwear) organizers are sweet when you're looking for just the right pair which DOES NOT ride up on you!
When it comes to the inside of your drawers – plan to 'divide and conquer' to get rid of the 'jumble-aya' which IS the inside of your drawers today.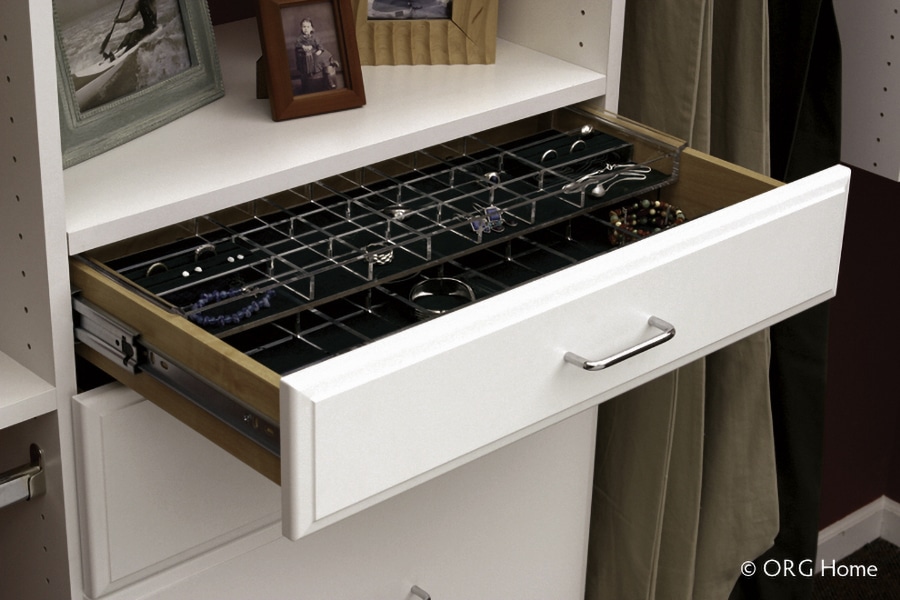 Secret # 8 about Closet Drawers– You can get the most out of them when they open all the way.
This can be a H-U-G-E source of frustration. Drawers which don't fully extend. And what good is it to have a deep drawer if you can't see what the heck you have in the back?
Make sure your closet drawers fully extend so you can use every inch of space.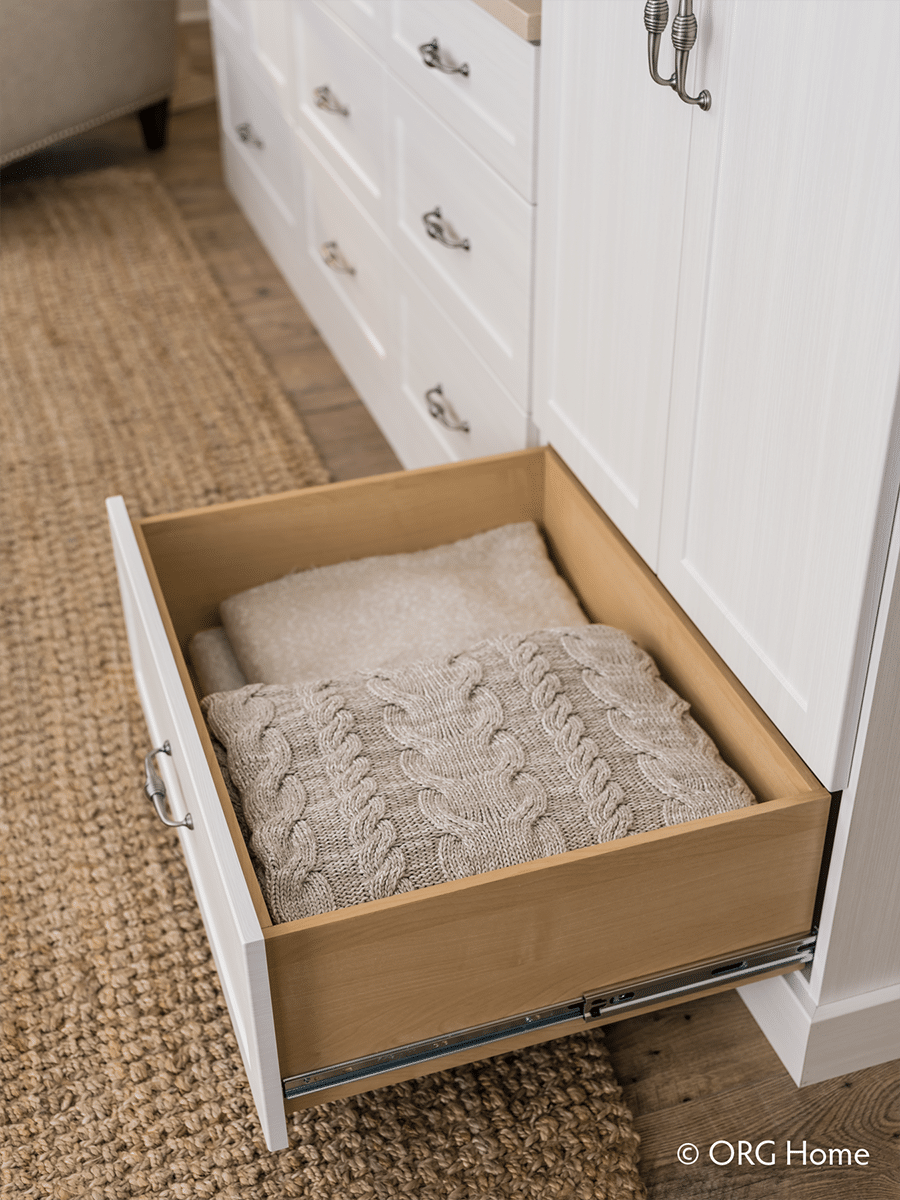 Secret # 9 about Closet Drawers– Some drawers will be 'cheaper' than others – and this can be a good …. OR this can be bad.
Sure – we all love a deal. I know my wife loves to brag when she gets 40% off the 40% sale. Even though she'd admit her math skills aren't her strong suit, when it comes to a sale – she can nail the discount to the penny!
And when it comes to buying closet drawers (and a walk in closet project in general), we'd all love to find a bargain there too. However, when you start to price closet organization systems you'll undoubtedly see different types and quality levels of drawers. And they, obviously, come with different price tags.
And as an example, I'll tell you you'll find 'built in drawers' (which from a design and style standpoint are the nicest looking and best constructed) and 'pull out accessory drawers' are not the same thing (and are not priced the same either). Basically, built-in drawers have a 'drawer front' which can complement your cabinets in the adjoining rooms. This 'full front' hides the contents (and maybe, just maybe the messiness of what's inside).
On the other hand, the pull-out accessory drawer foregoes the front to keep costs down you'll partially see the contents of the drawer. The pull-out accessory drawer is not a bad thing, it's just when you're comparing walk in closet costs you need to buy what makes the most sense for you.
In addition, you'll find the 'guts' (or inside) of the drawer box are made of different materials. There are wood drawer boxes with dovetail designs. They're the highest end and strongest. Then there's birch wood drawer boxes which are mitered together. They're still a sharp drawer – but not as 'luxe' as the dovetail design. And lastly, you'll find the inside of drawer boxes made with plastic. They can 'do the job,' but won't hold up as well.
When it comes to drawer box types and quality – I'll bring back my b-school training to you and serve up the Latin phrase – caveat emptor (which translated means 'let the buyer beware). While cheap drawer boxes may work, they also can end up being a pain in the tuchus (OK, that's Yiddish for rear).

Secret # 10 about Closet Drawers– You can get the most out of them when they come with a hidden 'insurance policy'
OK – this section isn't going to be a special insurance product pitting Jake from State Farm vs. Flo from Progressive to see who has the better deal on a closet drawer insurance plan (if there was such a thing).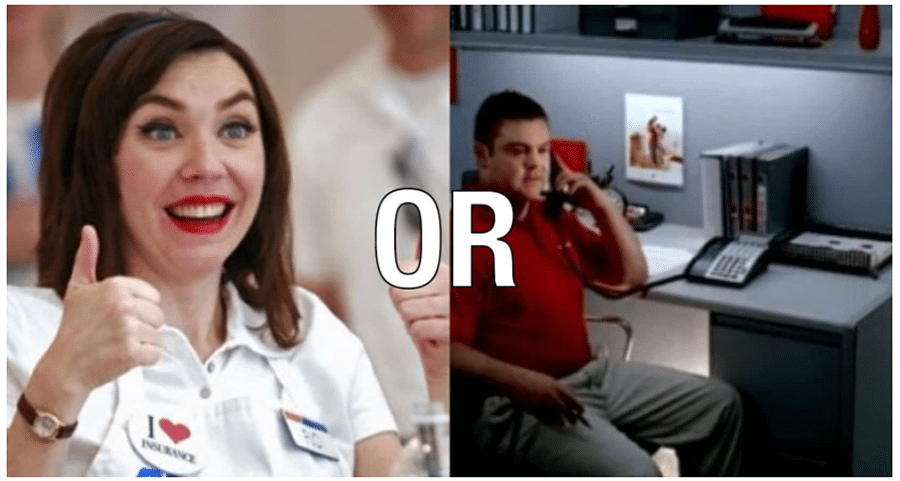 Image Source: www.massolutions.biz
But I'm going to let you in on a little 'closet drawer insurance policy' which will save wear and tear against those drawer-slammers in your house. This insurance policy is to insist on slow close operators. They'll not only make your closet more luxe but save your investment from unneeded abuse from the 'door-slammers' in your house.
Secret # 11 about Closet Drawers– You can get the peace of mind from your drawers when you 'lock them up.'
Yes – I'll start out here and now and tell you I'M NOT making any political references in this section.
What I'm talking about is a little discussed benefit (and feature) of closet drawers. This feature is drawer locks. You see drawer locks not only make it more time-consuming for an intruder to take your stuff – but even more practically keep your little ones from playing with your grandmothers' heirloom necklace as if it has the same value as what you bought them during your last trip to the (magic) Dollar Store.
And here's a bonus safety invention you may find cool. There are even closet drawer locks with NO visible hardware you see from the outside.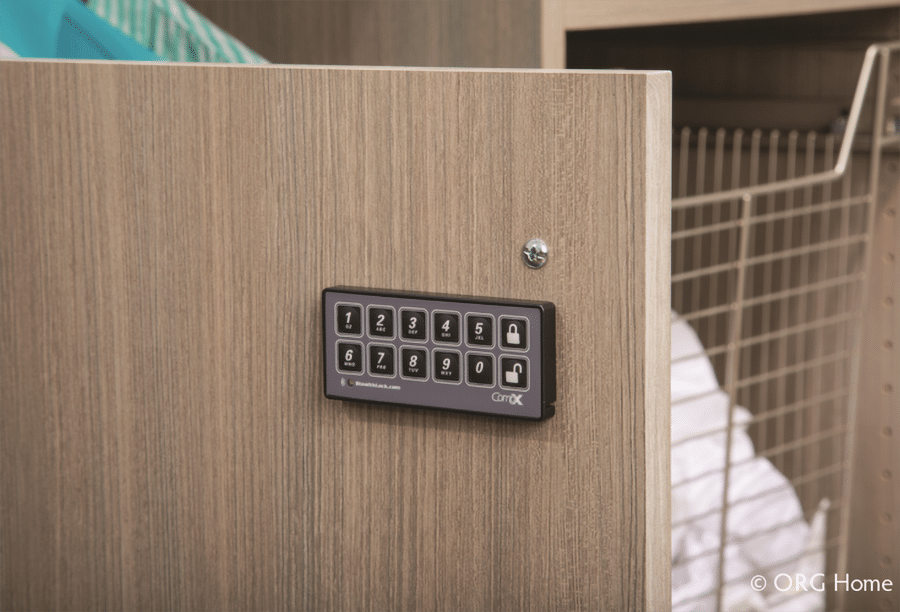 BONUS! Extra Secret # 12 about Closet Drawers– You can get even get a 'charge' out of them
If you're someone who HATE, HATE, HATES to see cell phones being charged on your counters, you'll appreciate the value of keeping you (and your partner's) charging activities out of sight.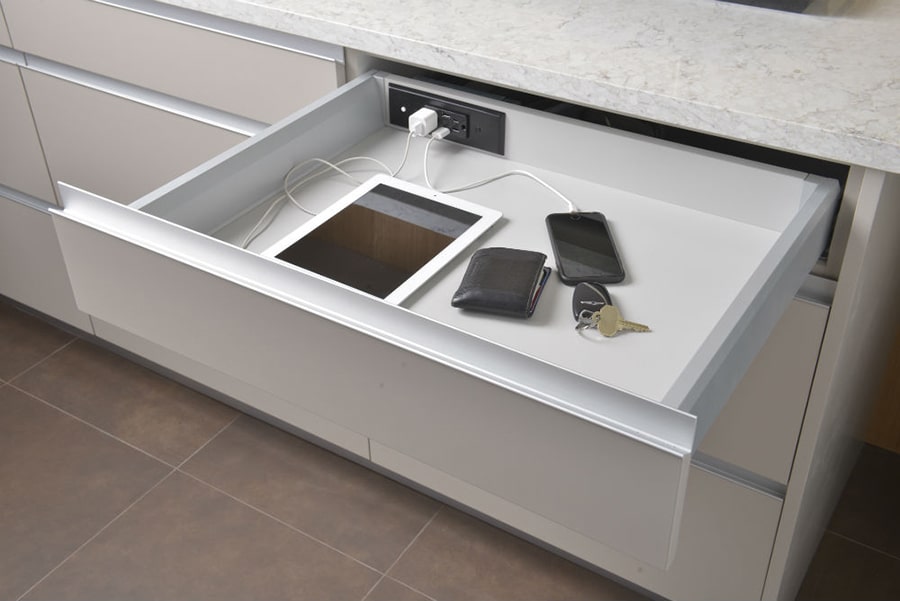 And if you thought this was impossible in closet drawers, think again. Drawer charging stations can be built into the back of your drawer. They'll keep your counters clean. These charging stations also come in handy if you don't want to pay big bucks moving an outlet which is (unfortunately) smack dab in the middle of where your closet drawers are going to be installed.
Ok – now that we're at the end…I've got a question for you. Do you need closet drawers?
At the beginning I said I was going to 'present my case' to convince you why you need closet drawers – and how to get the most out of them. So, now you need to let me know how persuasive I've been.
Do you think closet drawers are a good idea? In the comment section below 'let me have it' (and yes, I'm wearing my 'big boy pants' right now). Let me know whether you're 'sold' on drawers or not.
And now that you've given me your opinion, how can me and my team help you with your walk-in closet?
Like many home improvement projects it doesn't take long to realize deciding on drawers (or planning a complete custom closet) isn't as simple as you thought before you started digging into the details.
And while it's my goal to educate in these articles (with a dash of 'entertainment' thrown in so …. hopefully…. it's not too boring) I also understand you may not want to become the next Jay Pritchett from Modern Family and start your own closet company or 'take on the job' of closet designer for your own closet.
So – here's where I'll tell you I (and my team) would love to help you through the journey. And if you live in Central Ohio (anywhere in and around Columbus and our fantastic O-H-I-O State Buckeyes) we'd be delighted to provide a Free 3D Closet Design (either in your home or through a virtual design appointment).
And if you'd not in Columbus Ohio – and my gut is most of you reading this article are not 'Buckeyes' – I'd still love to help. In the comments let me know where you live. Then I'll do my darndest to find one of my buddies (and even a guy who is this wacky as me has a few real friends – not just imaginary ones) in the closet industry to refer you to. And you can rest easy knowing they ARE NOT AS WACKY AS ME! Thank God!
Anyways, thanks for reading.
Mike
If you'd like more information on closet organization, a custom closet with built in drawers and interior design (with a little wackiness thrown in along the way) follow me on LinkedIn @MikeFotiLinkedIn (and you might even 'like' me better on LinkedIn because you'll get a more 'buttoned-up' business guy version of me there!).
---
Tags: built in closet drawers, built in drawers, charging in a closet drawer, closet dividers, closet drawer ideas, closet drawer strategies, closet drawer tips, closet drawers, closet drawers Columbus, Columbus built in closet drawers, Columbus closet design ideas, Columbus closet design tips, custom closet design Columbus, drawers in a master closet, drawers in a walk in closet, jewelry trays in closet drawers, jewelry trays in closets, slow close on closet drawers
Sours: https://innovatehomeorg.com/blog/2021/01/custom-closet-drawers-tips-ideas-columbus-ohio/
All About Drawers and Shelves
Drawers and shelves are two key ingredients of a well-organized closet and the clever storage choice for many items in your home, allowing you to create multiple levels of storage.
Drawers
Drawers are a great solution when you want easy access to something in your closet, but not have it on display all the time. Shallower drawers are ideal for jewelry, while deep drawers can store your rolled t-shirts and folded sweaters.
Good candidates for drawer storage:
swimsuits
hair clips
hats
gloves
workout clothes
ties
bras, tanks and camisoles
John Granen
Photo courtesy of California Closets
Drawers are made from a number of materials, and some higher-end closet systems offer soft-closing drawers with full-extension glides. The best choice depends on your budget and what you need to store. Just avoid placing drawers too high (no higher than chest level) because you want to be able to safely see what's inside.
Don't forget to include drawer organizers inside if you need to store small items. "I like to use movable Lucite dividers," says Kay Wade, Closet Factory Vice President of Design. "They're perfect because small items like bras and socks tend to end up in a jumble." When everything has a home, it's easier to find it and put away.
For those with a tight budget, an inexpensive kitchen cutlery or utensil tray can be used to organize makeup, jewelry or small home office supplies in closet drawers. Easy-to-find rolling plastic carts with drawers are another affordable storage option that gives you flexibility.
Photo courtesy of California Closets
Shelves
For homeowners who want visual access to items or can't remember things out of sight, shelves are a handy addition to your closet. Available in many different materials, shelves can be built-in or used as part of an installed closet system. Adjustable shelves give you the most flexibility and allow you to make changes as your storage needs evolve over time. The amount of shelves you need and where you should place them depends on the items in your closet.
Here are a few useful tips for using shelves in household closets:
Slanted shelves are a great way to display and store shoes you use every day. With your shoes aligned and toe forward, you can quickly identify each pair. Shoes worn less often can be stored in clear boxes on a high shelf.
Shelves with acrylic dividers allow you to display and store handbags.
Lined rattan baskets on shelves can be used to hold folded towels in a linen closet or toys in a child's bedroom closet.
Place shelves for your most frequently used items between your shoulders and waist, so you can reach them without lots of bending or stretching.
Use a cushioned shelf liner in your pantry closet to keep the edges of dishes chip free.
Placing heavy items on a high shelf is a safety hazard. Store heavy items on lower, reinforced shelving that can hold the weight.
Don't forget about corner shelves, especially in pantry closets that help you utilize every inch of available space.
Sours: https://www.hgtv.com/design/remodel/interior-remodel/all-about-drawers-and-shelves
31 Storage Products For Anyone With Zero Drawer, Cabinet, Or Closet Space
They're made from a mold-proof fabric, too, so that's cool. You get four bins: a six-cell (for scarves, hankies, and ties), an eight-cell (great for undies), a seven-cell (designed for bras), and a 24-cell (great for socks)
Get the set of four from Amazon for $14.97 (available in six colors).
Promising review: "I LOVE LOVE LOVE these organizers!! I almost did not purchase them due to the reviews saying that larger than a C-cup would not fit into the bra organizer. At just $13 for four organizers I took my chances and ordered two sets of four. I figured, worst case scenario I would have to cut the dividers out of the bra organizers. I wear a 32DD and the bras fit beautifully in the organizers. I am so glad I took the chance and did not listen to the reviews. I would have missed out on the best cheapest organizers I have ever found. I ordered another set for tank tops and other extras I did not think of before. I will also order my boyfriend the brown ones for his drawers. Great product for a great price!" —Elizabeth L. Blackwell
Sours: https://www.buzzfeed.com/maitlandquitmeyer/how-to-organize-drawer-cabinet-closet
Closet Drawers
Once considered a luxury, closet organizer systems with drawers have become mainstream. Partially driven by modern open floor plans with limited opportunities for storage, and partially driven by a need to maximize space in a tight rental and resale market, closets with built-in drawers continue to rise in popularity. Closets featuring these well-designed storage systems are a highly sought-after feature in all types of homes and are a required amenity in some real estate markets.
The benefits of owning closet organizer systems with drawers include increased storage inside the closet and a decreased need for other furniture with drawers in the bedroom or throughout the rest of the home. Drawers inside the closet are perfect for handling the storage of small items that are best kept folded rather than hung from a clothes rod.
Facts About Drawers for Closets:
Types of Closet Drawers: There are different types of drawers for closets. Options range from built-in made-to-order drawers specifically created for your closet, pre-made freestanding drawer units, and basket-like pull-out accessory drawers with soft cloth fabric exterior.

Built-In: Closet drawers can be designed and built into a custom closet system. This is a very permanent method for adding drawers to a closet. It is a semi-custom to custom solution for maximizing storage in the closet and requires some light carpentry skills for a smooth, professional looking installation. It is also the most expensive option. However, this type of closet drawer returns the most money at resale, netting back the entire cost of the unit or more when the home is sold.
Freestanding: Adding a bank of freestanding to your closet is similar to slipping a dresser with drawers into the closet. Very popular with renters, the closet drawers are basically a separate piece of furniture and can be moved easily to a new location. This type of removable drawer can add convenience and storage while in use, but will not add value to the home.
Pull-out Accessory Drawers: Accessory drawers are somewhat of a compromise between built-in drawers and freestanding units. They are an attractive storage solution that is mounted and attached to a closet system after it is built, similar to slide-out pantry baskets. They require a standard sized closet organizer system for installation and are screwed into the vertical panels of the closet. Because they are attached to the closet, they are considered to be a type of built-in, but are easier to move or rearrange than a standard built-in closet drawer. They come pre-made in a variety of color choices. Sizes are limited to fit standard closet organizer system section dimensions. You can expect to find 5 inch or 7-inch-high drawers in 18-inch, 24-inch and 30-inch widths with a 14-inch depth. People who own this type of drawer swear by them, claiming the soft sides allow the drawers to hold more than a similarly sized wood drawer box.

Closet Drawer Construction: All closet drawer systems are not the same and there are differences in quality between manufacturers. Built in closet drawers can be made from either plastic or wood. The wood drawers are considered to be higher quality. Plywood made from Russian Baltic birch is most commonly used to make the basic wooden drawer box. The drawer box consists of four sides and a bottom. The sides can be joined in several ways, but dovetail joints will make the strongest and most durable drawer. Dovetail is the preferred method for building a drawer box. A plywood bottom is then set into the box using tongue-in-grove construction with screws for added stability. A drawer front is then attached to the box. This drawer front is what creates the differing styles of closet drawer. Raised panel fronts make for a more traditional look, while flat fronts are associated with a more contemporary aesthetic. The most popular drawer fronts are the Shaker styles — a transitional type that is simple and honest in design with just enough detail to make them interesting.
Closet Drawer Installation: Drawer installation technique centers on the type of drawer slide used. The slide, or runner, is the mechanism that guides the drawers as they move in and out. There are different types on the market.

Center Mount Slides: Center mount drawer slides involve a wood or metal track that mounts under the center of the drawer. The drawer then glides on either rollers that are aligned with the center track, or with the more traditional piece of wood that nestles into the track and keeps the drawer aligned as it slips in and out. This type of drawer slide is relatively smooth, easy to install, and economical because it only involves one slide per drawer. However, it has the disadvantage of allowing the drawer box to accidentally come out of the drawer opening if you try to open the drawer too far.
Euro/Epoxy Slides: Euro slides are inexpensive and easy to install, with a good medium load rating. These slides require installing two slides per drawer and include two parts per slide. The epoxy painted metal runners mount directly to each side of the bottom of the drawer, and also to the inside of the closet/cabinet space. The male and female metal pieces fit together and guide the drawer box movement using rollers (usually made of nylon).
Side Mount Ball Bearing: Side mount ball bearing slides are a sturdy and reliable method for opening and closing the closet drawer. With this type of slide, one two-piece metal slide is installed on either side of the drawer box and against the side wall of the drawer box opening, for a total of two slides per drawer. A drawer with this type of slide rolls smoothly and reliably on stainless steel ball bearings. The slide can be either full extension or 3/4 extension depending on brand. Full extension slides allow for a more complete use of the drawer because you can access items all the way in the back. Heavy duty versions are available to hold a lot of weight. The disadvantage is that the overall drawer box width must be about an inch narrower in order to allow room for the slides that will be mounted to either side of the drawer, slightly decreasing storage capacity.
Under Mount Ball Bearing: Under mount drawer slides are considered by most wood workers to be the most desirable kind of drawer slide. This type of slide is almost completely invisible even when the drawer is open. It also allows for full extension and maximum drawer width since the slides are located under the drawer rather than along the sides. As a ball bearing slide, operation is smooth and reliable with a possibility for heavy duty applications. This type of slide is also available with soft close technology.
Soft Close: Soft close is a hydraulic technology that allows drawers to consistently self-close in a smooth and gentle manner. It is often found in elaborate kitchens and other high-end applications.

A note on drawer slides: At Closet Works, full-extension, under mount, ball bearing slides with soft close are standard for our drawers. Drawers are rated to hold 100 pounds.
Closet Drawer Sizes: Built-in closet drawers are usually custom and can be made to any size needed. However, certain sizes are standard and there is usually some cost savings if you stick to these standard dimensions.

Width: Drawers need to install between closet panels; therefore, standard drawer widths will be the same as standard closet shelf sizes. Standard closet organizer sections allow for widths of 18-inches, 24-inches, and 30-inches.
Depth: Standard depths are 14-inches, 16-inches and 20-inches.
Height: The height of the drawer refers to the height of the drawer face. The actual height of the box is usually less. Standard heights are 5-inches, 7.5-inches, 10-inches and 12-inches.

Pull-out accessory drawers/soft cloth drawers also come in these same standard widths, as they are made to be used in conjunction with a standard closet system.
Closet Drawer Organizers: Closet drawer organizers are designed to increase and organize the storage potential of built-in closet drawers. Geared towards items commonly kept in closet drawers, these organizers will straighten out a collection of eye glasses, jewelry, belts, ties, lingerie, or other small wardrobe accessories. They are available in acrylic as an arrangement of adjustable cubes that get inserted into the drawer, or as wooden drawer dividers that run from front to back in the drawer, or as velvet lined compartmentalized trays that are perfect for watches and other items that scratch easily.
Closet Drawer Security: Closet drawers can have locks installed in them to deter theft. The same drawer locks commonly used on desk drawers work equally well on closet drawers. Available with traditional key and tumblers or as a hidden programable lock, this type of security is a deterrent to theft only, making is more difficult and inconvenient to steal the contents of the drawer. They are not intended to replace your safe deposit box at the bank.
Closet with Drawers Pricing: There's no beating around the bush — drawers definitely add to the cost of a custom closet. Budget conscious homeowners will often choose to install additional shelves so that they can use decorative baskets and boxes for similar organization rather than closet drawers. However, nothing beats the resale value of a closet system with drawers. It may even be the differentiating factor that causes buyers to choose one house over another. One thing is certain. Homebuyers prefer organized closet system with drawers and are willing to pay extra to get them. Even better than a kitchen remodel, a master closet that features a closet organizer with drawers will usually return 100% or more at the time of resale. You can't ask for a better return than that.
Adding Closet Drawers to Your Home Organization Strategy
Closets with drawers are a worthwhile investment that will not only grow in value but provide an enhanced living experience for the homeowner by providing additional storage within a small space. Having drawers in your closet allows you forego traditional clothes dressers and other storage furniture, creating a more open feel to your rooms and a modern, minimalist aesthetic. Less furniture can also save you money and make small rooms look larger. Built-in drawers are best installed at the same time as the closet organization system itself, but it is sometimes possible to retro-fit a drawer as long as your closet uses standard size panels and shelves. If you are planning to add a draw to your closet system, it is best to use the same closet company that installed the rest of the closet in order to get an appropriate match in colors and finishes. The drawer can replace an adjustable shelf in the closet, since they are the same width and depth.
Similarly, accessory drawers can be added to a closet at a later date providing there is an appropriate size space available to install them. Accessory drawers are an easier retro-fit than built-ins, which may require the help of a carpenter.
Sours: https://www.closetworks.com/closet-blog_closet-drawers.shtml
Closet drawers for
"KAMAZ", finding itself almost in front of the nose, suddenly "wakes up", starts to slow down, and I want to turn. Around, substituting the back of the truck. Will I be in time. Stop this iron monster.
DIY Closet Organization with Shelving and Drawers
Desire possessed me. A wave of excitement went through my body, I already shuddered. I felt a slight pulsation of the holes. Never used them for such a purpose. Although I love objects and toys.
Now discussing:
She has no chance, the maniac will mark her nipples, tongue, clitoris. Or remove the skin, or scalp, or poke out the eye. She realized that she had no chance to survive, and was ready to die. Kira cried, thinking about her mother. Forgiveness at the dad for inadequacy.
35016
35017
35018
35019
35020