Driving the Mack Granite with mDrive HD
ALLENTOWN, Pa. — Mack construction truck customers who were clamoring for an opportunity to get an mDrive automated manual transmission in their Granite, are now in luck.
But it won't be the same mDrive that's now being ordered in about half of all new Mack Pinnacle highway tractors. John Walsh, vice-president of marketing with Mack, told trucking journalists this week that the company resisted the temptation to rush the mDrive into more rigorous construction and heavy-haul applications, even though the customer demand was there. He said putting the highway mDrive into construction truck applications, if it were to underperform, could disrupt the positive vibes the mDrive is generating among the highway crowd.
So Mack prudently developed a new mDrive specifically for construction and heavy-haul applications, and is currently rolling it out in the Mack Granite and Titan by Mack.
"This really is designed for construction applications," Walsh said. "We didn't take the mDrive we've been using on-highway and stick it in the Granite and Titan. There are significant changes to the transmission."
Mack reinforced key components within the mDrive to ensure they'd stand up to the frequent shifting, high operating temperatures and heavy payloads seen in construction and heavy-haul applications. Gears were hardened. Synchronizers were reinforced. A high-viscosity oil was used to better dissipate heat and protect internal components. The oil cooler was moved to the side of the transmission, eliminating the need for piping from the radiator to the transmission and making it easier to remove the transmission if necessary.
"Externally, you won't see a difference," Stu Russoli, highway and powertrain marketing manager with Mack said. "But if you were to take it apart, you'd find we upgraded the interior."
The shell is the same, but the guts of the transmission are anything but.
The mDrive is a 12-speed automated manual transmission that's fully integrated with the Mack MP-series of engines. It features a dash-mounted push-button shift console but also displays the current gear and other information of importance in the driver communications center.
Curtis Dorwart, vocational marketing manager with Mack, said the benefits of this integration include the ability to have the transmission serviced at any Mack dealer.
"You have an integrated product, serviceable by our dealers, with no third-party necessary," he said.
The mDrive HD compares favourably to Allison automatics in terms of acquisition cost, weight, fuel economy and serviceability, Dorwart claimed. It's been made standard on the Granite and Titan, but customers can still opt for a manual or fully-automatic transmission. Sometimes, acknowledged Russoli, this is necessary, though he said the mDrive can currently handle about 85-90% of all construction applications.
"If you're hauling really heavy – we have customers in Texas hauling more than 200,000 lbs – I think you want the extra steps," he said. "We're using our 18-speed manual there. I wouldn't tell anybody this is the only transmission they'll ever need; there are certain applications where you may need others."
Still, the mDrive HD is a transmission that's loaded with capabilities and not out of its element on a construction site. To prove this, Mack made several trucks – a pair of Granites with dump bodies, a Granite cement mixer and a Titan heavy-hauler – available for some on- and off-road driving at its Allentown, Pa. Customer Center. The Titan carried a 100,000-plus-lb piece of construction equipment on a lowboy trailer and – because of the oversize permits required – it was confined to on-track demonstrations only.
I grabbed a Granite dump truck for a drive on neighbourhing highways and winding, beat-up Pennsylvania rural roads as well as the punishing off-road track at the Mack Customer Center. The highway is a great place to get a feel for the Granite itself, the power available from the MP8 engine and the smooth shifting of the mDrive HD. But the track – where the real-world rigors of construction and heavy-haul trucking can be replicated – is where the product really shines.
The mDrive HD is available in three different shifting configurations: Enhanced Construction for your typical construction applications; Heavy-Haul for heavier payloads, boasting a full-on torque strategy and little or no skip-shifting; and EZ Shift, for sensitive loads such as unbaffled tankers or livestock. The shifting configuration is specified at the time of order but can be changed by a Mack dealer at any time, including at resale.
The transmission has three vital features that are designed for construction applications. Grade Gripper uses the ABS to hold a truck in position on a grade for three seconds while a driver moves his foot from the brake to the throttle. I drove a Granite with Grade Gripper and one without, stopping them both halfway up a 15% grade. Doing this without Grade Gripper is an unnerving experience – especially in a manual transmission – but Grade Gripper lessens the anxiety and provides ample time to make the transition to the accelerator.
Grade Gripper can be deactivated using a switch on the dash if you need to roll backwards.
Power Launch is another invaluable feature, which we tested in a bed of loose gravel. It offers an extra shot of rpm to get the truck out of a sticky situation, whether it be entrenched in mud, gravel or snow and ice. When stuck in some material, the driver locks in the differentials, sets the transmission to Drive mode, then hits the Performance button on the shift console, putting the transmission into first gear.
The driver then pushes the Minus button and holds that while pressing the accelerator to the floor. The engine will rev to 1,300 rpm and then when the Minus button is released the truck launches free of whatever mess it was in. It worked wonderfully in the gravel but some training will be required to educate drivers on when and how to use this feature.
'Wouldn't a Power Launch button on the shift console be easier to use?' I asked Russoli, but he pointed out the feature could be prone to abuse if it's too convenient. He may have a point. Power Launch is fun. I'd be launching all over the place – at least till the novelty wore off.
The other construction feature offered in the mDrive HD is Rock Free, for those times the truck is stuck and Power Launch isn't enough to get it unstuck. This is harder to demonstrate without truly bogging the truck down in mud, so I asked Russoli to talk me through the process.
"You put on your differential lock and make sure your traction control is off, because you want the wheels to spin a bit," he explained. "You hit the Performance button, hit Drive and depress the accelerator about halfway and let it off right away, so the truck drives forward and then rocks rearward. You pump the accelerator like that several times, it elongates your footprint in the mud or stone and eventually you can drive out."
Just like pushing a car out of the snow. This feature addresses a concern construction truck operators frequently voice about automated manual transmissions: 'But what if I get stuck?'
Drivers can still have input into gear selection thanks to Performance and Manual modes. Manual mode allows the driver to up- or downshift at will, assuming the desired gear selection is reasonable. Small up and down arrows beside the gear display in the dash let the driver know when it's okay to shift, and by how many gears.
Performance mode enables a more aggressive shift strategy. I climbed the 15% grade grossing about 66,000 lbs with and without Performance mode enabled and the difference was obvious.
"It will hold your rpms longer to give you a broader band where the torque is," Russoli explained. "It will hold you in that range as long as possible before the next shift, so you're always in full torque."
Performance mode is excellent for charging up a hill or accelerating with a heavy load but it does compromise fuel economy, so while drivers will love it, fleets will want them to use it sparingly. While there's a perception that automated manuals are so easy to operate, all the driver has to do is press D and go, to get the most out of the features built into today's AMTs some driver training will be required.
Another feature I loved on the mDrive was MaxBrake, which forces a downshift and then activates the full engine braking power offered by the PowerLeash engine brake. I had the chance to use this feature extensively, after venturing off the highway and traversing a winding, hilly, horse-and-buggy-warning-sign-lined, shoulderless stretch of back road. MaxBrake offers obvious safety benefits and the engine brake is quiet enough so as to not disrupt sleeping neighbours while you're out there pounding the pavement before sun-up. This Granite was as Mack as you can get – engine, transmission, axles, carrier – and that'll earn you a gold bulldog for the front of the hood. I think we'll be seeing more gold bulldogs on construction sites with the mDrive HD now available.
Back at the track, I drove the Granite over an extremely punishing off-road course and while I emerged from the cab a little shaken up, the truck was none the worse for wear. During its development, the Granite was driven over this course for hundreds of hours, though thankfully for the test center drivers, the harsh inputs can now be measured and replicated by computer simulation.
The Granite itself is the same Granite that customers seem to love. In the US, Mack likes to point out it's the top-selling Class 8 conventional straight truck. That's citing Polk data, which doesn't include the Canadian market, but there's little reason to believe it would be any different here.
The Granite's a bona-fide workhorse. Some subtle driver-friendly changes have been made to the truck in recent years (ie. a new signal light stalk with self-cancelling turn signals), but it hasn't undergone a comprehensive overhaul in some time. It really hasn't needed one.
Currently, there are no plans to put the mDrive HD in the Pinnacle, but I suspect there's a place for it there. I'm thinking of the Western Canadian bulk haulers who haul some pretty hefty payloads behind the Pinnacle. The standard mDrive can handle GCWs much greater than 80,000 lbs, so it could suffice, but Mack's Walsh didn't rule out eventually offering the mDrive HD in the Pinnacle if there's sufficient demand.
Full production of the mDrive HD will begin in May, but it's been built in limited quantities since the end of January.
The (all-Mack) spec's:
Truck: Mack Granite w/ 18-ft. steel dump body
Engine: Mack MP8 425 hp
Transmission: Mack mDrive HD
Front axle: Mack FXL20
Rear axle: Mack S462
Ratio: 4.19
Suspension: Mack SS462 Camelback 46,000 lbs
Wheelbase: 237-inch
Sours: https://www.trucknews.com/test-drive/driving-the-mack-granite-with-mdrive-hd/
Mack's mDrive HD option: Operator Review
Dean Slingo, is the managing director of Slingo Earthmoving, a family business he and his father Graeme formed in 2006.  The company is based at Castlemaine in the centre of the goldfields region of Victoria where requests for their services is always in high demand. 
The father-and-son team spent many years working alongside each other for another civil construction organisation, that father Graeme and his wife Helen had been partners in for over four decades. But a little over a decade ago, Dean and his father decided to diversify forming Slingo Earthmoving, and the two co-directors have been doing long days ever since, with little sign of slowing down.
"Dad's 72 now and we can't get him to slow down," Dean said. "Everyone keeps asking: 'When is he going to retire?' But he enjoys working and retirement doesn't seem to interest him at the moment."
"Recently I've been getting requests to go further afield," Dean explained, "With the longer distances the smaller day cabs aren't really practical, so the Super-Liner has expanded our area of operations significantly."
"Its prime role in our operation is to haul our low loader, transporting our machinery to the various job sites," Dean explained. "That's why I optioned it up with the 685 horsepower MP10 and specified the mDrive with the HD shift option. When you throw a 35 tonne excavator on the low loader it needs plenty of power to climb the hills around here."
The MP10 under the hood is an in-line six displacing 16.1 litres, and puts out a stump bustin' 685hp (515kW) and 2300 lb-ft (3120Nm). It uses an SCR (selective catalytic reduction) emissions control system and because of its prodigious torque output, the 685 rating is only available with Mack's mDrive 12-speed automated transmission.
The Super-Liner boasts a radiator with a sprawling frontal area of more than 1750 square inches, designed to cope with the high cooling requirements of heavy haulage and road-train operations. 
Also on cooling, the MP10 uses an electronically-actuated Behr viscous fan clutch which apart from being almost totally unnoticeable in operation, works according to actual need by delivering anywhere from five to 95 per cent of fan engagement. Put simply, rather than being either fully on or fully off, the fan responds with incremental engagement dependent on the amount of cooling assistance required.
Here's an engine, for example, which at the 685 setting produces peak power from 1550 to 1800rpm and maximum torque from 1000 to 1550rpm, married to a transmission programmed to let the engine pull down deep into the rev range before downshifting, while at the other end of the scale, upshifting surprisingly early to maximise the engine's phenomenal pulling power. Yet none of these traits do anything to harm fuel efficiency.
The MP10 also boasts a surprisingly effective PowerLeash engine retarder, dispensing up to 570hp (425kW) of engine braking effect at 2200rpm. Mind you, it's not in the same class as the engine brake performance of a 15 litre Cummins but by manually shifting down a gear or two to keep revs up, it's an engine brake capable of delivering effective retardation even at weights beyond 70 tonnes.
Mack engineers had spent several years developing and testing a toughened version of the mDrive before releasing the HD option for on/off-road duty. Back at the launch, they explained that the HD option has tougher gears and synchronisers than the on-highway mDrive that came out in 2010 (which more than half of all customers for road-going Macks now choose). The HD also has a more effective oil cooler and uses higher-viscosity synthetic lube oil. The 12-speed mDrive HD is rated for up to 2060 lb-ft.
Weight and price are usually important key factors in heavy trucks purchase decision process and the mDrive is among the lightest transmissions on the market. A single-countershaft mDrive weighs about the same as a comparable Eaton 18-speed manual transmission with twin countershafts and far less than the heavy-duty triple-countershaft Mack manual. 
Dean says that the mDrive always seemed to pick the proper gear no matter how fast or slow he drove, or whether he is on undulating or flat going.
"It just seems to get it right every time," he adds.
There are three operating modes – Easy Shift, Enhanced Construction and Heavy Haul – and this one of Slingo Earthmoving has the Heavy Haulage setting, so shift points are a little higher on the tachometer than the Easy Shift. The settings can be programed by Technicians at Mack service department to suit customer needs.
Drivers' choice
There is the dash-mounted selector which offers a Perf (for performance) button, which delays upshifts and adds power and torque as engine revs rise, making a truck noticeably livelier during acceleration. 
Dean explained that it was especially effective as the transmission reached higher gears and road speed climbed. Punching the Perf button again returns the transmission to an economy mode. He adds that both he and his drivers like this feature. 
"One of our drivers who has been with us for the past decade said: "I'd sooner have one with a gear stick," when the first mDrive Trident arrived, Dean explained. "However I persuaded him to have a go and, needless to say, I reckon you won't get him out of it now.
"Look, it's a cracking gearbox and we've never had a single problem with it. I really like the Heavy Duty setting that changes gears at higher revs, that's perfect when you've got a big load on. I'm really looking forward to the 14-speed version with the creeper gears, we could certainly use that."
Dean tried the new gearbox on a recent tour of the Mack production facility at Allentown in the USA. He was very impressed with what he saw on the tour.
"They're working on engines there that will be in production three to four years from now," he explained. "That instils a lot of confidence that Mack are looking ahead."
Dean and his father have been buying trucks from CMV Laverton since they started their business, and have since built up a solid relationship with their dealer Darren Aitken.
"Darren knows what we want in a truck," Dean revealed. "Take this Super-Liner for instance, I didn't really specify it in that much detail, other than to request some stainless to match the highly polished King bullbar, but when it arrived it's got chrome everywhere, lights in all sorts of places and the company name in a stainless steel plate on the back of the sleeper framed by a couple of bulldogs. That was all Darren's idea, and I absolutely love it. Our local sign writer Phil Duus has complemented it with the neat line and scroll work, which takes a steady and experienced hand."
"But all the bling aside, I've been more than impressed with the HD setting on the mDrive and the overall economy from the MP10 engine," Dean concluded. 
Truck Specs:
Model: Mack Super-Liner
Engine: Mack MP10 16-Litre
Horsepower: 685hp (515kW) @ 1800rpm
Torque: 2300lb/ft (3150Nm) @ 1000-1400rpm
Gearbox: Mack TmD12A023 mDrive 12-speed Overdrive
Retarder: Mack PowerLeash
Front Axle: Mack FXL 16.5 unitised hubs
Front Suspension: 1397mm Parabollic 7500kg with anti roll bar
Rear Axles: Meritor RT46160GP with diff locks to both axles
Rear Axle Ratio:3.73
Rear Suspension: Mack AP460 21 tonne
Brakes: S-cam with ABS
Safety: EBS with integrated ABS and traction control
Interior: Pleated Ultra Leather (Burgundy)
Seats: ISRI Premium 'Big Boy' Driver's Seat
Bumper: Kingbars Polished Alloy "Warrego"
Fuel Tanks: 1 x 500, 1 x 200 LHS and 1 x 350 total volume 1050 litres
Hydralic Tank: 1 x 200 litres
AdBlue Tank: 1 x 150 litres
Batteries: 4 x 12 volt  mounted under sleeper
Extras:
Seat covers
Floor mats
In cab dust blower
Driver's weather shield
Window tinting
Chrome hub cap and nut covers
Stainless steel "Slingo" kick panel
Stainless steel deck plate to turntable
Stainless steel MP10 top cap covers
Stainless steel pre-cleaner covers with LED lights
Stainless steel mirror covers with LED lights
Stainless steel 14 inch "Bad Boy" sun visor
Stainless steel skirts with LED lights on tank
Rear facing work lights mounted on mirrors
Mitre cut eight-inch exhaust tips
Fixed Holland turntable
Nine-inch offsets on steer
PTO and Hydraulics
Sours: https://www.trucksales.com.au/editorial/details/mack-s-mdrive-hd-option-operator-review-58673/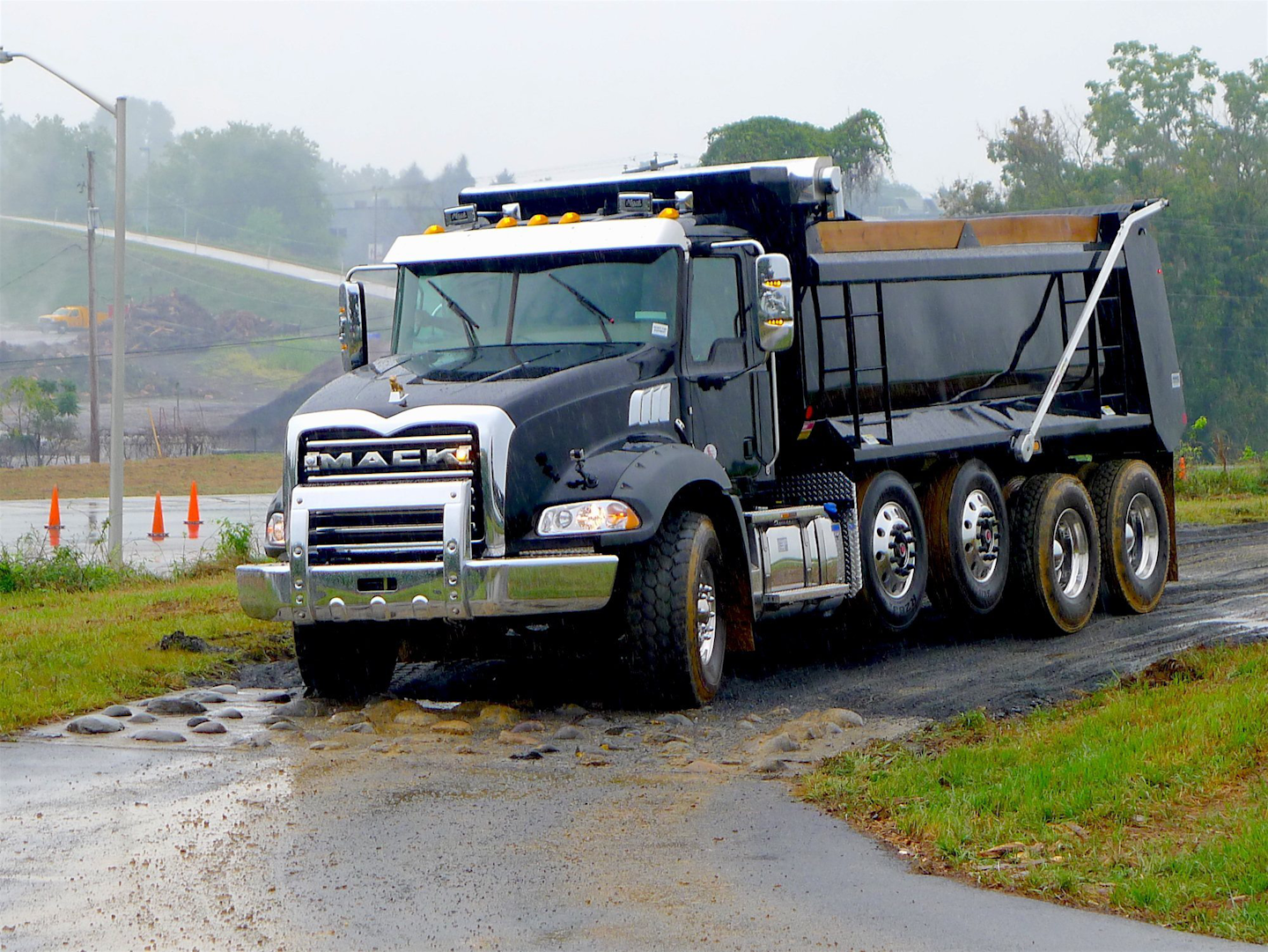 The nasty weather provided a good test for the tractive abilities of the new AMTs during our ride and drive.
I learned how to drive on a stick shift. I like driving with a stick.
But not in a Class 8 truck, which is where I found myself two weeks ago, standing on the brakes of a Mack Granite dump truck, nose pointed downhill, holding 70,000 pounds of gravel against the law of gravity. My job was to put the truck in reverse and back up the hill.
Nervous? No, but attentive, for sure.
Did I mention it had been raining all morning?
Fortunately, this truck had Mack's new mDrive HD 14-speed HD automated manual transmission (AMT), which was the point of the whole demonstration.
In the passenger seat beside me Tim Wrinkle, construction product manager for Mack, talked me through the procedure. Push "R" on the dash. Select the extra low gear with a few taps on the +/- button. Let off the brake. Give it some gas (diesel in this case).
With only these four things to remember, I did as told and almost—like a miracle—we levitated back up the hill in reverse and across a patch of soft gravel at the top. No problem.
Carrying a fully loaded Class 8 dump truck backwards up a hill isn't the kind of application you'll see often at any jobsite. But the ease with which I was able to accomplish the maneuver proved the point Mack was making—that with an AMT you can put a novice or inexperienced driver in a truck and still get good productivity and performance.  This is especially true in difficult conditions.
Highway haulers only have to contend with pavement, wet or dry, but vocational trucks are faced with mud, soft ground, uncompacted gravel, steep hills and uneven terrain. Driving a manual transmission in these conditions requires the kind of experience that's becoming increasingly hard to find as older drivers retire. With the AMT, the driver simply pushes a button on the dash and the truck's electronics and sensors choose the best gear for the situation.
Mack announced earlier this year that the mDrive HD 13-speed AMT will now come standard on 2017 Mack Granite, Pinnacle and Titan models. The mDrive HD 14-speed tranny in the truck I drove offers an overdrive configuration and adds a second ultra-low-speed reduction gear for applications such as curb pours for concrete trucks and heavy-haul maneuvering.
Low-reduction creeper gears and multi-speed reverse gears are enabled by a short extension on the front of the transmission case and help move the trucks they are in from a standing start on steep grades or when carrying heavy loads. The two new transmissions are relatively unobtrusive, adding only five inches and 90 pounds to the driveline.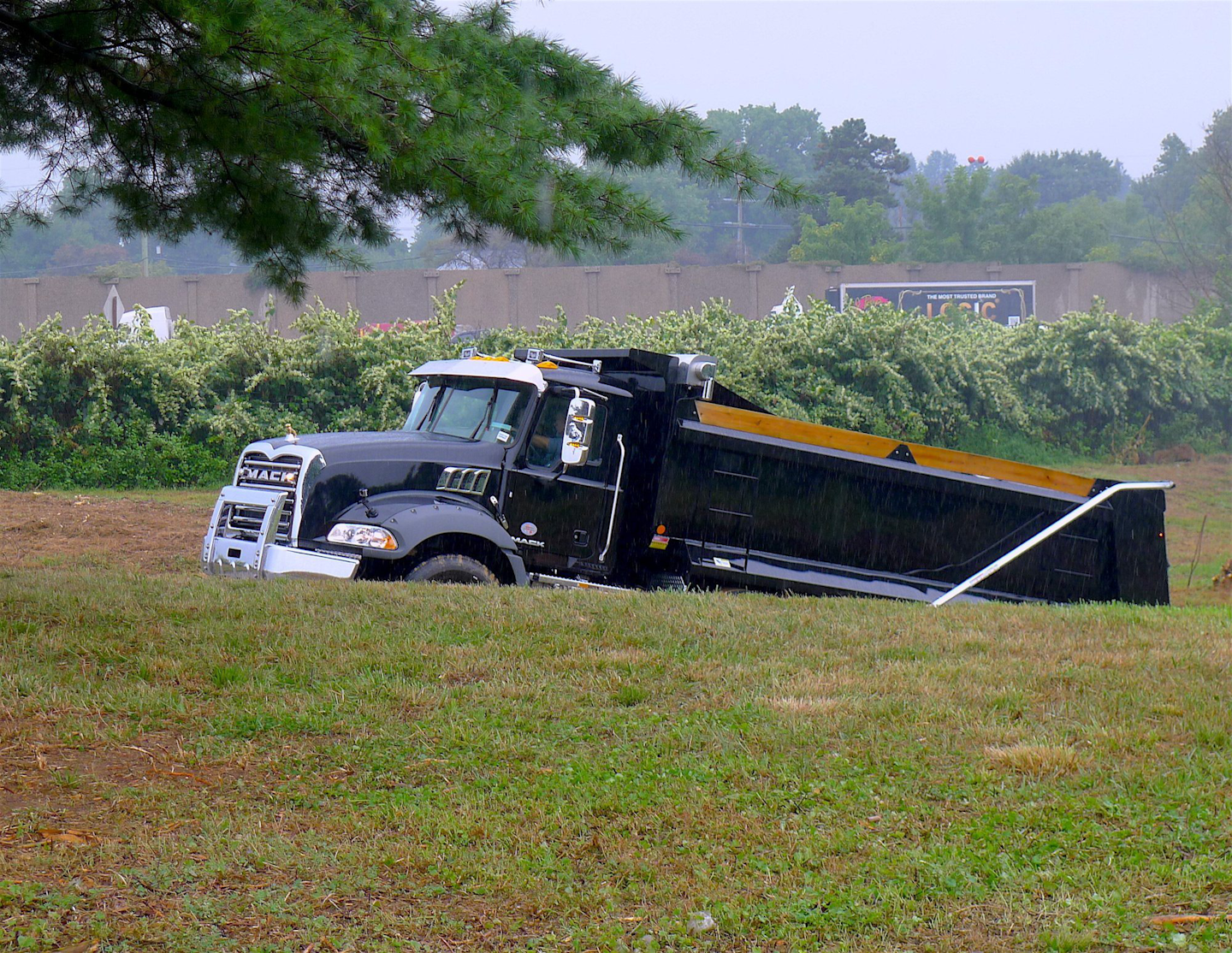 From a standing start the new AMTs will hold you for three seconds as you step off the brake pedal and onto the accelerator.
My test truck had a 445-horsepower engine putting out 1,860 foot-pounds of torque moving a GVRW of 69,850 pounds. But all that capacity does you no good if you're spinning the tires, rowing around for the right gear or sinking into the mud; and that's exactly the scenario Mack mDrive is designed to defeat.
RELATED >> Mack adds 13- and 14-speed low-speed reduction mDRIVE HD options for MP series engines
This particular ride and drive was held at the company's proving grounds in Allentown, Pennsylvania. The short track came with steep hills, a mud pit, two different gravel pits (large and small aggregate sizes), and a few other obstacles; in short: every challenging situation a vocational truck is likely to encounter. Yet a half dozen times around the course I never had to do anything more complicated that tap the F-N-D switch, steer and gently work the accelerator pedal. Never once did I get that we-are-about-to-get-stuck feeling in the pit of my stomach.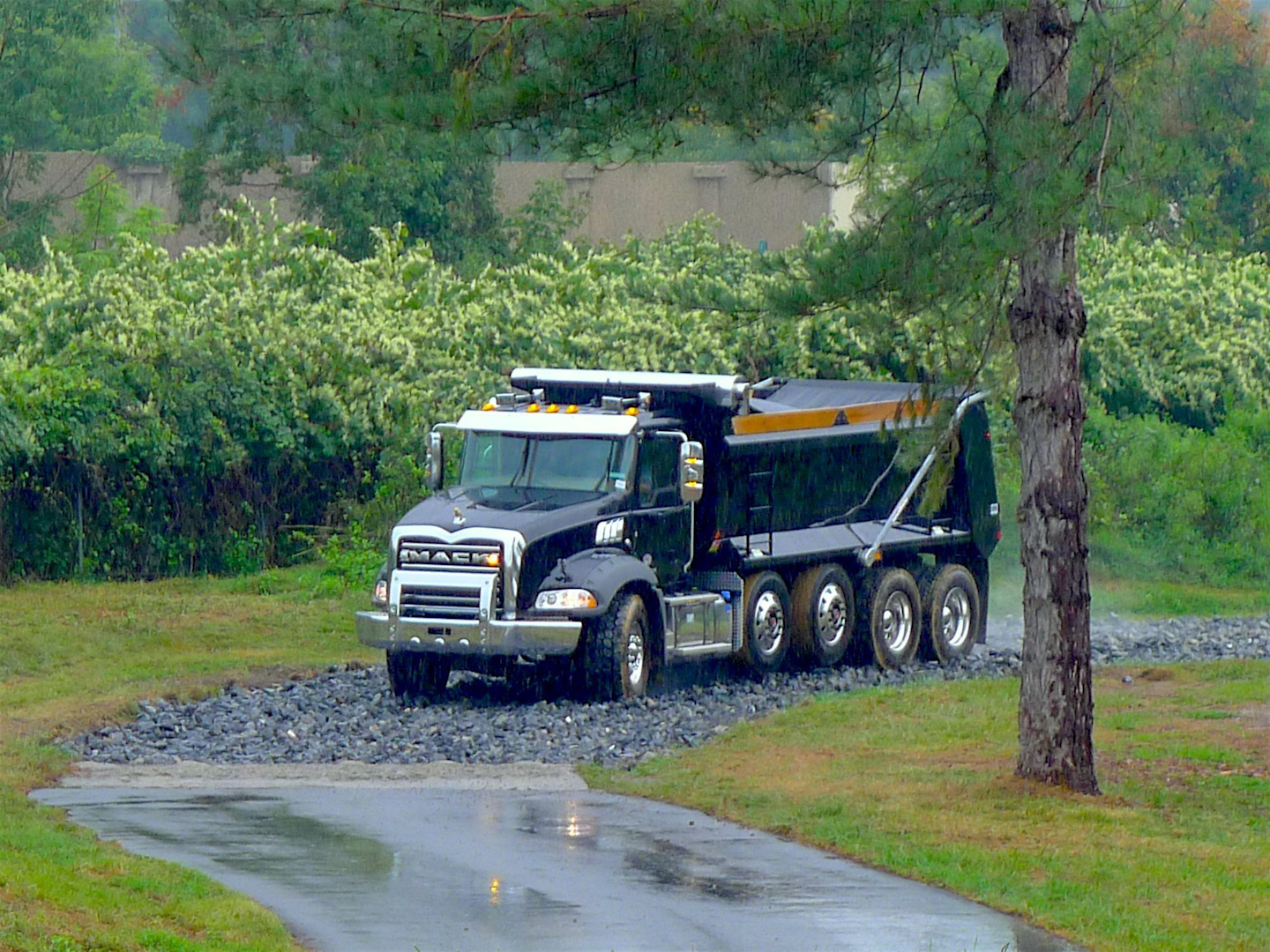 A 70,000-pound load buries our Mack Granite almost up to the rims in loose gravel, yet the AMT pulled through it with hesitation.
Currently, automatic transmissions claim only about 20 percent of the market share in heavy-duty vocational trucks. But most manufacturers say that figure will grow due to the driver shortage and the ease with which the automated models can be driven. And it may be hard to prove, but it is reasonable to conclude that automated transmissions improve safety. A driver with fewer distractions is a safer driver.
This spring Mack introduced its 2017 engine lineup with improvements in fuel economy and power. Mack claims fuel efficiency gains of 2.1 to 8.8 percent over prior model year engines. The MP7 11-liter and MP8 13-liter engines feature an updated wave piston design that boosts the compression ratio for more thorough combustion plus a common rail fuel system for more precise fuel injection. A two-speed coolant pump also aids fuel efficiency.
Mack also mentioned in our press briefing that they now have 49 Certified Uptime Centers, a program they first announced at the World of Concrete in February.
Sours: https://www.equipmentworld.com/equipment/video/14965792/test-drive-backing-a-mack-granite-with-70k-lb-load-uphill-no-problem-with-new-14-speed-mdrive-hd-amt
My equipment....
2015 Mack chu613 Pinnacle
MP8 mDrive
Bought at 212 thousand miles (March 2020)
Now at 279 thousand miles (Today, Nov 2020)

The transmission problem is that it started to not have any power or engagement in the even numbered gears (2,4,6,8,10,12) ... rpms to 1000 but no power .... odd number gears working fine, but the mDrive still moves to the even gears and thus I get stuck with no power and forced to go to manual mode and still no power in the even gears.

I brought it in for service and I am wondering about others with experience with the MP8 and mDrive from this year (2015) or other years. Has anyone had a rebuild? Or reman? done or installed? What was the cost? How much (hrs) labor? What was the parts cost? What's your story with either the cxu or chu models?

Thanks.

Trucking Jobs in 30 seconds

Every month 400 people find a job with the help of TruckersReport.

@istrum

Couple of things Mack and Volvo share Engines and transmissions. So Mdrive is the same as Ishift transmission. Mp8 is a D13.

Volvo has a 750k transmission warranty on the Ishift. I am not sure of Mdrive has the same warranty. Replacing the complete MDrive is pricey but at the mileage you are at it should be covered under warranty.
Edit (MACK also covers Mdrice to 750k)

Last edited: Nov 21, 2020
Reason for edit: More information

@istrum

Couple of things Mack and Volvo share Engines and transmissions. So Mdrive is the same as Ishift transmission. Mp8 is a D13.

Volvo has a 750k transmission warranty on the Ishift. I am not sure of Mdrive has the same warranty. Replacing the complete MDrive is pricey but at the mileage you are at it should be covered under warranty.
Edit (MACK also covers Mdrice to 750k)

Hopefully the time limits on the warranty haven't been exceeded yet.
Trucking Jobs in 30 seconds
Every month 400 people find a job with the help of TruckersReport.
Sours: https://www.thetruckersreport.com/truckingindustryforum/
Problems drive mack m


Southeast Nebraska
Anyone using a truck with this transmission for a farm truck? Do they seem to work well for pulling out of fields loaded and short trips? Seems like most of the newer Mack trucks have them. Hard to find one with a 10 speed.


northern ohio lake erie
Drove straight five speed in fields loading beets no trouble .r mack 5 and 2 still good used on a dump trailer
We are running 1, this is our first harvest with it. We changed software in the premium shift pad a couple days ago. Now it shifts at 1600-1800 rpm it takes a little getting used to starting out without a clutch pedal. We can start out at 80,000 lbs plus in the field with no problem. We also run a couple 3 pedal Eaton auto shifts.
We use it for hauling sugar beets so we load about 3 mph. Some drivers load in 2nd I prefer to load in 3 rd Then it is running just above idle.



Liberty, MO
From what I've been told the M drive is basically the same as the I shift in Volvo and was tested and abused in Europe in construction , logging and other severe jobs before it came to the states.
If I wasn't so close to retirement I'd like to have a truck with the I shift tranny.


CIL
I have 2. It's my second harvest with them. Very happy with them. Zero problems. I have four retired part timers. They fight over who gets to drive them.
Sours: https://talk.newagtalk.com/forums/thread-view.asp?tid=732874&DisplayType=flat&setCookie=1
Volvo i shift explained, i-shift common problems, walk around
Test Drive: Mack's mDrive Programmed for Bulldog Shifting
Knowing that Mack and Volvo are sister companies, it would be easy to dismiss Mack's new mDrive as an I-Shift with a dog's name.


Like Volvo's automated mechanical gearbox, Mack's mDrive has 12 forward gears that change smoothly and appropriately. It's got an automated clutch so all the driver has to do is steer, step on the accelerator or brake, and enjoy several assist features as he stops, starts and motors down the road.

But mDrive is not a relabeled I-Shift, insisted Dave McKenna, Mack's director of powertrain sales and service, during a visit to Greensboro, N.C., where the two companies' headquarters are next-door neighbors. Yes, mDrive's basic mechanics come from Sweden, but its electronic controls have been carefully programmed to work with the horsepower and torque curves unique to Mack's MP7 and MP8 diesels.

Furthermore, MP (for Mack Power) engines are not just repainted Volvo diesels, even if both product lines are made in the same plant in Hagerstown, Md., McKenna explained. MPs are programmed to produce power and torque with characteristics peculiar to three tuning types: Econodyne, Maxidyne and Maxicruise.

"It took programmers writing code for hundreds of hours to make the transmission work with the engines' controls," McKenna said so earnestly that I didn't have the heart to call the mDrive a reprogrammed you-know-what. If it is, it's been reprogrammed four times, because that's the number of shift modes customers can choose from, and that's a lot of computer code available only from Mack.

On the road

Some of this was imparted to me while under way in a candy-apple-red Pinnacle Axle-Back tractor McKenna lined up for this test drive. Dave Troupe, an engineering technician, had parked it at the headquarters, all ready to go with a 48-foot van ballasted so the rig weighed close to the 80,000-pound limit, including the three of us in the cab. They directed me out the lot and onto a frontage road that parallels Interstate 40 (which, as almost every trucker in the Southeast knows, runs right past Mack's and Volvo's houses.)

Right out of the lot I sensed that the mDrive in this tractor had a leisurely way of doing things. That's because it had the Economy mode,which upshifted at low rpm - usually 1,400 in most gears - just like drivers are supposed to do, especially in lower gears. This is akin to "progressive shifting," where you upshift at very low rpm in lower gears because you don't need much power there. Then you rev the engine progressively higher as you move upward in gears and road speed, where you need more horses.

The mDrive also skip-shifted a lot, going from 1st to 3rd to 5th and so on. More often it started out in 3rd or 4th and skipped one or more gears each time if the pavement was level and my foot was light on the pedal. The automated clutch engaged more smoothly than I could've done it, which made the higher-gear starts possible. A readout on the dash told me what gear it was in, otherwise I probably wouldn't have known - the tranny is that smooth.

As we headed west on I-40, then swung north on U.S. 52 toward Fancy Gap and Mount Airy, I noticed that the tranny didn't downshift much. "It's programmed to downshift below 1,100 rpm, which is where the torque peak is," McKenna explained. "This can save a significant amount of fuel" over more performance-oriented shift schedules that use higher, more thirsty revs.

At first I more or less went with the program. The 13-liter Econodyne engine just plugged away on a 4 or 5-percent upgrade, and we'd top a hill at maybe 40 mph. The engine was so quiet that I wondered if it really was working, but not many other big rigs were passing us, and when they did they weren't by any means blowing our doors off.

"Yeah, but you need rpms for performance," I said smugly, and promptly punched the "Perf" button on the tranny selector. This caused a downshift and about 300 more revs, and then the rig would top a hill at 45 or so. Perf would hold for about a minute, then its indicator light would switch off and the controls would revert to Economy. In production models, however, it will stay in Perf until the ignition is switched off or the driver turns off Perf by punching it a second time.

The transmission also can be downshifted without taking your hands off the wheel by pushing the accelerator pedal toward the floor until a detent is felt. Then, if a lower gear won't overspeed the engine, the tranny will go down a step and revs will climb, sort of like "passing gear" in an old Ford-O-Matic or Chevy Powerglide. This is called MackCelerator, a clever name that McKenna coined. But stomping on the pedal strikes me as extreme, so I preferred the Perf button.

For guys who consistently want to make some time, there's the Performance mode, also for Econodyne engines, which has shift points about 200 rpm higher and might be better for rolling terrain, McKenna said. What it does is duplicated by the Economy mode's Perf button, but of course you don't have to punch the button. Like the Economy mode, Performance mode can be matched with an Econodyne engine. There's also a Performance mode for Maxicruise engines, which raises shift points 150 rpm over Economy.

The fourth mode is Easy Shift, also called Comfort Shift, which shifts slowly and smoothly, and emphasizes skip-shifting. It can be had with Econodyne or Maxicruise engines. Comfort Shift was first developed by Volvo in Europe for motor coaches, so passengers aren't pushed fore and aft "like bobble heads," McKenna explained.

"It's almost like a CVT," a continuously variable transmission, in how it behaves, he said. In a Mack, Comfort Shift will be good for haulers of cargoes like livestock (which also don't like being pushed around), and bulk liquids in smooth-bore tanks, which can surge up and back and make life too interesting for a driver.

Initially, mDrive won't be available for Maxidyne engines in vocational trucks, McKenna said. That'll come later, when enough on-road mDrives are in service to be sure they're working as designed. Mack's allotment of mDrives is sold out for the rest of 2010, even though there's not been much marketing of this product. Mack also offers Allison's full automatics, and Eaton's UltraShift - but not the smoother working UltraShift Plus, which is closer to direct competition for mDrive.

A feature on our test tranny was Econo Roll, which made it freewheel under certain no-power situations. This startled me the first couple of times it occurred. Suddenly the engine dropped to idle and it felt like we were out of gear and possibly out of control, even though we weren't. Technically the tranny's rear box was disengaged but its main box was still in gear, so it's legal. A touch on the accelerator or brake pedal immediately re-engaged it and revs rose again. It can save some fuel, but I'm not the only one who thinks it's disconcerting, so Econo Roll won't be on production models.

One feature that is being included is Grade Gripper, which works with the anti-lock braking system to apply the service brakes while the rig is sitting on a hill. Stepping on the accelerator releases the brakes and the rig moves out. It's a definite convenience, and one that'd be even more useful on trucks or tractors with manual transmissions.

The Truck

This quiet and comfortable Pinnacle tractor's diesel was 2010-legal, with the selective catalytic reduction system Mack calls Clear Tech, signifying the color of its exhaust. Aftertreatment equipment is stacked on the right side of the frame, under the cab. Like other 2010-spec diesels (and '07s, for that matter), there's no odor, either.

The tractor also had Bendix-made Adaptive Cruise Control, which alters road speed to match that of traffic just ahead. It'll beep warnings if its radar-fed brain thinks you're getting too close to the next vehicle, and apply the service brakes if you don't slow down
Sours: https://www.truckinginfo.com/150685/test-drive-macks-mdrive-programmed-for-bulldog-shifting
You will also like:
The member whined tensely, demanding the beloved female body, and the girl's hands once again rebuffed my desire. She allowed herself to kiss the nipples, touch her pussy below, which instantly became covered with moisture, but did not let me go further. Maya, - I again began to explain my to her. - I really want to.
Understand, Sasha.
1435
1436
1437
1438
1439