Animal Crossing New Horizons QR Codes and Custom Designs: Download NookLink, open Able Sisters
While Animal Crossing: New Horizons comes preloaded with a huge choice of beautiful clothes, you can use Custom Designs to build a look that truly reflects your individuality.
Using QR codes you can download the best creations from around the world through the magic of black-and-white squares: including fresh clothes, fun flags, and even special fabrics and floors that are easy to add to your island home.
Or you can flex your own creativity and don your own custom designs featuring your snazziest motifs, as well as sharing them with the world using the Custom Design Kiosk: once you make friends with the Able Sisters and open their shop, you'll be able to input alphanumeric codes to share and download brand new custom designs too.
Below you'll find the basics of how to get started with custom designs, including instructions on how to download NookLink; how to open up the Able Sisters' Shop; and how to use the Custom Design Kiosk to download others' creations and upload your own. Then, read on for our picks of the best custom designs in ACNH.
Animal Crossing: New Horizons QR Codes - How to download NookLink
Before you can get started with QR Codes, you'll need a smart device with access to either the Apple App Store or the Google Play Store. This can be a smartphone or tablet.
Also, to get NookLink and scan Animal Crossing New Horizons QR Codes on your Nintendo Switch, you will need to pay for the premium Nintendo Switch Online service. It costs £18, 20€, or $20 for a full year for a single account - or £31.49, 35€, or $35 for a family pass of 8 accounts.
It can be purchased from the official Nintendo site, here. Yes, it's not ideal, but Tom Nook's fabulous Hawaiian shirts don't pay for themselves.
Don't make the mistake of just searching "NookLink" in your app store of choice. To download and scan Animal Crossing: New Horizons QR codes, you need to first download the "Nintendo Switch Online" App.
It's picture is the Nintendo Switch logo of two Joy-Cons with "Online" underneath.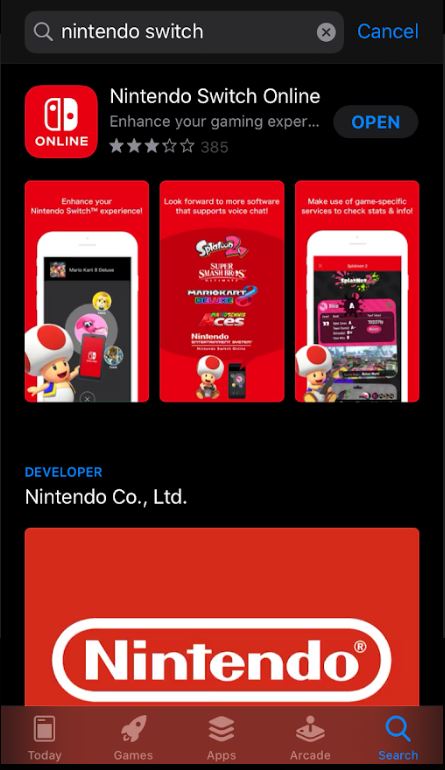 Once you've downloaded the app onto your device, you need to sign in with the Nintendo account you have linked to the console you play Animal Crossing on.
Now, open the app and you should see Animal Crossing: New Horizons as a "Game-specific Service".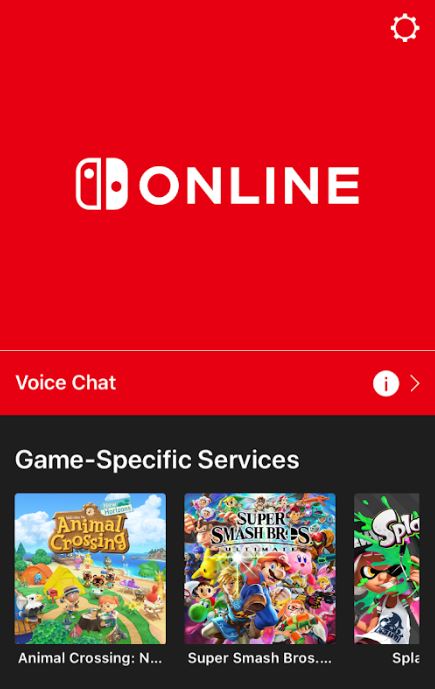 Next, you need to prepare Animal Crossing on your Switch console. Open Animal Crossing: New Horizons on your Switch, then press "-" (minus) on the title screen.
This opens the settings menu, where you'll be able to enable NookLink in the NookLink settings.
With your smart device and console linked, you will now be able to transfer items generated by Animal Crossing: New Horizons QR codes between the two.
Go into your New Horizons game and you will be able to use the "Custom Designs" app on your Nookphone. To unlock the Pro part of the app - which lets you put designs on clothes other than tank tops - you need to visit the Nook Stop at Residential Services and unlock it with 800 Nook Miles.
Animal Crossing: New Horizons Custom Designs - How to open the Able Sisters' Shop
After a few days on your Animal Crossing: New Horizons island, you will be able to upload your own custom designs once you gain access to the Able Sisters' shop. They'll give you your creator code and access to the online portion where you can generate codes for your own designs.
QR Codes are for patterns generated by older Animal Crossing Games. If you make a new design in Animal Crossing: New Horizons, you receive an alphanumeric code that you can input at the Able Sisters' shop to get an item.
To open the Able Sisters' shop, you first need to speak to Mable when she visits your town plaza selling clothes. Spend bells on the designs she has available, and after a couple of visits she'll see the opportunity to open a full tailor's shop.
Once you've opened the Able Sisters' shop, remember to speak to Sable as well as Mable every single day. She'll be prickly at first, be eventually tell you more about her backstory and give you custom designs of her own.
How to use the Animal Crossing: New Horizons Custom Designs Kiosk
A couple of days after you've picked out a spot for the shop, it will open. Inside, head over to the back wall of the shop and you'll find a computer kiosk.
Interact with the Kiosk and you will be able to connect to the internet. With a Nintendo Online subscription, you will be able to search for custom designs either with a creator code or item code - as well as share you own designs.
Where to find the best Animal Crossing: New Horizons Custom Designs and QR Codes
As for where you can find cool QR and code items for yourself, the best places to look are the online communities of Animal Crossing: New Horizons players.
These include the ACQR subreddit (link), and searching "Animal Crossing QR Codes" on Twitter (link).
Alternatively, you can create your own QR codes by uploading jpegs to ACToolKit (linked).
In these places you'll find fabric, tops, dresses, shorts, hats, and prints, all emblazoned with absolutely anything you can think of.
There are cute, fashionable clothing designs, cosplays of your favorite characters, but most of all: memes. Memes as far as the eye can see.
For flat prints, you will only need one QR code. But if the design is stretched out over a 3-d object like a t-shirt, then you will need 4 QR codes to catch each side. Otherwise, just input the code at the Able Sisters for freshly created patterns.
Below are a few of our favourites we've seen so far.
The Best Animal Crossing: New Horizons Custom Designs: Theme Your Island For Winter
Winter is well and truly here in Animal Crossing: New Horizons (assuming you're playing in the northern hemisphere). Here are just a few of our favourite seasonal designs.
Isabelle's sweater:
But for anyone else who suffered major pangs of envy when Isabelle donned her gorgeous cold-weather sweater, help is at hand thanks to Twitter user @llymiint:
Snowy path
For anyone who'd like their snow-covered island to look a little more natural this winter, u/moonlitt_ has created this path design:
Christmas clothing
There's no shortage of Christmas clothing available in the game, but that hasn't stopped ACNH creatives from introducing their own unique designs to compete with what the Able Sisters offer, such as this series of designs uploaded by u/petit_chou_:
Christmas in summer
This collaborative effort between half a dozen users, uploaded under the u/ACNH_SKdesigns account, might prove especially popular with players in the southern hemisphere: a collection of Christmas and New Year holiday-themed clothing that's nevertheless suited to warmer weather.
Ugly sweaters (with a gaming theme)
Fandom-themed ugly sweaters have been a hot ticket item for real-life geeks over the past couple of Christmases. Bring that same energy to your ACNH avatar with these Nintendo-inspired designs uploaded by u/heartphilialive:
Cat hoodies
If you're a fan of cute cats, comfortable clothing, and Christmas cheer (and since you're an ACNH player it's a fair bet you're at least one of the three), this series of cat hoodies and holiday sweaters uploaded by u/interrobang__ may just be the custom design you didn't know you needed:
The Best Animal Crossing: New Horizons Custom Designs: Timeless Designs for All Year Round
No matter what the time of year, these custom designs will get you well on your way to making your island that little more personalised, from cosplaying as your favourite fictional characters to livening things up with a few more varied designs.
Link's Breath of the Wild Tunic:
Uploaded by u/Zilto1d
Distressed cobblestone paving:
Uploaded by quadepresso, by spookykitty666
Baby Yoda:
This season of the Mandolorian might be over, but we all still love Baby Yoda.
To see this content please enable targeting cookies.
Destiny jackets:
https://twitter.com/cupnoodleration/status/1241579206946852864
North Face jackets:
Uploaded by goobyofpls
A cute leopard print sweater:
Uploaded by u/catgirrl
A top-tier My Neighbour Totoro hoodie:
Uploaded by u/milkytf94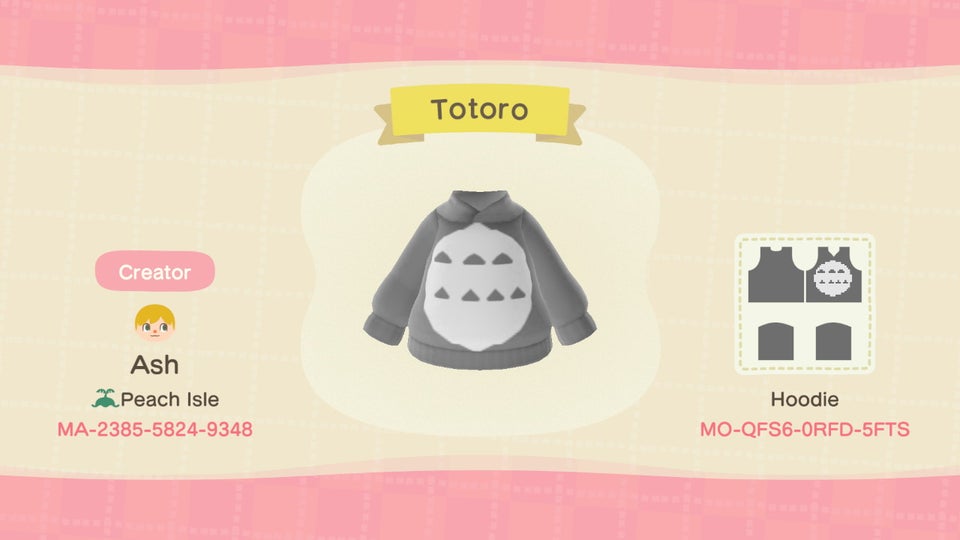 Ash's hat and jacket from the Pokemon anime:
Uploaded by Poiosaurio
A Team Aqua outfit from Pokemon Ruby and Sapphire:
Adidas Sportswear:
Uploaded by Hotbunsinyourarea (codes linked here)
Matt Smith-era Doctor Who outfit:
Naruto Headband:
Uploaded by Mouse-flavored
Star Trek: Deep Space Nine uniform shirts:
Uploaded by u/valgal9697
For even more designs, there's this video from NerdAttack! floating of 500 Animal Crossing QR codes, featuring the likes of Assassin's Creed, Persona, Marvel and DC superheroes, and many more, so you can fill your island to your heart's content!
Here's an alternative video for if you'd prefer a showcase of items you can download with Able Sisters codes rather than just QR:
And finally, here's a showcase of cheeky items that are a little more 'out there'. Don't get into trouble downloading some of these!
For more information, check out our full page of Animal Crossing: New Horizons guides.
Sours: https://www.vg247.com/animal-crossing-new-horizons-qr-codes-custom-designs-nooklink-able-sisters
Naruto Fan Brings the Leaf Village to Animal Crossing: New Horizons
When it comes to Animal Crossing: New Horizons, fans have gotten real creative with their homes. The game has drawn in anime fans from day one thanks to all its customization options, so there are scores of anime outfits out there for fans to nab. But thanks to one gamer, the home village of Naruto Uzumaki has made its way to the beloved Nintendo Switch title.
Over on Reddit, thee user Xnd991 decided to share their Naruto-theme island to the world at last. The gamer has sunk serious time into bring the Hidden Leaf Village to life in Animal Crossing: New Horizons, and they went so far as to join the Akatsuki to finish construction.
As you can see below, the still shared by Xnd991 is impressive on all fronts. The island is filled with ramshackle houses posted by power lines, street goods, and tin roofs. An array of characters can be seen in the island as the players controls guys like Itachi Uchiha, Naruto Uzumaki, and more.
Just finished my Naruto themed island in Animal crossing thought I'd share some of my favourite photos here from r/Naruto
Of course, great care was put into the village's waterfronts and rivers. Naruto fans can find bridges and stands around those areas, and some giant face sculptures were put into place to mimic the Hokage Mountain. The fan even managed to create designs for Kakashi as well as a mysterious ANBU ninja, so it goes without saying that we are impressed.
If you want to check out this village in a dream, Xnd991 shared their Animal Crossing dream code with fans on Reddit. "It's DA-3778-5749-2813 if you want to visit! See you there as a fellow shinobi.... It's still a work in progress as I'll be updating areas overtime but I'm glad you liked it."
0comments
What do you make of this impressive island makeover? Which anime would you bring into your Animal Crossing sanctuary? Let me know in the comments or hit me up on Twitter @MeganPetersCB to talk all things comics and anime!
Sours: https://comicbook.com/anime/news/naruto-anime-hidden-leaf-animal-crossing-new-horizons/
18 anime-themed Animal Crossing costumes for you to wear right now
As your Animal Crossing: New Horizons adventure continues, your escape from the real world could be greatly enhanced by cosplaying as your favorite anime characters. Attires from Jojo's Bizarre Adventure always feel like they're redefining chic. Meanwhile, Naruto and Dragon Ball Z characters have a classical sense of cool to their looks.
Don't you want your clothing to be timelessly cool? If you do, check out 18 costumeQR codes featuring stylish looks from Naruto, Jojo, and Dragon Ball Z.
If you want to obtain a costume listed here, all you need is a cell phone with the Nintendo Switch Online app. There's a bit of special set-up process involved, but thankfully we have a whole guide focused on how to use QR codes in New Horizons using the somewhat complicated NookLink QR code scanner that converts the designs and places them into your game.
Once you have all of that good to go, use one or all of the following QR codes to obtain your own anime attire.
Jojo's Bizarre Adventure QR code costumes for Animal Crossing: New Horizons
While you can't possibly hope to replicate the innate swagger of the Jojo cast, you can certainly try. Jojo features a superbly masculine, yet effeminate cast each with an array of poses, personality quirks, and distinct looks. We've rounded up six objectively perfect costumes from Jojo's Bizarre Adventure. Wear them to finally have some clothing worth your Giorno's theme town tune.
Joseph Joestar (Battle Tendency era)
Caesar Zeppeli
Jotaro Kujo (Stardust Crusaders era)
Jotaro Kujo (Stone Ocean era)
Josuke Higashikata (Diamonds Are Unbreakable era)
Giorno Giovanna (Golden Wind era)
Naruto QR code costumes for Animal Crossing: New Horizons
If you want to call yourself a ninja, while replacing all the stealth with flashy outfits and flashier techniques then you should certainly take a look at this wondrous attire from Naruto. You can replicate the looks of all your favorite Konoha-based Ninja like Naruto, Sakura, Sasuke, and Kakashi. You can even look like the star-studded fan-favorite criminals from the Akatsuki. All you need to do is scroll down to find the QR code that's right for you. We've got six to choose from.
Naruto (pre-timeskip)
Naruto (post-timeskip)
Sasuke (pre-timeskip)
Sakura (post-timeskip)
Kakashi
Akatsuki robe
Dragon Ball Z QR code costumes for Animal Crossing: New Horizons
There's a fair chance that you got into anime during the '90s via an anime-themed block called Toonami. If that's the case, take up more space in your heart than the trials and tribulations of Goku, Vegeta, and the other Z Warriors on Dragon Ball Z. Who wouldn't want to fly through the sky, firing energy beams every which way? If that sounds like you, then you can pretend to achieve such things with six Dragon Ball Z-themed costumes based on your favorite characters.
Goku (Dragon Ball Z)
Vegeta (Cell Saga)
Vegeta (Trunks Saga)
Bulma (Frieza Saga)
Future Trunks (Cell Saga)
Kid Gohan (Saiyan Saga)
If you're still hanking for more Animal Crossing anime looks, check out our curated selection of Sailor Moon QR code costumes. For something more intergalactic, see if any Star Wars QR codes catch your eye.
Sours: https://www.inverse.com/gaming/animal-crossing-designs-qr-codes-jojo-dbz-naruto
Animal Crossing: New Horizons - Codes For Naruto Outfits
Animal Crossing: New Horizons has tons of designs available for players to download, based on a number of properties. And, thanks to Nintendo Enthusiast, more has been added to Animal Crossing: New Horizons in the vein of anime properties, including the likes of Naruto.
Twitter user @bovimier posted their many Animal Crossing: New Horizons outfits based on Naruto to Twitter, along with the appropriate codes.
RELATED: Animal Crossing: New Horizons – Codes For Sailor Moon Outfits
The various outfits can be seen below.
Naruto Variations
The show and manga's titular character received a few designs. They include everything from Young Naruto to Sage Naruto.
The Sannin
Team Sasuke
They also posted some outfits belonging to series rival Sasuke. The designs include three iterations of Teen Sasuke, as well as Young Sasuke.
Just to show some of them in use by a villager, here are some images below.
All in all, the outfits are fairly detailed and highly accurate. Even the villager shown at the bottom is appropriately designed, with the trademark whiskers and messy blonde hair.
Yet, the number of design codes in Animal Crossing: New Horizons is not limited to the Naruto anime and manga. There are also design codes related to other properties as well.
In terms of other Nintendo titles, there have been design codes for Fire Emblem designs, as well as Super Mario, The Legend of Zelda, and Pokémon.
The other design codes aren't limited to Nintendo series, however. Other video game franchises have received their time in the spotlight via Animal Crossing: New Horizons' design codes. For instance, a number of Final Fantasy games have influenced numerous outfit designs. Outfits in everything from Final Fantasy VII to Final Fantasy VII Remake have been replicated within Animal Crossing: New Horizons.
Even other anime properties like Dragon Ball Z have inspired multiple designs in Animal Crossing: New Horizons.
The level of detail and care that some creators put into Animal Crossing: New Horizons designs is impressive. The Naruto designs above put that on full display and show the expertise of Animal Crossing: New Horizons fashionistas, as well as the dedication that players of New Horizons have to a variety of non-Animal Crossing franchises.
NEXT: The 10 Weakest Kanto Pokémon, Ranked
Source: Nintendo Enthusiast
ShareTweetEmail
Ubisoft Postpones Ghost Recon Frontline's Closed Test
Ubisoft's Frontline announcement didn't go too well, and now it's postponing its closed testing.
Read Next
About The Author
Brandon McIntyre (549 Articles Published)
Brandon McIntyre is a writer and avid gamer from Albuquerque, New Mexico. He considers himself an expert on breakfast burritos and always enjoys a coffeeshop.
More From Brandon McIntyre
Sours: https://www.thegamer.com/animal-crossing-naruto-outfit-codes/
Crossing naruto flag animal
She will not play undress, my husband said. You, why, are you refusing us ?, asked one. Well, give him a bream - said Arthur and the first one punched him on the head with his palm, from which all laughed together, including. My husband. Guys, well, really, its not necessary, its not good, said the spouse Apparently the guys got tired of his nagging and one of his friends got up and hit him in the.
Animal Crossing but it's Naruto
The guy stopped fucking my wife got up and went up to the guys and began to talk to them. Svetka was lying on the bed with her eyes closed and legs apart. The guys quickly talked and began to undress another continuation, I did not expect when a gorgeous chick lies in front of you, you need to act, the guys surrounded.
Similar news:
Vlad and Lena were supposed to get married upon arrival from vacation. He was 24, she was 18. They met at a disco, a year ago, and became lovers the same evening. He was fascinated, shocked and just obsessed with her. A beautiful blonde with a stunning figure of a fashion model, while insatiable in bed.
3945
3946
3947
3948
3949