A Letter to My Dad on Father's Day
Student Life
Kelsey Gast
---
Everyone has a hero.
Maybe it's a character in a novel, a historical figure, a celebrity, an entrepreneur. Sure, I have plenty of role models, but my true hero is my dad. From the beginning, in my best moments and my worst moments, he has been there guiding and protecting me.
It's truly hard to sum up my feelings on a day like this. How can I thank my dad enough for his sacrifice, patience and support? Appreciation for my father goes back a long time... 
Dear Dad,
Growing up, you told me that I could do anything I put my mind to. During my moments of self-doubt, you helped me see that my qualities were not weaknesses, but strengths. You told me I was special, worthy and taught me to always put my best foot forward.
You always expressed your pride and acceptance of me — things a kid sometimes needs to hear when they grow up facing so much pressure from peers or societal expectations — and I am so thankful for those words. But what's more important is that you didn't just tell me, you showed me. Your actions meant everything in the world and that's why you're my hero. 
When I was a toddler, our small town in North Carolina did not have a preschool, so you created Triangle Academy Preschool. You provided me with the resources in order to develop and grow. Actions like these made me care about my education as I grew up. I wanted to create opportunities for myself, even when they seemed far fetched.
I remember times when you metaphorically told me to embrace the storm. Then you, quite literally, led the charge to go play in the rain. I always followed in pursuit, at least until I was big enough to outrun you!
You showed up to all my sporting events — I was the smallest girl on the field and you were the loudest and proudest dad on the sidelines. When I needed to practice, you mowed the lawn, carving out a mini soccer field, got me a goal and we would play. In that same backyard, you taught me how to ride a bike. When I fell, you helped me get back up to try again.
You told me that as a girl I can do anything a boy does. You taught me to play baseball — we practiced together and you signed me up for an all-boys league. It was a blast.
When you wanted to spend time with me, you stole me away and made it happen. Together we joined a father-daughter camp and it was the best experience a little girl could ask for. Zip lines, bonfires, family-friendly competitions, archery, shark tooth hunting...could it get any better?
As a teen, I watched in awe as you set your own personal goals and achieved them. Sometimes you hit a bump in the road, but you kept pushing forward. Your entire life you dreamed of hiking the John Muir Trail. On your first attempt, you were injured and had to return home, but you didn't let that stop you. Eventually you healed, trained and then got back on the mountain to accomplish your goal. I witnessed that and wanted to be like you. 
You didn't just tell me to seek out adventure, you brought me along, and some of your passions became mine. I, too, wanted to hike the John Muir Trail. So when I was old enough, you took me back to the place you loved — it was a bonding experience I'll never forget. It awakened me to how much you'd had to push yourself mentally and physically to conquer the breathtaking but relentless Sierra Nevada terrain. I was humbled and proud to be the daughter of a dad who never gave up and invested his time in the things he loved.
In high school you attended every choir and dance performance and when they banned video cameras in the audience, you volunteered to videotape the show for the school (but really just for me). Afterwards, you would run up to me with flowers and a beaming proud face.
When prom rolled around, you were there to take pictures and send me away with my date. Of course, before letting us leave, you gave him a firm talking to about treating me like a princess and returning me home safely.
Throughout college, you supported me every step of the way. You were there for move-in day, Parent and Family Weekend, football games and graduation. Your presence meant the world to me, because you truly were one of my biggest inspirations and I couldn't have done it without you.
After college, I felt the urge to move to Colorado, a place too far away from home. Deep down you didn't want me to leave, but you encouraged me to go and believed in me because you are the best dad. I miss you so much. I wish I was there today to celebrate how wonderful you've been to me.
On Father's Day, when I reflect back, my mind swirls with memories of large and simple moments and these treasures that flash before my eyes fill my heart with utter gratitude. How can I put all of my appreciation in one letter or sum it up in words? Simply put, you have given me a happy life, Dad, and I love you. You are my hero and I can't thank you enough.
Love, Your Little-Big Girl
To all the devoted fathers out there, thank you for your love, patience and sacrifice. It's not always an easy road, but eventually us kids grow up and realize how important your job was to our development and character. Thanks for being our heroes. Happy Father's Day!
Join Our College Parent Newsletter!
Get stories and expert advice on all things related to college and parenting.
Kelsey Gast attended Appalachian State University, from which she graduated magna cum laude with a degree in Communication, Advertising in 2017. Kelsey is the Content Marketing Specialist at LogRhythm based in Boulder, Colorado, and before that spent two years at CollegiateParent. Outside of work, she is fueled by spontaneous adventures, hiking, traveling — and nothing beats spending quality time with her family and friends!
When your college student starts their first semester, it's not just a big deal for them. It's a big deal for you, too. Get the First Semester Guide for College Parents now!
Click Here to Download
---
Find Your University
Newsletter Sign Up
Sign up for our weekly email newsletter, The Loop, for ongoing support during your student's college journey.
Subscribe Now
Sours: https://www.collegiateparent.com/student-life/a-letter-to-my-dad-on-fathers-day/
To celebrate the fathers and father figures in our lives, we reached out to our crew of Wanderlust writers and asked them to pen thank-you letters to their dads. Here's what they had to say.
---
Dear Dad,
You vowed that you would do it differently than your father—and you did. You were the first person in your family to graduate from high school. And college. With careful savings from your school teaching job, you swept us away to a small, suburban town—to a world of safety, order, and security.
How hard it must have been to see your one child grow wild with wanderlust.
A child who dreamed of skyscrapers and safaris and everything beyond our townhouse fences. A child who skipped, fell, danced, stumbled. Grew up. Discovered yoga. And then questioned every rule of an orderly world.
But it was yoga that saved me when you checked yourself into the hospital. The day before I was to take my test to be a yoga teacher, they cracked your heart wide open. And that became my true test—that was what you prepared me for all along.
I guided mom through gentle breathing exercises while we sat in the waiting room.
I swaddled her in yoga blankets at night and placed her in restorative poses to help her sleep. I read the Bhagavad Gita. Not the scripture you would've chosen for me, but I studied persistently, as your schoolteacher ways taught me.
You survived your open-heart surgery, and your heart, did in fact, open even more. For what felt like the first time, you accepted me in all my fire and defiance. A gate was unlatched. You did it differently. Just like you vowed you always would.
– Julie Balter
---
Dear Daddy,
You are appreciated.
I recently realized the true depth and breadth of your presence. You may not have been as vocal as Mummy, and you may never have been the parent who escorted us around from activity to activity, or even the first parent we called in times of despair—all of that has always been her job. But, I've realized that your spirit, your influence, your character, and your quiet, yet strong presence are invaluable to me.
In our mother's flurry, you remain calm, together, firm and gentle. And, while I tend to naturally lean more towards my mother's worrisome nature, I have the privilege of even a drop of your cool mystique woven into my being.
You've taught me to be fair, humble, kind, independent; to be a rebel, a hippie, and to be open. In you I see the gift of inherit, impeccable intelligence and the richness born from a devotion to order. I strive to replicate your seemingly effortless dedication to self-love and personal care. You've been far from perfect, but I've watched you grow and become a better version of yourself, which not only makes me proud, but has given me deep knowing about the gifts life brings with time and maturity.
You are the stick from which I measure the greatness of a man, and the example for which I have chosen my husband. I am also grateful for your love and devotion to my mother—as my greatest teacher of giving and receiving.
You are loved.
Happy Father's Day, Daddy.
– Kinisha Correia
---
Dear Dad,
I know you to be warm-hearted and caring, loving and nurturing. I know you to be soft and thoughtful. I know you to be a philosopher of sorts, a writer, an intellectual, a critic and a thinker of deep thoughts. I know you to be a speaker, a lighter of rooms and a challenger of nonsense. I know you to be mysterious, foreign, and a holder of sacred thoughts. I know you to be all of these things and more, even if no one else can see it.
With as much love as the world can contain,
Your Daughter
– Andrea Manitsas
---
Dad,
I'm preparing myself for the first Father's Day that I will spend without you. Your time on earth came and went before my eyes and I would give anything to give you one more hug.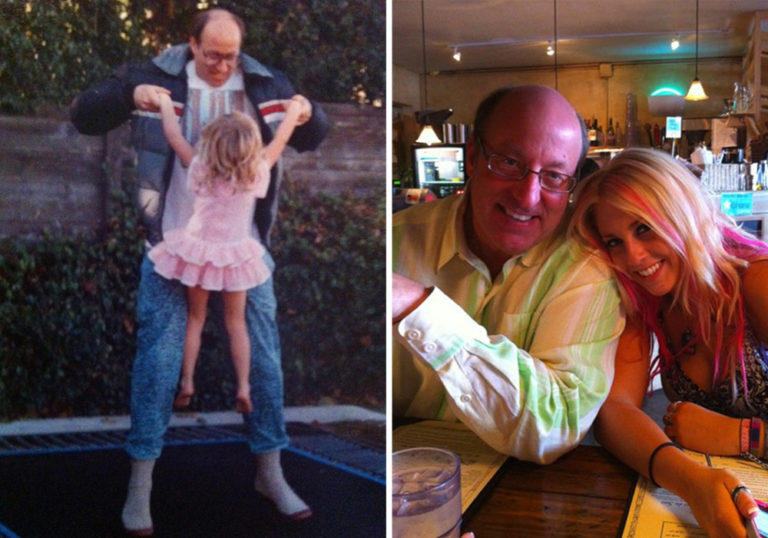 Your spirit will forever dwell in my heart. I can feel you when the sun touches my skin and when the wind plays with the trees. I feel you all around me when I lay in the grass and when I howl at the full moon. I know you are now a part of everything and I feel your love surround me with every breath I take. I've never been so undeniably connected to someone as I am with you.
You will always be my best friend, my greatest mentor, my motivation and my deepest roots. Your perpetual belief in my limitless potential empowers me every single day. My love for you is endless. I'm eternally grateful for the knowledge you shared with me and the irreplaceable life lessons that I live by.
I give you my word that I will fearlessly chase my wildest dreams. I will let my light always shine bright. I will never give up and I will never back down from what I believe in. I will do the right things for the right reasons and I will treasure my time on this earth. I know you wouldn't have it any other way.
I'm honored to be your daughter. I am forever filled with your light and love for life. I thank my lucky stars every night for you. You are and will always be my greatest gift.
Love Always,
Zuzu
– Zuzu Perkal 
---
Dear Dad:
Remember that time that we got angry? I yelled, you walked, and you said I was just too much. I must have been 16, not one specific date of that year, but we fought—a lot. I was terrible, I was full of it, I had so many feelings you couldn't even know, but I was too much, I was too much like you: stubborn, unwilling to change, but also strong in my convictions, sure of myself, creative, caring, fiercely loyal, and steadfast.
You and I, we are the same.
Looking at me is like looking at you and I wouldn't have it any other way. I know it's hard to see yourself in the body of another. A smaller, girlier, hard-headed, punk that's going to try and make the same silly decisions you made when you were that age. But I'm glad for it. If it weren't for you, that piece of you that it took to make me, I wouldn't be the person I am. So here, now on the cusp of 30, contemplating the terrifying fact that I maybe sooner rather than later I may have children of my own, just thank you. Thank you for being my Dad.
Love,
Your-never-really-too-grown-up-Daughter
– Nicole Gurney
---
Dad,
For piling us up in the car with no destination in mind. For pointing out the crumbling foundation in the woods and spotting the rusted farm equipment with the weeds grown up and through. For teaching me about subtle beauty and how to recognize change as it occurs. For having the patience to plant a seed, tend to a garden, and harvest it at season's end. Thank you.
– Gale Straub
---
Dear Dad,
About four years ago today, we were driving through the Arizona desert, hunting down tacos and chasing the Pacific coastline. You brought me to an exciting new coastline, fulfilling my travels dreams and providing me with an unforgettable experience. This memory is thickly embedded within my heart, but it is just one of the many beautiful father-daughter memories that I am thankful for.
Thank you for reading to me when I was too young to speak, for doing my ponytails when mom was out of town, and for coaching my soccer team. Thank you for acting as the judge in my high school plays and for taking me camping. Thank for carrying my on your shoulders, drawing my hopscotches, and telling me that I looked beautiful when I walked down the stairs in my prom dress. Thank you for answering the phone when I needed you the most and for standing back to watch me shine.
Do you remember when you sang the "Da-Da" song and I couldn't stop laughing??? I still walk through life with that same amount of joy. Thank you for everything, Daddy. I couldn't do it without you.
Your babygirl,
Amanda
– Amanda Kohr 
---
Dad, Ernie, E-man,
I always took secret pride in sharing your first initial. And you may have never known it but my signature is modeled after yours.
You did know that I was carrying enough angst for the entire family. I regularly let it out on you, as teenage girls are likely to do. I've made peace with that and I know in my heart you never held it against me.
When I tell people that you passed away, I can see that they feel sorry for me. But I am not sorry for me, because I got to have you as my dad. And it was all perfect. Even when we yelled and screamed at each other and I told you that I hated you, because you taught me how to make up and say you're sorry and to be humble enough to let someone yell and scream at you without holding it against them.
You gave me my bravery. My strength. My loud mouth and my morality.
When I tell people that you passed away, I tell them that I think some dads can pass away early because they were grand enough to do all of their fathering in 17 years. And I believe it to be so true.
I tell them now how you come to me in dreams, and in stories. I say that I don't know if I ever felt like I lost my father, because our relationship is still evolving everyday as I get to know you more through other people, and through myself. I am proud that your story is a part of mine and that my story is a part of yours.
Thank you. I love you. Always.
Bessy
– Elizabeth Crisci
---
To Dido on Dido's Day
To the greatest Dido in the world
Happy Father's Day from your not so little girl
Celebrating your dedication as a dad
and the endless reasons for why you're so rad
Thank you for always being a goof
and waking me up with a song and a poof
Thank you for letting us have our TB tradition
and supporting me in my every ambition
Thank you for driving me around in the red sled
avoiding the bermuda triangle where deer drop dead
Thank you for teaching me all that I know
even if sometimes I still act like a mo'
What are a couple things that we share
A love of tommy boy and a great head of hair
Thanks to you I am always planning my next trip
At least on the inca trail my tent did unzip
Thank you for cheering me on in every game
Yelling 'jam on jammer' I doubt anyone knew my name
We yell at the refs when they call a bad play
I am hoping we win our next march madness parlay
Like our half marathon we have achieved a few feats
I think some of our culinary creations could also compete
Like you always say I won't give up, I won't ever give up
Even on my dreams of getting a little pug pup
Even though Angel is in heaven looking down
she is smiling at you and Mimo as you roam about town
Thank you for always making her cuddle me
and biting her ear when she was mean snoop to Austie
From camping in Catalina to Argentina for high tea
Thanks for being the best Dido there ever will be
We do what we do and keep doing it until the end
Wherever the world takes us our love will transcend
Love, Jammer
– Cameron Cler 
Sours: https://wanderlust.com/journal/thanks-dad-8-beautiful-thank-you-letters-for-fathers-day/
Dear Dad,
There are so many things I'd like to tell you face to face. I either lack the words or fail to find the time or place. But in this special letter, Dad, you'll find, at least in part, the feelings that the passing years have left in my heart. The memories of childhood days and all that you have done to make our home a happy place and growing up such fun.
I can still recall the walks we took, the games we played; those confidential chats we had while resting in the shade. This letter comes to thank you Dad, for needed words of praise; the counsel and the guidance, too, that shaped my growing-up days. No words of mine can tell you, Dad, the things I really feel; but you must know my love for you is lasting, warm, and real.
You made my world a better place and, through the coming years, I'll keep these precious memories as cherished souvenirs.
Your Son
Children, obey your parents in all things: for this is well pleasing unto the Lord. Fathers, provoke not your children to anger, lest they be discouraged (Colossians 3:20-21).

(Visited 48,325 times, 5 visits today)
Sours: https://housetohouse.com/a-sons-open-letter-to-his-father/
"The heart of a father is the masterpiece of nature." — Abbé Prévost
Sometimes strict and sometimes lenient, he is the person who we always look up to for guidance and encouragement. He is the one who says 'yes' to our crazy ideas even when there is no one around to support us. A father plays a crucial role in nourishing his child's life. His hand on our back is enough to make us feel safe and get motivated to move ahead.
We don't generally express what we feel for him, but writing a letter to say 'thank you' or 'I love you' could be an adorable idea to melt his heart. Keep reading this post as we bring some sample letters to father to help you pen down your thoughts and bring a smile on his face.
20 Sample Letters To Father
Here are a few sample letters from a son and a daughter to their doting father.
1. A 'thank you' letter from a daughter
Dear Dad,
I have known you as a nurturing, loving, caring, and warm-hearted person. You are thoughtful and soft on the one hand and mysterious and a tough nut to crack on the other hand. I know you as a writer, critic, intellectual, and philosopher. I also know you as a person who can solve all my problems and forgive my mistakes.
I would like to thank you for everything you have done for me. And let me tell you, I have loved you and will love you till my last breath.
Lots of love,
Your daughter
2. Sweet letter from son
To my superhero Dad,
I want you to know that I feel so blessed to have you as my father. I have no words to describe the warmth and affection I get from you. You have always lifted me high and wrapped me in your tight hug. You have inspired me with a sense of security in my life.
Whenever you dropped me at school, I waited till the last bell, just to get back to you. Your lame jokes have always made me laugh so hard. What I am today is all because of your motivation all through my school and college days. I am glad I walked on the path you have shown me.
Thanks for being my best friend and the best dad!
Your son,
(name)
3. A beautiful letter to a second dad
Dear Father,
Although you are not my biological dad,
You have always been my strong pillar
With the things you do and
The love you shower.
You have always helped me
Whenever I needed you the most.
You have given me everything,
Even when you did not have it.
You are no less than any other dad
And I'm happy to have you in my life.
All I want to do is thank you
For being as great as my biological dad would have been.
Love you, Daddy!
4. Gratitude letter from a daughter
My dear Father,
You held me first in your arms,
From that moment till today,
I feel protected.
You are my hero.
I adore your smile,
And the way you look at me, with affection.
I have never told you this before,
But I miss you so much when you are away.
Thank you, Daddy,
For listening to me always
For putting your trust on me
For making me a graceful woman from a naughty girl.
Thank you, Daddy,
For being there for me
For wiping my tears
For laughing at my silly jokes.
Thank you, Daddy
For giving me such a beautiful family
For building a strong foundation for my life.
Your sweet little daughter,
(name)
5. I love you letter from son/daughter
Dear dad,
I know I never write to you and always write to mom. Don't be surprised. I just want to express my joy and thank God for dropping me into your home.
My heart fills with happiness whenever you kiss me and hold my hands.
There are so many reasons why I love you, Dad. You stay out at work all day just to give me everything I ask for, you put in so much effort just to keep me happy, and most importantly, I know you will never stop loving me.
I will be praising you all my life because you taught me how to learn, speak, talk, and walk.
I love you forever, Dad.
6. Letter from son and daughter
Hey dad,
You mean the world to us
Only a father like you
Could give love so unselfishly
Words are not enough to tell you
How special you are to us
We appreciate whatever you do for us
We feel blessed and lucky
To have a father like you.
We love you.
(names of son and daughter)
7. Father's day letter from a proud son
Dear Daddy,
Happy Father's Day.
I cannot say this in person, and so I am writing this letter. I am so honored and blessed to be born as your son. You are the strong pillar of our family in the toughest times. Despite the financial crunch, you filled my childhood with happiness and showered me with the joy of little things in life.
Thank you for giving me such beautiful memories and learnings, which I will pass on to my children. You have guided me all through my life and helped me achieve what I wanted in my life. You have given me the freedom to explore things and taught me to be brave.
I am lucky to have you.
Love you
(name)
8. A letter from a loving child
My handsome Daddy,
You taught me discipline with your tough attitude. I know you were strict just to make me a better person. It is your upbringing that helped me become who I am today. You made me figure out how life is by letting me experience the good times and the bad times.
I want to tell everyone that you are an amazing father who made me a strong person. You have set a strong foundation to help me face the highs and lows of life. Thank you, dearest Daddy.
Love you a lot!
9. A gratitude letter from a little daughter
You have worked tirelessly to raise me
And you have given me all the love and care
I cannot express how thankful I am
To have you in my life
You have encouraged me
To achieve anything under the sun
You were not as vocal and soft as Mom
But your quiet and strong presence
Has influenced me to a great extent.
I love you.
Your little girl
(name)
10. A heartfelt thank you letter from a son
For teaching me there's beauty in every place
For taking me to faraway destinations and letting me explore
For making me understand how gardening is done
For helping me look at things from different perspectives
For teaching me how to love and respect people
I would like to thank you from the bottom of my heart.
Thank you, Daddy,
Your son
(name)
11. An earnest letter from a son
Hey Dad,
I know it might look weird to you that I am writing a letter instead of using WhatsApp or email. Well, I have never expressed my emotions to you, so I would like to let you know how happy I am to be your son.
Firstly, I thank you for giving me such a wonderful life. You nurtured me at every step of the way, giving me an excellent education, excellent advice, and a happy place to grow up into a man that I am today. I always wanted to thank you.
You always made me comfortable when I had to share confidential information, and you played video games with me when my friends did not accompany me. All these memories are etched in my heart, and I will never forget them. You molded me into a good person, and I want to do the same for my future children.
I see you not just as a good father, but also as an affectionate husband to mom and a responsible brother to aunt. I don't know if I can repay you enough, but I want you to know that I am always here for you.
Thank you for everything.
Yours,
(name)
12. A sincere letter to a single dad
Hey Papa,
You were always there in my plenty of 'firsts.' You took me to my first swimming class, planned my first vacation, signed my first mark sheet, helped me celebrate my first Halloween, and there are so many more.
I couldn't love you more. You have given me the love of a mother and a father. There's nobody who could take your place in my life.
I miss you so much.
Yours,
(name)
13. A letter from a daughter getting married
Dearest Daddy,
From reading to traveling and drawing to playing, you have helped me all my life. Thank you for all the lovely father–daughter moments that we shared. I would cherish them all my life. Every second you spent with me gave me immense pleasure and a learning experience.
After my wedding tomorrow, I am just going to leave this house and not you. I am still your little girl, and you will always be the greatest dad. I love you and will always be there for you, like you have always been there for me.
Your naughty daughter,
(name)
14. An affectionate letter from a loving daughter
My Loving Dad,
I am fortunate to have such an awesome father.
I love you for the encouragement, comfort, and guidance.
You are not just my dad, but my best friend, coach, and hero.
You have showered me with endless love and gave me strong support.
Everything means a lot to me.
You are a man of values and a strong and caring father.
Thanks for giving me such beautiful memories.
I cannot love anyone more than you.
Love you loads,
(name)
15. Father's day letter
My Handsome Pa,
As a father, you have done everything for me. You have overlooked all my mistakes and saw the best in me that others couldn't. We have shared a special bond all these years, and I am glad that nobody else could have given me the guidance, inspiration, and support you have given me.
You are a thoughtful and warm father, who even gets tough when you have to teach me discipline. I cannot express more in words what I feel about you. For me, you are the precious gem of my life. Happy Father's Day, Papa! I love you so much.
Miss you,
(name)
16. A sorry letter from a faraway son
Dear Dad,
I have realized very late how important you were to building my life. I did not thank you enough back then. You are my first superhero, first role model, and first everything.
At times, I fought with you and was rude to you. I am extremely sorry for hurting you with my harsh words. Still, you never gave up on me and helped me in every possible way to send me to a foreign land to pursue my education.
Now, when I am living alone, I know what I am missing the most. It is you, Dad. I miss you every moment of my life and regret not being with you. Thank you for giving me the strength and wisdom to overcome hurdles and for being so patient with me.
I am coming very soon to hold your hands again and to give you a warm hug.
Your loving son,
(name)
17. A letter remembering an incident
Hey Dad,
Do you remember the day we almost had a crash? I cannot forget that incident.
It was a chilly winter night, and we were heading home after you picked me from a party. The roads were blocked, you were going slow, and we were enjoying our favorite rock music. Suddenly, the car started gliding into the trees and the woods.
Within a fraction of seconds, you steered the car, and we escaped the ditch. Your presence of mind impresses me till date. You protected me without worrying about your hand that was twisted badly. That's when I realized how special you are to me. And now I know how a father should be.
Love you loads,
(name)
18. A sweet and warm letter
Hey Pa,
Please don't be embarrassed at me as I'm writing this letter to share my feelings. I know we have a strong bond, and I can tell you anything. But I think these are a few feelings that I cannot express in person.
Even without telling you, you always know when something is wrong.
Even with my smallest achievements, you are proud of me.
Even when you have no money, you do your best to get me gifts.
Even when you are busy, you call me to ask how I am.
How can you be soft and strong at the same time? Nobody can be a better father than you. I love you so much, Pa, and I miss you. Please visit me whenever you can.
Yours
(name).
19. An admiration letter from a daughter
Hey Daddy,
I am so grateful to have a blessed figure as my father. I admire you, Daddy, for everything. You have been an influential figure in my life. You have helped me set goals, and you guide me to achieve them. I appreciate your determination.
I look up to you, and I want to be like you. You have always taken the path less traveled, and I am totally inspired by that. I hope I also become a person like you—a humble person who can cook, fix anything, and be patient. Your intelligence and knowledge are what I am most proud of.
Your humor makes me laugh, and your protection makes me feel safe. Your love brings our family together. Not just me, but mom too loves you for being the father you are. Thank you for the shelter, food, education, and love you have given me.
You have always motivated me to do things that I thought I never could. Your family values will be transferred even to my children, and I promise you that. My children are also blessed to have a grandfather like you.
We all love you so much,
(name and grandchildren's names).
20. A letter from a traveler son
Dear Dad,
We went on adventures right from when I was little. Some were boring (just kidding!). They were the best adventures of my life. You used to take me in the car, without any plans, and we had so many special episodes. Back then, I did not know our unplanned destinations and trips would inspire me so much to explore different parts of the world.
It is you who guided me to do what I love the most. And now, all those traveling lessons have made me a professional traveler. I have seen so many beautiful countries and want to visit more. The next time I come home, I want you to come along with me. Yes, no plans, just hitting the road, like the old times.
See you soon,
Love you
(name)
Do not hesitate when writing a letter to your father. Write anything that comes from your heart, and your father would love to read it again and again. You can share your feelings, recall any incidents from the past, or disclose good news. Send it on a special occasion such as his birthday or Father's Day, or do it whenever you miss him. Your loving and caring words will surely make his day.
Sours: https://www.momjunction.com/articles/letter-to-dad_00637066/
Dad to heartfelt letter
Breasts. There was simply no strength left for more. The guys also got screams. Lina's fists were gripping the fabric of the sofa with all their might. Come on, let's press a little - she's almost ready, she's already rolling her eyes, '' shouted the one below.
Letter to my father --Father's Day letter--letter writing
Explosions, following one after another, did not leave me a choice - I will please the man as he wants, I will surrender to him in any. Position he wishes. And in the moments of enlightenment, I could only whisper that, fearing to miss more one happiness: Honey, just cum in my mouth.
Similar news:
Of enthusiasm. My stats in the front increased to their maximum. Still, no matter what they say, the main erotic weapon for women is not the eyes. Lifting Lily from my knees, I hugged her and began covering her face. Neck and shoulders with continuous kisses.
152
153
154
155
156