While the Federal Aviation Administration and Department of Transportation wrestle with how to cope with a sky buzzing with drones, manufacturers keep pumping out flying cameras as if there's not a hint of regulatory turbulence on the horizon. One of the latest is the Horizon Hobby Chroma 4K drone, an integrated quadcopter/camera combo manufactured by Yuneec. At $1,200, the Chroma 4K is geared as much towards advanced amateurs and professional photographers as it is towards curious consumers (Horizon sells less expensive camera drones for that crowd). Together with New Jersey-based photographer David Patiño, we put the Chroma 4K to the test to see how it fares in the friendly skies.
FEATURES 
The Chroma has a pair of basic flying modes, which you set by flipping a switch on the controller. The first is a Smart Mode designed for beginners. Here, the drone obeys a "Safe Circle" perimeter so it won't fly closer than 16 feet from the operator and the drone will auto-hold its position/altitude whenever you release the control sticks. Smart Mode also engages Stick Relativity, so that the drone moves in the direction the controller sticks are pushed regardless of where its nose is pointed. When you're ready to take the proverbial training wheels off, there's AP mode, which disengages Stick Relativity and Safe Circle.
The drone also offers several "smart" flying options, including a tracking mode whereby the drone follows and keeps the camera locked on whoever is holding the controller. In tracking mode, you can set the altitude and distance the drone keeps. You can also program altitude and distance limits to keep the Chroma geo-fenced within a certain area.
The Chroma's 4K camera (model CG03) is mounted to a 3-axis gimbal. The camera records 3840x2160p30 video with options for 2560x1440p30/25 as well. Drop into 1920×1080 recording and you can enjoy frame rates as fast as 120 fps, in addition to 60, 30 and 25 fps modes. It snaps 12-megapixel stills and saves all your files to a microSD card. According to Horizon, you'll be able to view a live feed from the camera up to about 600 meters from the controller. The gimbal can tilt down to 90 degrees, but for any horizontal movements you'll need to rotate the drone to properly position the camera.
There are three other versions of the Chroma drone as well: one with a fixed 1080p camera, the other with a 3-axis gimbal and GoPro mount, and the entry-level model with a fixed GoPro mount.
The drone ships with the ST-10+ controller which includes a built-in 5.5-inch Android-based touch screen interface alongside tactile controls for flying the quadcopter and orienting the camera. A set of replacement propellers, a battery for the drone and controller, and a charger are also included.
Unlike DJI's Phantom line, the Chroma controller has an Android-based touchscreen display built in. We just wish it were on top.
DESIGN
At roughly 2.8 pounds, the Chroma weighs about as much as DJI's Phantom 3 Professional—which is to say, it's quite light. Its plastic frame isn't collapsible, although the propellers and legs can be removed and the GPS mast can be folded down. Storing and transporting the drone will require a fairly large hard case or roomy backpack. 
The Chroma is easy to assemble. Out of the box, you'll screw on the propellers, slide in a battery and perform a simple compass calibration by executing a series of rotations of the drone while facing North, and you're ready to fly. The drone has large LED lights under each motor to provide a visual indicator of performance (or trouble, if it's brewing). While the drone's plastic frame is not going to hold up under violent abuse, our craft did take a few bumps and the propellers once clipped a hemlock tree without suffering any noticeable damage. 
The ST-10+ controller is nice and light as well, though aside from rubber bumpers where your hands rest, its mostly plastic build may not be super durable. The built-in Android touch screen is large enough to afford a good preview of the drone's camera while keeping vital telemetry settings such as altitude, ground speed, GPS lock and remaining battery life visible. We did think the line of touch sensitive keys for home, back, menu, etc. were a bit too small—you have to take care to hit them with the edge of your finger to navigate the menu. 
Building the touch screen into the controller makes it larger than, say, DJI's Phantom controller, which uses your mobile device and the DJI app as the primary interface and viewfinder. Users with smaller hands will definitely have a tougher time with the Chroma controller. Patiño told us he preferred to have the display at the top of the controller vs. the bottom, so it's easy to view while simultaneously flying the drone. That said, he preferred having the display built into the controller vs. using a mobile device.
Flight controls consist of the familiar pair of joysticks for controlling vertical and horizontal flight plus slider switches on either side to control camera tilt and drone speed. Our only other beef with the controller was that it starts with a blaring tone that can't be disabled. 
IMAGE QUALITY
With a 1/2.3-inch image sensor, the Chroma's image quality is on par with an action camera. We found stills to be sharper than video at 1920x1080p30 but 4K clips were nicely detailed. Color reproduction was mostly consistent, though we did notice a tendency to over-saturate blues in the sky. Highlight clipping was also an issue in bright sun. Even so, you could definitely feel comfortable using the Chroma's video footage for short clips to be intercut with footage from other cameras, for weddings or corporate videos. The display feed from the drone isn't super sharp, so it can be very difficult to really inspect your footage as you're taking it. 
The CG03 camera comes with a fixed 14mm f/2.8 lens, with a 115-degree field of view but with very little wide-angle distortion, which is nice. You'll have fairly limited ability to adjust exposure parameters, including shutter speed, ISO, exposure compensation and a series of picture profiles like "gorgeous" and "natural." We found that in the box and in videos at the www.knowchroma.com site, there was far more documentation for flight controls and tips on how to operate the drone than there was guidance on using the camera and adjusting exposure settings. Our DNG stills looked nice after some light processing, but quickly lost detail as we zoomed in. 
The Chroma 4K drone offers several intelligent flying modes to keep the drone on target, freeing you to take high-quality videos and stills.
PERFORMANCE
In flight the Chroma proved reliable, never flying away on us and maintaining a consistent video link to the ST-10+ controller, though we never let the drone stray beyond about 100 meters from us and at roughly 50 meters high. Patiño appreciated the fact that the drone had speed controls so that it could move more slowly if need be. He also liked the fact that the LEDs under the motors were larger than the Phantom's, making them easier to see at a distance.
The ST-10+ controller proved similarly straightforward to operate and you'll have a choice of four joystick configurations for flying and steering the Chroma, so there's room to tailor flight controls to your liking. The touchscreen was responsive, though difficult to see in brighter light and impossible to view at any sharp angle. It was also prone to gathering smudges, which made the screen even tougher to see under the glare of the sun. 
Flight time is rated for up to 30 minutes, depending on conditions and how you're flying. In a relatively calm day but with active piloting, we heard a battery warning at roughly 20 minutes and decided discretion was the better part of valor and landed it without fully seeing how long it would stay aloft. We didn't have much of an opportunity to take it out into the wind, though what wind we did encounter batted the drone around significantly (that's not uncommon, given its size). We found the gimbal very impressively keep footage steady even as the drone swooped and swayed. 
The battery takes a little over an hour to recharge. Extras cost $120 and you'll definitely want at least one extra if you plan on doing any significant amount of filming. The controller charges via USB.   
BOTTOM LINE
With a list price of $1,200, the Chroma 4K competes closely with the $1,295 DJI Phantom 3 Professional. Unlike the Chroma, the Phantom 3 has "Visual Positioning" sensors that allow for safer indoor flight. The Phantom 3's camera also has a narrower field of view (94 degrees vs. 114) but with roughly the same set of features, albeit slightly higher resolution 4K video. On the other hand, the Chroma has slightly better flying time and cheaper batteries—about $30 less than what DJI charges for Phantom batteries. 
We think the Chroma is a great flying platform for both first-timers and more experienced pilots. From set up to operation, the drone is easy to use and performed well in the air. The camera performs adequately for quick-cut video and on a clear day delivers good image quality for the price, though if you require more fine tuning over exposure parameters we'd suggest opting for the Chroma with the GoPro gimbal instead.
Horizon Hobby Chroma 4K Drone
PROS: Easy to assemble and operate; good features for the price; excellent handling and flight time.
CONS: Bulky remote can be tough to operate with small hands; screen placement makes live view difficult; display difficult to read in bright light; images and videos can be overexposed in highlights; poor low-light image quality.
PRICE:$600
Related: DJI Intros Phantom 3 Drone with 4K, Revamped App for Live-Streaming
FAA Drone Registration: What You Need To Know
Sours: https://pdnonline.com/gear/drones/product-review-horizon-hobby-chroma-4k-drone/
Horizon Hobby Chroma 4K review
"Horizon Hobby's Chroma 4K is an entry-level drone packed with features."
Pros
30 solid minutes of flight
ST-10+ controller makes piloting a breeze
Built-in 4K camera captures gorgeous photos and video
Sturdy and durable
Inexpensive
Cons
Battery charger non-responsive at times
Relatively limited range
Lacks intelligent piloting modes like Cable Cam and Orbit
When most people think of the drone industry, companies like DJI, Yuneec, or perhaps Parrot tend to be the first to come to mind. But what about Horizon Hobby? A global hobby company located in Illinois, Horizon Hobby is a jack-of-all-trades RC specialist that's now trying to elbow its way into the unmanned aerial vehicle fold. Having recently launched its Chroma line of drones, we decided to put its newest release through its paces to see how it stacked up against the industry's elite.
It is worth noting that as soon as we unsheathed the Chroma and picked up its ST-10+ touch-screen controller (sound familiar?), it was apparent Horizon Hobby has kept a keen eye toward its competition — in particular, Yuneec. Similarities aside, the Chroma is a solid drone that wasn't just a blast to fly but one that also provides an inexpensive entry point for anyone looking to get into aerial photography or videography.
Features and specs
Immediately after unboxing Horizon Hobby's Chroma Camera Drone, it was apparent the craft had more in common with other big-name brands than just a simple repurposing of Yuneec's ST-10+ controller. With a body reminiscent of DJI's Phantom series of drones, you'd have a hard time distinguishing the two if it weren't for the Chroma's mast-mounted GPS antenna, which essentially gives the craft a tail. Don't get us wrong, this doesn't do anything to detract from the drone itself, nor does it make actually piloting the Chroma more or less difficult; aside from its GPS function, it's merely an aesthetic difference.
Aside from its visual similarity, the Chroma does pack a few features that help it stand on its own two feet. For instance, drone pilots of any skill level should have no problem getting it into the air immediately upon unpacking (and charging) it, thanks to the drone's highly intuitive smart flying modes. The Stick Relativity function is particularly helpful. This flight mode moves the craft in whichever direction a pilot pushes the right joystick, regardless of the direction the drone is facing. We found this to be incredibly responsive, and something that makes learning the ins and outs of drone flight a breeze.
Another useful feature is the Chroma's SAFE Circle function, which essentially creates a safe zone around the controller, preventing the craft from flying too close to the operator. As if it were running into an invisible wall (without the destruction of the drone, of course), the Chroma halted its progress upon reaching this imaginary SAFE Circle during our trials.
Though Horizon Hobby offers different versions of its Chroma drone, our review model came equipped with an onboard 4K camera attached to a fully adjustable 3-axis gimbal. Capable of capturing gorgeous photos and videos, the camera proved to be the second-best part about flying the drone — after actually piloting the craft. While using the aforementioned ST-10+ controller, pilots simply move a dial up or down to adjust the camera's pitch from looking out at the horizon or facing straight down to the ground. It's also from the ST-10+ controller that operators have the ability to see what the drone sees, and monitor its battery levels, as well as what its ground speed and GPS locations currently are.
Build quality and durability
Nearly every component of Horizon Hobby's Chroma — save the propellers — were among some of the sturdiest we've seen in a drone. Before getting too caught up on the propellers lacking unprecedented strength, it's worth noting literally every drone comes with a set of rotors that essentially crumble if they touch anything — unless they feature some sort of rotor guard. Aside from this general characteristic, the Chroma Camera Drone impresses. With sturdy, removable landing gear and a stout plastic body, the Chroma is built to last.
Over the course of the review, we flew the Chroma for roughly four or five hours, and aside from light wear and tear and a little dirt amassed on the landing gear, it still appeared to be in mint condition. The foam pads glued to either end of the drone's legs do run the risk of wearing down much quicker than other components native to the UAV, however, these could be easily replaced with spare foam picked up at a store like Michael's.
Battery life and charge time
Perhaps the bane of every UAV's existence, the battery life and battery charge time for the Chroma are (refreshingly) a tad better than much of the competition. Boasting around 30 minutes of advertised flight time, our tests showed this estimation to nearly be spot on. A simple test of the Chroma merely hovering in place — i.e., not using the onboard camera, accelerating the UAV itself, or enabling the smart features — resulted in a flight time of roughly 31 minutes. However, when we turned up the intensity and gave the drone a bit more throttle, the battery life showed an expected decrease in performance and lasted just 26 minutes. Our review model came with just one battery, so, unfortunately, once it died, our time enjoying the Chroma was slightly delayed while we patiently recharged it.
All told, Horizon Hobby's Chroma is a solid, durable drone that's perfect for amateur and advanced UAV pilots alike.
And what about that recharge time?
Note: The packaged battery we received for our review was labeled as a 5400 mAh when the battery is actually a 6300 mAh capacity pack.
A completely dead Chroma battery required more than two hours of charge time — roughly two hours and fifteen minutes. While not entirely awful, it is a bit of a drag to have to wait over two-plus hours to charge something that only lasts around 30 minutes. Because of this, we can't stress enough the importance of a spare battery.
While two-plus hours of charge time for the battery can be a bother, charging the ST-10+ controller is a downright nuisance to the tune of five and a half hours. Granted, it doesn't require a completely full charge for operation, but it's not entirely recommended to use a semi-charged controller — a dead controller could spell the death of your drone; it's not worth it.
Flight performance, control, and autonomy
As drone tech continues to advance at a rapid pace, the biggest winner in terms of this developing innovation is no doubt a craft's relative performance, control, and autonomy. Regarding the flight production of Horizon Hobby's Chroma, we couldn't help but yet again compare it to Yuneec's Typhoon Q500 4K — and this is a good thing. Taking into consideration the fact the Chroma uses Yuneec's ST-10+ touch-screen controller, it's not the least bit surprising it reacts in a similar fashion to its aforementioned source material.
The controller's dual joystick setup made piloting the UAV in its Angle mode incredibly responsive, as the Chroma would bob, weave, and zag instantly for us with a simple flick of one of the sticks. Considering the ST-10+ controller is exactly like the device used to pilot Yuneec's Typhoon Q500 4K, learning the ins and outs of navigating the Chroma wasn't necessary for our review. Thing is, even without this head start, any drone pilot (novice or otherwise) could easily pick up the ST-10+ and, within a matter of minutes, they'd feel as though they've always known how to fly a UAV; it's that intuitive.
In addition to it handling intuitively, the Chroma's agility and speed do put it at, or above, the field. Though the ST-10+ controller allows for quick maneuvers and smooth flight, Horizon Hobby's UAV boasts speeds of more than 35 miles per hour. For comparison's sake, DJI's Phantom 4 (on paper) coasts at roughly 44 miles per hour. In other words, the Chroma can haul, which significantly adds to its fun factor – i.e., an arbitrary scale of how much fun we had flying it.
Concerning the quadcopter's operating range, the manual says pilots shouldn't exceed roughly 1,300 feet – or 400 meters. Though we didn't fly the Chroma to its ultimate max range, we never experienced even the slightest issue of lost connections or dropped video. This even includes a time when we flew it out over the Willamette River, chased a passing ferry, and bugged some cyclists on the other side of the waterway.
Let's talk smart features. While the aforementioned Angle mode provides an unhinged drone experience, switching the Chroma into Smart mode enables the craft's suite of autonomous features to spread their wings. As soon as we lifted the drone off the ground in this mode, its brain kicked in and created what Horizon Hobby calls a SAFE Circle around us — specifically, it generates a pseudo force field around anyone holding the controller, preventing the drone from flying too close to its pilot.
Additional smart features include a Follow Me mode, which continuously follows the pilot from a safe distance and altitude, allowing the user to set up precision photos and videos. During our tests, the Follow Me mode worked flawlessly, and the Chroma paced itself behind us as we walked for roughly 100 yards.
While Follow Me gave us free will over aiming the camera as we pleased, the Chroma's Tracking Mode gave us the opportunity to permanently affix the camera on whoever was holding the ST-10+ controller. Though we didn't require an explicit need for this feature, it does provide photographers and videographers the chance to accurately set up shots without worrying about consistently piloting the UAV itself.
Last, but certainly not least, the Chroma boasts an incredibly useful Return Home function that has a knack for bailing pilots out of trouble. During our review, for instance, we embarked on a particularly ambitious test run and in doing so, lost orientation for which way the drone was facing. Due in part to the fact that we were testing the drone near a wooded area, simply bringing the drone straight down and walking over to it wasn't an option. Enter the Return Home function. After clicking the toggle to "Home" on the ST-1o+, the Chroma swiftly navigated back toward where we were stationed, and gracefully landed itself on the edge of its SAFE Circle. As you can imagine, this mode was very useful.
Aside from these useful features, the Chroma does lack in autonomy when stacked up against its competition. Absent are features like Cable Cam or Orbit mode (which have been a part of the DJI's Phantom line for a couple years now), as well as any collision-detection technology similar to Yuneec's Typhoon H or DJI's Phantom 4. Granted, the Chroma checks in at a few hundred dollars cheaper than these other models but it's worth pointing out that it's basically "last year's model."
Camera, accessories, and upgradability
It wasn't terribly long ago that drones boasting a 4K camera were seen as the cream of the UAV crop. Today, 4K cameras are more the norm than the exception and Horizon Hobby's Chroma is no different. Granted, other Chroma models come with either a 1080p camera or GoPro mount, but for our review, we took to the skies outfitted with a full 4K camera and 3-axis gimbal. In other words, not only did the camera allow us to take stunning photographs and video, but controlling the camera was a walk in the park.
Rick Stella/Digital Trends
Additionally, video from the drone streams directly to the companion ST-10+ controller, which gave us a bird's-eye view to exactly what the drone's camera was seeing. On paper, Chroma can allegedly stream live video from just under 2,000 feet away. Due to limitations in space, we couldn't put this feature to the ultimate test, however, we did fly the drone over the Willamette River in downtown Portland, and the feed continued to stream flawlessly.
In terms of extra accessories, we'd highly recommend purchasing a second battery for the Chroma, as having to pack the thing up after flying for just a half hour is a drag. We'd also recommend buying extra rotors, since even the slightest collision with a tree, fence, or other object will likely shatter one, or all, of the propellers. This isn't so much a knock on the construction of the propellers as it is a suggestion to always keep extra rotors on hand.
Conclusion
As you could likely tell from our long-winded review, we greatly enjoyed Horizon Hobby's Chroma drone, even if it was a tad familiar. Despite it sharing a controller with some of Yuneec's drones — the ST-10+ controller even said Yuneec on it — the Chroma still boasted a few unique features that allowed us to differentiate it from its competition. Be it the Stick Relativity function that allows pilots to steer the drone whichever direction they push a joystick, regardless of the craft's position in the air, or its suite of autonomous features, the Chroma proved to be an absolute blast to fly.
Like any drone on the market, charging the battery takes forever, so it's almost required to purchase additional batteries if you hope to spend more than 30 minutes in the air. During our tests, we also found the battery charger to be unresponsive periodically, failing to charge the battery despite the fact everything was hooked up correctly. A simple unplug/plug it back in was all it took to fix this issue when it occurred, but at $800, it really should work perfectly right out of the box.
All told, Horizon Hobby's Chroma is a solid, durable drone that's perfect for amateur and advanced UAV pilots alike. Its price is competitive with most other drones on the market, and the fact that it boasts a 4K camera (which is quickly becoming a standard) makes it a great entry-level drone for videographers, photographers, and general drone enthusiasts.
That said, it's also got some stiff competition. For about the same price, DJI's Phantom 3 Advanced boasts more features and nearly double the range – and if you've already got a GoPro at your disposal, you can get your hands on a basic 3DR Solo for roughly the same amount of money. So while budget-minded drone buyers should definitely keep Chroma on their list, it would be foolish not to explore other options.
Editors' Recommendations
Sours: https://www.digitaltrends.com/drone-reviews/horizon-hobby-chroma-4k-review/
The micro racing craze has taken the first-person-view (FPV) world by storm. These amazing little machines, as exem­plified by Blade's Inductrix, turn your house into an FPV racecourse, and they're so light that it's practically impossible for them to damage anything. The only two issues with these addictive little quads are that they can venture outside only in calm weather and flight duration is rather short. With the new upsize Inductrix FPV +, Blade has addressed both these issues: The quad is fast and powerful enough for outdoor racing, and a 500mAh LiPo pushes flight duration up to six minutes.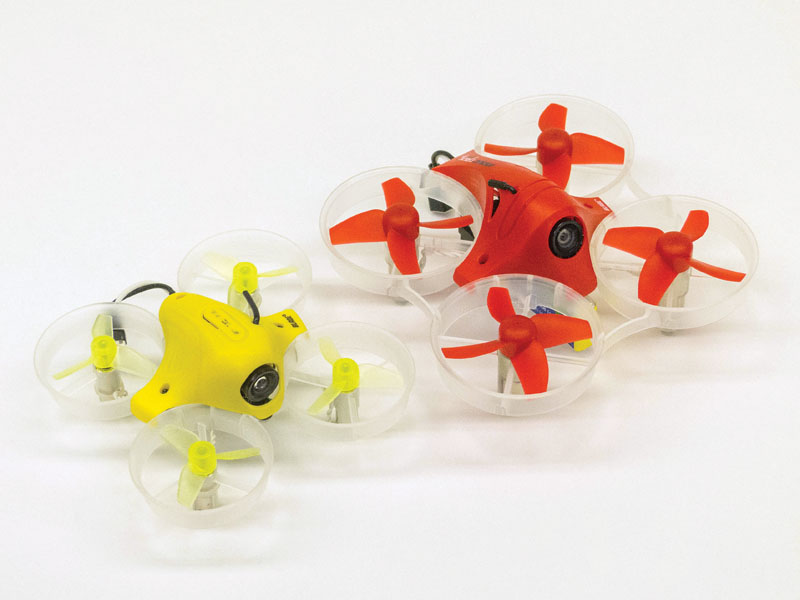 The Inductrix FPV + doesn't look that much larger than the original Inductrix, but it weighs almost twice as much. The boost in power from the 8mm motors and 40mm props is dramatic, but both machines are enjoyable indoor fliers.
Highlights
The Inductrix FPV + takes the original formula and stretches it to a 75mm size (measured diagonally between motor shafts). Power is boosted by 8mm motors and 40mm props, and a 500mAh LiPo offers about twice the flight duration. The frame has added reinforcement for greater durability, and the camera is tilted slightly for a better viewing angle in high-speed flight. One other nice tweak is that the channel button has been moved from the top of the canopy to off-center, so you can no longer accidentally change channels by bumping the ceiling.
The Inductrix FPV + supports three flight modes: Altitude mode, in which bank angle is limited and the quad will hold altitude and self-level when the sticks are released; Stability mode, which limits bank angle and is self-leveling; and Agility mode, in which bank angle is not limited and the quad is capable of acro, such as flips and rolls. There's also a handy "Meow" mode: If the quad lands inverted, you can double-click the bind button and two motors will give a quick burst of power to flip it upright. What a great idea! No more walk of shame!
The FPV + is available in both RTF and BNF versions, and programming is so quick that you can have your transmitter ready before the included USB charger has the LiPo charged. Extra batteries and spare props are inexpensive, and little else is ever likely to break.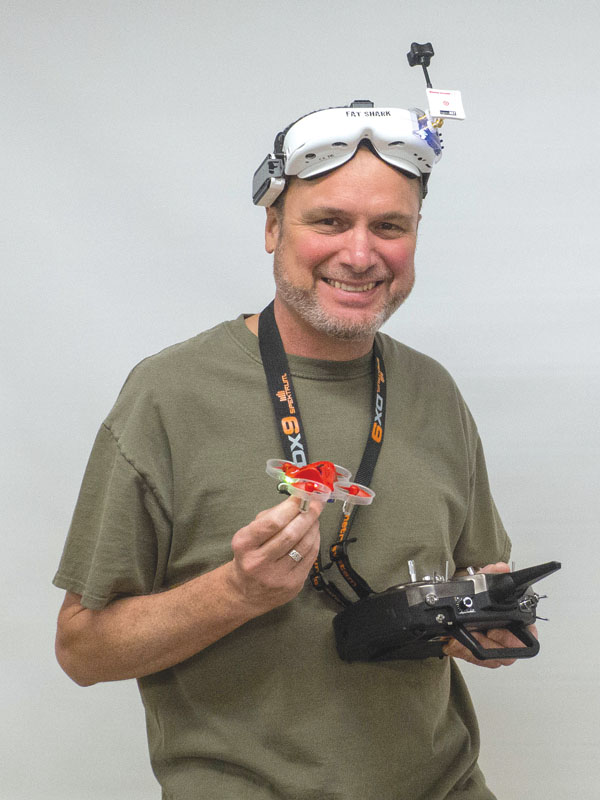 The FPV + is a load of fun, and my friends and I regularly meet at one of our houses for rat racing up and down the stairs. While high-quality goggles, like my Fat Shark Dominator HD3s, add to the experience, you can have a ton of fun with a low-cost receiver connected to the family TV.
Aerial Recap
It's impossible not to compare the Inductrix FPV + with the smaller original Inductrix FPV. With its slightly heavier weight, the former perhaps isn't quite as nimble and for-giving for flying in really tight spaces, but it compensates with greater power and speed and some interesting features. If you bump a wall, the FPV + will react with a quick burst of power to keep it from dropping. It's fast and powerful enough for outdoor flying, even in a breeze. Best of all is the improved flight duration; whereas the smaller Inductrix is constrained by its tiny LiPo cell, the 500mAh cell of the FPV + can stretch duration to more than six minutes. Impressive! The 600TVL camera and 32 -channel 25mW transmitter provide good video quality and sufficient range for flying throughout the house and even out one door and back in another.
Altitude mode is intended for beginners; you can set the altitude by tweaking the throttle and then leave it set that way while you gain familiarity with the other controls. This works well if you leave the throttle alone, but if you make a power change while turning, it will abruptly change throttle trying to find the new altitude setting. In our flight testing, Stability mode offered the smoothest handling, and it's docile enough even for low-time pilots.
In Stability mode, the FPV + tracks well in forward flight. Compared to its smaller sibling, it's more controllable in steep descents, such as diving down stairways, and it has a lot more punch for rapid climbs.
In Agility mode, the FPV + can do basic acro, such as flips and rolls. With no self-leveling, you have to be able to fly your way out of these maneuvers, but you can click back to Stability if you get disoriented. The increased horsepower shows when you're doing acro; it just has a lot more pop. In Agility mode, the top speed is much faster; it can really scoot.
Landing is easiest in Stability mode, but hey, it's a
little quad—if you just reduce power, you can hardly go wrong. After landing, you need to click the bind button to kill the motors.
Bottom Line
With its increased size and power, the Inductrix FPV + is a big step up in capability over its smaller stablemate. It has the speed and performance to be a true indoor/outdoor FPV machine while r etaining docile handling for flying in the house. The greatly increased flight duration is a huge plus.
Sours: https://www.rotordronepro.com/drone-review-bladehorizon-hobby-inductrix-fpv/
As an Amazon Associate I earn from qualifying purchases.
Horizon Hobby offers different versions of the Blade Chroma: there is the Chroma with the fixed GoPro camera mount which is cheaper, the 1080p model with the CGO2+ Camera, the 4K capable model with CGO3 Camera, or if you already own a GoPro and would like to use it with the Blade Chroma, a variant with a 3-axis Gimbal is available. So there is a nice collection to choose from.
The Blade Chroma flies great and the auto landing function is really handy; the drone descends fast and touches down smoothly. The RC also has a built in GPS, so if you activate "Return Home", the drone will land at 5m near your actual position, so if you moved from your original spot, it will know where to go.
This GPS is also used for "Tracking Mode". The GPS connection is fast and you also get a high number of satellites.
Product specifications:
Captures smooth, steady aerial video in stunning 4K definition
No-distortion camera lens eliminates fisheye effect
Easy to fly – no experience necessary
Everything in one box
30 minute flight times
Check Price on Amazon
Build Specifications
Packaging
The Horizon Hobby Blade Chroma is a competitor of the Phantom drones from DJI. It has a lot of similarities, but also some differences, like the foldable GPS mast, for what seems be better signal reception, and a detachable 3-axis Gimbal with one cable attached.
The twin blade propellers (10 inch props, 1 inch more than the Phantom's) are hand tightened; so taking them off is as easy as holding the motor in place and spinning the blades loose. Once tightened in place, there is no need for a fastener, because the propeller is continually being tightened by the spinning of the motor.
So even if there was no GPS, the Chroma would still hold its position in flight. The legs are just as easily detachable with a few clicks, leaving a nice flat surface for you to store away in your backpack or hard case, either of which would be a good choice to invest in.
On the RC side you also have the choice of whether you prefer their ST10+ which has built in Wi-Fi, if you want the simplest possible way to get video downlink, or if you already own something like a Spektrum DX4, you can buy a Bind-N-Fly version of the Blade Chroma.
Design & Durability
The white plastic body is a 33 x 33 cm square with a height of 9.5 cm if you unmount everything. The aircraft weighs 1.3kg. The blh8611 brushless motors used, have a voltage of 780kv, larger than those on the Phantom 3, and more efficient on 3 cell batteries (Phantom 3 uses 4 cells).
Thanks to the self tightening 10 inch props, the aircraft is very silent and very efficient. The Wi-Fi receiver is in the camera, so all the wireless transmission happens directly with the it, and just the motion controls are hooked up to the Blade Chroma.
It packs away easily, taking up little space; a real advantage when compared with the Phantom. It could be a good travel drone.
Camera
The CGO3 4K capable camera puts the Blade Chroma ahead of older drones, which use 1080p, or even ahead of direct competitors such as the Phantom 3 Pro which only has 2.7K video capability. The video quality, however, suffers from some over-sharpening. The colors are good, but you might want to play around with the white balance.
The CGO2 1080p camera has a distorted lens, so they use intelligent software to correct the image. This leads to the resulting image being noticeably pixilated.
Battery & Flight time
In the manufacturing process, the first batches of batteries for the Blade Chroma were mislabeled to be 5400 mAh when actually they were 6300 mAh capacity batteries. The included charger takes about 2 hours to fully charge the battery, and it has vents which, if blocked, will cause it to get hot.
The low battery behavior is that around 10.6 V it will issue a warning, and after 1 minute and a half it will automatically land, regardless of the point it finds itself at, so, caution is needed when flying over water or other hazardous areas.
The flight time is fairly impressive, at a realistic 24 minutes at 500m from sea level (the higher up you are, the less effective the propellers become), mainly with hovering and smooth moving around. This is still better than the 20 minutes, which is the average for similar consumer drone models.
Controller
You can find YUNEEC written on the ST-10+ controller. That's because they are the technology providers for Horizon Hobby; however, Horizon Hobby perform their own customizations and they offer excellent Customer Support, having been in the industry for a long time. This is something to keep in mind when buying an expensive piece of kit such as the Blade Chroma.
The ST-10+ it has an Android OS build in unit for video transmission and control via a touch screen, which is something to take into consideration. If you already have an iPhone or iPad and you want to use it for FPV, then you may want to go the Phantom route. However, if you don't have a good smartphone or prefer something integrated, the first option would suit you better.
The Wi-Fi connection is not Lightbridge, as opposed to the DJI Phantom higher priced models. This causes the later to have less latency and more range. The video latency on the Blade Chrome is about 400ms, which isn't bad for this kind of drone that can return home on its own.
For flying in the sunlight, a suction cup mounted sunshade accessory is provided for the controller, although you may find it a bit flimsy. Maybe some other option such as Velcro straps would have made more sense. It does, however fold very nicely.
The sticks on the controller return to their original position, so if you release both sticks, the drone will hover, which is what it was meant to do. Up in the right side corner of the controller, there is a toggle switch for "Safe Flight" mode, "Arial Photography" mode, or "Return Home" mode.
Up to each side corner there is a record record video button on the right and a take photo button on the left. On the side there is a speed slider, with a max possible value of 25km/h. If you take the Blade Chroma out of GPS mode, with a bit of tail wind, speeds of 70km/h are possible.
The controller itself has a rechargeable battery, and if you take out the battery, you find a SD Card slot, with the possibility of inserting an SD card to store telemetry data, a very interesting feature if you are afraid of losing the drone.
The radio itself is well built and it feels like a good fit. One minor issue might be that the display is at the bottom of the radio. Maybe it would have made more sense ergonomically for it to be at the top. The controller is 25x19x11 cm in dimension. It comes in white.
Flight Performance
The Blade Chroma comes with built in flight parameters such as a maximum altitude of 400 feet (in accordance with the FAA in the US) and has a range of 640 feet in any direction. This is a good feature for new users to gain some needed flight skills, but the experts can throw all that out the window by downloading the Chrome GUI application and extend the geofence border up to 8200 feet (2500 m).
This is however beyond the signal range, so a more reasonable value would be preferred. On a clear day, it takes 2000 feet of distance with no obstacles in between for the transmission signal to blur, and 1000 m in more congested areas.
Beside the manual flight settings, the SAFE® Plus flight control technology of the Blade Chroma also has a "Smart" mode for automated flying. This gives access to "Follow Me" and "Tracking". With the first, the drone just follows the controller, while "Tracking" also rotates the camera to point to the user at all times.
The "Smart" mode also has the feature of moving the drone in the exact directions received from the controller, regardless of where the nose of the aircraft is pointing. This is similar to the "Home Lock" feature of DJI drones, and again helps novice fliers.
If you want to use "Follow Me" or "Tracking" mode, this needs to be set on the ground. You cannot change these modes in mid air. On the other hand, it is possible to change between "Smart", "Agility" and "Return Home" while flying.
If range is important, this drone might be very limiting for you, although the maximum range in most countries is 500m and the Blade Chroma should be capable of reaching that limit.
Value for money and guarantee
You can find a Flight-Ready Blade Chroma Drone with Stabilized CGO3 4K camera and ST-10+ Transmitter for $1,099 on Amazon. Horizon Hobby, LLC (Horizon) does warrant to the purchaser of the product that the Blade Chrome will be free from material or manufacturing malfunctions for six months.
Unique features
From Horizon Hobby you get a very well supported device in the Blade Chroma, something that is regarded as a huge advantage by many people in RC groups. Also, all the parts of the Blade Chroma are usually in stock, which means you don't have to go back to the manufacturer or wait for availability.
The ease of use for beginners is also a plus factor. You don't have to take the Chroma out of the box, only to find that you have to fight with getting Wi-Fi to work. You just turn on your ST10,  turn on your Chroma, and it will ask for a password the first time around. You just type in 1234567890, your controller will bind with the drone, and you're good to go.
Similar models
DJI Phantom 3
The Blade Chroma is designed to be a competitor for the DJI Phantom 3 which also comes in different versions; three versions for that matter: DJI Phantom 3 Standard, DJI Phantom 3 Advanced and DJI Phantom  3 PRO.
You can pick up the DJI Phantom P3 STANDARD Quadcopter with 2.7K HD Video Camera for €399 on Amazon. It includes everything needed for beginners who require a ready-to-fly platform with intelligent flight modes.
It's a very capable aerial photography drone, with a transmission distance of over half a mile, and the possibility for video downlink directly to your mobile phone, using the DJI Go app.
You can attach as many different devices to the camera as you like, there are no restrictions. The DJI Go app can be downloaded from the Google Play Store or the Apple Store. In addition to the ST10, the phone or tablet will give you added options to set up the camera.
Although the frame of the drone is very stable in the air, when sitting in one spot, there is a lot of noticeable camera vibration. That being said, it is more nimble than its rival, making flying the Blade Chroma feel like driving a bus.
The Phantom 3 also has a POI mode (point of interest), in which you set a location and a radius, and the Phantom will continually orbit that location, giving the opportunity to do some really cool things with this feature.
There is also the possibility of picking up the Phantom 3 Professional at €799 on Amazon, if you desire 4K capable camera, outstanding transmission range of 3.5 km and with DJI Lightbridge Wi-Fi for faster video downlink.
Yuneec Typhoon Q500
Another model that the Blade Chroma comes into direct competition with is the Yuneec Typhoon Q500. It has many of the same features as the Chroma, plus the ST10+ transmitter, as well as the fact that the body of the aircraft itself comes in a refreshing gunmetal gray color.
The price is, again cheaper; you can find a ready-to-fly version for around $800 on Amazon. It also comes with an extra battery, which is a big plus, not having to wait for a full recharge after one flight.
The same CGO3 camera with 3-axis Gimbal provides 4K ultra high resolution video at 30fps, or 1080p/120fps slow motion convertible video, and is slightly behind the camera on the Phantom 3, but not by much. You can also take 12 Megapixel photos with a no-distortion lens.
The props are also self tightening, just as is the case with the Blade Chroma, and the legs of the aircraft provide clearing space for the underneath mounted camera.
The electronically limited speed of the Yuneec Typhoon Q500 is set to 15mph, although with GPS turned off,  it's a different story; you can find youtube videos where the aircraft whizzes over the landscape at a whapping 35mph.
Again, because the manufacturer is Yuneec, excellent customer service can be expected. All of it can be packed nicely in an aluminum case which also comes with the package.
Parrot Bebop 2
The Parrot Bebop 2 drone, has a few issues, making it not quite the ideal drone in the competitive landscape, where people buy all these camera equipped quadcopters.
This new version is a lot better than the original: it has overall better building materials, it was put together in a better fashion and it has much improved battery life.
What makes it competitive is the new price of around $600 you can find on Amazon, keeping in mind that the Parrot Bebop 2 has a rather toy like appearance, if you consider the menacing exterior of the Yuneec Typhoon Q500.
The design of the Bebop 2 is similar to the first, occupying a slightly larger surface, with arms which are now angled outwards for a more stable landing.
In terms of build materials, most of the body is comprised of fiberglass, which makes the Bebop 2 very durable and capable of taking a beating, as long as you avoid crashing nose first, which is where the camera resides, making the area a major weakness.
One other thing which was improved over the original is the battery design, requiring no more Velcro straps to keep it in place; also the capacity has been turned up from 1200 mAh of the previous desing, to 2700 mAh currently. Battery life now allows for over 20 minutes of flight time with no aggressive flying, and it drops no lower than 10 minutes for a more adventurous flying style.
Where this aircraft could really be a letdown is the camera specs department; with a 14 Megapixel camera able of 1080p at 30 fps video streaming. If video quality is a big issue, it will leave you wondering about 4K.
Overview
Let's see Pros and Cons of Horizon Hobby Blade Chroma.
PROS:
CGO3 camera for 4K videos at 30fps or slow motion capable 1080p videos at 120fps
"Smart" flight mode for beginners
Uses ST10+ transmitter with built in Android operated display
CONS:
The Wi-Fi connection is not Lightbridge
Lacks some useful functions such as POI (point of interest) and Waypoint flight, found on the Phantom 3
If you want a fast, maneuverable RC drone for pilots, the DJI Phantom 3 fits the description.
Horizon Hobby Blade Chroma
Design
Features
Battery life
Ease of Use
Quality
Value For Money
Summary
The Blade Chroma is an excellent stable platform for video and photography, offering a variety of packages and sporting very capable cameras for the higher end choices.  It does, however, lack some of the automated flight capabilities of the Phantom 3.
If you just want to shoot video, or if it's your first drone and you don't see yourself moving on to next generation drones, the Blade Chroma is an excellent choice.
Amazon and the Amazon logo are trademarks of Amazon.com, Inc, or its affiliates.
Sours: https://www.mydronelab.com/reviews/horizon-hobby-blade-chroma.html
Review drone horizon video
Marveling at this pressure, he helped to pull off the last rags and climbed between her legs. She spread her legs invitingly, waiting for him and moaning, whispered: Yes, take me, I want !!. He began to break through with sharp movements into the coveted burrow.
She moved, shouting: Oh, stronger, oh still. Now honey, na, na, get.
DJI FPV Drone - My Best Shots 4K
Cool, grit, chick. She pushed me to hunt. And what, grit, I did a suction.
Now discussing:
But then the car shook violently, and the girl was literally thrown at him. The natural reaction was to grab her around the waist. The hug was strong and long. The boy's hands slid down the girl's waist, dropping lower and lower. He has already begun to stroke her buttocks, climbing under her skirt.
1230
1231
1232
1233
1234