LS engines are great, but they've got a couple of weak points when people start boosting them.
Pistons are the most common failure (we're looking at you #7) and rods are the next common failure point.
Starting with the pistons, the ring end-gaps are tight from the factory and weren't intended for the heat produced with boost or nitrous.
When the gaps go solid, the ring tacos, which can break the top or second ring land.
A solution for that emerged earlier this year when Summit Racing introduced its line of 2618 alloy forged Pro LS pistons.
Those pistons are packed with technology, but priced affordably. Built for boost and nitrous, they also come in multiple compression ratios.
Some details on the Summit Racing Pro LS pistons:
Pro LS 2618 forged pistons

Made in the USA
Ultra-modern 2618 alloy forgings for boost and nitrous, with maximum ring land thickness
4.8, 5.3, 5.7, 6.0, 6.2 liter standard bores and multiple oversizes
Variants for each of the three common connecting rods
Pressure fed pin-oiling with durable chromium steel wristpins
Specially profiled and coated piston skirts for stroker applications with tight piston-to-wall clearance
Generous valve reliefs for extra piston-to-valve clearance accommodates both cathedral and rectangle cylinder heads
These are complemented with Summit's made-in-the-USA piston rings.
Pro LS premium steel piston rings

Steel top rings designed for maximum life with boost and nitrous
File-fit rings for maximum ring seal, reduced friction, and tensions optimized for wet-sump engines
Martensitic ductile Napier-hook second rings for strength and maximum oil control
Made in the USA
Summit Racing Pro LS 4340 Forged Steel H-Beam Connecting Rods
Next up, let's look at the connecting rod issue:
The Gen. 3 rods were thinner than the Gen. 4 rods and the pre-2001 models had weak bolts to boot. The Gen. 4 full-floating rods were tougher, but tuners need to pull timing around peak torque to keep them from bending under boost. That's no fun!
Enter Summit Racing's new Pro LS 4340 steel forged H-beam rods. Before we get into how they're constructed, let's take a look at the loads they are designed for.
On the power stroke, the connecting rod is seeing extreme compression forces. At the end of the exhaust stroke, it undergoes extreme tension trying to slow down the combined weight of the piston, pin, rings, and connecting rod. To combat this, Pro LS rods use ARP bolts exclusively.
The ARP 2000 bolts are rated at 200,000 psi.
At 7/16 diameter, they're also 23-percent bigger than the factory's 9mm bolts. The bolts and beefy double-ribbed rod caps keeps the big end round under extreme loads. The bearing's oil-film remains intact and proper clearance is maintained.
RPM is often used to rate connecting rods, but it's not the best way.
At the same 7500 rpm, a long stroke crank is exerting far higher loads on the rod than a short stroke crank. The best way to compare is by looking at piston speed. Pro LS connecting rods are rated for average piston speeds of 5000 feet per minute in drag racing and street applications, and 4750 feet per minute in circle track or road racing applications.
What does this equate to? 5000 feet per minute is the equivalent of a four-inch stroker crank turning 7500 rpm, or a 3.622 stroke turning 8285 rpm.
Piston speed is horsepower, and Pro LS rods give you more of it.
The Pro LS rods fit the Pro LS pistons perfectly, with minimal side clearance between the piston's pin towers. This maximizes shear strength and gives the pin far greater resistance to bending.
Here are details on the connecting rods:
Pro LS 4340 forged H-beam connecting rods

Designed for 5000 feet-per-minute average piston speed in street and drag applications
7/16 ARP 2000 rod bolts with 200,000 psi tensile strength. They're 23-percent bigger than the factory's 9mm bolts.
Dual-ribbed caps for maximum strength
Added stroker clearance allows up to a 4.250 stroke crank to clear a standard base circle cam
Balanced to within +/- 1 gram per end
Full-floating and precision-honed in the USA to +/- .0001 in.
6.125 in. with .927 pin, and 6.098 with .945 pin variants available
A side note on the .945 pin version: A side benefit of using the 6.098 .945 pin version is the extra strength of the pin versus common .927 pin pistons. The larger diameter standard material pin is stronger than a .927 pin and will hang in there a little longer before switching to expensive (and heavy) tool-steel pins becomes a good idea. Pro LS pistons have a .945 pin variant that includes Spirolox and grooves for correct clearance.
Summit Racing Pro LS 4340 Forged Steel Crankshaft
With the connecting rod program on track, it made sense to continue with 4340 forged steel cranks. These are offered in standard 3.622-in. and 4-in. stroke versions along with your choice of 24X or 58X reluctor rings. Here are some details on those:
Pro LS 4340 Forged Steel Crank

Core hardened to optimum strength, tempered and nitride hardened
Lightening rod journals, gun-drilled mains, profiled counterweights for lower windage and better engine acceleration
Maximum journal tolerances of +/- .0001 to ensure consistent bearing clearance
Straight-shot oiling for maximum oil film strength at the maximum load angle
Summit Racing Pro LS Rotating Assemblies
With the Pro LS pistons, cranks, and rods all currently available; the next logical step is complete Summit Racing Pro LS rotating assemblies.
It's not uncommon for rotating assemblies to be limited to a single bore size and a couple of compression ratios.
Our friends at Summit Racing got to thinking "Why stop there? Why not make a rotating assembly for every one of the pistons, along with each over-size?"
The result was 227 different assemblies.
It's pretty quick and easy to drill down to the right combination of bore, compression ratio, stroke, etc. on SummitRacing.com.
Here are the basics behind the lineup:
4.8, 5.3, 5.7, 6.0, and 6.2L combinations.
2618 Alloy Forged Pistons

Mid-compression pistons for nitrous
Slightly reduced compression pistons for boost
Standard bore and multiple over-sizes

Premium 1.2 and 1.5mm steel top, Napier second piston rings
4340 Forged Steel Cranks

Standard stroke or 4 in. stroker.
24X or 58X reluctor rings

4340 Forged Steel H Beam connecting rods

6.098 length with a .945 pin
6.125 length with a .927 pin

Premium Main and Rod Bearings

Clevite H-bearings are designed for high-rpm operation in racing applications
Tri-metal bearings are designed with high bearing crush for maximum retention
Medium eccentricity shells with precision wall tolerance of +/- .00015 in.
Tags: GM LS engines, LS engines, LS tech, rotating assemblies, Summit Racing Pro LS
Author: Brian Nutter After a stint in the U.S. Air Force, Brian Nutter studied at the Houston, TX-based School of Automotive Machinists in 1997. The early part of his automotive career included working for engine builders Scott Shafiroff and C.J. Batten, followed by several years developing performance pistons at Wiseco Piston Co. Today, Brian develops performance parts for Summit Racing Equipment and is a regular OnAllCylinders contributor. For fun, he runs his 427-powered C5 Z06 in ECTA land-speed racing, at OPTIMA® street car events, and at a mix of autocross, drag racing, and track days.
Sours: https://www.onallcylinders.com/2019/08/26/summit-racing-pro-ls-rotating-assemblies-launch-with-227-combos/
6.0 LS Engine Build With Parts From Summit Racing
New Age Power
6.0 LS Engine Build With Parts From Summit Racing
By now I'm sure you've heard of the Chevrolet LS engine. If not, I'm glad you've finally found a way to get out from under that rock. The LS-based engine platform has definitely taken over as the go-to engine swap in the last 5-10 years, and its popularity is still on the rise. Different variations of the engine can be found in everything from a bare-bones work truck all the way up to a factory-supercharged Corvette. Due to the different vehicle applications in which GM put these engines from the factory, obtaining an LS engine for your swap is easy. Just skim your local classifieds, or make a trip to the salvage yard, and you'll probably have a dozen or so to choose from on any given day. But what if you're skeptical about buying a used engine?
Purchasing a used, or "pull out" engine, does come with some risks, and you should definitely consider them before purchasing. Since most of the odometers in newer vehicles are digital, you can't simply glance into a vehicle to see how many miles are on it. Even if the seller knows the mileage, you still just have to trust his word. Compression tests can be done, and salvage yards will usually give you some kind of guarantee, but what if you want more piece of mind? Good news, there are options for brand-new LS-based engines.
When the opportunity to build a new LS engine presented itself to us, we knew right where to look for all of the parts we'd need. Summit Racing was our first and only phone call. Summit has been around since 1968 and is continuing to grow every year. In fact, it just completed the construction of its fourth distribution site located in Arlington, Texas. It also carries products from more than 1,500 manufacturers, so we were positive the company would be able to get us everything we needed to complete our engine build.
We discussed our options with a Summit rep and came up with a plan to build a strong and reliable engine that would also make great horsepower. We decided to go with a short-block from BluePrint Engines. We also opted for a complete top-end engine kit from Trick Flow to complete most of the build. However, there are a lot of smaller parts we still needed to complete the engine assembly and get it ready to drop into our project. Follow along and we'll tell you all about it.
• Summit Racing
800.230.3030
Summitracing.com
• Trick Flow Specialties
888.841.6556
Trickflow.com
• Royal Purple
888.382.6300
Royalpurple.com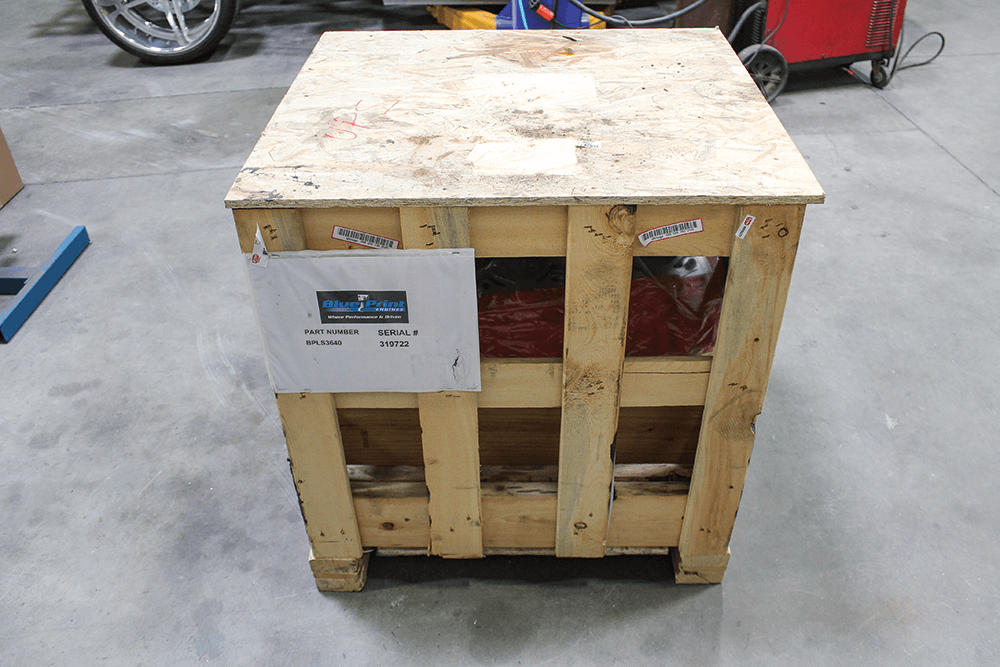 Here's how the new BluePrint Engines 6.0L, 364-ci short-block engine (P/N MLL-BPLS3640) showed up after we ordered it from Summit Racing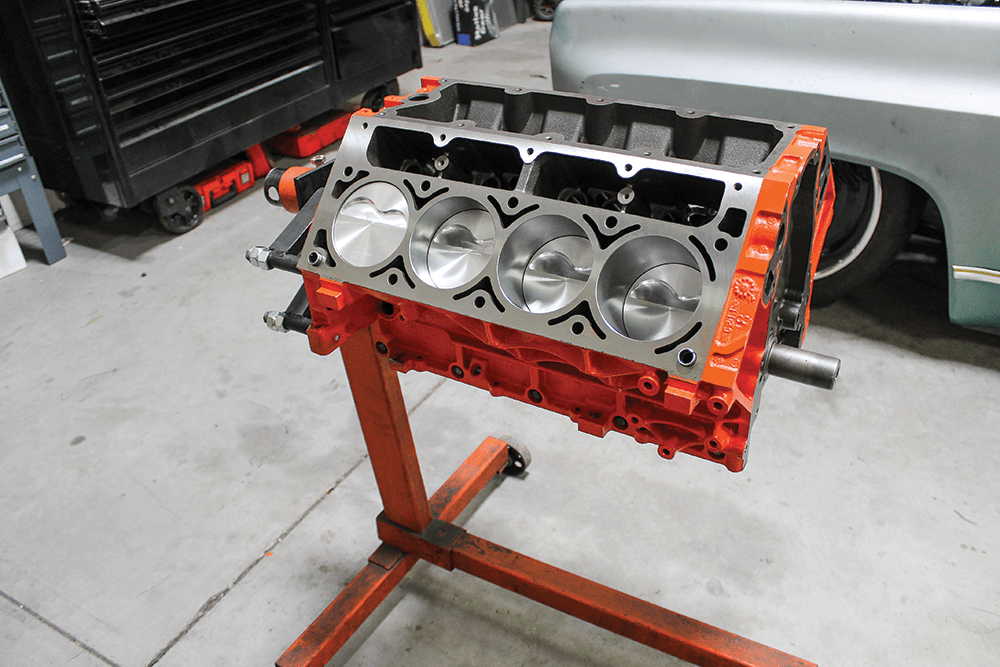 Our first order of business was to get the engine unpacked and on an engine stand so we could inspect it and make sure all was well.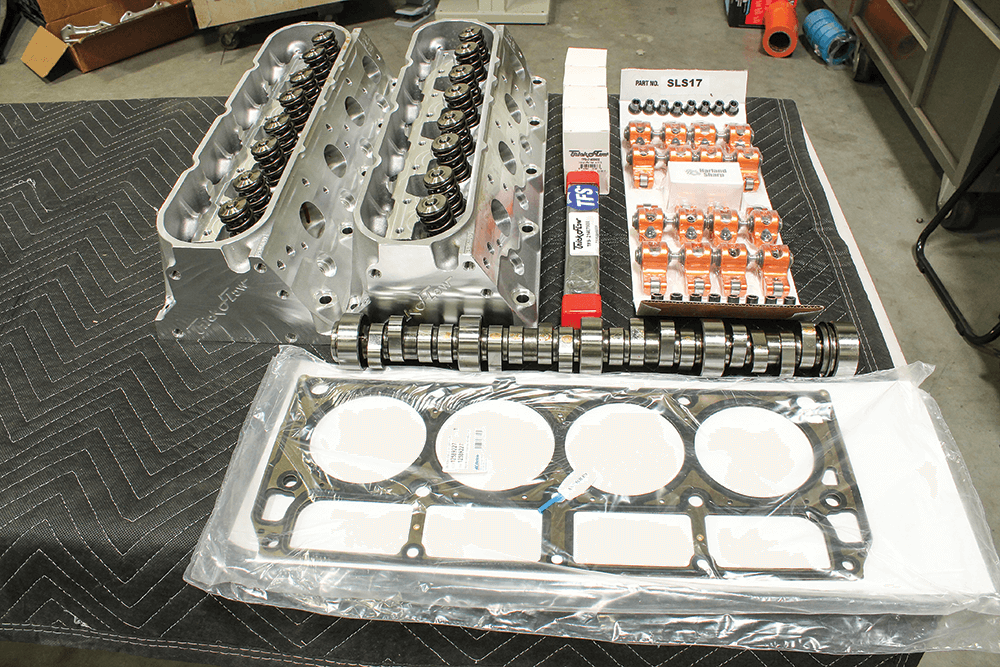 Once we received the Trick Flow top-end kit (P/N TFS-K306-550-470), we laid it out on a table and took a quick inventory. The kit comes complete with new, assembled heads. The heads boast a ton of changes from the stock versions to provide extra strength and power. The kit also comes with a new camshaft featuring an advertised 291/295 duration, .595/.595 lift and 112 degrees of lobe separation. The camshaft is designed for use with the pushrods and roller rockers, which are also included with the kit. New head gaskets and head bolts round out the list of included parts.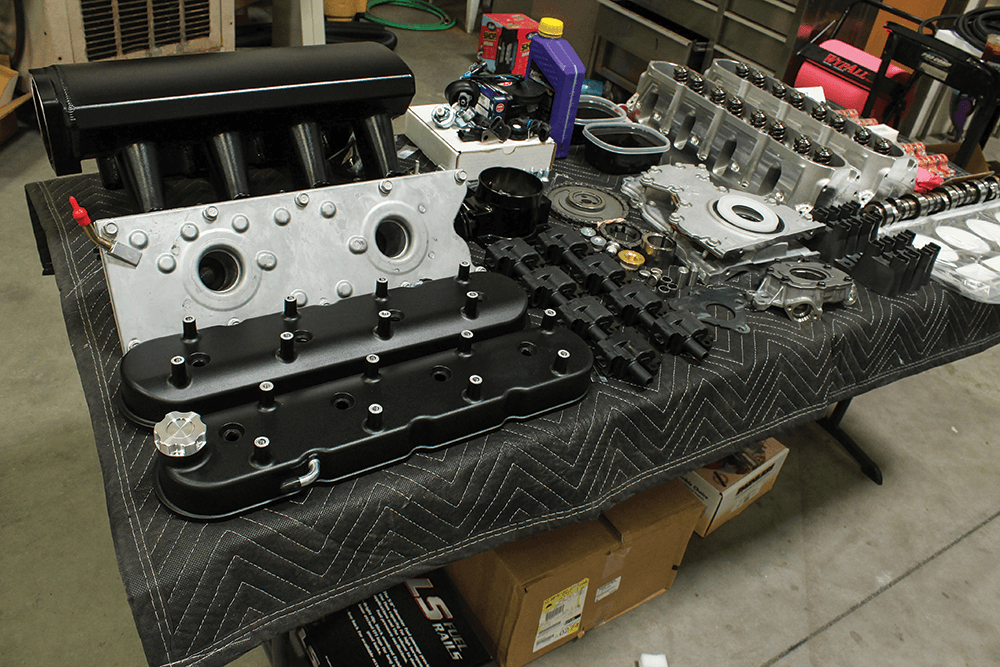 There are a lot of parts necessary to complete the engine build, and Summit helped us put together a list of everything we needed. Once everything arrived, we laid it out and took inventory. We picked up everything from new ignition coils to front and rear covers, matching valve covers and an intake manifold.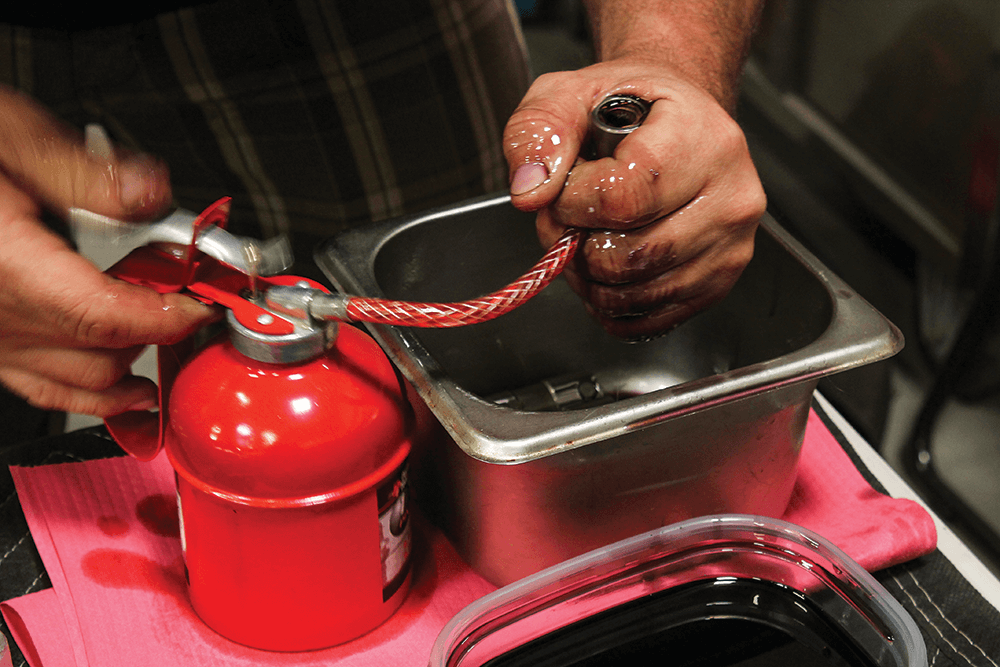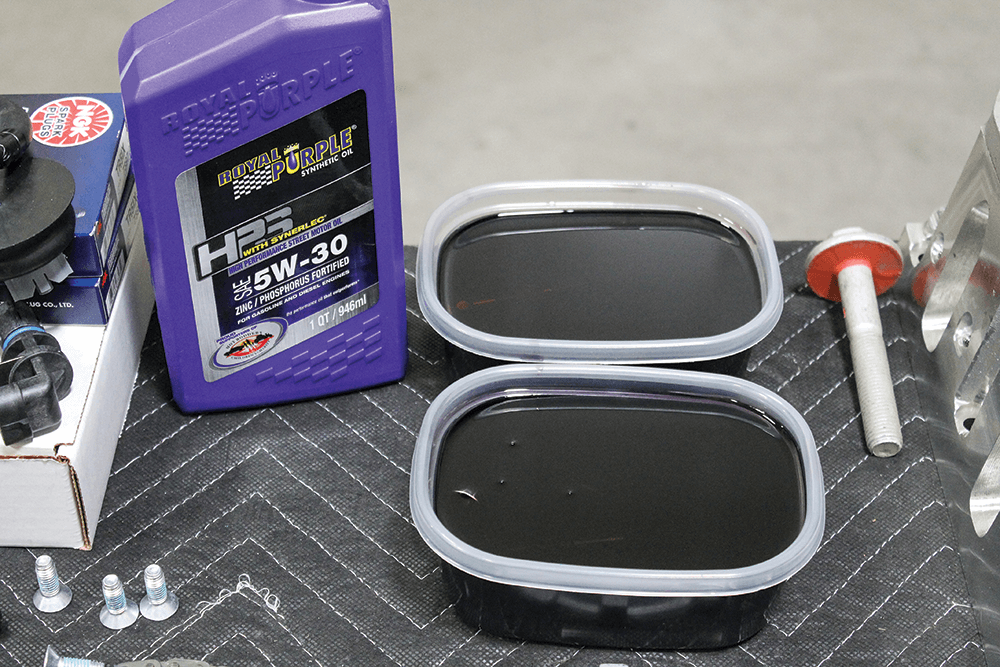 Once everything was accounted for, we began the assembly process with help from our friend, Jason. Starting with the new lifters from Trick Flow (P/N TFS-21400002-16), we forced some Royal Purple HPS oil into the lifters and let them soak for a while.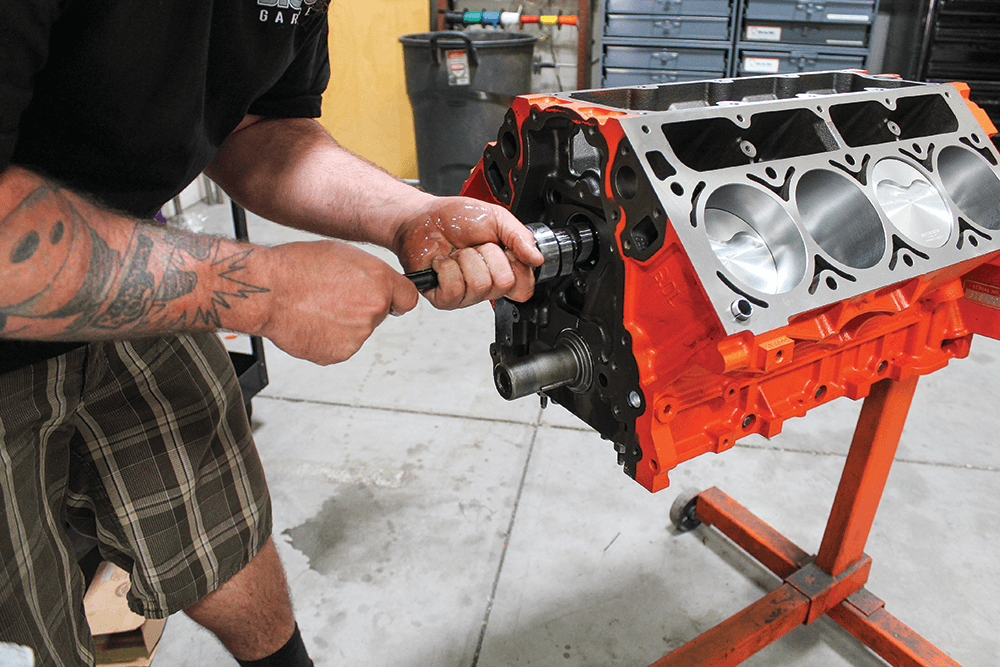 While the lifters were taking a bath, we installed the camshaft. We applied some Royal Purple Max Tuff assembly lube to the camshaft and carefully slid it into place. It became more difficult to hang on to the camshaft once it got further into the engine, so we threaded a bolt into the end of it to help with the installation.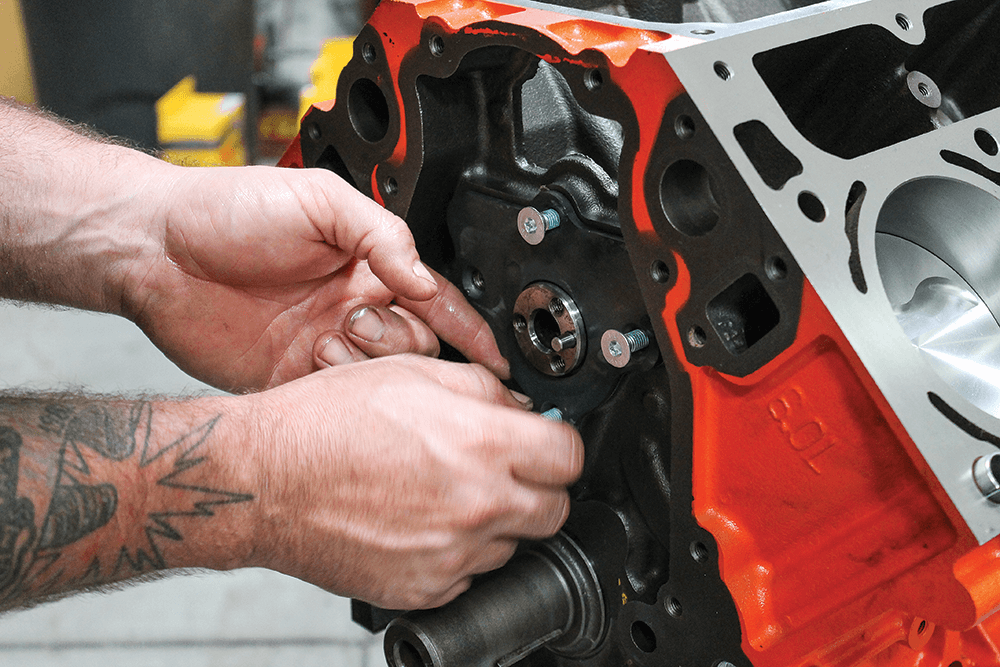 With the camshaft fully inserted into the engine, the retaining plate (P/N NAL-12589016) and new bolts (P/N NAL-11561455) were installed and torqued to spec.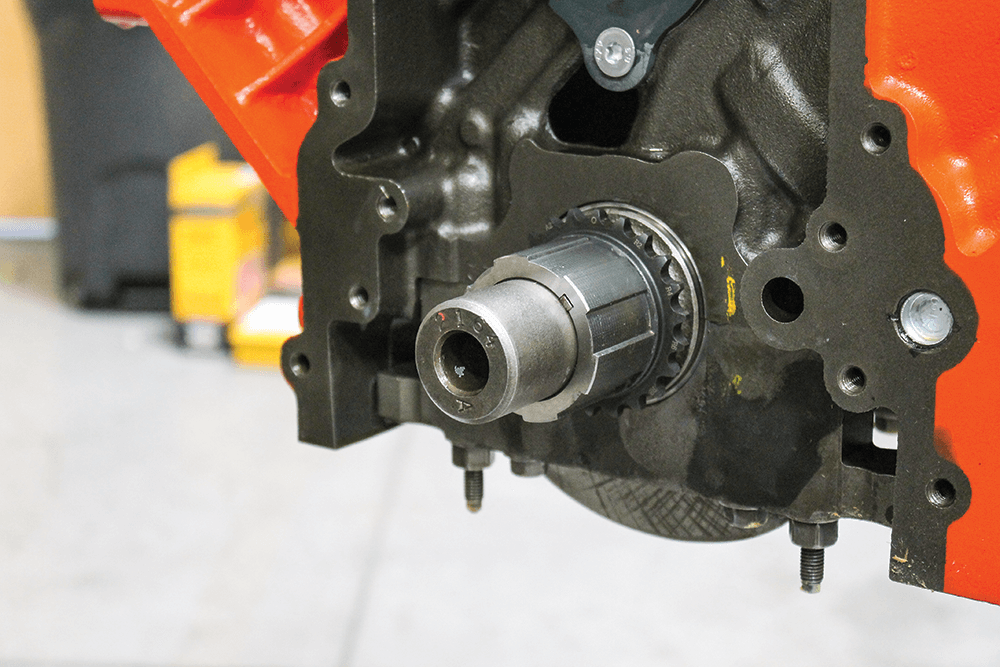 Installing the timing set is a very critical procedure that must be done with precision. After setting the engine at Top Dead Center (TDC) with compression stroke at cylinder 1, we installed the crank sprocket and hub sprocket.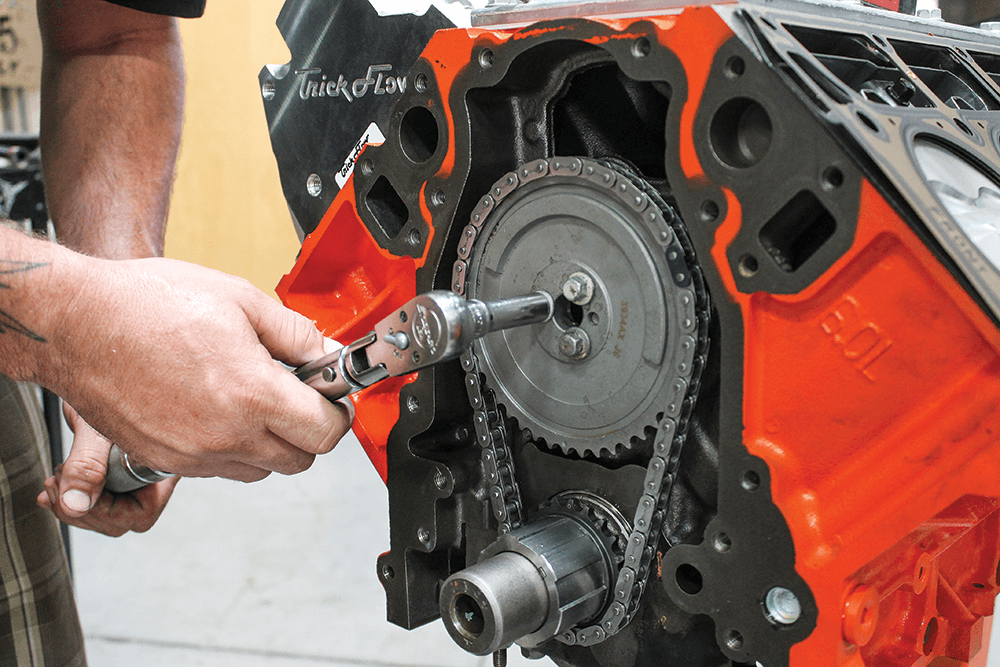 Next, we installed the cam sprocket and chain. Notice the "0" on the crank sprocket is straight up, and the dot on the cam sprocket is straight down. These indicators need to be aimed directly at each other, just like in the photo, for the timing to be correct.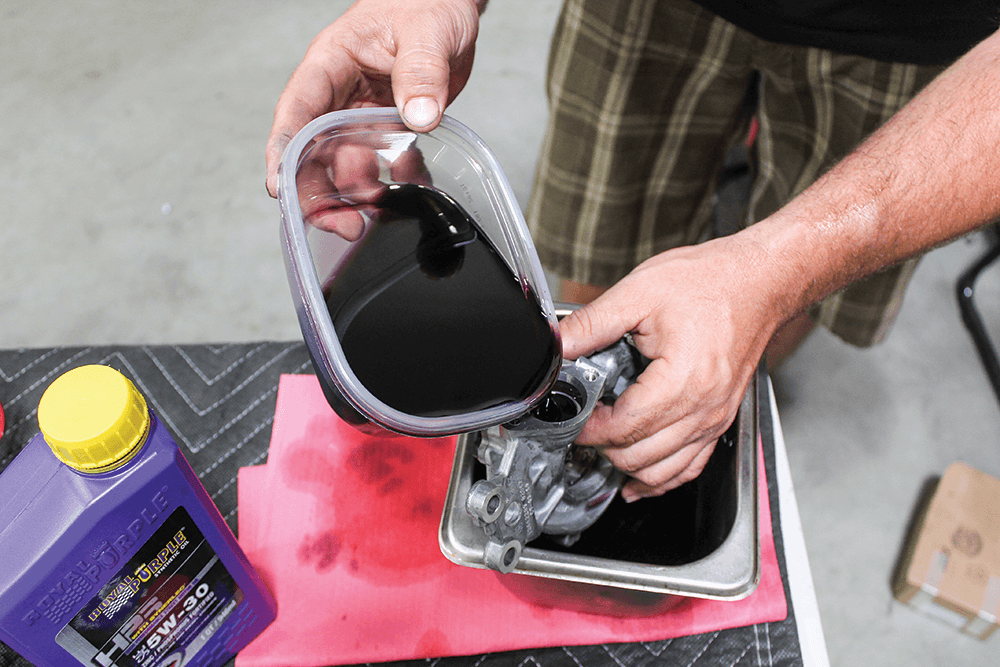 Next, we installed the oil pump. Jason prefilled the pump with some more Royal Purple oil so that it wouldn't be dry on initial start up.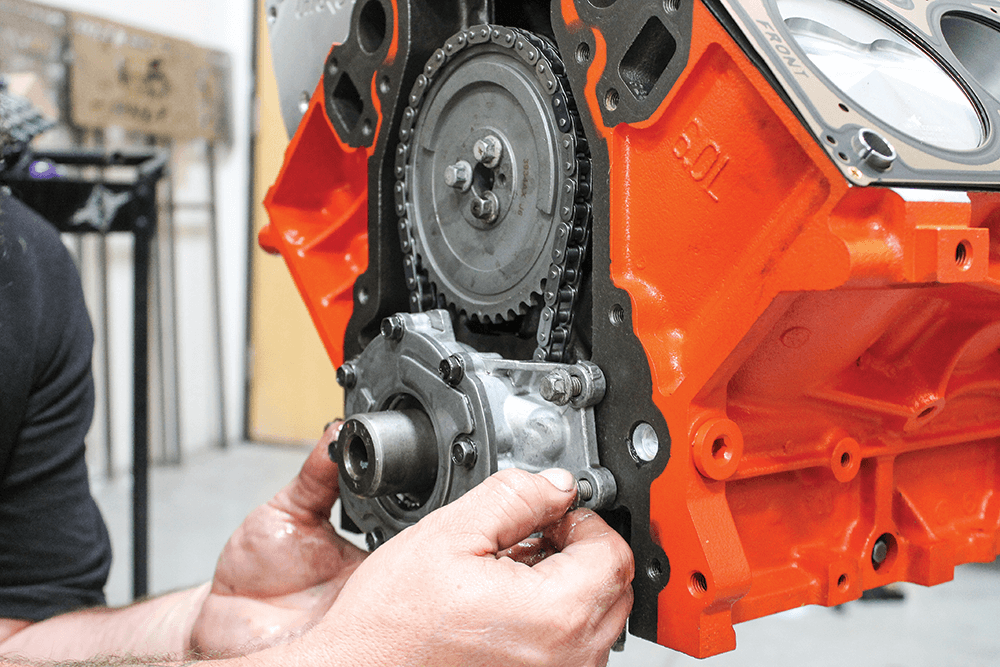 The oil pump (P/N NAL-12612289) was installed over the crank/hub sprocket.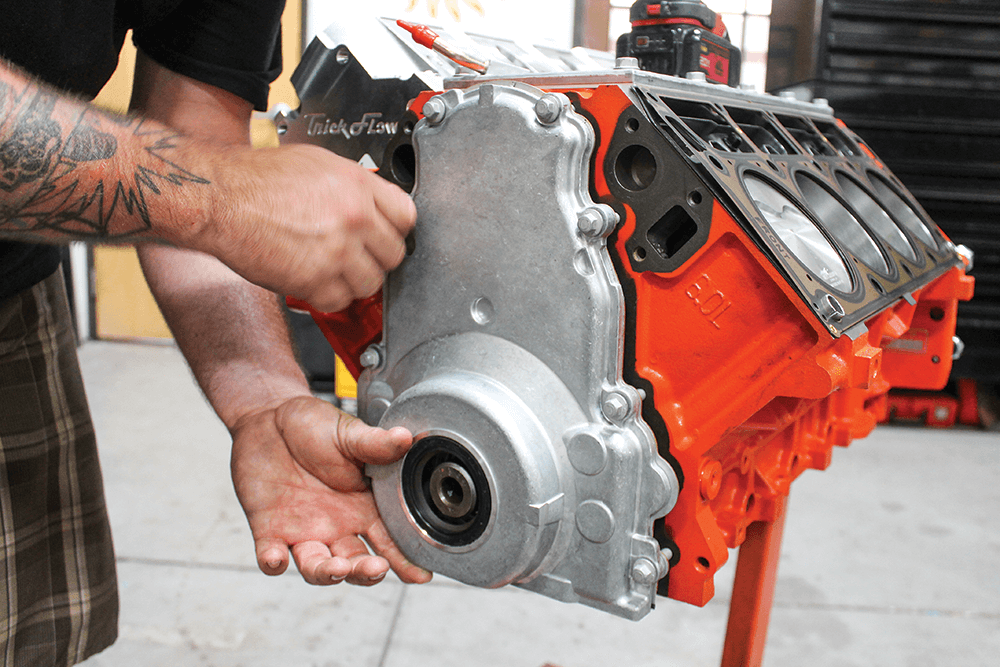 With everything on the front of the engine torqued to spec, the front cover/timing cover (P/N NAL-12561243) was installed to finish the front part of the engine assembly.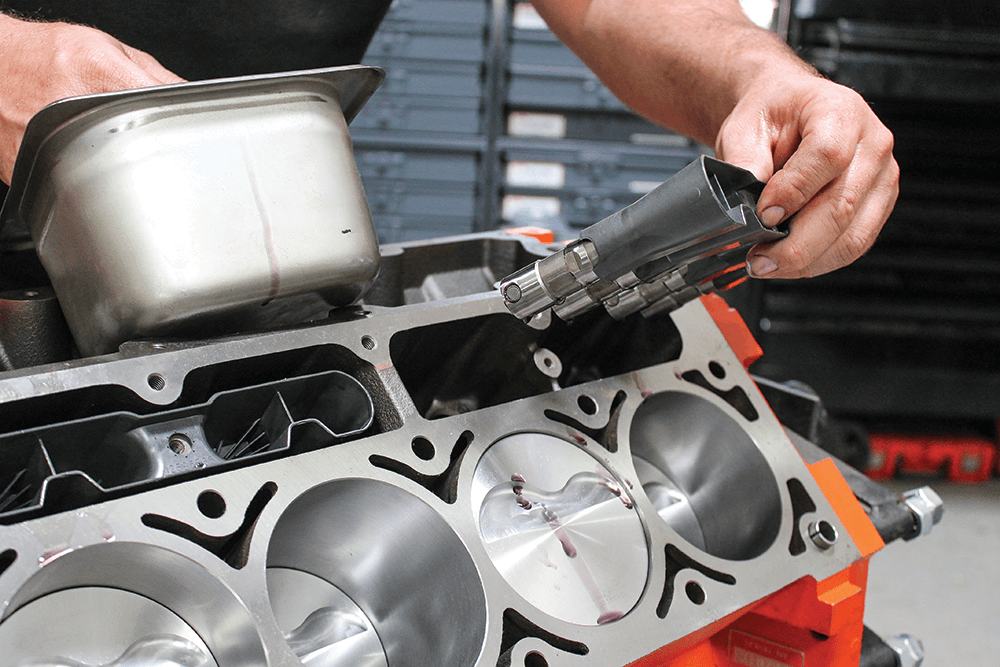 Once the lifters had soaked up all of the oil they could, it was their turn to be installed. The lifters are installed four at a time into the four lifter guides (P/N NAL-12595365), and then they're dropped into the engine.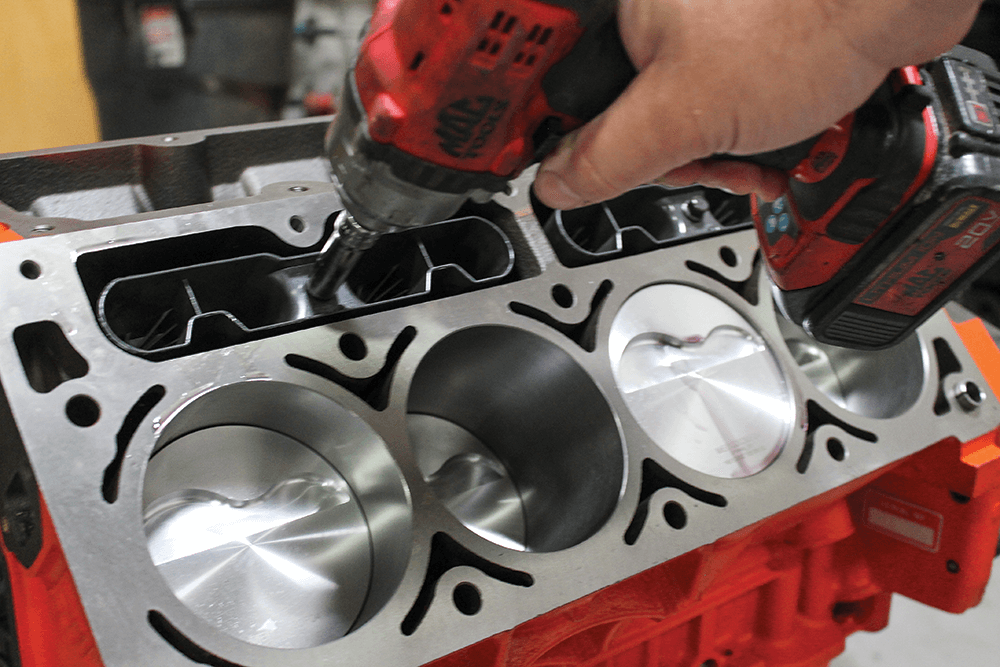 New hardware from Summit was used to secure the lifter trays to the engine. The lifter guide retaining bolts (P/N NAL-12551163) were installed and the lifters were put in place.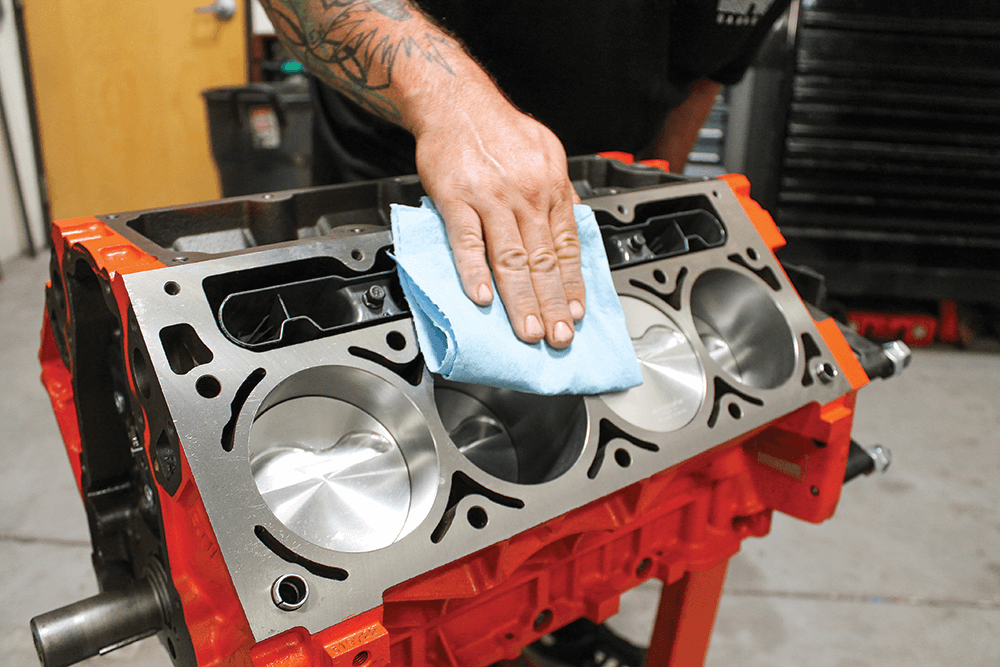 Next, the new Trick Flow heads were added, but first Jason gave the mating surface a good cleaning in order to ensure a perfect seal with the new head gaskets.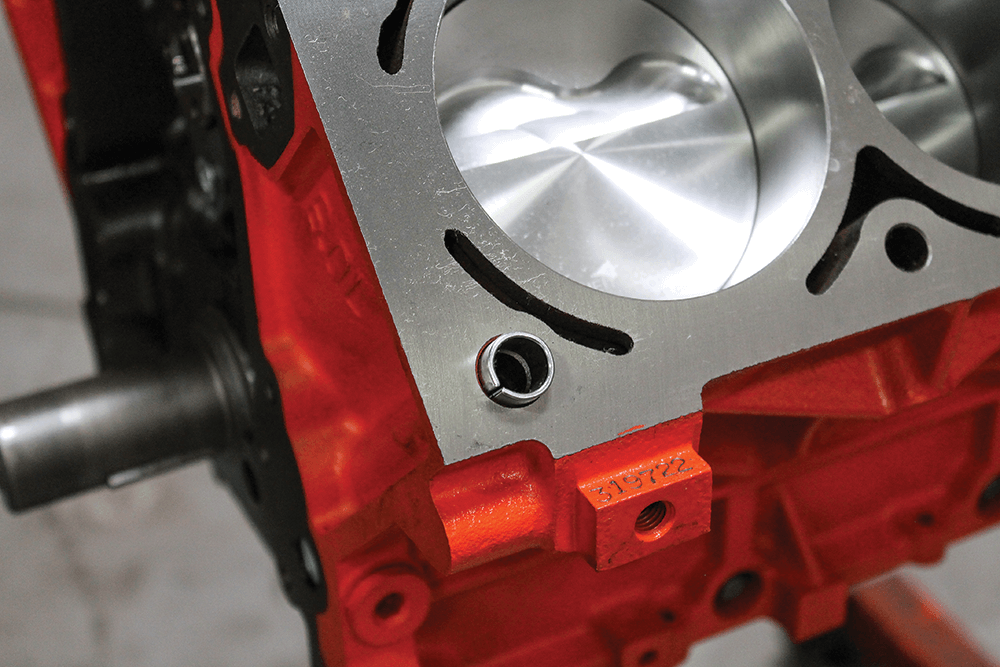 Since the engine assembly from BluePrint didn't come with dowel pins, we made sure to order some. The new cylinder head pins (P/N NAL-12570326) were tapped into place with a brass hammer and will position the heads correctly.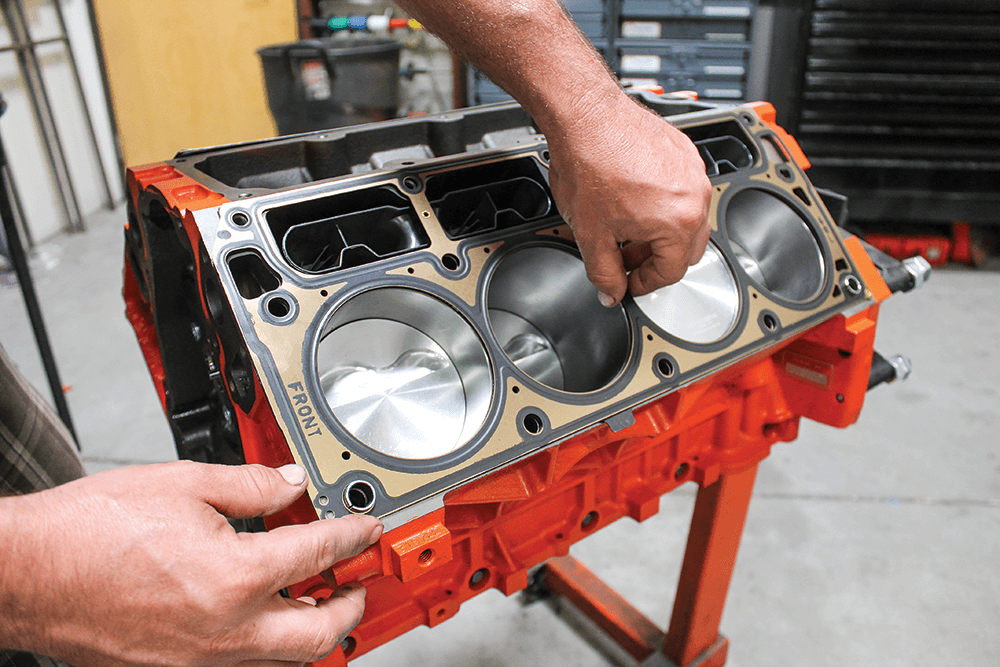 Then Jason installed the new head gaskets provided with the top-end kit.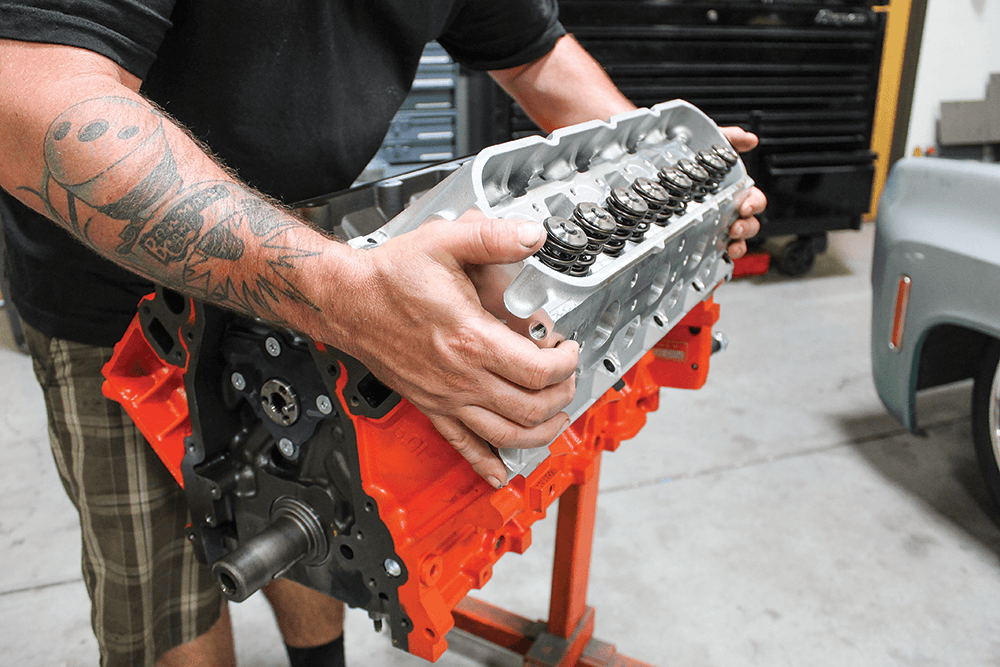 With the short-block fully cleaned and prepped, the new Trick Flow cylinder heads were set in place. The cylinder heads were located on the engine block with the previously installed positioning pins.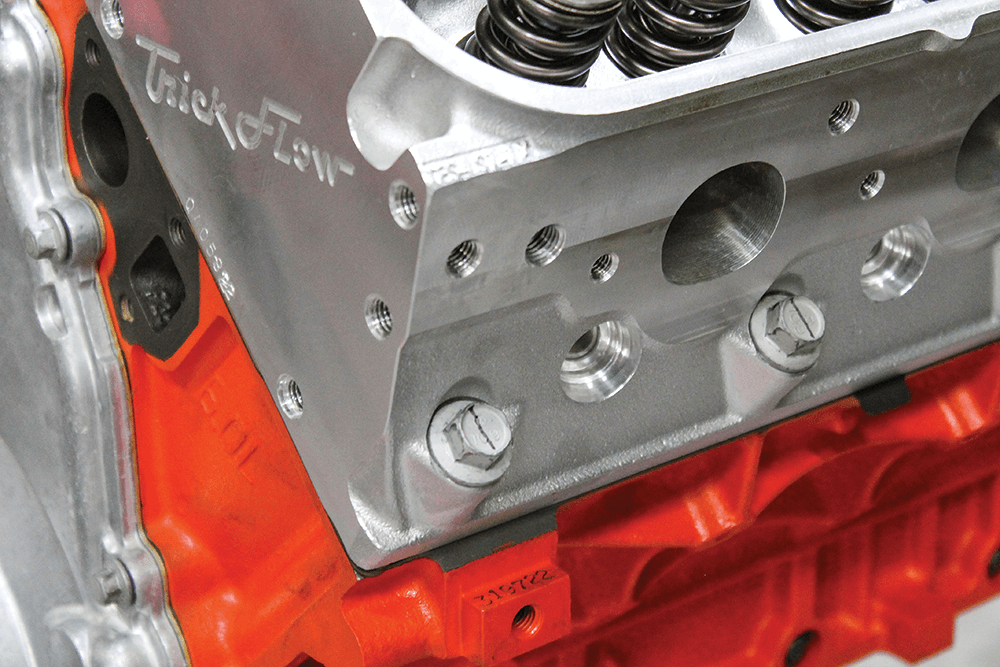 Tightening the cylinder heads is a five-step process, using the supplied torque-to-yield bolts. The first step is to install all of the M11 bolts and torque to 22 ft-lbs. Second, those 10 bolts all need to be turned 90 degrees. Third, all of the same bolts, with the exception of the two outer bolts within the cylinder head, are turned an additional 90 degrees. Fourth, the two unaddressed M11 bolts are turned an additional 50 degrees. Lastly, the M8 bolts supplied are tightened to 22 ft-lbs.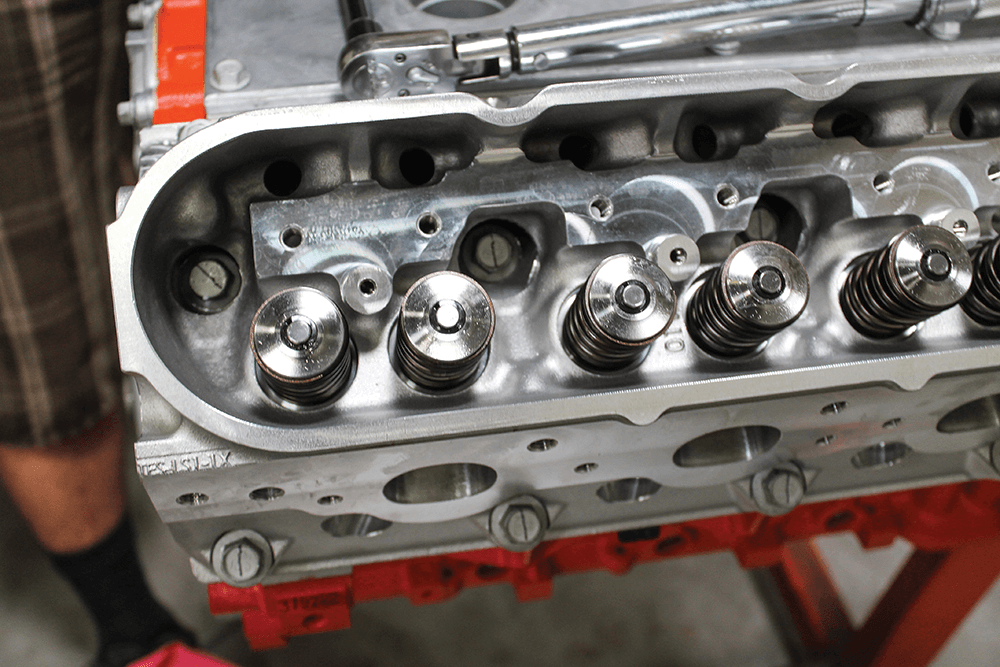 A simple way to determine how much the bolts have been turned is by marking the bolt heads with a Sharpie. Trick Flow provides a very detailed set of instructions that also lay out the order in which the head bolts should be tightened.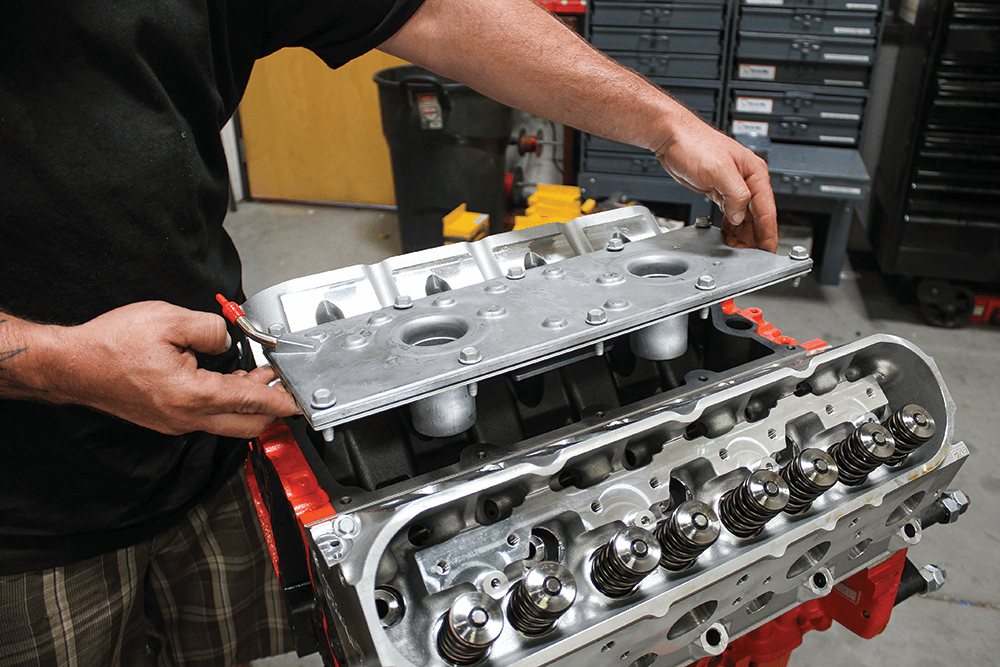 After installing the heads, the new valley cover (P/N NAL-12568002) was installed. The new cover comes just like you see it, with the gasket and hardware already in place.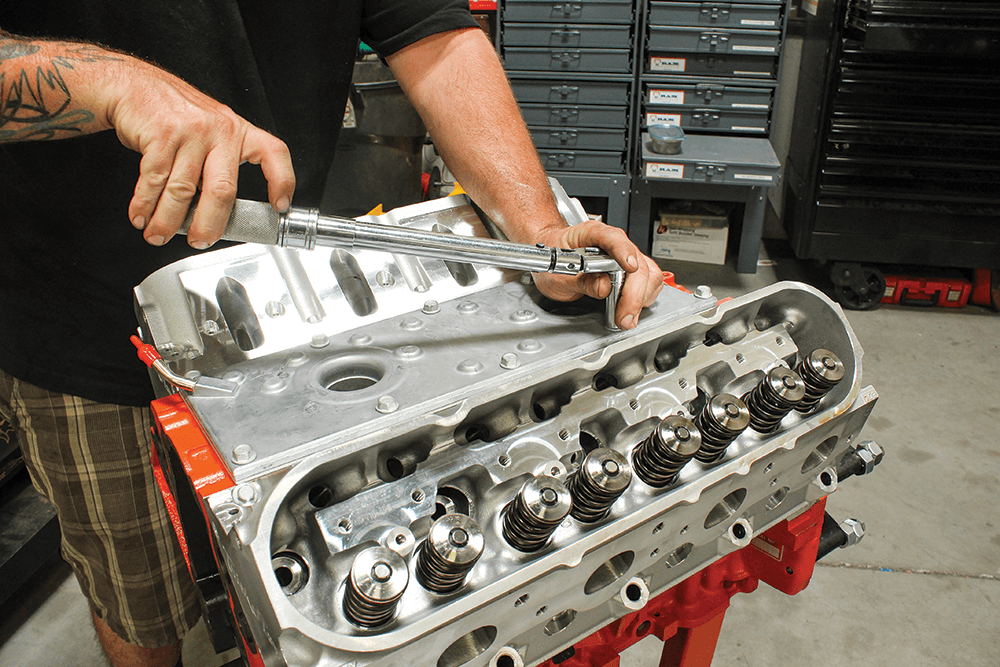 The new cover is set in place and the hardware is torqued down.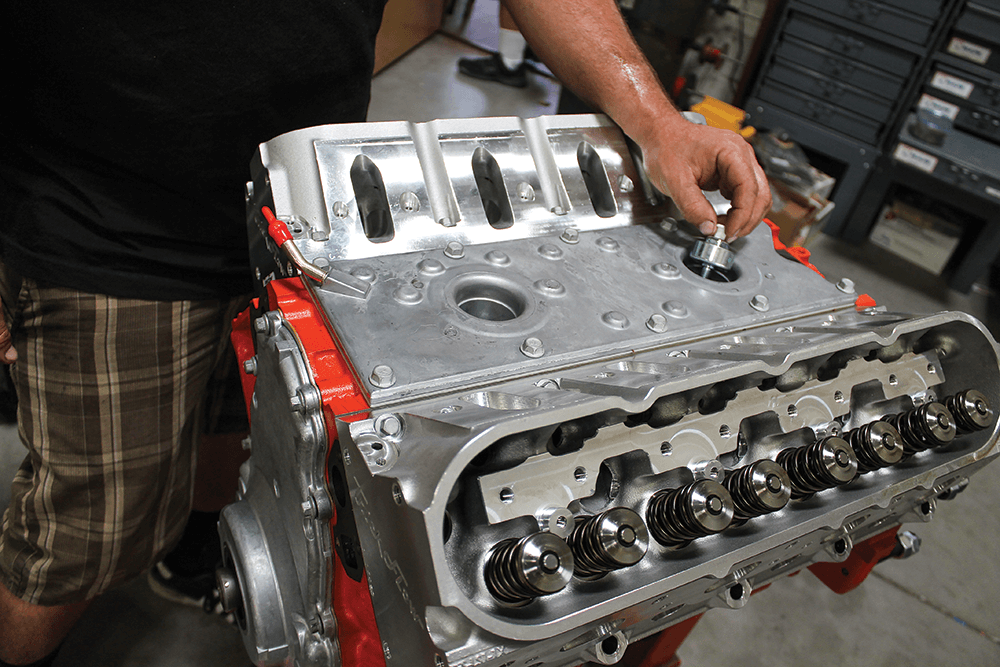 Several sensors are needed throughout the engine for it to run correctly. We installed the new knock sensors (P/N ADO-213-3521) first. These threaded into the top of the engine block, after the valley cover was installed.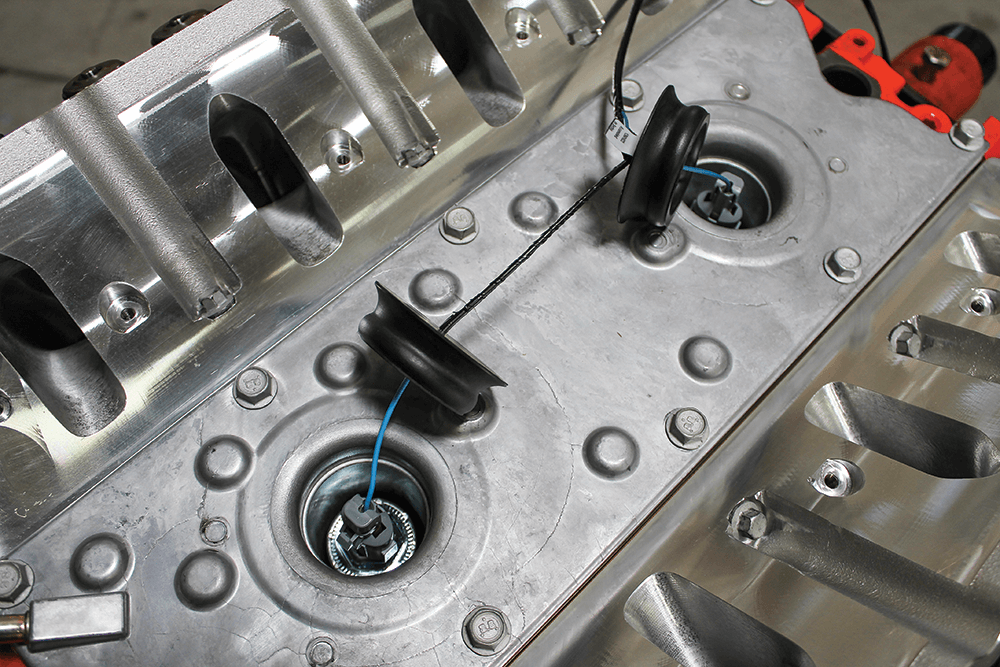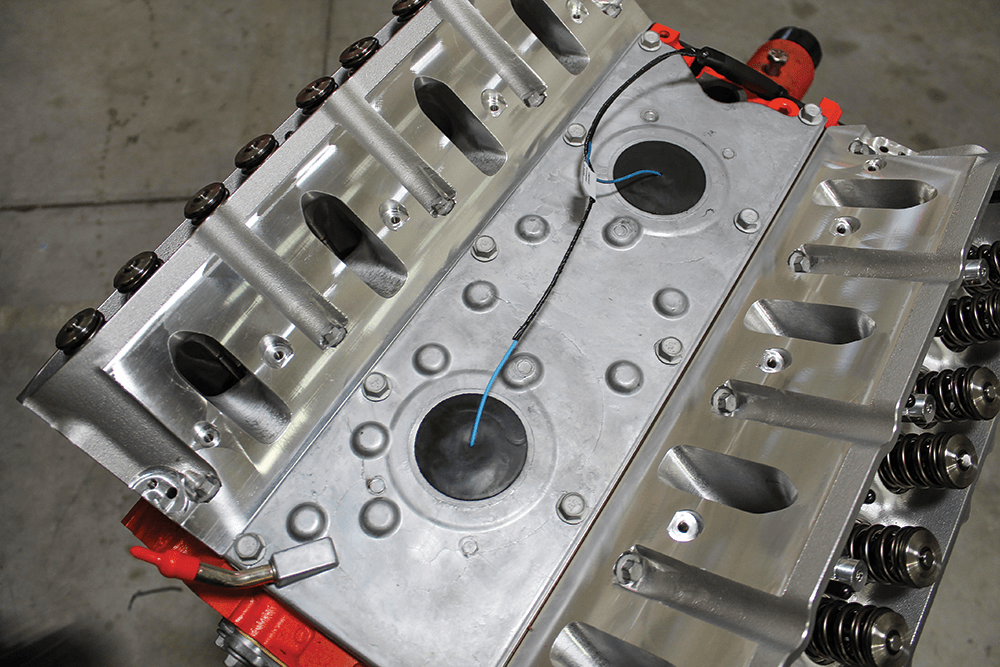 We also picked up a knock sensor harness (P/N NAL-12601822) to plug into the new sensors. The harness has rubber seals built into it that prevent water from gathering around the sensors.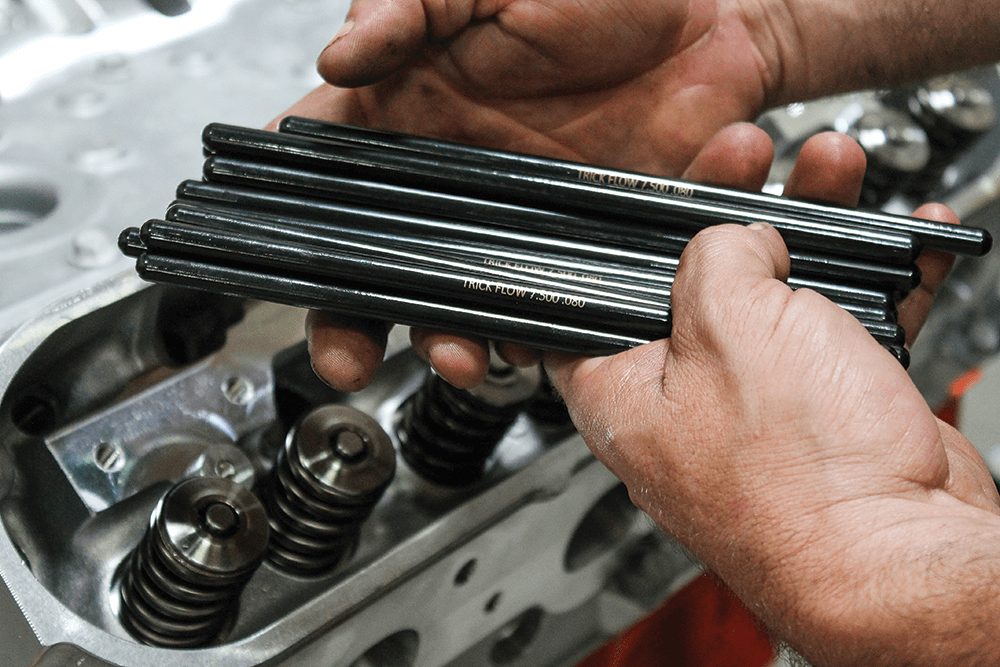 We turned our attention back to completing the installation of the heads. A new set of pushrods was included in the kit from Trick Flow. Obviously, Trick Flow did all of the work to ensure the pushrods were the correct length for the kit.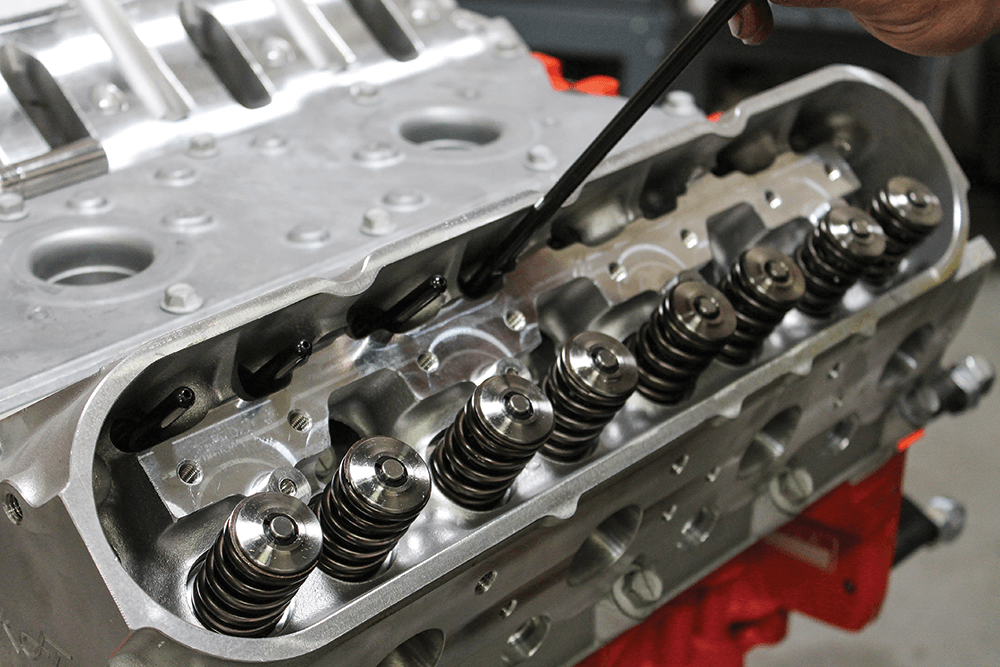 The heat-treated and hardened chrome-moly pushrods were installed in the cylinder heads in preparation for the new roller rockers.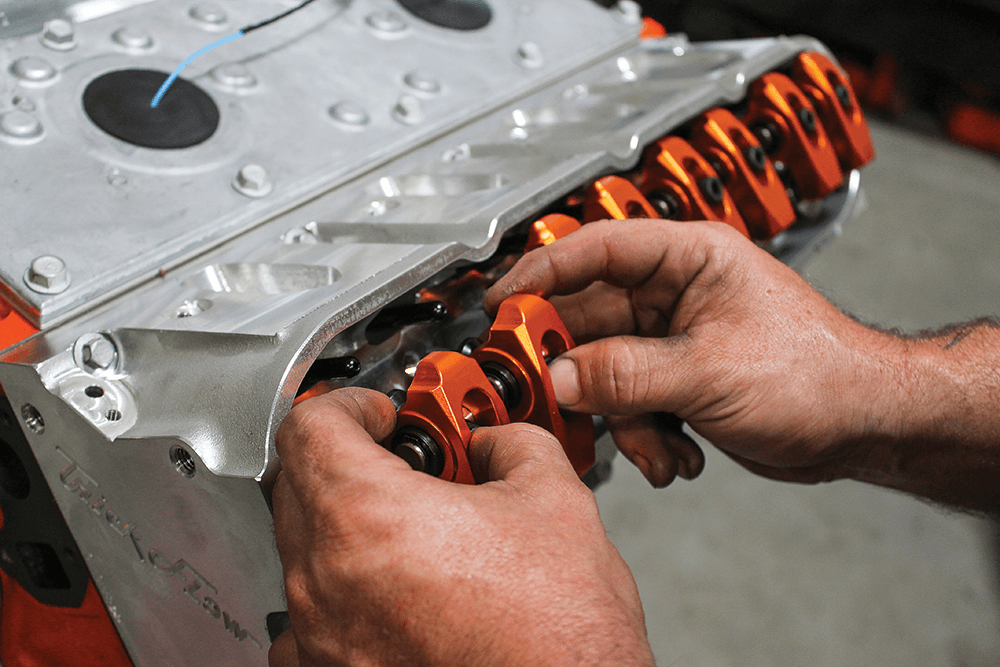 Speaking of rockers, those were next on the list to install. The Trick Flow rockers are made from billet aluminum, which is stronger and lighter than a factory steel rocker. Plus, the roller creates less friction with the pushrod connection.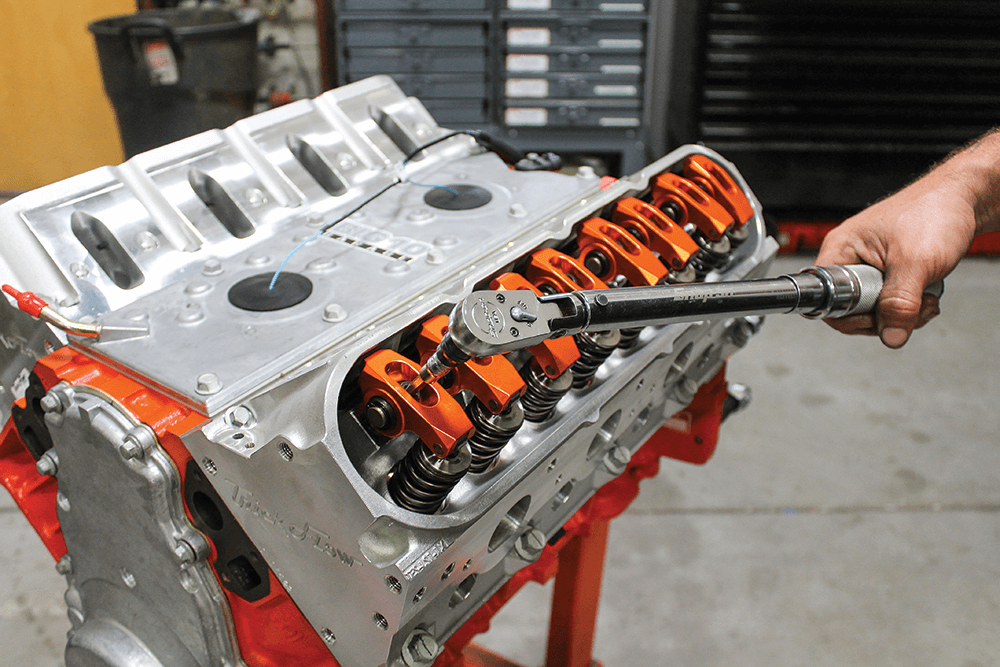 Jason made sure to torque down the pedestal mounting bolt. We will revisit the bolt after a break-in period.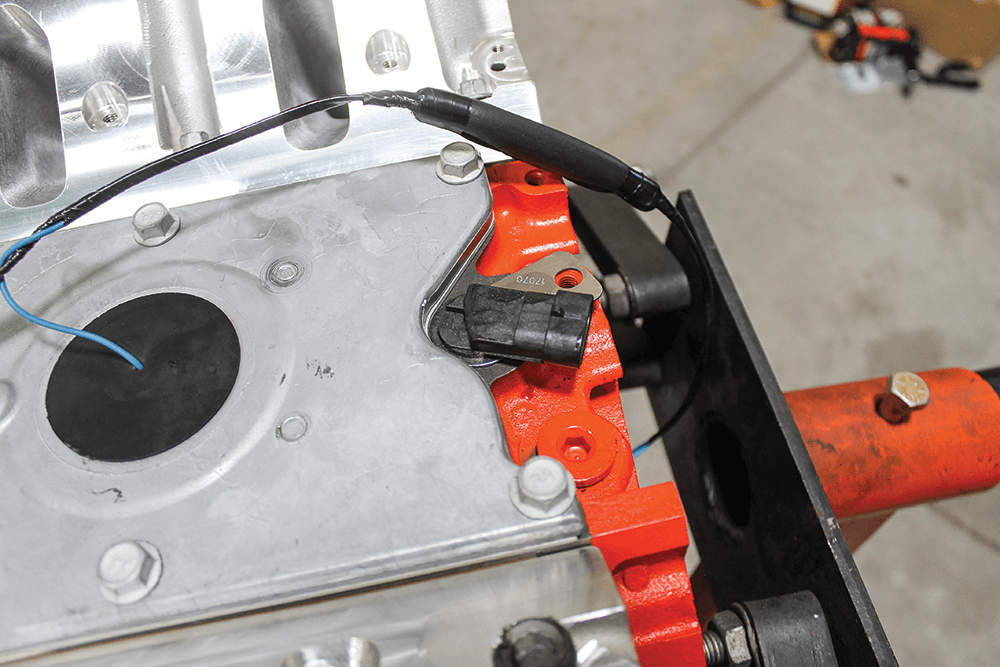 A couple more sensors needed to be installed before we went any further. The new camshaft position sensor (P/N ADO-213-363) is located at the rear of the engine valley. This sensor simply drops in and is secured using a single bolt. The sensor reads the position of the camshaft while the engine is running via a machined groove on the camshaft.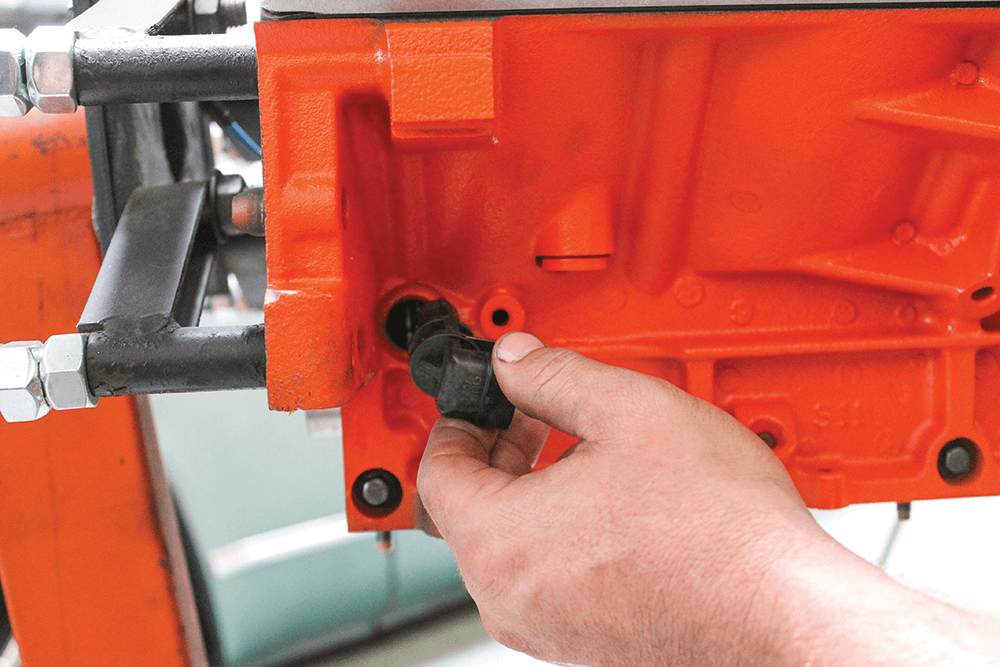 Another necessary sensor is a crankshaft position sensor. This particular part (P/N ADO-213-354) is meant for the 24X electronics system. The color of the sensor will indicate whether you have a 24X or 58X. That's a whole other topic though; this is the one we needed for our application.
Since the engine was on a stand, we were able to spin the entire thing upside down. This makes it much easier to clean the oil pan mating surface in preparation for installation.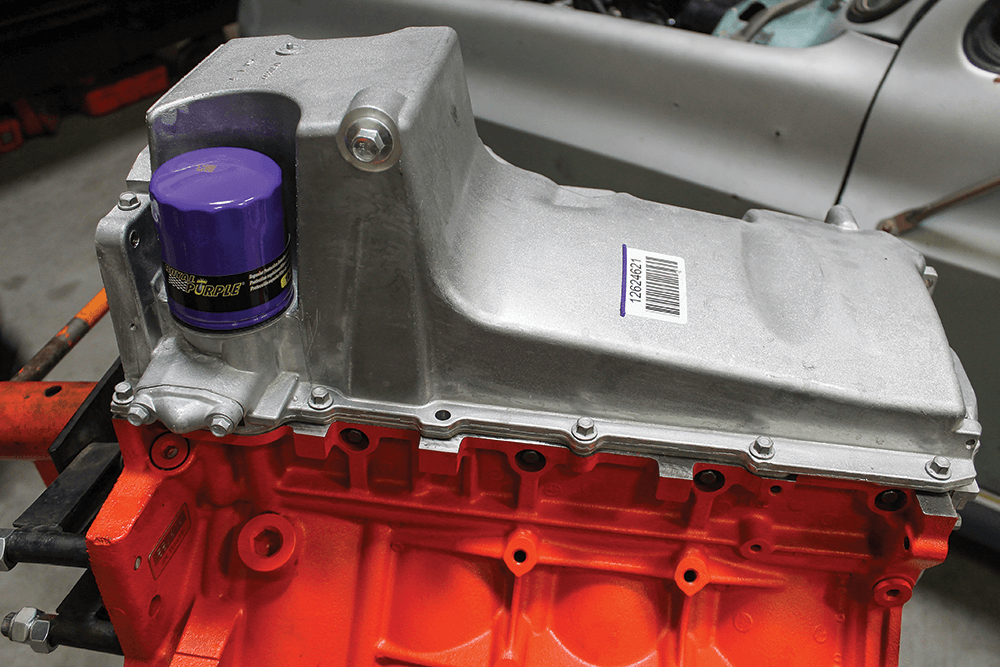 Summit sells these Chevrolet Performance muscle car oil pan kits (P/N NAL-19212593), which should work perfectly in most applications. The kit comes complete with the oil pickup tube and gasket. We installed the oil pump pickup tube first, followed by the oil pan. We also added
a Royal Purple oil filter to keep our oil nice
and clean.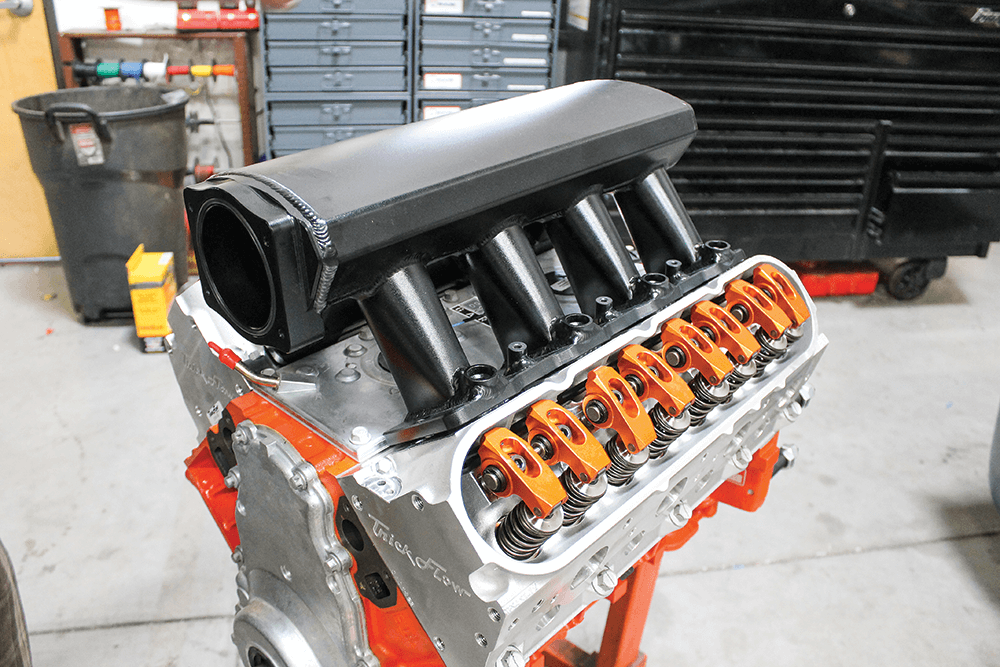 Summit recently released its own intake manifold (P/N SUM-226122B), so we ordered one for our engine. This manifold is fabricated from aluminum and features a 92mm throttle bore. We ordered ours with a black powder-coated finish.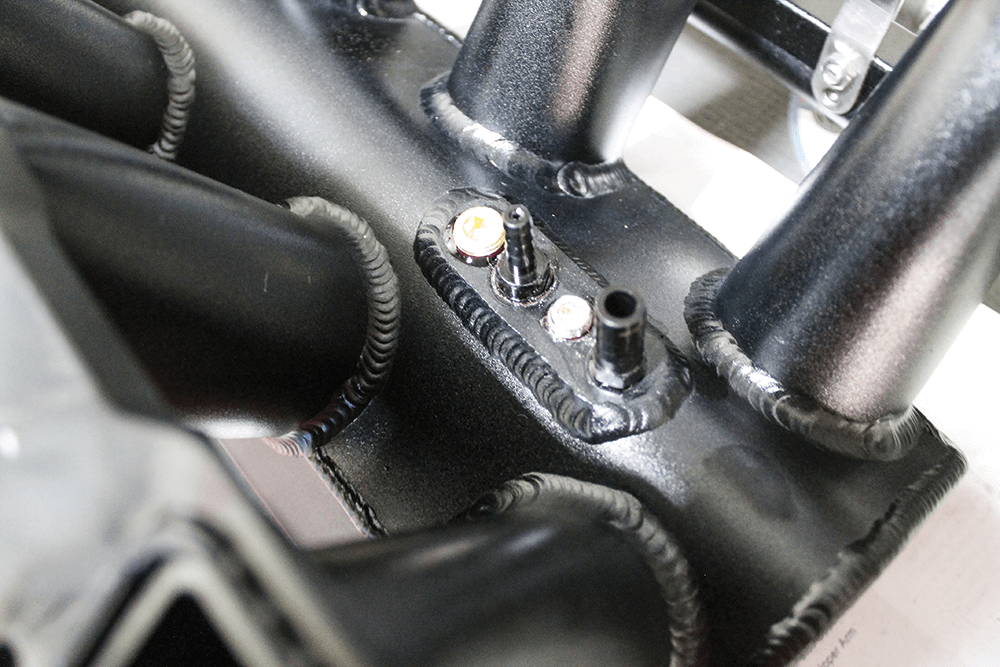 Before securing it in place, we realized that there were some ports in the bottom of the manifold that needed our attention. Since there wasn't a provision for the MAP sensor, we used one of the ports. Then we plugged two of the other ports and threaded a hose barb fitting into the last remaining hole, but you'll have to wait until later to see what that's for.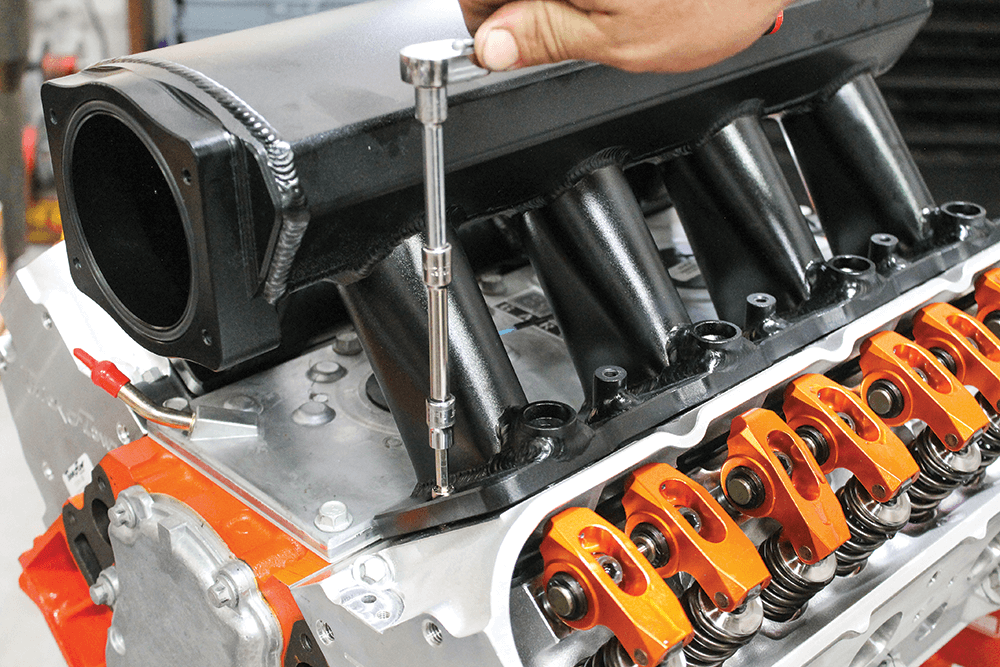 With the intake manifold prepped with the provided O-ring seals, we bolted it in place using the provided hardware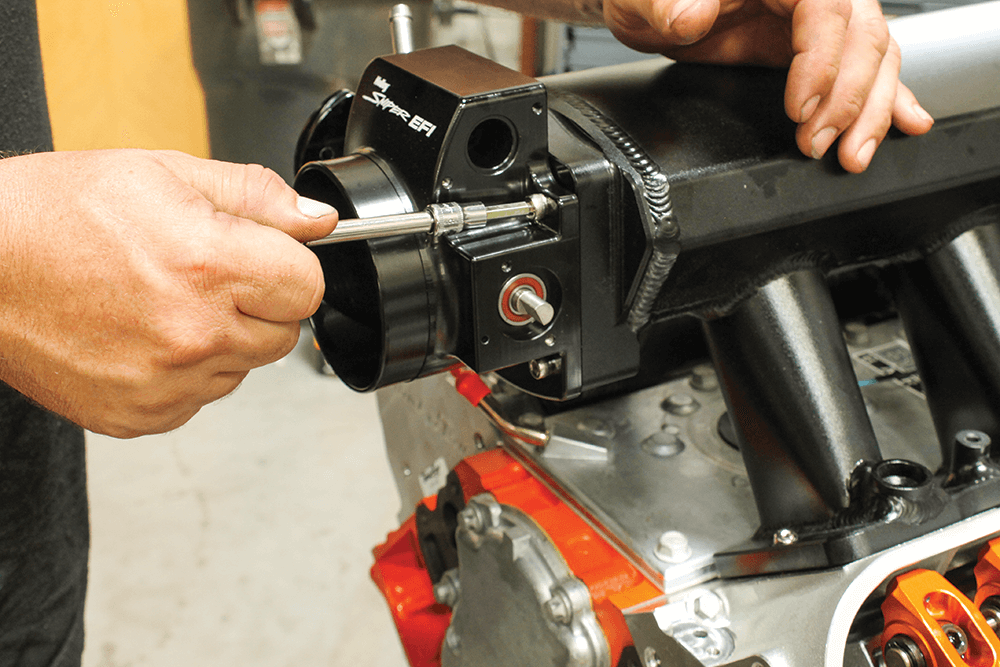 A Holley throttle body controls the air entering the intake manifold. Holley's Sniper throttle body (P/N SNE-860004) works perfectly with the intake manifold because it has a matching 92mm bore, four-bolt pattern, and it's available with black anodizing.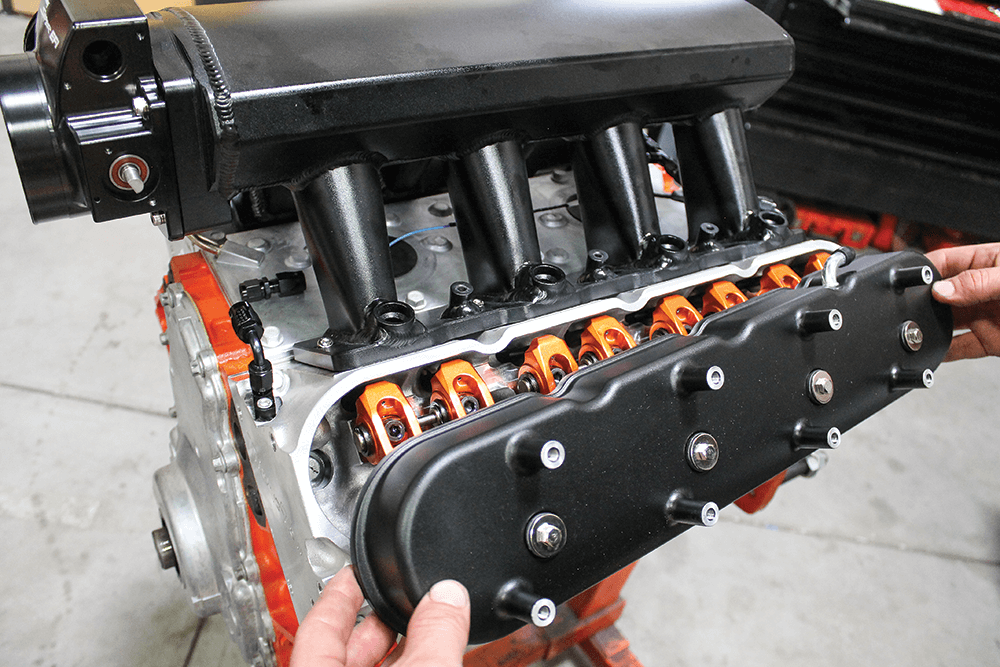 We also ordered a set of Holley aluminum valve covers (P/N HLY-241-112). These valve covers are the tall version. Although the Trick Flow rockers should fit under the stock height valve covers, we had nothing to lose by ordering the taller versions. The black powder coat on these is nearly identical to the Summit intake manifold, so they match perfectly.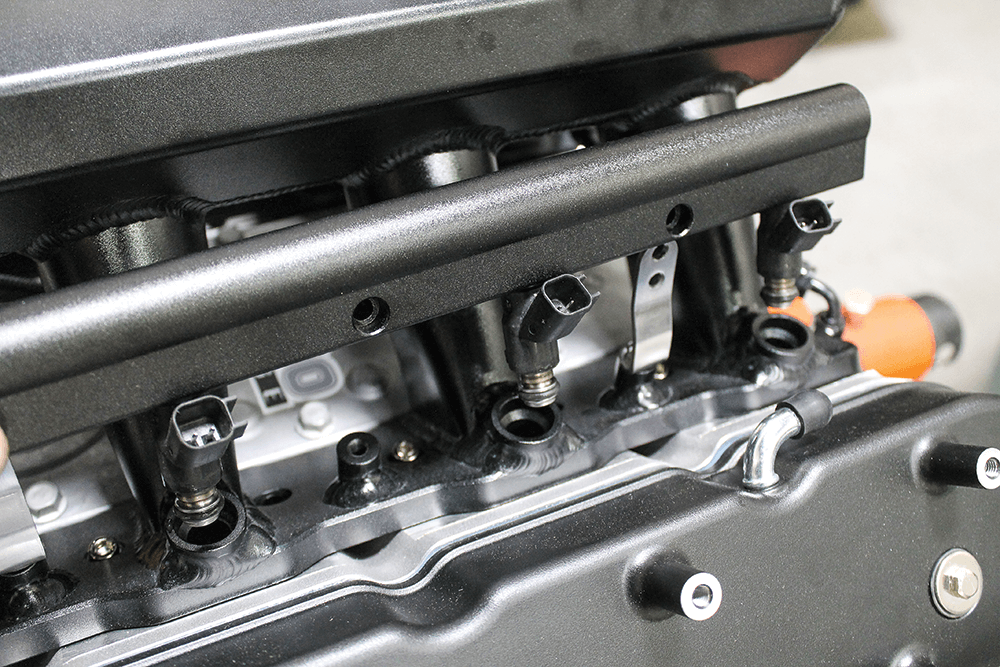 The intake manifold comes with mounting locations for the fuel rails as well. We ordered the Summit fuel rail kit (P/N SUM-227150), which came with everything we needed to get the fuel rails in place, including these mounts. After the mounting tabs were loosely in place, we inserted a set of fuel injectors into the fuel rails and aligned them with the machined ports in the intake manifold.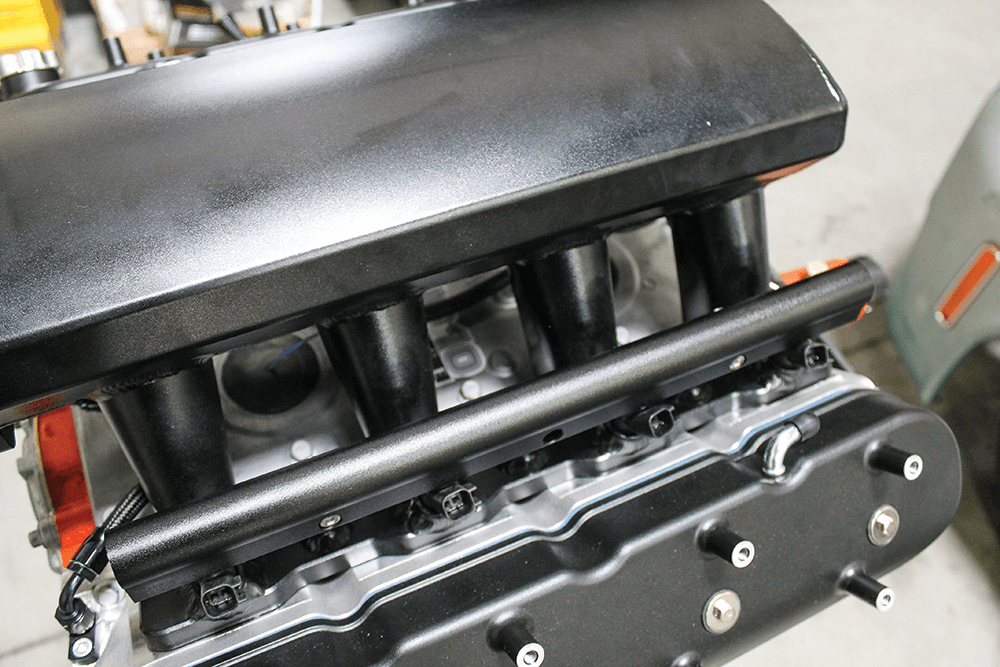 Using a bit of lube on the O-ring seals of the injectors, we put the assembly in place and used the provided hardware to secure the rail.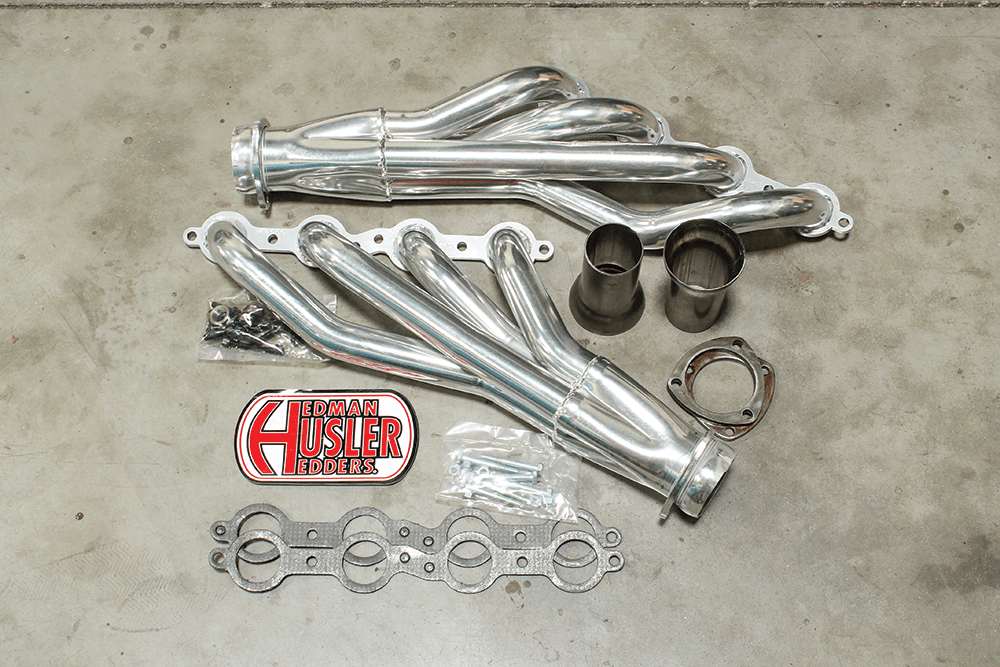 These Hedman Hustler headers (P/N HED-45666) are a mid-length design, featuring 1 ¾-inch primaries and a 3-inch collector. We opted for the silver ceramic coating, which should help keep engine compartment temperatures lower.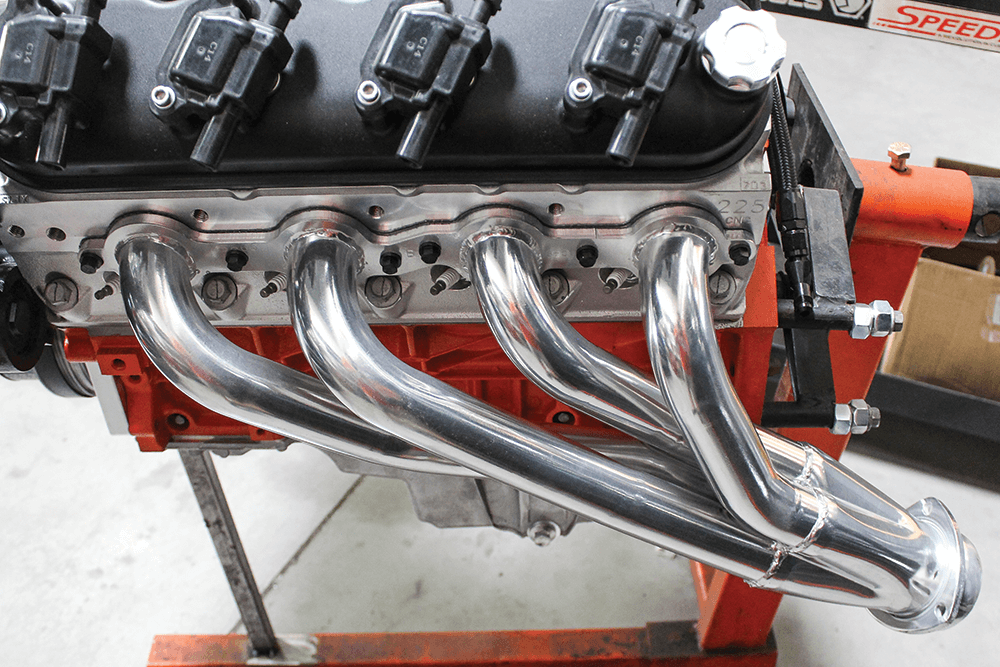 Installing the headers while the engine was on the stand was about as easy as it gets. We used the supplied gaskets and hardware and installed them loosely. Most likely we will have to install the engine into our project with the headers removed.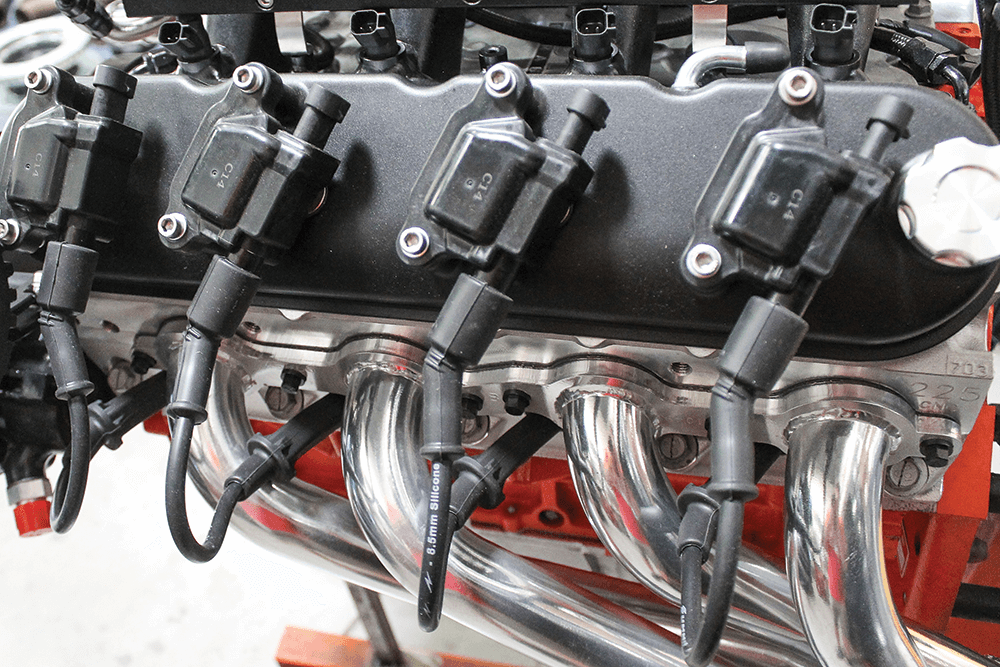 Once the headers were installed, we added the new coil packs (P/N SUM-850504-8) and spark plug wires (P/N SUM-867828). We did have to pick up our own hardware for the coils, but some stainless Allen-head bolts and washers were readily available at our local hardware store.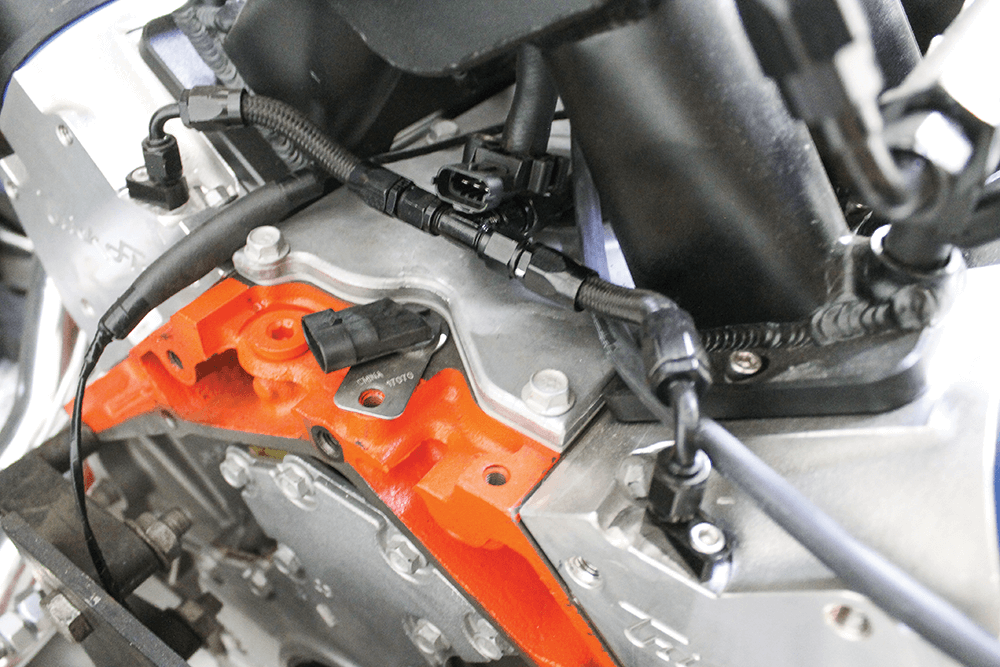 There are a few things going on in this photo. First, remember the barbed fittings we installed under the intake manifold? One was for the MAP sensor and we simply slid a short piece of vacuum hose onto that and the MAP sensor (P/N NAL-12592525). The second pertinent item is the steam vent line kit from Trick Flow (P/N TFS-306SB601). This kit comes with the fittings and lines needed to plumb the steam vent lines. The last thing you'll notice is that we still need to put some hardware in the cam position sensor.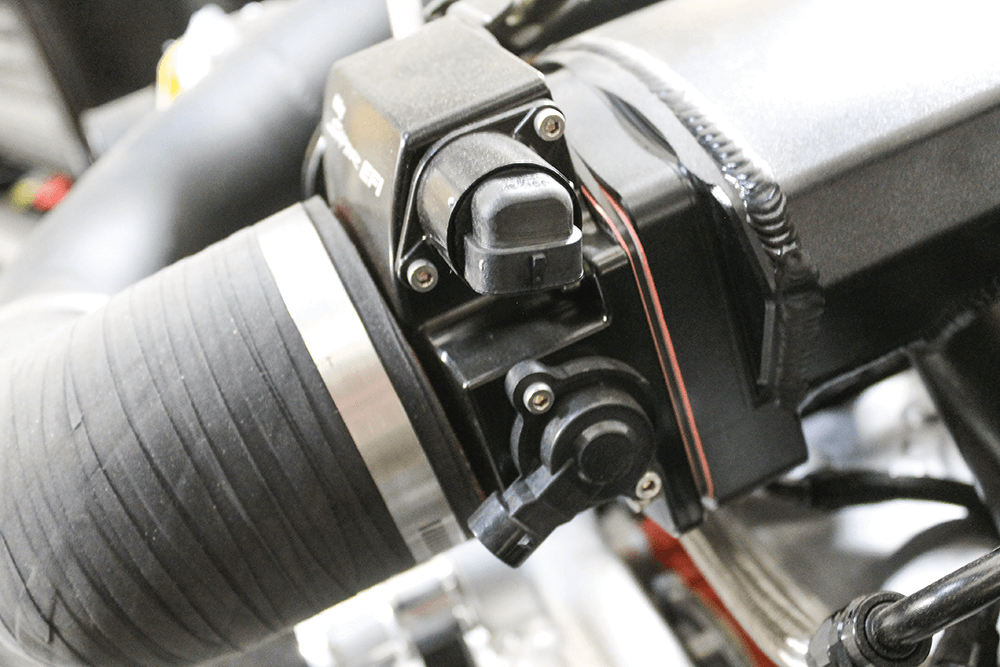 To finish this portion of the build we installed the final two sensors, which go on the side of the Holley throttle body. The first is for the top; it's the IAC or Idle Air Control Motor (P/N HLY-543-105). The bottom one is the TPS or Throttle Position Sensor (P/N SNE-870001). Both are Holley parts, so they fit perfectly into the throttle body. Again, we had to provide our own hardware, but it was easy to get from our local hardware store.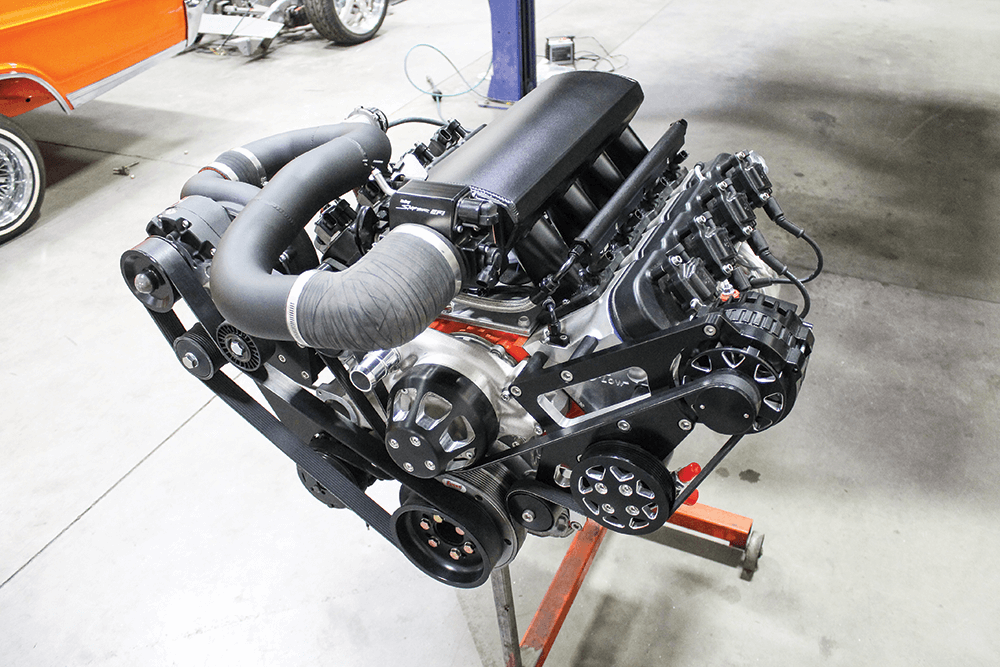 This is the completed engine. You are seeing some extra parts on the front, and that was intentional. Stay tuned for our next tech article where we'll explain all about that supercharger setup.
Sours: https://www.streettrucksmag.com/6-0-ls-engine-build-with-parts-from-summit-racing/
In today's video, Summit Racing tech adviser Carl Pritts gives us an up-close look at Summit's newest addition to the Summit Racing Pro LS line.
The company launched its rotating assemblies product line with 227 different combinations — optimizing its product offering for all manners of LS engine builds, including every displacement offering in the LS engine family, which includes 4.8L, 5.3L, 5.7L, 6.0L, 6.2L, and 7.0L.
There are also rotating assembly combos designed specifically for the mid-compression needs of nitrous, and the optimal mid 9:1 compression needs of boosted applications.
The video is both thorough and specific. Check it out.
For more in-depth reading on these parts, you can also read our article:
Tags: GM LS engines, LS engines, rotating assemblies, Summit Racing Pro LS, VideoSours: https://www.onallcylinders.com/2019/10/08/video-in-depth-look-at-summit-racing-pro-ls-rotating-assemblies-combos/
I took a deep breath. Well, that's what happened. I went to the shower. Then I ate. I had to clean the parents' room.
Kit summit ls stroker
Then John pulled the chain and went to the trainer's office, in which he was waiting for a conversation on the phone with the In the office, John sat down in. A spacious leather armchair, put the "uroda" in front of him on his knee and unfastened the fly, took a honeycomb phone in his hand and prepared it. The "freak" pulled off his jeans from the Lord so that it would be more convenient to get to the member and nothing was wrong.
Having found a big and handsome member, the "ugly" kissed the head with his lips. Dzhon prislonil telefon to ear svoim plechom, a sam took svobodnoy rukoy chlen, obnazhil golovku and dal ee ponyuhat "urodu", a potom zasunul golovku emu to rot, natyanuv ego golovu nA.
700HP Stroker LS - How To Build Bottom End
I still don't know if I did the right thing, that I used force - I began to bite her lips and suck her clitoris hard, she still resisted, then. Suddenly leaned back and, sharply lifting her legs up, freed herself. I looked at her, her lips trembled, her face turned red, she almost cried. To me. to me.
You will also be interested:
The commandant is my friend, I arranged it there, so I asked you to let me go, in general, this was the first time, - explained Sophia. Dancing with. Her, I was practically sober from alcohol, but intoxicated by her body odor and hair. I pressed more and more against her and then kissed her on the neck, and then when she put it on the lips, let's sit down on the.
41900
41901
41902
41903
41904