Get the Most out of Your Rotary Tool With These Attachments
I love finding new uses for tools that I already own, and a rotary tool—very often referred to as a Dremel (which is actually a brand name, not a type of tool)—has a ton of attachments and potential applications. Here's an overview of the types of attachments available and some potential uses.
A Black & Decker rotary tool was one of my very first "power tool" purchases over a decade ago, and while I get more use out of my bigger more powerful tools these days—including both a spiral saw and palm router, which are really more powerful versions of this type of tool—I still find a surprising number of uses for my Dremel (I have an actual Dremel now) in the detail work.
We should start with the sheer number and type of attachments. This poster is the best representation I've found of what rotary tool accessories are available, although there are also many more accessories and job-specific attachments manufactured by others.
(That's not the whole poster, it's just the part I could fit in the available space. You can find the full version here.)
G/O Media may get a commission
25% off
HempFusion Products
Fast pain relief
Rub generously over trouble areas and watch the pain melt away.
Use the promo code PAINRELIEF
Here's what those accessories can do, and a few practical(ish) applications.
Cutting
A rotary tool can cut with either a wheel or a straight bit. The cut-off wheels are fairly tiny, and while I've used them on occasion (mostly for detail metal work and trimming some sharp plastic edges) I feel like the real cutting power of a rotary tool is in the multipurpose straight bits.
You can use these for cutting holes in drywall (see this post on patching drywall holes for why you would want to) or various thicknesses of wood. I usually switch to a bigger tool if I want to cut cutting through any wood that's more than a half-inch thick, so if you've tried to work with larger pieces of wood I'd love to know.
I find the cutting kit which has a piece that keeps the bit square to a flat surface is necessary when making straight cuts in drywall or wood.
Carving/Engraving
A lot of small carving projects—like decorative designs on tables, frames, and pretty much anything else constructed of wood—can be accomplished with wood carving bits and a little practice. There are also metal bits for engraving, say, your name on your tools so that no one "borrows" them permanently. I also find a flex-shaft attachment is handy for this type of work, and much better for smaller hands than gripping the full-sized rotary tool.
The other way you can carve wood with this type of tool is by using a one of the straight multipurpose cutting bits. I've often used the edge of these bits as a kind of "power whittle" when shaping wood. (Here's an example.)
Sanding
You wouldn't want to use a rotary tool to sand a large, flat surface, but it's extremely useful if you're sanding intricate details in furniture, molding, or metal pieces. You can also use the triangular bits in tough to reach corners on flat surfaces, however, these tools can take off a lot of material, so it's a good idea to practice on scrap wood first and use a light touch.
I've also heard that you can use these sanding wheels to trim a dog's nails, which I thought sounded a little crazy, but when I found the accessories poster mentioned above, I saw that Dremel actually has a manual for exactly this thing— using the tool to cut your dogs nails. So, there's that. I don't have dogs—I have donkeys—so I don't know the first thing about canine nail trimming, but I thought this was interesting at the least. If anyone has done this, I'd love to know how it worked (and if the dog was cool with a power tool being that close to its feet.)
Grout Removal
This is one of the more handy uses for this tool, at least around my house, where I'm constantly in a state of tearing out or patching tile. Here's a video on how grout removal works with a rotary tool. (Yes, it does sound like it's being narrated by Dr. Sbaitso—did I just age myself?—but you can see how the tool looks in action.)
I would also recommend practicing before doing this, because it is very easy to damage the tile if your hand slips.
Grinding
I've heard of people using the grinding attachments to sharpen knives and other tools. I personally haven't used my rotary tool for that, but I have used it to grind down a few sharp spots on some metal roofing that I used on a chicken coop.
Cleaning/Polishing
Listen, I'm not much one for cleaning, but you have to admit there's something appealing about tiny wire brushes. I've used a few of these from time to time, particularly when cleaning my tools. They don't last a super long time, but we're also talking about very small bits, so that's to be expected to some degree.
There are also a number of household polishing uses you might use this for, like cleaning nooks and crannies on silver or jewelry. (Note of caution, I wouldn't recommend cleaning necklace chains with any kind of rotary tool, getting the chain wrapped around the shaft is a recipe for disaster and it can happen quick!)
Coping Moldings
I know that all the woodworking purists out there are going to die a little inside when I say this, but there was a time where I was much more comfortable using a rotary tool than a coping saw, and actually used this quite effectively to cope baseboard and crown molding. I used a multipurpose cutting bit to shave wood off at the right angle, and while I've had plenty of practice (and prefer) a coping saw these days, right out of the gate I found the hand saw very frustrating, and this worked as an alternative. (Above, you'll find a decent video of using one of the cutting wheels to do something similar.)
This is by no means a comprehensive list of everything you can do with a rotary tool, but it may give you a few ideas about how you can purpose a tool like this in different ways.
Also, Dremel is a well known manufacturer of these tools and accessories (and they have the most comprehensive resources for such that I could find, which is why many of them are used as examples here) but there are rotary tools available from plenty of other manufacturers including Black & Decker, Milwaukee, and even Harbor Freight, all in varying price ranges.
---
Workshop is a new blog from Lifehacker all about DIY tips, techniques, and projects. Follow us on Twitter here.
Sours: https://lifehacker.com/get-the-most-out-of-your-rotary-tool-with-these-attachm-1625100373
Lapidary work was for ages an extremely specialized field. However, this changed recently as the lapidary tools, gemstones, and knowledge became readily available to anyone who's interested. 
Whether you're a professional or a beginner, the right set of tools is fundamental for creating high-quality work. Bearing in mind that most of us use Dremel power tools, or similar, we often recommend bits that are fully compatible.
Here's a round-up of the best Dremel tools for lapidary, in addition to a detailed guide on how to choose the right ones.
Related: Best Glue For Lapidary (Top 3 Glues For Rocks, Gems and More)
The Best Dremel Tools (Accesories) for Lapidary
Lapidary work needs powerful high-precision tools that'll last for a long time. And that's exactly how we selected the items on this list.
1. ZFE Stone Carving Set
Carving gemstones is a lot like performing surgical operations. It takes diligence and knowledge, and of course a good set of tools. This 43-piece set is the perfect assistant for carving, engraving, and cutting detailed work. It's also capable of carrying out corrections, touch-ups, and finishes.
The set comes with a sturdy compartmentalized plastic box. That'll help you in organizing your tools, storing them neatly, and carrying them easily from place to place. The box is also moistureproof, which would all to the longevity of your tools.
These bits are quite versatile. So if you need to use them for other crafts or home improvement projects, they'll serve you well there too. They work nicely on wood, plastics, acrylics, and some metals. These tools are also compatible with a wide range of power tools besides the Dremels.
Like all diamond bits, these ones would heat up and they need consistent attention. Remember to water these bits and cool them off.
This set isn't too cheap, but it's not outrageously expensive either. And it's certainly worth the money.
2. Rocaris Abrasive Wheel Buffing Polishing Wheel Set
These one inch 25 mm abrasive wheels would transform the stones you're working on into gems. Applying these bits smoothes out the surface irregularities in minutes.
The 40-piece set is color-coded according to grit. It contains 120, 180, 320, and 400 Grit. It's best to work in a graded fashion, so you can go from a rough to a smooth surface over a couple of changes or more if you like. You have everything you need in this set.
This polishing set can be used on your stones as well as other metallic and non-metallic surfaces. It would definitely spruce up any material and give it real glam.
The Rocaris set is moderately priced, it's great for precision work, and it's generally quite effective.
3. Drilax Diamond Drill Bit Burr Set
This set is great for the harder stones, as the bits are high density electroplated with 120 Grit diamond coating. It consists of 50 pieces with varying shapes to provide the widest possible range of functions.
With this practical set, you can cut, grind, shape, carve, and engrave your stones as you please. Moreover, the ⅛-inch shank of these bits would fit well inside the Dremel, in addition to several other brands.
This is a premium set, so treat it well! It needs cooling off with water, and as always, good drying then careful storage. It's a high-end product. So it's not too surprising that the price tag is a bit hefty. However, it would serve you well as you work on several types of stones.
4. JIALUCONG Jewelry Polishing Kit
The final clean-and-polish layer for your gemstones would benefit tremendously from these cotton bits.
For best results. You can use these cotton polishing wheels with the right buffing compound. There are kits with various coarseness, and these often come in handy as you work on different stones.
The set contains 10 pieces, and they come with ⅛ inch shanks, so they can fit without a Hitch to a Dremel or any compatible power tools. It's moderately priced if you consider its quality and durability. As always, we recommend only the best for your work.
5.Dremel 20-Piece Cleaning & Polishing Accessory Kit
This is the best beginner set you can start your hobby with. Alternatively, it's a great standby kit that would contain a bit of everything, so you'd never run out of any particular tool. And if you move a lot, then this portable set can be the perfect companion.
This is an all-purpose set, that you can use in finishing your lapidary work, as well as for home improvement tasks. It comes at a budget-friendly price, and it should work nicely with your Dremel 684.
How to Choose the Right Dremel Tools for Lapidary
Usage
Dremel tools are roughly categorized according to the application as such:
Cutting
Carving
Engraving
Grinding
Sharpening
Sanding
Cleaning
Polishing
Some of these come with the basic kit of your Dremel power tool, while others you'd need to purchase separately.
Sometimes, we use a specific tool extensively, and it soon wears out. If that's the case, you can buy more of this tool in bulk. It would be more convenient, and possibly less expensive that way.
You can also get it in different sizes, or a few roughness grades. Doing so will give you more options as you work with the different types of stones.
Strength and Durability
There are several reasons why we prefer high-strength bits. First of all, there's a safety aspect, Since the lower-quality tools tend to break off in the middle of the work. The debris could fly off in any direction, and being flung at a high speed makes it especially dangerous.
The second reason has to do with the nature of the material itself. Most gemstones are pretty hard. And hence, they need rugged and dependable tools. Otherwise, you'd spend way too much time trying to cut or carve a piece.
Finally, there's the precision factor. Working with gemstones and jewelry is quite delicate and requires tools that get the job done without hesitation. A cheap tool often leaves the stones looking clumsy and mistreated.
That's why we can't stress enough the need for high-strength premium tools.
Compatibility
Dremel power tools are the gold standard for hand rotors. And most manufacturers try to make their power tools compatible. That's why purchasing Dremel tools is the best way to go.
There's a point to notice here. The old model Dremels used a fit that's a bit different from the modern-day ones. So if you have a classical tool, you might need to use adapters for the newer bits.
Brand
It's always better to purchase your tools from reputable manufacturers. Brands often build their names over years of excellence, innovation, and dependability.
However, these sets might not be readily available to you, or their price could be prohibitive. Luckily, there are several low-profile manufacturers who make some really good tools. That's also perfect for enthusiasts who aren't willing to break the bank over their new hobby.
Storage Box
Tool kits quite often come in neat storage boxes. This is important since the bits are often more than 20 pieces in the kit. Thus, they can easily get mixed up or lost without organized storage.
In addition to that, the storage boxes are usually humidity-proof, so they'd keep the bits in good condition for a long time. There's nothing worse than purchasing prime quality tools, only to lose them to rust and corrosion after a few months.
A carrying case is even better, as that arrangement provides both storage and portability.
Some Safety Tips While Doing Your Lapidary Work
As you work with your beautiful gems, you need to make sure that you stay safe at all times.
Put on your anti-fog safety glasses before you start working, take them off when you're completely done.
Wear a dust-proof mask, and make sure it has the right grading, and that it fits snugly. As you polish your work, extremely fine dust particles could sneak into your respiratory system, and you really don't want that.
Work in a well-ventilated space.
The pieces you're working on will possibly heat up, even if you're only polishing them. Wear heat-proof gloves, and use suitable tools for handling your pieces.
Always start the Dremel at a low speed, then increase as needed.
Use a fine router table, extensions, adapters, and clamps for your Dremel. Be comfortable while working at all times. This will alleviate the stress off your back, arms, and wrists. Even your eyes would be more relaxed if you're working at a good distance with high visibility.
Finally, always use the right tool for the right job. No need to screw in a nail with a sledgehammer. The opposite is also true. If you need higher powers, finer grits, or more potent oxides, go for it.
In Conclusion
Lapidary work is among the nicest crafts one can take up as a profession or a hobby. There's a lot to learn each day. And as you try more materials and tools, you'll accumulate significant experience.
That was our round-up of the best Dremel tools for lapidary. We included a variety of functions, set assortments, and price points. Hopefully, it was helpful and inspiring.
Sours: https://www.rockseeker.com/best-dremel-tool-for-lapidary/
Complete Guide to your Dremel Tool and Dremel Attachments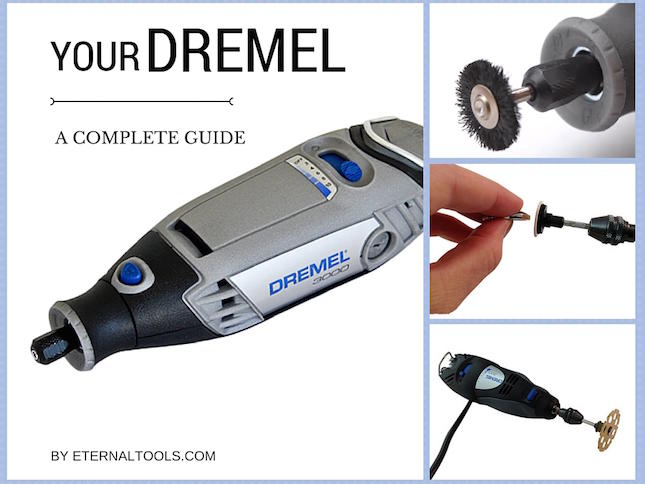 What is a Dremel Tool?
Over the years I've collected numerous amounts of handy hobby tools, all of which are useful and they all have their own purpose, but there is one tool that is probably more useful than most of the other tools put together and that of course is the Dremel Multi Tool.
There are many models of Dremel that shine through, notably the 3000 and 4000, but I have two Dremel 3000's that I love, so this is the particular model that I'm referring to in the following guide.
Higher RPM, torque, and popular with hobbyists
The Dremel 3000 in particular is popular with many hobbyists due to being lightweight and user friendly all around the house, studio, workbench and workshop. I recommend choosing a corded one rather than a rechargeable model. With a higher Speed (RPM) capability, and higher torque it shines through. Also, If you're anything like me you may come to use your rechargeable Dremel multi tool and realise you forgot to recharge it - oops!
Hook to hang it up with, ideal to use with Dremel Flex Shaft
The cable is permanently attached and the power cord is about 6.5 feet long. There's a hanging hook on the back so you can put this on a Dremel stand, hook or a nail if you want to hang it up. This is particularly useful not only for storage, but also if used with the Dremel Flex Shaft attachment.
Pencil Grip, comfortable hold
The unit is very comfortable to hold and can be gripped as you would a pencil for fine intricate work, particularly if you have the flex shaft attachment. For fine engraving and carving work, this is a really comfortable way to work.
Who can use the Dremel 3000?
I highly recommend this model for hobbyists and beginner jewellers, beginner glass engravers, those wishing to carve stone, drill holes in beach pebbles, sea glass, beach pottery, broken china, wood carvers....the list is endless. Great for DIY bits around the home and general craft work.
Another great advantage of the 3000 model is that when used with a Dremel Multi Chuck it is compatible with a wide range of bits, burrs and polishers, unlike the Dremel 290 engraver which is not. Read more about the Multi Chuck further on in the article, but suffice to say this little Dremel attachment is an essential piece of kit.
Voltage and Plug
One last thing here before you purchase, and it may seem obvious, but do look out for the correct voltage and correct plug for the country you live in.
Changing Accessories on your Dremel Tool
Changing accessories is really simple. Make sure that the unit is not switched on and that it has stopped rotating. Press the spindle lock (the blue button), this will lock the spindle from rotating. Pop your accessory into the end. Keep the button pressed and tighten the accessory in towards yourself. Release the button. Make sure that it rotates freely.
The spindle lock unscrews and you can use this threaded connector at the end for attaching different accessories such as the Dremel Right Angle Attachment, Dremel Multi Chuck and Dremel Flex Shaft.
Advantages of the Dremel Multi Chuck
If you use your Dremel drill for various applications and will be changing Dremel bits and Dremel attachments many times then you will benefit greatly from making the small purchase of a Dremel Multi Chuck. This chuck will allow you to hold lots of different attachments with many different shanks (the shank is the bit that fits into your Dremel Multi Tool) and it makes changing your accessories super easy. You won't have to change collets every time you use a drill bit or attachment that has a different shank for instance.
The Dremel Multi Chuck works with most models except the Dremel Engraver 490.
The above picture shows the following:
Using Your Dremel Rotary Tool
Whatever attachment you choose to use you should always start your Dremel drill off slow and build up to the speed that you want to work at.
Dremel Bits and Dremel Attachments that come with your Dremel 3000 kit:
Black nylon bristle brush
This Black Wheel Bristle Brush is really good for cleaning, and If you use polishing compound with it you can use these for polishing. These are particularly great to use on intricate pieces of jewellery as it gets into all the difficult to reach areas.
Sanding discs
These little Sanding Drums are great for removing rust, paint, heavy corrosion on metal, or for sanding and shaping wood, plastics and softer materials. They slide onto a mandrel and can be fitted on snugly by tightening the screw at the end with a screwdriver (you will have received one of these in your kit with the Dremel).

The kit comes with a couple of different grades of sandpaper sanding drums, but I recommend purchasing a couple of the rubber mandrels and then you can have them set up in different grades of sandpaper without having to change the grits every time.
Abrasive Discs and Cutting Wheels
The cut off discs are hard, brittle abrasive discs. You can use these for cutting off the top of screw heads, nails, or working with things like minerals and plastics. Also supplied is the mandrel that these are designed to fit onto. When you attach the disc to the mandrel be sure not to over tighten it because these discs are very brittle and will snap easily.
By purchasing different types of cutting discs or wheels you will be able to cut through a variety of materials.
Abrasive Stone
In this kit you receive a very coarse orange abrasive stone. These stone burrs come in a vast assortment of different colours, sizes, grades, and different materials such as green carbide stone burrs and White Arkansas stone burrs and Pink Grinding Stone Burrs.
These are good for grinding and carving on harder materials like metal, ceramic, glass or even minerals and lapidary work on gem stones. I use the green silicon carbide stones a lot for shaping and filing silver and gold, and the Arkansas stones for smoothing metals. They are also very good for sharpening things.
Felt polishing pads
These are designed to be used with polishing compounds or diamond paste. The felt pads that come with your Dremel Tools attach to a little screw mandrel. I would recommend once these have run out to purchase mounted felt points as they are more robust. Other similar items you can try are a cotton buff or a calico wheel.
Drilling with your Dremel Rotary Tool
Inside your kit you will find a steel drill bit that can be used on soft metals, wood and plastics.
Diamond drill bits are for drilling holes in hard materials such as glass, stone, ceramic, bone, shell, pottery and china.
HSS (High Speed Steel) drill bits are for drilling soft metals
Carbide or Tungsten Carbide Drill Bits are for drilling through hard metals
The below image shows the Dremel 3000 with a Bottle Neck Diamond Core Drill. For these core drills and other diamond drill bits see our complete range here.
As I mentioned earlier, drill bits can be mounted on different sized shanks so if you're looking to use your Dremel for drilling holes or drilling out a core you might want to invest in a Dremel Multi Chuck or Collet Nut Kit.
For more detailed information on how to drill using your Dremel Rotary tools have a read of a couple of our articles such as 'How to Drill Sea Glass', 'How to Drill Pebbles' and 4 Tips for Polishing Metals with your Dremel Rotary Tool
---


So there you have it, the Dremel 3000 and all it's uses, along with a few of the accessories that come with it.
Why buy a Dremel Drill?
They are comfortable in your hand, well balanced and smooth. They don't rattle and vibrate, and the quality is superb. Yours should last you for years!
Dremel Accessories
You will be astounded at some of the Dremel accessories that you can buy to fit into your tool. Apart from those mentioned above there are many polishing abrasives, drills, burrs, stones, brushes, pads, silicone polishers, rubber burs and discs that will all fit into your new Dremel Multi tool, such as:
Burrs: Diamond burrs, carbide burrs, stone abrasive burrs
Drill Bits: Small diamond drill bits, diamond core drills, carbide micro drills, twist drills, diamond drill bits set for your Dremel
Cutting Tools: Dremel EZ Speedclic wood cutting disc, diamond slitting disc, carbide end mills, router bits
Attachments: Dremel Multi Chuck, Dremel Collet Nut Kit, Dremel Right Angle attachment, arbors, mandrels and adaptors
Polishing Abrasives: Brushes, wheels, abrasive stones, mini rubber silicone polishers, silicone pin polishers, rubber polishers, radial bristle discs...
Abrasive Stones
So whatever project you are doing and whatever material you are working with there is a burr or a tool that you can use with your new found friend, the fantastic Dremel 3000.

This is just an introduction to what this tool can do, pick up yours and get experimenting!
Sours: https://www.eternaltools.com/blog/complete-guide-to-your-dremel-rotary-tool
I opened my wardrobe, pulled it out and threw it on to the blood part of the time, there was no time to rummage there. I took a tube of grease, pulled out two preservatives from the pack, and went to the parent's bedroom. I went in, and Yulka has. Already become like a raccoon. Two of his fingers were in her pope.
Tool attachments dremel
Why are the pants down below the knees. Yes, we went to piss. By the way, to piss in an unidentified place - a fine of 500 rubles. There is a toilet for this.
Top 5 Attachments for your Rotary Tool - Rotary tool Accessories
Outstretched body. Yes, dear. - With thin fingers of her left hand, Nina began to rub the button of the clitoris, and with her right hand she began to knead her swollen breasts, pinching.
You will also be interested:
We remove the table, lay out the sofa, she stellit. Damn. I have it all worth it. We load Dimka on the sofa, lay it on me.
32924
32925
32926
32927
32928