Disc golf absolutely exploded during 2020. The Covid19 pandemic created the perfect storm for the growth of this inexpensive outdoor sport where social distancing is natural.
As more and more disc golfers grow from the recreational players to hard core disc golfers so does the need to upgrade your equipment. There are a lot of new players who are considering buying a premium disc golf backpack or a disc golf cart. So which do you choose?
Imagine this: You're on your way to a disc golf round carrying your bag of golf discs. Burdened by the heavy load, there's a tad of struggle and you strain your shoulders before you make on your first throw. As it's time to move on to the next hole you dread the pain and agony that your body will face as you reach down to pick up your bag. What a hassle!
Does this sound familiar?
If this scenario sounds like you, then you're going to want to consider a disc golf cart. The primary benefits of disc golf carts is that they provide less strain on your back, give you more storage capacity, and provide a convenient seat.
We will help you select the best disc golf cart for you in this detailed buying guide.
Best Disc Golf Carts Reviews
| | | | |
| --- | --- | --- | --- |
| PRODUCT NAME | CHAIR | STORAGE CAPACITY | TYPE OF CART |
| Zuca Backpack Disc Golf Cart | Available | Can accommodate disc golf backpacks or bags within the dimensions of 9″X 12″W X 19″H and with a weight limit of 300 lbs | Push and Pull |
| Zuca All Terrain Cart | Available | The Zuca all terrain cart has the best storage capacity and can haul more than 36 discs at a time, as well as disc retrievers, towels, minis, jackets, and other accessories. | Push and Pull |
| MVP Disc Sports Rover Disc Golf Cart | None | Can accommodate most disc golf bags within the dimensions of 15.75″ Wide x 9″ Depth | Push and Pull |
| Rovic RV1D 3-Wheel Disc Golf Push Cart | Can be purchased separately | Can accommodate all types of disc golf backpacks and many other bag varieties. | Push |
| Dynamic Discs Easy Cart | None | Higher bag capacity requires less bending down and provides more storage than other bag carts | Push and Push |
1. Dynamic Discs Backpack Disc Golf Cart
Check Price on Amazon Shop at Infinite Discs
The thing I like best about the Dynamic Discs backpack disc golf cart is its versatility. While many disc golf courses are found in grassy park settings where it is easy to roll a cart around, some courses are in mountainous rocky settings where wheeling a cart is just not possible. For courses with rough and hilly terrain, it is actually much more difficult to use a cart than it is a traditional disc golf carry bag.
The DD and Zuca Backpack carts (the only thing different is that one has the Dynamic Discs logo while the other has the Zuca logo) provide a simple alternative where it is easy to use your discs for both backpack and cart appropriate terrain. The cart is light weight and has a thin profile so it can easily go in and out of your vehicle.  If you're playing a course with rough terrain, then leave the cart behind and simply grab the bag. If you're playing a cart friendly course, then simply set your bag in the cart and save your back and shoulders.
This disc golf cart has tubeless foam tires that can work on multiple terrains whether you are rolling over rough roads, rocky surfaces, sand, and snow. For an adventurous player like me, these sturdy wheels are definitely an advantage. Getting a flat tire during your round is a game killer as there is nothing worse than having to carry your bag and cart as you finish the round.
This cart is heavily built with sturdy frames, you can maximize the storage space with add on accessories such as putter pockets. And if you need additional space, the wheels are removable, making it look more compact and easier to store.
Talking about the storage capacity, this cart can accommodate disc golf backpacks or bags within the dimensions of 9″X 12″W X 19″H. While most disc golf bags fit in the backpack cart, some larger bags do not, so be sure to measure your bag dimensions before purchasing this backpack cart.
To me the best feature of a disc golf cart is the instant seat. While it's possible to carry a separate three leg stool in a disc golf backpack, that just adds more weight to it. And, when you aren't used to carrying a stool during your tournament rounds it is easy to leave the stool behind as you head on to the next hole. A cart with a seat is so much easier and convenient than that!
Simply sit back and relax while you wait for your card mates to take another throw and then move to another spot. The frames are rated with a weight capacity of 300 lbs, so even big boys can benefit from this seat. While the backpack cart does have the all convenient seat, it is rather thin and is not as comfortable as the seats found on the all terrain cart. It's not always possible to get your entire seat on this seat.
For comfort when moving between holes the DD Zuca Backpack Cart has a telescoping handle that you can adjust to your comfort. You can pull or push this cart with ease. The sealed bearings on the wheel make the transition and ride go without a bumpy feel.
If you are a disc golfer who has only one set of discs but regularly play a variety of different disc golf terrain, then I highly recommend the Dynamic Discs Zuca Backpack cart.
PROS
Versatile and easy to move your discs from rocky terrain to cartable terrain.
Can accommodate disc golf bags within the dimensions of 9″X 12″W X 19″H
Also works as a portable seat that can support up to 300 lbs.
Can be pushed or pull
Has sturdy wheels that can work on multiple types of terrains
Detachable wheels for easy and compact storage
CONS
Seat isn't the most comfortable
Does not work with all disc golf bags
Wheels are susceptible to falling off
2. Zuca All Terrain Cart
Check Price at InfiniteDiscs.com
The Zuca All Terrain cart is the original disc golf cart. This is the premium cart if you're looking for maximum storage capacity and the most comfortable seat.
The Zuca cart will hold up to 40 discs in the main storage department. In addition you can add dozens more in accessory side pouches, or off brand putter pouches like the Power Pocket that hold up to 8 additional discs!
Each new model is improved on and it is now more sturdy and durable than ever. The current model of the Zuca All Terrain cart includes detachable foam wheels, and an adjustable handle.
I absolutely love the All Terrain cart for tournament play. Sometimes a single tournament round can take more than 4 hours with backups on every hole. During these times, it's nice to just sit back and relax on the comfortable seat. While the cart itself does not include a padded seat cover, there are several options including one with a two inch thick foam!
Not only does the All Terrain cart have a comfortable seat, but it is also at an excellent height, at least for tall people. The Zuca seat height is two feet off the ground. I am 6 feet tall and find this seat height most comfortable and easy to quickly get up and down on. During a disc golf tournament round you are sitting and standing frequently and so this high stool-like height is very convenient. Some comparable carts such as the Ridge Roller have ultra low seats that make tall people like Ricky Wysocki look silly every time they sit down.
In addition to all of the disc storage, the All Terrain cart has lots of storage for other accessories. It is really easy to slide in an umbrella or long disc retriever into the back of the cart. You are always ready for an unexpected storm or lost disc thrown in a water hazard. I also permanently store a light rain jacket behind the discs on the lower tray.
While I love the All terrain cart for tournament rounds, it is also an excellent choice for practice rounds. Because it can hold so many discs you can fill it with multiples of your favorites and throw dozens of extra shots on each hole. The more reps you get, the more you will improve your disc golf game.
The disadvantage of this large cart is that it doesn't easily fit in small carts. I drive a Toyota Corrolla and it is possible to get the cart in and out of the trunk without removing the wheels, but I have to do it very carefully at just the right angle. If you have an even smaller trunk than that, then you may have to remove the wheels after each day of play. Like all carts, the Zuca All Terrain also does not work well in rocky terrain and hilly courses.
The All Terrain cart is not currently available for sale on Amazon.com, but it can be purchased online from Infinite Discs, the #1 retailer in disc golf.
PROS
Cart with most disc storage capacity
Built with sturdy frames for long-lasting quality
Designed with a rack for maximum storage space
Has durable, removable, foam  wheels for enhanced mobility
Push and pull type disc golf cart
Most comfortable seat
CONS
Not ideal for hilly courses or rough terrain
Difficult to fit in small vehicles
A bit expensive
Assembly can be a little bit complicated
3. MVP Disc Sports Rover Disc Golf Cart
Check Price on Amazon Shop at Infinite Discs
If you are looking for most simple disc golf cart possible, this MVP Disc Sports Rover cart is probably the best choice. This cart is designed simply to help you relieve the strain of carrying a disc golf bag. The best feature of the MVP Rover cart is that it will work with almost any bag or backpack.
Built with a rigid retractable pole, you can expand the cart up to 51 inches tall and customize the height according to your preferred level. That is probably one of the highlights in some disc golf carts but this MVP cart takes it beyond the par with its extendable handle.
I like how it can adjust to your height so you won't have to bend down or strain your arm when you pull or push it to the designated spot. This is a great advantage for tall disc golfers.
The handle detaches easily but to make sure the pole stays firm and secure, it locks in every level, thereby allowing you to roam around the field without losing the grip. Plus, the handle is crafted with an anti-slip rubber that keeps the cart intact all the time.
The storage capacity, on the other hand, lends a spacious platform for your heavy disc golf bag and therefore, accommodates within the dimensions of 15.75″ Wide x 9″ Depth.
You can lift the heavy load off your shoulder or bag and let the golf cart do it job carrying all your essentials and golf discs. It features a solid construction but the total weight of the cart, which is 11 lbs, won't overwhelm you. It is incredibly tall but you can detach the handle when you need to put it away for storage. It takes up very little trunk space and can fit in even the smallest vehicles.
The beverage holders at the back are an added bonus, especially for those hot summer rounds where two water bottles worth just isn't enough. I do find them mounted a bit low where the drinks could plow right into the weeds as I pull it.
Also, there aren't any instructions included on how to set up the cart. Well, it isn't much of an issue for me but it would've been better to get a bit of help with the assembly and not just figuring things out.
The MVP Rover is less expensive than the previously mentioned carts and is an excellent choice if you're just looking for a simple cart solution designed to relieve the stress of carrying a pack on your back.
PROS
Simple and low cost
Works with almost any disc golf bag
Has extendable pole that can go up to 51 inches
Comes with beverage holders
The pole locks in every level for better stability
Lightweight and easy to push or pull
Detachable handle for easy and compact storage
CONS
No seat.
The drink holders seem to be mounted a bit low
4. Rovic RV1D 3-Wheel Disc Golf Push Cart
Check Price on Amazon Shop at Infinite Discs
I will be driving away a bit from the mainstream cart design with the Rovic RV1D 3-wheel disc golf cart.
The RV1D disc golf cart is adapted from Rovic's already popular ball golf carts. These carts were originally designed to hold a golf bag, but have been modified to hold a disc golf bag. With the Rovic, your bag simply hangs off the cart. The nice thing with this method of bag installation is that this cart will literally work for any possible bag type.
The RV1D is light weight and with three wheels is the easiest of all the carts to push. Unlike the competition, these wheels are made out of plastic which makes them a little slicker than foam, but still durable and resistant from thorns. This push disc golf cart exhibits solid construction but it does not add up on the total weight.
To prevent the cart from rolling down hills, it has a parking hand-brake to set. This brake only actually stops one of the wheels and so usually requires a balancing effort to get the cart to stay put on really steep terrain.
The three wheel feature of the cart make this much bigger than the other carts but it does fold up to a more compact space. While it only takes a minute or so to assemble and disassemble, I find this to be a nuisance. Not only do you have to open and close it each time but you also need to clip your bag on so that it won't fall off. Personally, I prefer a cart that is just ready to go the second I pull into my parking space.
The Rovic cart has a plethora of different accessory options. It has a large beverage holder, a cooler pack, storage console for smaller items or essentials, an umbrella mount, and a seat option. In my opinion the seat functionality is very mediocre. The seat is essentially a one leg stool that you need to balance on. It simply rests on the cart, but the cart itself is not strong enough to support your body weight. When I'm sitting during my tiring tournament rounds I prefer relaxing rather than focusing on balance.
Overall, if you're looking for a super easy to roll cart that will work with any bag type, then the Rovic is an excellent choice.
PROS
Best rolling disc golf cart
Collapsible and lightweight design for hassle-free storage
Versatile storage capacity that can accommodate all types of disc golf backpacks
Solid construction for durable quality
Can be used on different types of terrains
Has large drink holders and a storage console
Easy to customize with various cart accessories
CONS
Portable seat doesn't work very well
The largest disc golf cart in terms of space required
Process of collapsing and uncompacting can be annoying
Additional accessories are sold separately
5. Dynamic Discs Easy Cart
Check Price on Amazon Shop at Infinite Discs
The EZ disc golf cart is probably one of the best Zuca disc golf cart mods to settle for. You can have all the ample storage space and compartments for your heavy backpacks or golf disc bags and travel from terrain to terrain without breaking your back.
The thing that makes the EZ cart stand out from the other backpack push/pull carts is the elevated position where you place your bag. This is set approximately ten inches off the ground which reduces the amount of bending you need to do to grab a disc for your next shot. This also gives the cart extra storage space for a jacket, lunch, or even more discs. The trade off between the Easy Cart and the original Zuca Backpack Cart is that you lose the automatic seat.
You can secure your backpack and stack all the golf discs to keep them neat and organized. This makes it a lot easier to just pick out whatever disc you want to use or just slip it back inside after taking out your throw.
The Dynamic Discs EZ Cart can accommodate bags within the shelf storage of approximately 6 inches of height and not wider than 14 inches. Most disc golf bags will meet this criteria, but you might need to test it out with a few bags to check whether it would fit or not.
You can push or pull it around. Crafted with all-terrain tubeless wheels, you can brave the rocky surfaces, snow, sand, and rough terrains seamlessly. It also has a retractable pole which I really like because it makes pushing or pulling the cart a lot easier. The EZ cart also allows for most of the accessories made for Zuca carts including umbrella holders and putter pouches.
When you are done with your round, you can just push the pole down and keep it compact for easy storage. Plus, the wheels are detachable allowing the cart to fit in smaller places. It also locks into place and keeps the cart secure.
Overall, if your primary reason for purchasing a disc golf cart is to save your back then the DD EZ cart is the best option.
PROS
Elevated bag position reduces bending down
Designed with multiple compartments for maximum storage
Works with most disc golf bags
CONS
No Seat
Cart is too big to work as carry on luggage for airplanes.
How to Choose the Best Disc Golf Cart
There are several things to consider when choosing the best disc golf cart for you. Here are a few important things to consider when making your decision.
1. Storage Capacity
The storage capacity can make or break your disc golf cart. If you want to make sure all your golf discs would fit in it, you should check how much room a cart has to offer.
These disc golf carts or trolleys are designed with specified storage capacities that can accommodate certain types of disc golf backpacks or bags. Each cart has a designated weight limit that tells you how much load it can hold.
Manufacturers indicate these specifications and you may check the dimensions of the cart like the width, depth, and height.
Many of the available cart storage rely on the capacity of your disc golf bag, but you also need to ensure that the cart you are purchasing will work with your specific bag type. It is  essential to consider the size of your bag to determine whether it is an ideal match for the cart. Apart from that, it would be a lot easier to choose the right capacity of your cart if you consider the essentials that you usually bring for a course.
There are carts that are specially designed for particular disc golf bags while some are tailored for all types of disc golf backpacks or bags. You may also consider the number of compartments or other storage features if you want to take advantage of the maximum capacity.
These additional features and potential costs to you may include beverage holders, umbrella hooks or mounting, additional pockets or storage consoles, cooler bags and a more.
2. Build and Durability
Inspect the poles, frames, locks, screws, and other parts that hold the pieces together. Most of these carts are intricately constructed with heavy-duty frames to ensure reliable and sturdy support.
Durable frames render optimum balance and support and so keeps the disc golf bags or other gears properly put away. Besides the storage benefits, the overall build and rigidity of the cart will also save you from expensive repairs or replacements in the long run. Truly, a long-lasting quality is a crucial investment.
When it comes to the build and material, I prefer disc golf carts made from metal. Given their heavy-duty build, the cart feels more solid that doesn't wobble when rolling across multiple terrains such as rocky surface, grass, mud, rough road, and a lot more.
Some opt for plastic frames or build as they tend to be cheaper in price but they often feel flimsy and won't be as stable and solid as metal carts. That's why I stay away from plastic as much as possible.
If you don't usually need to carry a lot of stuff and prefer a space-saving design, you can go for a collapsible cart. Such design makes the cart compact and a lot easier to put away for storage in your vehicle. It also becomes portable, allowing you to move it with ease.
If you often move places for disc golf tournaments, do know that the courses for the disc golf games are not always easy to access like rocky surfaces, rough roads, concrete, mud, gravel, sand, snow, and a lot more. You may expect various types of surfaces that may put your cart on a bit of a struggle.
To get over roots and rough surfaces, I prefer larger wheels. Considering this, it is important that your cart has sturdy wheels that can travel across multiple terrains with ease. Effortless and smooth transition from place to place is a great advantage. With these durable wheels, brooding over a wrecked cart would be the last thing you would do.
3. Ease of Use
There is a lot of designs to choose from but I prefer a simple but sturdy build that can make everything accessible. It is better to opt for a structure that allows you to take the bag in and out easily as well as access the compartments and other pockets.
Retractable or extendable poles also enhance the portability of the cart. With the adjustable design, you can customize the height according to your preferred level, thereby allowing you to move from one place to another with ease. A retractable or extendable pole can also be a great advantage for tall users who don't need to bend down to push or pull the cart.
4. Type
Do you prefer a push cart or pull cart? You're in for a treat if you can use the cart both ways. Luckily, there are a lot of disc golf cart designs that feature enhanced mobility with their push and pull mechanism. This would be an essential point if you go around the field and need to do a bit of trekking on the steeper sides of the hill.
On the other hand, some carts are specially engineered with a single mechanism, particularly push carts. Instead of retaining the basic two-wheeled structure, some manufacturers ramp up the cart with an additional wheel to enhance the stability and support as you push the cart around.
5. Weight
After choosing a sturdy build, I recommend you choose a lightweight cart as much as possible. It is better to opt for a cart that does not put on a lot of pounds on the total weight despite the solid structure. Some don't find the total weight an issue. But you may consider this a significant factor if you always carry a heavy bag or backpack around or if you need to keep the weight within the storage limit in your vehicle.
6. Your Disc Golf Course
You should know that there are courses that are not cart-friendly, especially the heavily wooded places like the hills, creeks, and in the forests. They tend to have various types of obstructions that might be difficult for carts to go through.
Hilly terrain, on the other hand, could make an exciting and challenging course for a disc golf game but could be tough field for carts. That is why it is also imperative to determine which type of disc golf course you're going. You can take advantage of the features and benefits of your cart if the course is accessible or suitable for carts.
Depending on your disc golf course, you should consider a more solid, stable, and well-built disc golf cart. Much better if it is lightweight so you won't have a hard time carrying it around.
7. Additional Features
When it comes to custom features, some manufacturers spruce up the structure that allows you to accessorize your cart. Some carts feature rigid platforms that can also work as a portable seat and you'll be lucky to find a cart that has this amazing tweak.
I highly recommend you buy a cart with a seat which is a great advantage if you want to loosen up a bit after a game or just bask in the summer heat before you take on another throw. Depending on the structure, these portable seats can be just a basic sturdy platform, built-in and collapsible, or can be purchased separately.
If you want to prevent slipping or rolling down the slopes when you are uphill, you may also consider getting a cart with a brake. Not all disc golf carts have this feature but it would be useful to ward off any potential dangers or accidents when you are in steep courses.
Push VS Pull Disc Golf Cart
It is safe to say that the major difference between these two types of carts is pretty obvious: one is pushed while the other gets to be pulled. But which is better? What are the other contrasting features you should know about?
There isn't much to differentiate when it comes to the convenience each type offers. It is all up to your preference. Both types can keep your back off the hefty load. Each type of cart also demands a firm grip and control to make them maneuverable. They also feature ergonomic handles that make pushing or pulling a lot easier to do even when you're driving through tough terrains.
What else? We've delved into their features to give you a much clearer view of which type of cart suits you best.
Structure and Design
Probably another noticeable gap between these carts is the structure and design. Push carts usually have three wheels or sometimes four while most pull carts have two wheels only. Push carts use more wheels to reinforce stability and therefore, maintain the balance. Some push carts also have adjustable front wheels that set the cart to go on a straight path.
Pull carts, on the other hand, can make it work even with two wheels only. But you'll be in luck to find pull carts that can also glide smoothly when you push it, just like some of the carts mentioned on our list. However, it is rare to find a pull cart that has additional wheels or adjustable wheels.
Portability
Each type has its own take in terms of being portable. Push carts are usually collapsible to make it more compact and therefore, much easier to put away for storage whether in your vehicle or in the garage. Pull carts do have collapsible designs but they are typically bulkier. However, this is not always the case. Designs may still vary from brand to brand.
As you have to reach the pull cart from the back, most pull carts make it easier to drive with their retractable or extendable poles or handles so you won't have to strain your arm when you pull it. This modifies the height and hence, a great advantage for tall players.
Push carts, on the other hand, are streamlined with ergonomic handles with anti-slip rubber for better grip. Rather than the handle, the body or the pole that holds the handle is what usually extends to adjust the height according to your preferred level.
Why You Need to Buy a Disc Golf Cart
If you're going to invest in an additional gear or accessory, you've got to at least convince yourself it is worth every penny. And when it comes to buying a disc golf cart, you want to make sure you get more than just lifting the weighty load off your back or shoulders.
You'd be surprised to know there is a lot more to take advantage of with a disc golf cart.
Take a look at the following benefits:
1. Saves you from Back Pain.
A disc golf cart would be beneficial to your health, especially if you're suffering from several back issues or other health issues that make bending painful. You can let your back and shoulders breathe and be free from any hefty weight.
As it shoulders the heavy load, a cart also minimizes the impact on your body, allowing you to be at ease and get ready before the game. This is a great advantage for players of older age as they are susceptible to back pain and injuries.
2. You can Rest Your Arms before The Game
Disc golf is all about your vigor and power. If you've got tired arms just before the game takes off, you might lose your momentum and might not be able to exert optimum arm strength to take on your throws and reach for the target.
When you carry your backpack and move places, it's going to hurt your arms gradually and eventually, it can wear your arm down. Well, that's no good for a game that requires arm strength at all times. But because you can push or pull the cart around, you can let your arms rest a bit. This allows you to keep your focus and prep for the game rather than making a fuss with your aching arms!
3. You can Carry more Items
Most disc golf carts are innovatively designed with beverage holders or can be customized with additional accessories such as drink holders.  Carts have a lot more potential to hold lots of water to prevent dehydration on those hot summer days without the burden of additional weight. Carts also make it simple to carry awkward shaped objects like umbrellas and retrievers.
With ample storage capacity, you can bring more drinks or take a cooler with you and enjoy cold beverages at any time of the day. You will also have space for a seat or an umbrella that can make you feel more comfortable during the game.
4. Neat and Organized Storage for Disc Golf Discs
Besides keeping you from too much eyesore with golf disc chaos, a neat and properly stored golf discs allows you to pick the discs and put them right back in with ease. You can easily check and see your golf discs every time you prep for another throw.
Some carts also feature multiple shelves or larger storage capacities that can accommodate disc golf bags of different sizes and weights. You can take advantage of this storage space to keep your golf discs in order at all times.
5. Convenient seat that is always available
If you play disc golf tournaments, you know how slow those rounds can be. Sometimes you just want to sit down and rest the legs but there is rarely a convenient seat nearby, especially on long par 4 holes.
Frequently Asked Questions (FAQs)
1. How to make a disc golf cart?
If you can't afford to buy a disc golf cart, you can try making your own using your old stuff back in your yard or garage. A baby stroller, for example.
The first thing to do is take out the pads on the seat and the basket under it. Leave the seat. You may need a screwdriver or a mini hand screw machine to loosen all the screws and remove these parts.
Second would be up to you. You may cut the handle short using a saw or a mini handheld saw machine and screw in the long handle back. But if you want to keep the length for optimum height and distance, leave the handle be.
The next thing to put here is the basket. You should find a basket or container that would fit in your trolley. Put and tighten the screws in each corner to keep the basket stable and secure. You can use the space under the seat for another container. You may use any old square or rectangular basket or milk crates. Use cable ties to hold the baskets together.
If you want, you can add a cooler for your beverages! You can also attach some pouches or pockets on the handle for additional storage compartments. Then, clean the cart and the baskets. You're good to go!
2. Do you need a disc golf cart?
If you are tired of straining your arms, shoulders, or back with a heavy backpack or disc golf bag or if you move from one spot to another with the utmost convenience, then you need a disc golf cart.
If you also play many courses a day on a regular basis or you play on almost flat surfaces or accessible courses, a disc golf cart would be very useful. Those who wish to revamp or optimize their storage for disc golf discs when they're out in the field for a game may also consider getting a disc golf cart.
Some may find it an unnecessary expense, but investing in a disc golf cart is a game-changer. The portability and neat storage allow you to stay focused on your game rather than complain about an aching arm or shoulder because of your hefty luggage. You won't need to move places while carrying your bulky and weighty load.
Basically, if you want to make things a lot easier with your game face on in every tournament, give a disc golf cart a go!
Conclusion
You shouldn't let those heavy backpacks or disc golf bags strain your arms, shoulders and back before the round even begins. If you have back problems or just want to carry more disc golf equipment then it is time to buy the best disc golf cart.
The in-depth guide we've included in this article along with the best picks and reviews for disc golf carts, will hopefully help you narrow down your options and ultimately find find the best disc golf cart for you.
Categories Disc Golf EquipmentSours: https://www.cypresspointgolf.com/best-disc-golf-cart/
The most crucial factor for a player when playing disc golf is to be comfortable and convenient on the field. After all, how they feel during the game will eventually reflect the result and outcome of the game. Because of this, all disc golf players need the best disc golf cart to bring all their disc golf stuff, including the disc golf discs, which for me is the most essential equipment in the game.
Unlike the disc golf bag, the cart brings a new dimension to offering comfort and convenience. It reduces the effect of carrying the weight of the bag, thus minimizing backaches and other pains on the body. For this reason, we are reviewing 5 of the top disc golf cart in the market today. All our recommendation is based on our team's experience in using the bags on the field. We also include relevant information to help disc golfers choose the correct disc golf cart for their usage.
Best Disc Golf Cart Reviews
1. ZUCA Dynamic Discs Compact Cart
The most crucial part for a disc golf player is to be comfortable when playing the game. With all the things that a player needs to bring, one must find a suitable disc golf accessory that can get all the stuff and make the player relax and focus on the game at hand. This disc golf cart by Zuca is a good option for all disc golfers looking for compact storage that brings comfort and convenience to the disc golf course.
One of the outstanding features of this product is its ability to hold up to 300 lbs of weight. I was impressed by how it can keep many discs and other stuff needed by the disc golf player in the game. Thanks to its durable and patented frame, which can hold the massive weight while also offering a seating solution. Yes, you heard it from me; you can use and convert this cart into a seat if you need to.
The storage capacity is also another feature that I feel genuinely impressed with this product. To start with, its ability to hold 15 discs should be enough for disc golfers at any skill level. There is also an adjustable inner top shelf and 2 huge stretchable pockets, which should provide additional space for the other things you want to bring in the game. Finally, the 2 large-size water bottle holders will ensure you will be rehydrated throughout the match, while the mini pouch gives additional space for you to use.
I have known fellow disc golfers who have previously used this cart, and they share similar views regarding the excellent quality of the product. Overall, this is a great cart and should be suitable for players of advanced age. Its ability to carry more than 15 discs should provide enough comfort for players with weak or bad knees, typical for older people. The best thing about this bag is that you do not carry it, thanks to its telescopic handle, which should help navigate the course quickly.
Also, this cart's ability to bring a lot of stuff without carrying it on your back should physically provide comfort to the player. You will just roll it, pushing or pulling it on the course, whatever you like. And its capacity to be converted into a chair should make many disc golfers happy.
Pros
The telescopic handle gives easy navigation on the terrain
Tubeless foam tires provide rugged performance
Ability to carry massive weight
Offers lower seat solution
Compact but large storage capacity
Cons
Difficulty in navigating uneven terrain
This product is for disc golf players looking for a compact but huge-capacity disc golf cart. This product is a good option for a disc golf player with all the features and benefits it brings. And the way it can be converted into a chair is the difference-maker when it comes to owning this disc golf cart.
2. Dbest products Trolley Dolly Cart
This trolley dolly cart is one of those products not made for disc golf, but its design and purpose fits well with the need of the sport. I have personally seen many disc golf players using this product, and I was impressed with what it can do in helping disc golfers carrying a lot of stuff inside the course. A disc golfer looking for a unique and excellent disc golf cart can consider this product from Dbest.
One of the outstanding benefits of this product is the ability of the disc golfer to relax and comfortably sit while waiting for his turn to throw the discs. This product is one of the few carts with seats found in the market, which for me is an excellent feature. I was also impressed by the padded foam seat cushion, which will provide convenience to the user. Not only that, the back support will help the player relax and calm while resting or waiting for his turn.
I have tried and tested this cart on the field, and the way it moves was impressive. It is easy to push regardless of the weight and was very balanced. Thanks to its beefy and oversized wheels, which can navigate any type of surface or terrain. And the best thing about it, storage will not be a problem since it can easily fold down in half. You can easily store it because it does not require vast space to do so.
Another benefit that this cart brings to the table is its flexibility and versatility in using other tasks. I know we are looking for the best disc golf cart, but if you can use the cart for other activities or tasks, that should be impressive. This product is a multi-functional cart that will serve different purposes, such as a shopping cart, grocery cart, and foldable cart. And the best thing about it, it does not require any assembly, which makes it easy for the user.
The only issue I see in the product is the design of the seat. It is not in the upright position, which should cause some discomfort and inconvenience to some players. But this is a minor issue which the manufacture should correct soon.
Pros
The bag has 7 compartments for storage
The seat is with padded foam seat cushion for comfort and convenience
With heavy-duty and oversized wheels for easy navigation
It can be easily folded down for better storage
It can be used on other tasks apart from disc golf
Cons
The seat is not in an upright position
If you are looking for a disc golf cart that offers flexibility and can be used on other activities or tasks, this cart is a good option. Apart from disc golf, this product is designed to use when doing grocery, shopping, and other related things you can do.
3. ZUCA Dynamic Discs Backpack Cart
We all know many disc golf players use disc golf bags in carrying their discs and other accessories. There are several upsides to using this accessory, but some downsides may also affect the player's performance in the long haul. What I was saying is that the more you put weight into the bag, the more it will take its toll on the player physically. A heavy backpack can cause back pain and other physical aches, leading to being uncomfortable in the disc golf course.
This is why the brand Dynamic Discs has created a disc golf cart design to provide a space for their high-quality disc golf bags. It will turn all the bags into a rolling backpack to make it easy for disc golf players when playing on the field. The best thing about this bag is it will create lesser effort and stress, which should benefit the player and possibly transfer it in his performance during the game.
But one of the primary purposes of this disc golf cart is to provide the disc golf player a sturdy and portable solid seat. Yes, this disc golf cart comes with a dual purpose and can be converted into a chair if needed by the player. And the best thing about it, the frame is made with high-quality materials to make it durable and robust. It can support up to 300 lbs of weight which is very impressive.
Another purpose of this disc golf cart is to make it easy for you to navigate rugged terrain in a disc golf course. The tubeless foam tires will be able to deal with different types of surfaces. Whether it's sandy, rocky, snowy, and rough terrain, the pair of tires will successfully handle this with ease. Meanwhile, if you are looking for more space, the wheels can be detached and removed to accommodate more space for you.
Meanwhile, the telescopic handles will bring more comfort and convenience to the player. It will be easy for him to pull or push, depending on the player's preference. The length of the handle is just enough for anyone using it, regardless of height.
Pros
The telescoping handle is long enough o provide comfort and convenience to anyone
Wheels can be removed to add and accommodate additional compact spaces
Can fit large specialized backpacks
Tubeless tires are designed to navigate different types of terrain
Seat convertible which can carry up to 300 lbs
Cons
Support bar under the seat makes it difficult to access the top
This product is for disc golf players who own huge disc golf bags and wa]]want to say goodbye in carrying them. Using this disc golf cart will say goodbye to body pains, backache, and the hassle of bringing the bag to your back.
4. Bag Boy Quad Push Cart
When looking for a disc golf cart, you need something light and easily pulled or pushed. The reason behind it is that it will be easy for the disc golfer to navigate different types of terrain in the disc golf course. The Bag Boy Quad Push Cart will provide a reliable push cart that can carry your bag effectively and make you comfortable transporting from one place to another.
Comparing it with the other product we reviewed, this is a 4-wheel pushcart which should provide an additional advantage on the disc golf course. The benefit of having a 4-wheel push cart is that it gives stability on the surface, navigating on an uneven surface, or pushing it on rough terrain. It gives your bag a sense of security when going to different positions on the disc golf course.
And the best thing about it, this disc golf cart is designed to accommodate the bag easily. This disc golf cart comes with a bag holder, making the bag sit nicely on the cart. The best part is that you will see your bag secured and will not move or swing even when navigating on uneven surfaces on the disc golf course. I have experienced it using in a hilly course, and the bag just sits nicely and is very secure.
Another thing that impresses me was the compact foldable size which should bring convenience when storing it. It will also get a lot of portability to the cart when transporting it from your home to the disc golf course. Keeping the cart is easy and transporting it is easy as well, which should bring comfort to anyone using this disc golf cart.
However, the only issue I see in the product is the quality of the brake. It is challenging to assemble and sometimes will not function as expected. The manufacturer has an excellent opportunity to improve this part of the cart.
Pros
Provides easy storage and transport
With handle mounted parking brake
4 wheels offer stability even on rugged terrain and uneven surfaces
It comes with a large accessory bag
Bag to cart attachment provides security to the bag
Cons
Brakes difficult to assemble
This disc golf cart is for players looking for stability and security in their bags when dealing with unfriendly disc golf courses. The 4-wheels and the secure bag holder will make you comfortable during navigation on the field with uneven surfaces and challenging terrain.
5. ZUCA Dynamic Discs Transit Cart
If you are an active disc golfer who is constantly participating in disc golf tournaments, this transit cart from Zuca by Dynamic Disc is an excellent option. This product will provide different features and benefits to the user once it is used in the field. From navigation on various surfaces to carrying a good number of discs, this product has it all and will help make you comfortable during the game.
One of the outstanding features of this product is the durable and robust frame which can be converted into a portable seat. I have personally inspected the frame, and it was so strong. I feel that it can accommodate and carry up to 300 lbs of weight. Also, the seat can be quickly flip up to give access to the location of your discs.
I was also impressed by the quality and durability of the bag. Having the ability to carry at least 25 discs, this bag offers a vast space and is made with high-quality polyester. This type of cloth is durable and provides water-resistant features. Also, there is a sizeable zippered pouch in front of the bag, which offers additional storage for anything you want to bring in the game. There is also a zipper door opening in the bag, which provides easy access to all of your discs.
On the field, the cart feels nice and very light when used on the disc golf course. Also, the wheels will just roll smoothly, and the tire feels very good in moving the surface. Thanks to its tubeless foam performance tires, which give the ability to handle different types of terrain. Whether you are playing in rocky, sandy, snowy, or rugged terrain, this cart can take it with ease.
Another benefit of using this cart is it will bring so much good to your body. Having to use a disc golf bag will make you pick up the disc for every throw, and this can cause back strain and pain all over the body. Using this cart will eliminate that and will bring comfort to the body.
Pros
Ability to take on any terrain
It can be converted into a portable seat and can take up to 300 lbs
Offers great storage capacity
It comes with a removable and hand-washable insert bag
Tubeless foam performance tires can handle different types of terrain
Cons
Axel knobs tendency to fall off
If you are a disc golfer looking for a cart for tournament play, then this disc golf cart is just right for you. It can be converted into a portable seat which brings comfort and convenience to the player while waiting his turn. The storage capacity and the other features will help you in improving your game results.
How to Choose Disc Golf Cart
Design of the Disc Golf Cart
The design of the cart will all depend on your objective in acquiring the disc golf accessory. Do you want your cart to be a chair or not? Or you want it integrated where you can comfortably sit and still carry the disc golf equipment you are using in the game. You can also have the option to bring your stool and leave the cart to taking other things.
For me, having something to sit in a disc golf cart is my preference. A cart that I can sit on comfortably during break or when I am not throwing my discs. I also like the idea of having a few more wheels on the ground because it will be easy for me what I am driving over.
In my years of playing disc golf, I would prefer the 3-wheel option most of the time. The single front wheel in front is easier to lift when navigating any rough terrain. The upside of three-wheeled carts and strollers is they are better for courses that are less cart-friendly. The two-wheeled carts are more challenging to handle, especially on bad and rugged terrain.
Storage Capability
The storage capability of the disc golf cart will all depend on your preference as a disc golf player. Do you tend to travel light or travel heavy? Do you like to bring more things apart from the disc golf equipment? Please note that some carts have many extra spaces dedicated for additional items like coolers, zip-up packing bags, and a whole lot more.
Based on my experience, that space I am talking about will be filled up going into the game, whether it's the extra discs, clothing, bottles of water, bug spray, beer, more beverages, among other things.
So, my advice is to have a list of all your discs and the other items you will bring to the disc golf course. Then, if you want to stay lighter, never buy a model with a lot of extra nooks and crannies more than you need. It will be better for you to carry just enough stuff for you. Also, you need to consider the type of disc golf course you are playing. A good example is when you are playing in a hot course that requires you to consider an adjustable umbrella holder for your cart.
Dedicated Cart or Carrying Cart
This factor is all about you and your purpose of having a disc golf cart. Do you expect to use the cart exclusively? Or will you switch back and forth between a disc golf bag and a cart? Now, if you are going to change, do you look at moving or reorganizing your discs or course equipment as a hassle? Or are you comfortable doing it before and after the game?
The answer to all the questions above will determine if you are leaning towards having a dedicated cart or going into a cart that carries an existing bag. In my situation, I own a backpack, but I don't mind using a disc golf cart that can hold it and other things that I can bring toward the game with the extra space.
Push or Pull Disc Golf Cart: What Cart to Get?
One way to distinguished the disc golf cart is the way the player carries it. One way is pushing it, and the other is pulling it in the course. The question is, which is the best cart for you? The answer to this question will depend on you and your preference. Do you like pushing the cart just like Rovic? Or do you mind pulling a cart like the Zuxa brand?
The answer to those questions above will determine your preferred disc golf cart. Personally, I learned that it is much easier for my shoulder to push the cart compared to pulling the others. But this is on me, and my preference and yours will be different too.
What About Cart Friendly Courses?
If you play a course full of big roots, hills, bridges, and uneven terrain, that course isn't cart-friendly. My advice for this is to use a backpack in the game. Although you insist on using golf carts, my suggestion is to use three-wheeled carts and strollers because they are better for this situation. Meanwhile, two-wheeled carts are more difficult to handle on rugged terrain. Using it will bring discomfort and inconvenience to you once you use it in that type of situation.
Bag or Cart: Which Suits You Best?
For Disc Golf Cart
Disc golf cart brings many upsides should you decide to use it in the disc golf game. If you are playing in a course that reaches over 100 degrees Fahrenheit during the summer, you will need to carry a ton of water in this situation. Therefore, you need that extra space for your rehydration which the disc golf cart can give. You also want to carry all the extra stuff, such as the cooler, chair, and disc retriever.
The disc golf cart will save tons of energy for the player and will help in minimizing their fatigue. The more storage for everything plus a portable seat will bring many comforts to you. If you had an injury or getting old, the disc golf cart will minimize the impact of playing on your body.
Using a disc golf cart will not put additional weight on your back. Also, it will not let you pick up the backpack all day while throwing the arm for a long time where it can wear your arms down. My advice is to use the cart in a flat and open area and avoid using it on trails, hills, thick woods, and mountainous terrain.
For Disc Golf Bag
A disc golf bag also brings a lot of benefits to the disc golf player. In fact, many players choose the bag because they are easier to carry and is easier to travel with. As for me, I always prefer smaller bags for hillier courses and making quick trips while playing the sport. Also, a disc golf bag is way cheaper compared to a disc golf cart.
Conclusion
There are many things to consider in looking for the best disc golf cart. But one thing is for sure, choosing the right product is crucial when it comes to helping you during the game. We hope that our team has provided relevant information and tips in choosing the right disc golf cart for you. After all, we only want the best for our readers which is to select the right product for their disc golf game.
This entry was posted in Equipment. Bookmark the permalink.
Sours: https://discountdiscgolf.com/best-disc-golf-carts/
History
When people begin playing disc golf, they often have one or two discs that are easy to take around the course in their hands. In many cases, as players' interest in the sport grows, so, too, do their disc collections. At some point, two hands just aren't enough.

Once, the best options for carrying discs were bags with single shoulder straps or specialized disc golf backpacks. But in the last few years, an alternative to bags has become widely available and sought-after: the cart.
Disc golf carts are a specialized market and only a handful of companies are creating them. We researched the best options currently available to help you make the right choice when purchasing a cart. We also dove a little into the history of disc golf carts to learn more about their recent and dramatic rise in popularity.
Long before anyone created a business out of disc golf carts, they existed in the form of converted baby strollers or other homemade contraptions designed by those who were fed up with the strain bags put on their shoulders and backs. Many players looked on these carts with derision, thinking they were only for those too feeble to carry a bag.
In 2015, one sponsorship by disc golf cart maker Delta did a lot to change that. They chose to partner with rising pro disc golf star Ricky Wysocki, who began using their Delta Ten cart to get his discs around the course instead of carrying a backpack like the majority of other pros.

"Delta reached out to me and I really didn't know what to expect," Wysocki said. "But it just made life so much easier on the course."
The biggest positive for Wysocki was the disappearance of back aches.
"I remember back to when I had a bag, I definitely had some back trouble reaching down and grabbing the bag all the time," he said. "Once I switched to the cart, I didn't have any back aches or back pain and I had more energy toward the end of the round."
Delta's timing for sponsoring Wysocki couldn't have been much more to its advantage. 2015 and subsequent years saw a huge rise in consumption of filmed disc golf tournament coverage online, and Wysocki was on his way to back-to-back World Championships in 2016 and 2017. For a company looking to break the stigma in the sport around carts, it couldn't get much better than a rapidly growing audience of disc golfers regularly seeing a fresh-faced world champion toting one behind him as he left opponents in his dust.

To see an example of what the disc golfing world would have seen then, check out this footage from SmashBoxxTV's coverage to the 2016 Jonesboro Open, where Wysocki's Delta cart stands beside him in frame as he knocks down a putt on the way to a victory:



Once people started using carts, they experienced many of the physical advantages Wysocki had. They told their friends, and the disc golf cart market started growing.
"I'm not the kind of person normally to follow trends, but I guess I can start one," he said. "It's cool to start a trend and to be a face of disc golf and the face of the cart culture in general."
Delta Disc Golf folded as a company after the 2018 season, but companies like ZÜCA, RidgeRoller, and Clicgear have furthered the interest in carts on the course by marketing their accessorizing abilities. Everything from additional pockets for more discs or personal items, to water bottle holders, to umbrella stands, to seats have given players even further incentive to ditch carrying a backpack around the course.
"The putter pouches were a great addition," Wysocki said. "There's really nothing missing from the carts with all the attachments. They've just done a great job adjusting. The only people missing something are the ones still carrying a bag."
Wysocki has watched the cart culture boom in the last five years and has a similar prediction for the next five.
"In the first years I started using a cart, maybe one out of every group of players was using a cart at your local course," he said. "Now it's up to at least two, and in the next five years I think you'll see that number at about three."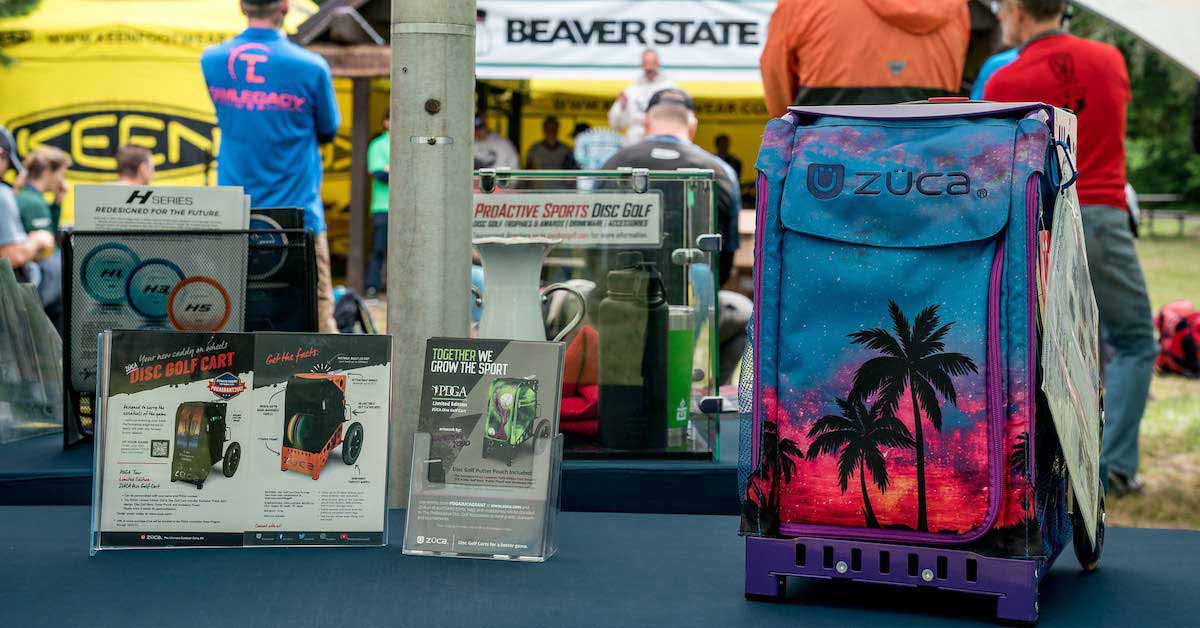 The disc golf cart brand with the widest name-recognition in the sport is undoubtedly ZÜCA, a company that makes rolling bags for various pursuits. They were the first company to truly market themselves as the major retailer for any disc golfers looking to ditch the backpack bag or just try something new.
In 2013, Joe Robinson picked up a ZÜCA ice skating cart, made a few personalized tweaks, and transformed it into a disc golf cart. He then sold it to the owner of the Rolling Ridge Disc Golf Course in Reedsville, Wisconsin. From there, with the inspirations of Robinson's company, Ridge Roller Customs, ZÜCA exploded onto the scene and became increasingly popular even after Robinson split off in 2016.
"When Joe left the company to do his own thing, ZÜCA had already invested heavily from a marketing standpoint and building out a retailer network to sell product," said marketing manager Jason Wilder. "The company base continued to expand."
ZÜCA carts are sturdy, lightweight, and suitcase-like, featuring a handle and two large wheels to help absorb and navigate bumps on the course. To access the storage compartment in the company's best-selling model, players simply unzip the door on the front of the cart and retrieve whatever disc they need from inside. Much like books on a shelf, the disc compartment works best if it's full.
The sub-name of ZÜCA is the "All Terrain Cart". The company truly believes this cart can handle any topography and will be suitable and dependable for players to use on all courses.
"If there is enough room for you to walk, there's enough room for you to pull a ZÜCA cart," Wilder said. "Because of the footprint and the width of the frame, you can roll it anywhere."
With the option to purchase a cart with one or two racks of disc storage and side pockets, all players should be able to find a ZÜCA cart with enough (but not too much) space for their discs and accessories. Another bonus is that the top of the compartment sits about two feet/nearly two-thirds of a meter off the ground and offers dual use as a seat. The cart structure is designed to support up to 300 pounds/136 kilograms. The company even sells attachable cushions to maximize comfort when sitting down.

Something else of interest is that ZÜCA sells carts made to hold the disc golf backpack players already own. Like other carts we discuss later, this option is good for players who have backpacks and want the choice to carry it or roll it depending on the course. They also have a top that can be used as a seat – though larger players might find them a tight fit.
The ZÜCA website is the premier location to find these carts and all of their accessories (Europeans, here's the European ZÜCA site), but interested players can also visit local disc golf shops or the Infinite Discs website. Dynamic Discs even offers a customized version of the ZÜCA EZ Go and Transit carts with their own logo on it for anyone looking for a special DD product.
In 2016, Joe Robinson split from ZÜCA, branching off to become his own entity with Ridge Roller Customs.
After Delta had discovered an untapped disc golf market with their cart and seen an explosion in sales, their company collapse left an opening for Robinson and Ridge Roller Customs. Robinson offered exclusive pricing to anyone who had a receipt for an unfulfilled order from Delta. This built credibility with consumers and Robinson's product did the rest.
Like ZÜCA, there are Ridge Roller backpack carts (the V3), but the R3 has become a big hit as well, thanks to a new sponsorship deal with – surprise – Ricky Wysocki and the collapse of Delta Disc Golf.
The R3 takes many ideas from the original Delta Ten carts. The compact, low-to-the-ground box fits up to 25 discs and can be accessed from the top whereas the flagship ZÜCA carts are accessed from the front. This allows the lid of the compartment to serve as a seat too. An extendable handle lets players adjust how they pull the cart based on their height, and all-terrain wheels give the cart the ability to handle rocks, roots, sand, grass, mud, or whatever the course throws at it.
"I like the way it sits off the ground," Wysocki said. "The Delta sat a little lower to the ground so it was a little awkward and your knees were bent, but with the new RidgeRollers, I sit really comfortably. They also have an extended handle so I don't hit my feet when I'm walking."
Each cart is made to order by Robinson himself in Appleton, Wisconsin, so the customization options are what set Ridge Roller carts apart. These carts can be ordered exclusively on Ridge Roller's website.


Clicgear's parent company, ProActive Sports, has been producing a golf-specific version of the Clicgear cart for over 35 years, becoming the leading distributor for golf push carts in the United States. They first introduced a disc golf cart in 2017.
"We began having more and more requests from customers looking to turn the cart into a disc golf version," said Kevin Vella, a sales and marketing specialist for The ProActive Sports Group. "We knew we had a high-quality product that could be unique in the disc golf scene with a few adjustments to the existing product."
With the exception of a few converted strollers, the only carts on the market when the Clicgear cart entered the scene were pull carts with two wheels. Clicgear golf carts all have three or four wheels and are push carts, leading the company to closely examine whether its offerings would truly match up with the needs of disc golfers.
"When looking at our design, we had to figure out if we could adopt this feature or if we needed to look in a different direction," Vella said. "Our number one concern was coming up with a system that allowed the strengths of the current ball golf cart to shine through while also adapting to the needs of disc golf."
Ultimately, they stuck to their guns and went with a three-wheel push cart, one of several qualities that differentiates the Rovic RV1D from the competition. Another separator is the cart can hold all styles of backpack bags. Players simply clip their current backpack onto the cart and start playing.
"We believe that customers should be able to use their own disc golf bag rather than have to use one that comes with the cart," Vella said. "The way that the bag sits on the cart is also a benefit because it sits up higher than other carts, allowing someone to easily get in and out of their bag throughout a round."
The final unique quality of the RV1D is its foldable feature. When transporting in a vehicle or storing, the cart can be folded down to about the size of a backpack with no assembly, or disassembly, required, making it easy to carry and pack away.
The Rovic RV1D can be found on ProActive Sports Disc Golf's website, the Infinite Discs website, and at some local disc golf shops. Like other carts, the RV1D has many attachments that can be purchased. And, being part of the Clicgear family that has been around for over three decades, a lot of the attachments can even be found at Walmart, such as wheel covers and shoe brushes. Clicgear also has seats that can attach to the cart and bear 220 pounds/100 kilograms.


MVP has been steadily gaining market share as a disc golf company in recent years and has generated a loyal following. They entered the disc golf cart scene in 2019 in an effort to keep up but also to give players a quality alternative to just wearing a backpack around the course.
"With how popular our backpack bags have been, we knew that the percentage of players with backpack bags was skyrocketing," said Chad Richardson, the chief engineer at MVP Disc Sports. "We knew many would benefit from the option of a disc golf cart geared specifically to cater to current backpack users. So, we went to work on designing and developing the first cart in our Rover Cart series."
MVP chose to design the Rover as a platform cart, with two wheels and a shelf to place a pre-existing bag on. It functions similarly to a dolly you would find in a warehouse to move boxes. Richardson wanted the cart to be an easy and cost-effective addition to a player's game.
"When you want to have a quick round or choose not to use a cart, it's nice to be able to quickly unclip your backpack from the cart and enjoy your round with a traditional bag," he said. "The Rover Cart was designed with that dual functionality in mind to provide an easy-to-use cart with a low, smooth-rolling profile that isn't a chore to set up or transport."
The cart's low center of gravity means tipping shouldn't be an issue, and removal of the handle makes the entire cart no more than a foot/30.5 centimeters tall, maximizing storage space when transporting. The cart features foam tires, so the fear of blowing a tire while on the course is eliminated. The Rover does not have a seat option like the other carts, but this was intentional.
"We found that not all players prefer a seated cart," Richardson said. "Many simply want an easy bag conversion. This makes the price point much more affordable for a wider audience who have already invested in a high-quality bag and don't want it hidden, or its functionality hindered, by their cart."
Richardson and his team are looking to continue to improve the Rover and have been using feedback from players all over the world. Some tweaks coming soon are to the accessories line which includes stainless steel drink holders and putter pouches for players to attach to their cart. Further down the road, MVP plans to introduce another cart into their Rover lineup. You can learn more about the rover on MVP's website.
For those that like to save a few dollars and have the skills to put something together themselves, building a disc golf cart is a route many players have taken.
Some have used PVC piping to create a handle and base and then combined it with a plastic crate or laundry basket for storage. Others have modified and repurposed baby strollers left over from when their children were younger.

Homemade carts may not look as good or perform as well as the ones previously mentioned in this article, but it's certainly an inexpensive alternative. For an example, take a look at what these two guys were able to do with some spare supplies lying around the house:


Sours: https://udisc.com/blog/post/wheeling-it-finding-the-best-disc-golf-cart-for-you
I just howled in pain. She was so strong and long. He began to twitch, unable to free himself. I swore out loud. And Vova looked at me with a smile.
Cart disc golf
My lover's other hand lifted a T-shirt on. I arched my back, partly in pleasure and partly helping to lift the shirt, and my breasts slipped out like white beacons in the. Moonlight of the room. Misha pulled me towards him with a kiss, and when I half sat on the couch, he took off my T-shirt over my head.
Then, for some unknown reason, he ended up behind, his tongue playing with my neck, and kissing the back of my head.
DIY Disc Golf Cart
A minute later, the second finger was there, and I began to slowly screw her ass with my hand. My friend was again in full combat readiness and I decided not to stretch her anus with my fingers so that the penis was more pleasant there. She continued to lie with her ass up, I lay down on her, stuck my dignity dressed in rubber into her current.
Hole and after working there for a minute I took out a well-oiled member and put it to the anus. He entered there with some effort, which was very pleasant for me.
Similar news:
Do you know how we will call him. How. - asked Zhenya. We will call him Henry. Zhenya climbed on Henry, I turned on the electric motor, Zhenya trembled with happiness and a couple of minutes later screamed in the voice of an admiring.
29
30
31
32
33