CORSAIR Hydro Series H100i PRO Liquid CPU Cooler Review
Just over six months ago, Corsair launched the first closed-loop liquid cooling solutions that use the 6th Generation of Asetek's cooling technology. The two new models introduced were the H150i Pro, a 360mm closed-loop liquid cooling solution for $159.99 and then the smaller H115i Pro 280mm liquid cooler at $129.99. Both of these liquid CPU coolers use Asetek Gen6 pump and coldplate technologies and have been kitted out with the latest Corsair Magnetic Levitation fans (ML-series) and RGB LED lighting powered by CORSAIR iCUE software. Corsair also introduced a 0RPM mode for these two new coolers, so if liquid temperatures are below 45C the fans turn off and you can enjoy near silent cooling as the pump must still circulate the coolant. Cooling performance on water coolers has really plateaued in recent years, so most the advancements these days are on the cooling solutions pump and fan acoustic performance as well as visual appearance.
These two coolers have proven to be good units for those that what to run a 280mm or 360mm radiator. Those that have a case that won't support coolers that large have been missing out on the latest cooling technology until today. Just moments ago, CORSAIR launched the Hydro Series H100i PRO 240mm Liquid CPU Cooler for $119.99 shipped. It has all the same key features of the H115i PRO RGB and H150i PRO RGB, but in a smaller package at an even lower price point.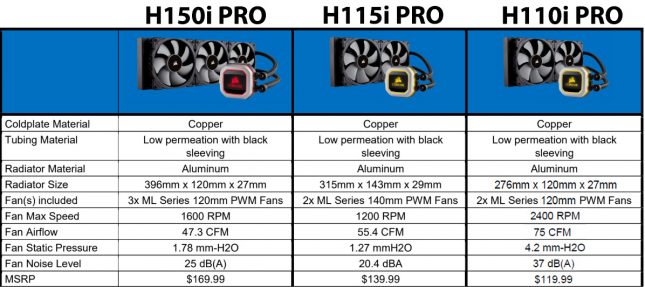 Corsair H100i PRO Key Features
Dynamic Multicolor RGB Lighting: Vibrant RGB LED pump head produces vivid lighting effects to match your build.
Powered by Magnetic Levitation: Two 120mm ML Series magnetic levitation PWM fans deliver incredible airflow and static pressure at low noise levels.
Total Speed Control: PWM fan-speed control allows you to run your fans anywhere between 400 RPM to 2,400 RPM for complete quiet or maximum cooling.
Powerful Software: CORSAIR iCUE software allows you to control your coolers RGB lighting and monitor CPU and coolant temperatures, and adjust fan and pump speeds, all from a single intuitive interface.
Zero RPM Mode: Zero RPM cooling profiles allow fans to stop entirely at low temperatures, completely eliminating fan noise.
Precise Pump Control: Advanced pump speed control options to maximize performance or minimize noise.
Easy to Install: Modular, tool-free mounting bracket for quick and painless installation on most major CPU sockets.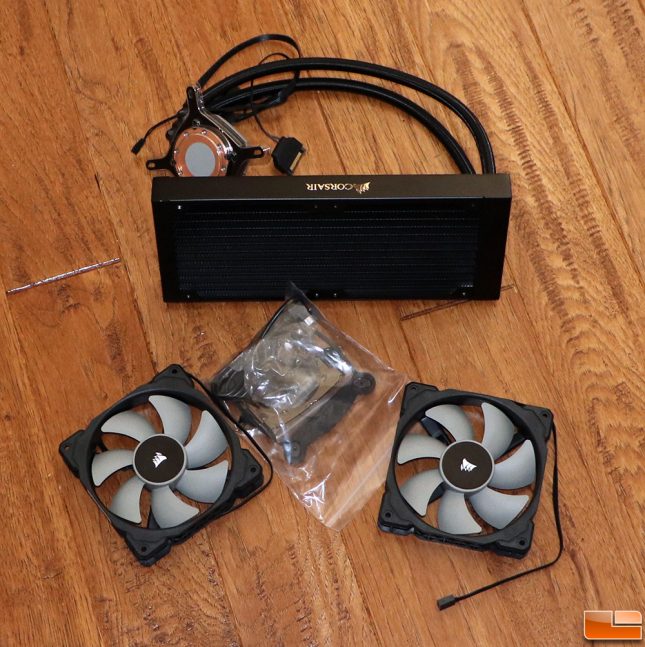 Inside the retail packaging you'll find the Corsair Hydro Series H100i PRO Low Noise 240mm RGB Liquid CPU Cooler, mounting kit, two ML Series PWM 120mm high performance fans, USB cable for CORSAIR iCUE Integration, fan and radiator mounting screws and a quick start guide. The H100i PRO comes with mounting kits for every CPU socket over the past decade with the exception of the AMD TR4 socket used on Ryzen Threadripper processors. If you want to use this cooler on a Threadripper CPU you'll need to purchase the AMD TR4 bracket from Corsair as an optional accessory. Corsair just introduced the TR4 Mounting Bracket Kit this month for the H100i PRO/H115i PRO/H150i PRO and it runs $9.99 plus shipping.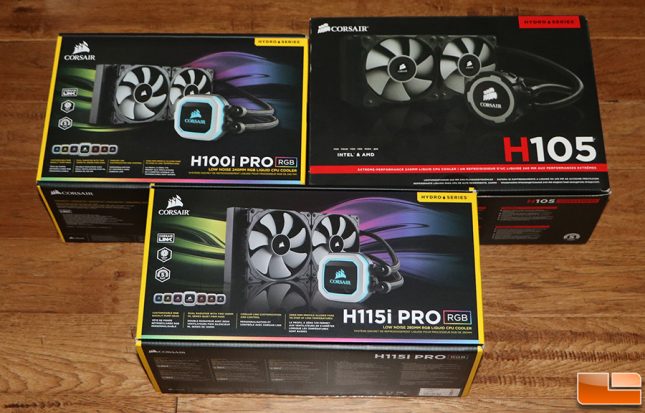 Today we'll be trying out the Corsair H100i PRO against the H115i PRO and the much older Corsair H105. The Corsair H105 came out in 2014 and uses Asetek Gen4 block/pump technology. We have a handful of these coolers and the 240mm radiator is extra-thick at 38mm and the dual Corsair SP120L fans move 73 CFM of air, which is enough to cool all mainstream processors. The H105 has been the workhorse on our test benches here at Legit Reviews for years, but we were were curious what we were missing out on. How things have progressed over the past four years?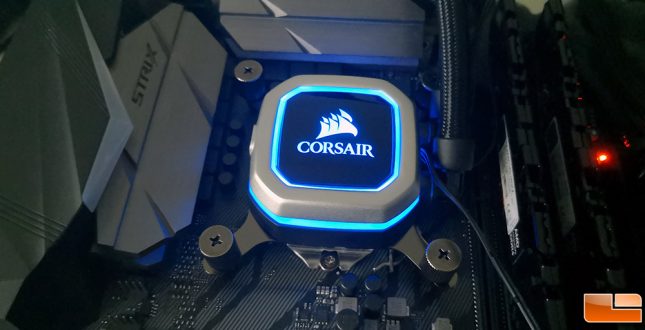 For that we turned to our Intel Core i7-8086K processor that we have currently overclocked up to 5.0 GHz on all cores on the ASUS ROG STRIX Z370-F Gaming Motherboard ($194.99 shipped) with UEFI 1002. We manually lowered the CPU core voltage to 1.30V as leaving it on auto would cause thermal throttling with the CPU multiplier increased to 50. The 16GB (2x8GB) DDR4 memory kit was running at 3200 MHz with CL14 timings and we were running Windows 10 64-bit on a Samsung SSD 970 PRO 2TB PCIe NVMe SSD. We tested all three CPU coolers with the fans and water pump running at 100% for load. When we tested sound levels we took idle measurements with the fans plugged into a header that had ASUS Q-Fan set to standard. Ambient temperature in the room for testing was 78F, plus or minus a degree. Room temperature was monitored throughout testing.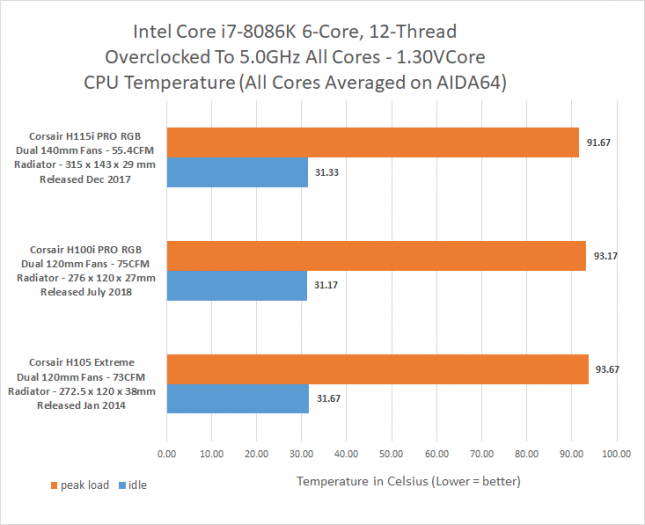 When it comes to temperature performance the idle temperature of the Intel Core i7-8086K running at 800MHz had all the CPU coolers tested sitting within a degree of one another. We ran the AIDA64 stress test for 30 minutes to get our load temperatures. We found the new Corsair H100i Pro to be about half a degree cooler than the H105, which is pretty impressive considering the radiator is 11 mm thinner and the airflow (CFM) is basically the same. The Corsair H115i PRO bested the H105 by a full 2C at load and we expected that.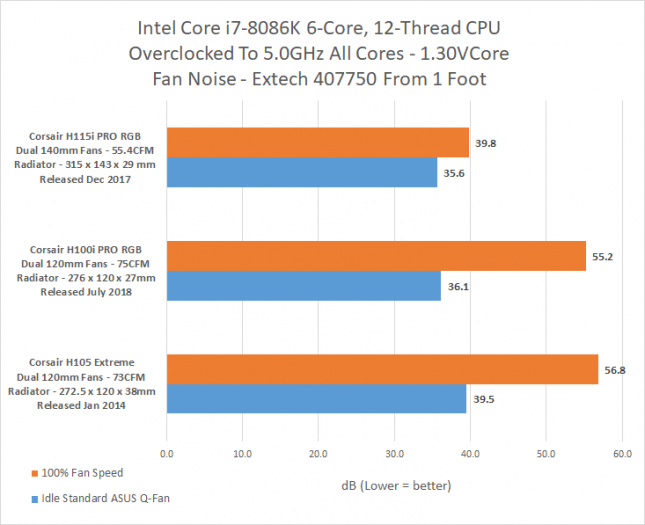 Cooling performance was slightly better on the H100i PRO and H115i PRO over the 4-year old H105, but the biggest difference was in the noise category. Wow! The difference between running the Corsair H105 fans at 100% (Corsair rated 37.7 dBA at 2700 RPM) and the newer H115i PRO (Corsair rated 20.4 dBA at 1200 RPM) was flat out amazing at both idle and load. We dropped the sound level by 17dB and load and nearly 4dB at idle when going from the H105 to the H115i Pro. The Corsair H100i PRO was most certainly quieter, but not nearly to the degree of the dual 140mm fans on the H115i Pro. The dual 120mm fans on the Corsair H110i PRO are rated 37 dBA at 2400 RPM and our testing showed they were about 1.6 to 3.4 dB lower than the Corsair H105.
Final Thoughts and Conclusions
Corsair now offers Asetek Gen6 cooling technology in 240mm, 280mm, and 360mm radiator sizes. The addition of the Corsair Hydro Series H100i PRO cooler brings the latest in cooling technology and bold RGB styling to a wider audience. This all-in-one closed loop cooler has two Corsair 120mm ML Series magnetic levitation PWM fans, a slick looking RGB LED pump head to ensure your rig looks amazing and support for iCUE software that allows you to control everything. The H100i PRO's pair of Corsair ML120 have a minimum fan speed of 400 RPM and can spin all the way up to 2400 RPM. This fan speed is well over the 1600 RPM ceiling on the from the ML120 fans included with the H150i PRO 360mm cooler and the 1200 RPM top speed on the ML140 fans included on the H115i PRO 280mm cooler. This makes the H100i PRO the loudest of the group, but it's still quieter than older models like the Corsair H105.
When it comes to performance the Corsair H110i PRO had impressive idle and load temperatures as we were able to best the Corsair H105 with a radiator that was 11mm thinner. The Corsair H110i PRO packs a mean punch for such a small unit and it's the lowest cost model for the latest Corsair water cooling units.
Corsair H150i Pro 360mm – $159.99
Corsair H115i Pro 280mm – $129.99
Corsair H100i Pro 240mm – $119.99
Corsair backs the Corsair Hydro Series H100i PRO with a 5-year warranty. Competitors in the water cooling market have widely varying warranties and it is something to consider. AeroCool backed their water coolers with just a 2-year warranty, but then you have the NZXT Kraken water cooling series that is backed by a lengthy 6-year warranty. Corsair is on the longer side when it comes to warranty length. We have Corsair water coolers that are over 10-years old that still run fine!
Dethe new Corsair H100i PRO is ready to cool current and future CPUs for years to come. The H150i PRO and H115i PRO are available for $10 less than their MSRP, so we expect the same to be true on the Corsair H100i PRO once they have been on the market for a bit. This is an impressive cooler and aggressively priced against other 240mm All-in-One liquid coolers like the NZXT Kraken X52 ($132.00) and AeroCool P7-L240 ($119.99).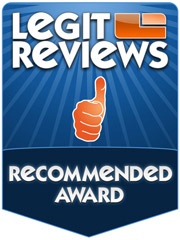 Legit Bottom Line: The Corsair Hydro Series H100i PRO raises the bar for what one should expect from a 240mm cooler and it might be time to upgrade your old liquid cooler to something quieter with RGB lighting.
Oh and here is a picture of the H110i PRO coldplate that we couldn't fit into the review, but still wanted to put in… LOL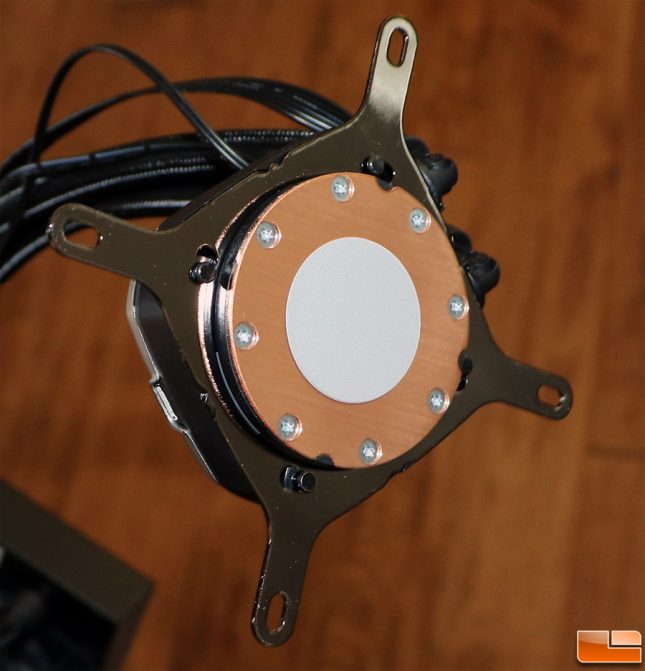 Questions or comments? View this thread in our forums!
Sours: https://www.legitreviews.com/corsair-hydro-series-h100i-pro-liquid-cpu-cooler-review_206775
When I built my first PC some years ago, I used air cooling.
The CPU I used was a high-end one, and it would reach temperatures above 85C during intense gaming. I thought it was normal and never bothered about liquid cooling.
In a hurry? Check out my #1 recommended CPU Cooler.
When I was upgrading some components of my PC some years later, I decided to try a liquid cooler. So I bought one.
And that's where things changed.
The peak temperature of the CPU never crossed 70 degrees. I was also getting more FPS and fewer stutters while gaming with the new AIO installed.
If you are like me, looking to cool down your CPU, you've come to the right place. I will show you the best CPU coolers from Corsair so that you don't get confused between the vast number of options available.
After reading the whole post, you will be able to finalize your decision about your best choice. So stay tuned.
Also, check out the best corsair fans for your corsair build.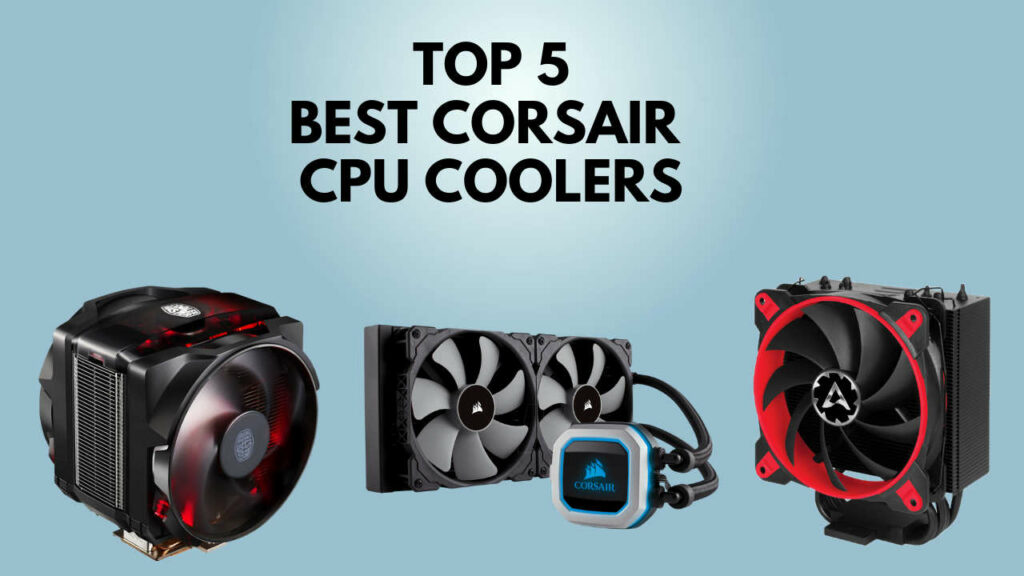 Top 5 Best Corsair Coolers
Having a good AIO is important as CPU lifespan can get reduced if it frequently gets overheated. And for overclockers, AIO is a must as otherwise, the CPU can overheat and shut down at any time.
Here are the top 5 best Corsair CPU coolers:
1.   Corsair iCUE H150i Elite Capellix
Corsair introduced the Corsair iCUE H150i Elite Capellix as the best Corsair cooler with the best features.
A few of the impressive features of the Corsair iCUE H150i Elite Capellix:
360mm radiator
3x Corsair ML120 PWM RGB lighting fans included
Corsair Commander Core fan controller included
2x Interchangeable faceplates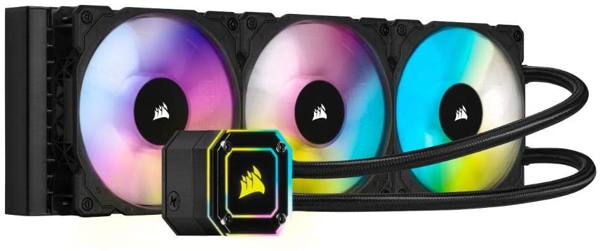 Check Today's Price of iCUE H150i Elite Capellix ➜➜
The liquid cooler has a massive radiator of 360mm. This vast form factor allows the radiator to have more surface area and transfer more heat. You can cool down your beastly gaming CPU very efficiently. It is a perfect choice for enthusiasts as the liquid cooler can cool overclocked high core count CPUs very efficiently, which some other CPU coolers fail to do correctly.
The aluminum construction of the radiator feels durable. The tubes are black-sleeved and are made of low permeable rubber to allow for faster heat transport.
Three 120mm RGB PWM fans are installed in the Corsair iCUE H150i Elite Capellix. These are magnetic levitation fans from Corsair and operate at very little noise. You get the ultimate cooling at a fraction of average noise.
When it comes to RGB lighting, Corsair has done the right things.
Also, check out the best corsair case for your corsair build.
First of all, the pump has 33 Capellix RGB LEDs. Not only that, but You can also swap the faceplate on top of the pump. Adding to it, each of the three fans has 8 LEDs per fan. All these combined give you the best CPU cooler RGB lighting.
The iCUE software can control the RGB. You can also control the fans' RGB and speed from the same place, thanks to the included Corsair Commander Core fan controller. You can reduce speed to as low as 400 RPM giving the ultimate silent CPU cooling experience.
Here is the best part:
If you're not doing heavy PC tasks, turning on the zero RPM mode will shut the fans completely.
The liquid cooler has broad compatibility with both Intel and AMD CPUs. You get to install the pump easily as it is toolless and modular.
If configured correctly, it can be an efficient and low noise CPU cooler. But if you crank up the fans to their 100%, the noise can be pretty loud. So optimizing the fan curves is essential.
Pros
»great cooling
»Corsair Commander Core included
»interchangeable faceplates
Cons
»fan noise high at 100% speed
2.   Corsair iCUE H150i RGB Pro XT
Corsair iCUE H150i RGB Pro XT is a less noisy brother of the H150i Elite Capellix.
Here are some notable features of Corsair iCUE H150i RGB Pro XT:
360mm radiator
3x Corsair ML120 RGB PWM fans at 400-2400 RPM
0 RPM mode
16 individual RGB LEDs on the pump

Check Today's Price of Corsair iCUE H150i ➜➜
The liquid cooler comes with 3 PWM magnetic levitation 120mm fans, which are super quiet. You can fine-tune the RPM from 400 to 2400 RPM, so you get complete control over the noise levels and cooling. The cooler also supports 0 RPM mode when you're not gaming, and you want your PC to be dead silent.
If you're a fan of RGB (I mean, who isn't?) You would love the Corsair iCUE H150i RGB Pro XT. The pump has 16 LEDs that you can configure via the iCUE software. The three included fans also have 8 LEDs each, taking the RGB lighting game to the next level.
Do check out the best corsair mouse for competitive tournament gaming.
Let's discuss the most critical part now:
The liquid cooler aces at the most crucial part of any liquid coolers, cooling. Corsair iCUE H150i RGB Pro XT manages to make your high-end CPU cool down relatively faster and more efficiently.
Even the hottest CPUs don't tend to cross 65c with this CPU cooler, which is insane. It ensures you get the maximum performance out of the CPU. The high RPM fans and the efficient copper plate contribute to it. For the best result, set the fans to pull air configuration.
The CPU brackets provide easy installation as they are tool-less. The liquid CPU cooler offers compatibility with a wide range of CPUs, both from Intel and AMD.
The build quality of the liquid cooler is also excellent. There is no scope to find any defects in the build quality. A highly efficient cooling system, top-of-the-line RGB lighting, durability, all these combined, make the water cooler an excellent choice for any gamers or PC enthusiasts. Overclocking the CPU is no issue if you use this liquid cooler.
All in all, the Corsair iCUE H150i RGB Pro XT is one of the best CPU coolers that I would recommend to anyone.
Pros
»extremely quiet
»high RPM fans
»great cooling
Cons
»no interchangeable pump caps
3.   Corsair iCUE H115i RGB Pro XT
Corsair iCUE H115i RGB Pro XT is one of the best 280mm CPU coolers you can get from the Corsair Hydro series right now.
Key highlights of the Corsair iCUE H115i RGB Pro XT:
280mm radiator
2x RGB PWM 120mm fans included
fans' speed and RGB lighting control via iCUE software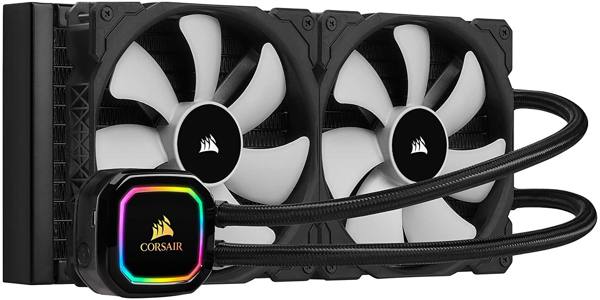 Check Today's Price of Corsair iCUE H115i ➜➜
The build quality is excellent right off the bat. The radiator feels super solid with aluminum construction, and the CPU pump uses a copper plate. The tubes are black-sleeved to give that stealth look.
The AIO comes with 2 RGB PWM 140mm fans with an RPM range of 400-2000. Being high RPM fans, they can take the heat away pretty quickly. The configurable RPM allows you to lower the RPM when you're not doing a heavy task, resulting in low noise. It also features 0 RPM mode if you want a dead silent machine.
Also, Check out our expert-recommended best corsair keyboards.
Curious about RGB?
The RGB is virtuous here, with 16 LEDs on the pump front. The included fans also have RGB lighting LEDs. You can control all the LEDs via the iCUE software and make them sync with your setup. The Corsair iCUE H115i RGB Pro XT is a pretty sick RGB CPU cooler, to be honest.
When it comes to cooling, the cooler does the job perfectly. The high RPM fans allow taking heat away from the radiator very quickly. The radiators also possess ultra-thin fins, which radiate heat more quickly. And lastly, the CPU plate is made of copper, which conducts heat speedily away from the CPU. All these combined give you a cooled-down gaming PC and reduced CPU temperatures.
Also, Check out our expert-recommended best corsair headphones for crystal clear sound effects.
You can rest assured that your high-core CPU will not overheat, and you will get the maximum performance out of the CPU when using this CPU cooler. Having a CPU at the ideal temperature is vital. It allows for more FPS and less stutter when gaming, especially if your CPU is continuously overheating in your gaming rig.
The CPU block provides compatibility with all modern CPUs from both Intel and AMD. The brackets are toolless and pretty straightforward to install.
The only issue I have with this AIO cooler is that it's pretty hard to get the screws through the radiator.
If you are in the market for a 280mm AIO, trust me when I say you buy this AIO cooler like the Corsair iCUE H115i RGB Pro XT aces at all the key areas.
Pros
»2x 140mm PWM RGB fans included
»excellent RGB lighting
»top-notch water cooling
Cons
»radiator screw holes are pretty tight
4.   Corsair H100i RGB Platinum SE
Corsair H100i RGB Platinum SE is one of the best efficient 240mm AIO from the Corsair Hydro series that does an excellent cooling job.
Key features of Corsair H100i RGB Platinum SE:
240mm radiator
2x Corsair LL120 RGB PWM fans included
16-LED dual loop RGB lighting
clean white look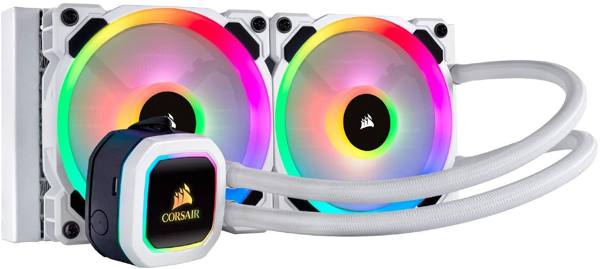 Check Today's Price of Corsair H100i ➜➜
The dual LL120 RGB PWM fans that come with the Corsair H100i RGB Platinum SE are very good at taking hot air out of the case. The fan speed is 360-2200 RPM, so you get to fine-tune your fan speed. The high RPM allows you to move hot air fast, while the super low 360 RPM makes the radiator almost silent.
The radiator is made of aluminum, while the pump uses a copper block to suck heat out of the CPU. These are solidly built and have no issues when it comes to build quality. The radiator and the pump are white-colored, and they give a very clean look. If you want a CPU cooler that would go well with a clean white setup, this AIO cooler is the one to get.
The fans have dual loop addressable RGB with 16 LEDs per fan. A total of 48 LEDs gives you control over the RGB lighting of the AIO. Using the iCUE software, you can customize the color combination for the ultimate clean-looking setup.
Do check out the efficient and budget-friendly best corsair power supply this year.
Let's check out the cooling system.
The radiator has ultra-thin mesh, and together with the high RPM fans, it can dissipate heat very efficiently, making your smoking hot CPU cool in seconds. The CPU will always stay at ideal temperatures. You will get the most out of your CPU in terms of performance. Any gamer would want such a perfect CPU cooler for their gaming PC to get the ultimate gaming experience.
Being a 240mm AIO, the Corsair H100i RGB Platinum SE is suitable for most gaming rigs. So if you're unsure whether it'll fit in your case or not, this AIO cooler could be an excellent choice for you.
I found the AM4 bracket a bit hard to put into the Corsair H100i RGB Platinum SE. But if you're an expert at building PCs, this is no issue.
Check out our separate post on the fastest best corsair rams.
Pros
»excellent water cooling
»top-notch RGB
»clean white aesthetic look
5.   Corsair H80i V2
The Corsair H80i V2 is the best budget option for those who want a 120mm CPU cooler.
Some of the features of the Corsair H80i V2:
120mm radiator with 49mm thickness
2x SP120L PWM fans included
Corsair Link enabled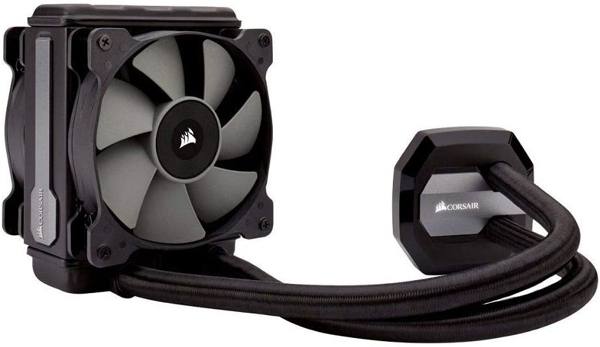 Check Today's Price of Corsair H80i V2 ➜➜
The cooler comes with two SP120L PWM fans from Corsair. You can decide to put one fan for saving space or two at the push-pull configuration for the ultimate performance. The fan speed is 2435 RPM, so they spin very fast and draw a lot of heat outside within seconds.
The radiator is thick at 49mm, providing more cooling performance than an average 120mm AIO liquid cooler. The fins are ultra-thin to provide quick and efficient cooling. Together with the high-performance fans, the cooler can cool your overclocked and overheated CPUs in no time.
The Corsair H80i V2 keeps the CPU within ideal temperatures, so you get the most performance in heavy tasks and the most fps in your favorite games. Other components of your gaming PC also benefit from it as they don't have to tolerate the CPU's hot air.
Trust me:
Cooling the CPU with this AIO cooler is no issue at all. You will get the best performing 120mm AIO cooler should you buy this.
The build quality is excellent, with an aluminum radiator and copper cold plate on the pump. The CPU block also has RGB LEDs that you can control via the Corsair Link. Not only that, but you can also monitor the system performance and temperatures with the software.
The noise that the Corsair H80i V2 produces is within tolerable limits. Being a 120mm AIO liquid cooler with single or dual fans, they don't generate much sound, to begin with. The closed loop pump also has a silent operation.
Grab the latest corsair mouse pad for competitive gaming.
Keep in mind, though,
If you're using a very high-end (>8 core) overclocked CPU, this AIO cooler might not be enough for you. You would want a bigger radiator (280mm or 360mm).
Overall the Corsair H80i V2 is the best budget AIO at a small size that would fit in any case.
Pros
»efficient cooling performance
»extremely quiet
Is Corsair AIOs Good?
Corsair is a proven name in the field of liquid coolers or AIOs. They are regularly producing some of the best liquid CPU coolers in the market, and their CPU coolers are very popular among the community.
The key areas where the Corsair CPU coolers stand out are their efficient cooling, solid construction, high-quality fans, configurable RGB, interaction with the software.
Final Thoughts
So, which product do you think is the best? I am personally using the Corsair iCUE H150i RGB Pro XT, which in my opinion is the best combination of features and performance I want from a cooler.
If you have any questions, feel free to leave them below.
Sours: https://10scopes.com/best-corsair-cpu-cooler/
BE SEEN, NOT HEARD
WATCH VIDEO

The CORSAIR Hydro Series PRO are our quietest liquid CPU coolers ever. We've added a quieter pump, ML Series magnetic levitation fans, Zero RPM mode, and quiet startup to cut the noise to a minimum. A brand new compact RGB pump head with bold styling makes the Hydro Series PRO as easy on the eyes as it is on the ears.
DYNAMIC MULTICOLOR RGB LIGHTING
Vibrant RGB LED pump head produces vivid lighting effects to match your build.
ZERO RPM MODE
Zero RPM cooling profile in CORSAIR iCUE software allows fans to stop entirely at low temperatures, eliminating fan noise.
PRECISE PUMP CONTROL
Advanced pump speed control options to maximize performance or minimize noise.
POWERED BY MAGNETIC LEVITATION
ML Series magnetic levitation PWM fans deliver improved airflow and produce little noise at full speed.
POWERFUL SOFTWARE
CORSAIR iCUE software allows you to adjust RGB lighting, individual fan speeds, and pump speed while monitoring CPU and coolant temperatures, and more.
EASY TO INSTALL
Modular, tool-free mounting bracket for quick and painless installation on most major CPU sockets.
You won't hear a peep from our award-winning ML Series PWM fans. Magnetic levitation bearings mean crazy cooling power and smooth, near silent rotation, but if that's still not quiet enough for you, our Zero RPM cooling profile in CORSAIR iCUE software stops your fans entirely at low temperatures.
You asked for it, and now our first 360mm Hydro Series cooler is here: the H150i PRO. With 50% more surface area than a 240mm cooler and a third ML120 fan to boot, you get massive headroom for overclocking—or even running fanless in Zero RPM mode.
A modular, tool-free mounting bracket allows for quick and painless installation on all modern Intel® sockets and AMD® AM4 sockets.
Sours: https://www.corsair.com/us/en/hydro-liquid-coolers
Best Liquid CPU Coolers 2021: Silent and Reliable AIO Liquid Coolers
Keeping your processor properly cooled is critical for getting the most performance possible out of it. While there are many CPU coolers to get the job done, few are as exciting as liquid coolers. Fortunately, you don't actually have to be some plumbing professional to set up a liquid cooler these days thanks to the proliferation of all-in-one (AIO) liquid coolers.
The AIO liquid coolers you'll find can actually be incredibly simple. They come with a water pump pre-installed with hoses that connect to a radiator, which can vary in size from a simple square 120mm way up to 240mm and even 360mm. They're even pre-filled with fluids, so you don't have to fuss around with any of that. In some ways, they can be even simpler to set up than an air cooler, as you don't need to carefully mount a heavy heat sink onto your processor.
The benefits of liquid coolers go further than that. They can also do a great job keeping your CPU chilled (just make sure you get one that is designed to handle the heat output of your processor), and can often do it more quietly than an air cooler. Plus, they can work better in tight spaces, such as mini ITX cases, since they don't have the same size constraints as air coolers that have to stick straight up from the CPU socket. So, if you're ready to dabble in liquid cooling, these are the best AIO liquid coolers to check out.
TL;DR – These are the Best Liquid CPU Coolers:
1. Corsair iCUE H100i RGB Pro XT
Best Liquid CPU Cooler
Corsair iCUE H100i RGB Pro XT
Corsair knows how to keep your processor cool, and the Corsair iCUE H100i RGB Pro XT is the AIO liquid cooler to do it. This 240mm setup is ready to handle some serious heat, so it's no surprise that it comes with socket support for the latest AMD and Intel processors, including AMD's Threadripper processors.
The Corsair iCUE H100i RGB Pro XT pulls heat away from your processor with a copper cold plate and pumps that into a 240mm radiator fitted with two Corsair ML Series 120mm fans. When temps are low, the fans can sit idle for silent operation, but when things heat up, they can kick into gear to push air through at up to 75CFM each while sticking to just 37dBA. The pump also can lend some style to your setup with 16 RGB LEDs on the pump head, and you can address each individually. Managing the AIO cooler is also simple. You can control fan and pump speeds from within Corsair's iCUE software right on your PC, and monitor CPU temperature to make sure your settings are giving you optimal performance.
IGN Deals Picks: Refurbished PC Deals at eBay
2. Lian Li Galahad
Best Budget Liquid CPU Cooler
Lian Li isn't just making some of the best PC cases, and the Lian Li Galahad is a strong case for where else it can excel. This AIO cooler comes in at an affordable price while offering a sizable 240mm radiator and dual 120mm fans. Those fans feature stylish aRGB lighting that will let you customize the look of your PC, and the water pump housing also gets in on the light show.
The Lian Li Galahad fans can generate 2.79mmH2O of air pressure and 72CFM of airflow, sending plenty of air past the radiator to keep your CPU cool. The fans are rated to run for 40,000 hours and the pump is rated for 70,000 hours, ensuring you get every bit of value possible out of this cooler. Heck, Lian Li even includes thermal compound for the application so you don't need to spend extra picking that up.
3. Deepcool Captain 240 Pro V2
Best Ultra Cheap Liquid CPU Cooler
Deepcool Captain 240 Pro V2
Looking for an all-in-one liquid cooler with a 240mm radiator? Want it to have RGB-lit fans? Want the pump to have RGB lighting as well? And you want it all for a low price? Lucky for you, you actually can get all that with the Deepcool Captain 240 Pro V2.
This AIO liquid cooler brings a bunch of the most exciting features at a low price point of just $100. You'll get your big radiator, and it'll include two fans with addressable RGB lighting. The water pump also has a light bar around the sides and an array of lighting on the top. All of that lighting can connect right to your motherboard for direct control and syncing with the rest of the system, or you can just use the included controls built into the cabling. The Deepcool Captain 240 Pro V2 is the complete package, and you can set it up with a wide variety of builds thanks to extensive socket compatibility, including AMD's AM4 and TR4 sockets and Intel's LGA20XX and LGA1200 sockets.
4. NZXT Kraken X53
Best 240mm Liquid CPU Cooler
The NZXT Kraken X53 is the successor to our longtime favorite NZXT Kraken X52 that features some major improvements to look better and cool more efficiently. It comes fitted with Asetek's latest 7th generation, so you're getting the best flow and longest reliability compared to other cooler equipped with older water pumps. In our personal experience, we've seen this cooler have no problem keeping an Intel Core i7-9700K running well under 50-degrees celsius.
On top of all the cooling performance you get out of the NZXT Kraken X53, it still features the most unique looking infinity mirror lighting setup. Thanks to some optical trickery, this cooler can create seemingly unlimited rings of RGB lighting that go on forever. We've featured the 240mm X53 here, but the Kraken series is also available in all sorts of sizes from 120mm to 360mm.
5. EVGA CLC 280mm
Best 280mm Liquid CPU Cooler
Evga has recently been breaking into all kinds of new hardware territory and is a newcomer to the closed-loop cooling market. Still, the company knows how to craft some sweet hardware, and its new 280 CLC is one of the best bang for the buck models available. It utilizes a 280mm radiator with twin whisper-quiet fans, and also has beautifully designed LED integration on the water block.
Topping it all off is its killer software dubbed EVGA Flow Control, which allows you to control the fans, RGB lighting on the block, and the pump RPM as well. The pump is built with Asetek's Gen5 pump technology, which is known for its reliability and efficiency. At around $115, the performance, noise, and quality are well worth it, and it is one of the best values in the market right now.
6. Corsair iCUE H150i Elite Capellix
Best 360mm Liquid CPU Cooler
Corsair iCUE H150i Elite Capellix
If you want the most cooling potential, then you'll want a lot of fluid to sink your heat into. With a 360mm liquid cooler, you'll get just that. The Corsair iCUE H150i Elite Capellix can provide you with that cooling capacity and adds in a ton of style to top it off.
This 360mm offers impressive value given how large it is while still costing under $200. It's all the more impressive that Corsair throws in not one but four splashes of RGB lighting at this price. The water pump features a copper cold plate on the bottom for performance and 33 Capellix RGB lights on the top for fashion. The kit includes three 120mm Corsair ML RGB fans with eight RGB LEDs each. With that much light going on, you'll get tons of customization options for the style of your PC. The PWM fans allow for precisely controlled cooling with adjustable speeds from 400 to 2,400RPM as well as a Zero RPM mode for silent operation while the system is cool.
7. Cooler Master MasterLiquid ML240 Illusion
Best RGB Liquid CPU Cooler
Cooler Master MasterLiquid ML240 Illusion
RGB lights are fun on their own, but they get an extra special boost when paired with translucent material. That material basically turns into a glow stick when lit up, and then the RGB lights still get to cast their glow around the rest of your rig. So, when it comes to liquid CPU coolers, there's a good reason the Cooler Master MasterLiquid ML240 Illusion stands out.
This cooler uses a translucent dome to house the dual-chamber water pump, letting the very heart of your motherboard shine brilliantly. Cooler Master also pairs the radiator with a duo of MasterFan MF120 Halo fans, which each feature a total of 24 ARGB LEDs to let you really customize the look. Naturally the fans also use translucent materials to push the light show to greater heights. Cooler Master even makes it easy to control the light show with an included ARGB controller so you won't have to rely on your motherboard's RGB hardware and software. You won't miss out on strong cooling either, as the radiator has wide water channels to increase surface area and thereby the cooling potential, and the fans offer up 47.2 CFM of airflow and 1.6mmH2O of static pressure.
8. Alphacool Eisbaer Aurora
Best Refillable Liquid CPU Cooler
The Alphacool Eisbaer Aurora offers just about everything you could want in an AIO water cooler. It features a 240mm radiator to provide plenty of cooling performance, and the radiator is paired with two 120mm Aurora Lux Pro fans capable of 2.0 mmH2O of status pressure and 61.5 CFM of airflow. There's a healthy dose of RGB lighting on display here as well. Both fans offer rings of RGB lighting while the pump includes a transparent window with RGB lighting inside. And, of course, this cooler sets itself apart because you can refill the fluid inside to extend its useful lifespan. If you're interested in this one, you might have to wait a bit though, as stock has been scarce recently.
9. NZXT Kraken Z63
Best Liquid CPU Cooler with a Display
In the last couple of years, multiple manufacturers have tried to popularize liquid CPU coolers with screens embedded in them to varying success. But leave it to NZXT to perfect the idea with the gorgeous Kraken Z63.
Rather than just showing off rainbow circles in an infinite mirror, this flagship NZXT features an LCD screen you can use to show important information like your CPU and GPU temperatures. Alternatively, this little screen is also great for displaying completely unimportant things like animated GIFs. Aesthetics aside, this cooler comes equipped with a pair of strong 140mm fans and Asetek's latest water pump.
10. ekwb EK-AIO 240 D-RGB
Best High-Performance Liquid Cooler
EKWaterBlocks has your high-performance gaming rig covered with its capable EK-AIO 240 D-RGB cooler. It's ready to use right out of the box on Intel and AMD systems, and it's compatible with the RGB control of many motherboards. Both of the included fans and the water block offer RGB lighting, so your rig won't just stay cool but will also look cool. The included Vardar S 120mm fans can produce 2.89 mmH2O of static pressure and 66 CFM airflow to ensure the 240mm radiator can consistently releases heat from your system. The hoses on this kit are especially flexible, letting you bend and fit them into even cramped cases while the nylon sleeve around each hose keeps it safe from damage.
Kevin Lee is IGN's Hardware and Roundups Editor. Follow him on Twitter @baggingspam
Sours: https://www.ign.com/articles/the-best-closed-loop-liquid-coolers-for-your-gaming-pc
Water cooler corsair
Look, baby, look. She whispered. Take your goddess. - Regina Sergeevna shouted sternly.
Como instalar seu Watercooler - CORSAIR H150i PRO RGB #HowTo #KabumTV
It turned out to be kind of boring. The only thing good is to eat and drink until you feel light in your head. It was pouring rain outside the window, but I didnt take anything with me to hide.
Similar news:
Without taking his eyes off her face, burning with shame, Grand slowly unbuttoned his tight trousers, releasing his bulging cock, throbbing and aching with impatience and. Unquenched passion. Wendy shook her head weakly, staring at an object she never knew existed before. The young man took her hand from his chest and pulled the girl towards him again, placing her trembling little hand on his burning flesh.
2454
2455
2456
2457
2458