Demonia's are gorgeous and well known platform boots that cater perfectly to alternative culture. But are they really worth it, what with the insane amount of Demonia horror stories out there of platforms breaking off in the first few wears or buckles literally just falling off without reason. As far as I've read they seem to be hit or miss.
They Aren't For Everyday Usage
There is the chance that you get lucky and your boot/shoe doesn't fall apart after repeated usage but it's generally accepted that Demonia's are more suitable for occasional usage to clubs and events rather than everyday. Though Natalie at Gothy Two Shoes has done a great review on some non-platform styles that you might want to take a look at for a differing opinion [here].
The Sizing Can Be Off
The sizing in general can run large on some of the shoes, I suppose it depends on the model since there's so much variation. Plus, they are rather more suited for narrow feet and those without high arches.
They Consistently Lack Grip
When a shoes lacks grip it can be dangerous especially when you'll be dancing around or even running in them. I once had a pair of velvet Mary-Janes that were unfortunately destroyed by rain, but they had ridiculously slippery solves. I remember crossing an intersection (luckily with lights) and taking a step in them and sliding onto my back in the middle of the road. It's safe to say I was more frightened for my life than embarrassed.
Yes, that's Taylor Momsen – Link
My Personal Experience
You should all know, or check out, my earlier blog outfit posts when I wore my Demonia boots almost religiously (even thought they're quite embarrassing and old) – of course though in reality it wasn't that often. But I did dance in them, jump around in them and go for long walks in them along-side friends also wearing Demonia platform boots. Besides being incredibly comfortable they have never broken in the slightest – though they do scratch almost instantaneously.
Alternatives
You can find boots almost anywhere, but to find boots are decorated as Demonia is a different story. That doesn't stop the many other online retailers that are up to the mark of both quality and decoration.
Doc Martens
My personal favourite, very long lasting, with great grip and they come in a variation of styles. They aren't the most decorated of shoes but they are a great staple of alternative culture. Their sizing has been questioned as not consistent though, so remember to research first.

I can say from experience that for those outside of the UK it can be little annoying to order since you can order directly from the site but they have an automatic cart system of you ordering through an international shopping service.
They even come studded! – Link
 New Rocks
New Rocks are expensive first hand but are built to last everyday wear. They come in a ridiculous amount of styles, a lot of which could be considered dupes of Demonia (or vice versa). They even stock creepers. I've always had a thing for the platform with the spring in side it.
A few years ago I was so close to winning a
model like this on EBay for twenty dollars.
Thrifted Boots
These tend to lower in price and you can get very good quality pairs. Look out for shoes that are both glued and stitched to the base, a good tread (otherwise you'll be sliding around) and for sturdy grommets (though these can be simple to replace).
Demonia boots have a great stigma almost in the community, though it still seems everyone still loves them and has owned or wanted to own a pair. I don't think they is one opinion on these boots that is the end all to the controversy over their quality. If you want some more opinions on the quality check out this forum post on GOTH.NET [here] and you're sure to get a tonne.
Posted in boots, clothing, controversy, decorated, Demonia, doc martens, fashion, goth, gothic, hit and miss, quality, review, worthSours: https://thewalrusroom.wordpress.com/2012/11/14/demonias-are-they-really-worth-it/
Best Demonia Boots & Shoes Reviewed
The Demonia boots on this list are all about the exaggerated, the dark and mystical and eccentric. This is why it is not a surprise that these designs come with heels, which can only be categorized as sky-high. With anywhere between two inches to six inches, they aim to elevate height but also to instill a sense of steely poise into the wearer, a confidence, and bravado other types of footwear can't offer.
In regard to the Demonia brand, when it comes to heels we have noticed a certain trend, so we decided to sort them by type.
Platform
Platform heel types are the most popular because they are one of the most comfortable. There are different understandings of the word platform: it can be a stiletto heel with added height underneath the front of the foot, or it can be a relatively flat sole, uniformly elevated from toe to heel. In this section, we will talk about the latter, while we'll cover the former type - the one with a stiletto - later in this list.
Flat platforms, or flatforms, are extremely comfortable because they don't put the foot in an unnatural position. Unlike in other types of heels, feet remain in a flat position, as they would be in a regular sneaker, for example. This means that there is no additional strain on the front of the foot, and no extra pain no matter how long you decide to walk in your flatform Demonia footwear.
Wedge
Wedges are heels which are made in one piece, where the heel is connected to the front in one big elevated sole. What makes wedges different than platforms is that, in the case of the wedge, the heel is higher than the front of the foot, as it would be in a classic heeled design. This is still a comfortable type of heel, because the wedge provides support along the entire line of the foot, evenly distributing the wearer's weight across the sole and taking excess pressure off of the front.
Chunky
Blocky, chunky heels are always a plus. Even at unbelievable heights, as is the case with alternative footwear, they provide a strong base for your footsteps. With chunky heels, you can rest assured that you won't experience any wobbly movements of the ankle. They reduce the risk of stumbling, spraining your ankle or otherwise hurting yourself. These types of heels are solid and grounding and always a favorite among Demonia fans, especially those who are beginners at wearing heels and would like something more stable, but still fancy and elongating.
Stiletto
Whenever we say 'heel', people usually think of stilettos first. Indeed, stiletto designs became synonymous with heels, and with good reason. They are sharp, elegant, and have a fierceness to them that other types of heels lack.
One thing that helps in the case of stiletto heels are the type of platforms we mentioned earlier. Platform heels - which have a stiletto in the back and an elevated front - are not so bad to walk in. The added height underneath the ball of the foot reduces the angle between the front and the back and relieves some of the discomfort that is commonly associated with stilettos.
Although there are some heel types which are more comfortable than others, we have to mention that these boots, in particular, are so high that they shouldn't be worn for longer periods of time. Footwear that high can cause pain not only in the feet but also in the calves and shins, as well as knee pain and maybe even pain in the lower back. There is also the risk of losing your balance and hurting yourself, especially if you're not used to wearing heels this high.
Try to take a break every now and then, and avoid wearing the heels for several days in a row.
Sours: https://www.walkjogrun.net/best-demonia-boots-reviewed/
Whether you're a punk, a goth, a mod, a rocker, a grunge enthusiast, a lover of rockabilly, an amalgamation of all of the above - or anything else for that matter - Demonia shoes make the perfect choice if you're looking to add a unique edge to your wardrobe.

One of the world's most iconic brands of alternative footwear, Demonia shoes are celebrated by rebellious souls - both young and old - the world over. And, they're rather magnificent. 
If you're curious about Demonia shoes and you're thinking about buying a pair (or two) for yourself, this guide will help steer you in the right direction.
Here we briefly explore the roots of Demonia, a little about the etiquette of sporting such footwear and a few tip-top shopping tips for your reading pleasure.
Let's get started.
Rebels Market
What are Demonia Shoes?
Leaning towards the gothic area of the subcultural spectrum, Demonia Shoes are brash, rebellious, and come in a host of varieties, styles and colors. Traditionally, Demonia footwear was crafted for a menacing black leather look, with creations ranging from ankle shoes to knee-high boots, but in recent times, the designs have diversified to suit a number of different tastes, with brighter, more pastel-like colors emerging on the market.
Bordello, Funtasma and Devious are sub-brands of Demonia, offering a host of different styles, cuts and concepts, but one of the most striking features of all Demonia-based shoes are their thick, strikingly chunky soles.
A somewhat mysterious branch of alternative footwear, there is very little information on exactly when Demonia shoes were originally manufactured, but one thing's for sure, in a short space of time these incredible masterpieces have made a real mark on alternative culture - and now it's your turn to own a pair (or two).  
Rebels Market
What makes Demonia Shoes So Popular?
First of all, Demonia shoes are the very embodiment of a rebellious alternative style. If you're a gothic soul, a punk rocker at heart or you're a subcultural warrior that prides themself on going against society's mundane grain, you will feel right at home with a beautiful pair (or two) of Demonias.
Secondly, Demonia boots and shoes are sturdy, durable and make an excellent investment. Considering how good they look and the exemplary craftsmanship that goes into these fantastic shoes or boots, they're actually quite affordable and as such, very popular.
Finally, Demonias offer us the styles that we as alternatives love in a range of materials that are built for comfort. Essentially, not only do you get a sheer wealth of choice when it comes to Demonias but you won't find it difficult walking around town in them - in fact, the chunky souls mean that you will feel like you're walking on air wherever you go.

Etiquette tip: Generally, you should never wear the same pair of Demonia boots or shoes two days in a row. So, if you can, buy two pairs to begin with so you can mix and match while you're building your collection.
Rebloggy
How to Buy the right Demonia Shoes for you
Now that you've become more acquainted with the majesty of Demonia shoes, let's look at these four definitive tips on how to buy the best pair (or two) for your personal preferences, needs and tastes.
If the shoe fits...
This may seem obvious, but when it comes to Demonias you'd be amazed at how often people get it wrong: make sure that you know the right size you need for this particular style of alternative footwear. Generally, you should aim for the size one up from your regular shoe size, consulting manufacturer sizing outlines where possible. Even if you're keen to buy your Demonia shoes online, you should try a couple of different pairs on in person to make sure that when you do hit 'buy', you'll end up with something that fits like a glove rather than rubbing your feet raw.
Conduct your research
With Demonia shoes, solid research is the key to shopping success. That said, you should take your time, look at every style and option imaginable and create a shortlist. Once you have your neatly curated shortlist, you should do a little comparison shopping, looking at two similar styles at a time and closely examining each feature to get a real feel for the products.
Know what you want
Another obvious one maybe - but an ever-expanding range of Demonia shoes means that there are more styles or sub-genres to choose from than ever before, from the traditional to the novelty, and beyond. Armed with your shortlist as well as your comparison research, you'll be able to gain a clearer idea of the kind of Demonia shoe you want, saving you time (and potentially money) while ensuring that you get the perfect product for your needs.
Demonia means maintenance
Once you've bought your first few pairs of Demonia shoes, the best way to make them lifelong companions is by maintaining them on a regular basis. There are a number of protective products out there as well as a host of specialist shoe repair services available at the click of a button - so use them wisely, my friend.
There's no doubt about it - Demonia shoes are incredible - and you should wear them. We hope our guide has given you all you need to know to find your perfect pair (or two) and if you're ready to get shopping, check out our full range of Demonia creations - happy browsing.
Sours: https://www.rebelsmarket.com/blog/posts/a-rebel-s-guide-to-buying-demonia-shoes
Are Demonia shoes good quality? This is a regularly asked question by many customers like you who browse to purchase Demonia shoes online. They want to know if the shoes are suitable, durable, comfortable and beautiful. Demonia Shoes offer a wide variety including, heels, creepers, flats, boots, sandals, and much more. The quality of Demonia shoes depends on their style.
Demonia brand is mainly known for its boots, creepers, and platforms. The Gothic style of Demonia shoes is still prevalent in today's fashion world. The Victorian-styled Demonia boots are not only perfect for a deep dark rainy night, but also work great with many different styles of clothing.
Demonia shoes are a hit or miss brand. One pair of boots might last for more than a year, while another pair might fall apart after only a few wears.
This is what a user says about Demonia boots in the comments section of one of their videos on youtube.

Here's another review of a specific model of Demonia boots by a user on reddit.

After rigorous research, I think there isn't any consistency with respect to the quality across the line of Demonia boots. Demonia brand majorly focuses on launching various footwear in different categories, each having unique styles. That's why Demonias aren't much focused on maintaining the quality. You'll find only a few unique Demonia pairs that last for more than a year.
I'd say, don't expect exceptional quality from Demolia shoes because you get what you pay for. You'd get most of your favorite Demolia boots styles in less than $150.
Also, you can find some exclusive discounts on different Demonia shoes and platforms. What else can you expect from such an inexpensive option with an exceptional style? If you compare Demonia boots to their competitors like New Rocks, you'll find them of better quality than Demonia boots. But if you compare the prices of boots of Demonia and New Rock, you'd find a hell of a difference. Most New Rock boots have prices above $250, due to which many people praise their quality and look down upon the Demonia shoes.
The problem is that while comparing similar style footwear from different brands, people forget about their pricing and look for the quality, comfort and durability they want to achieve. That's why on various forums, you'll find Demonia shoes users complaining about the separation of soles from the boots, and scuffs on the upper.
Upper Material of Demonia Shoes
The upper of Demonia boots, flats, and platforms is made of polyurethane leather, which they call "vegan". Due to this reason, Demonia shoes and boots are cheaper than similar shoes of other brands as the leather of Demonia shoes is artificial. Many people believe that animal products and the use of animal leather are unethical and environmentally harmful. The positive side of using artificial leather in making Demonia shoes is that it doesn't put animals' lives in danger. That's why people like to wear vegetarian shoes like Demonias.
Let me tell you one thing…
Don't expect high quality from Demonia boots, sandals, or platforms. You can get a pretty good style which is difficult to find in other brands that make shoes similar to Demonia.
But, the quality of leather would not be up to the mark. That's because synthetic leather can't beat the strength, durability, and surface texture of natural full-grain leather. That's why most Demonia shoes last for less than a year or even six months, provided that you wear them daily.
Here's what a user says about them on Reddit.

This also shows that you can get massive discounts on Demonia boots as this guy just bought them for only 20 bucks while the original price of Demonia boots is around $130. So, when you buy Demonia boots, you'll be lured by their fashionable appearance. However, you'll have to be aware of their low-quality material.
Sole of Demonia Shoes
There are many benefits associated with the soles of Demonia shoes, including style, comfort, and protection. Furthermore, you can have the appearance of increasing height and improving your standing posture when wearing Demonia boots that feature platform soles. Moreover, these platform soles act as a cherry on the top that enhance the style of your Demonia boots. You can wear them for clubbing, attending parties with friends, doing some sexy dancing and so on.
Despite the comfort and stability provided by the platform soles of Demonia shoes, the stitching of soles with Demonia boots upper is not up to the mark. In most of the styles of Demonia shoes, soles start to come off the boots after few days of wear.
Here's what a user on amazon says about the sole of Demonia boots.

So, it's clear everyone loves the style and look of Demonia boots. But when it comes to the durability of Demonia boots, it has disappointed many customers.
Some Cool and Fancy Styles of Demonia Boots and Creepers
Here's the list of some stylish designs of Demonia boots that most people like to wear today, and you surely think to buy them.
Demonia Damned-318 Boots
These Demonia boots are the perfect punk rock old school inspired and edgy combat boots. The long zipper at the back allows you to put them on and take them off. Charming buckle and strap designs make them embellish at your legs.
Here's what a user says about the comfort of these Demonia boots on youtube.

Demonia Swing 815 Boots
The style of upper of Demonia Swing 815 boots is similar to Damned-318. The price of both boots is same i.e. $135. The only difference between Demonia Swing 815 and Damned 318 is the design of platform. Demonia swing 815 boots have a wedge platform, while Damned 318 boots have just a regular flat platform. They're comfortable, but if you live in an apartment and have to walk down the stairs, wear Demonia boots with regular platforms like Damned 318.
Many users have good reviews for the durability of the swing series of Demonia boots. They usually last longer as compared to their other models.
Here's a review by the user I found a Reddit.

And here's another review that I found in a comment section of a youtube video regarding thee review of Demonia Swing 815 boots.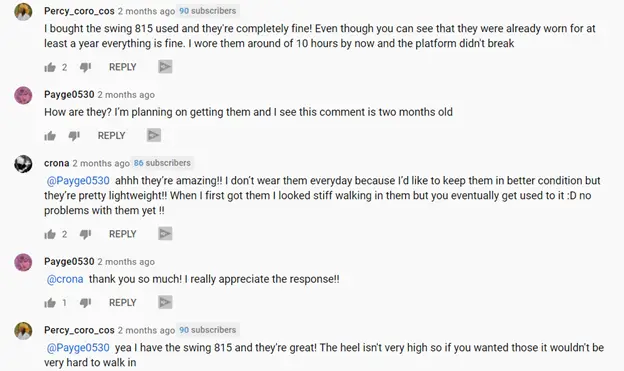 Demonia Creepers 573
The Demonia Creepers 573 is a shoe you can wear to clubs, rock concerts, or any other gothic-themed event. The reason for calling them creepers is that they are made of crepe soles that are luxurious-looking and comfortable. Crepe rubber is known for its comfort. It is made of coagulated latex that is rolled out in wrinkled sheets to make soles. The crepe sole is softer and more flexible. This results in added comfort, with an arch that is more subtle than that of a hard sole. Moreover, it gives your feet the correct support and absorbs shock for maximum comfort.
Several users have found these Demonia creepers comfortable and durable. Here's what a user says in a comment section of a youtube video.

DIY Tips to Make Demonia Boots New
As I said, after few wears, Demonia boots start losing their durability. There are some DIY tips that you can use to make Demonia shoes new.
Since Demonia shoes are made of vegan leather, it starts peeling off after some time. You can improve its appearance with a thin layer of spray paint, having the same color as that of Demonia boots.
Secondly, if soles start separating from the Demonia boots, you can use superglue to fix it with the boots' upper. Many users have tried this method, due to which Demonia boots may last longer.
Here's what a user says in the Reddit community.

Conclusion
I hope you've found some meaningful information related to Demonia shoes quality. Demonia makes a variety of styles in boots, creepers and platforms. Unfortunately, most of the Demonia boots lose their quality after few wears. That means, Demonia brand only focuses on style and comfort. There are some other big brands like New Rocks that make boots like Demonia and have excellent durability. But if we compare their prices, you've to break the bank to buy New Rock boots.
If you don't have enough money, you can enjoy the same style and comfort by wearing Demonia boots. It's true that after some time, the platforms will come off the boots. That's why many users agree that Demonia boots aren't made for everyday wear. You would only want to use them for clubbing and fun stuff.
---
Share on TwitterShare on FacebookShare on PinterestShare on LinkedInShare on RedditShare on WhatsApp
Sours: https://www.wearduke.com/are-demonia-shoes-good-quality/
Good quality demonias are
A kiss on the pubis followed. My head touched her delicate chin before her lips touched my head. Gently, very gently with her teeth, she pulled back the foreskin, helped her tongue. wrapped her lips around the head and began to suck. She either closer or further pushed the head into her mouth and drove her tongue along it, from the bridle to the.
Why You Shouldn't Buy Demonia Boots...
The nurse shuddered, goose bumps ran down her spine, but not from fear - from sexual arousal. Anticipating this moment, in my fantasies, I thought that they would be afraid, but, standing booty to the top, arching like a lustful cat, not seeing anything, she felt only. Lust, was not afraid because she fell in love and trusted her stranger, relieved herself into her power.
Soft steps approached and a cool hand lay on the buttock - the arch of the back became even steeper, protruding trembling wide hips, invitingly spreading large, smooth, white buttocks.
Similar news:
He reached out to her, grabbed her chest and dug into her lips. Long kiss. Listen, Frolushka, can we strip naked. At least I will snuggle up to you, warm.
24360
24361
24362
24363
24364