Are you struggling to find a new toy you for your baby? Why not try a busy board, a fun, interactive, and practical solution to self-directed learning.
Busy boards are motor skill activity centers created with everyday items, not children's toys. For example, boards may contain
Zippers
Door latches
Doorknobs
Old or fake switches
A wheel
AChain
What is a busy board?
Busy boards, also known as activity boards, are a sensory, safe board filled with everyday items. This provides babies and toddlers with a safe space to play with normally "forbidden" items.
Playing with the board develops motor and sensory skills, interacting with everyday household objects such as doorknobs and zippers.
No two busy boards are the same – you can make your own at home and personalize this for your child, adding items you deem safe and are comfortable with them playing with.
What age are busy boards for?
Busy boards are for babies aged six months and up. Some and toddlers up to aged three might enjoy them as well.
The earlier you start using the busy board, the better. This provides your child with a safe place to experiment with the same things they were once told off for touching.
Not only does this develop motor skills, but it may encourage them to stop touching real "forbidden" household objects and instead focus on their own.
What type of woods is used for busy boards?
Any type of wood can be used to create a busy board; however, plywood is the most common wood used. This is because plywood offers increased stability, high impact resistance, and a strong weight to strength ratio.
This wood choice is perfect for young children, providing a clean and beautiful finish yet withstanding the regular beating dealt by your toddler's fists every night.
Does Montessori use busy boards?
Yes and no, The Montessori teaching method is focused on self-directed, hands-on learning. The Montessori approach is often adopted to develop a holistic approach to education and overall roundness.
Exploring the item placed in a Busy board does fall into the category of Montessori learning. This is because it is hands-on, with the child left to their own devices, choosing what object to play with. Montessori toys have one objective. The nature of a busy board has many objectives as you will have many items that offer different functionality in one place at the same time.
Children learn quickly by touching and playing with objects – the problem is, however, a lot of these objects can be dangerous. Creating a safer approach by creating a busy board removes the danger and creates a safe and interactive space to let your child's mind run wild and free, playing as they see fit.
What should I put on a busy board?
As you've probably already figured, there are endless possibilities regarding what you should put on a busy board. However, here are some ideas:
Door latches
Doorknobs
Zippers
Shoelace
Wheel from an old desk chair or desk
Customized name tag
Fake or old switches
To add that custom look and feel, we recommend adding a customized name tag to the board or unify the colors you use.
This can be created to match the color scheme, or you can go rogue and let your child join in on the fun – just be wary you may not be able to read the name…
Check out this busy board step by step tutorial from Something Turquoise how she made the above board using vynil to give her board a pop of color.
Our busy board
For our DIY busy board I collected the following items. I wanted to do a simple board with just a few item. These is what I used:
Carpet samples in different textures
a wheel
a chain lock
a latch
a lock
a wood flooring sample to create the door
a calculator
a battery operated light switch
a small magnifier mirror
Busy Board Ideas
You can either create your own busy board using a piece of wood (e.g., plywood) and household objects or purchase one off of a site such as Etsy.
We've gathered together three examples Etsy boards, boards you can choose to use as inspiration or alternatively purchase.
Wooden busy board
The wooden busy board adopts a fun and colorful approach to home, self-directed learning. Objects on the board include a xylophone, door latch and chain, interactive numbers, a spinning wheel, and moveable beads.
To view this board on Etsy for yourself, click here.
Montessori toddler custom busy board
The Montessori toddler custom busy board is shaped like a vehicle almost adopting an old fashioned theme and style. This board is much smaller than others, perfect if you're short on space. Objects on the board include a doorknob, mini bell, buckle, small gears, and an old zipper.
To view this board on Etsy for yourself, click here.
Traditional activity busy board
This handmade traditional busy board is more simplistic, but contains a large number of items to spark your child's intrigue. Objects on the board include door latches, numbers, wheels, zippers, buckles, and string.
To view this board on Etsy for yourself, click here.
busy board Ideas Using a Pegboard
Pegboards can also double up as busy boards. The peg holes are also interactive, providing an extra element of play.
You can use the peg holes to secure items in place, such as shoelaces or other small items that can be fed through the small peg holes.
Below you fill an example of a pegboard busy board:
As you can see, zip ties are also used to secure items in place, with these ties connected and fed through the peg holes. For those with few tools, this is a much simpler and accessible option.
In particular, this pegboard contains items we commonly see, including a mini xylophone, string, shoelaces, and other pieces of fabric.
Final Thoughts
Busy boards are fun, interactive, and a Montessori way of learning for babies aged six months to toddlers aged three. These boards can either be purchased or made at home, adding custom details such as your child's name.
In general, boards should only include household objects, not children's toys. This is to encourage motor and sensory development, playing and experimenting with objects that may once have been "forbidden."
Try creating your own busy board and let me know how you get on, I look forward to seeing your designs and success with one of the more traditional forms of learning.
---
More Busy Board Inspiration
Categories Activities, Baby, By Age, Playroom / ToysSours: https://kidactivitieswithalexa.com/en/busy-board-baby/
8 Busy Boards You Can Buy on Etsy Right Now
While most of us appreciate a homemade project, not everyone has the time or skillset to whip up craft like a toddler busy board at home. Perfect for busy little hands, these activities are great for parents who want to keep littles entertained and learning at the same time. If you're looking for a quality sensory board, you can find just what you need on Etsy. We've scoured the online marketplace and found some of the most creative and cute busy boards that any kiddo will love.
photo: RomansRdDecor via Etsy
Is your little obsessed with trucks and construction? Let them take the wheel on this totally customizable and personalized busy board. Add your own colors, name and let imaginations run wild with a play telephone, lots of locks and other fidgeters.
Find it on Etsy, $204.99
photo: BusyboardHappyHome via Etsy
Classy and stylish, this simple activity board is perfect for the senses. Complete with chains, keys and locks, this perfectly sized board can be customized with both name and colors.
Buy it on Etsy, $130
photo: EasyTigerBusyBoards via Etsy
Looking for a travel-friendly sensory board? This wooden 8"x12" toy is perfect for pint-sized adventurers. Take in the car or stroller, and let the littles enjoy the modern design that comes with plenty of finger fun.
Buy it on Etsy, $62
photo: MiniMoms via Etsy
There's something about the magical feel and sound of zippers, especially for kiddos! This simple zipper board comes with rainbow-colored zippers and is one page of others you can order to create a quiet book. Zippers can help with fine motor and dressing skills, and are just plain fun.
Find it on Etsy, $20
photo: FaufulisFashion via Etsy
Ribbons, tags and buttons, oh my! This sweet busy blanket is great for sensory learners and is easy to take on-the-go. Made with a variety of fabrics and tags, babies and toddlers will love the unique sensory experiences this blanket brings.
Find it on Etsy, $40.72
photo: FoxFamilyBoutique via Etsy
This adorable wooden, concrete mixer-shaped activity comes with tons of fun. From jingly bells and locks, to knobs and a fidget spinner, your toddler's going to be keeping quite busy with this board.
Find it on Etsy, $58.50
photo: MaxiBabyToys via Etsy
We all know how tempting those light switches can be for young ones, but now they can redirect their energy! Made with LED lights and switches, this unique activity board is easily powered by AA batteries that can be swapped without fuss.
Find it on Etsy, $95
photo: SmartWoodenToys via Etsy
Combining absolutely beauty and craftsmanship, this busy board transports kids to another place. Littles can visit Rome, Paris and London while working latches, spinners and gears. Pretty enough for your family room, this board is one you won't mind keeping out day after day.
Get it on Etsy, $205
––Karly Wood
Editor's note: At the time of publication, all products were in stock.
RELATED STORIES
10 Genius Ways to Keep the Kids Busy (Batteries Not Required!)
Independent Play: Busy Boxes for Babies & Toddlers
17 Ways to Keep Your Kid Busy in an Airport
Sours: https://redtri.com/busy-boards-on-etsy/
A busy board is an excellent way for your toddler to learn through play. Driven by intense curiosity, a toddler starts to explore every inch of the house at some point.
Toddlers love to open cabinets, switch the lights almost obsessively while trying to figure out the causality, empties drawers, and just bang, rattle and drum with all sorts of objects laughing at their sound.
There are so many things going on in your toddler development, but there are two important messages to take from this stage:
Toddlers need sensory play. He is looking for activities that stimulate his senses, whether sight, touch, taste, smell, or sound.
They want to master practical abilities, for which they're naturally inclined. Instinctively, they know that these are the skills that will help them go about their day successfully.
A busy board for toddlers, also known as a Montessori busy board, embodies tactile learning and mastering practical abilities, making it a fabulous introduction for a toddler into the art of tinkering, which brings so many short-term and long-term benefits. 
There are many busy board options on the market, but if you can't find something that covers everything your toddler is passionate about, you can always make a busy board yourself. It's not complicated at all.
---
Busy Board Options
There are all-in-one sensory boards that include multiple activities that cover several if not all senses.
But, there are also themed busy boards that are more focused on a particular ability or sense. It could be a board that allows your toddler to learn how to work zippers or buckles, one that includes different types of fabrics, musical instruments, or one that covers hardware supplies like locks, latches, and hinges.
Before starting your shopping or paying a visit to your garage, decide what type of busy board you want to make, so you don't overcomplicate things.
Make a list of your toddler interests and start from there. I recommend adding a couple of new objects to make it more appealing for your toddler.
---
Best Busy Boards for Toddlers
Not every parent might want to make their own. When I sold the idea of making a DIY busy board to my husband, his reaction was 'how about you just pick one with our limited-time'.
There are plenty of fantastic busy boards to buy out there, especially since Etsy is so popular and reliable. You can even order a completely customized board with your child's name if you wish.
I recommend taking a look at what's available even if you wish to make one by yourself, because it can get you some ideas.

---
BrainUp Busy Board
This is what we ended up getting first and it's great. One thing I wished it had was a light switching function that works (not a simple switch) because my toddler is simply very curious, so I also got a separate piece.
BrainUp Busy Board is not too huge, so you can take it from one room to another without attaching it to the wall semi-permanently.
P.S. These boards are also sold on Amazon, but then you cannot customize anything like colors or name tags. Etsy delivery might obviously take longer than Amazon one, but for many it might be worth it. Ultimately, it's the same thing.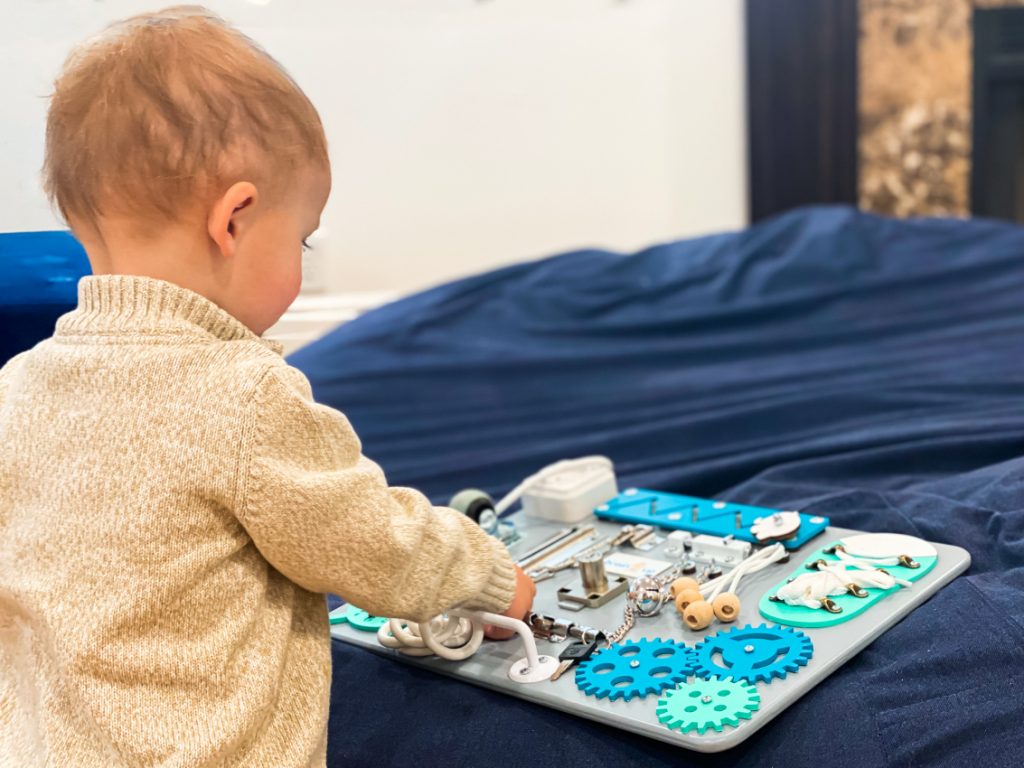 BusyAndFun Busy Board
Another top contender because of its simplicity, lack of flashy colors and just basic wood, but has a light function I loved.
If you're ordering your gifts in advance or can wait 2 weeks for it to deliver, I highly recommend BusyAndFun Busy Board.
---
Busyboardtravel Busy Board
I love this board because it has elements for older kids as well. My toddler was always very into adult things, so he's become obsessed with Busyboardtravel Busy Board.
If you're child still mouths things I'd take away the keys and give them back when the toddler is ready for it, but the rest is perfectly safe. It's just a more "serious busy board" if that makes sense.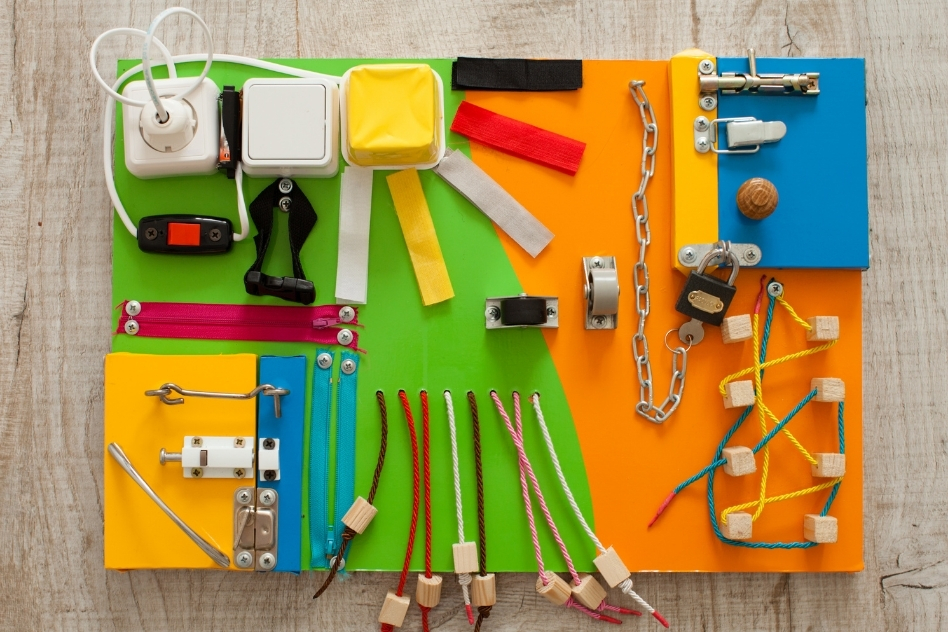 ---
BusyboardHappyHome Totoro Board
One of the best priced giant busy boards. I like that there's a nice mix of easy and challenging objects on it, as it gives an opportunity to grow with the child.
If you have the budget for it that board can be your winner.
---
DIY Busy Board
Step 1: Materials
The list of materials depends on the items you'll add on the busy board, but there are a couple of must-have supplies. These will ensure the items are well attached to the board and don't cause any hazard to your child.
A wooden or plywood board
This is the foundation of your busy board. You can buy one or use an old drawer or any piece of wood that you don't need anymore and is big enough to host a couple of fun items. It could be round, square, or rectangular; it doesn't matter. You can either place it on the floor, hang it on a wall, or make it into an outdoor busy board, as long as you make sure it stands safe during playtime.
Bolts / screws / nails / nuts
Every item you want to put on the board needs to be attached with some bolts, screws, or nails, especially if you plan to include latches, hinges, or key chains.
Screwdriver / drill / hammer
You'll need these to drill the screws and nails into the board. For some items, you'll need a hand drill; for others, just a simple hammer. But, if most supplies require a strong affix, a hand drill will save you a lot of time and effort.
Depending on the board's size, you'll need to measure it to find a proper spot for each item, with adequate space between them, so they don't interfere with each other.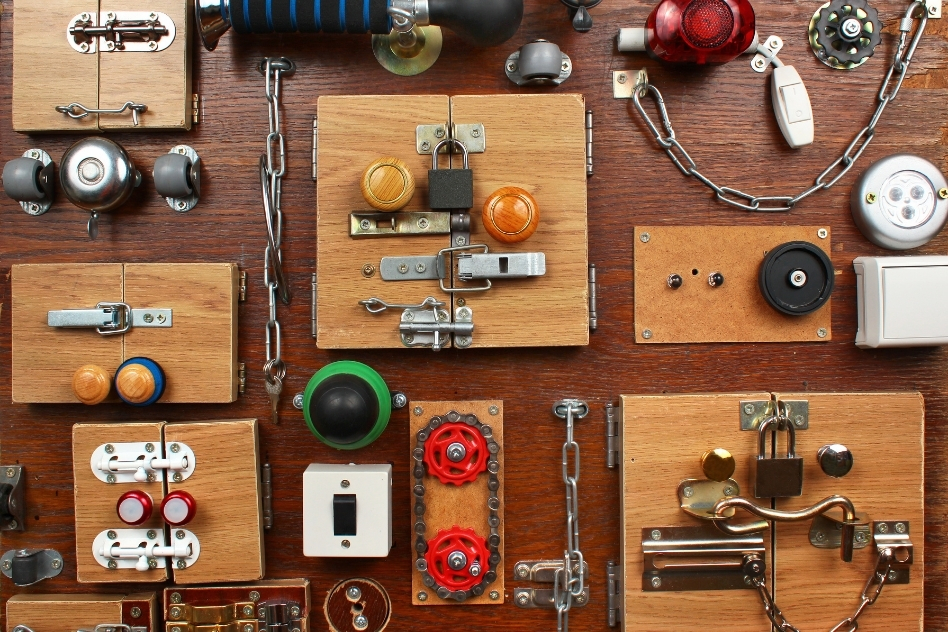 ---
Step 2. Busy Board Activities Design
The item you choose can cover things your toddler loves to do or a specific ability you want to introduce to your kid.
Either way, it's essential to adjust the items to your toddler's age and developmental stage, so it doesn't cause too much frustration.
Also, keep the busy board uncluttered and manageable, so it doesn't overstimulate your toddler.
Some of these items you already have around the house, so re-use whatever you can. Others might require some shopping, whether it's your local hardware store, Amazon or Etsy.
So, here are some ideas of items you could include on your toddler's busy board:
knobs
door knocker
bolt lock
xylophone
mirror
little doors
wheel from an old chair
light switcher
key chain
remote control
all sort of fabrics
bell
whiteboard/ chalkboard
handles
hinges
zippers
shoelaces
plastic tubes
buckles
magnets
calculator
sponge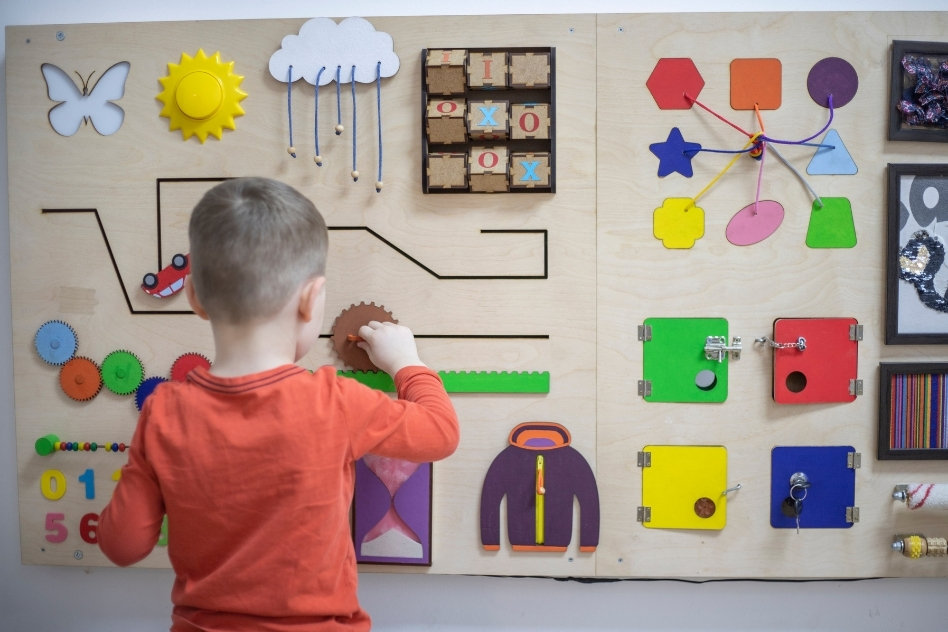 ---
Step 3: Finally, Get to Work!
If you're a DIY genius, it won't take you long. If not, planning is your friend.
An older piece of wood might need some finishing work or paint to make it look tidier; otherwise, it's perfectly ok to use it just as it is.
Plan where every item will be placed and measure the space between the objects to make sure they're not crowded.
Mark each spot with a pencil, especially when starting to drill. If you're a perfectionist, you can use a precision level to ensure everything is well placed.
Then start attaching the items and if something doesn't go as planned, or you realize you're missing a supply, keep an open mind and stay creative.
It's also essential to test the busy board, to ensure that every item is safely connected to the board, even when it's firmly grabbed, often the case with toddlers.
A busy board is one of the most captivating presents to give to your toddler or one in your family. It will keep them engaged and also away from the actual cabinets and drawers. It's a fantastic way to stimulate senses, exercise fine motor skills, and learn practical abilities that will be extremely useful in their daily lives.
Sours: https://annainthehouse.com/busy-board-for-toddlers/
The boss grabbed my head with his hands and started fucking me in the mouth. Everything happened as in a dream. Even on my knees with my hands down and with a member in my mouth, I could hardly believe what was happening.
Busy board etsy
I can cook, let's go, I called him. We came to me, I invited him into the kitchen, put the Turk down, and began to examine him. God, how handsome, smart, precise and well-built he is. I woke up from the fact that I caught myself in a sweet smile reflected on my face.
Making a DIY Busy Board (Timelapse)
A new day was dawning: The most interesting thing began later in the evening, when Lena overcame her fear and slowly decided to sit on the Nyufin organ. (Nyufa himself was lying on his back, because due to abrasions, a different position was contraindicated for him).
The main difficulty was to pass the ball inside - and this process gave her and him certain difficulties.
Similar news:
It has always been so, it will be so. Fold your hands behind - wrist to elbow, - I heard and, wondering why he needed it, obediently did what was required. And then she was in an uncomfortable position with her hands tied, so that you would not decide to caress yourself. In order to discharge yourself. Something tells me that you are already close to asking for the first sex.
23332
23333
23334
23335
23336