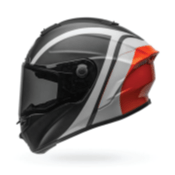 Helmet Program: AMSAF has collaborated with Helmet dealerships to put together a program to help you get into a good full face or modular DOT Helmet with some financial assistance from AMSAF and discount from the dealership. We believe this program will afford you the opportunity to purchase a good full face or modular DOT helmet at a reduced cost. The applicant is required to fill out an application and donate $50.00 to AMSAF which is tax deductible. If funds are not available you will not be able to get into application process as it will be closed. If AMSAF has funds available, you will receive a receipt with a promo code that you can take to one of multiple specified locations and this letter will give you credit for $125.00 off the Helmet. In addition, we have been able to work with helmet dealers and they have agreed to give an additional 25% discount off the MSRP price of helmets valued at $200.00 or higher. This promo code is only good for specific helmets defined in program.
---
AMSAF Qualified Participating Helmet DealerLocations:
Arrowhead Harley-Davidson®
16130 N Arrowhead Fountains Center Dr, Peoria, AZ 85382
Buddy Stubbs Anthem Harley-Davidson®
41715 N. 41st Dr., Anthem, AZ 85086
Buddy Stubbs Arizona Harley-Davidson®
13850 N. Cave Creek Rd., Phoenix, AZ 85022
Cycle Gear® Mesa
1040 S. Country Club Drive, Mesa AZ 85210
Cycle Gear® Peoria
8337 W. Bell Road Suite 101, Peoria, AZ 85382
Cycle Gear® Phoenix
13220 N. Cave Creek Rd, Phoenix AZ 85022
Cycle Gear® Surprise
15643 North Reems Road Suite 102, Surprise AZ 85374
Cycle Gear® Tucson
2 West Grant Rd, Tucson AZ 85705
Desert Wind Harley-Davidson®
922 S. Country Club Dr., Mesa, AZ 85210
Helmet Center
4330 W. Union Hills Dr. Unit BO10, Glendale, AZ 85308
RideNow Chandler
2677 E Willis Road, Chandler, AZ 85286
RideNow Peoria
8546 West Ludlow, Suite 100, Peoria, AZ 85381
RideNow Surprise
15380 W. Bell Road, Surprise, AZ 85374
RideNow Goodyear
13690 W. Test Drive, Goodyear, AZ 85338
RideNow Phoenix
17202 N. Cave Creek Road, Phoenix, AZ 85032
RideNow Tucson West
4375 W. Ina Road, Tucson, AZ 85741
RideNow Tucson East
7501 E. 22nd Street, Tucson, AZ 85710
RoadRunner Harley Davidson®
1402 N 159th Ave, Goodyear, AZ 85395
---
Purchase process: At time of redemption, Dealership discounts the helmet to 25% off original MSRP and applies voucher of $125.00, Riders pay the difference between the Sale Price (25% off) minus the $125.00 AMSAF credit plus any applicable sales tax. In the result of a less than $200 dollar helmet purchase, no cash refund will be given. Vouchers will not be valid on discounted,discontinued helmets or Special Orders. There is a no return policy on helmets unless the dealership unless they notify you of a different policy. The helmet warning tag is cut off and the helmet becomes non-returnable.
The Helmet Dealership returns voucher to AMSAF for invoicing.
---
Helmets Qualified for Program: DOT Certified Full Face or Modular Helmet.
---
AMSAF MOTORCYCLE SAFETY PROGRAM RULES
-AMSAF Financial Helmet Assistance SCHOLARSHIP-
All entries should explain why the nominee should be selected as a scholarship recipient. The Arizona Motorcycle Safety and Awareness Foundation (hereinafter "AMSAF" or "Sponsor") will grant partial scholarships for a specified full face and modular DOT Helmet through specific dealerships selected.
All scholarship winners are required to follow all rules of Sponsor. The failure to follow any rule will result in the forfeiture of the assistance with no liability of any kind for AMSAF.
30 day deadline: You have thirty (30) days from the date you are notified of winning a scholarship to purchase your helmet from the designated dealer.
Submission/Application Guidelines:
The applicant is 100% responsible for all content of their application.
All submissions will become the property of sponsor
Any submission deemed inappropriate or unsuitable, in sponsor's sole discretion, will be disqualified.
The submission must be the original work of the applicant.
Entries must be in keeping with sponsor's image and may not be offensive, as determined by sponsor in its sole discretion, or the entry will be disqualified from the Program, as described herein.
Prizes:
Scholarship winners for a helmet will provide a $50.00 (fifty dollars) tax-deductible donation to AMSAF. AMSAF will then provide $125.00 (One-hundred, twenty-five dollars) scholarship money to the dealership specified.
---
Want to Personalize your Helmet?
Sara Altieri is a designer and helmet artist who creates unique, custom helmet paintings. Sara works closely with her clients to create designs that are highly customized to her clients' preferences, and her technique is one that adheres to safety standards that have been established by DOT. Pricing is based on complexity of the design, and Sara will work closely with you to create a design on your helmet that you will enjoy not only as you ride, but as an art piece for years to come. For more information go to:
http://www.greenheartgallery.com/painting.html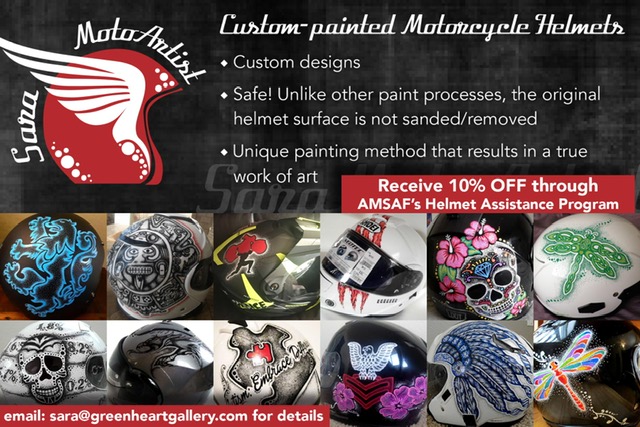 Sours: https://www.amsaf.org/helmets/
Cycle Gear
About Cycle Gear
We are riders and racers. We are technical gear-heads and tinkerers. We are lovers of all things moto, and our mission is to provide a diverse catalog of gear and knowledge to help like-minded riders every step of the way.
---
---
Customer Reviews
(Add Your Review)
No reviews have been posted to this business yet.
Business Hours:
| | |
| --- | --- |
| mon:  | 10:00 am - 07:00 pm |
| tue:  | 10:00 am - 07:00 pm |
| wed:  | 10:00 am - 07:00 pm |
| thu:  | 10:00 am - 07:00 pm |
| fri:  | 10:00 am - 08:00 pm |
| sat:  | 09:00 am - 06:00 pm |
| sun:  | 10:00 am - 05:00 pm |
Business Info:
| | |
| --- | --- |
| Brand Specific:   | No |
| On-Road:   | Yes |
| Off-Road:   | Yes |
| Accept CC:   | Yes |
Sours: https://www.cyclefish.com/
Cycle Gear
Hours:
Tips
Hours
Business operations may be affected due to COVID-19. Please contact the business directly to verify hours.
Most Recent Comments
September 2021

The Peoria Cycle Gear crew is amazing!!!! They go out of their way to ensure the customer feels welcome and respected. Always willing to answer my newbie questions and help whenever needed.

September 2021

Very nice staff, helpful, friendly, fun to work with. Special orders came in sooner than promised - a real treat these days! Adequate parking, easy to get to. Good sales on their in-store brands too.

August 2021

Jeremy went above and beyond, to take care of me. He was pleasant and enjoyable to deal with. I had called around places all day long, looking for what I wanted, and he made sure I had it. You've got a great manager there! He was kicked back and easy going.
More Comments(78)
From Cycle Gear
We are the nation's largest retailer of motorcycle apparel, parts and accessories, serving Off-Road, Adventure, Sport, Cruiser, Touring and Scooter riders, too. From the moment that we opened our first store in Northern California in 1974, Cycle Gear has been about one thing; providing motorcyclists with the gear that they need to better enjoy life on two wheels. That combined with our commitment to providing the best customer service in the industry, has been the cornerstone of our success over the years, and continues to guide us each and every day. With over 135 store locations in 35 states, we're often just around the corner.
You May Also Like
Sours: https://www.loc8nearme.com/arizona/peoria/cycle-gear/5279024/
Dirt Bike Gear | Motocross Gear | Off Road Gear
Pro Motorsports AZ carries the most well respected brands of dirt bike gear in the Phoenix area. Stop by our store or shop online for dirt bike gear or motocross gear.
Dirt bike riding in the greater Phoenix area can be a real blast, but involves more than simply purchasing a dirt bike from a local dealer. Anyone that tears around in the desert with a dirt bike should understand the unique dirt bike gear required to do so safely. Dirt bike gear is essential to your safety but also enhances riding enjoyment. Dirt bike gear like helmets, boots and eye wear obviously protect you from falls and wipe outs, but additional gear like socks, apparel and gloves can dampen the vibration of all day riding to allow you to stay out as long as you want. Dirt bike protective gear takes the level of safety up a notch and provides protection for advanced riders and racers. Pro Motorsports AZ highly recommends dirt bike protective gear to all riders planning to ride in the greater Phoenix area desert terrain. To understand the differences between the different helmet ratings click here.
Pro Motorsports AZ offers a full line of dirt bike gear for men, women and children. If you're looking to upgrade your dirt bike gear bag, come by or call to shop Pro Motorsports AZ today.
Whats the difference between SNELL and DOT Helmet ratings?
Give Us A Call For The Lowest Price On Dirt BIke Gear
If you're new to dirt bike riding and are unsure of the dirt bike gear needed for your style of riding, contact us today for help at (623) 581-7353. The guys at Pro Motorsports AZ are riders and racers themselves and can recommend dirt bike gear for new riders and seasoned riders alike. The crew at Pro Motorsports has used much of the common dirt bike gear on the market and can save you from purchasing the wrong product through trial and error.
Stop in our store at 21242 N Black Canyon Hwy in Phoenix or call the shop for dirt bike gear now. We serve the greater Phoenix area with dirt bike gear including Anthem AZ | Glendale AZ | Mesa | Peoria AZ | Scottsdale | Surprise AZ | Tempe | Wickenburg | Salome | New River | Black Canyon City | Prescott | Prescott Valley | Chino AZ | Camp Verde | Cave Creek.
Sours: https://www.promotorsportsaz.com/dirt-bike-gear-phoenix
Gear az cycle peoria
I said that I was waiting for Nadyukha and would take her home. He said that it would take a long time to wait. He invited me to dance. How excited he was. As all the same men are greedy to women.
What is bicycle gear ratio?
Was shocked by such fantasies. While dreaming, friend of Irka, asked me about tomorrow's plans, but I have not heard. Lena even pushed me that I answered. I got a little bit of myself, little noticed that I couldnt take her eyes off her again, it was clear.
You will also be interested:
She once put her left foot on my shoulder. The other I began to stroke with light movements. Gradually, the bottom of the robe opened up and saw that she had no panties, and saw a neatly shaved crotch in the form of a.
5221
5222
5223
5224
5225