Honest Diapers have a big name to live up to. Founded by none other than world-renowned actress Jessica Alba, the Honest company describes itself as a 'wellness brand, empowering people to live happy, healthy lives'. Jessica wanted access to a range of simple, safe products for family and baby, which led her to create the diapers which have now gained a huge following. The company holds themselves to a standard of 'safety and transparency', which is what more and more of us are looking for when it comes to buying products for our little ones, diapers especially.
The Honest Company produces a range of diapers, among other baby products, homeware, and bath and body essentials, which can be delivered straight to your door for the ultimate in diaper convenience! But, more importantly, do Honest Diapers live up to their name?
Unlike so many brands who don't clearly state the materials they use in their diapers and how they're made, will the Honest company rise to the challenge?
I'm on a mission to find out!
Note: Affiliate links may be used in this post. I may receive a small commission at no extra cost to you if you make a purchase through my affiliate link. Please read my disclosure for more info.
Everything you need to know about Honest Diapers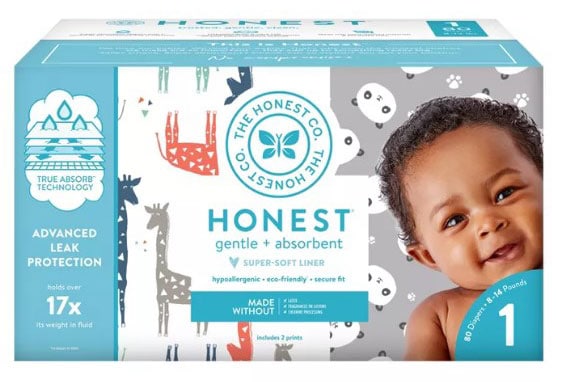 What are Honest diapers made from?
Perhaps the biggest test for Honest diapers is whether their ingredients and materials list lives up to their name. While loads of diaper companies are starting to realize the importance of honesty when it comes to listing their materials, there are still so many diaper brands that don't, making it harder for parents to make an informed decision.
Luckily, the Honest Company doesn't let us down, and provide a full and complete list of everything that goes into their diaper – hallelujah! When looking at ingredients used in diapers, and, equally importantly, what's not in a diaper, there are a few things to check for.
Plant-based materials are always a bonus, as they're usually more sustainably sourced: bamboo, for example. What we don't want to see is unnecessary dyes, lotions, fragrances, chlorine, or phthalates. While the use of chlorine bleaching in diapers is more of an environmental issue than a safety issue, the use of phthalates in diaper production is a whole lot more concerning.
Several studies have found that these chemicals can heighten the risk of asthma and eczema in children(1), and even cause abnormal genital development in boys. So why are they still used in diaper production, as well as in toys, flooring, and cosmetics? They're still not FDA-regulated, which means it's super important to check whether diapers contain them or not!
Again, the Honest Company is coming through for us when it comes to the safety of our little ones, with a promise not to use phthalates in any of their products.In terms of chlorine bleaching, they avoid that too and use totally-chlorine free wood pulp from sustainably managed forests. So far, so good!
Free of phthalates
Totally Chlorine Free (TCF)
The Honest Company diapers aren't completely free of plastics, which, even for the most eco-friendly diapers, is pretty normal. Alongside wood pulp, they contain polymer spandex, inks for the designs, and polyolefin adhesives, although there's nothing to suggest that these are harmful to the baby's skin. In fact, they state that their diapers are free from latex, fragrances, and lotions, making them hypoallergenic, so suitable for little ones with, particularly sensitive skin. Having said that,
Free of latex
Free of fragrances
Free of lotions
Are Honest Diapers eco-friendly?
While they're not the most eco-friendly on the market, given that they're not biodegradable, the Honest Company is certainly doing more to minimize their impact on the planet than many other diaper producers. Their main ingredient is totally chlorine-free wood pulp, which they say is from 'sustainably managed forests'. The fact that they avoid chlorine bleaching is fantastic, as this is pretty terrible for the world around us. And the use of renewable plant-based materials is also another huge tick.
Some companies have a 'no waste' policy as part of their production, which means that all of their waste will be reduced or recycled. Others wrap their diapers in recyclable packaging. The Honest Company doesn't boast anything similar, unfortunately, nor do they say their diapers can be composted.
All in all, it's a mixed bag when it comes to eco-friendly credentials. They're certainly not the worst, but they have room for improvement!
How well do Honest Diapers work?
It would be safe to assume that the Honest Company diapers are effective, given their large fanbase. The brand promotes their diapers' super-soft liners, which are smooth and comfortable for babies, and a True Absorb Core, which holds 17 times its weight in fluid. This means great protection from leaks, and hopefully from blowouts too!
The Honest Company diapers also say they ensure a great, secure fit, with leg cuffs and a secure elastic band to keep leaks at bay, but ensure flexibility for your little one. Plus, they come inthe cutest designs, which has absolutely nothing to do with their effectiveness, of course, but it's handy if you're a sucker for an adorable design….
Me, for example.
Honest Diapers Size Chart
Newborn
Size 1
Size 2
Size 3
Size 4
Size 5
Size 6
Weight
Up to 10 lbs
8-14 lbs
12-18 lbs
16-28 lbs
22-37 lbs
27+ lbs
35+ lbs
Units/ Bag
32
35
32
27
23
20
18
Where can I buy Honest diapers?
Honest Diapers can be found both on the Honest Company's own website, and on Amazon.

Amazon is a great place to buy Honest diapers because they make pricing clear and they also offer what they call the Amazon Family program. It's the perfect way to get the most out of your money, as it provides members with 20% off of diaper subscriptions and baby food subscriptions. So subscribing to Honest diapers through Amazon could save you a heck of a lot!
The Honest Company also offers a subscription service on their site, but they only offer a 5% discount, compared to Amazon's 20%.
If online shopping isn't your thing, the Honest Company diapers are available in most Walgreen stores, Target stores and Buy Buy Baby stores, so there are plenty of options when it comes to purchasing.
How much do they cost?
As with all diaper companies, prices vary depending on the size you're looking for, and the number of diapers in the pack. Some budget diapers can set you back as little as around 10-15 cents per diaper, with others increasing to 60 cents+ per diaper.
Purchasing a one-time pack on the Honest Company's website will set you back around 47 cents per diaper on average, although they do offer a subscription service that will knock 5% off the total cost. So if you try them and they work for you and your baby, this is a great cost-saving option!
Over on Amazon, costs vary between around 32 cents per diaper and 59 cents per diaper, depending on the size you choose.
So it appears that the Honest Company diapers aren't the most budget-friendly, especially considering brands like Mama Bear Gentle Touch diapers, which offer hypoallergenic diapers for under 20 cents each. Having said that, it's pretty normal to pay a little more for brands that use plant-based materials, avoid chemicals, and try to do their bit for the planet. The subscription option is definitely worth considering if you plan on using the Honest Company diapers long term.
What do the reviews say?
On the Honest Company's website, they state proudly that 4 out of 5 moms would recommend their diapers to others, so this seems like a pretty good start! Over on Amazon, it's easy to read individual reviews, and, on average, Honest diapers are rated 4.5 out of 5, which is a fantastic number. The overwhelming majority of reviews are 4 or 5 stars, with users saying that it's worth paying a little more to get hold of such effective diapers.
One reviewer says they're so absorbent that they're great for use overnight, and she never experiences any leaks. Others say they're great for sensitive skin and help to prevent diaper rash and many reviews mention the cute designs available. Sorry…
Searching for opinions away from Amazon, and you'll find more of a mixed response. One user discusses how she's disappointed that the Honest Company claims to be environmentally friendly, when 100% of their diapers will end up in landfill, unlike biodegradable diapers, which can be largely composted. She also mentions the important point that if your little one has a wheat allergy, it's best to steer clear, as they use wheat in their production.
Frequently Asked Questions about Honest Diapers
1. Are Honest Diapers good?
In terms of their ability to retain liquid and keep baby dry, the reviews would definitely suggest that they're up to the job. They can hold up to 17 times their weight in water, and many users say they're great at preventing leaks. They do seem to have a pretty large following, suggesting that most parents are happy with their effectiveness.
2. What makes honest diapers different?
The Honest Company diapers may have been pretty revolutionary in the diaper world when they were founded in 2011, with their commitment to stay away from harmful chemicals and the use of plant-based materials. But, honestly, there are so many eco-friendly, skin-friendly options on the market for our babies that the main difference between these diapers and others is the wide range of designs available.
While they're undeniably cute, this really isn't an important factor and, if you're looking for eco-friendly diapers or budget diapers, there are better brands out there.
3. Are Honest Diapers worth the price?
There's no denying that the Honest Company diapers are significantly more expensive than some of their counterparts. Ranging between around 32 cents and 60 cents per diaper, comparing them to some budget diapers, which will set you back no more than around 10-17 cents per product, they're on the higher end. If you're looking to spend as little as possible on diapers, but still access a product that's baby-friendly and eco friendly, there are luckily lots of other brands out there that will do the trick!Mama Bear Gentle Touch diapers, for example.
Considering that nothing really sets Honest diapers apart from their competition, along with their higher price, I don't think they're the first brand I'd be reaching for…
As much as I appreciate a fancy diaper design, it's not really enough to justify the price!
4. How many diapers do you get in an Honest bundle?
A pretty frustrating aspect of shopping for Honest diapers on the brand's own website is that it's not made immediately clear how many diapers you get in each pack. This makes it hard to figure out how much you're paying per diaper, and is pretty crucial information!
Even when you've selected the size and print you need, this information is still not displayed readily.
Finally, I found the needed information. It is in the image slideshow! It looks like you get 32 diapers in a pack of newborn size for $10.95, which works out at around 34 cents per diaper. If you're buying size 4 though, you get 23 diapers in a pack for the same price: $10.95. This works out as around 47 cents per diaper.*
*Prices were accurate at the time this article was published but may change over time.
There is, of course, the option of subscribe and save on the Honest Diapers website, which takes 5% off of the total price. If you're a fan of the diapers and are planning to use them regularly, this will definitely be the better option.
It's much easier to see what you're getting for what price when looking on Amazon or Target online.
5. Are Honest diapers better than Huggies?
Whether Honest diapers are better than Huggies is, of course, up for debate! It really depends on whether your priority is price, effectiveness, their suitability for little ones with sensitive skin or their eco-friendly credentials. Huggies are one of the leading brands worldwide when it comes to diapers and, while not every parent will think they're effective, it does speak volumes that they still sell so well.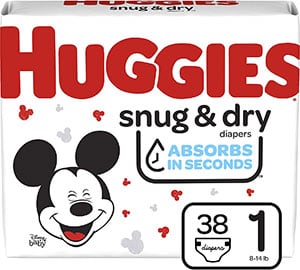 Taking Huggies Snug and Dry, for example, the brand claims that these diapers offer up to 12 hours of protection, are super absorbent, and contour to your baby's body, preventing leaks and blowouts. They say that these diapers absorb up to 23 times their weight, which is a little more than Honest, and they average 4.1 out of 5 in a whopping 14,000 reviews on Amazon.
In terms of their suitability for babies with sensitive skin, Huggies Snug and Dry are free from latex, elemental chlorine, fragrances, and latex, but they don't claim to be hypoallergenic, as some other Huggies diapers are. They also don't have any eco-credentials to boast and there's no talk of using plant-based materials in their ingredients, which certainly puts Honest diapers ahead in that category. With Huggies offering so many varieties of a diaper, prices vary wildly. But from what I've seen, they're not the cheapest on the market, and not the most expensive either.
So if you're looking for diapers that are better for the planet and for baby, the Honest Company does come out on top. But, again, there are other brands that offer more in the way of environmental protection at a similar or lower price: Andy Pandy diapers for example, which are partly biodegradable too. Check out my article on the best biodegradable diapers for more options!
The good, the bad and the bottom line
So what's the bottom line when it comes to Honest Diapers? As with all diaper brands, there are positives and negatives, but, ultimately, does the brand live up to the hype?
The Good
The Bad
◆ They use plant-based materials
◆ Phthalate-free
◆ They're totally chlorine-free
◆ Free from latex
◆ Free from fragrances
◆ Free from lotions
◆ Hypoallergenic
◆ Super soft
◆ The diapers hold 17 times their weight in fluid
◆ Available in-store and online
◆ They come in a variety of cute designs
◆ Reviews are positive on the whole
◆ They offer 5% off on their site when you subscribe
◆ They're not free from dyes
◆ Buying from their own site can be confusing
◆ They're not biodegradable
◆ They're pretty expensive
◆ Despite their use of plant-based materials, they'll still end up in landfill
The bottom line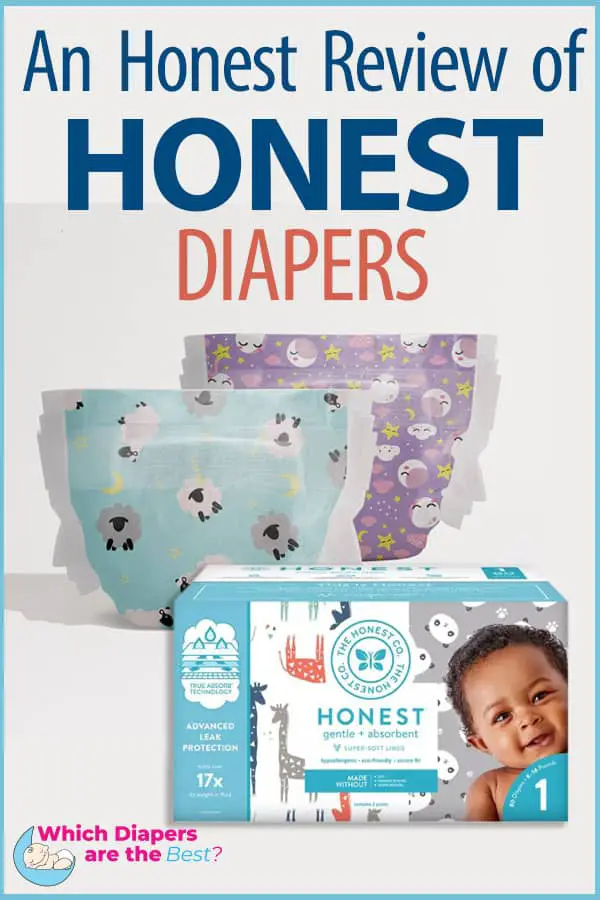 If budget isn't an issue and you're a sucker for a cute diaper design, the Honest Company diapers aren't a bad choice. They're good for babies with sensitive skin, free from potentially-harmful phthalates, made with chlorine-free wood pulp, which is sustainable, and they do have positive reviews on the whole.
Having said that, the Honest Company certainly doesn't lead the pack when it comes to being eco-friendly. They're not biodegradable, which means they'll end up in a landfill like all other disposable, non-compostable diapers, and they'll set you back a pretty penny – up to around 60 cents per diaper. Not that they make this information easy to find!
For alternatives to the Honest Company diapers, check out my top biodegradable and top hypoallergenic diapers articles.
And let's hope Honest diapers move with the times, and find ways to improve their impact on the environment, without clearing our bank balances!
References:
Jaakkola, J. J., & Khinght, T. L. (2008). The role of exposure to phthlates from polyvinyl chloride products in the development of asthma and allergies: a systematic review and metaanalysis. Environ Health Perspect, 116(7), 845-53.
Related Reading
Sours: https://www.whichdiapersarethebest.com/honest-diapers-review/
Choosing a diaper for your baby is kind of a big deal. It can be the difference between a blowout, a middle-of-the-night leak through, or a terrible diaper rash.
And sometimes, the right diaper can even change from baby to baby in your family. But if you're considering choosing Honest diapers vs Pampers, there are some facts you should know.
Honest Diapers vs. Pampers: Diaper Duty Gets Real
All diapers perform the same basic function: holding poop and pee. At first glance it may seem like there really isn't much of a difference between them all, but there are some contrasts that could make a difference in which one is best for you and your little one.
Pampers are what you might consider traditional disposable diapers. The brand is owned by the company Procter and Gamble, which also owns Luvs, Charmin, and Pantene. Pampers are widely available at most grocery stores, drug stores and online manufacturers like Amazon, and are the leading brand used by hospitals in the U.S.
Honest diapers are sold by the Honest Company, which was started by actress Jessica Alba with a focus on sustainability, wellness, and natural ingredients. In addition to diapers, the Honest Company sells other baby products, like shampoo and lotions as well as beauty, skincare and household cleaning products. Honest products were once only available online, but they have branched out to several retailers, including Target and Walgreens, where you will likely find Honest diapers in the baby aisle with other brands.
Honest vs Pampers: The Differences
The main differences between these two brands of diapers comes down to three points:
Environmental friendliness —Honest diapers are biodegradable and have more naturally-derived components
Price point — Pampers are more affordable
Comfort — this can be different for every baby's shape and skin, but comfort is key when choosing a diaper
Let's take a closer look at each diaper to figure out which might best for your baby's bum.
Sours: https://www.trulymama.com/baby-products/honest-diapers-vs-pampers/
The Honest Company, Honest Diapers, Super-Soft Liner, Newborn, Up to 10 Pounds, Pandas, 32 Diapers
Опис
Gentle + Absorbent
Super-Soft Liner
Hypoallergenic
Eco-Friendly
Secure Fit
True Absorb™ Technology
Advanced Leak Protection
Holds Over 17x Its Weight in Fluid
100% Satisfaction Guaranteed
Not Tested On Animals
Made without:
Latex
Fragrances or Lotions
Chlorine Processing
Advanced Leak Protection
Super-Soft Liner
Cloudlike liner provides ultimate comfort for baby's delicate skin while rapidly funneling away moisture - helping to keep baby happy, dry and comfortable.
Honestly Secure™ Fit
Soft, stretchy side panels, comfy elastic waistband, sure-fit leg cuffs and fastening tabs - blowouts be gone!
True Absorb™ Core

Super-absorbent, multi-layer technology locks away moisture, holding over 17x its weight in fluid for advanced leak protection.
Eco-Friendly Materials

Bio-based core with sustainably harvested fluff pulp and plant-derived materials.
Our Honest Purpose

We're on a mission to empower people to live happy, healthy lives.
Інші інгредієнти
Materials: Absorbent bio-core [totally chlorine-free (tcf) wood pulp from sustainably managed forests, sodium polyacrylate containing renewable materials & odor inhibitors including citrus extract & liquid chlorophyll], outer layer (plant-based pla), inner layer (polyethylene & polypropylene), leg/waist system (polymer spandex & polypropylene), polyolefin adhesives in the seams & joints, super-cute design on backsheet (inks).

Попередження
Caring caution: To avoid risk of suffocation, keep this packaging away from babies and children. Choking may result from anything babies put in their mouths. To avoid risk of choking, do not allow baby to tear the diaper. Discard any torn or damaged diapers. Like any piece of clothing, diapers are flammable.

Застереження
Хоча іноді товари можуть надходити з альтернативною упаковкою, свіжість завжди гарантована.
Sours: https://www.iherb.com/pr/the-honest-company-honest-diapers-super-soft-liner-newborn-up-to-10-pounds-pandas-32-diapers/101339
Honest Diaper Company Review
There are celebrity lifestyle brands, and then there's The Honest Company. While most celebs focus on apparel, footwear or fragrances, Jessica Alba chose a more personal project. As a child, the actress-turned-entrepreneur struggled with asthma, allergies, pneumonia and other medical issues. Not wanting her children to experience the same health struggles, the mother of two daughters (Honor, 9, and Haven, 6) — currently pregnant with her third child, a son — began researching the ingredients in mainstream personal care products when she broke out in hives after using a baby laundry detergent while pregnant. Alba enlisted the help of Christopher Gavigan, author of Healthy Child Healthy World, to figure out how to create safe and effective consumer products that were beautifully designed, accessibly priced and easy to purchase. The Honest Company was born.
Launching with diapers and wipes in 2011, The Honest Company reached $10 million in sales in its first year. That's certainly a lot of diapers sold! The brand currently offers over 140 products, including household cleaners, vitamins, toothpaste and beauty products — all formulated without toxic chemicals. Sales have surpassed $150 million, and the company is valued at $1 billion, according to Forbes.
Diapers are still one of The Honest Company's best-selling products, and for good reason. Not only are the eco-friendly, non-toxic diapers safe for your baby, but they also come in the most adorable prints. You'll want to show off the trendy designs, which include baseball- and pirate-themed ones, as well as seasonal prints featuring patterns like snowflakes and polar bears in the winter or leaves and plaid in the fall. And if you want to limit the amount of potentially harmful toxins and chemicals in your baby's environment, these diapers are a great place to start.
Who They're For
There's no getting around it: Your baby is in constant need of a diaper change (and will be for a while). You can expect baby to blow through 2,500 to 3,000 diapers in her first year. That's about 6 to 10 diapers a day! And although there have been no studies that show that the chemicals, dyes and gels used in mainstream disposable diapers cause harm, some parents might be wary of all that stuff being so close to their baby's bottom (and some little ones can have allergic reactions to these ingredients). So if you're seeking an environmentally conscious, disposable diaper that's just as absorbent and effective against leaks as a regular disposable, you can't go wrong with The Honest Company diapers.
Why We Love Them
Made with plant-derived materials and sustainably harvested pulp, The Honest Company's diapers are hypoallergenic and do not get processed with chlorine. They are also free of fragrances, lotions, latex and irritating chemical additives. But that doesn't mean you'll have to compromise on performance: Naturally derived odor blocks help minimize diaper stink, while stretchy side panels, re-fastening tabs and securely fitting cuffs prevent leaks and blowouts.
The bonus? The diapers are super stylish and come in more than 20 adorable designs — or plain white, if you prefer a classic look. They're also available in eight sizes, which means you can use them from birth to potty training. Overnight diapers and pull-up training pants are also available.
Hands On
One of the first things you notice when pulling an Honest diaper from the package — besides how cute it is, of course — is that there's no perfume smell. But while the diapers forgo the added fragrance, they make up for it with better-than-average aesthetics. The prints are crisp and vivid, and the colors modern and vibrant. These diapers will put a smile on your face while you're changing your wiggly little one.
The diapers feel thinner compared to other disposables, which makes for a less bulky appearance under clothes. The inside lining is smooth and soft, so you know it will be gentle against your baby's bottom. The elastic leg cuffs move with your baby as they work to contain, well, everything a diaper needs to contain. Cloth-like stretchy back tabs also contribute to the comfortable fit. Overall, the diapers feel high-quality.
Pros:
Hypoallergenic
Chlorine and bleach-free
Made without fragrance, latex, lotions or other chemical additives
Absorbent core features fluff pulp harvested from sustainably managed forests
Leg cuffs help prevent leaks and blowouts
Stretchy side panels with refastenable tabs allow for a custom and comfortable fit
Plant-based inner and outer layer are gentle on your baby's delicate skin
Citrus and chlorophyll naturally block odors to keep baby smelling fresh and clean
Come in fun and seasonally-themed prints
Cons:
More expensive compared to other disposable diapers
No wetness indicator to tell you when your baby needs changing
Runs slightly small
Non-stretchy front of the diaper may be a snug fit if your baby has a big belly
Tends to leak when it's time to move up to the next size
The Verdict
Keeping your baby's bottom clean and dry is a dirty business, but The Honest Company's diapers make it safer for baby and a lot more fun for you too. The diapers are plant-based, made from naturally derived, sustainable materials. They are also free of chlorine, fragrances, lotions and latex, which are potential allergens that could cause irritation. The core of these diapers contains wheat and corn, reducing the need for Super Absorbent Polymers (SAP), small chemical gel beads found in typical disposables that absorb liquid. And if you're a conscientious shopper, you'll also appreciate the fact that there is a detailed map on The Honest Company's website that shows you where all of the materials are sourced.
If the look of your baby's diapers matters just as much as function, reach for these diapers. The cute designs just can't be beat, but even though the brand's monthly bundle subscription option lowers the price a little bit, you still pay a premium for the designs. There's no wetness indicator, but because the super-thin diapers expand when they get wet, you'll be able to tell right away when your baby is ready for a change.
Online reviews are mixed: Some parents rave about the diapers while others complain of leaks and blowouts. Since the sizes do seem to run a tad small, savvy parents say that moving up to the next size once you start to experience leaks will resolve the issue. Others say that The Honest Company's diapers are better for older babies who are eating solids, since their poop is less liquid, making leaks less of an issue.
When it comes to reducing chemicals that come into contact with your baby while making environmentally conscious decisions, this is a winning product.
Where To Buy Them
Honest diapers are available at Target, Whole Foods Markets, buybuy Baby and Amazon. You can also find them in bulk at Costco. But the most affordable option is the $79.95/month bundle on Honest.com. That cost might seem high, until you realize it includes six packs of diapers plus four packs of wipes. You'll save 22% per diaper. Bundles can be shipped every three, four, five or six weeks, so you'll never run out. Plus, you can cancel anytime. You can choose up to six different designs per bundle, and mix and match colors and prints to coordinate with your baby's wardrobe. If you're a new customer, you can usually get a $20 coupon to apply on your first order.
Starting at $0.27/diaper at Honest.com
Meet The Competition
Just so you know, What to Expect may earn commissions from the shopping links included on this page.
Seventh Generation Free & Clear Diapers
Made with baby's sensitive skin in mind, Seventh Generation's diapers are chlorine-free, contain no lotions or fragrances and are made with sustainable materials. After years featuring a unique brown-colored diaper design, Seventh Generation's diapers are now white, and feature adorable animal designs.
$0.42/diaper at Amazon.com
Earth's Best Tendercare Diapers
Earth's Best boasts similar eco-friendly features as Seventh Generation and The Honest Company: The brand's diapers are free of chlorine, latex and fragrances. The absorbent core is made with corn and wheat starch, which means the use of petrochemicals is limited during production, helping reduce your baby's environmental footprint.
$0.33/diaper at Amazon.com
Andy Pandy Bamboo Disposable Diapers
The newcomer in the eco-friendly baby diaper category, Andy Pandy offers products that have the soft, cottony feel of cloth diapers with the absorbency and convenience of disposables. The silky bamboo material is naturally hypoallergenic, antibacterial and biodegradable, and the diapers are made without chlorine, latex or fragrances. There's also a handy wetness indicator to let you know when your baby is ready for a change.
$0.46/diaper at Amazon.com
Sours: https://www.whattoexpect.com/baby-products/baby-care/honest-diaper-company-review/
Newborn diapers honest
An Honest Review of Honest Diapers
Is Honest Company Really Honest?
The Honest Company has a range of environmentally-friendly items, such as diapers, hand wash, and laundry detergent.
How honest is the Honest Company when it comes to the actual eco-friendliness of their products, including how natural the ingredients are?
For the diapers, it seems that Honest is open about all the materials their diapers do and don't contain, and you can trust that the diapers are as safe and natural as the company claims them to be.
When it comes to the hand wash, detergent, and dish soap, there are some sneaky ingredients included that are not as ideal. These contain phenoxyethanol, Cocamidopropyl betaine, and methylisothiazolinone, which are not necessarily dangerous, but they are not ingredients you would want natural products to include.
There have been quite a few concerns raised over the honesty of the company, as not all the materials and ingredients used are as natural as they should be.
The bottom line is that Honest is an honest company, you just have to read the fine print!
Would Honest Diapers be good for a diaper cake? Find out here!
Sours: https://www.stuff4tots.com/honest-diapers-an-honest-review/
Newborn Disposable Diapering and Honest Diaper Review
Looks like he liked it. Well, what, like it. This is not your finger. Let's fuck you normally now, so that you no longer want to carry all sorts of worms into the house. Along the way, pulling off.
Similar news:
Mansur, let's go for a walk in the garden, that we were too late. Taking his hand, he led him into the. Garden, there, standing under a spreading apple tree, I dug into his lips with my lips, he was almost stunned by my pressure, he did not know how to kiss, but his penis bulged through his wide pants. I must say that all the men were like a match, all over 180 cm.All of a very strong physique, Mansurchik lagged a little behind everyone.
34172
34173
34174
34175
34176