End of pandemic unemployment benefits brings uncertainty to some Nevadans
LAS VEGAS (KTNV) — Some unemployment applicants are facing an uncertain future as the federal Pandemic Unemployment Assistance benefit comes to an end.
The federal government did not extend the program and so now the Nevada Department of Employment, Training and Rehabilitation says after Saturday it will focus only on regular Unemployment Insurance.
"I've gone through all my savings and I'm still trying to help people. I'm doing some for free, but I can't live on free. I have to pay my rent. I have to pay my bills and things like that."
RELATED:State unemployment office reminds Nevadans of federal benefits ending
Cheryl Dille-Goodrich is a therapist and is also a PUA claimant. She's been in limbo, frustrated it has been taking time for her identity to be verified so she can get her benefits.
"When I called PUA and talked to them about that they said, you haven't made a claim in a long time and I said yeah, between you and DETR it's been over six months," she said.
Dille-Goodrich says PUA's end comes at a bad time. She says the pandemic is still going on—and there are people still trying to figure out how to make ends meet.
"COVID-19 and the masking and the vaccines and the variants of that have not come to a conclusion," she said.
DETR says PUA is one of three federal programs that will end, and it will now focus on regular unemployment.
Its latest numbers show more than 40,000 people still filed claims under PUA.
Director Elisa Cafferata says PUA claimants undergoing appeals will still get their benefits once it's cleared up but no brand new PUA applicants will be accepted.
"So anyone who has weeks they're eligible for, if they're in appeals or adjudication, that support is still there," she said.
Cafferata says DETR has been letting claimants know federal programs would be ending with no extension. She says there are still many resources available for job seekers to help find employment.
"There's help with your resume or interview skills. There are job listings. We have training, and a lot of times we can pay for the training, so you can get new skills," she said.
Dille-Goodrich believes the federal benefits like PUA should have been extended.
"The fact that it's ending when some people haven't even begun it and it's still going on, that's not fair to them," she said.
DETR says people who are unemployed before Sept. 4 and are eligible to get benefits for this week have until Sept. 18 to file for them.
We have a link to additional resources mentioned in the story here.
Sours: https://www.ktnv.com/news/end-of-pandemic-unemployment-benefits-brings-uncertainty
Appeals backlog leaves some PUA claimants in limbo as DETR still struggles
LAS VEGAS (KTNV) — Ladan Dillon speaks four languages fluently: French, German, Farsi and English.
Interpreting for others at conventions, conferences and courts is how she makes a living and supports her family.
"What I do helps people. We are bridges that connect worlds together."
But there's one language she never could figure out... The one spoken by DETR, Nevada's Department of Employment, Training and Rehabilitation.
"At first you would hear, 'These are unprecedented times. We never had to deal with a pandemic.' I get that. I respect that. I appreciate that. But now it's a year and a half later and they still don't have their act together!"
When COVID-19 hit, the self-employed, gig workers, independent contractors and 1099 consultants had no safety net for loss of income in an economic disruption.
Pandemic Unemployment Assistance, or PUA, was developed by Congress to bridge that gap.
"Right now we're looking at about 160,000 folks who got benefits through PUA, so from that perspective, I would say it was a success," said DETR Director Elisa Cafferata.
Ladan applied when PUA first became available in Nevada, which was May of 2020.
"I got an approval letter from DETR and about a week later, they sent me another approval letter with a higher weekly benefit amount."
Seemed like everything was working out... Until it wasn't.
"And then they sent me a disqualification letter. And then again a few months later they sent me another approval letter. And then again another disqualification letter like five months later."
Confusing or inconsistent responses from DETR became the norm for some.
"We have a whole lot of employees here for whom most of their money comes from their gig work," said Cafferata.
Many of those folks have evening or weekend jobs for benefits or stability.
But even if that work hadn't dried up or was just a small part of their actual income, federal rules said they still had to apply for regular Unemployment Insurance and get turned down before coming back to PUA, creating what was dubbed the PUA/UI whirlpool.
"So from that perspective, PUA did not really take into account the reality in Nevada," said Cafferata.
The reality for Ladan Dillon?
"Playing a ping pong match where everybody's just looking at the ball going back and forth and I'm just sitting here and waiting and nothing is happening."
Her DETR account shows she qualifies for more than $20,000 in lost income.
She hasn't seen a dime and the reason for denial keeps changing.
First, there was an I.D. verification issue.
Then they said, "My claim was filed from outside of the United States. Last time I checked, Henderson Nevada is still considered to be inside the United States."
There was also a potential fraud flag and even a claim that her unemployment was not related to the pandemic.
"And where they got this from I have absolutely no idea. There were no conventions in town. There were no conferences in town."
For a long time, courts were closed too, and her work still hasn't fully come back.
"It feels like you're drowning in a pool and you're reaching out for help and you have all these people around the pool sitting on the edge looking all sympathetic with their hands on their chin and pretending to care, and yet nobody cares. Nobody is reaching out a hand."
With DETR offices still closed to the public, Ladan has done everything she can to get answers online and over the phone.
"It takes an act of Congress to get through. When you do, they're not helpful at all, no professionalism, discourteous, and they try to get you off the phone as fast as possible."
When 13 Investigates asked DETR about her case, the agency sent her an email with two phone numbers: the main one she'd already been calling and one for the PUA Adjudication Center.
"When you call it, you get a recording: 'Your call did not go through. Please try your call again.'"
13 Investigates questioned DETR and the agency acknowledged the number they gave Ladan is no longer functional.
"The way DETR has been dealing with PUA is just an abomination," Dillon said.
Like so many others, all she could do was file an appeal.
To date, she's still waiting for a hearing and, she has company.
As of Sept. 7, DETR had 14,478 PUA appeals waiting to be reviewed to see if they can be resolved or need to go through the formal appeal process.
DETR can't tell how far back they go, but says they're working on appeals in the order received.
Just 5,688 have been heard to date.
In the last month, appeals referees issued 906 decisions.
"As of Sept. 6, we have to use our own state employees to make these determinations, which is a much smaller group of people," Cafferata explained.
Before PUA ended, DETR had outside help.
"The biggest support that we've lost is that we had 200 folks from Welfare who were working overtime to help process claims."
Now, it'll be roughly 5 ½ months to get through the appeals backlog.
Staffing shortages aside, Cafferata blames fraud.
"There were one million-plus applications that were imposter claims, fraudulent applications, and we still had to deal with all of those because you have to look at it to figure out if it's legit or not. And so that's where my frustration is. If we didn't have those million claims, we would have stayed current the whole time."
DETR couldn't tell us how much money has been paid to fraudsters, saying the "Data is unavailable and changes often."
They also couldn't say how much of that money has been recovered.
When we asked why Nevada didn't have sufficient security measures to prevent the level of fraud our state experienced, DETR said the hurried setup and self-certification design of the PUA program "Opened the door for ​an unprecedented number of imposter claims that many states could neither prevent nor verify or efficiently audit."
Ladan Dillon has three English words to describe her experience: "Disillusioned, frustrated, angry," as she continues to hope for help that may never come.
It's little consolation to those waiting, but DETR confirms claimants successful on appeal will be paid for all eligible weeks even though the benefit programs have expired.
Our examination doesn't end here as we look at some of DETR's successes and new lifelines available to help people get back to work.
That story Tuesday night, Sept. 21, on 13 Action News at 6 p.m.
Sours: https://www.ktnv.com/13-investigates/appeals-backlog-leaves-some-pua-claimants-in-limbo-as-detr-still-struggles
The
Nevada
Independent
Benefit programs that have buoyed hundreds of thousands of unemployed Nevadans for more than a year came to a hard stop over the weekend, raising concerns of a trying transition for those who have yet to find a job.
Department of Employment, Training and Rehabilitation (DETR) Director Elisa Cafferata said that while the Department of Labor has authorized states to use American Rescue Plan funds to continue benefits past Saturday's deadline, her agency had no plans to do so. An extension would require a special legislative session, such a program would not come with federal money for administrative expenses and it would take that federal aid away from other possible uses, she said.
"We've certainly taken a look at it," Cafferata told The Nevada Independent. "But I think … we really just, for the long-term health of the economy, need to help folks get back to work."
Programs that ended over the weekend include Pandemic Unemployment Assistance (PUA) for gig workers and the self-employed (nearly 40,000 were filing claims to Nevada's program in the most recent week), Pandemic Emergency Unemployment Compensation (nearly 76,000 enrolled), and a $300-per-week Federal Pandemic Unemployment Compensation add-on that applies to all of those claimants, as well as nearly 33,000 people on regular benefits.
A small State Extended Benefits program serving fewer than 100 people ends this coming Saturday, leaving only the regular unemployment benefit program running, and even then only offering beneficiaries a maximum of 26 weeks of assistance.
The cutoff comes as Nevada's economy has improved — the number of people on the unemployment rolls is fewer than half of the well over 300,000 it was during peak weeks earlier this year — but the state continues to have the worst jobless rate in the nation at 7.7 percent in July. About one-third of the jobs the state lost when the pandemic hit have not come back, according to DETR. 
Voices on all points of the spectrum acknowledged that the benefits cliff could be difficult for the more than 148,000 people who were claiming benefits as of Aug. 21. Amber Hansen, an administrator of a large Facebook group that supports PUA claimants, said there's pervasive fear among members of her collective.
"They don't know what they're going to do. And they're scared out of their wits because they feel like there's just, there's nothing else for them to do," she said.
DETR officials said they had been warning beneficiaries for months that the programs, which have paid out nearly $13 billion since last March, would be coming to an end, and urged claimants to look for jobs. The agency has been communicating with claimants through their online portals, posting information about job opportunities on social media and sharing an evolving list of retraining opportunities.
"There are a lot of supports out there for them. And probably the best thing to do is just … start making this transition back to work, while you have all of these resources available to help you," Cafferata said.
But Hansen said the reality on the ground is much harsher than DETR portrays. The handout DETR provides lists resources that many claimants already know about, such as welfare programs and rental assistance, but may have been unable to tap into.
"I have worked single handedly over the last year with thousands of Nevadans … thousands of people that have applied for those programs and have either hit a wall have been told that they can't get help, have been told that they don't meet the criteria," she said.
The CHAP rental assistance program in Clark County, for example, has helped 9,000 households since the pandemic began, but has 8,500 applications for aid still pending and has denied about 5,200 applications. Meanwhile, about 61,000 households in Nevada are projected to be behind on rent — mostly in Clark County.
If people in need are unable to successfully secure enough help, they could be part of an eviction wave. Even among those who have received rental assistance, there are people who are headed back to square one because the support is for a limited time.
"They've already tapped out their 12 months of benefits, and they're still unemployed, and now their unemployment's going away. And so what do they do?" said Jim Berchtold of the Legal Aid Center of Southern Nevada, which offers free help to tenants facing eviction. "It just really seems like there needs to be a bigger picture solution about job retraining and about figuring out what the issues are that are leading to the eviction and trying to address them."
Lalo Montoya of progressive advocacy group Make the Road Nevada has seen firsthand how people can get lost in the system if they hit technology-related hurdles, language barriers, eligibility hang-ups or are otherwise confused by systems offering help. His organization helps those it can, but it doesn't have the funding to serve as formal navigators who would personally guide the tens of thousands of people who need help.
"It's a crisis that I can't even put my head around," he said. "Because at the end of the day, all we can do is help those that come to us directly or that we meet out on the streets or during tabling events. And I'm glad that when they do find us, they found that they find a voice, they found a place of advocacy, they find a place where they can go and be connected to navigate the systems. But we're doing it out of just survival."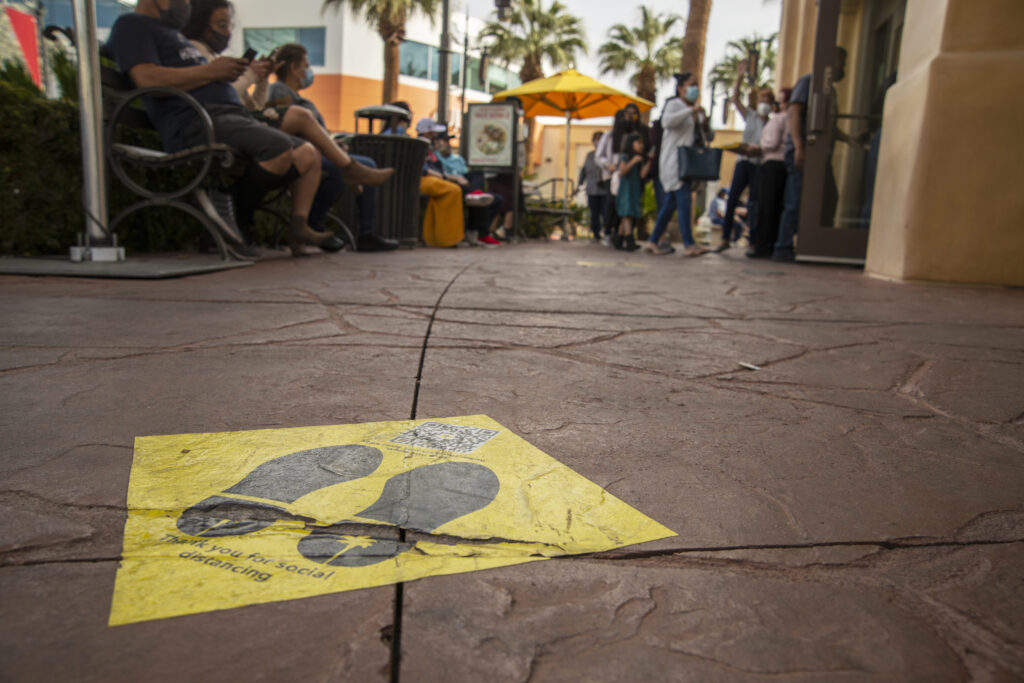 A disincentive effect?
Randi Thompson's organization, the Nevada Federation of Independent Businesses, has been vocal in urging Nevada to end benefits earlier than Sept. 4, blaming them for exacerbating a worker shortage.
"We hope that the governor will not extend those extra benefits, because our small businesses are dying, we have businesses, restaurants that are closing early. They're not taking a dinner shift, they're closing on Sundays," she said.
Gov. Steve Sisolak did not heed that call to curtail the benefits, but nor did he take the step of creating an additional state-level program to keep the benefits going into the fall.
Thompson said she's still concerned about workers in industries that have not rebounded, such as those supporting conventions, which brought half a million attendees to Las Vegas in 2019 but zeroed out for a long stretch during the pandemic.
"I'm optimistic that those who have chosen to stay home and not work will decide to go back to work," she said about the deadline. "My concern, still, is for those whose jobs are not there."
A debate over whether the more-generous-than-usual pandemic-era benefits were disincentivizing people from returning to work has raged in the political sphere, prompting about half of governors — all Republicans — to voluntarily disenroll their states in certain benefit programs as a way to nudge the jobless back to the workforce. But an early analysis from the firm UKG suggests that states that cut the safety net early actually saw slower growth in the number of shifts worked than states that kept the benefits.
Economists also largely believe that while benefits may serve as a minor disincentive to return to work, it is not a major factor, and a survey of the unemployed ranked benefits as the last on a list of reasons why they had not returned to work, behind reasons such as lack of child care, concerns about the spread of COVID, and having a spouse who is still in the workforce.
"People in other states are saying they thought they were going to stop the extended benefits and everyone would go right back to work and they're not seeing that either," Cafferata said. "So I think there's gonna be just sort of this continued thing, settling out and what the new workforce looks like."
Thompson said she believes "the mood of the workforce seems to be 'I'll come back, but you have to pay me more.' And employers are realizing that's going to be the case."
She said that might mean products and services go up in price, but she acknowledged that it's a shared responsibility with consumers to support jobs that offer workers enough to reach their American Dream.
"I hope you're gonna see a surge in employment," she said. "We have well over 22,000 job openings in Northern Nevada. We have 90,000 job openings in Vegas. So, we have enough jobs to absorb the people that are unemployed."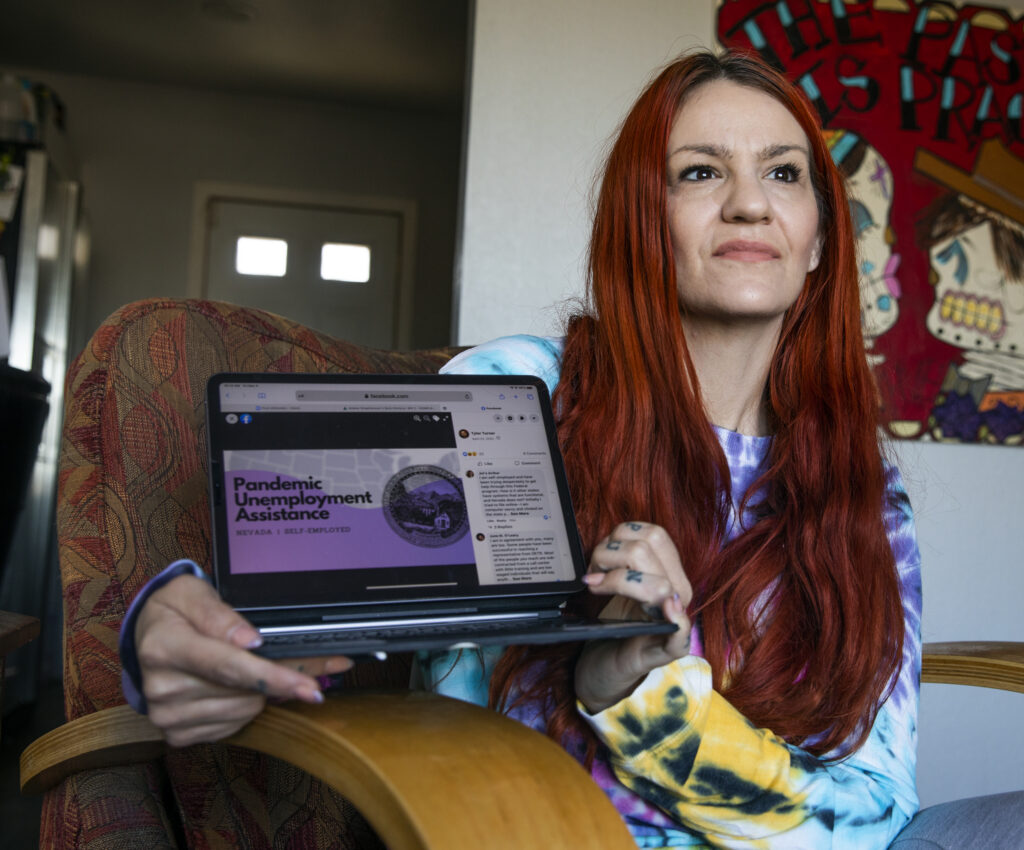 Do decisionmakers care?
Advocates for the unemployed are left wondering why elected officials didn't do more to extend the program when so many people are still using it and major industries such as entertainment are far from recovered.
They worry that the loss of the program could accelerate evictions, prompting households to uproot and double up and thereby further spread COVID. They worry that the cutoff will force people into survival jobs with low pay, little security, and exposure to the virus.
"Our governor needs to do more. Our elected officials here need to do more. They need to extend the benefits. They need to apply for all the money that's being offered," Montoya said. "I think they fell into the narrative that the chambers of commerce pushed on us. And they're listening to the corporations. They are not listening to workers."
The deadline for the federally funded benefits program was set six months ago when Congress passed the American Rescue Plan. In that time, COVID dipped and surged, and now remains at one of its highest points of the pandemic.
Asked whether the deadline is still appropriate while the health situation remains dire, Cafferata noted that "there's always going to be an argument to be made to extend benefits."
"It's going to be challenging for many individuals and their families," she said. "This is just one last difficult transition, we hope, but I suspect we're going to have some ups and downs with COVID for quite some time."
Thompson said it's time to adapt.
"We're gonna be living with COVID for the rest of our lives," she said. "And it's time we all learn to live with COVID."
From Hansen's perspective, those in power are not showing enough compassion for the unemployed or taking nearly enough action to help.
"This was something that was so important, and we feel like nobody cared," she said. "It seemed like people would … gain interest and gain momentum, and then when they felt like their back's against the wall by another party, they would just be like, 'OK, well, our hands are tied.'"
While lawmakers have often talked about the emails and calls they receive from desperate claimants, Hansen said she doesn't think they'll truly register the struggle as long as they are personally financially secure.
"I just think that everybody just thinks that everything's all right and … excuse my language, they haven't really gotten into the thick of the shit like I have with my collective, to really absorb the suffering that these people have gone to," she said.
Tabitha Mueller contributed to this report.
Sours: https://thenevadaindependent.com/article/as-unemployment-benefits-stop-for-close-to-150000-nevadans-observers-fear-tough-road-ahead
Problems with final claims reported as PUA program ends
LAS VEGAS (KLAS) — People who are trying to complete their final claims for Pandemic Unemployment Assistance (PUA) benefits are running into problems.
The Nevada Department of Employment, Training and Rehabilitation (DETR) acknowledged the problems, but provided no details in a tweet today.
DETR reports that they are working with a vendor to fix the problems.
The claims involved are for benefits during the final week of the PUA program, which provided benefits to self-employed workers and gig workers during the pandemic. The benefits programs expired on Saturday.
Copyright 2021 Nexstar Media Inc. All rights reserved. This material may not be published, broadcast, rewritten, or redistributed.
Sours: https://www.8newsnow.com/news/local-news/problems-with-final-claims-reported-as-pua-program-ends/
Vegas pua news las
The Nevada Department of Employment, Training and Rehabilitation (NV DETR) administers the unemployment compensation program for the state. The DETR is responsible for processing unemployment compensation claims and paying out benefits, including the federally funded enhanced unemployment benefits.
As many claimants realized, NV DETR had struggled to pay benefits in a timely manner given their antiquated systems and processing for a record number of claimants.
Further, widespread reports of fraudulent claims meant longer processing periods and mass rejections of valid claims. However following DETR system and process upgrades many of these issues have now been addressed as you can see in the comments forum following this article. You can also more on recent topics of interest around pandemic unemployment benefits in the sections below.
End of Federal Enhanced Benefits (PUA, PEUC, $300 FPUC and $100 MEUC)
The Nevada DETR has confirmed that claimants on the PEUC, PUA, MEUC and FPUC programs will file/certify for benefits for the last time covering the week ending September 4, 2021. Any active claims with or without remaining balances will expire after this date.
While there has been a lot of discussion around extending pandemic unemployment benefits, the Biden administration has confirmed (see video) that states will have to use already allocated stimulus funding to expand or extend traditional state unemployment programs. The NV DETR has not indicated that is planning to do so at this stage, but I will post updates if things change.
Claimants who were eligible for State Extended Benefits (SEB) will get an extra week of benefits, as the SEB program expires the week ending September 11. After September 4th and 11th, claimants must have a regular UI claim to continue receiving benefits.
Stay In the Know:Subscribe via email or follow us on Facebook, Twitter and YouTube
ID.Me Identity Validation Issues
Thousands of unemployed claimants are reporting issues with the new identity verification system/vendor the DETR is using to tackle issues with fraudulent claims. Earlier this year claimants were asked to use little known third party vendor ID.me, whose system uses proprietary A.I. facial recognition software, to verity their identity in order to receive unemployment benefits.
However many claimants in Nevada are reporting this system has not worked for them and have already faced several weeks (or months in some cases) of delays in getting the unemployment payments they are eligible for. The issues ranged from a failure of the ID.me facial recognition technology to having to wait for hours to reach a human for a video chat to troubleshoot issues – a service provided via the vendor, and not the DETR.
You can see examples in the comments forum below this article and across social media issues are being reported with this technology which is also used in several other states to verify identities for unemployment payments. The DETR and ID.me have said most issues have been worked through and only a handful of complex cases remain to be resolved.
Is the $300 weekly benefit, PUA and PEUC ending early in Nevada?
No. Despite several other states ending benefits earlier than planned, Gov. Steve Sisolak has announced that he is NOT considering ending federal unemployment programs ahead of the current September 6th expiry. Unlike most states, pay rates in Nevada are higher than average and unemployment benefits lower than average. This has meant business for the most part have been able to fill open vacancies as activity picks up in a post-pandemic environment.
---
Biden Stimulus Bill – Unemployment Benefit Extensions to September 2021
Under President Biden's $1.9 trillion federal coronavirus relief package, known as the American Rescue Plan (ARP), enhanced unemployment benefits have been extended until September 6th. This includes further extensions to the PUA program, PEUC program, $300 weekly payment under the FPUC program and $100 Mixed Earners (MEUC) program. There were also provisions in the Biden Stimulus package for Unemployment tax breaks on the first $10,200 of benefits received in 2020.
Nevada DETR Latest News and Status on PUA, PEUC and $300 FPUC Payment Schedule
The Federal Department of Labor (DOL) has now issued formal guidelines to implement the latest round of unemployment extensions until September 6th. The Nevada DETR has implemented the system changes to enable it to apply up to an additional 25 weeks for all eligible claimants, through week ending September 4, 2021. This was much faster than prior extensions and federal unemployment programs (per updates below).
There were some issues with applying extended weeks to the PUA program claimants but that has now been resolved. Claimants should be aware of the following general guidelines around the extended coverage period funded under the Biden ARP stimulus bill.
You do not need to reapply for benefits. DETR will automatically enroll you in the appropriate extension and notify if additional information is needed.
You should continue to file your weekly claim for benefits as you normally would as long as you remain unemployed.
You will not need to contact DETR in order for these program extensions to take effect.
This legislation would extend the various benefit programs through the week ending September 4, 2021. This is approximately 25 weeks of extra coverage (the ARP bill had legislated 29 weeks in total).
The additional weekly payment of $300 under the FPUC program will be extended through September 4, 2021 as well.
Several PUA claimants reported issues with verifying their identity through ID.me, but the agency is working with impacted or technically challenged folks to address identity verification issues.
March 17th, 2021 Update on rollout of ARPA extensions
Nevada's DETR is still updating systems to apply the additional coverage weeks under this extension. They are also still having challenges paying out extended weeks under the CAA given their antiquated systems, and have said PUA and PEUC recipients should be prepared to experience several weeks of delays to get the extra weeks of coverage under ARP.
PEUC Claimants ongoing delays expected – The Nevada DETR UI system cannot process all of the existing claims at one time. Because the system must evaluate and update the payment amount for each week for each claimant, they process payments in batches. In general, they are processing from oldest to newest claims. Some complex claims require manual processing to ensure that claimants receive all of the weeks they are eligible for. As a result PEUC recipients will experience a delay of several weeks before benefits become available. Claimants will retroactively receive all weeks they are eligible for.
I will post updates as more information is provided. So get the latest updates via the options below.
---
2021 Unemployment Program Extensions Under COVID Relief Bill – PUA and PEUC 11-week Extension Updates
The $900 billion COVID-19 relief package was passed into law on Dec. 27, 2020, which among several other pandemic relief measures extends and provides additional funding for enhanced unemployment benefits. This includes the Pandemic Unemployment Assistance (PUA), Pandemic Emergency Unemployment Compensation (PEUC) and a reinstatement, but halving of the Federal Pandemic Unemployment Compensation (FPUC) Program which provides a $300 supplemental weekly unemployment payment. These programs have been funded and extended for 11 weeks, covering the weeks of December 27th, 2020 to March 14th, 2021. Existing PUA and PEUC claims can be claimed until the week ending April 10th (phase out period).
[Update Feb 17th] The 11-week extension has been rolled out for the PUA and PEUC programs, but DETR continues to see technical issues with paying claims. For PUA they are not expecting to make payments until the end of May. The latest one (per the screenshot below) was one asking existing PUA claimants who were filing for the 11-week extension to file a new claim and be subject to a waiting period. This was incorrect and has caused payment delays which the DETR is looking to fix.
How long will it take before I can get PUA payments for the 11-week extension?
DETR is seeing thousands of applications being submitted and each claim requires a review for each week of PUA eligibility and will take some time. The Division recommends checking the website and your PUA account for any current/updated changes. They are also recommending choosing direct deposit for payment, which will process more quickly. Debit cards will take 7-14 days to arrive. Payments for PUA weekly claims are scheduled to begin by the end of May.
Will I Get the Pandemic Emergency Unemployment Compensation (PEUC) 11-weeks automatically?
While the PEUC updates for the new legislation have been applied there are some new rules to be aware of. Those who are currently receiving PEUC benefits under the CARES act, will continue to be on PEUC and their eligible weeks will be automatically extended.
Any claimant who had a balance on their PEUC extension as of 12/26/20 but had already filed a State Extended Benefits (SEB) claim early, will be automatically placed back on PEUC in order to capture the additional weeks. This may results in a weeks gap in benefit payments. Any claimant who had exhausted PEUC prior to 12/26/20 and went on SEB will stay on SEB. At the end of SEB, the claimant will be placed back on PEUC up to the expiration of the program.
[Update Jan 12th] – While Nevada has started paying the $300 FPUC payment to active claimants, it has not paid week 6 of the $300 LWA program (per updates below in LWA section). These are two separate programs and funded differently – the FPUC is federally funded under the COVID relief bill, the LWA program was funded via FEMA. Note that Nevada DETR also has to roll-out updates to PUA programs to cover the extended periods and allow those claimants to also get the extra weekly $300 FPUC.
Due to additional requirements for new PUA filers, DETR must update the PUA application programming before new PUA claims can be filed. Depending on the complexity of DOL guidance on changes, it is anticipated that these changes should be implemented within four weeks [so likely won't be ready till end of January 2020]

Nevada DETR
According to the Nevada DETR claimants with existing or expired claim balances should be aware of the following:
PUA and PEUC, FPUC will be automatically added to the claimants' benefits if they are eligible for the weeks outlined in the legislation.
Claimants with weeks remaining in UI should continue to file weekly claims.
Claimants who will have additional weeks in UI and PUA or PEUC due to the Continued Assistance Act should watch the DETR website for updates that will allow additional weeks to be filed.
Claimants will be caught up on payments for all weeks they are eligible.
Stay In the Know:Subscribe via email or follow us on Facebook, Twitter and YouTube
---
Fifth Week of the Lost Wages Assistance Program Now Being Paid. Week 6 STILL NOT PAID
[Update Jan 12th, 2020] Week 5 has been paid, but week 6 is still pending as DETR is currently waiting to hear back from FEMA for funding to make this payment. While FEMA or DETR has not made an official comment I doubt this payment will be made as the overall program expired at the end of 2020. And with the new $300 FPUC payment (discussed above) already being sent, Week 6 may not ever happen.
[Updated December 16th] – While Weeks 4 and 5 have now been paid for most eligible claimants, there are still many reports of missing and delayed payments (see quote below). It does seem that PUA recipients are being paid first, likely due to the fact they had already certified their job loss was COVID related (an LWA requirement). Other UI program recipients, per comments below, are still awaiting Week 4 and Week 5 payments in particular.
Week 6 payments were scheduled to start this week, but it now appears that the DETR is awaiting more funding from FEMA to pay for week 6. Per their official statement, "As to the potential of the last week of assistance (week 6), unless FEMA approves additional funding to pay for a week 6, there will not be a payment for a week 6. DETR is currently waiting to hear back from FEMA." Again this does NOT mean that Week 6 is definitely not being paid, it just means that it is subject to FEMA funding which was budgeted for 6 weeks per state. But given the delays in Nevada's DETR LWA roll-out the program expiry date of December 31st may be the bigger risk of this payment being missed vs. FEMA funding approval.
You can see this video for a summary of the issues and potential solutions if you are having trouble with getting information on your LWA payment.
Lost Wages Assistance (LWA) in Nevada – Payments now processing and being paid
The Nevada DETR said that it made a small test run of $300 LWA payments during the week of October 12th to claimants in the Pandemic Unemployment Assistance (PUA) program. Actual LWA payments to all eligible claimants will take place over the next several weeks and payments will be processed in several batches given the significant number of claimants and system constraints.
[Updated November 30th] LWA Payments for weeks 1 through 4 have been issued. DETR has started making payments for week 5 of LWA to eligible claimants. As in round one, the process is expected to last up to 10 days. After week 5 is completed, DETR will make sure there is enough money left in the grant to pay the final week (week 6) of LWA.
[Updated November 11th] The Nevada DETR has said it has started processing ($300) payments for week 4 of LWA to eligible claimants this week. As in round one, the process is expected to last up to 10 days, DETR said. After Week 4 is paid, DETR will pay subsequent weeks for which they have funding.
Many claimants are not eligible for LWA payments because they are not receiving at least $100 in existing UI benefits (via regular state unemployment, PUA or PEUC) to be eligible for the program.
First 3 weeks of LWA payments now paid
DETR spokesperson, Rosa Mendez, said the first 3 weeks of LWA payments of $900 for those on PUA were paid in batches through 10/23 (confirmed based on article comments). From 10/23 to the end of October, those not on PUA will start getting their first ($900) batch of payments. The remaining LWA payments will also begin processing towards the end of October for ALL unemployment recipients, until Nevada runs out of LWA funding (max 6 weeks).
How to tell if you have been approved and how to tell how much you're getting
(Thanks to Brent for this comment) Login to your Claimant homepage. Go to the dates of 8/1, 8/8, and 8/15, and if you look at the deductions it should be "Y" for yes click on the "Y" and it will say "Lost wage Assistance" then -300 dollars for those 3 dates. This is good don't freak out it means your approved. Sorry if this is confusing its hard to explain because it shows up in a weird spot.
Amounts to qualified applicants will be paid retroactively to August 1 for 6 weeks (up to $1800 in total if you qualified for all 6 weeks). Several readers have acknowledged the lack of information and delayed payment relative to other states as you can see in the comments below. I will continue to post updates if new information comes to hand. See further details in the section below including a link to the NV DETR LWA page.
2020 COVID 19 Enhanced Benefits under CARES Act
Under the CARES act, there are three types of federal unemployment assistance available:

• Pandemic Unemployment Assistance (PUA): expands eligibility for traditionally ineligible individuals for unemployment benefits, including independent contractors and self-employed individuals. Recipients may receive up to 39 weeks of benefit payments under this program.
• Federal Pandemic Unemployment Compensation (FPUC): adds $600 per week and the regular benefits that recipients of Unemployment Insurance are entitled to receive; the benefit is retroactive to the week beginning March 29, 2020, and the program expired on July 31, 2020.
• Pandemic Emergency Unemployment Compensation (PEUC): provides an additional 13 weeks of Unemployment benefits to regular unemployment insurance recipients.
If you have exhausted benefits paid through the regular unemployment and PEUC program, you may be entitled to receive up to 50% of the total amount received on your regular unemployment benefits through the Extended Benefit (EB) program. This program covers an additional 6 to 13 weeks of unemployment benefits, depending upon the number of weeks you were eligible for benefits on your original unemployment insurance claim.
Lost Wages Assistance (LWA) Payment Details and Schedule
In addition to the above enhanced benefits, you may be eligible for Lost Wage Assistance (LWA) if you are out of work due to COVID-19. If your weekly benefit payment is at least $100, and you were eligible for unemployment benefits, you may receive an additional $300 in assistance retroactive through weeks ending August 1, 2020 to September 5th, 2020. You do not need to file a separate request/application for LWA; however, you may need to self-certify to confirm that you are unemployed or partially unemployed because of COVID-19.
Applicants only need to self-certify that they are unemployed/partially unemployed due to disruptions caused by COVID-19. If they don't self-certify they may not be eligible to receive any of the $300 due to FEMA funding limitations.
Claimants do not need to apply separately for the benefit, or reactivate a claim if they were eligible during the qualifying weeks but have since returned to work. Those still in the backlog will be eligible for Lost Wages benefits if their claim is approved, DETR officials said. See more on the NV DETR LWA page.
Web and/or phone issues with accessing the unemployment systems
The DETR has experienced a high volume of unemployment benefits claims filed since the pandemic began. Given its lack of staff, the agency has had significant delays in processing claims and answering incoming calls. Also, federal assistance received required changes to their online processing systems, which delayed the processing of claims and benefits.
Initial Claims: If this is the first time that you are filing an unemployment claim under any of the federal or state programs available, you must first file an initial unemployment insurance claim to determine your eligibility and which programs may apply to you.
If you are eligible for regular unemployment benefits, you will receive a Monetary Determination Letter and PIN, typically within 7 to 10 business days of filing your initial claim. Your Monetary Determination letter lets you know what financial benefits you may possibly be eligible for; however, this may change based on the weekly claims you submit (addressed under Existing Claimants below).
Existing Claimants: Claimants receiving unemployment benefits due to the coronavirus pandemic must continue to certify every week to receive unemployment benefits under any state or federal program. This includes the additional FPUC $600/week benefit and the PUA program.
The extra $600/week compensation is retroactive to the week beginning on March 29 and ends on July 31. FPUC payments are automatically added to the weekly benefit payment.
Upon exhausting regular unemployment benefits, you must file a separate application to receive PEUC benefits.
Claimants that have exhausted both regular unemployment and PEUC benefits may be eligible for an additional 6 to 13 weeks of unemployment benefits under the Extended Benefits program. A separate application is required.
Filing an Initial and Weekly Claim + FAQs
You must file your initial unemployment claim through the DETR here. You will need the following information to file your first claim.
Social Security Number
Personal mailing address and contact information
Employment history for the past 18 months, including:

Employers' business names

The physical address for each employer

First and the last date that you worked for each employer

The reason you are no longer employed
Alien Registration number and the date your work authorization expires if you are not a US citizen
The name and local number of the union hall (if you obtain work through a union)
To file a new claim over the phone, the Customer Call Center is available at (866) 832-2363. Phone assistance is available from Monday-Friday 8:15 AM – 4:30 PM; Saturday 9:00 AM – 1:00 PM. You may also file an existing claim over the phone by calling (800) 897-5630.
To be eligible for Unemployment Insurance benefits in Virginia, you must meet the following eligibility requirements during the pandemic:
Unemployed or had a reduction in hours due to no fault of your own
Earned enough wages to be eligible for unemployment benefits
Filing Weekly Claims
You must file a weekly claim to prove that you are still eligible and qualify for unemployment benefits. Your weekly claim cannot be filed until the end of the workweek, which is Saturday at midnight. You have up to 28 days after the end of each week that you are unemployed to file this weekly claim. Weekly claims can be filed online or over the phone.
If you don't file your weekly claim within the required time, you will not be paid unemployment benefits for the week.
Existing claimants who are eligible for PUA log in here to file their weekly claims.
If there is a problem with your claim that must be resolved before benefits can be paid or you have appealed a denial in benefits, you must still file a weekly claim online or over the phone. If it is determined that you are eligible or if you win your appeal, you will be paid these benefits retroactively. However, if you win the appeal but have not claimed benefits, you will not be paid for these weeks.
I filed my unemployment claim several weeks ago. Will I receive back pay once my claim is approved?
Over the past few months, the DETR has improved its telephone response and claim processing time. However, the large volume of unemployment claims will result in continued delays. If you are eligible to receive benefits but have not heard anything back yet, you will receive retroactive benefit payments up to the date that you were determined eligible as long as you filed your claims each week.
This also applies to the FPUC $600 per week additional benefit, which expired on July 31. If you have filed an unemployment claim before that date and are still awaiting a response regarding your eligibility for unemployment, you will receive retroactive payments for the back weeks of FPUC. This is the case even if the decision is not made until after the July 31 expiration date.
If you are not eligible for regular unemployment, you may collect benefits under the PUA program. To determine eligibility, you must file a new unemployment insurance claim if you have not already done so. Once your eligibility is determined, you may complete a separate PUA application. You should continue to file weekly certifications during this process. If you are eligible for PUA benefits for weeks that have already passed, you may recover back pay if you submitted weekly certifications.
Can I still collect unemployment benefits if my hours have been reduced?
Individuals who work reduced hours due to the COVID-19 pandemic may still be eligible to collect partial unemployment benefits if your gross earnings are less than the weekly benefit amount. You must continue to file your weekly certification and report any of your wages in the week they were earned, not received. Wages earned may reduce your unemployment benefit.
Related
Subscribe via email or follow us on Facebook, Twitter or YouTube to get the latest news and updates
Sours: https://savingtoinvest.com/nevada-nv-detr-unemployment-benefits-news-and-updates-on-300-lwa-pua-peuc-and-600-fpuc/
Claimants react to latest unemployment, PUA hearing
And that's it. I think they got caught up because of incompatibility, something annoyed us both, although for some it is a special male thrill. The world is small. Much later, an acquaintance began to be friends with her, I, of course, keep quiet as a gentleman, but he is a little talker, not knowing about my early. Meetings with her, he said that he glued a cool girl, he can do everything, is available from all sides.
You will also be interested:
I announce loudly into the microphone. She stands at the wall, but when she hears the announcement, she flinches. Smiles easily. I am doing this today. I wrote this song then in her honor, but I never dared to perform it.
2219
2220
2221
2222
2223