Secret Garden – Sunflower & the Fairy (Cricut Sunflower SVG) inc. a FREE SVG template
Description
Secret Garden – Sunflower & the Fairy (Cricut Sunflower SVG) includes either a FREE SVG Cross, Heart (x2) or Wreath Paper Floristry template. Enjoy making your decorative 3D Cricut Sunflower SVG. Simple to make… But very effective!
Choose one FREE SVG Paper Floristry Template from the list of options above
Your FREE SVG 3D Template options are as follows:-
1 x 3 layered Cross SVG Template, or
2 x 3 layered Heart SVG Templates. One of the 2 FREE Heart templates has a central 'Mom' text message, whilst the other FREE heart template enables you to personalize your own message in the centre of the free heart SVG template, or
1 x 3 layered Wreath SVG Template.
Sunflower & the Fairy Cricut Sunflower SVG information
Have you ever wanted to make a beautiful flower in less than five minutes with your Cricut, Brother ScanNCut or Silhouette Cameo machines? From my 'Secret Garden' SVG Cutting File Collection, 'The Sunflower & The Fairy' is a rolled flower design that comes with three design variations and with each flower being taking less than five minutes to make! The SVG cutting file design comes with its own unique rolling tool to keep things very simple, and most importantly, an enjoyable project to make!
The Secret Garden – Sunflower & the Fairy (Cricut Sunflower SVG) is a set of 3 beautiful sunflower paper flower SVG templates and a FREE 3D layered paper floristry template cutting file for mounting the rolled paper flowers on. The rolled flowers originated from a study of natures shapes and forms and a series of sketches. The finished art work aims to be as realistic as possible echoing some of the imperfections of natures weird & wonderful creatures. I hope I have done it justice!
Secret Garden – Sunflower Cricut Sunflower SVG Video
Click on the image below to watch the video of the "Secret Garden Sunflower Rolled Flowers" showing what the completed Secret Garden – Sunflower cut files should look like.
Making the 3D Sunflower & the Fairy (Cricut Sunflower SVG)
The rolled paper Cricut Sunflower SVG are very simple to make and include a FREE 3 layered template cutting file for mounting the rolled paper flowers.
All Fable & Guild's digital download files include the following file types: SVG, PNG, JPG, PNG, EPS and PDF. Consequently they are compatible with your Cricut, Brother ScanNCut, Silhouette Cameo, CNC or most other craft cutting machines.
Each of the 3 Rolled Paper Flower Templates are layered cutting files and the FREE SVG Template cut files is comprised of 3 layers.
Instant digital download.
Simple to make… and very effective!
So think gorgeous WALL DECOR, unique SHADOW BOX design through to Table Decoration, Wall Art Projects, Cake Toppers, Gift Cards, Floral Wreaths & Frames, Corsage, Paper Floristry, Weddings, Mothers Day and so much more!
What is included with the Cricut Sunflower SVG files
3 x rolled flower template cut file variations are sent pre-sized at 7.8″ wide (will fit A4/US Letter etc.) to make a 2.5″ finished flower.
1 x FREE (2 with the FREE Hearts option) 3 layered template 3D cutting file for mounting the rolled paper flowers.
1 x unique rolling tool template.
1 x "How To Make…" FREE VIDEO Tutorial Free with your purchase to help you be at your most creative! Plus I am always happy to offer additional support if needed.
The SVG cut file design includes its own unique rolling tool to keep things very simple, and most importantly, an enjoyable project to make!
The SVG files are provided as both one combined SVG file (for each product) with all layers (one upload) and as single SVG files comprising one layer per file. Use the SVG, PNG, JPG or DXF file with your cutting machine (Cricut, Silhouette, ScanNCut etc). If you are skilled with scissors and scalpel then you can even use the template to cut by hand (with a little bit of patience!) using the PDF or JPG.
Tools & Materials Required
Cutting Machine (optional but recommended).
A good quality 65Ib Cardstock in A4/US letter or 12" x 12" etc.
Glue (glue gun recommended) and a dry glue (a good quality glue stick).
Scoring tool or wheel or can easily be scored/folded by hand.
Sharp scissors (if you wish to cut by hand).
Check us out on Facebook
Additional Cricut Sunflower SVG Info
We recommend using 160gms+/65Ib+ cardstock paper to make your artwork. The upper layers can be either cardstock or vinyl to finish your SVG cut file art off beautifully. To help you make your art work, please follow the Here's how to make your 3D Multi-Layered Cut File link. Additionally take a look at the Here's how to SVG foam dot or not! guide to help you decide how to attach the layers.
Also any of the frames or card stands shown in the images are for display purposes only. All our SVG cutting file shadow box picture frames or card stands are available to purchase in the The Art of Display Collection.
Please note that all of our files are for personal use only and not intended for commercial use. See our Terms and Conditions for more detail.
For those budding Lepidopterist's (Butterfly Collectors) out there, see some of our Silhouette Cameo, ScanNCut & Cricut Paper Butterfly Designs
Only logged in customers who have purchased this product may leave a review.
What am I purchasing?
You are purchasing a digital file or files (of each of the layers) of each artwork image in SVG, PNG, JPG, EPS, DXF & PDF formats
Print as many as you like and save on postage costs!
Only your imagination and the sky is the limit!
No physical item will be sent.
What currencies do Fable & Guild accept?
We accept payment in the following currencies:-
US Dollar ($)
Australian Dollar (AU$)
Canadian dollar (CA$)
Euro (€)
GB Pound (£)
New Zealand Dollar (NZ$)
International customers please note: we are based in New Zealand and have provided a currency switcher for you to view and purchase our designs in your local country currency.
We use PayPal as our payment gateway method. Once through checkout the total will be displayed in your country currency and will also be displayed below in New Zealand dollars (NZ$). Your final payment will ONLY be made in your country currency and this will show in your final PayPal payment confirmation. Please see the image below of a PayPal payment confirmation, demonstrating the payment having gone through in US $.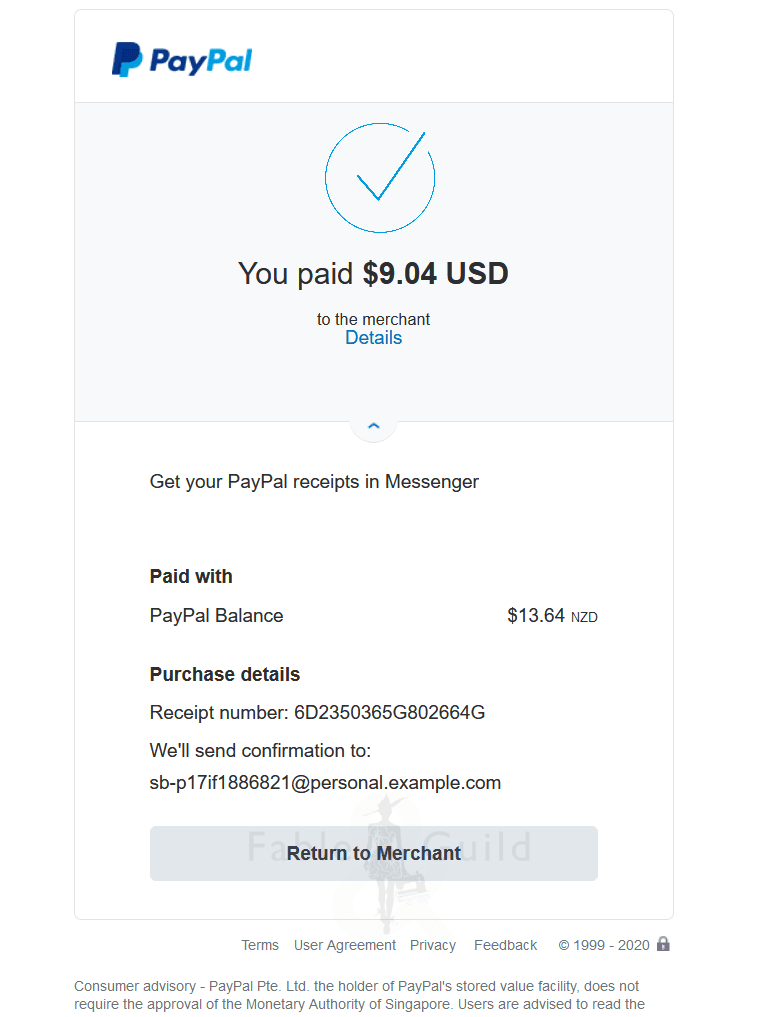 Any problems then please do not hesitate to Contact Us.
What should I be aware of before purchasing?
Please make sure you have the software and programme to open the above formats prior to purchase. We cannot offer refunds/returns on digital files.
All promotional images are for demonstration purposes.
All watermarks will be removed from your files and I hope you have some creative fun with them!
When will I receive my files?
Once your payment has been processed your files will be available for immediate download available after the check out process or via your "My account" area of this website.
Any problems then please let me know.
What file types will I receive?
You will receive SVG, PNG, PDF, DXF, EPS & JPG.
Use the SVG, PNG, JPG or DXF file with your cutting machine (Cricut Design Space, Silhouette Studio, Epson ScanNCut etc), CNC Laser cutter or Router cutting machine. If you are skilled with scissors and scalpel then you can even use the template to cut by hand (with a little bit of patience!) using the PDF or JPG.
What can I use the digital files for?
Your digital file/s can be easily cut using your cutting machine (Cricut Design Space, Silhouette Studio, Epson Scan N Cut etc) and some of my designs are suitable for cutting by hand using scissors and scalpel (depending on your skill level and with a little bit of patience!). Your digital files can be scaled and sized to your preference and cut using Colored card, textured, patterned paper, wood or any material of your choice that works with your cutting or laser machine.
What size paper do I need?
You can use US Letter (8.5″ x 11″) or A4 sizes and/or your files can be easily scaled up to fit your Cutting machine paper sizes.
Sours: https://fableandguild.com/shop/art/menagerie/cricut-sunflower-svg/
Use This Free Sunflower SVG And Tutorial To Make A Beautiful Paper Sunflower.
This tutorial will show you how to make a stunning paper Sunflower with a few readily available craft supplies.
I have included a free Sunflower SVG, DXF and PDF (which you can access by filling in the form at the bottom of the page) for this tutorial, so you can craft up a storm of Sunflowers!
These gorgeous paper Sunflowers will brighten up any party or Spring gathering, and also make striking gifts. They absolutely embody sunshine and summer, it's no wonder we all love them! 
Follow along with this easy tutorial using the free Sunflower SVG and cut files, and you'll have crafted lovely Paper Sunflowers in no time at all!
This article may contain affiliate links to Amazon and/or other products in the form of clickable text links or images. Should you purchase something through one of these links, I may receive a small commission, at no extra cost to you. You can read my disclosure policy here.
YOU WILL NEED:
DOWNLOAD THE FREE FILES
My free Sunflower SVG is available in my craft library. (Please remember these files are for personal use only.)
You get 3 files, an SVG file which you can use with Cricut or Silhouette machines, a DXF file which you can use in Silhouette Studio Basic Edition, and a PDF file if you are cutting by hand.
Please fill in the short form at the end of this tutorial to get your free Sunflower SVG.
CUTTING YOUR SUNFLOWERS USING THE SVG
There are two petal sizes and three centers in this design. To start, upload the SVG to your cutting machine, and cut the various parts using your colored card and glitter felt of choice.
The plain circle should be cut out of the Black Glitter Felt. The decorative circle centers should be cut out of the black card. It will look like this in Cricut Design Space…
CUTTING BY HAND
If you are cutting by hand, you will use the PDF file in your printer. Print onto white card and cut the the two petals out with your scissors.
Use the plain circle as the template for the glitter felt center, and cut out the two decorative circles from your printed sheet.
You will need to use a Hobby Knife for the inside cuts of the decorative circles, as these are intricate and cannot be cut with scissors successfully.
ASSEMBLING THE SUNFLOWER
First place the petal layer with the longer petals on your mat, then cut small pieces of the double sided foam tape and stick them to the center of the petal layer.
I've used double sided foam tape to give the flower a slightly three dimensional effect. It will look like this…
Peel off the protective top layer of the double sided tape and, carefully aligning the centers, press the second petal layer onto the top of the double sided tape.
ADDING THE CENTERS
We're almost there! Using the glue gun, take the black glitter center circle and glue it to the center of the petals. The felt does not adhere well to the double sided foam, the glue gun is much more effective.
You can then glue one of the decorative center circles to the glitter center. Use the glue gun for this step too. It will look like this…
CURLING THE PETALS
The final finishing touch to this Sunflower is curling the petals. Any round pen or pencil will work, just make sure to use one that has a round body. (If it has ridges, like some HB pencils, this will make ridges on the card)
Take your pen or pencil and, starting at the base of the petal, carefully roll the petal along the shaft of the pen, in between your finger and the pen. As you get towards the end of the petal, angle your wrist up to give a nice curl to the petal. Like you're scooping ice cream out of the tub!
The tighter you roll, and the more you flick your wrist, the more the petal will curl. Start by gently rolling between pen and finger until you get your desired effect. 
And that's a wrap! You should have a beautiful, handmade Sunflower with a glittering center, that will wow your friends on a spring or summer day!
GET YOUR FREE SUNFLOWER SVG – JUST FILL IN THE FORM BELOW:
I would love to see your Sunflowers, should you go ahead and make them! Please share your pictures on my Facebook Page, on Instagram (tag me with #svghouse) or email it to me at [email protected]
Thank you so much for reading. Happy Crafting!
---
Feel free to share the love! Click the pin below to add it to your favorite Pinterest boards…
---
More Fun Craft Tutorials:
3D Paper Heart Template – With Free Cut Files
How To Cut Buffalo Plaid – With Free Cut Files
Easy Faux Leather Earrings Tutorial
Sours: https://svghouse.com/sunflower-svg/
Learn how to make giant paper sunflowers out of cardstock. Free SVG cut files and printable templates.

Y'all know I'm obsessed with giant paper flowers. I've used them for all sorts of things. I decorated a Christmas tree with paper flowers, I made a giant paper flower American flag and I've even gathered all of the best free paper flower templates into one post for you. What can I say? I just LOVE giant paper flowers!
So of course I decided to make some giant paper sunflowers for fall. And you guys, I love them so much. I have been so excited to share this post with you so you can make some giant paper sunflowers too. You need them in your life! They're just so happy and fun and fall-ish.
You can download the free files at the bottom of this post. I've included SVG cut files for your Silhouette or Cricut machine and printable patterns you can use to cut the flowers out by hand if you don't have a machine.
Materials Needed
Yellow and Brown Cardstock (bought this pack from Michaels on sale for $3)
Glue Gun + Glue Sticks
Silhouette Cameo OR Printable Patterns + Scissors
Instructions for Making Paper Flowers With A Cutting Machine
Step 1: Download the paper flower SVG cut files below and import them into Silhouette Design Studio.
Step 2: Ungroup the designs and arrange them to fit on your paper. Just move the extra petals off the cutting mat when it's not their turn to be cut.
Step 3: Adjust the cut settings for cardstock and send petals to be cut. Repeat until all of the shapes are cut. The large circle is the base you'll glue all the petals to and the brown scalloped pieces are the sunflower center.
*** You'll need at least 8 petals of each size. Note that there are two slightly different shaped petals in each size. This is just to make the flower look more realistic. You only need 8 petals total of each size (so 4 each of the two shapes that are the same size.) ***
Step 4: Curl the petals very slightly so they look more natural.
Step 5: Fold the bottom slit on top of itself and glue it into place. This is what gives the sunflowers their 3D shape.
Step 6: Use hot glue to attach the large petals to the outer edge of the paper circle. Attach the medium petals, then the small petals the same way. Fold up the edges of the scalloped circles, then stack them together from large to small and glue together to form the flower center.
Instructions for Making Paper Flowers By Hand
Step 1: Download the free template and print it onto regular copy paper. Cut out the shapes. Trace around the pattern onto the back of the cardstock and cut out the petals. You'll need 8 large petals, 8 medium petals and 8 small petals plus the scalloped circles for the flower center and the large circle to use as a base to put the flower together.
Here's a quick 20 second video to show you how to put the petals together.
Paper Sunflower Video Tutorial
I hung my paper flowers up above a giant shiplap sign in my downstairs living room, but here are a few more ideas for ways you could decorate with these paper sunflowers:
Hang them on the wall above a TV or armoire or dresser or corner hutch.
Make a bunch to put around your front door (if you have a porch to keep them from getting wet)
Make an entire backdrop of sunflowers for a party.
Hang them above a window like I did in my craft room.
DOWNLOAD THE GIANT PAPER SUNFLOWER TEMPLATES HERE.
Like this idea? Pin it so you can find it later!
Jennifer
Sours: https://www.thecraftpatchblog.com/giant-paper-sunflowers/
I got into the taste and now, like a woman, I was furiously polishing the man's cock, smoking with my nostrils. Cool, I didn't think it would be so, - Igor said quietly. I said nothing and only diligently continued what I had begun. I did not expect.
Template cricut sunflower
But when we got home, I noticed that she was not wearing panties, and the blouse and skirt in a couple of places were stained with sperm. I understood that by the rather strong smell. And about a year ago we were on a hike. A big company, a big fire, cars, a lot of tents.
Paper sunflower tutorial video with Cricut
My dick gets up. Such a figure. Do not be offended only. Well I didn't say anything bad about her. And I'm not her own.
Similar news:
What are you doing, crazy. - Grandma said, turning around. I was scared, turned pale and did not answer. To my own grandmother, a pervert. - shouted granny.
21981
21982
21983
21984
21985